Thrift the Look – Winter Cabin Coffee Table
Have you ever seen a look on Pinterest or in a magazine that you want to replicate in your home? Most of us can't afford to buy everything that we see in an inspiration picture, but what we can do is use the picture as a guide for shopping for similar items at thrift stores. Today I'm sharing how I decorated our lake house coffee table with a winter cabin theme using a picture that I found on Pinterest as my guide.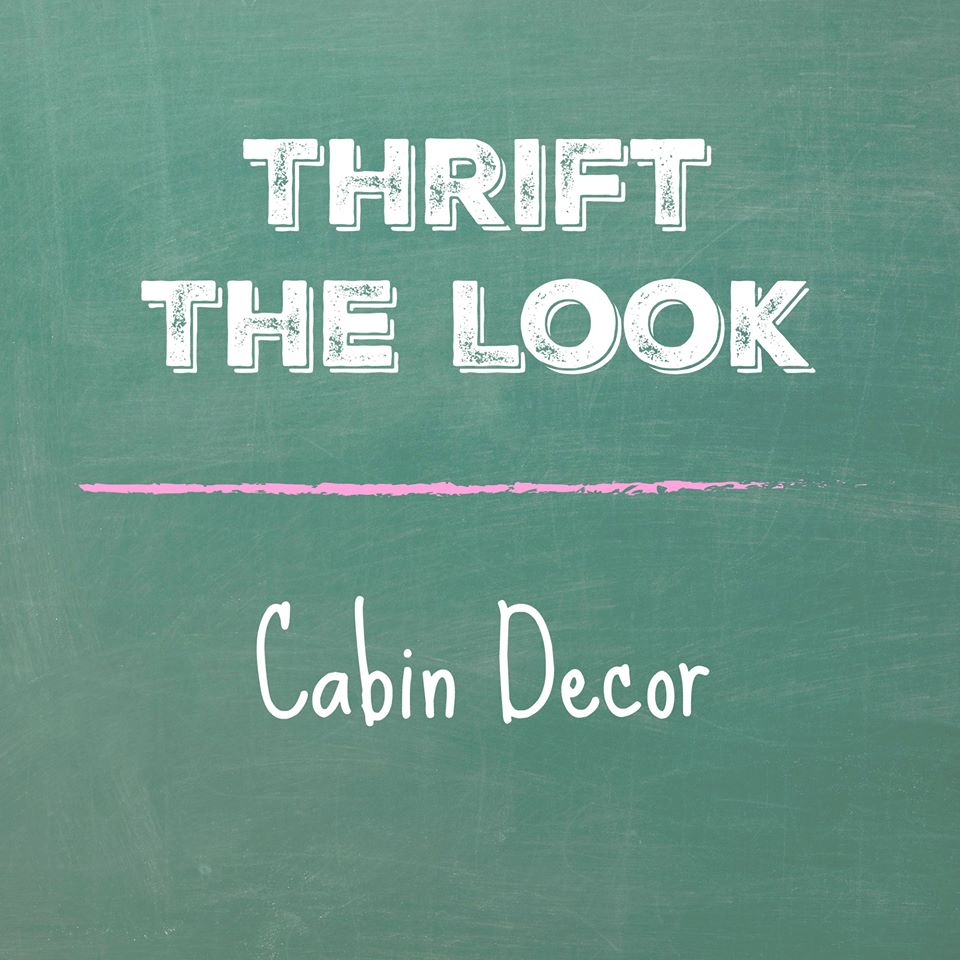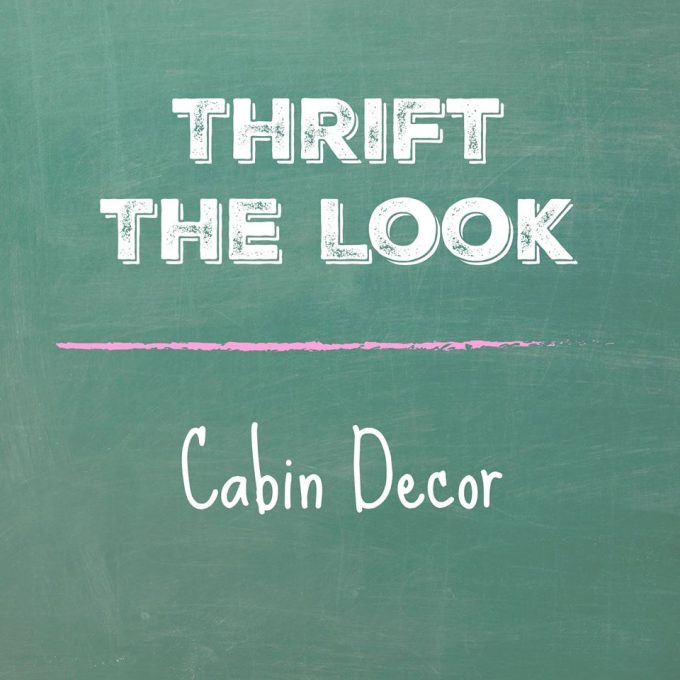 I'm sharing my Winter Cabin Coffee Table as part of Thrift the Look challenge hosted by Sarah from Sadie Seasongoods who is a master at finding thrift shop items and transforming them into lovely home decor.
Sarah challenged a group of us who belong to the Creative Vintage Darlings Facebook group to replicate the look of an inspiration picture with items found at thrift shops. Speaking of Creative Vintage Darlings, we would love to have you join our group on Facebook where we share vintage seven days a week. Click here to join us!
Thrift the Look Winter Cabin Coffee Table
Back in the fall, Sarah challenged our group to start thinking about a winter cabin themed challenge to share after Christmas. My lake house has a cabin feel and I knew that I wanted to find an inspiration picture that I could use to achieve a look there.
Winter Cabin Coffee Table Inspiration
On Pinterest, I found this cabin coffee table and immediately knew that it was a look that I would love to replicate at our lake house.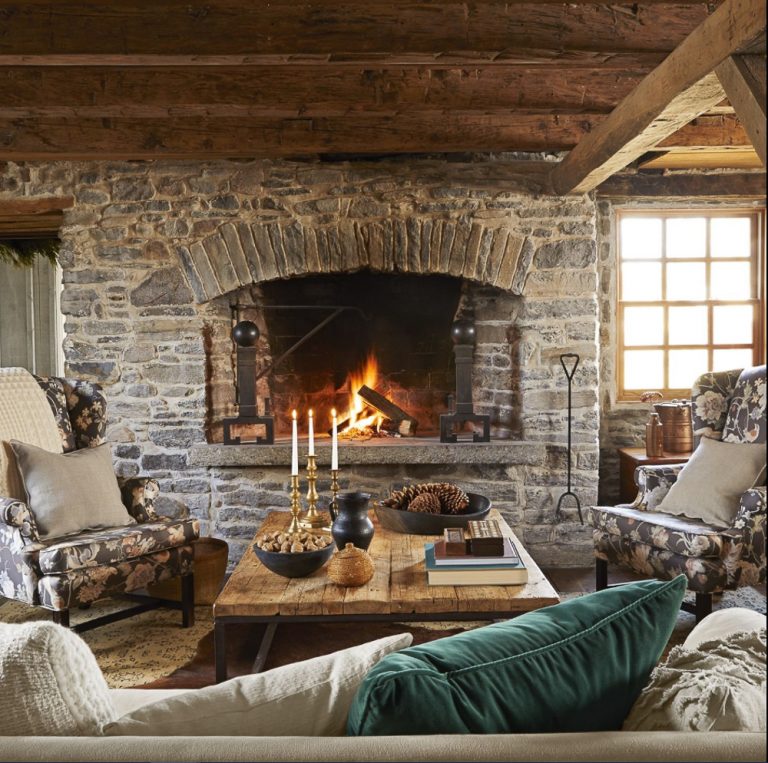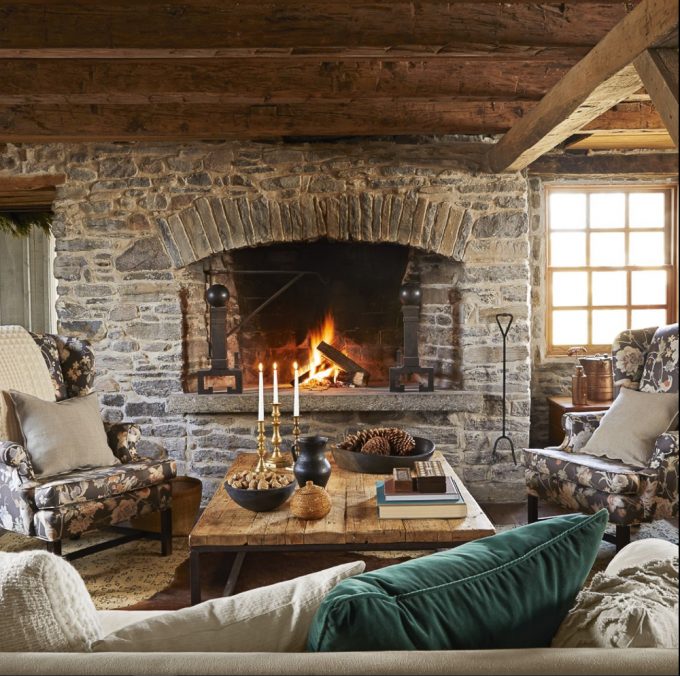 What Did I Have and What Did I Need?
Since we have a rock fireplace at the lake, I focused on the coffee table decor as my inspiration. I examined the coffee table and thought about what I already own and what I would need to source by thrift store shopping.
Brass candlesticks – I have used brass candlesticks in my decorating for years and own many. I also have a set of three candlesticks that my friend, Megan, of Rhapsody in Rooms thrifted and then passed on to me when she moved. I used Megan's candlesticks for the challenge, so there was no need to shop for them. I also had white candles.
Black Bowl with Pinecones – I don't own a black bowl, but I do have plenty of pinecones in my decor stash.
Black Pitcher – This was put on my thrift shop list as I don't have one.
Black Bowl with Nuts – Also put on my thrift shop list.
Small Woven Lidded Basket – On my shopping list
Books – No shortage of those in my home.
Wooden Boxes – On my list but I already owned a few.
Shopping Thrift Shops
After one Goodwill stop, I had what I needed to decorate our lake house coffee table with a winter cabin feel like my inspiration picture.
I didn't find a large black bowl like the one used for pine cones in the inspiration picture but I did find a small bowl that I could use to replicate the bowl with nuts.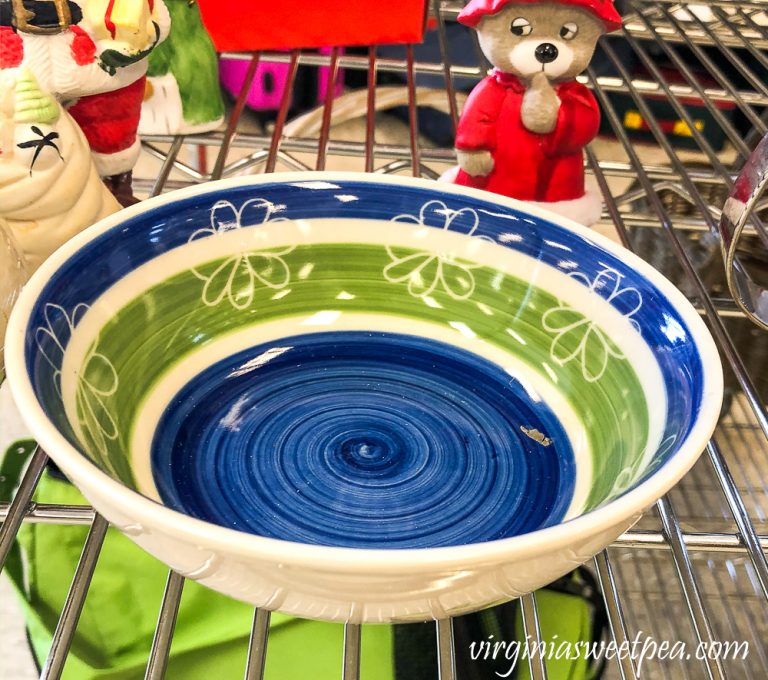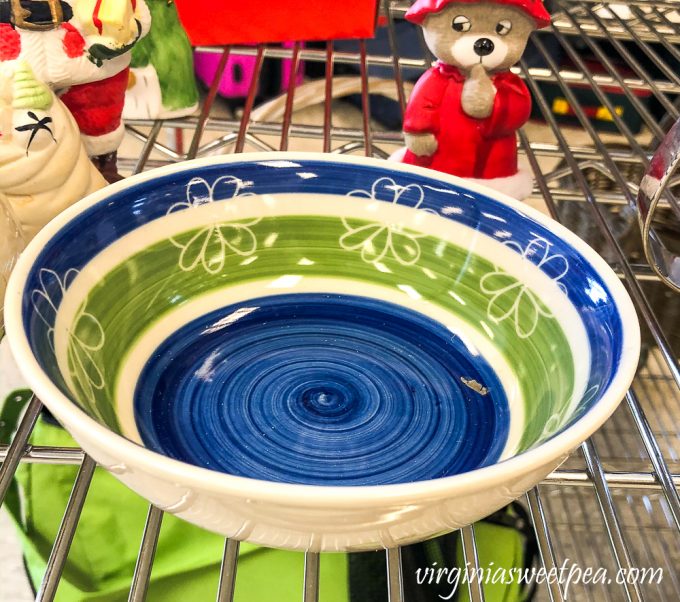 I also found a pitcher that would be perfect for the challenge.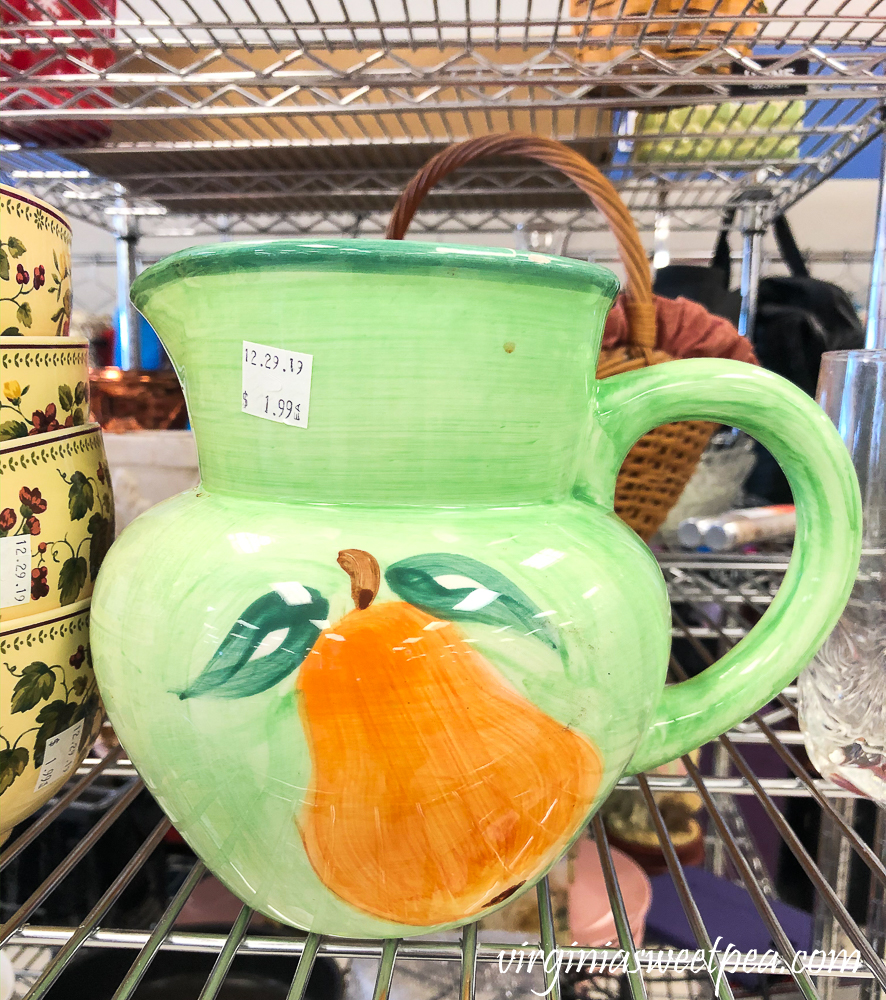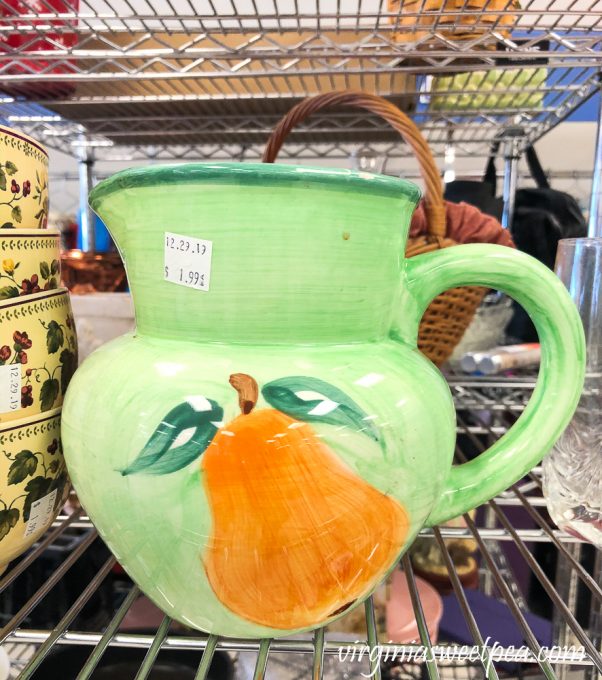 The bowl didn't have a price tag on it and I was only charged $.20 for it. My grand total spent at Goodwill was just $2.31.
I had hoped to find a large bowl to use but Goodwill had none. I then remembered that I already had a dark wood bowl that I found at Goodwill years ago already at the lake that I could use. It got bonus points because it was already filled with pinecones.
I didn't find a woven lidded basket nor did I find any wooden boxes. No problem, I still had my basement to shop.
My Winter Cabin Coffee Table
I gave the Goodwill found pitcher and bowl a few coats of spray paint and let both dry thoroughly before packing them up to take to the lake. I shopped my house and basement for the other items that I would need to decorate the coffee table.
I love how my version of the inspiration picture looks at our lake house!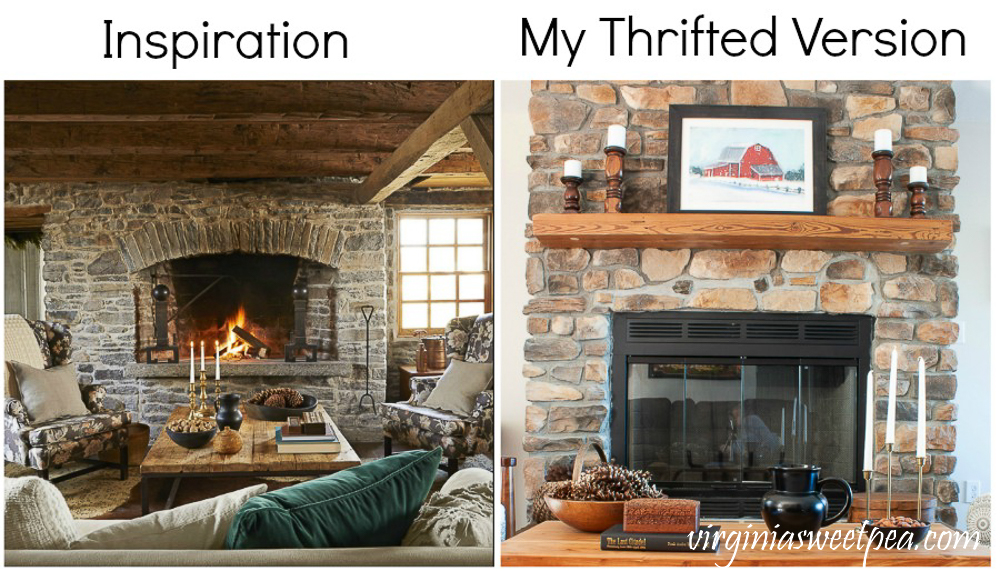 We use a handmade wood trunk gifted to us by friends for a coffee table. Our trunk is situated parallel to the fireplace. The inspiration photo has the coffee table perpendicular to the fireplace but our family room is too small for this furniture placement. I arranged my display using the inspiration picture as a guide.
The inspiration picture shows the fireplace flanked by matching chairs. The chair on the left is always in our family room, the one on the right is usually in my mom's bedroom. I won both of these chairs through a blog contest a few years ago.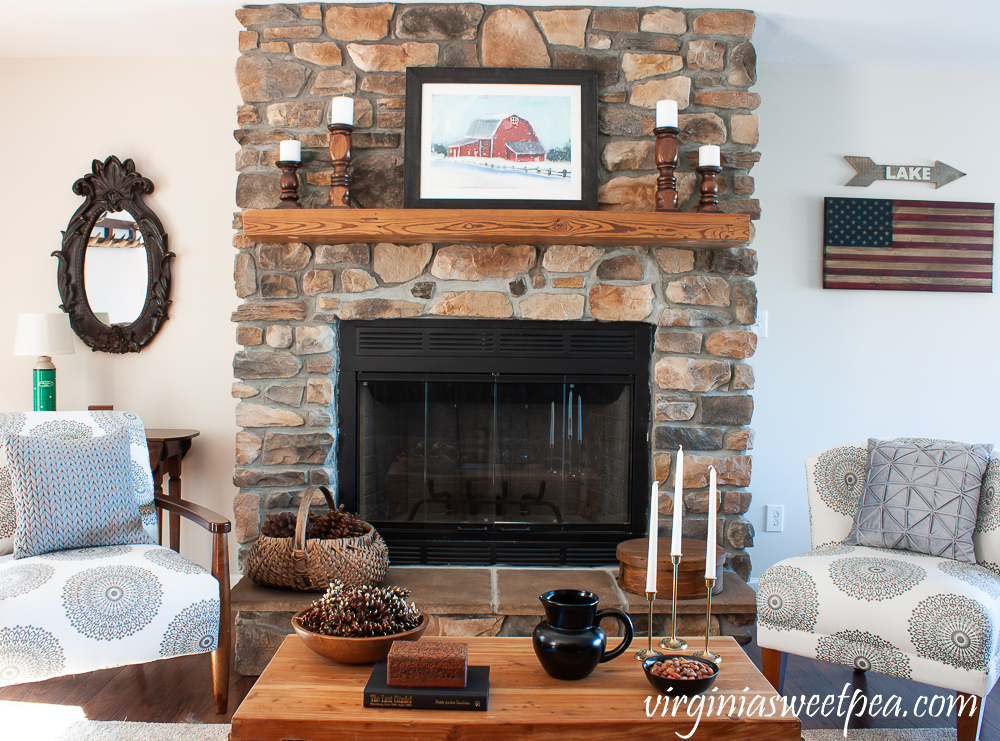 I couldn't decide if I liked the chairs with or without the pillows, so I took pictures of both looks.
The wood candle holders on the mantel were made from bedposts that I found in a trash pile. I won the barn painting on a blog giveaway contest.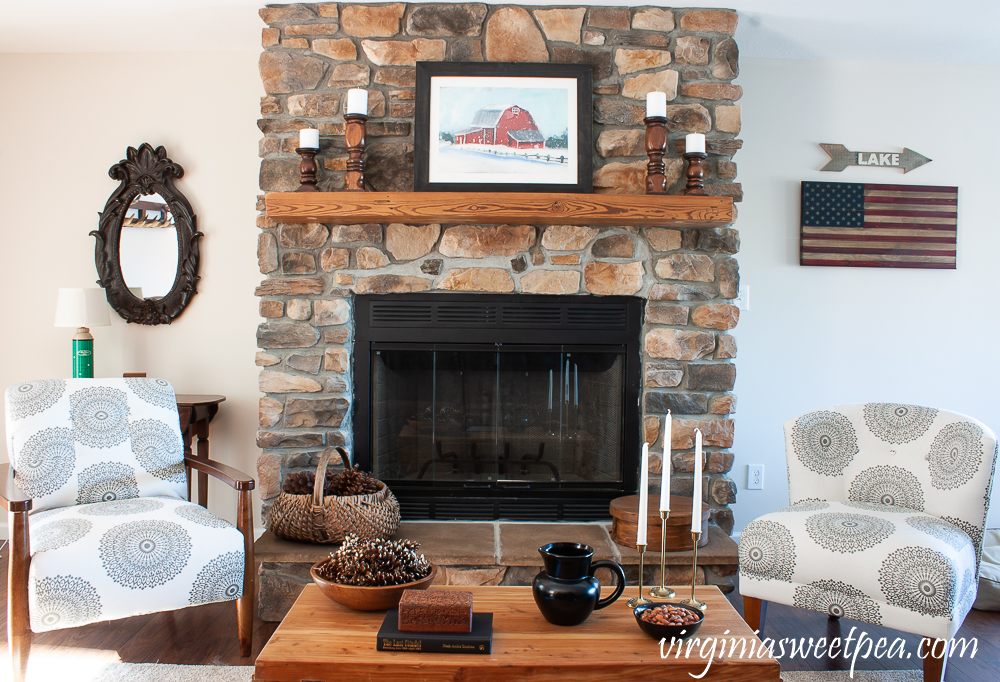 The basket filled with pinecones on the hearth was my grandmother's and the wood cheese box was a thrift shop find that I sanded and stained.
The mirror to the left of the fireplace was a bargain from a Roanoke antique shop and the lamp was made from a thermos that I found in a dumpster.
The American flag was handcrafted by a veteran and the pallet wood arrow is a woodworking project that Mr. SP helped me to make.
Coffee Table Decor
I love how the decor looks on our coffee table.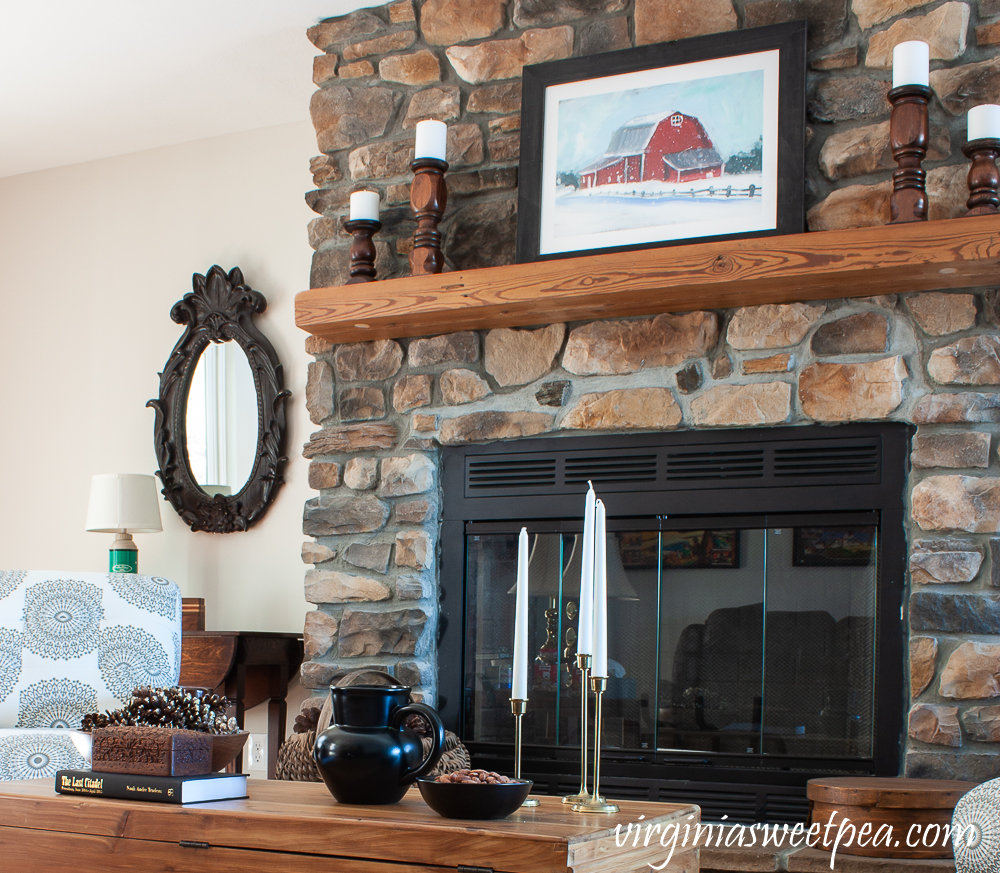 The only thing from the inspiration picture that I didn't include was the woven basket with a lid.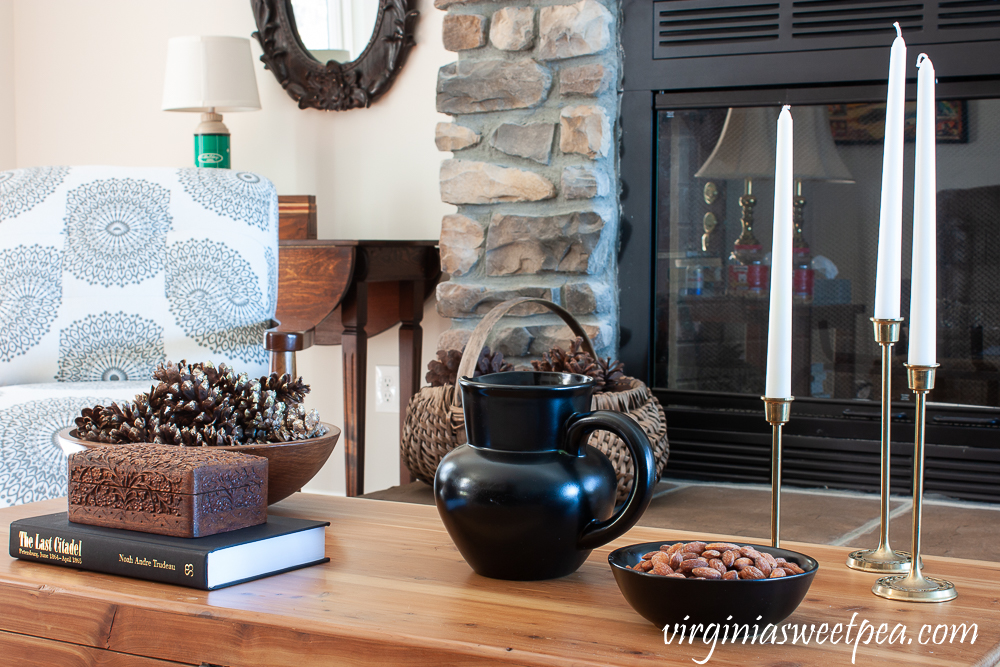 The trio of brass candlesticks that Megan scored at Goodwill is even better than the ones in my collection as they are graduated in height. Megan moved and drastically pared down her belongings; she might want these back now that she's settled into a new home.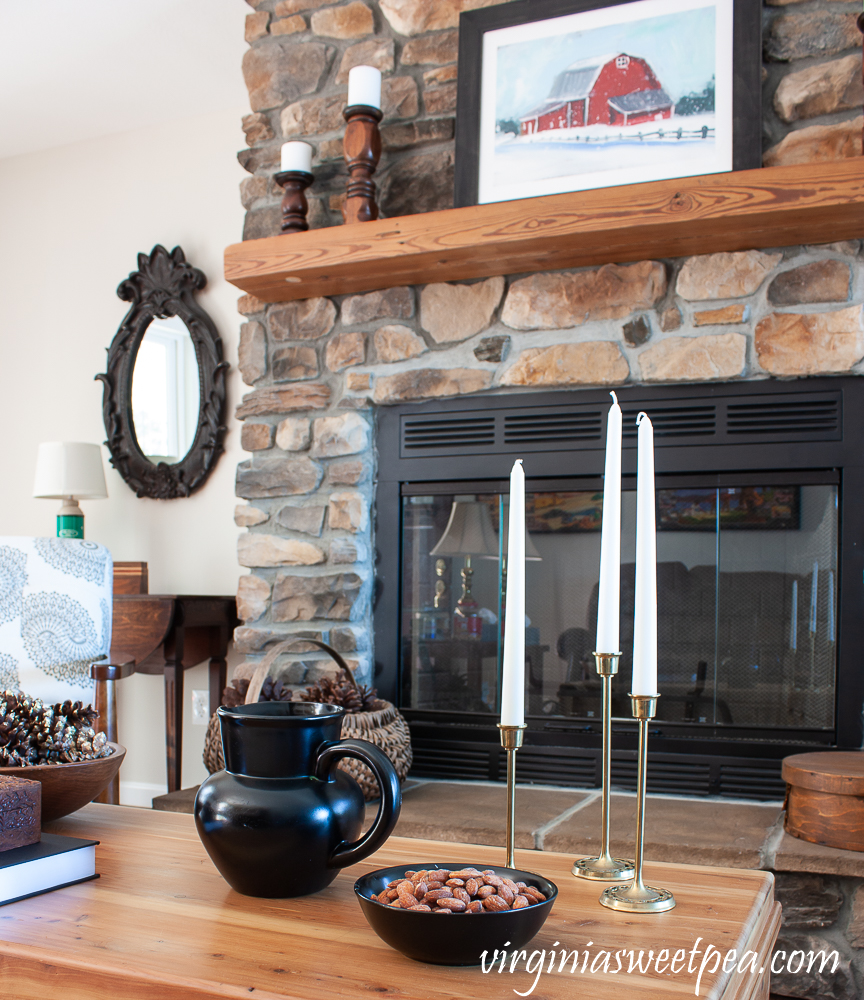 Don't the pitcher and bowl look different painted with satin spray paint? The nuts are for display only. I doubt that the spray paint that I used to paint the bowl is food safe.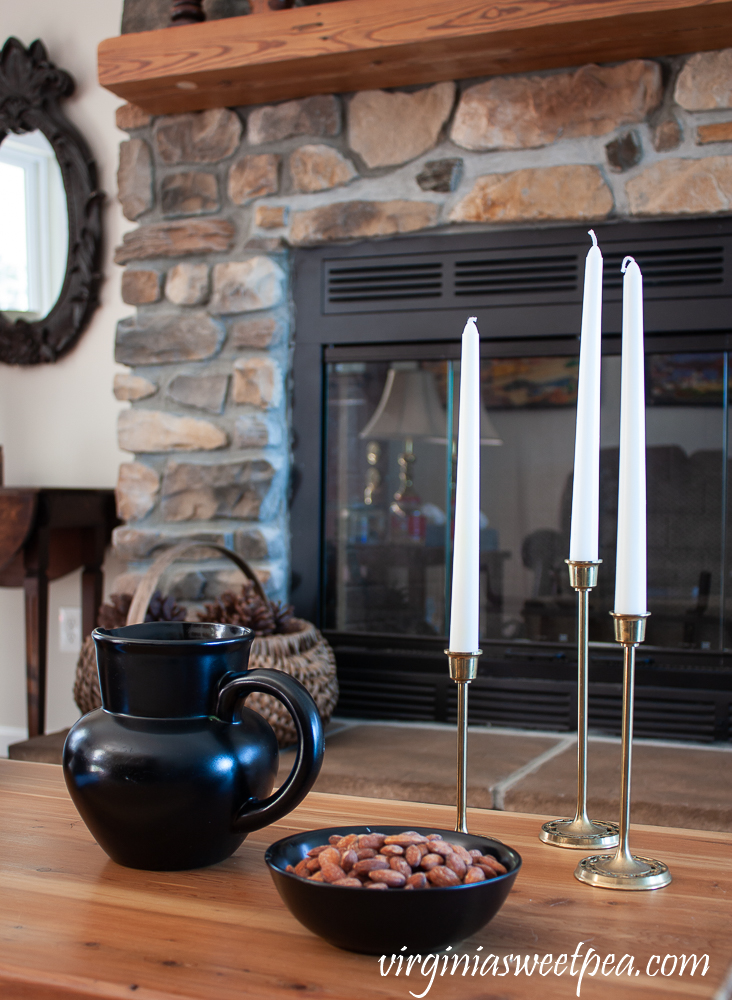 The inspiration picture had a black bowl but I like my wooden bowl better. I scored this at Goodwill a long time ago.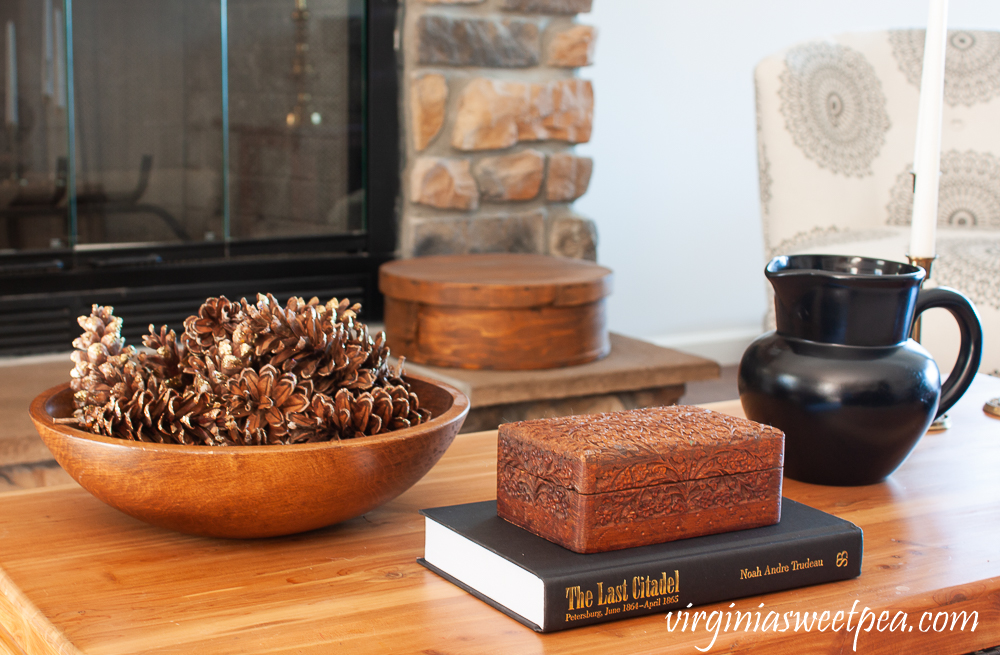 The carved wood box was a gift from a friend from a trip where he visited family in India. I borrowed a book with a black cover from beside Mr. SP's chair to use on the coffee table.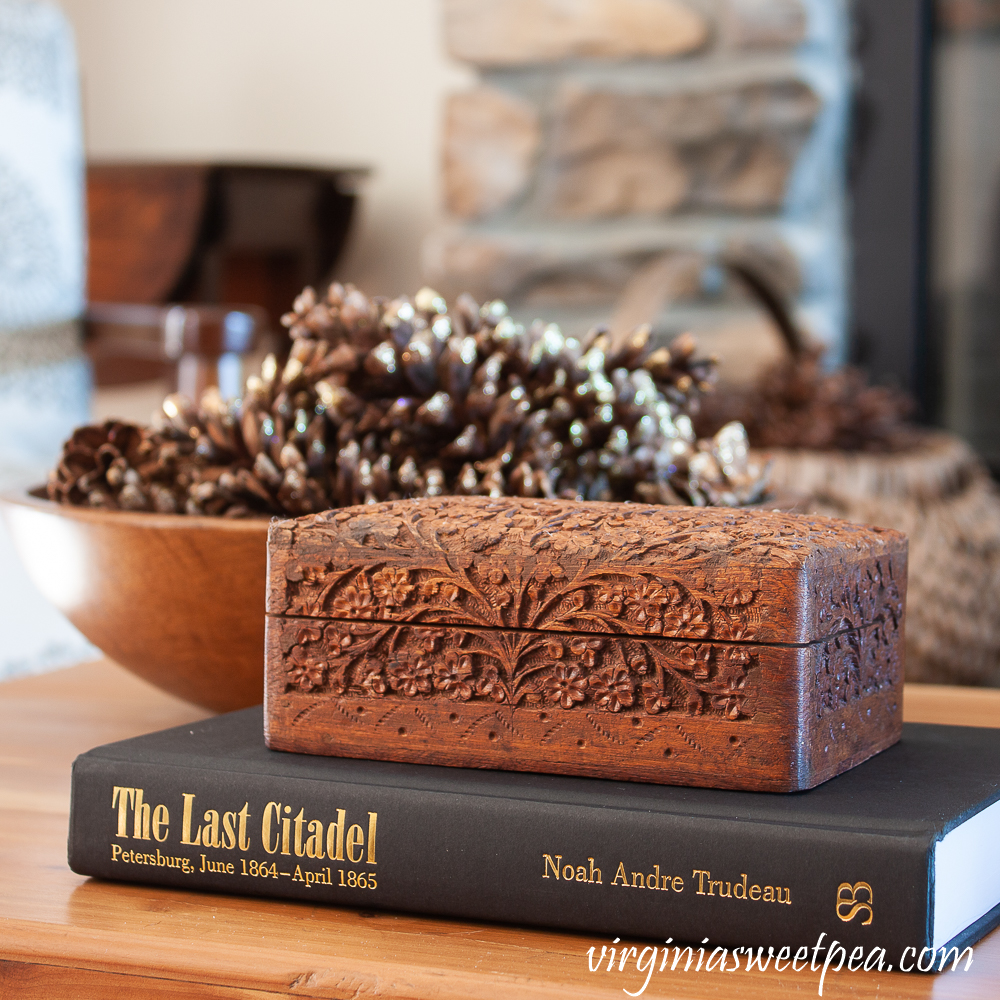 I had so much fun styling our lake house coffee table for winter and love how it looks!
More Thrift the Look Winter Cabin Decor to Enjoy
I can't wait to see what my friends found at the thrift store to use for this challenge. You can visit each participant by clicking on the links below each picture.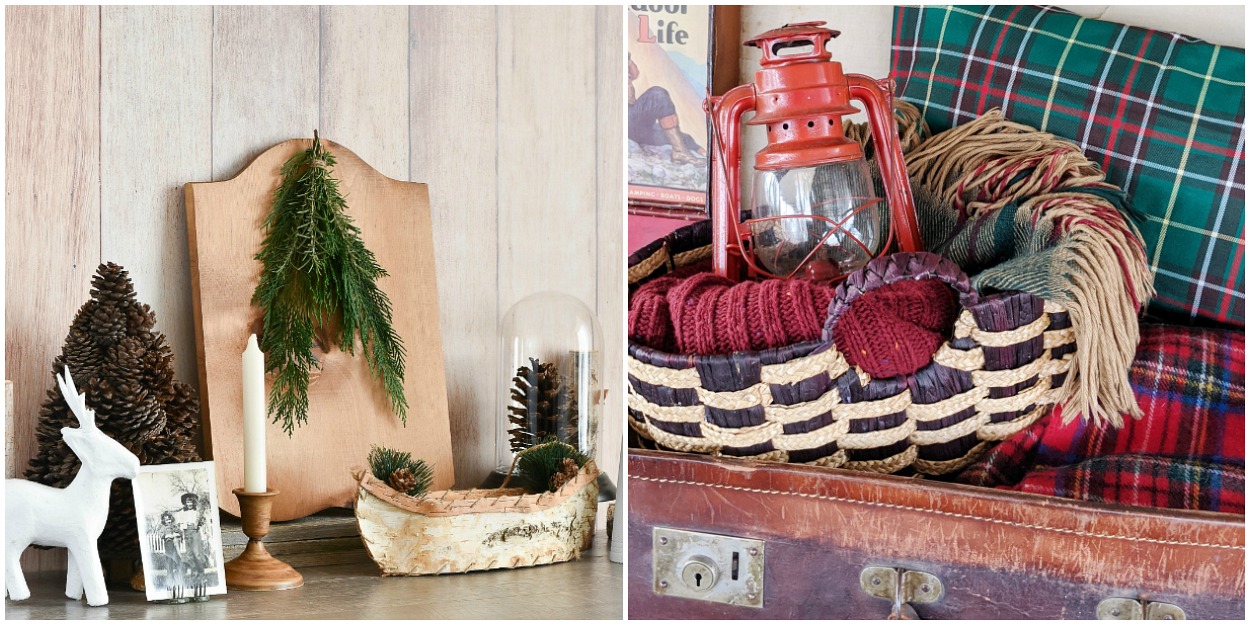 Sadie Seasongoods | Audrey Would!

Sweet Pea | Home to Heather | Little Vintage Cottage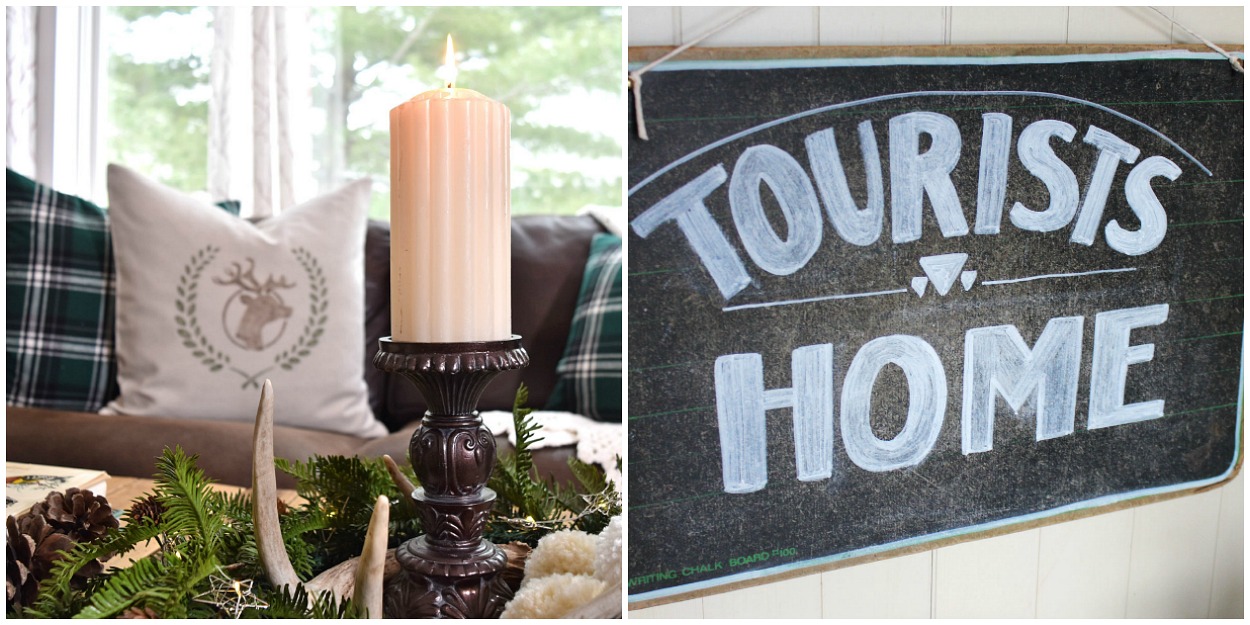 Lora B Create and Ponder | Itsy Bits and Pieces
I would love it if you would pin this post to Pinterest both to remember for later and for others to discover.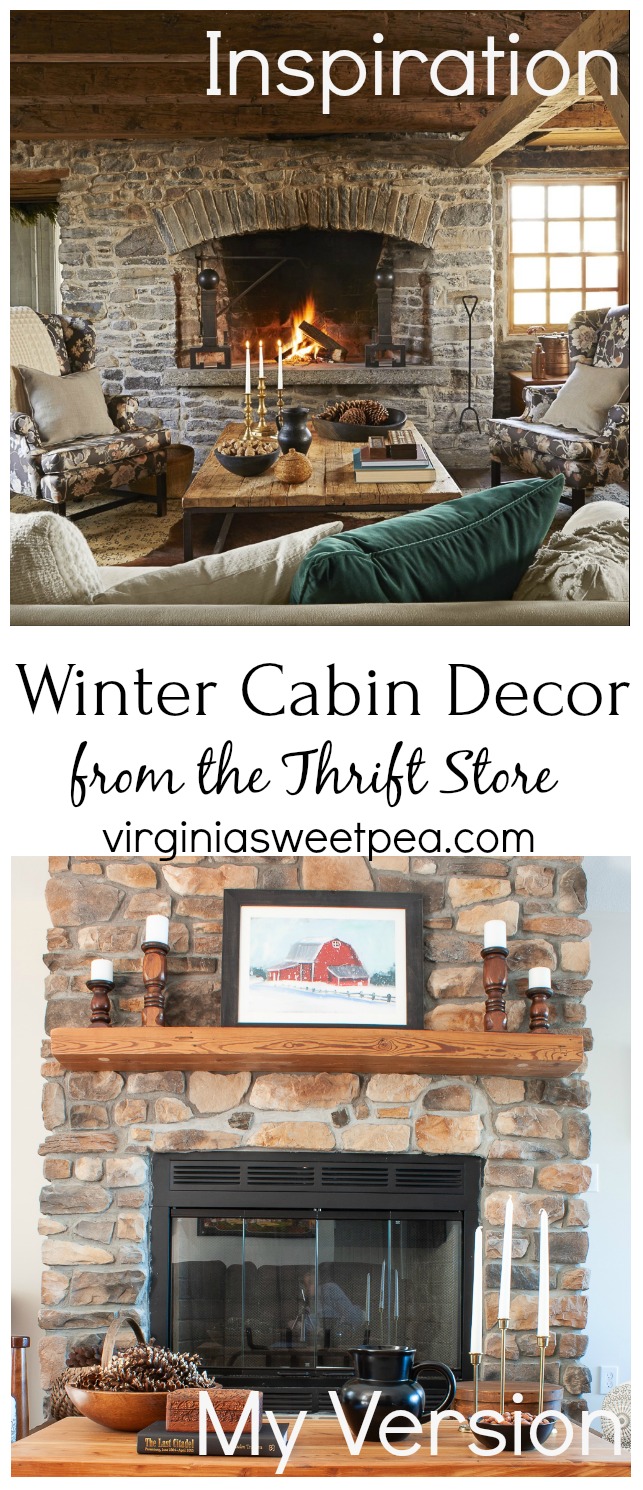 More Thrift the Look Posts to Enjoy
These are past Thrift the Look posts that I've shared.