June 2015 Stitch Fix Review (Fix #25!)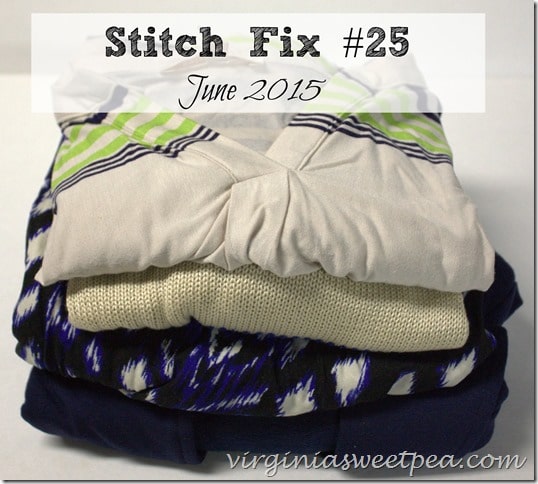 I am a Stitch Fix affiliate and if you make a purchase, I earn a small commission. My love for Stitch Fix is genuine and all opinions are truthful and my own.
Stitch Fix box #25 arrived recently and as always, I was super excited to open it. This month I asked my stylist for a cardigan or blazer to wear with dresses and I requested a shirt for summer's hot weather. I liked everything this month and kept it all which meant that I got a 25% discount. Woo-Woo!
For those of you not familiar with Stitch Fix, five items of clothing or jewelry are picked for you by a stylist based on a style profile that you complete. A $20 styling fee is charged to you and is deducted from whatever you purchase. If you purchase all five items, you get a 25% discount. Fix #25 was only the second time that I've purchased everything. It makes sense to always purchase one item in order to not lose the $20 fee. That's not a problem for me because I usually like more than one piece.
For someone who dislikes shopping like me, this is the perfect way to get stylish clothing with no effort on my part.
Tart Vashtie Scoop Neck Sweater
I have noticed that Stitch Fix doesn't always send clothing that is appropriate for the season that I'm currently experiencing. Virginia is hot and humid during the summer and there's no way that I could wear this sweater now, but it will be perfect to wear to work or during this weekends this fall, so I kept it. It's super soft and when I put it on, I immediately knew that I liked it.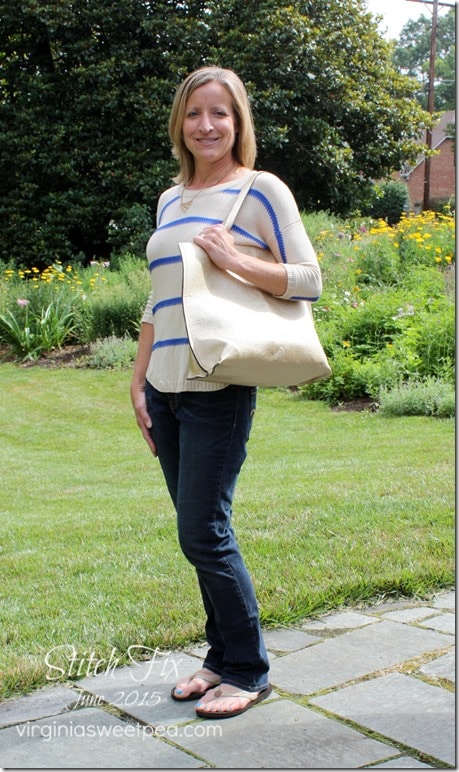 My stylist suggested wearing this with either blue or white jeans. If I wear this to school in the fall, I will most likely pair it with a skirt.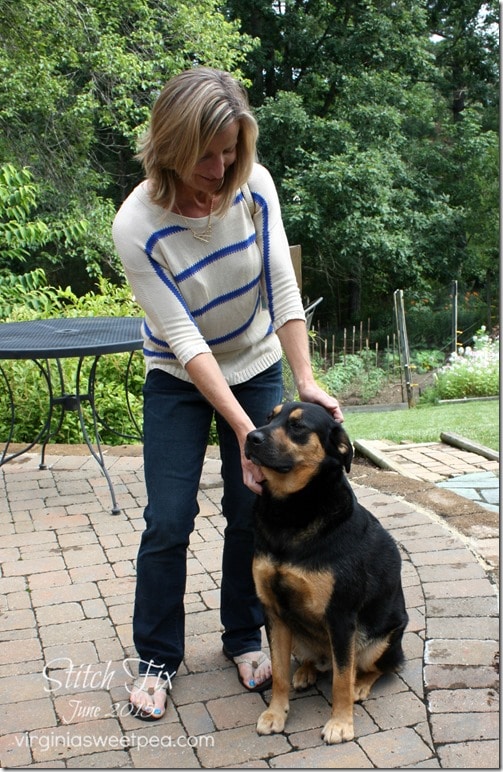 Street Level Huron Reversible Magnetic Closure Tote
When I first started receiving Stitch Fix, I requested clothing only as I would rather get it over purses or jewelry. My stylist thought that this bag would be perfect to carry back and forth to school and even though I don't need it, I like it and realize that this tote is way more stylish than what I currently carry. The bonus is that it reverses to white and it comes with a small attached bag.
When all five items are purchased through Stitch Fix, you get 25% off your order. I normally wouldn't have purchased this bag, but it made sense to do so since the 25% discount pretty much paid for it.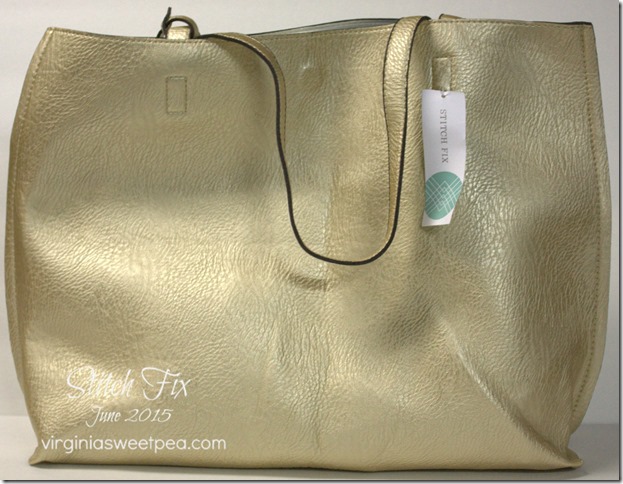 Skies are Blue Bentley Mixed Stripe Knit Shirt
This shirt is so soft and I loved the striped pattern. I have been wearing it with shorts but can easily pair it with a skirt or pants for a work outfit. The necklace that I'm wearing is from Rocksbox and has become my "go-to" necklace for summer.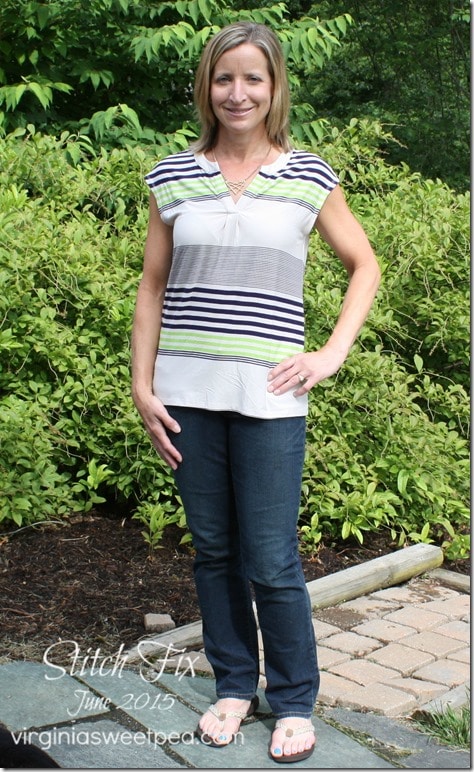 Market and Spruce Zelda Ikat Print Wrap Dress
Talk about comfortable! This dress is just that and it will be a perfect dress for school when I go back in August.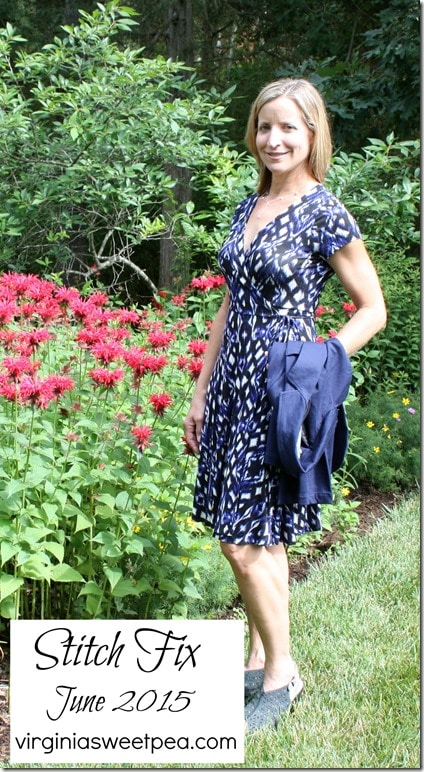 Tart Kaylie Solid French Terry Blazer
I haven't purchased a blazer in many years and am glad to get this one. It's stretchy and super soft and will be perfect to wear year-round. This is pretty much what I anticipated receiving when I requested a blazer or cardigan to wear with dresses.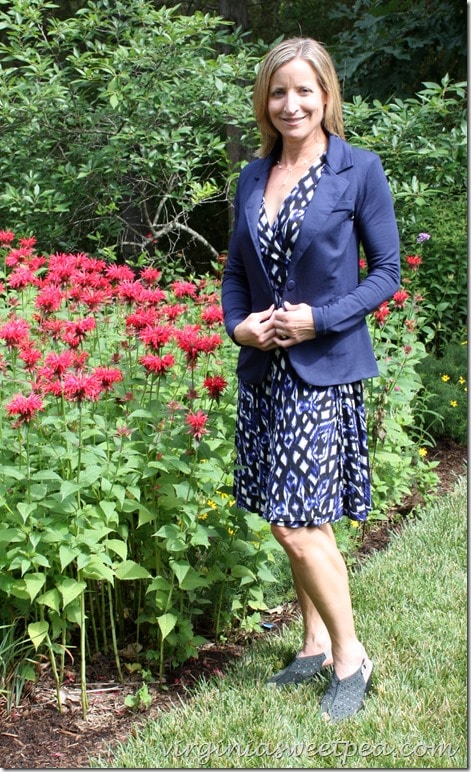 You can't tell from the picture, but the blazer is stretchy, especially in the back. I hate for a jacket to bind my shoulders and this one won't do that one bit.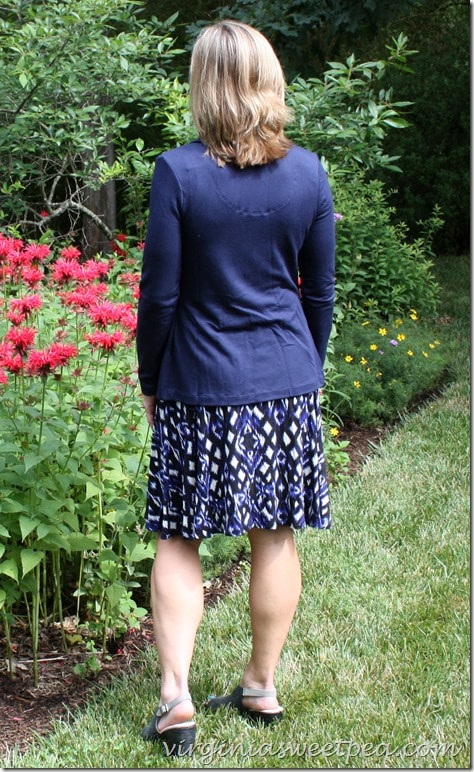 This top actually came in my March box that I didn't blog about. I have worn this top a lot since then!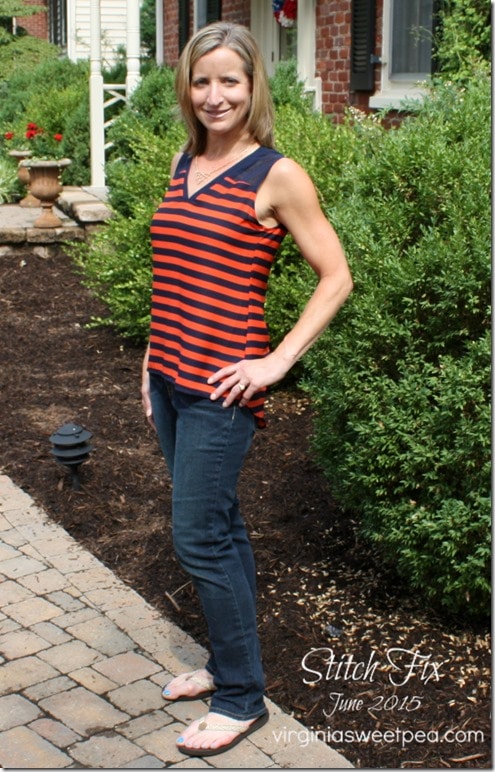 If you are like me and not crazy about shopping, Stitch Fix may be for you. I first tried it in August of 2013 and liked it so much that I've received monthly boxes since then. My closet is slowly being filled with items from Stitch Fix!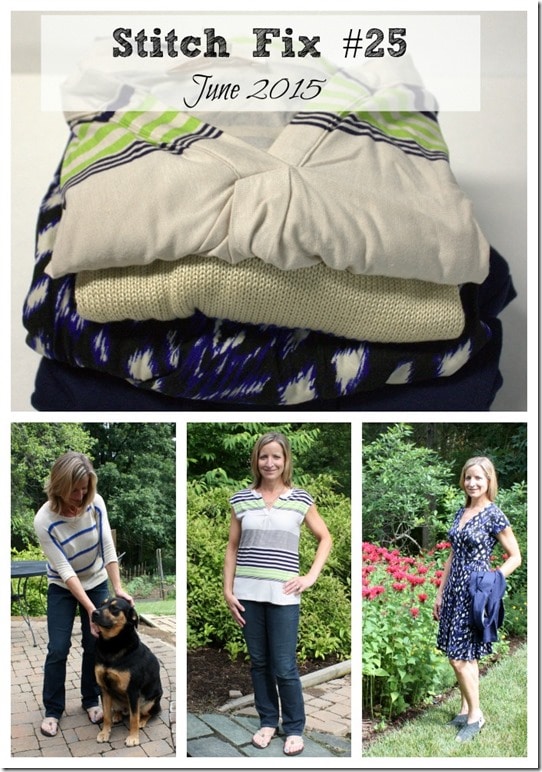 Here are a few recent reviews if you'd like to see more Stitch Fix outfits: