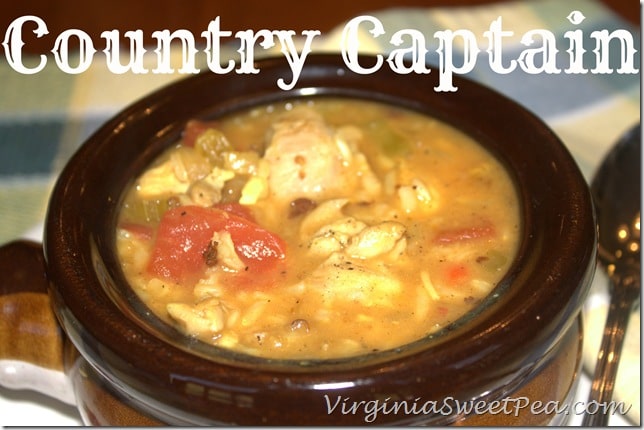 A frequent running topic is "What are you making for dinner tonight?". When my running partner, Suzanne, told me about the Country Captain that she made following a recipe from House Beautiful, it sounded so good that I knew that I would have to try it for myself.
This recipe takes a while to make and is worth every minute of kitchen time. It makes a lot (my pot was to the brim full), so you may consider making a half recipe or making the full recipe and freezing half for later.
Scroll down for a printable recipe.
I recommend reading through the recipe and assembling all of the ingredients before you start cooking.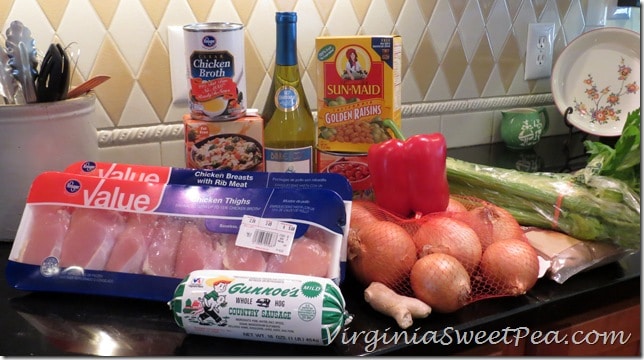 Sausage is browned and set aside to drain.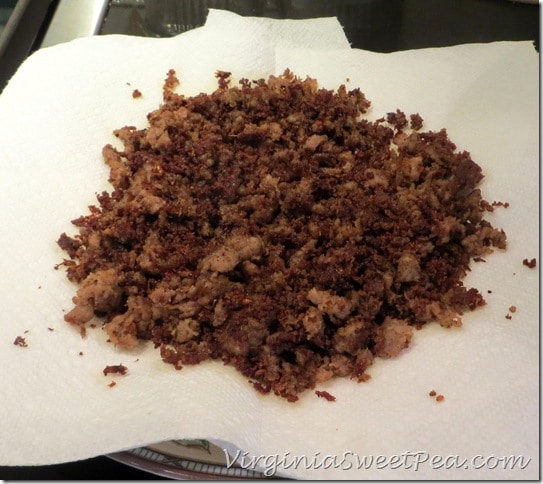 Chicken is rinsed, patted dry, and then sprinkled with salt and pepper.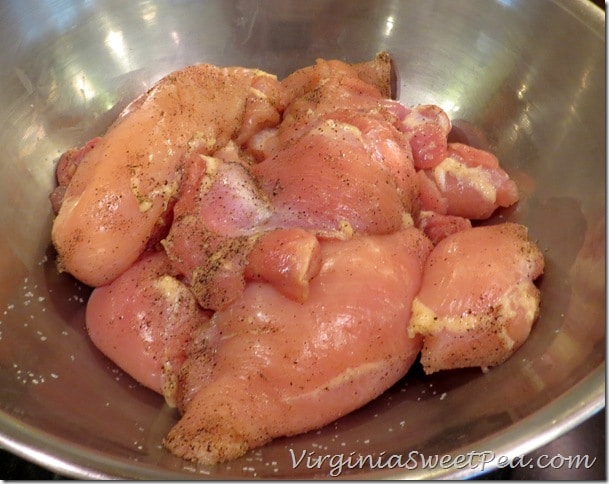 The chicken gets browned for three minutes per side, rests for five minutes, and then is cut into 1 1/2" chunks.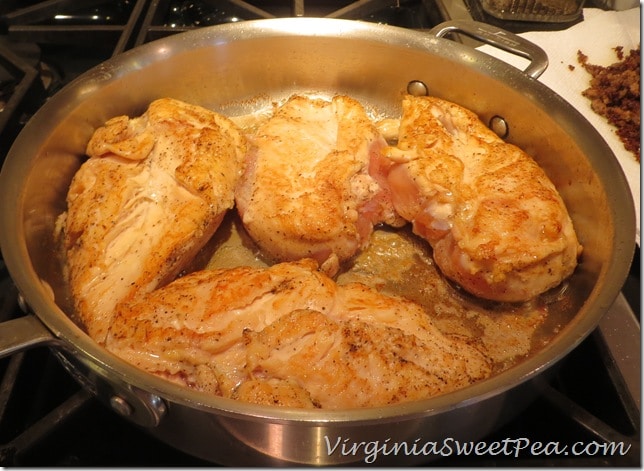 Chop the onion, celery, pepper, fresh ginger, and garlic prior to starting the recipe.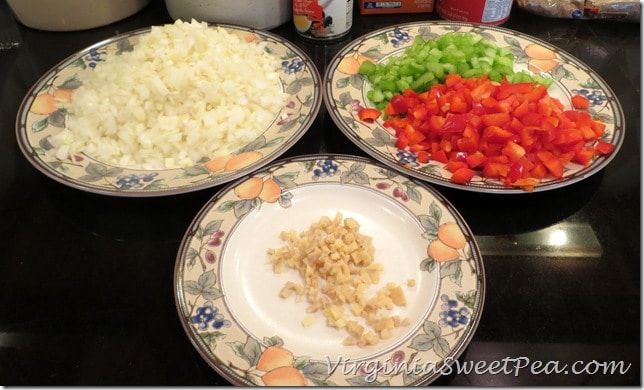 The onion is sautéed in butter until soft.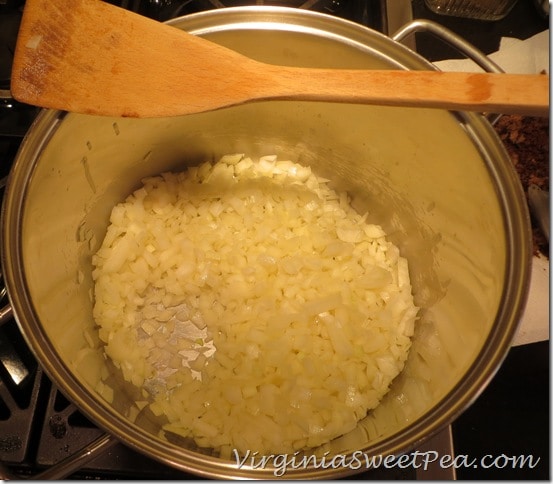 Then the celery, pepper, garlic, and ginger are added.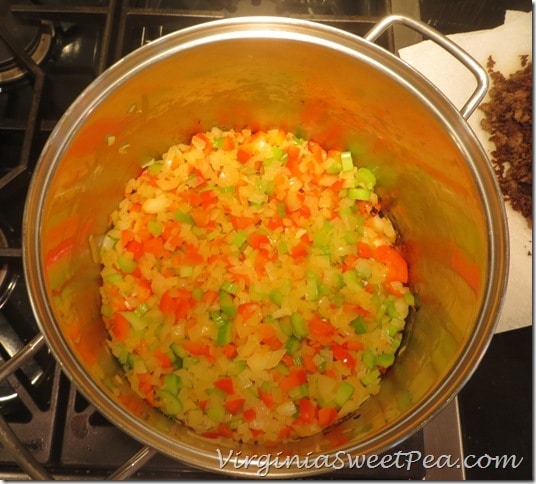 When the veggies are tender, the spices are added.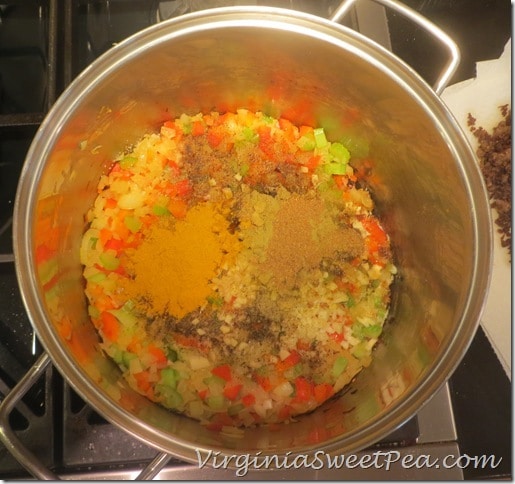 A 1/4 cup of flour is stirred in to coat every morsel.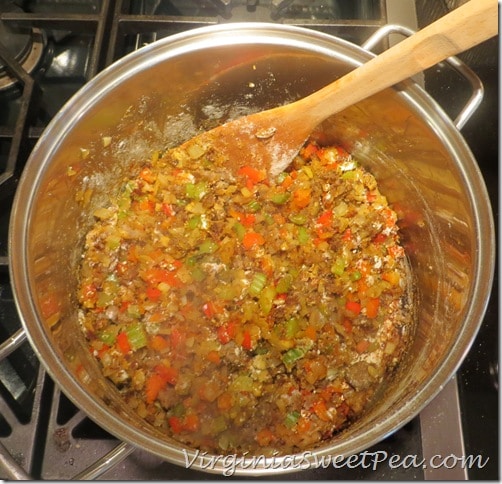 The mixture thickens quickly after the tomatoes, wine, broth, and lemon juice are added.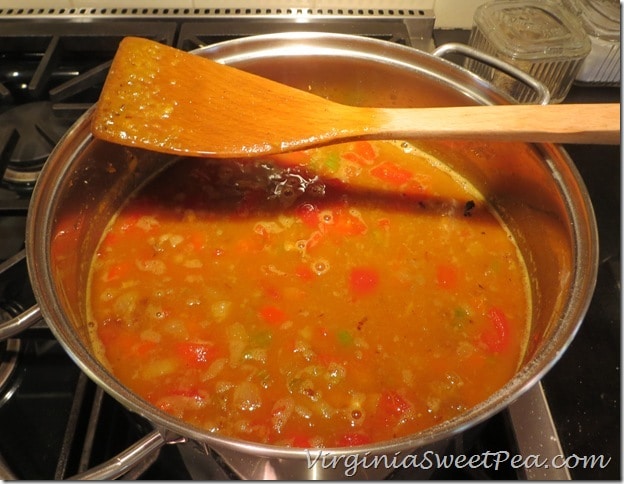 The chicken, raisins, and toasted almonds go in the pot and the mixture simmers until the chicken is done.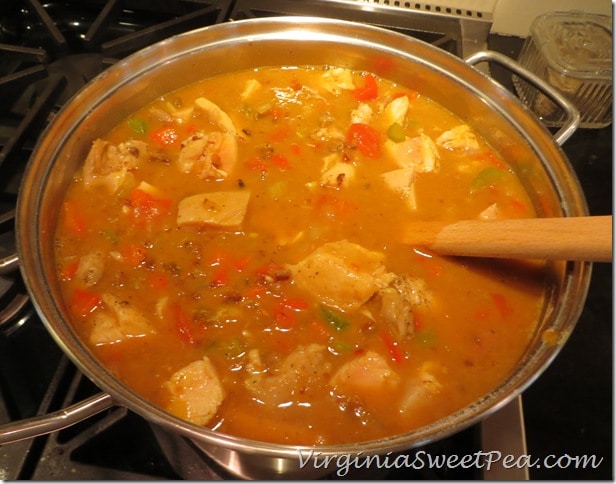 Yield: 12-16
Country Captain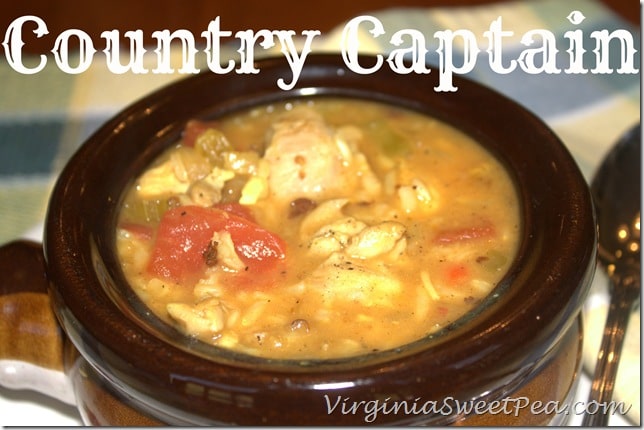 Ingredients
1 pound bulk pork sausage, mild
3 pounds boneless, skinless chicken breasts
2 pounds boneless, skinless chicken thighs
2 teaspoons plus 1 tablespoon salt, divided
2 teaspoons ground black pepper, divided
1½ sticks (12 tablespoons) salted butter, divided (I did not use this much.)
3 cups medium-diced white or yellow onions
1 cup medium-diced red bell pepper
1 cup medium-diced celery
2 tablespoons minced garlic
1½ tablespoons dark brown sugar
1 tablespoon curry powder
1½ teaspoons dried thyme
¾ teaspoon ground cumin
2 teaspoons minced fresh ginger
¾ cup flour
2½ cups tomatoes, peeled (I use good-quality canned ones)
5½ cups chicken stock
2½ cups white wine
½ cup lemon juice
1 tablespoon apple cider vinegar
2 cups golden raisins
4 cups cooked rice
¾ cup snipped chives (I did not add these.)
1½ cups toasted slivered almonds
½ cup chopped parsley (I omitted this.)
Instructions
In a large, heavy skillet over medium-high heat, brown the sausage, fully breaking it up, and then drain off the excess fat. Reserve.
Wash the chicken breasts and thighs and pat them dry. Place them in a mixing bowl and toss with 2 teaspoons of the salt and 1 teaspoon of the black pepper.
In another large, heavy skillet over medium heat, melt 4 tablespoons of the butter. When the foaming has subsided, add the chicken and sear it in batches on both sides until it is brown on the surface but still raw inside, about three minutes per side. Remove chicken from the heat, let it rest for at least five minutes, and then cut it into approximately 1½-inch chunks and reserve it in a bowl. Do not worry that the chicken is still raw on the inside, as it will finish cooking later.
In a large, heavy stockpot over medium heat, melt the remaining 8 tablespoons butter. When the foaming has subsided, add the onions and sauté for three minutes, until they start to get soft. Then add the peppers and celery, and sauté for another three minutes. Add the garlic, the remaining tablespoon of salt, the remaining teaspoon of pepper, the dark brown sugar, and the curry, thyme, cumin, and ginger and continue to sauté these ingredients until the onions are translucent, approximately four to eight more minutes. Add the cooked sausage, then the flour, and stir the mixture thoroughly. It will become very thick.
Add the tomatoes, chicken stock, wine, lemon juice, vinegar, and raisins and bring the mixture to a boil. Reduce the heat to a simmer and continue to simmer for five more minutes.
Add the chicken and simmer the mixture for five more minutes, until the chicken is completely cooked through, and then turn off the heat. Stir in the cooked rice, chives, almonds, and parsley and serve it with buttered crusty French bread.



The raisins and brown sugar add a touch of sweetness that balance the savory spices quite nicely.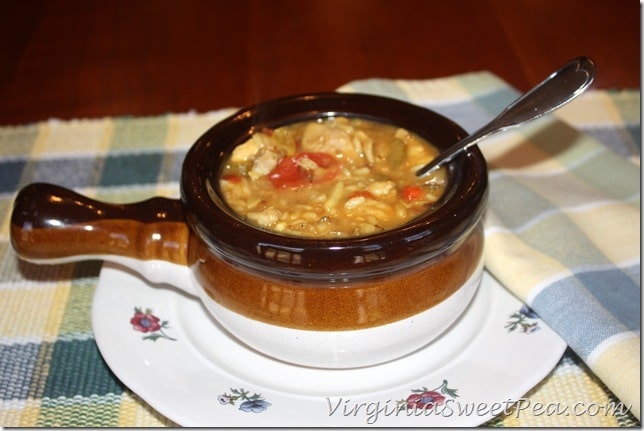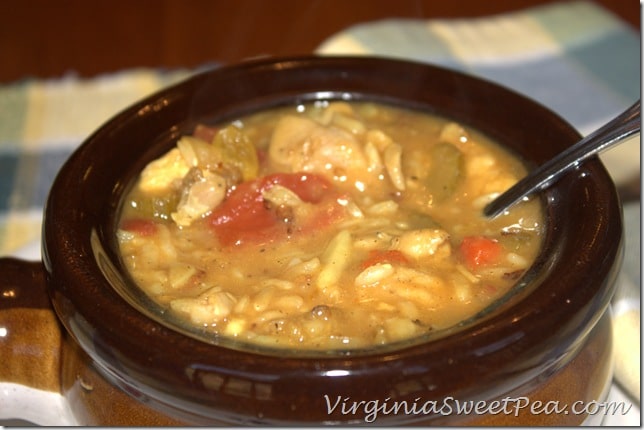 The eating is going to be good at our house this week!