Vermont Fall Vacation – 2020
We had such a wonderful time on our Vermont Fall Vacation. If you missed the first part of our fall vacation recap, you can check it out here.
Our Vermont Fall Vacation
Our Vermont vacation destination was the fabulous Woodstock Inn and Resort in Woodstock, Vermont.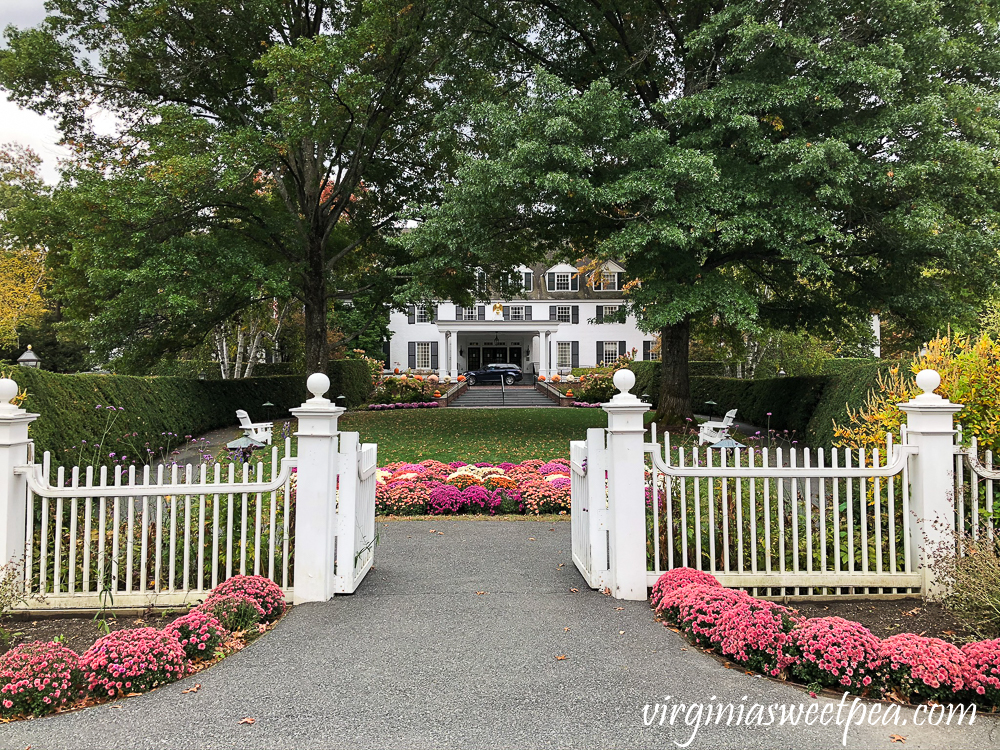 We enjoy staying at The Woodstock Inn for several reasons.
We love the entryway with its large fireplace, the library, and other comfortable areas for relaxing out of your room.
The rooms are not only beautiful but also comfortable. There is a dog-friendly wing, so Sherman can come on vacation with us and enjoy all areas of the inn except the two restaurants, so staying there works very well for us.
There are two mountains within walking distance of the inn, both with many trails for hiking.
We love walking around the village of Woodstock to shop and to admire the old houses.
There are tons of fun things to do in the Woodstock area, all a short drive away.
Last year we also vacationed in October at The Woodstock Inn. To see pictures of the interior of the inn and our room visit that post. You'll also see some fabulous fall foliage in the post, way more brilliant than what we experienced this year.
After enjoying Maryland, Pennsylvania, and New York, it was on to Woodstock, Vermont for the week.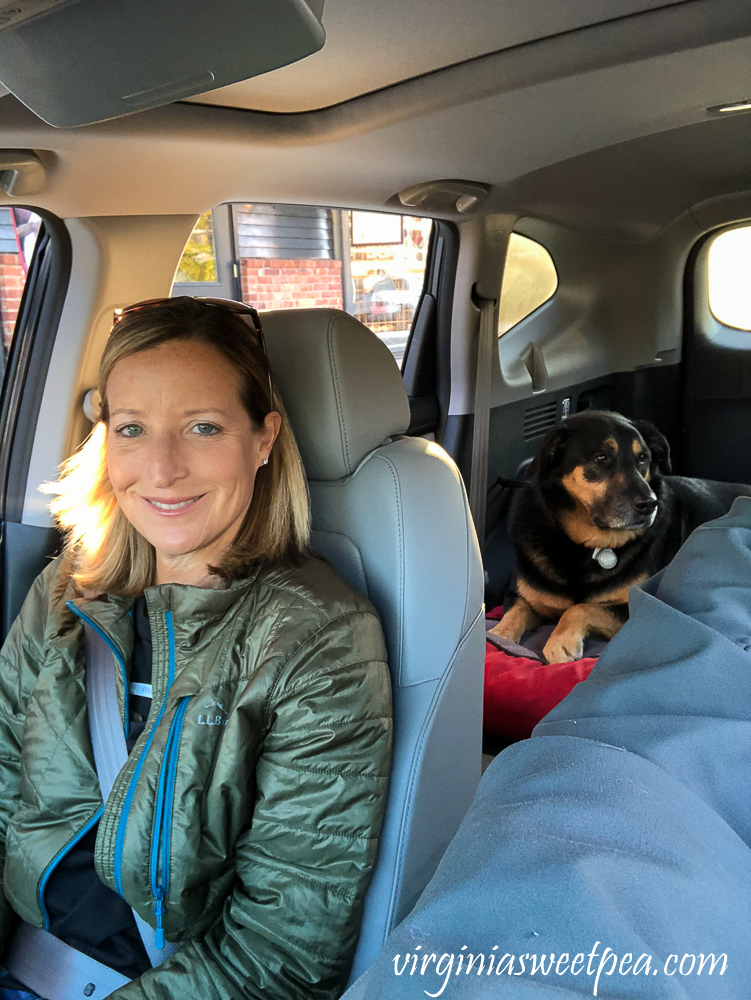 Fall Vacation in Woodstock, Vermont
The number one thing I love about The Woodstock Inn is sitting in front of this fire in the morning. Each day of our vacation, I headed here the second my feet hit the floor.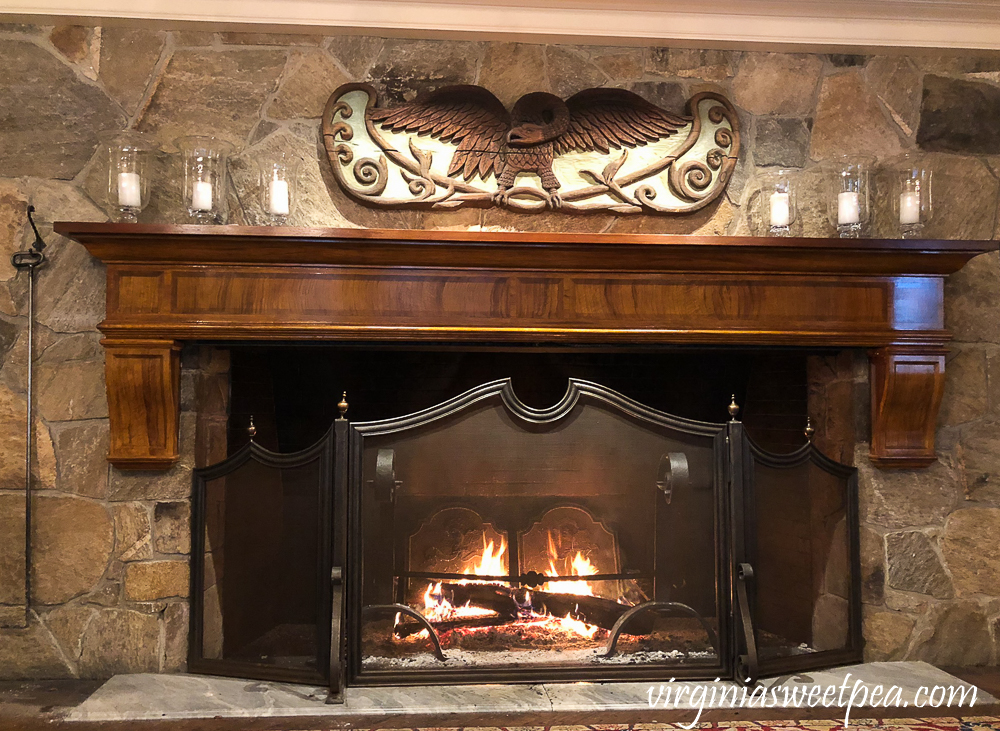 Mr. SP took Sherman for a short walk and then joined me. I honestly could sit in this spot all day long and be perfectly satisfied.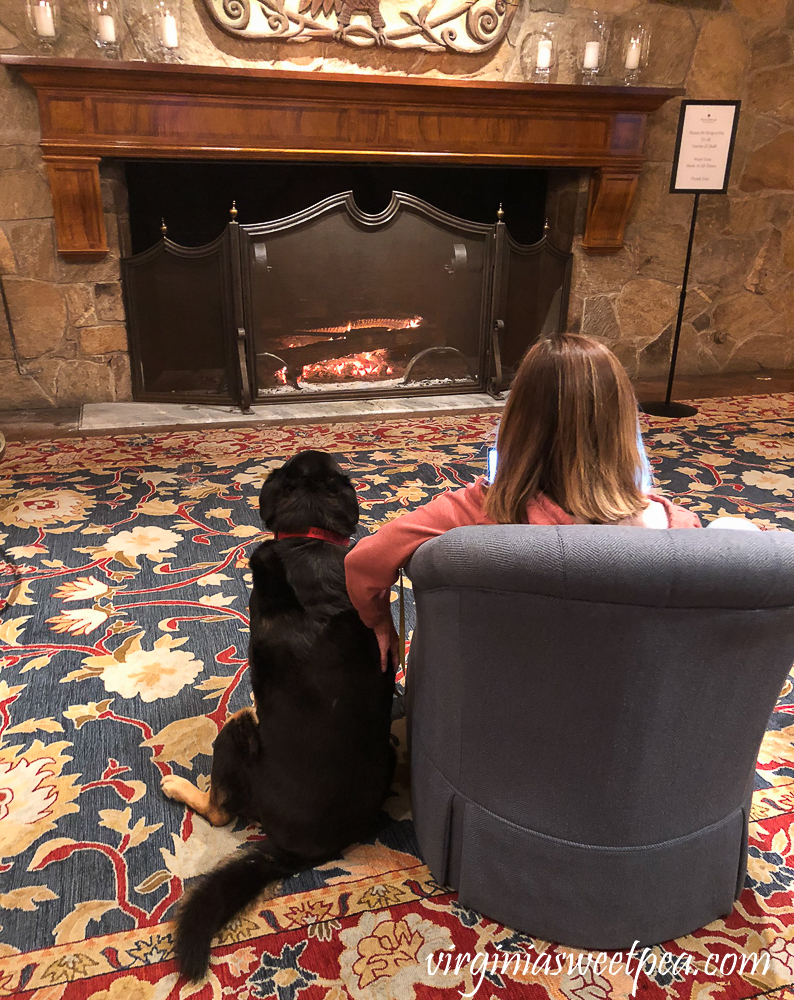 Having a dog encourages others to talk to you. We talked to many inn guests that we wouldn't have otherwise if it weren't for Sherman. It was fun to run into the same guests in town or on the trails.
Sherman enjoyed our morning coffee time as much as we did.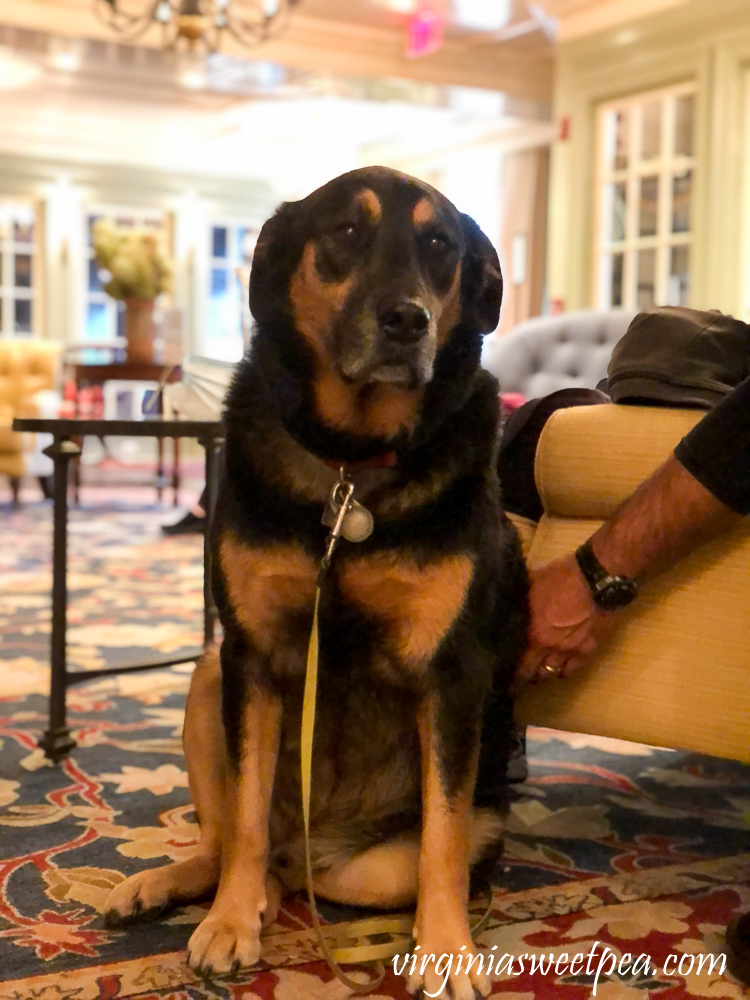 The inn is beautifully decorated with touches of fall added in different spots.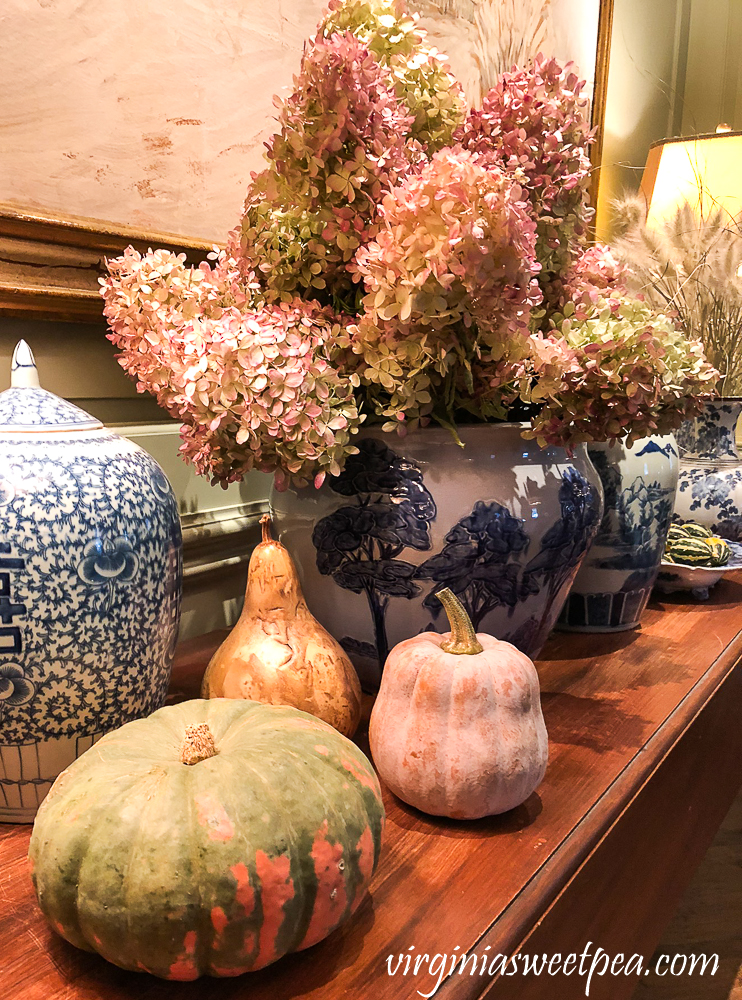 The inn has incredible gardens where both food for the restaurants and pumpkins and gourds used for decor are grown.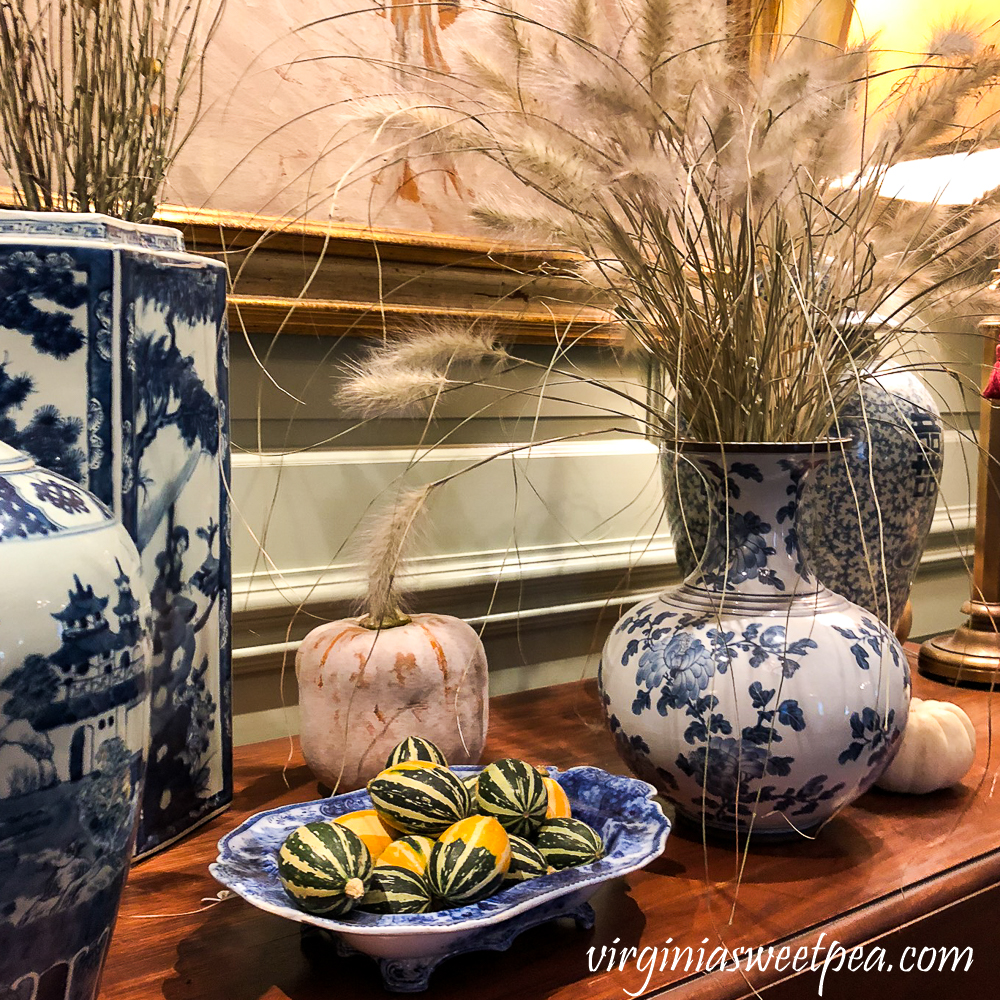 Daily Hikes
After coffee, each day we took Sherman on a hike. Since this was our fourth fall trip to The Woodstock Inn, Sherman knows the trails and we let him lead us on that day's hike.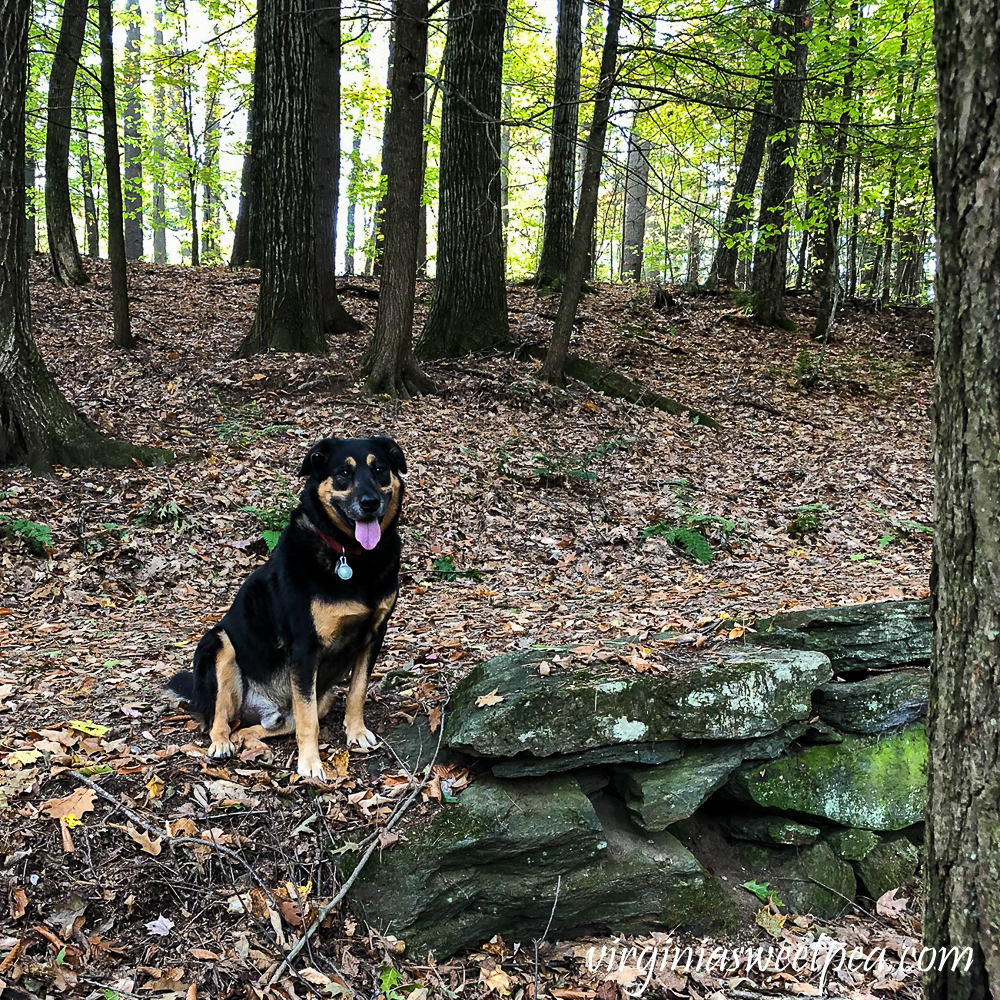 The Pogue on Mount Tom
A favorite spot is The Pogue on Mount Tom. Mount Tom has carriage trails built by the Rockefellers, one trail leads to The Pogue.
This spot is beautiful in the fall.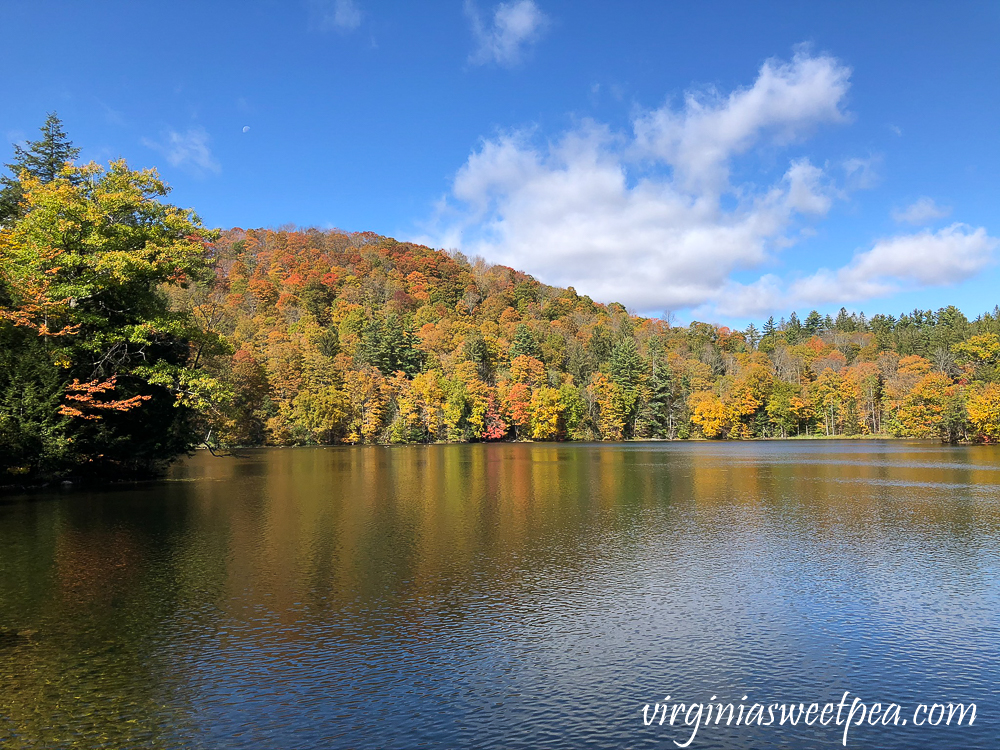 The leaves started changing earlier than normal in Vermont this year. We were there the week before Columbus Day which is typically the peak of color. While gorgeous, the foliage wasn't as vivid as we enjoyed last year.
There are no complaints from me because the foliage was still pretty spectacular.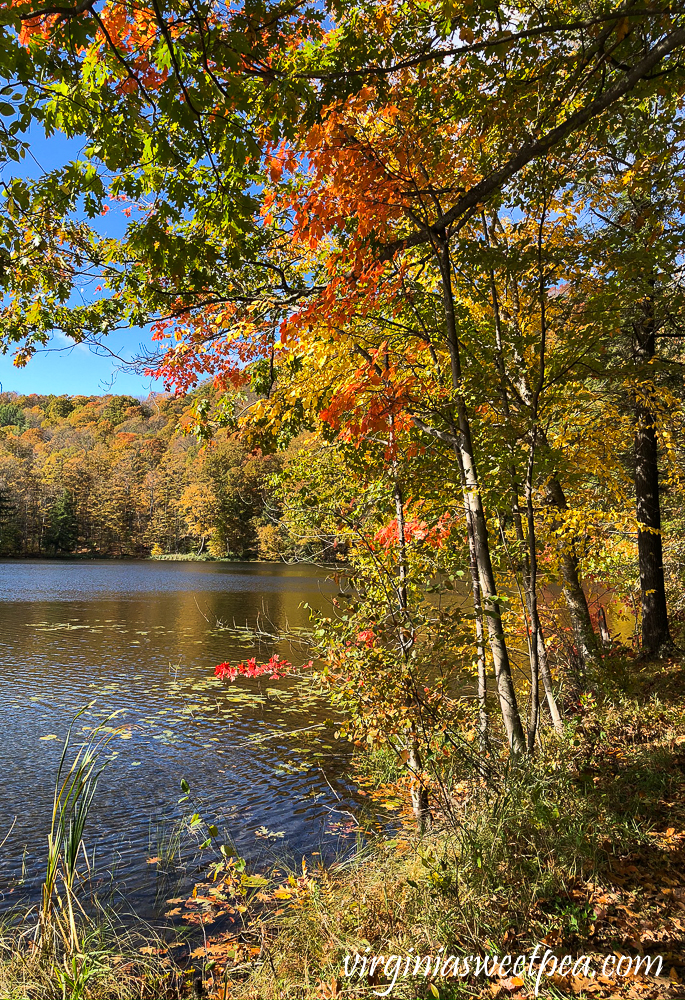 The trail goes around The Pogue so the view can be enjoyed from all sides. Sherman always takes advantage of the situation and goes for a swim and gets a drink of water.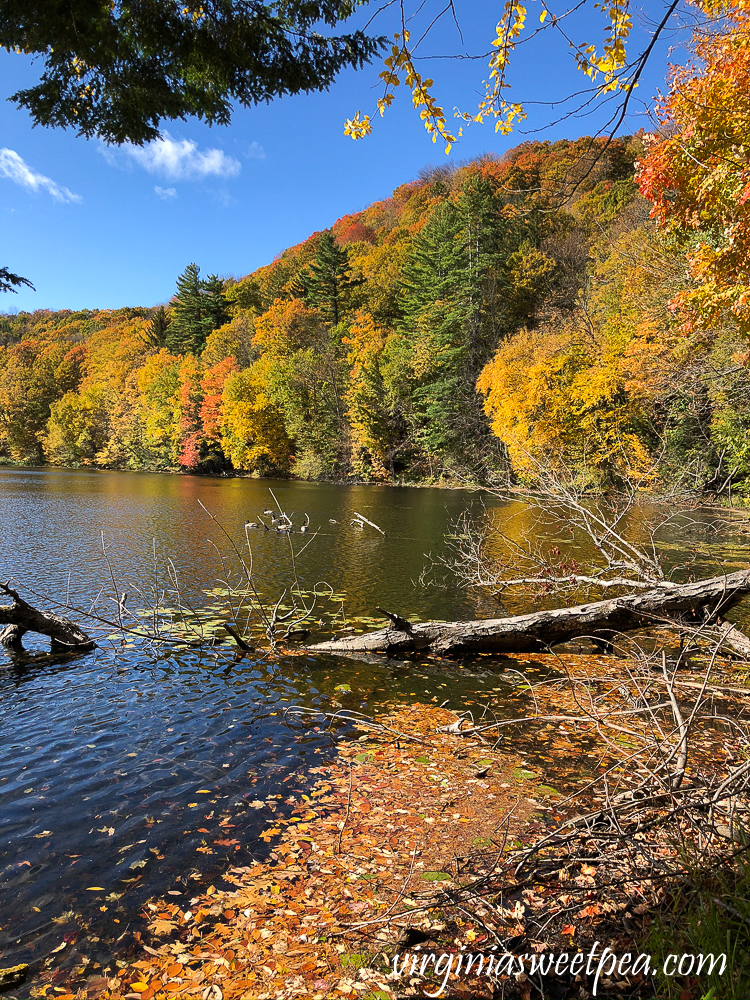 The Star on Mount Tom
Another Mount Tom hike that we enjoy is hiking to the star.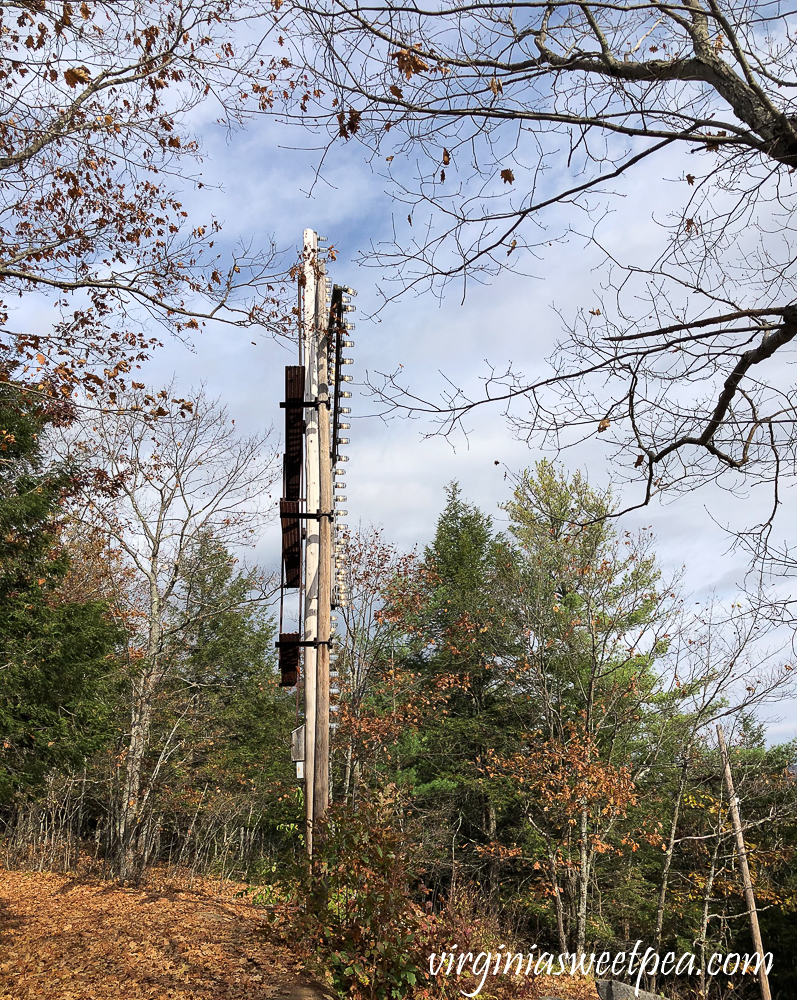 This is a popular spot because of the view of the town of Woodstock and neighboring areas.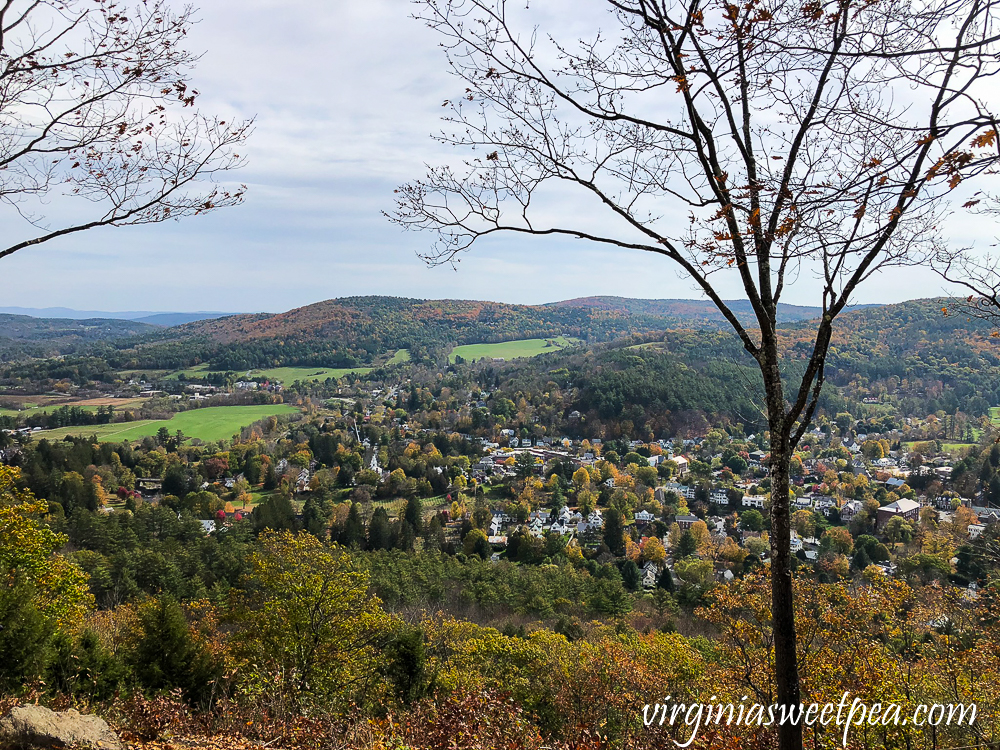 Visiting Woodstock feels like being in a Hallmark movie. It's so charming!
The mountain behind the town is Mount Peg, another wonderful place to hike.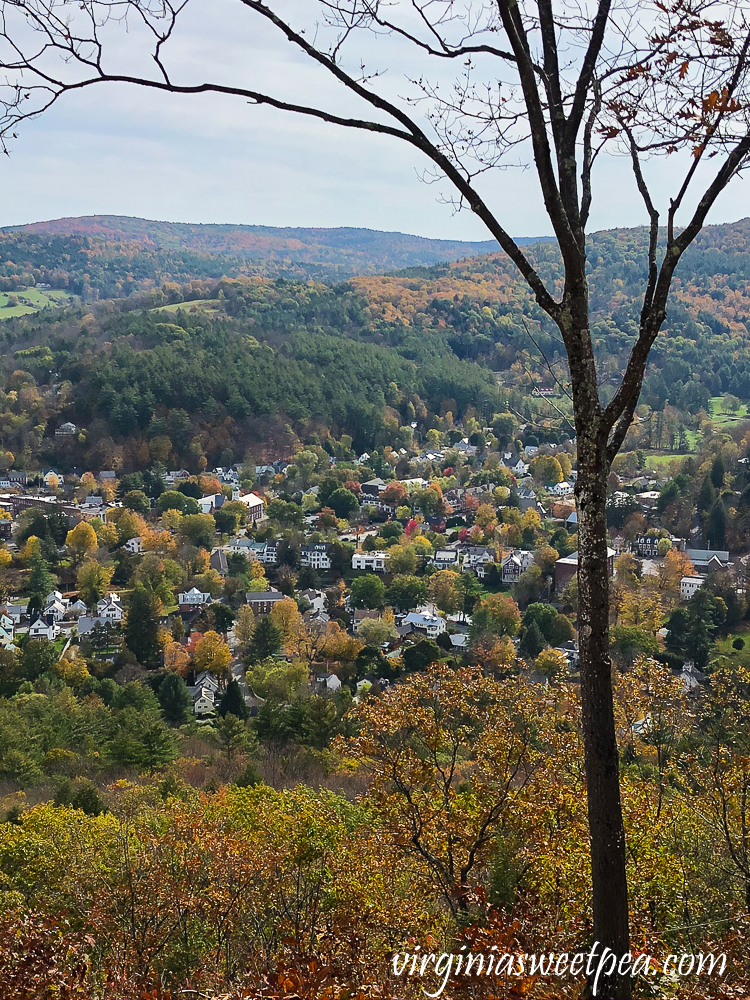 Some people like a beach or tropical island vacation, for me paradise is the mountains.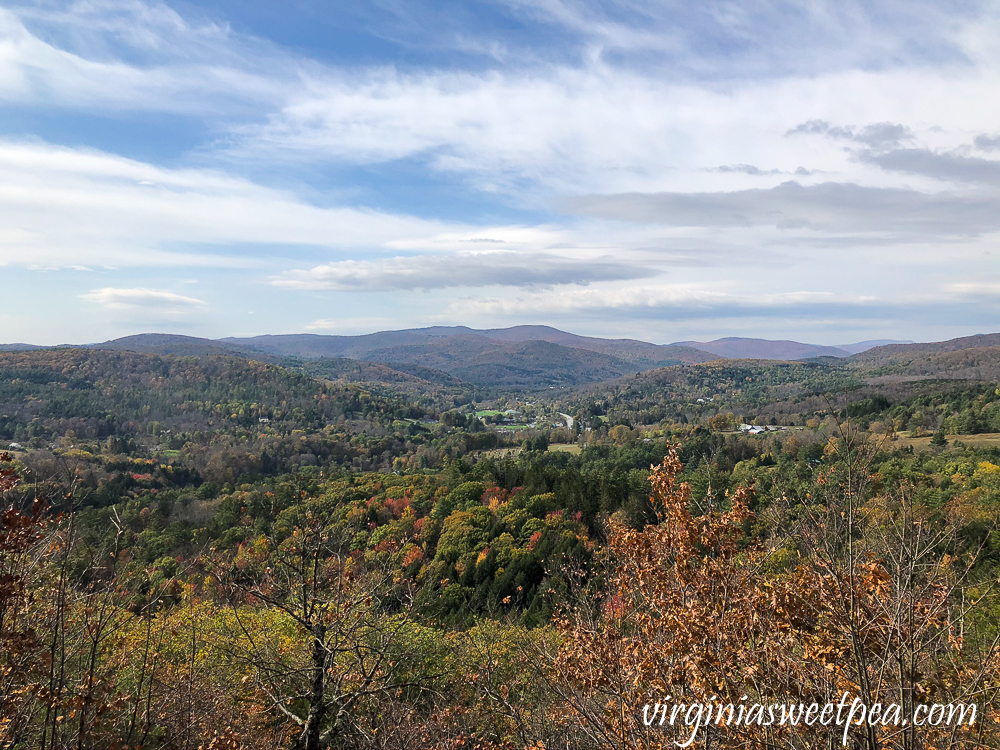 The top of the mountain is a great spot to rest and enjoy the view.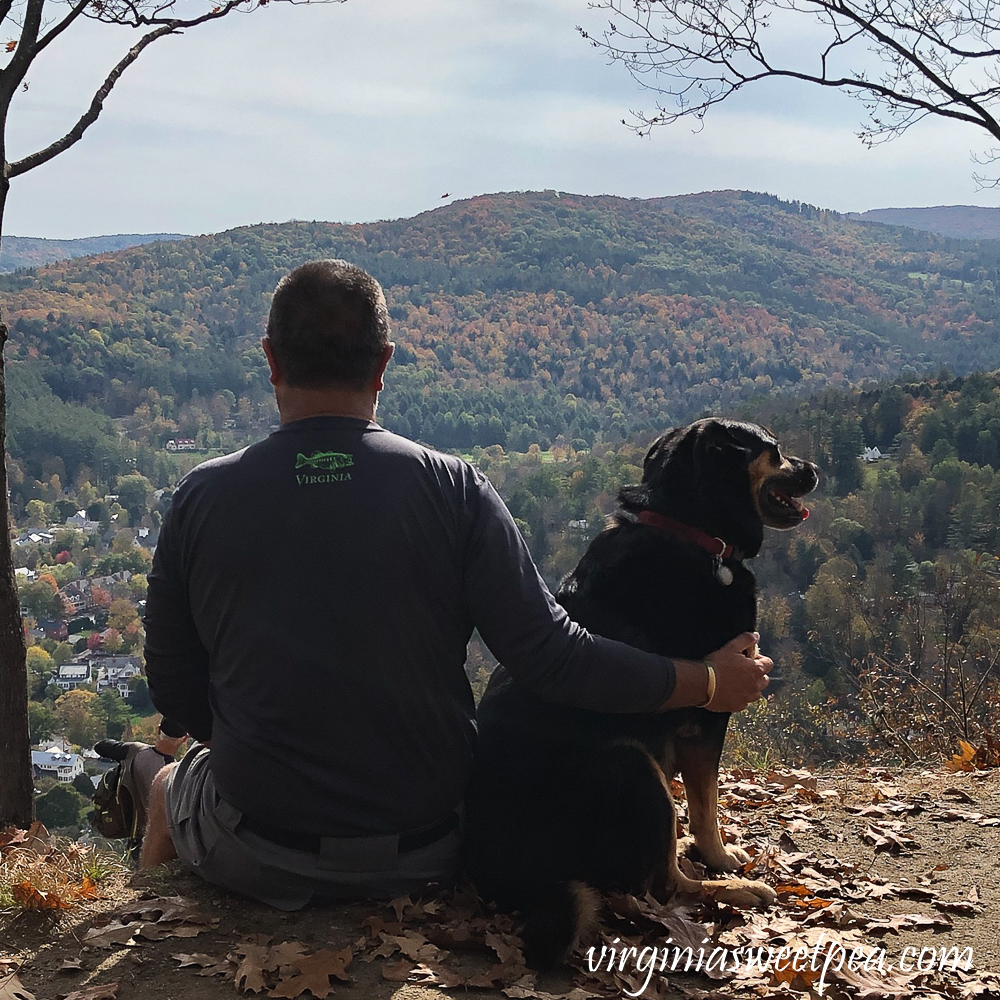 We had great weather on our trip, no rainy days, and mostly clear skies, perfect for enjoying the views and the foliage.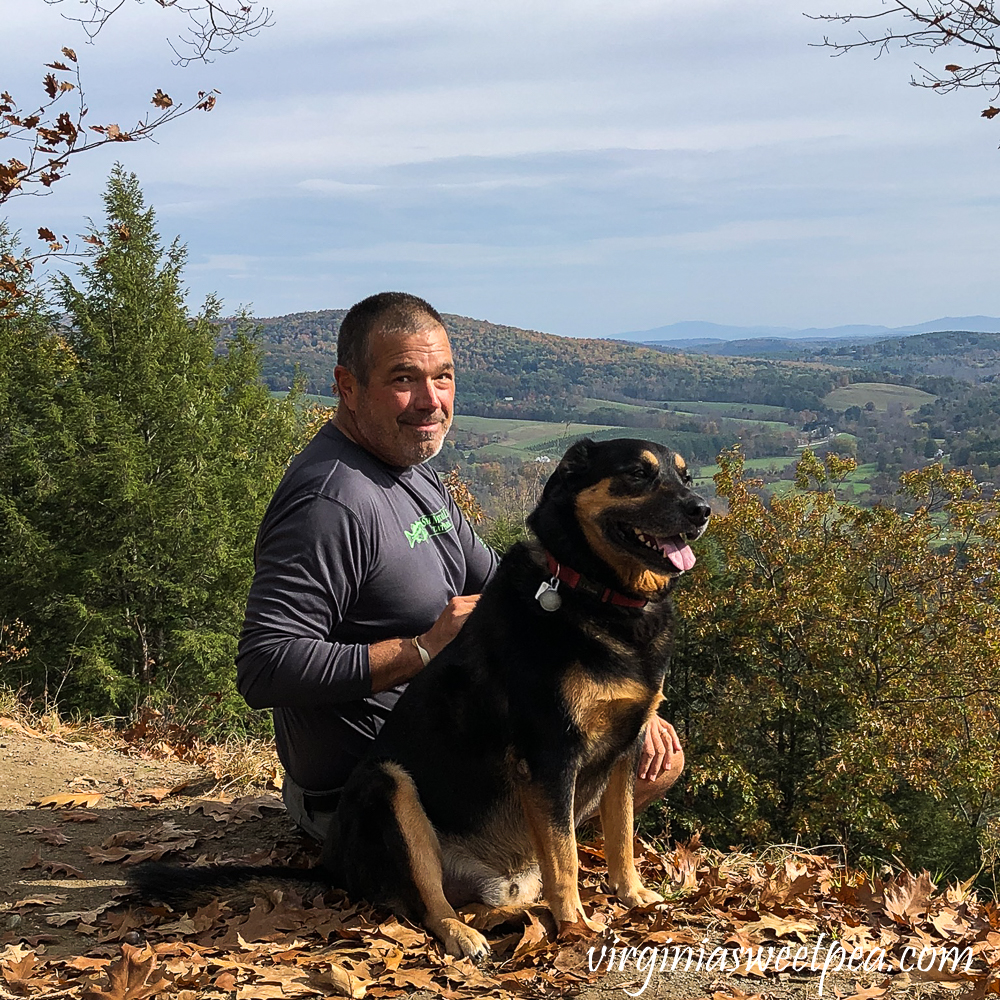 Because we hike with Sherman, we end up talking to other hikers with dogs.
One hiker who has a second home in the area was super nice and Sherman took a liking to his dog, Roxie. He found one of my Instagram posts and we became Instagram friends which led him to inviting us to hang out around his firepit with a mountain view on our next Vermont trip.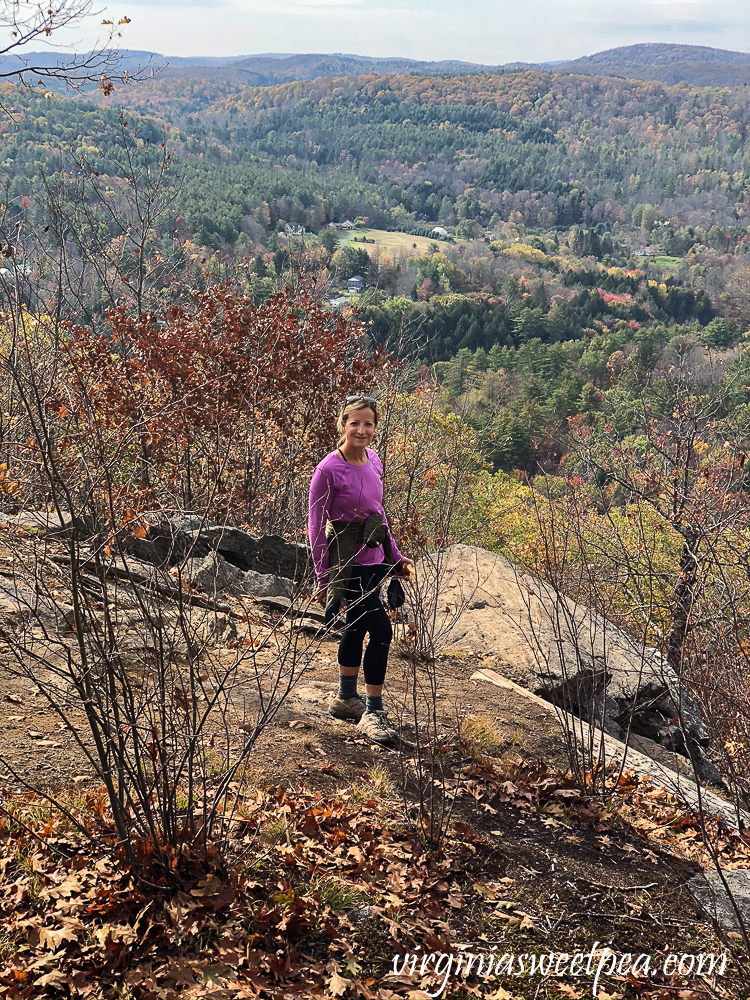 More Scenes from Mount Tom
We hiked on Mount Tom three mornings and on Mount Peg two mornings.
This shot was taken walking to The Billings Farm where one of the trail accesses is located.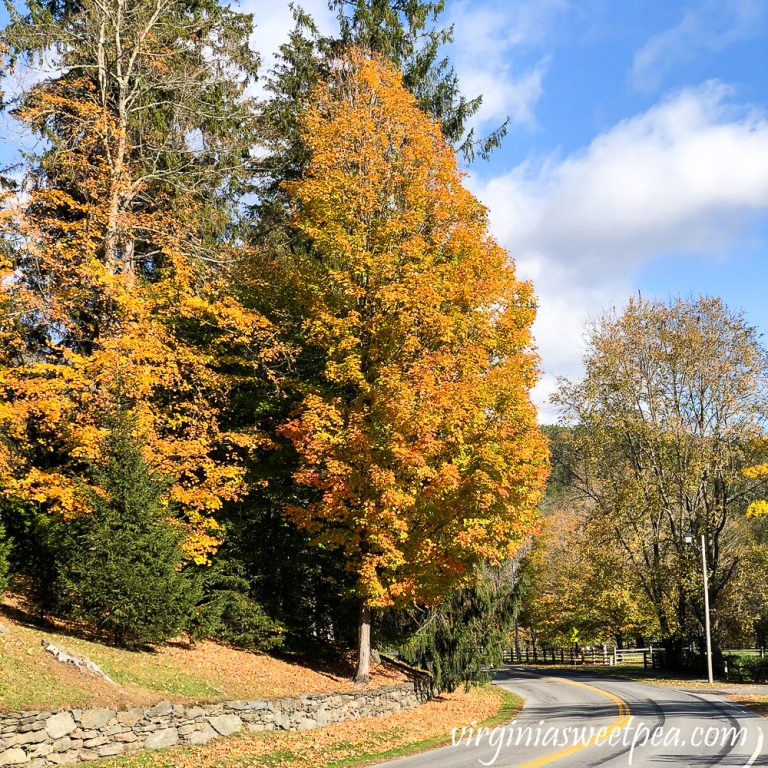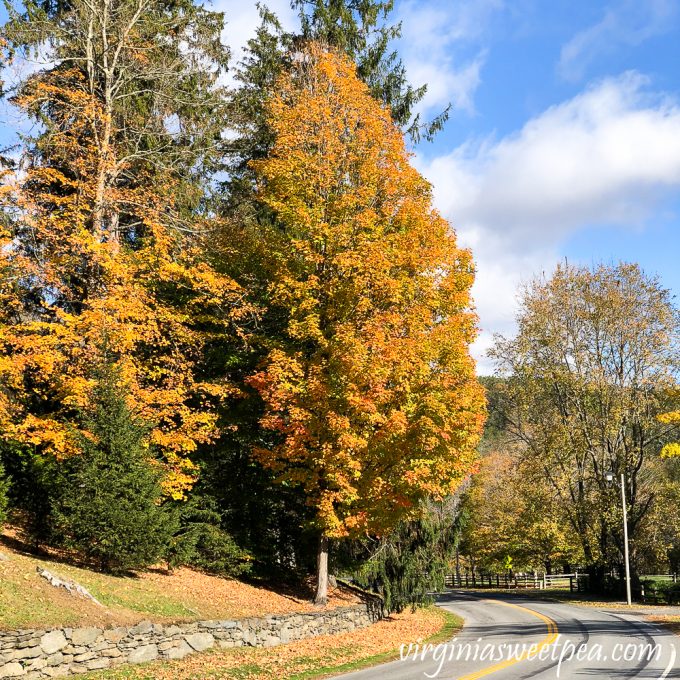 This is one of the carriage trails. The carriage trails are wide and there are hiking trails leading into the forest off them.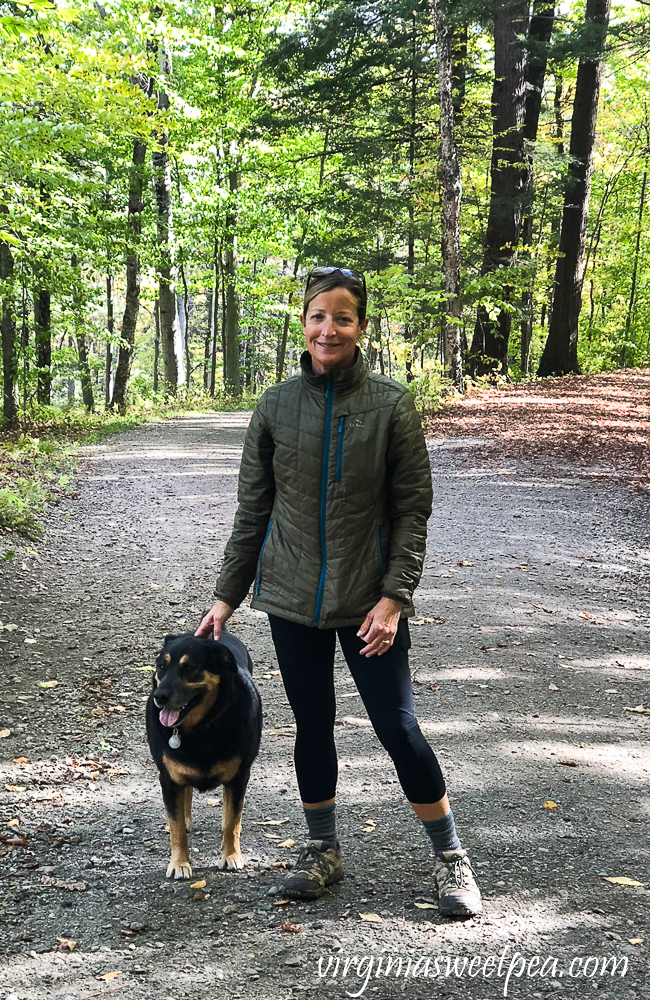 Fall in Virginia is pretty, but we don't have brilliant reds like this in my area of the state.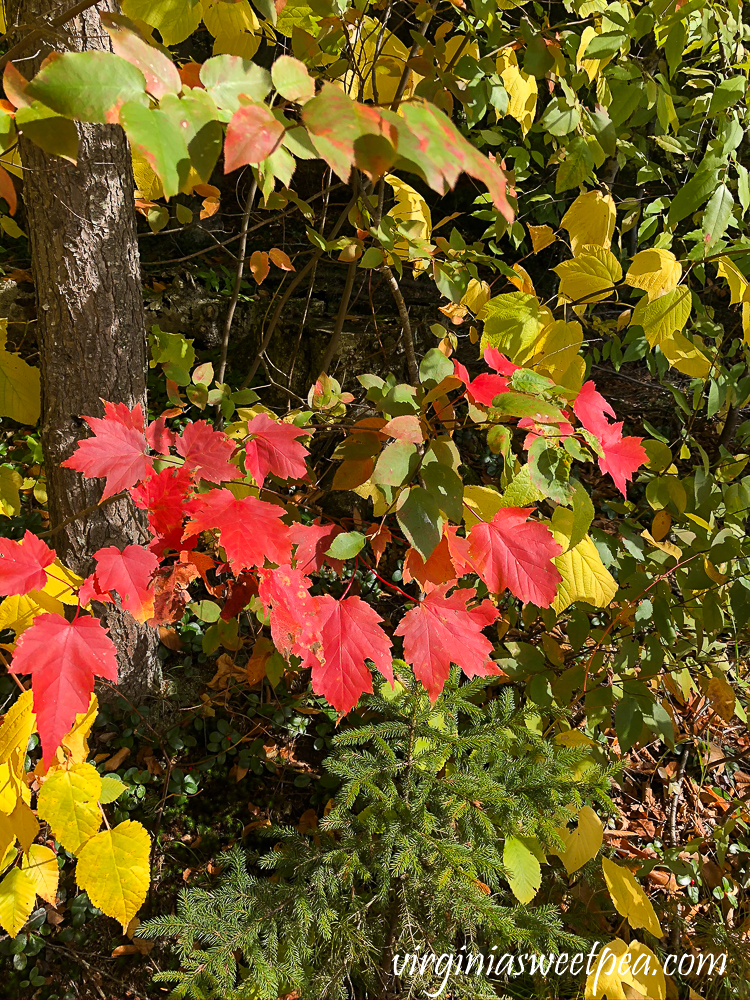 This tree is mostly likely bare by now.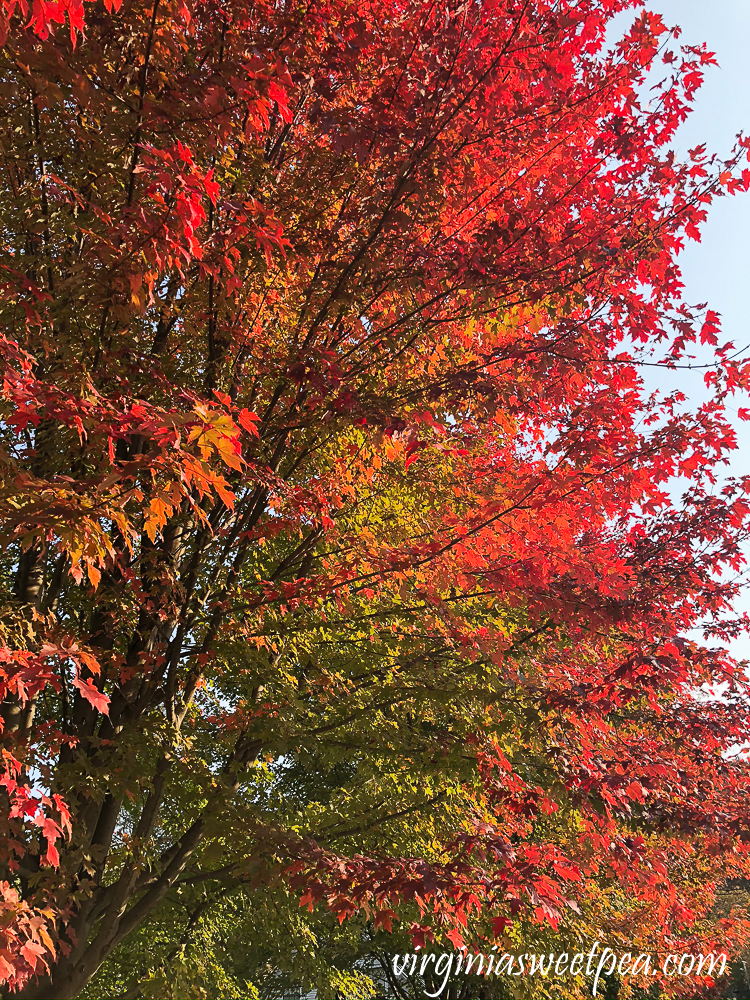 When Sherman takes a hiking break, I can't resist taking a picture of him.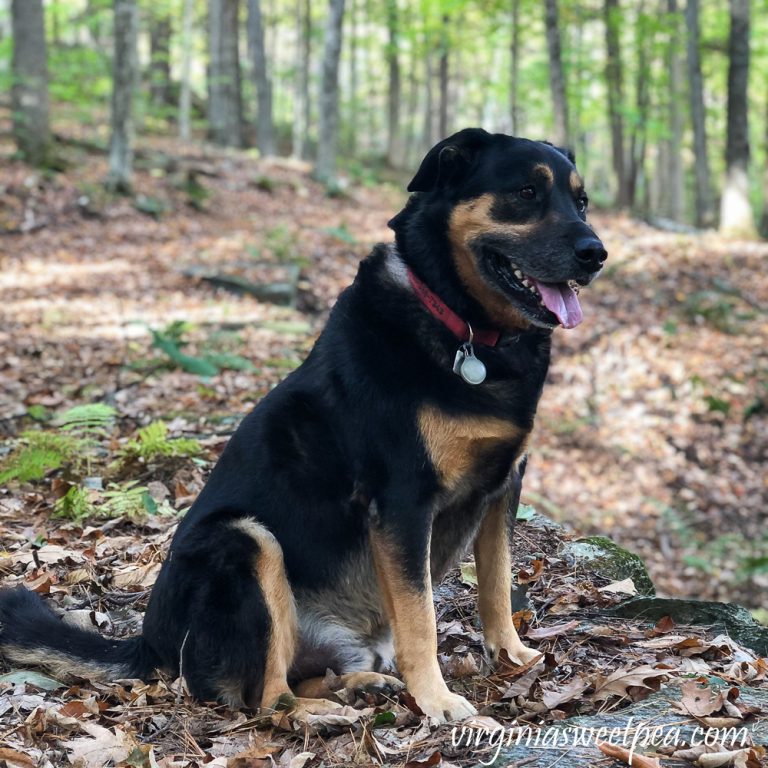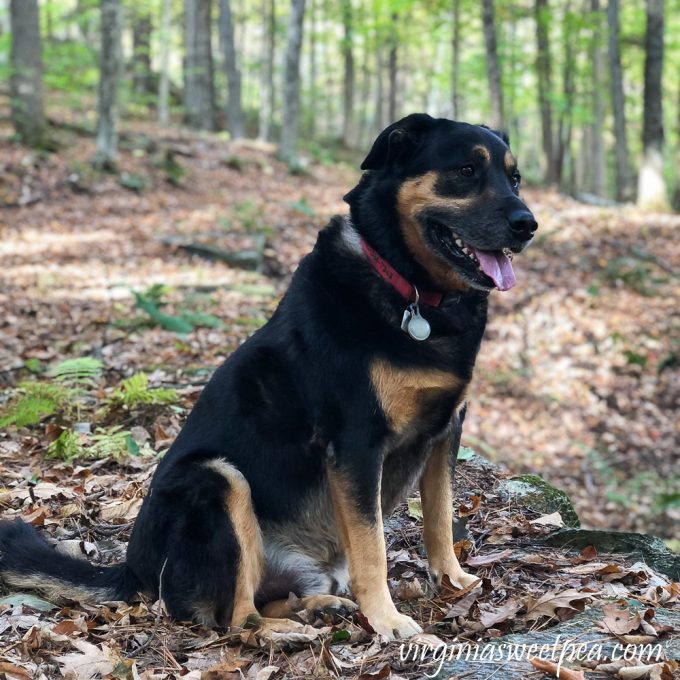 Hiking the trails is activity that the three of us enjoy so much.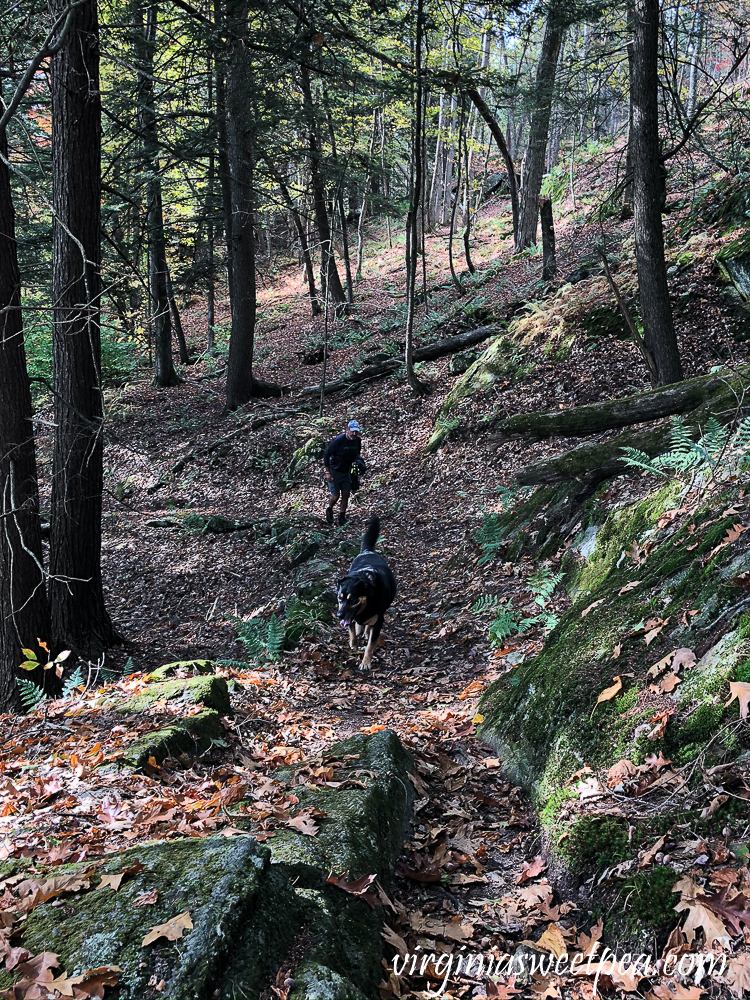 Sherman is a very affectionate dog and a rest session almost always includes some kisses.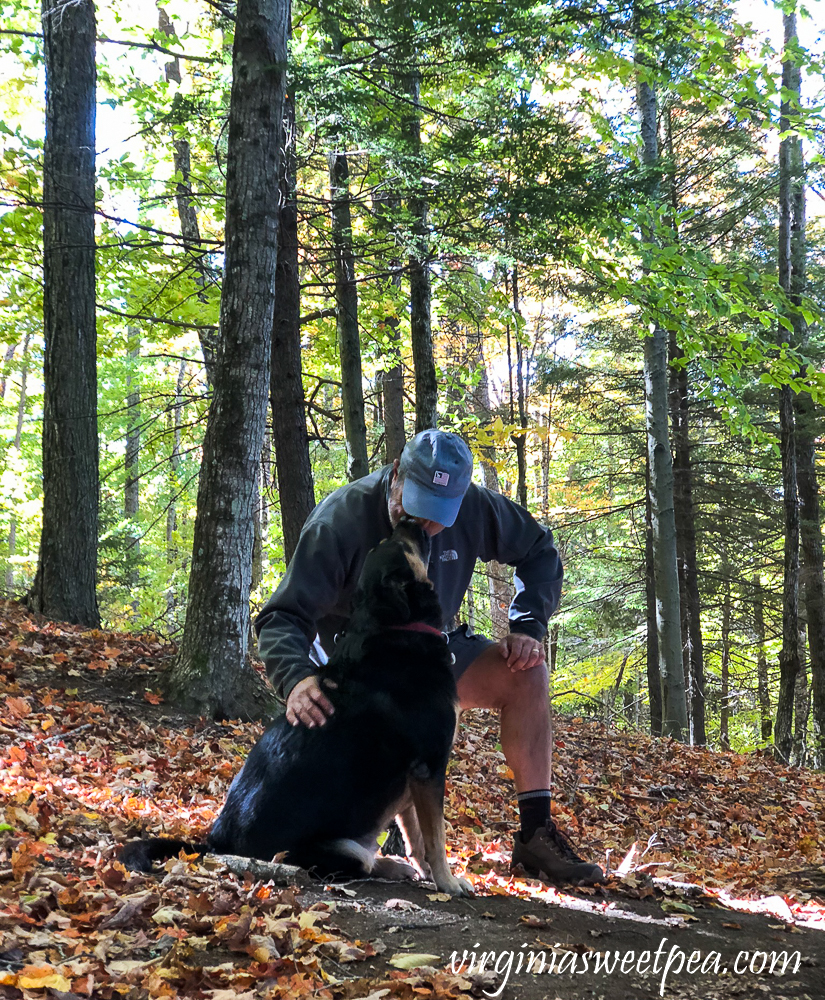 Here he is resting after a long climb.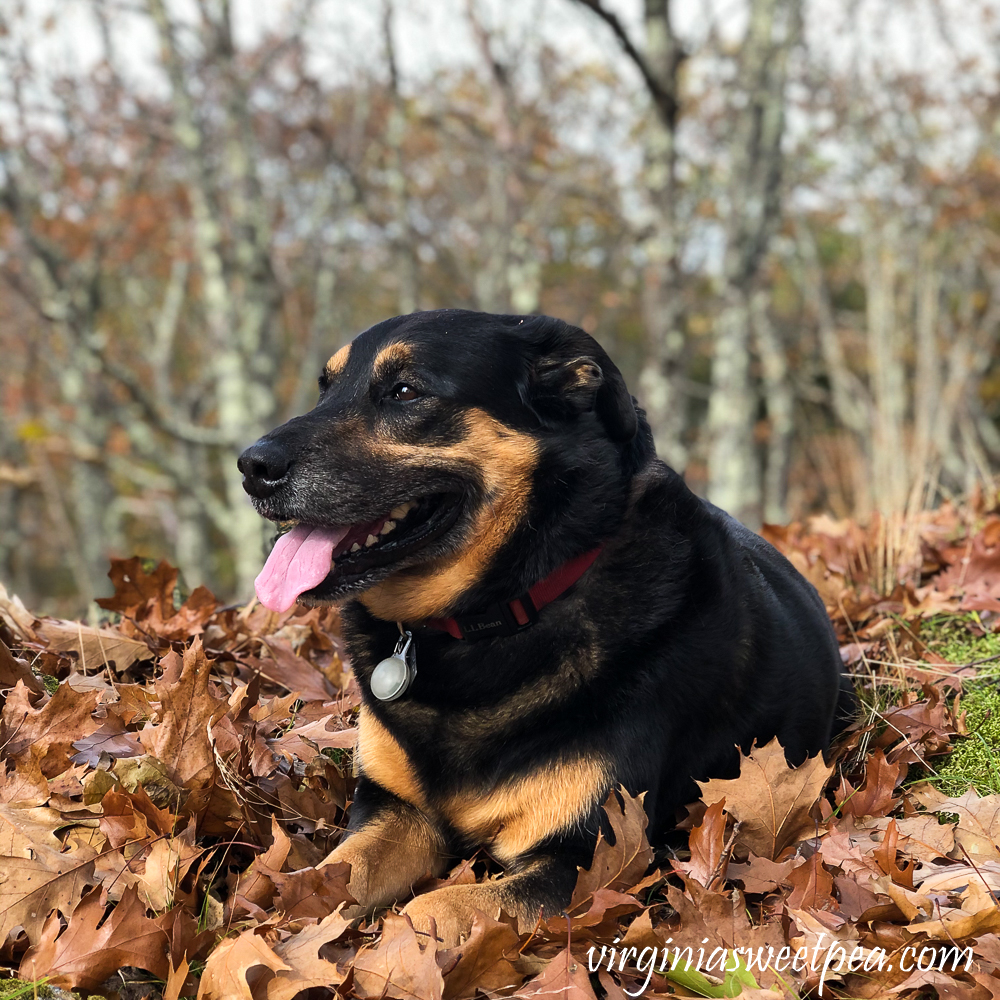 This Mount Tom trail gives a view from the other side of the mountain.
Hiking Mount Peg
The other mountain that we like to hike is Mount Peg. A few trails lead to the summit which leads to many cross country ski trails to hike.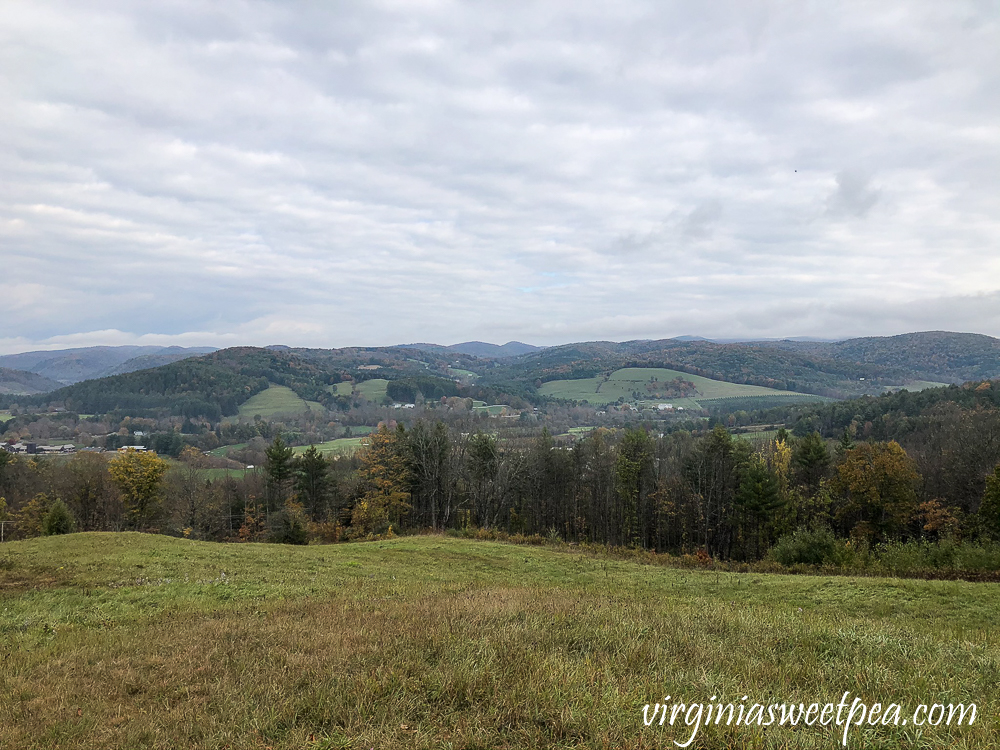 There are benches at the top, picnic tables, and even a fire ring for an evening bon fire. The trail in the background leads to the cross country ski trails.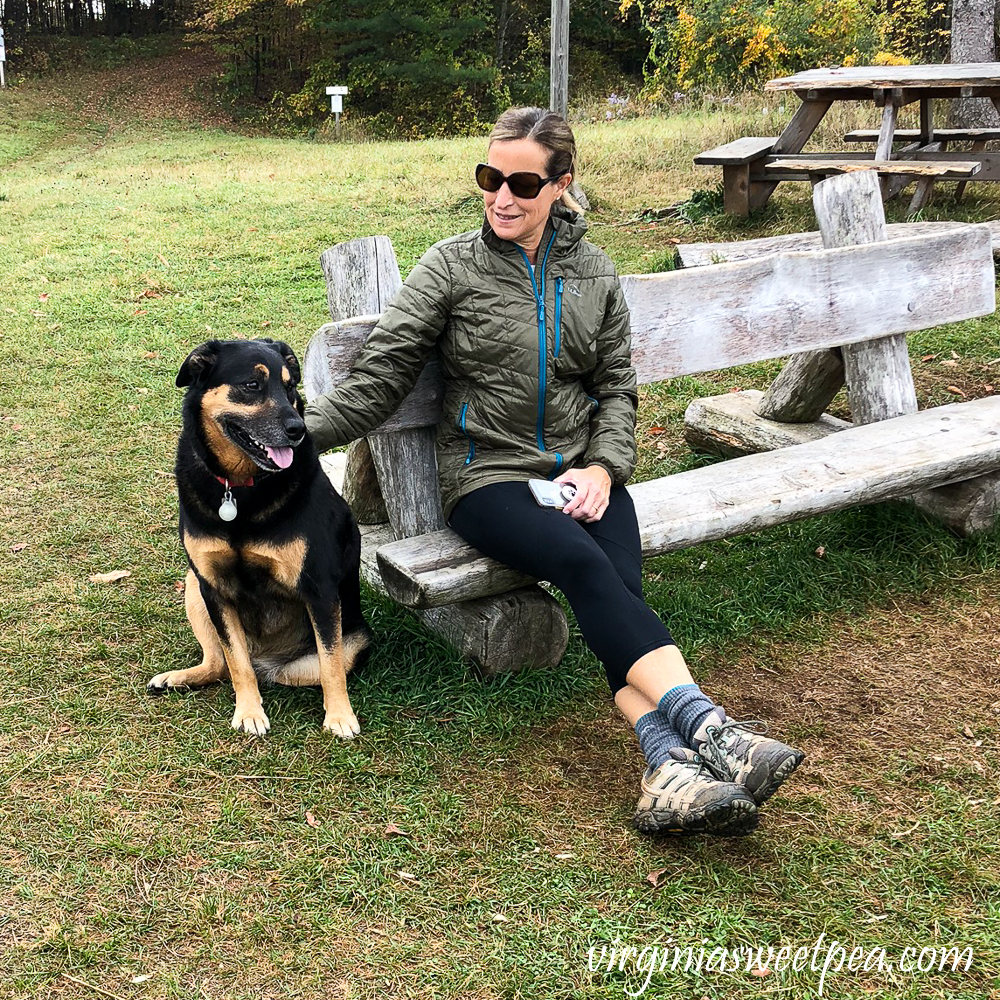 Sherman and I love this view. We intended to hike here to see the sunset but never did.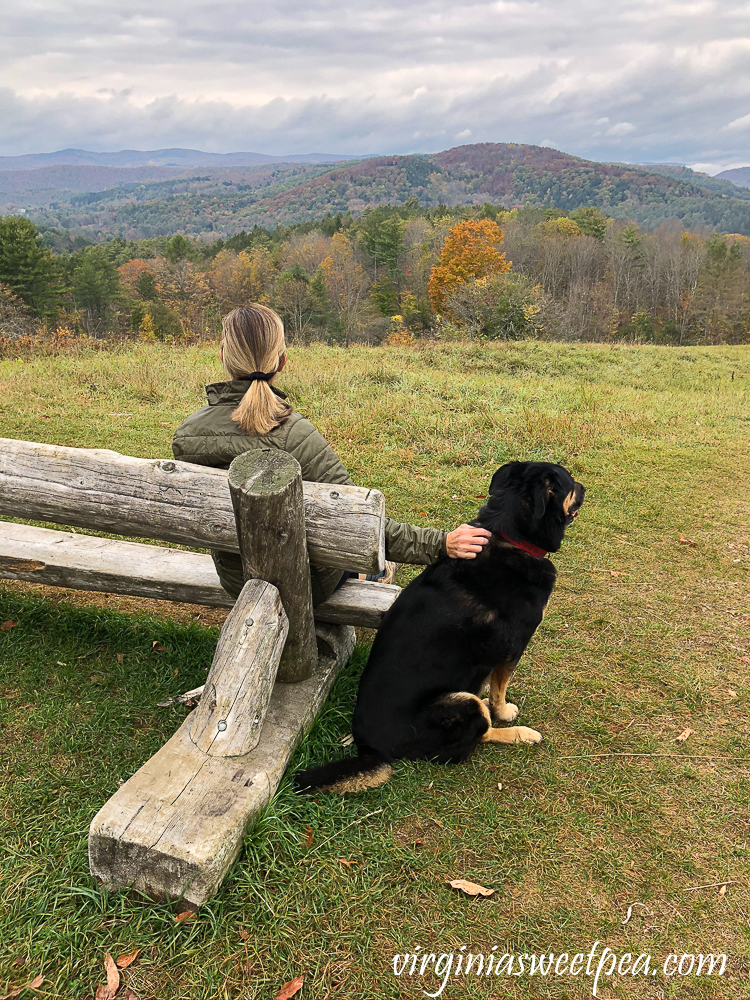 On one of our Mount Peg hikes, a mother and her two kids were enjoying the view from this spot.
Sherman is almost always a kid magnet.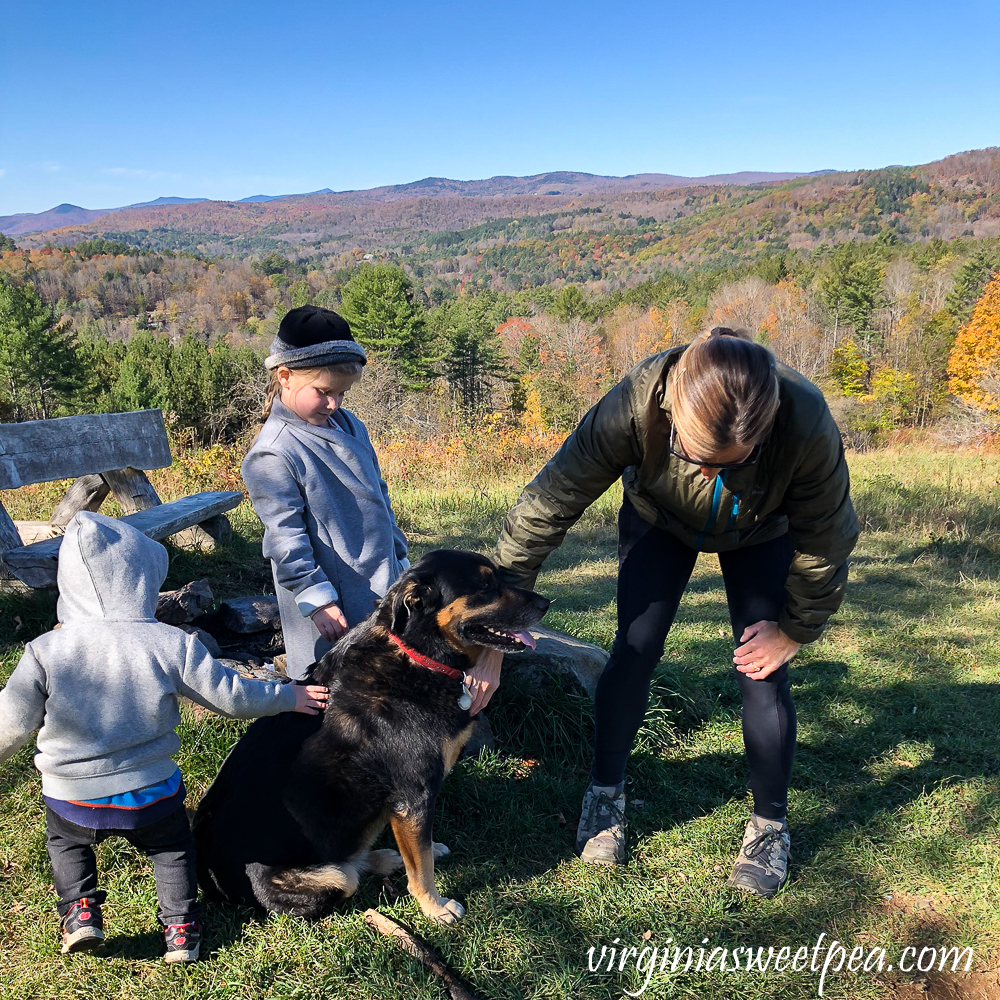 This sweet little girl who was visiting Vermont from Arkansas really liked Sherman.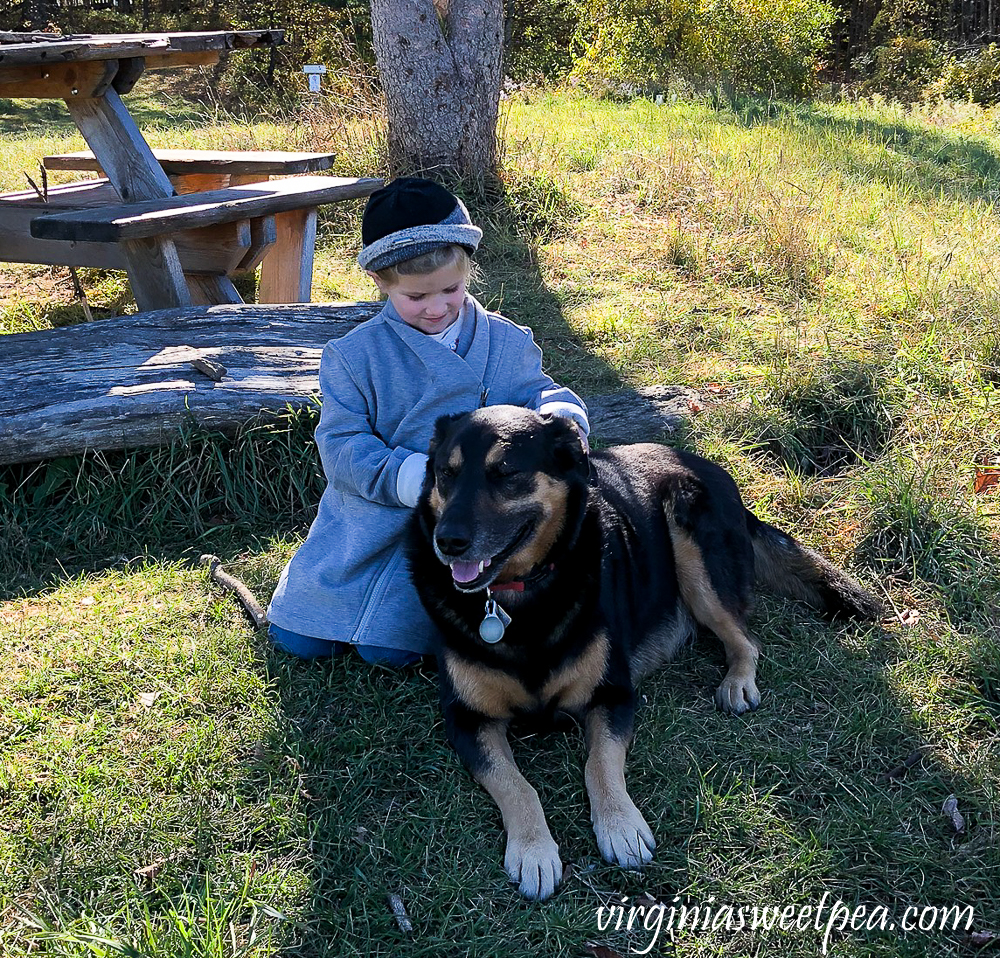 She was the sweetest little girl and the loved on Sherman for a good while.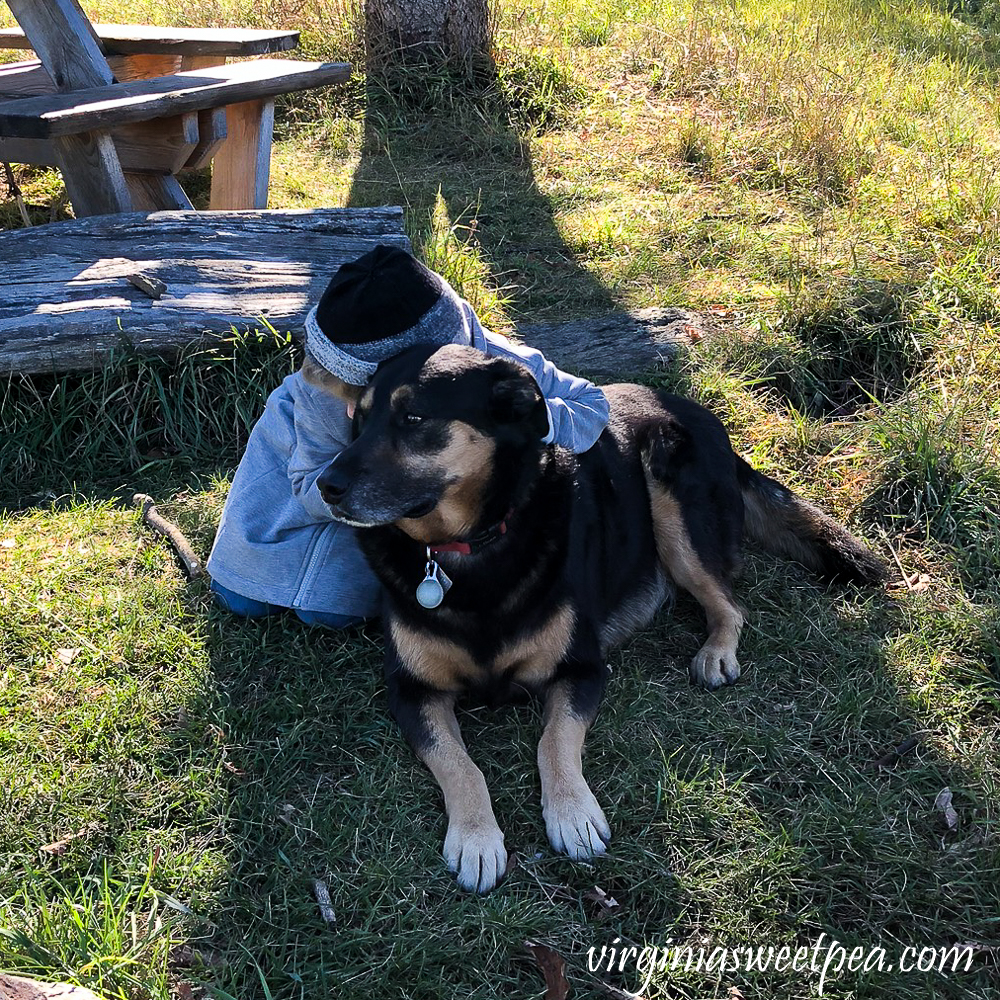 The foliage along the cross country ski trails was very pretty. I've only cross country skied once and there's no way I could ski these trails. When Mr. SP was in grad school at University of Wisconsin, he skied to class.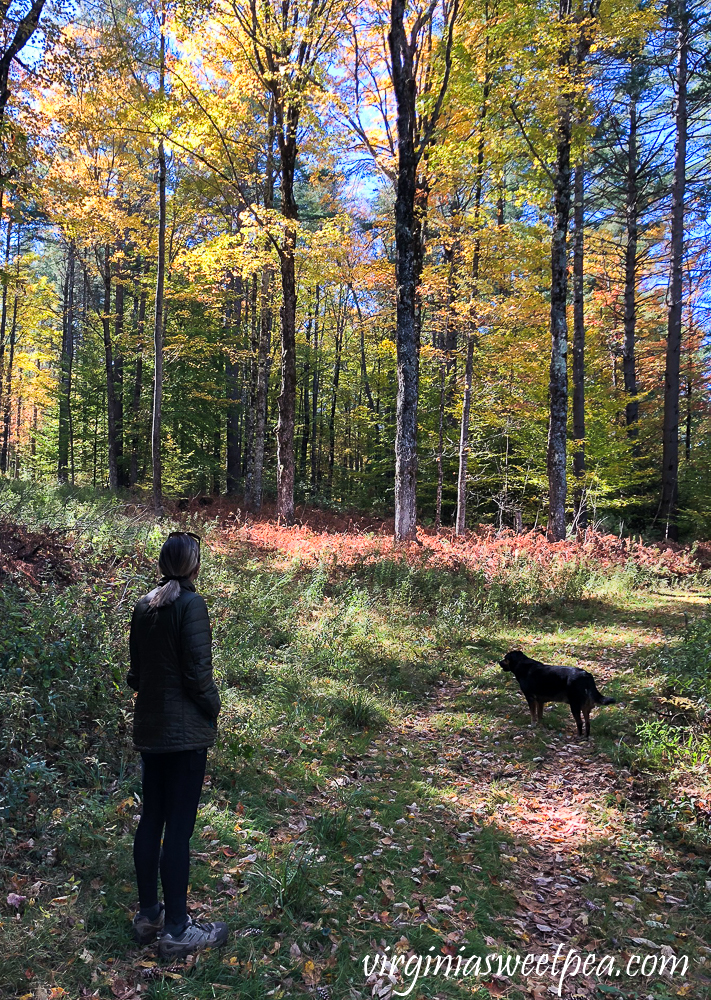 Afternoon Adventures
In the afternoons, we visited some of our favorite spots.
Vermont Country Store
We can't visit Vermont without a visit to The Vermont Country Store. On our past Vermont fall vacations, the store has been filled with tourists and also with people on tour bus trips.
This year there were no crowds and also no samples of cheese and other goodies.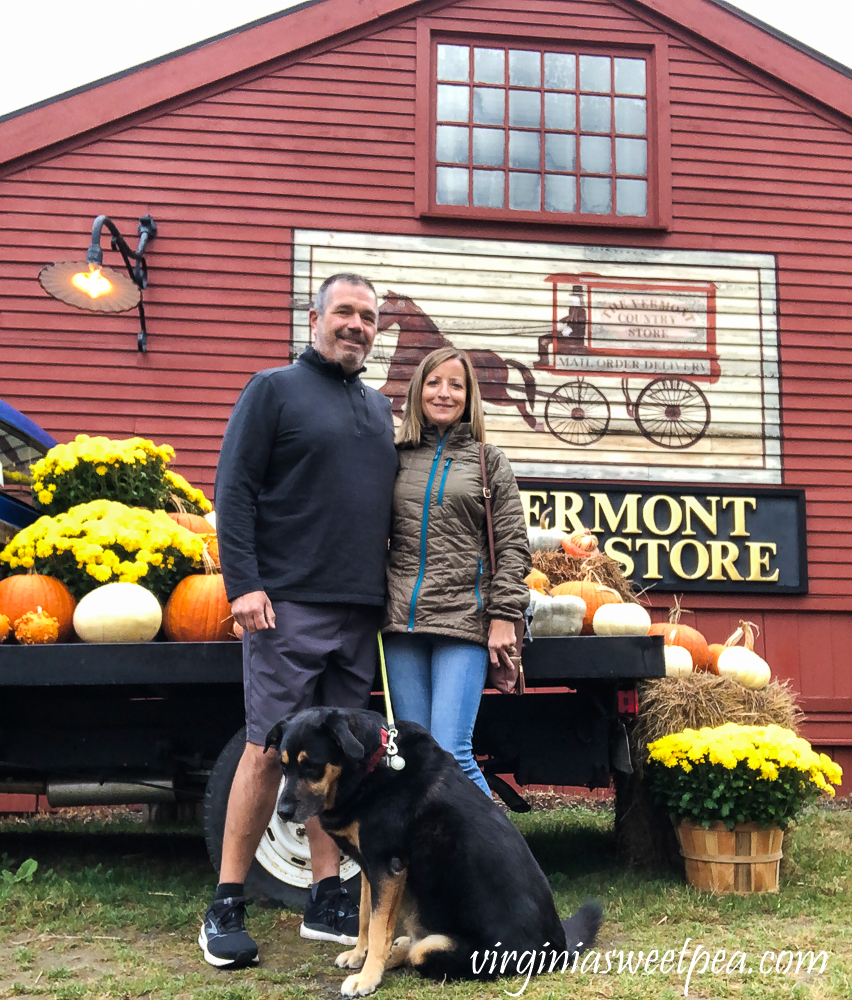 We both love browsing the store and we especially love that it is dog friendly.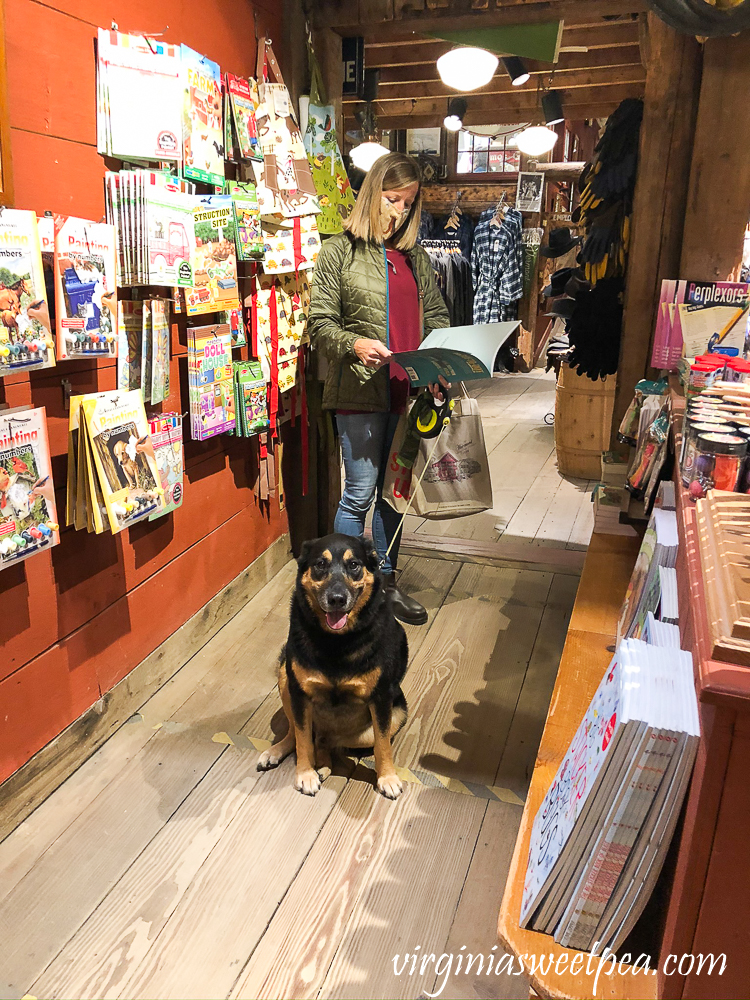 On a previous afternoon, we drove to the Darn Tough (the best socks ever) factory in Northfield thinking that there would be a factory store. There was no store but we did enjoy the drive and enjoyed lunch in Northfield, home of Norwich University.
While at the Vermont Country Store, we treated ourselves to a few new pairs of Darn Tough socks. If you have never tried this brand, do it! They are so comfortable and they wear like iron.
Quechee Gorge
We always enjoy a hike down to the Ottaquechee River in Quechee Gorge.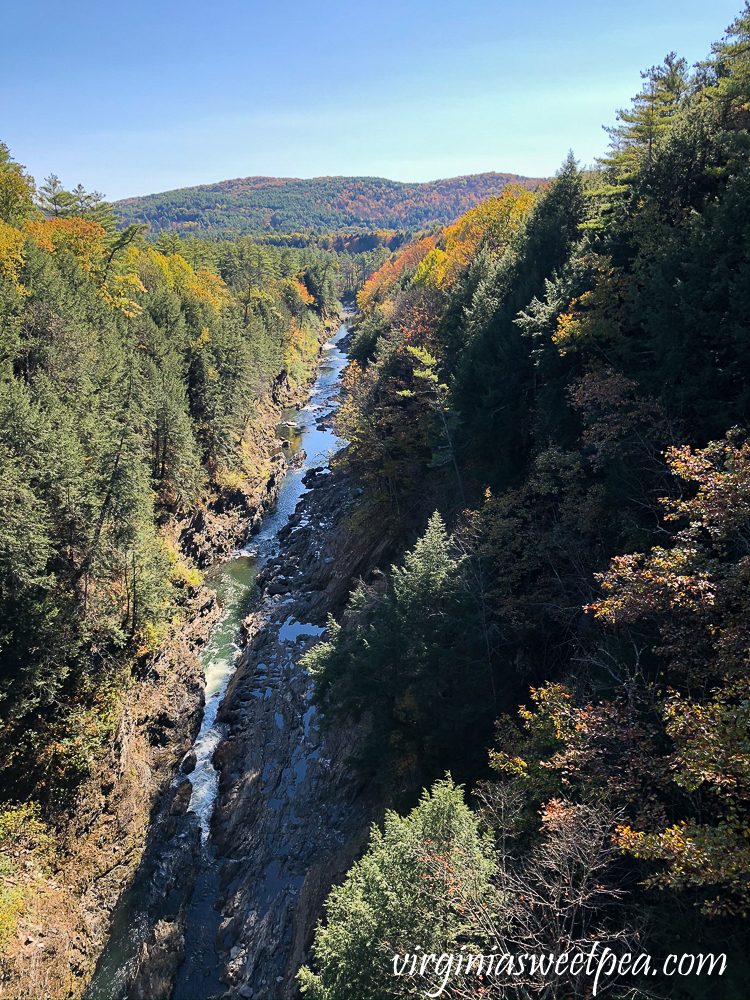 This is a popular spot and even with drastically reduced tourist crowds this year, it still was full of people and dogs.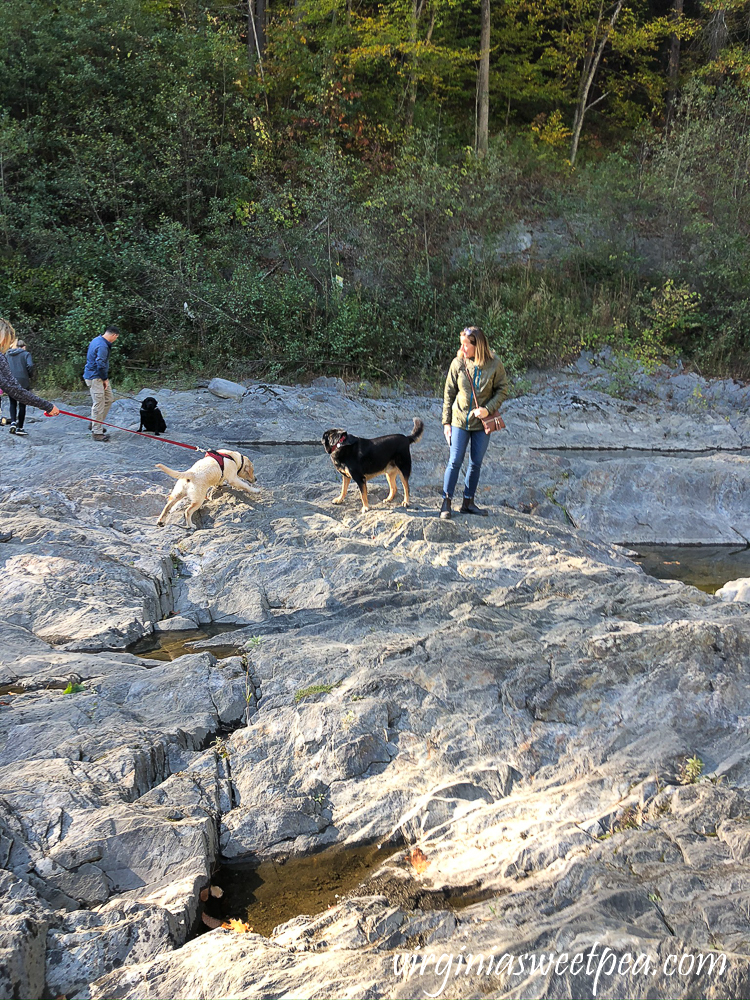 Sherman enjoys this hike for the swimming opportunities.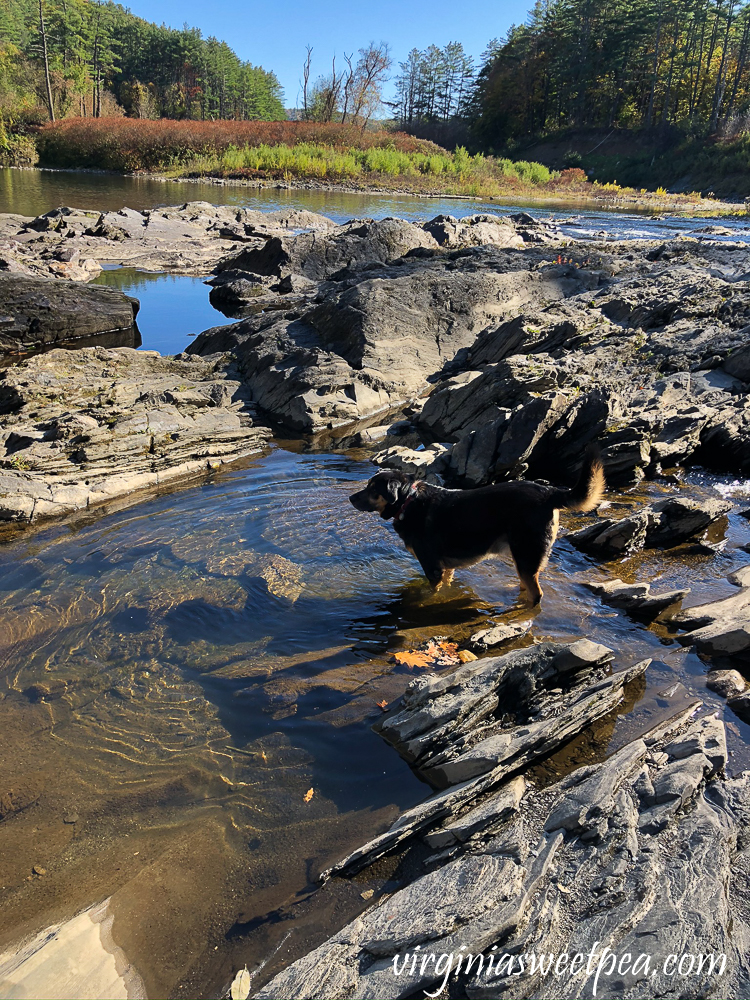 Sugarbush Farm
Another favorite spot to visit on a Vermont fall vacation is Sugarbush Farm. The view here is pretty and they make cheese and maple syrup, with samples available to try.
You can walk around the farm and also enjoy a self-tour to see where they make maple syrup in the spring and you can also walk into the woods to see the tapped maple trees.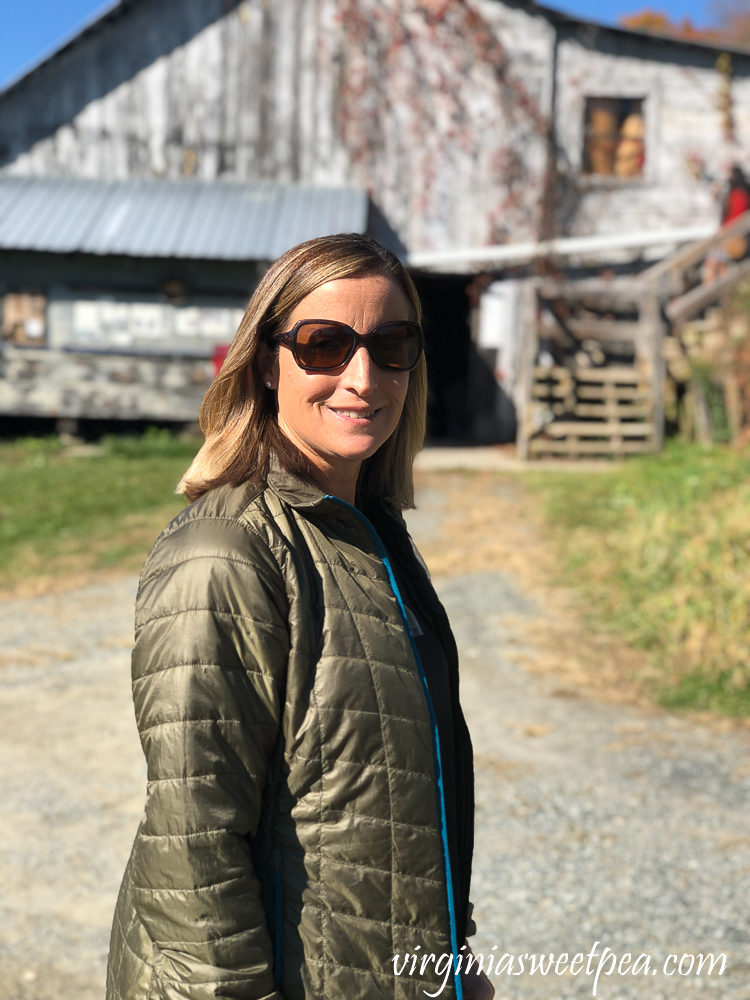 We love sampling cheese here and we were delighted that sampling was allowed this year.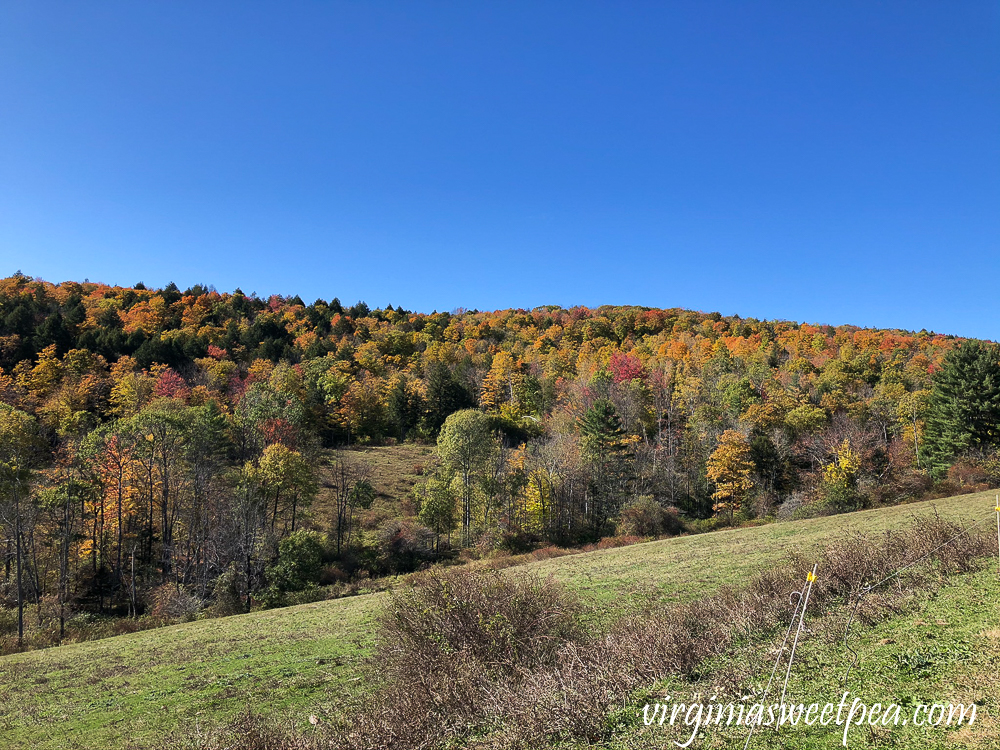 After buying cheese and enjoying the view from the farm, we headed off for another adventure.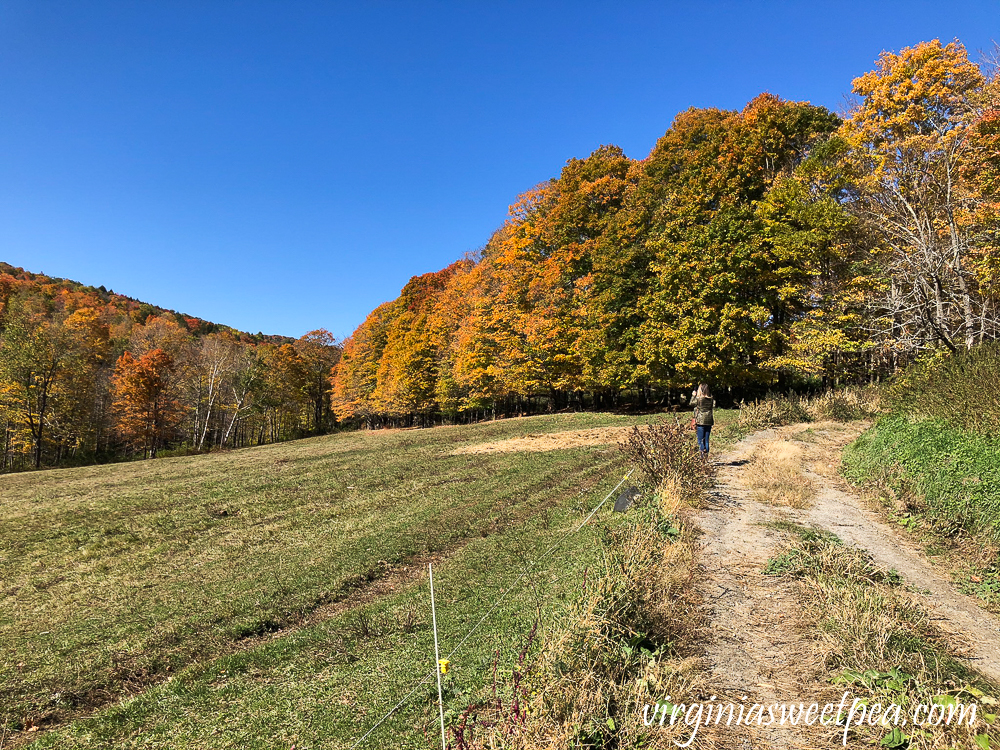 Foliage Seen from Okemo Mountain
We love driving to the top of Okemo Mountain in the fall to admire the foliage. The open space is a ski slope in the winter.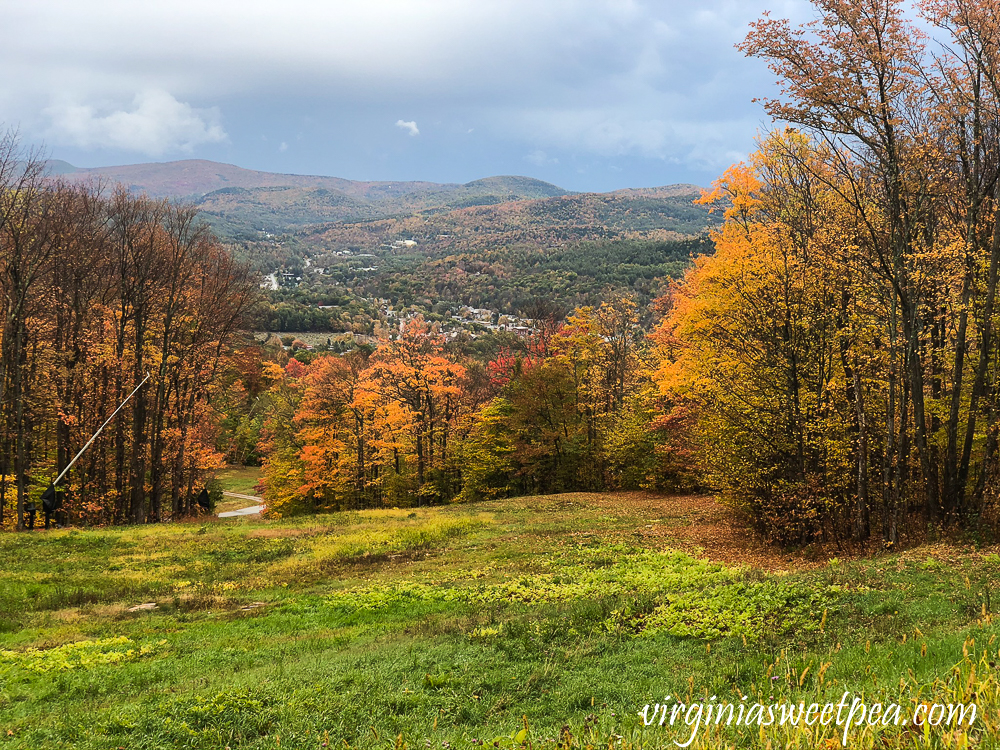 In winter it is freezing cold at the top of this mountain. The long ride up the ski lift is a cold one.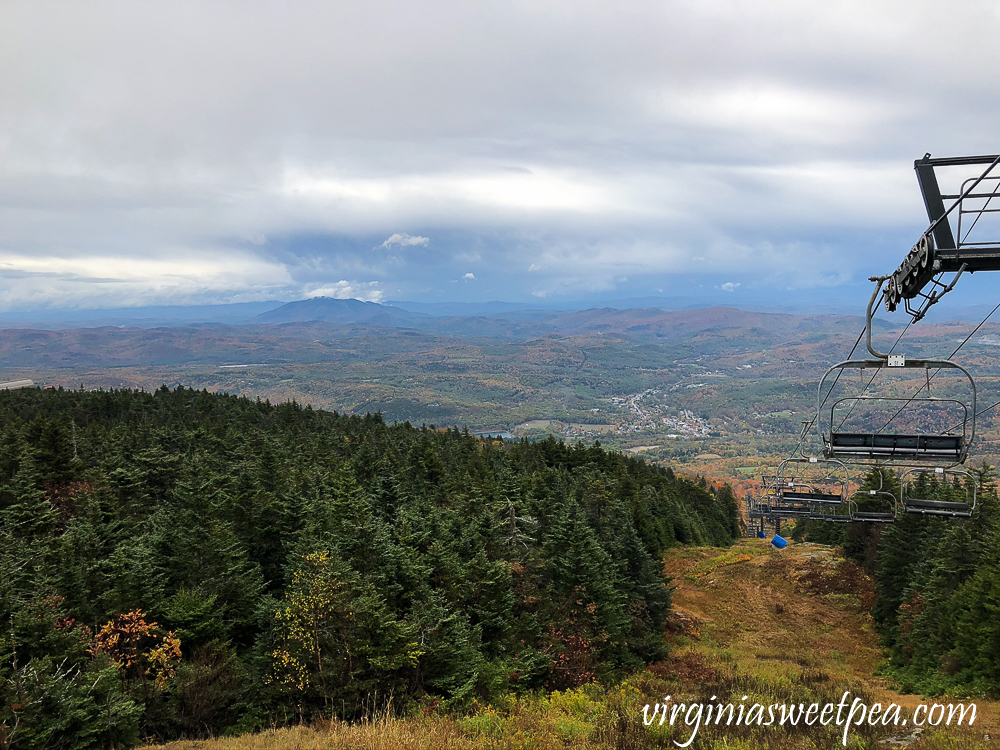 In winter when you get off the ski lift for the first time and see this view when snow covered, you have to stop to admire it before taking your first run down the mountain.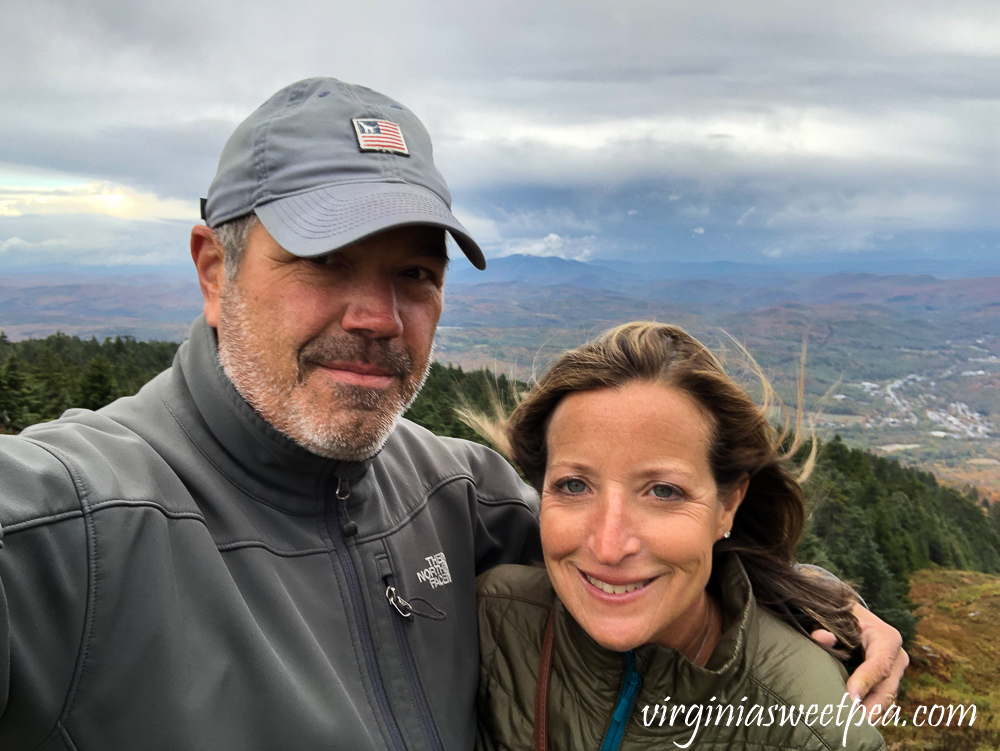 We haven't skied Okemo in a few years because of Sherman.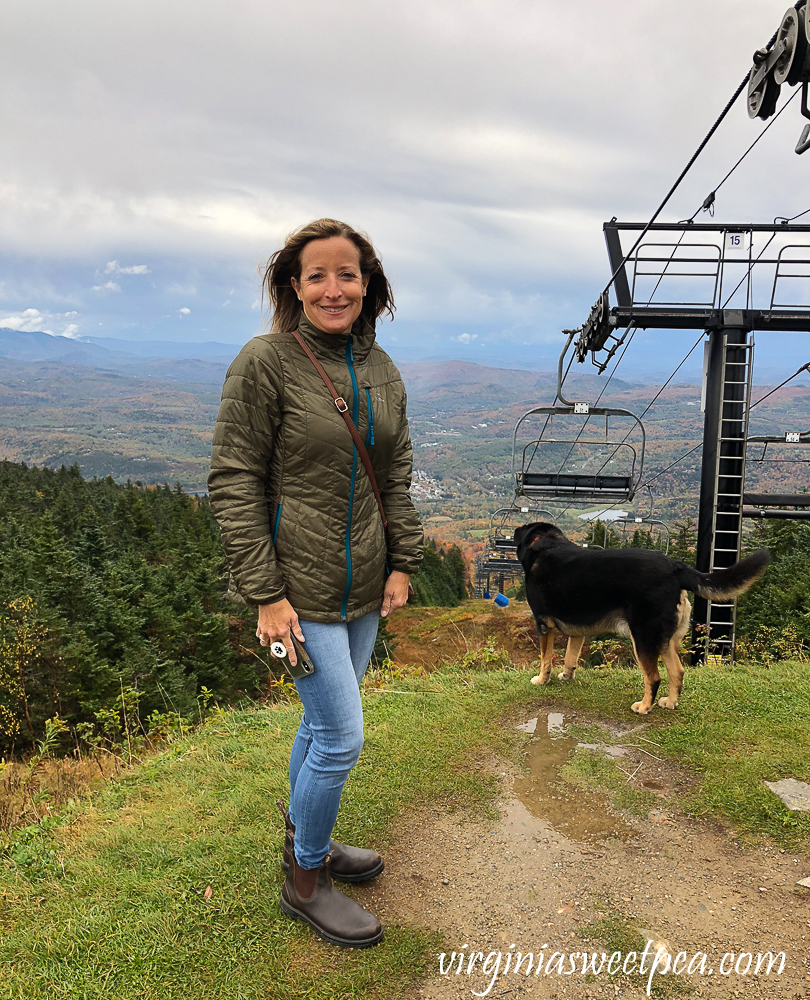 Our big baby has to go on vacation with us because he got uninvited back to the kennel where he used to stay and we don't think he could tolerate a dog sitter.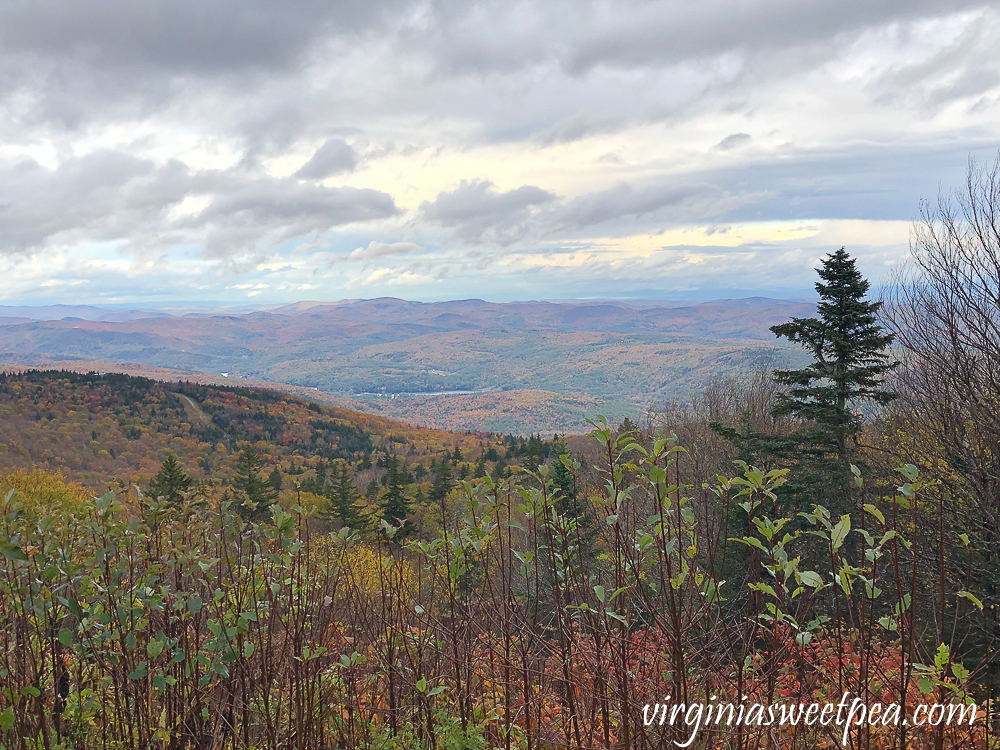 Sherman gets anxious when we leave him in a place besides home, so we haven't tried renting a dog-friendly condo at Okemo.
Another popular ski resort near Woodstock is Killington. My brother skied Killington once and loved it.
My friend, Shelley, of Calypso in the Country, has a place there and she and her family love to ski Killington's many trails.
Since we had never seen Killington, we drove there one afternoon. The trails are now covered in snow and their projected opening date for skiing is November 14.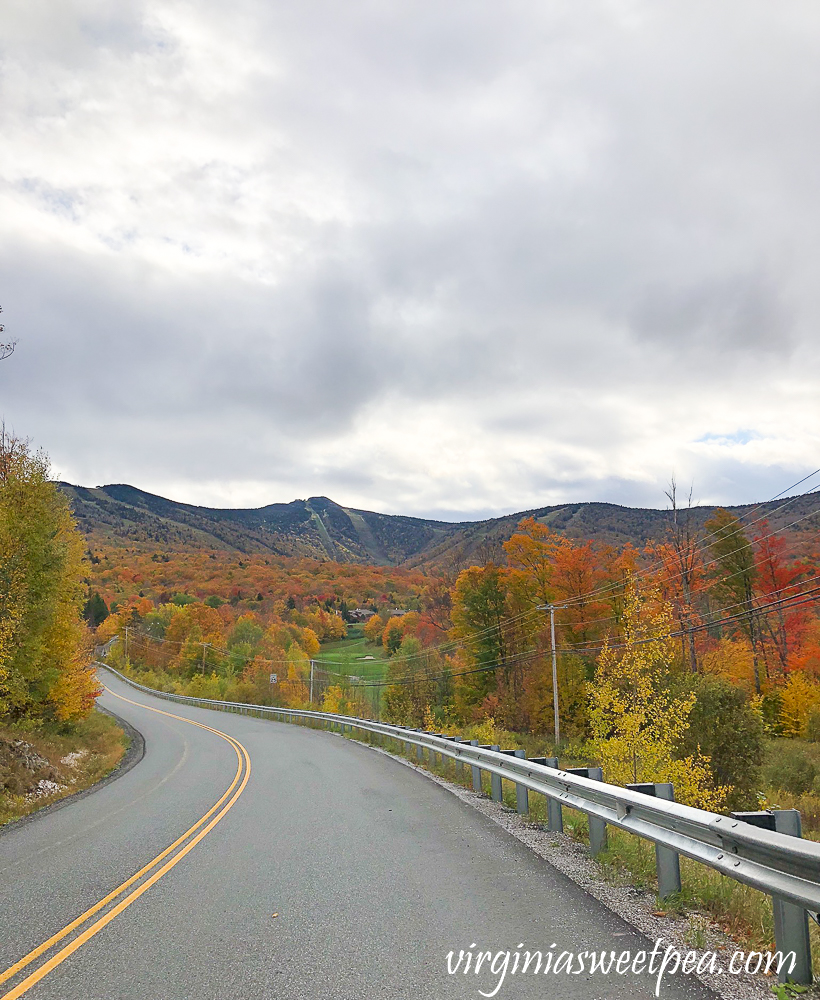 Enjoying the Town of Woodstock
We so much enjoy walking around the town of Woodstock. Sherman saw some cows at The Billings Farm that he was very interested in chasing.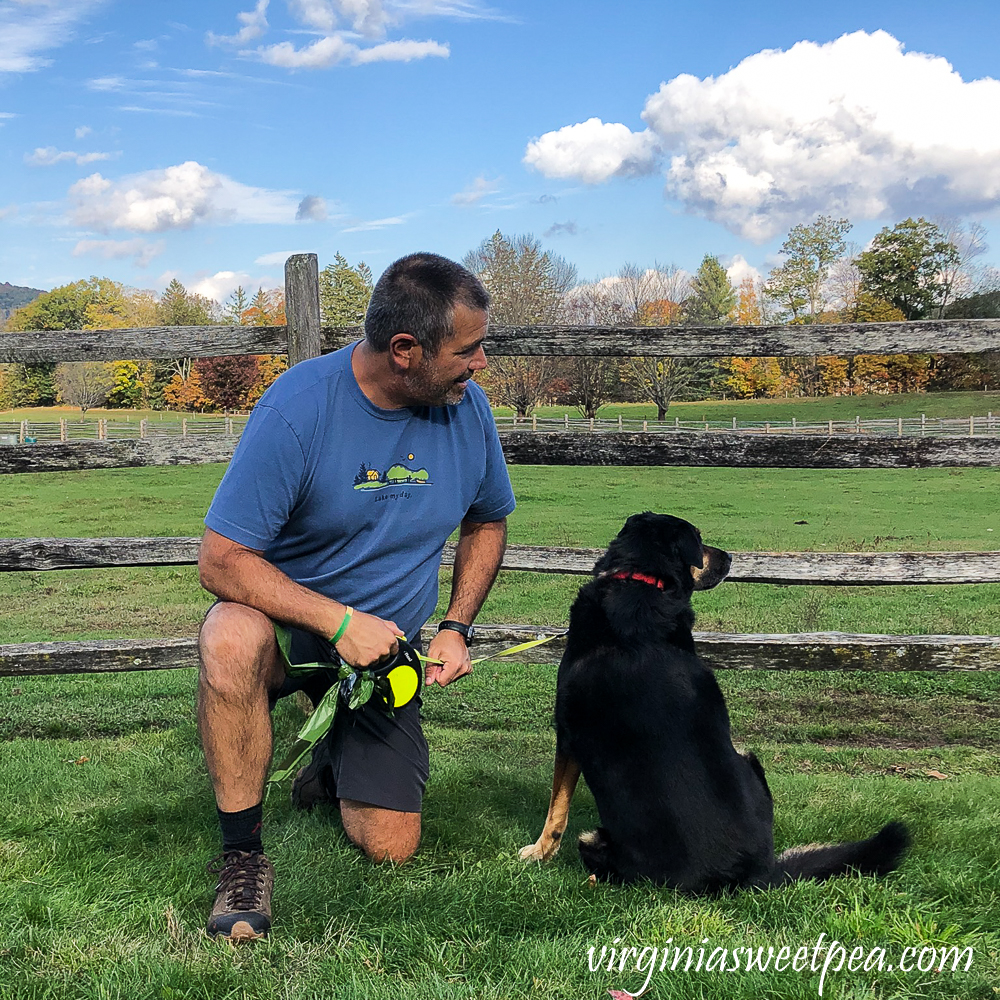 We didn't tour the farm this year but did enjoy walking around the grounds.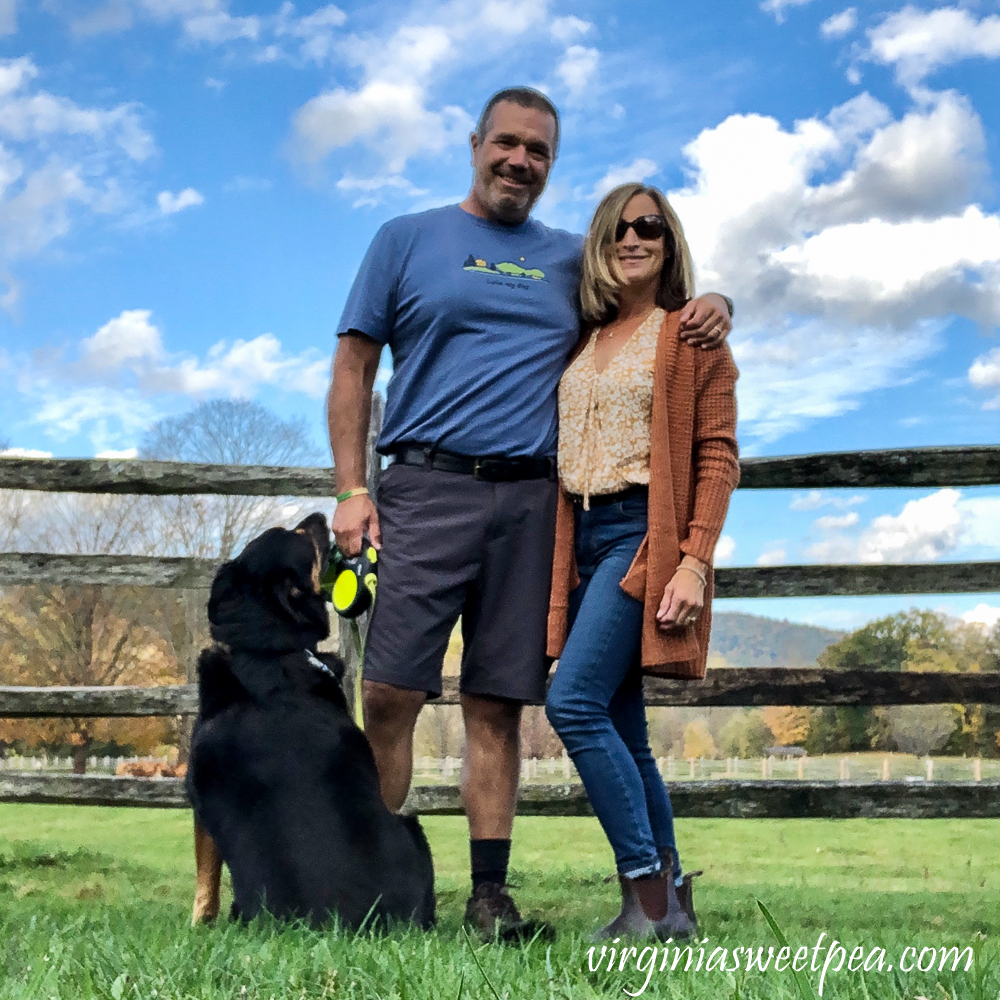 The town of Woodstock is so charming and residents and businesses go all out for fall decorating. See more of the town's fall decor in this post.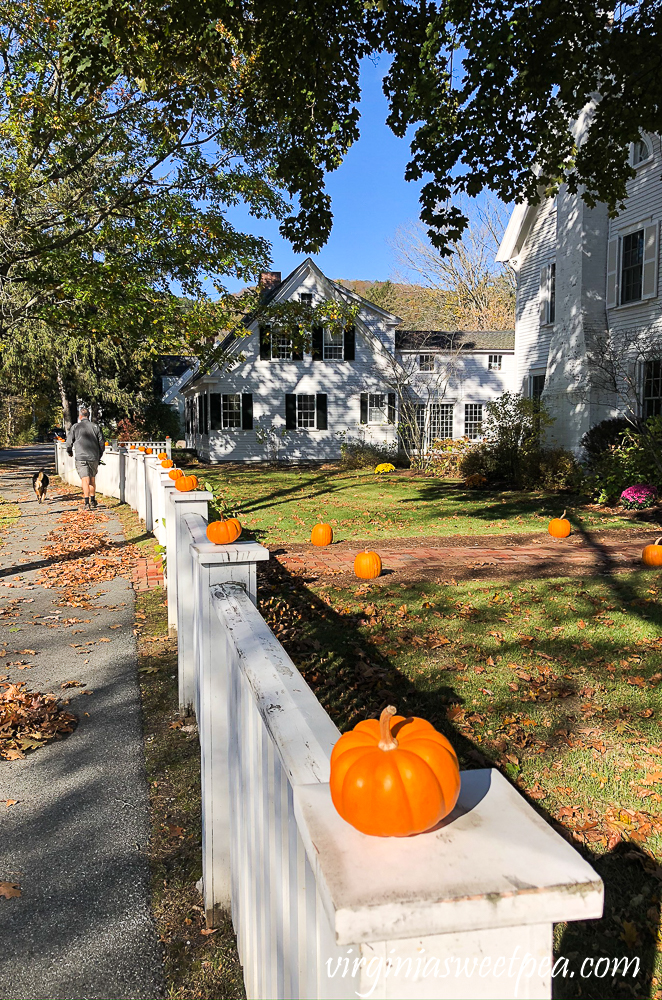 Most of the shops are dog friendly which makes shopping with Sherman much easier.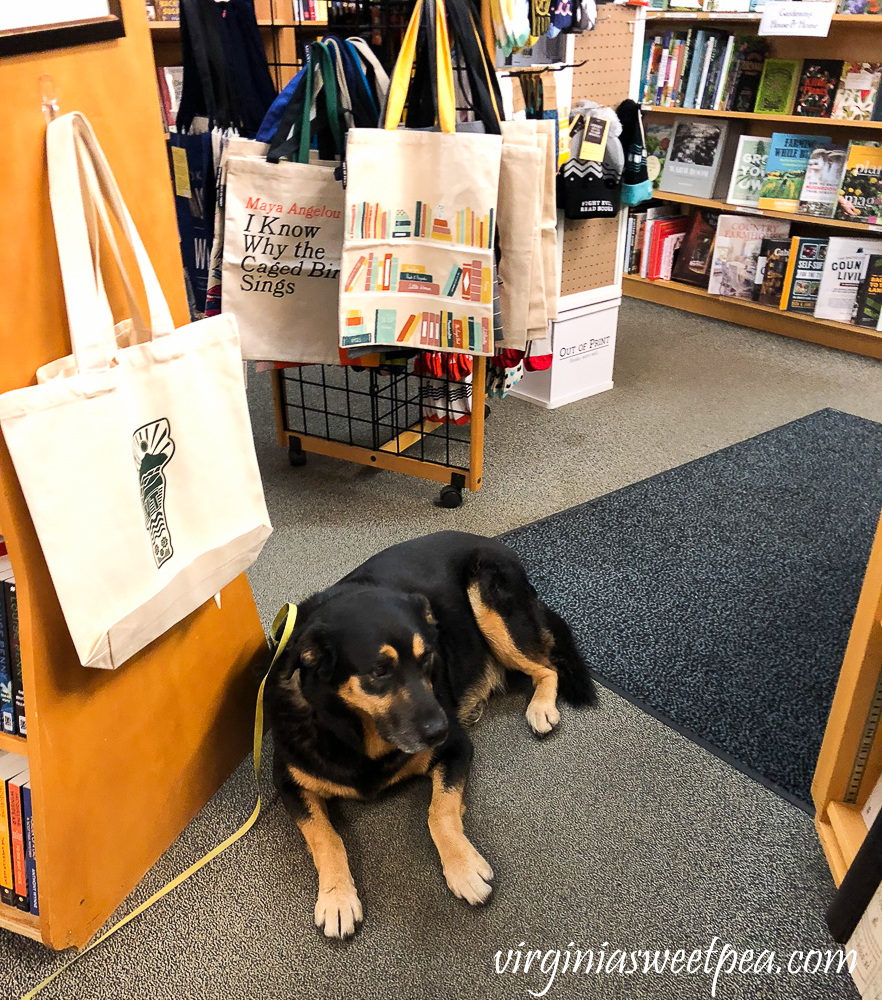 Mr. SP had to work a few hours each day and we both enjoyed working from the inn's library.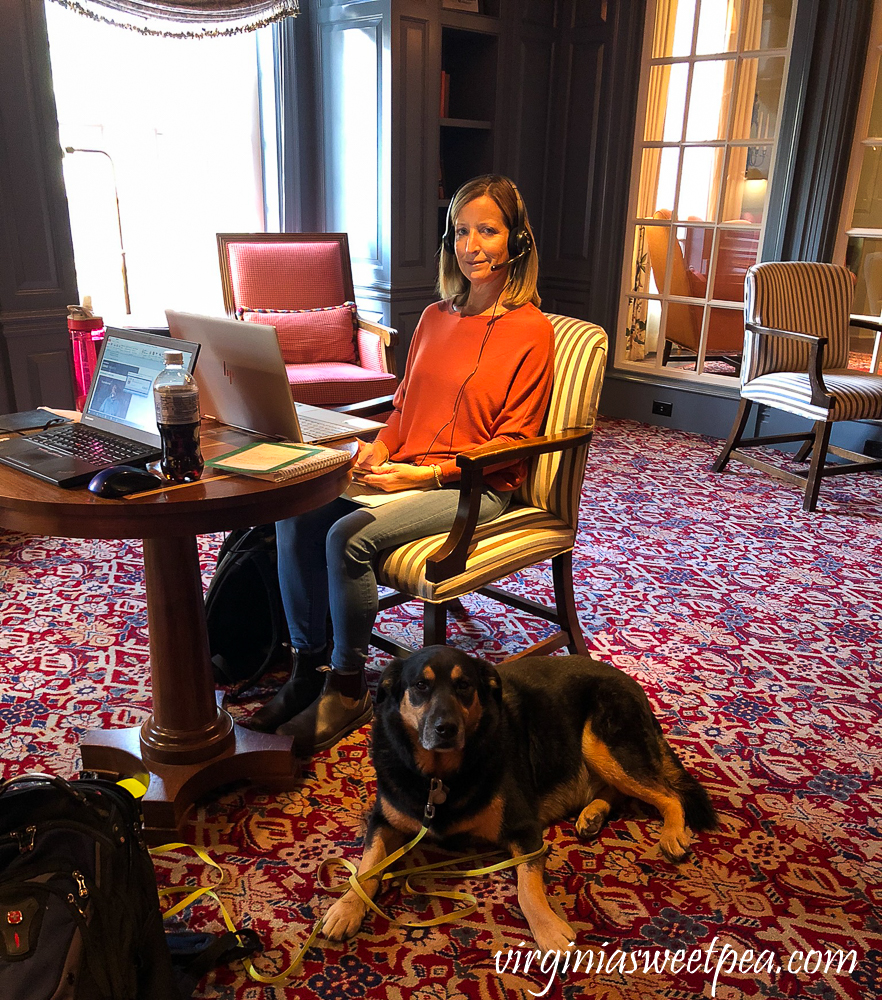 This trip was another fabulous Vermont fall vacation and we couldn't have enjoyed it more.
Other Vermont Vacations
These are posts that I've written about other Vermont trips. We've been vacationing there since our honeymoon in July 1994.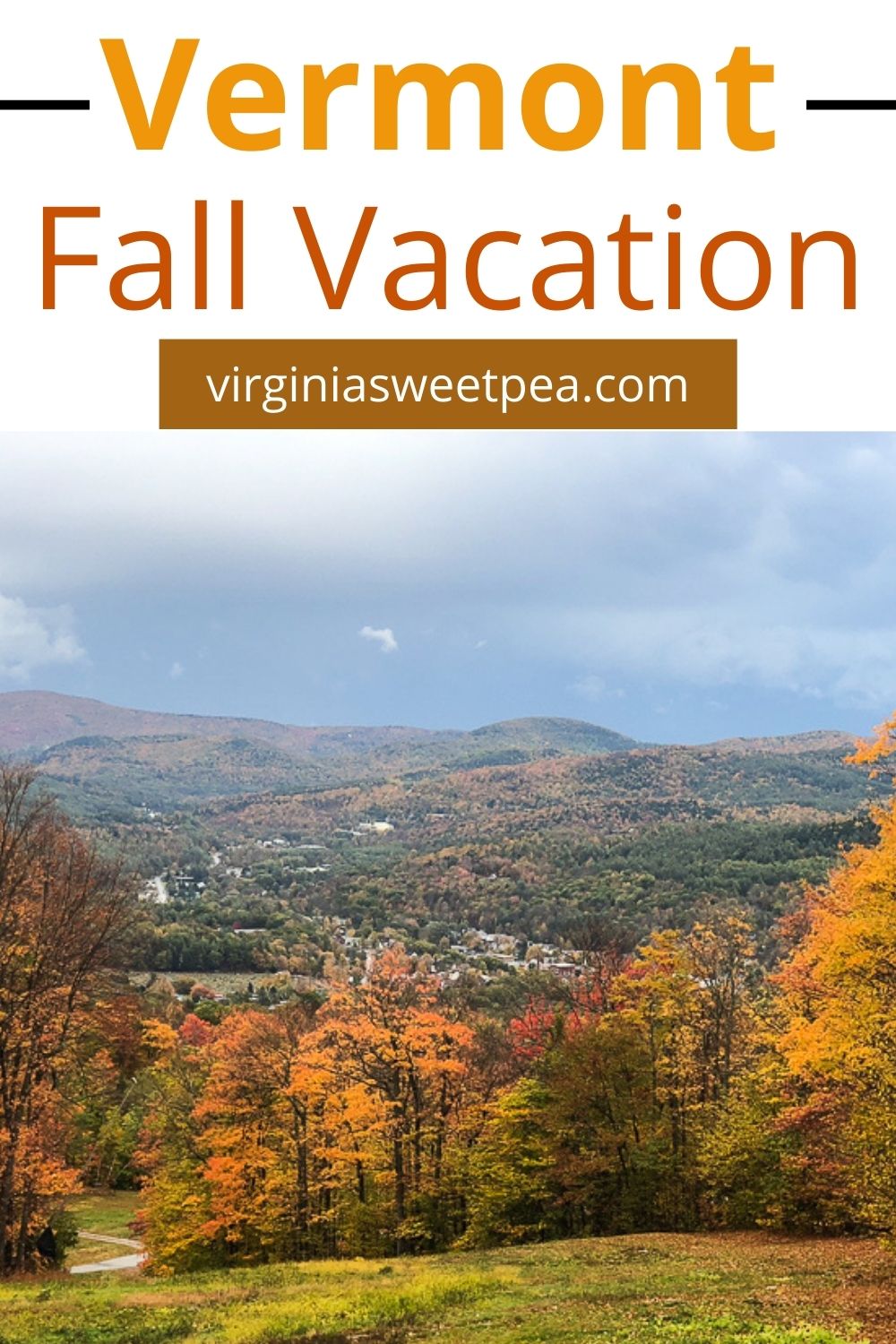 If you've ever thought about taking a Vermont fall vacation, I encourage you to do so. The foliage is fabulous and there are so many fun things to do in different areas of the state.