Coastal Style Summer Decor
To coordinate with my coastal summer mantel, my formal living room is decked out in coastal style summer decor.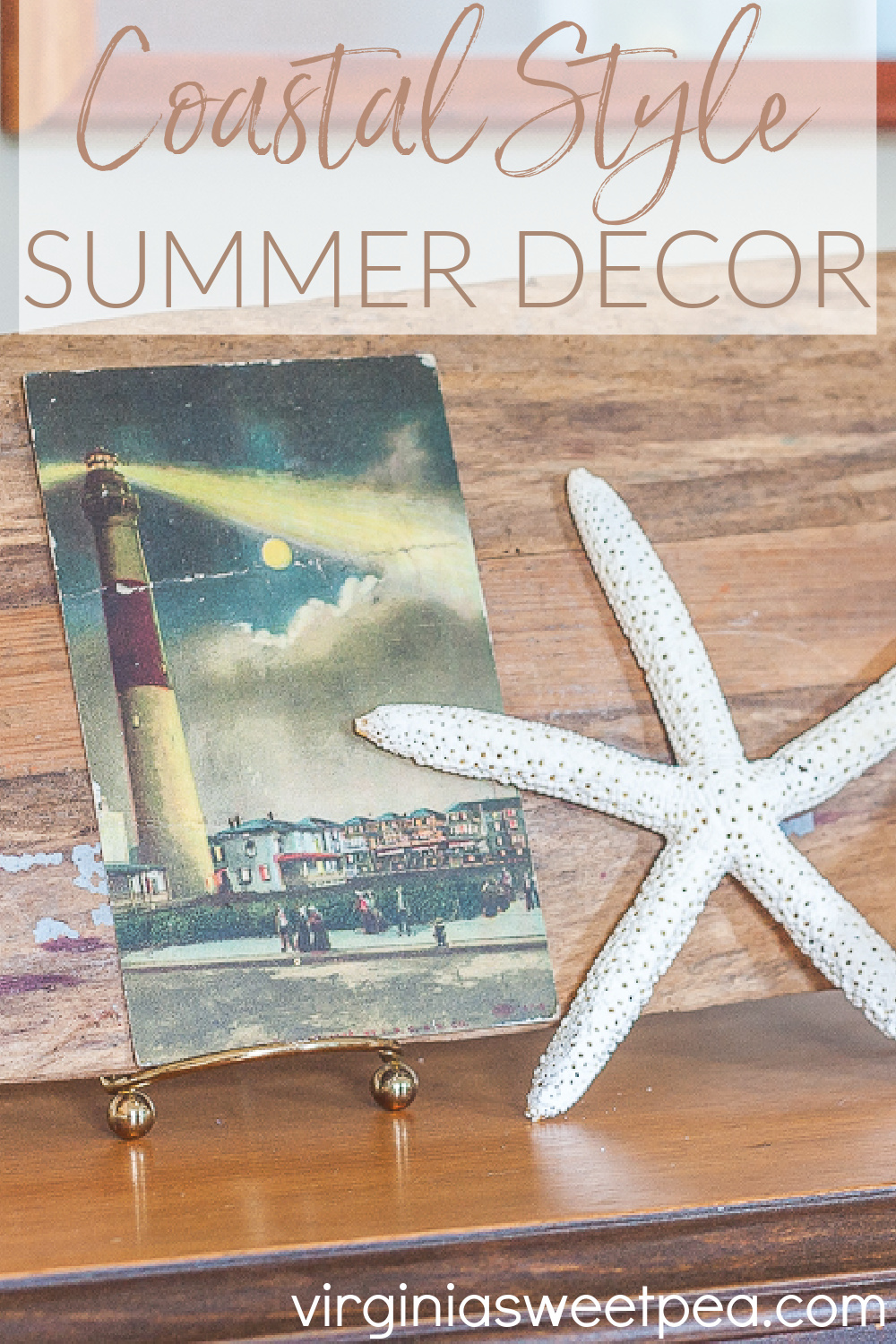 Coastal Style Decor in our Living Room
Let's take a tour of my living room to see all of the coastal elements that I used to decorate it for summer.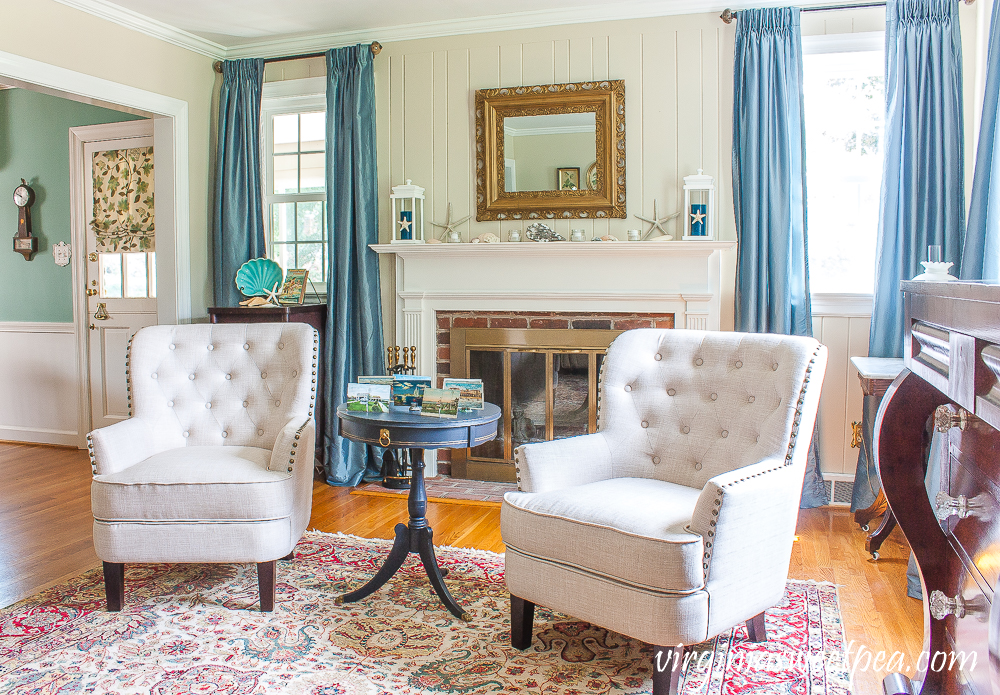 The Bobbsey Twins at the Seashore
To the left on the mantel, I created a vignette with a shell shaped serving dish that my aunt passed along to me at Christmas time. I'm pretty sure that it originally belonged to my grandmother.
It has no markings and I wish I knew which pottery produced it.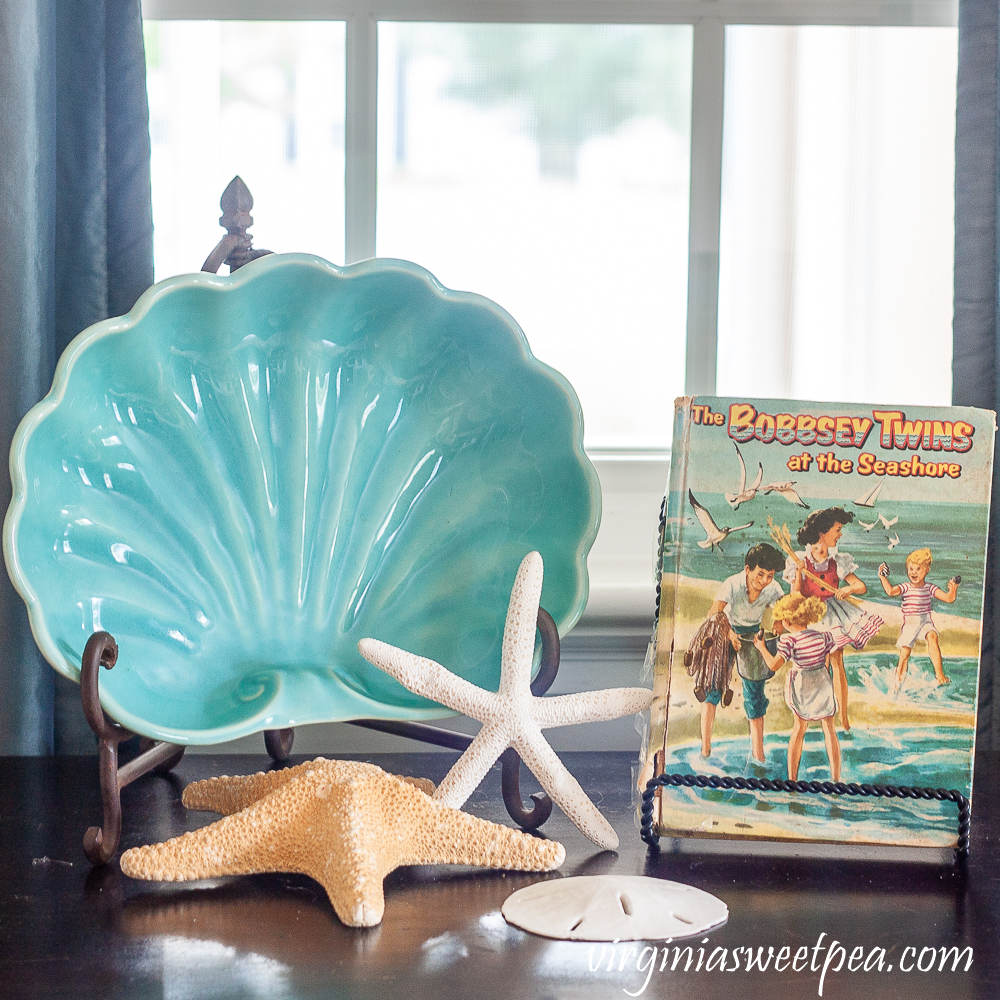 The Bobbsey Twins at the Seashore book belonged to a cousin in Maryland and was given to her in 1954. Marsha, if you see this and want your book back, let me know!
To go with the book and shell serving bowl, I added a two starfish and a sand dollar.
Vintage Beach Themed Postcards
You guys know that I love to use vintage postcards when I decorate. I displayed a group of beach themed postcards on a table.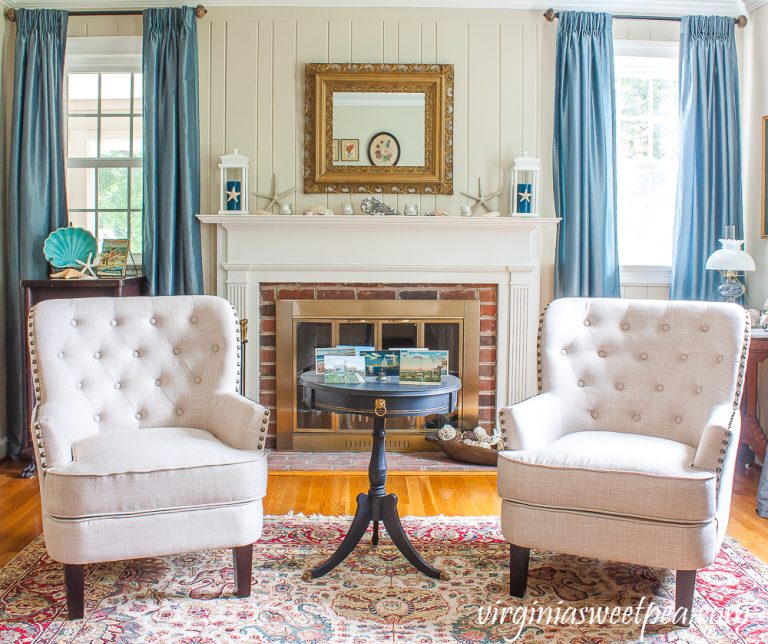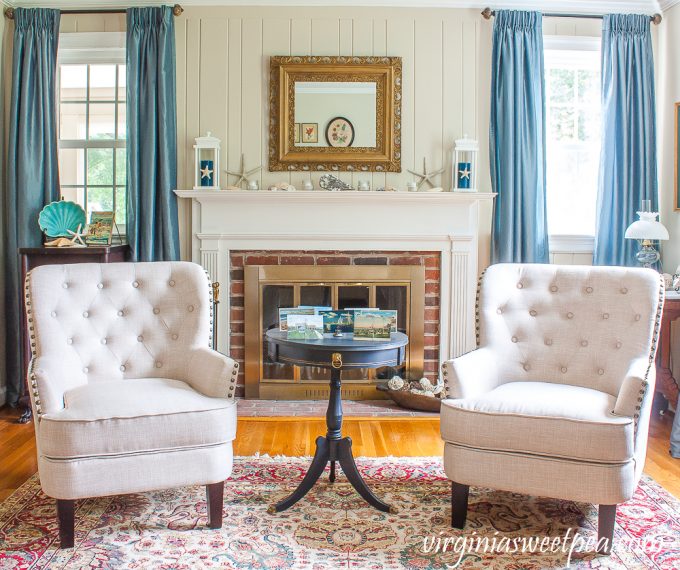 It's as much fun to read the back of the postcards as it is to look at the picture on the fronts.
This one is from Ocean View which is in Norfolk, Virginia.
The postmark is Norfolk, December 3, 1909, and was sent by my great-great-aunt Fannie to her sister Willye in Roanoke.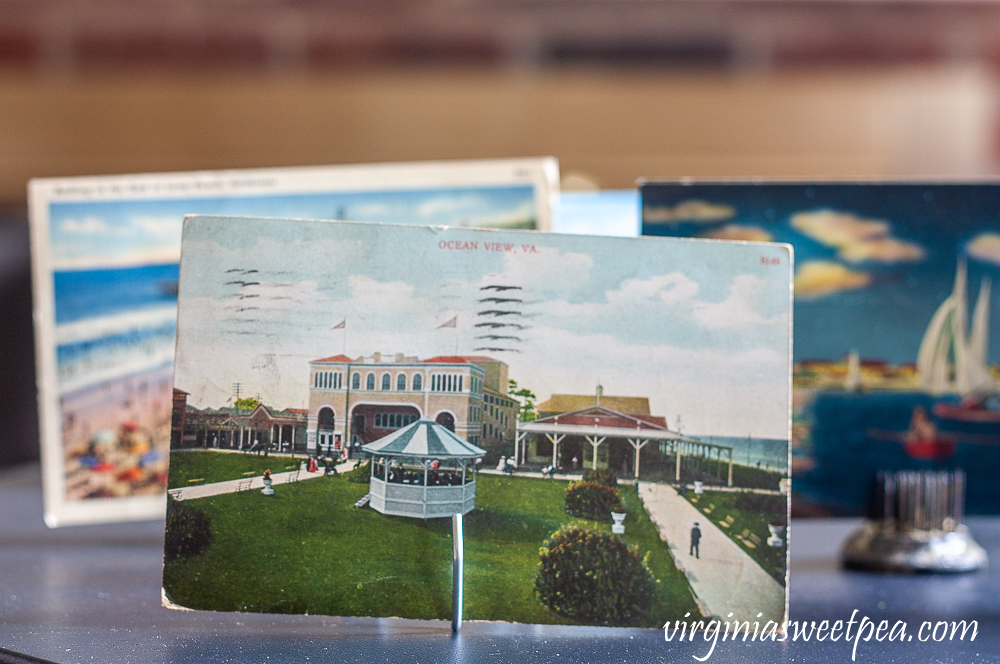 Fannie sent this postcard to Willye December 10, 1909.
She wrote, "Expressed your hat 5 day COD to Vinton. Write me soon and let me know if you like it."
Fannie was a milliner and must have made a hat for Willye.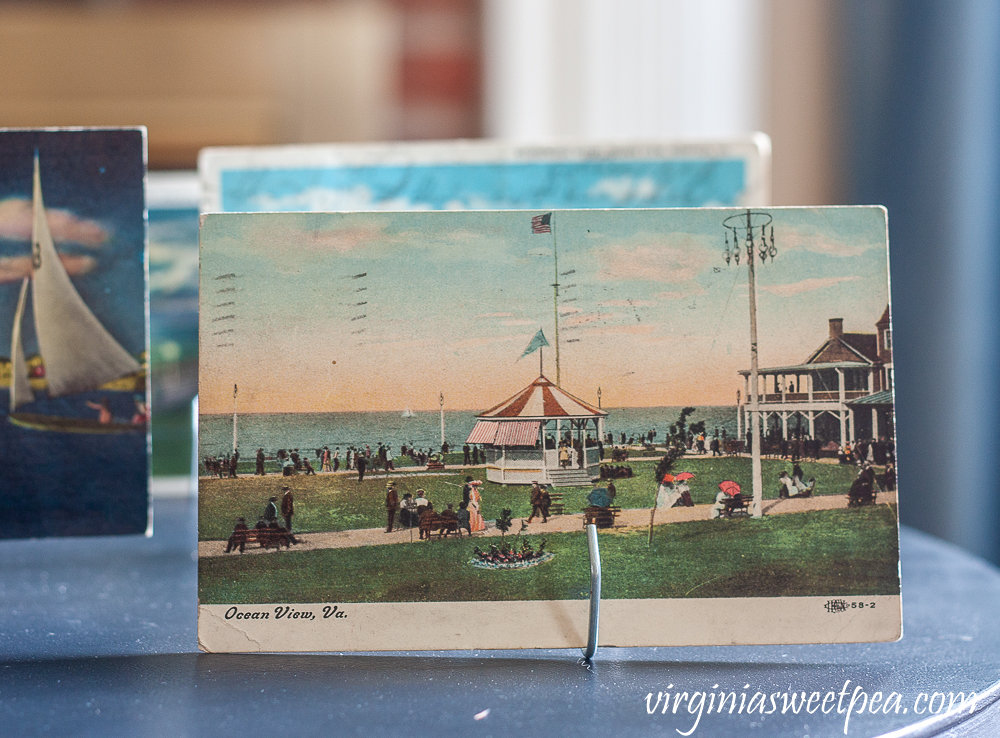 This scene is " Moonlight Sailing on Banks Channel Wrightsville Beach Near Willimgton, NC."
It was sent from Southport, NC on July 24, 1954 to my aunt in Pearisburg, VA.
It says," Hello! I took my first boat ride yesterday. You ought to have been here to help me squeal. Hope to see you soon. Christy"
This one was sent July 11, 1939 from my great-aunt Frances to my grandmother.
Frances (everyone called her Tubby and I called her Aunt Tubby) was at a VEA convention.
She writes, "Have seen a lot of Edith Richardson and one or two others from VA. MD and VA delegates had a luncheon today. Start home tomorrow. Frances"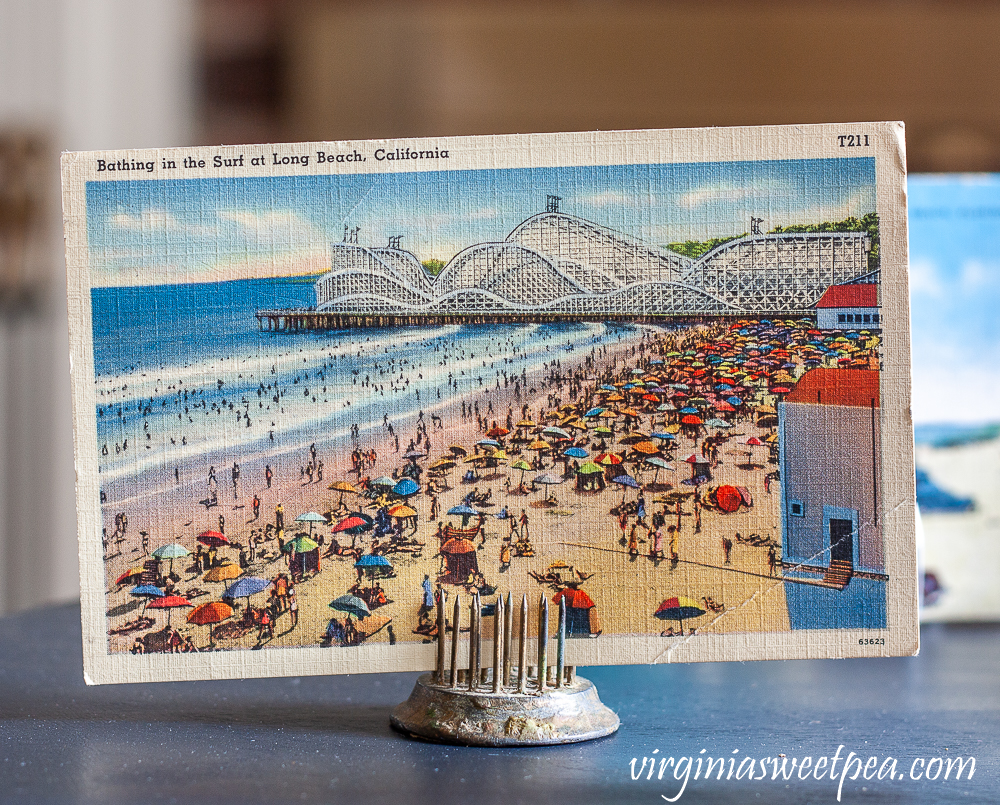 This one was sent from Norfolk by my grandmother to Fannie in Vinton, VA. Fannie was my grandmother's aunt and she raised her.
I can't read the postmark and I can't decipher Granny's handwriting except for a part where she says that she got a stomach ache from eating too much.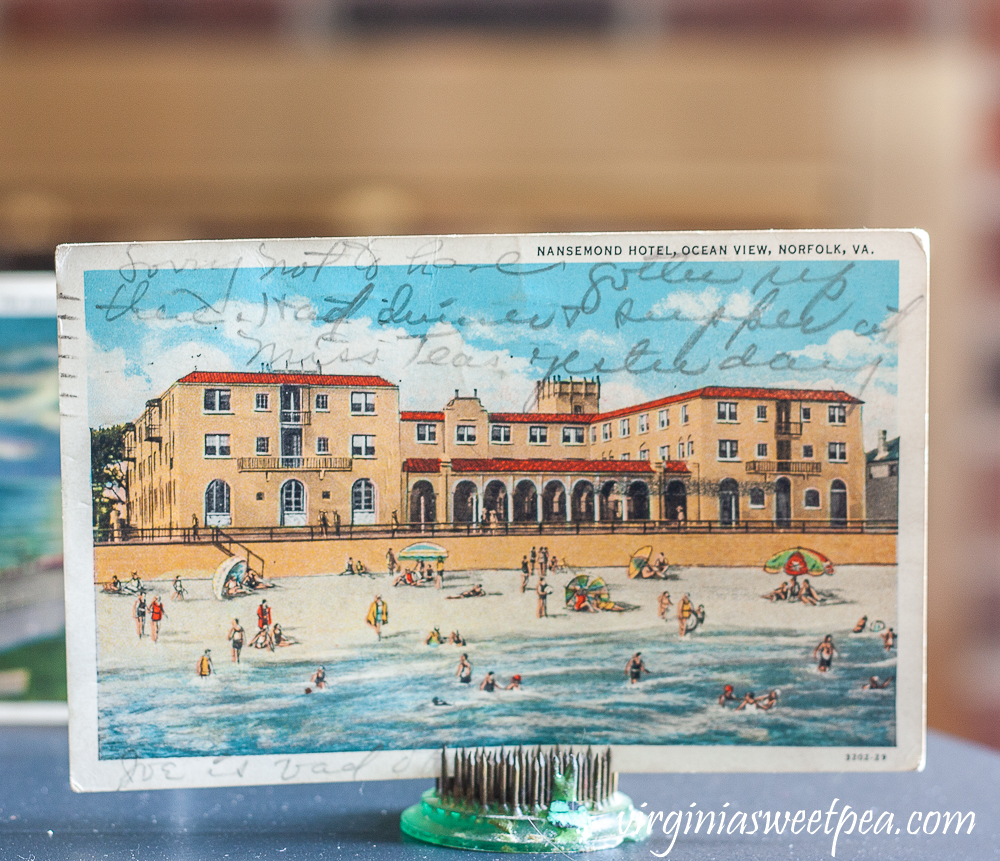 This one was sent from Virginia Beach in July 1934 to my grandmother in Vinton, VA.
My grandmother's name was Marguerite and her nickname was Geta.
It says, "Hello Geta, I am having a good time wish you could be along. Hope you win your demonstration. Will see you Monday night. Lots of love. Lucy"
Granny was active in 4-H. The demonstration is a 4-H competition where you demonstrate how to do something. Making a detailed poster to go along with the presentation is a part of the competition.
Granny was a 4-H All Star as was my dad and then me. I loved 4-H!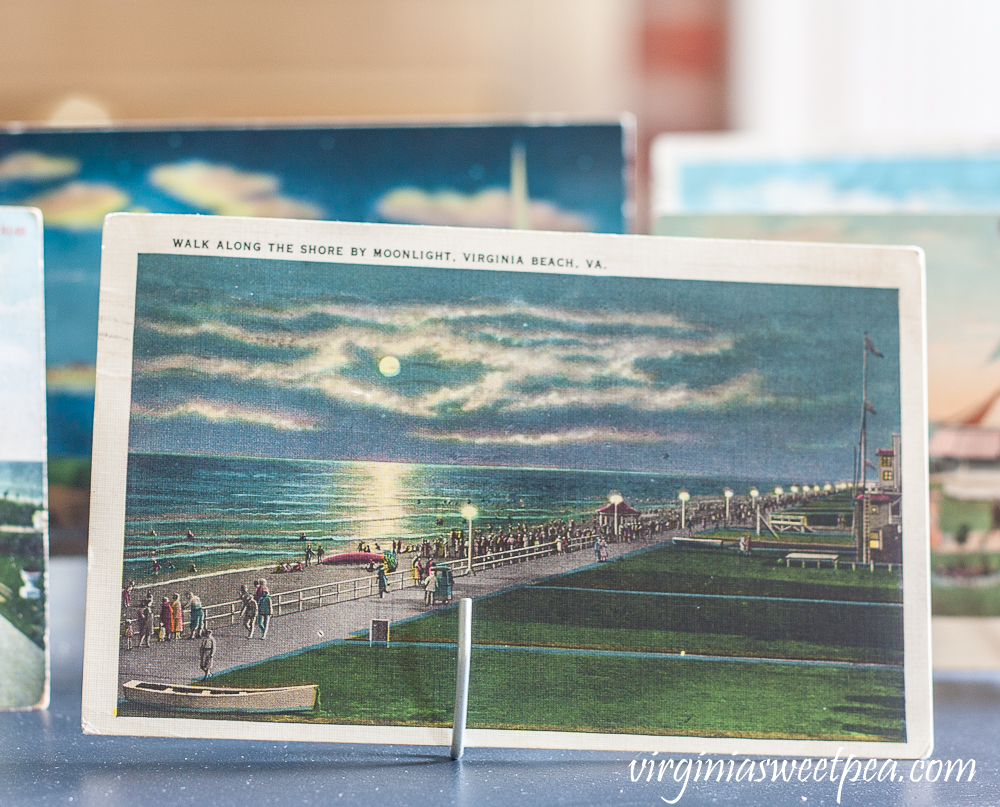 Aunt Tubby sent this card to both of my grandparents from Daytona Beach August 13, 1953.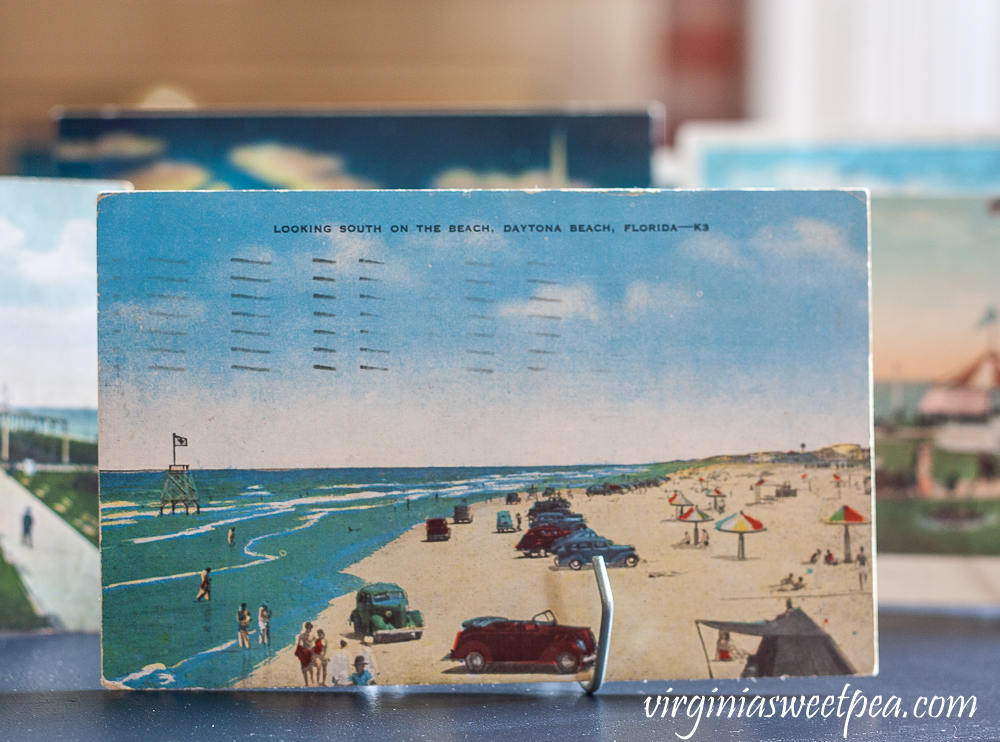 If you want to see a few more vintage postcards with a beach theme, check out this post.
Vignette to the Right of the Fireplace
On the table hidden behind the chair in the picture below, I used coastal things found in nature for decor.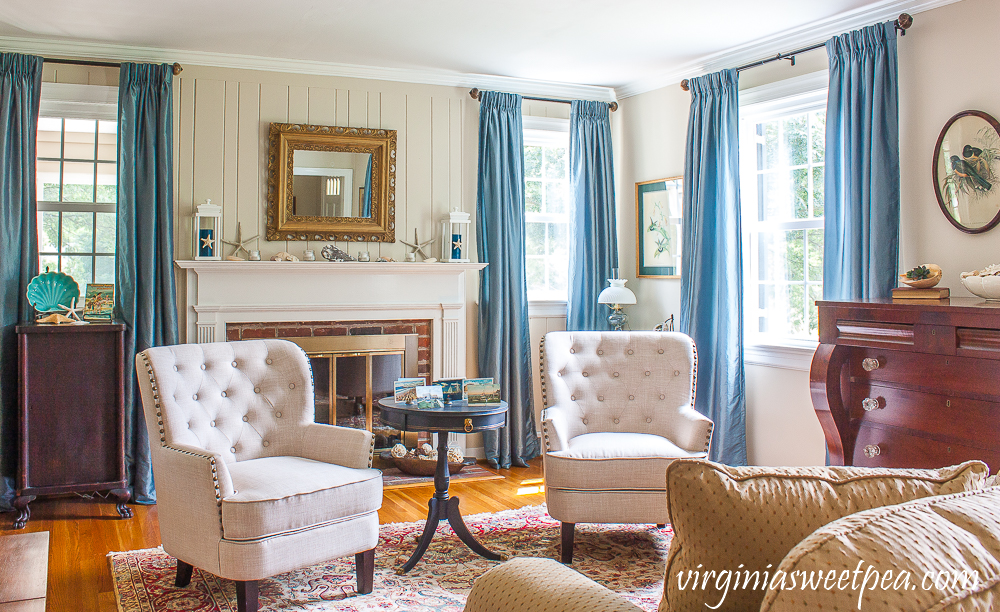 This coral belonged to my grandmother's next door neighbor. She displayed it on the soil in a pot that held a gigantic tree with rubbery leaves that she kept on her enclosed porch.
The story I remember was that this coral was dug on Inez's family farm in West Virginia. If true, it's fossilized coral.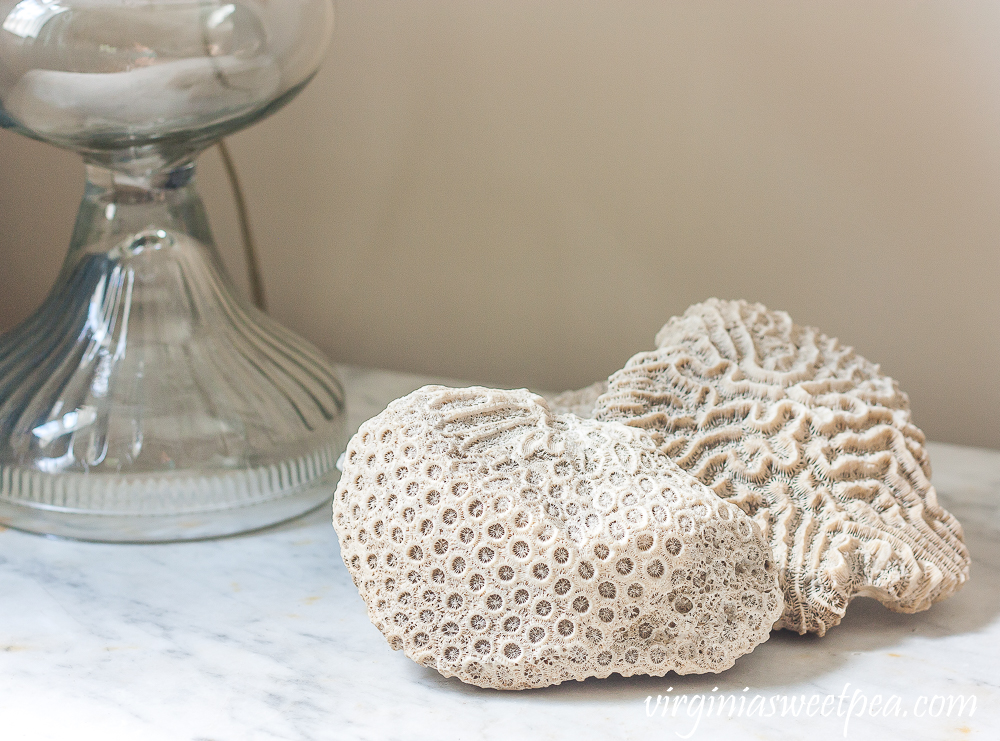 Beside the coral, I display Granny's abalone shell. Granny used this for garden club floral competitions.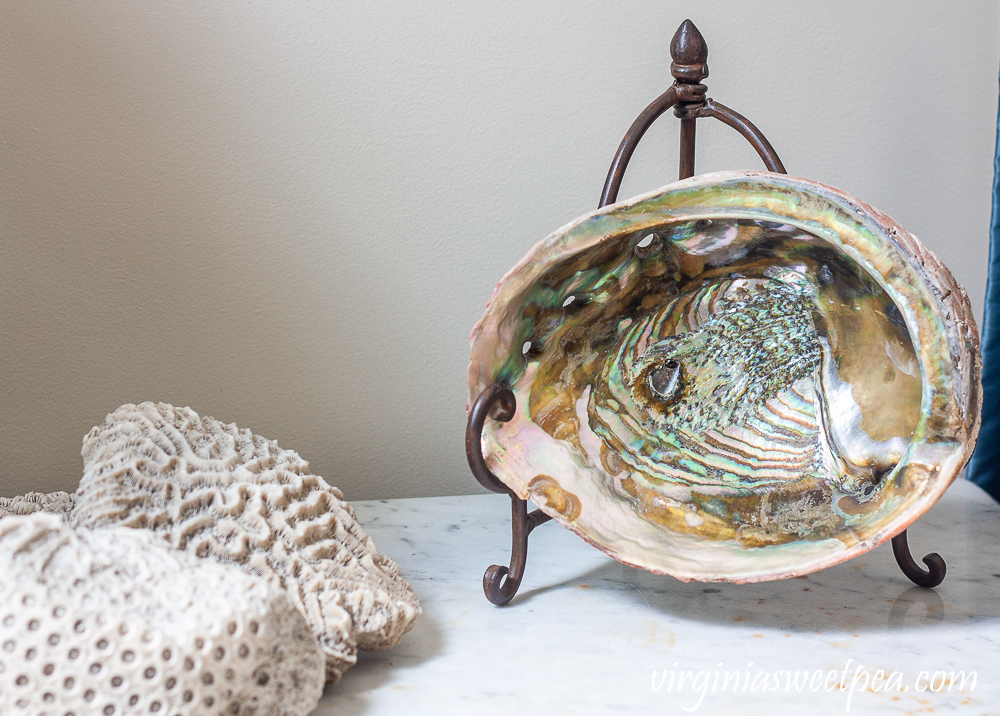 Coastal Decor on the Chest
The top of this chest is a favorite spot to decorate seasonally.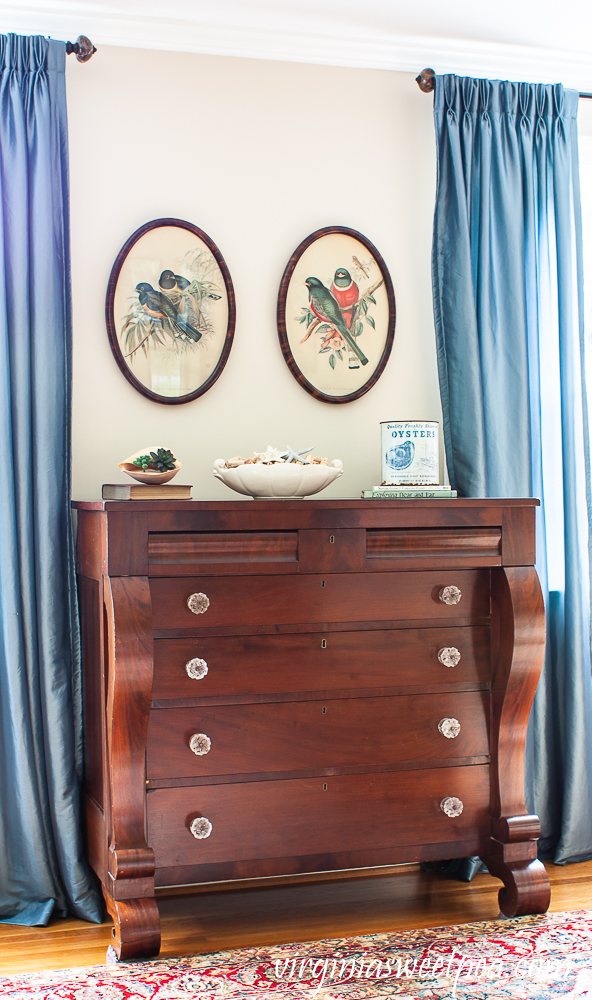 A McCoy planter holds wine corks and two starfish. If you ever need wine corks, just ask a local bar. That's where I got mine.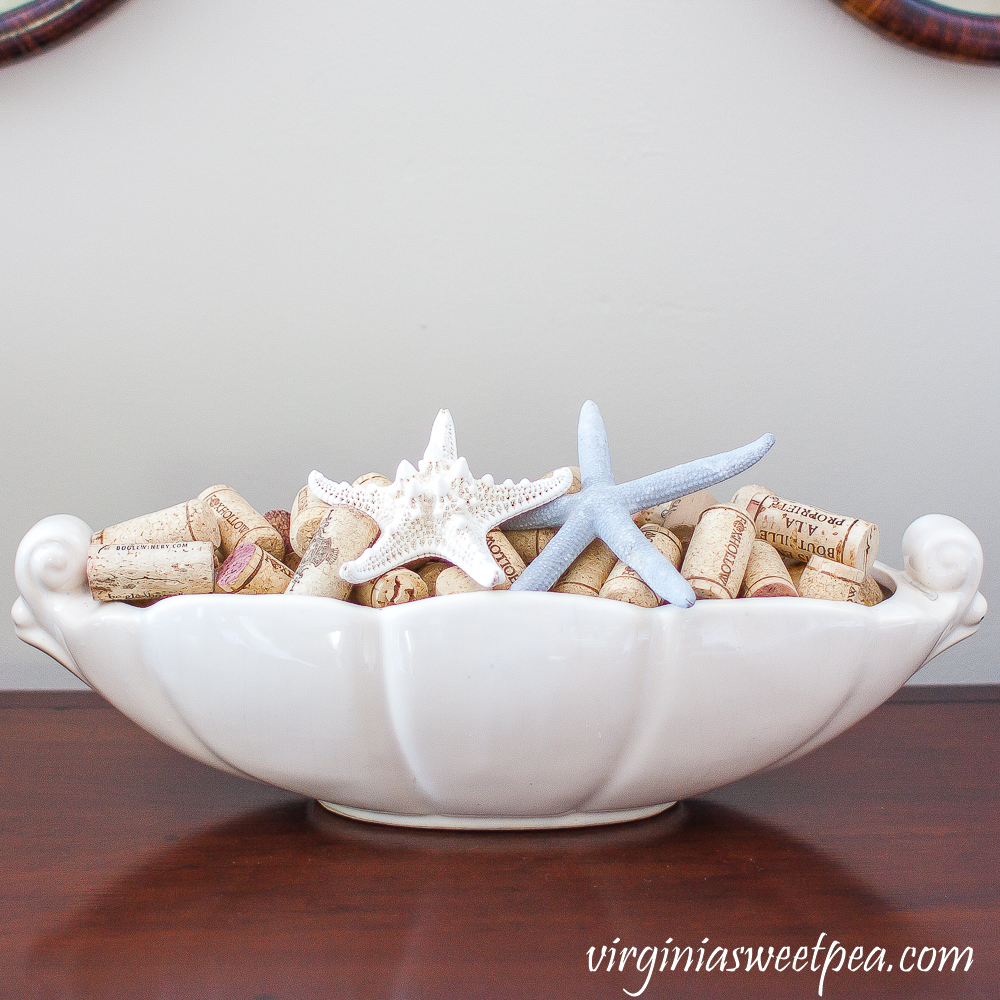 To the left of the planter is a shell filled with sand holding two faux succulents.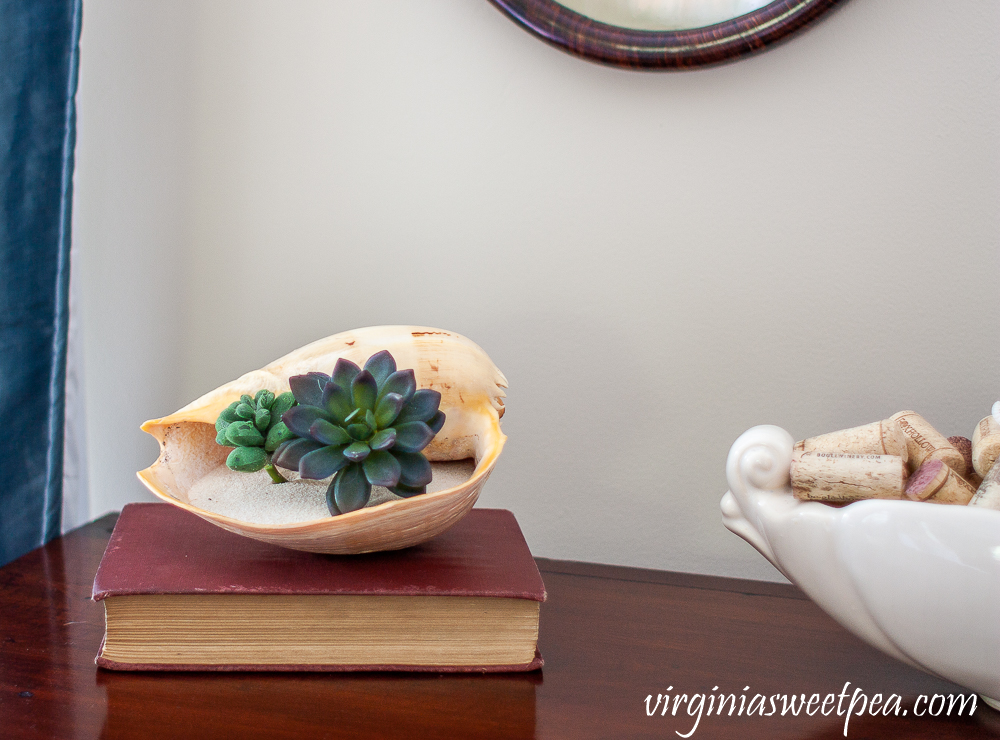 The book under it is a 1913 edition of The Panama Canal by Frederic J. Haskin.
The book belonged to Creed Scanlon, my maternal grandmother's first cousin. His father built my mom's 1912 house. Creed probably read this book while he lived in the house where my mom lives now.
Information on my mom's 1912 house and links to all of the posts I've written about it can be found at the end of this post.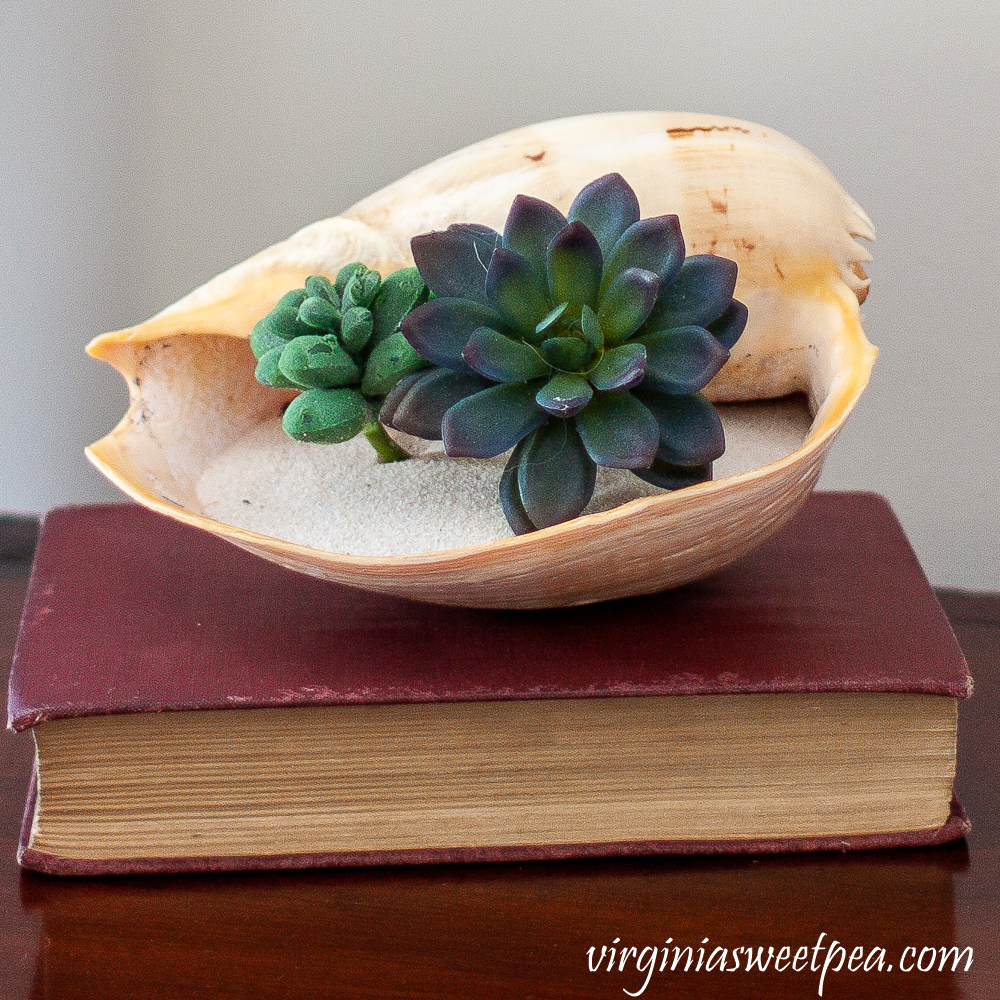 On the right side of the chest is an old oyster can displayed on top of two books.
Mama bought this oyster can at an auction of my grandmother's cousin's estate.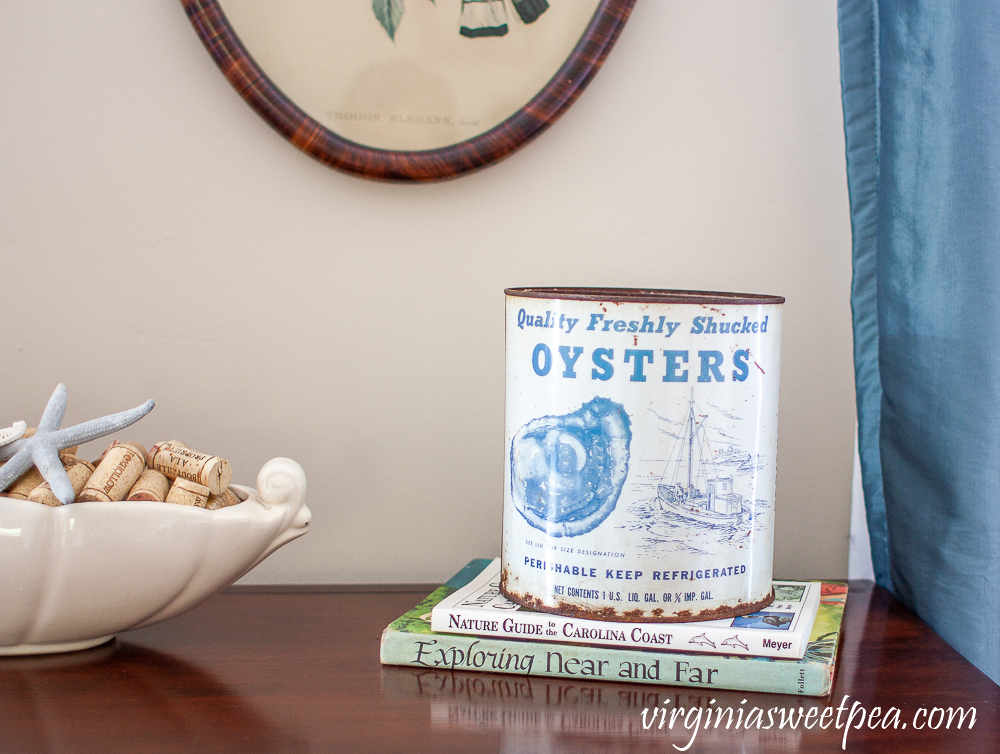 Exploring Near and Far is a 1955 social studies textbook that belonged to my Aunt Nancy.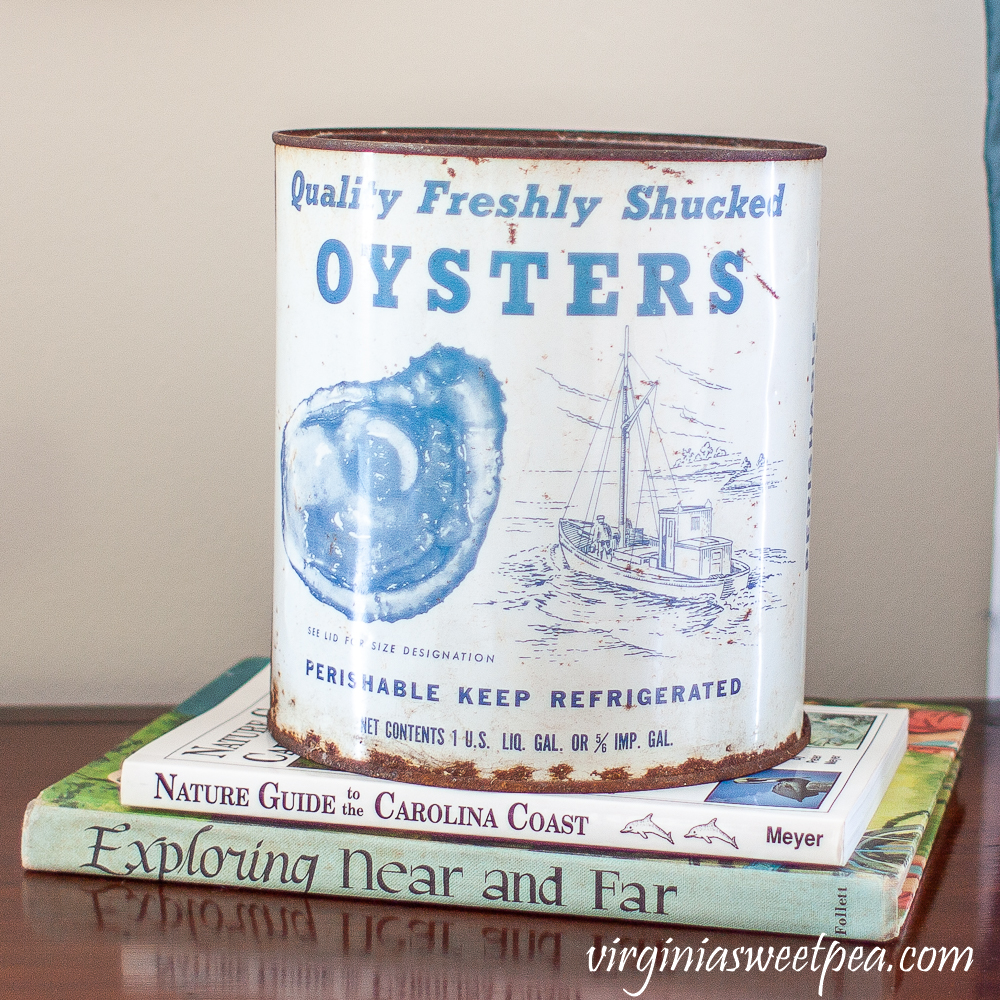 The Nature Guide to the Carolina Coast is a book that I used to take on every beach trip. If you want to identify or read more about nature that you see at the beach, I highly recommend this book.
Last Stop on the Coastal Decor Tour
The final spot to share is a vignette that I created on top of an old radio that a relative converted into a storage box.
If you open the box, you'll find it filled with my winter gloves.
Under the box is my dad's 1960's Montgomery Ward Stereo. Check out this post to see the inside of the stereo and the manual that came with it.
The vintage sheet music hanging on the wall belonged to "Cousin Maggie", who lived in Mama's 1912 house. Maggie played these songs on a piano that was passed down to Mama, used by me, and now it is back in it's original home.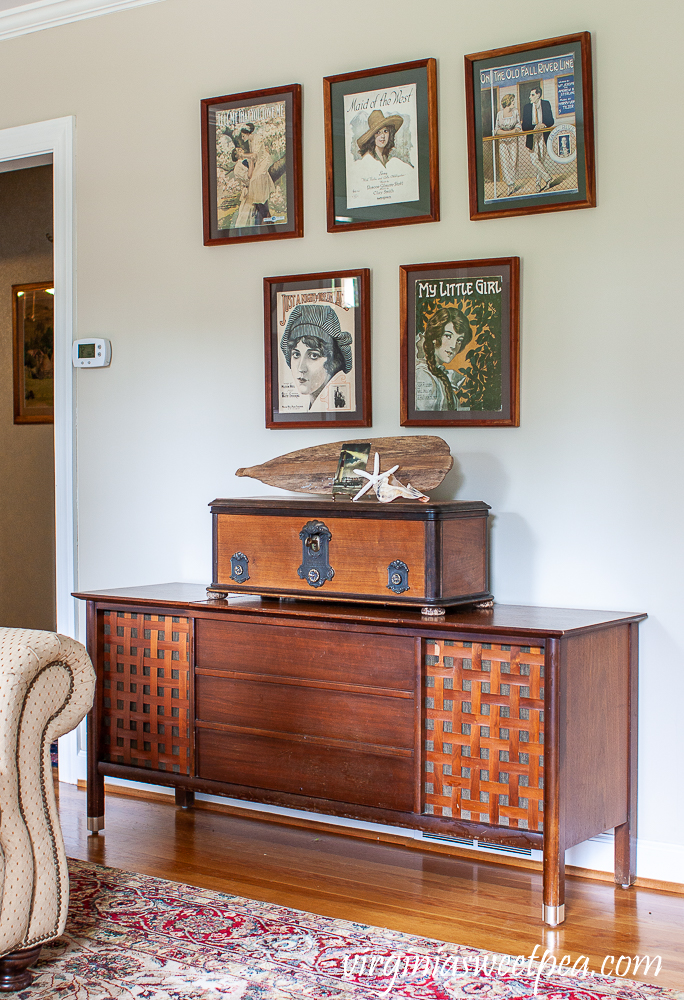 This oar is old and I am pretty sure that it belonged to "Cousin Creed" (the owner of the Panama Canal book.) Granny always called him "Cousin Creed".
For years my brother thought his name was "Cussing Creed". But I digress.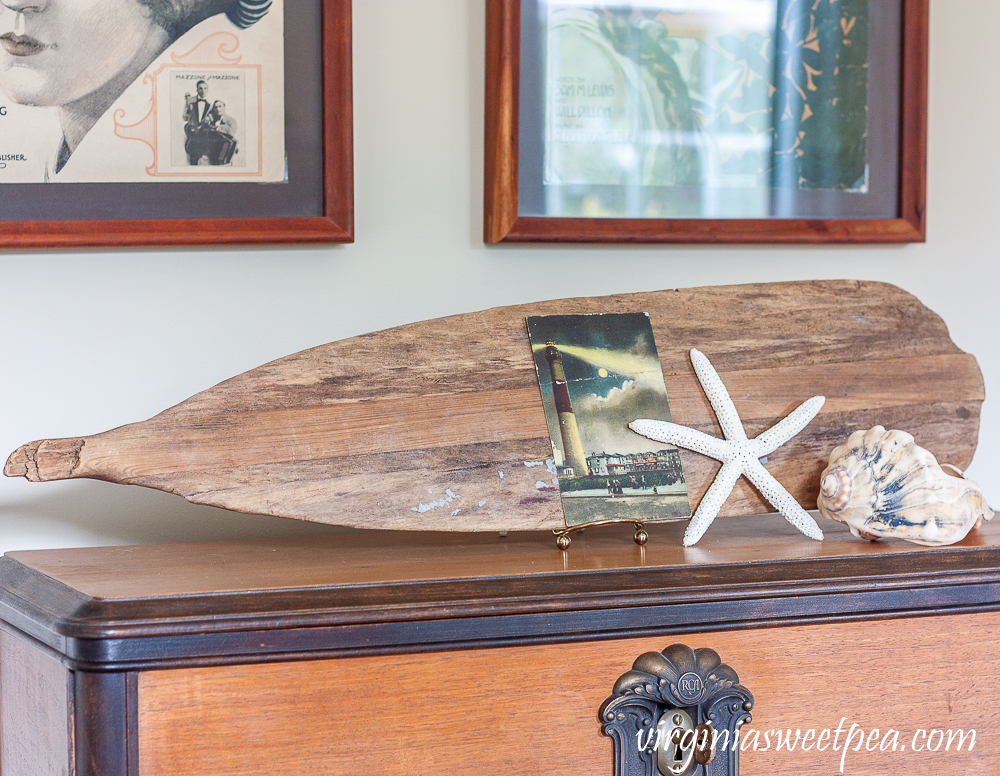 This postcard was sent to Willye to her work, Heironimus in downtown Roanoke.
Heironimus was a department store and the chain was in operation until the last one, located in Salem, VA, closed in 2005.
I purchased the starfish at the beach one year and the large shell I found on Kure Beach in NC.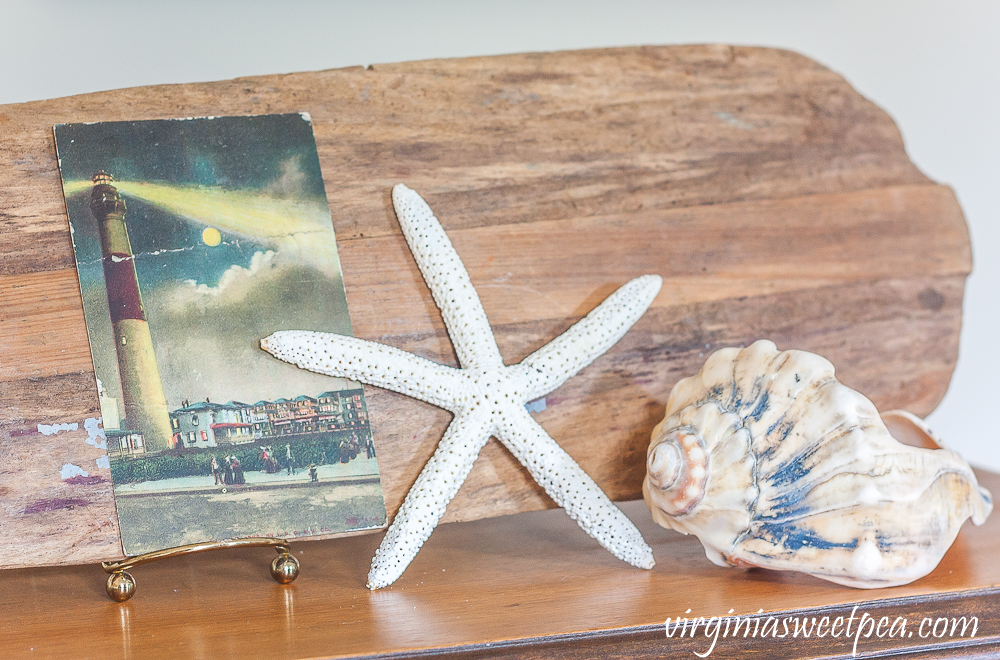 I hope you enjoyed seeing my coastal decor and reading some of the history behind the items that I used.