How to Decorate a Picnic Basket for Easy Summer DIY Home Decor
Looking for easy summer DIY home decor ideas? Today's Pinterest Challenge is all about how to use baskets as summer decorations.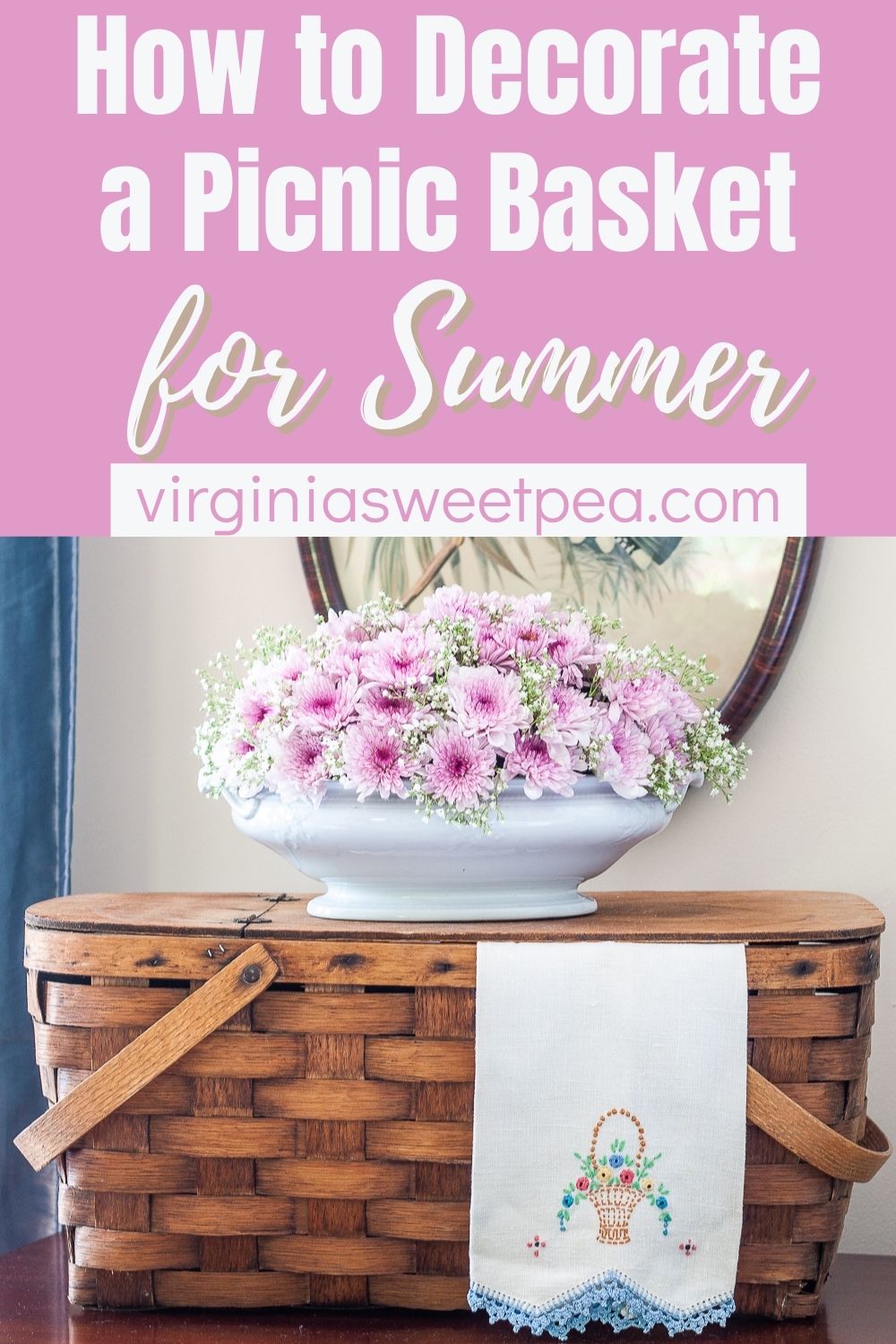 For each month's Pinterest Challenge, Cindy from County Road 407 picks a theme and then selects a picture from Pinterest to use as our inspiration.
Our job is to create our own version of the inspiration picture.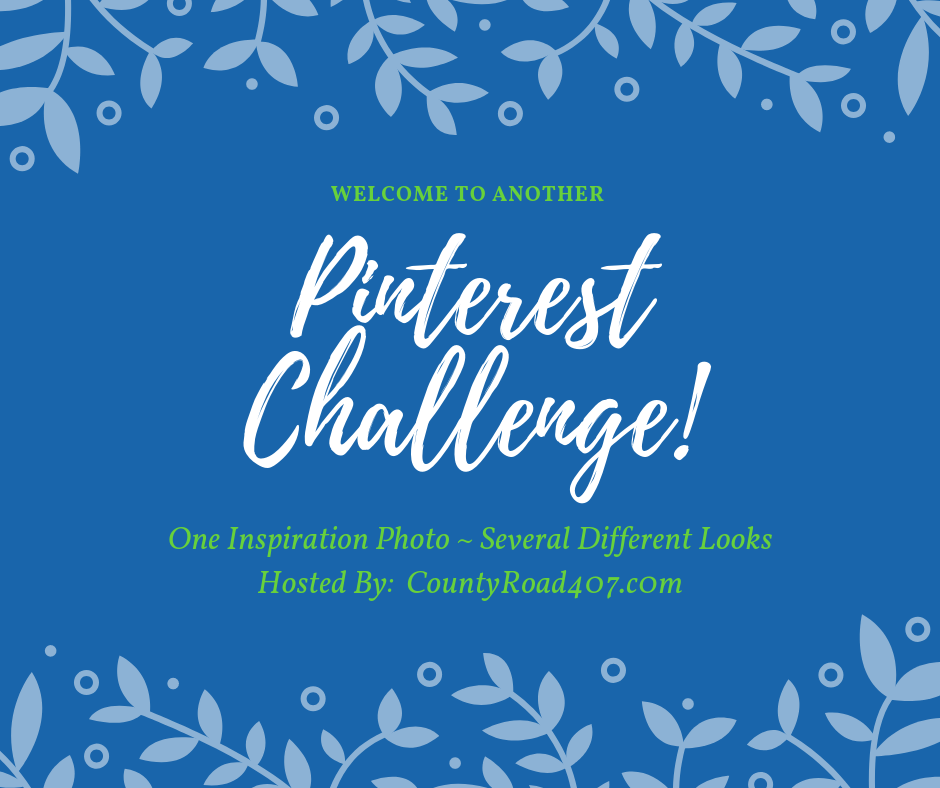 If you arrived here via Cindy of DIY Beautify, welcome! Cindy's ideas for using baskets for summer home decor are sure to spark your creativity for decorating your home for summer.
Our Inspiration for This Month's Challenge
Our inspiration for this month's basket themed challenge is from Jamie of Anderson + Grant. Jamie scored a vintage picnic basket at Goodwill with a broken handle.
Jamie gave the basket a makeover and now it's a great decor item that she enjoys using in her home.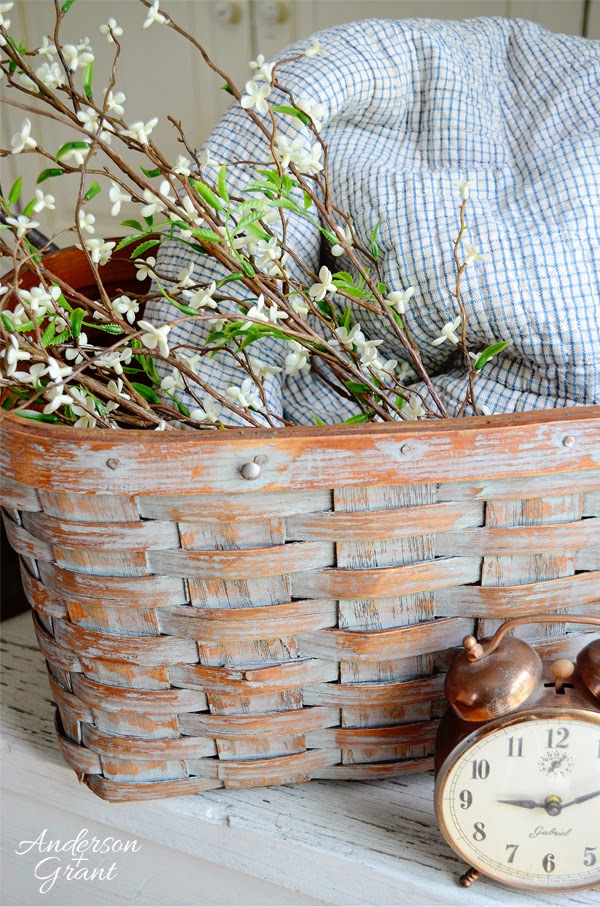 For my version of this challenge, I used a vintage picnic basket that I found in a trash pile back in 2013. I restored that gorgeous old picnic basket back in 2013 and we've used it for lake picnics both on our dock and on our boat countless times since.
This challenge was fun because it motivated me to use this picnic basket for DIY summer decor.
Picnic Basket Makeover
My friends know I can't resist a trash pile. Back in 2013, my friend Elsie texted me letting me know that her neighbors had some good things in their trash pile that I would want.
I drove straight to the trash pile and scored a few vintage wooden tennis rackets, vintage baseball bats, and this picnic basket.
The tennis rackets were used to make a vintage tennis racket table and a vintage tennis racket basket. The table is extra special because we used one of Elsie's father's tennis rackets for the table base.
The trash pile found picnic basket was in great condition but it was extremely dirty and needed some TLC.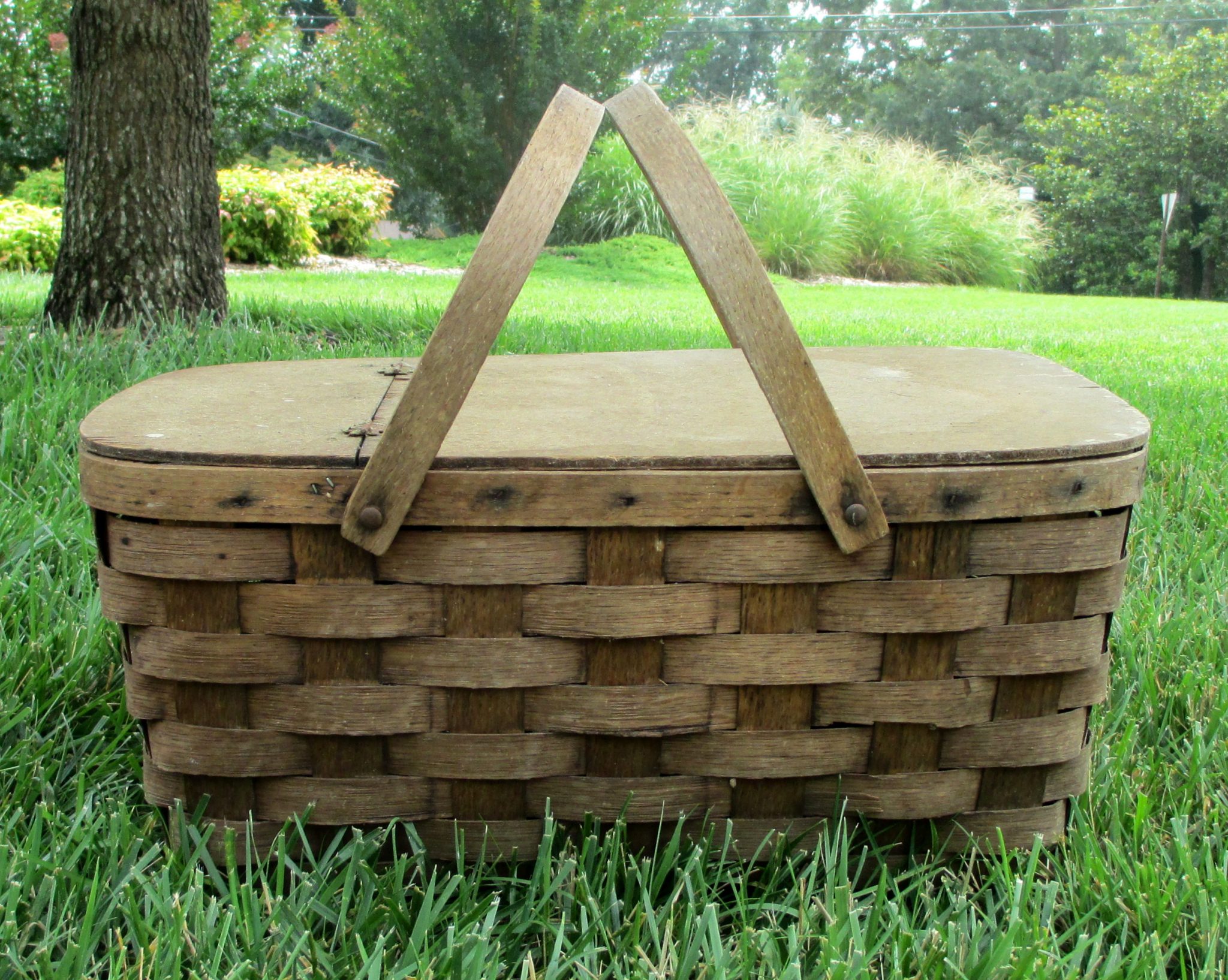 I was excited to find this picnic basket, especially since it was in great shape other than being very dirty.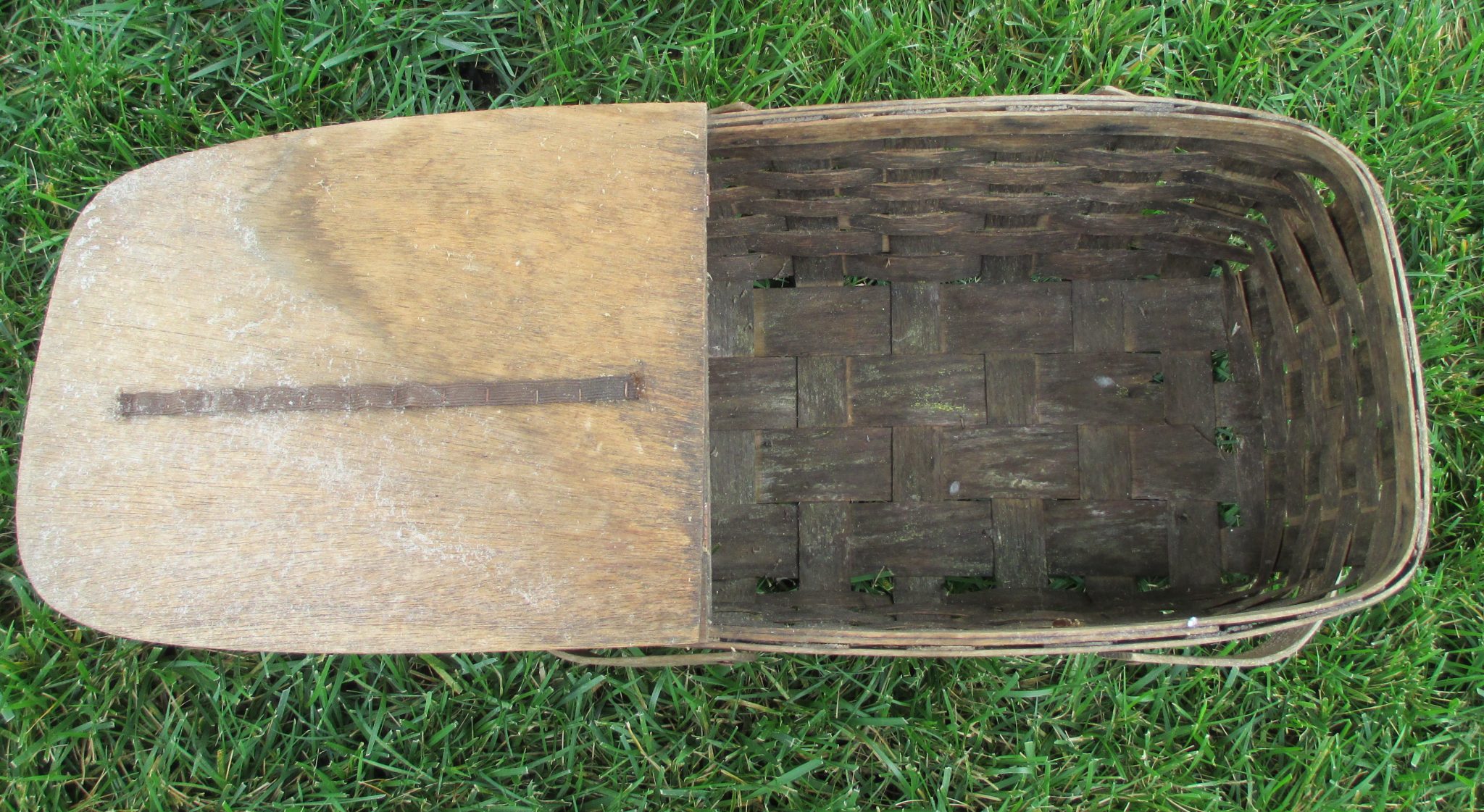 See how I restored this picnic basket in this post.
DIY Home Decor for Summer Using a Picnic Basket
For some reason, I've never thought to use a picnic basket for summer decorating but it makes perfect sense. Who doesn't think of picnics when they think of summer?
I used my vintage picnic basket to create a summer themed display in my formal living room.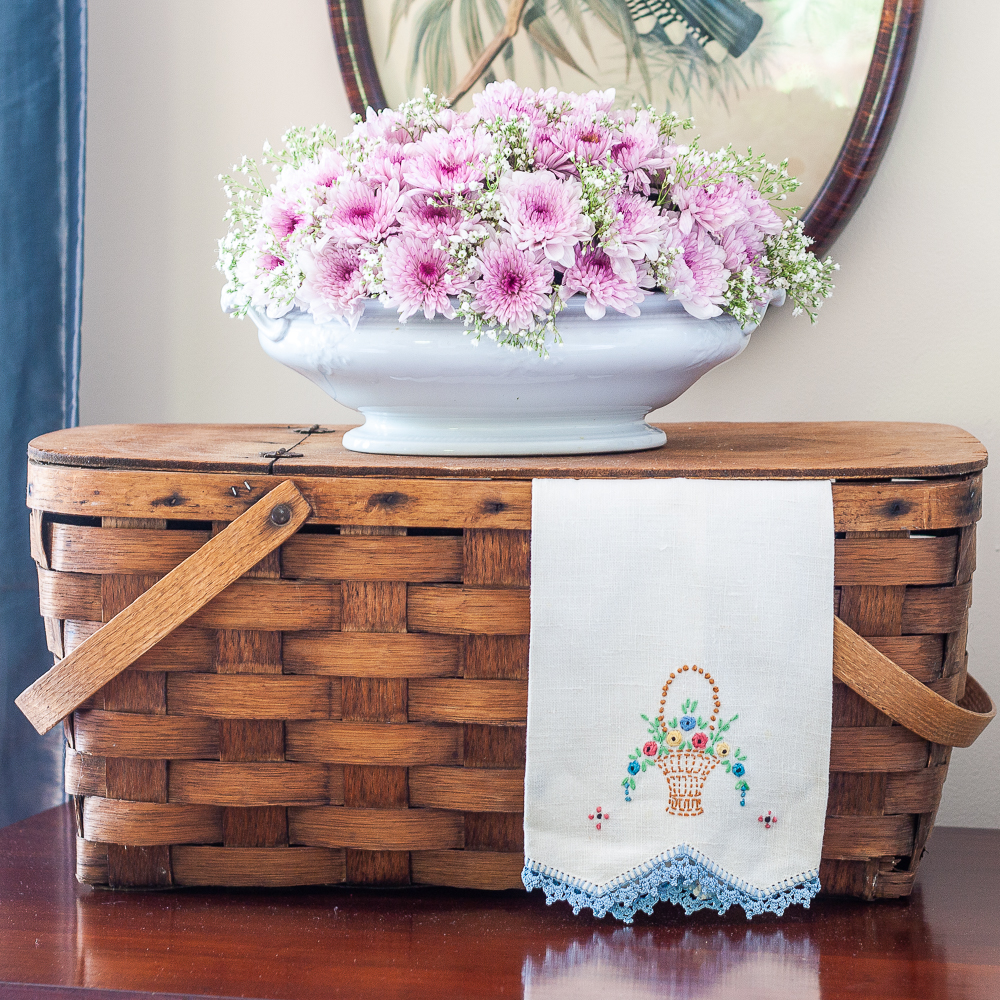 Our inspiration picture for this challenge included a picnic basket, floral stems, what looks to be a blanket and a clock.
I chose to decorate the top and side of my picnic basket rather than fill the inside of the basket like Jamie did.
Picnic Basket Summer Decorations
The first thing that I added to my picnic basket was a vintage embroidered towel that I inherited from my grandmother. Most likely this was made by one of Granny's aunts.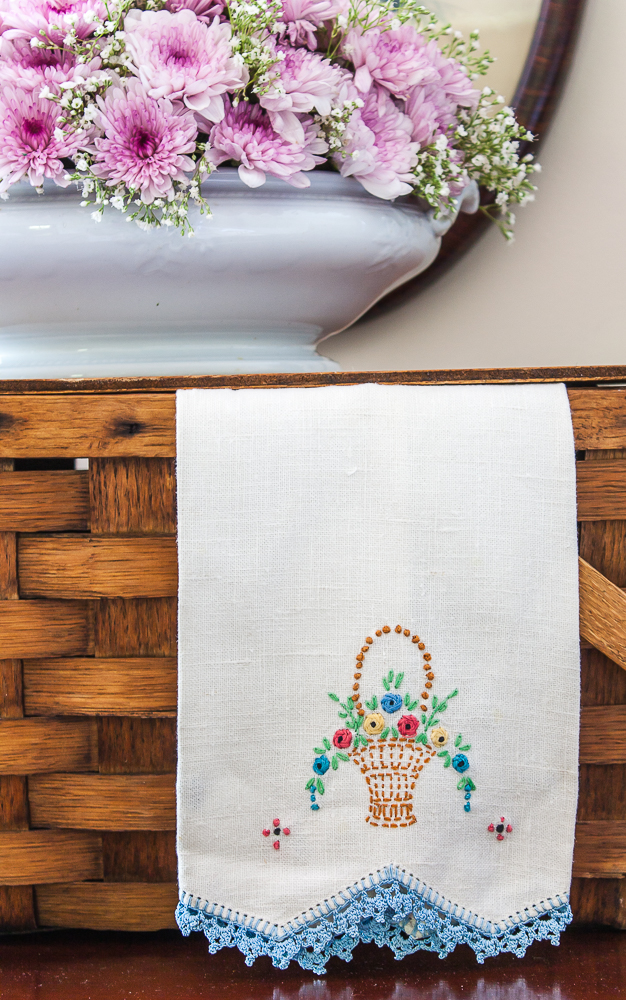 Instead of using flowering branches as Jamie did, I made a summer flower arrangement using my grandmother's lidded Ironstone serving bowl base.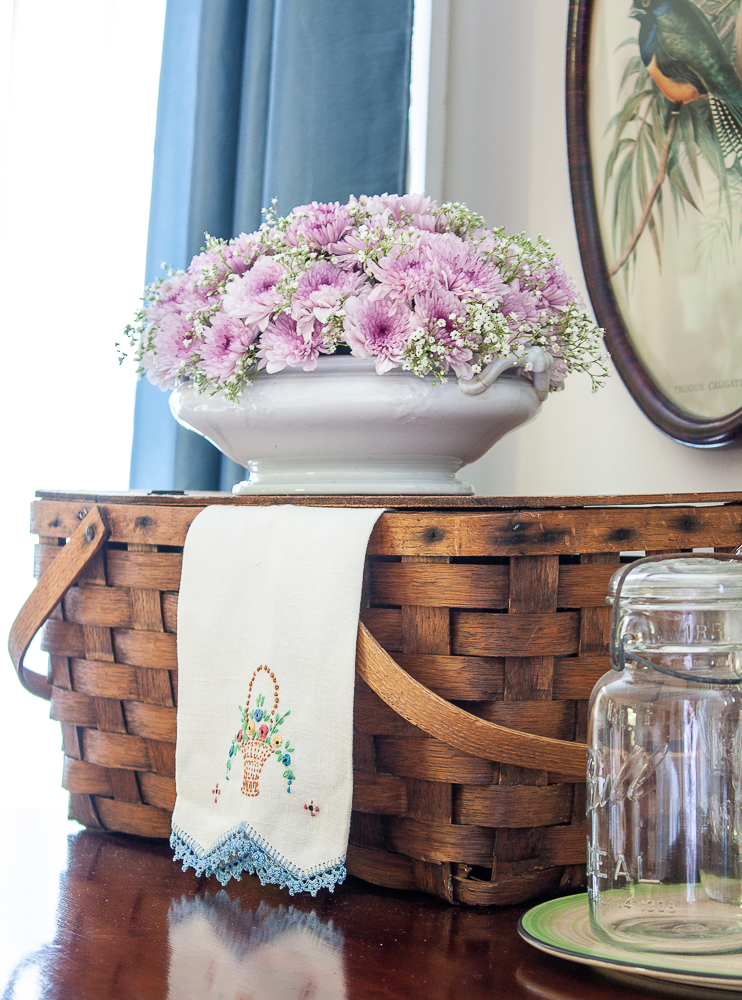 I'll soon share exactly how I made the flower arrangement. I love having fresh flowers in my home.
After displaying the picnic basket, towel and flower arrangement, it was time to think of what I wanted to display along with these things.
Summertime makes me think of growing vegetables and canning so I shopped my basement for summer decor items with that theme.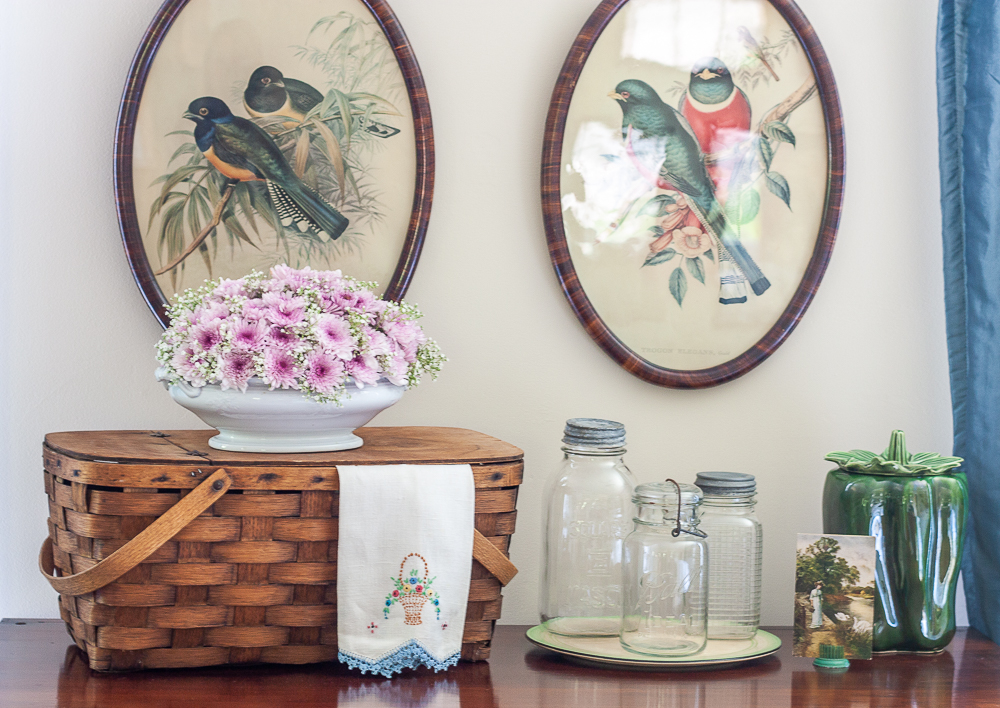 Three of my inherited canning jars were arranged on a depression era serving plate that my grandmother received at her bridal shower. You can see more of Granny's 1938 bridal shower gifts that I inherited here.
I love decorating with these family treasures.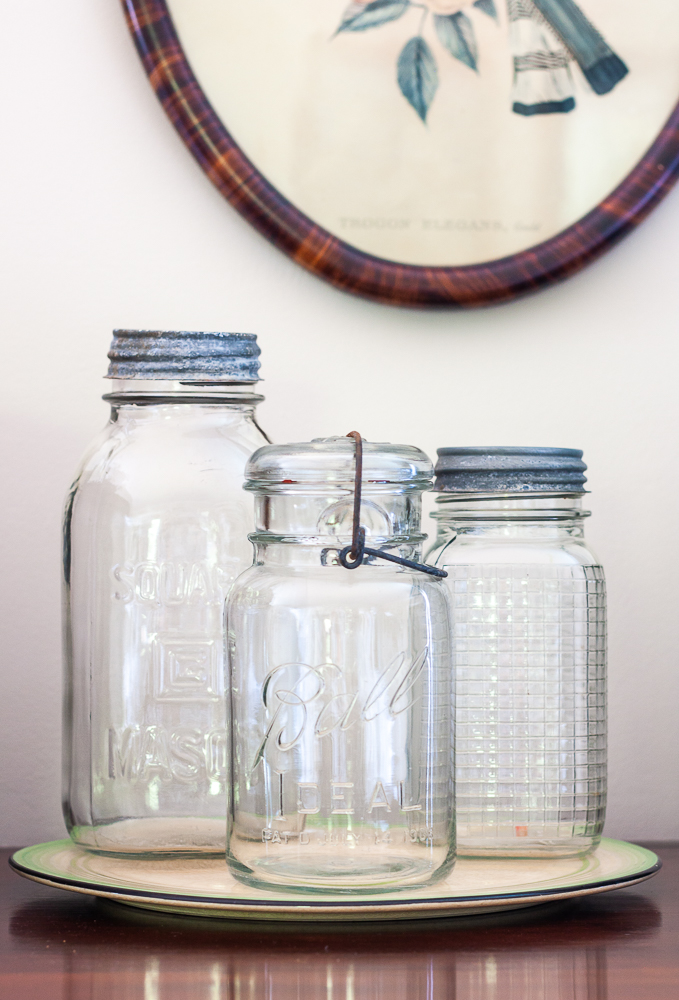 Next, I added a vintage McCoy green pepper cookie jar that my former teaching assistant gave me. It belonged to her aunt and I was happy to give it a home.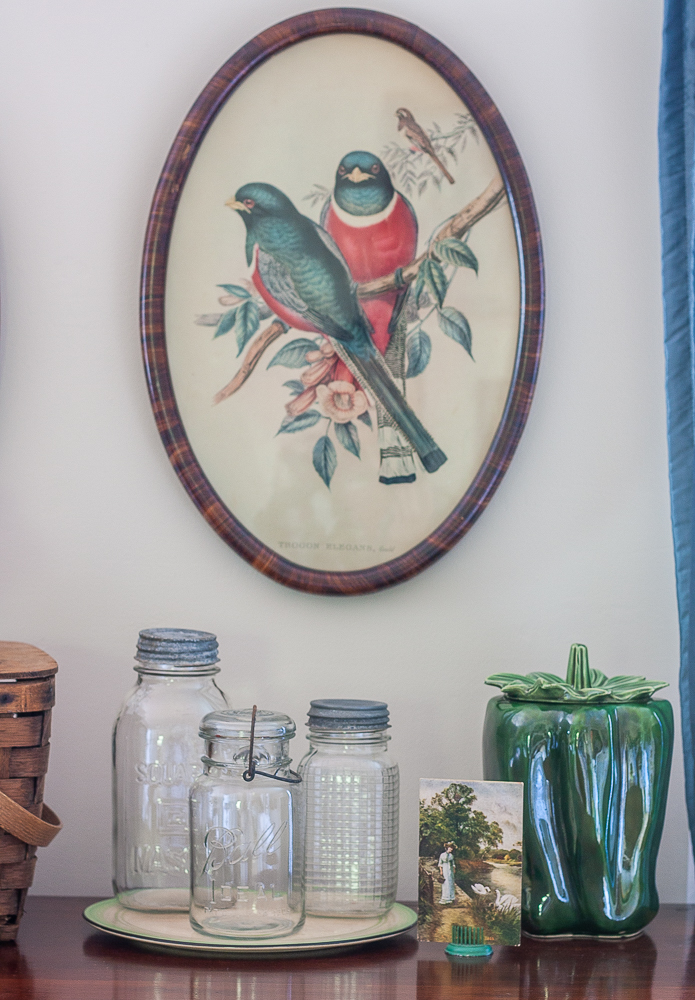 The other night we were watching Weekend at Bernie's and I noticed a green pepper cookie jar just like mine was as kitchen decor in the movie.
Some of Weekend at Bernie's was filled at Smith Mountain Lake, so it was fun to see local scenes while watching the movie.
The postcard is from 1908 and originally belonged to my grandmother's next door neighbor.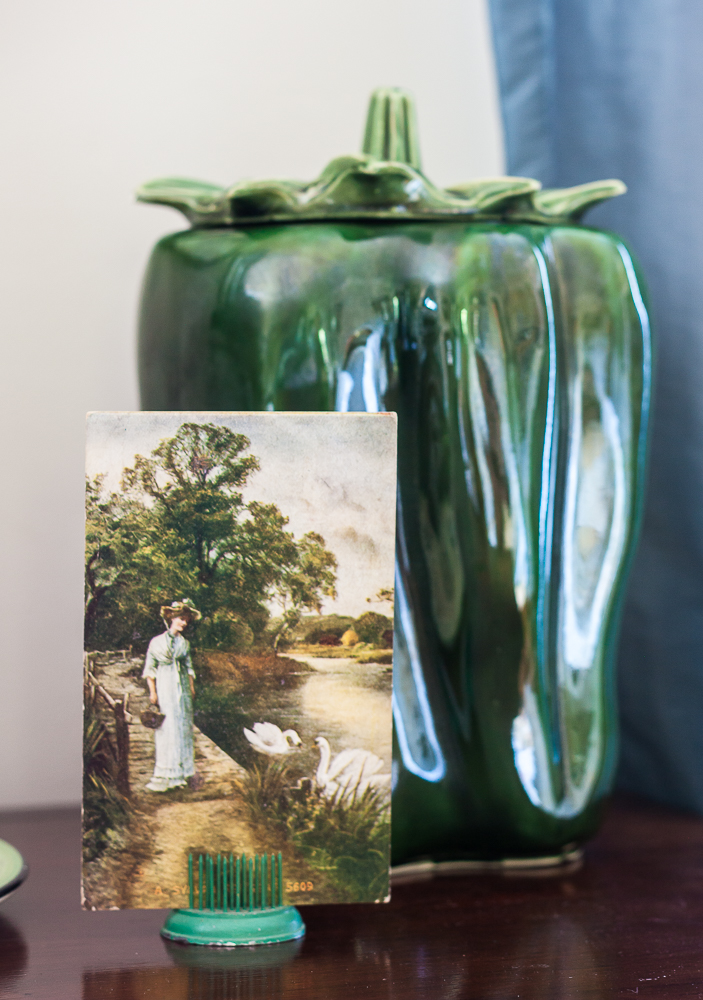 I love having this area of my living room decorated for summer with my beloved vintage treasures.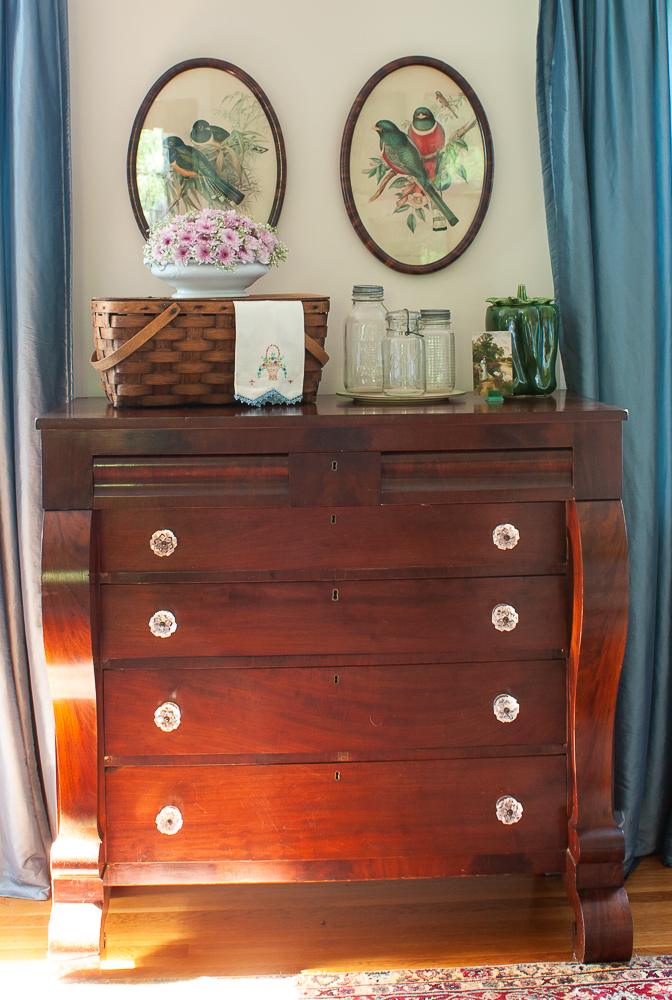 Now that this area is decorated for summer, I need to get busy updating the décor in the rest of this room.
If you're looking for more ideas for using baskets for home decor, check out these posts:
I am positive that I'll get some great summer decor ideas from my blogging friends today. I can't wait to see what everyone shares for this challenge.
Next up is Kristin from White Arrrows Home who is sharing not one, but two picnic basket ideas. Kristin lives in the Northwoods of Wisconsin on a lake and is a vintage lover just like me. She also hosts a podcast that I really enjoy.
More Basket Ideas for Easy Summer DIY Home Decor
Many thanks to Cindy for organizing this fun monthly challenge!
Click on the links below to visit each blogger who is sharing their version of our inspiration picture.