Decorating Ideas using Vintage Books
Books are very useful in home decor. Today I'm sharing Decorating Ideas using Vintage Books, a collection of ways that I use vintage books in my decor.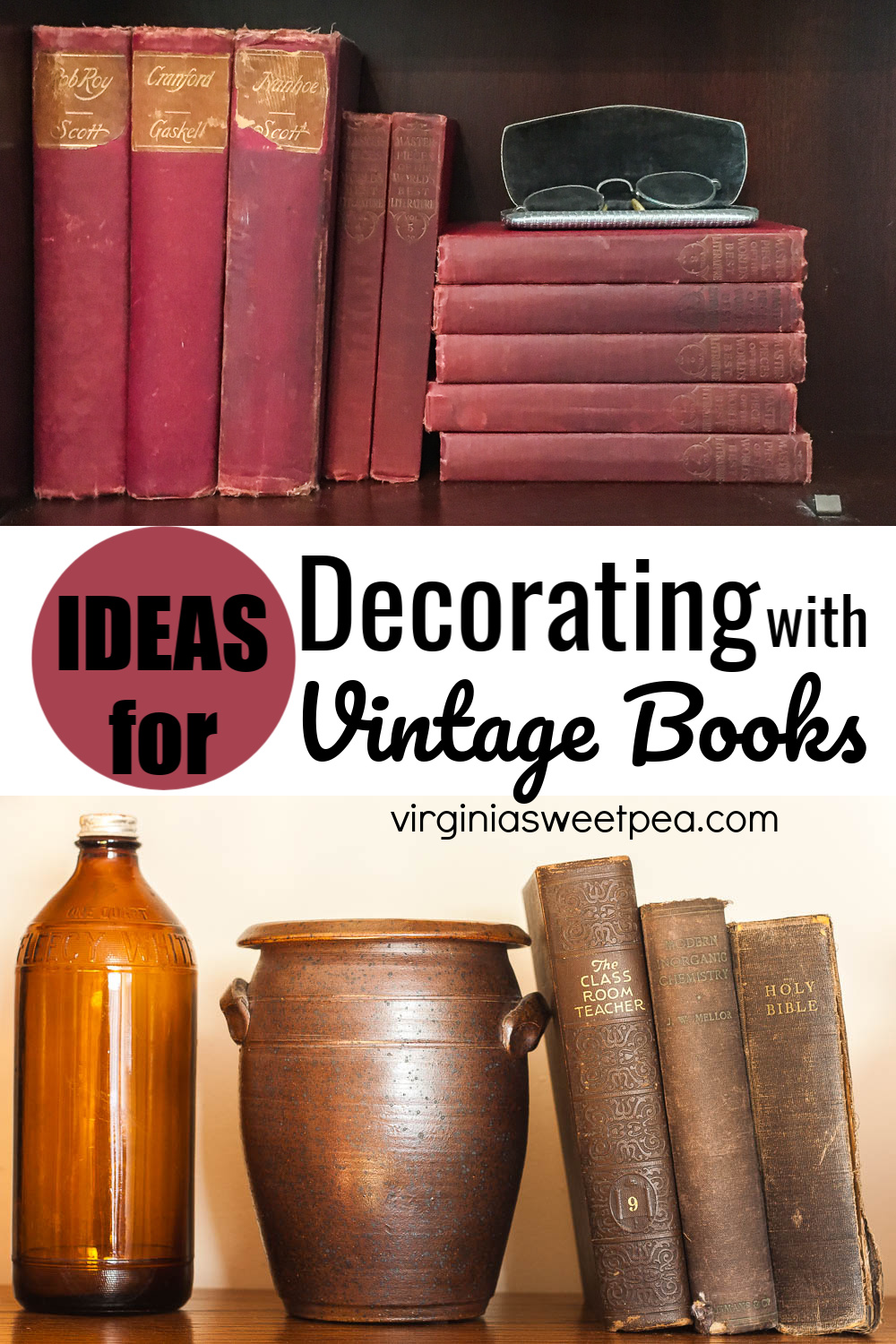 A Lifestyle of Love
I am thrilled to be joining a group of blogging friends who share my love of vintage and antiques for a themed series where we share ideas for decorating with vintage.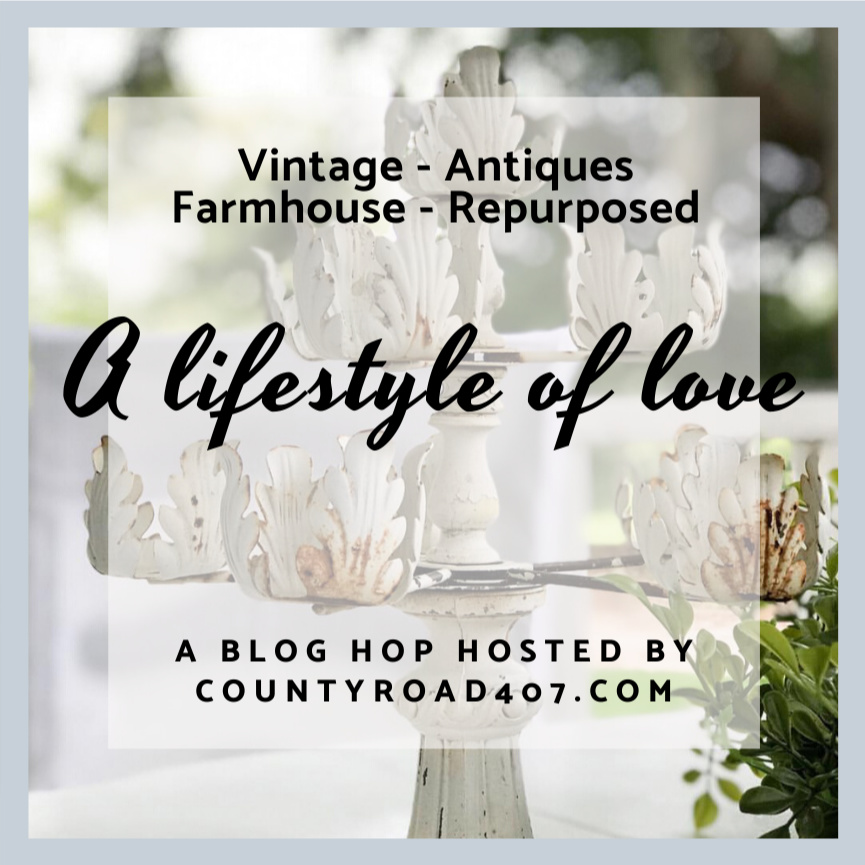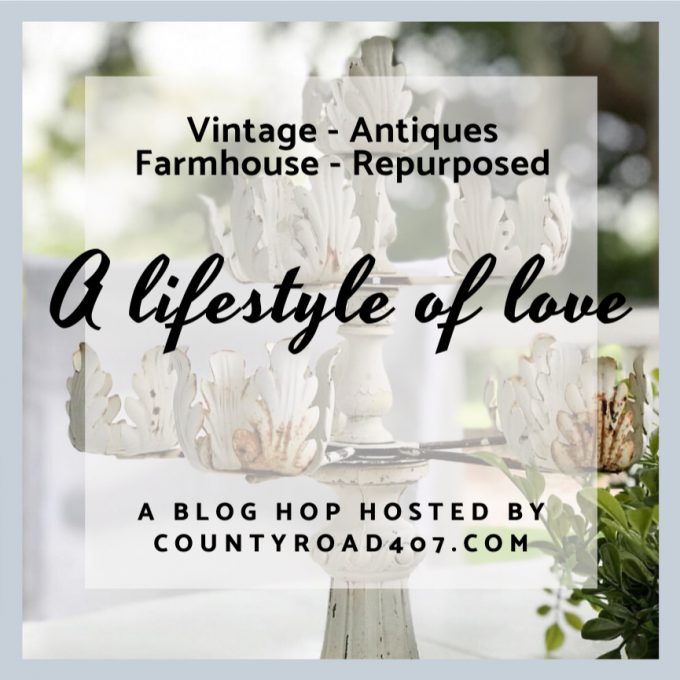 This series is an every other month event organized by my blogging friend, Cindy of County Road 407.
The series started in March where the group shared ideas for decorating with vintage crocks. I wasn't a member of the group at the time but I thought I'd be a good fit for the group since I love vintage and Cindy kindly invited me to join.
This month the theme is how we use vintage books in our decor.
The decorating ideas using vintage books that we are sharing today will hopefully give you ideas of how you can use books in your decor.
Decorating Ideas with Vintage Books
Thanks to coming from a family who saved e.v.e.r.y.t.h.i.n.g, I have a nice collection of vintage books to use for decorating.
Use Books to Match a Theme
When I'm decorating with a theme in mind, I always shop my books for ones to use that match the theme.
Bird Theme
Last summer I decorated our living room with a bird theme.
A chest that I inherited from my grandmother has two antique bird prints hanging over it, a perfect space for bird decor.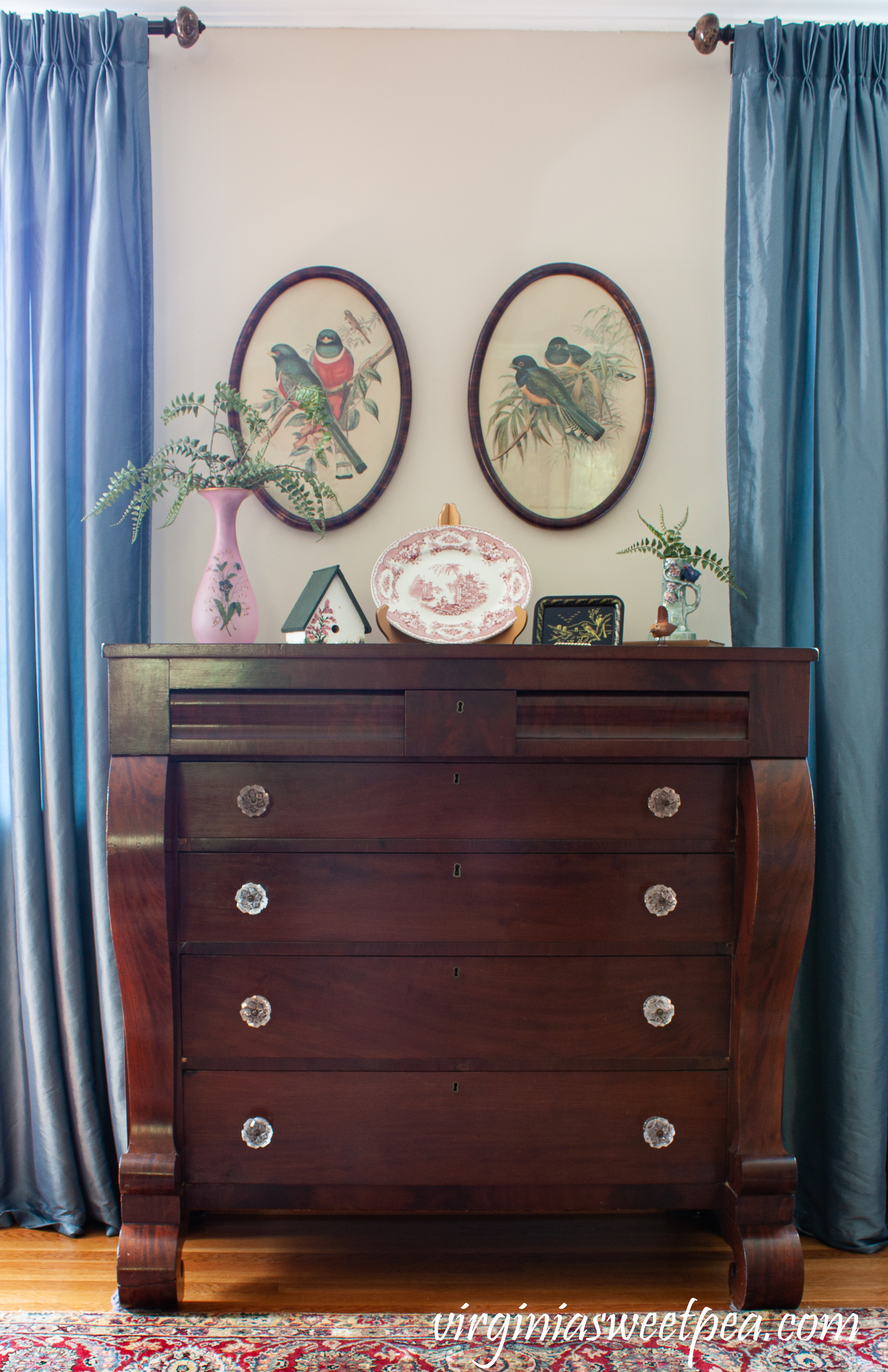 I shopped my basement to find bird themed accessories and then shopped my bookshelves for bird themed books.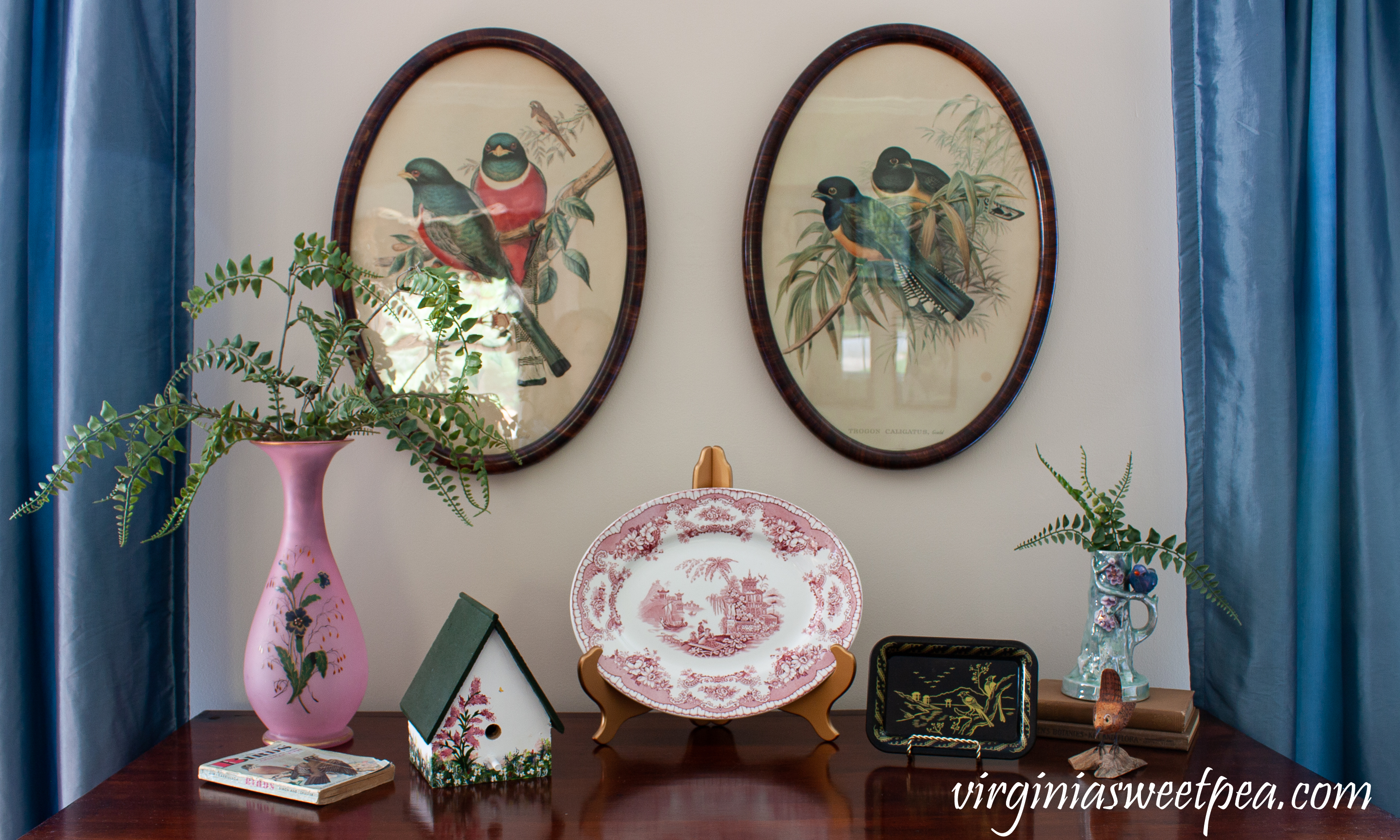 On the left I used a vase that belonged to my friend's mom, a birdhouse that my dad built and my grandmother painted, and my grandmother's 1949 Golden Nature Guide.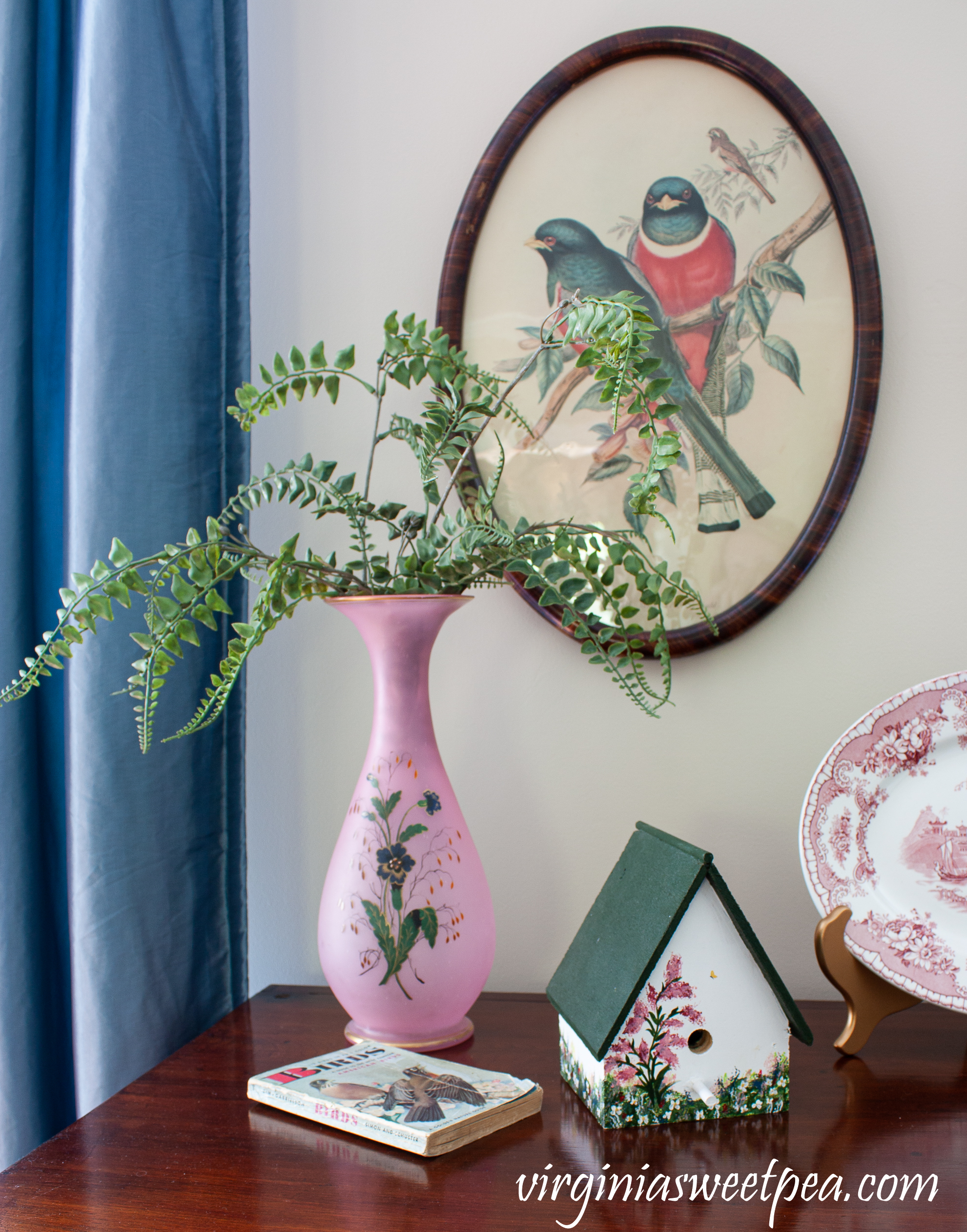 To the right of the platter, I used a small bird metal plate, a carved bird, and a bird vase elevated by two books: a 1897 Spanish reader and a 1908 Bergan's Botany Key and Flora.
The books both match the theme and the colors coordinate with this vignette.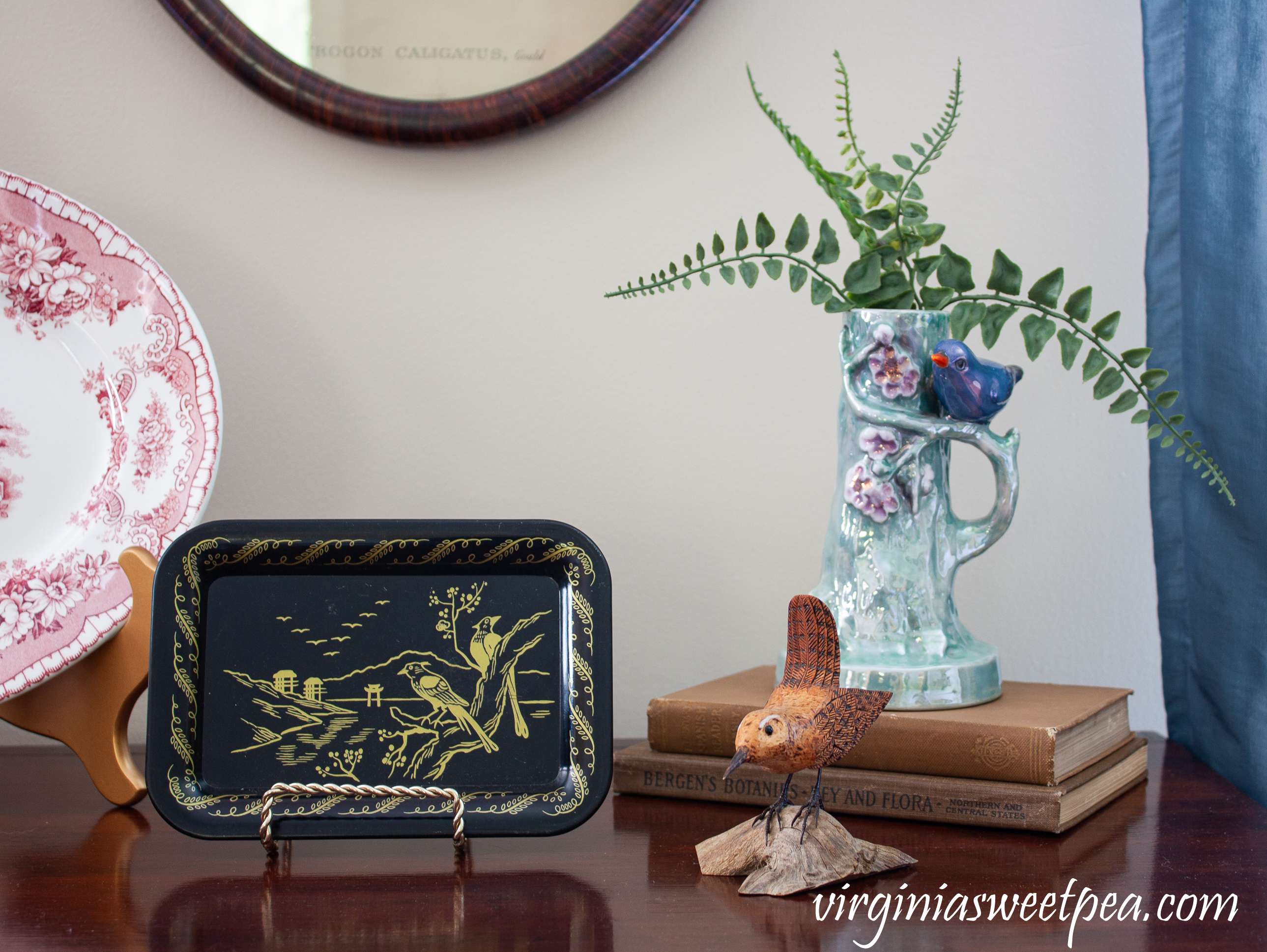 See more of my summer decorations, all using vintage, here.
Baseball Theme
Another place that I used books to match a theme is in my father-in-law's room at the lake. My father-in-law is both a veteran and a baseball fan, so his room is decorated with both a patriotic and baseball theme.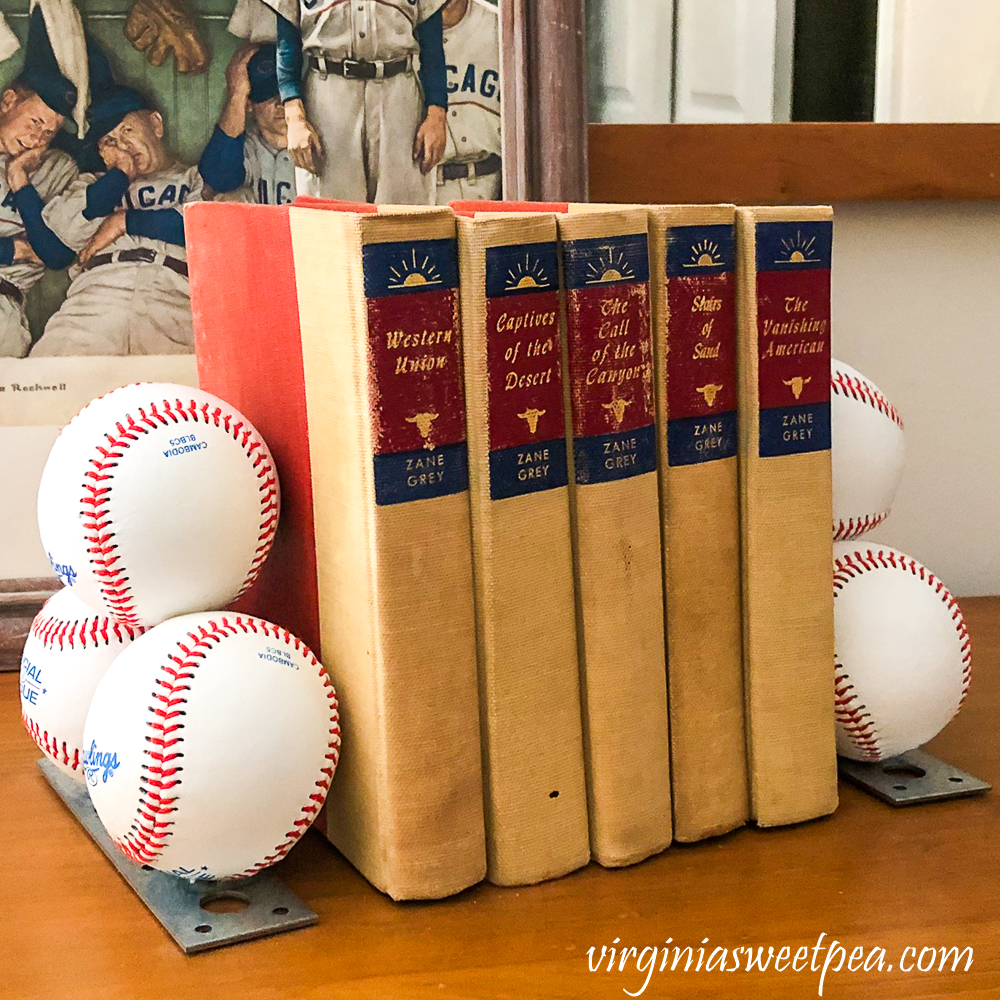 In his room, my dad's childhood marbles are displayed along with one of his baseball books from childhood.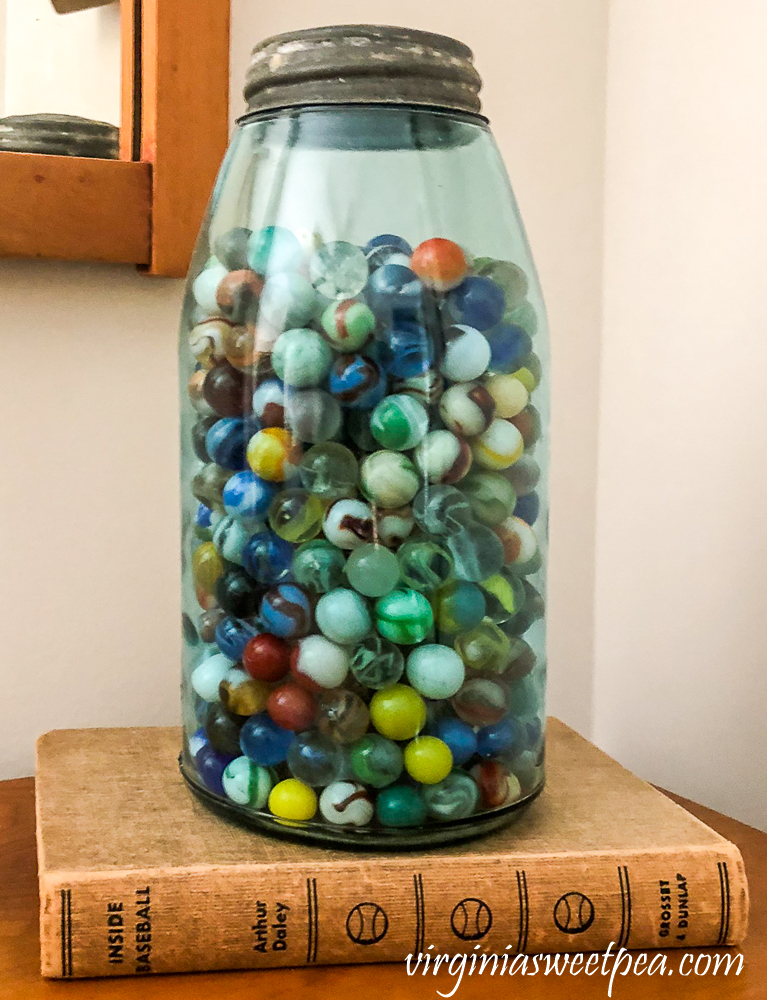 Use Books to Match a Color Scheme
Many times I use a book for decor based on its color.
Patriotic Theme
Last May I decorated our enclosed porch with a patriotic theme.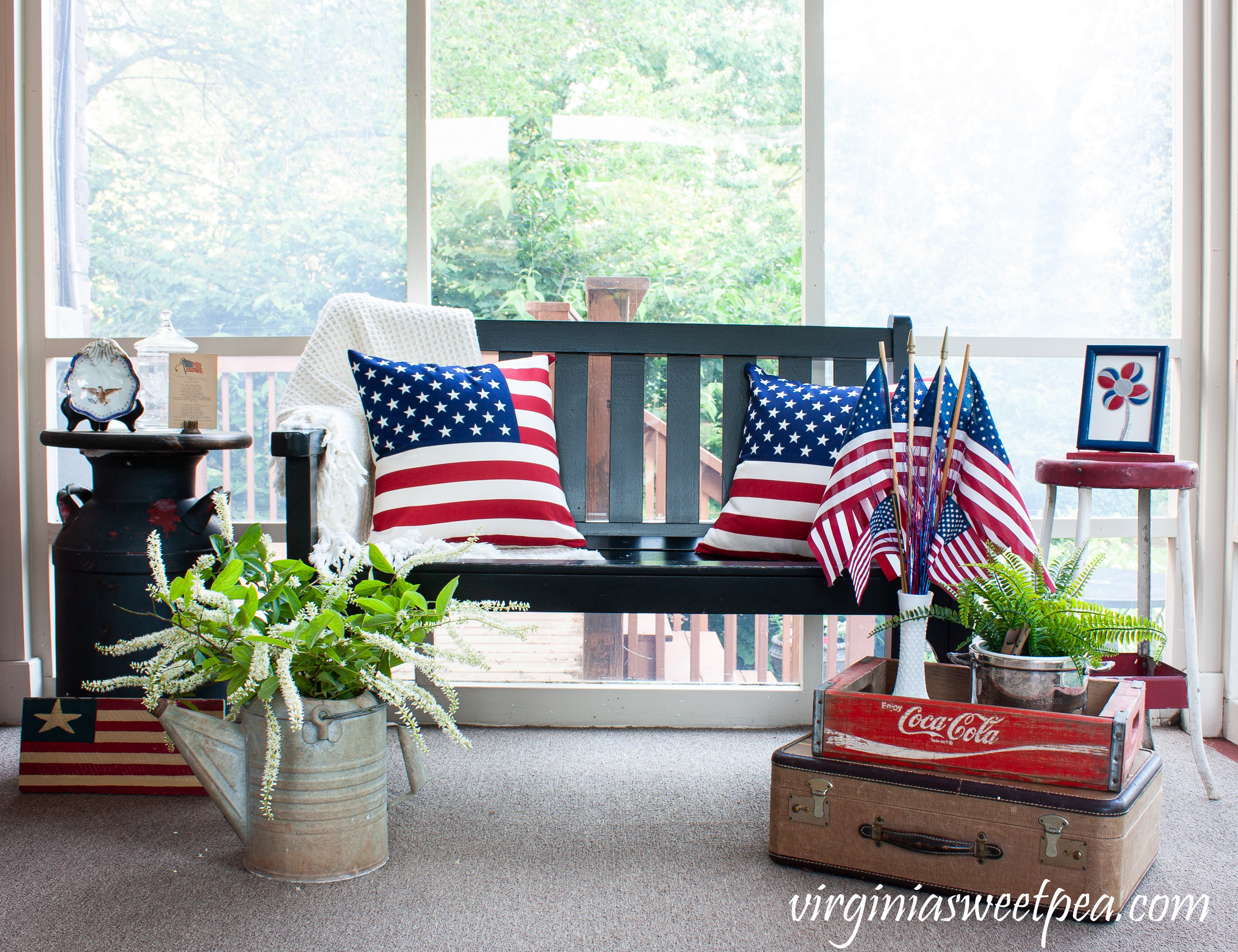 When decorating this space, I wanted to elevate the flower picture made using cut up Pepsi cans.
I shopped my bookshelf for a vintage book with either a red or blue cover. A book on collecting coins with a red cover worked perfectly.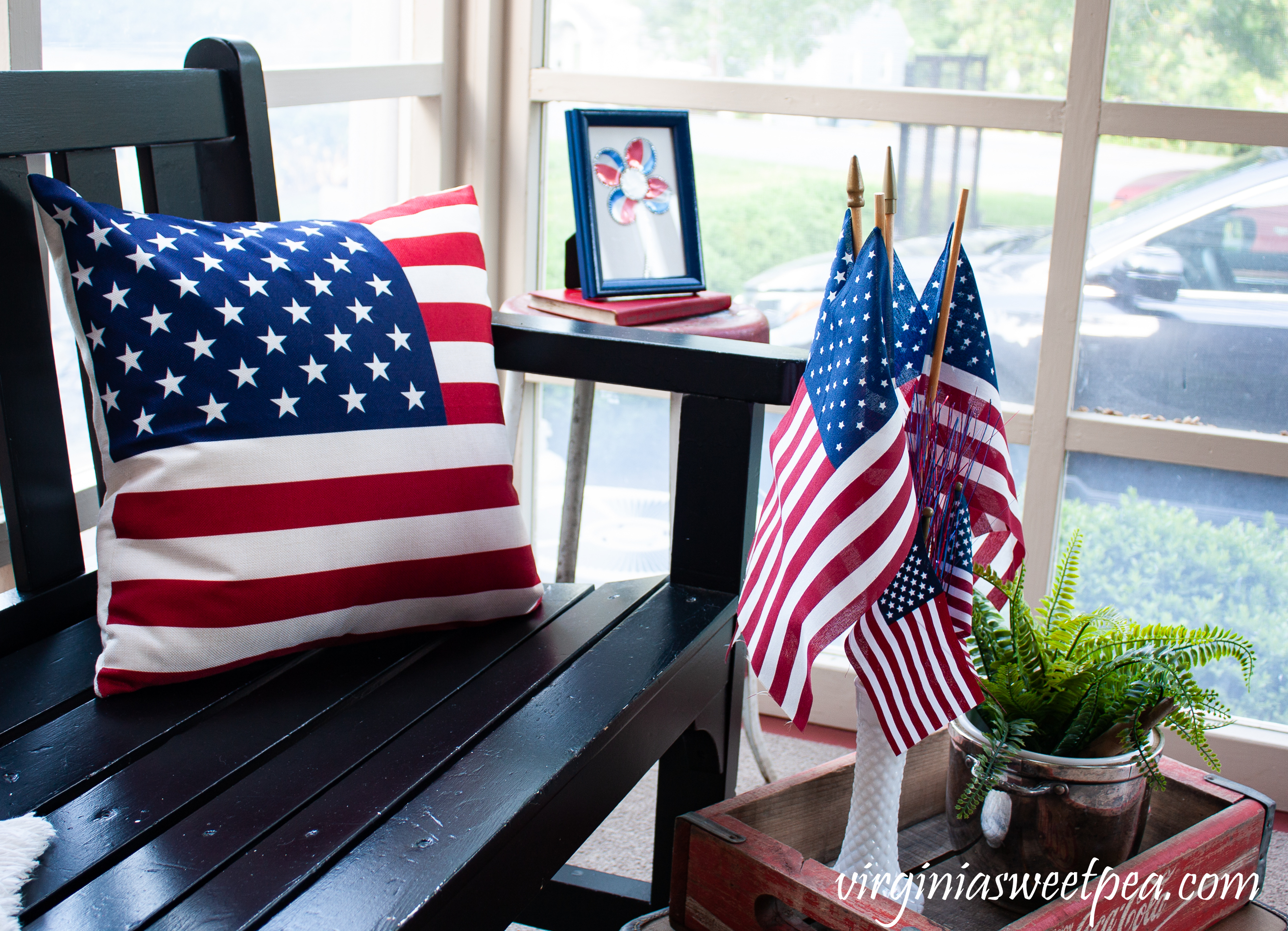 Shortly after these photos were taken, we did extensive work on our porch that converted it to a sunroom.
Pastels for Spring
When I decorated our formal living room this spring with a pink and green theme, I found a book with a mint green cover to use to coordinate with Easter postcard, Fenton rabbit, and nest.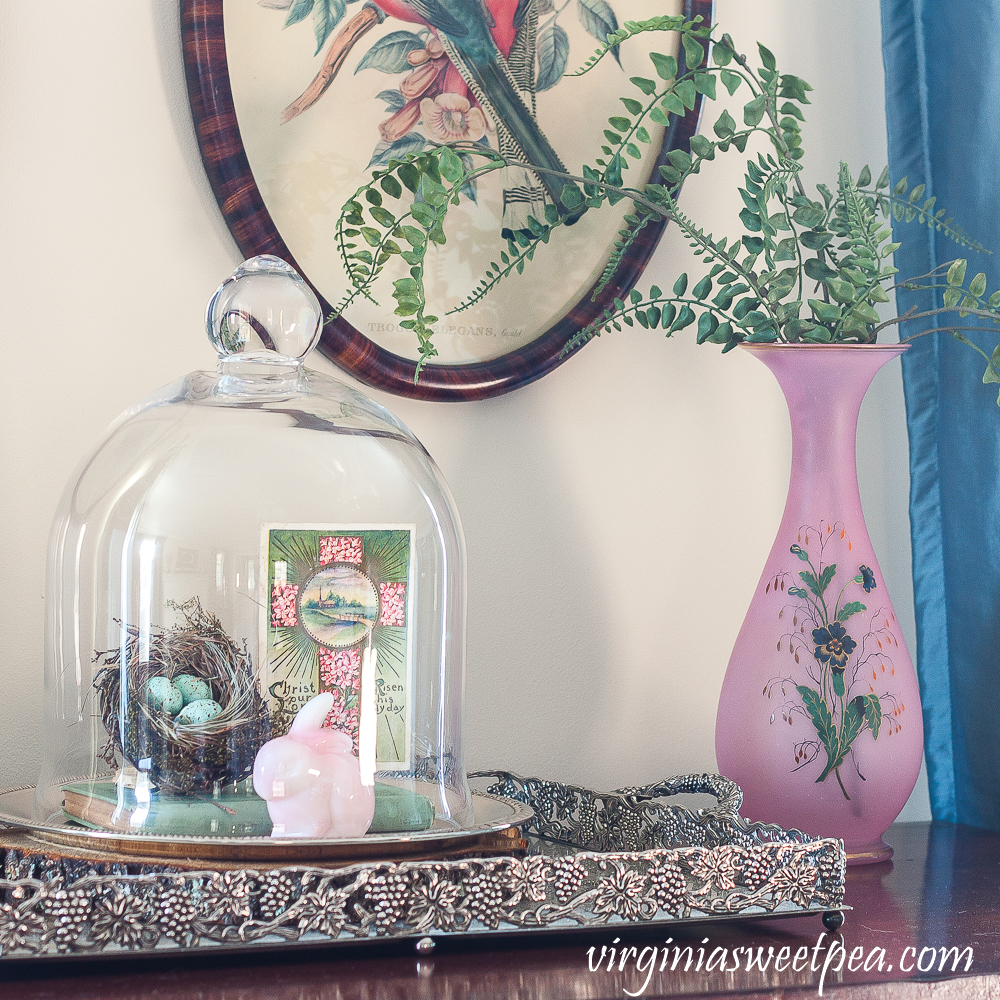 Use Books to Elevate and Highlight a Collectible Item
Last fall I decorated my husband's office desk with vintage.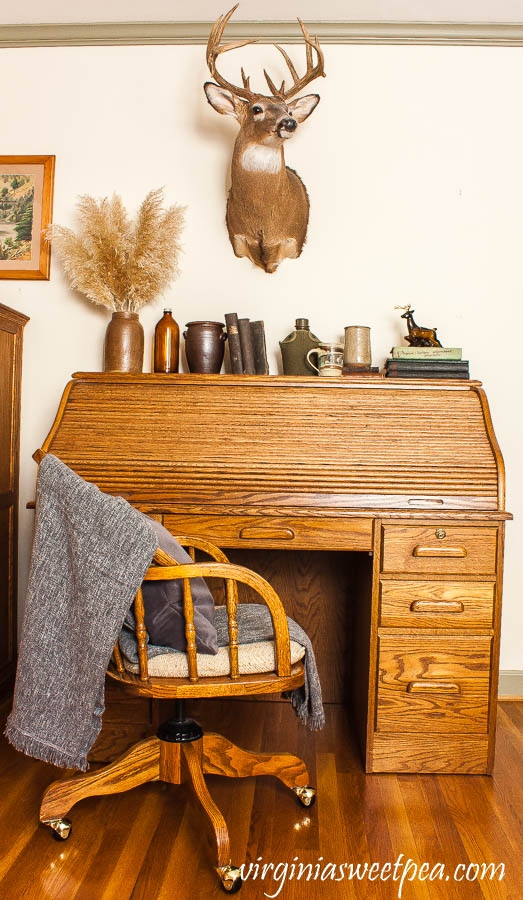 Hanging over his desk is a mounted deer. To go with the deer, I decorated his desk with rustic items in brown including pottery, a bottle, and books.
A vintage Avon aftershave bottle found in a Vermont antique store goes perfectly with the deer theme.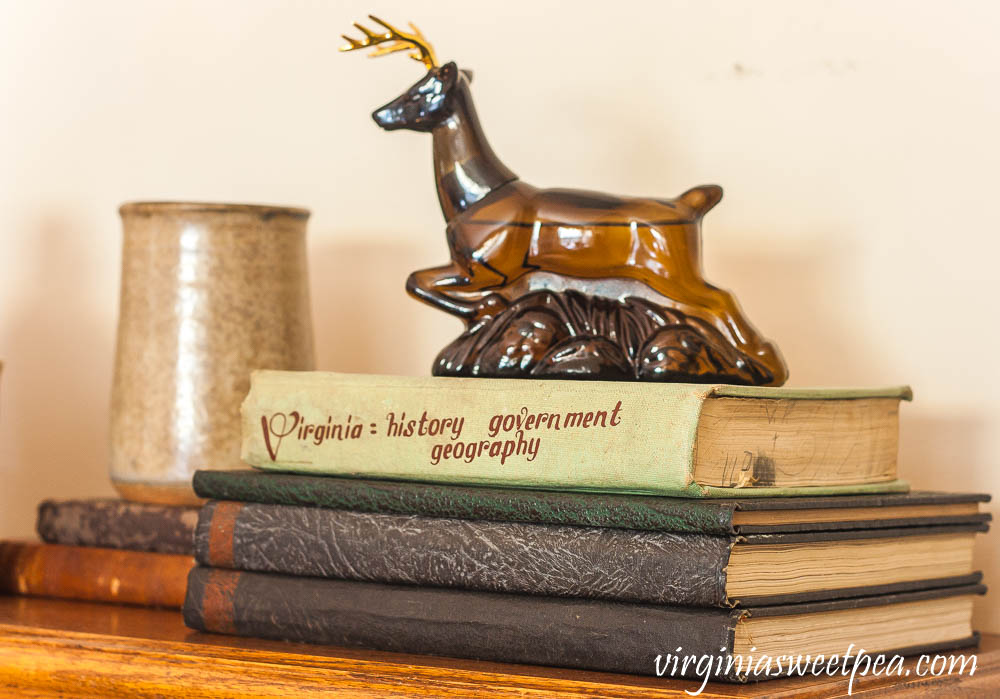 Elevating the cologne bottle with books makes it stand out when viewing the display.
Under the deer are these books:
1964 Virginia History book – My mom gave me this. Vivian Lea Pollard's name is written in the book.
1939 The Black Swan yearbook from William Byrd High School in Vinton, VA – This belonged to my grandmother's cousin, Freeman Funk. I leafed through the book and saw that my grandfather, Paul E. Ahalt was an English teacher and Assistant Principal of William Byrd at the time.
1928 and 1929 Rawenock yearbooks from Roanoke College – Both my grandfather's.
In this early fall coffee table vignette, a stack of vintage books is used to elevate a Czechoslovakian vase that belonged to my grandmother.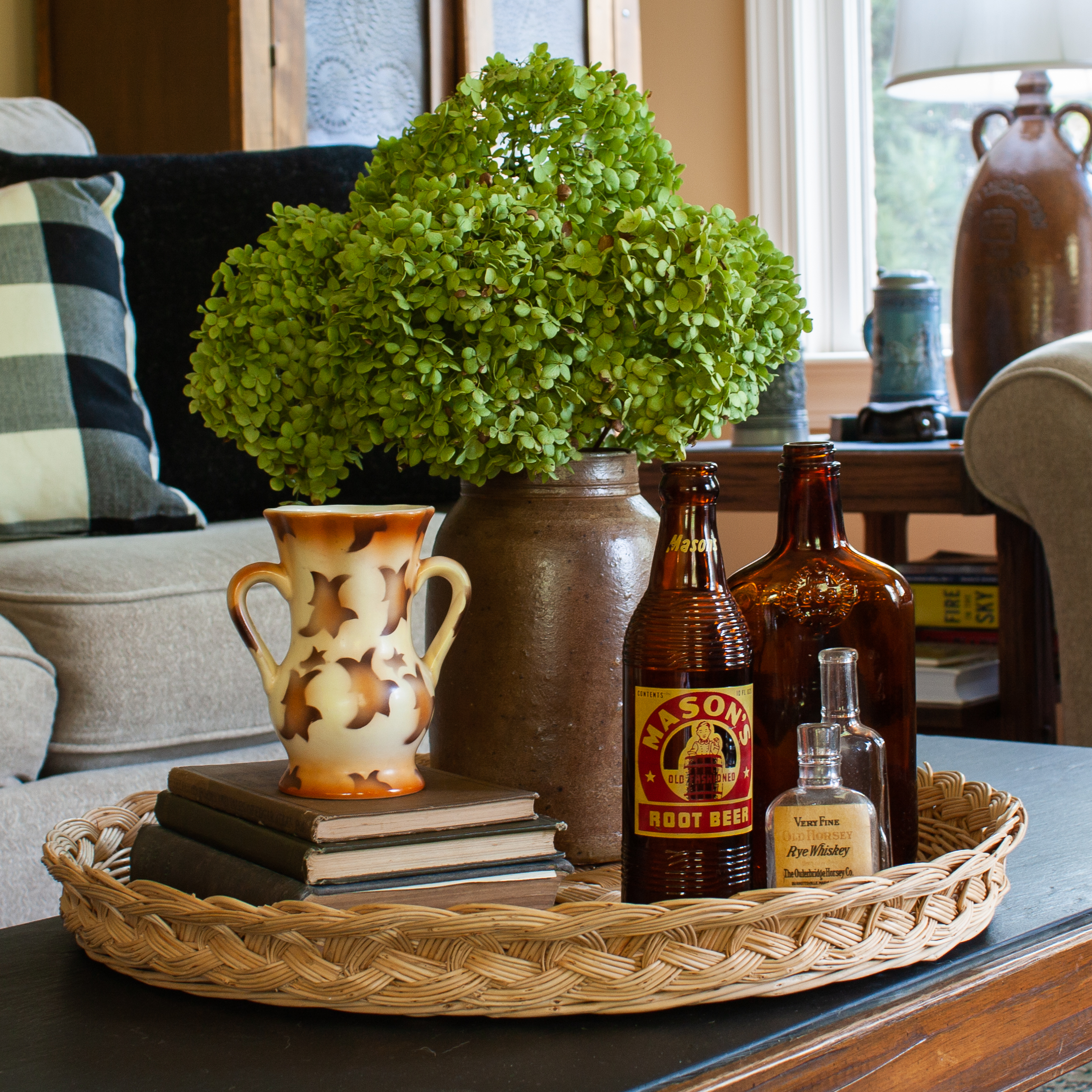 Use Books as Decor
Vintage books are great to use for decoration. On my husband's desk, the brown covers of these family books matches the brown of the pottery and vintage Fleecy White bleach bottle.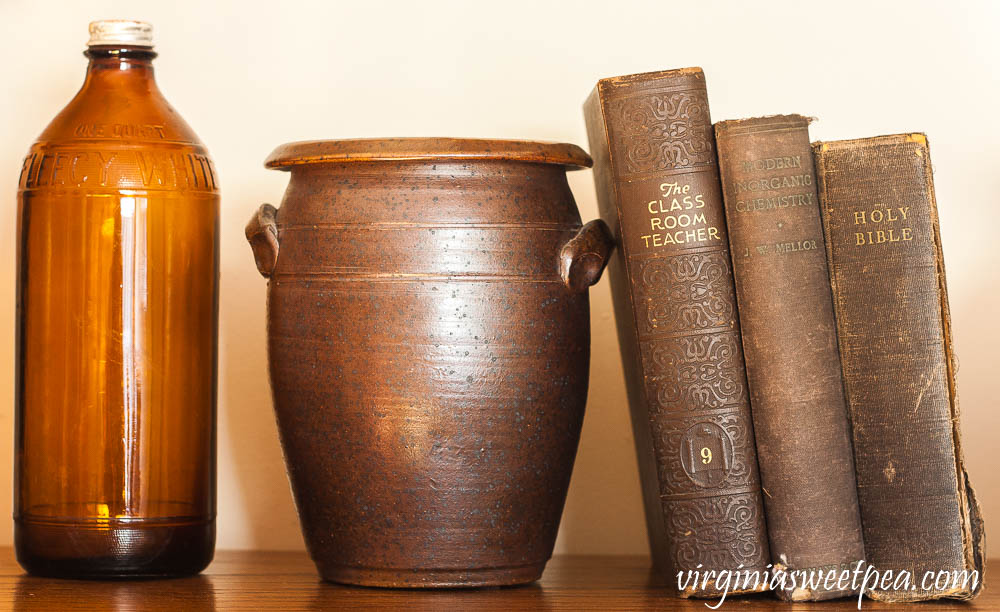 Here are the details about the books:
The Classroom Teacher – This 1929 edition belonged to my grandfather.
Modern Inorganic Chemistry – This 1918 edition belonged to my grandmother's cousin.
Holy Bible – This was my dad's.
A bookshelf made from pipes corrals books on our coffee table.
This shelf is currently being used at Mr. SP's work office. He says that it's always a conversation starter when coworkers spot it on his shelf.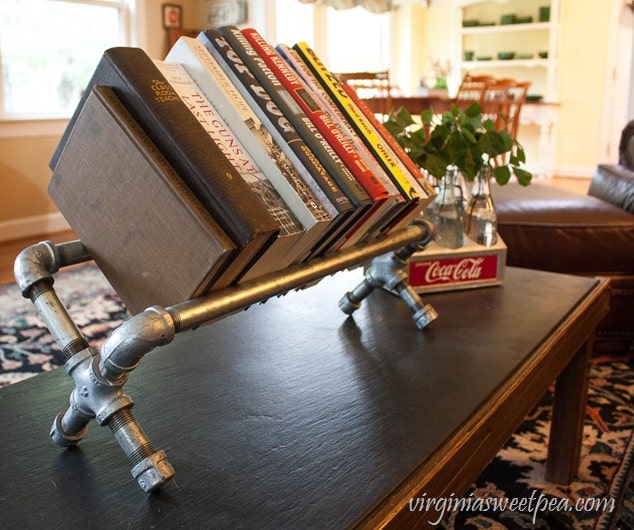 Use Books to Decorate Furniture
My mother decorated my great-great-aunt's secretary with vintage books and other family items.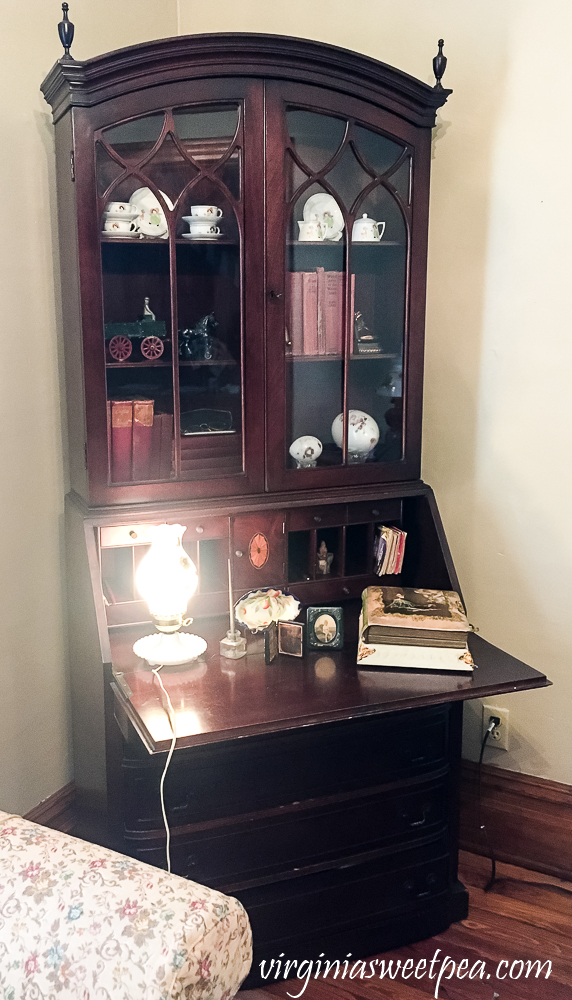 The only thing used to decorate this secretary that isn't a family item is the lamp. I found it at Goodwill and knew that Mama would like it, so I bought it for her.
These books all belonged to my paternal grandfather. The eyeglasses belonged to my great-great-aunt.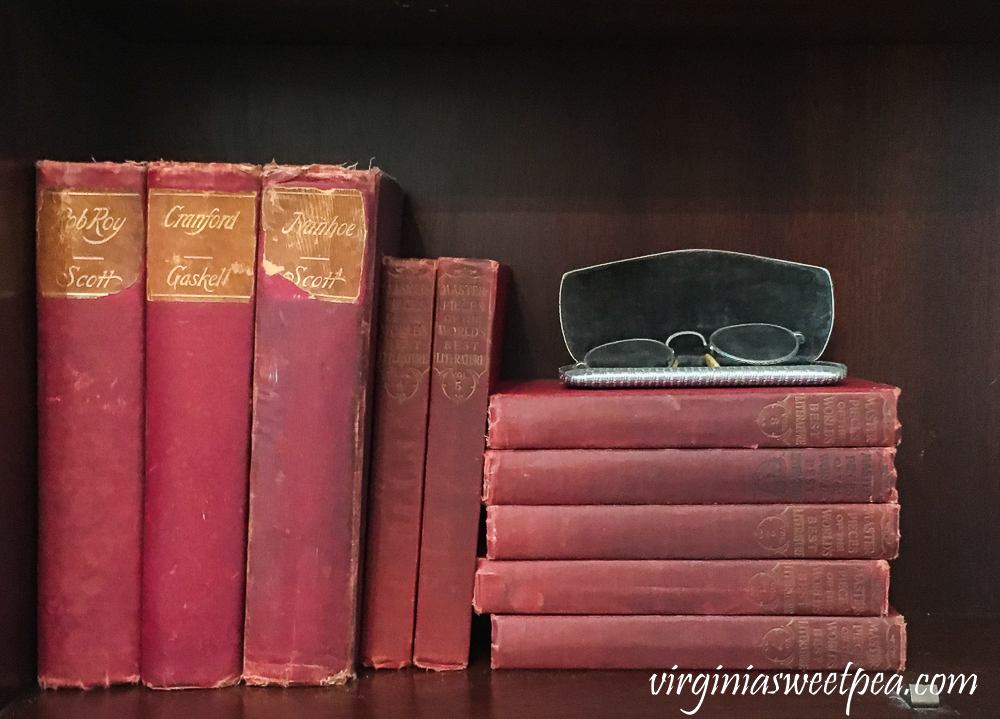 These vintage books are held in place with bronze bookends made with my dad's baby shoes.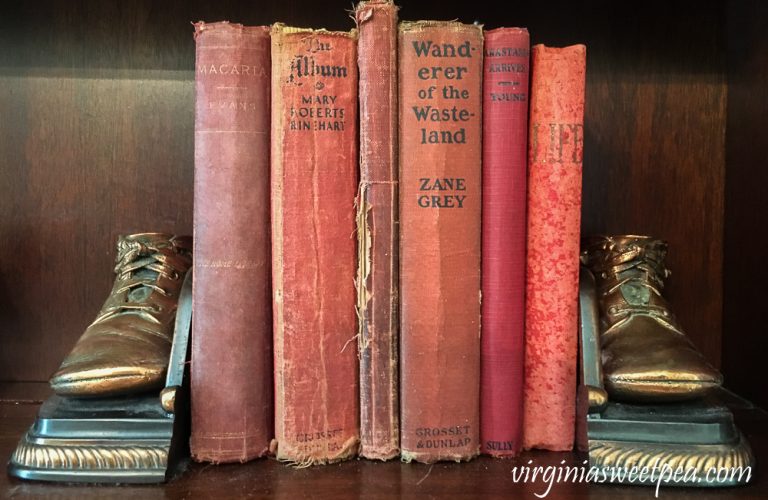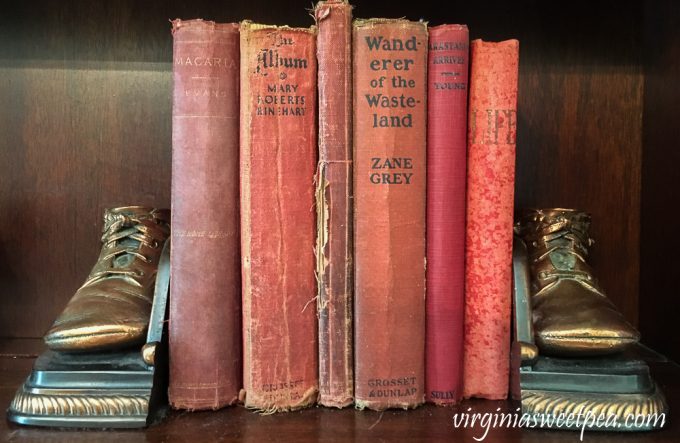 This book on the work surface of the secretary is a photo album. It's original to my mom's 1912 house!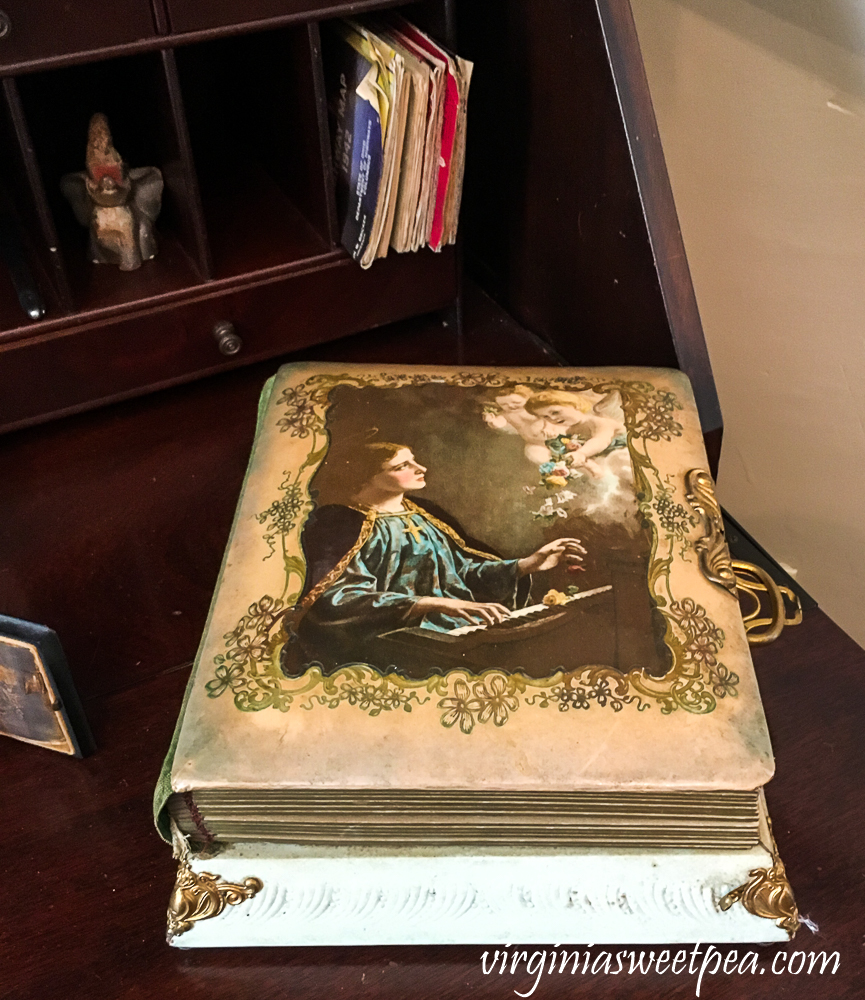 My grandmother had a similar album that we begged to look at when we were kids. The vintage pictures inside fascinated us.
If you like old houses, you can visit these posts to see the restoration of my mom's 1912 home. The home has always been in our family and my mom restored it herself with help from a few family members.
Many thanks to Cindy for hosting this fun blog hop. And a special thanks to my mother for taking pictures of the vintage books in her secretary.
More Ideas for Using Vintage Books for Decorating
Click on the links below for more ideas for decorating with books.