Peppermint Candy Twist Centerpiece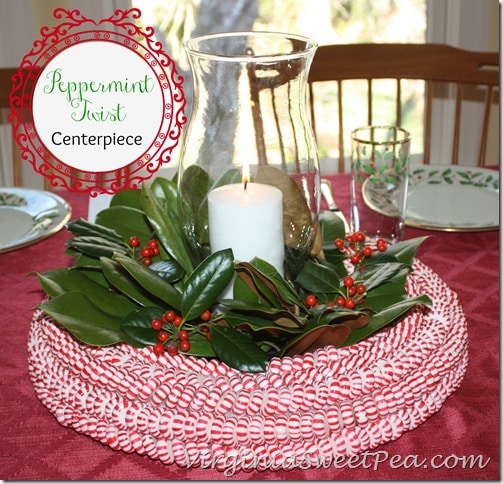 This post is brought to you by Make It:Fun® Foam. Making a centerpiece for a Christmas table can be one of the more challenging parts of entertaining. I usually enjoy a traditional fresh greenery centerpiece but this year designed a whimsical peppermint twist one. Can you see the twist? Each row of peppermint is glued at a 45 degree angle but in the opposite direction, creating a "twist" effect.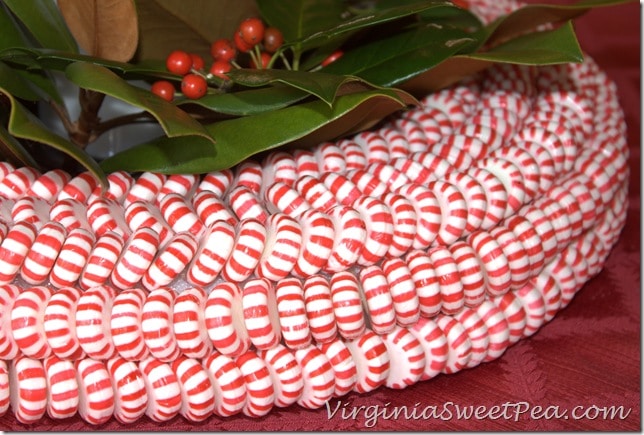 This centerpiece will work for casual meals with Christmas placemats and for more formal meals with a table cloth and our Christmas china.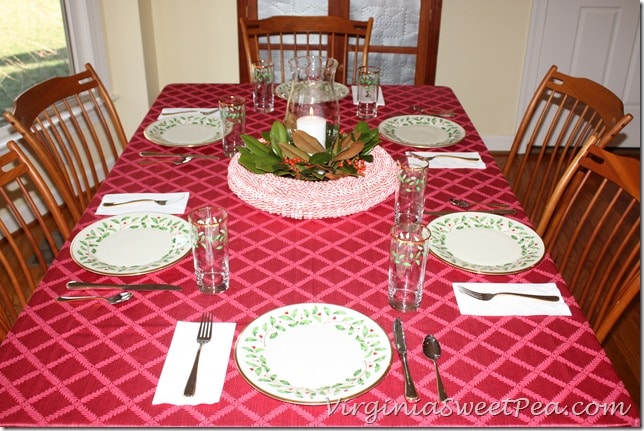 I made my centerpiece after being invited to participate in FloraCraft's Foam for the Holidays! promotion. I've always wanted to make a peppermint wreath and am so glad I finally did.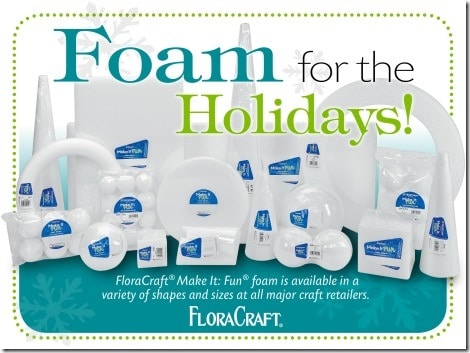 Making this wreath centerpiece wasn't difficult but it did take hours of gluing!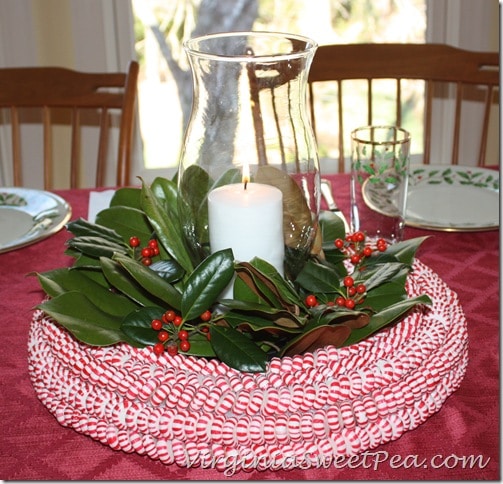 How to Make a Peppermint Twist Centerpiece
Materials
White STYROFOAM™ Brand Foam Wreath
Wire for hanger
Glue Gun and Glue Sticks
Marker or pen
Peppermint Candies (I used over seven pounds!)
Procedure
1. If you plan to use this project as a wreath, twist wire around the form to make a hanger. My original intention was to hang this but mine is nearly eight pounds and I'm afraid that it will fall and break if I hang it!
2. Use a pen or marker to draw a line for the first row of candies around the top of the wreath.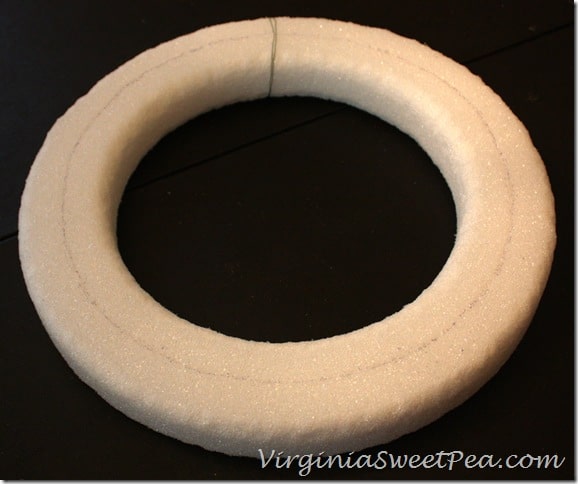 3. Glue peppermint candies to the wreath at a 45 degree angle.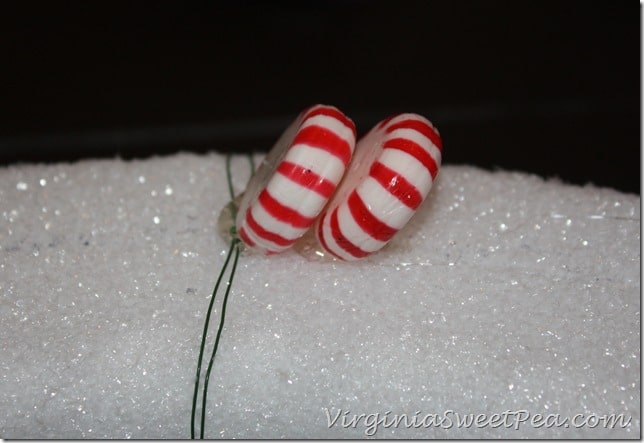 Continue gluing until the first row is complete.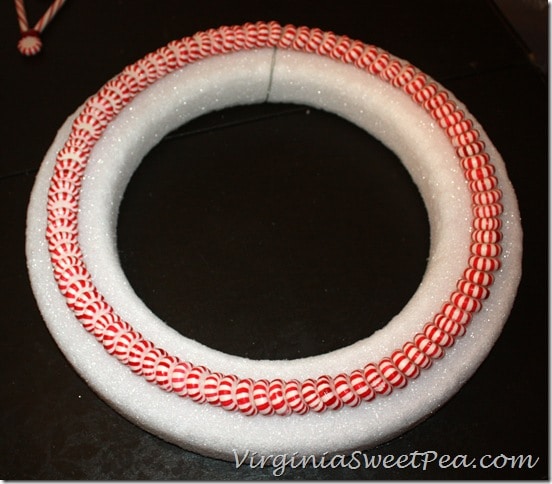 4. On the next row, reverse the direction of the 45 degree angle. The following row will match the first one and the fourth row will match the angle of the second. Repeat until the entire wreath is covered with peppermints.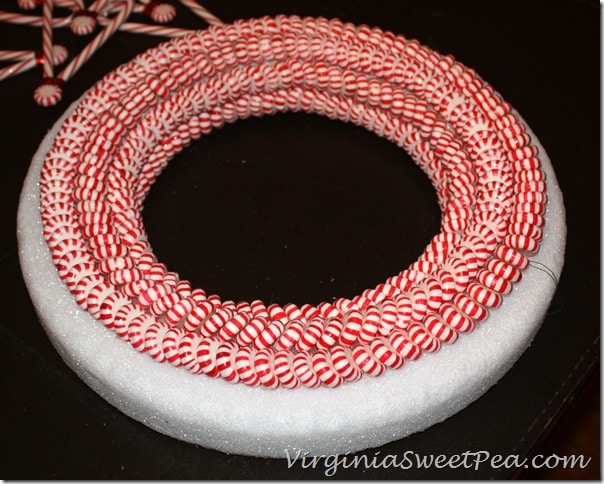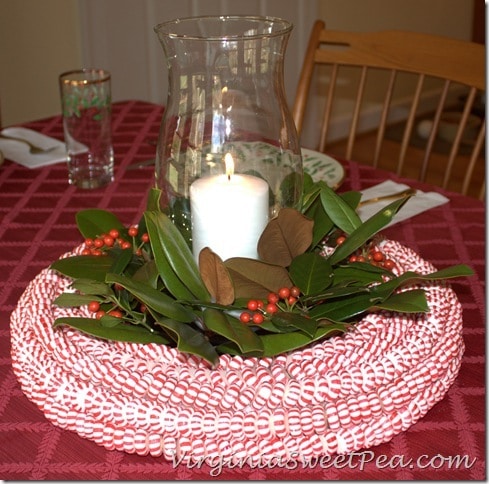 Adding a hurricane glass, candle, and greenery to the center of the wreath makes this a festive centerpiece for Christmas.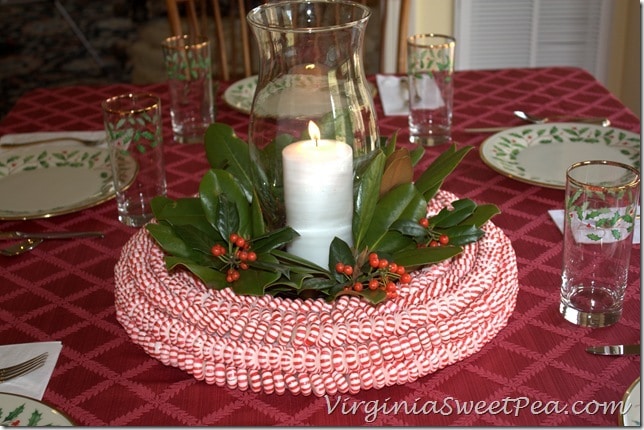 For more project ideas, visit Make It: Fun® Crafts and Crafts 'n Coffee.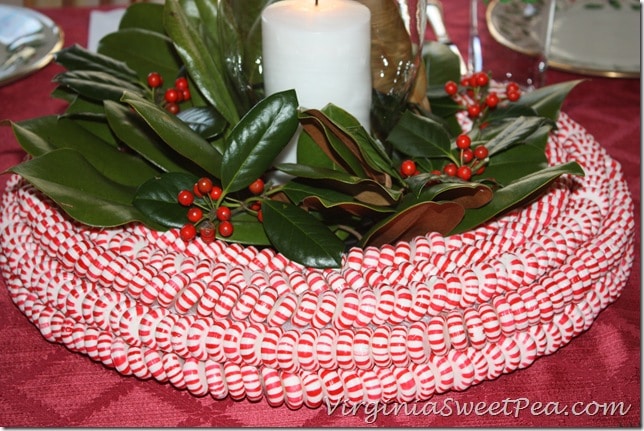 If you haven't entered, be sure to enter the "Tis the Season for Cheer" $600 Visa gift card giveaway. The winner will be chosen on December 8!
Be sure to also visit the blogs participating in the 12 Days of Christmas Tour. Over 12 days 30 favorite bloggers will share holiday inspiration guaranteed to get you in the Christmas spirit.
Sharing With:
Grace at Home at Imparting Grace, Holiday Home Link Party at Home Goods, Metamorphosis Monday at Between Naps on the Porch, Amaze Me Monday at Dwellings-The Heart of Your Home, The Scoop at Stone Gable, Project Inspire{d} at Yesterday on Tuesday, Tips and Tricks at Fearlessly Creative Mamas, Wow Us Wednesday at Savvy Southern Style, The Humble Brag at One Project Closer