This post and photos may contain Amazon or other affiliate links. As an Amazon Associate I earn from qualifying purchases. If you purchase something through any link, I may receive a small commission at no extra charge to you. All opinions are my own.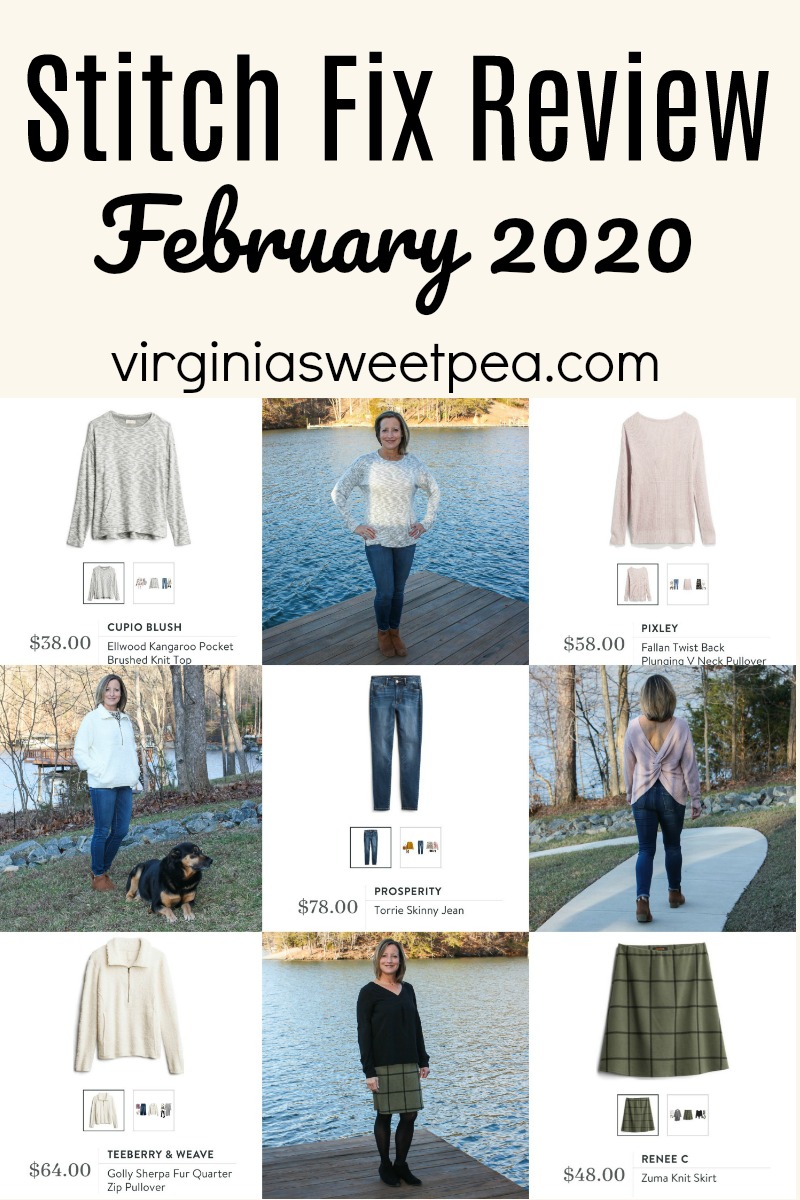 The calendar has rolled over to February and a new month brings a new Stitch Fix review. This month my stylist sent comfortable and casual pieces for me to try.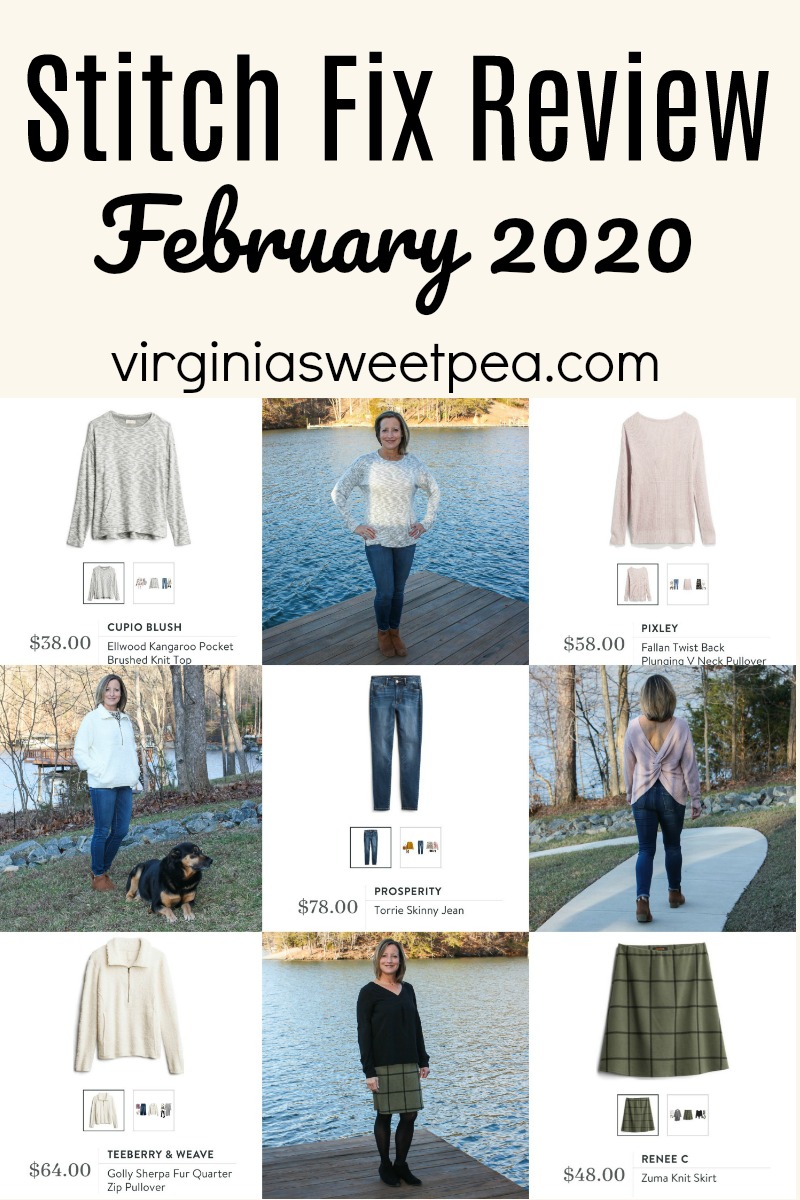 Stitch Fix Review for February 2020
If you are new to Stitch Fix, these details will help you to understand the service. If you want to try Stitch Fix, sign up here to get $25 off your first box.
Stitch Fix Details
Stitch Fix is a personal styling service. When you sign up for Stitch Fix, you fill out a detailed style profile that helps your stylist know your likes and dislikes. Since I've received many Stitch Fix shipments, my stylist knows my likes and dislikes very well and I almost always like every item in my Fix, a good problem to have!
When a Fix arrives, you have three days to try the clothes on and to decide what to keep and what to send back. Stitch Fix includes a postage-paid envelope making returns super easy.
When you sign up for Stitch Fix, you can choose how often a box is delivered. You can pick monthly options or schedule a box when you'd like to receive one. I do not like shopping and love receiving clothing from Stitch Fix. I get clothes that I like without having to do any work other than pinning things that I like to my fashion board on Pinterest. My stylist, Brittany H., checks my Pinterest board for inspiration and also reads my note to her each month to see if I have any special requests.
You can find links to all of my Fixes here and also be sure to check out my Stitch Fix Review Board on Pinterest where I pin my favorite looks.
This Month's Stitch Fix Items
This month I asked Brittany to send high waist jeans, a dress, and comfortable and casual tops. Brittany couldn't find a dress that was my style but she did find a skirt, a great pair of jeans, and some cute casual tops.
Renee C Zuma Knit Skirt
The first item that I tried from my February box was this Renee C. Zuma Knit Skirt. This skirt is soft and stretchy and has an elastic waist.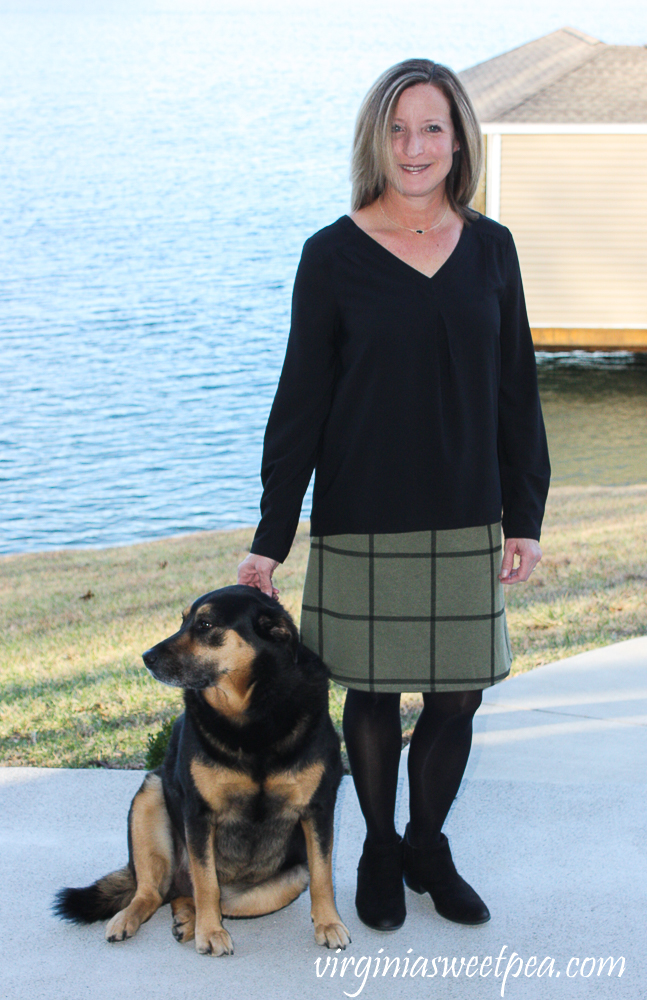 I paired the skirt with a black blouse from a previous Fix and black booties from Payless.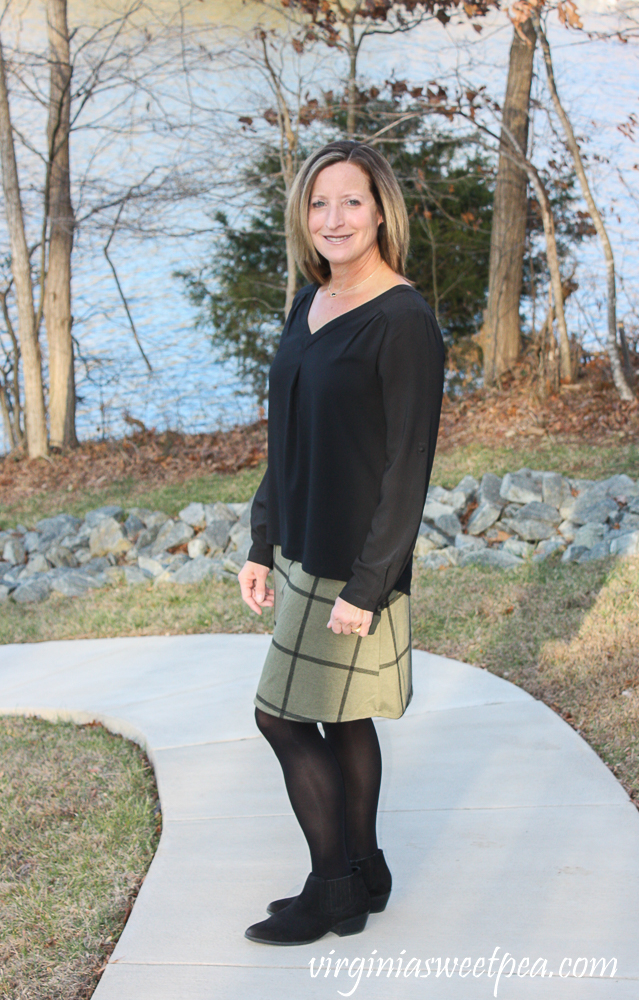 My necklace is Kendra Scott Elisa in black from Rocksbox.
Rocksbox is a jewelry subscription service that sends three pieces of jewelry that you can wear for as long as you like each month. When you send your three pieces back, or buy what you like, a new box is sent. If you'd like a free month of Rocksbox, sign up with this code: PAULABFF54.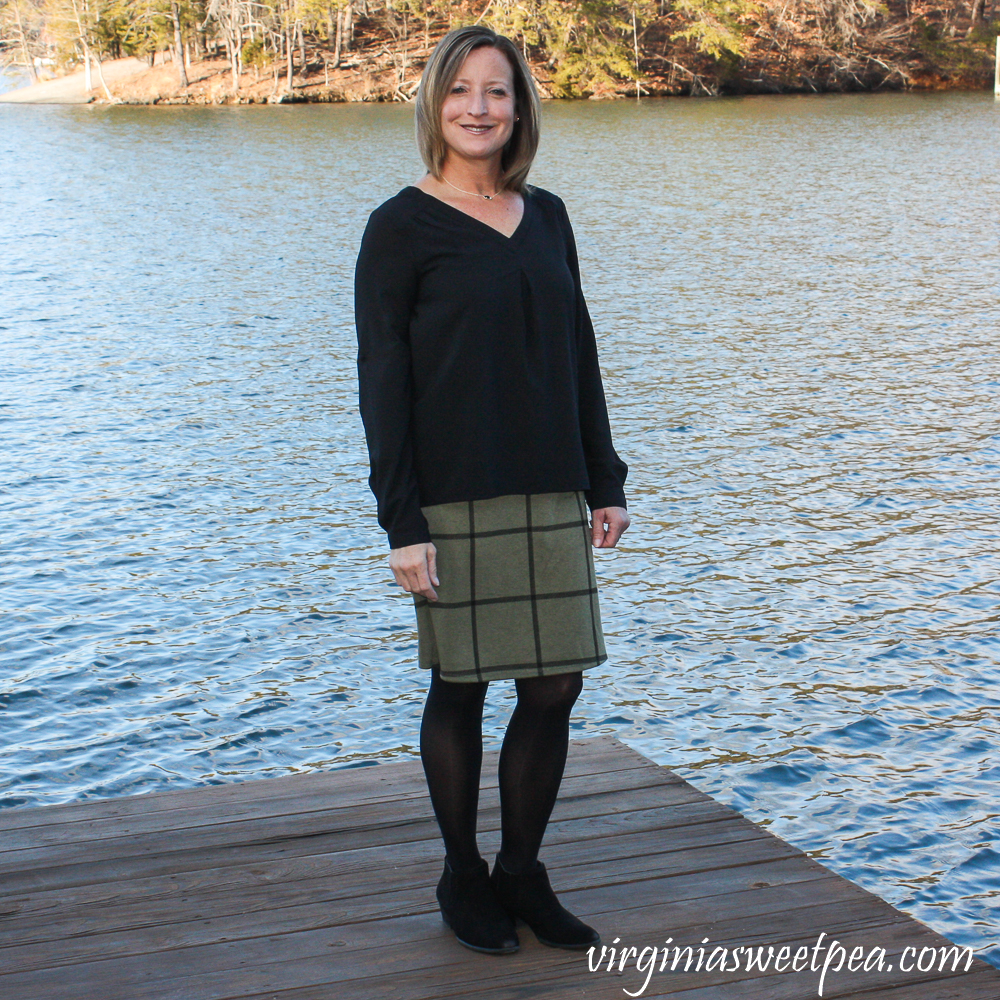 I loved this skirt and if I were still teaching, I would have kept it.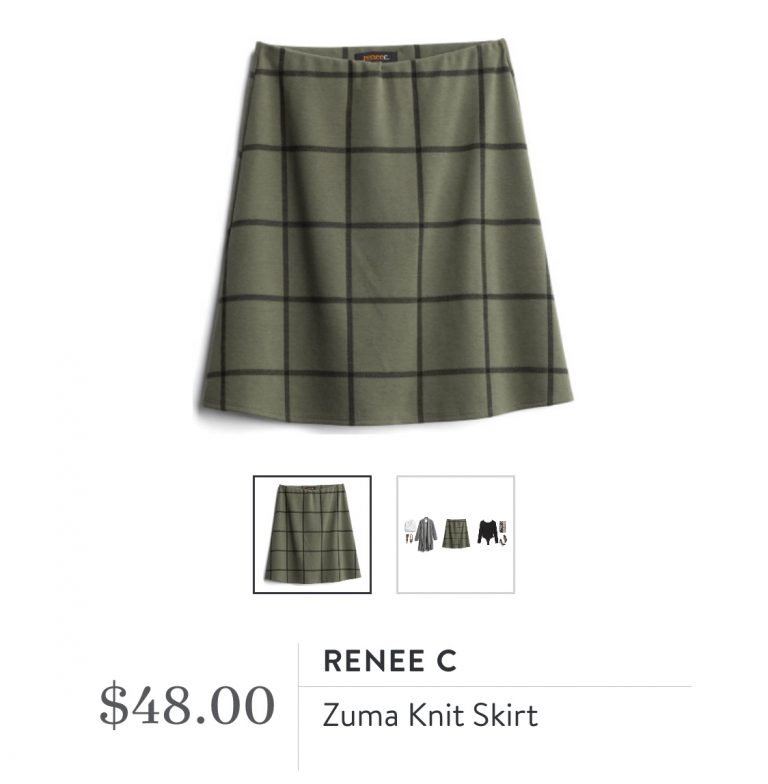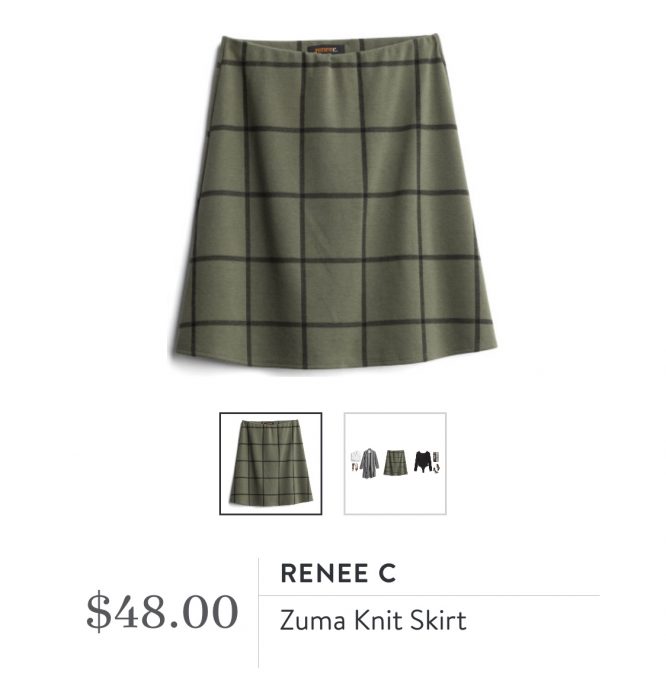 Cupio Blush Ellwood Kangaroo Pocket Brushed Knit Top with Prosperity Torrie Skinny Jean
Let's start with the jeans. I haven't worn jeans with a high waist in a number of years and when I first put these jeans on, it felt so different – but a good different.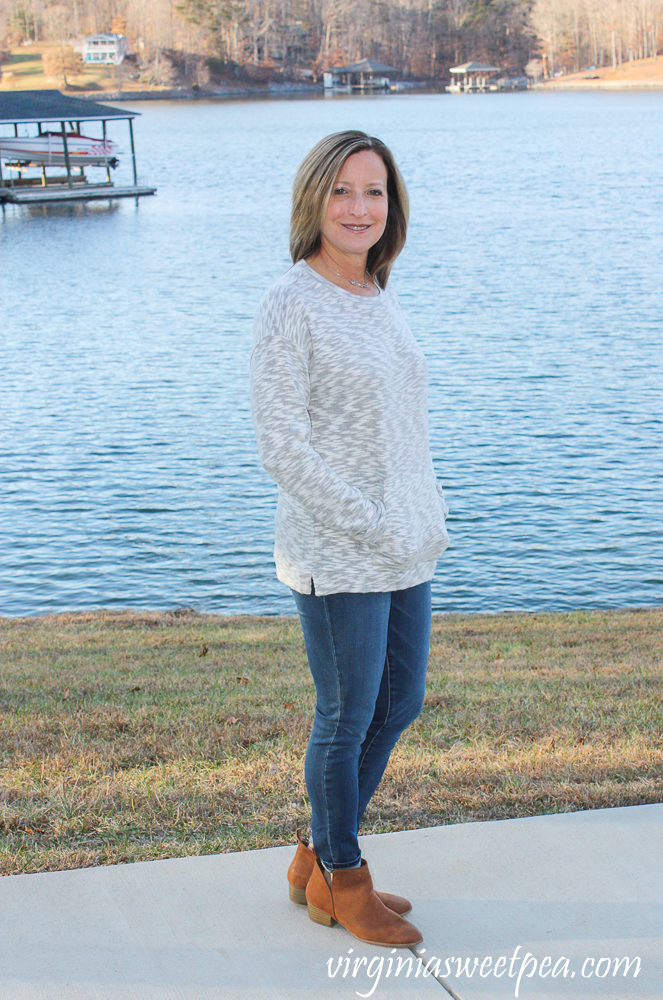 Another great thing about these jeans is that they have stretch which I need because of my thigh and calf size.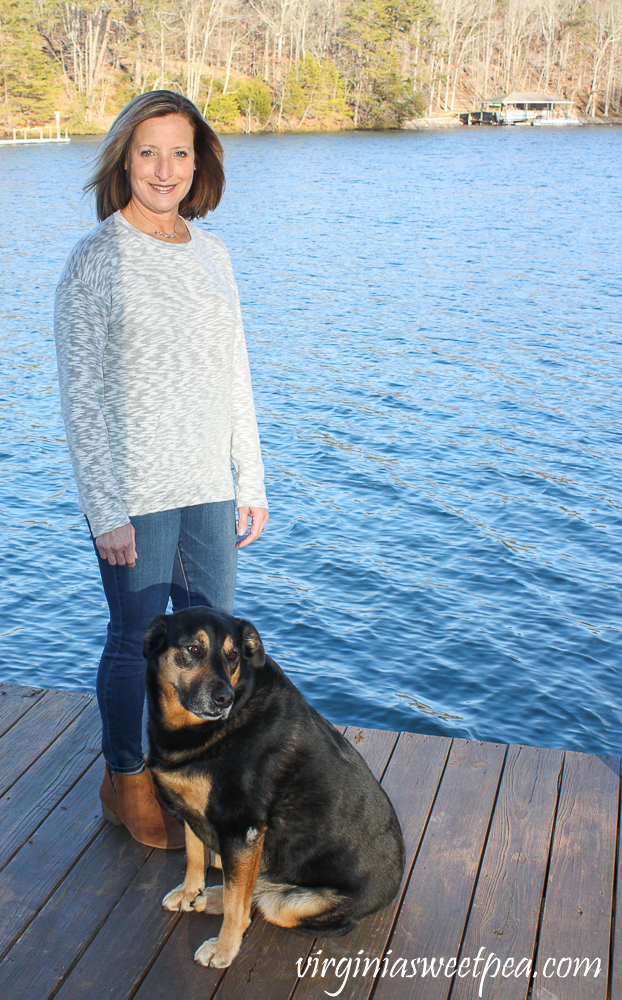 Similar Prosperity Jeans

Now let's talk about the Cupio Blush Ellwood Kangaroo Pocket Brushed Knit Top. This top is super soft, has a pretty pattern, and is thin and comfortable.
My necklace is another Rocksbox purchase, the Ava Rose Jackson Necklace in Silver and Platinum Druzy.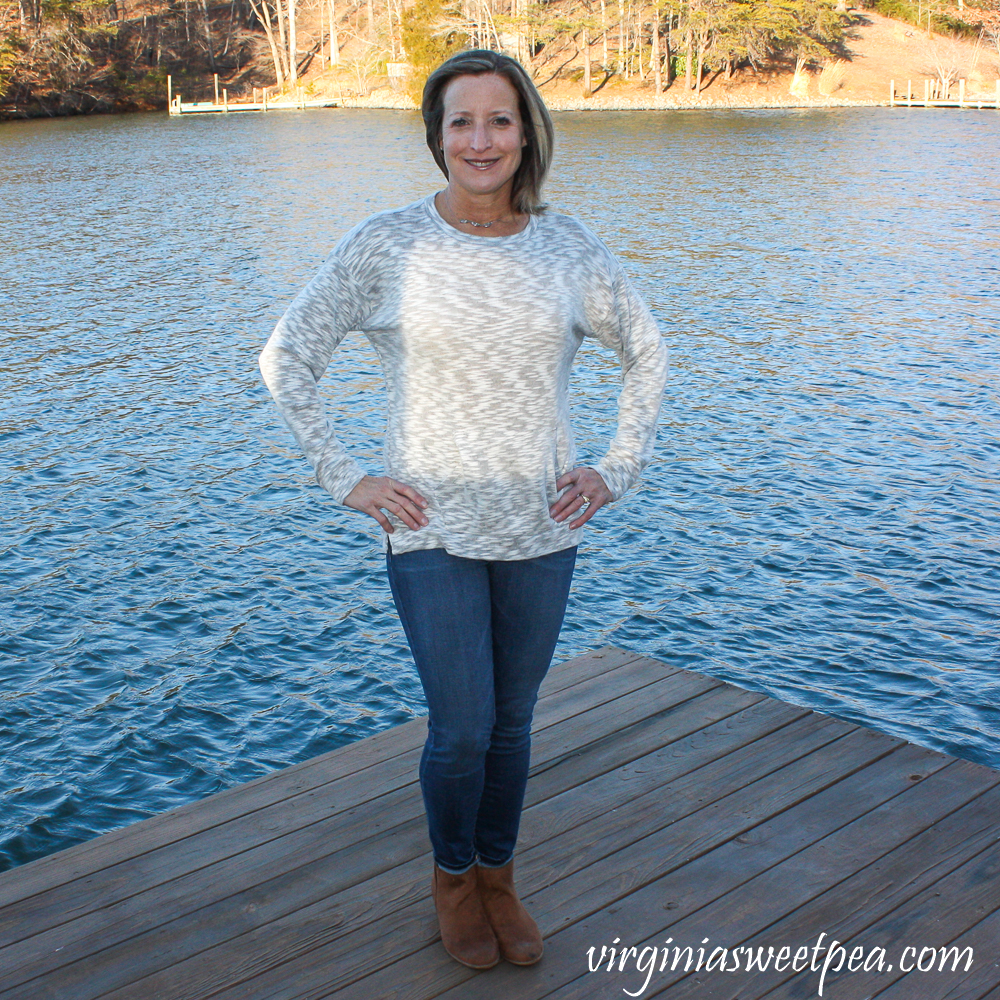 The top felt a tiny bit too large, so I tried to size down to a small when I checked out, but it wasn't available. I debated keeping the medium but since it wasn't "just right" I sent it back.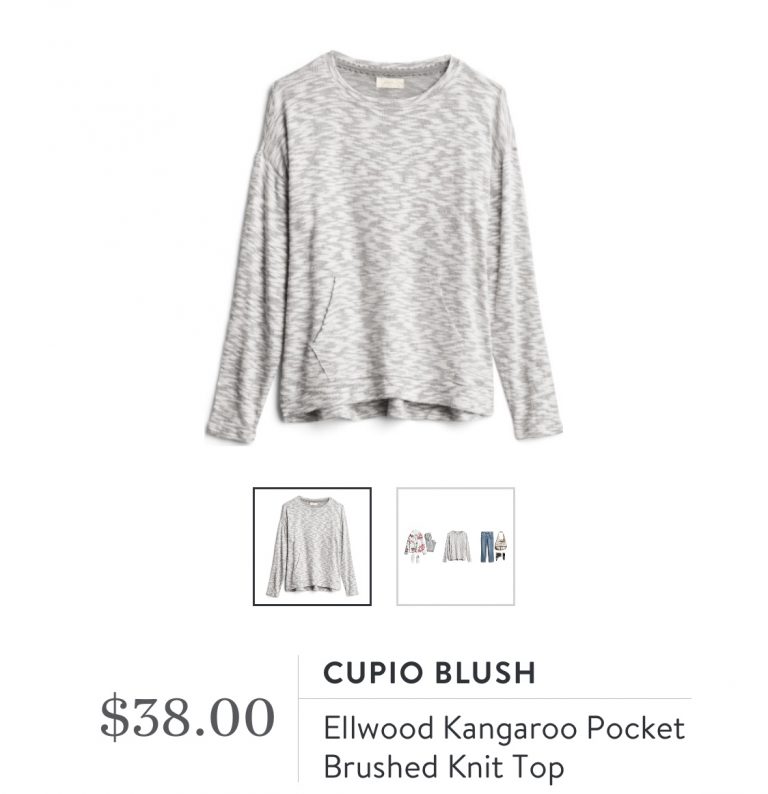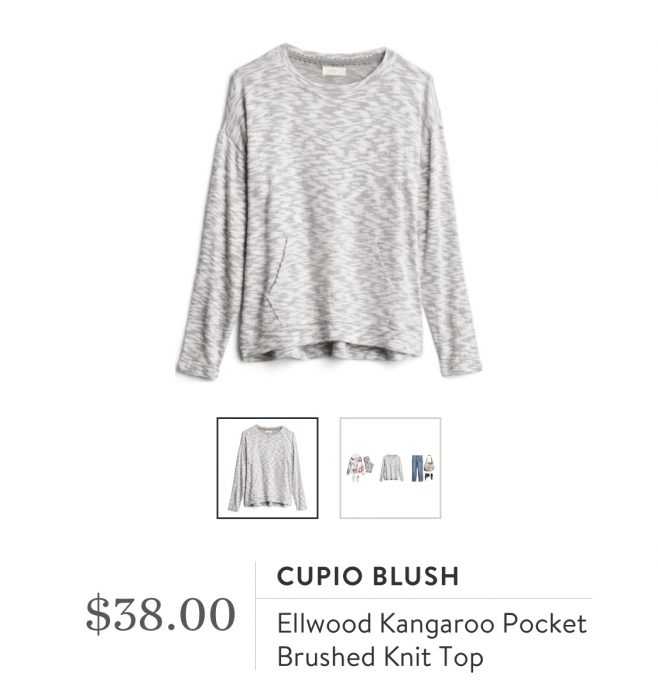 I love these jeans and knew from the moment that I put them on that they were a keeper. My mother, father-in-law, niece, and my sister-in-law all gave me Stitch Fix gift cards for Christmas, so these jeans ended up being a present from them.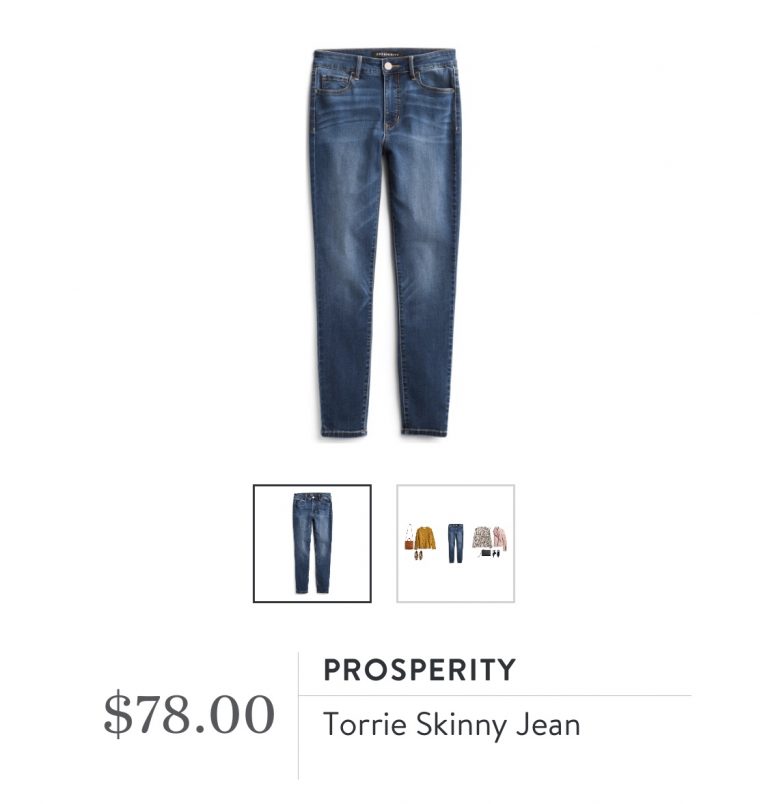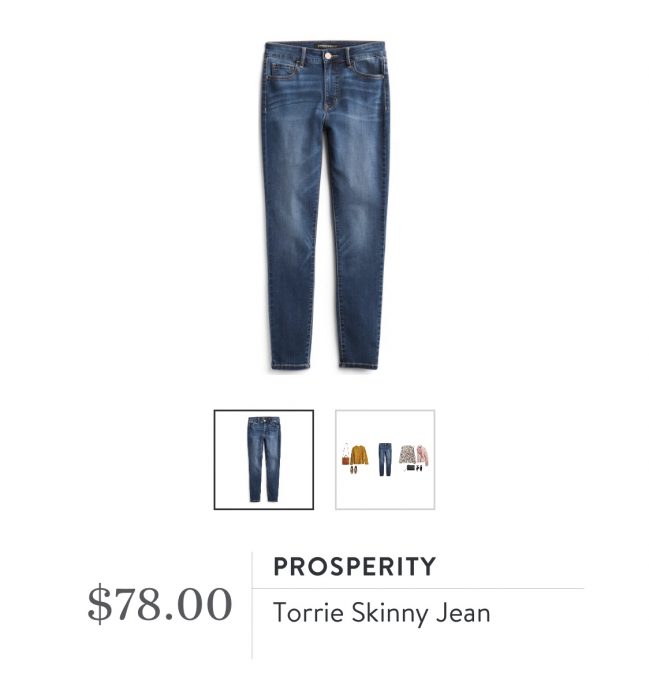 Teeberry & Weave Golly Sherpa Fur Quarter Zip Pullover
I was excited to try this Teeberry & Weave Golly Sherpa Fur Quarter Zip Pullover.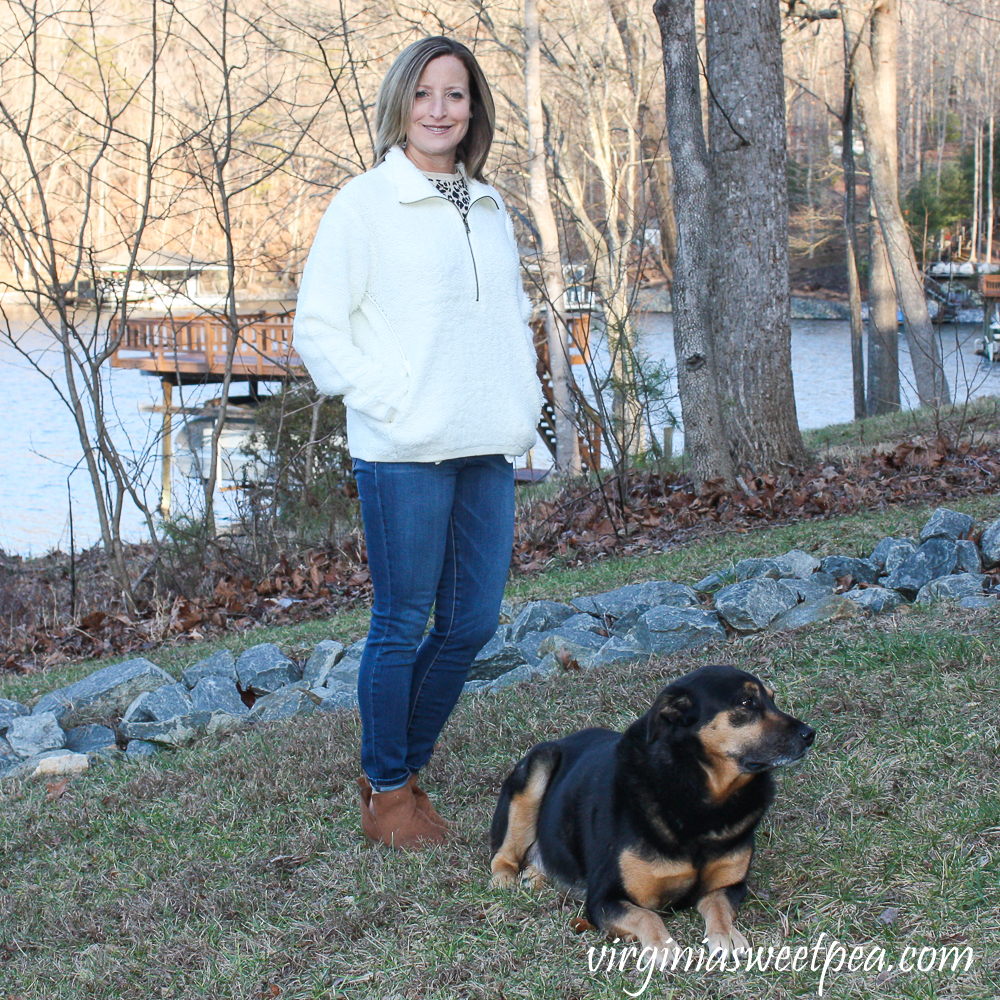 I paired it with a leopard print top from Amazon that I love.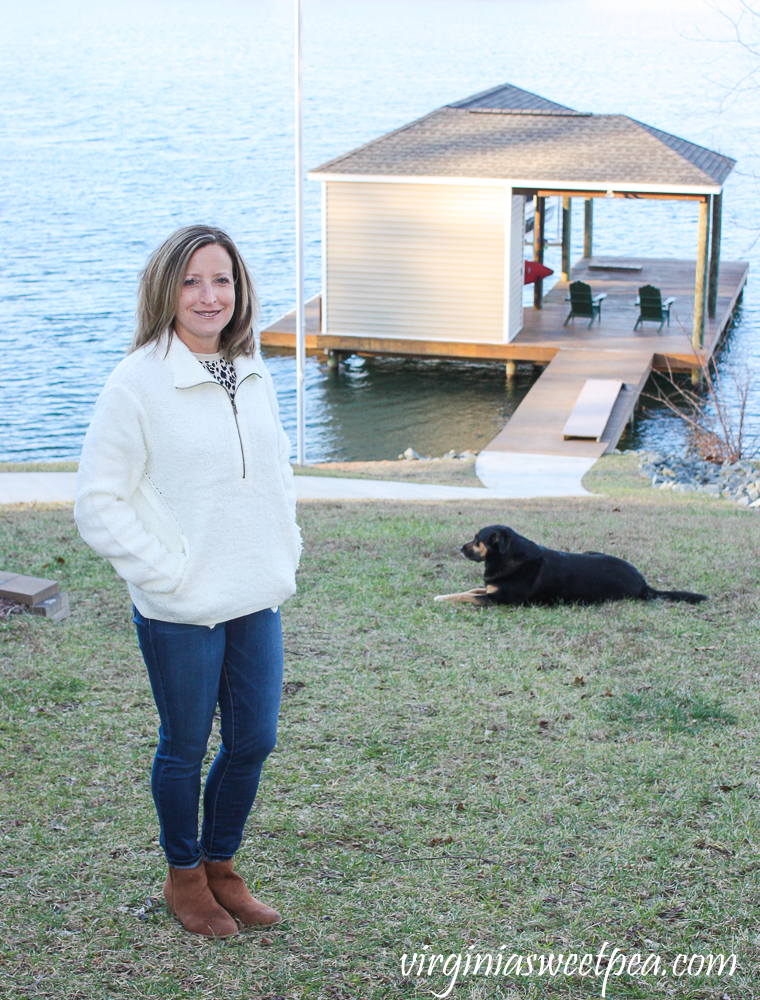 Similar Sherpa Pullovers

I really liked this cozy pullover but didn't keep it because I knew that I wouldn't keep it looking clean for long and because it was a bit pricey.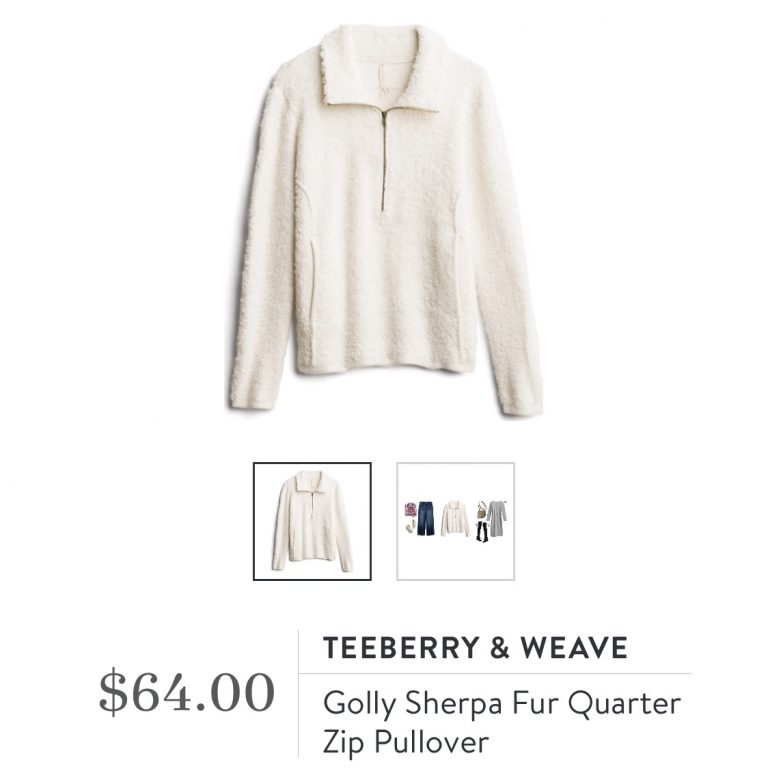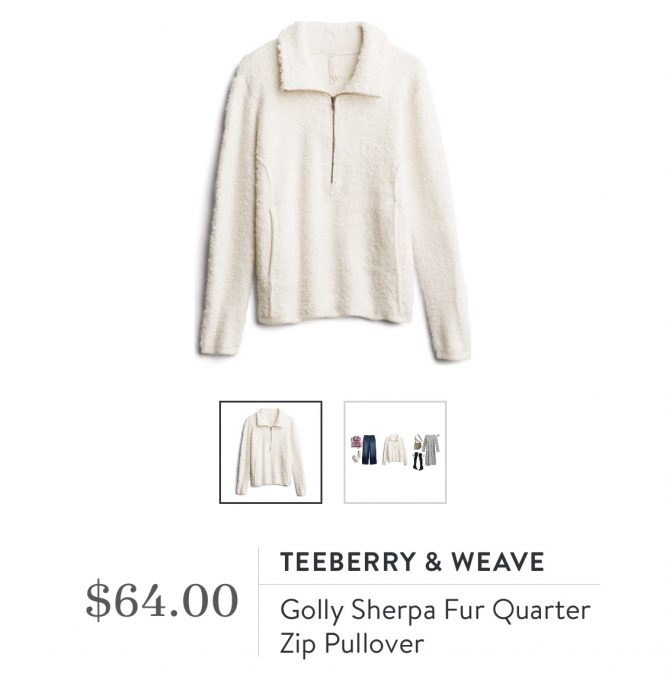 Market & Spruce Fallan Twist Back Plunging V Neck Pullover
I loved this Market & Spruce Fallan Twist Back Plunging V Neck Pullover in a pretty pink color. This sweater was super soft and very comfortable.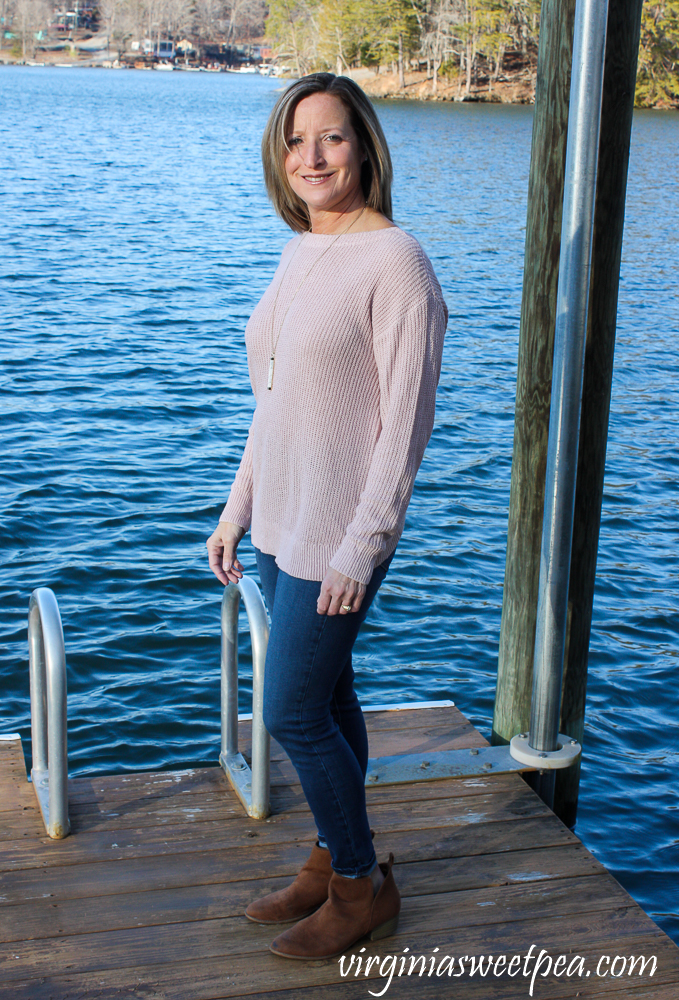 The necklace I'm wearing is another Rocksbox piece, this time the Slate Suri Pendant.
This sweater is a "Business in the front, Party in the back" piece.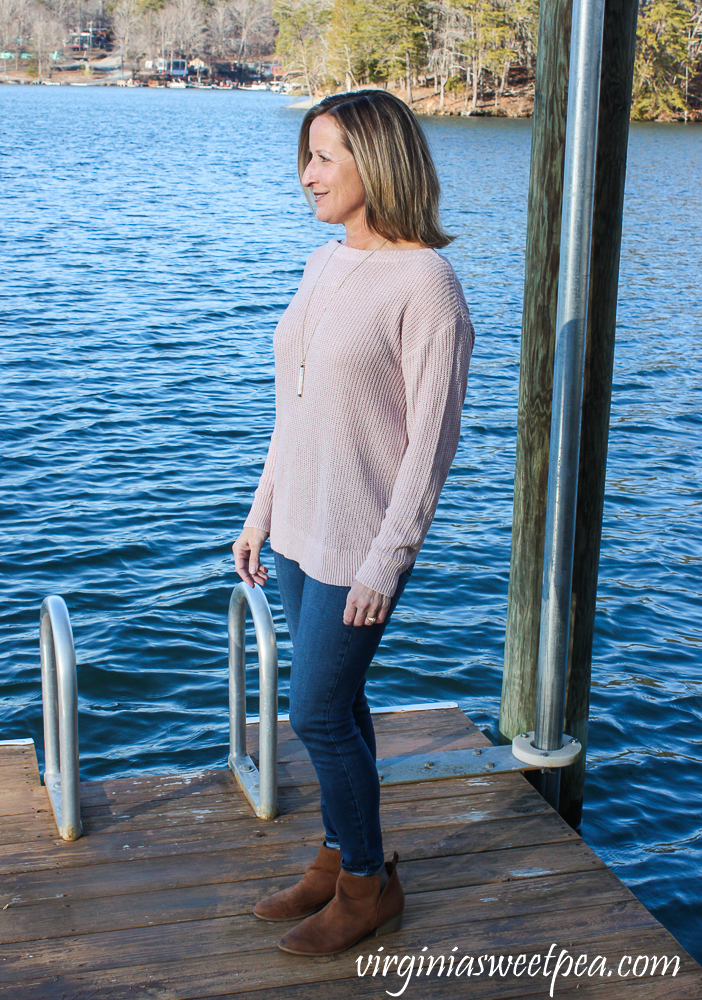 The party is its unique twist back.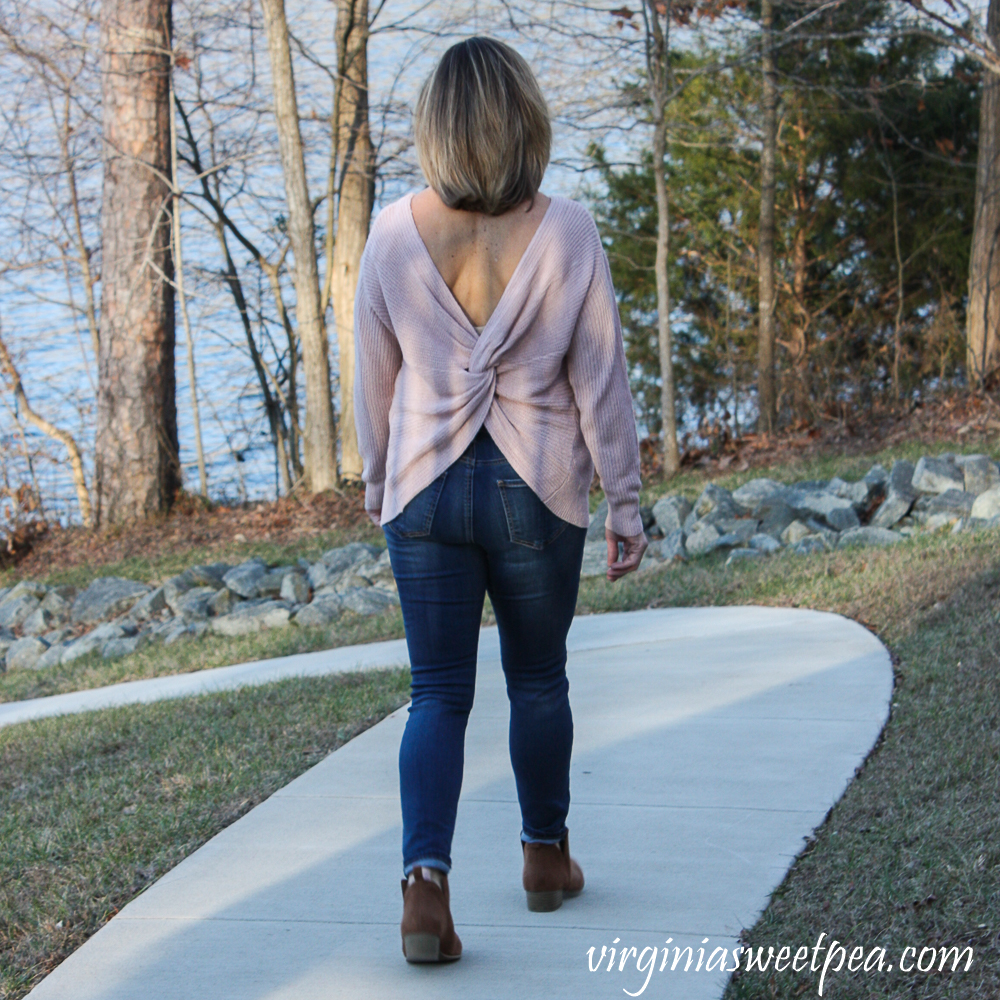 I loved this unique back! You can also see the high rise cut of the Prosperity Torrie Skinny Jean.
It was so cold when we were shooting these pictures and it was windy to boot!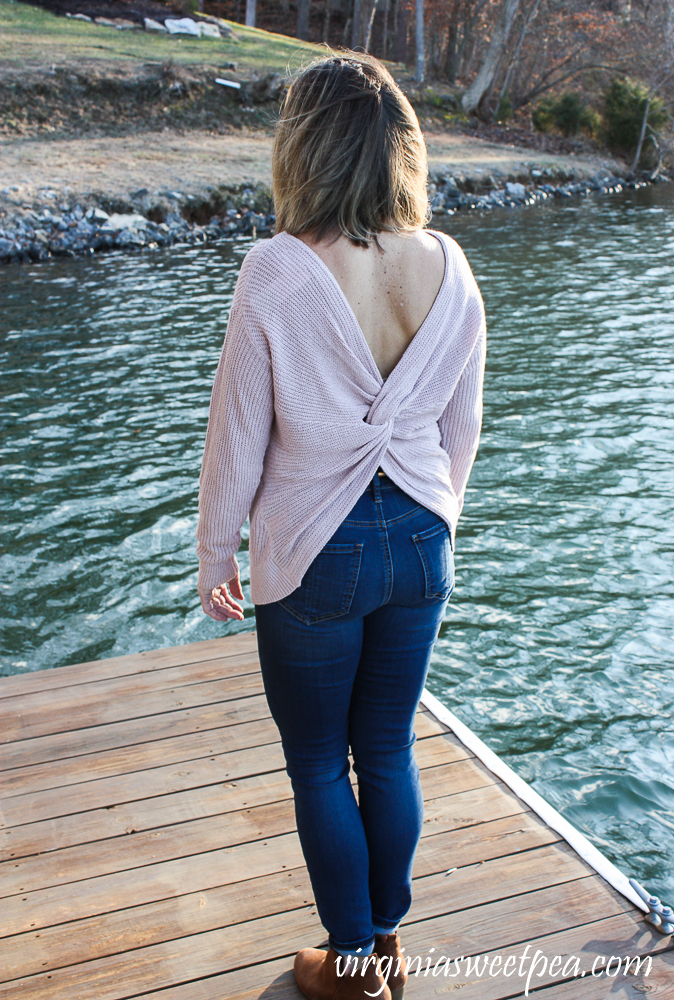 While I loved this sweater, I knew that I wouldn't wear it often and I also thought that it wasn't age-appropriate for me.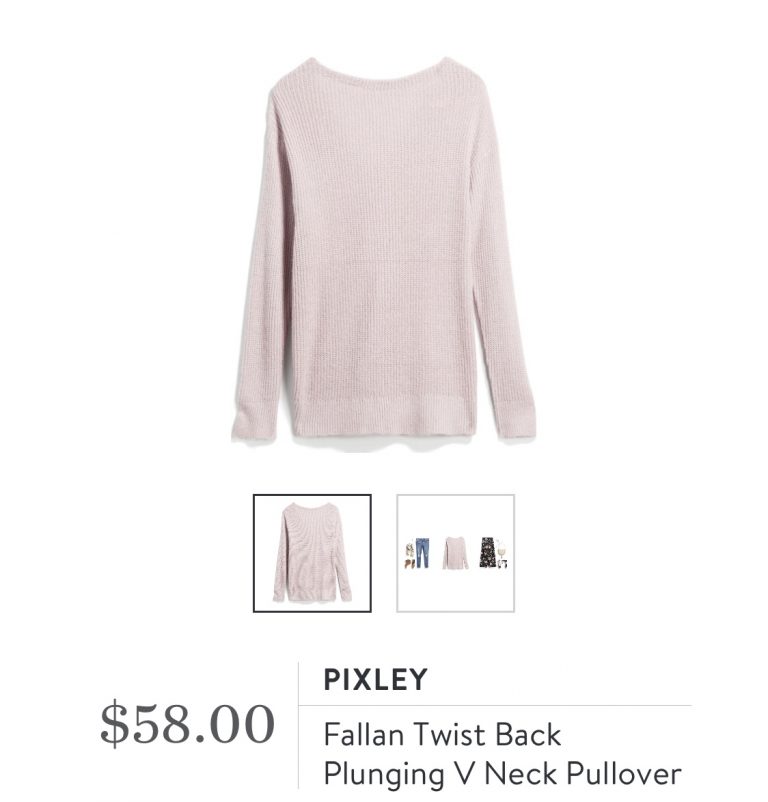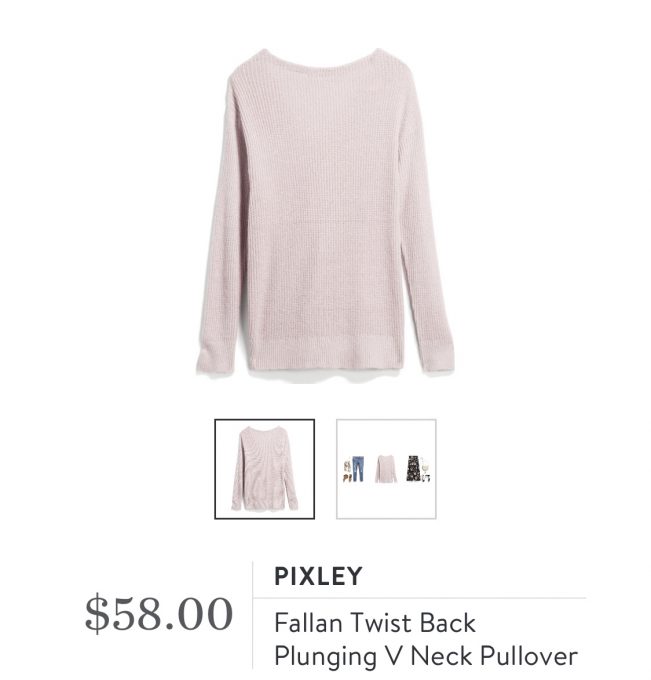 In Summary
Like always, it was super fun to receive my Stitch Fix box. I know that I will enjoy wearing my new high waist jeans all winter and then into spring.
Renee C Zuma Knit Skirt – $48 – Return
Prosperity – Torrie Skinny Jean – $78 – Keep
Cupio Blush Ellwood Kangaroo Pocket Brushed Knit Top – $38 –
Teeberry & Weave Golly Sherpa Fur Quarter Zip Pullover – $64 – Return
Market & Spruce Fallan Twist Back Plunging V Neck Pullover – $58 – Return
While we were taking pictures for this post, Sherman sat beside the boat, hoping we would take him for a ride. Three more months, Sherman!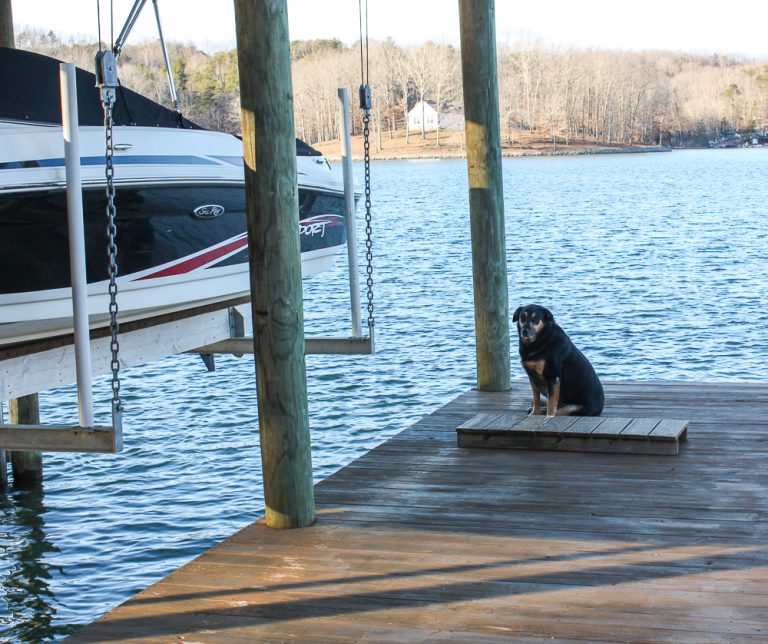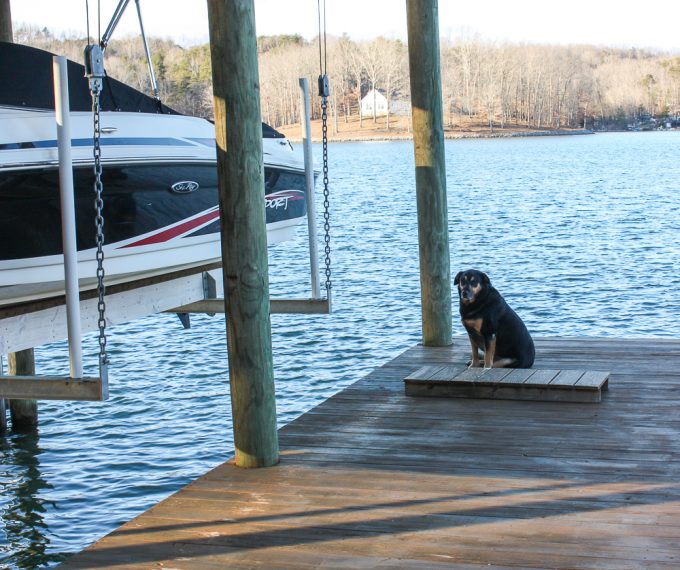 Try Stitch Fix for Free!
I love receiving each Stitch Fix box and really enjoy getting cute clothes without having to shop for them.
If you've been thinking about trying Stitch Fix, I encourage you to do so. If you sign up using my referral link, you'll get $25 off your first box.
That means that your styling fee will be taken care of and you'll have $5 credit toward anything that you want to keep. If you don't like your items, you've lost no money.
Why not try Stitch Fix risk-free?