How to Make a Spring Table Centerpiece
Why spend money on a spring table centerpiece from the florist when you can easily make your own?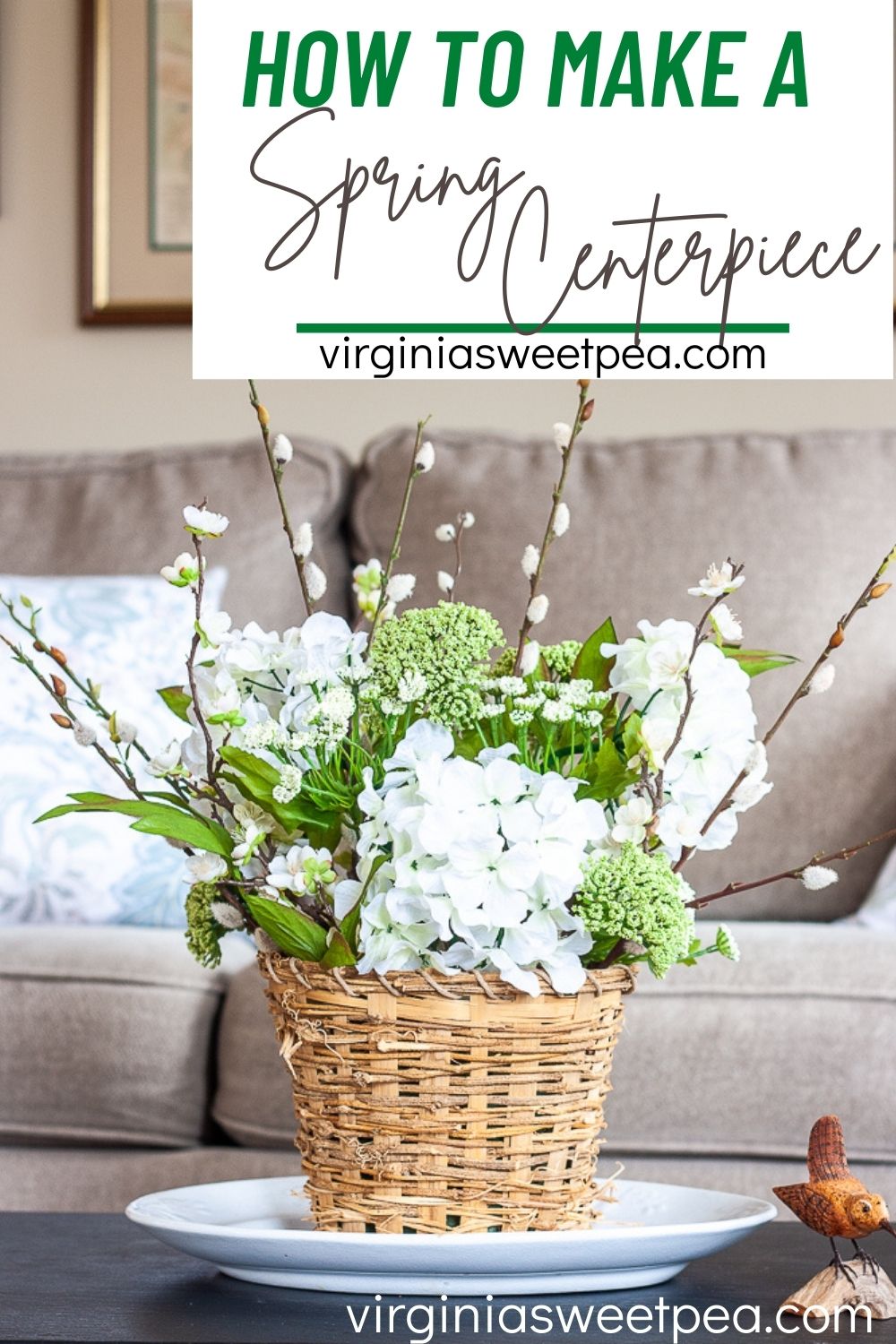 I made this centerpiece with faux flowers and branches but this arrangement could easily be made using the real thing.
I love using real flowers but using faux means that I can enjoy the arrangement for all of spring and then enjoy it again in the future.
How to Make a Spring Table Centerpiece
I made this spring table centerpiece to use on the coffee table in our family room.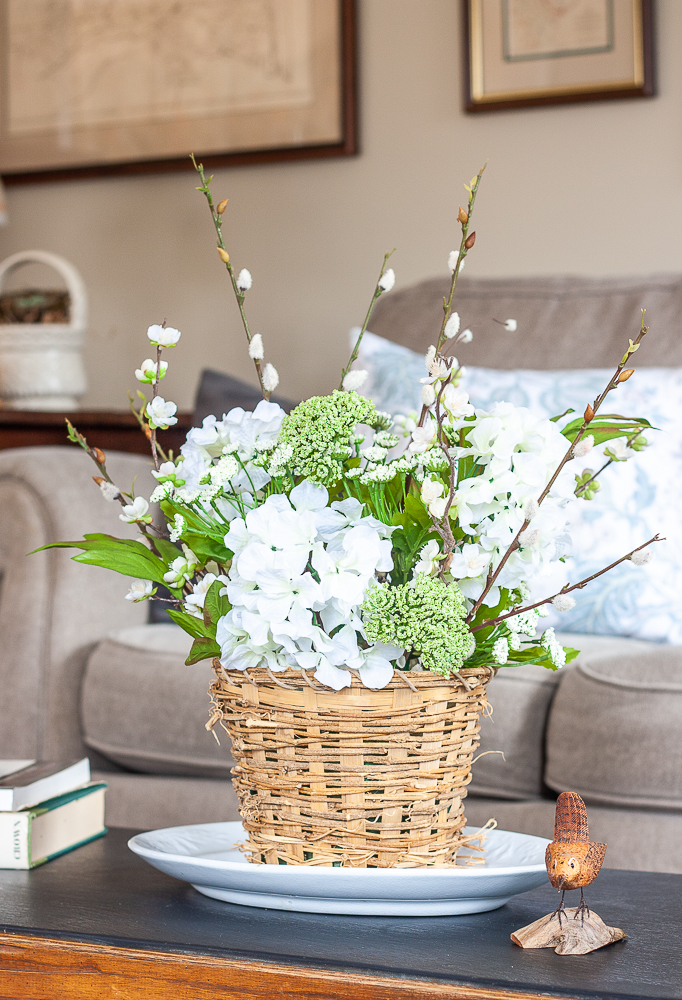 I'm still recovering from my February 10 brain craniotomy, so I challenged myself to make a spring table centerpiece using items that I had on hand.
Speaking of my surgery, thank you to all of you who left wonderful comments on my blog post and on Facebook and for all of you who are praying for my health.
For the container, I used a florist basket that originally held a Peace Lily. These inexpensive baskets are similar as are these.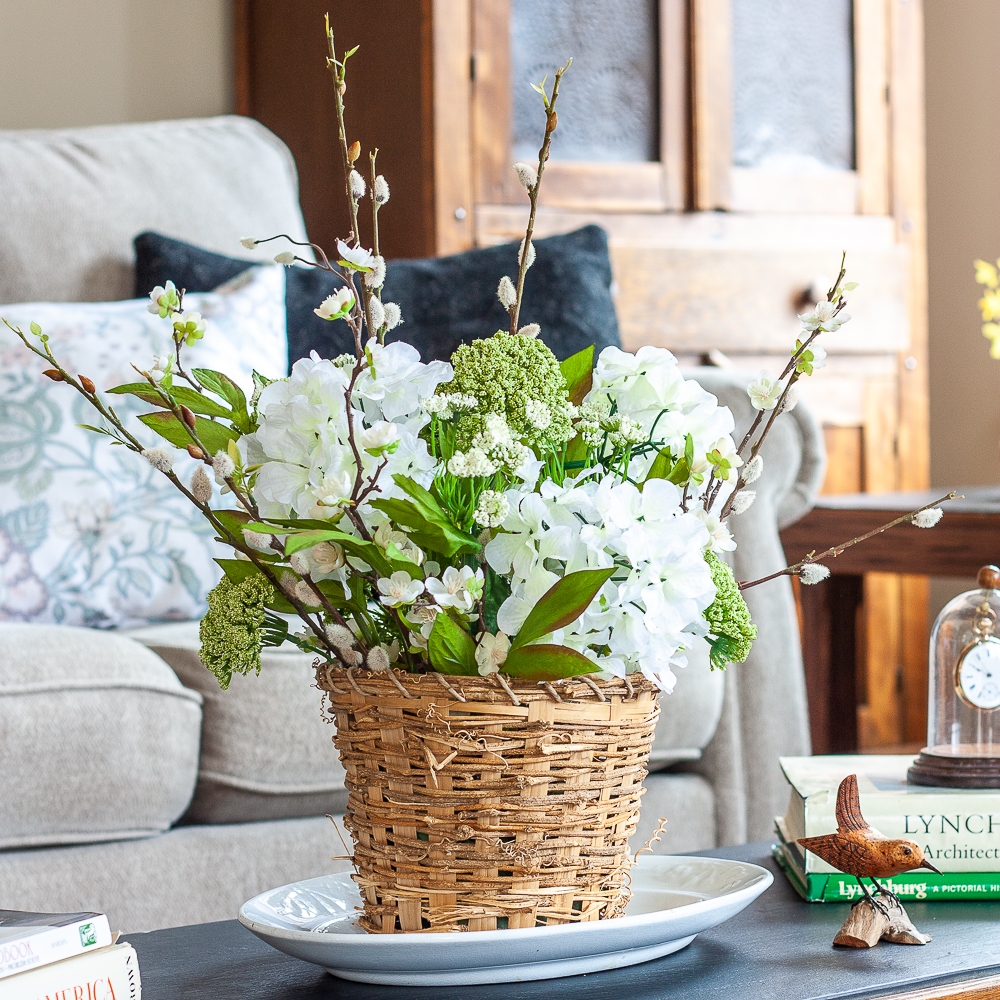 For the florals, I used extra supplies from wreaths made in the past and stems from this spring wall decor that I made a few years ago.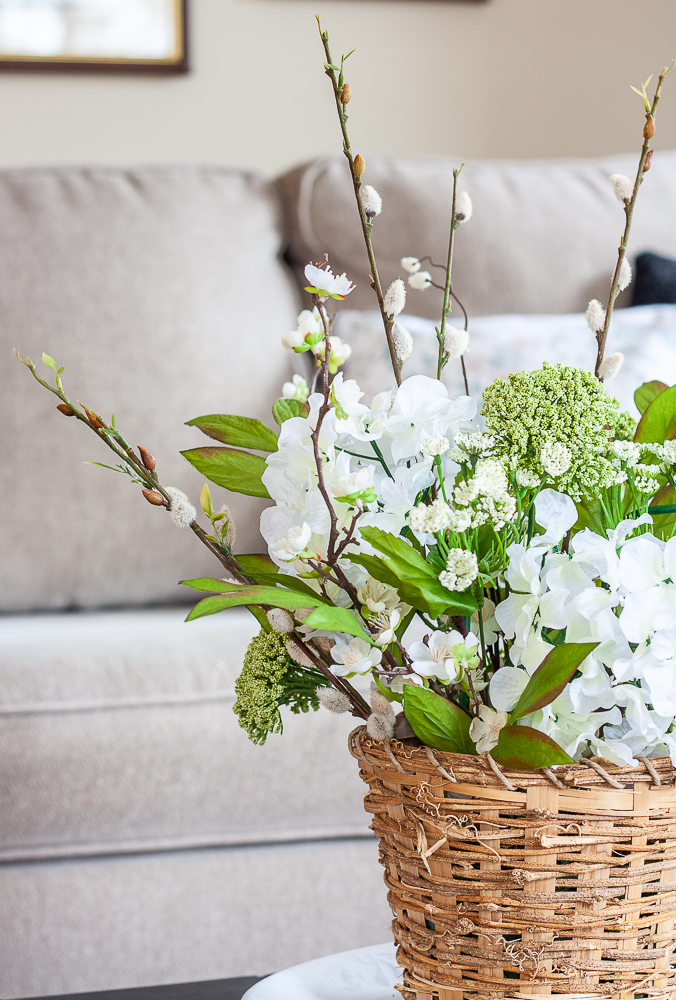 I hated to tear my spring wall bucket decor apart, but I'm not allowed to drive, so tearing it apart meant that I had plenty of florals to use for this spring centerpiece.
It's also helpful to have been crafting with faux flowers since the mid-1990s. I have quite a bit of extra faux stems and florals in my crafting supplies.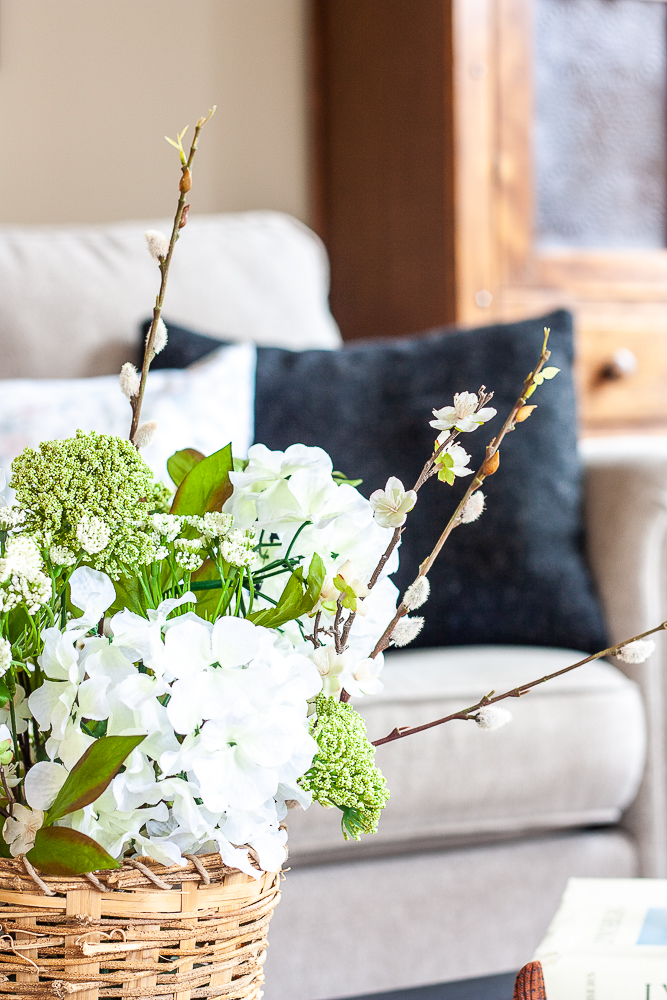 Don't miss seeing tthe rest of the coffee table's spring decor. Like always, I used interesting vintage items to decorate it.
Making the Spring Table Centerpiece
I first gathered all of the faux branches and flowers that I thought could possibly work for this project along with the basket and a piece of Oasis.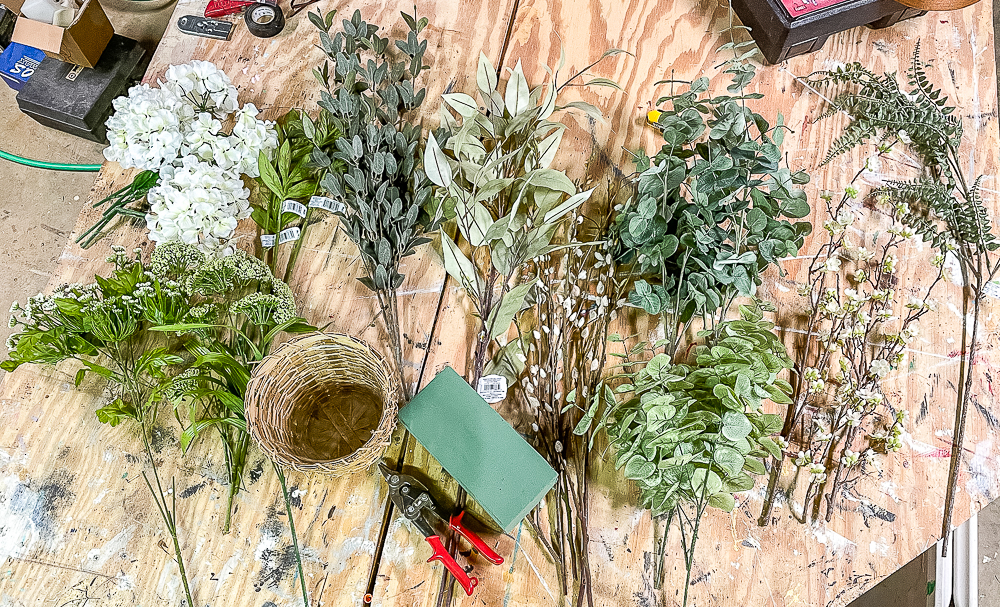 I did not use all of these supplies but liked having all of the possible stems that I could use in my workspace.
Instead of oasis which is used to arrange fresh flowers, I should have used floral foam which is used for faux flower arrangements. I didn't have floral foam in my craft supplies, so I used oasis that I had on hand.
I keep an old steak knife in my craft cabinet just for cutting floral foam and oasis. I cut a piece to fit inside the basket.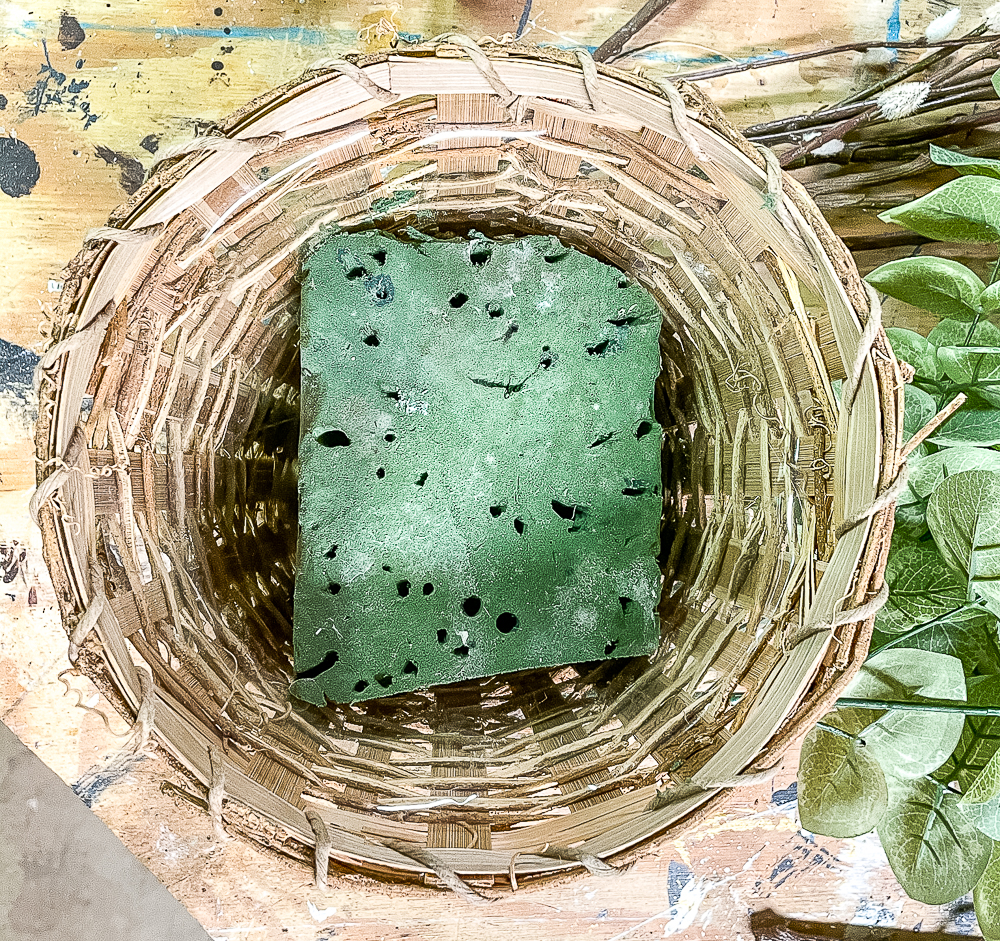 This oasis piece was used for my Christmas table arrangement and after Christmas was over, I saved it after throwing the greenery into my compost pile.
Next I added three Hydrangea blooms.
I later cut the stem of the tallest bloom to lower it just a bit.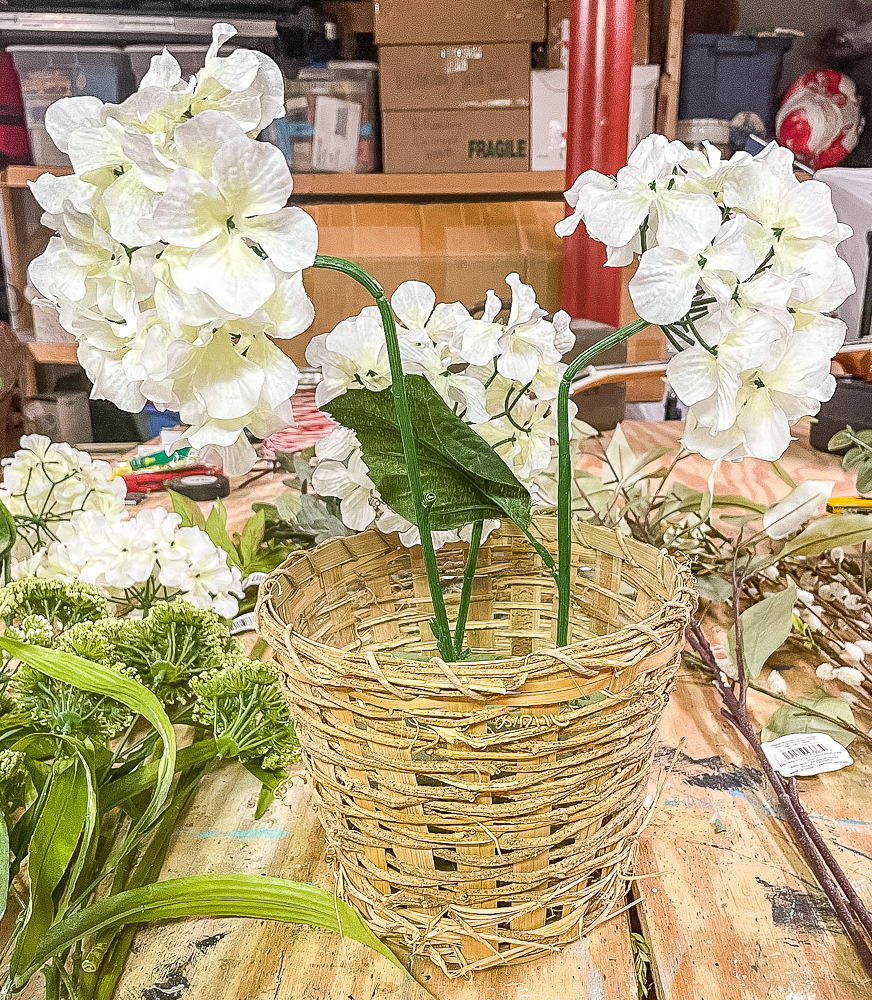 I then added Pussy Willow branches around the Hydrangea.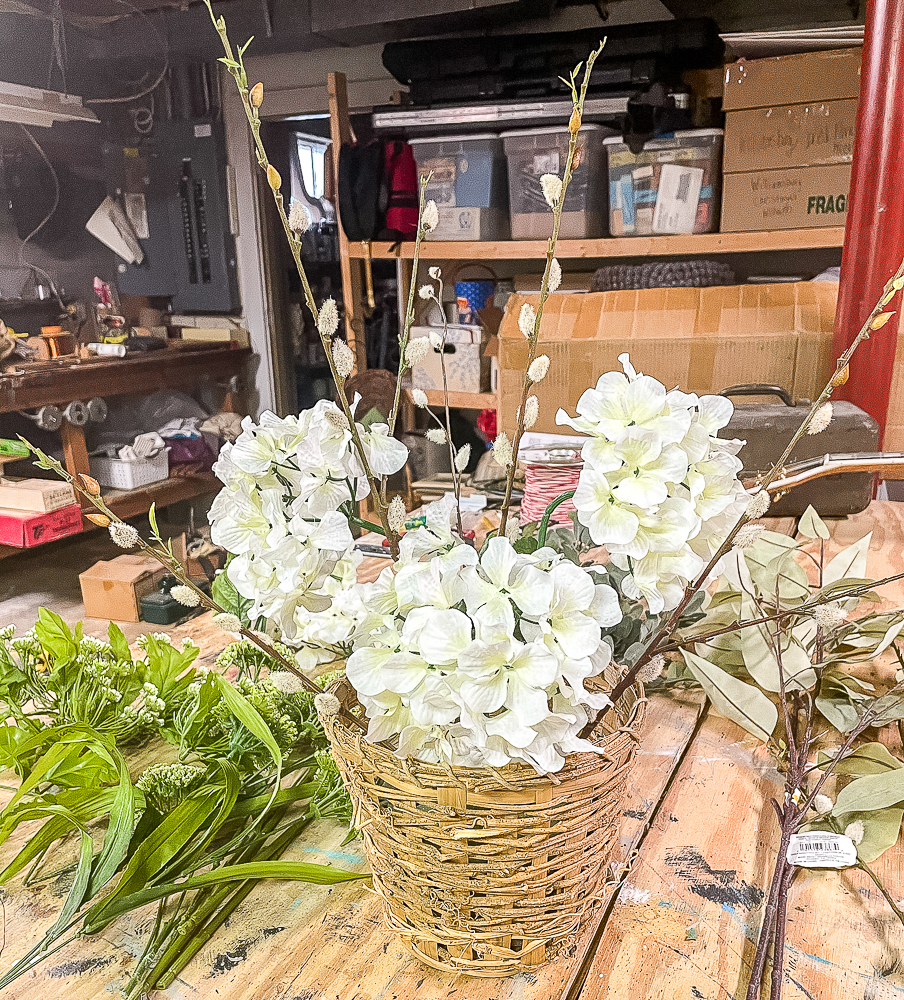 The Pussy Willow branches were originally used for Easter decor in this post and spring decor in this post.
Fun Fact: Our basement had a gigantic model railroad in it when Mr. SP purchased our home in 1992. It stood where the shelves you see in the background are located. The workbench that I'm working on was made using cabinets that formed the base of the railroad.
I then added apple blossom branches to the arrangement.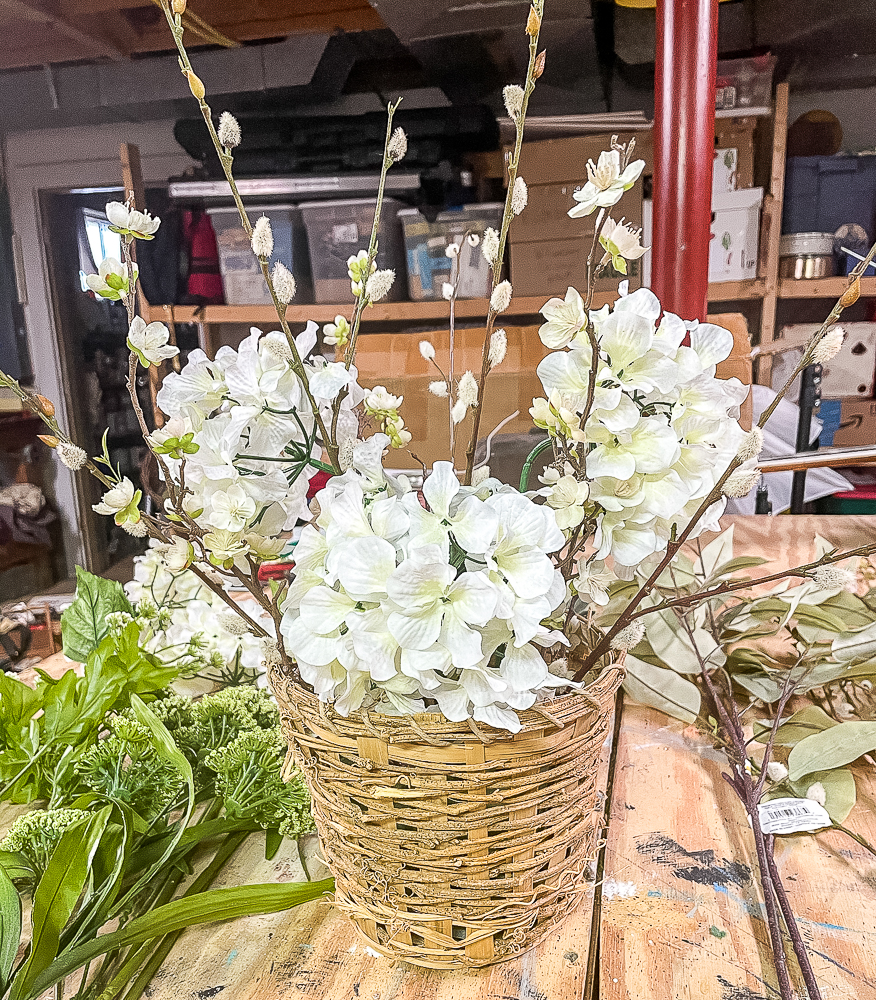 Here is the same picture from a higher angle. It's kind of hard to see the apple branches with the other branches spread out on the table.
If you are curious, behind the arrangement is Mr. SP's grandfather's tackle box and a guitar that Mr. SP is building.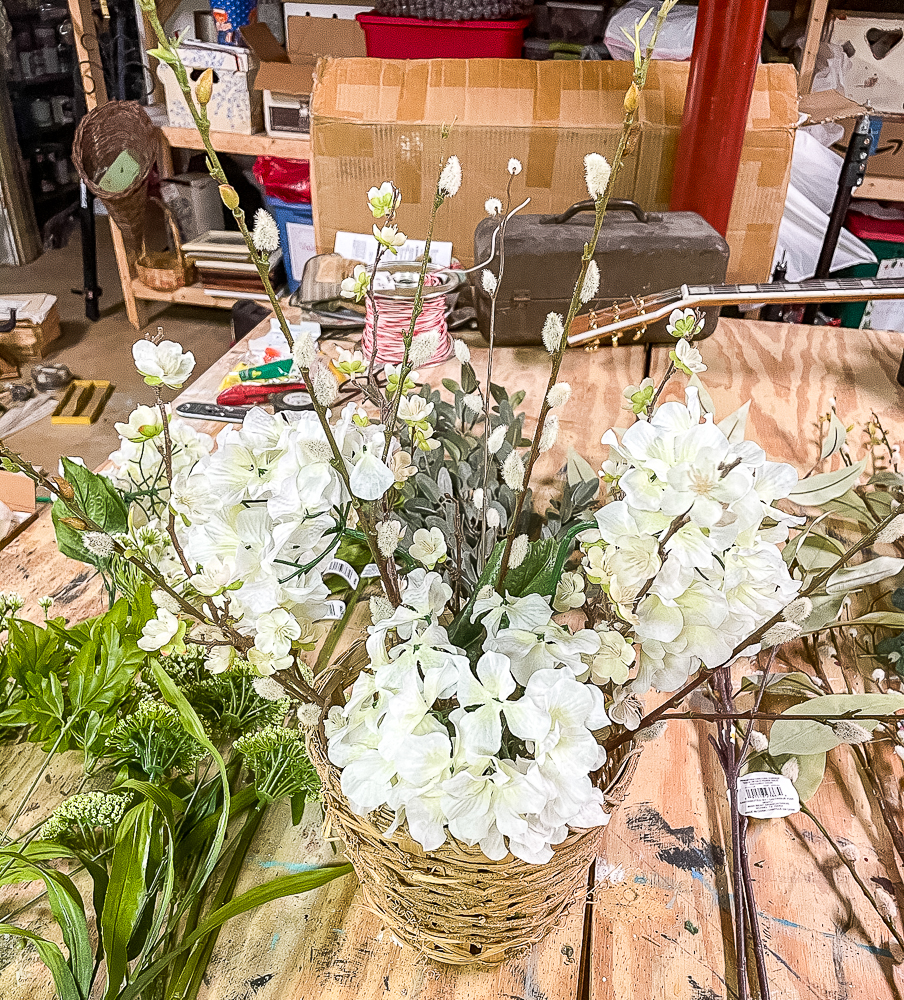 Next I added in florals. I don't know the variety names but one resembles Queen Anne's Lace and the other a Viburnum variety.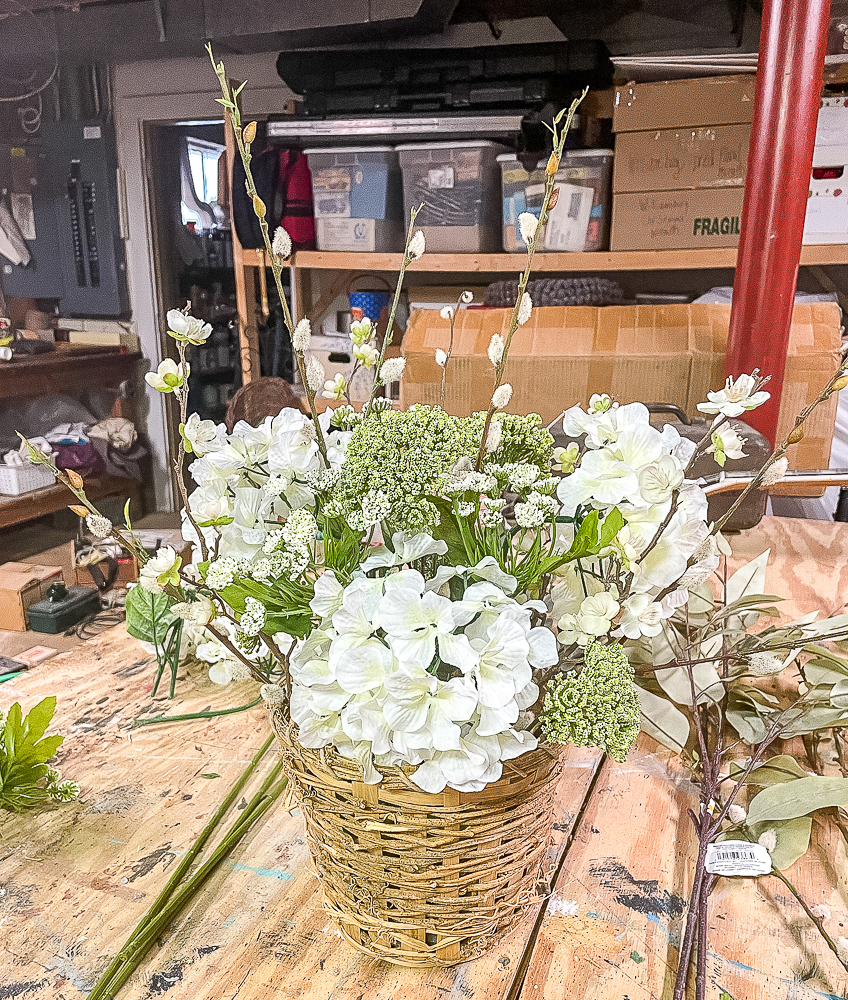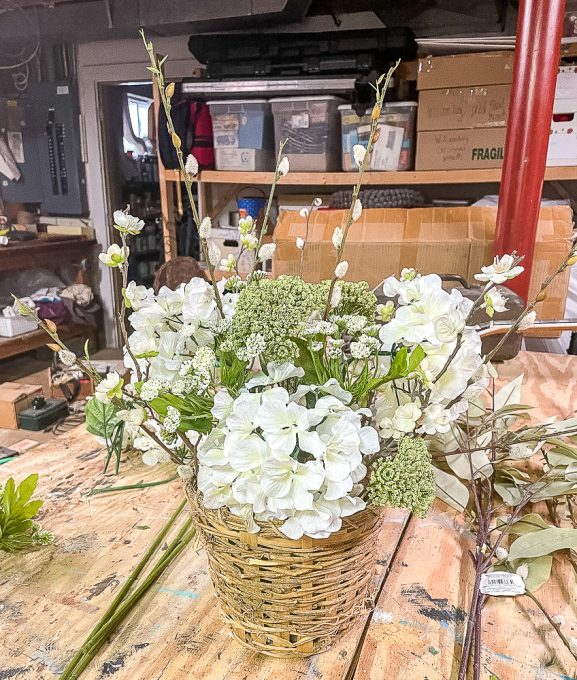 I then examined the arrangement from all sides and angles and filled in empty spots with more florals and branches.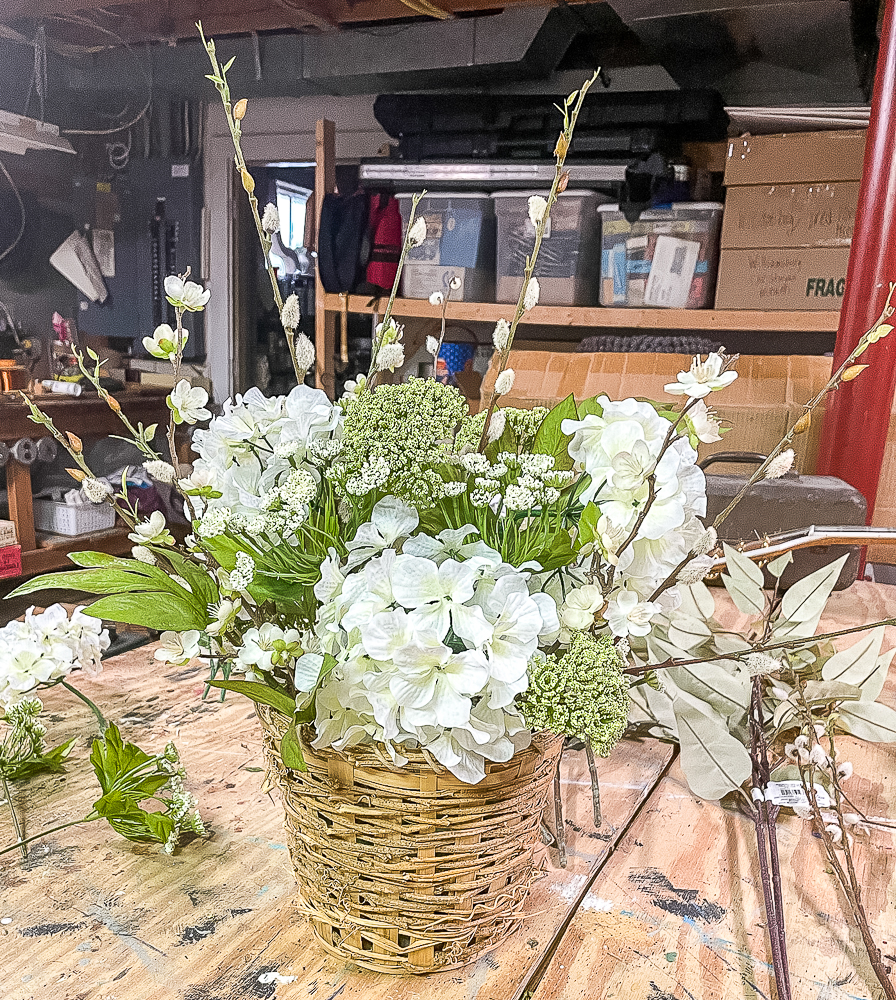 Displaying the Spring Table Centerpiece
I then carried my new arrangement upstairs to our family room and displayed it in the center of my 1968 coffee table using an antique ironstone platter as a tray.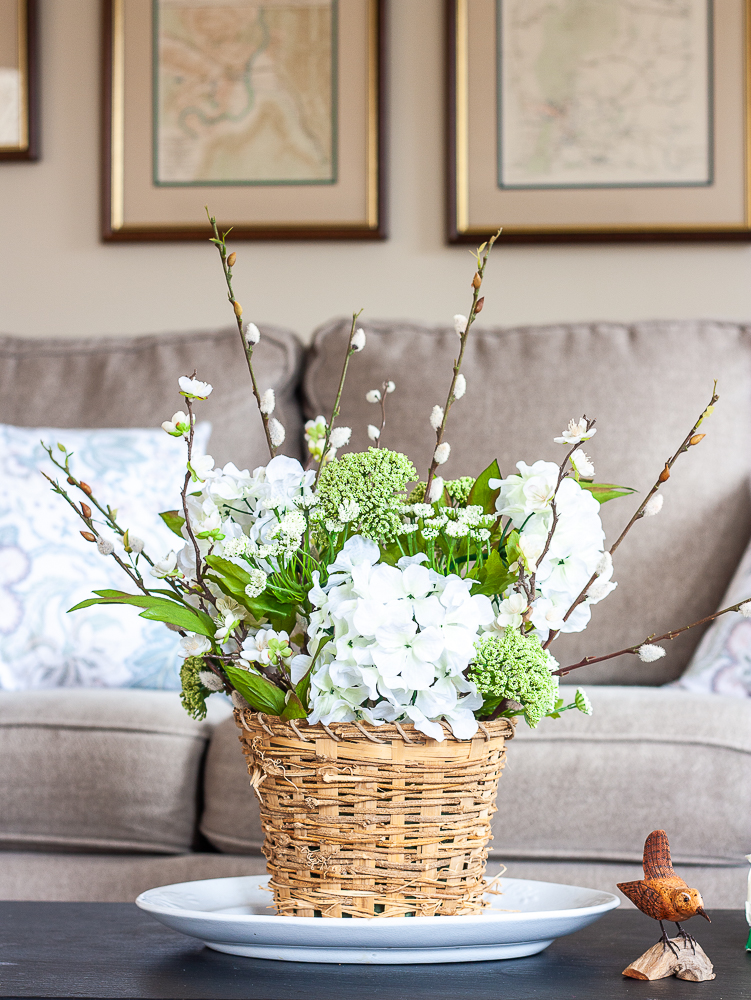 The ironstone platter and the hand carved bird beside it originally belonged to my paternal grandmother.
I love the end result of this project and especially loved that I was able to make it simply by shopping for supplies in my basement.
Be sure to check out the rest of the coffee table's spring decor and a few spring vignettes that I've created for our family room.