Vintage Coke Crate Christmas Coffee Table Decor
For my Christmas coffee table decor this year, I used a vintage Coke crate filled with trees, greenery, and a candle.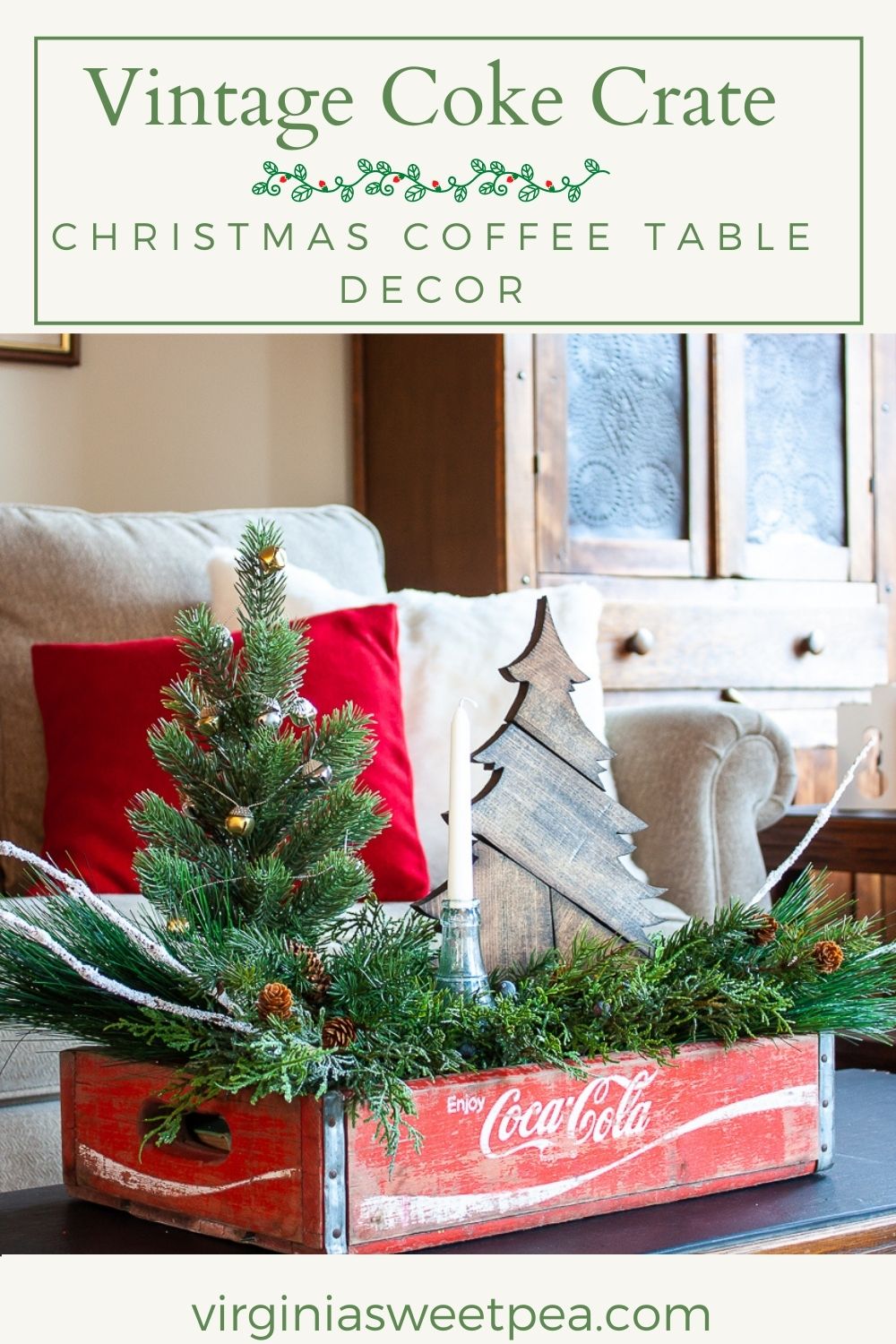 I've been decking the halls for a few weeks and yesterday shared my Winter Wonderland Swarovski Snowflake Christmas tree. I treated myself to a new flocked tree this year and I love how it looks in our living room decked out in snowflakes.
Today's Christmas coffee table decor is part of a monthly Pinterest Challenge hosted by Cindy of County Road 407. Each month Cindy selects a picture from Pinterest and challenges our group to create our own version of the look.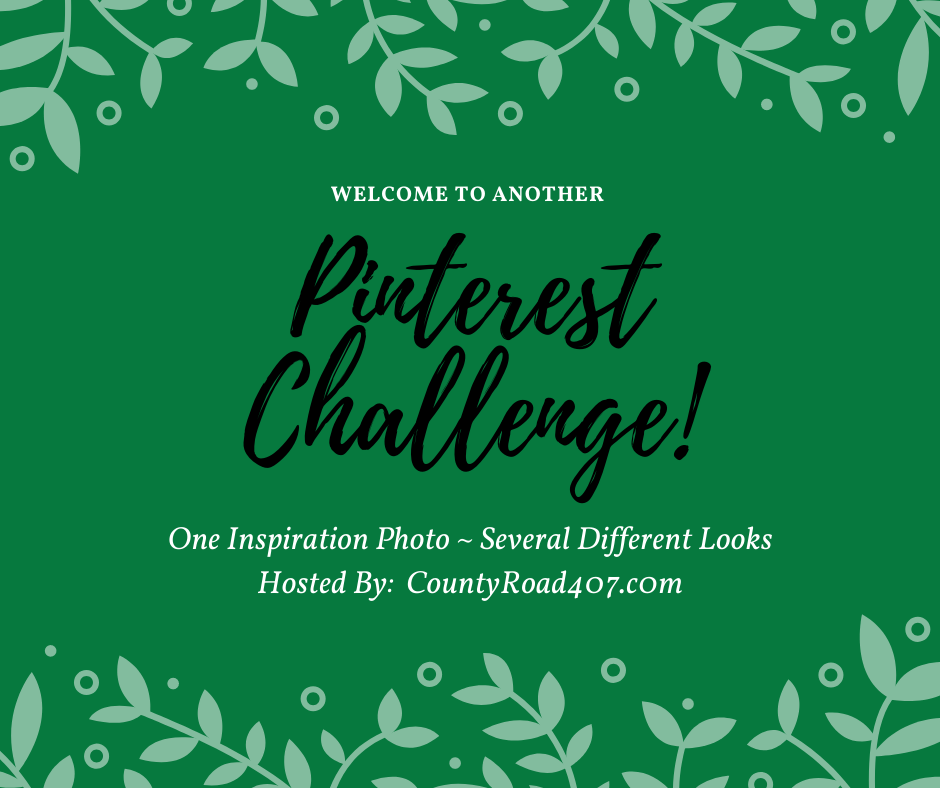 Many thanks to Cindy for hosting this challenge.
If you arrived here from Postcards from the Ridge, welcome! Angie is one of my favorite bloggers and I love how she uses vintage to decorate her home.
Our Inspiration for This Challenge
Our inspiration for this challenge comes from Jennifer at The Grace House Interiors who decorated a crate with wooden trees, greenery, and berries.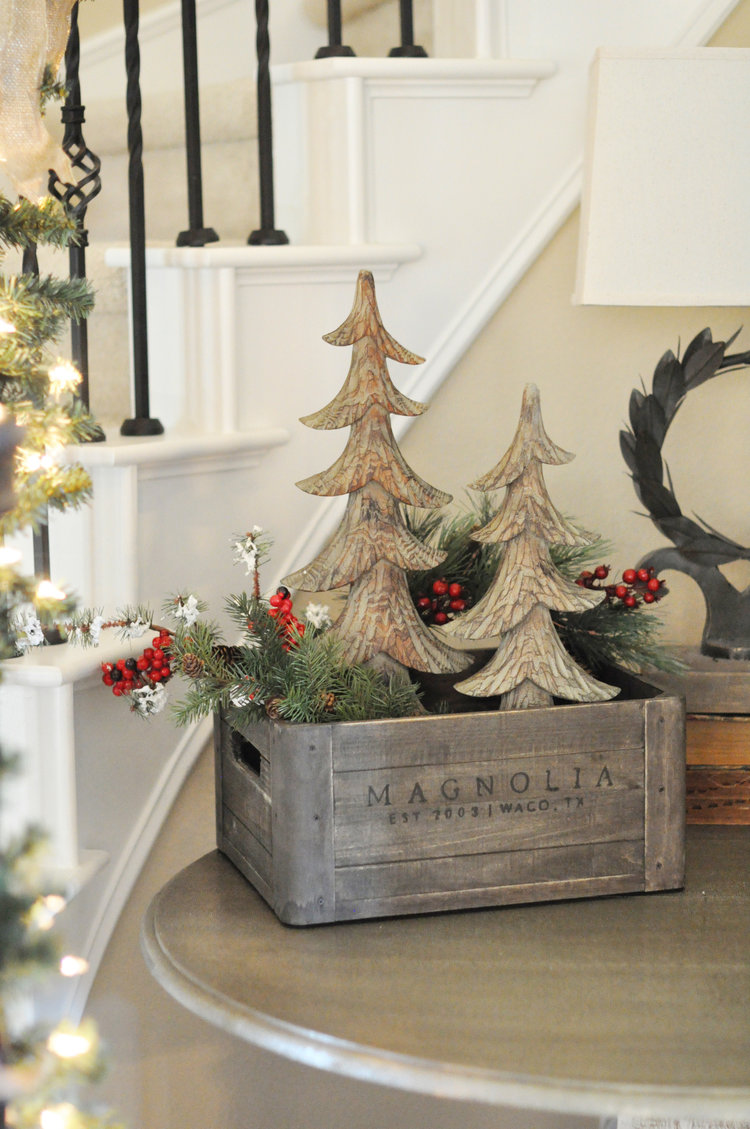 Vintage Coke Crate Christmas Coffee Table Decor
Jennifer displayed her crate on a table in her foyer. For my version, I created a coffee table centerpiece using a vintage Coke crate.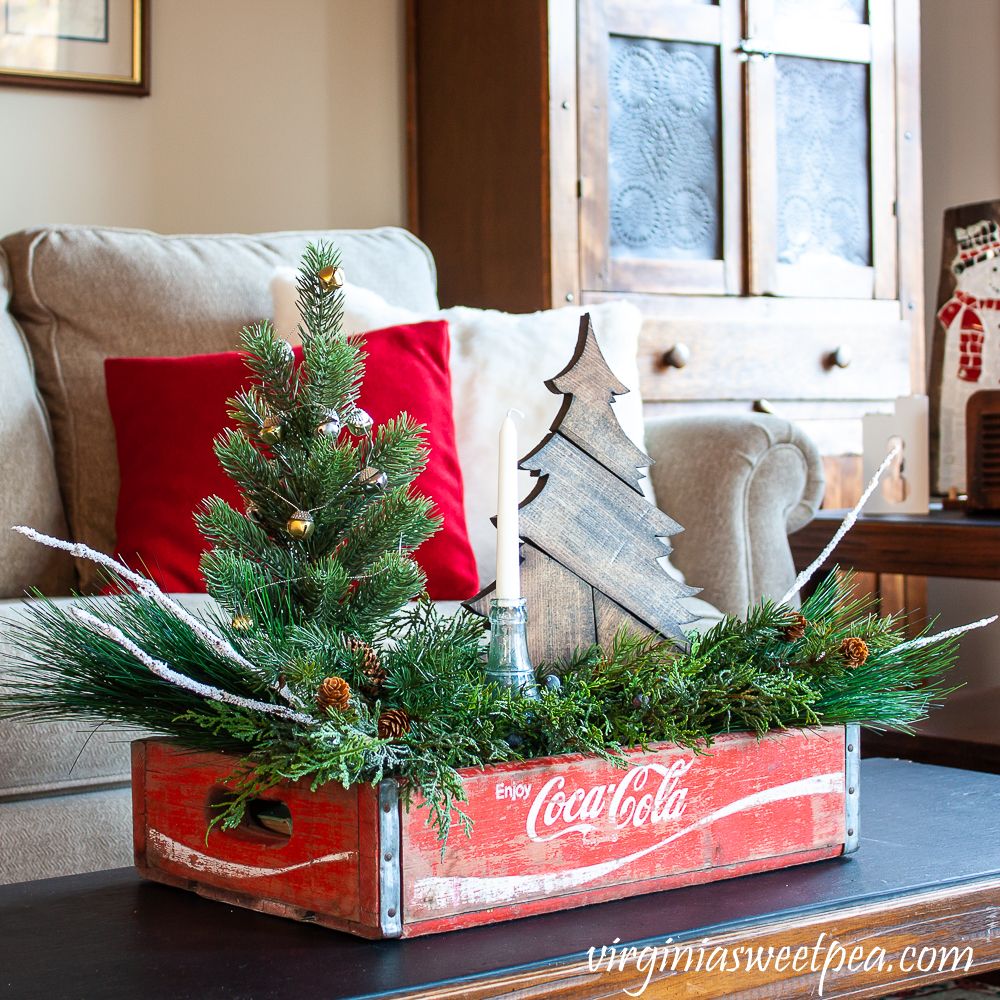 A few years ago I got it in my head that I needed a vintage Coca-Cola crate. It didn't take long to find one and to be honest, I haven't decorated with it a lot.
I did use it for this year's patriotic mantel and loved how it looked on my hearth on top of my grandmother's suitcase filled with an early 1900s red, white, and blue paper hat and American flags.
I'm thrilled to use it for my Christmas coffee table centerpiece and I love how the red of the crate pops against the black stone top of my 1960s coffee table.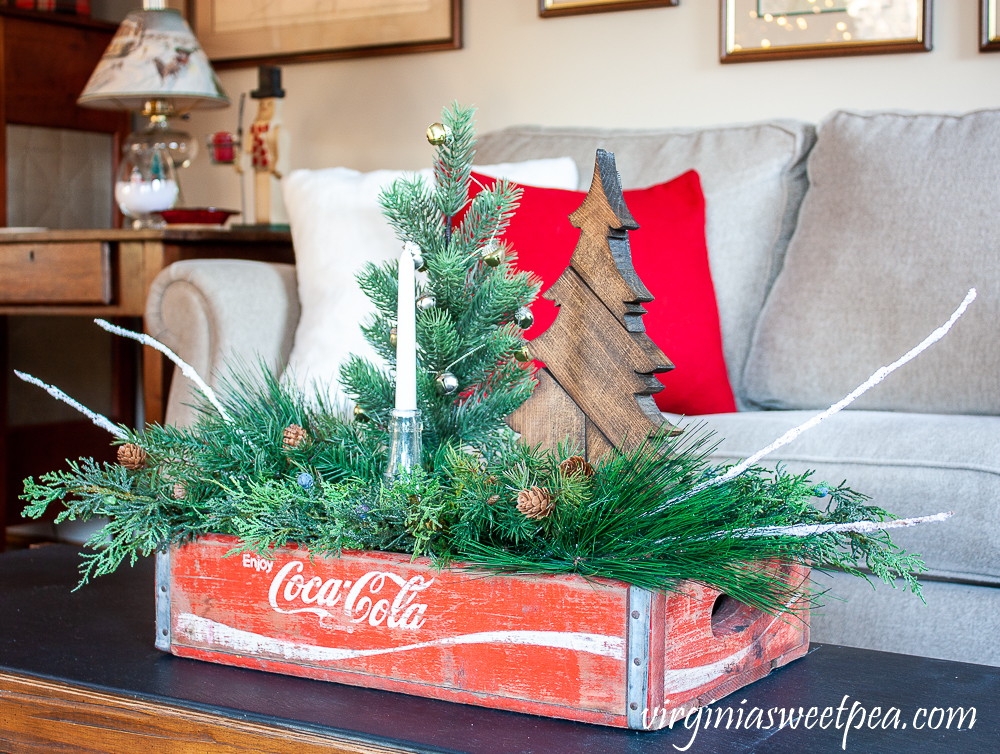 Decorating the Crate for the Centerpiece
In our inspiration picture, Jennifer used two wooden trees. Instead of two wooden trees, I used a small faux tree and a wooden tree that I made.
Last year two of these wooden trees on my Warm and Rustic Christmas mantel with Vintage Flair.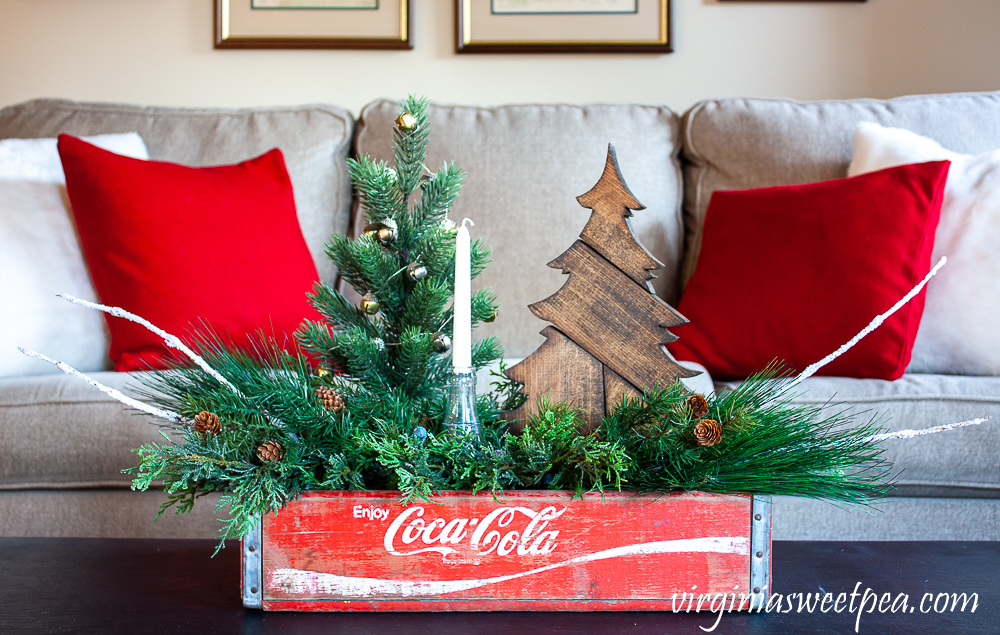 To elevate the trees, I placed them on top of a few books, vintage of course!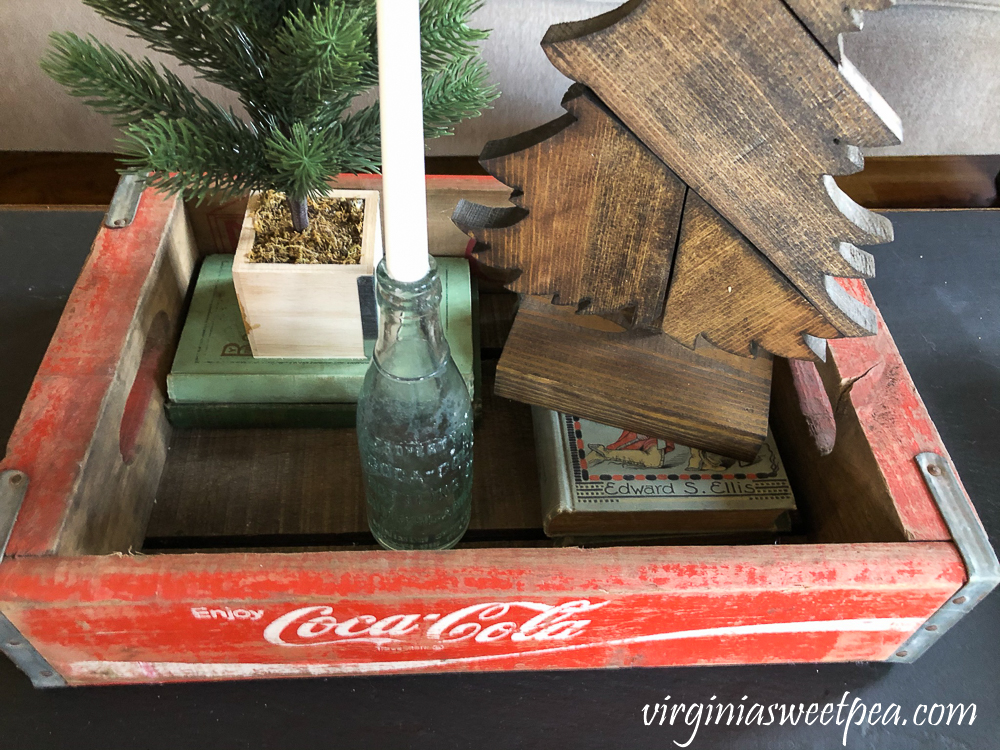 I got the idea to use a bottle with a candle in my crate from Michelle who blogs at The Painted Hinge.
Michelle decorated a vintage 7up crate for Christmas and used a 7up bottle with a candle.
I loved the look and used it for my Christmas crate.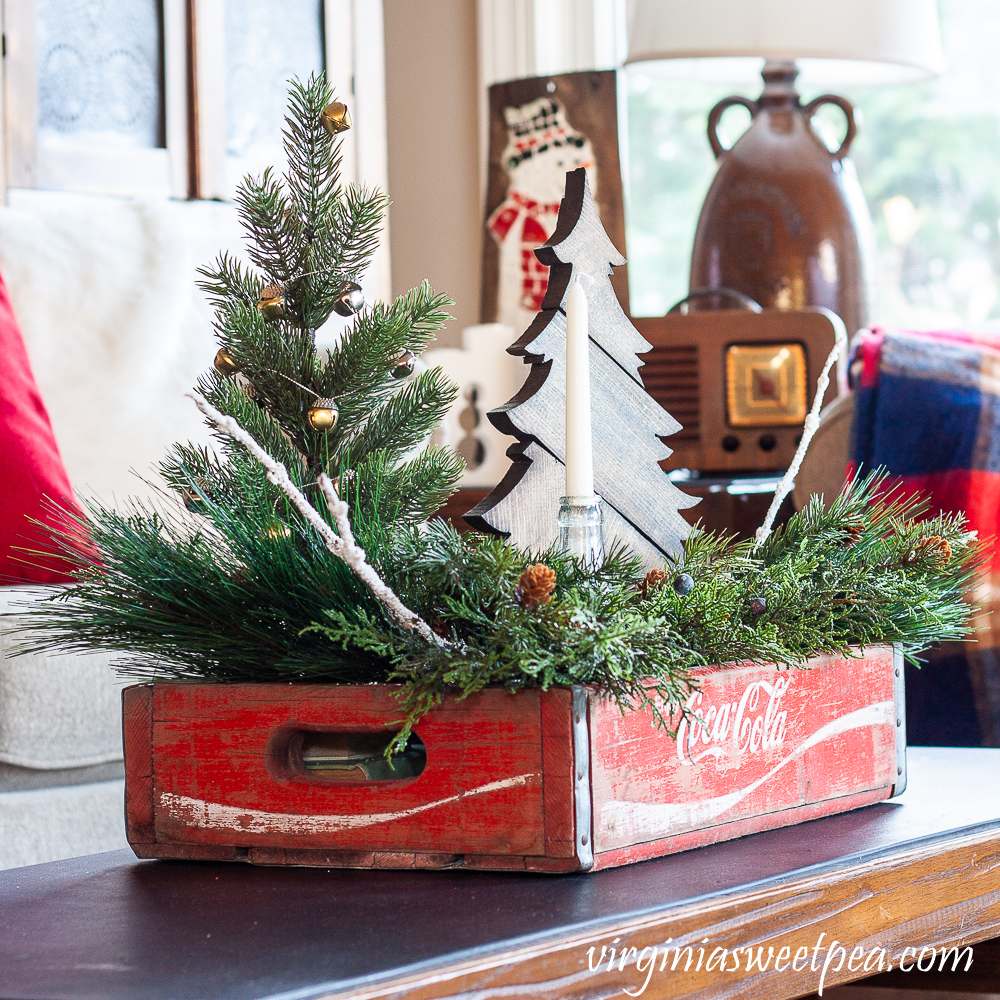 To make it interesting, I used the oldest Coca-Cola bottle that I own.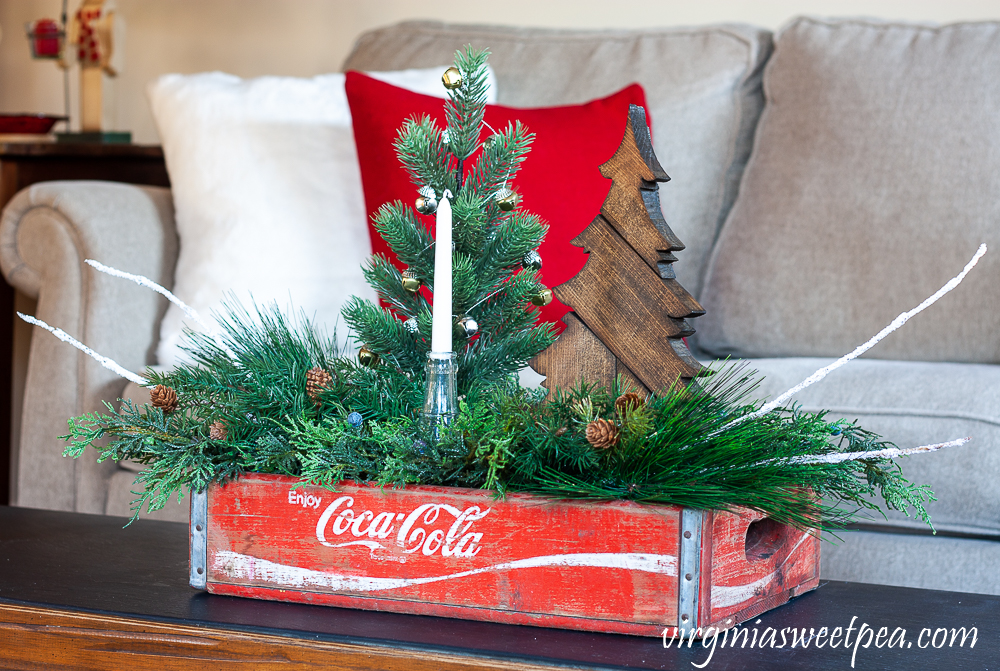 Unfortunately, you can't tell that it is a very old bottle because the greenery hides most of it.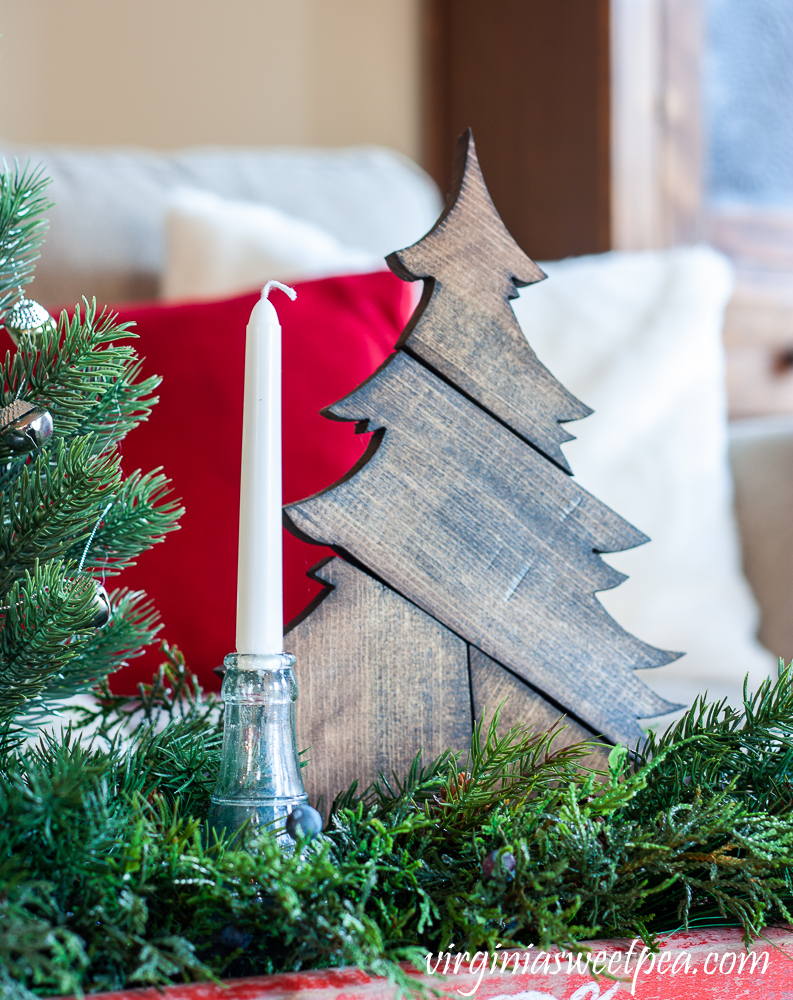 I did a little research, and this Cumberland, MD Coca-Cola bottle dates to around 1903.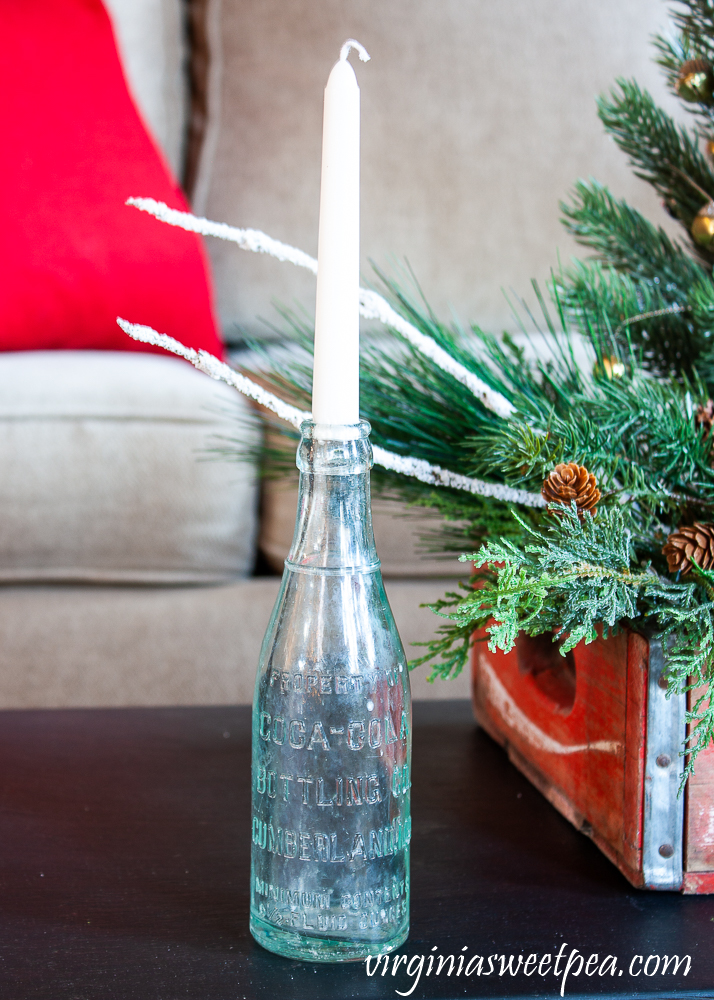 I inherited an adorable red Coca-Cola six-bottle caddy from my grandmother who used it to transport extra flowers to church and garden club to refresh her flower arrangements.
This bottle along with five other Coke bottles were in Granny's caddy.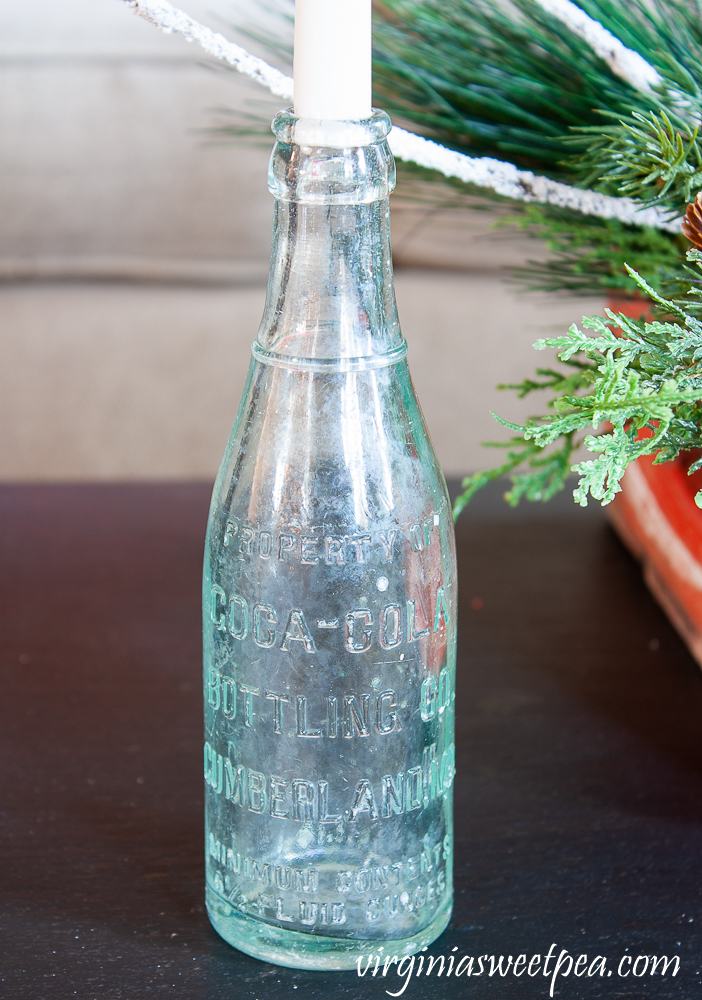 I don't know why this bottle was saved, but I'm sure glad that it was. You can see my Coca-Cola caddy with the other five vintage Coke bottles that I inherited in this post.
After the trees and bottle were in place, I filled in the crate with faux greenery.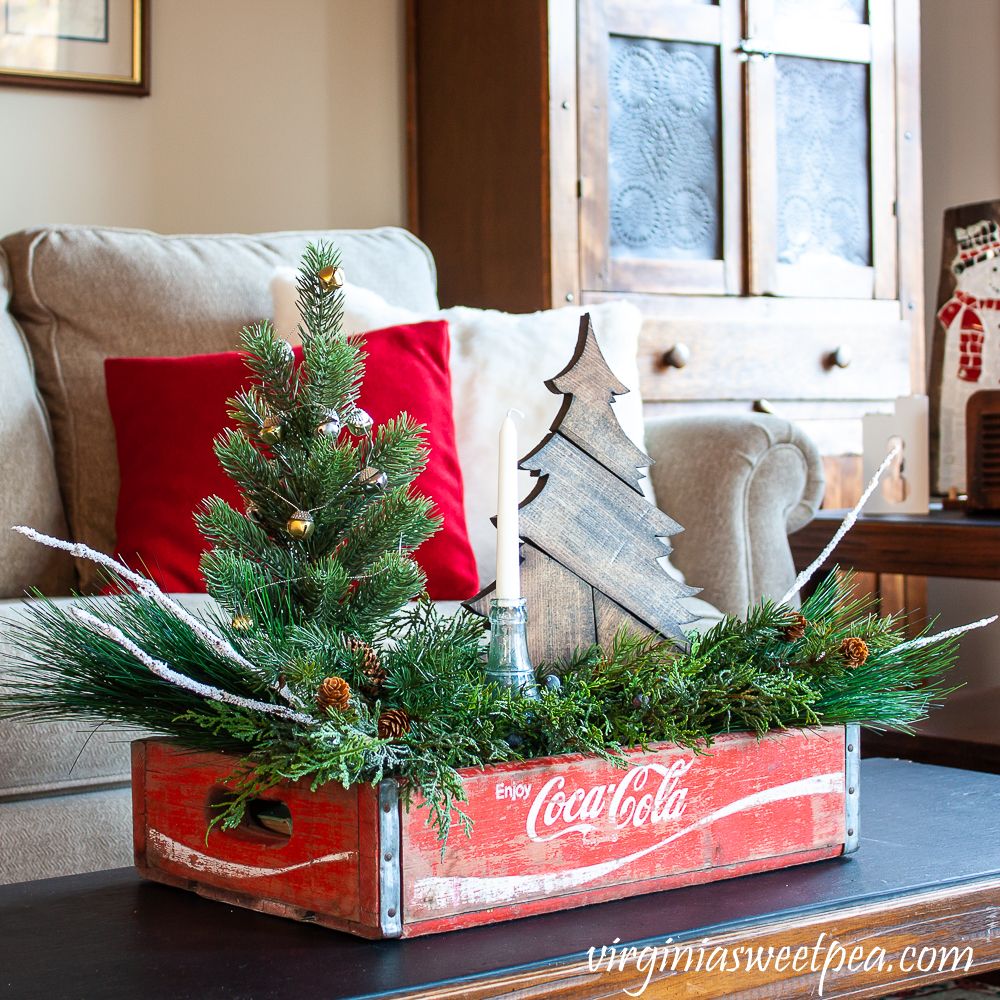 Some of Jennifer's greenery was snow-kissed, so to add a touch of white to my centerpiece, I added branches that I used for last winter's family room decor.
To make the branches, I brushed branches with Mod Podge and coated them in Epsom Salt.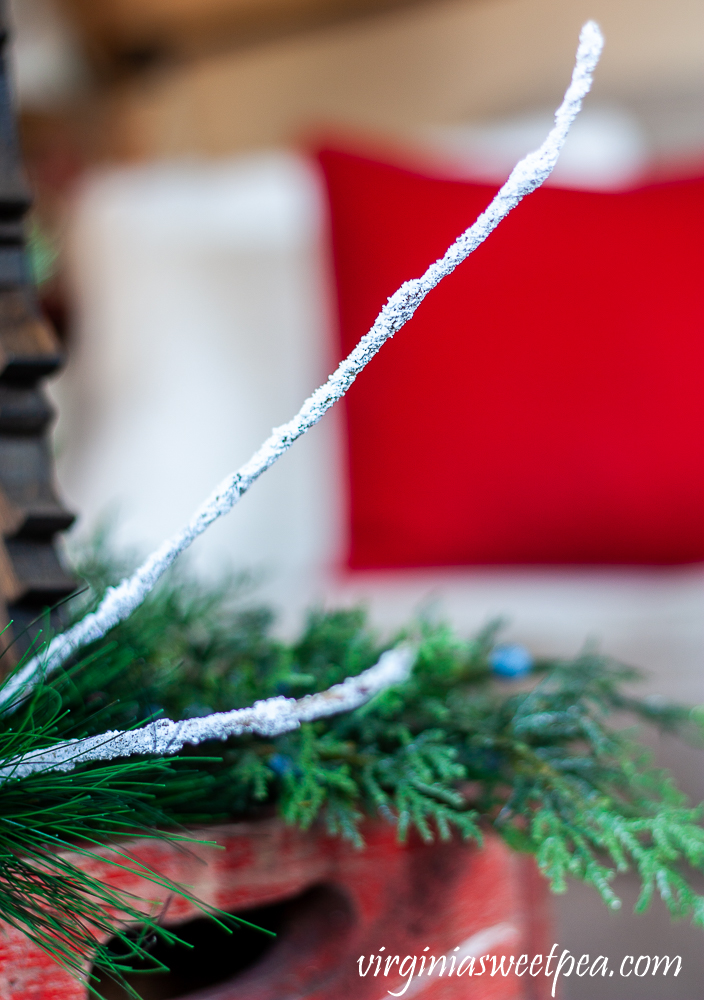 Today's post is giving you a tiny sneak peek of my Christmas family room decor.
I'm excited to share more of this room on December 3rd for a Christmas home tour with a group of blogging friends.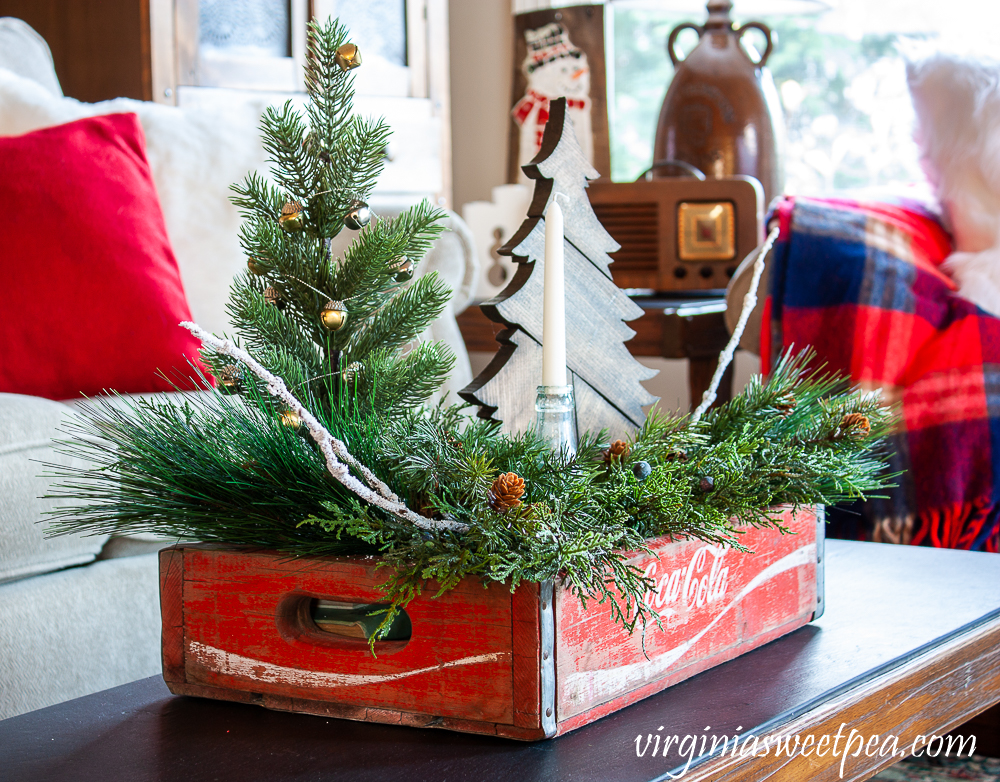 Christmas Coffee Table Decor Over the Years
Every year I try to decorate my coffee table for Christmas in a different way.
I've been blogging since 2007 but in earlier years only shared our formal living room at Christmas.
Now that You've Seen My Coca-Cola Crate, Do You Want One?
These Coca-Cola crates are available on Etsy.

Don't Miss These Creative Coca-Cola Crate Repurposed Projects!

I had so much fun with this challenge and I'm looking forward to seeing what my blogging friends created.
The next blogger sharing her version of our inspiration picture is Crissy of First Day of Home. Crissy is super talented and if you like making things, you don't want to miss her craft ideas. You also should check out her YouTube channel, it's great!
More Projects to Enjoy
Many thanks to Cindy for organizing this fun monthly challenge!
Click on the links below to visit each blogger who is sharing their version of our inspiration picture.
More Christmas Decor to Enjoy