Smith Mountain Lake House – February 2016 Update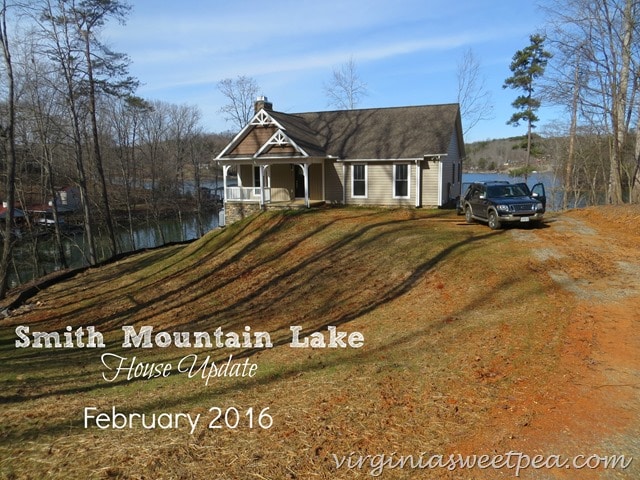 Hello, friends! It's been a month since I've given you an update on our progress at our lake house. We've been able to spend several Saturday nights there and have really enjoyed it. When we make a trip to the lake we load our trailer and vehicle with things that need to go there and bit by bit we are making progress on getting things in order there. There is so much to do and not much free time to do it since we both work.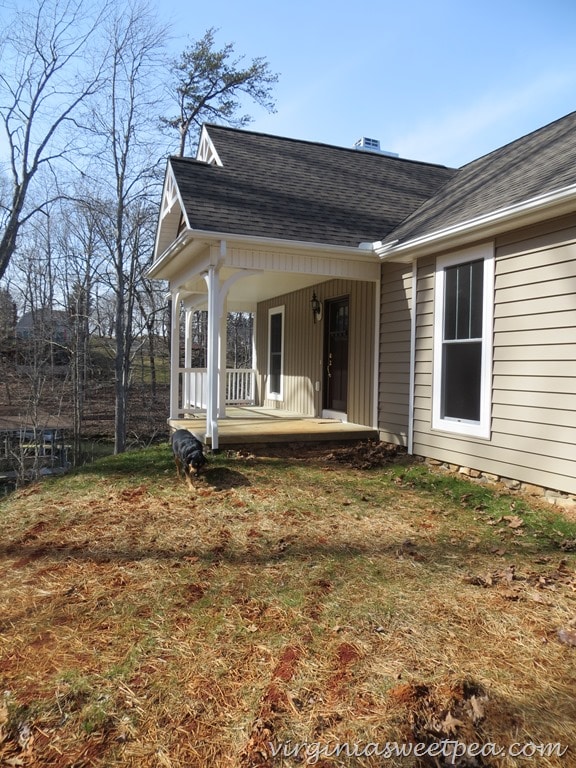 It is a muddy mess around the house. We are investigating landscape options as we both think some sort of retaining wall needs to be built in the front of the house so that a curving sidewalk can be constructed leading directly to the front door. Right now we hop through the mud and enter the side of the porch. I envision this area as a landscape bed and want to enter the house from the front of the porch.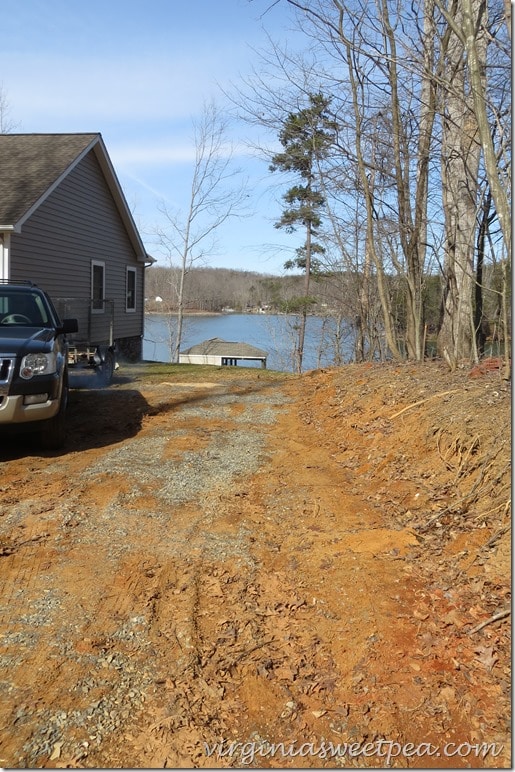 We desperately need gravel on the driveway and Mr. SP has not been able to find anyone willing to take on the job; everyone that he has contacted is too busy. Gravel at the bottom of the drive would solve some of our mud problems.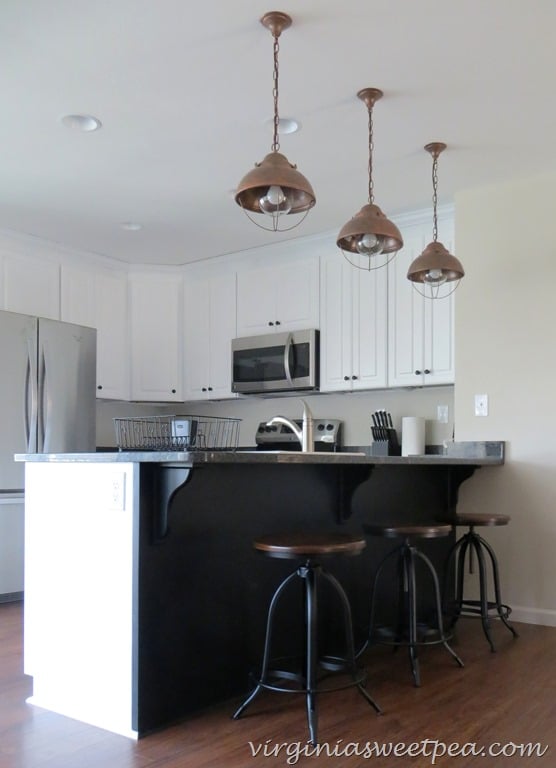 I was thrilled to find three counter height bar stools at Sam's that we exactly what I wanted. They are also available on-line if you are in the market for inexpensive bar stools. If you like our lights, they are on sale now!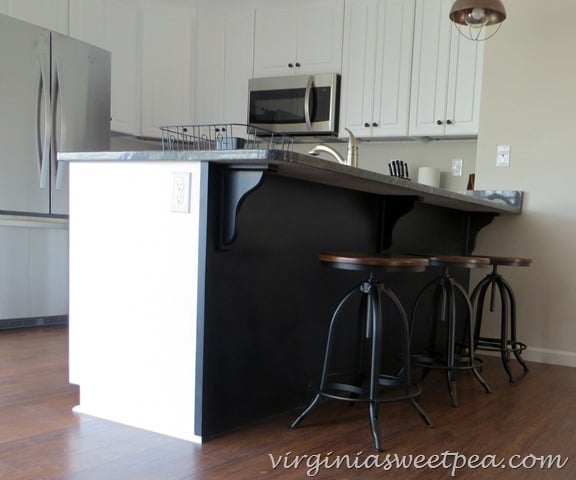 Since our room is a bit tight on space, I love that these bar stools can be tucked under the counter when we aren't using them.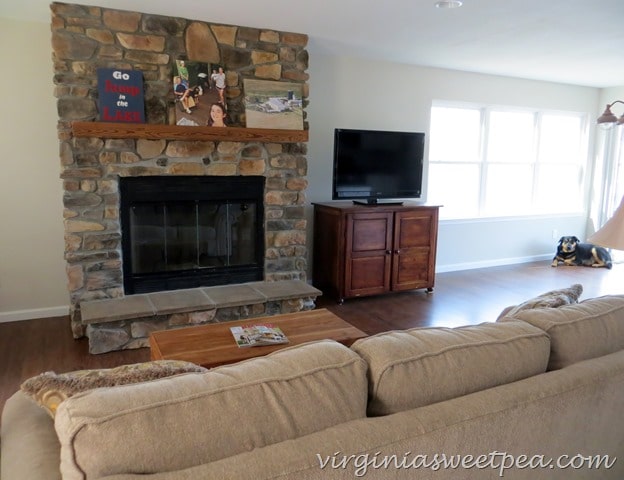 Please don't think that the three pictures on the mantle are staying that way. They are there until I can figure out where to hang them. The farm picture on the right is extra special to my heart. It's where my grandfather grew up, where my dad spent every ounce of free time possible, and where I loved to visit in summers.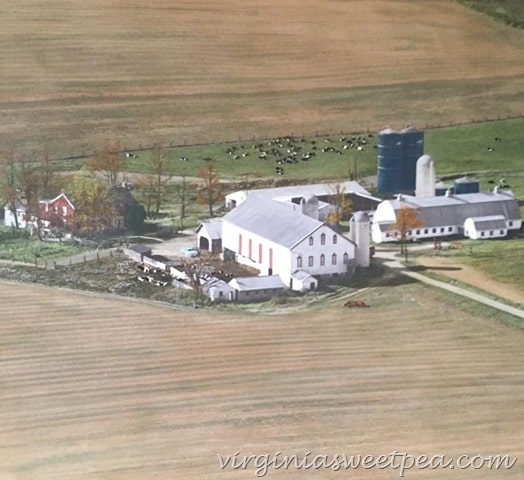 Our mantle is made using a beam from the barn seen just behind the big white barn with red trim. This picture dates to 1967 or 68.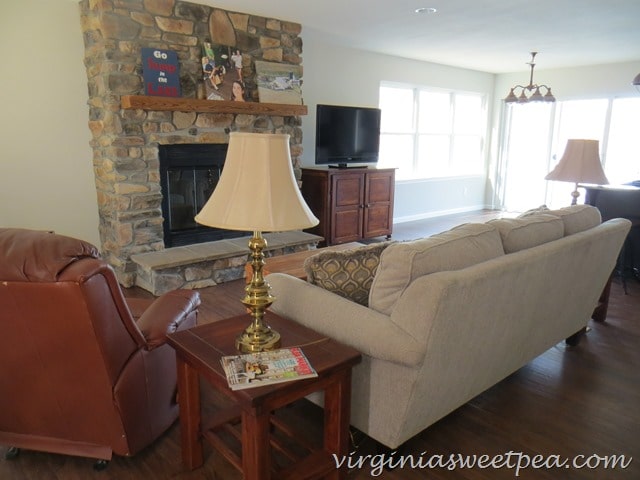 This past Saturday we were able to bring the media console that Mr. SP made to the lake. It originally had a light stain until I gave it an easy makeover last spring. If you look carefully you can see that it needs some stain touch-up following it's trip on our trailer. The trip also result in the loss of two of the levelers that we had on its bun feet hence the cardboard under two of the feet. I've already purchased replacements and will make that repair the next time we make a trip to the lake.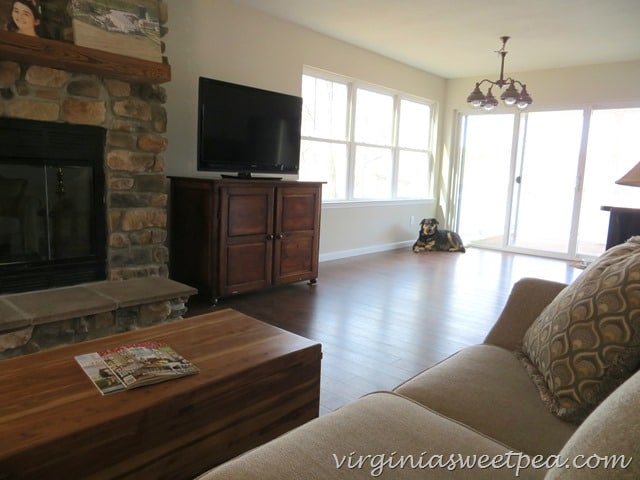 Coming next is buying mattresses so that our parents can come stay with us on the weekend. The muddy driveway is really a problem because trucks can't deliver in the mud.
We also need a rug for the sofa area of this room. I've been too lazy to shop for one to tell you the truth! (I have such a hard time making a decision!)
My grandfather purchased and stained a small oak table for my first college apartment and I'm hoping that it can serve as our table at the lake. It's been in a corner of my basement patiently waiting to be used again for about 20 years. My grandfather also refinished and wove seats in chairs that originally were in a barber shop. I have them in my basement but Mr. SP hates them as he says that they were designed for "little people." My mom has some chairs in storage that just may work in our space. (Fingers crossed.)
On a side note, isn't Sherman sweet in the pictures above? He is getting the hang of spending the night at the lake and is starting to like it. Our first night there made our poor boy so nervous!
I'll be back on Thursday with a fun home improvement project for this month's Power Tool Challenge Team. It's for the lake and I can't wait to use it there.