Easy to Make Flower Arrangement
No need to call a florist, an easy to make flower arrangement is something that you can totally do. Let me show you how!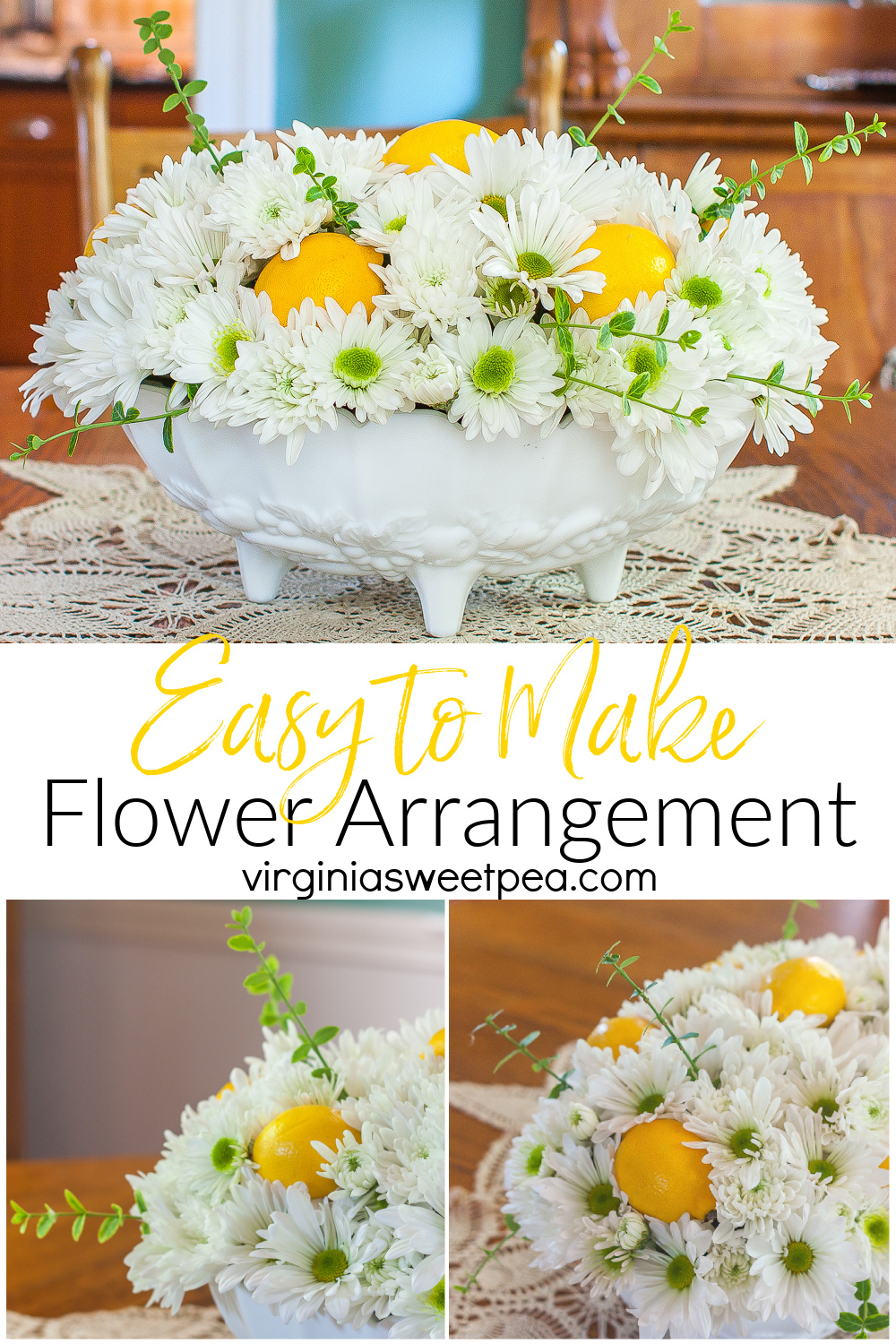 Before we dive into today's post, thank you to all of you who read my latest cancer update and left such encouraging comments as I face my scary procedure on Thursday.
Today's easy to make flower arrangment is part of a monthly Pinterest Challenge hosted by Cindy of County Road 407. Each month Cindy selects a picture from Pinterest and challenges our group to create our own version of the look.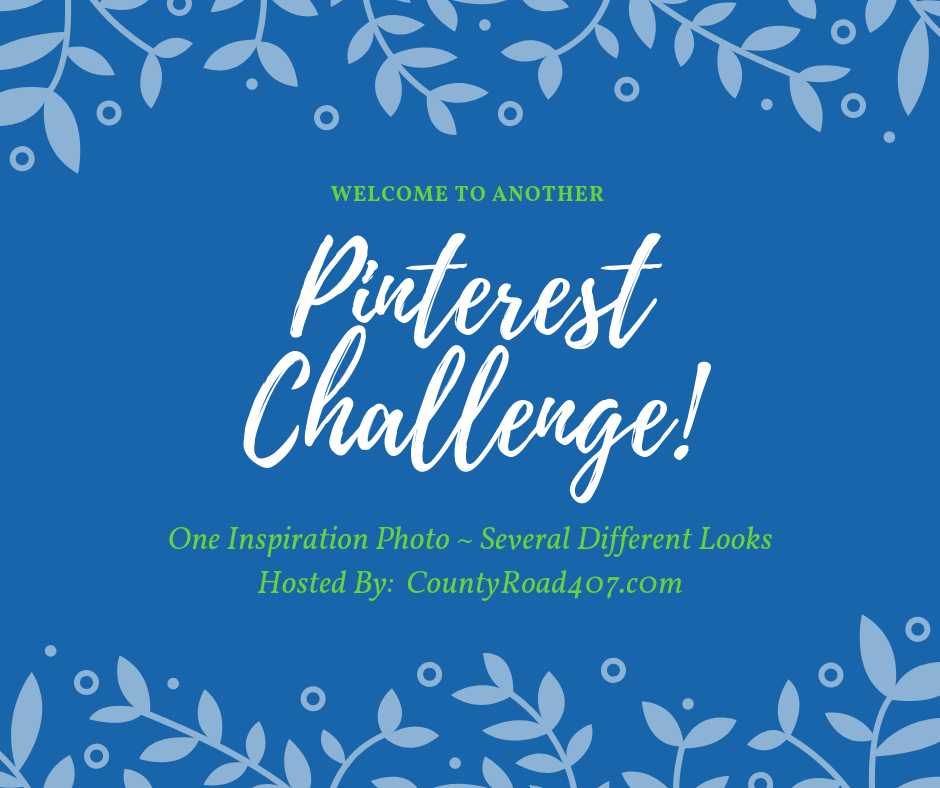 Many thanks to Cindy for hosting this challenge.
If you arrived here from Decor to Adore, welcome!
Our Inspiration for this Challenge
This month we were challenged to create a summer floral arrangement inspired by this beautiful one designed by Mary of Home is Where the Boat is.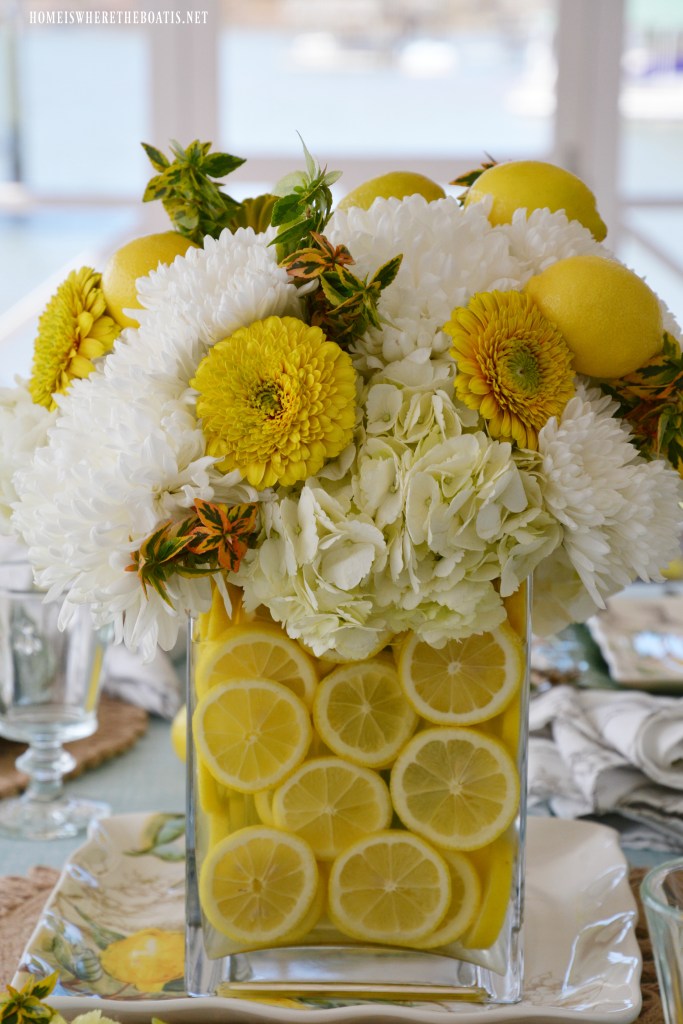 If you've never visited Home is Where the Boat is, I encourage you to do so. Mary is super talented at floral design, creating beautiful tablescapes, and decorating.
Isn't this a beautiful arrangement?
The moment that Cindy sent this picture to our group, I couldn't wait to make an arrangement inspired by this one for my home.
My Version of Our Inspiration
I so much enjoyed making this arrangement for this challenge.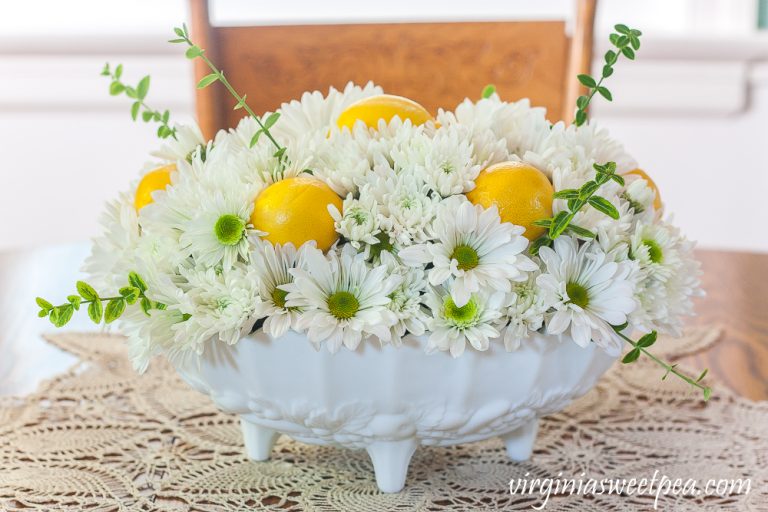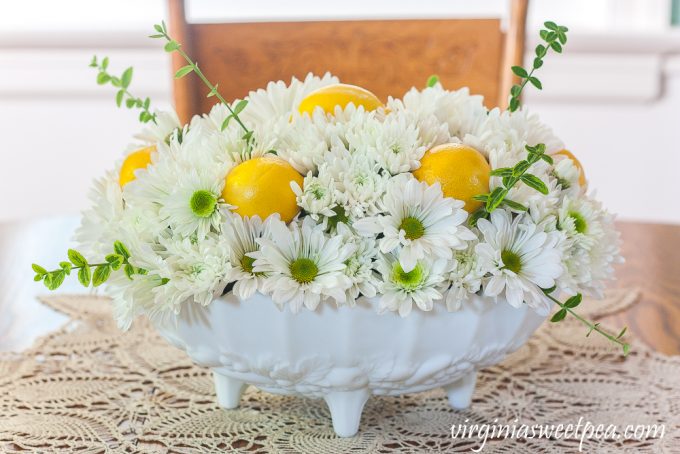 For my container, I use a Milk Glass Footed Fruit Server that I purchased long ago at a yard sale.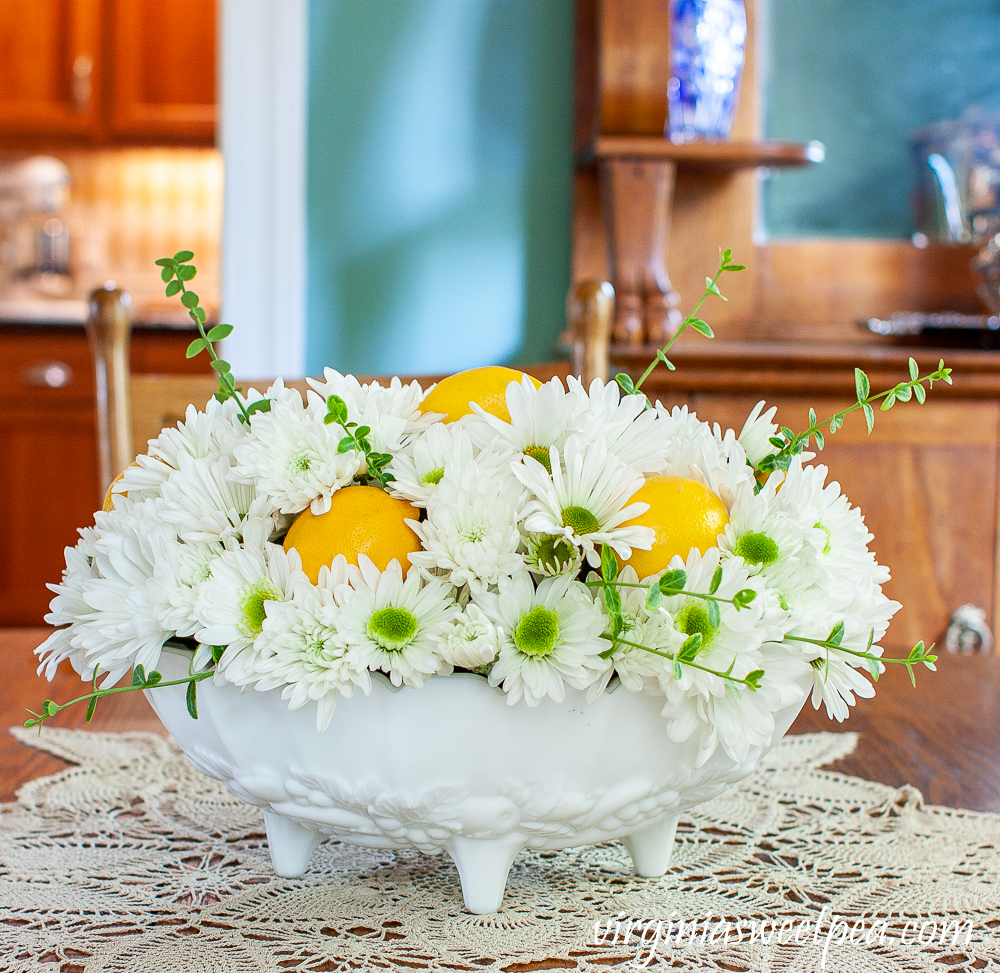 The flowers and lemons that I used to make the arrangement came from Kroger and the greenery sprigs from my yard.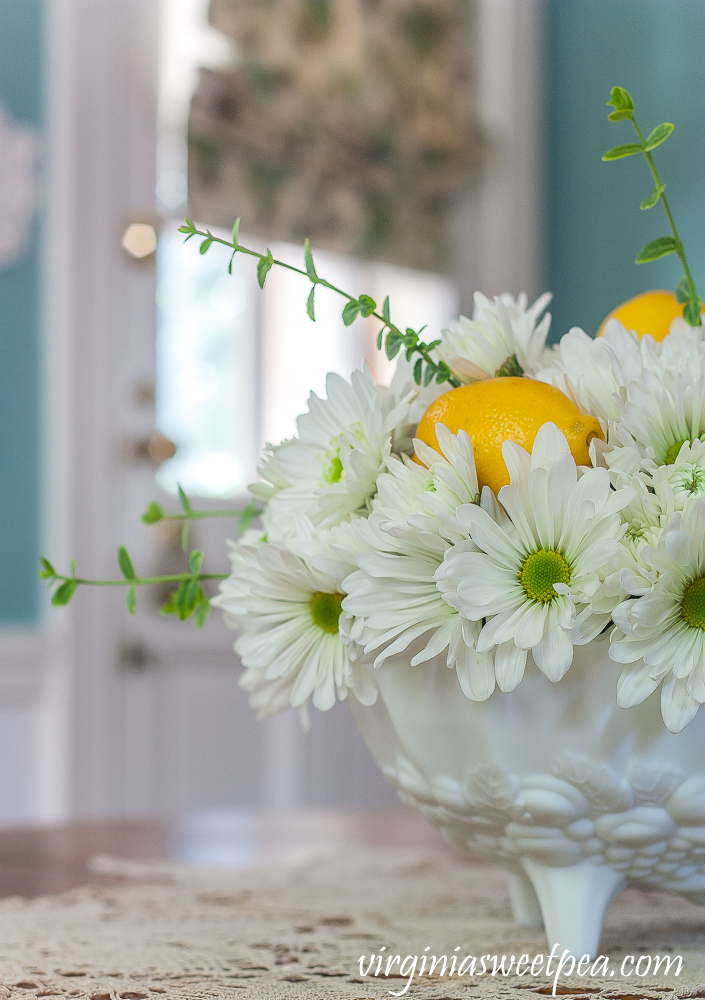 My flower arrangement is now a week old and the flowers and greenery still look fresh. I think that I may get another week of enjoyment out of this arrangement!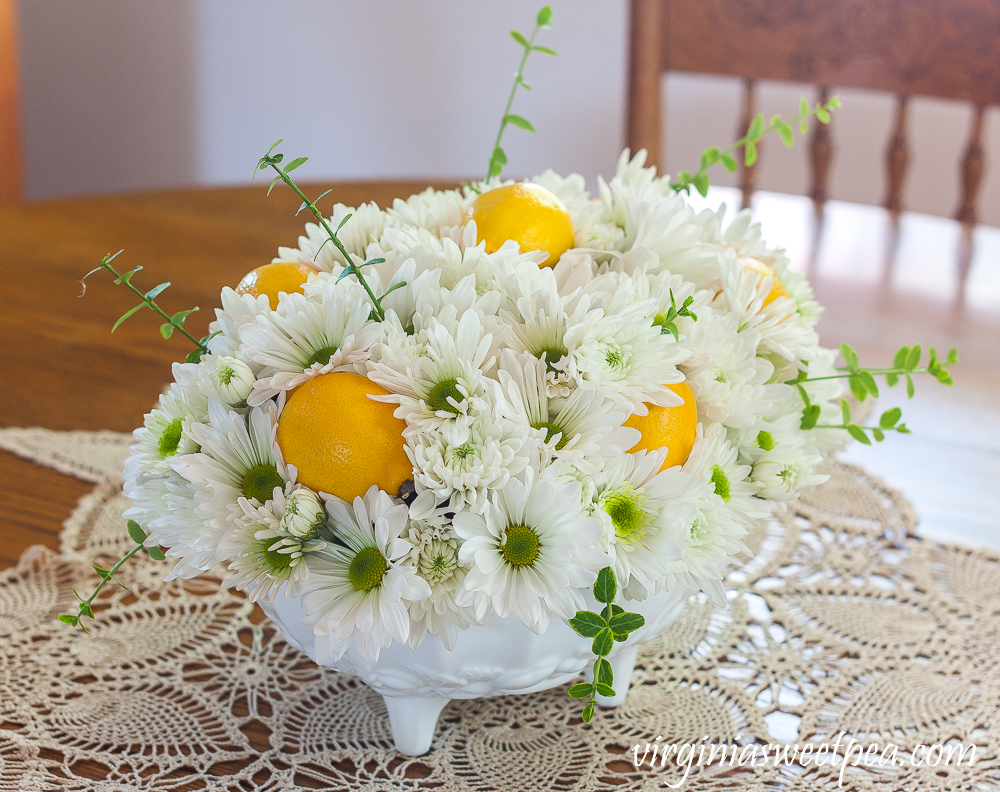 How I Made the Arrangment
I have no formal flower design training but I did watch my mother make countless flower arrangements for church when I was growing up.
Mama provided flowers for the church alter table two Sundays in July and every Sunday in October.
My grandmother was a garden club flower show judge and her arrangement won national awards. Since I didn't live near her, I never learned her flower arranging skills.
Three bunches of Chrysanthemums (Not all were used)
Seven lemons
Clippers – I use these every single time I garden.
Condition the Flowers
As soon as I arrived home after purchasing the flowers at Kroger, I made a fresh cut on the end of each stem.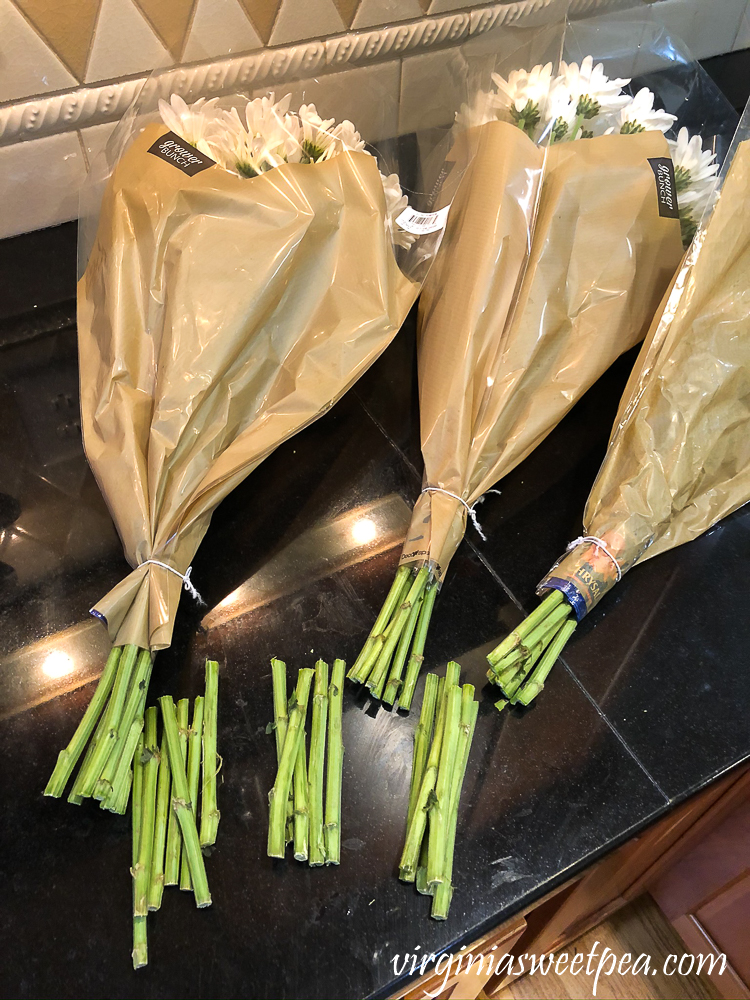 I then removed the plastic from each flower bunch, separated the stems, and put the flowers in cool water to soak overnight.
I've read to put them in a cool dark room but I just left mine on the kitchen table overnight. We keep our house very cold in the summer (and winter) so the flowers were perfectly happy on the kitchen table.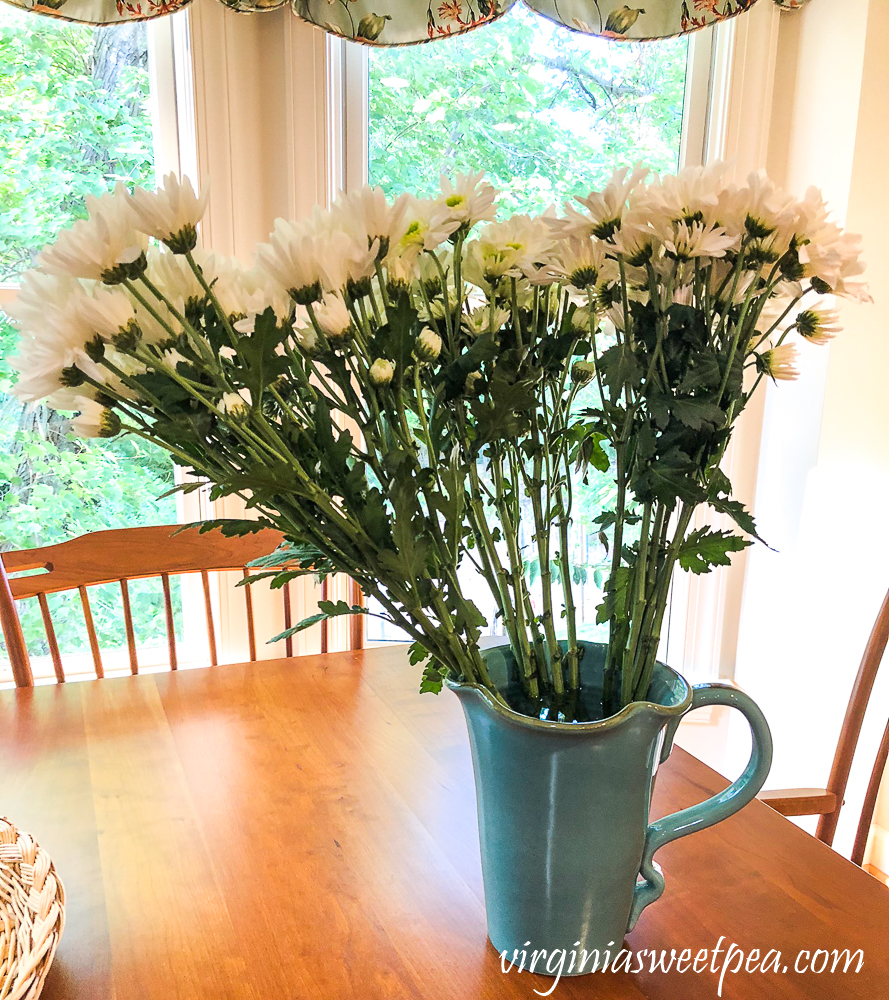 Prepare the Container with Floral Oasis
Using floral oasis is the key to making an arrangement that will last.
The oasis soaks up a tremendous amount of water that the cut flowers in the arrangement can drink using the xylem in their stems.
Floral foam is designed to use for arranging faux flowers. Floral oasis is designed for arranging fresh flowers.
Use a sharp knife to cut the oasis to fit your container. I keep an old serrated knife in my craft cabinet just for this purpose.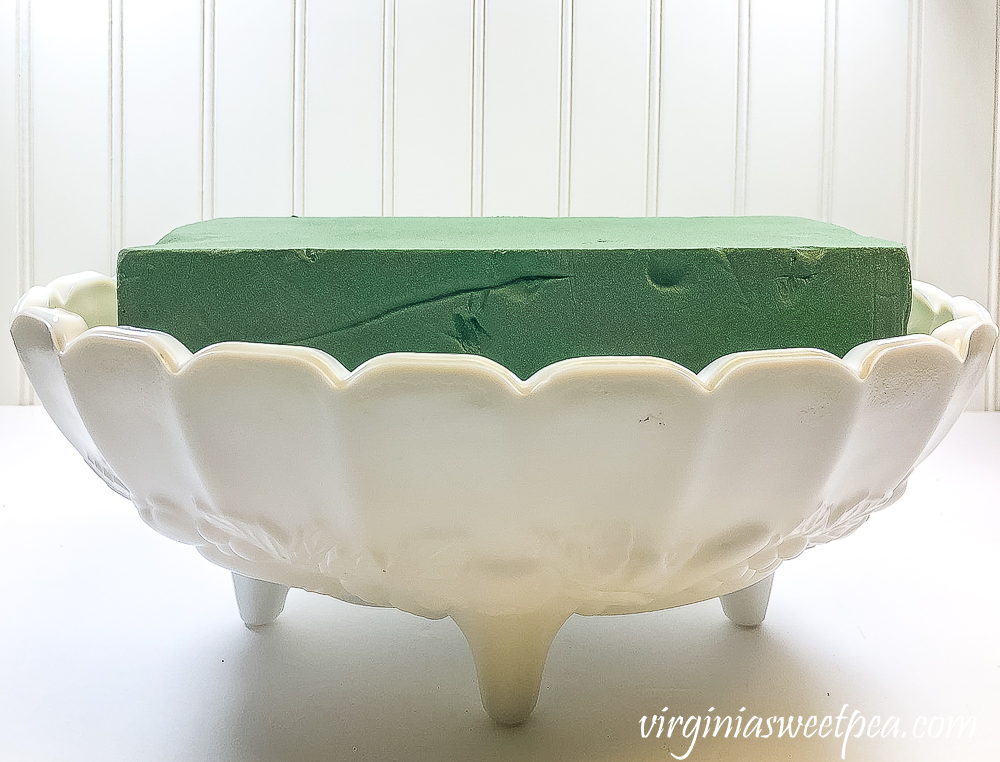 Put the container in a sink and let the water slowly flow over the oasis. Turn the container as needed so that every inch of the oasis gets saturated with water.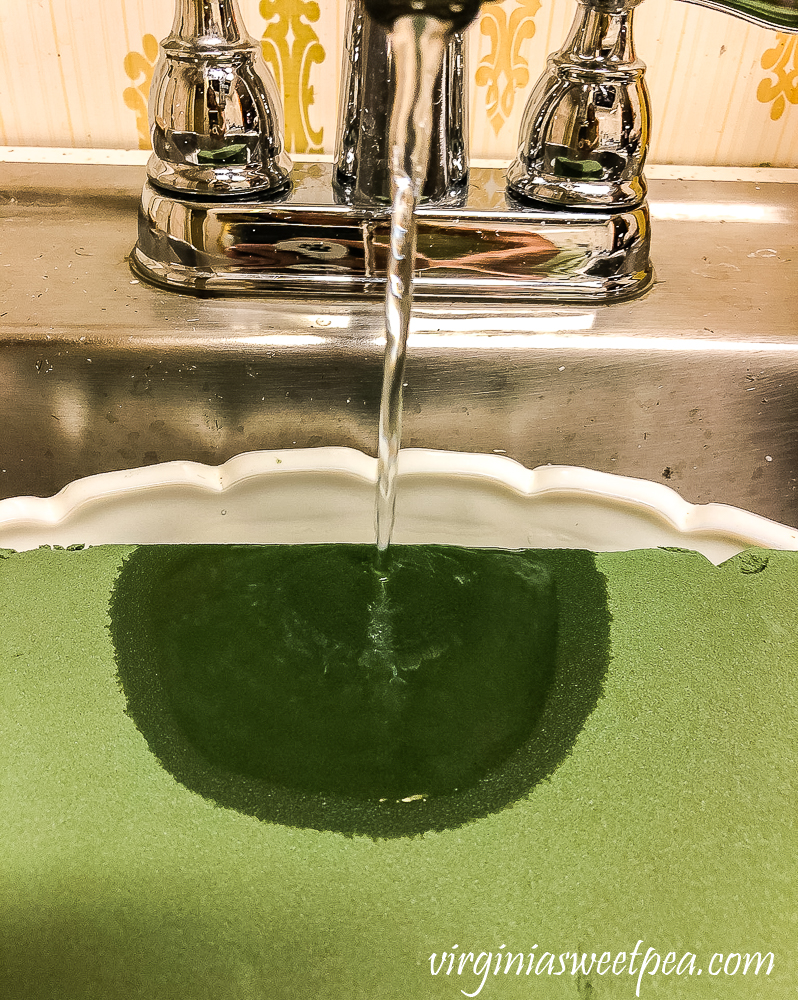 Did you see the groovy Harvest Gold and Avocado Green wallboard in my basement laundry room? This room desperately needs a makeover!
After the oasis is fully saturated, you are ready to start making the flower arrangement.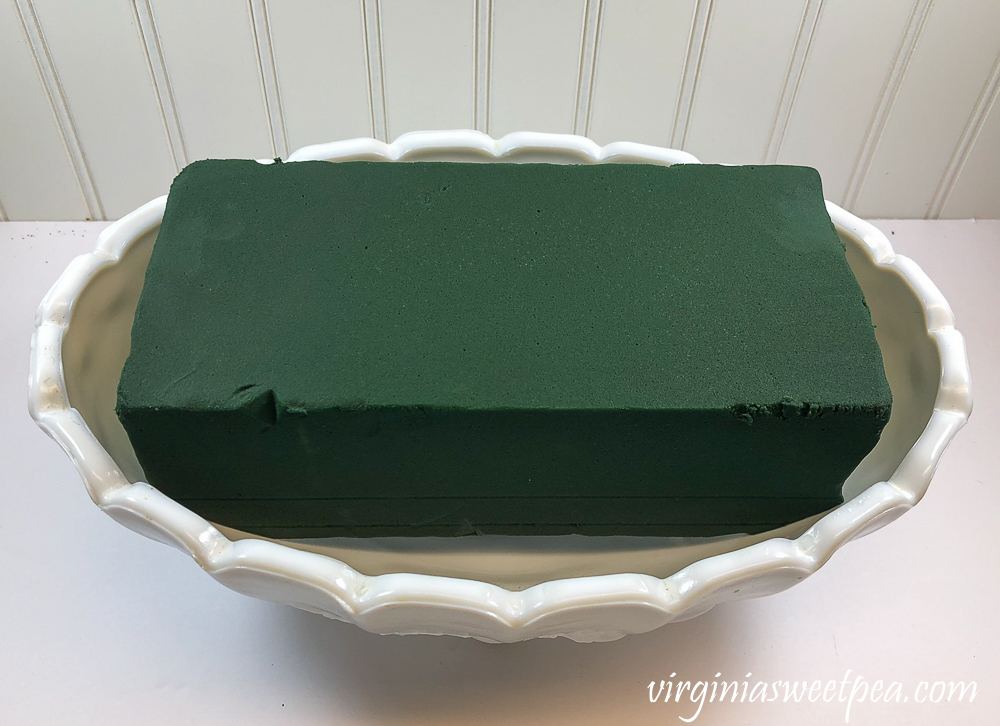 Use a Large Table for Flower Arranging
After my container was ready for flowers, I spread out my flower and lemons on my kitchen table.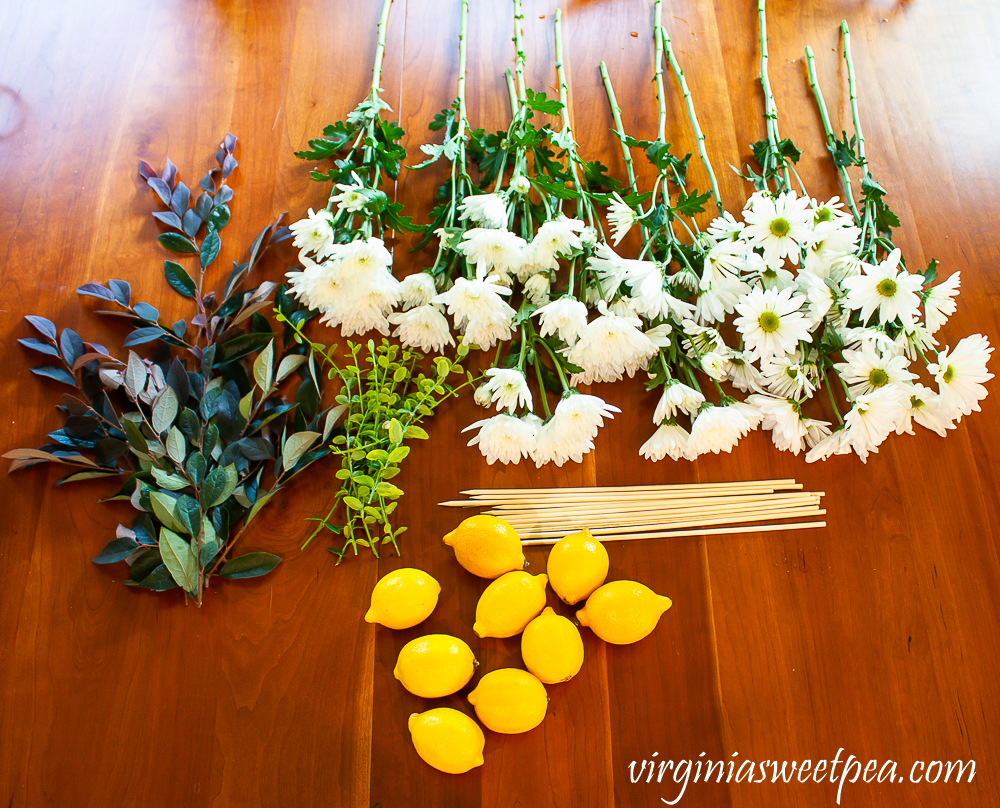 Mama always worked on the kitchen counter when she arranged flowers. A workbench would be another good spot for flower arranging.
A mess will be made, so have your compost bowl or trash can nearby.
Adding the Lemons
The first step in creating my arrangement was to add the lemons.
I loved how Mary lined her glass container with lemons and also included lemons on skewers in our inspiration picture.
Since my container isn't glass, I only added lemons to my arrangement.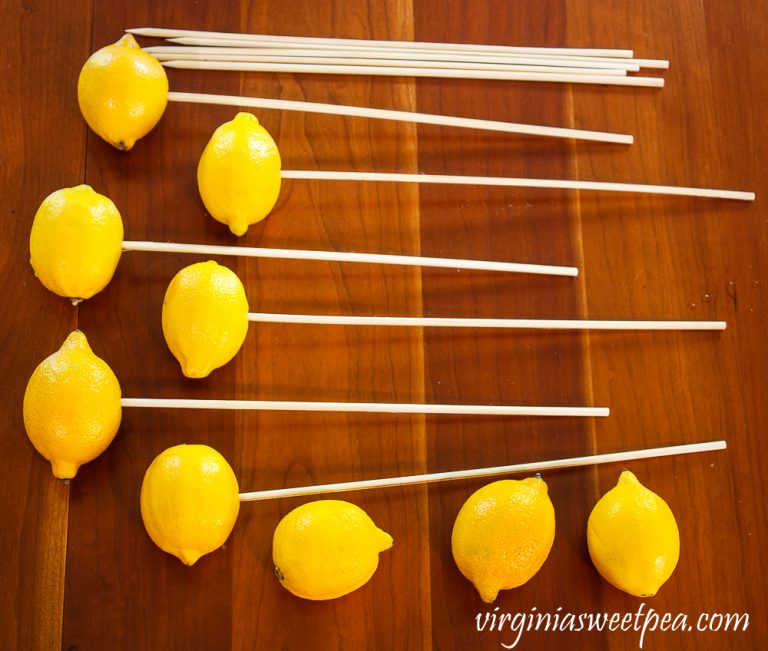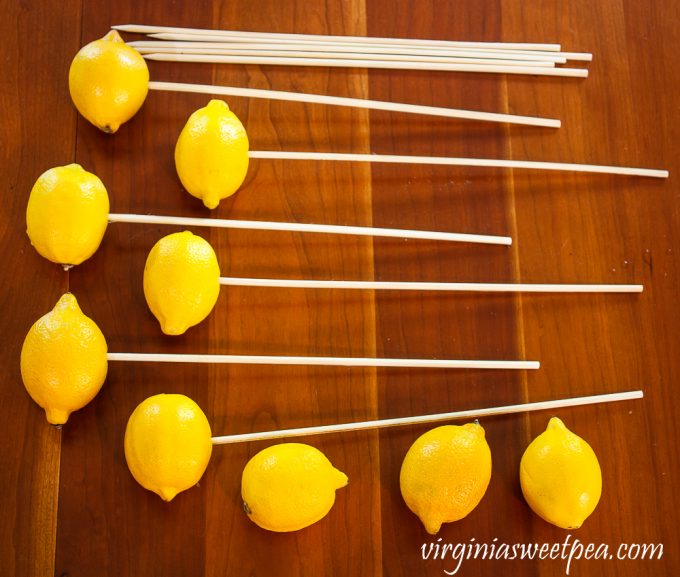 Each lemon was pieced with a skewer and then I used my clippers to shorten the skewer length.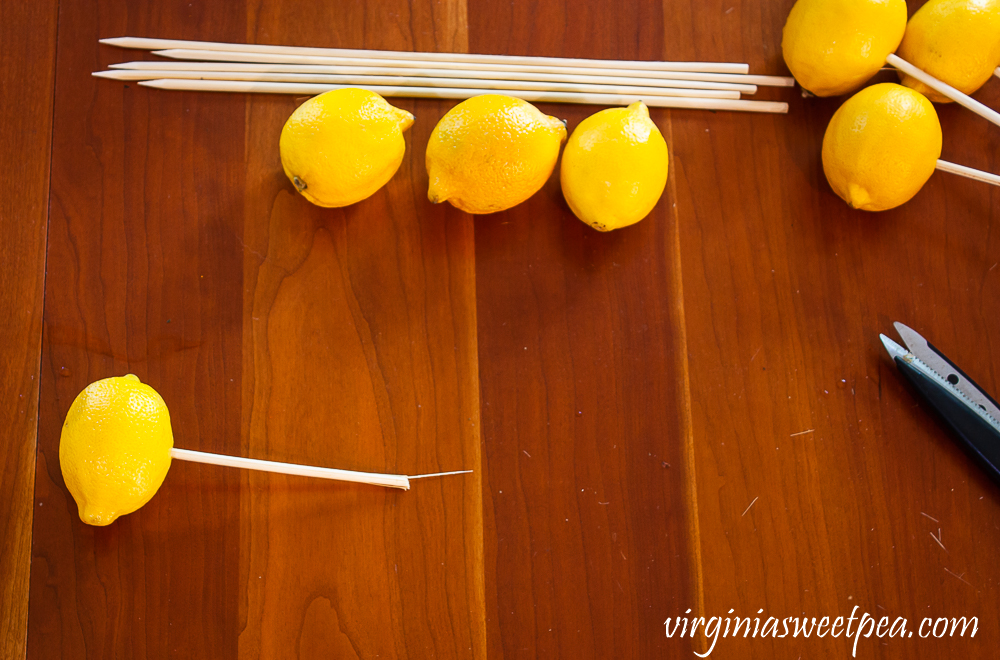 I then inserted the skewer into the oasis even distributing the lemons around the container.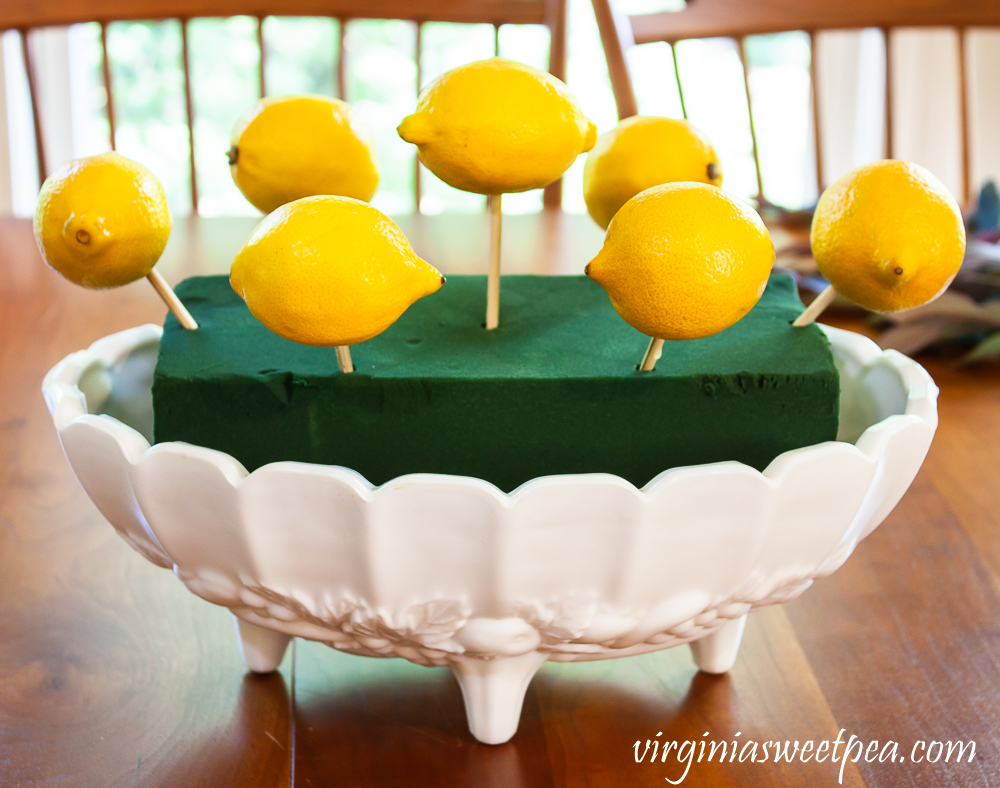 I purchased two varieties of mums from Kroger to use for this arrangement. I started by evenly distributing one type around the container.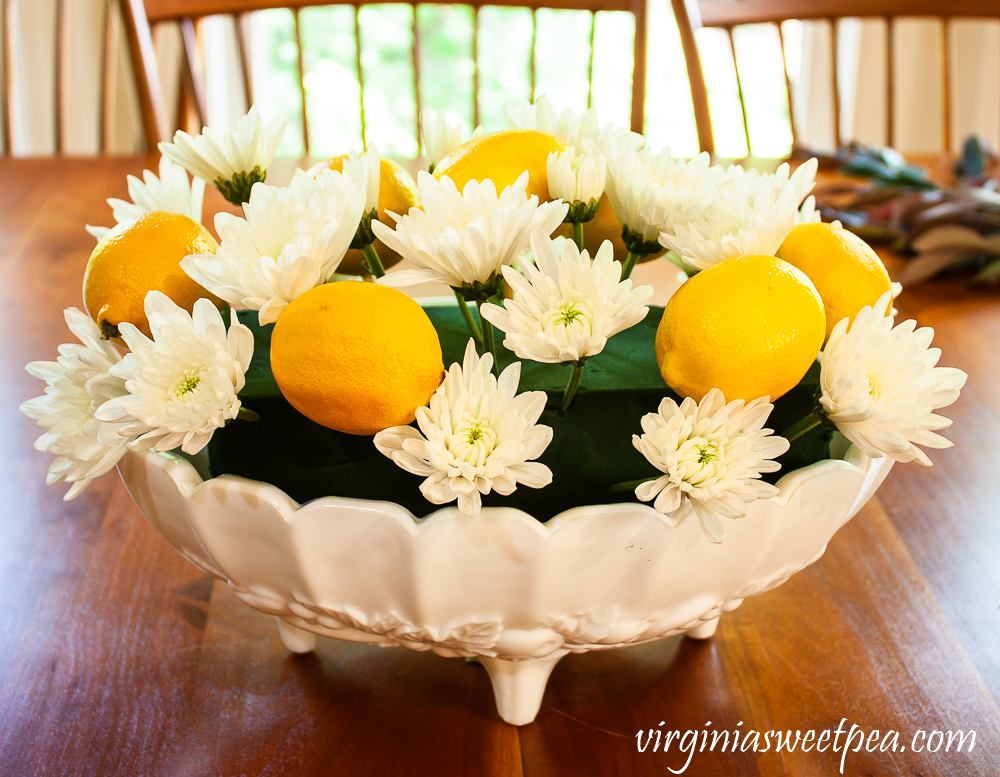 Apparently I was very focused on what I was doing as I forgot to take any more pictures as I added flowers to the arrangement.
What I did was add the second type of mum that looks a bit like a Daisy and then added more of the other mum variety.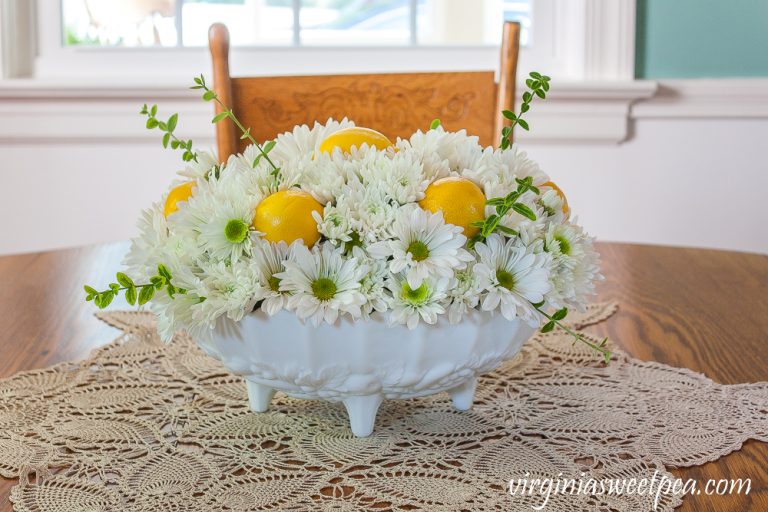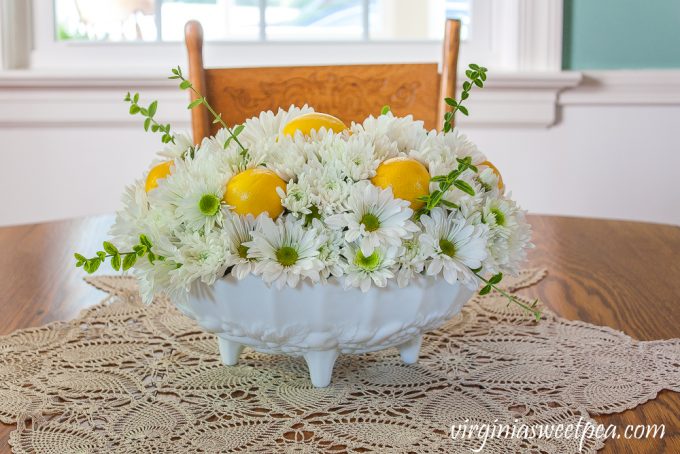 My last step was to add sprigs of greenery from my yard.
It's possible that a florist adds the greenery before the flowers. I'm not sure of the "correct" way to add greenery but this is how I did it.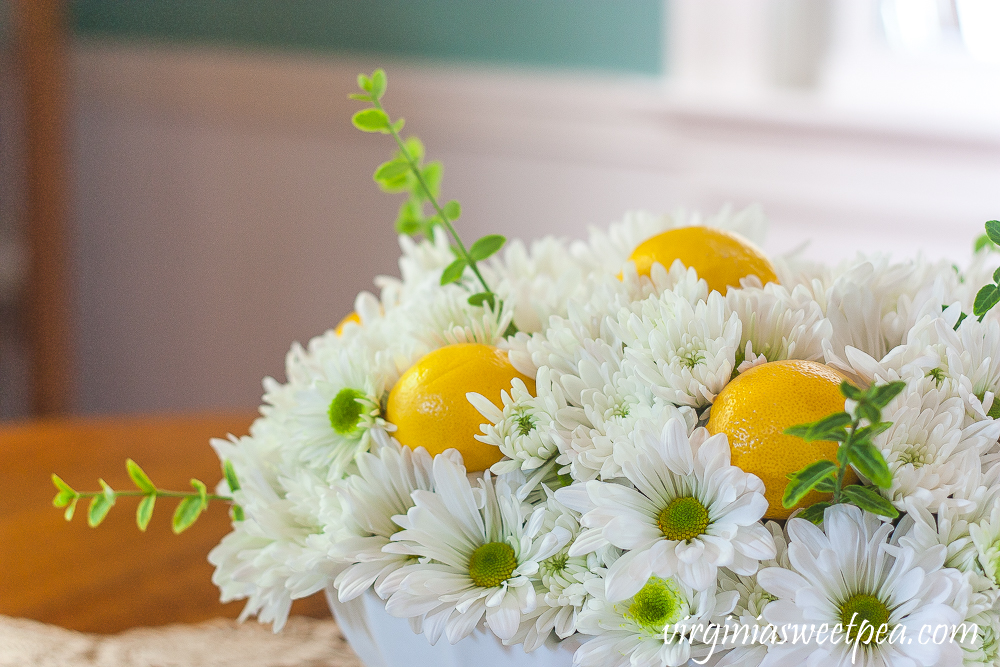 Seeing this pretty arrangement on my dining room table each time I pass through that room makes me so happy. It didn't take me long at all to make and it looks so pretty on on my table.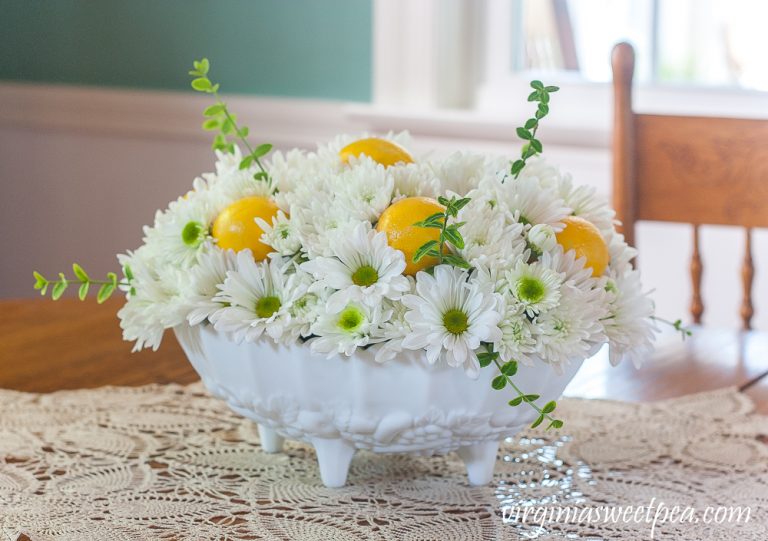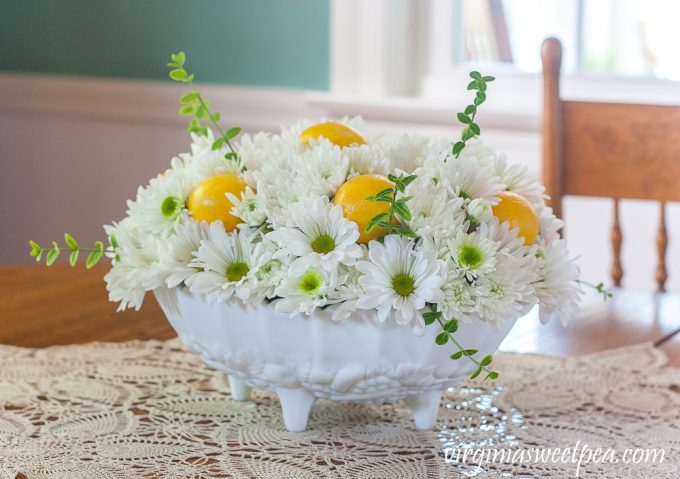 I do wish that I would have cut my skewers a bit longer as my flowers ended up covering a bit more of my lemons that I had planned for them to cover.
I tried pulling the skewers out a bit but they sank back to their original depth in the oasis.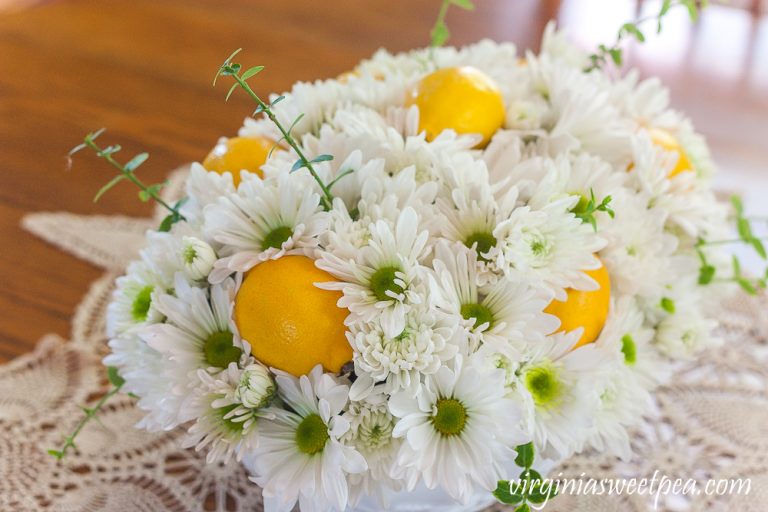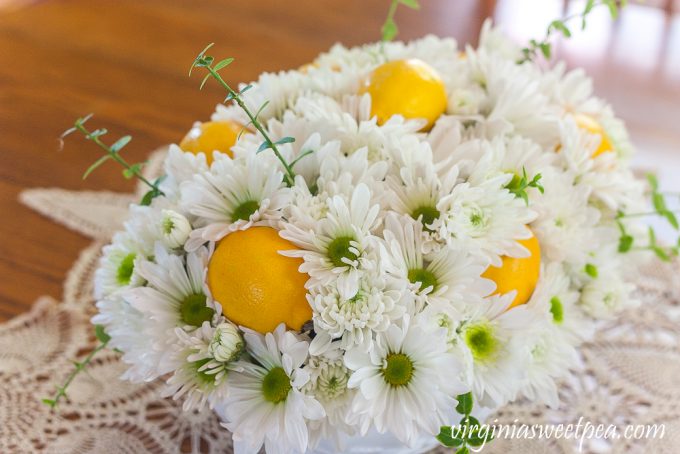 If you want an even easier way to make a flower arrangement, check out the arrangement of Zinnias that I shared last summer.
Next up is Kristin from White Arrows Home. Kristin lives on a lake in Wisconsin and is a fellow vintage lover. If you've never visited her blog, you should!
More Summer Floral Arrangments with Lemons to Enjoy
Many thanks to Cindy for organizing this fun monthly challenge!
Click on the links below to visit each blogger who is sharing their version of our floral design inspiration photo.