This post and photos may contain Amazon or other affiliate links. As an Amazon Associate I earn from qualifying purchases. If you purchase something through any link, I may receive a small commission at no extra charge to you. All opinions are my own.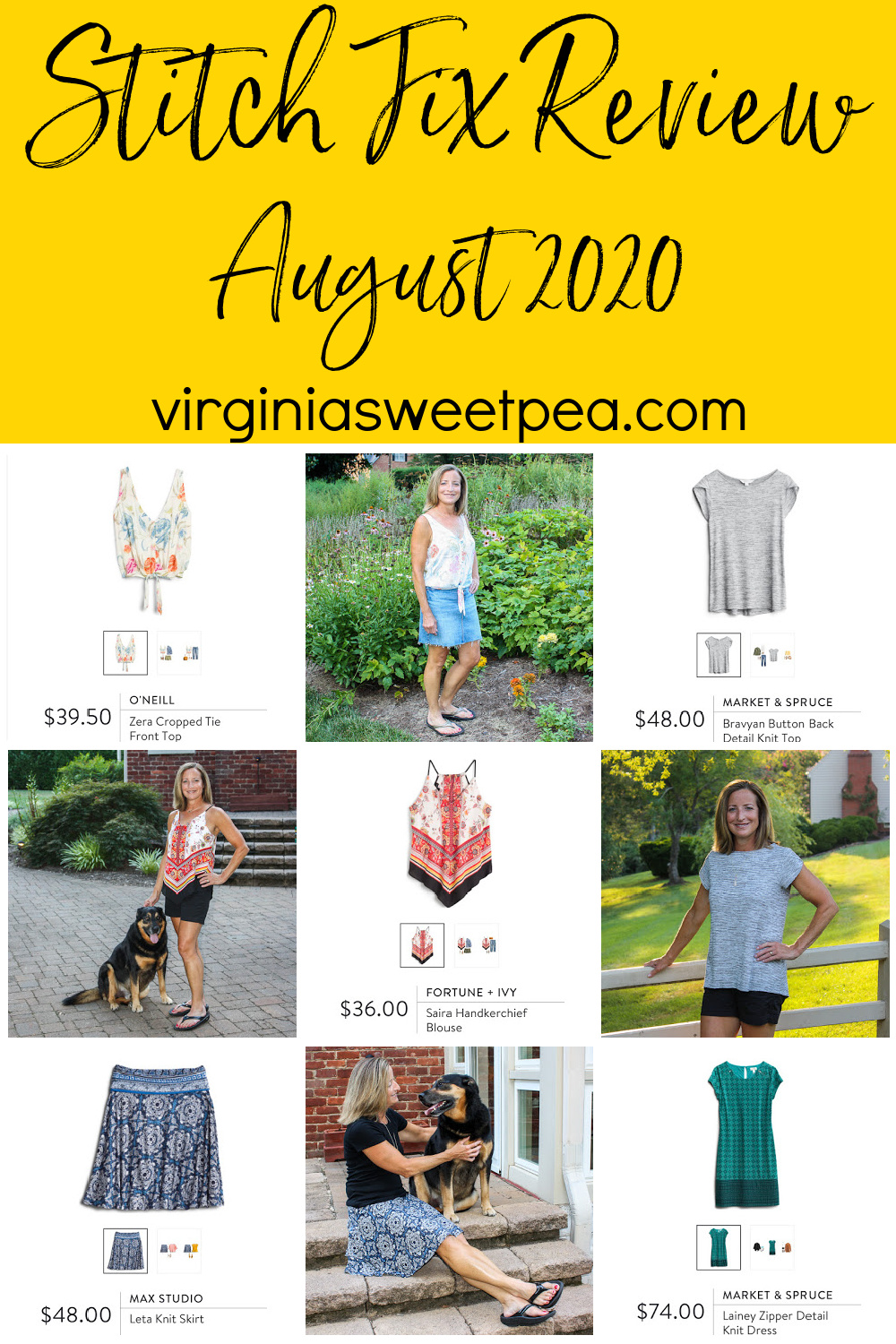 How can it already be August? My favorite season is summer and it is going by all too quickly. A new month means a new Stitch Fix review and this month I've got some great items to share with you.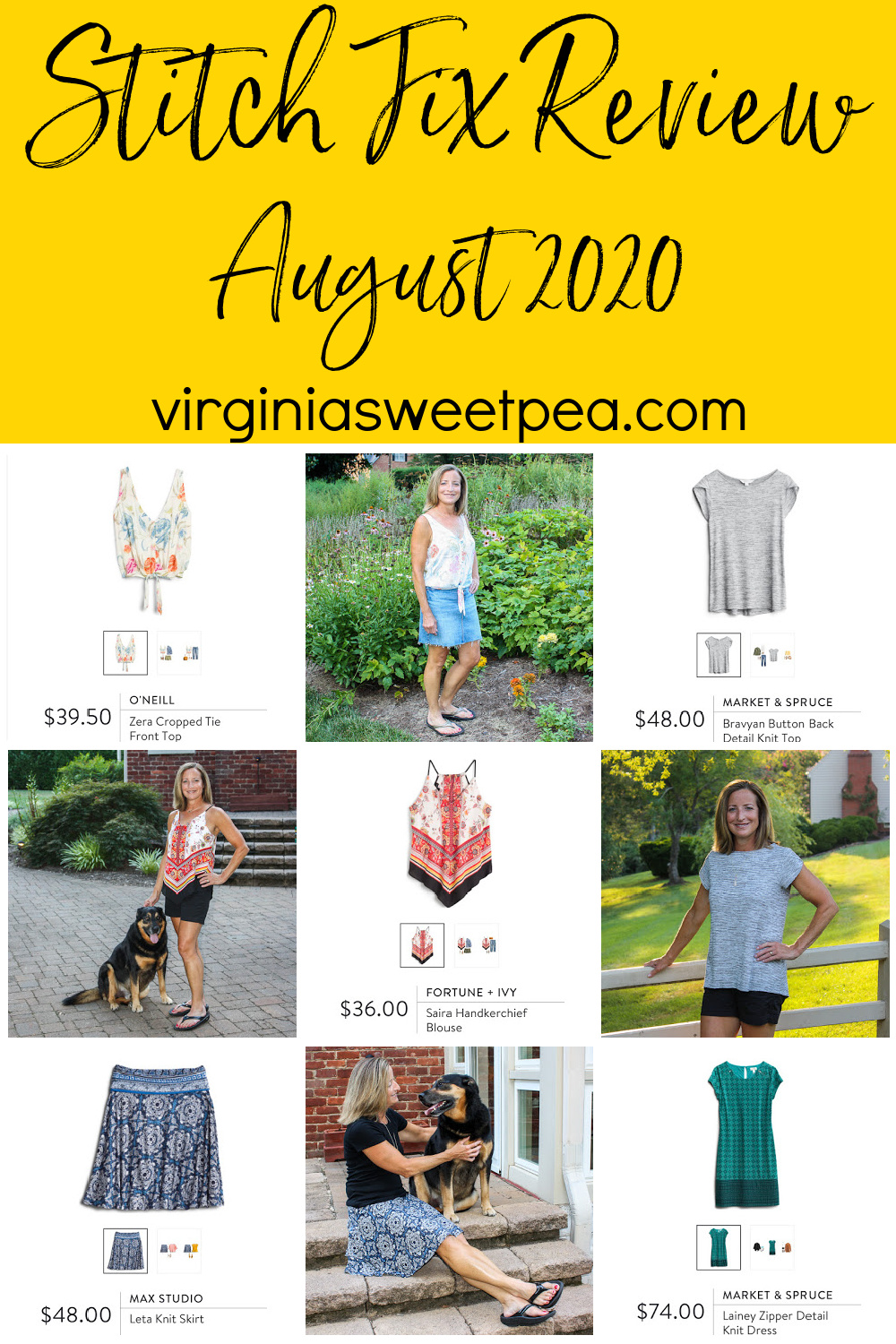 Before we jump into all things Stitch Fix, thank you to all of you who read my latest cancer news and prayed for me, sent good vibes, and left thoughtful comments on my blog post.
The gamma knife procedure went well and I'll find out how well it worked when I get my next brain MRI at the end of September.
Stitch Fix Review for August
If you are new to Stitch Fix, these details will help you to understand the service. If you want to try Stitch Fix, sign up here to get $25 off your first box.
Stitch Fix Details
Stitch Fix is a personal styling service. When you sign up for Stitch Fix, you fill out a detailed style profile that helps your stylist know your likes and dislikes.
When a Fix arrives, you have three days to try the clothes on and to decide what to keep and what to send back. Stitch Fix includes a postage-paid envelope making returns super easy.
When you sign up for Stitch Fix, you can choose how often a box is delivered. You can pick monthly options or schedule a box when you'd like to receive one. I do not like shopping and love receiving clothing from Stitch Fix. I get clothes that I like without having to do any work other than pinning things that I like to my fashion board on Pinterest. My stylist checks my Pinterest board for inspiration and also reads my note to her each month to see if I have any special requests.
You can find links to all of my Fixes here and also be sure to check out my Stitch Fix Review Board on Pinterest where I pin my favorite looks.
If you love DIY, home decor, crafts, and recipes, you'll want to subscribe to Sweet Pea so that you never miss a post. It's free and the best way to follow along with my blog. You'll also get access to my members-only free printable library.
This Month's Stitch Fix Items
For this month's Stitch Fix box, I asked Brittany to send summer tops and a dress.
Like always, Brittany did a great job of selecting items for me to try.
Fortune + Ivy Saira Handkerchief Blouse
We'll start with my favorite item in this month's Fix, the Fortune + Ivy Saira Handkerchief Blouse.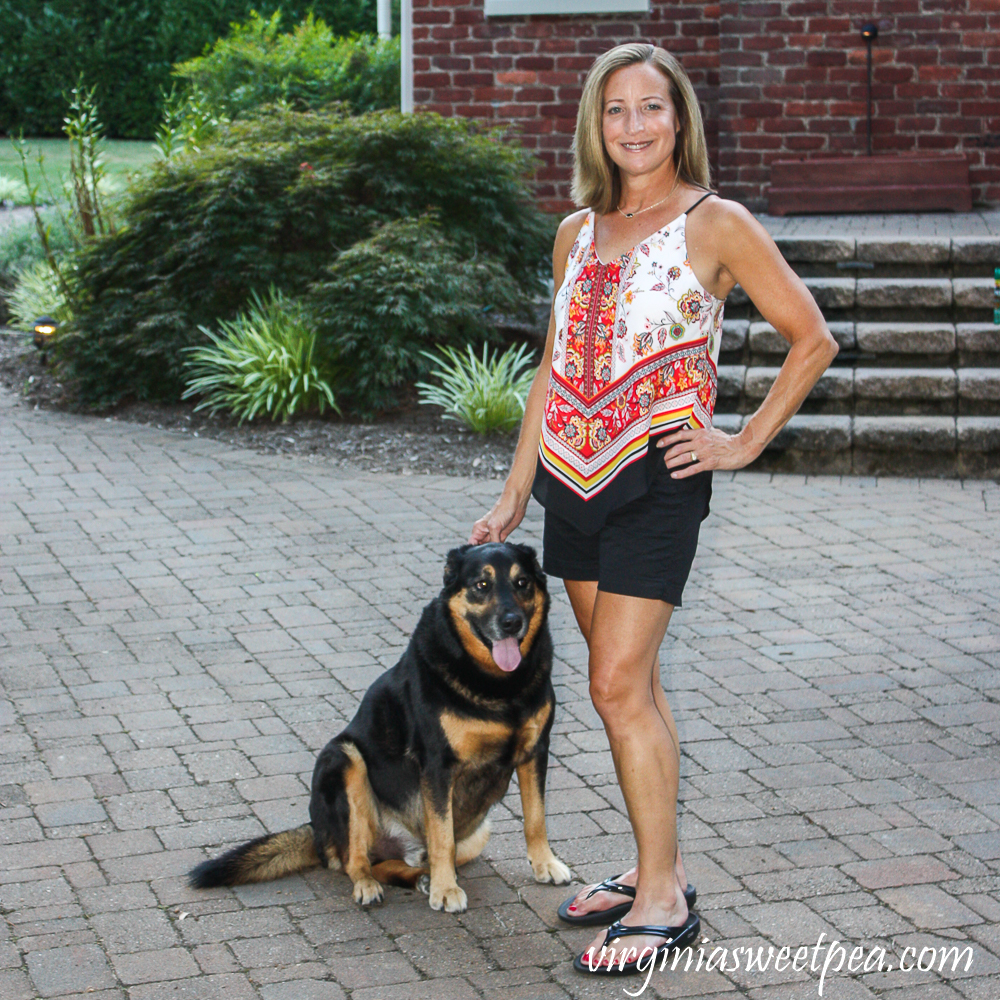 August is super hot in Virginia and this sleeveless top will be perfect to wear for the scorching days that we experience into September.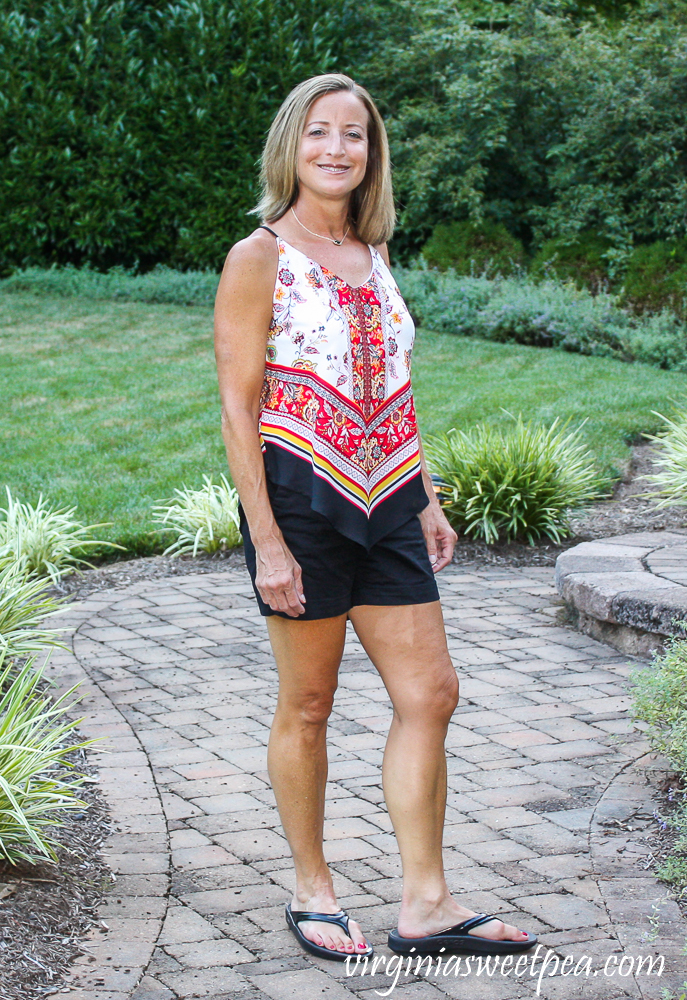 I love the bold colors of this blouse and its unique handkerchief design with a point on the hemline in both the front and the back.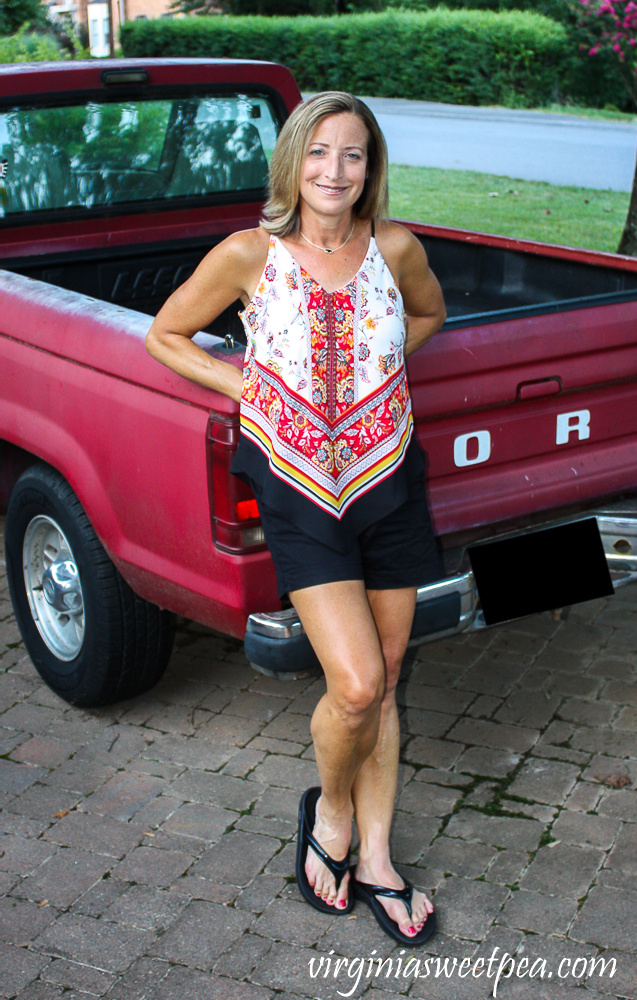 I paired this blouse with Old Navy shorts and my favorite OOFOS flip-flops, the most comfortable shoe I have ever worn.
My necklace is Kendra Scott from Rocksbox.
Rocksbox is a jewelry subscription service that sends three pieces of jewelry that you can wear for as long as you like each month. When you send your three pieces back, or buy what you like, a new box is sent. If you'd like a free month of Rocksbox, sign up with this code: PAULABFF54.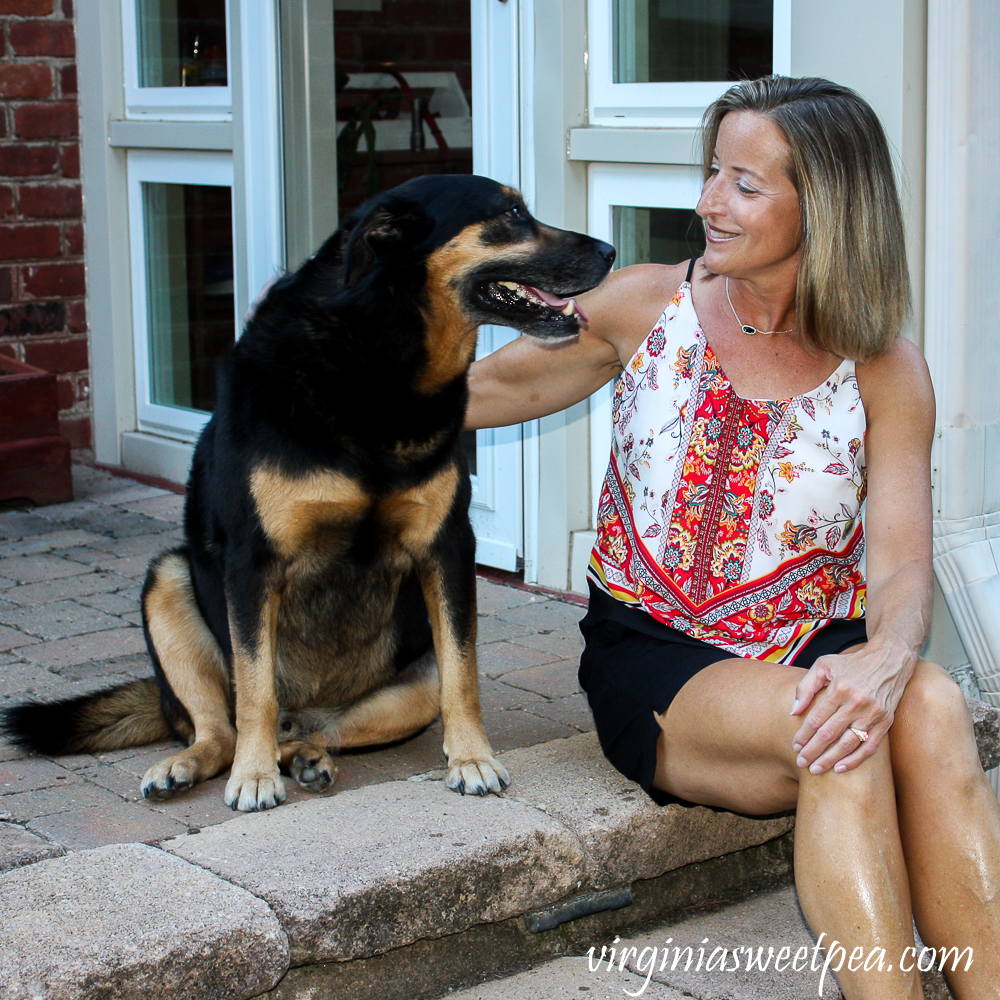 Sherman agreed that this blouse was a keeper.
Market & Spruce Bravyan Button Back Detail Knit Top
The next item that I tried was the Market & Spruce Bravyan Button Back Detail Knit Top.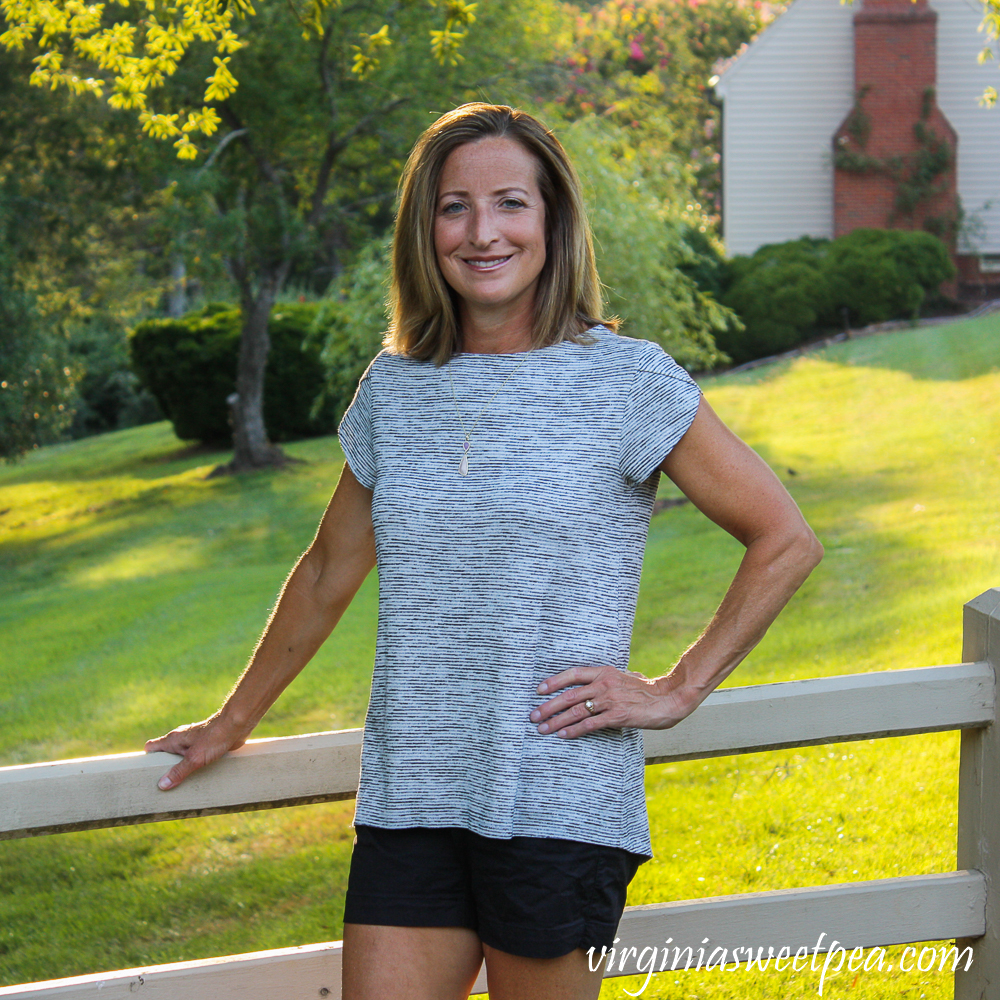 This top is super soft and I really liked the detail on the sleeves.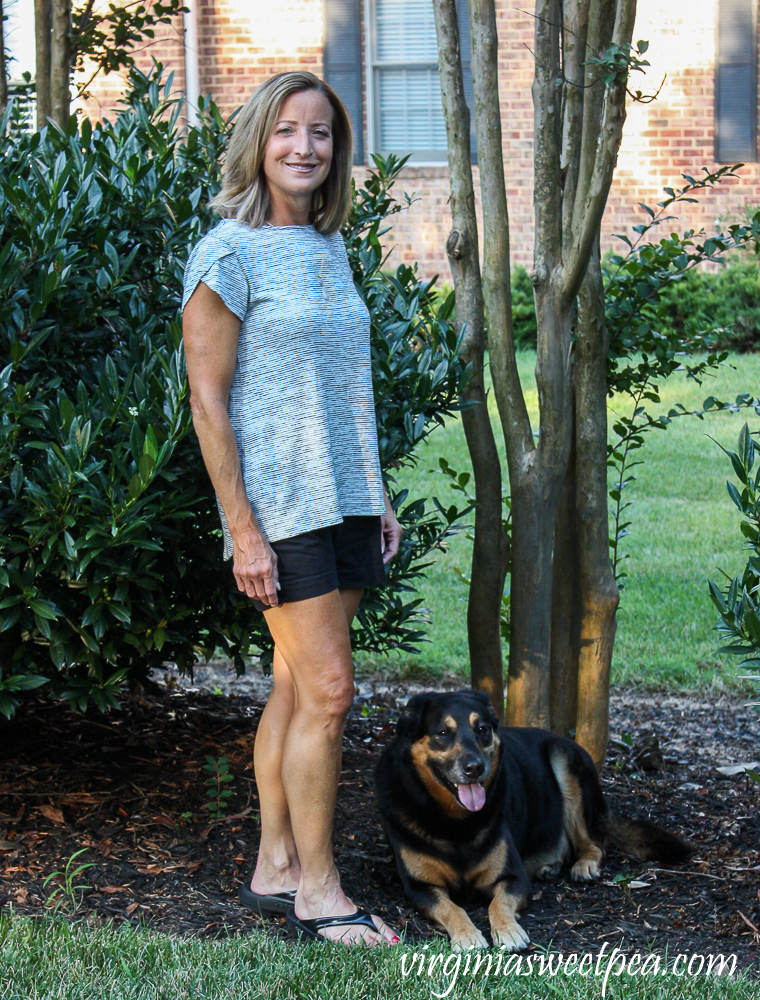 It also has a cute back feature with buttons extending from the neck to hemline.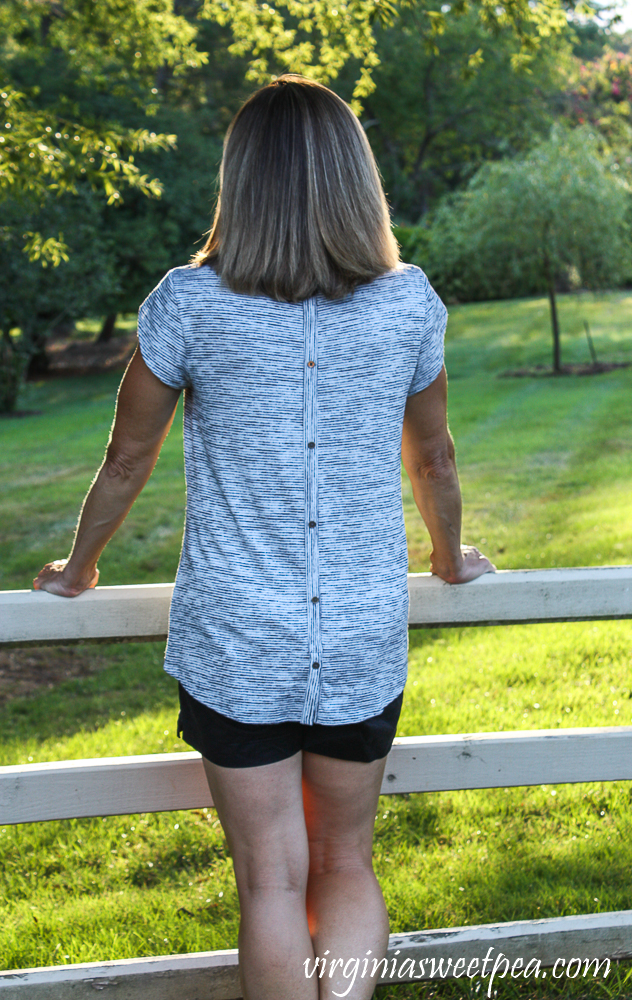 The Beautyberry behind me is loaded with tiny fruits. I don't want to rush the season, but it's going to be so pretty in a month or two.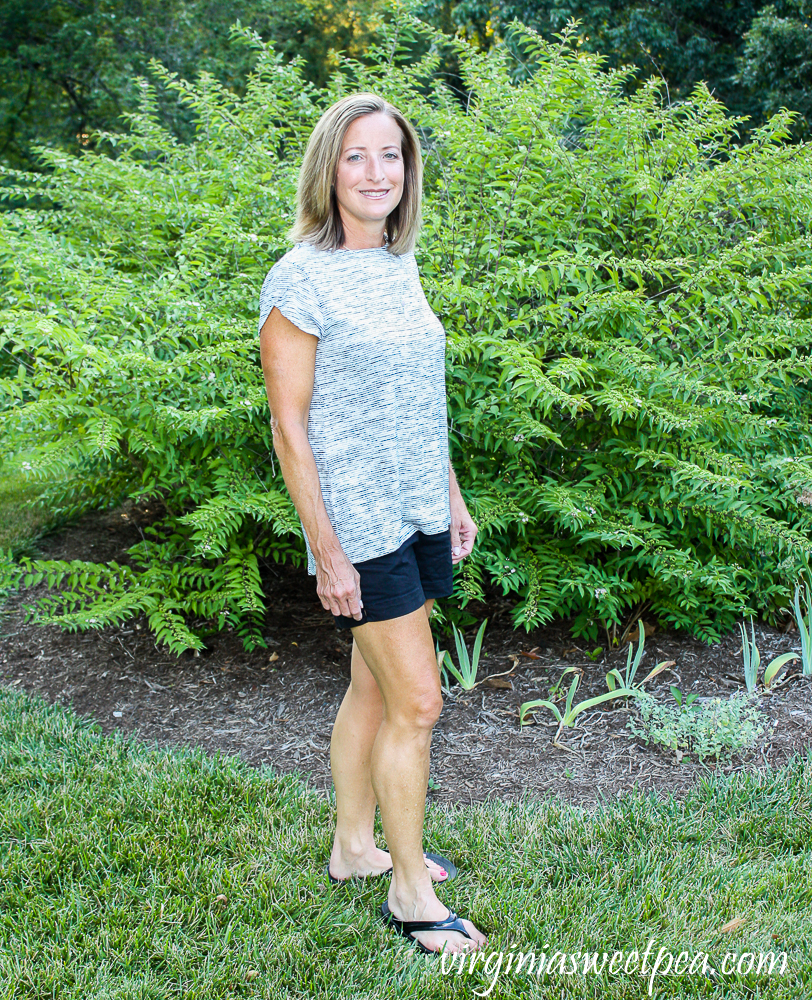 This top was too soft and comfortable not to keep. It will be great to wear through fall with jeans or other pants.
O'Neill Zera Cropped Tie Front Top
When I saw that a cropped top was headed my way, I was a little leery about how cropped it may be.
When I tried on the O'Neill Zera Cropped Tie Front Top, I was happy to find that it wasn't overly cropped.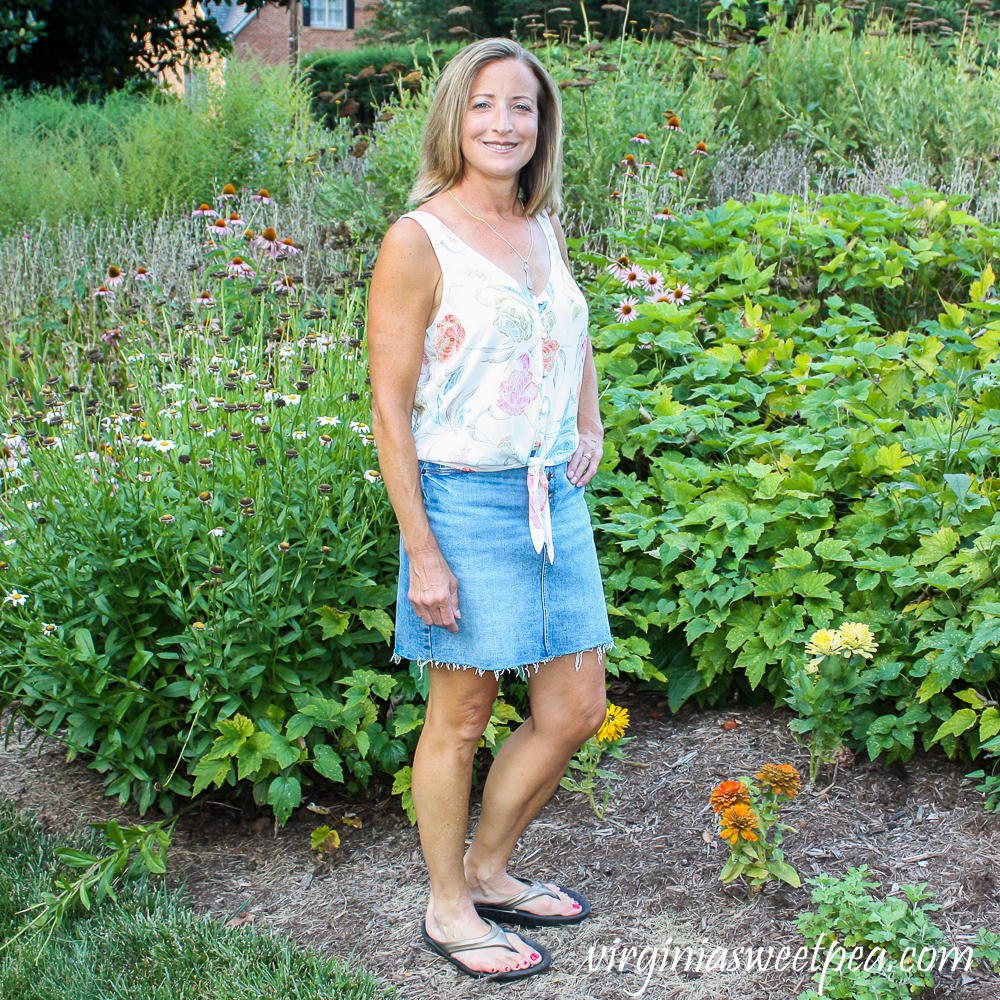 I loved this blouse's tie-front and the pretty floral pattern.
I paired it with an Old Navy skirt, OOFOS in latte, and another Rocksbox necklace.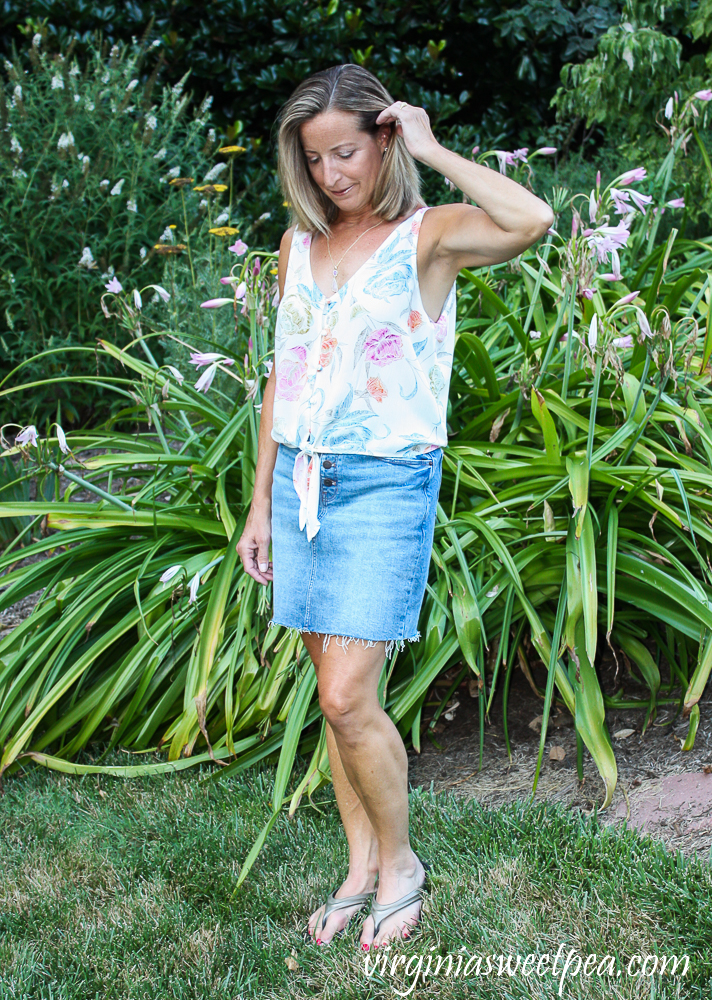 The beautiful blooms behind me are Crinums.
Check out what they looked like when I first planted them and get more information on Crinums here.
Max Studio Leta Knit Skirt
The next item I tried was the Max Studio Leta Knit Skirt.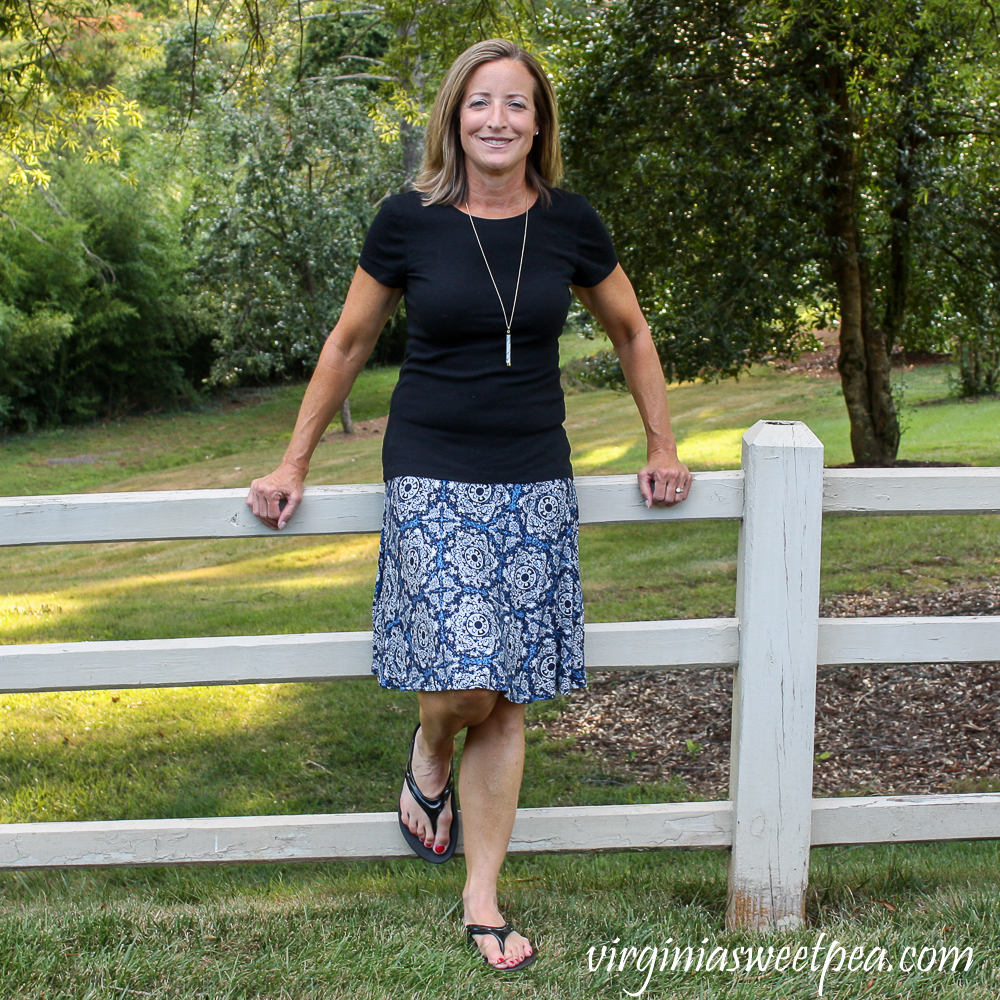 This skirt was super soft, stretchy, and couldn't have been more comfortable.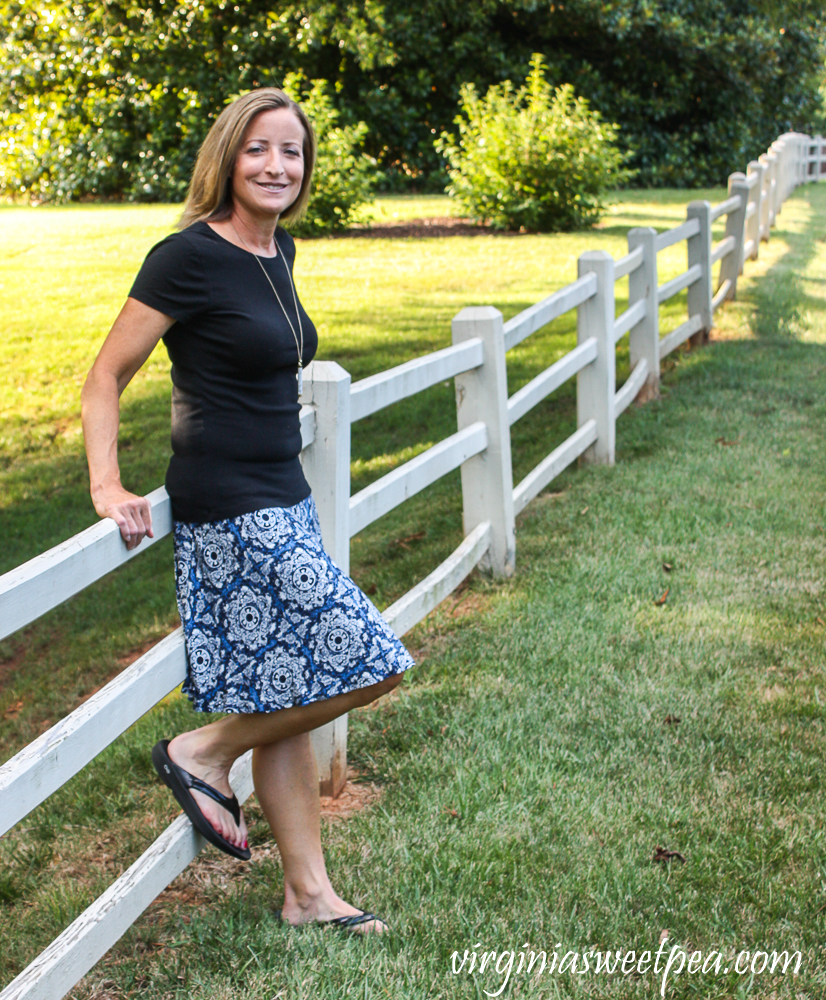 I paired it with a black tee, OOFOS, and a Rocksbox necklace.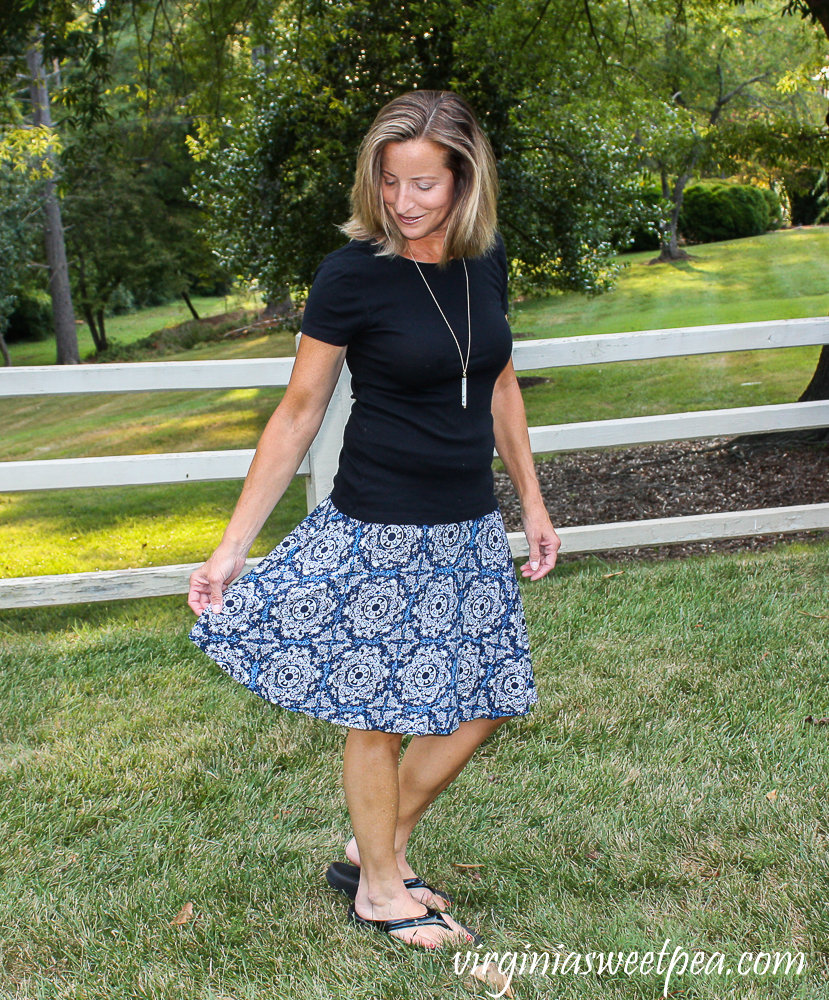 If I were still teaching, I definitely would have kept this skirt.
I decided not to keep it because I knew that with my casual lifestyle, it wouldn't get worn very often.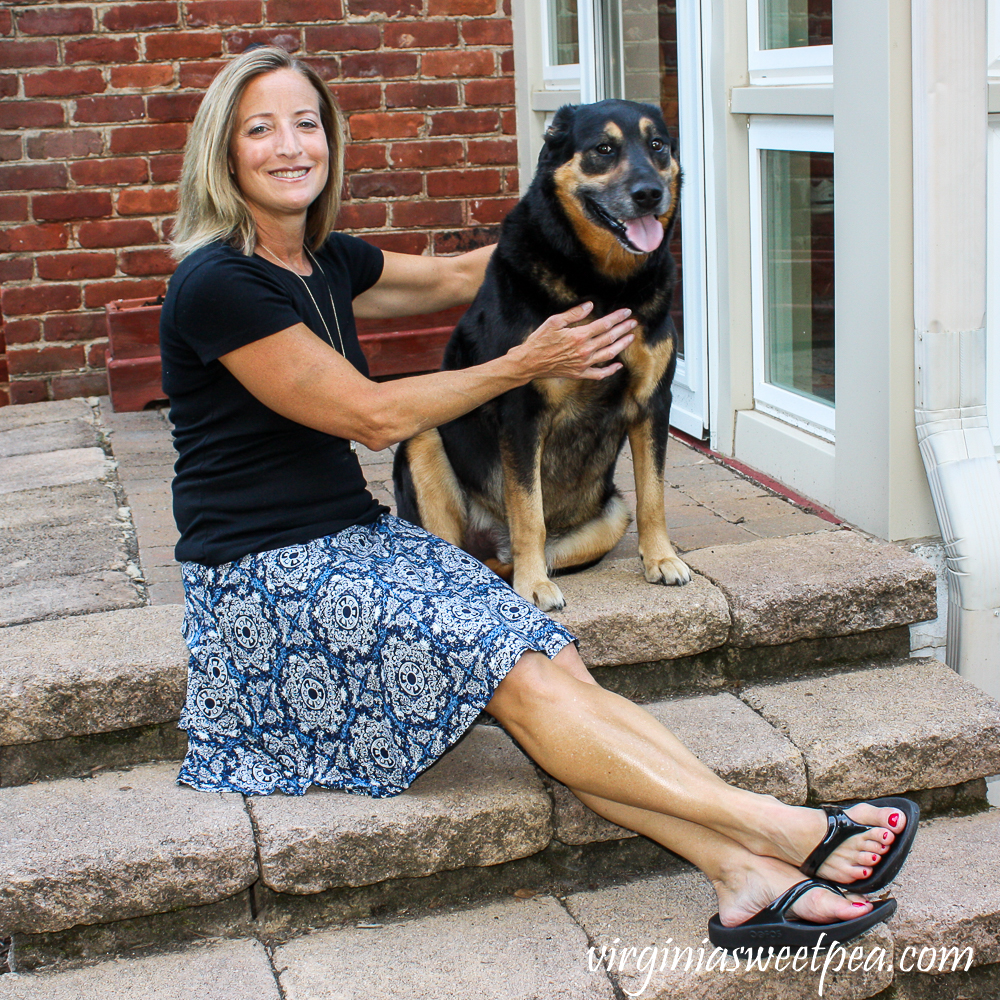 Anytime Sherman sits with me, a kissing session is involved. He's going in to give me a big old kiss here.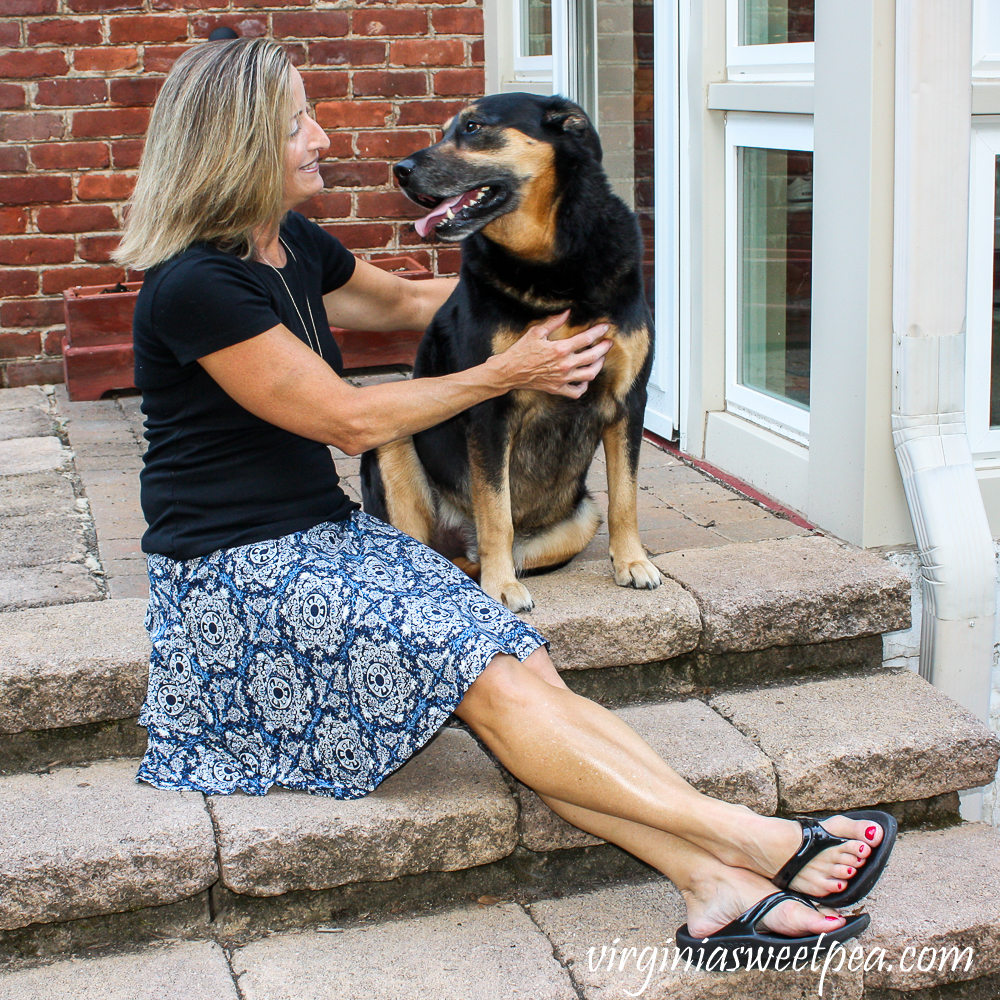 Market & Spruce Lainey Zipper Detail Knit Dress
The last item I tried was this beautiful Market & Spruce Lainey Zipper Detail Knit Dress.
This dress is exactly my style and I loved everything about it, especially the unique zipper detail on the shoulder area. You have to look closely to even notice it.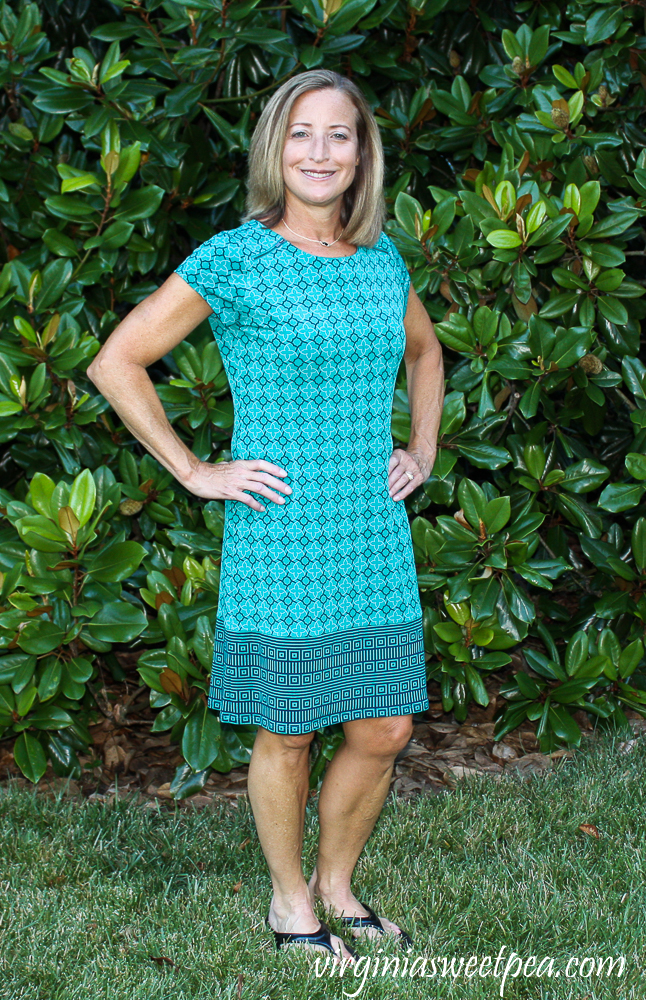 This dress was super soft, a bit stretchy, and I loved both its color and pattern.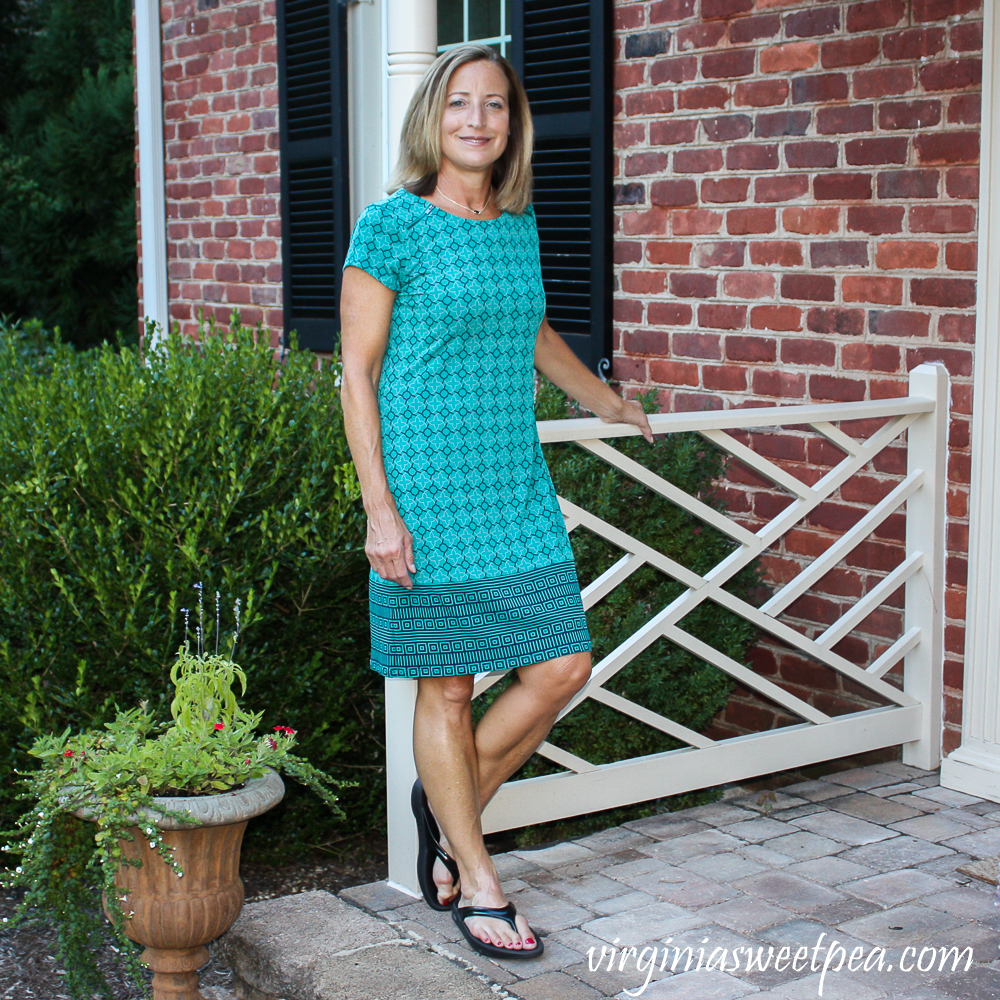 If I were still teaching, I would have kept this for sure. I may regret sending this one back!
In Summary
Fortune + Ivy Saira Handkerchief Blouse – $36 – Keep
Market & Spruce Bravyan Button Back Detail Knit Top – $48 – Keep
O'Neill Zera Cropped Tie Front Top – $39.50 – Return
Max Studio Leta Knit Skirt – $48 – Return
Market & Spruce Lainey Zipper Detail Knit Dress – $74 – Return
Try Stitch Fix for Free!
I love receiving each Stitch Fix box and really enjoy getting cute clothes without having to shop for them. If you've been thinking about trying Stitch Fix, I encourage you to do so. If you sign up using my referral link, you'll get $25 off your first box. That means that your styling fee will be taken care of and you'll have $5 credit toward anything that you want to keep. If you don't like your items, you've lost no money. Why not try Stitch Fix risk-free?