DIY Hanging Floral Display for Spring
Now that Easter is over, I'm moving on to decorating for spring minus the eggs, chicks, and bunnies. For my sun porch wall, I made a DIY Hanging Floral Display for Spring that I'll be able to enjoy through summer.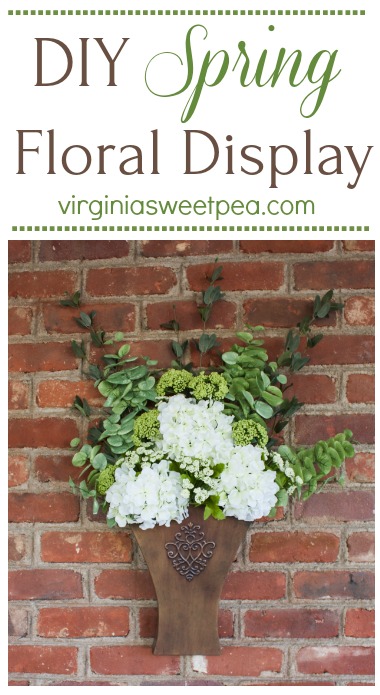 Today's floral display is a Pinterest challenge that I'm sharing along with a group of blogging friends. This is a monthly Pinterest challenge hosted by Cindy from County Road 407. Each month Cindy picks a picture from Pinterest and challenges our group to recreate the look. You may remember last month's challenge, creating an Easter Centerpiece and Table.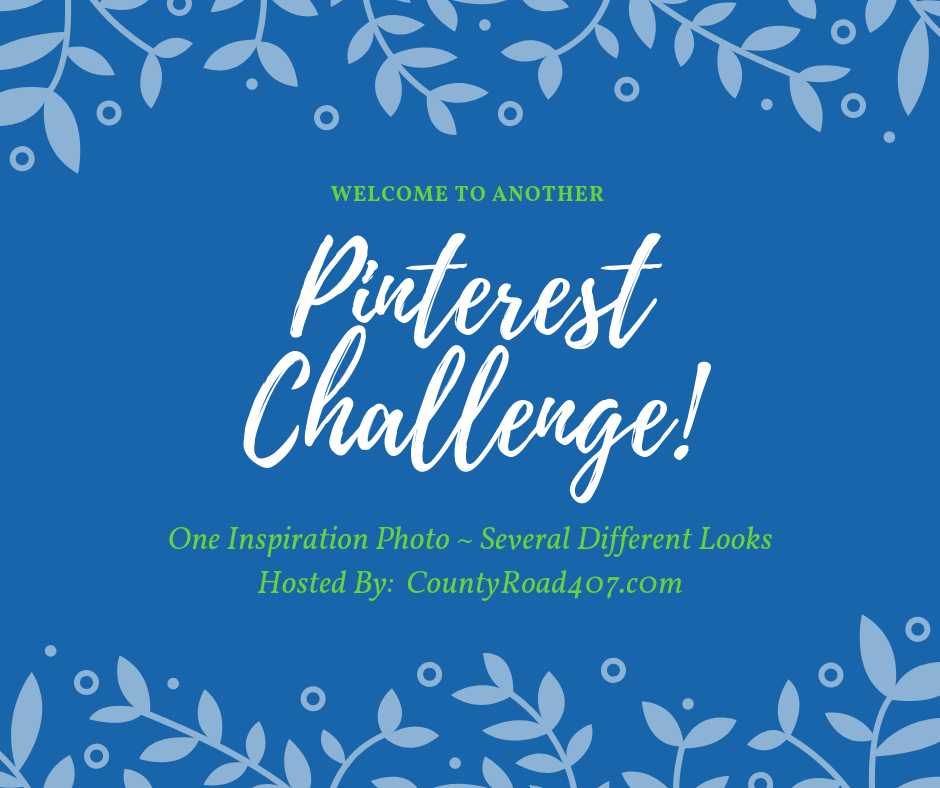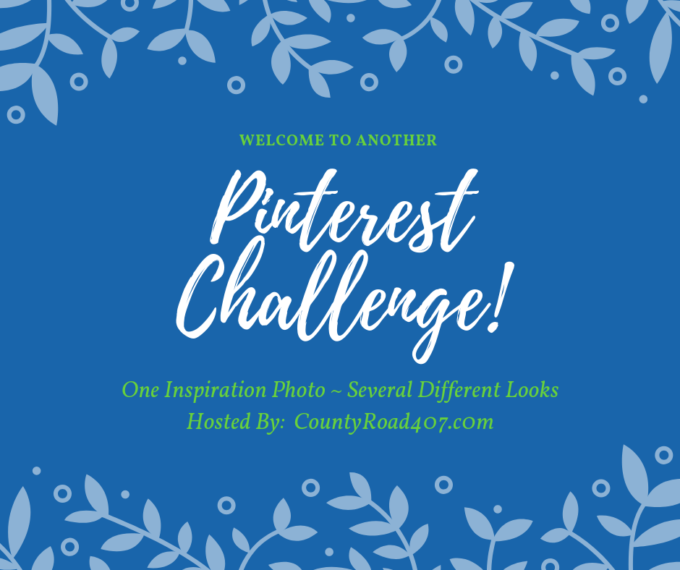 Many thanks to Cindy for hosting this challenge for for providing this month's inspiration picture.
This month we were challenged with this door decor from Tracy's Trinkets and Treasures .
If you are coming here from Stilettos and Shiplap, welcome! I am sure that you enjoyed seeing Tara's version of our inspiration picture. You'll find a list of all of the participating bloggers at the end of this post. I'm looking forward to seeing how everyone recreated this look.
Our Inspiration for this Challenge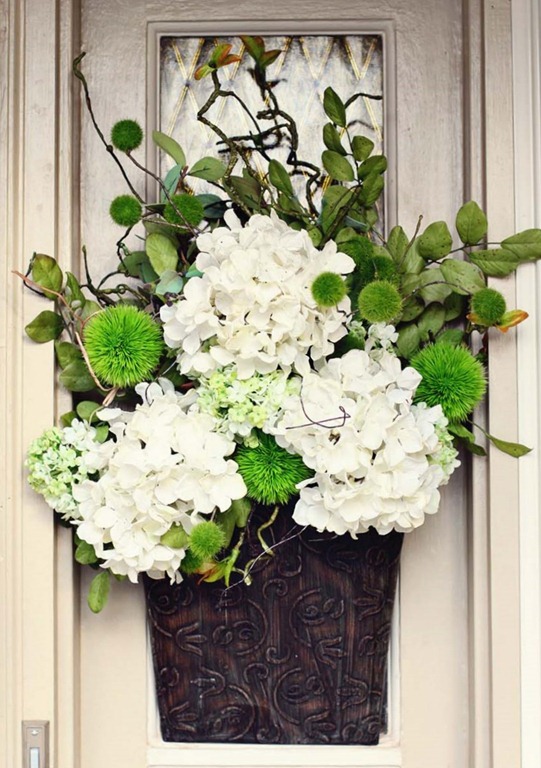 Isn't this a pretty arrangement? I love making wreath for my front door and to hang on my porch, so I couldn't wait to get started on this challenge. I started by thinking about what I already had to complete the challenge and what I needed to purchase.
I already had a metal door basket, floral foam, and wire cutters. After inspecting my floral supplies in my stash, I realized that I would need to buy all of the florals necessary to complete this project.
DIY Floral Display for Spring
This is my version of the Pinterest inspiration photo. I used the same basic design with three Hydrangeas and a green and white color palette.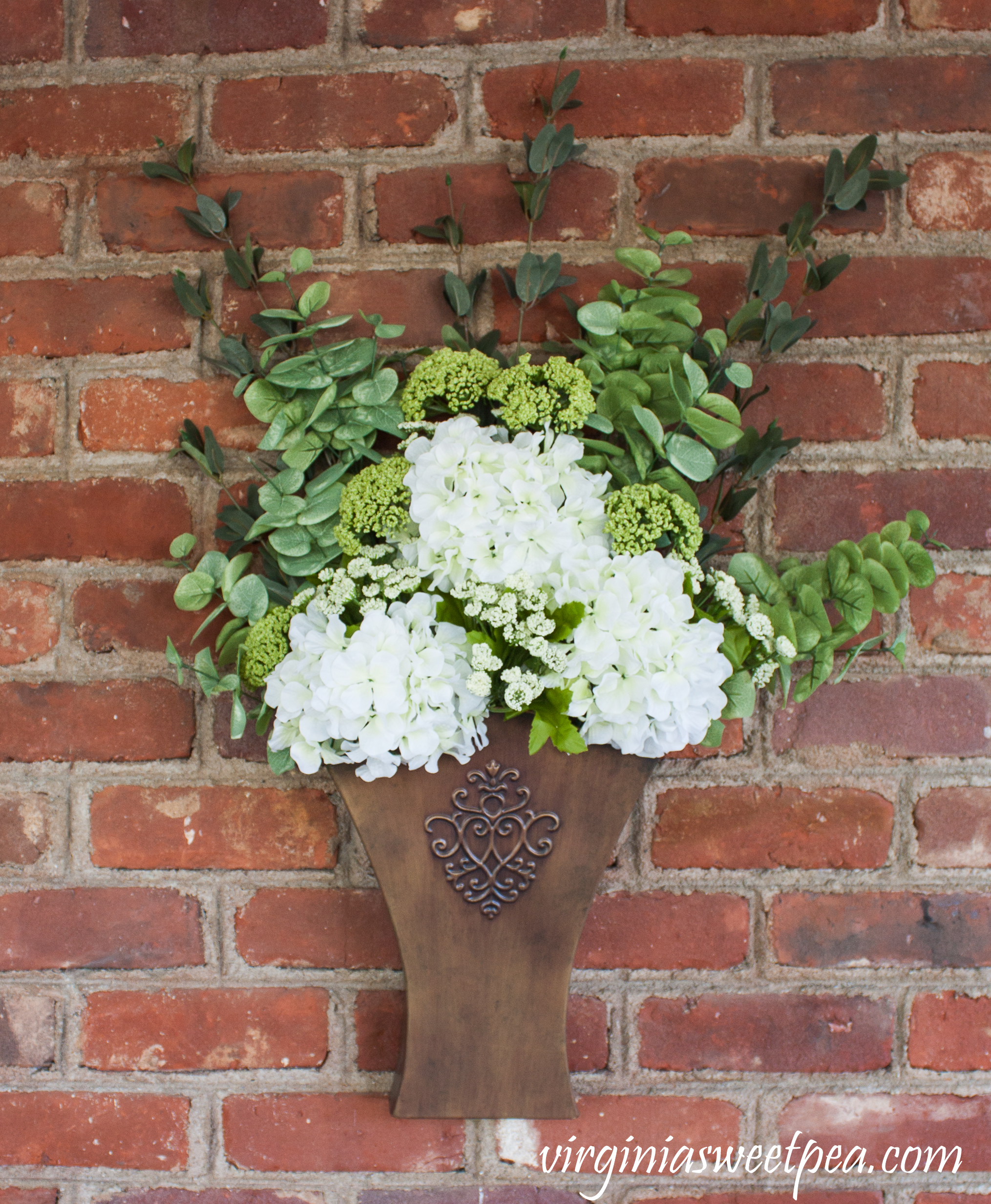 My original intention was to use this floral display on my front door, but I had trouble hanging it from the chain attached to the bucket on the 3M hanger already attached to the glass on our door without it hanging too high. When I realized that it wouldn't work well on my front door, I moved it to our enclosed porch and it worked perfectly there.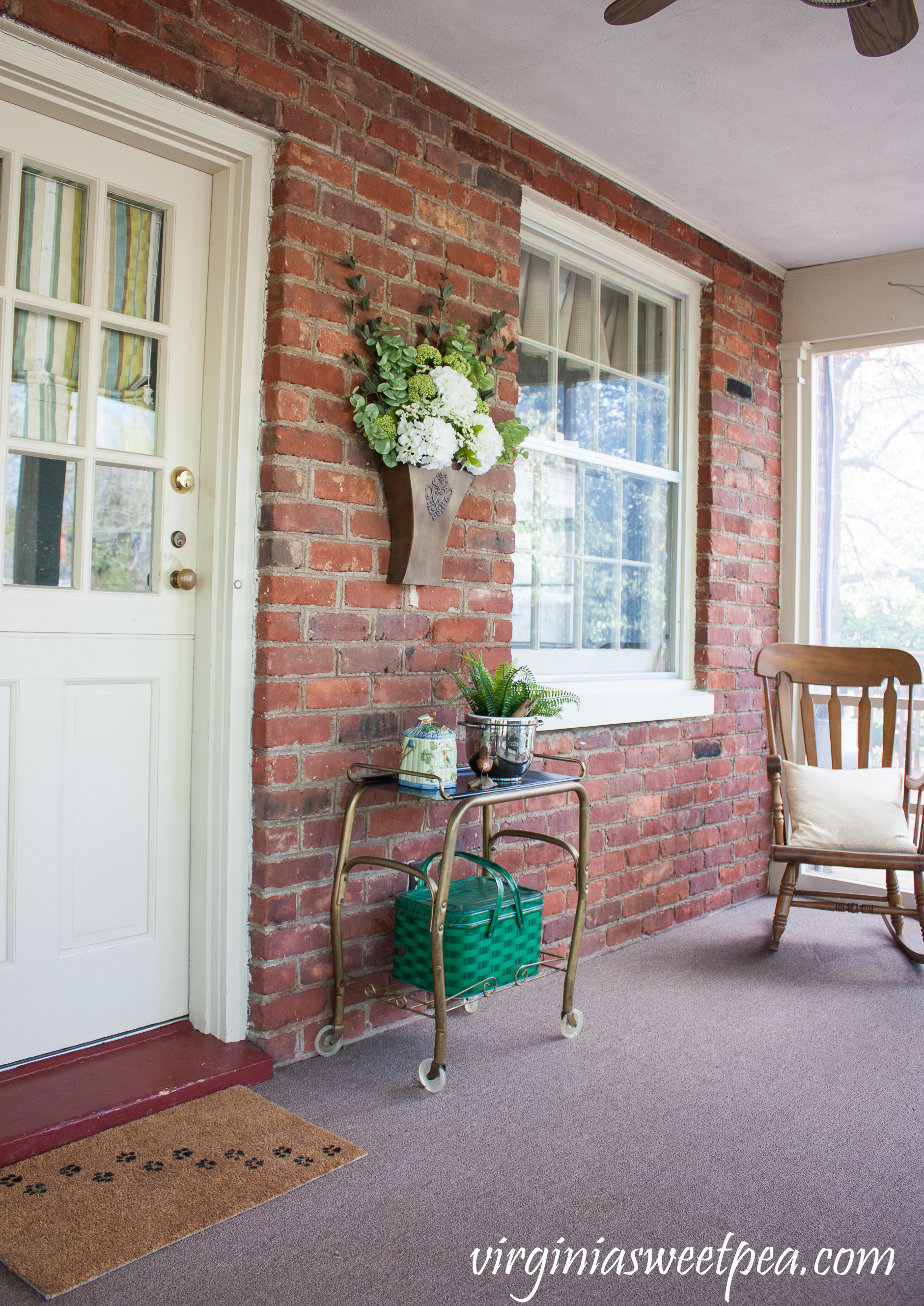 We use our porch as the main entrance to our house, so this floral arrangement is hanging in a spot where I will enjoy it multiple times a day. It's also visible from the street and neighbors that walk by our home will be able to enjoy it as well.
Did you notice that we have a Dutch door? I see them in magazines from time to time but rarely in a home of someone I know.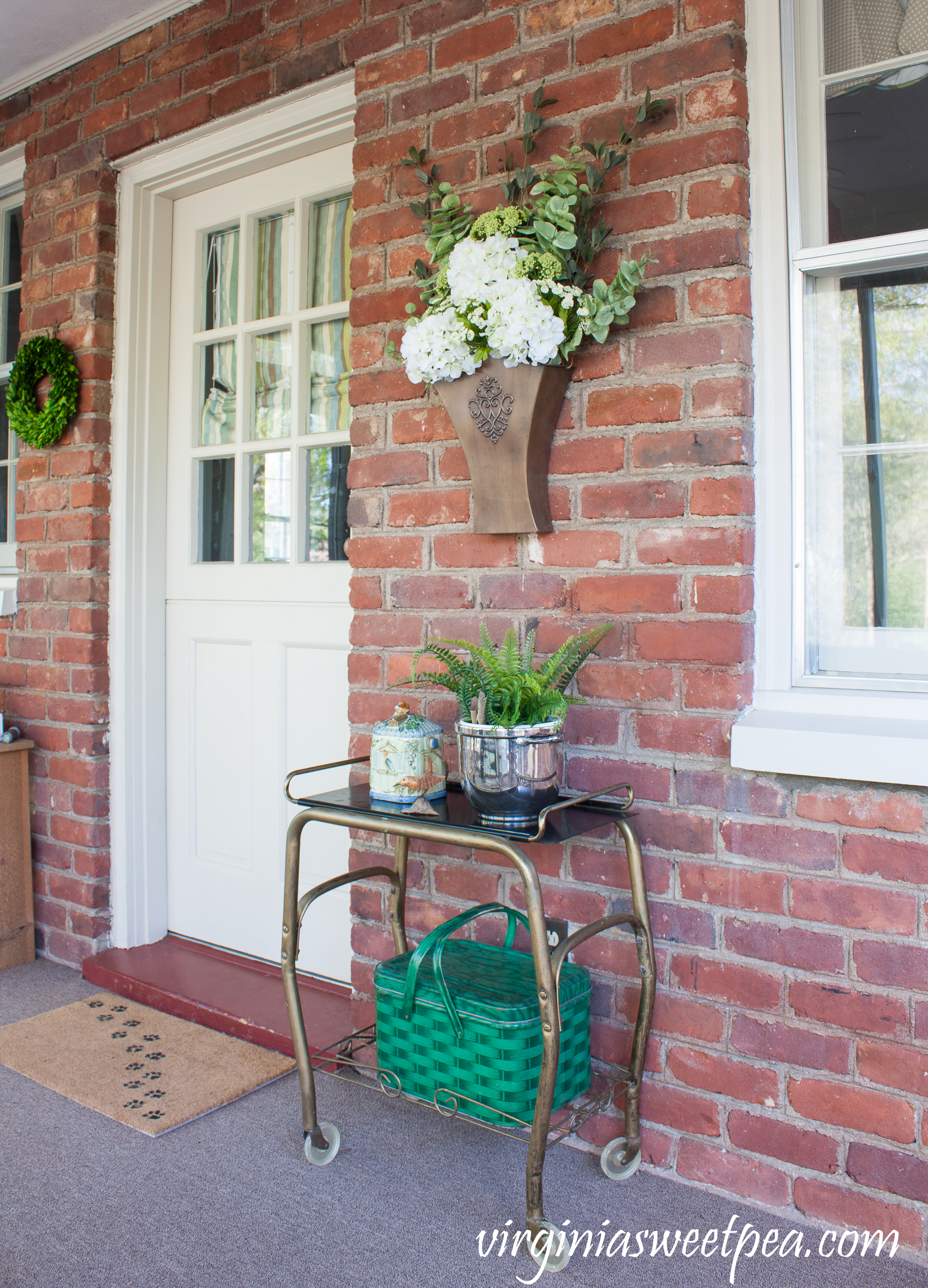 The cart beside our door is a great place for a seasonal display. For spring I'm using a lidded bird container and hand carved bird that were my grandmother's, an Ikea fern in a vintage engraved ice bucket, and a metal picnic basket that belonged to my former teaching assistant's aunt. You can see how it was decorated for Easter here.
The doormat is from Ikea. When I saw those paw prints, I knew in a flash that I was buying this. I bought the green wreath to use on the mirror over our fireplace for my early spring mantel and have since moved it to the porch.
I really like how this floral display looks hanging on our brick porch wall.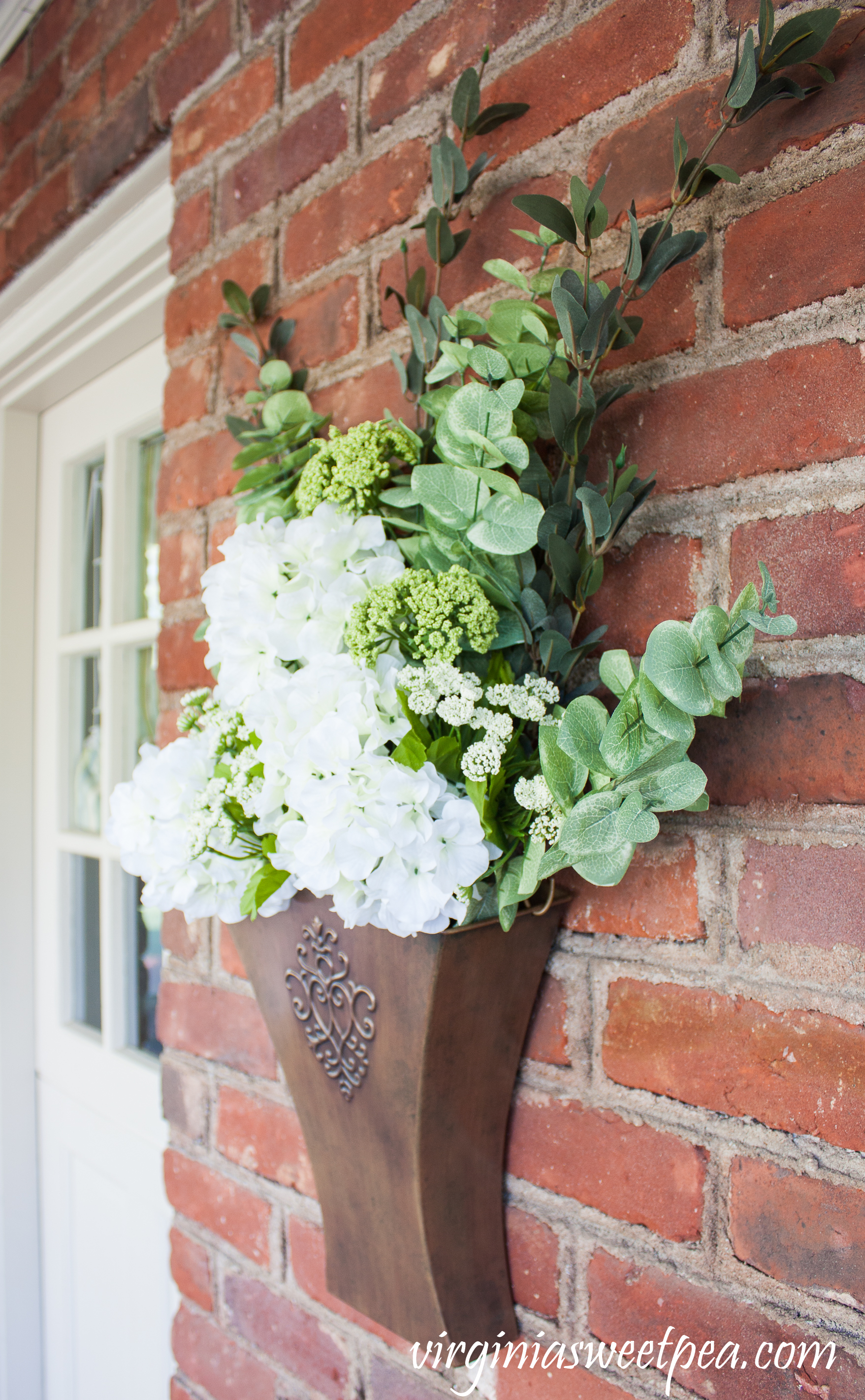 How to Make a Hanging Floral Display for Spring
As I made the floral display, I took pictures of the stages so that you can copy this look for your home. I used a Southern Living at Home door basket that I purchased years ago. I found a brand new one just like mine on Ebay if you like this look. I purchased all of the florals for this project at Michaels. Not pictured is floral foam.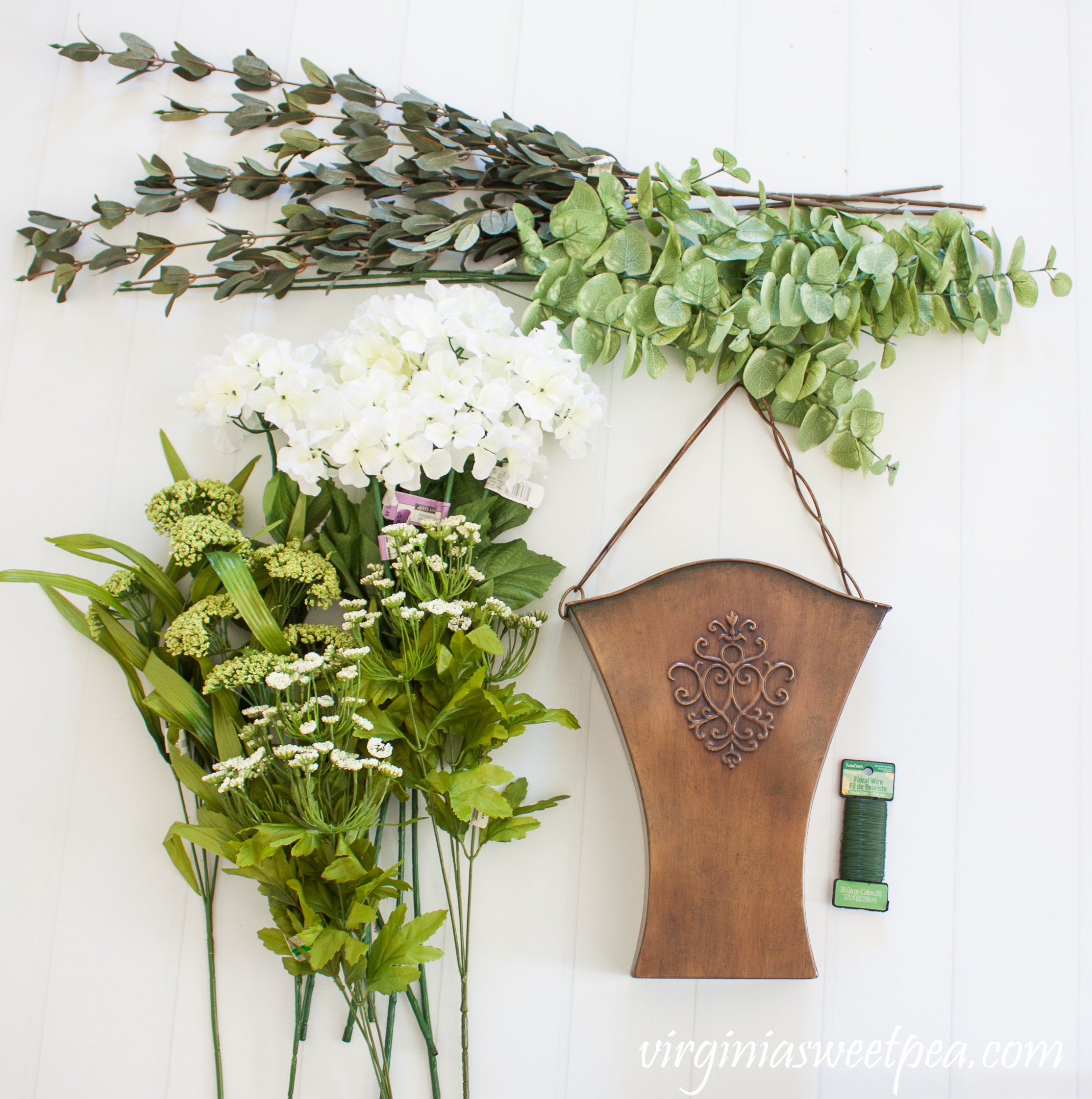 Step One – Add floral foam to Container
Use a serrated knife to cut floral foam to fit the wall basket. When my door basket was new, I made a summer arrangement that I've used on my porch ever since. I pulled the summer stems out of the floral foam and was able to reuse it.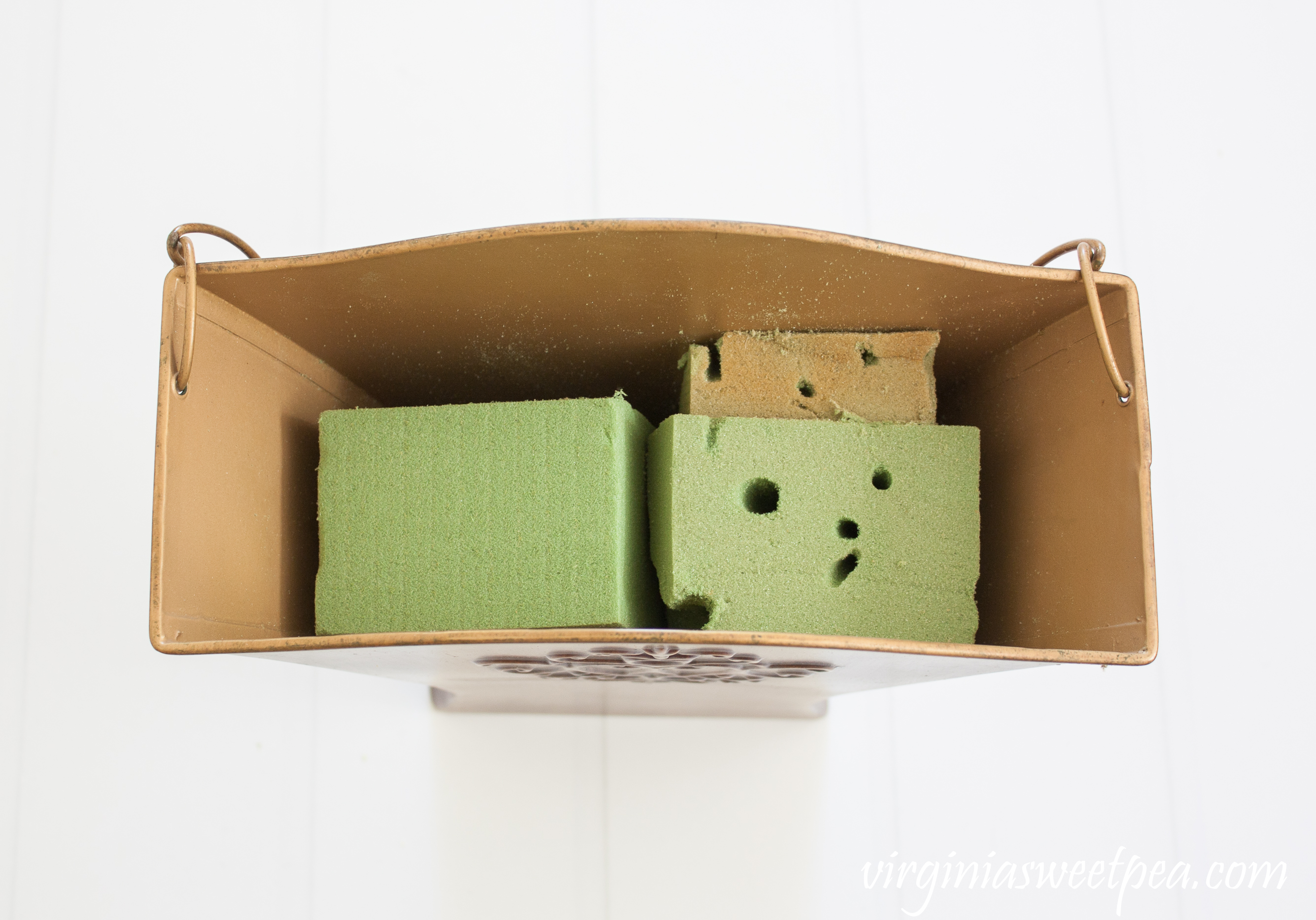 Step Two – Add a Layer of Background Greenery
The way I arranged my flowers might not be the "correct" way to do an arrangement but it worked for me. I usually do my craft projects in my basement, but for some crazy reason, I ended up doing this one in our guest bedroom.
When I'm making a wreath, I like to work on it while it's in a hanging position. I tried to hang the wall bucket on the door knob to work on it, but it was awkward. Luckily the base of the wall bucket was flat, making it easy to insert the stems into the foam.
I used three bunches of greenery here. Later on I angled the two side stems out a bit.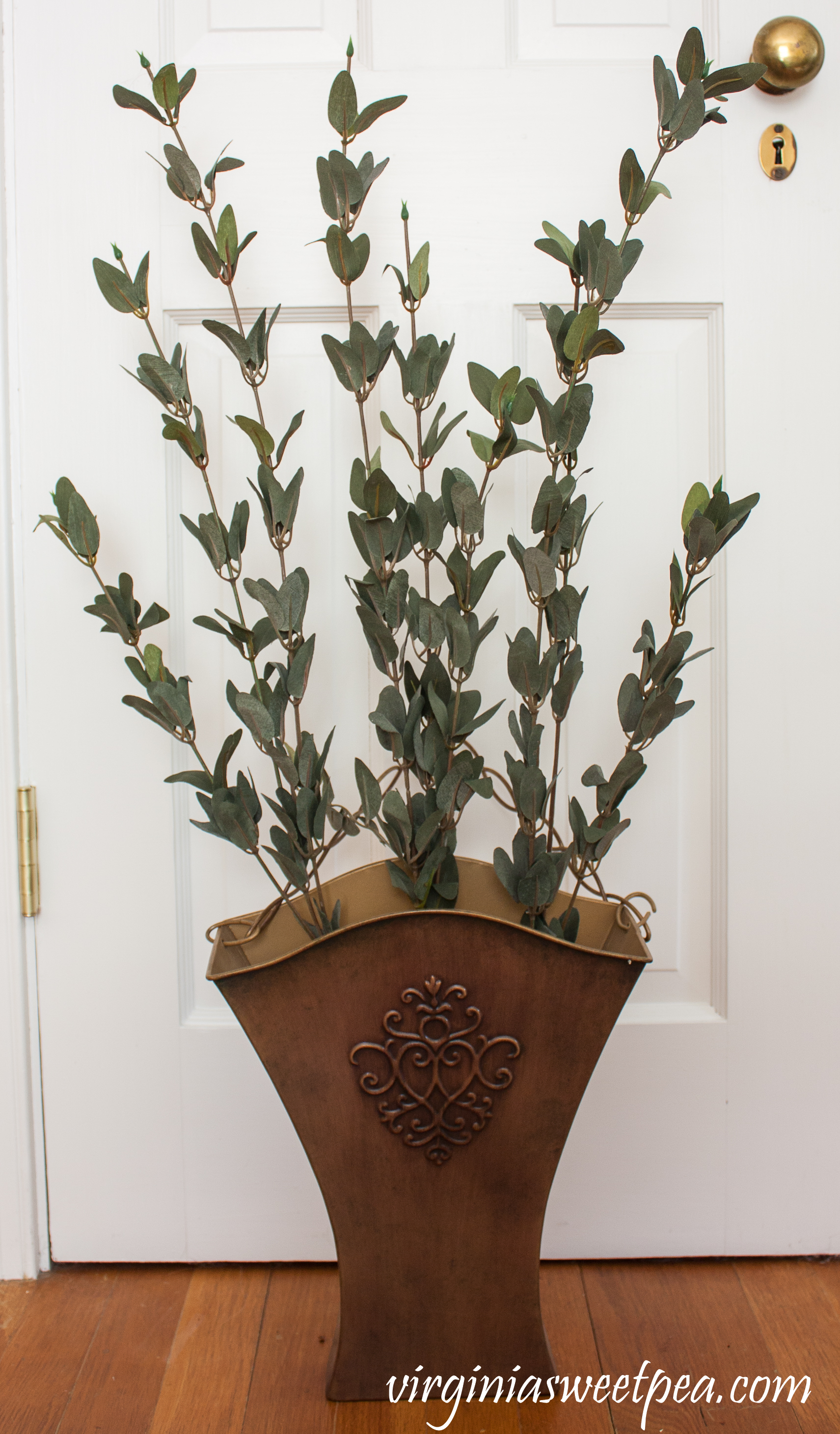 Step Two – Add Hydrangeas
Hydrangeas are the focal point of this arrangement. Michaels had several kinds of Hydrangea and I purchased the ones that I thought looked most realistic. Unfortunately each bloom looked skimpy to me, so I bought six stems, double the number of Hydrangea that I needed.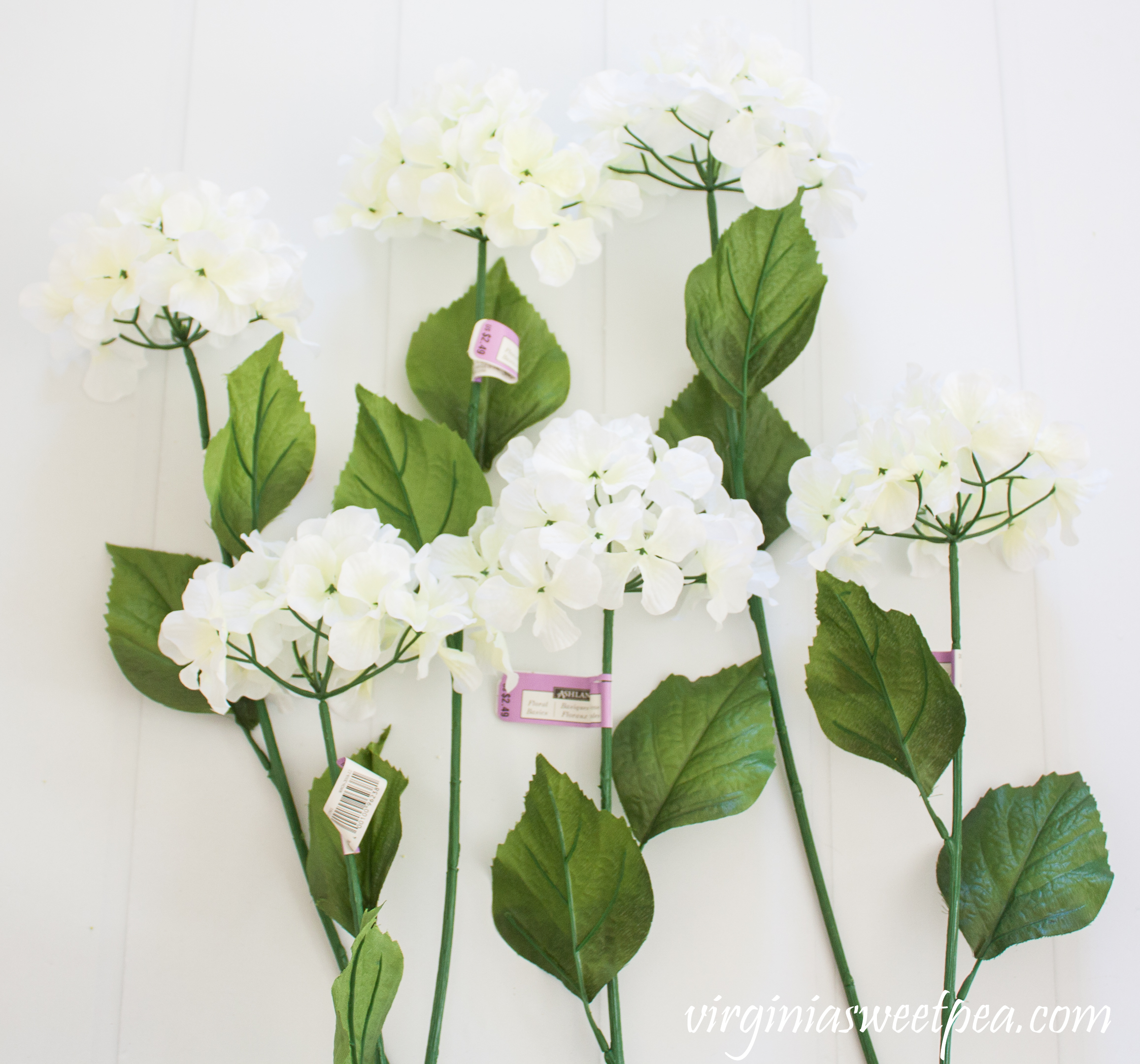 To get the look of three full Hydrangea, I wired two together. I wired the stem in several places but that was a waste of time because I ended up cutting the stems much shorter when I inserted them into the floral foam.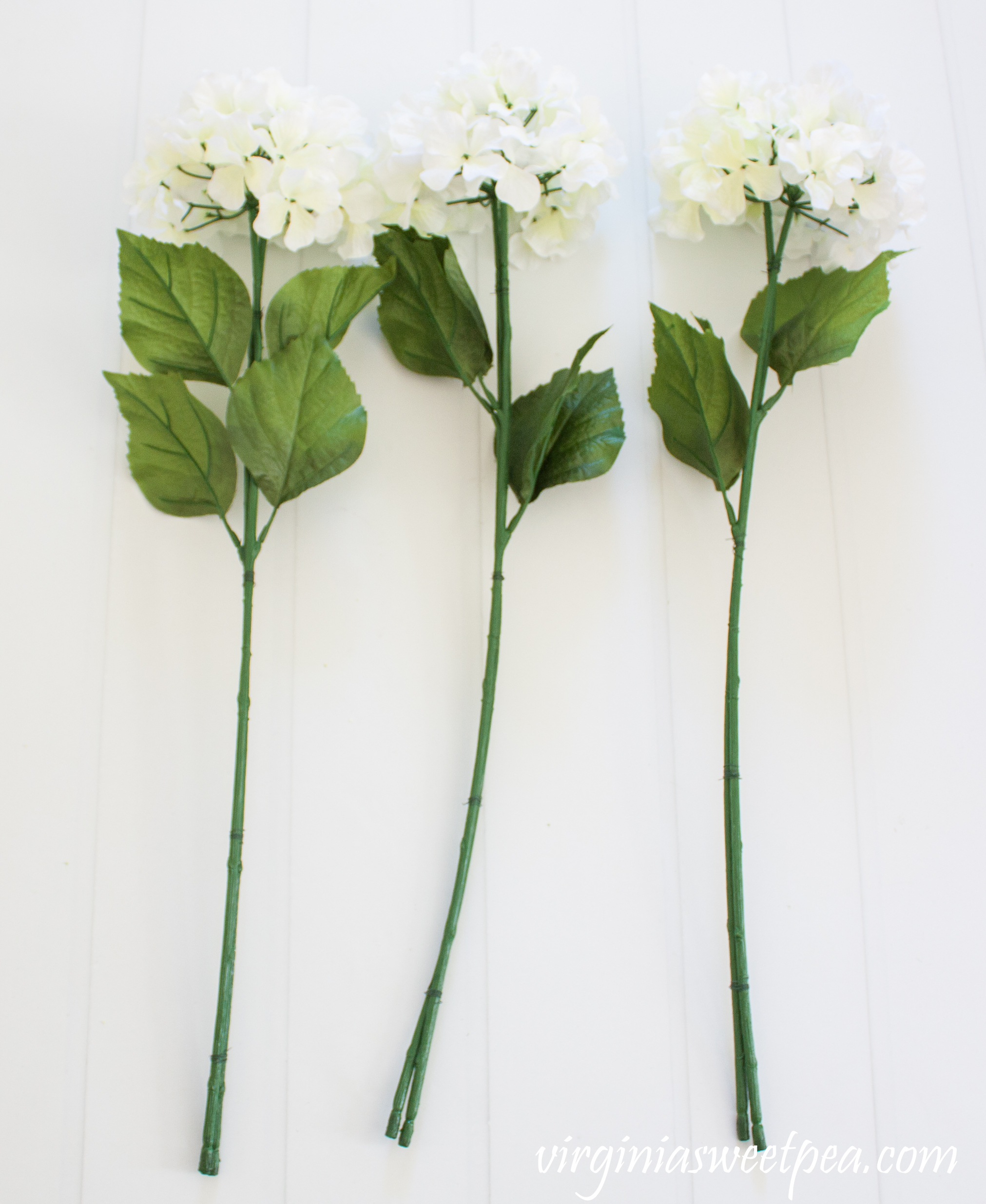 After cutting off most of each Hydrangea's stem, I inserted them into the foam in a pattern like the inspiration picture.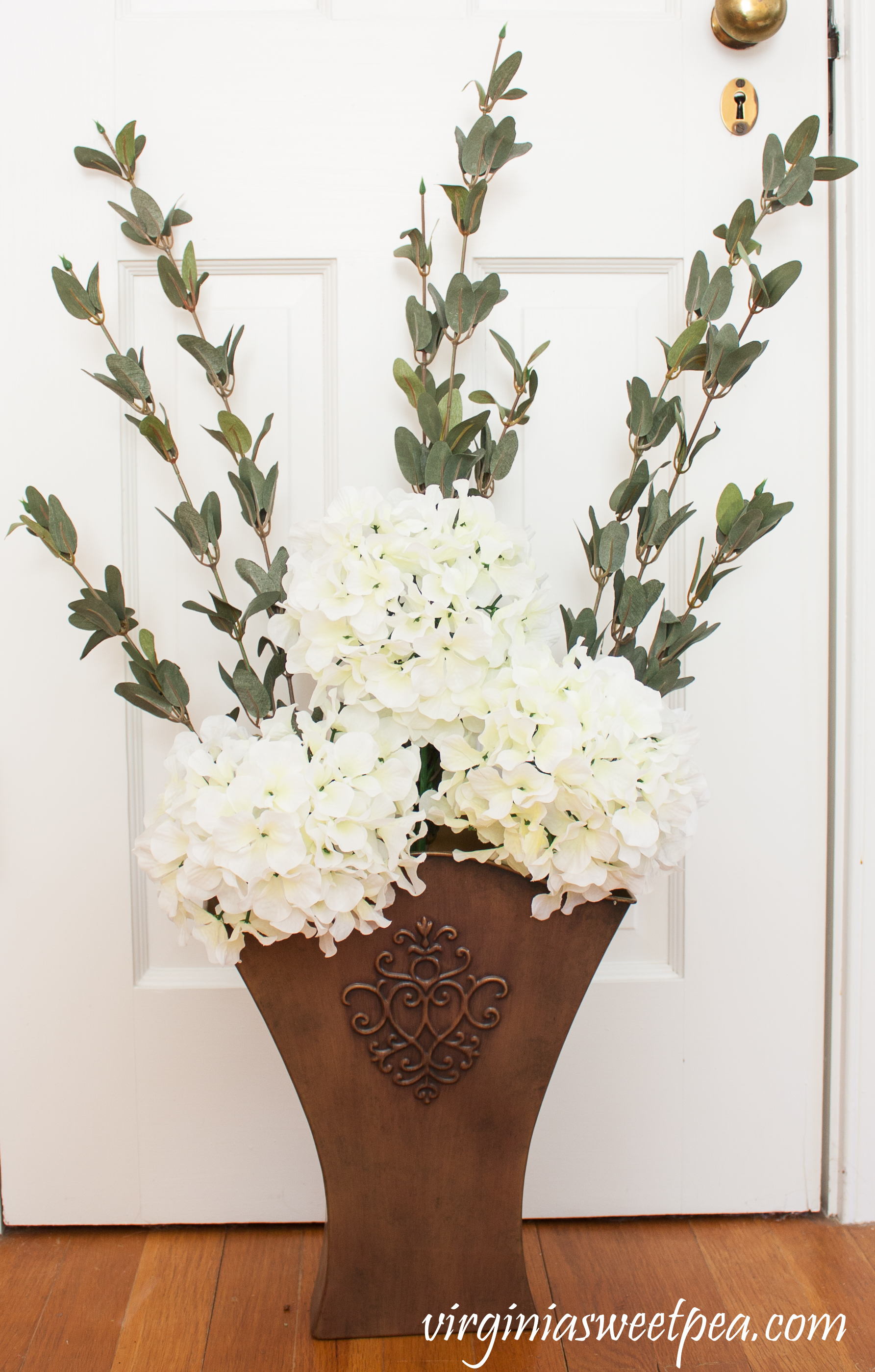 Step Three – Add more Greenery
After the Hydrangea were added, I added two sprays of Eucalyptus.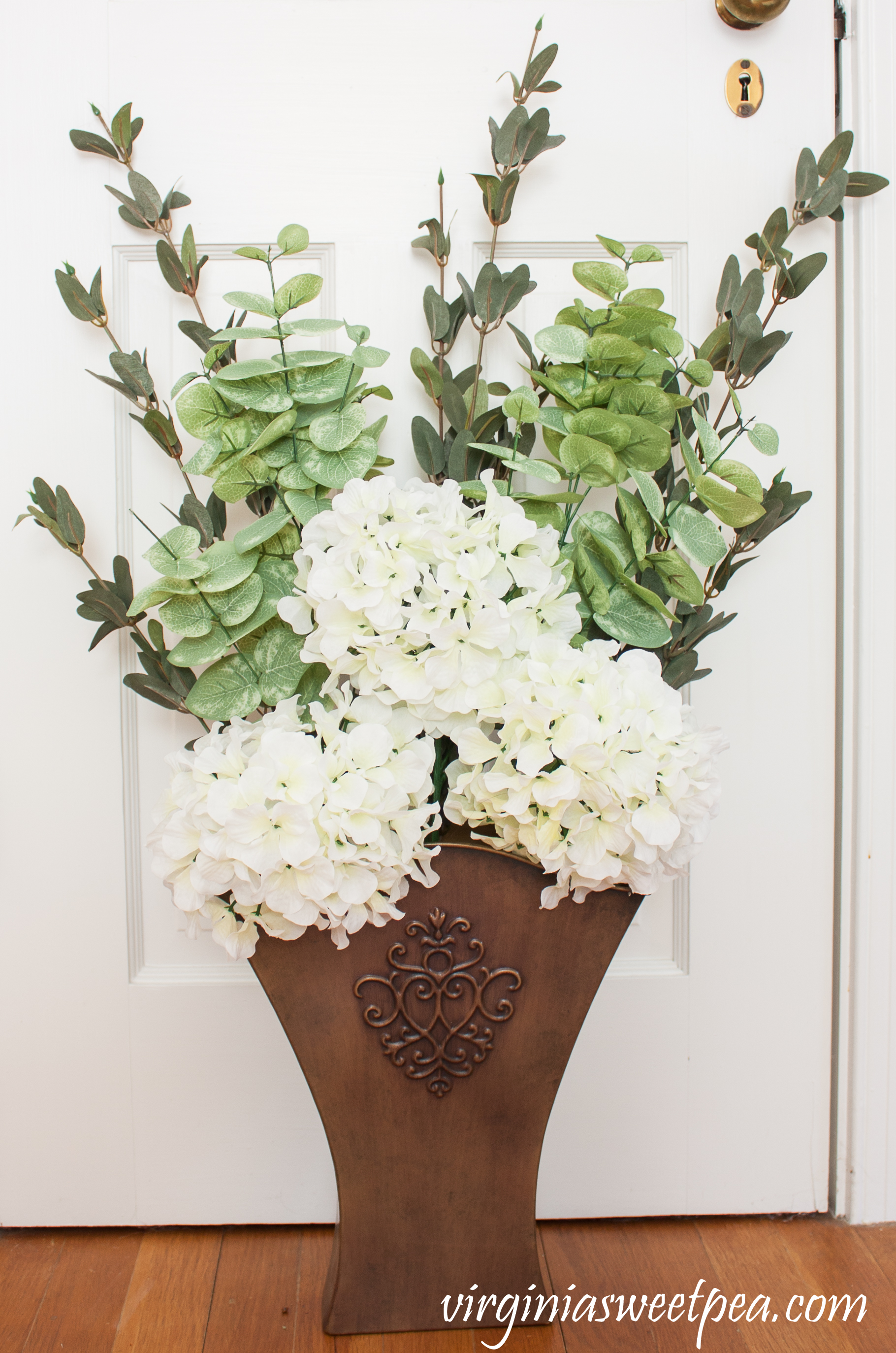 Step Four – Fill in with Flowers
Next I added white and light green flowers to the arrangement.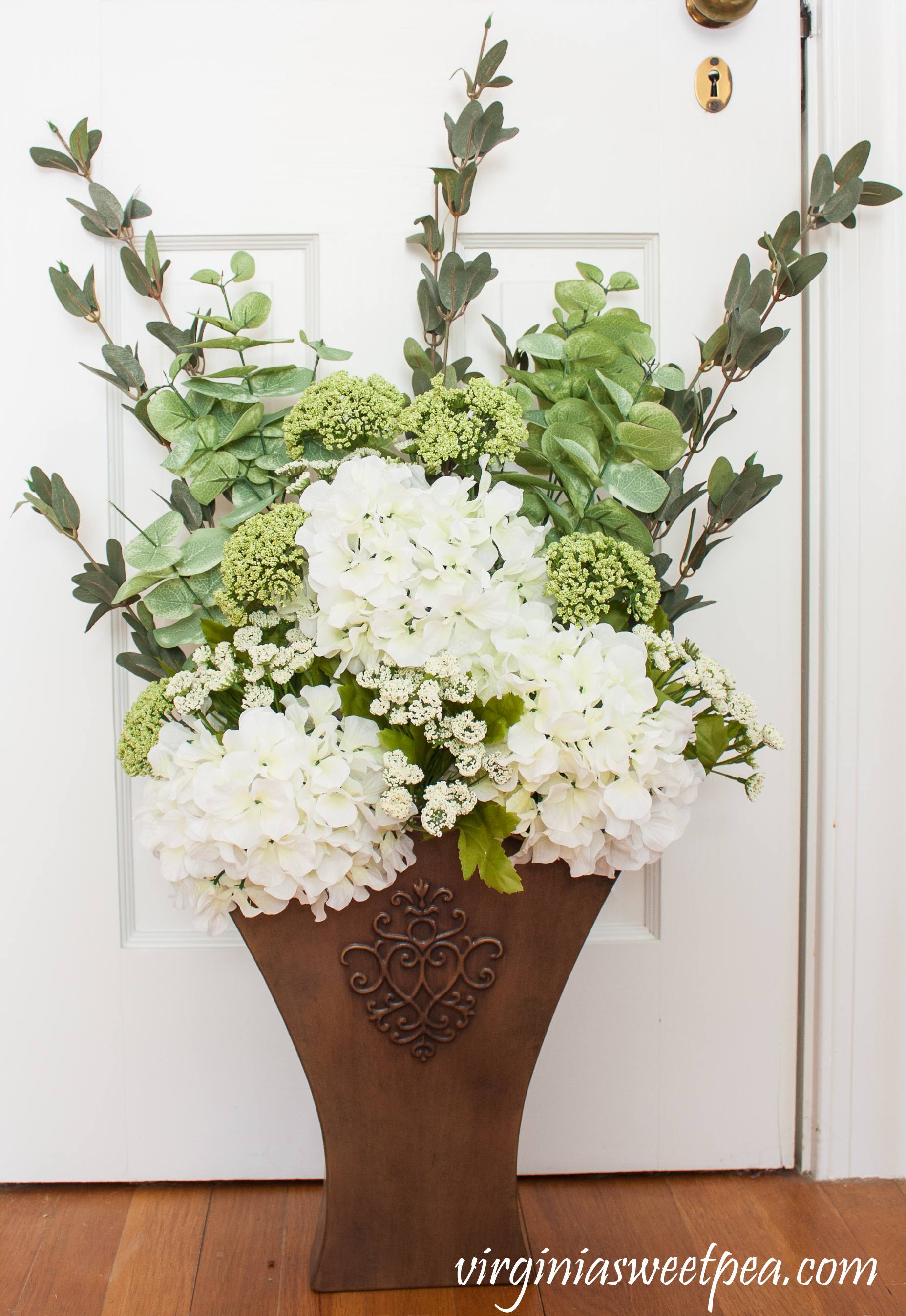 Step Five – Fill in the Sides with Greenery
At this point I was liking how my arrangement looked but the sides seemed a bit bare. I had one Eucalyptus bunch left and I cut it into pieces to fill in the empty spaces on both sides of the arrangement. I would have been happier if I had two more Eucalyptus bunches to work with but I definitely didn't want to have to drive across town to buy more, so I made do with what I had.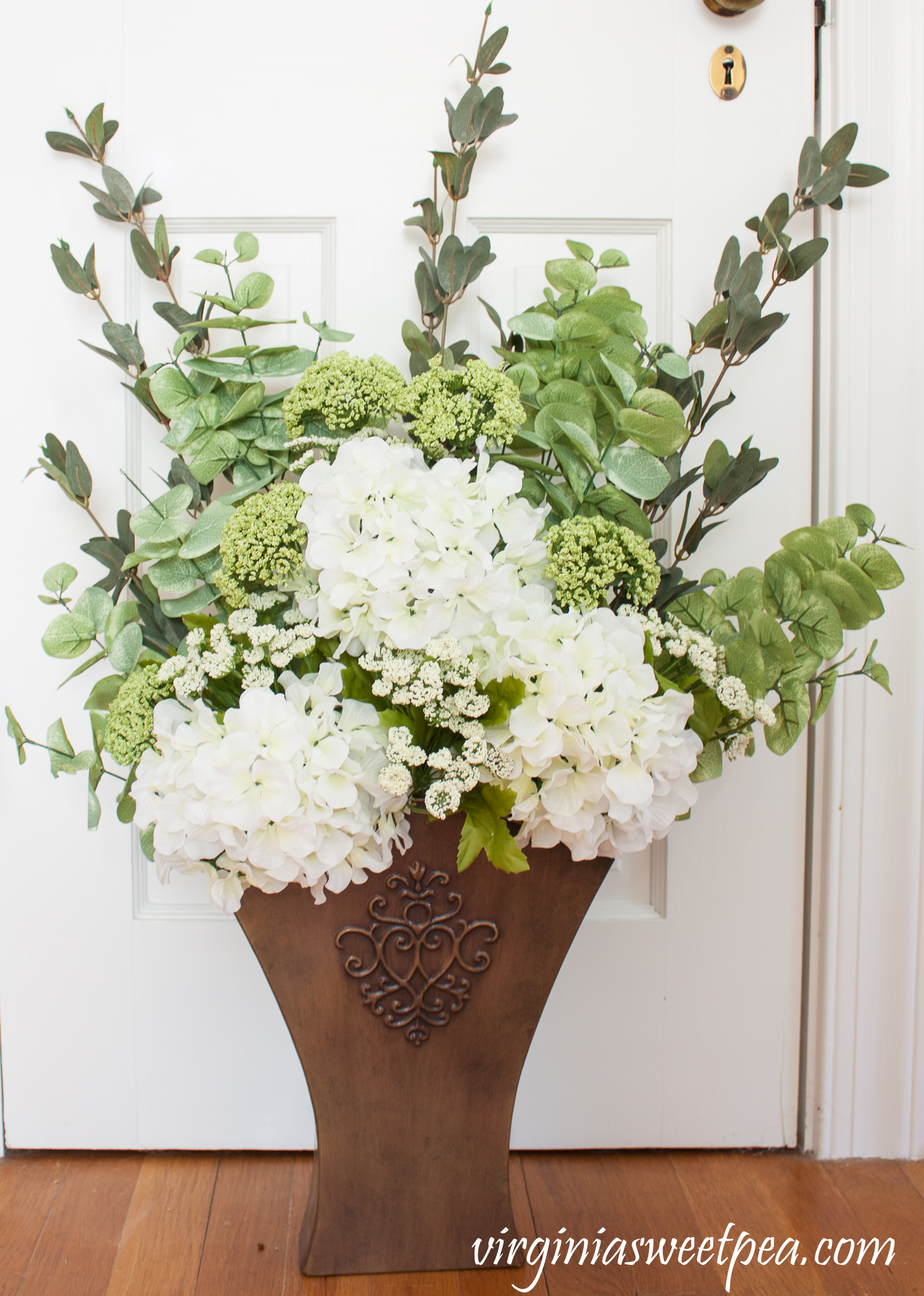 Enjoying the Spring Floral Display on My Porch
I'm really happy with my new creation and I know that it will be enjoyed many months on our porch. In fact, it may stay in this spot until fall!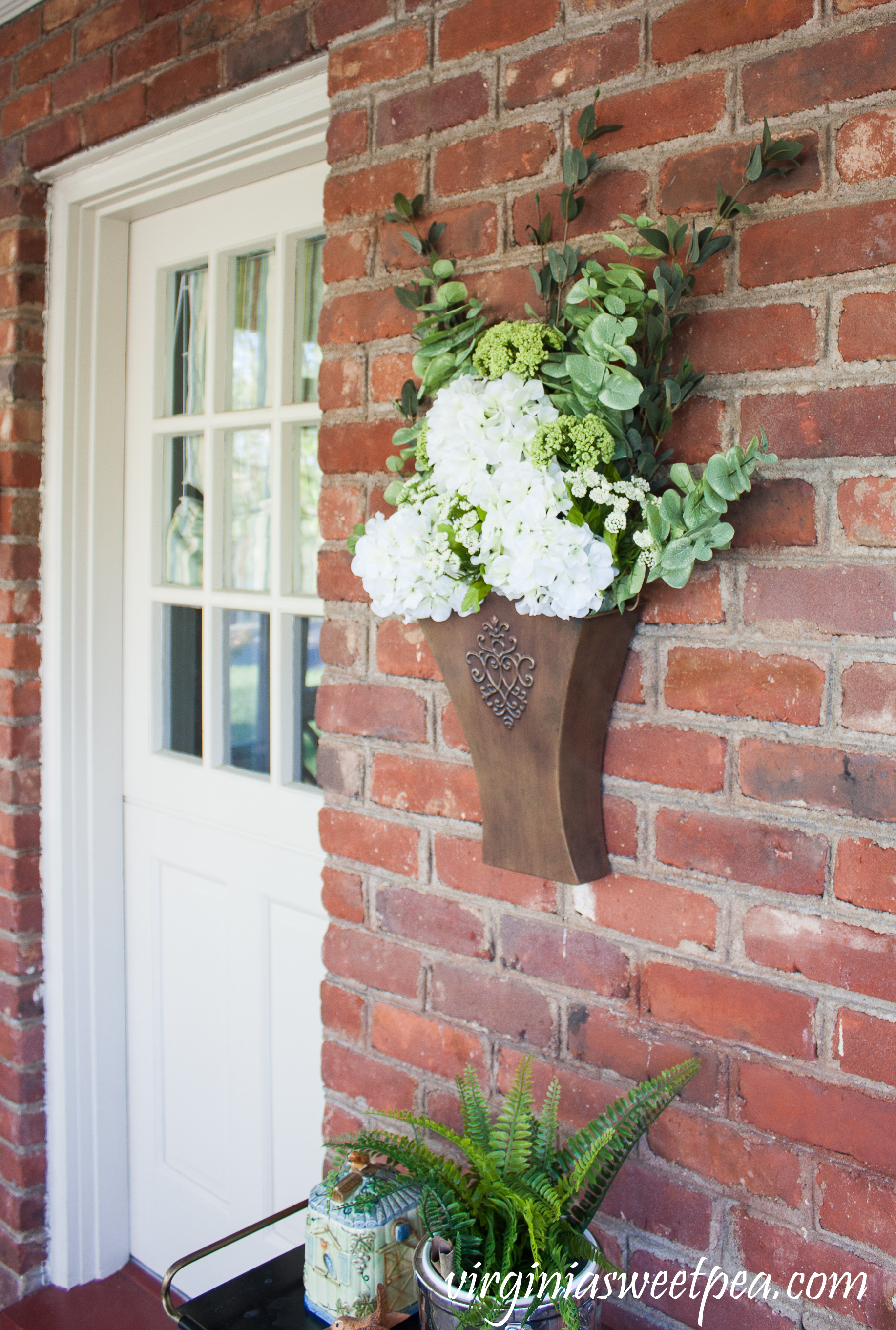 This porch is getting a huge makeover this summer. The former owner designed plexiglass panels that screw in over the screens. The idea is that in summer you remove the plexiglass and have a screened porch to enjoy. In winter, you screw the panels into place and have a sun porch. The wood around the panels is rotting and we've never removed them in summer for fear of them falling apart. The porch columns are also rotting, so it's past time to give this porch some TLC.
The porch will be getting new windows that open and close and new columns. It's going to be great to enjoy sitting out here in all seasons. With the plexiglass panels in place, the porch was too hot to enjoy in the summer and soon we'll be able to do so.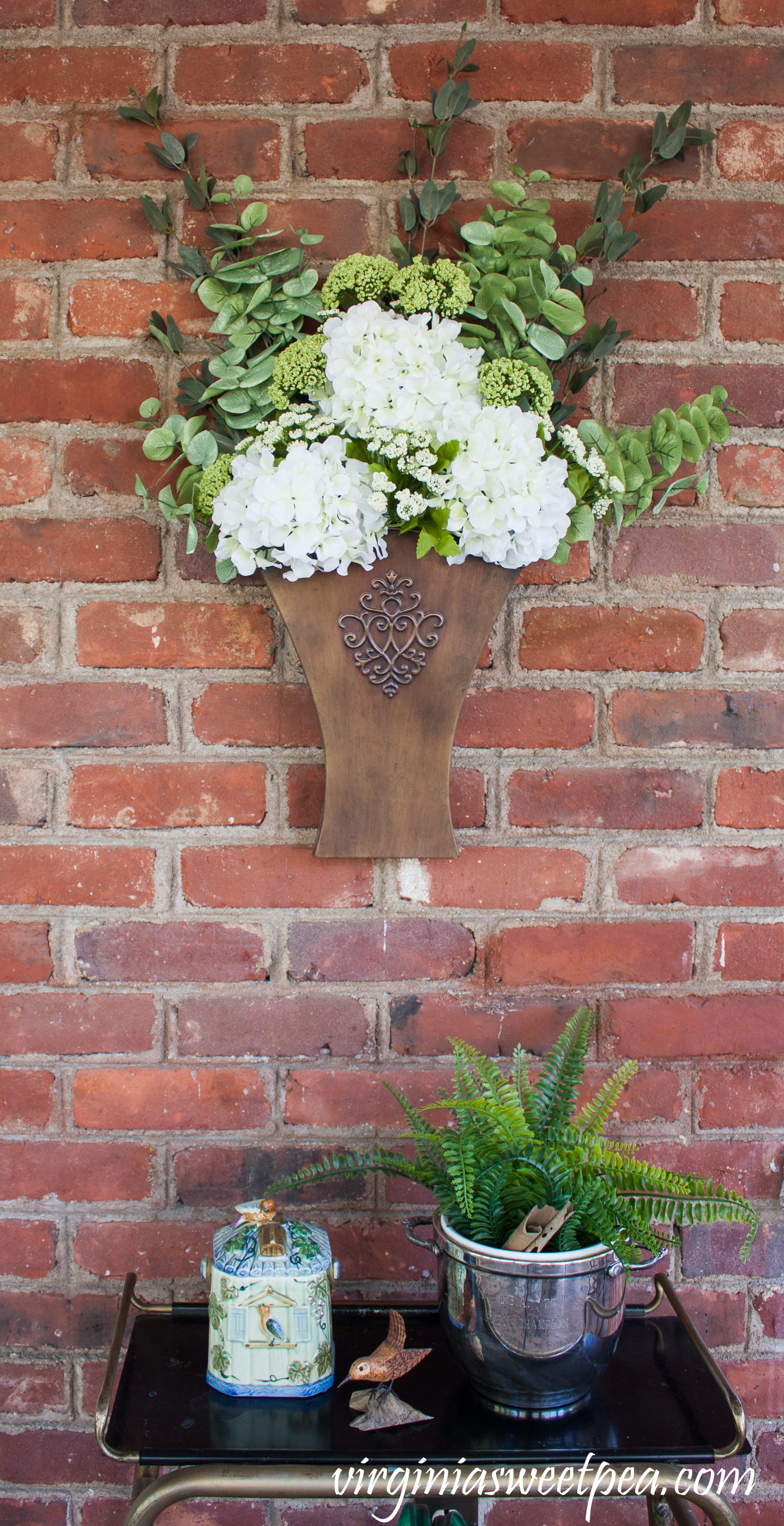 Next on the tour is Terrie from Decorate and More with Tip. I'm looking forward to seeing Terrie's version of the inspiration floral arrangement.
More Versions of the Hanging Floral Display
Click on the links below to visit each blogger who is sharing their version of the inspiration picture. I'm looking forward to seeing them all!
I would love it if you would pin this project to Pinterest for others to discover!