How to Make a Beautiful Flower Arrangement
Making a beautiful flower arrangement isn't hard. Learn how to make a flower arrangement that you will love to display in your home and get summer flower arrangement ideas.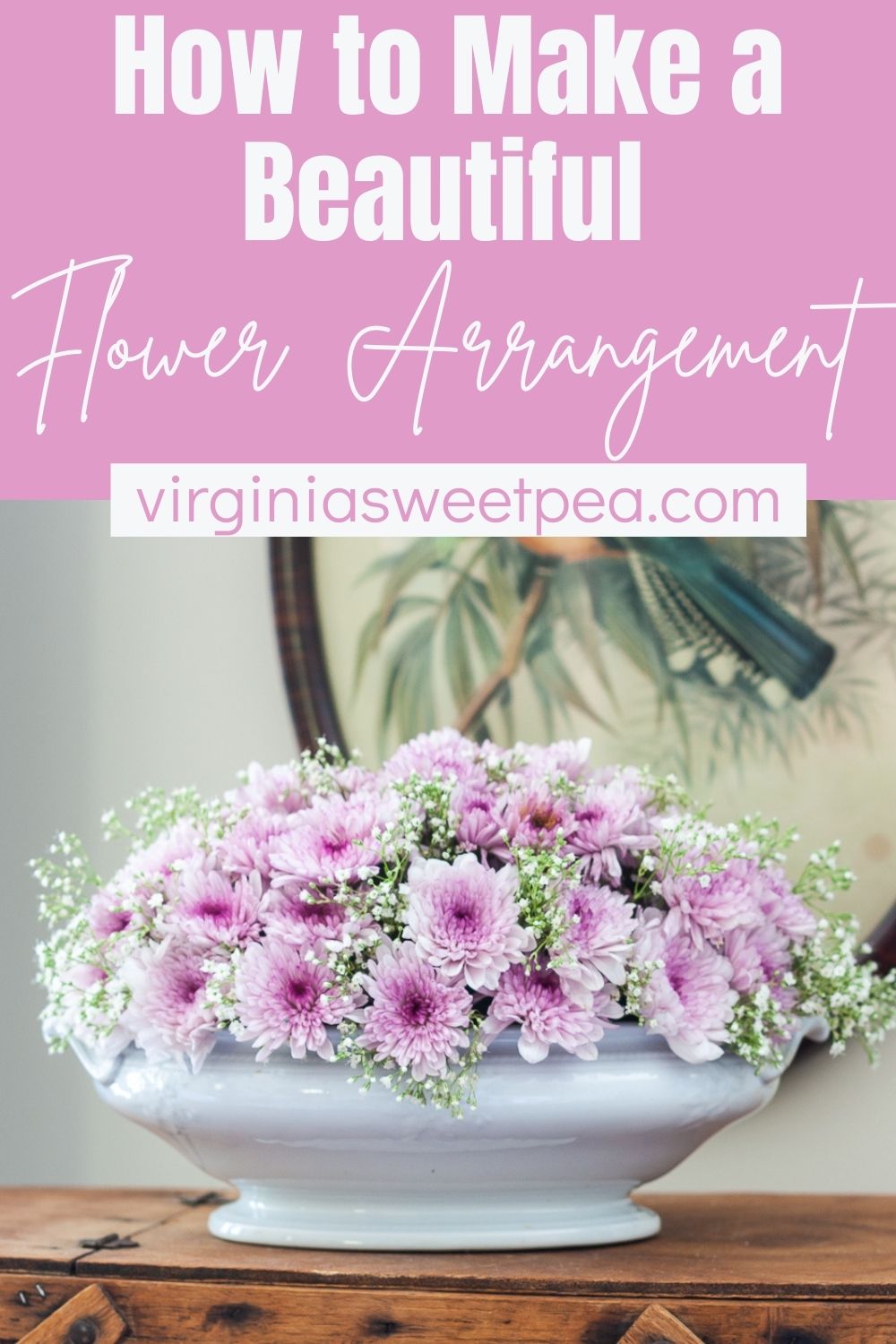 Part of the summer décor in our living room includes a vintage picnic basket display on an antique chest.
I made a summer flower arrangement using purple Chrysanthemums and Baby's Breath to decorate the top of the picnic basket.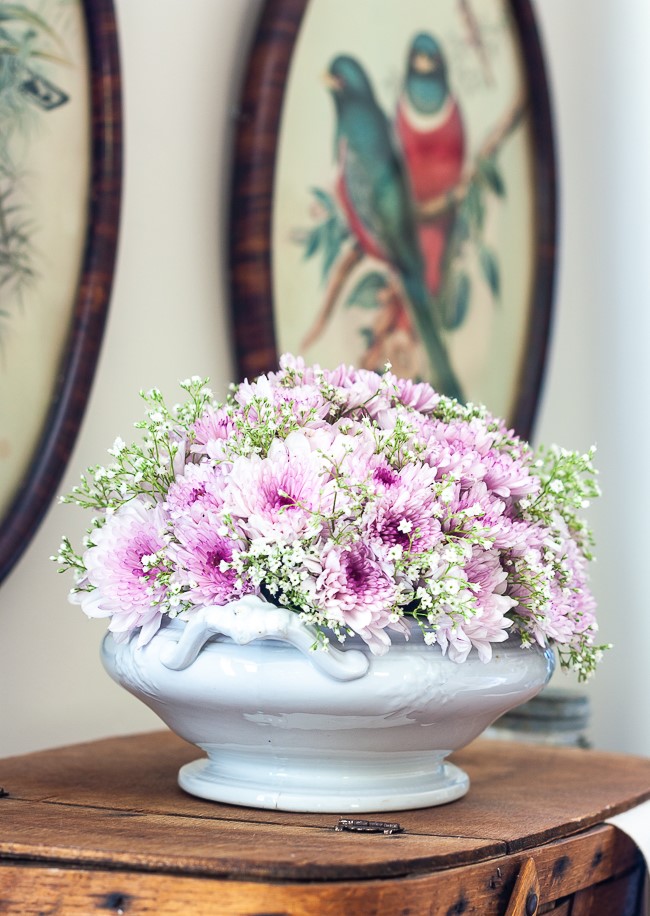 I used my grandmother's Ironstone lidded bowl as the container for the floral arrangement.
This piece is marked, "Stone China John Meir & Son Tunstall". I looked this up and discovered that if there is no ENGLAND after the mark, the piece was made prior to 1890.
I found this soup tureen on Etsy that is exactly like my lidded bowl and is dated 1863. If you click on the link, you can see the mark on this soup tureen which is the exact mark that my lidded bowl has. Plus, you can see what the lid of my bowl looks like.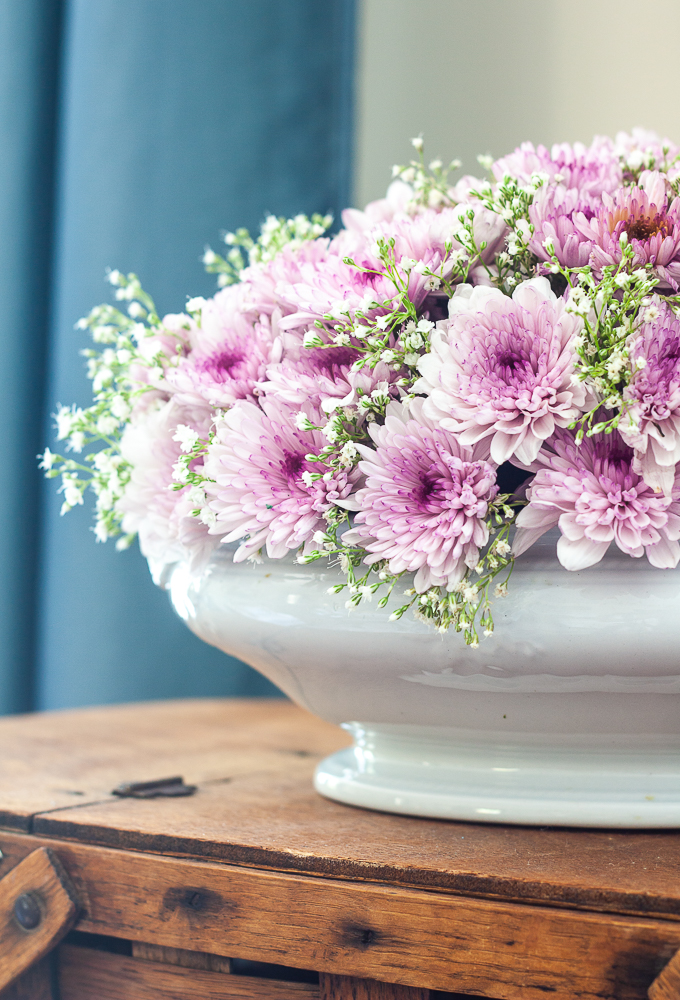 When my grandmother gave me this Ironstone piece, she also gave me an Ironstone platter that she used under it.
The platter is marked, "Ironstone China Meakin Bros & Co." You can see the platter under the coffee table floral arrangement that I made this spring.
J. & G. Meakin was founded in 1851 and was known as being an inexpensive brand of Ironstone. The pattern on this J. & G Meakin platter is very similar to mine.
How to Make a Beautiful Flower Arrangement
I learned how to arrange flowers from my sweet Mama. Mama provided flowers for our church for the months of July and October during my growing up years and she continues to do so to this day. I'm 52 years old, so that's a lot of years and a lot of flower arrangements that Mama has lovingly made.
My grandmother also made flower arrangements for her church and she made arrangements for Garden Club that won awards nationally. This is my paternal grandmother and she taught my mom flower arranging skills that Mama passed along to me. I'm the least trained of the three, but it doesn't stop me from making flower arrangements to display in my home.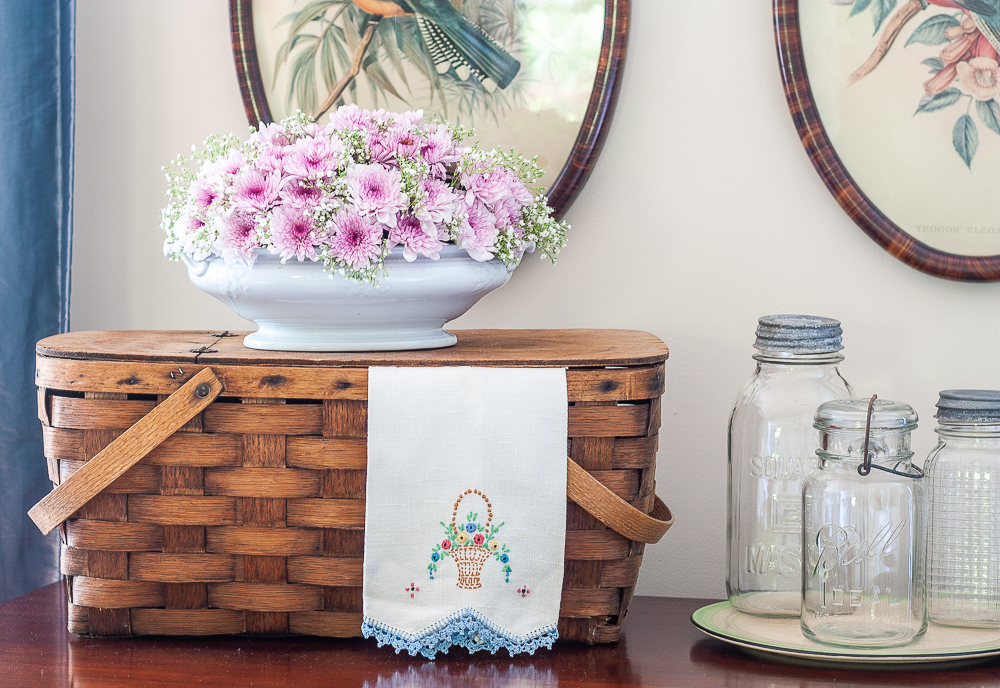 Supplies
To make a flower arrangement you will need:
Flowers – Cut from your yard or purchased from a florist or grocery store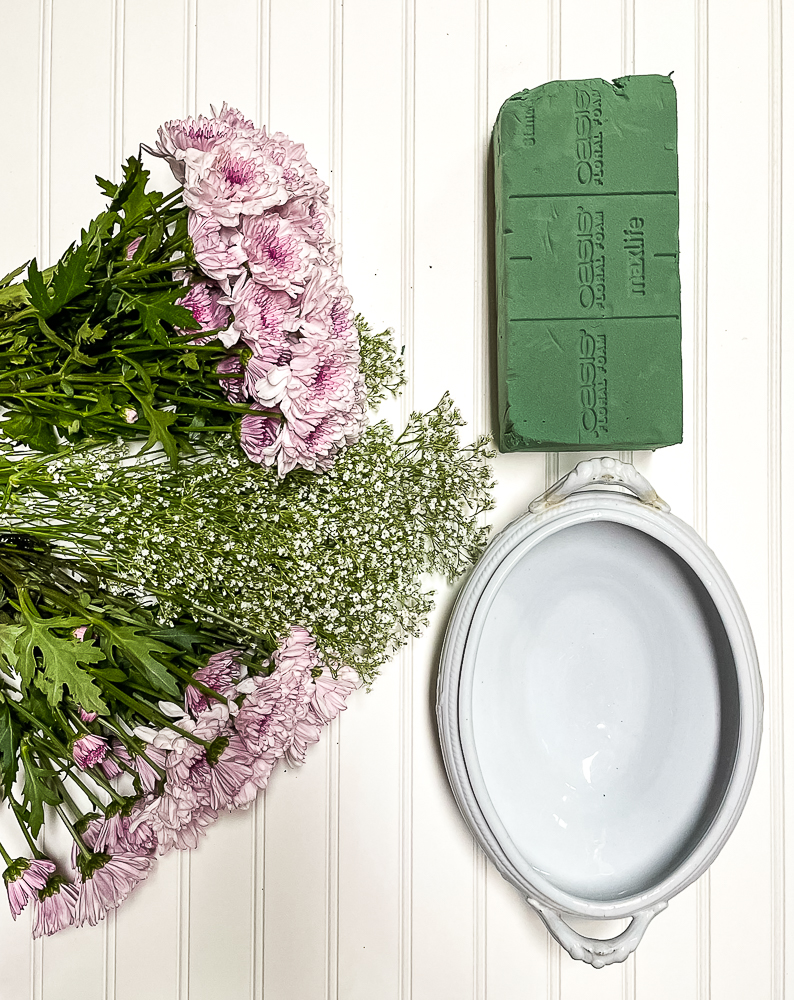 I purchased two bunches of Chrysanthemums ($5 each) and two bunches of Baby's Breath ($4 each) at Kroger to make my arrangement.
Prepare Flowers
To make your flower arrangement last for the longest time possible, there are a few things to do once you have either purchased flowers or cut them from your flower garden.
For purchased flowers, give each stem a fresh cut.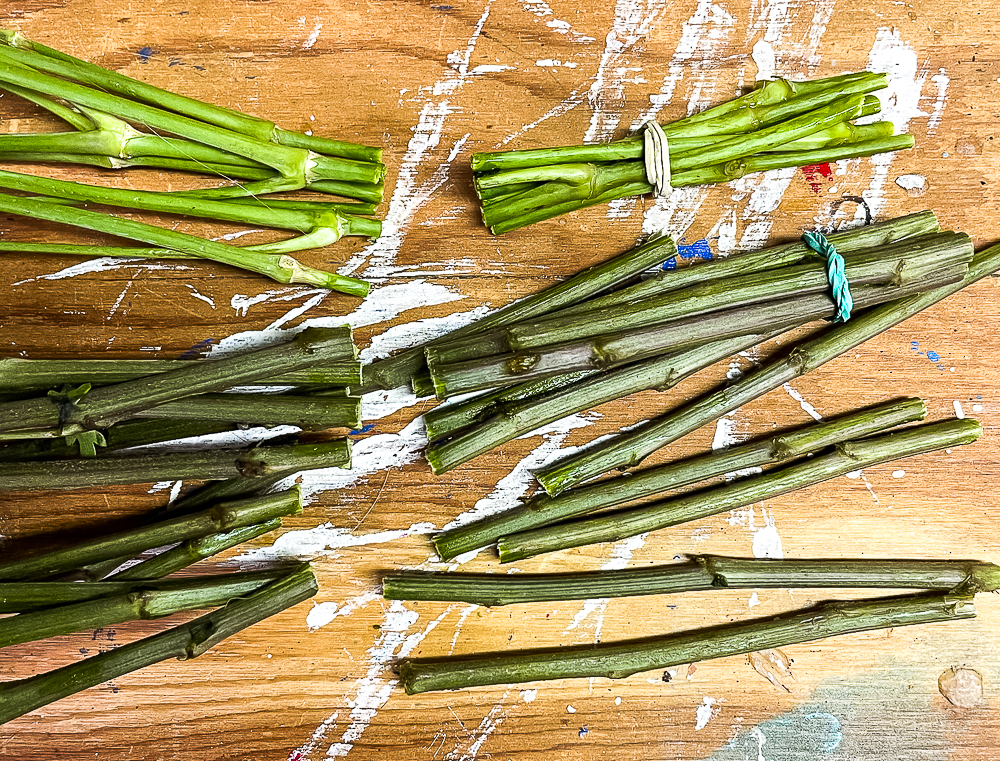 If you cut flowers from your yard to use, as you cut, put each stem in a bucket filled with water. Once you are back inside with the flowers, give each stem a second cut to make sure that the xylem is wide open so that water can be pumped through the stems to the flowers.
Fill a bucket with tepid water and place it in a cool spot that is out of direct sunlight. Let the flowers rest in this spot overnight. This will give the xylem plenty of time to pump lots of water to the flowers.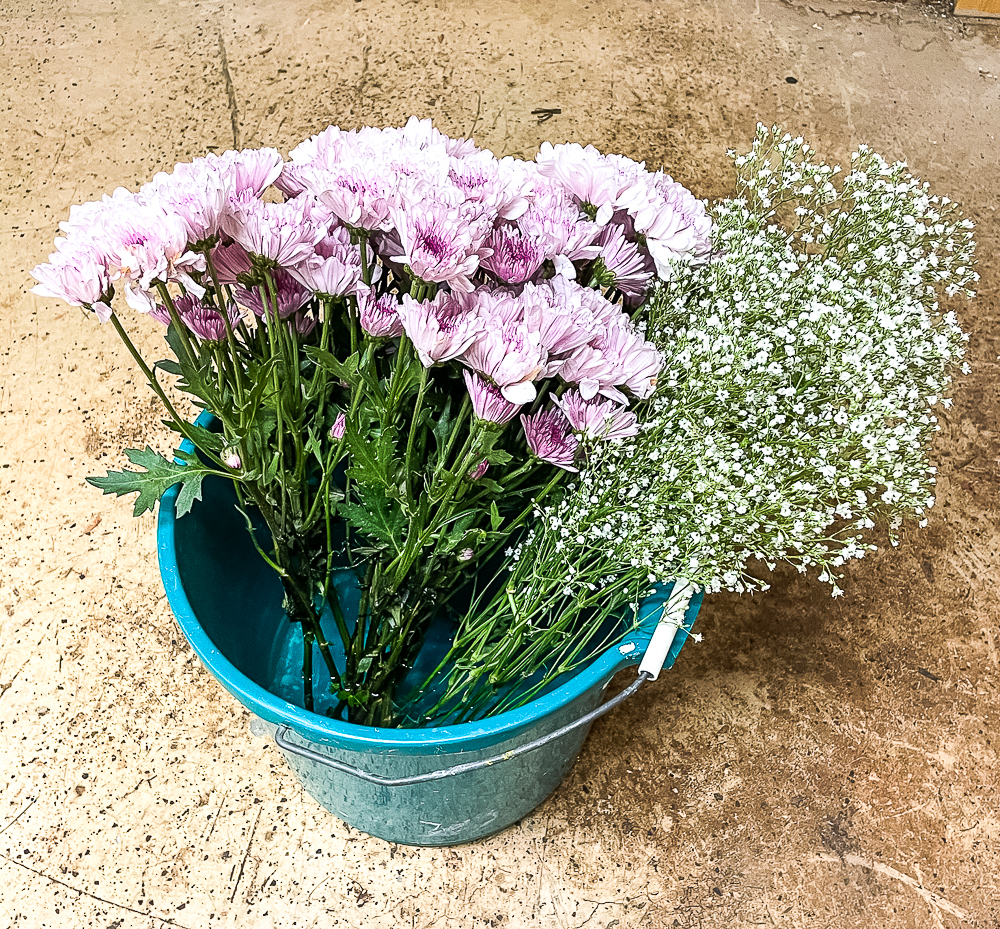 Prepare Container
The next step is the container by cutting Oasis to fit the container. I use an old steak knife for this step.
The oasis then needs to be saturated with water. You can do this by soaking it in a bucket of water or in your sink or by turning your faucet so that water is slowly coming out which allows the oasis to be slowly saturated.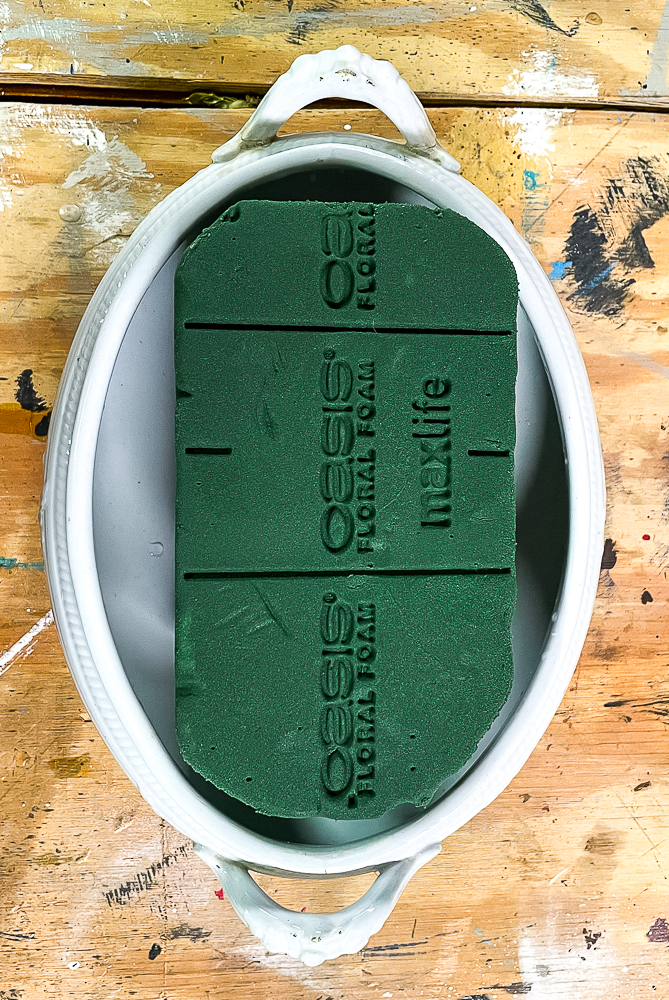 Making the Flower Arrangement
I like to make my flower arrangements and also wreaths on an island workbench in our basement where I have plenty of room to work.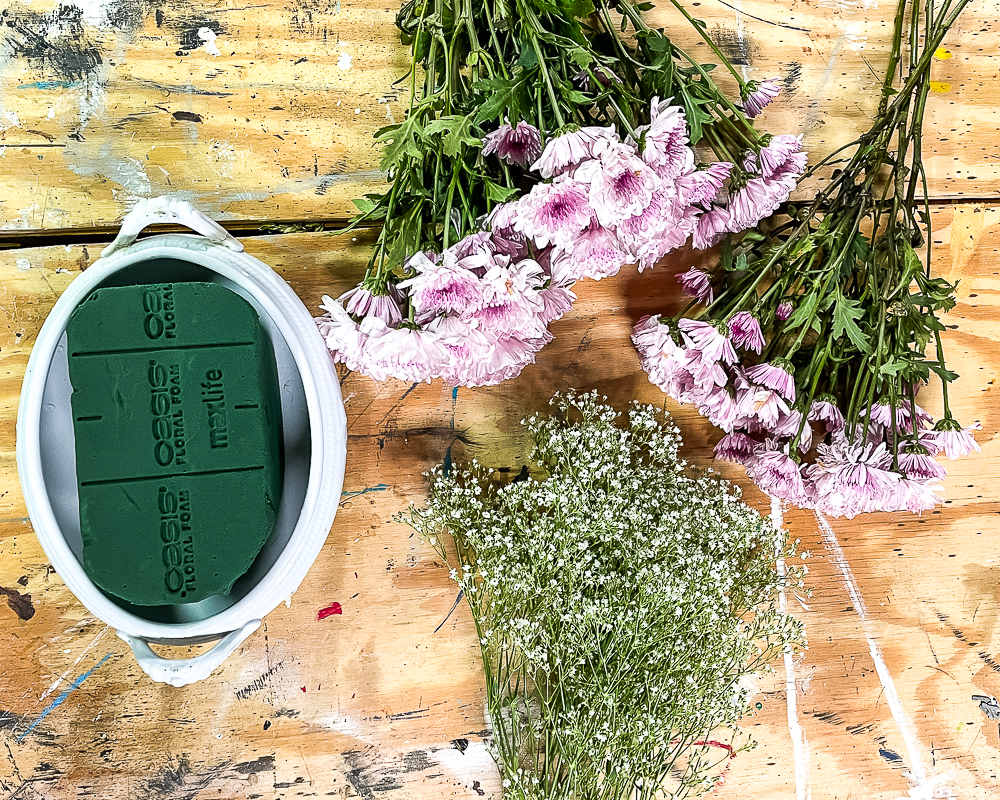 For this arrangement, I started by cutting a purple Chrysanthemum flower with some stem attached and then pushed the stem into the oasis. The oasis holds it in place and provides water for the flower.
After the Chrysanthemum was in place, I added a stem of Baby's beside it.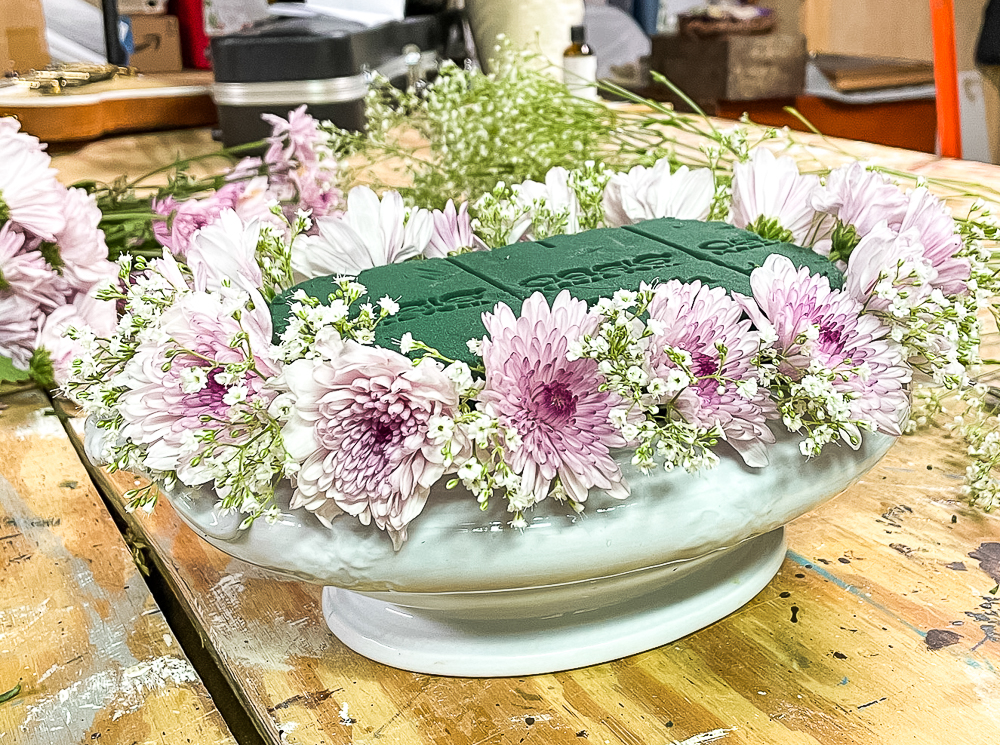 I continued this pattern until was back to the original Chrysanthemum.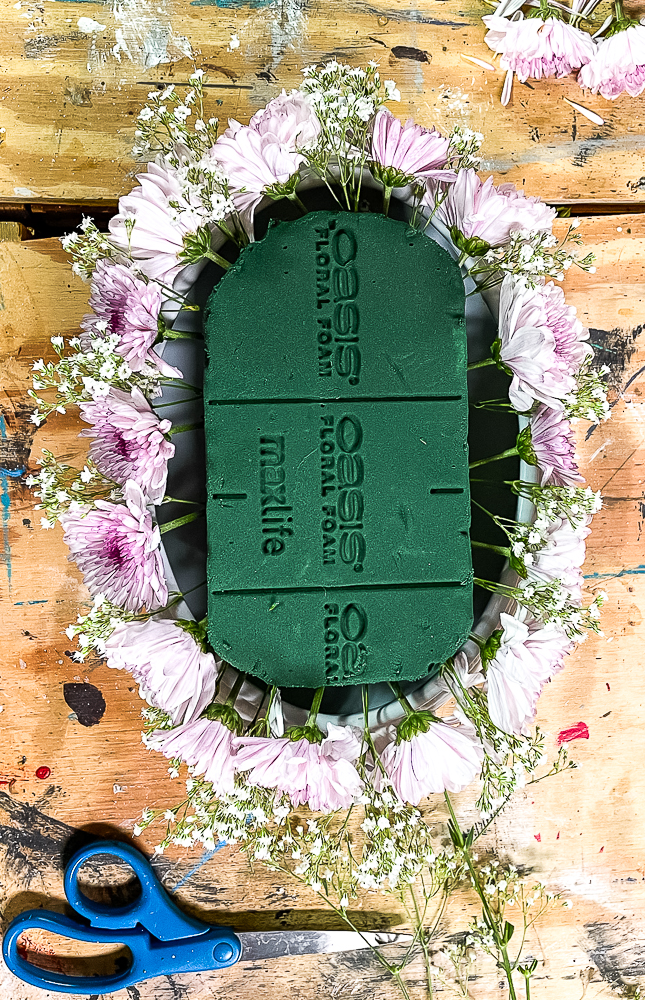 I should have been using my pruners for cutting the flowers but I couldn't find them and had to resort to using scissors.
I continued to add rows of the flowers watching the placement of the Baby's Breath to make sure it had a pleasing pattern and wasn't lined up in vertical rows.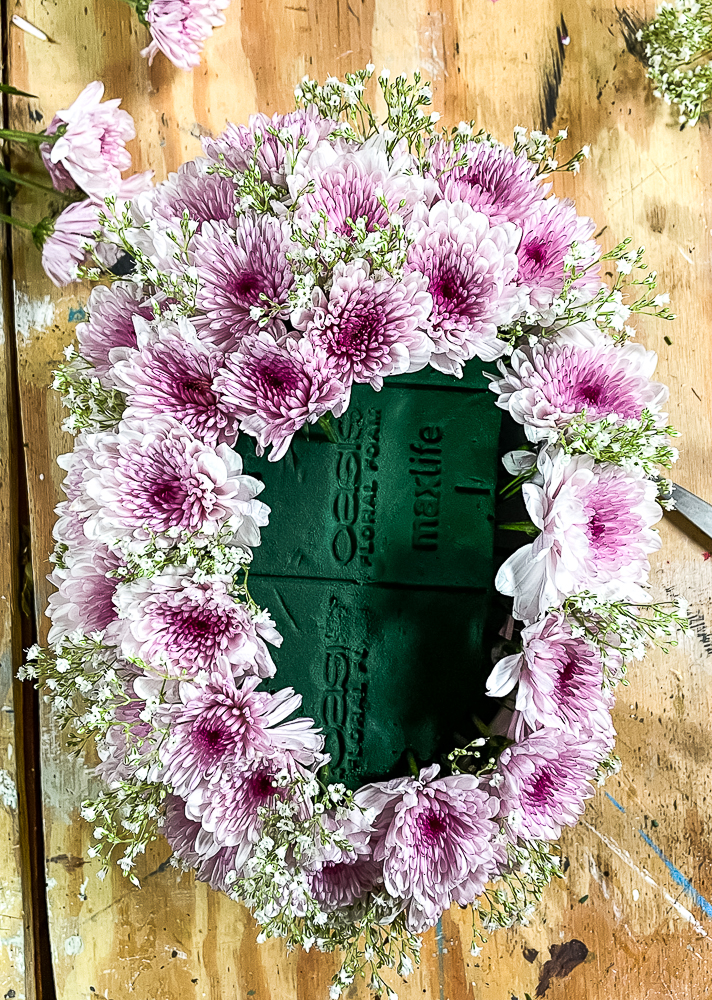 Before I knew it, I was finished.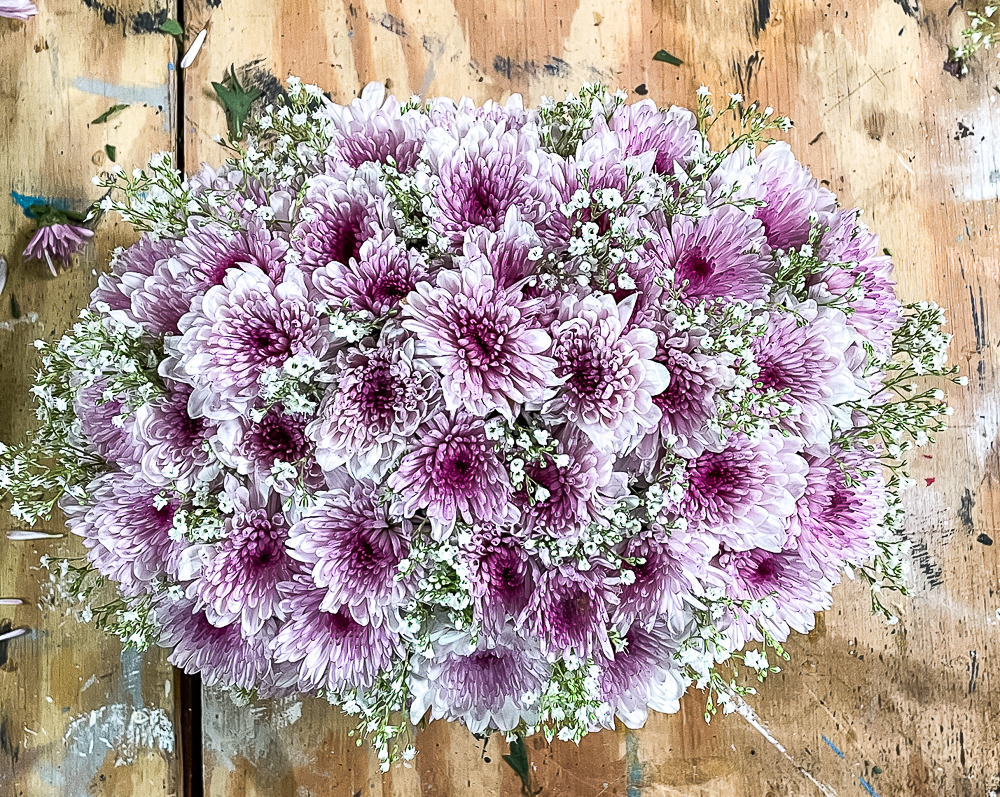 The flower arrangement was then placed on top of the picnic basket and it has given me so much enjoyment.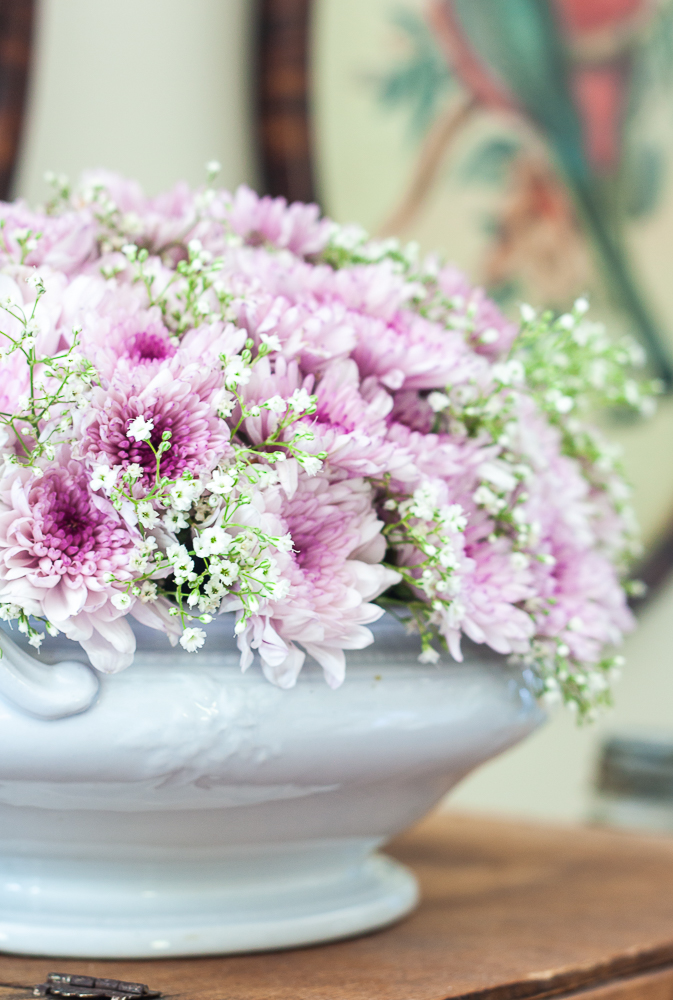 Flower Arrangement Ideas
Get flower arrangement ideas from a few I've made over the years:
If you want to see more beautiful flower arrangements, I encourage you to check out a group of bloggers who share the most gorgeous flower arrangements every other Monday.
I love seeing what they come up with and pinning their ideas to copy to use in my home.