Embellished Drop Cloth Pillows for Christmas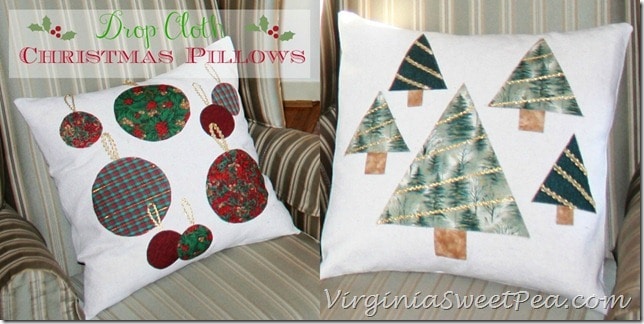 I enjoyed the drop cloth fall pillow covers that I made for the chairs in our living room so much that I knew a Christmas version was a must. The color scheme for our mantel this year is red, green, and brown; both pillows just so happen to coordinate beautifully.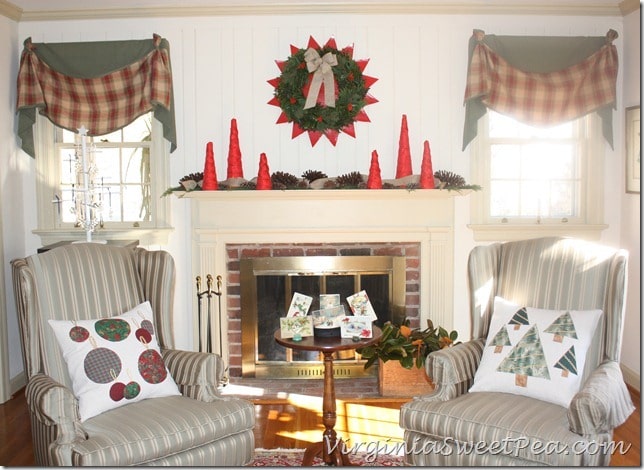 Both pillows covers were constructed envelope style. For a full tutorial, click here.
The first pillow that I made was the tree pillow. My mother-in-law purchased many quilting kits, complete with fabric, that she never had time to make. The fabrics used for the tree pillow are from one of her kits.
I started by cutting out five trees in various sizes. Quilting rulers make this a breeze! After positioning them on the pillow front, tree trunks were cut from brown fabric. You can see that the trunks aren't the same size.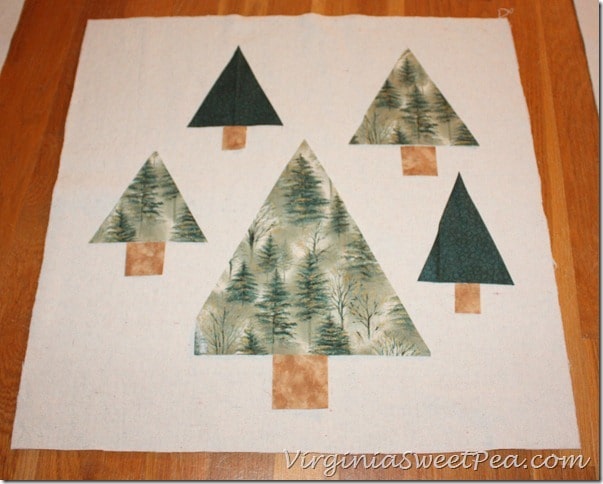 Fusible webbing was then cut for each tree and trunk.
After a quick ironing session, the trees and trunks were in place.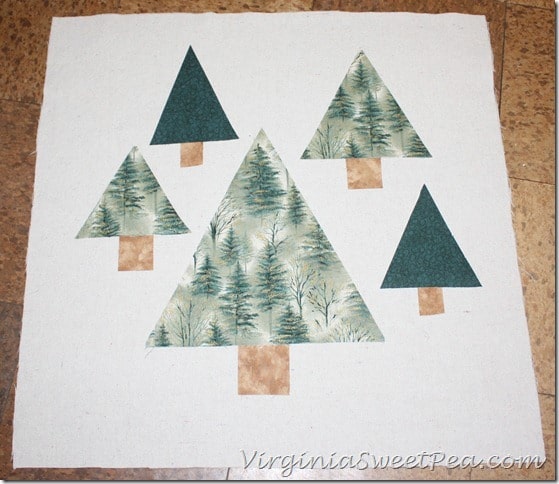 It's hard to see in my picture, but my next step was to zig-zag around each tree and trunk with coordinating thread. The trees looked a little dull at this point, so I added gold garland to each one, giving them the appropriate amount of bling.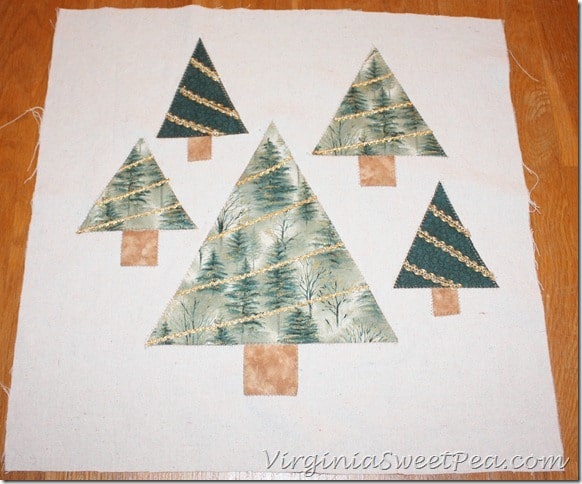 The pillow cover was then sewn together (tutorial here), pressed, and inserted into a pillow form.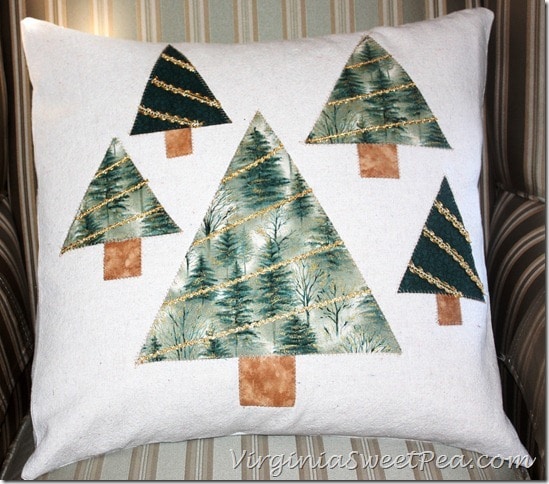 For the Christmas ball pillow, I traced lids of various sizes onto several coordinating Christmas fabrics.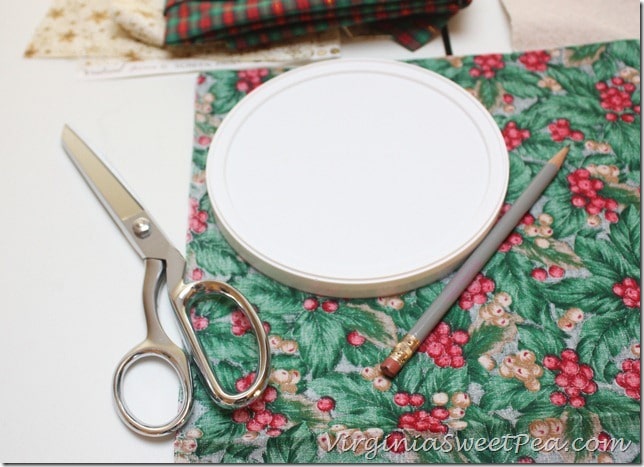 The circles were then ironed in place using fusible webbing.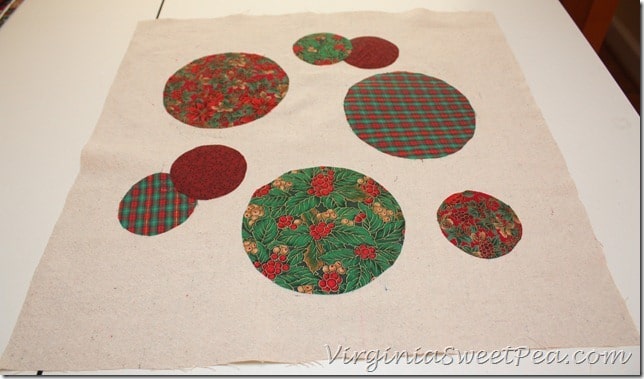 Just like the tree pillows, I zig-zagged around each ball in a coordinating thread. The hangers are also stitched into place, except at the very top.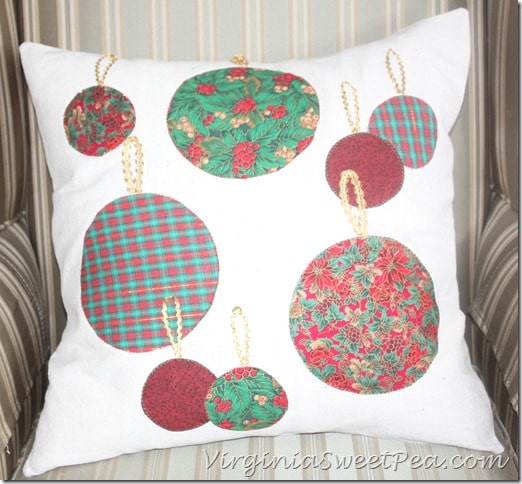 I love how these look in our living room.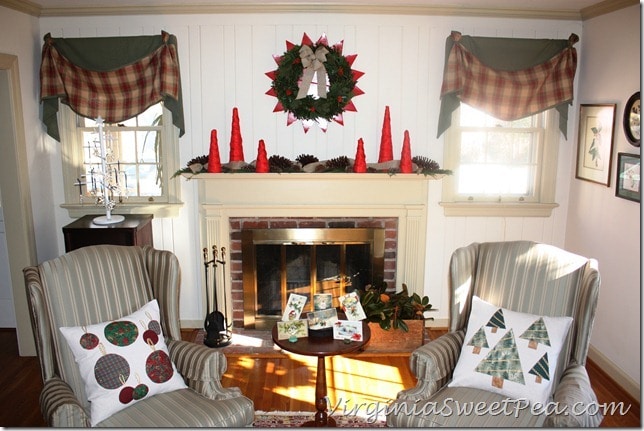 .
The great thing about making pillow covers is that they are easy to store. The fall covers that I made took very little room in my already full fall bins. The same will be true for these Christmas pillows.