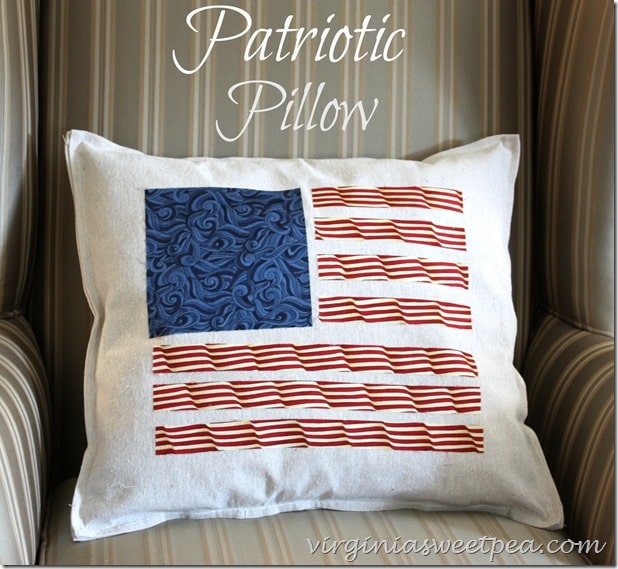 Yesterday I spent some time getting out my patriotic decorations and enjoyed decorating my living room. When I'm decorating for a holiday, I like seasonal pillows to put on the wing chairs that are in front of our fire place but I had no patriotic pillows. A quick fix to the problem was to make two patriotic pillows from a drop cloth table runner that I made a few years ago.
I made this simple table runner using drop cloths, quilting fabric, and stitch witchery. The centerpiece is a Plow and Hearth knockoff that Mr. SP helped me to make. The directions to make it can be found here.
To make the pillows, I used my rotary cutter to cut the flags from each end of the runner. The middle part of the runner was used as the back for one of the pillows and made a second back from a piece of drop cloth.
I folded the edge under on the unfinished seam for the pillow fronts and ironed them into place. Then I put the pillow back under the front and ironed the edges under so that the back and front were even in size. After pinning the two pieces together, I sewed around the edge of each pillow leaving an opening at the bottom for stuffing.
Since these pillows are for decorative purposes and because I didn't have any polyfill, I stuffed them with plastic grocery store bags and then sewed the opening shut. Believe it or not, they still are soft and if you sat in one of my chairs, you wouldn't know that grocery bags were inside of each pillow.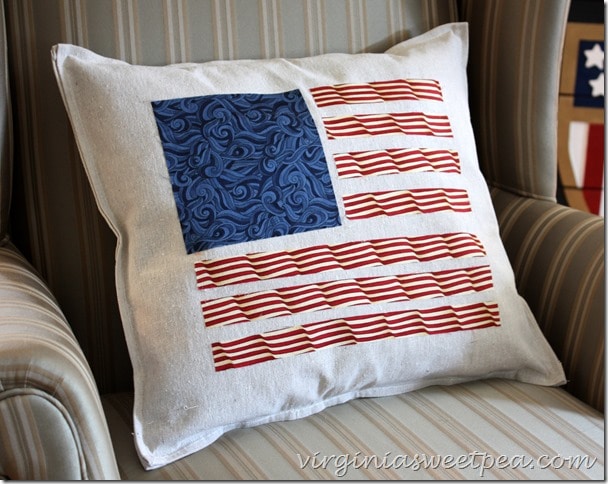 I love the addition of two patriotic pillows to my living room and most of all I love that I was able to make them from something that I already had on hand.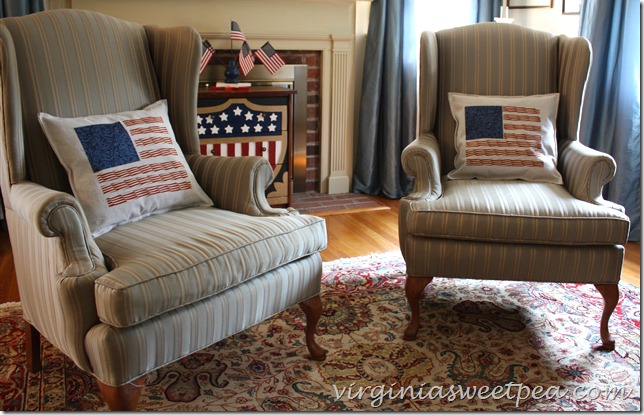 Did you notice that moved my Ikea Hack Patriotic Dresser into the living room for the 4th? It's been in the basement since we completed it in March and I'm glad to have a place to use it for the time being.
I'll share more of my patriotic decorations next week and I hope to have another update on the lake house progress.
Have a great weekend!
Dwellings – The Heart of Your Home, Between Naps on the Porch, Concord Cottage, Stone Gable, Sand and Sisal, Yesterday on Tuesday, A Stroll Thru Life, Savvy Southern Style, Just a Girl and Her Blog, Common Ground, Imparting Grace, The Bold Abode