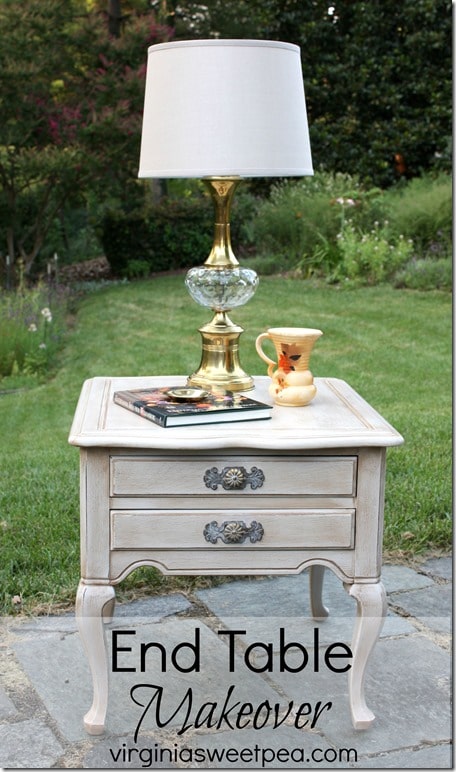 About a month ago I lucked upon an end table at Goodwill early on a Monday morning. The end table is a Drexel and in great condition other than some wear and tear on the finish on the top. I immediately knew that it would be a great candidate for an end table makeover.
I was so eager to get to work on this piece that I forgot to take a "before" picture with a camera other than my cell phone. Even with a blurry picture you can tell that this was a great Goodwill find.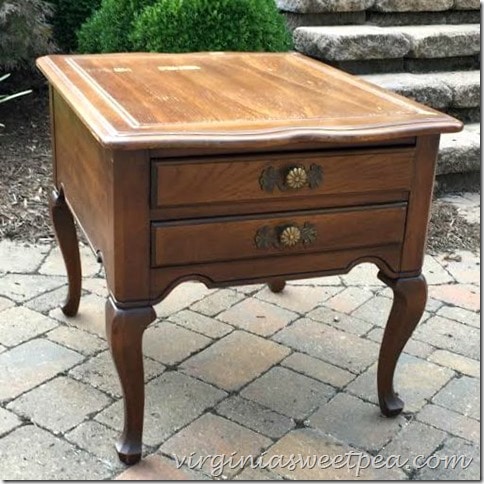 Speaking of Goodwill, I'm back at school today and will miss my Monday morning Goodwill adventures.
This piece did not turn out at all like I expected! Let me explain….
I started by giving it several coats of Maison Blanche paint in Mushroom. After painting, I waxed it with Americana Decor Cream Wax* and then decided to experiment with Americana Decor Cream Wax in Dark* over the clear wax. Let me tell you, I was scared to death that I had ruined this piece but after wiping off the excess dark wax, distressing with sandpaper and then buffing, I liked the look. (* denotes an affiliate link)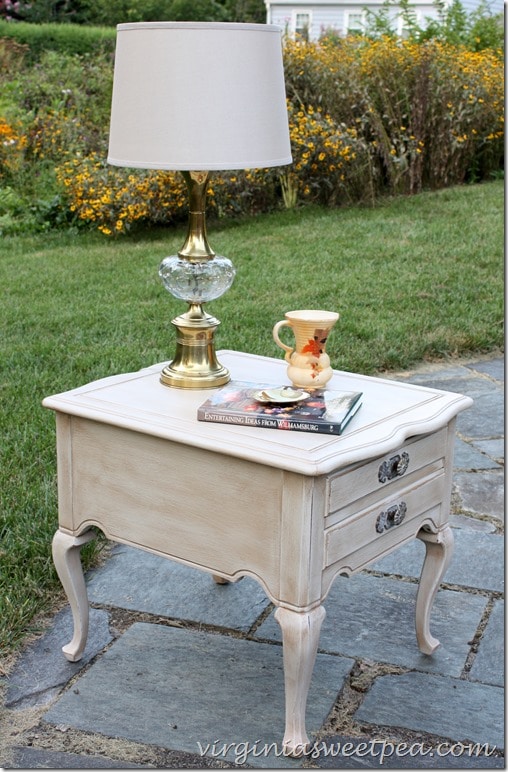 Here you can better see the effect the dark wax has over the paint.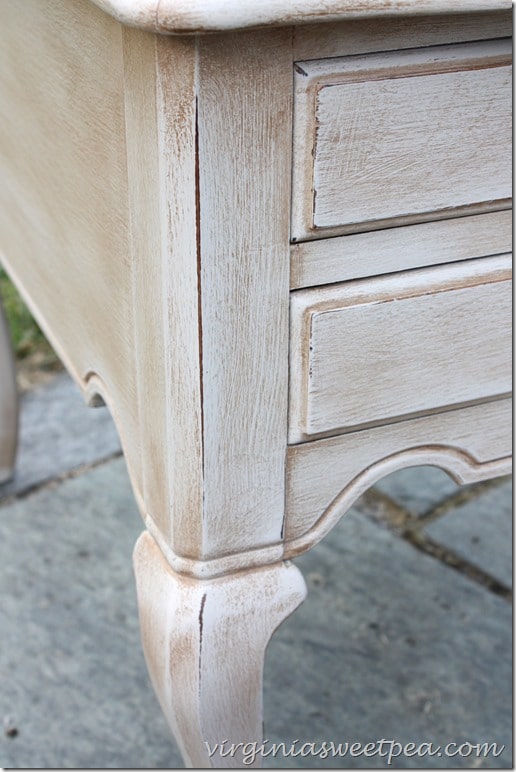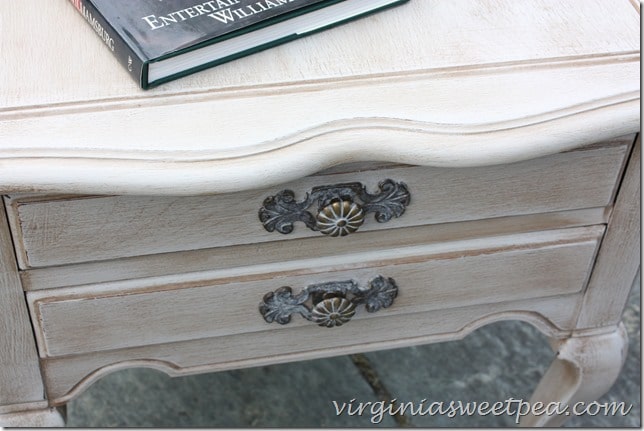 I'm not always a fan of painting pretty hardware but when I reattached the hardware to this piece it just didn't blend in with the paint/wax combination, so I lightly dry brushed the hardware with the Maison Blache paint.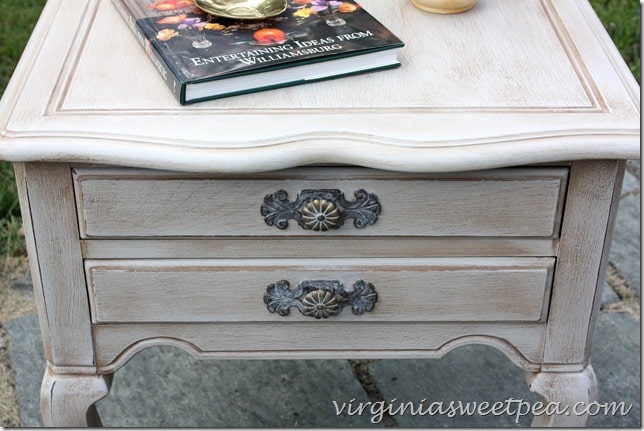 Do you remember the Goodwill lamp makeover that I shared with you a few weeks ago? I think it looks nice with this table. The table is in my shop at Blue Sky Cottage but the lamp isn't for sale just yet. I'm hopefully going to use it at the lake in one of the bedrooms.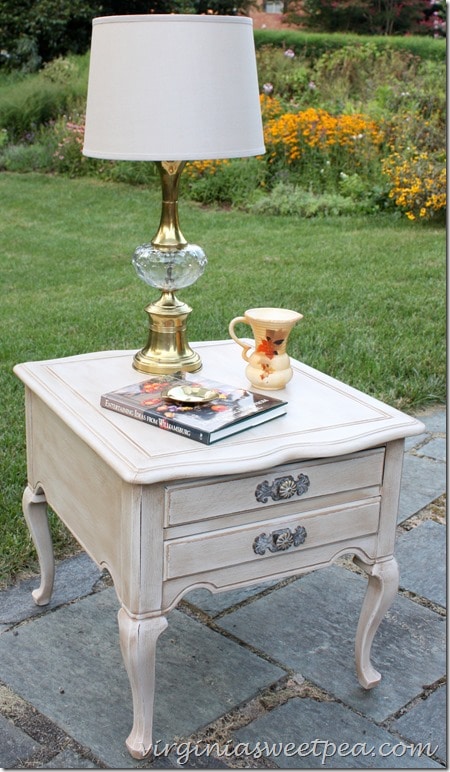 Mr. SP and I love going to Williamsburg although we haven't visited there in a long while. Before we were married, I purchased Entertaining Ideas From Williamsburg* on one of our trips and have enjoyed it ever since. My wedding cake decorations and cake table decorations were taken from this book! The vase was given to me by my grandmother but I don't much about it other than that it is marked with, "Sophia and Made in England". The brass "Pocket Change" dish is a Goodwill find from this summer.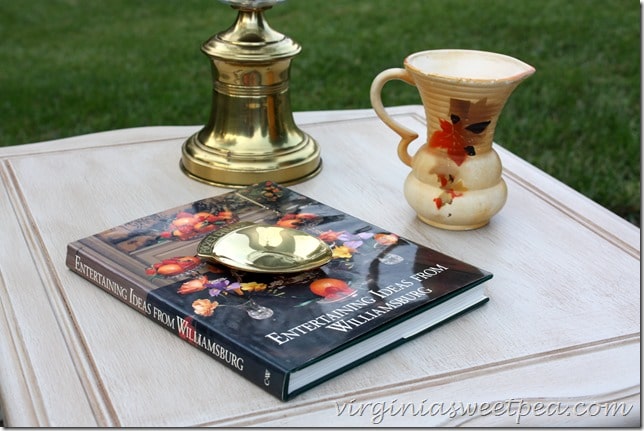 If you like this makeover, please pin it to your favorite Pinterest board for others to discover!

I'm hoping that someone will fall in love with this piece and buy it soon!
Sharing With:
Dwellings-The Heart of Your Home, Refresh Restyle, Between Naps on the Porch, Concord Cottage,Stone Gable, Sand and Sisal, Yesterday on Tuesday, A Stroll Thru Life, Savvy Southern Style, Bless'er House, Common Ground, Houseology, Imparting Grace, Little Miss Celebration