Fall officially arrives on Thursday and the change in season is definitely in the air in my area of Virginia. We won't have fall color for a few more weeks but the tree leaves are looking tired and one can tell that it won't be long until the leaves change to their brilliant fall colors.
In celebration of fall, I'm joining a group of friends for a week long fall tour. I'm excited to share my fall mantel along with five blogging friends who are also sharing their fall mantels today. You'll find the links to the other fall mantels at the end of this post along with the links for projects shared the rest of the week. Be sure to come back each day to get tablescape, wreath, printable, and porch inspiration for fall.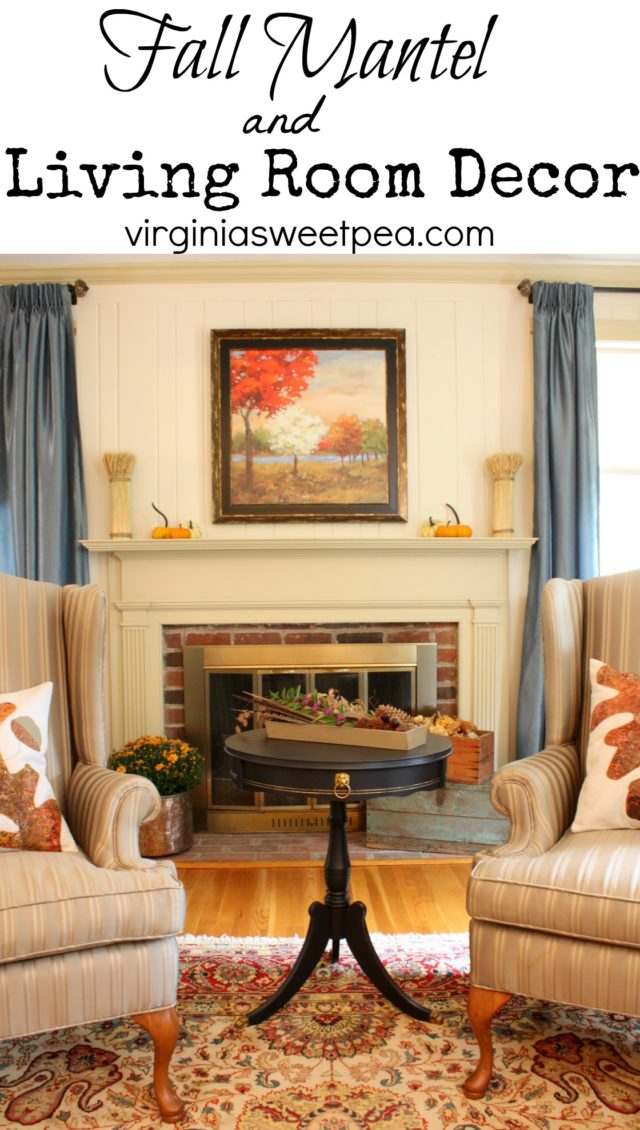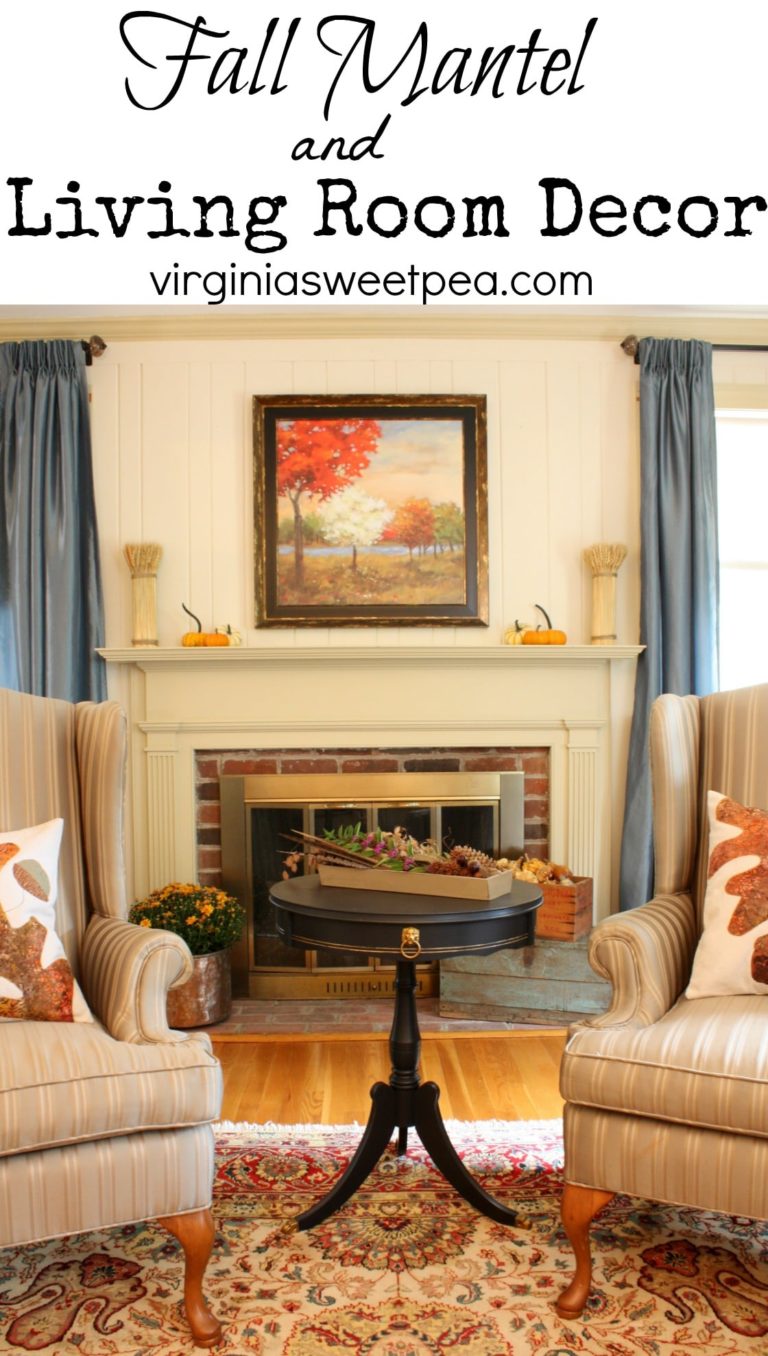 I enjoy decorating our mantel and living room for the season and it's been a long while since I've taken the time to do so. In fact, I don't think that I've decorated this room seasonally since Easter. I so much enjoyed pulling out my fall décor and making this room look pretty.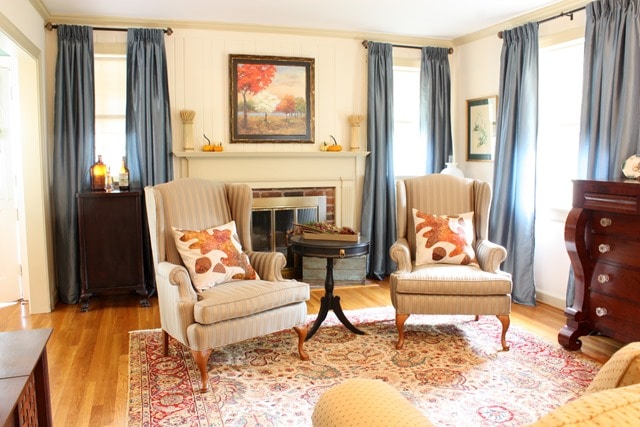 Even though we don't sit in this room, I enjoy it daily as it's the first room that is seen when entering our home. Truthfully, the family member who spends the most time in this room is our dog. Sherman spends his day sleeping on the love seat or in the floor in front of an air conditioning vent.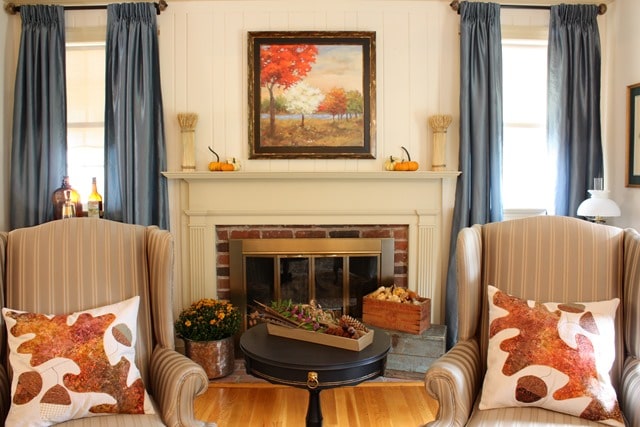 I found the fall scene at a yard sale in May and knew that it would be perfect to hang over my fireplace in fall. To complement the painting, I added wheat sheaves and small pumpkins.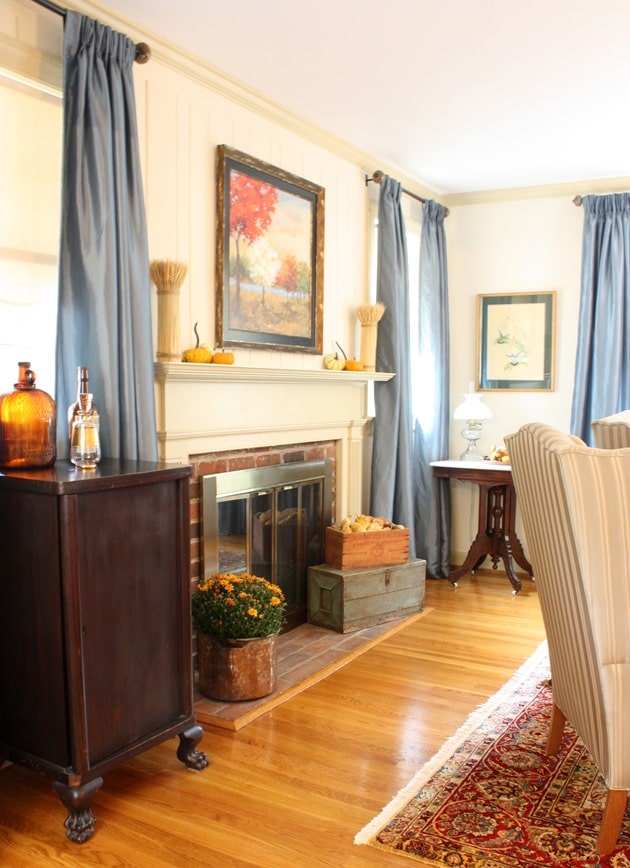 The hearth was the perfect place to display a fall mum in a faux copper pot along with a vintage toolbox and wooden box filled with dried gourds.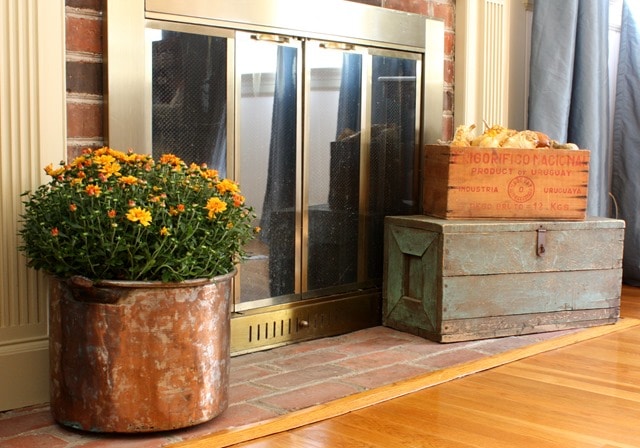 I never throw out my gourds at the end of the season. After purchasing them, I follow these steps and when it's time to decorate for Christmas, I spread my gourds out to dry in our basement. The next year I use this method to revive them for use year after year for décor.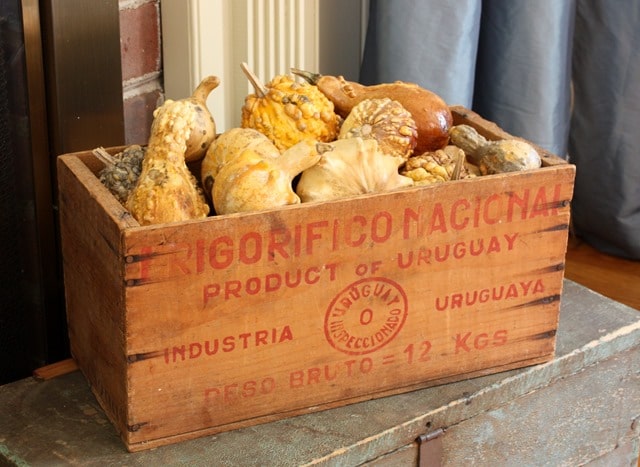 Fall décor is great because it can be enjoyed until late November when it's time to decorate for Christmas. The table between the chairs (which I want to slipcover) was a DIY and so were the pillows.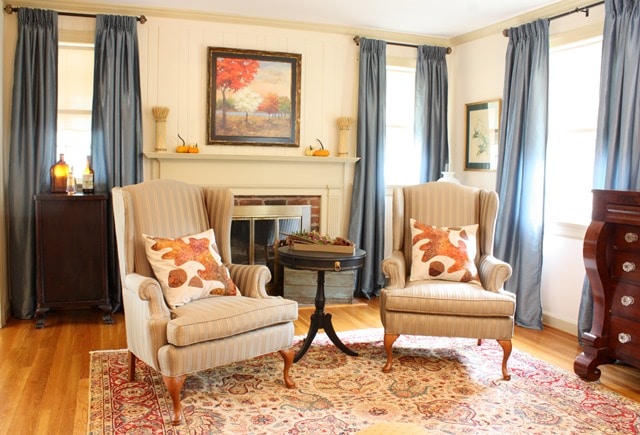 The music stand to the left of the fireplace holds a vintage Clorox bottle that my mom gave me, an old whiskey bottle that a neighbor put on the curb, and a decanter that my friend passed along to me when her mother had to move into assisted living. I love the way that the light shines through the bottles.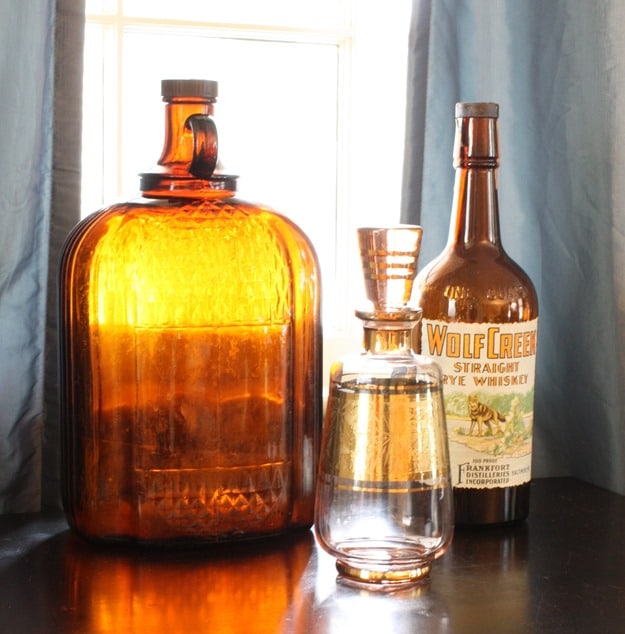 The table in front of the fire place holds a caddy from Goodwill that I painted and filled with fall items found in nature.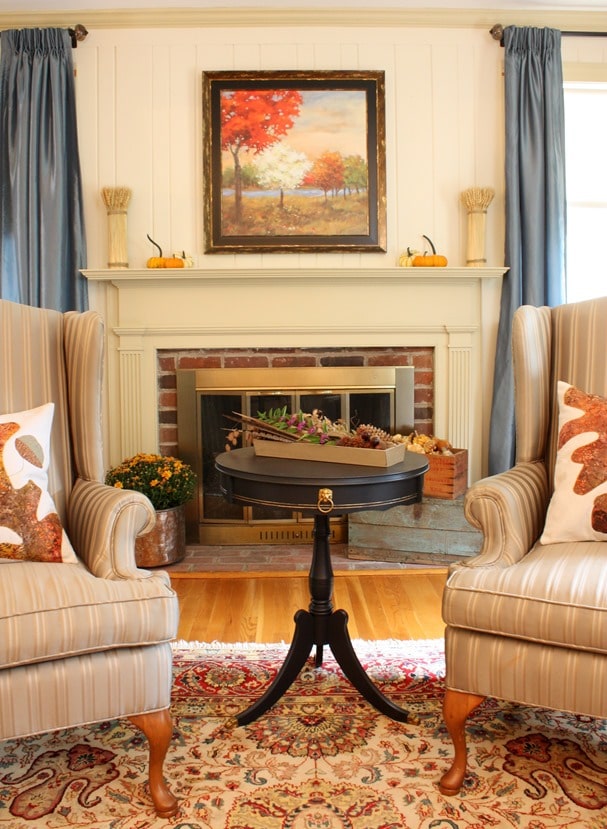 The Beautyberry is from my yard and is tucked into a water pick hidden by the sweet gum balls and acorns. I'm hoping that this will last for a while.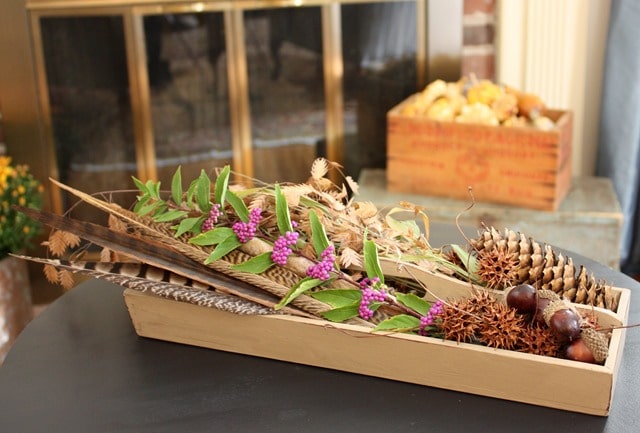 The chest in this room also is decked out for fall.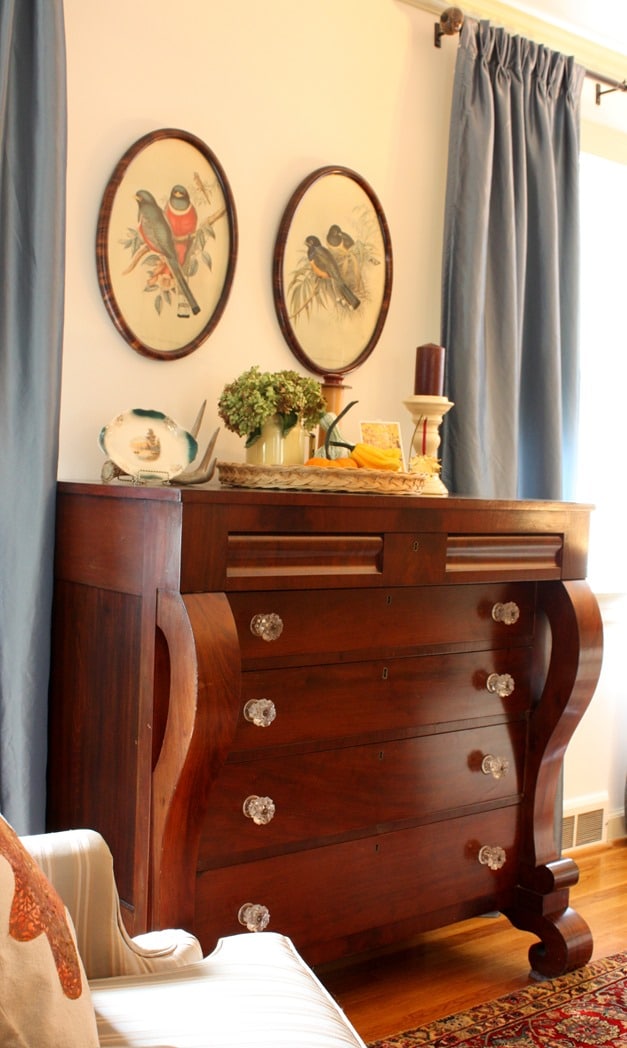 The woven tray was found at a yard sale where I scored many mid-century treasures. The enamel pitcher belonged to my friend's mom. My friend knew that I'd enjoy it and here it holds a few dried hydrangea from my yard. Mama gave me the wooden spindle and the candle holder was also hers, a gift long ago from my father. A Vermont postcard and a Vermont maple leaf preserved in gold complete the fall vignette.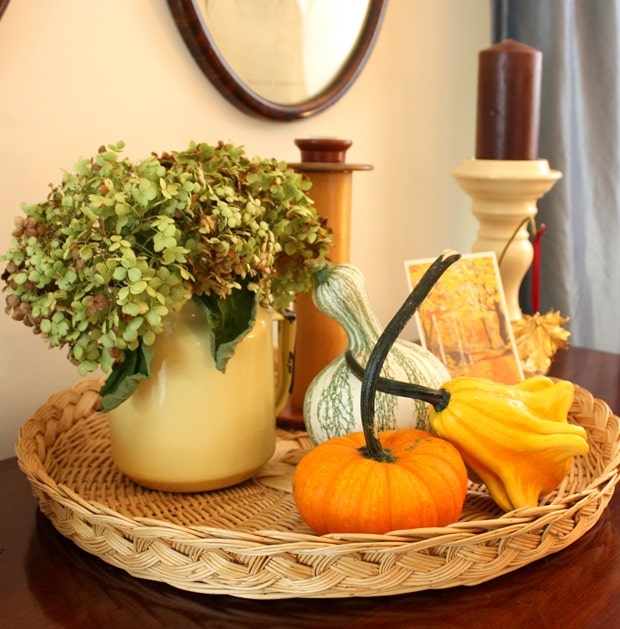 The table to the right of the fireplace gives me another spot to decorate for fall.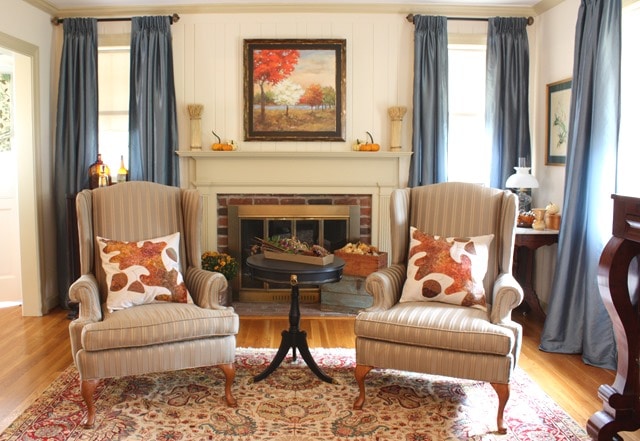 The tray and pitcher were my grandmother's. The pitcher is marked "Sophia – Made in England" but that's all I know about it. Mr. SP gave me the handmade Birds Eye Maple box very early in our marriage.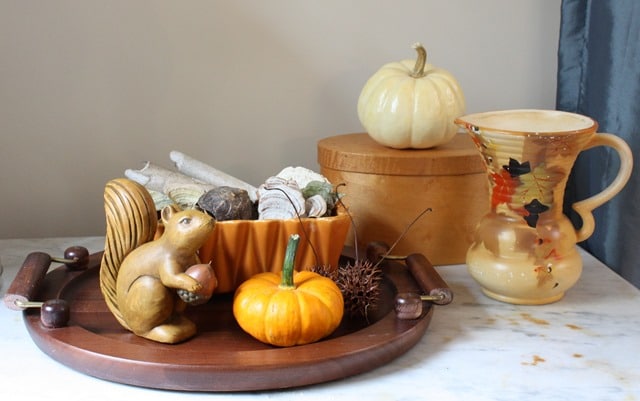 All of the items displayed in this vintage planter were picked up in the woods last fall and winter on walks with my dog. I couldn't resist adding the tiny turtle shell that I found.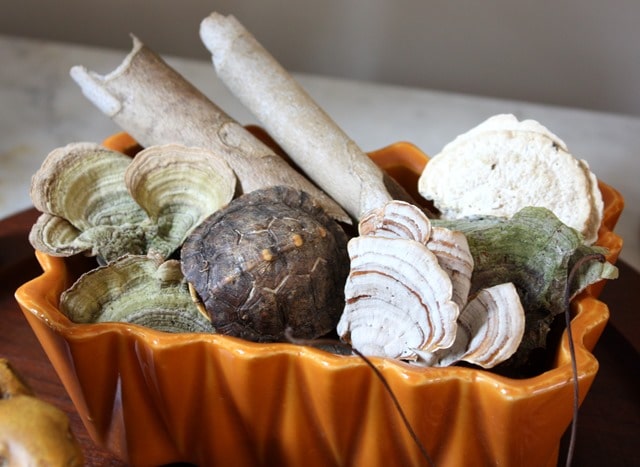 Would you believe that this white pumpkin is from LAST fall? Yes, last fall. My method of preserving gourds and small pumpkins works!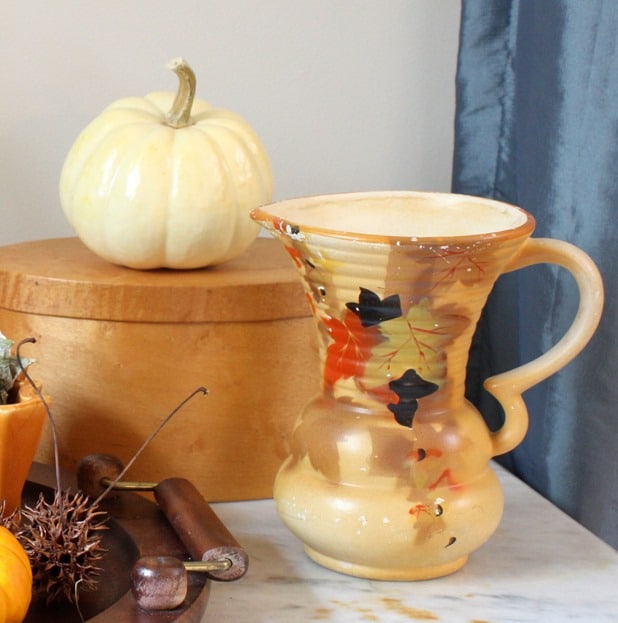 Please pin this project for others to discover!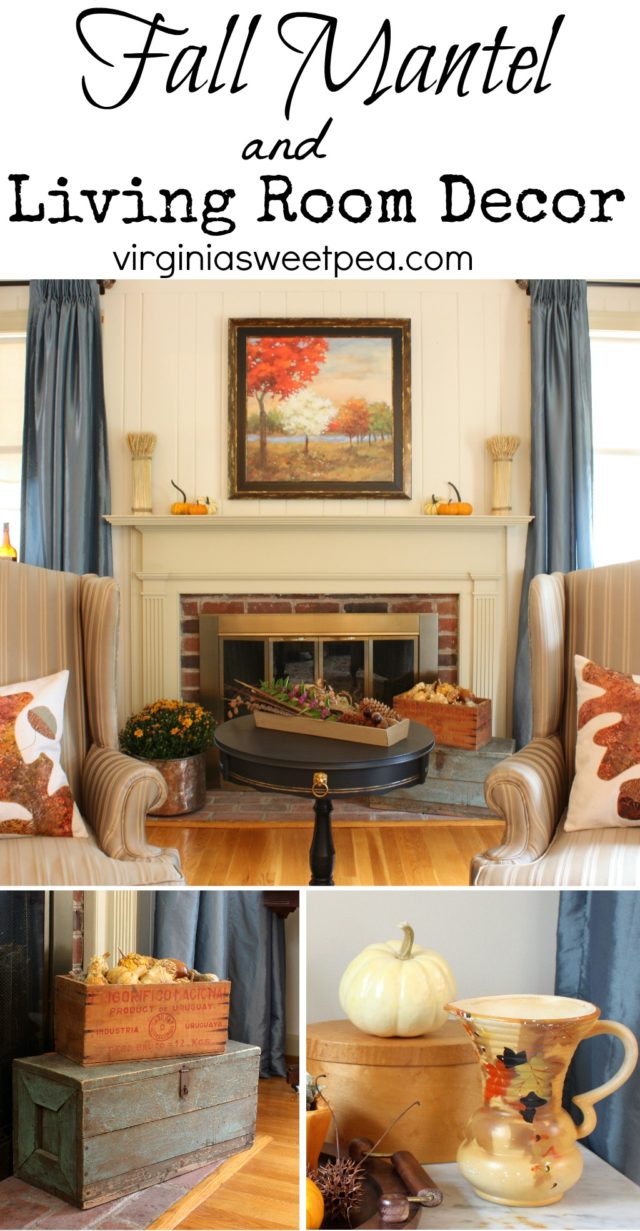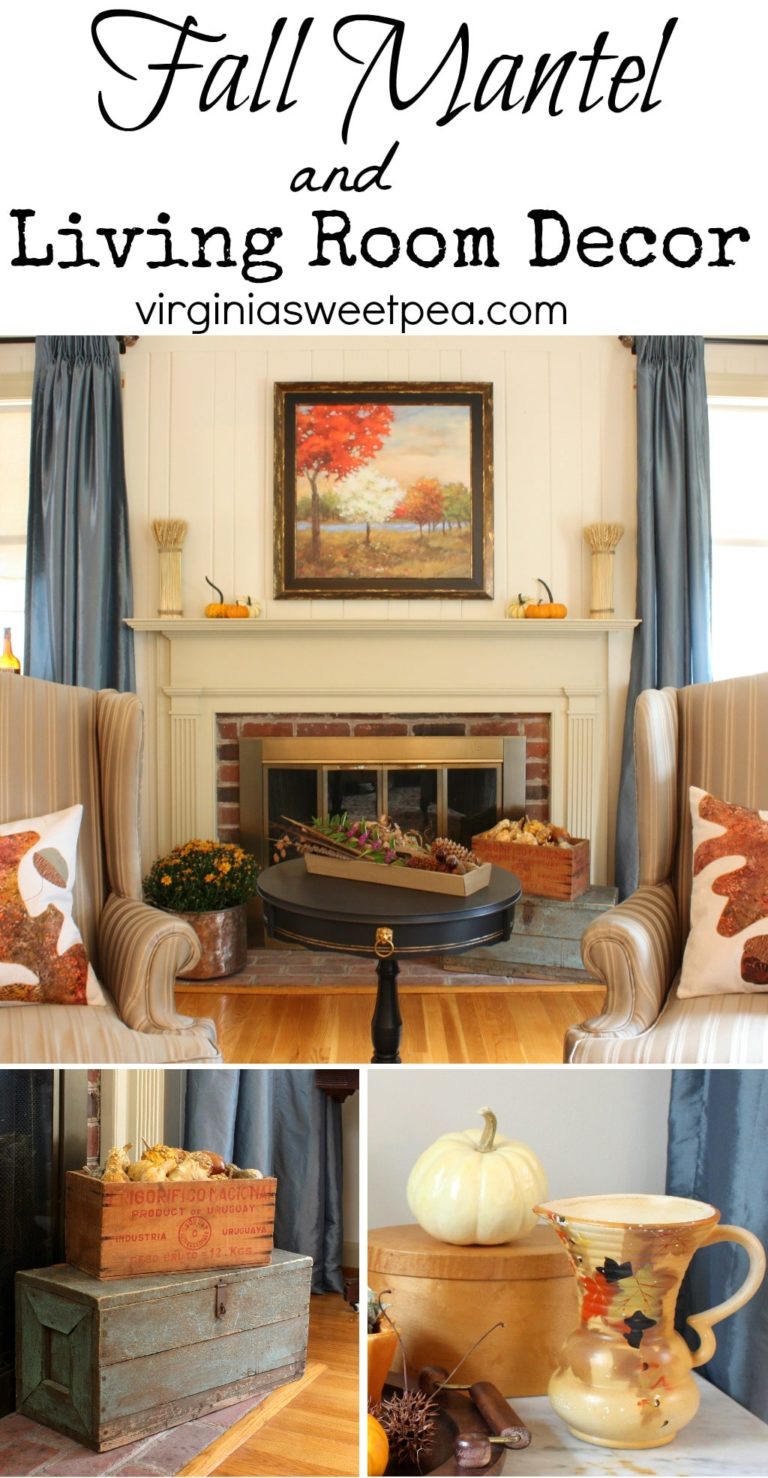 I'm so excited to see what will be shared this week on the tour. Be sure to visit the other ladies sharing their fall mantels by clicking on the links below. And be sure to come back each day to see the other projects shared.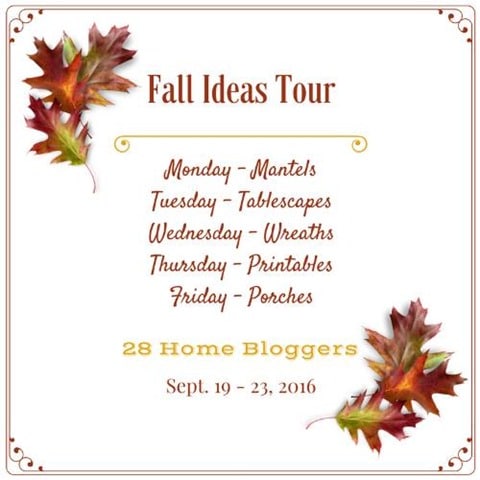 2016 Fall Ideas Tour
Monday – Mantels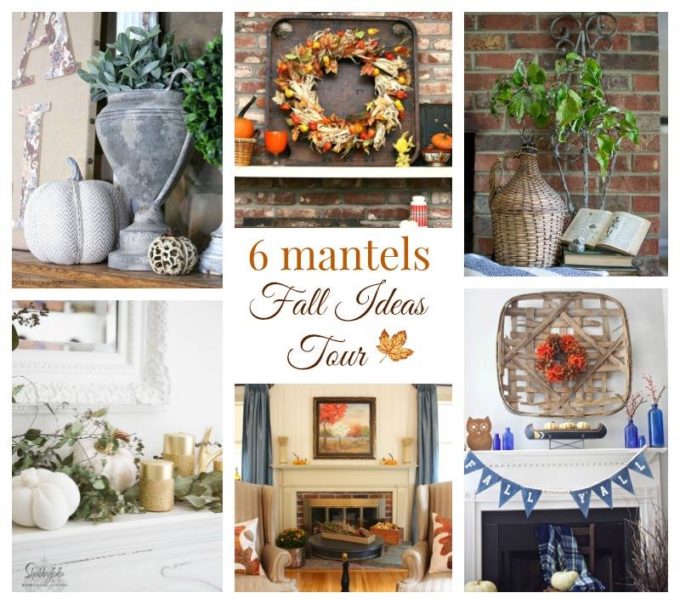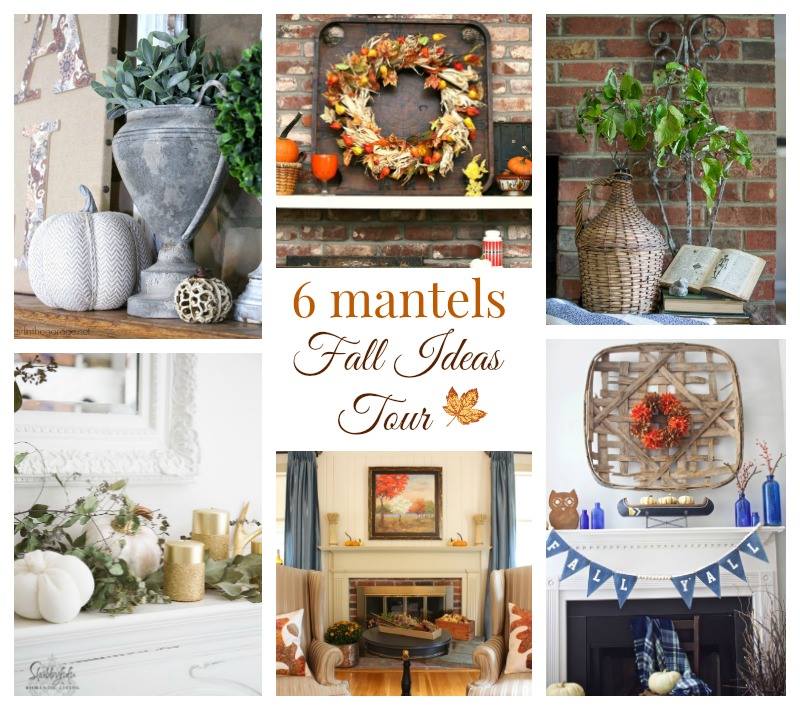 Tuesday -Tablescapes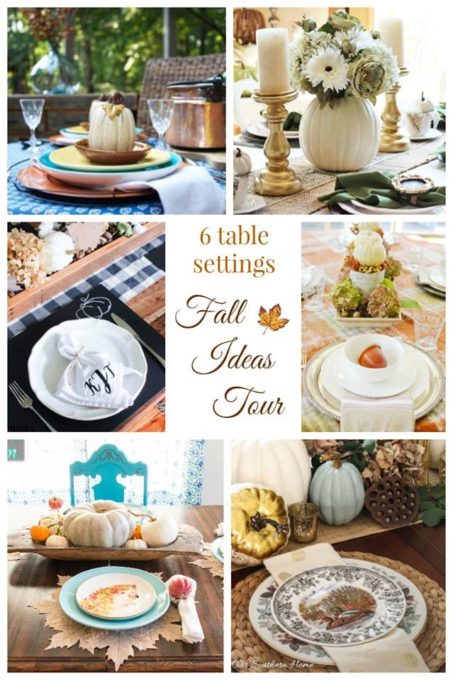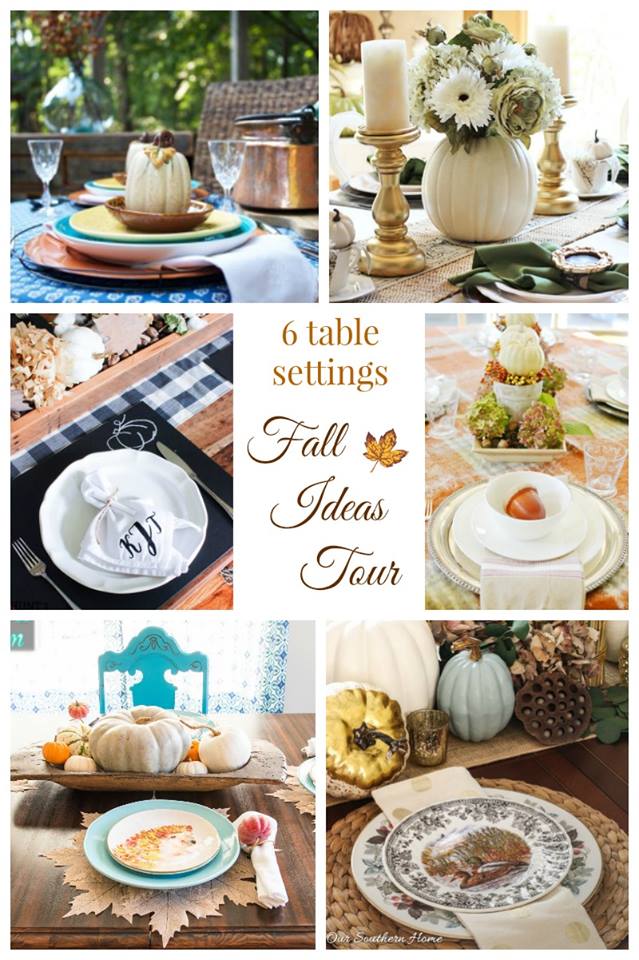 Wednesday – Wreaths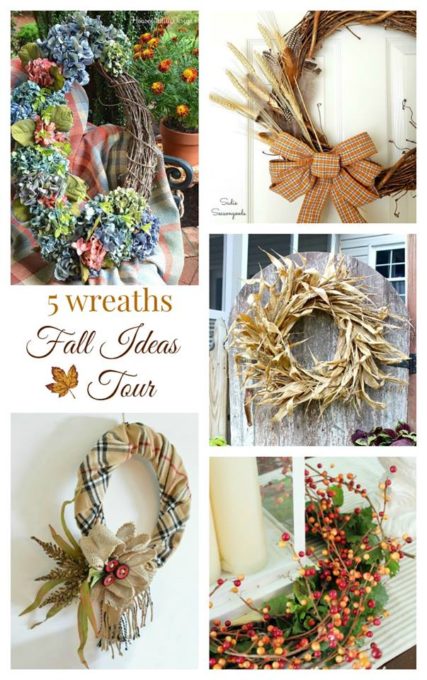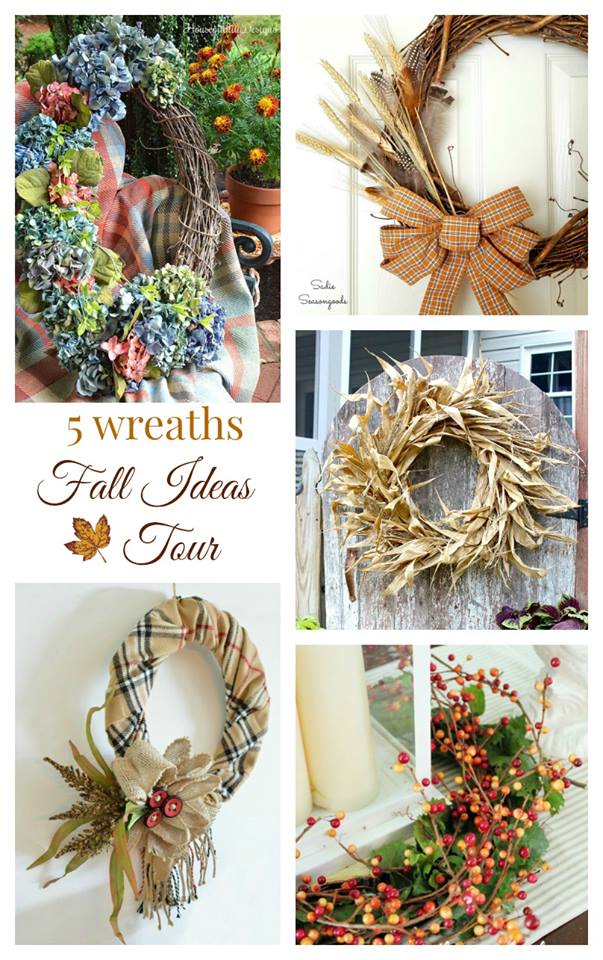 Thursday – Printables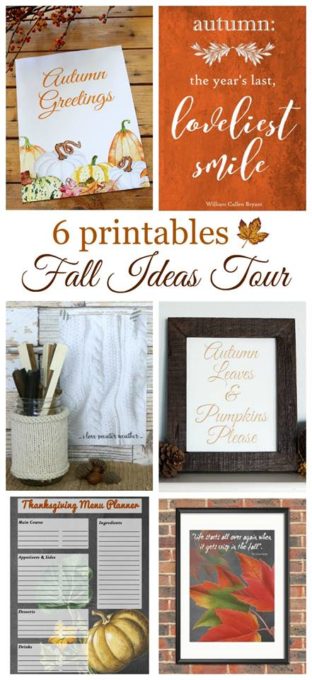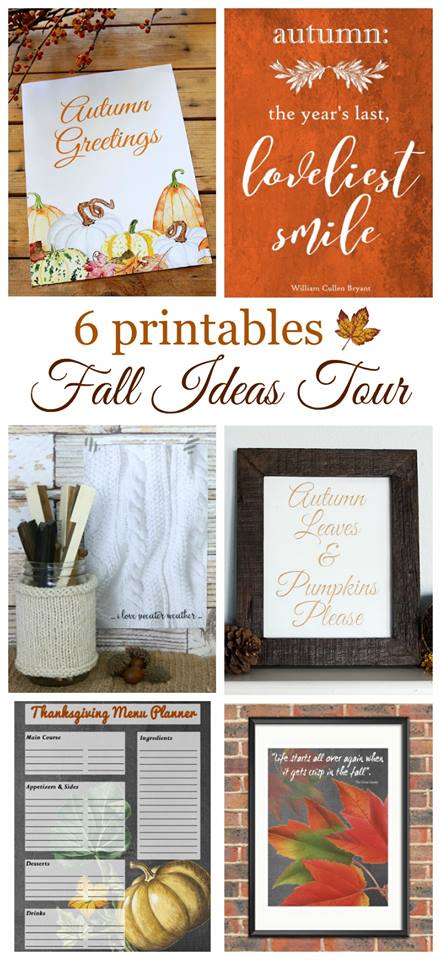 Friday – Porches