February 2016 Stitch Fix Review (Fix #32)
My latest Stitch Fix arrived just after the big snow that we recently received. It was due to arrive on Tuesday and to my surprise, arrived a day early. When I find a Stitch Fix box at my door, it doesn't matter what I am doing, I have to stop to open the box and to try everything on.
I am a Stitch Fix affiliate and if you make a purchase, I earn a small commission. My love for Stitch Fix is genuine and all opinions are truthful and my own.
My January fix was a winner and I kept all five things. With Stitch Fix before your box is styled, you can request items or tell your stylist about upcoming events. I decided to let my stylist, Brittany H., surprise me this month.
You can click here to find links to all of my past Stitch Fix posts.
Let's see what I got!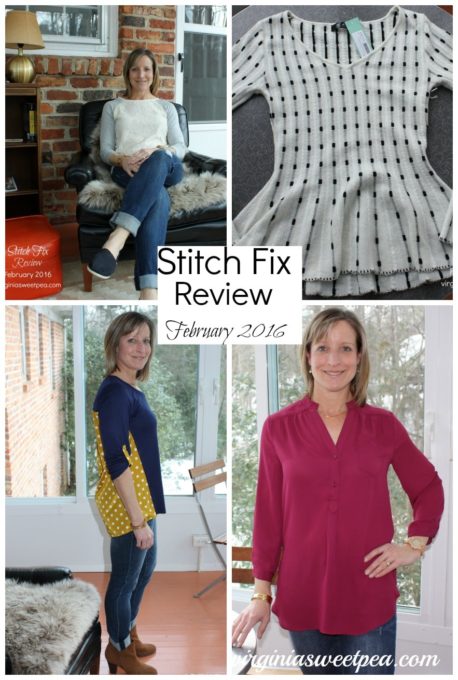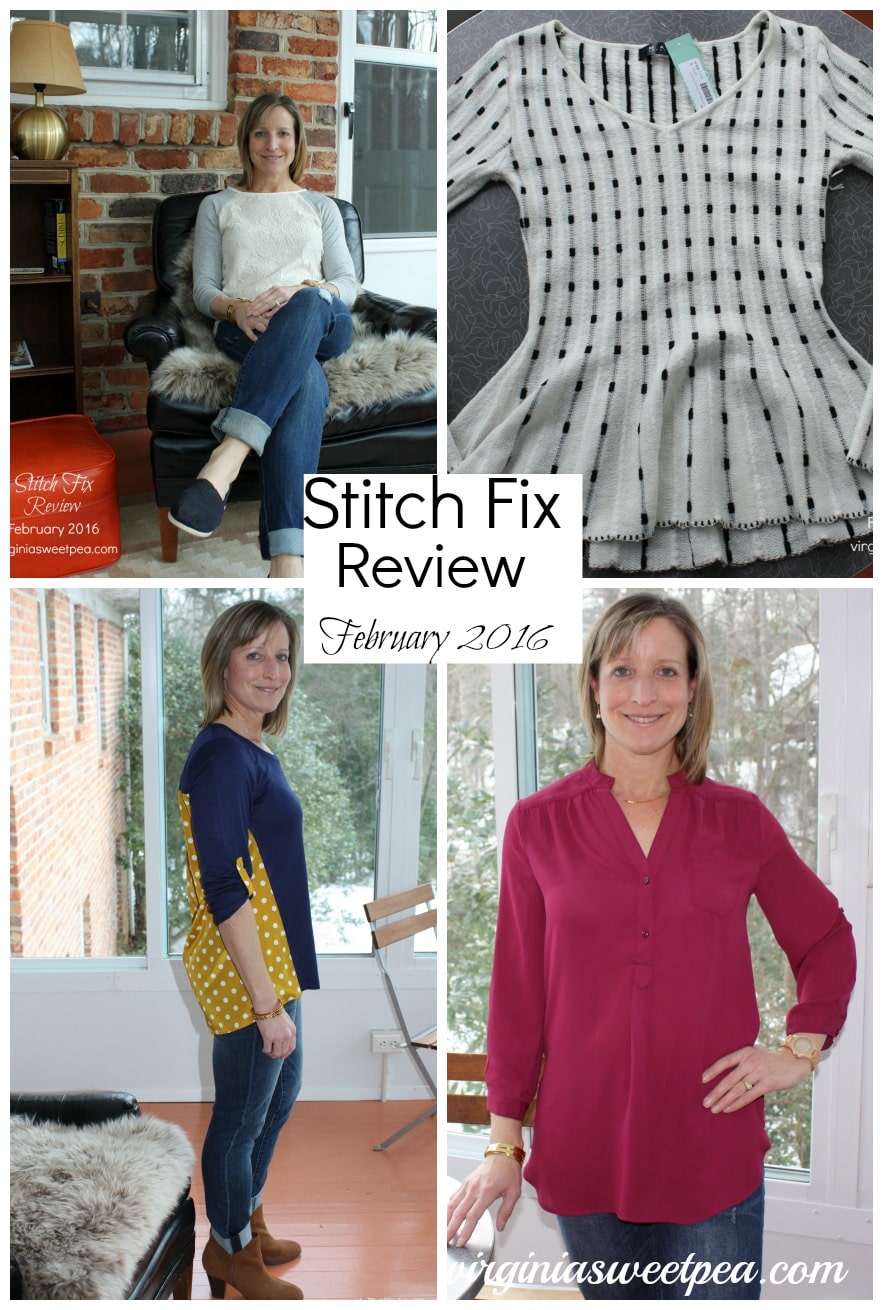 Pixley Dido Mixed Print Knit Top and Kut From the Kloth Kate Distressed Boyfriend Jean
The first item that I pulled out of the box was a pair of distressed boyfriend jeans. I am very difficult to fit in pants and my original thought was that sending these was a waste of an item in my box. Boy-oh-boy was I wrong on that! I slipped these babies on and it was instant comfort. I am guessing that they are supposed to be a bit looser in the legs since they are boyfriend jeans but you can see that my big thighs and calves fill them out. Regardless, they are super comfortable and very soft.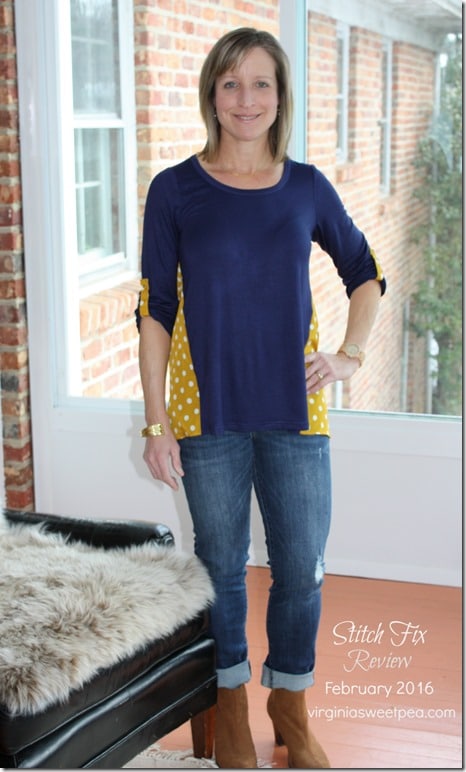 I've paired the boyfriend jeans with booties here but am more likely to wear them with flats or Toms.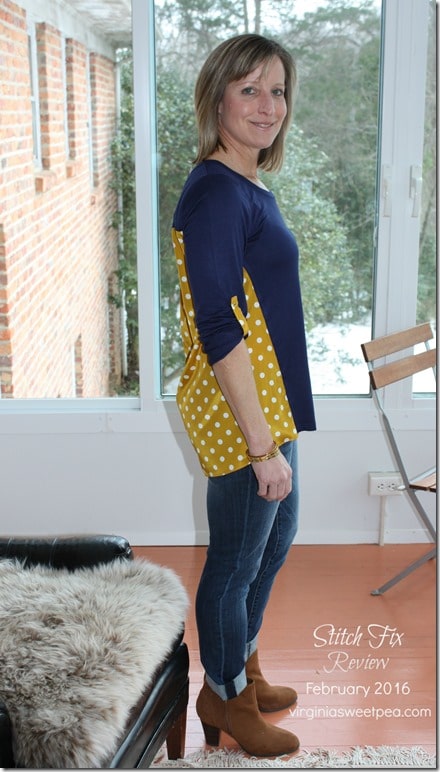 Taking pictures of my items is always a good idea because sometimes I like them a lot better when I see a picture of myself wearing it. This Pixley Dido Mixed Print Knit Top is a perfect example. The front view gives a hint of the polka-dot pattern and when I turn to the side, the surprise is that the back is all polka-dot. Note the cute tab on the sleeve with the same polka-dot pattern.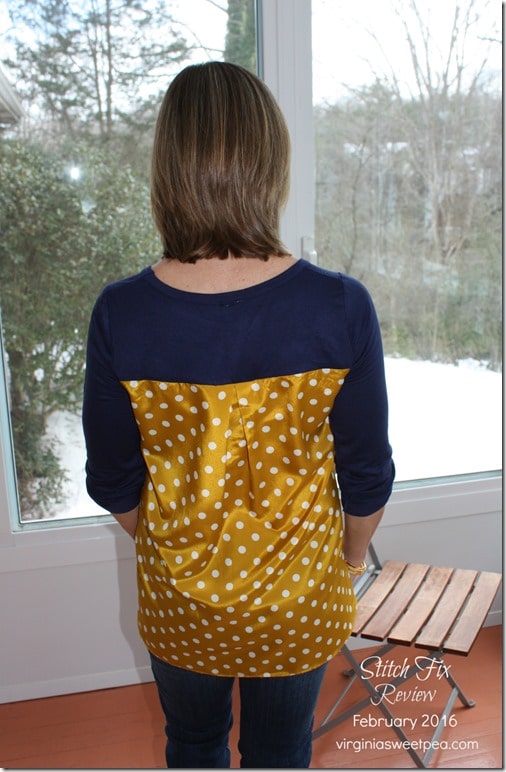 In the back view you can see that the shirt is made from two different materials: the blue is a stretchy knit and the yellow is a silky synthetic with no stretch.
Market and Spruce Bernadette Lace Overlay Raglan Top
This top is my favorite of the four tops that I received this month. It's a casual design but the lace front dresses it up. This would be perfect to wear with jeans or to dress up for work with pants or a skirt.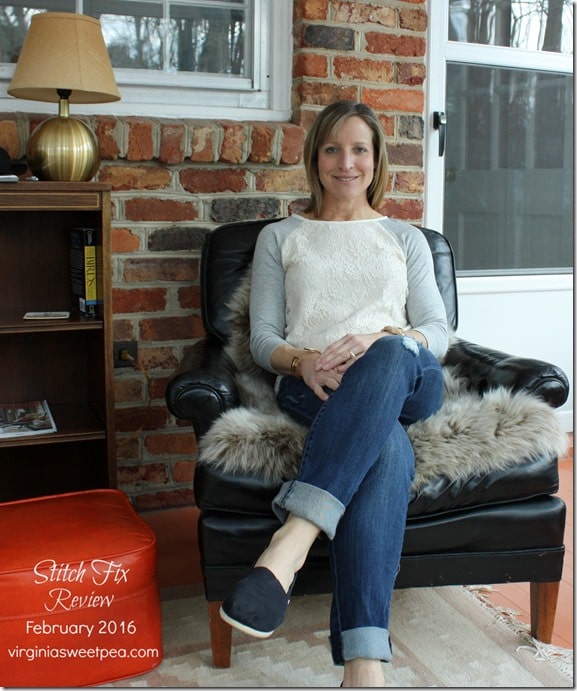 This is my first time trying on a pair of jeans with distressing. I like the look but honestly can't believe that I'm paying for a hole in my pants put there on purpose. (Am I showing my age here or what?) 🙂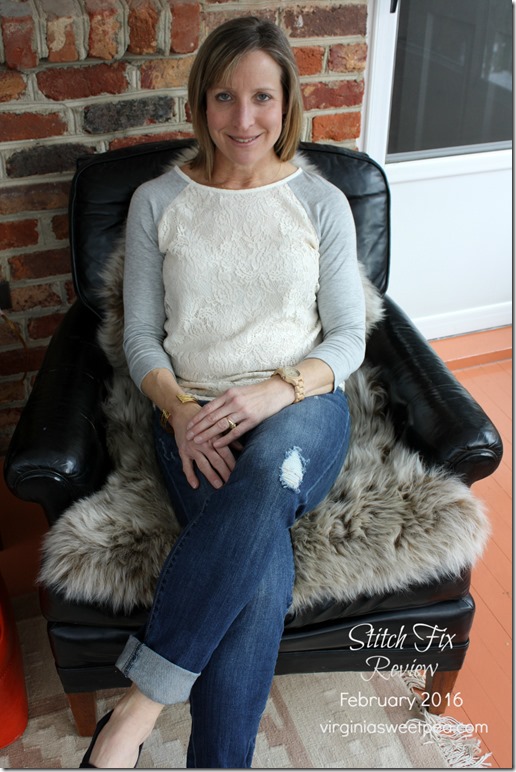 You can see the lace detail better in this shot and also the distressing on the jeans.
41Hawthorn Colibri Solid Tab Sleeve Blouse
I am not at all in love with this shirt. In fact, the only thing that I like about it is the color. I suppose it is a great "basic" piece but I know for a fact that I'd very rarely wear it.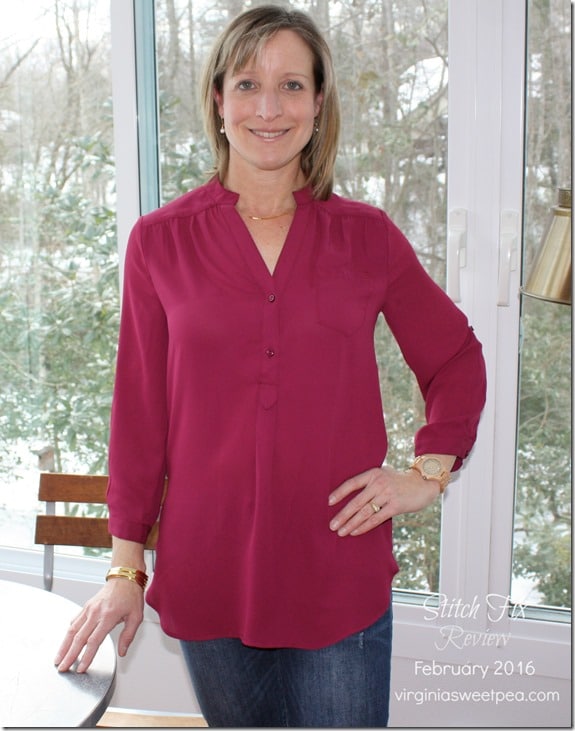 Mak Sandri Peplum Pullover Sweater
This adorable sweater was skin tight and I didn't want to shock anyone by showing a picture of me bursting out of it. I think this would be so cute with a black skirt or with the black Emers that I received in August.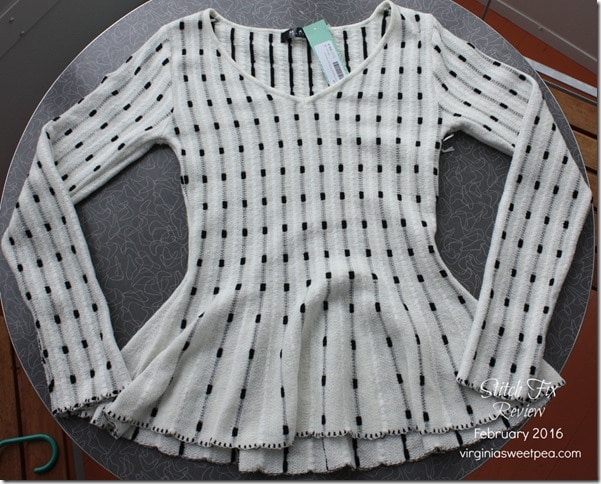 Many thanks to my friend Suzanne for taking pictures of this fix. Her bright mid-century porch was a great place to take pictures on a cold day with snow on the ground.
What I Kept
Kut From the Kloth Kate Distressed Boyfriend Jean
These fit perfectly and were so comfortable. I had to keep them!
What I Sent Back
Pixley Dido Mixed Print Knit Top
I really don't need any more 3/4 length sleeve tops, so this was returned. I do think it's super cute and I'll bet that if I'd kept it that I would have gotten compliments on it.
Market and Spruce Bernadette Lace Overlay Raglan Top
This top was just a tad bit too snug to keep and a bit casual for its $58 price tag.
Mak Sandri Peplum Pullover Sweater
This was too small to even consider keeping. I do like its fun style!
If you are new to Stitch Fix, here's how it works. After you fill out a style profile, a stylist personally selects five things for you that could include clothes, bags, jewelry and now shoes. I ask for no jewelry and on rare occasions a bag. I've yet to receive shoes. You pay a $20 styling fee for your box but that's deducted from anything you purchase. Only once in 32 fixes have I sent everything back, I usually like at least one thing and many times keep all five which gives me a 25% off discount. A postage paid envelope is included with your order making returns a breeze.
Stitch Fix is something that I look forward to receiving and I like getting items of clothing that are sometimes different from what I think that I like. I also like that I have clothes that no one else in my town has. (Unless they do Stitch Fix!)
If you've been thinking about trying Stitch Fix, do it! It's super fun and a great way to add to your wardrobe without the hassle of shopping.