March 2017 Stitch Fix Review–Fix #45
Yes, March is nearly over and I am just now sharing my Stitch Fix box with you.
I intended to write my review when my items arrived at the beginning of the month, but the timing did not work out.
I kept three out of the five items sent to me, and now that it is officially spring and the weather is warm, I've been enjoying my new things.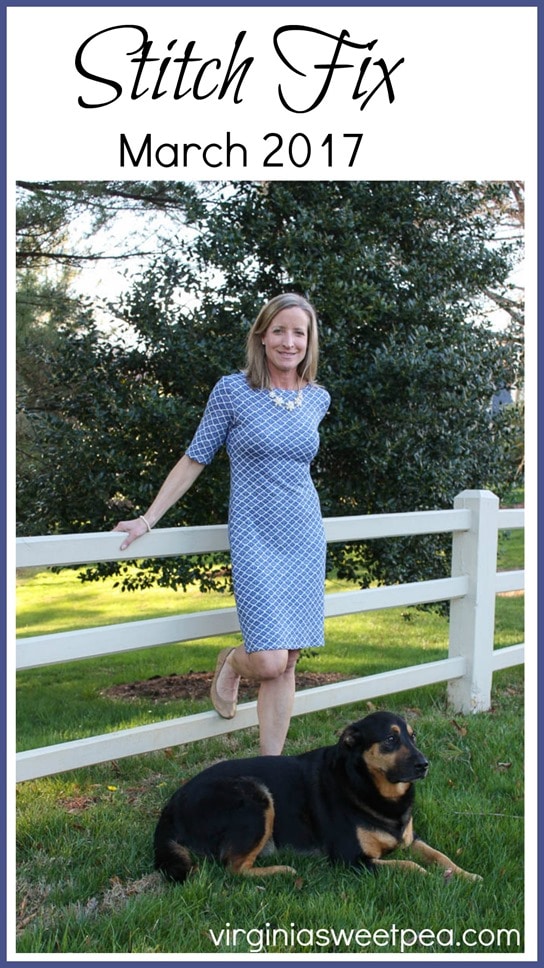 I am a Stitch Fix affiliate and if you make a purchase, I earn a small commission. My love for Stitch Fix is genuine and all opinions are truthful and my own.
I haven't shared a Stitch Fix review since January. I received a box in late January that I normally would have shared for February but I was in the middle of my cancer diagnosis then and didn't have the heart to write about clothing at that time. I skipped Stitch Fix in February and received my next box in March. In an ideal world I would have shared this box with you weeks ago, but better late than never!
You can see all of my Stitch Fix reviews here. If you are looking for spring Stitch Fix items to pin, check out my March, April, and May boxes from last year. I see things that I received last year that I wish I would have kept.
What Stitch Fix Is All About
Stitch Fix is a personal styling service. When you sign up for Stitch Fix, you fill out a detailed style profile that helps your stylist know your likes and dislikes. Since I've received 45 Stitch Fix shipments, my stylist knows my likes and dislikes very well and I almost always like every item in my Fix, a good problem to have!
When a Fix arrives, you have three days to try the clothes on and to decide what to keep and what to send back. Stitch Fix includes a postage paid envelope making returns super easy.
I choose to receive a monthly box but that is my choice. When you sign up for Stitch Fix, you can choose how often a box is delivered.
I do not like shopping and love receiving clothing from Stitch Fix. I get clothes that I like without having to do any work other than pinning things that I like to my fashion board on Pinterest. My stylist, Brittany H., checks my Pinterest board for inspiration and also reads my note to her each month to see if I have any special requests.
You can find links to all of my Fixes here and also be sure to check out my Stitch Fix Review Board on Pinterest where I pin my favorite looks.
My March 2017 Fix
March is a strange month. One day I find myself in short sleeves and the next in a sweater and boots. For this Fix I requested a white pair of pants and short sleeve tops. I also indicated that I love Stitch Fix dresses and wouldn't mind a new one for spring.
Loveappella Miykel Knit Dress
White pants were not available in my size but my stylist, Brittany H., managed to find some other items that I loved. I would call this Loveappella Miykel Knit Dress, "The perfect dress for spring." Why? It's lightweight, soft, stretchy, and figure flattering.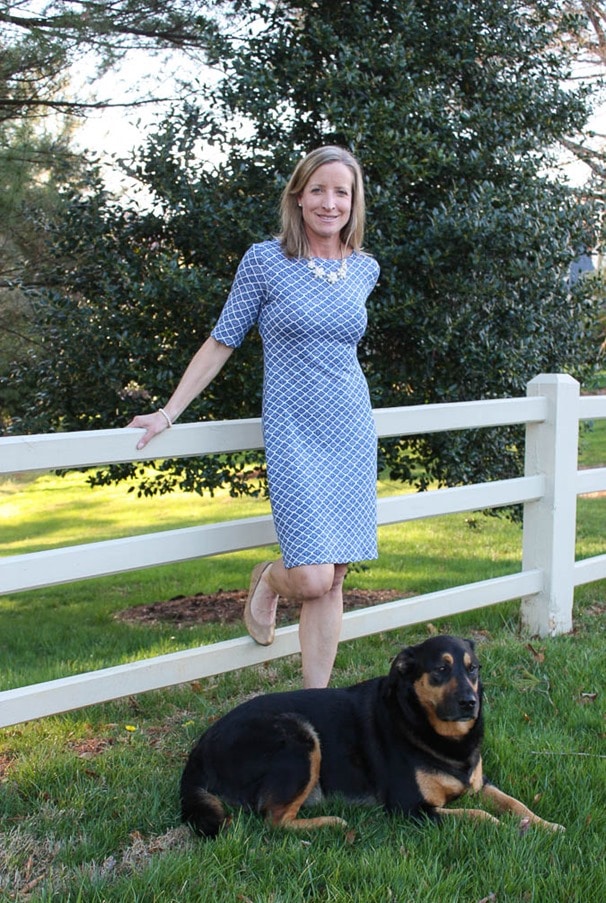 When I pulled this dress out of the box I thought it was nice but didn't fall completely in love with it until I saw the back detail. Isn't the knot in the back adorable? I love a dress that looks as good going as it does coming.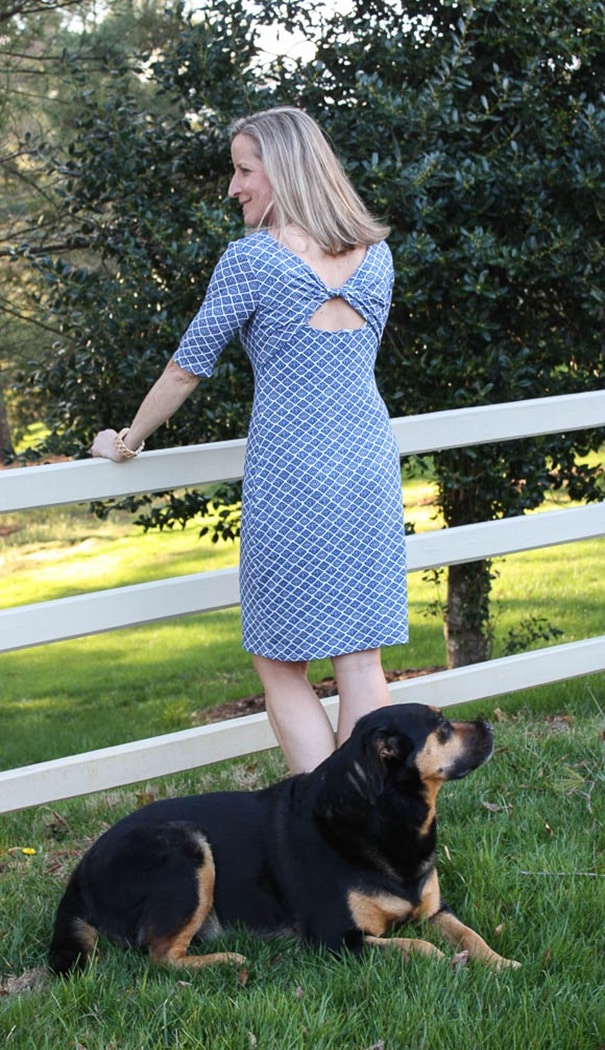 Market and Spruce Lauderdale Knit Cardigan
It's still chilly here in Virginia, even on a warm spring day, and I'd never think about leaving the house without a sweater. The pale pink Market and Spruce Lauderdale Knit Cardigan is perfect for cool spring mornings or evenings.
I like the combination of blue and pink for spring.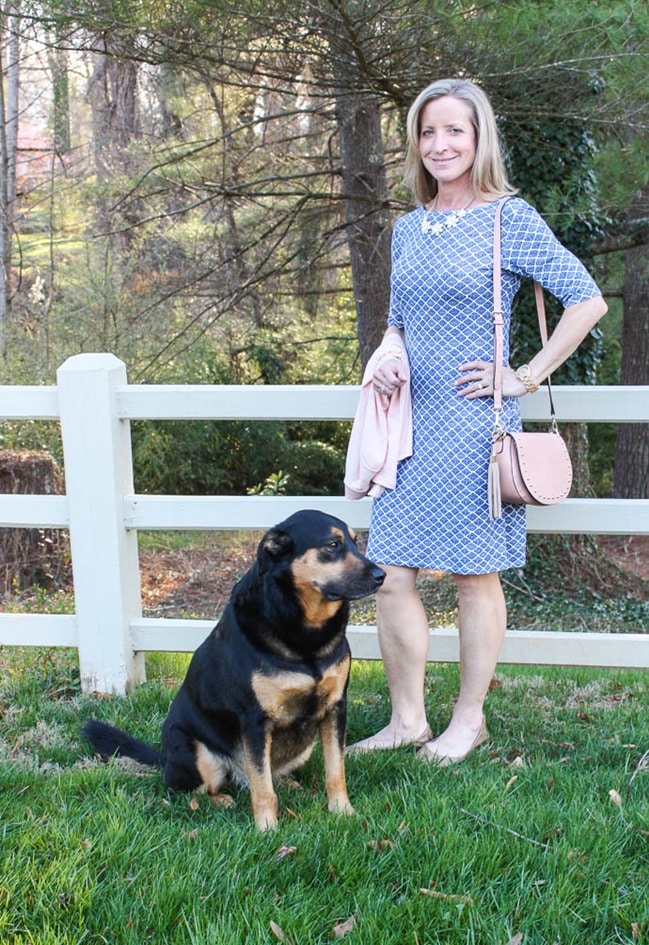 This cardigan will also be great paired with a skirt, jeans, or shorts. My purse is from my October 2016 Fix.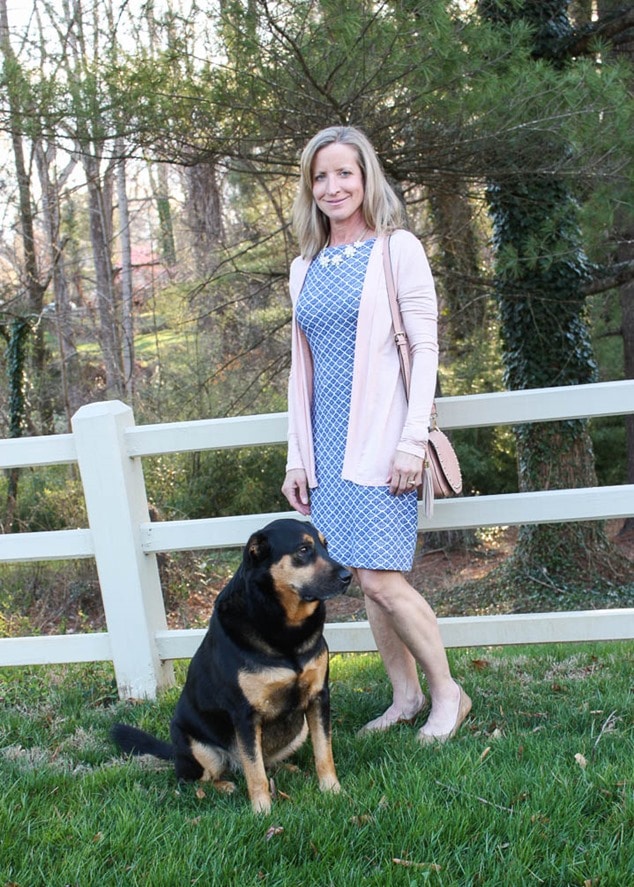 Alice Blue Ambriz Pleat Front Detail Blouse
I loved this blouse the second I pulled it out of the box. It is lightweight and has a fun pattern. I also appreciate that the arm holes are loose. I hate a blouse that binds under my arms.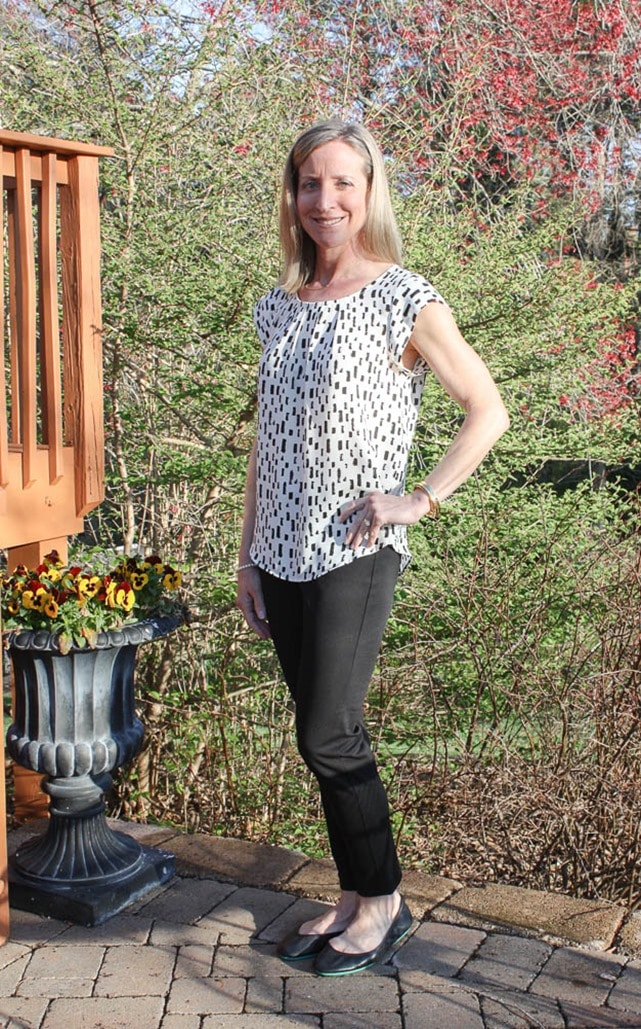 My black pants are Mid-Rise Pixie Ankle Length Pants from Old Navy. These pants have a bit of stretch and are so comfortable. In fact, I like them so much that I may invest in a few more colors.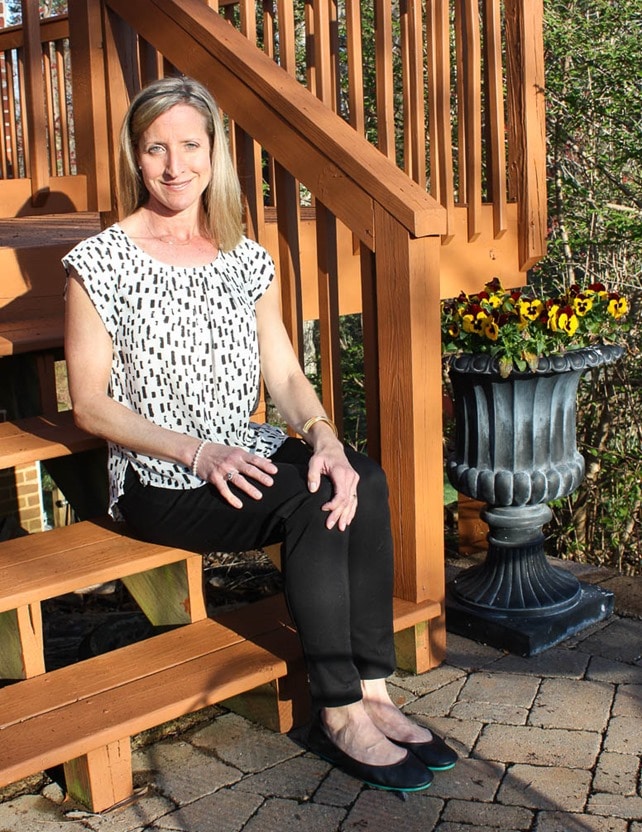 Papermoon Bastille Tulip Sleeve Blouse
I didn't keep the next two things, so I don't have pictures of me wearing them. One thing that I love about Stitch Fix is that returns are SO easy. A postage-paid envelope is included with your order, so you simply check out either on your computer or on an app on your phone, and send back what you don't like using the envelope provided.
I loved everything about this blouse but the one I received had two stains on the back, so I sent it back.
I probably could have exchanged it for another, and I would have done that if I were keeping all five items. Unfortunately, my fifth item was too big and a smaller size was not available, which meant the "Buy 5 discount of 25%" was not an option.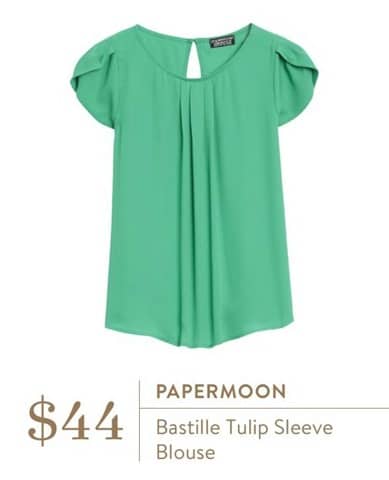 Glamorous Adalyn Midi Skirt
The last item that I received was the Glamorous Adalyn Midi Skirt. Brittany thought that I would like it paired with the Papermoon Bastille top.
The skirt I received was similar to this one but the waist band was white. Had this skirt fit, I may have liked it, but it was so enormous that I could hardly keep it up. Even with sizing down, it might have been big. I got the feeling that it was a Stitch Fix item that had been in stock for a long time since most of the sizes left when I checked were not available.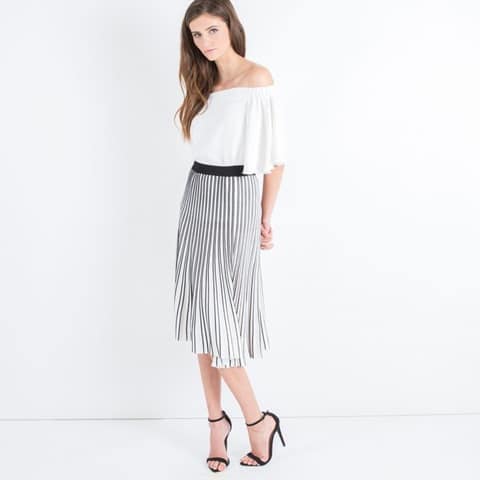 In Summary
A 3/5 Fix is what I'd call a success, especially since I've already worn my three items and I really like them.
Loveappella Miykel Knit Dress – $64 – Kept
Alice Blue Ambriz Pleat Front Detail Blouse – $44 – Kept
Market and Spruce Lauderdale Knit Caridgan – $38 – Kept
Papermoon Bastille Tulip Sleeve Blouse – $38 – Returned
Glamorous Adalyn Midi Skirt – $58 – Returned
I love receiving clothes from Stitch Fix. If you haven't tried it, you really should! And, if you are plus-size, Stitch Fix is now available for you.
More Stitch Fix is on the Way
My next Fix should be here any day, so be on the lookout for an April Stitch Fix post next week. I peeked at what I'm receiving using the Stitch Fix app on my phone and I can't wait to try on what I'm receiving.
Mr. SP is also set to receive a Fix in the next few days. This will be his third Fix and we are looking forward to seeing what he'll receive. If your mam might like a Fix, click on the picture below to set him up!
Don't forget about Stitch Fix gift cards. That hard to buy for man or woman may enjoy a gift from Stitch Fix.