Stitch Fix Year in Review–My Favorites from 2016
2016 is coming to an end and I thought it would be fun to share my favorite Stitch Fix looks for the year.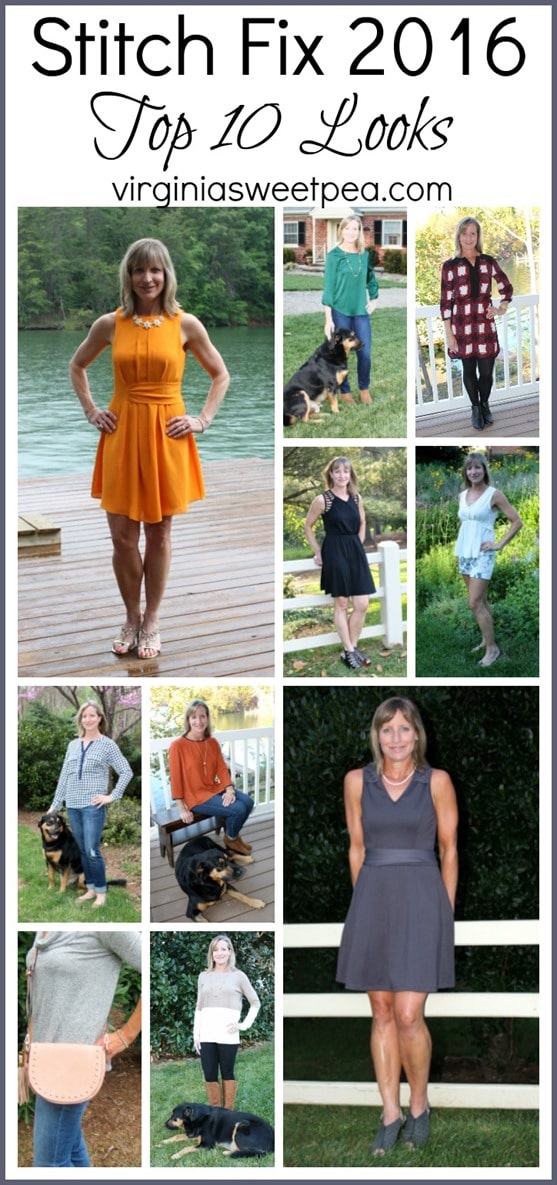 I am a Stitch Fix affiliate and if you sign up for Stitch Fix using my affiliate link, I earn a small commission.
Fix #43 is due to arrive any day and I'll soon be sharing a review of its contents with you. Since I've received 42 Stitch Fix shipments, as you can imagine, my wardrobe is full of Stitch Fix items.
Stitch Fix Details
I do not like shopping and love receiving clothing from Stitch Fix. I get clothes that I like without having to do any work other than pinning things that I like to my fashion board on Pinterest. My stylist, Brittany H., checks my Pinterest board for inspiration and also reads my note to her each month to see if I have any special requests.
When you sign up for Stitch Fix, you fill out a detailed style profile that helps your stylist know your likes and dislikes. Since I've received 42 Stitch Fix shipments, my stylist knows my likes and dislikes very well and I almost always like every item in my Fix, a good problem to have!
When a Fix arrives, you have three days to try the clothes on and to decide what to keep and what to send back. Stitch Fix includes a postage paid envelope making returns super easy.
I choose to receive a monthly box but that is my choice. When you sign up for Stitch Fix, you can choose when a box is delivered.
You can find links to all of my Fixes for 2016 here and also be sure to check out my Stitch Fix Review Board on Pinterest where I pin my favorite looks.
Stitch Fix began service to men this fall and my husband has received a shipment in October and November. We were equally pleased with the men's service and he's sure to get more Fixes in 2016. We attended a few holiday parties this year both dressed in Stitch Fix!
My Favorite Stitch Fix Looks for 2016
1. Without a doubt, my favorite Stitch Fix item for 2016 was the Adelyn Rae Taliya Dress that I received in my June 2016 Fix. I love both the cut and color of this dress and the fact that I could dress it up or down for casual or more formal events.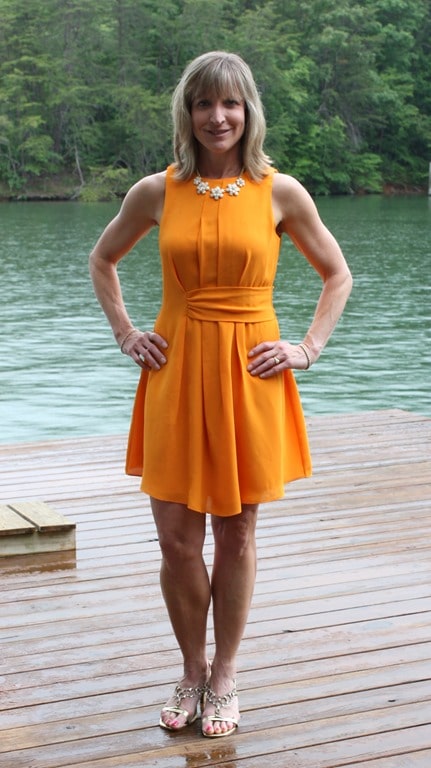 2. My June 2016 Fix was a great one where I kept all five items. My second favorite item for 2016 is also from June, the Pixley Sondra Textured Knit Dress. I wore this non-stop all summer and then into fall with a sweater over it.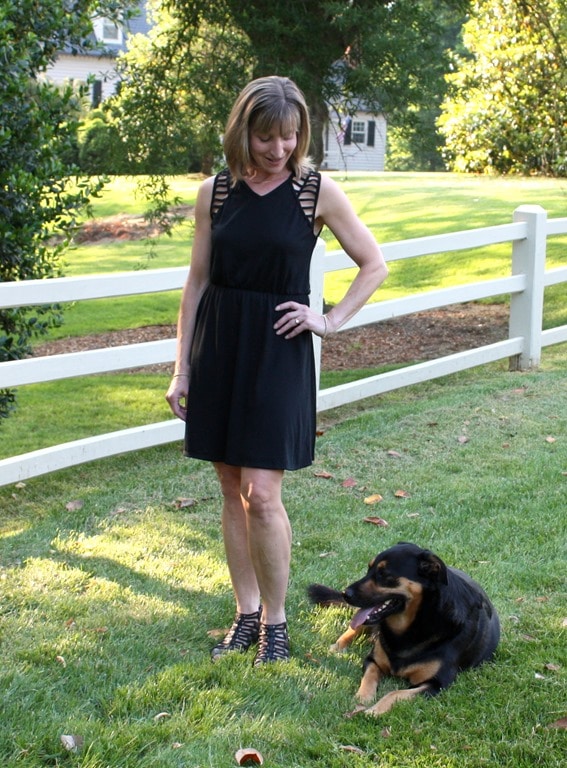 3. My third favorite Stitch Fix item for 2016 is from my September Fix, the 41Hawthorne Nicholle Knit Dress. Yes, I like dresses! In fact, that's what I wear to work nearly every day. This dress has a gorgeous color and I love how it fits it.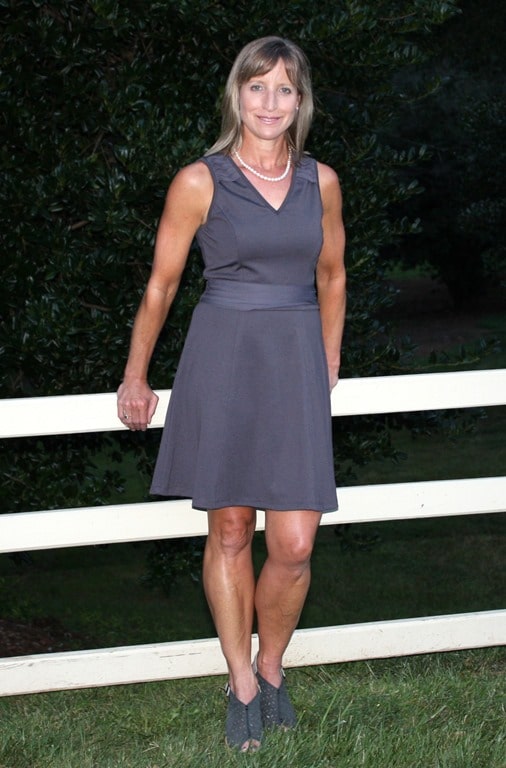 4. My fourth favorite Stitch Fix item for 2016 is the Glamorous Reese Studded Saddle Bag from my October 2016 Fix. I get so many compliments on this bag and it is the perfect size, not too large and not too small. I had to laugh one morning when I was in line at 7-Eleven and a construction worker complimented me on it.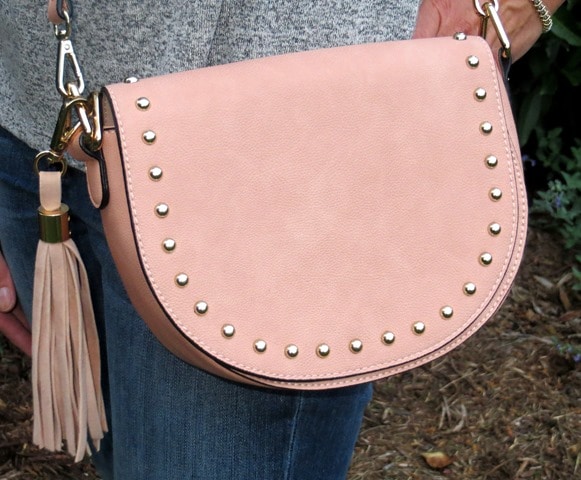 5. My November 2016 Fix was another where I kept all five items. The 41 Hawthorn Hellen Shirt Dress has been a fall favorite that receives compliments every time I wear it.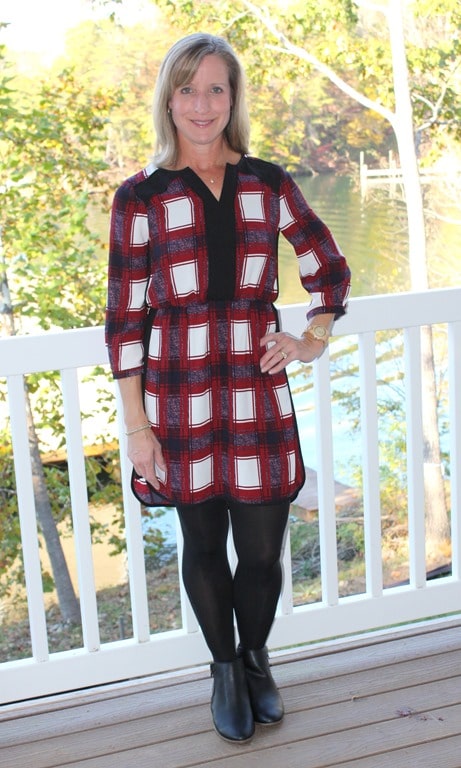 6. My sixth favorite Stitch Fix item for 2016 is the Papermoon Dauwens Crew Neck Blouse. I typically wear it on the weekend with jeans but have also worn it to work with a skirt. This blouse is from my November 2016 Fix.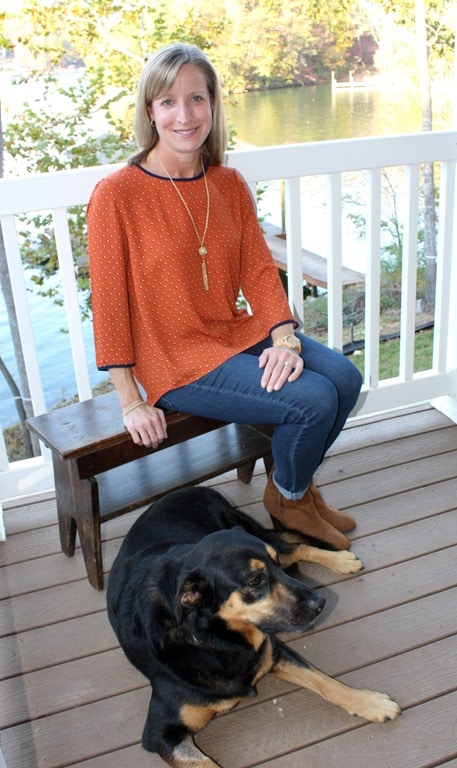 7. My seventh favorite Stitch Fix item for 2016 is the 41 Hawthorn Breckinridge Crochet Detail Blouse from my December 2016 Fix. I love this blouse's silky material and pretty emerald green color. It has been great to wear this December to holiday parties.

8. Coming in at number eight is the Kut from the Kloth Kate Distressed Boyfriend Jeans from my February Fix. I'm difficult to fit in pants and these jeans fit like a dream. I've enjoyed wearing them so much in 2016! Here I've paired the with the 41 Hawthorn Quay Henley Blouse from my April Fix.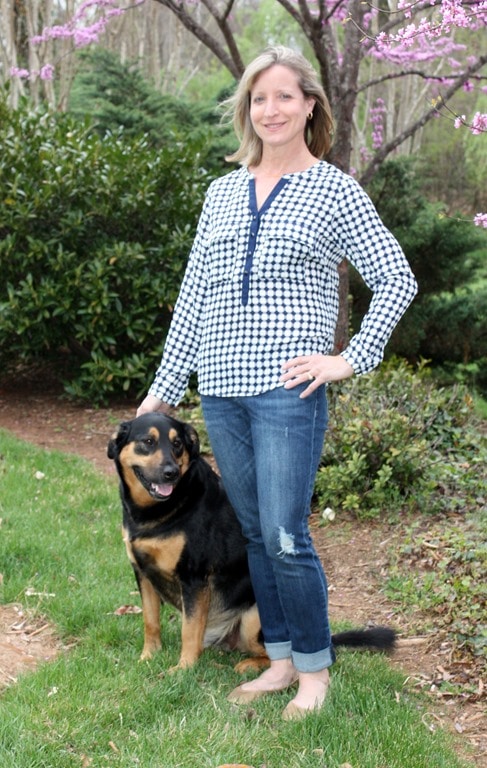 9. Number nine for 2016 is the Dear John Finnegan Cuffed Shorts from my July 2016 Fix. These shorts are super comfortable and I wore them a lot over the summer. Here the shorts are paired with the Alice Blue Gower Peplum Top that I received in my April fix. I also loved this top and received compliments every time I wore it.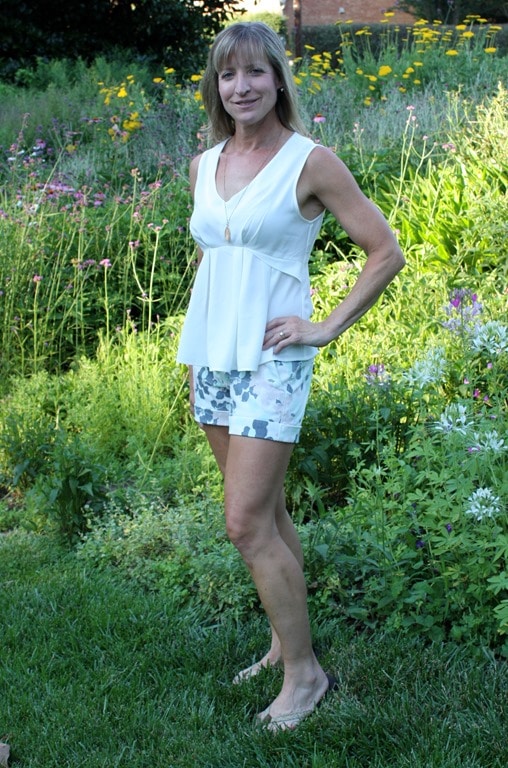 10. I resisted the leggings trend for a long time and after hearing great reviews about the Lysse Joylyn Ponte Leggings, I finally gave in and requested a pair. Boy are these comfortable and I love how they support my legs. Once these are on, they stay in place comfortably all day long. No need to pull these up from time to time during the day. These came in my November 2016 Fix and I'm wearing the here in my December 2016 Fix with the 41 Hawthorn Darci Pullover Sweater.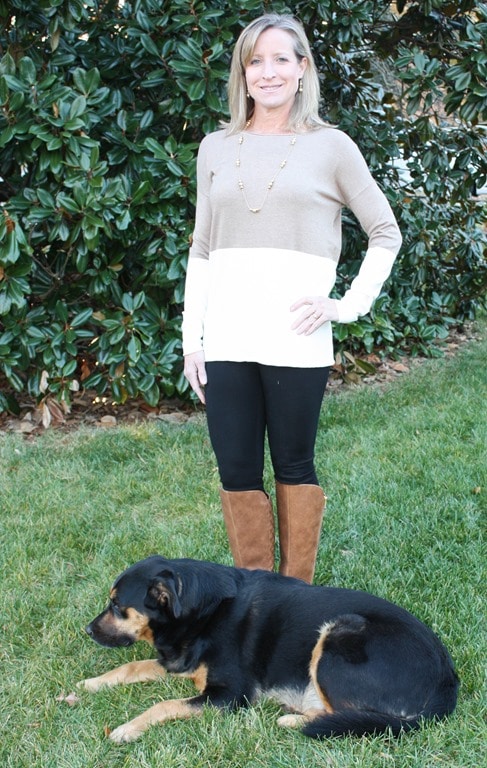 I'll be back at the beginning of January with my review of Fix #43. I can't wait to see what Stitch Fix has in store for me for 2017!