Four Calling Birds Themed Christmas Mantel
Can you ever remember not hearing or singing The Twelve Days of Christmas? I know I can't!
This year I joined a group of bloggers to bring you a week's worth of Christmas cheer inspired by this traditional Christmas song.
My mantel's theme for this Christmas season is Four Calling Birds.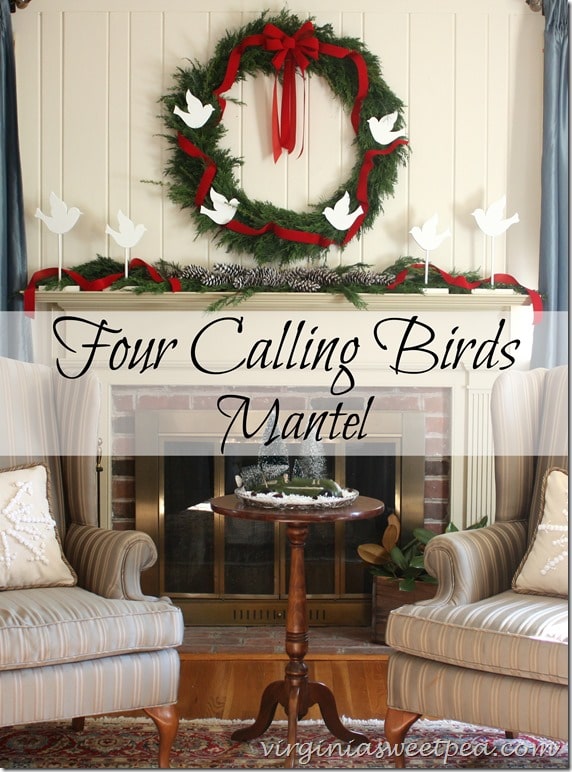 My mantel design started with a large wreath made with fresh greenery, adorned with red velvet ribbon and four birds.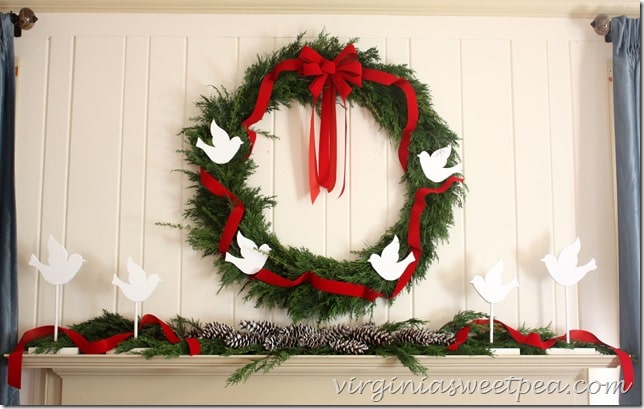 The birds on the wreath were cut from a scrap piece of Luan with a scroll saw and painted with white chalk paint. Hot glue holds them on the wreath.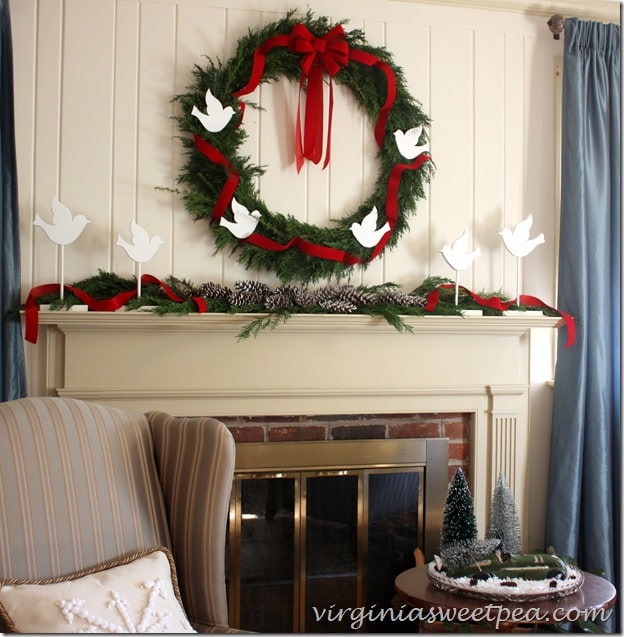 The four calling birds on the mantel were cut from scrap pine with a scroll saw. They also were painted with white chalk paint. The dowels and square holders originally were used for a garden club's plant judging. My trash finds don't go to waste!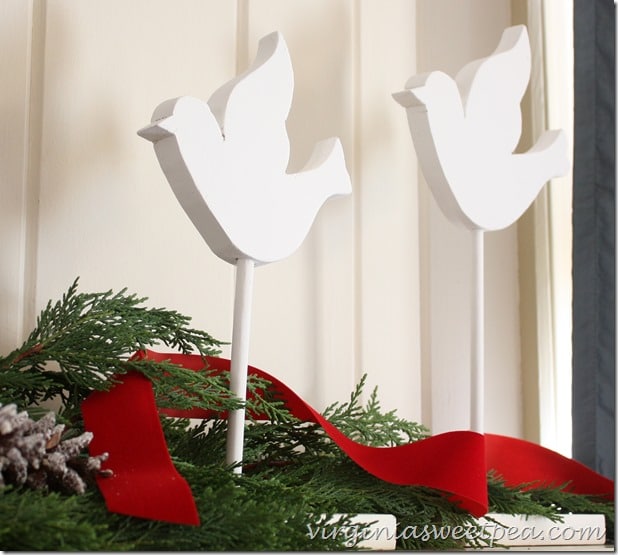 The pine cones in the middle of the mantel were sprayed with a thin layer of faux snow. Can you see my dad's late 1940's or early 1950's car on the table? It's bringing home a Christmas tree to be decorated.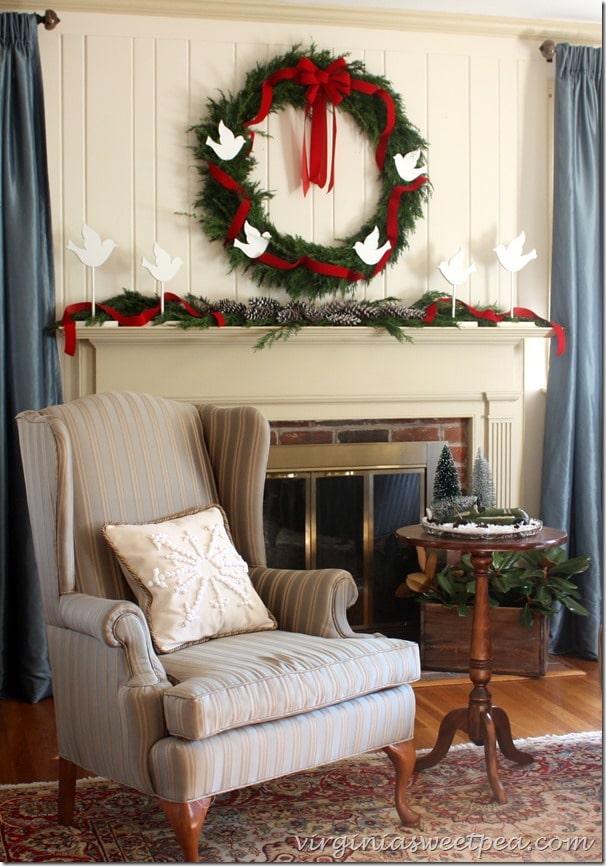 The pillows on the chairs are a Pottery Barn knockoff that I shared a few weeks ago. I'm planning to enjoy them all winter in this room.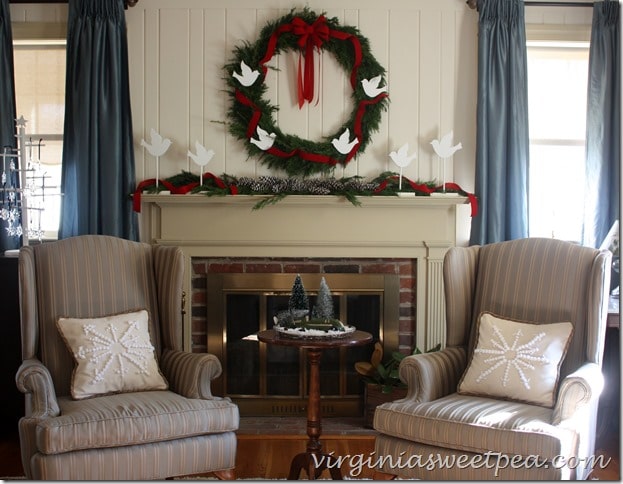 I'll have to say that this is one of my favorite mantel creations. I'm really going to enjoy it this holiday season.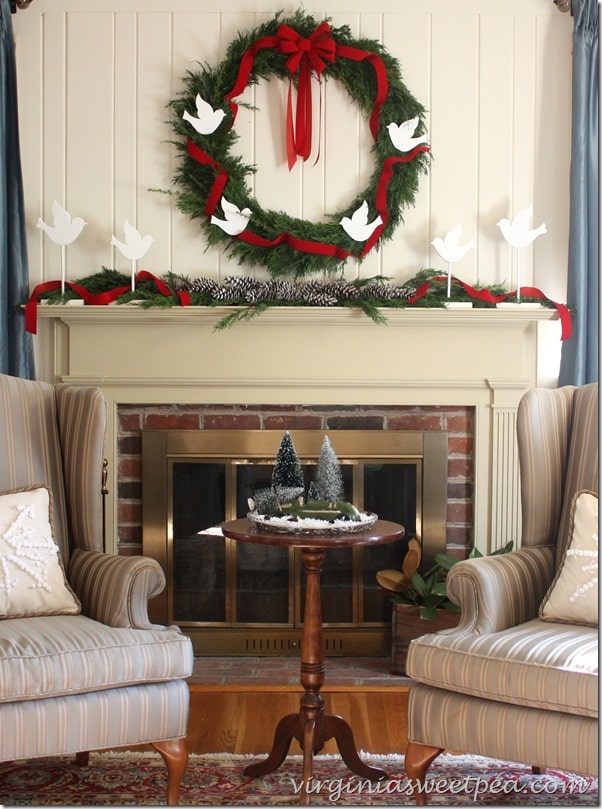 If you'd like to see more of my Christmas mantels, click the links below. I enjoy looking back to see how I decorated in the past and also how my style has evolved over the years.
2012 Christmas Mantel, 2011 Christmas Mantel, 2010 Christmas Mantel, 2009 Christmas Mantel, 2008 Christmas Mantel
Visit my friends to see how they decorated their homes with a The Twelve Days of Christmas theme.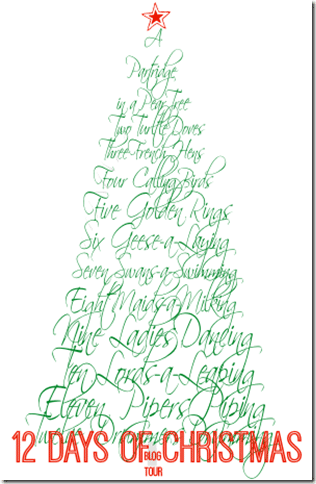 MONDAY, December 1st
{Partridge in a Pear Tree}
{Two Turtle Doves}
Confessions of a Serial Do-it-Yourselfer
TUESDAY, December 2nd
{Three French Hens}
{Four Calling Birds}
WEDNESDAY, December 3rd
{Five Golden Rings}
{Six Geese a Laying}
THURSDAY, December 4th
{Seven Swans a Swimming}
{Eight Maids a Milking}
FRIDAY, December 5th
{Nine Ladies Dancing}
{Ten Lords a Leaping}
SATURDAY, December 6th
{Eleven Pipers Piping}
{Twelve Drummers Drumming}
Sharing With: Savvy Southern Style