Warm and Rustic Christmas Mantel with Vintage Flair
I am so excited to share my vintage inspired Christmas decor with you this holiday season.
Last week I shared our Very Vintage Christmas in the Family Room and Our 2019 Christmas Trees and today I'm sharing our Warm and Rustic Christmas Mantel with Vintage Flair.
Warm and Rustic Christmas Mantel with Vintage Flair
This year's Christmas mantel has warm and rustic elements along with more elegant vintage pieces.
I struggled with what to call this mantel and thanks to the help of Julie of My Wee Abode, came up with this title. Hopefully it will make sense as you see the details of how I decorated our mantel this year.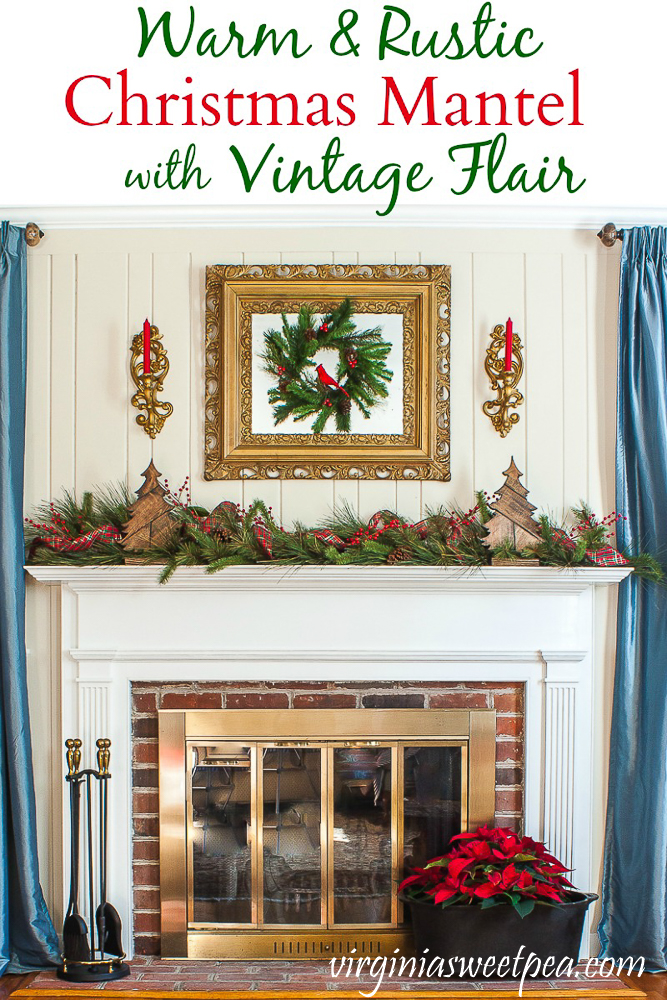 Christmas Ideas Tour
I'm sharing my mantel with a talented group of blogging friends for a Christmas Ideas Tour hosted by Angie of Postcards from the Ridge. Angie is a dear blogging friend whose style I adore. If you've never visited Angie's blog, I encourage you to do so.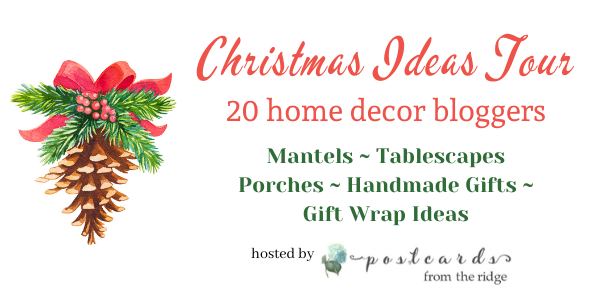 On today's Christmas Ideas Tour, you'll find ideas for:
Christmas Mantels
Christmas Porches and Decks
Christmas Tablescapes
Handmade Gift Ideas
Gift Wrap Ideas
You'll find links to all of the ideas shared today at the end of this post.
Warm and Rustic Christmas Mantel with Vintage Flair Details
The mantel part of this year's decor is warm and rustic while the mirror and candles hanging over the mantel have a vintage vibe.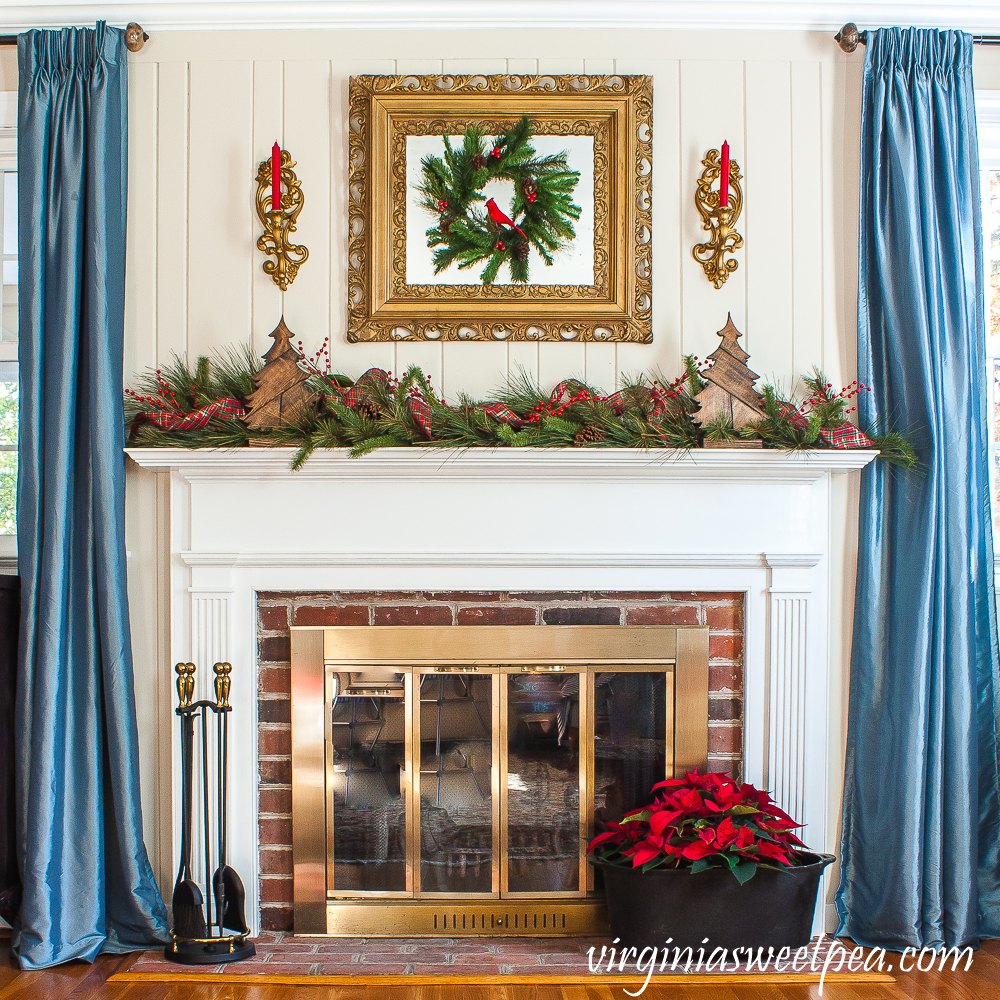 The vintage vibe continues on the hearth with the use of an antique cooking pot that I borrowed from my mom.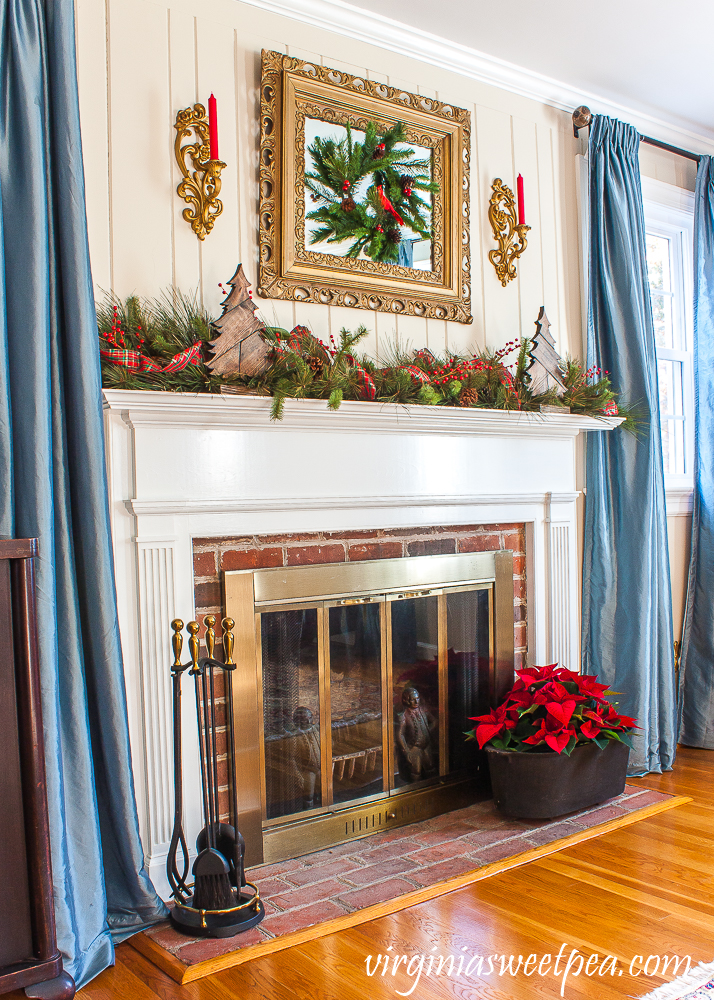 This mantel wasn't what I envisioned when I planned how to decorate, more on that in a moment, but I really like the end result.
DIY Patchwork Christmas Trees
The main element that I wanted to use for this year's Christmas mantel was a pair of DIY Patchwork Christmas Trees that I made last year.
I took a shortcut this year and instead of using fresh greenery on the mantel, I used a garland. To jazz up the garland, I added plaid ribbon and faux red berries. The same plaid ribbon is also used on my family room Christmas tree as well as the one on my porch.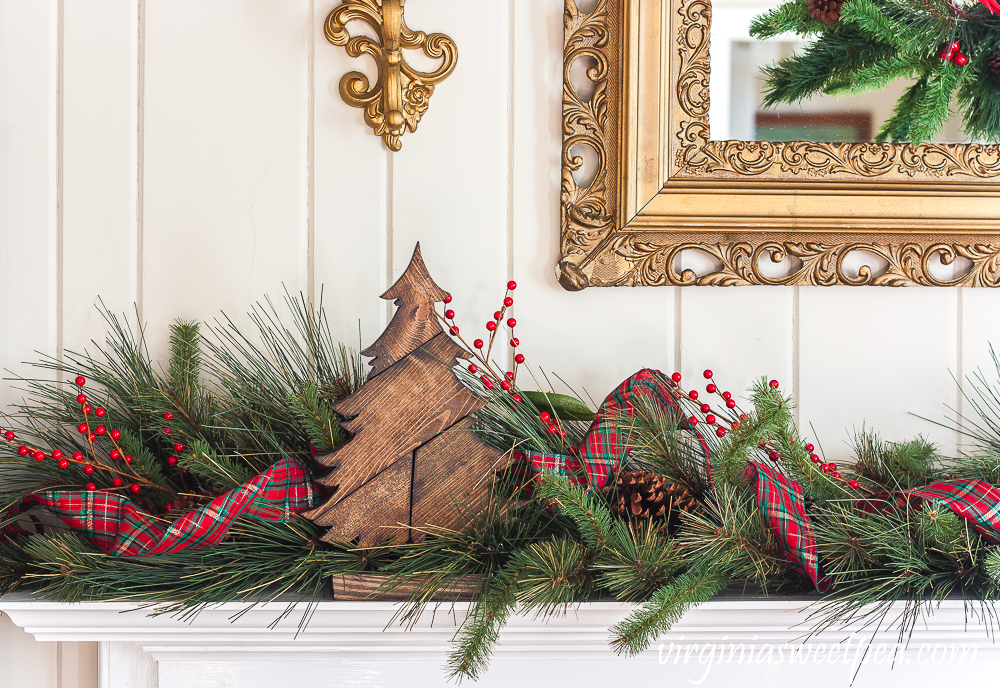 Last year I had so much fun making these wooden trees that I made two extra ones to give as gifts. I really like how the trees look nestled in the garland along with the pops of color from the ribbon and berries.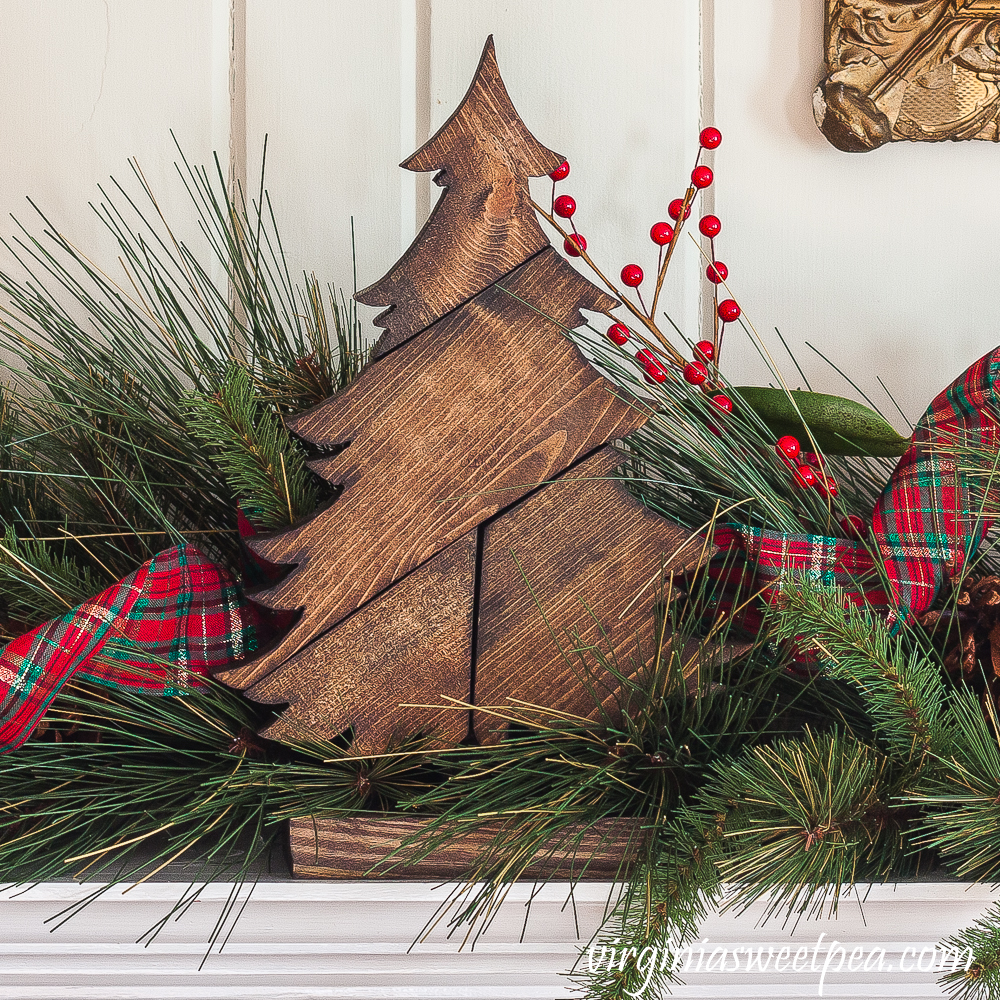 Over the Mantel
Decorating over the mantel did not go as planned. My idea was to make a large Magnolia wreath and decorate it with the same plaid ribbon and pine cones.
The first wreath that I made completely filled the space over the garland and was too big to be visually appealing. I made a second one and it was still too big. After the second failed attempt, I decided to use the antique mirror that usually hangs in this space.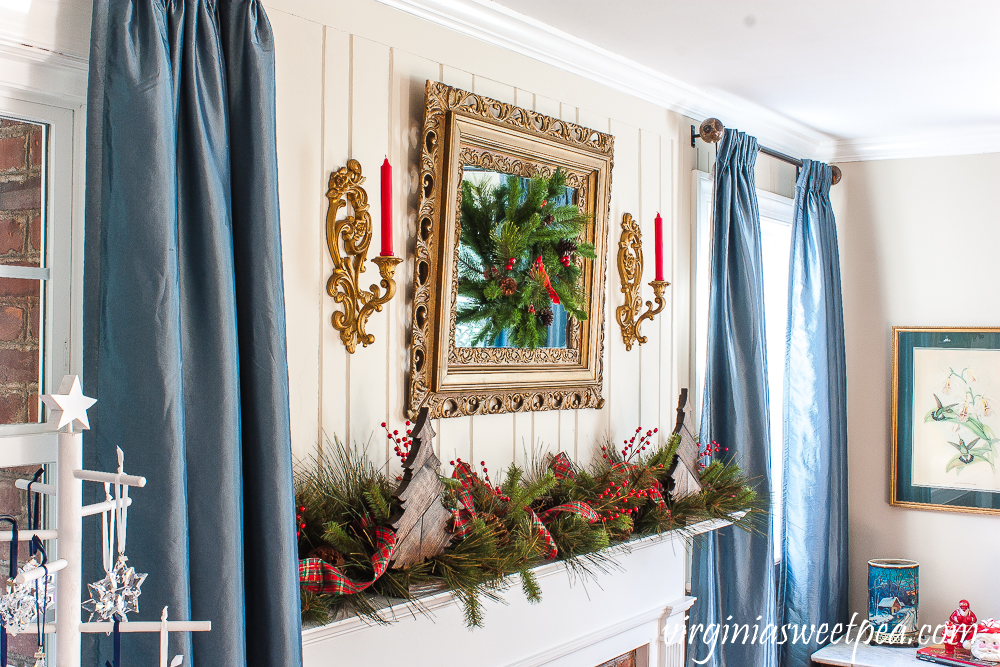 Instead of making a third wreath, I found a wreath that is actually a candle ring in one of my Christmas bins that was the perfect size to hang on the mirror.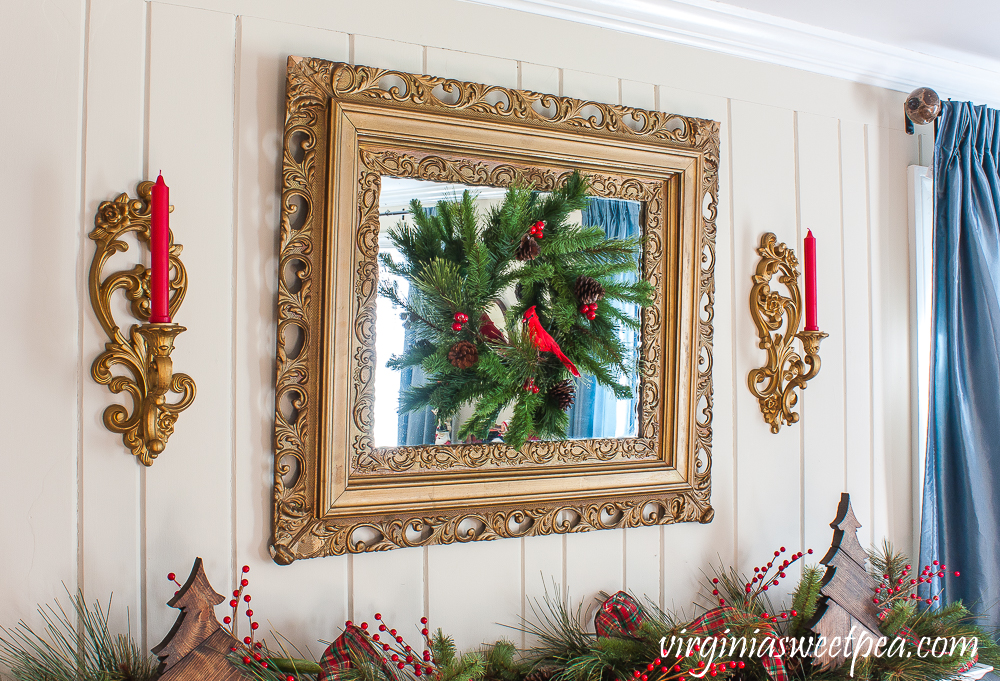 I added red berries to the wreath along with a red Cardinal. Red candles in the vintage candle holders add another pop of red to this area.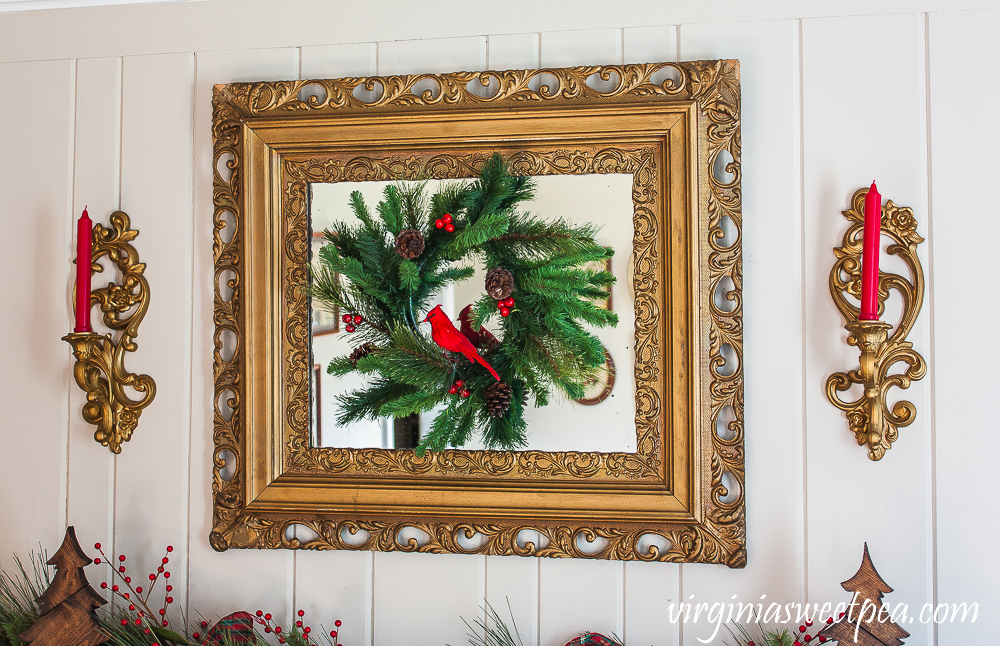 Decorating the Hearth
Red continues to the hearth with a large Poinsettia. I'm not much of an indoor gardener and I hope that I can keep this alive through Christmas.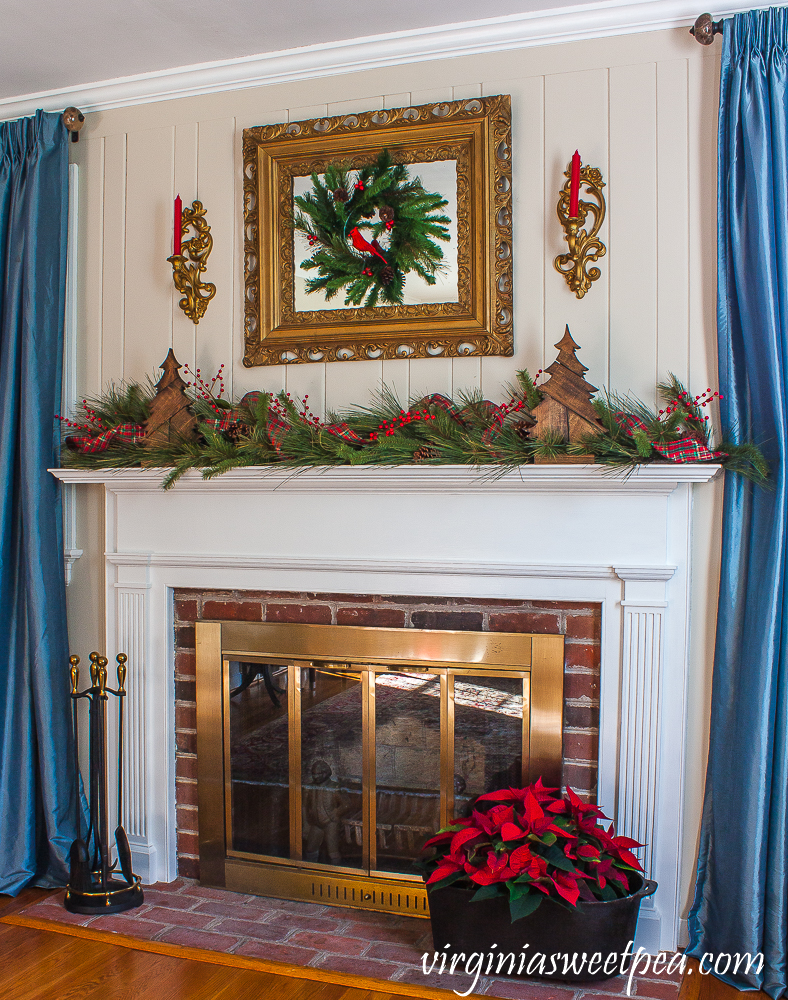 George Washington is peeking through the glass to admire the Poinsettia. Virginia Metalcrafters made many sets of George Washington andirons and they used to be quite common in homes in my area. We found this set in an antique shop in Charlottesville.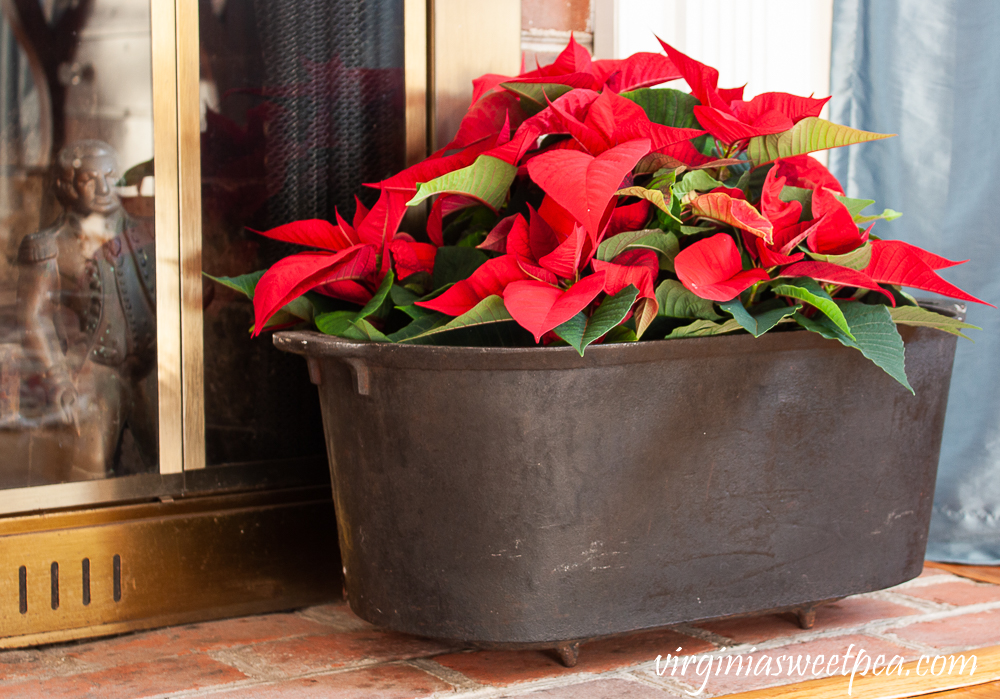 Swarovski Christmas Tree
Every year since we've been married, my husband gives me a Swarovski snowflake ornament. I display them on a tree that we made that sits on a music stand that belonged to a relative. As the light moves from one side of the room to the other as the day passes, the snowflakes create refracted light patterns on the walls and ceiling.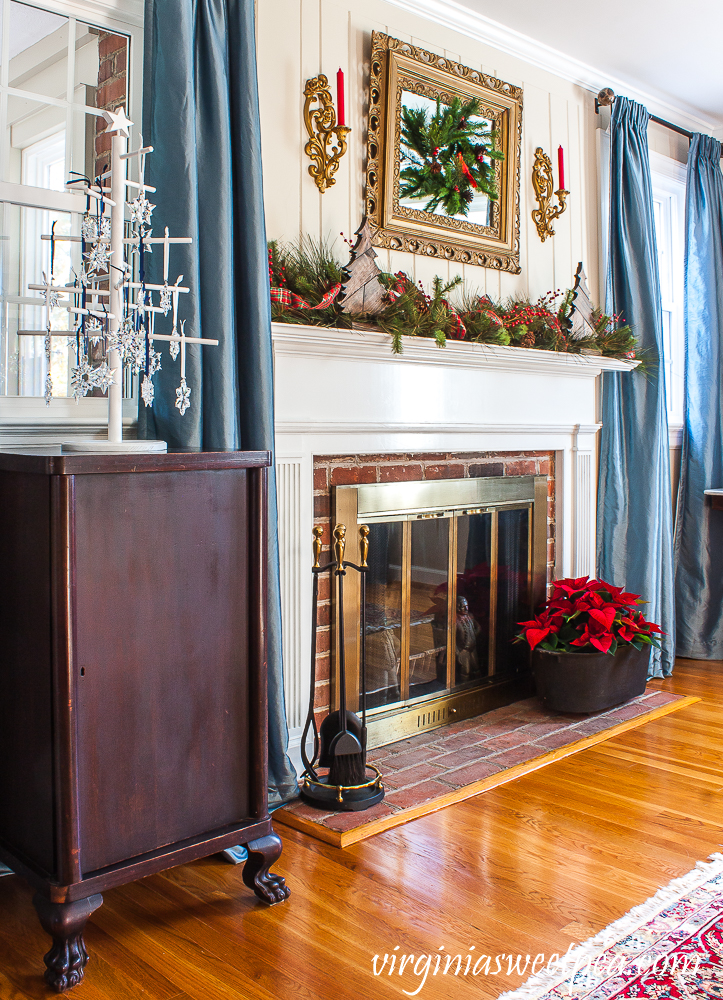 I'll share more details on our Swarovski tree later this week when I share the rest of the Christmas decor in this room.
Last Look
I'm loving how my mantel looks this year and I'm going to enjoy it every day of this shorter than usual Christmas season.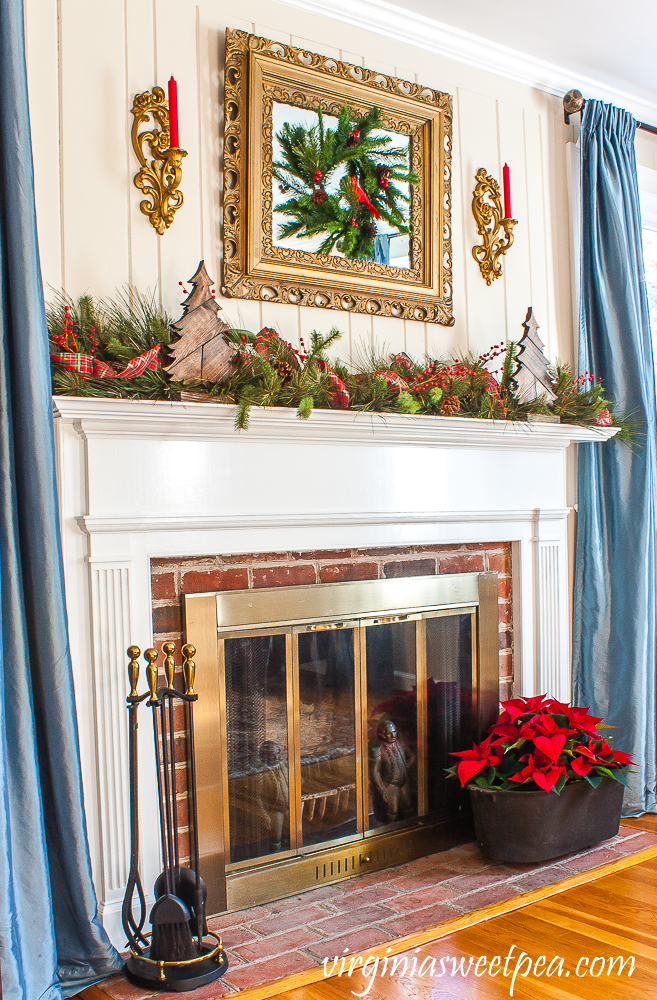 Christmas Ideas Tour
Now it's time to see all the Christmas ideas shared today by my talented friends. I'm really looking forward to being inspired by each of these posts!
Are you ready for more ideas? Here are some great ones for your mantel, porch, table, plus handmade gift ideas and gift wrap ideas. Be sure to visit everyone to see all the details.
Mantels
Porches & Decks
Handmade Gift Ideas
More Christmas Decor to Enjoy