Tips for a Summer-Ready Patio
Although summer doesn't officially begin until mid-June, Memorial Day marks the unofficial arrival of summer.
Our patio is a favorite spot for relaxing and entertaining and today I'm sharing tips for getting a patio summer-ready.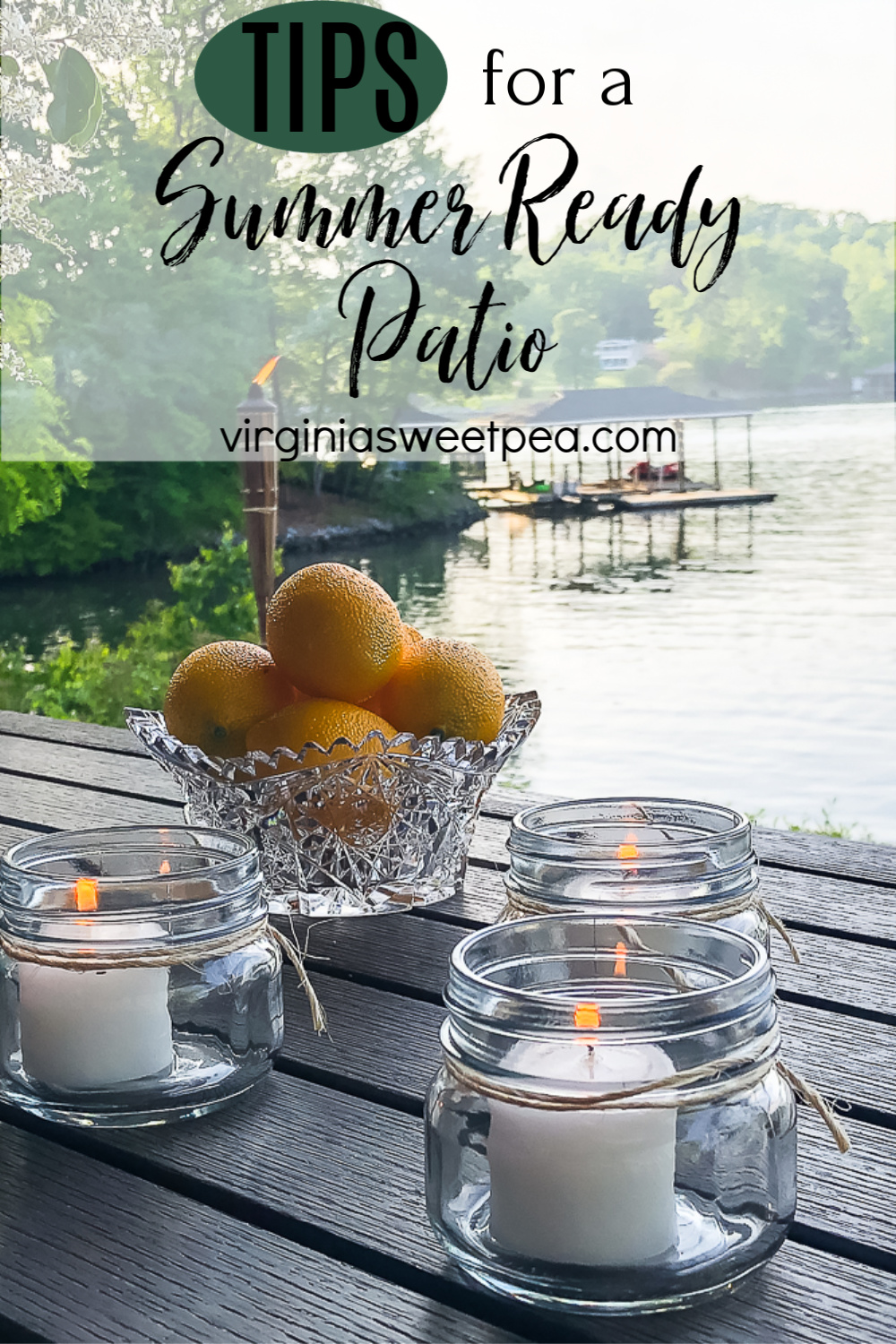 Today's summer-ready patio is part of a monthly Pinterest Challenge hosted by Cindy of County Road 407. Each month Cindy selects a picture from Pinterest and challenges our group to create our own version of the look.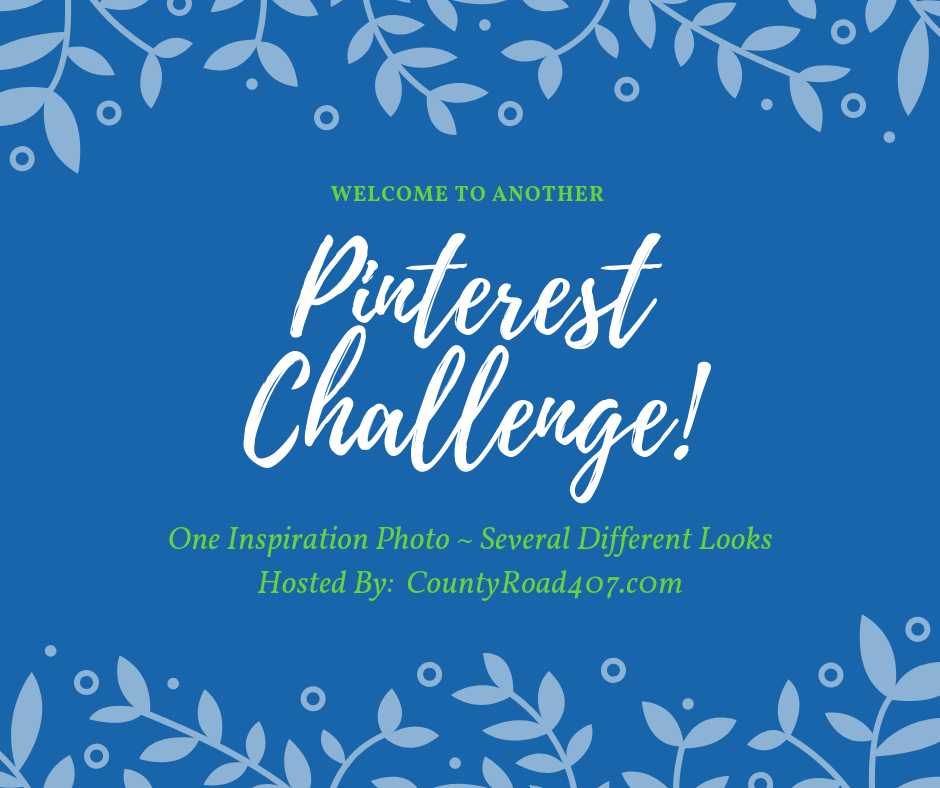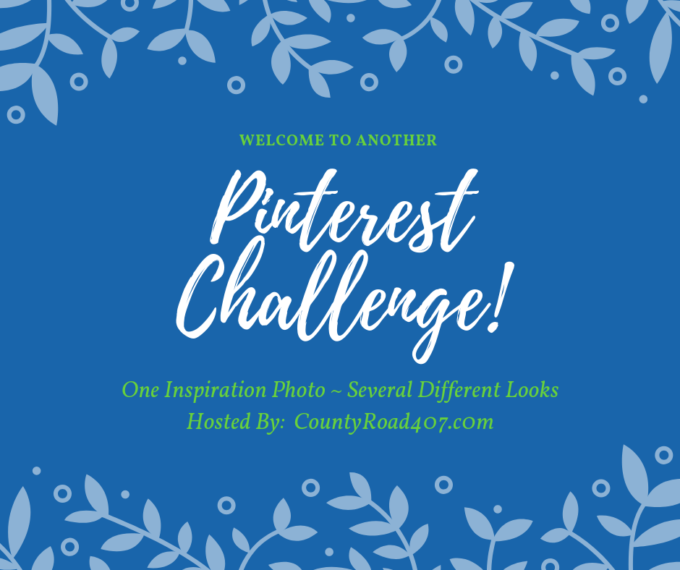 Many thanks to Cindy for hosting this challenge!
If you arrived here from Decor to Adore, welcome!
Our Inspiration for this Challenge
This month we were challenged to create a summer porch inspired by this one decorated by Bria Hammel Interiors.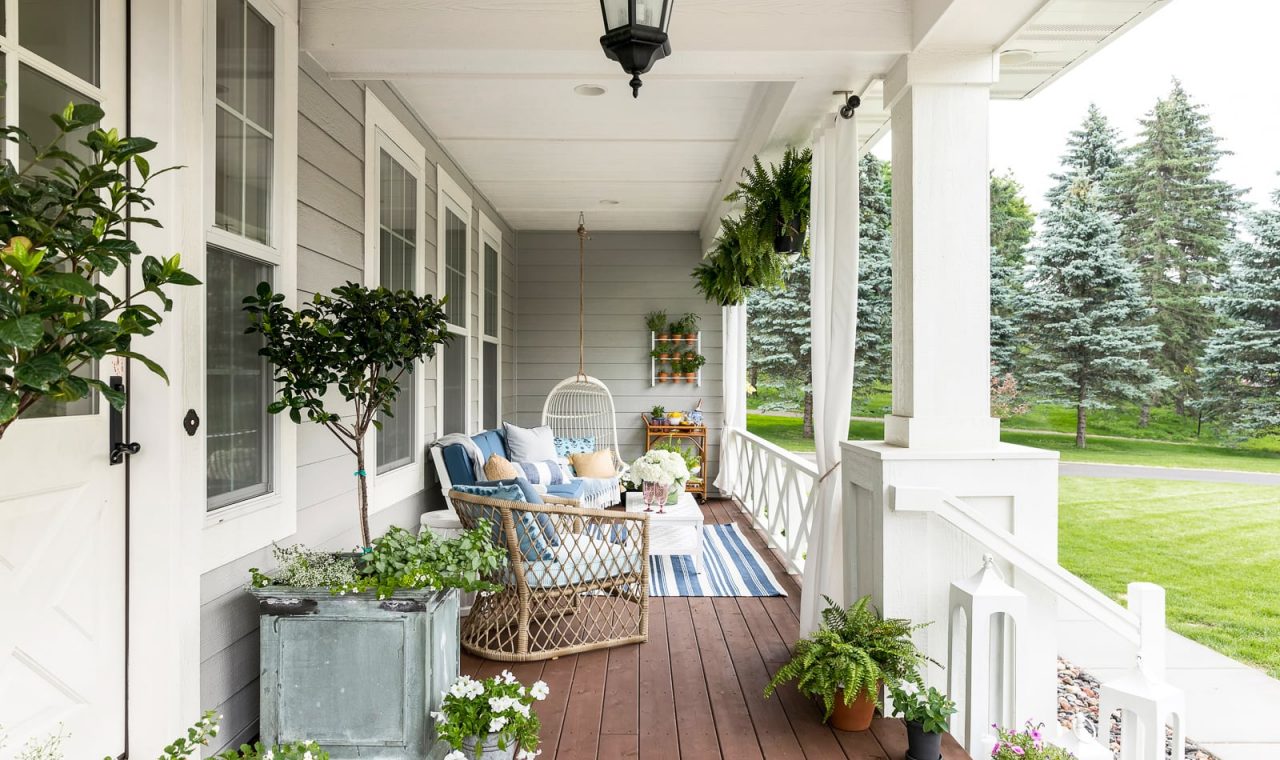 Isn't this a beautiful porch?
Things I notice from this inspiration picture are:
Loads of plants
Comfortable furniture with pillows anchored by a rug
A bar cart ready for porch entertaining.
My Version of Our Inspiration
I don't have a large front or back porch, but I do have a patio that we love to enjoy in spring, summer, and fall.
Like Bria's gorgeous porch, my patio has a comfortable area to sit with a beautiful view.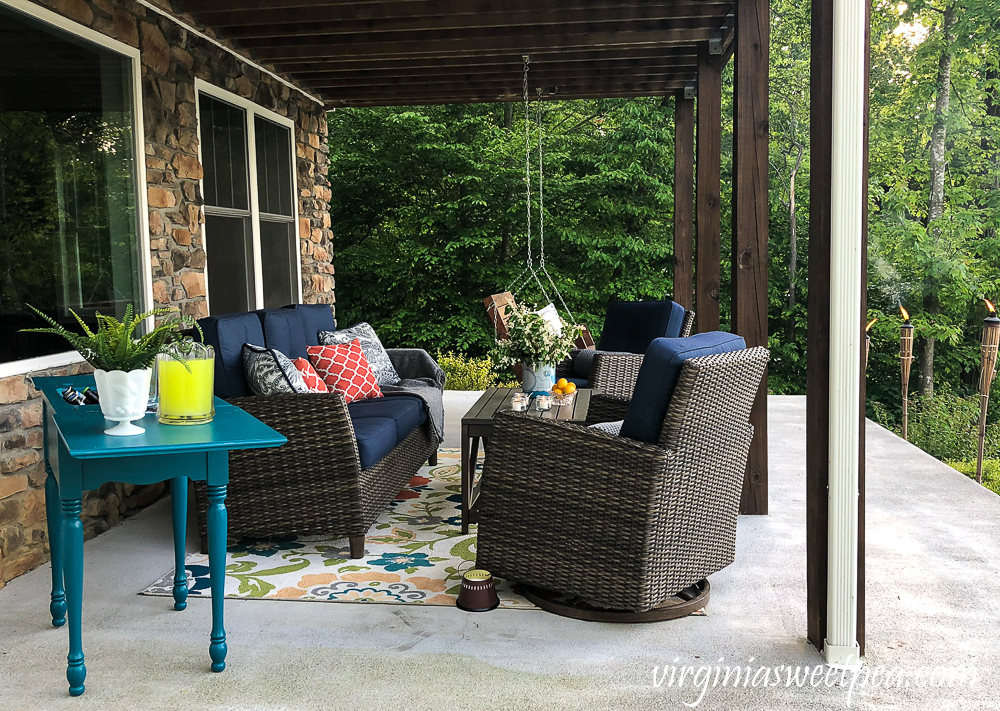 Our patio overlooks beautiful Smith Mountain Lake and if you don't want to sit or swing on the patio, you can relax on our deck in one of our handcrafted Adirondack chairs.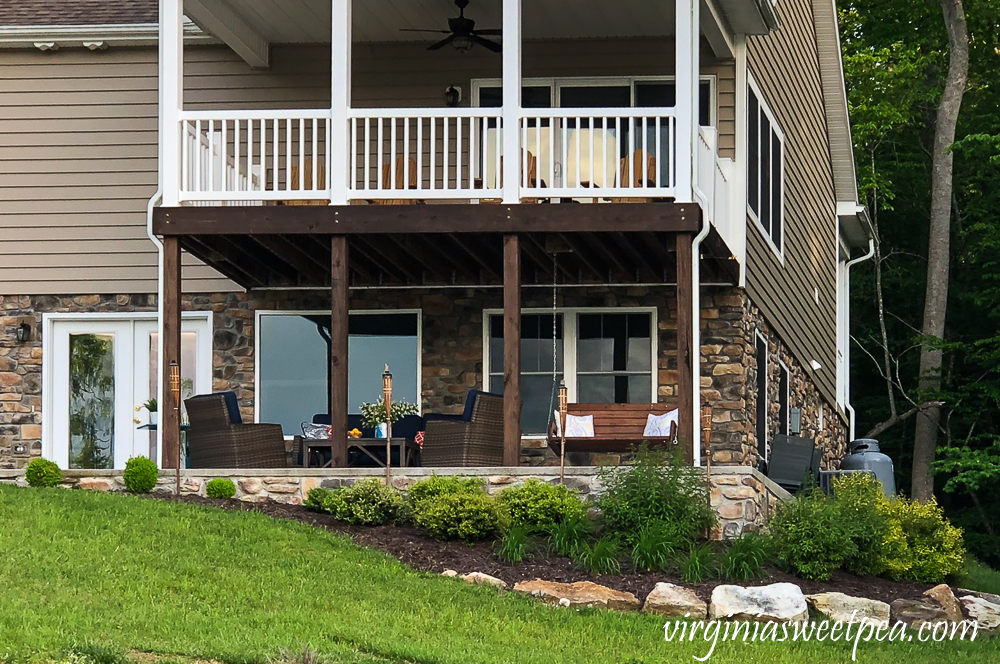 Tips for a Summer-Ready Patio
We love our patio and often eat dinner on it and then linger until the sun goes down.
Comfortable Furniture
Any outdoor space needs comfortable furniture for relaxing. Our sofa, chairs, and coffee table came as a set from Sam's.
A very similar set is available this year at Sam's, either in-store or by ordering on-line.
Our swing is a DIY project made with just eight 2×4 boards.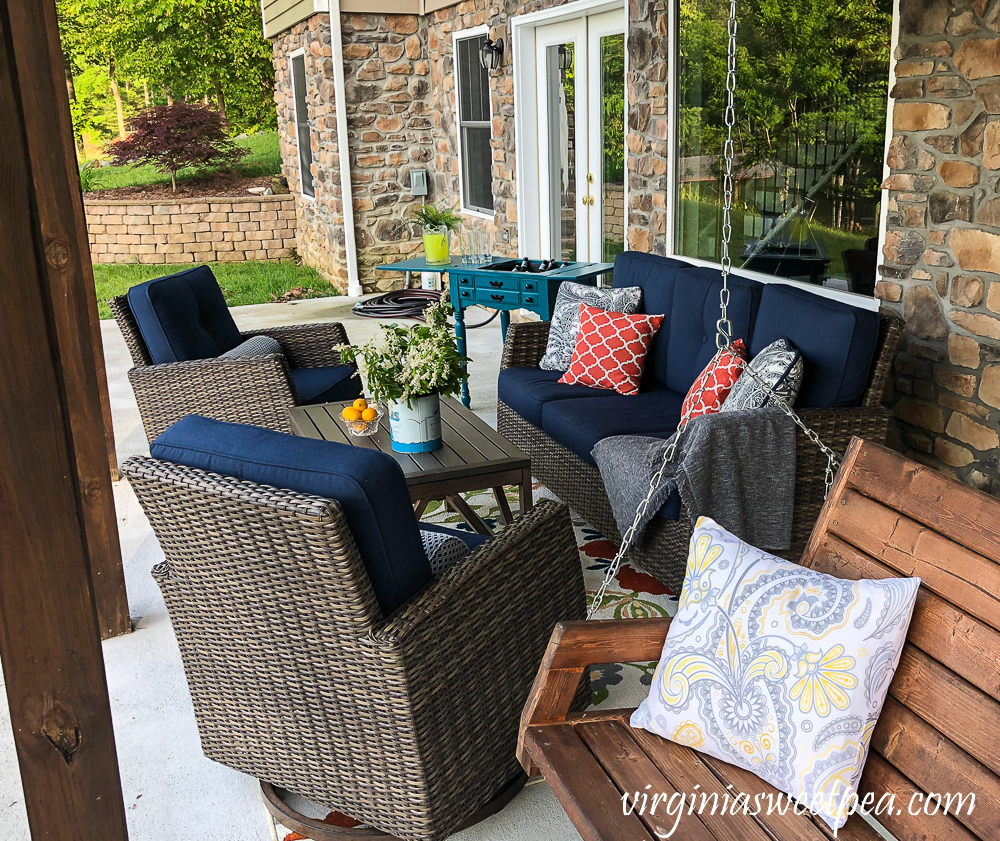 A few years ago my mom gave me money for my birthday and I used it to help to purchase this patio set.
Speaking of birthdays, today is my 51st birthday! When you have cancer, every birthday is both a milestone and a gift. I'll spend my birthday celebrating at the lake.
Like the inspiration photo, our patio has plenty of comfortable places to sit to relax.
Outdoor Rug
An outdoor rug not only anchors a space visually, it feels wonderful underfoot.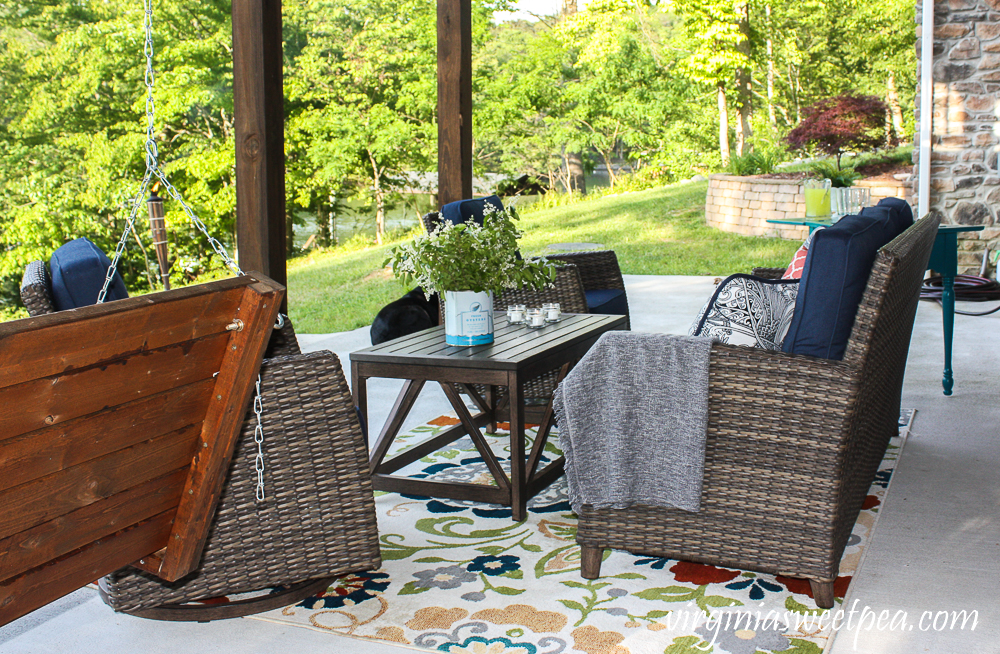 Our rug is three years old and I thought that I would have to replace it this year. After vacuuming it and cleaning it with my carpet cleaner, it's good enough to use for another season.
When I do replace this rug, I plan to buy one that is a bit larger. This one was an inexpensive one from Walmart.
Pillows
Pillows make a sofa or chair extra cozy and comfortable.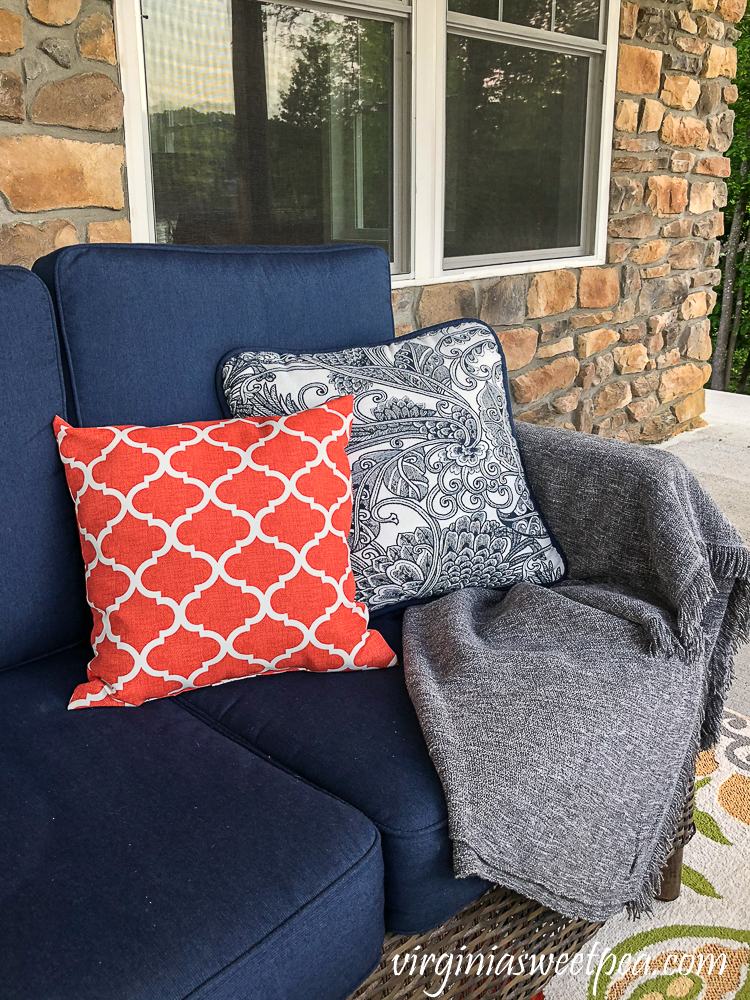 The blue pillows came with the sofa and the orange ones are $5 pillows found in the outdoor section of Walmart a few years ago.
The pillows on the swing were made from a shower curtain that used to be in our master bathroom.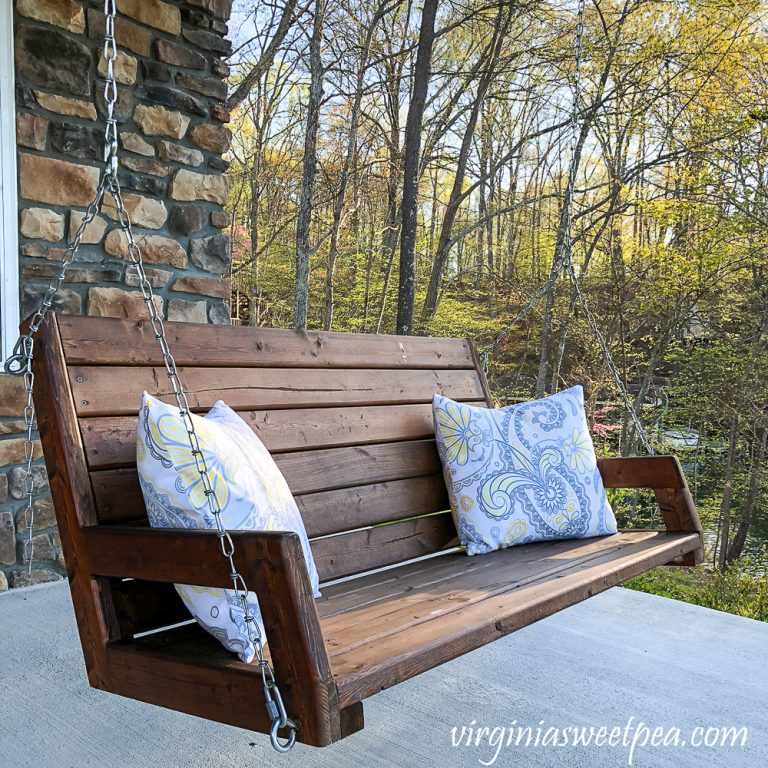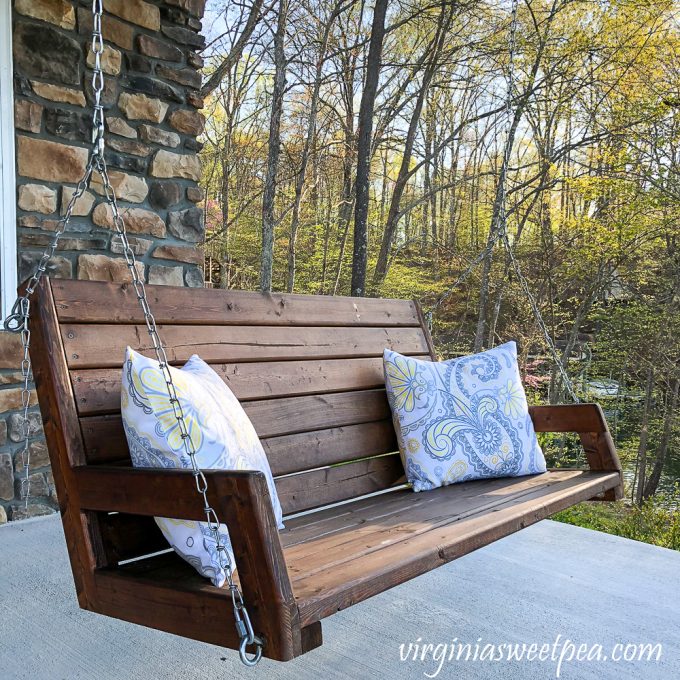 Our inspiration picture showed lots of pillows and I love the cozy look that pillows give to an outdoor space.
Cozy Throw
Once the sun goes down, the temperature at the lake can be cool. A cozy throw makes it possible to continue to enjoy being outdoors.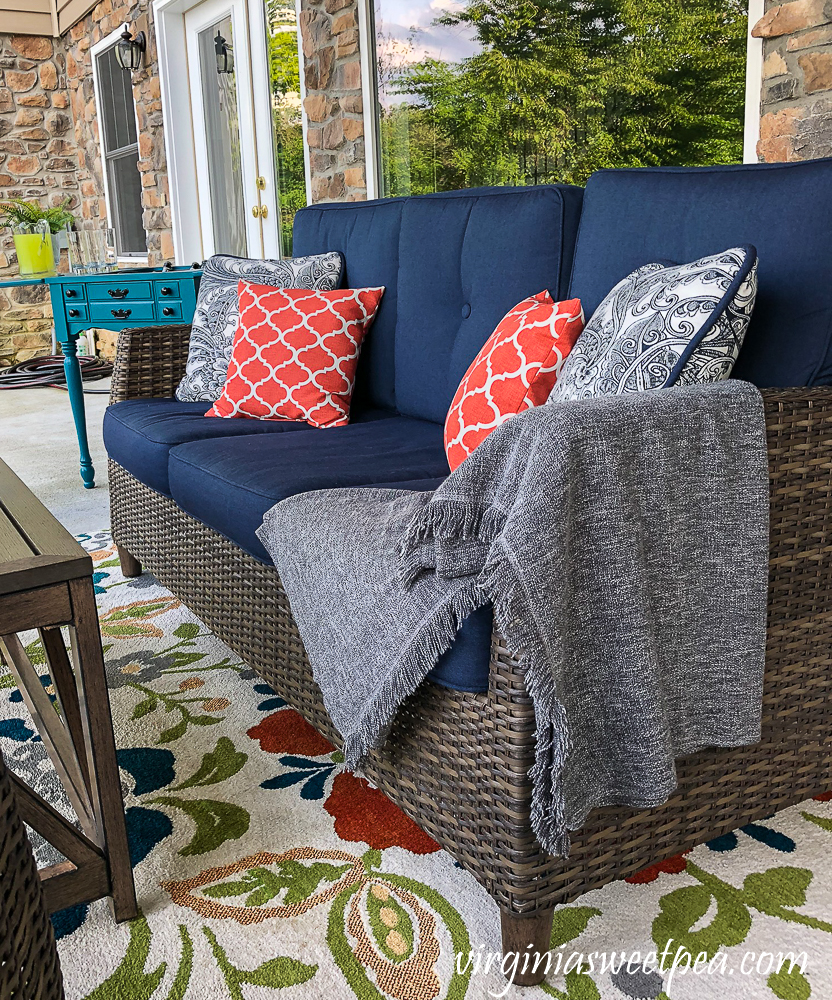 This throw is from Ikea and is lightweight and incredibly soft.
If you are noticing that my rug isn't perfectly clean, you are right.
When I started cleaning it, I realized that the container of carpet cleaner that I brought from home was actually drain cleaner.
The drain cleaner didn't hurt my rug or my carpet but since I didn't have carpet cleaner with me, the carpet was just cleaned with water. (Lots of water to rinse out the drain cleaner. Oops!)
Tiki Torches and Candles to Keep Insects Away
Once the sun starts to set, biting insects like to make their appearance.
Citronella candles and Tiki torches help to keep the insects at bay.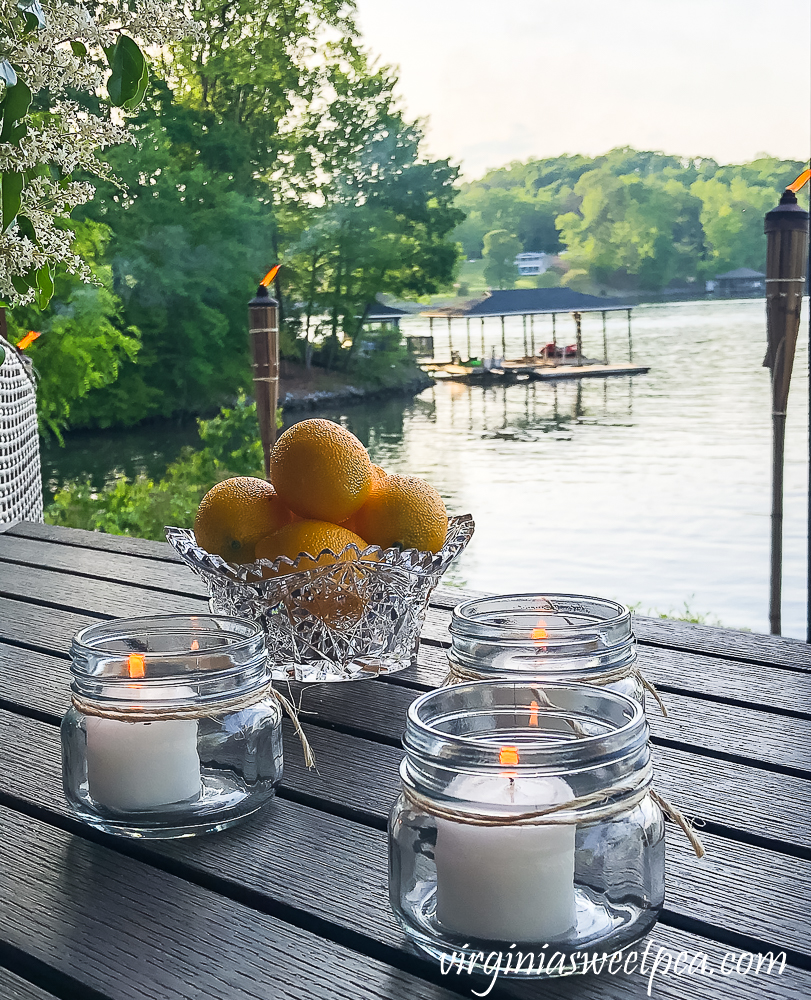 I buy Citronella scented candles in bulk and burn them in small Mason jars.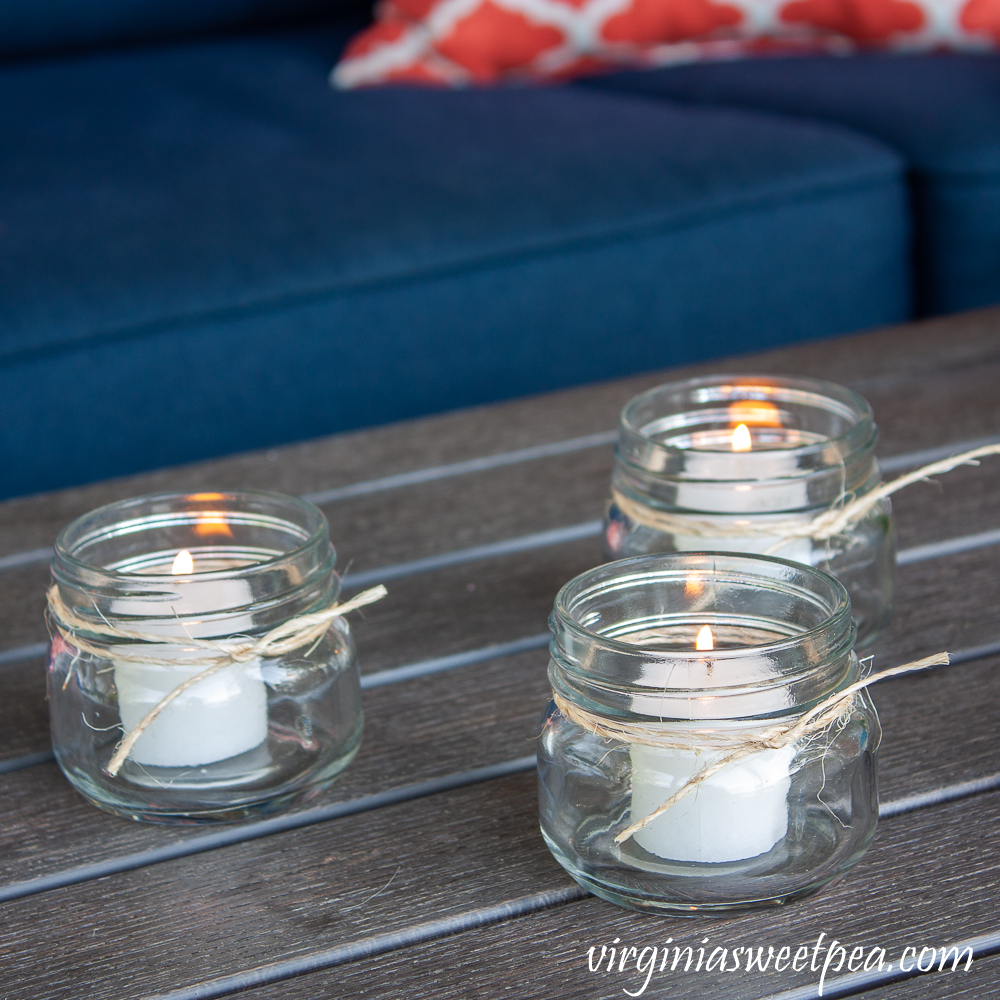 Tiki torches line our patio and along with repelling insects, they look pretty.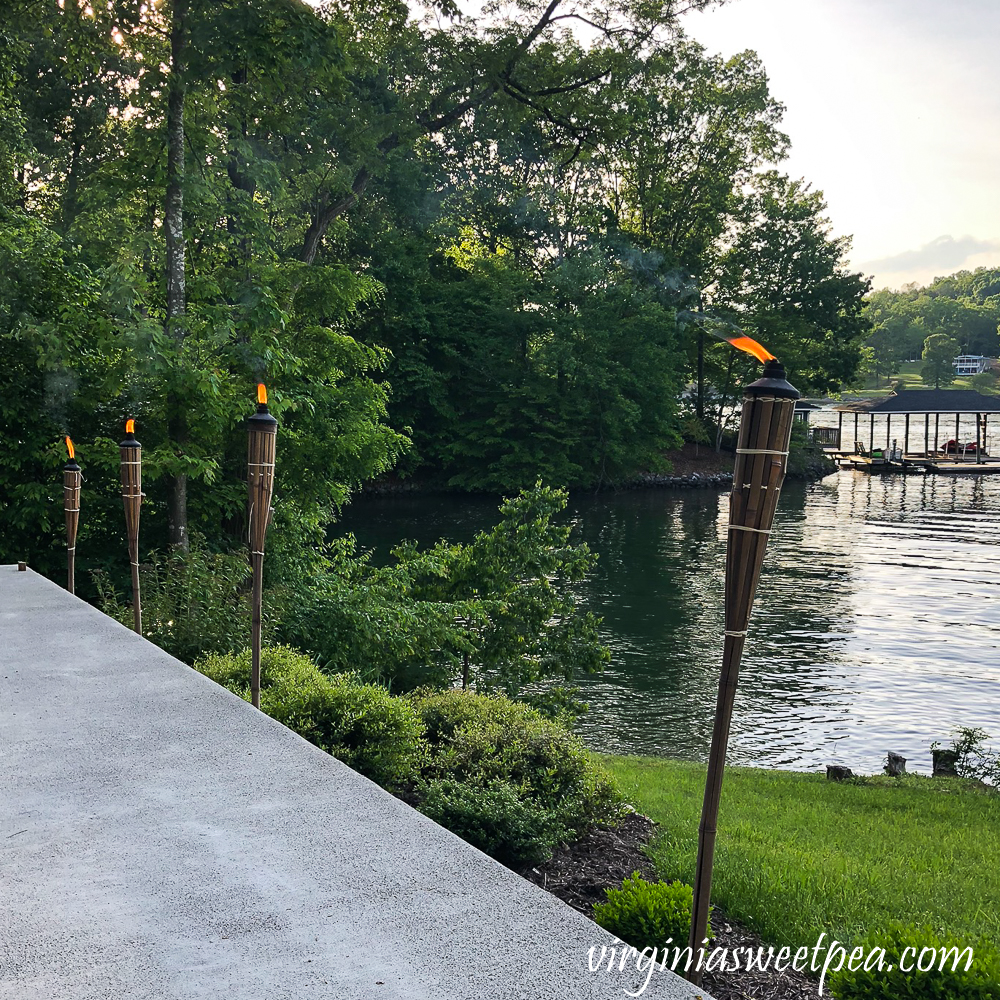 Our deck is not only enjoyed by humans, it's enjoyed by dogs. Sherman loves to lie on the cool concrete.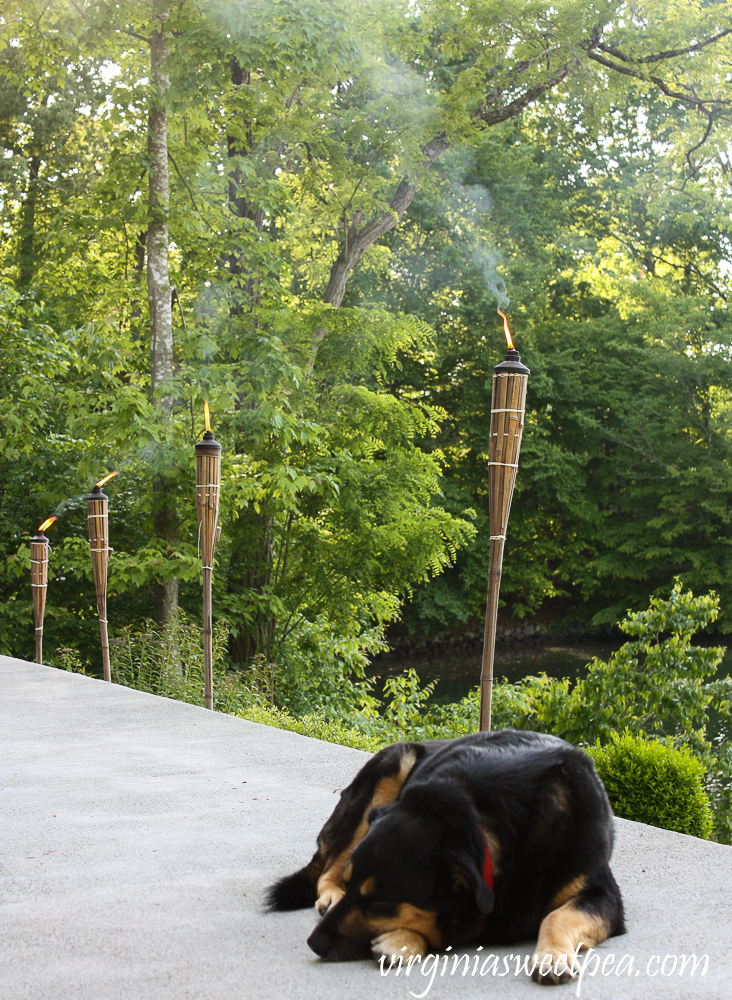 Sherman's lake girlfriend, Clementine, often comes over to visit him.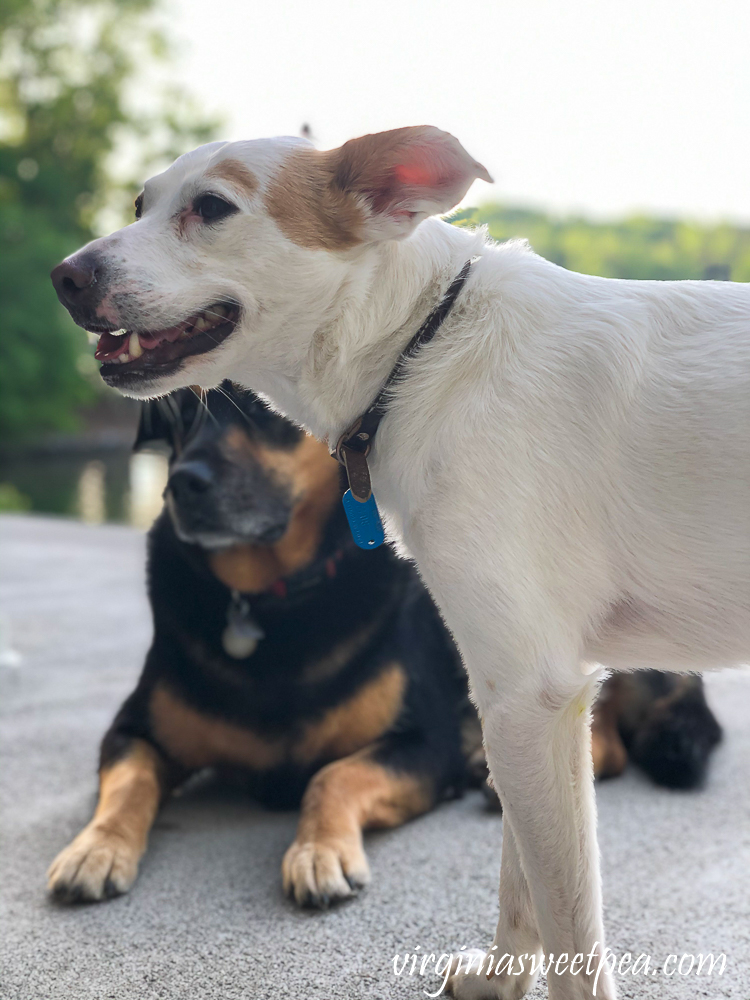 Plants and Flowers
Our inspiration picture showed a porch filled with plants and flowers.
Since we don't live at the lake, I don't add planters to my patio as they wouldn't get watered when we are not there and the plants would quickly die.
To add interest to our coffee table, I added a vintage oyster can filled with flowering branches cut along the roadside in our neighborhood.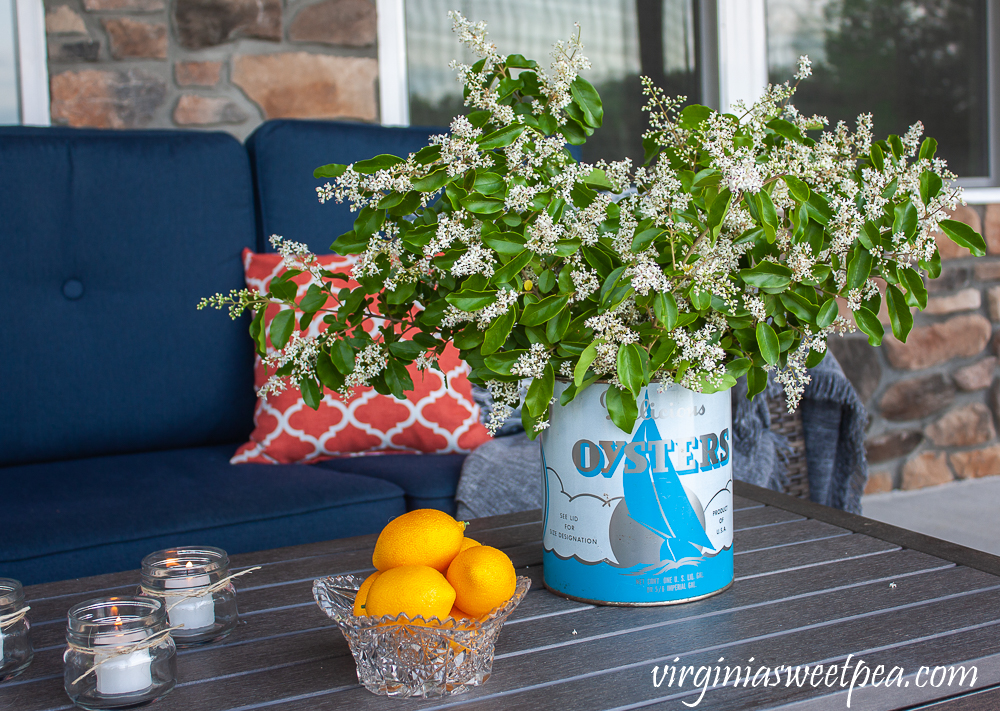 The vintage oyster can used to be on display at my mom's beach house.
When she sold the house, somehow I ended up with her oyster can collection. You can see more of Mama's vintage oyster cans here.
Add a Pop of Color
Lemons in one of my grandmother's cut glass bowls add a pop of color to our coffee table.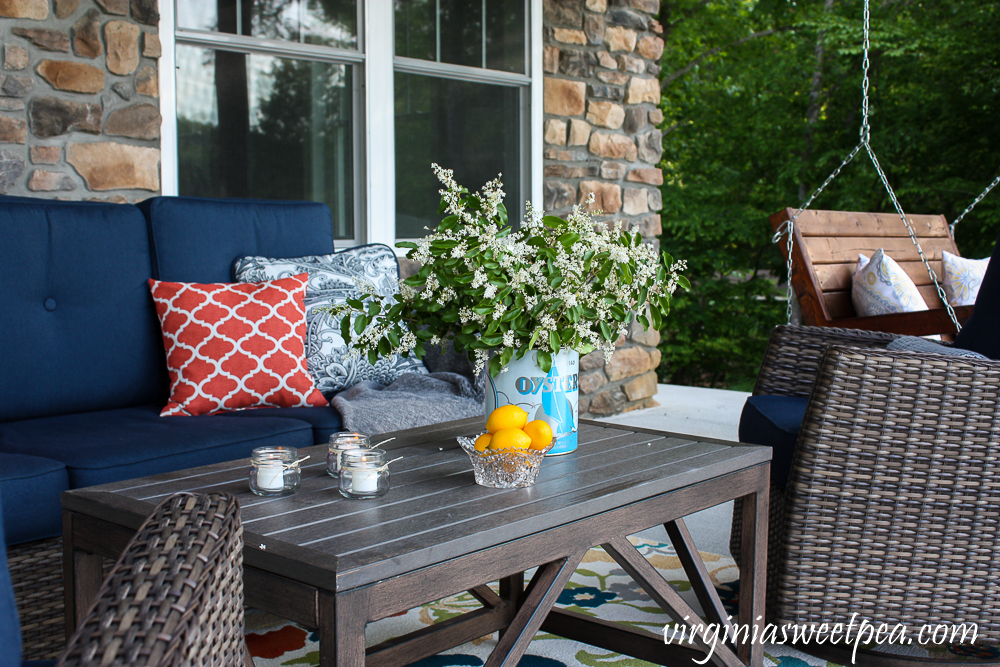 Add a Bar for Entertaining
A bar cart or actual bar is great for outdoor entertaining.
We have neither but we do have an outdoor bar that we made using an old sewing machine table.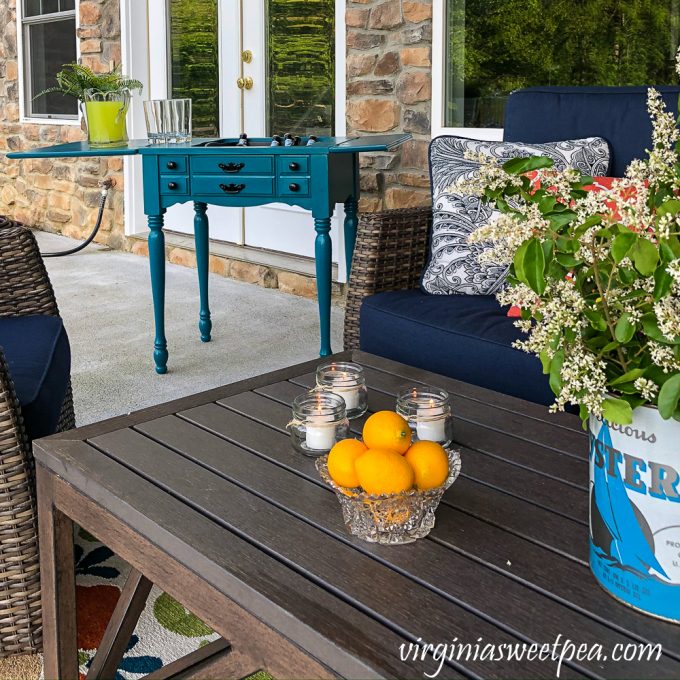 A faux fern in a milk glass compote decorates the outdoor bar.
A pitcher of lemonade is ready to be enjoyed.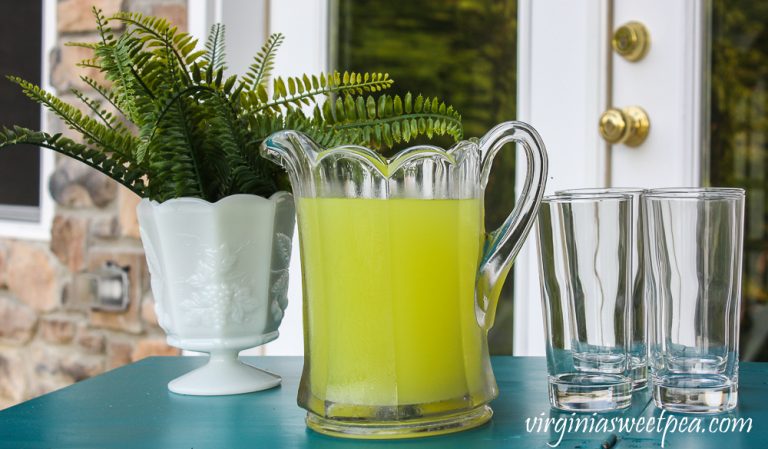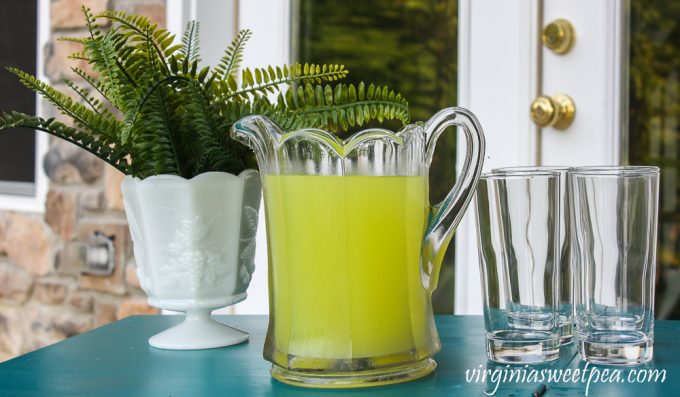 The pitcher is from my friend's dad's basement bar. After he died, my friend passed it on to me.
When we made the bar, we replaced the sewing machine with a dishpan that holds ice and drinks.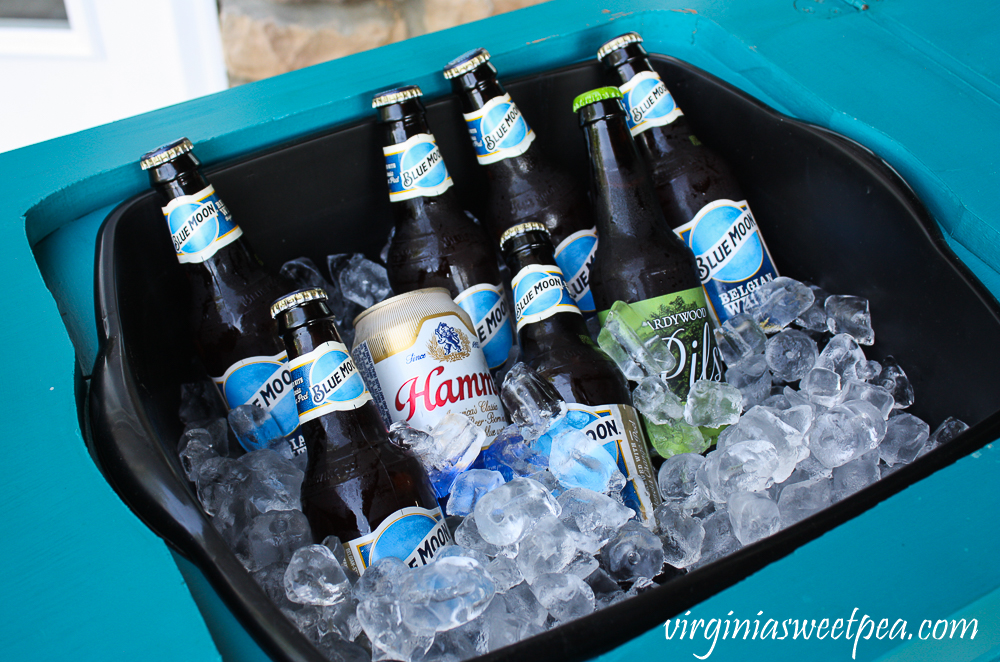 Final Look
I am looking forward to many summer nights spent on our patio enjoying our pretty view.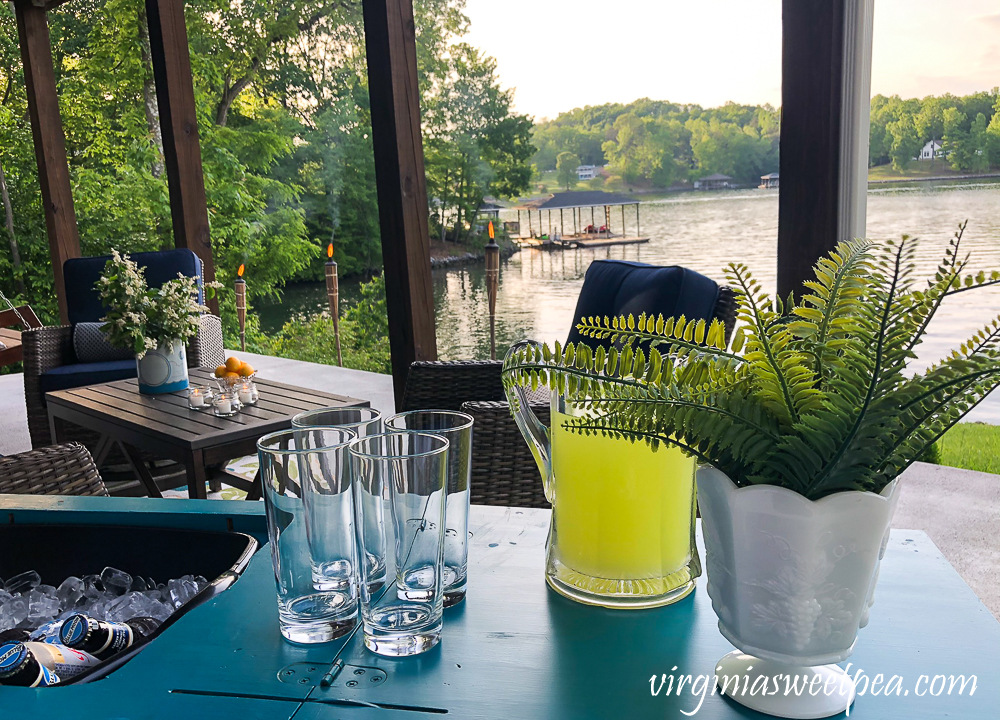 The Evolution of Our Patio
If you want to see more of our patio, you may enjoy these posts:
More Porches and Patios to Enjoy
Many thanks to Cindy for organizing this fun monthly challenge!
Next is Kristin of White Arrows Home who is joining the Pinterest Challenge for the first time. Kristin lives in a gorgeous log cabin on a Wisconsin lake and decorates with incredible vintage style. Be sure to visit her today!
Click on the links below to visit each blogger who is sharing their version of our summer porch inspiration photo.