Investigating Vintage Baseball Gloves
I'm not a baseball fan, but I so appreciate anything that's antique or vintage. Today I'm sharing vintage baseball gloves that belonged to my father and grandfather.
Vintage Baseball Gloves
Both my father and grandfather were very athletic and loved sports. My grandfather lived to his 90's and was very active until the end of his life. My dad was also athletic but cancer ended his life at age 57. My dad's favorite sport was football and I'm not sure which sport my grandfather preferred. I do know that he watched sports and enjoyed the sports section of the paper every day, particularly on Sunday.
A few years ago my mother gave me four vintage baseball gloves that belonged to my dad and granddad. I used to take them to school to show my 7th graders and the kids always enjoyed seeing them, particularly since the style of baseball gloves has changed significantly over the years.
I recently pulled out these baseball gloves to share with my trainer who played baseball for Old Dominion University and who is a huge baseball fan. He enjoyed seeing them and since the gloves were out of the attic, I took the time to research each glove.
1920's Goldsmith Baseball Glove
We'll start with my grandfather's Goldsmith baseball glove. The thumb area on the glove is marked with "A Goldsmith Product."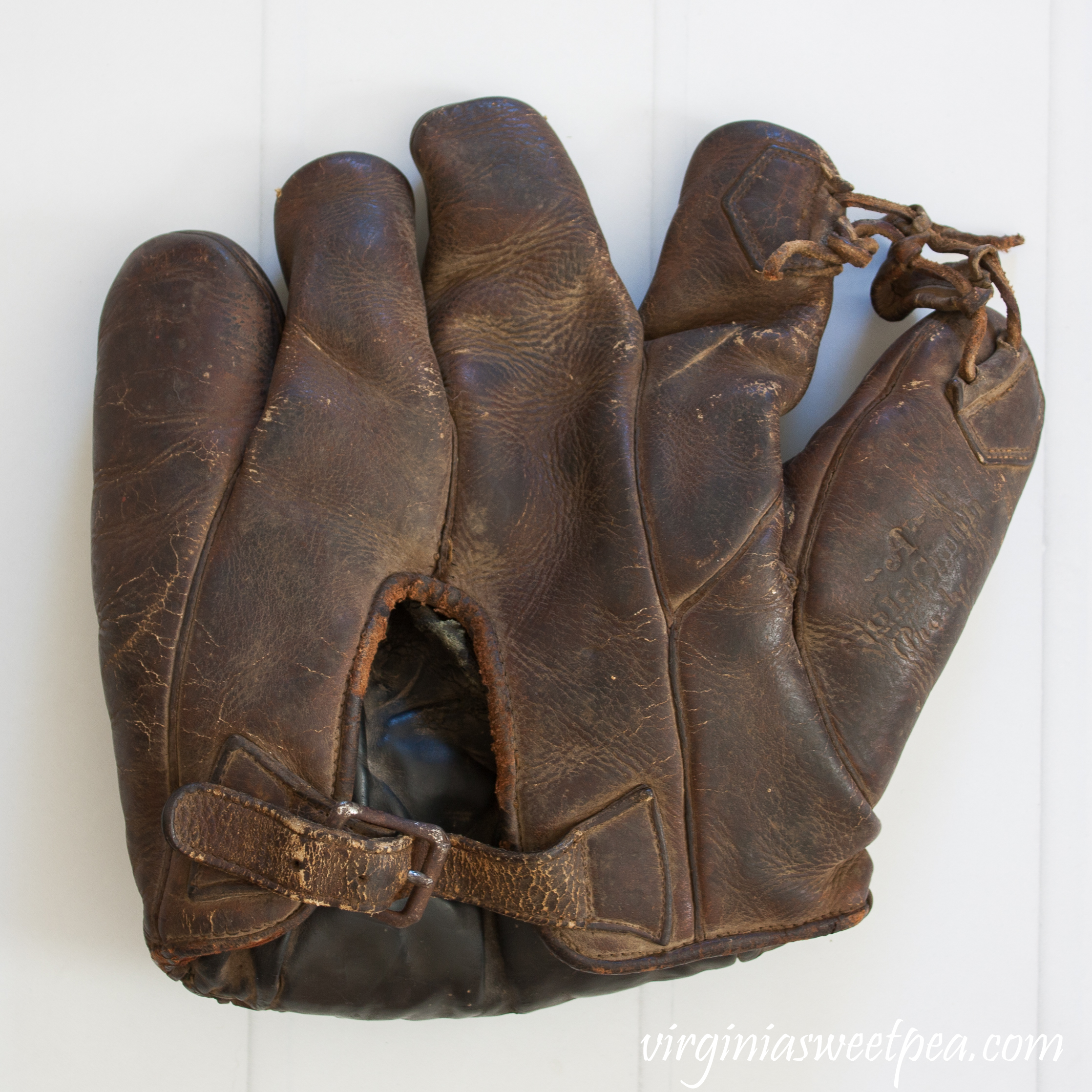 The palm of the gloves is marked with "Genuine Horsehide" and also with what I believe says "Goldsmith Leather" but I'm not positive if I'm correct.
I did some Internet sleuthing about this glove and didn't come up with a lot of information. I did find a similar Goldsmith glove from the same time period that sold for $82 and a few others for sale for similar prices.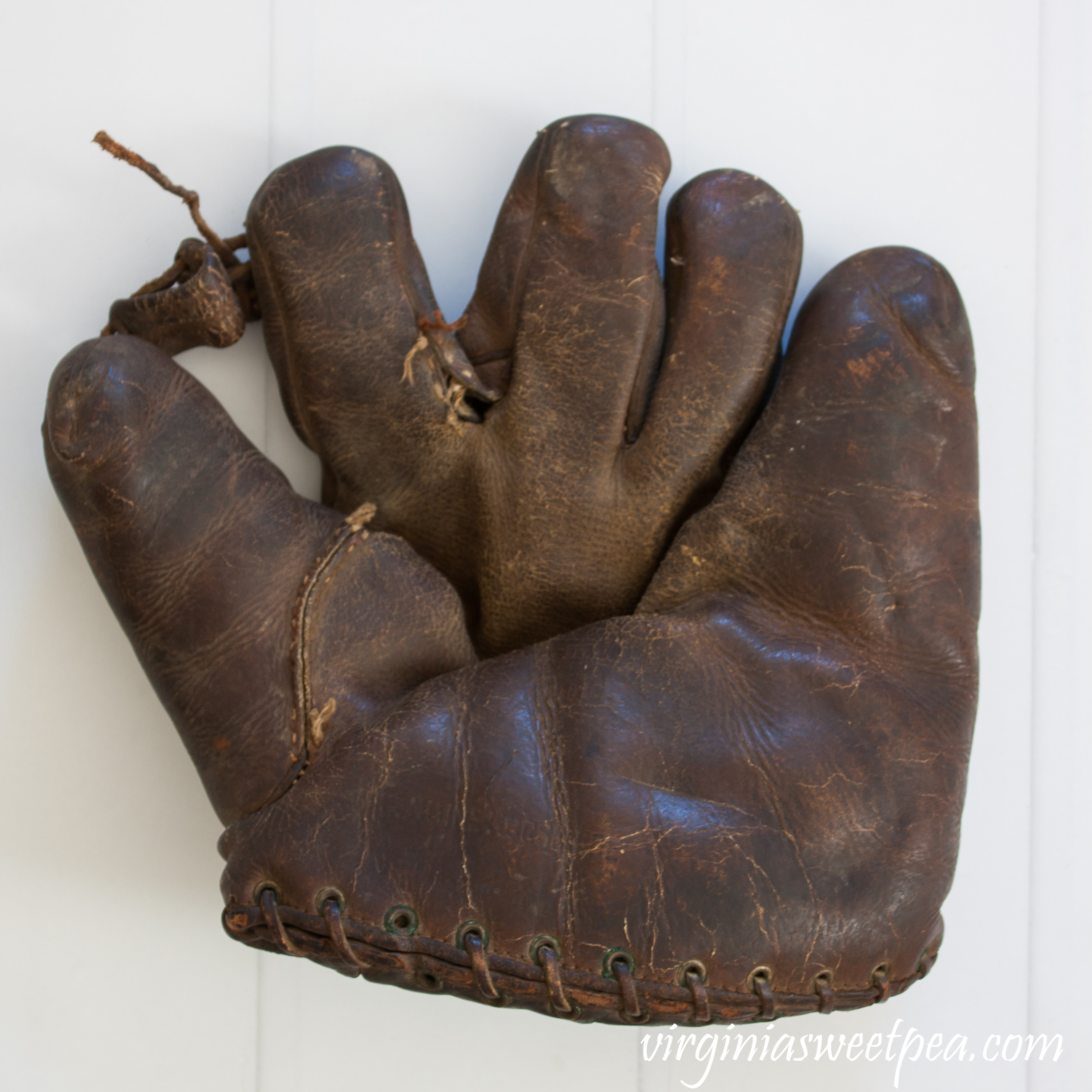 I wondered if my grandfather played baseball in high school or college and found one answer in my attic thanks to one of his college yearbooks. This is my grandfather's 1928 "Rawenoch" yearbook from his sophomore year of college.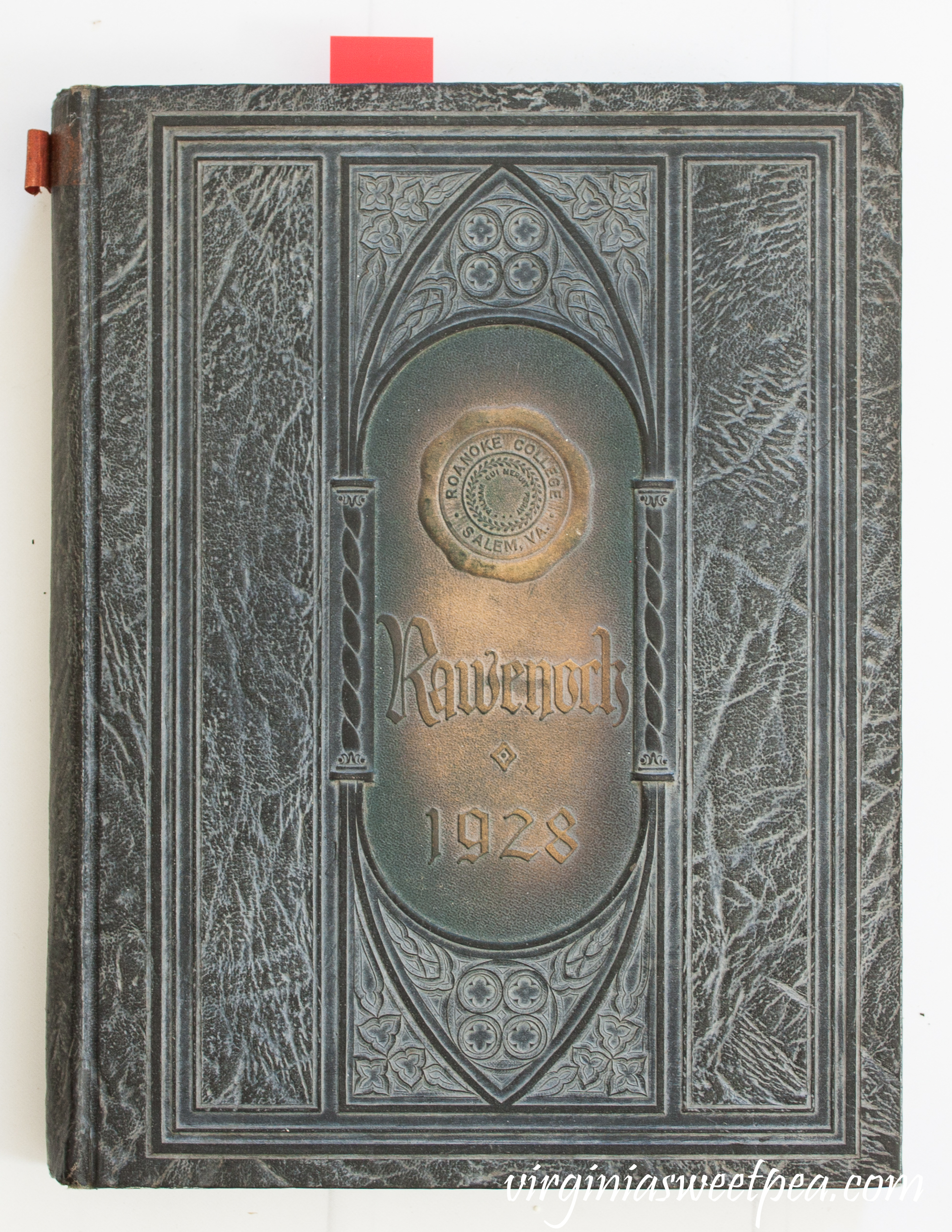 There he is second row, second player on the baseball team. He could have also played baseball in high school in Middletown, Md.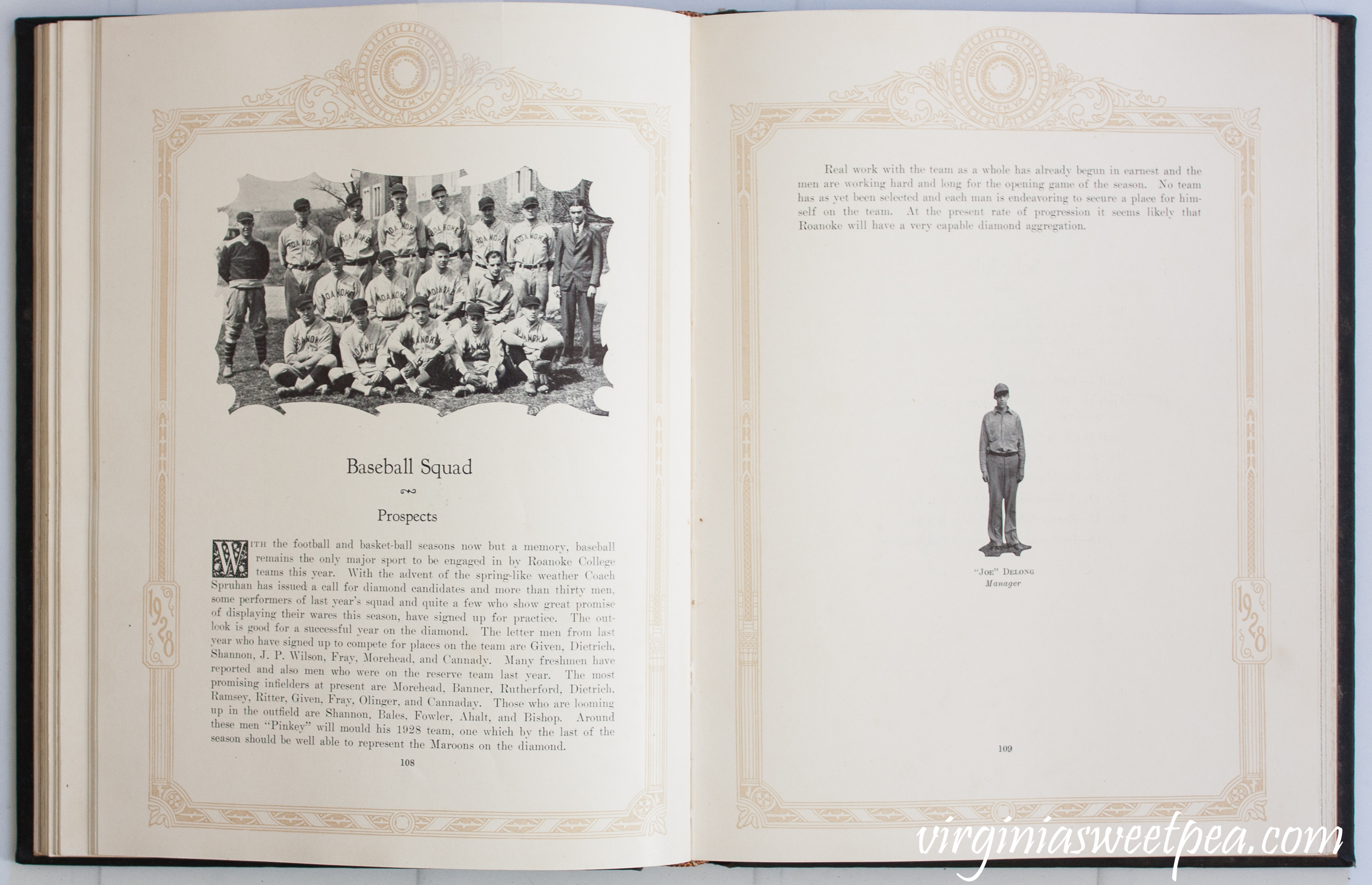 Granddaddy is listed as one of the players "looming in the outfield."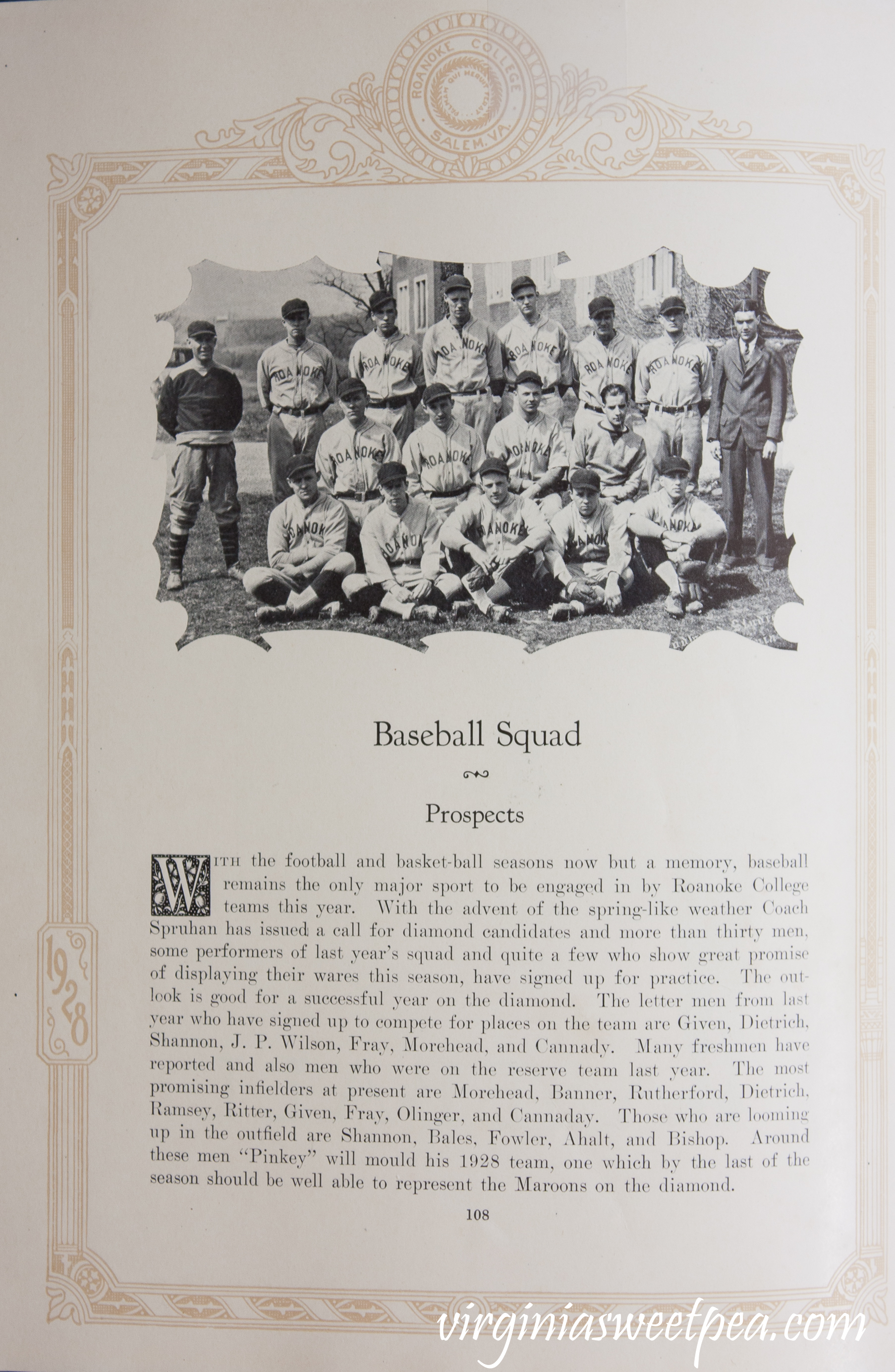 Here is granddaddy with the sophomores, incorrectly listed as P. T Ahalt of Middletown, MD. He's actually Paul Edwin Ahalt. Until I got married, we had the same initials, PEA. My PEA stood for Paula Elizabeth Ahalt. My dad was Paul and I was named after him. My blog is called Sweet Pea because of my initials being PEA for so long and because I like to garden.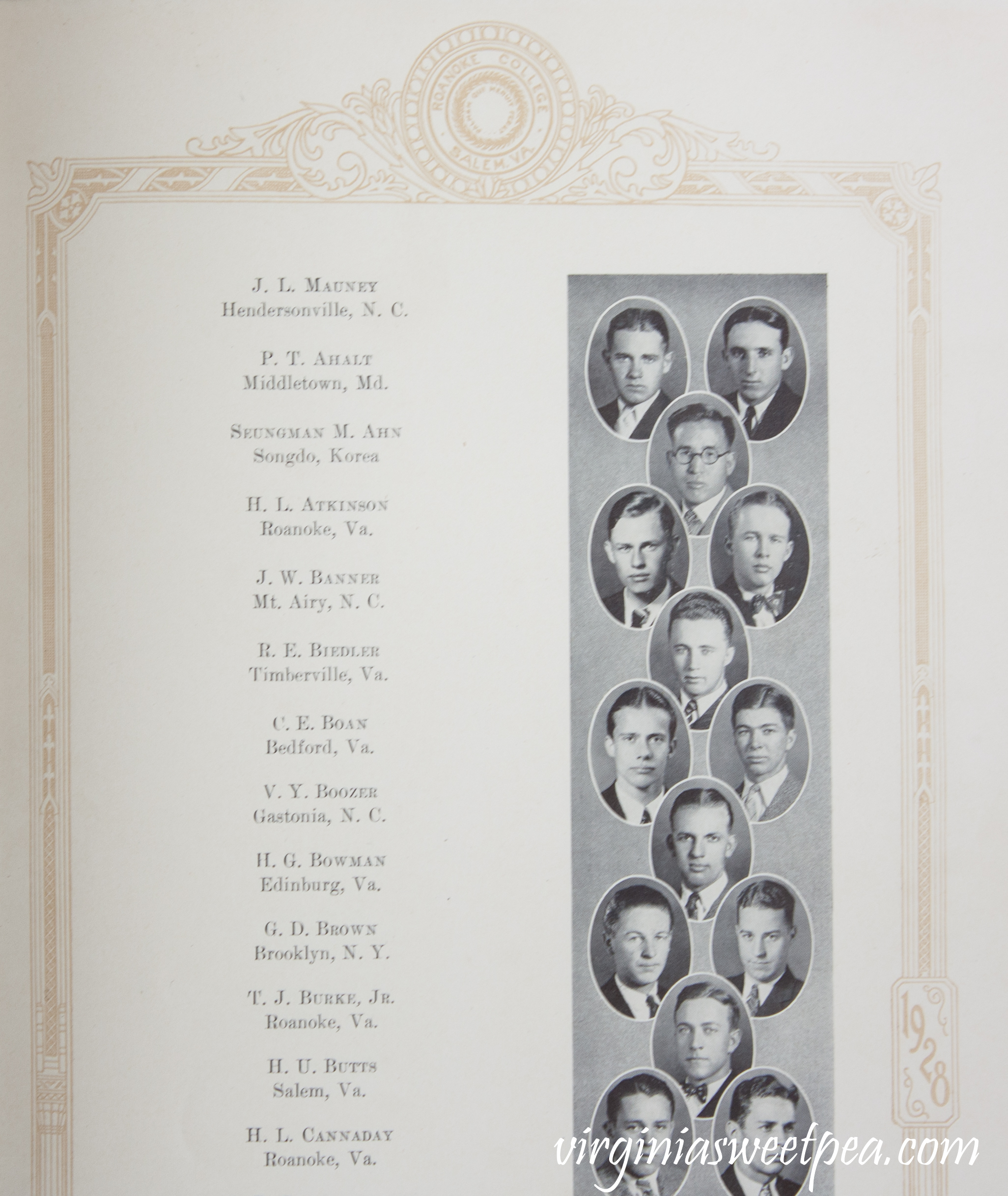 My aunt let me know that grandaddy also played football for Roanoke College. He stayed in Virginia after college and began his career as a teacher at William Byrd High School. He coached most sports at William Byrd in the 30s before he became the principal. He had one football team that was undefeated. My aunt recalls that the undefeated team had a 50th reunion in the 1980s and that my granddad looked the youngest in the team picture!
D&M Joe Cronin Baseball Glove
This baseball glove was my dad's, you can see his name, "Freddie Ahalt", written all over it.
I looked in several of his high school yearbooks to see if he was on the baseball team but he was not. He played football, basketball, and did track, but no baseball. Perhaps he played on little league teams growing up.
My dad was born in 1940, so my best guess is that this glove is from the 1940's, unless it was a glove that belonged to my grandfather that he passed along to my dad.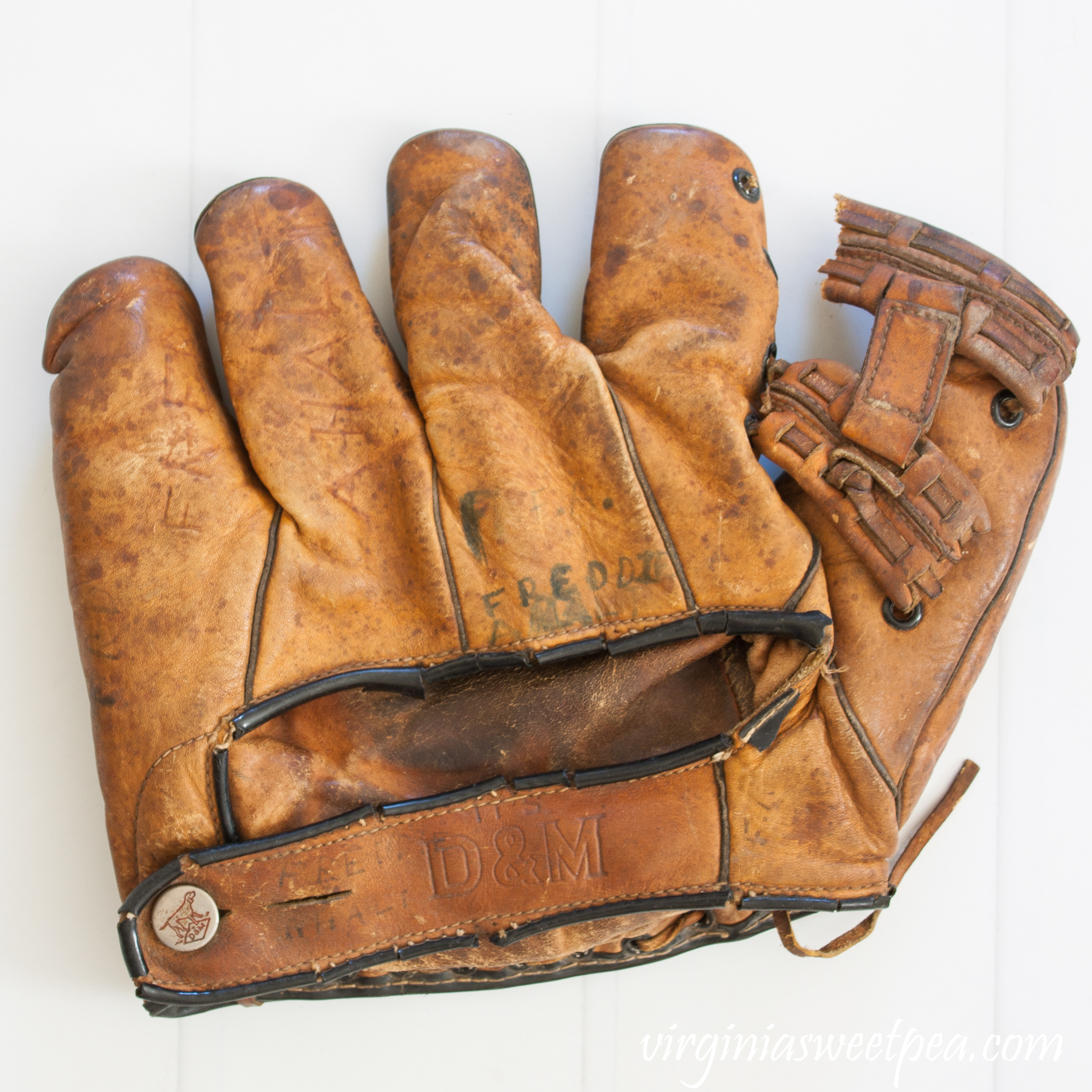 This glove is embossed with both "Joe Cronin" and "Oil Treated".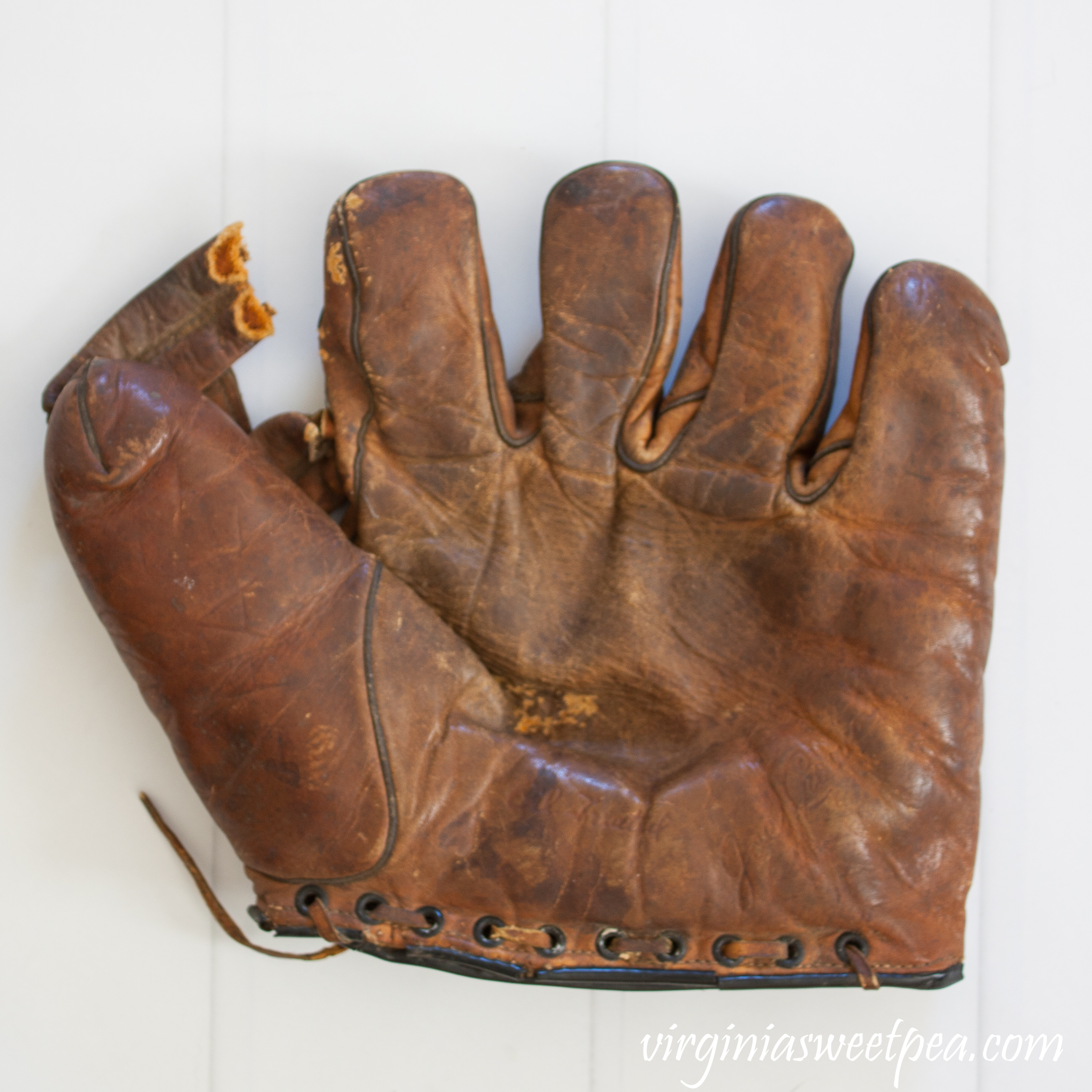 Joe Cronin played for the Pittsburgh Pirates from 1926-27; the Washington Senator's from 1928-34; and the Boston Red Sox from 1935-45. He was the general manager of the Red Sox until 1959.
I found no Joe Cronin baseball gloves made by D&M when I was researching for this post.
Graves-Humphries Roanoke, Virginia Baseball Glove
This baseball glove was a real mystery to me until I got my super sleuth friend, Suzanne, involved in the search for information about it. I believed it to be a handmade baseball glove made in Roanoke, Virginia based on the markings on the glove but I could find no information about it.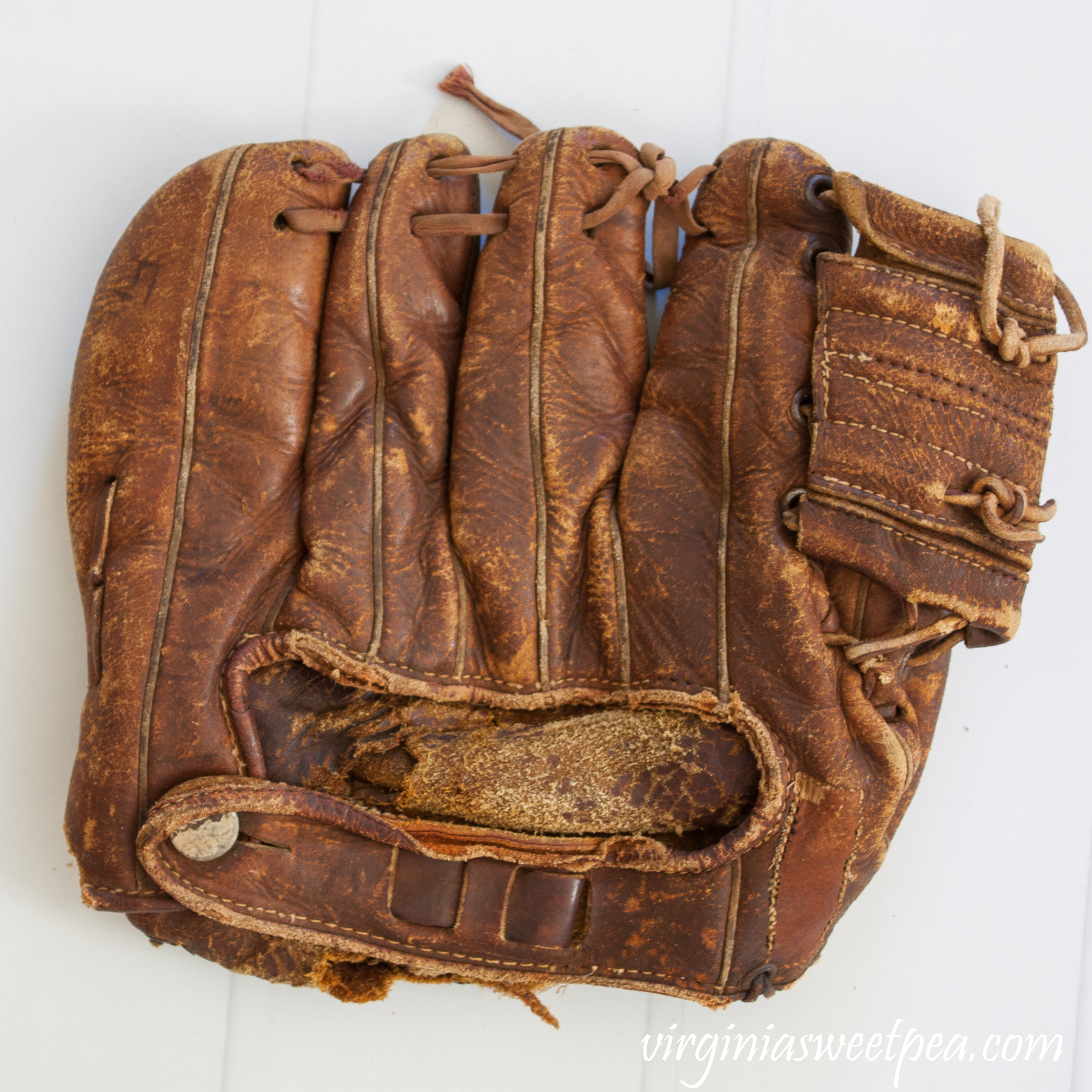 The diamond marking on the glove says, "G-H", with Roanoke, Virginia printed on the right side of the diamond. The other side of the marking looked liked it had the maker's name, G? Humpr??. I could find no information on the Internet about this glove maker. When I asked Suzanne to help in my search she found this article about Graves-Humphries Hardware located at 1948 Franklin Road S.W. in Roanoke. Bingo!
Graves-Humphreys was a distributor of tools, hardware, agricultural items, paints, oils, and glass. The company was also popular with Roanoke youth as the premier provider of sporting equipment and team uniforms.
My best guess is that this baseball glove is from the 1950's.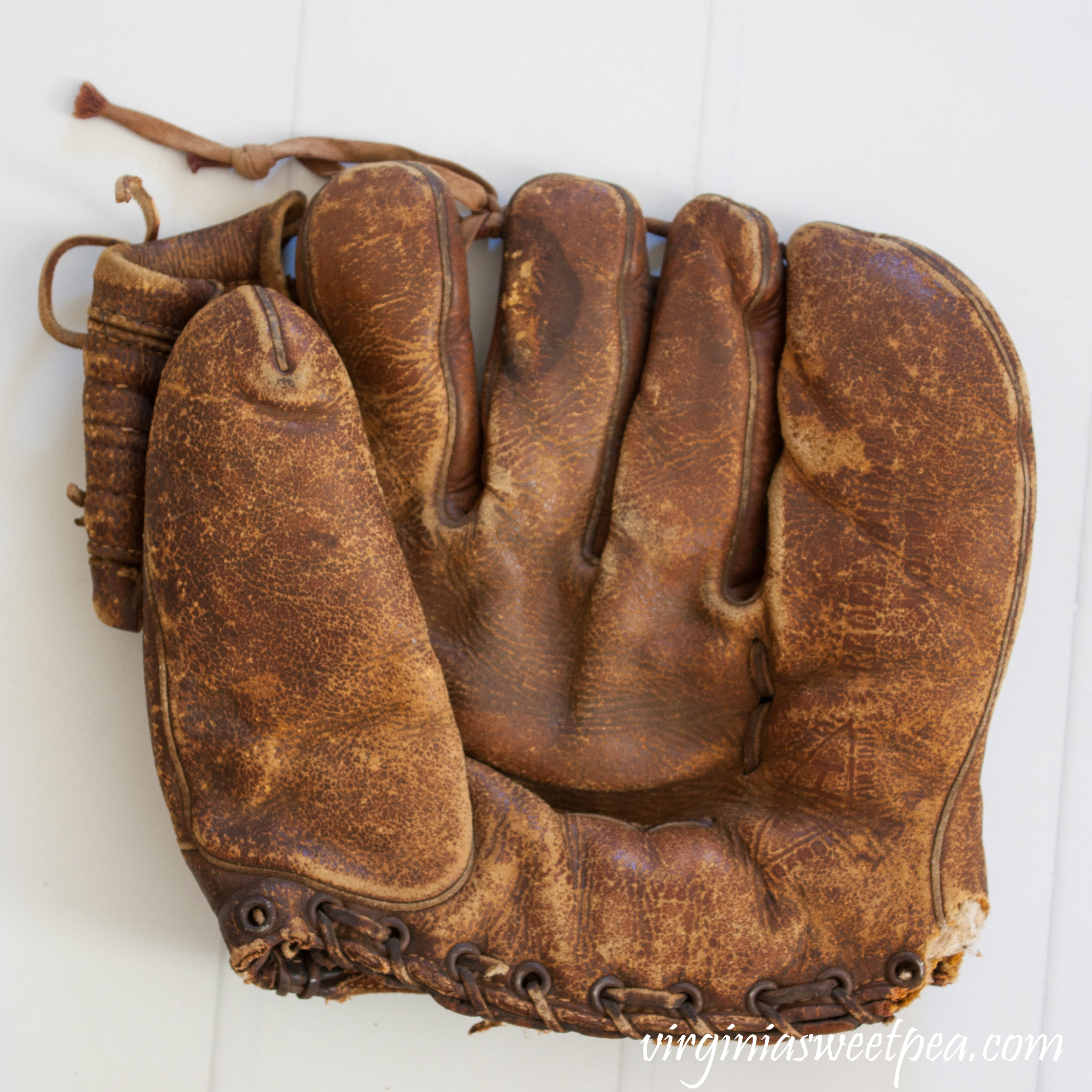 Vintage Sears Model 1616 Leather Baseball Glove
This glove took me the longest to identify since the tag was torn off. After spending a lot of time and doing a lot of clicking, I discovered that it is a Sears baseball glove.
My dad finished college in 1962 and lived and worked in Warrenton, VA until the early 1970's when he and my mom moved to Afton, VA. They were married in 1968 and started dating sometimes after 1966 when my mom finished college and moved to Warrenton to teach. I know my dad helped to coach football in his batchelor years and I think he also may have played baseball. I do remember him playing for the church softball team when I was a young child in the early 1970's.
I suspect that this glove was purchased for playing baseball in the early to mid-1960's.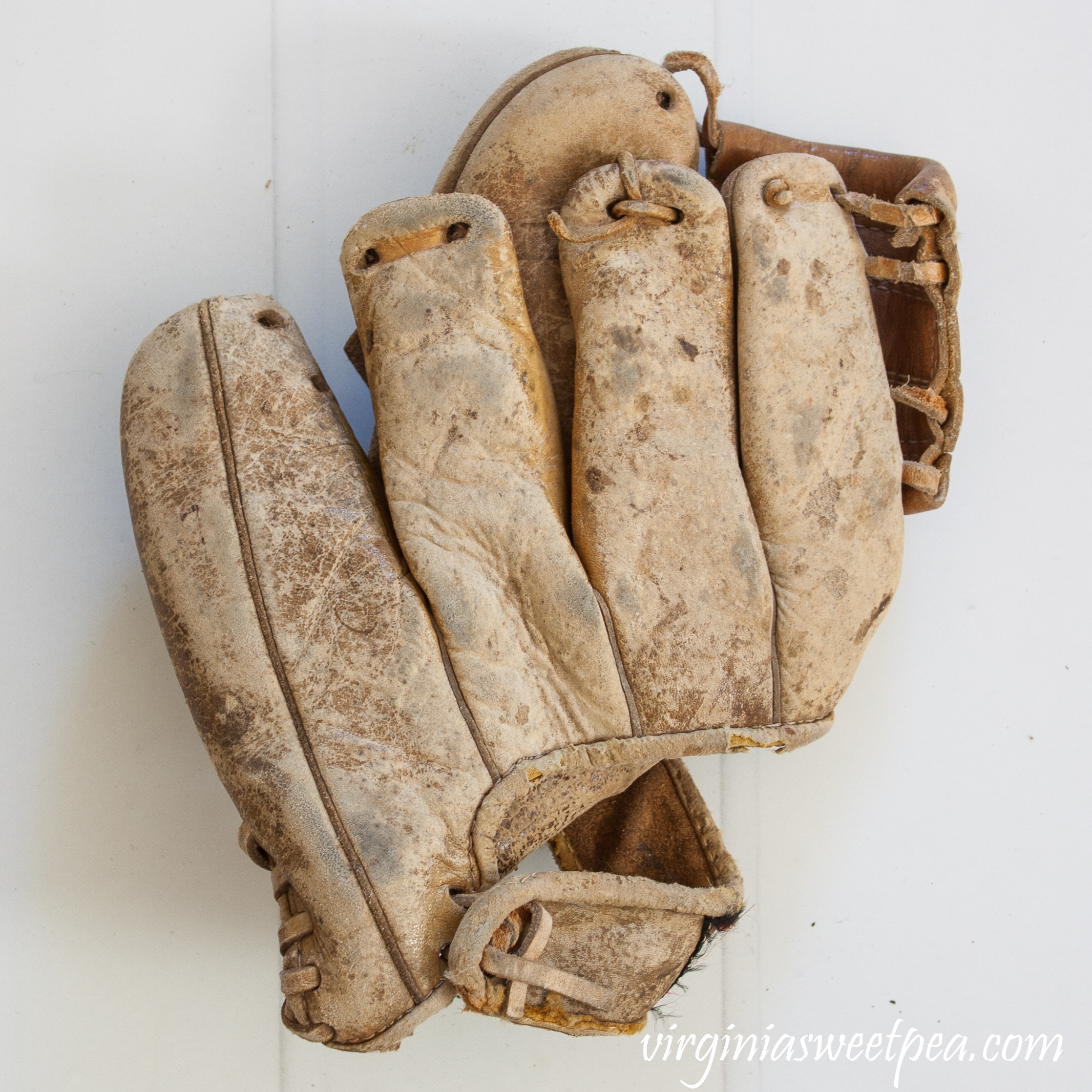 Here you can see where the tag was torn off of the glove.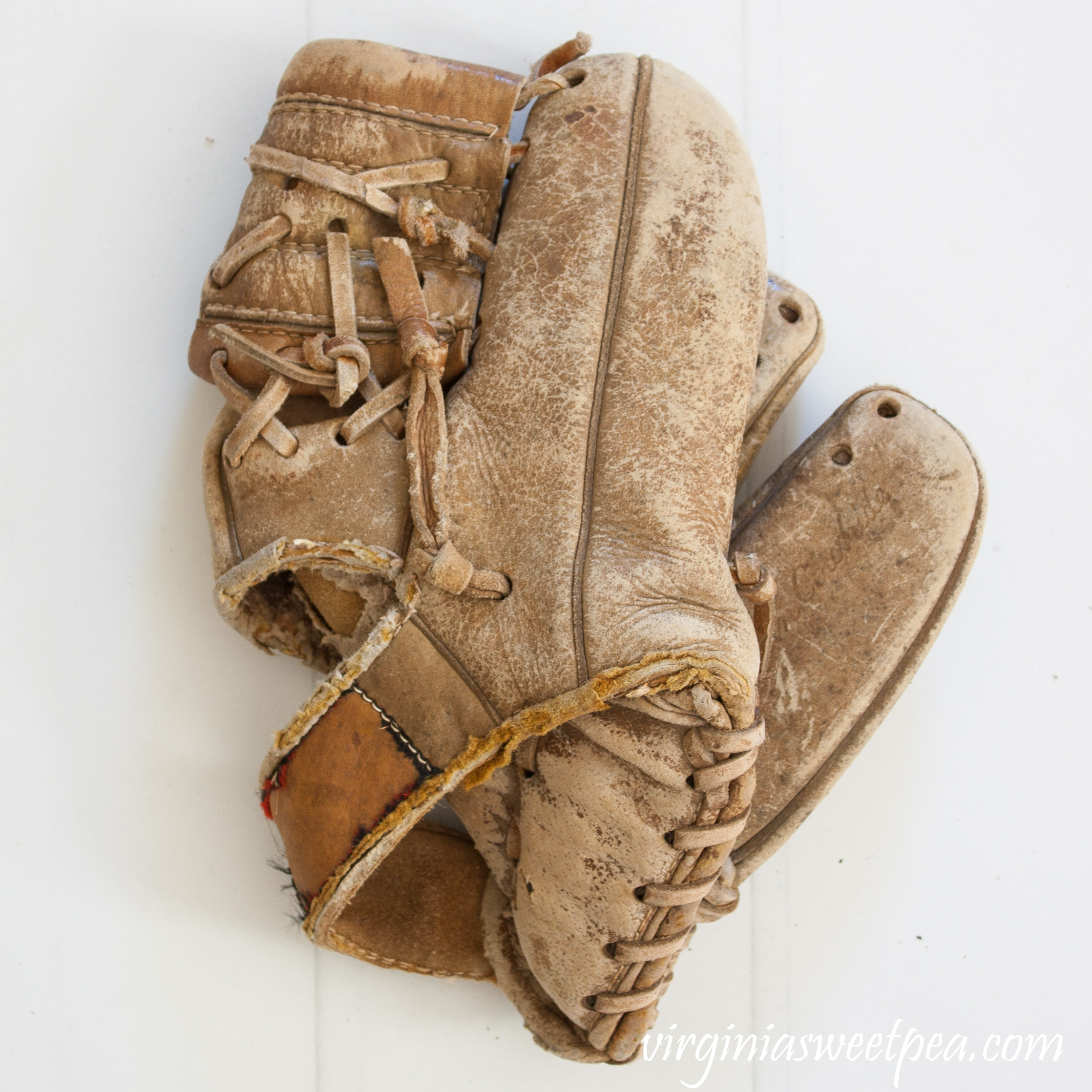 The inside of the glove is stamped with 1616, Stars, and Top Grain Cowhide.
As I'm completing this post, I realized that I've been spent five hours researching these gloves without finding out a whole lot of information. Oh, well! I hope that fellow vintage lovers or lovers of baseball will enjoy seeing and reading about my dad and granddad's baseball gloves. Based on the three gloves that were used by my dad, I have learned that he must have enjoyed playing baseball even if he wasn't on a team at his high school. Perhaps my aunt can add to this story by telling me what she remembers about my dad or grandad playing ball.
I would love it if you would pin this post for others to discover!