June 2017 Stitch Fix Review–Fix #48
Who doesn't like to see a package by their door? It's even better when it's a box from Stitch Fix! My 48th Stitch Fix box arrived at the end of last week and like always, it was so much fun to open it and to try on all of the goodies inside.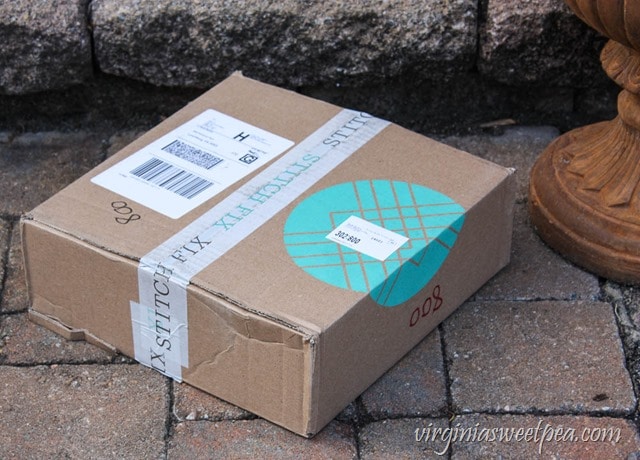 I am a Stitch Fix affiliate and if you make a purchase, I earn a small commission. My love for Stitch Fix is genuine and all opinions are truthful and my own.
My stylist, Brittany H., does a great job of picking out things that she thinks I'll like. I forgot to leave a note this month with requests and she knows me so well that it didn't matter, even with no note for suggestions, she sent five items that I love!
What is Stitch Fix?
Stitch Fix is a personal styling service. When you sign up for Stitch Fix, you fill out a detailed style profile that helps your stylist know your likes and dislikes. Since I've received 47 Stitch Fix shipments, my stylist knows my likes and dislikes very well and I almost always like every item in my Fix, a good problem to have!
When a Fix arrives, you have three days to try the clothes on and to decide what to keep and what to send back. Stitch Fix includes a postage paid envelope making returns super easy.
I choose to receive a monthly box but that is my choice. When you sign up for Stitch Fix, you can choose how often a box is delivered.
I do not like shopping and love receiving clothing from Stitch Fix. I get clothes that I like without having to do any work other than pinning things that I like to my fashion board on Pinterest. My stylist, Brittany H., checks my Pinterest board for inspiration and also reads my note to her each month to see if I have any special requests.
You can find links to all of my Fixes here and also be sure to check out my Stitch Fix Review Board on Pinterest where I pin my favorite looks.
My June 2017 Stitch Fix Shipment
I usually take my Stitch Fix pictures at home, but because my box arrived on Thursday, and we headed to the lake for the weekend on Friday, this month my pictures were taken at the lake. I recently shared our new patio and walkway project and you can see more of that in this post. These pictures were taken just after a storm with heavy rain.
Pixley Dirulo Dress
I love Stitch Fix dresses! I spotted this one in a Stitch Fix Facebook group and pinned it. A great way to get Stitch Fix clothes that you like is to pin things for your stylist to see. Brittany always checks my Pinterest board and often sends things that I've pinned. I like getting things that I've pinned but I like surprises as well. Brittany does a good job of sending both to me.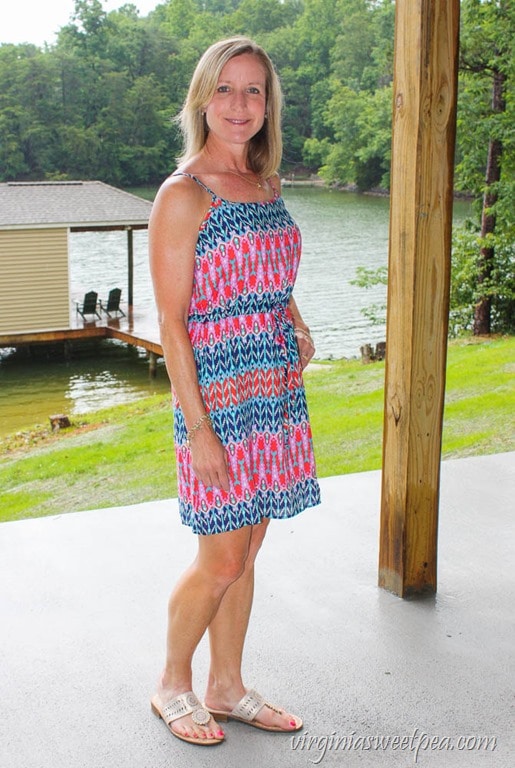 I love this dress! It's super comfortable and will be great to wear all summer. I paired it with Sam and Libby sandals that I recently purchased at Target. I've been wearing these sandals non-stop since I purchased them!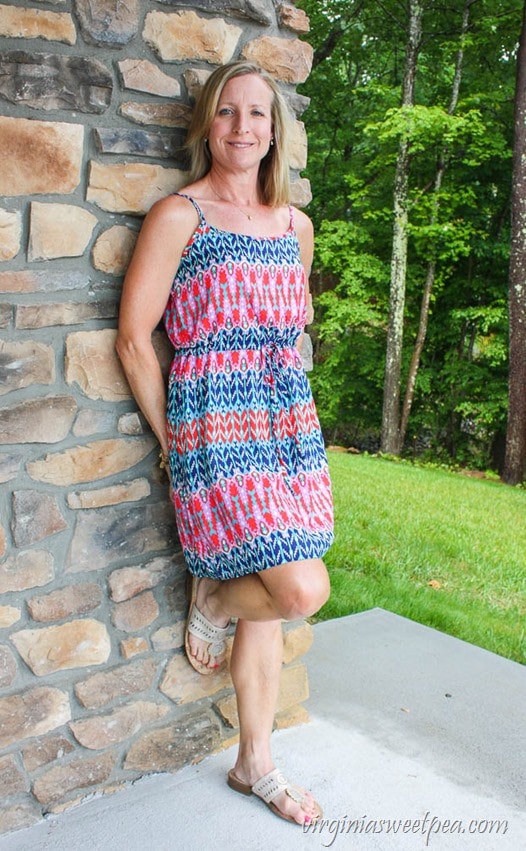 Skies are Blue Rosali Ruffle Detail Blouse
This top is is another item that I pinned. It's light and airy and perfect for hot summer days. I paired it with Pixie Chino Shorts from Old Navy.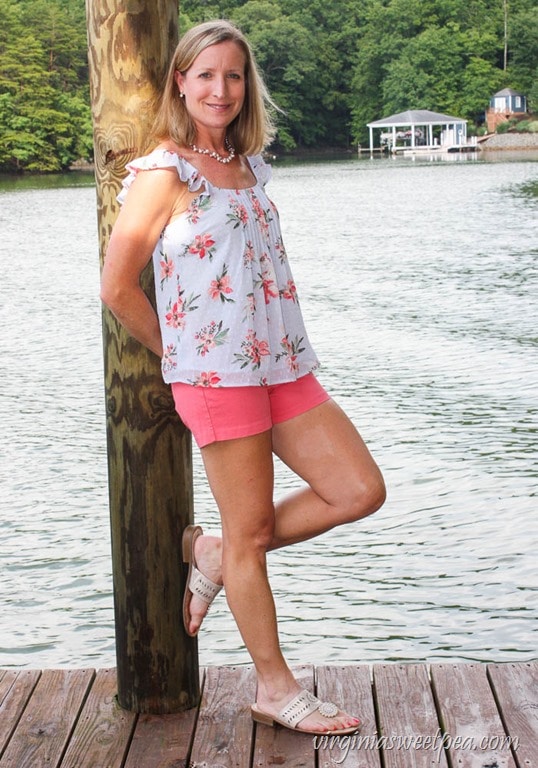 You can see the rain on the dock from the storm that we had. As these pictures were being taken, another storm was brewing.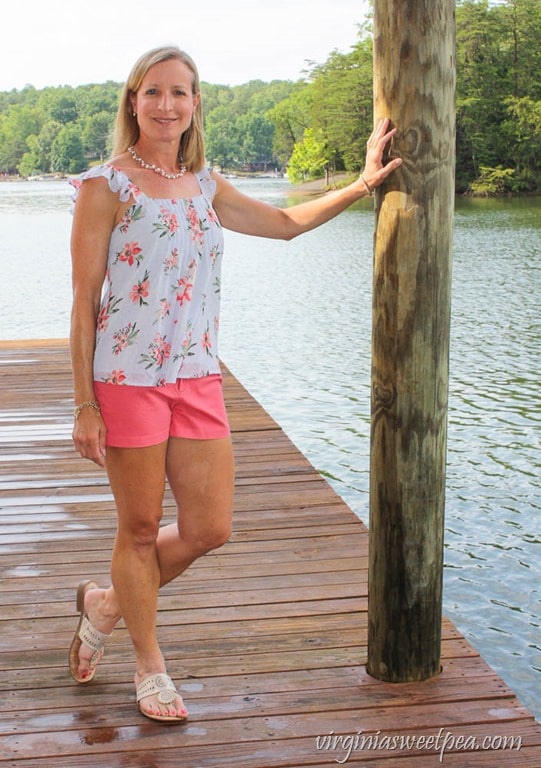 Skies are Blue Ginni Ruffle Neck Halter Blouse
This halter blouse is another item that I pinned. The fabric is silky and has a subtle pattern. Brittany suggested that I pair it with white pants and I love that look. My pants are Old Navy Stay-White Boyfriend Jeans and my shoes are Dansko Deandra.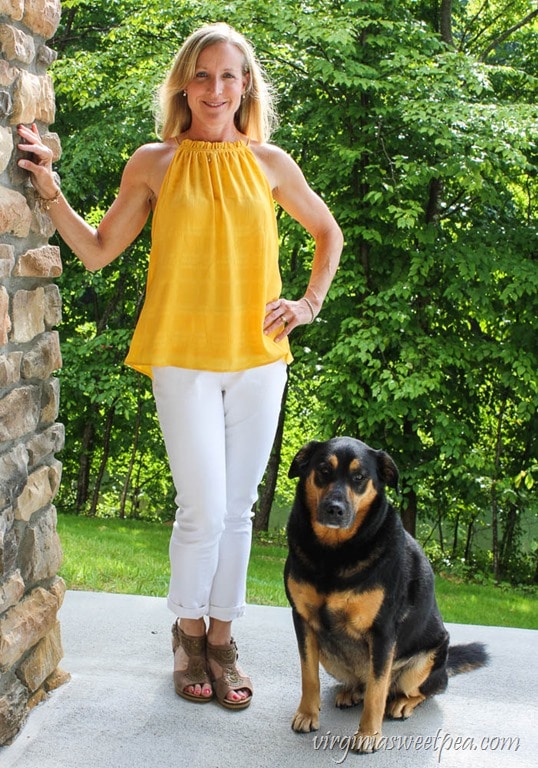 Dear John Lillie Printed Cuffed Shorts
Last summer I received and kept two pair of Dear John shorts that love. I received a pair last month that were longer and had no stretch that I did not like at all. Brittany sent this pair that I really like.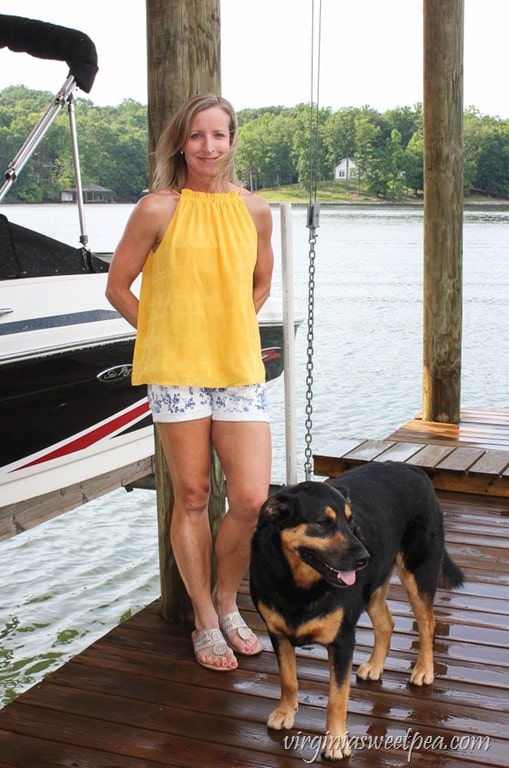 I paired the shorts with the Skies are Blue top included in this Fix and like the blue and yellow combination. I meant to pack my blue No-Yank Tank from Duluth Trading to wear with these but I forgot it. I have No-Yank Tanks in three colors. If you like tank tops, you'll love Duluth Trading's version.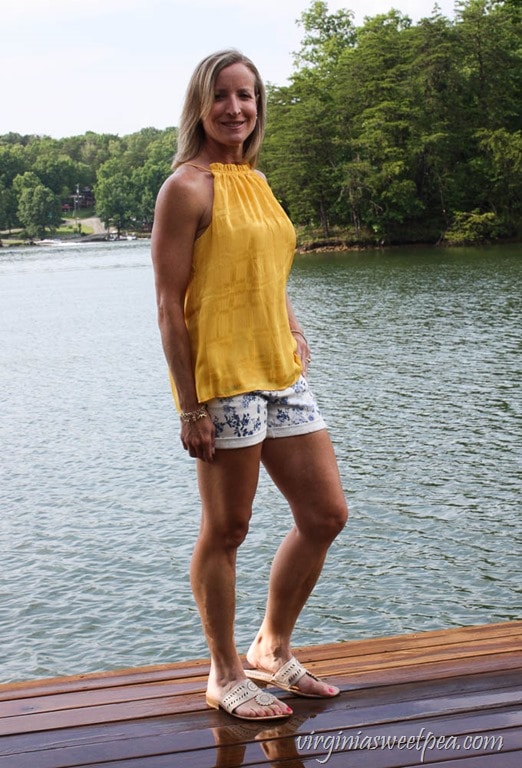 These shorts will also look good with the Papermoon Garland Keyhole Blouse that I purchased from my May Fix.
August Mist Rinalo Layered Split Back Blouse
This blouse looks like you are wearing two shirts but you aren't.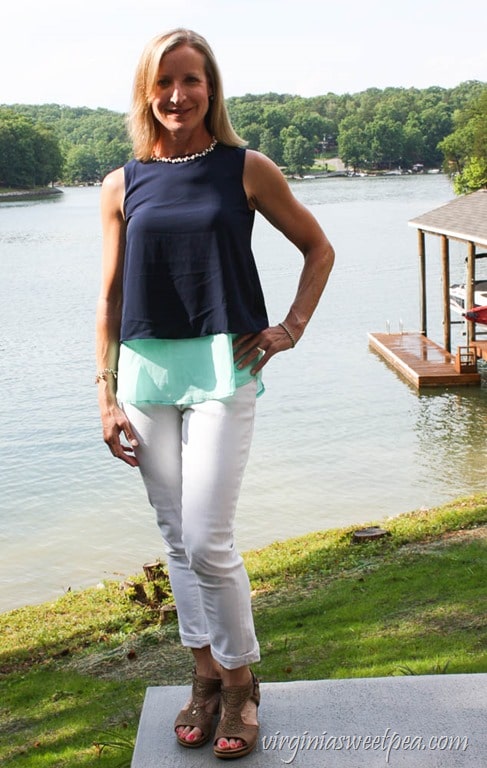 The back has a really pretty detail.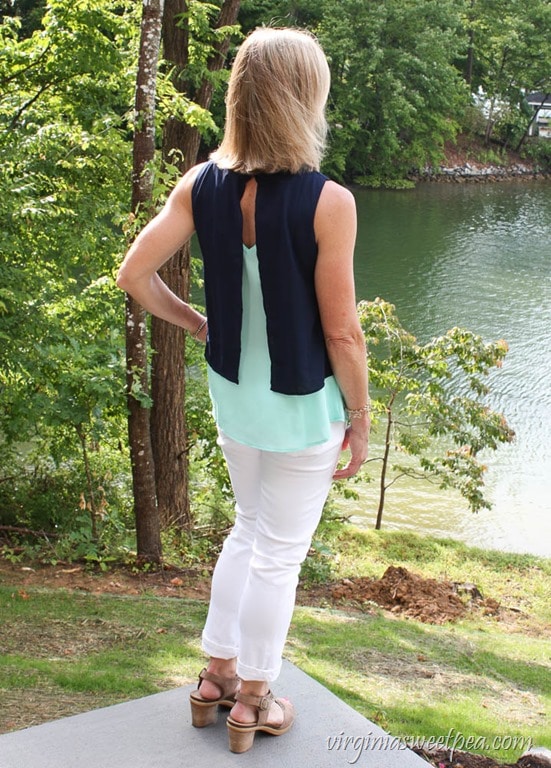 A storm was brewing while we were taking these pictures and here Sherman is telling me to get back into the house!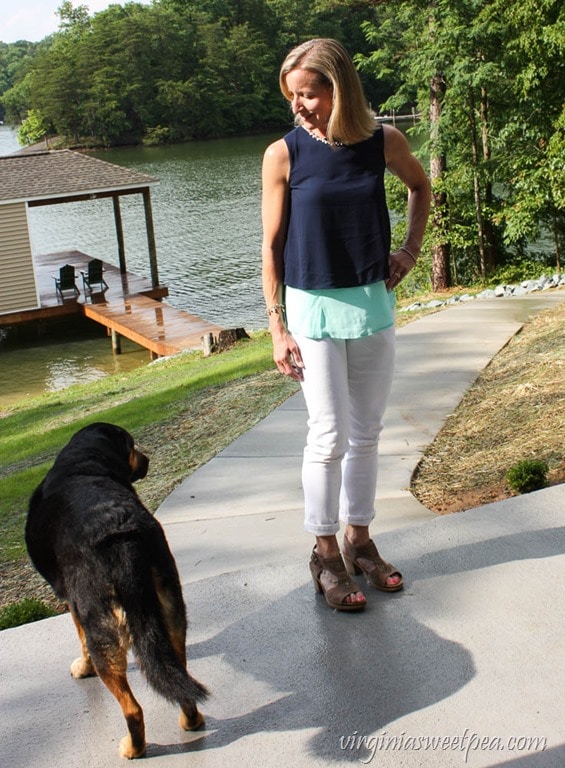 In Summary
Boy did I have a hard time deciding what to keep this month! I knew from minute one that I was keeping the dress even though I have a closet full of them.
When you purchase all five items from your Stitch Fix shipment, you get a "Buy 5 Get 25% off" discount. This discount meant I got $60 off of my purchase. I got lucky recently and won a $50 gift card from a contest that another blogger hosted, so my grand total for all five items was $119.55. For that price, I had to keep all five items! (Note that the total that I really spent was $139.55 since me credit card had already been charged the $20 styling fee.)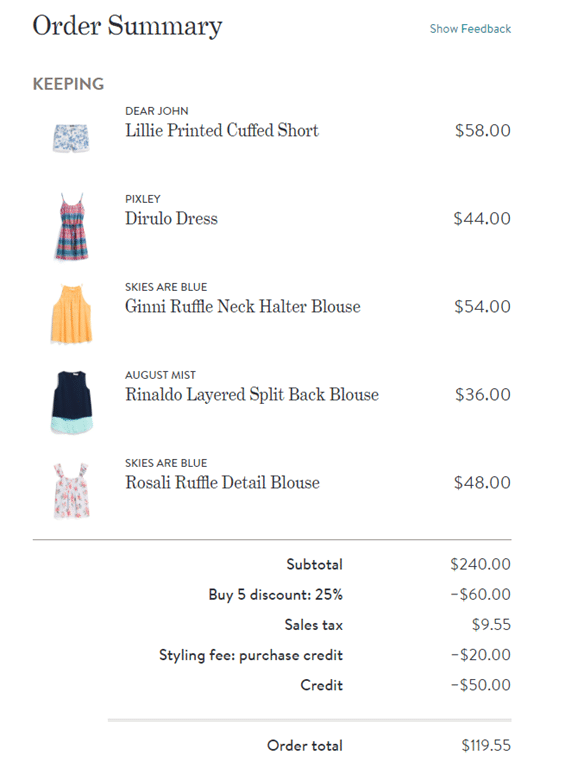 Stitch Fix for Men
Don't forget that Father's Day will be here before you know it. A Stitch Fix box for your husband might be an unexpected gift that he'll enjoy.



My husband is NOT into fashion AT ALL and has enjoyed the three Stitch Fix boxes that he has received. In fact, he wears the items that I purchased from those boxes to work weekly.
Gift Cards
A Stitch Fix gift card is a gift that any fashion loving girl or guy would like. If you have a friend or family member with a special occasion coming up, consider a gift card as a gift. I love it when I receive one!



Stitch Fix also offers Plus-Size and Maternity sizing! I've heard that a kids line is also in the works.


Try It!
If you've been thinking about trying Stitch Fix, I encourage you to do so. It's so much fun and a great way to get cute clothing without the bother of going shopping.