This post and photos may contain Amazon or other affiliate links. As an Amazon Associate I earn from qualifying purchases. If you purchase something through any link, I may receive a small commission at no extra charge to you. All opinions are my own.
The Power Tool Challenge Team is back to share projects made with power tools.  Our goal is to encourage ladies to get in the workshop and to use power tools.  This month our theme is repurposed and I am excited to share how I used vintage tennis rackets to make a table base.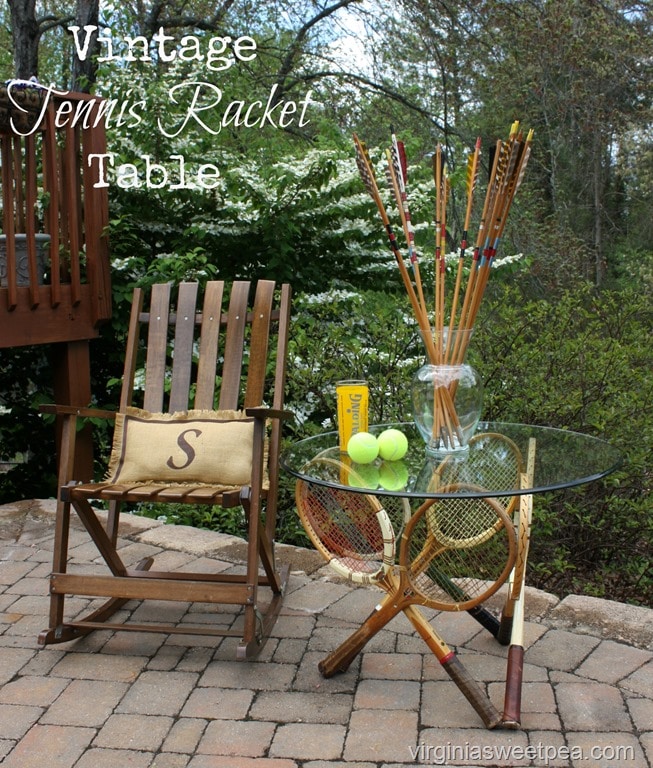 I started collecting wooden tennis rackets years ago thinking that I'd use them at the lake as wall decor.  I still may execute that idea but loved repurposing these rackets into a table base.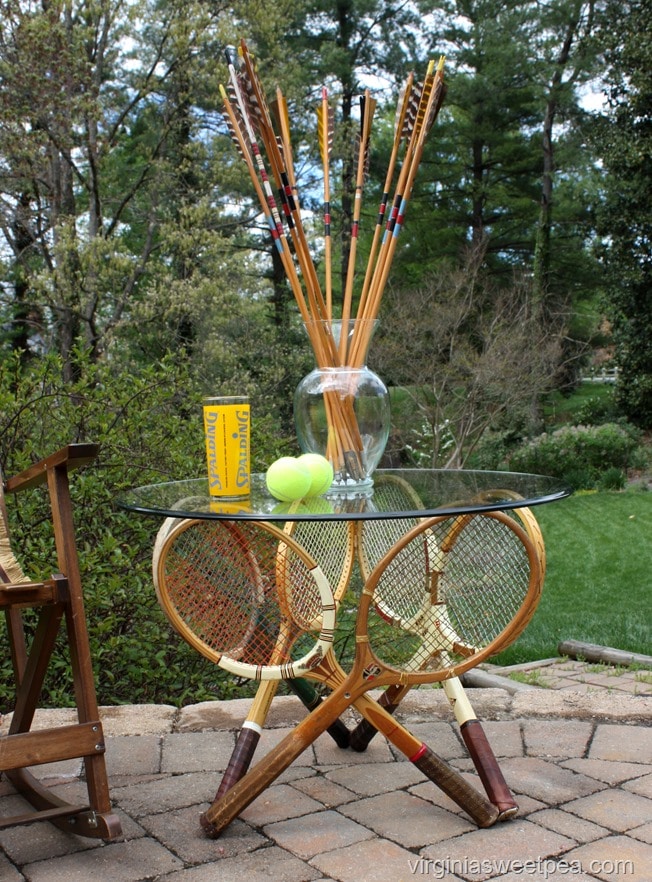 The Summer 2016 of Flea Market Style was the inspiration for this project.  My table is built similarly to the one in the magazine but with a few differences.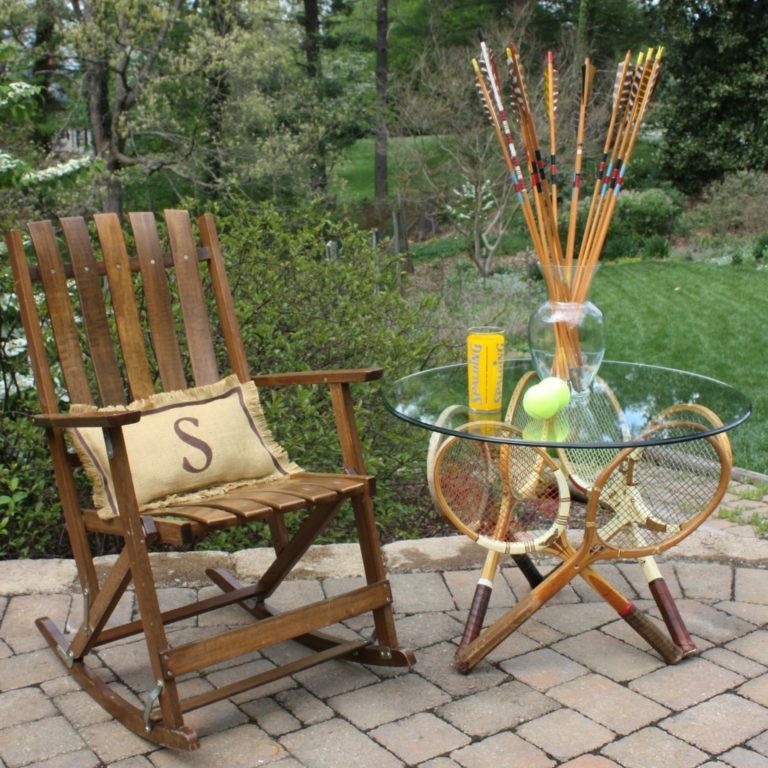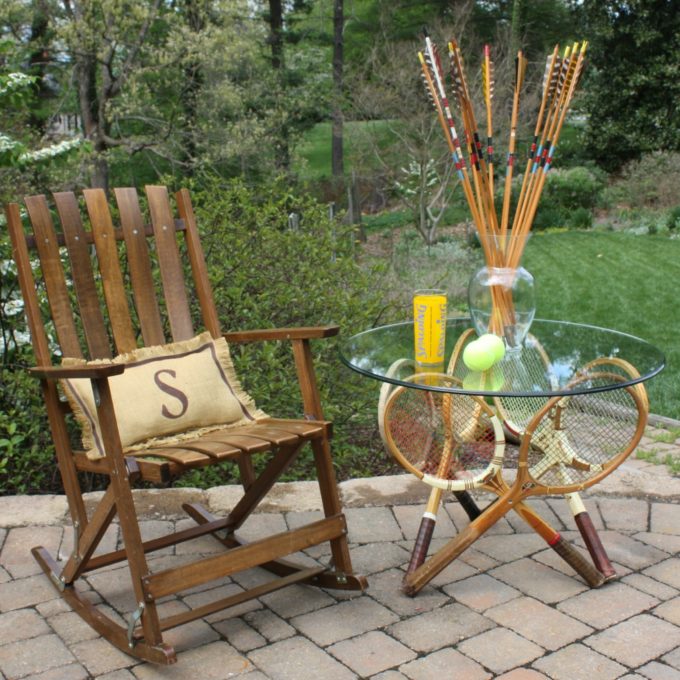 How to Make a Vintage Tennis Racket Table
Materials  
*Some links are affiliate.*
6 Wooden Tennis Rackets
Drill and Bits
Awl
Hammer
Ruler
Scrap Lumber (To Make a Jig and Braces)
1 1/4" Deck Screws
Zip Ties
Epoxy
Dowel Scraps
Procedure
1.  Measure 12 1/2" from each racket handle base and mark a spot for a hole to be drilled with an awl and hammer.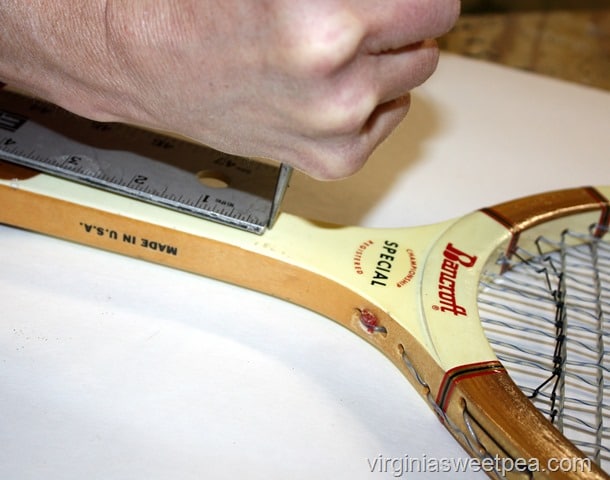 2.  Pair the six rackets.  For each pair, drill a hole in one racket and countersink another hole in the other.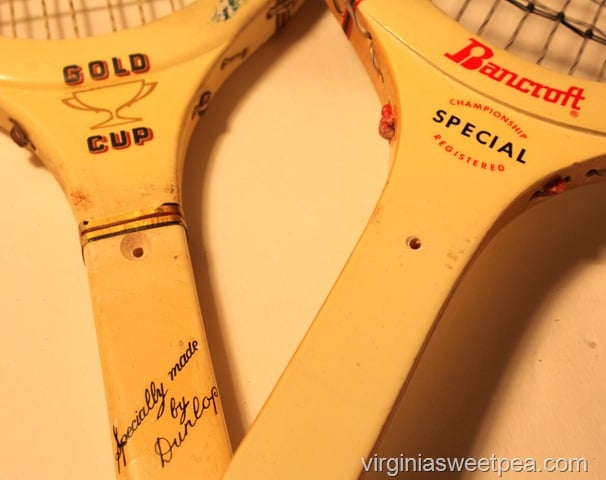 3.  Screw pairs together using a deck screw.  The rackets will scissor at this point making the height of the table top adjustable.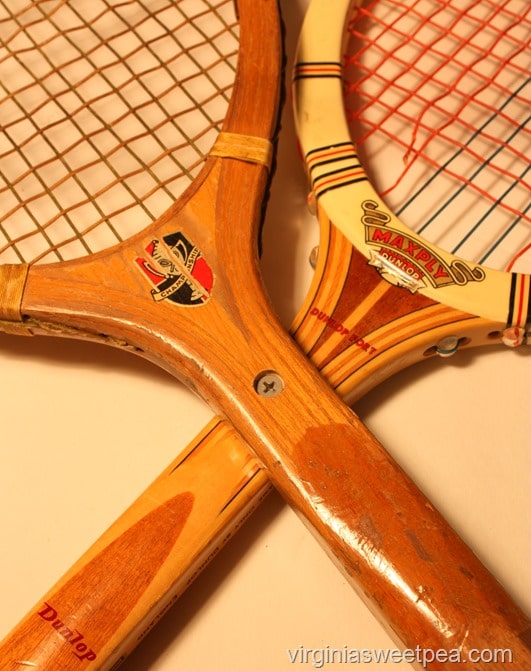 4.  Decide on a desired table height; I chose 19 1/2".  To set each racket pair to be 19 1/2" tall, build a jig by screwing or clamping two scrap pieces of lumber to a work area 19 1/2" apart in the center.  Place racket pairs into the jig and adjust so that the heads and handles of the pair will be 19 1/2" tall.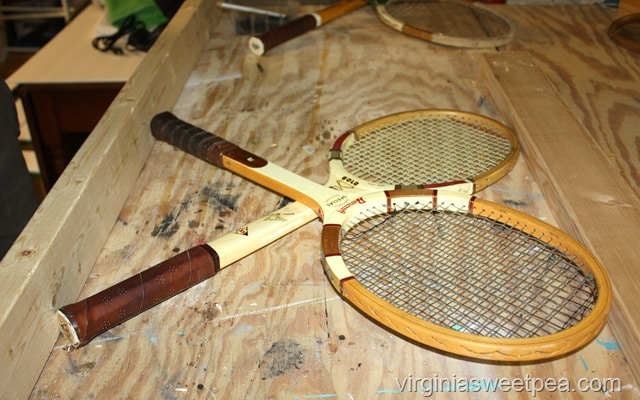 5.  Add another screw beside the first one.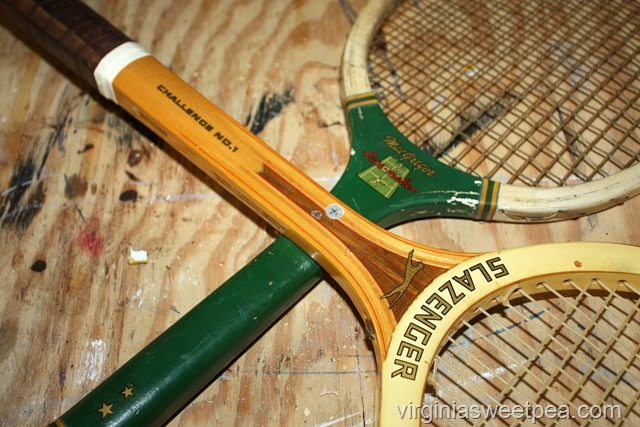 6.  Group the three pairs of rackets to form the table base.  Use zip ties to hold the racket heads together.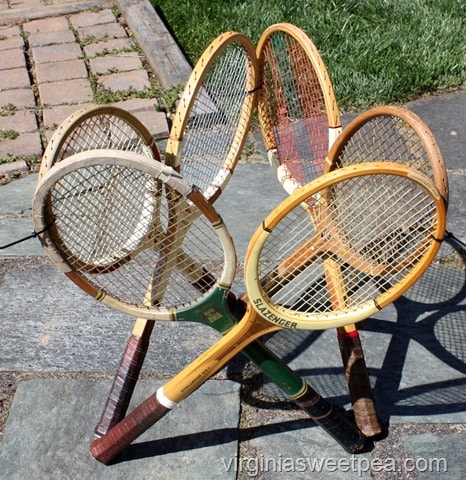 7.  Mix epoxy and apply to each racket head junction.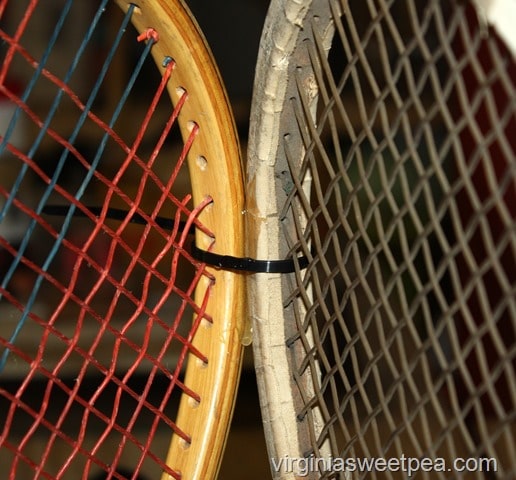 8.  After the epoxy is dry, remove zip tie and epoxy a dowel scrap to each racket head junction for further support.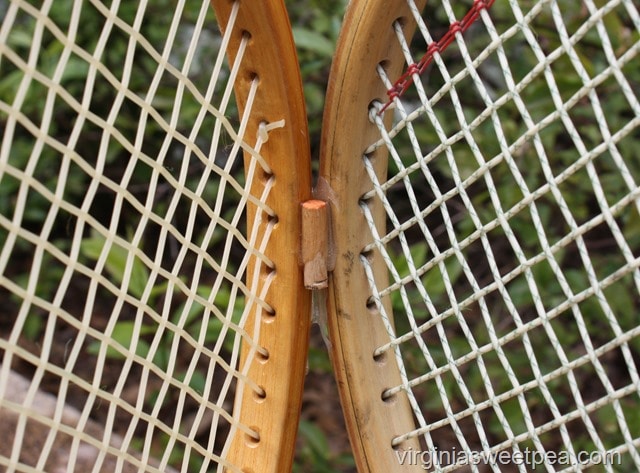 9. Cut a wedge shaped scrap of wood and epoxy into place under the handle below the screw where it will be hidden from view.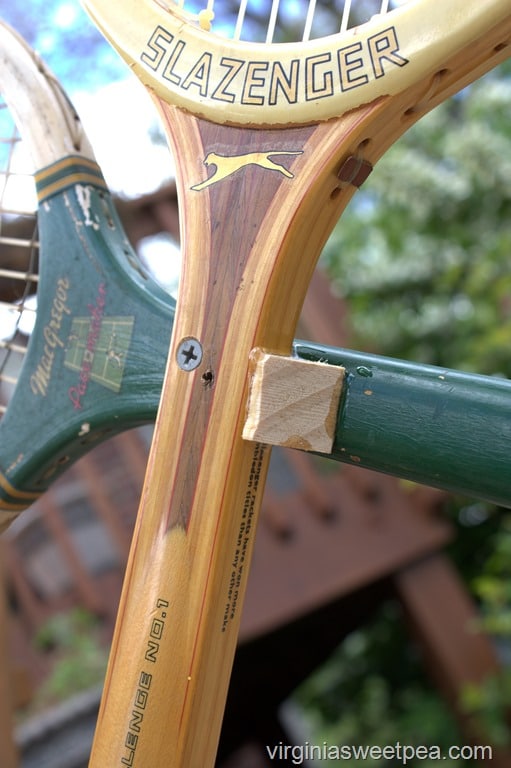 10.  To make extra sure that the table would be secure, the racket handles were screwed together.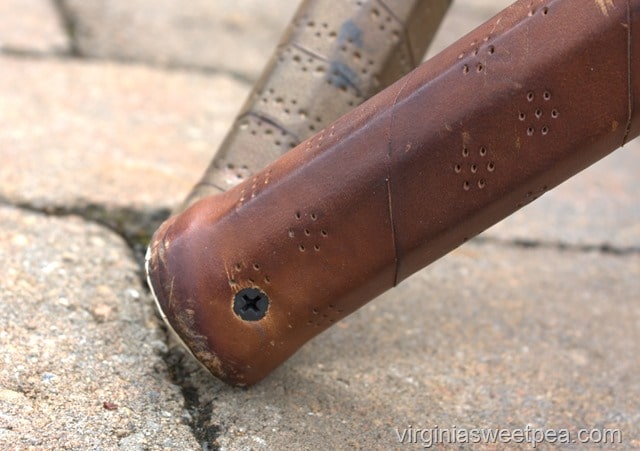 11. Carefully place the glass top on top of the racket base and enjoy your new table.
The arrows were my dad's and I even have their original quiver.   This table has already been taken to our lake house where I know we'll enjoy using it for many years.  Since we have a lot of friends that play tennis, I think that it will be quite the conversation piece.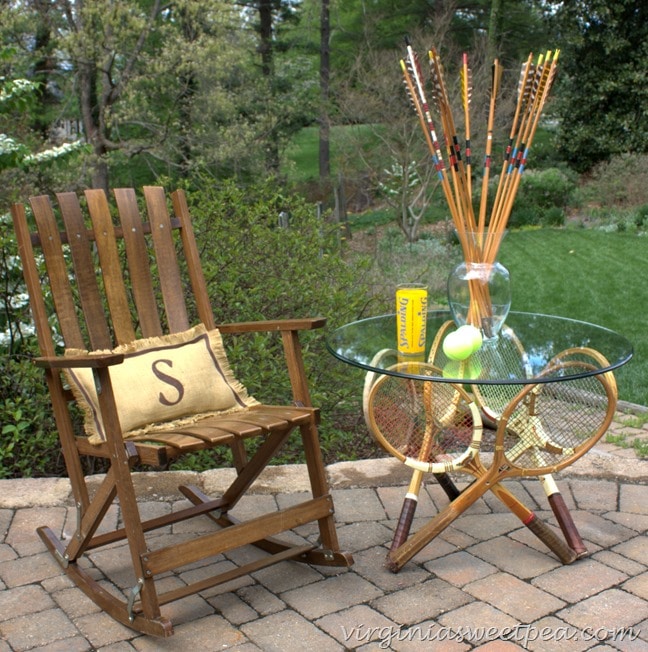 Have you ever seen tennis balls that come in a glass instead of a can?  Spalding must have done that as a promotion at some point in the past.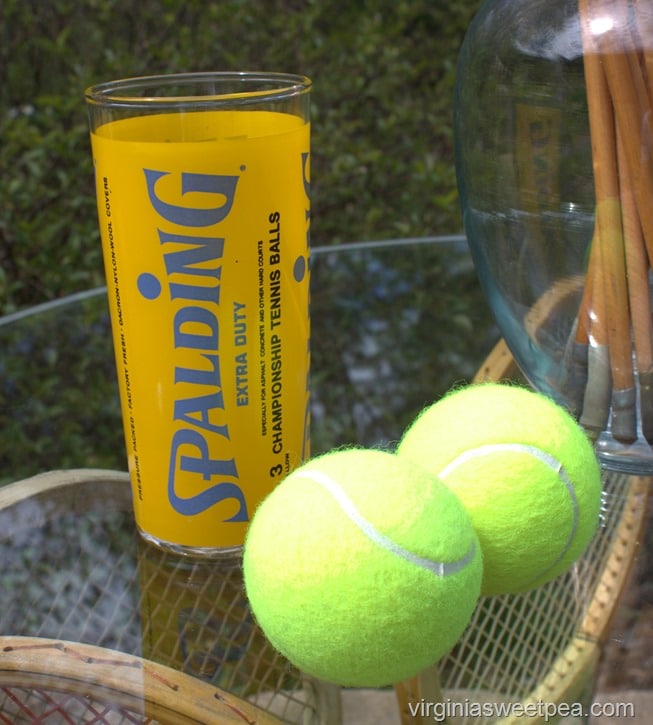 Please pin this project for others to discover!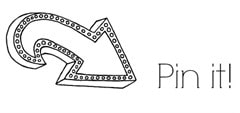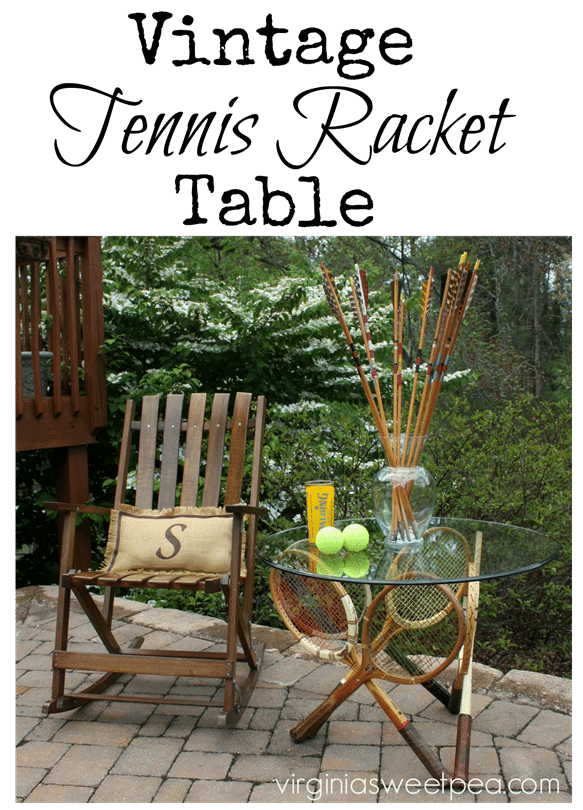 Now it's time to see what the other ladies created for this month's upcycle challenge.  I am really looking forward to reading these posts!  Click the links below to visit each project.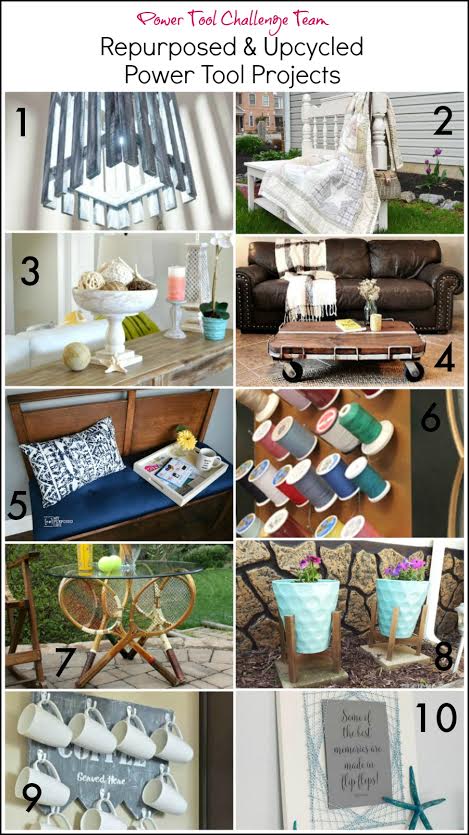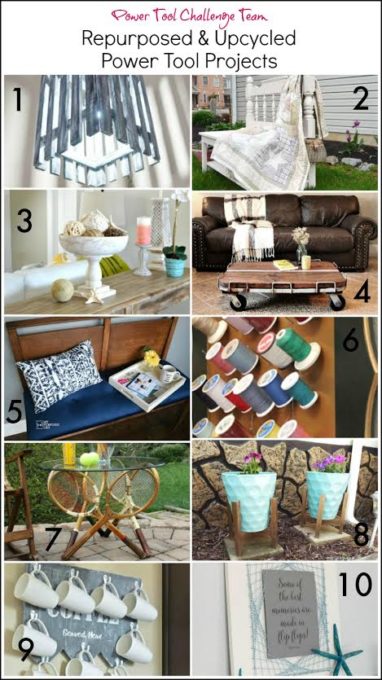 1 Hanging Picket Pendant Light by Designed Decor
2 Garden Bench by Create and Babble
3 Bed Spindle Pedestal Bowl by H2OBungalow
4 Industrial Cart Coffee Table by Refresh Restyle
5 Mid Century Headboard Bench by My Repurpose Life
6 Framed Wall Spool Rack Upcycle by Kim Six
7 Vintage Tennis Racket Table by Virginia Sweet Pea
8 Recycled Wood Plant Stands by Designs Bt Studio C
9 Rustic Coffee Mug Holder by Interior Frugalista
10 Repurposed Cabinet Door String Art by Domestically Speaking