April 2017 Stitch Fix Review–Fix #46
I'm back with another Stitch Fix review! I was late posting my March review and my April review is following it just a few days later.
This month I requested spring tops and like always, a dress. (I love Stitch Fix dresses.) My stylist remembered that I requested white pants in March and was able to send a pair this month.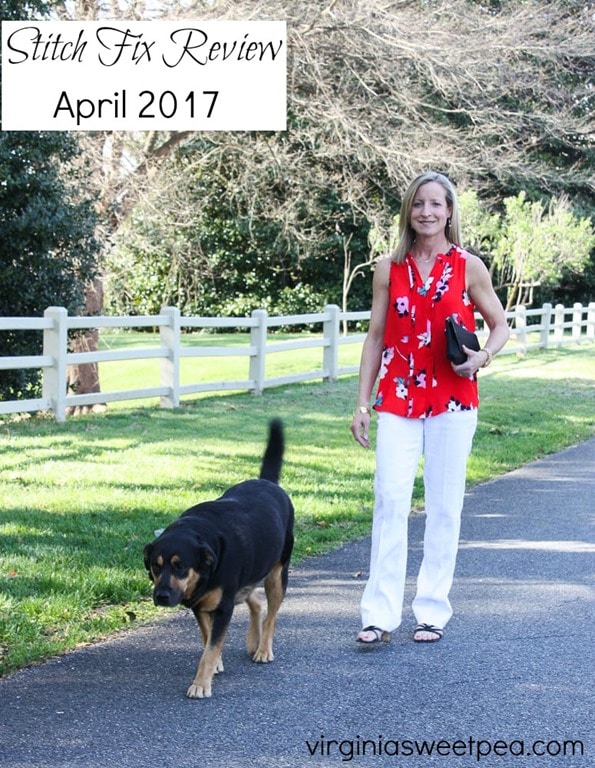 I am a Stitch Fix affiliate and if you make a purchase, I earn a small commission. My love for Stitch Fix is genuine and all opinions are truthful and my own.
What is Stitch Fix?
Stitch Fix is a personal styling service. When you sign up for Stitch Fix, you fill out a detailed style profile that helps your stylist know your likes and dislikes. Since I've received 45 Stitch Fix shipments, my stylist knows my likes and dislikes very well and I almost always like every item in my Fix, a good problem to have!
When a Fix arrives, you have three days to try the clothes on and to decide what to keep and what to send back. Stitch Fix includes a postage paid envelope making returns super easy.
I choose to receive a monthly box but that is my choice. When you sign up for Stitch Fix, you can choose how often a box is delivered.
I do not like shopping and love receiving clothing from Stitch Fix. I get clothes that I like without having to do any work other than pinning things that I like to my fashion board on Pinterest. My stylist, Brittany H., checks my Pinterest board for inspiration and also reads my note to her each month to see if I have any special requests.
You can find links to all of my Fixes here and also be sure to check out my Stitch Fix Review Board on Pinterest where I pin my favorite looks.
My April 2017 Fix
When your Stitch Fix box ships, you receive an email notification that your box is on its way. At that time you can use the Stitch Fix app to get a sneak peek at what is coming. When I saw my items, I couldn't wait for them to arrive. What Brittany picked for me is perfect for spring.
41 Hawthorn Breyson Pleated Detail Blouse
My favorite color is red and florals are supposed to be on trend for spring, so this blouse in particular was an item that I couldn't wait to try on.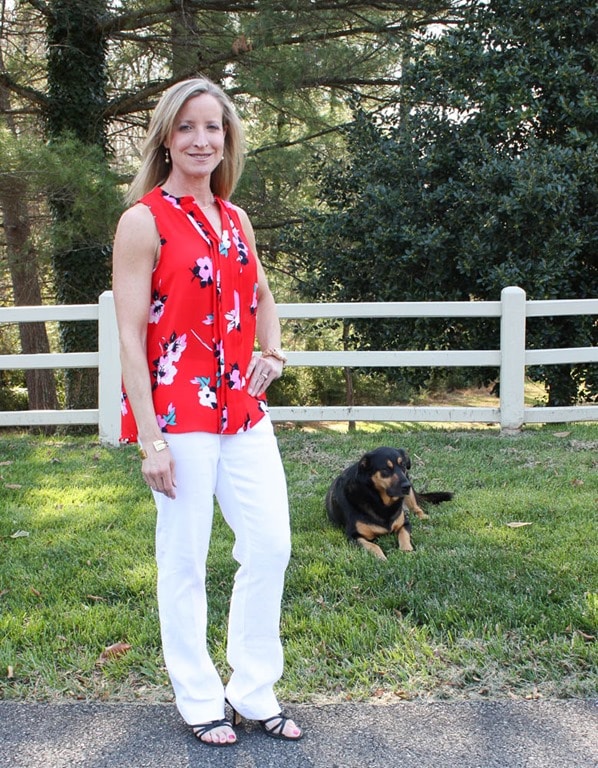 The fabric is silky soft and the type that won't wrinkle, a big plus in my book.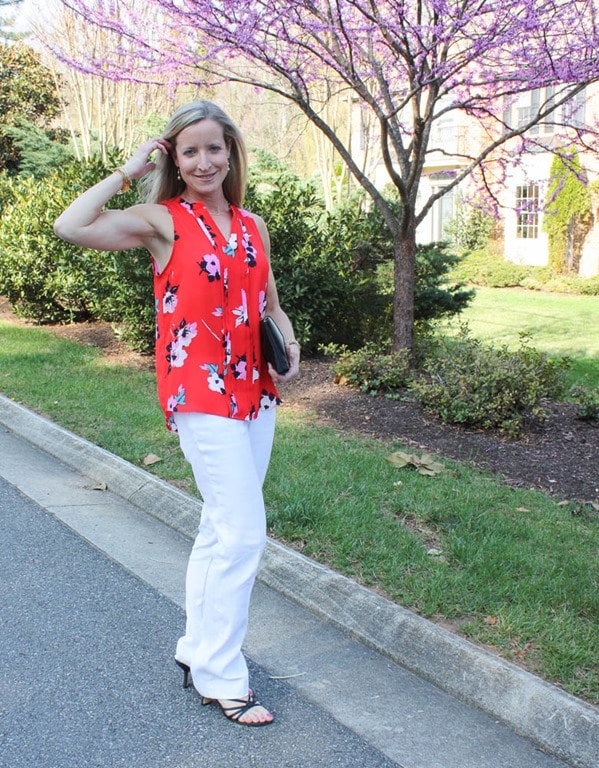 I liked this top paired with white pants but it also would look great with other colors.
Lila Ryan Mia Wide Leg Linen Pants
I paired the 41 Hawthorn Breyson Pleated Detail Blouse with the Lila Ryan Mia Wide Leg Linen Pants. I really liked the fit of these pants but the length was a tad long for me. With heels this length works, but I generally don't spend a day in heels.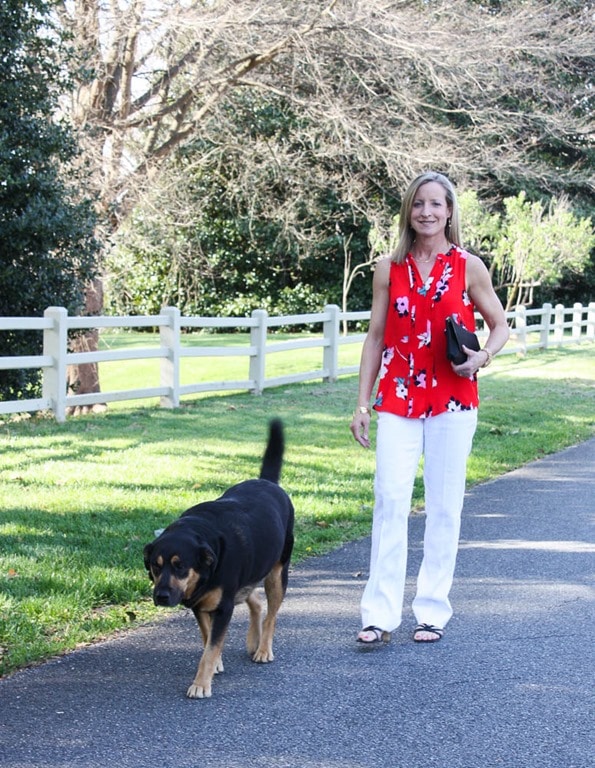 As much as I liked these pants, their price ($98) and the fact that they are linen made them an automatic "no" for me. Linen gets too wrinkled for my taste and $98 is a bit out of my clothing budget at this time.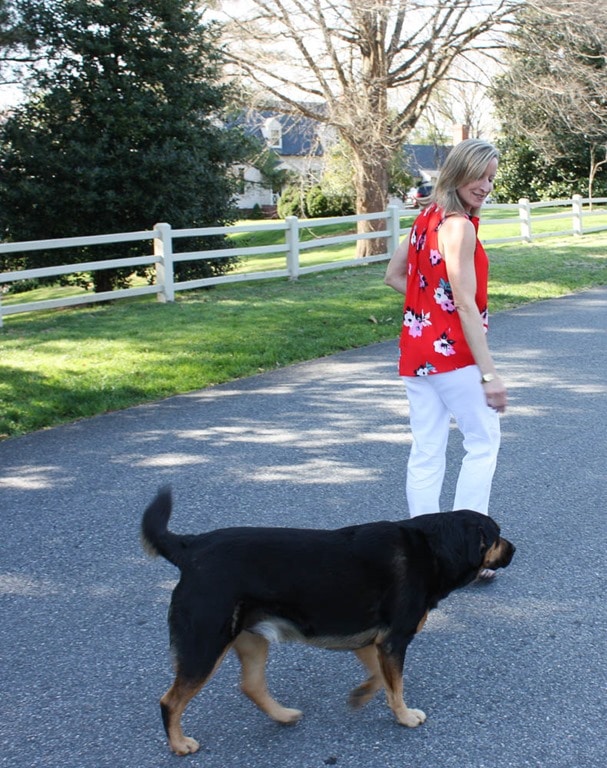 I'm so glad that it is spring and warm enough to wear clothes like these.
Pixley Meryl Split Neck Blouse
I love the color, cut, and pattern of this blouse. I paired it with a casual pair of white pants that I recently purchased at Old Navy, the Boyfriend Straight Stay-White Jean. The "Stay-White" claim is that they repel stains and spills so the pants stay white. We'll see how they hold up to the test. At $44.95, they are a budget friendly addition to my wardrobe.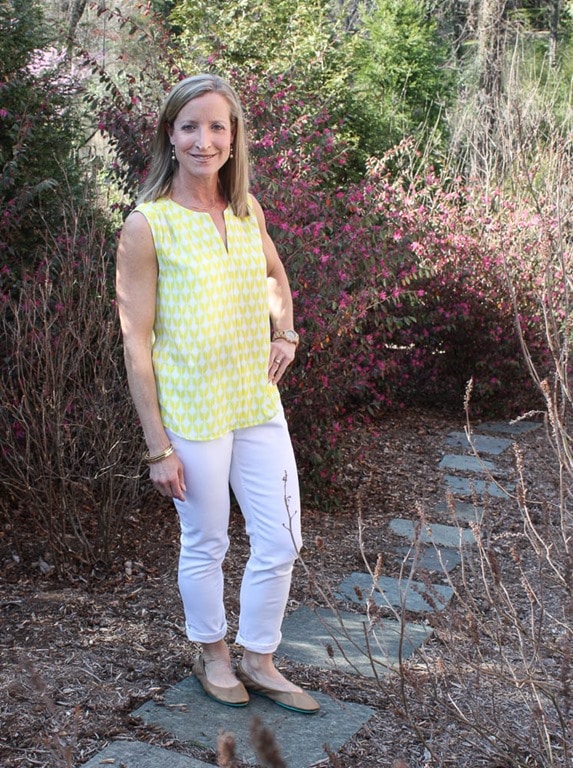 The back of this shirt is flattering with its long length. One disadvantage to this shirt is that it is a bit sheer. I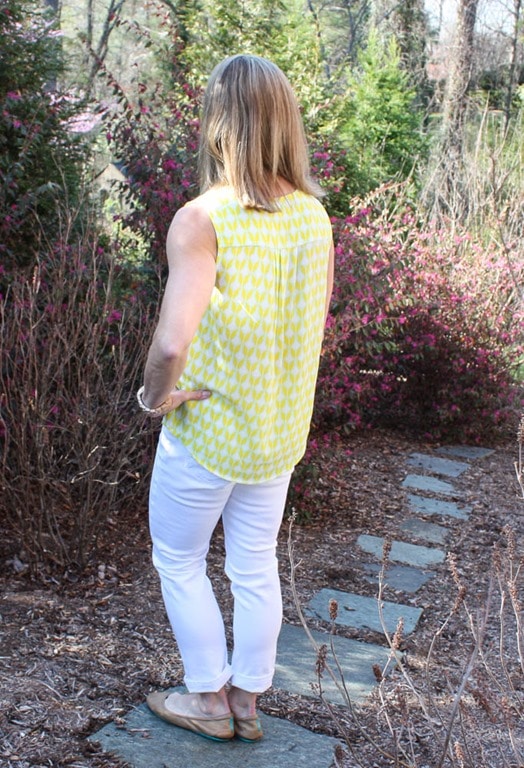 Skies are Blue Leonna Embroidered Dress
Brittany thought that I would enjoy the slightly Boho-inspired look of this dress and she was correct. I loved its cut, fit, color, and fun graphic design.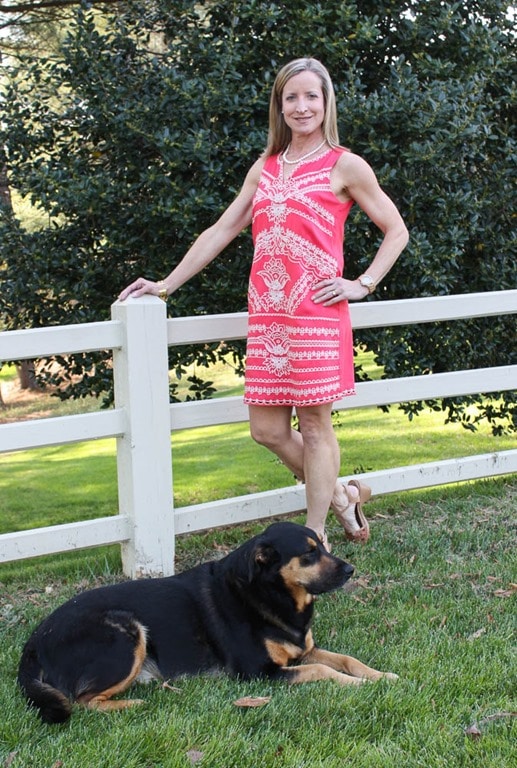 I paired this dress with a pair of Dansko sandals that I've had for years. I don't buy a lot of shoes and tend to stick with Tieks or Danskos for comfort. If my budget allowed, I'd buy this pair of Danskos for summer.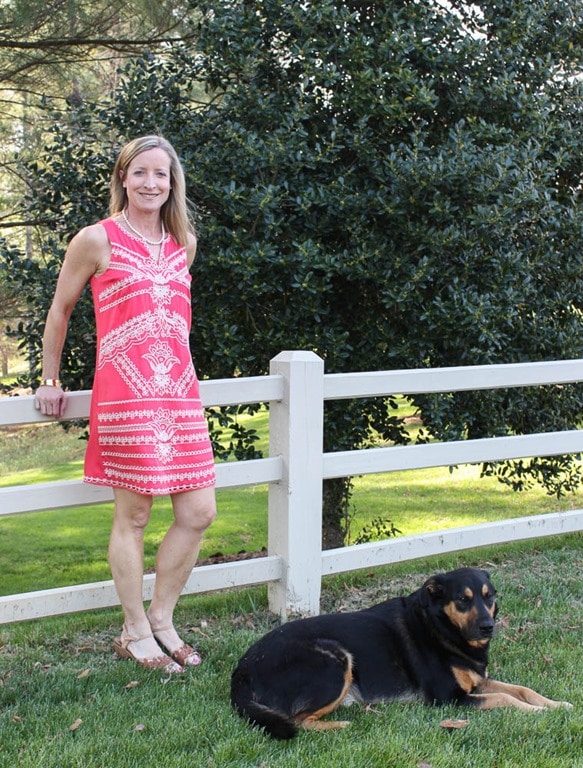 This dress is perfect for spring and summer. On a chilly morning or evening, I would wear it with the Liverpool Kolton Denim Jacket that I received in my August box.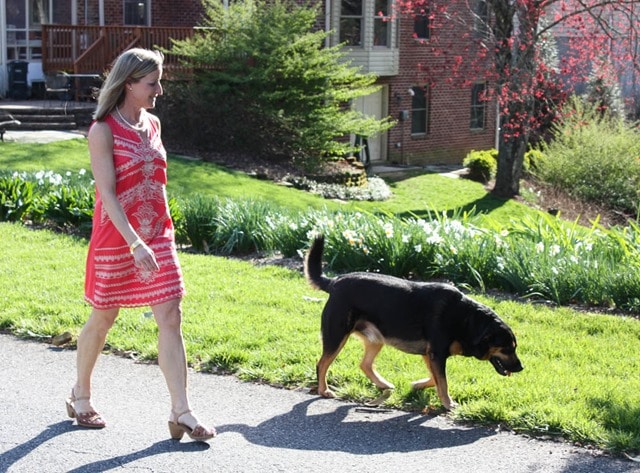 Jella C Fourie Lace Bib Blouse
I saw this top on another blogger's Stitch Fix post and pinned it to my "My Style" board on Pinterest. Brittany saw that I'd pinned it and sent one my way.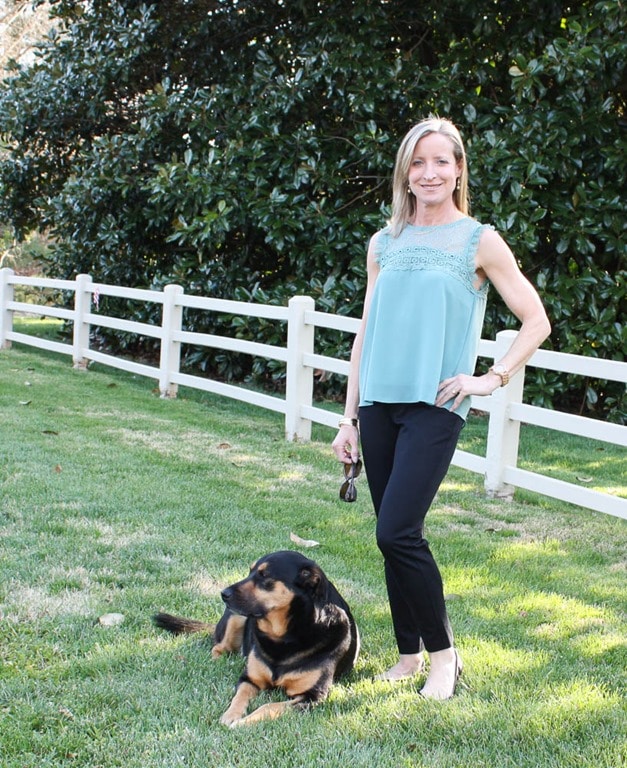 I paired this top with black Mid-Rise Pixie Ankle Length Pants that I recently purchased from Old Navy. These pants have stretch and are so comfortable!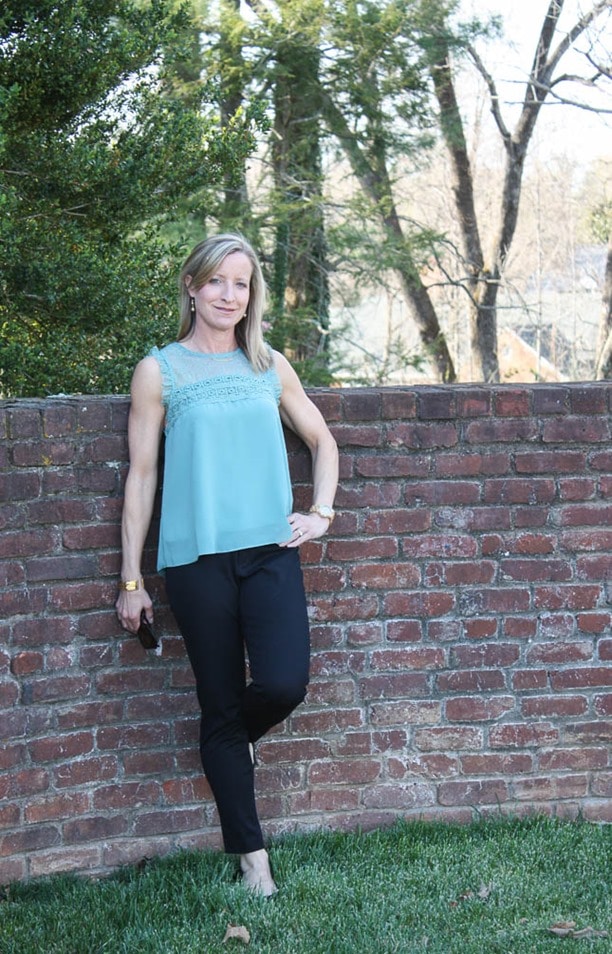 I really like the color of this top and also its lace detail.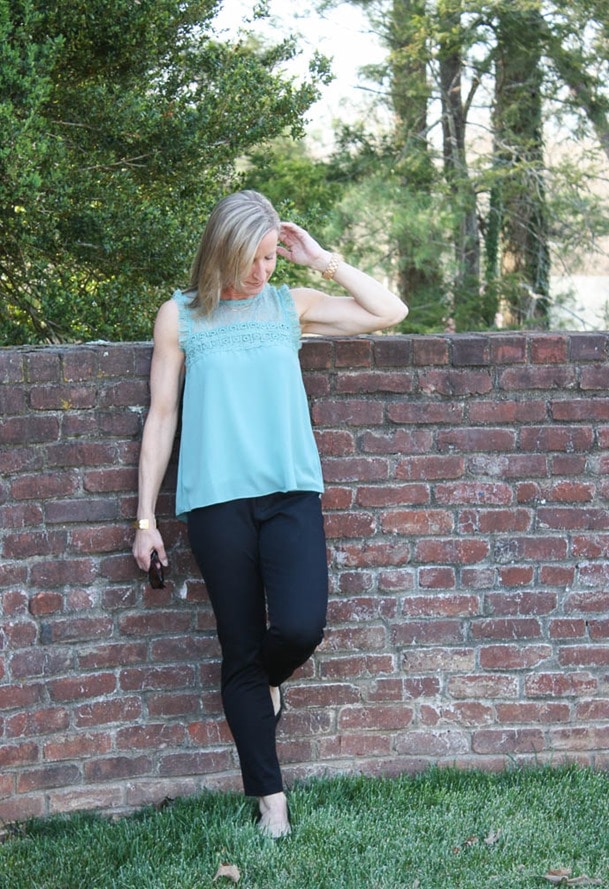 I used to shy away from tops like this because they require wearing a strapless bra and I could not find one that was comfortable nor would stay up. (Nothing like teaching a class while feeling your bra slip lower and lower….)
After buying a Wacoal strapless bra last summer and being 100% pleased with it, I no longer shy away from outfits that require a strapless bra.
In Summary
I had the hardest time deciding what to keep this month because I wanted to keep all of the items.
The bills have been rolling in for my cancer treatment and my extra money the past few months has been spent paying them. I never know what bill might arrive in the mail, so I decided that I'd better be good this month and buy just one thing.
After you've received and tried on your Stitch Fix items, you can either check out on your computer or using the Stitch Fix app on your phone. It's helpful to your stylist to leave comments about each item so that she or he will know what you liked and disliked about each piece. Brittany H. know me so well that usually I like everything and want it all.
This is my order summary which shows what I kept and what I sent back. (This was a tough one because I really did want to keep everything. When you do, you get a 25% discount which usually equates to getting one item "free".)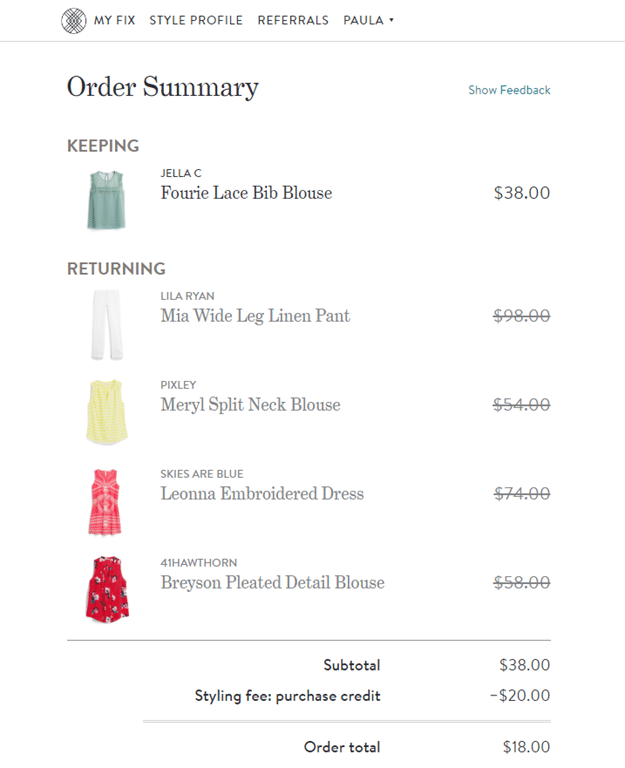 Stitch Fix Men
My husband received his third Stitch Fix box the same day that I received my 45th one. I did not get pictures taken of the items that he received but he did keep one pair of pants that will be a great addition to his wardrobe.
We had fun opening his box and seeing what was sent to him. You may be surprised that your husband might like Stitch Fix!
Try Stitch Fix
If you haven't tried Stitch Fix, I encourage you to do so. I have so much fun with this service and I love that I get cute clothes without having to shop for them.
If you are in need of a gift for a man or woman who likes fashion, a Stitch Fix gift card is sure to be a hit. I know I love receiving them for Christmas or my birthday.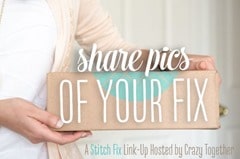 I'm sharing my April 2017 Stitch Fix Review with Maria at Crazy Together. Check it out to see more Stitch Fix reviews.