Patriotic Flower Vases – Thrift Store Decor Upcycle Challenge
Last month a group of bloggers joined together for a monthly Thrift Store Decor Upcycle Challenge. Last month I shared how I gave a wooden knitting basket a makeover. This month I'm sharing Patriotic Flower Vases made with three florist vases.
Each month we will create a new home decor piece from an item found at a thrift store, yard sale, resale shop etc. There is no budget or specific theme so we are free to let our creativity run wild!
Meet the Hosts
Amanda | The Kolb Corner Chelc| Inside the Fox Den Erlene | My Pinterventures Kim | Made in a Day Sara | Twelve on Main Debra | Shoppe No. 5 Shirley | Intelligent Domestications Marie | DIY Adulation Lindsay | Crazy Organized Michelle | Our Crafty Mom Julie | Live From Julie's House Dru | Polka Dot Poplars Maureen | Red Cottage Chronicles Pili | Sweet Things Channell | Hobnail House Colleen | Life on Kaydeross Creek Ann | Duct Tape and Denim Paula | Virginia Sweet Pea Sherry | Savvy Apron Stacy | Anastasia Vintage
You can also follow our board on Pinterest for more upcycled decor inspiration!
Patriotic Flower Vases
Memorial Day is just around the corner with Flag Day and Fourth of July shortly to follow. I love to decorate with patriotic decor (you can check out all of my patriotic project here) for these holidays and wanted to make something new for a table centerpiece this year.
For this month's Thrift Store Upcycle Challenge I made red, white, and blue patriotic flower vases with a design
These will soon be on my table filled with fresh flowers instead of faux ones.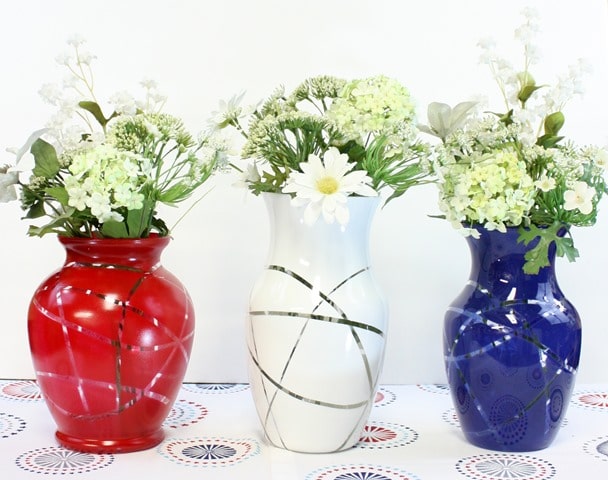 This was a quick and easy project that I was able to complete one evening after school. All that is needed to complete this project is three flower vases with smooth glass; red, white, and blue spray paint; and rubber bands.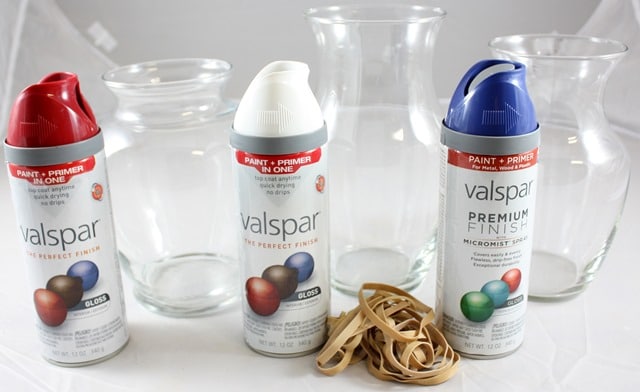 Clean the vases thoroughly and then stretch rubber bands around them to form a pattern. Spray paint each vase, let the paint dry, take off the rubber bands, and you are done!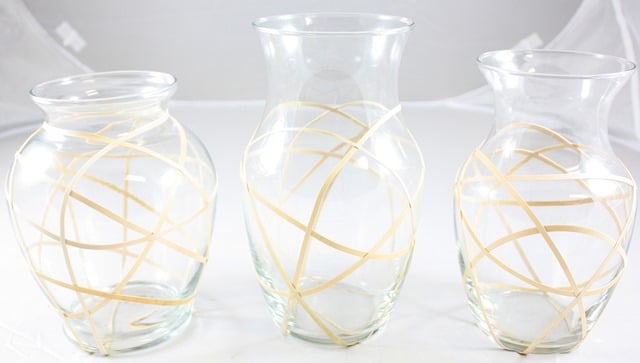 Be sure to completely coat each vase with paint. You can see that I didn't do a great job with my red vase and I plan to make another to replace it as soon as I pick up a replacement at Goodwill.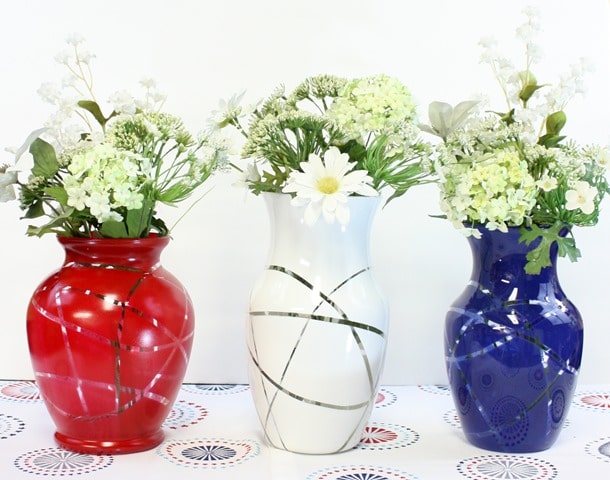 I really like the pattern that the rubber bands make on the glass.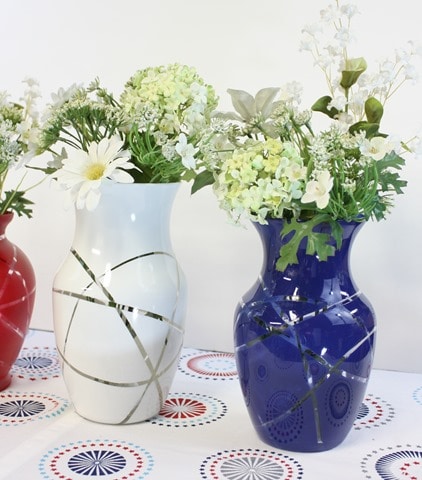 I already had the paint for this project and my mom kindly shopped her basement for the vases and gave them to me. If I had purchased the supplies to make my DIY Patriotic Vases, my best guess is it is a $15 project. That's not bad for decor that can be used from Memorial Day through Labor Day.
I'd love for you to pin this project for others to discover!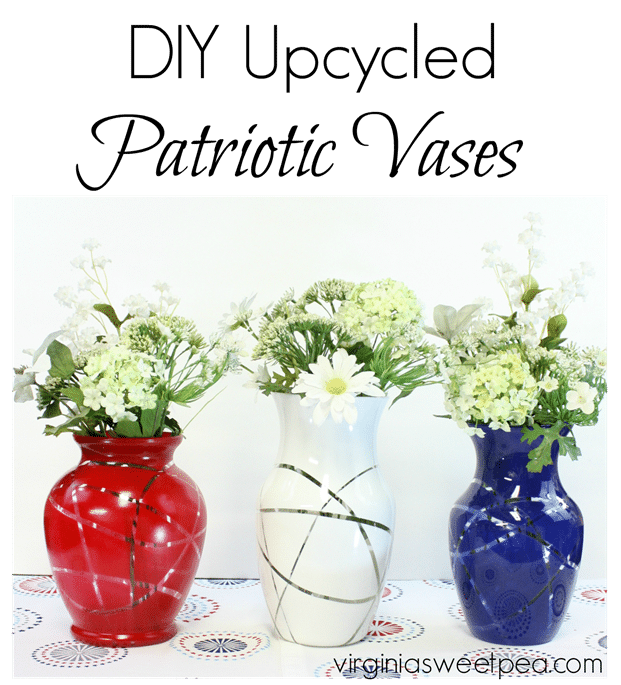 If you are a blogger and have patriotic projects to share, be sure to visit tomorrow when I'm helping to host a
Yankee Doodle Party
where you can share your
red
, white, and
blue
crafts, recipes, and ideas through July 4. Since I enjoy patriotic projects and I'll be off from school for summer in two weeks, I'm looking forward to getting some new project ideas.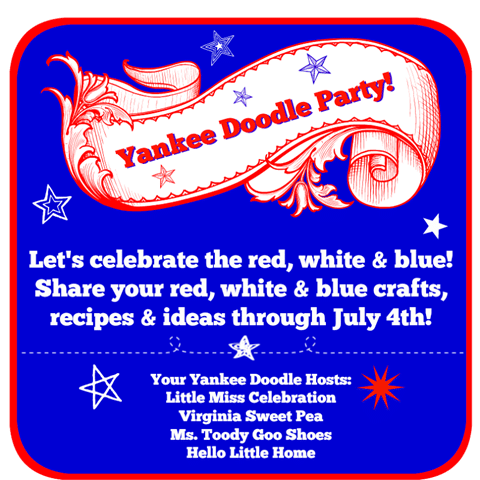 Now it's time to see what everyone else is sharing for this month's challenge. Click on the links below to visit each project.