Easy to Make Preserved Gourd Wreath
September is here and the true start of fall is a few short weeks away. In anticipation of the upcoming autumn season, I crafted a wreath using gourds that I've dried and saved over the years.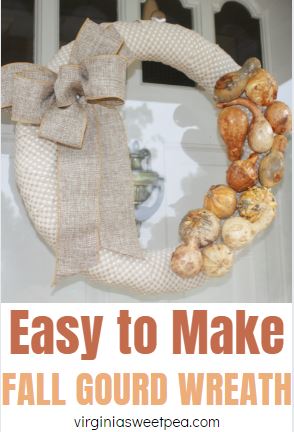 This wreath is very simple to make and if you don't have dried gourds, faux ones from a craft store would look fabulous.
How to:

I started by cutting 3" strips of a beautiful checked fabric. The strips were wrapped around a straw form and adhered with a glue gun.

A burlap bow was made and wired into place.

Out of storage came a box of preserved gourds. The smallest ones were used for this project.

For more information on how to preserve gourds, refer to the following posts:
How to Save Your 2010 Gourds for 2011
Save Your Gourds
How to Save Gourds
Each gourd was glued into place using hot glue.

Now my door is ready for fall!

My front porch planters are still sporting their summer flowers. I purchased mums for these pots and hope to get them planted this week.

A touch of fall makes me happy!