How to Make a Magnolia Wreath for Christmas
I love making wreaths, especially wreaths for Christmas. Today I'm sharing how to make a Magnolia wreath to display on a door, over your mantel, or on a porch wall.
I'm actually going to show you not one, but two ways to make a Magnolia wreath!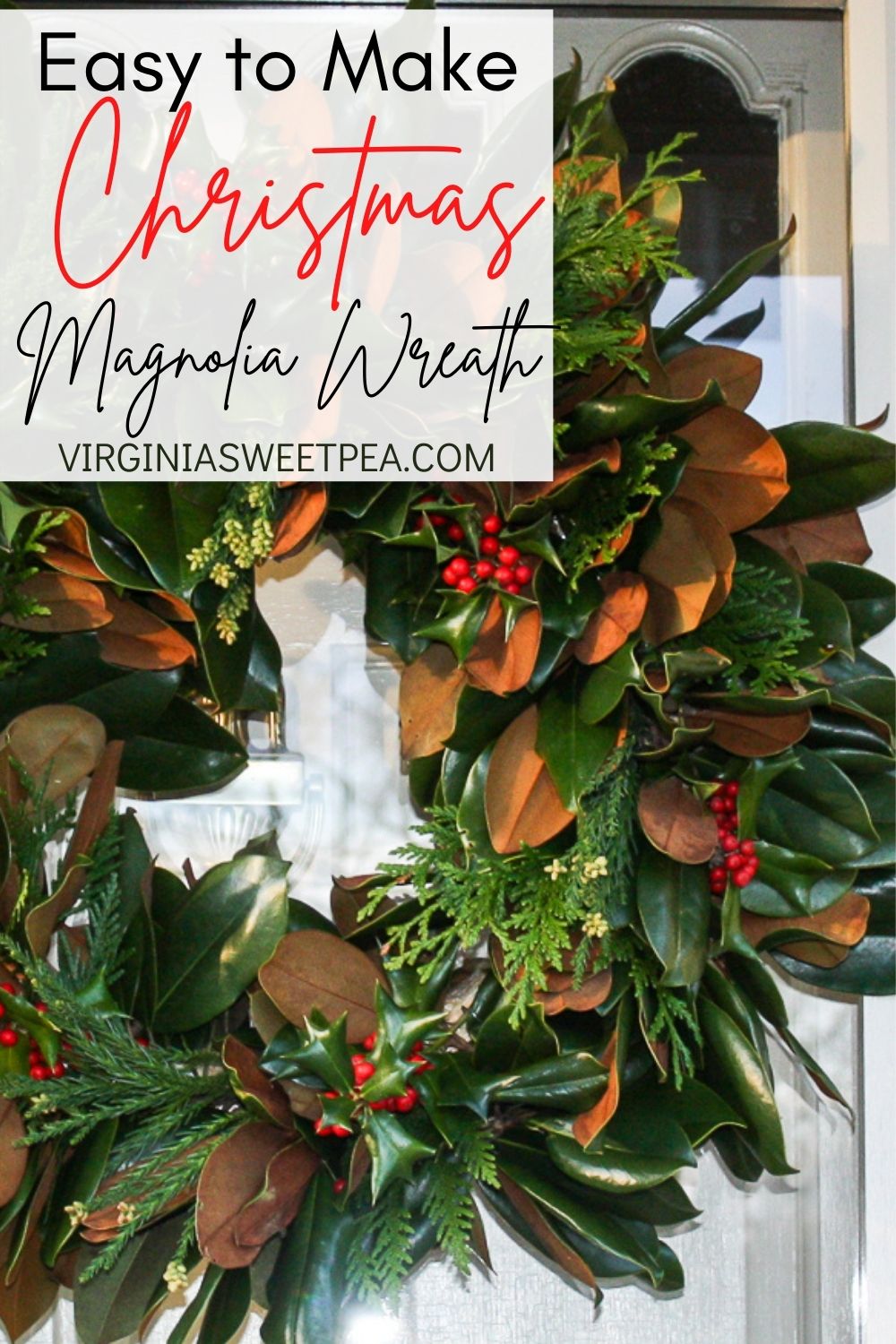 I'm sharing my Magnolia wreath tutorials as part of a Celebrate Christmas Blog Hop hosted by Leen of Sand Dollar Lane.
Please keep Leen in your thoughts and prayers as she lost her mother this week and wasn't able to share a Christmas tour this year. I also want to thank Amy of Atta Girl Says for jumping in to assist Leen. Without Amy, this tour wouldn't have happened this year.
How to Make a Magnolia Wreath for Christmas
Every Thanksgiving, we go to my mom's house and I spend the night with her. Then the next day we come to my house to make Christmas wreaths. It's a fun tradition that we both love.
This year I was honestly worn out from Christmas decorating and I didn't make a wreath, I just kept my mom company while she made a Magnolia wreath to hang on the door of her 1912 home.
Gather Supplies to Make the Magnolia Wreath
To make the Magnolia wreath, we first gathered the supplies that Mama wanted to use.
There was no need to shop for supplies, everything that Mama needed to make her wreath was either in my basement or in my yard.
Mama clipped a tote full of Magnolia branches and as she worked, it wasn't enough, so I clipped more for her.
She also clipped greenery from my Japanese Cryptomeria and Green Giant Arborvitae. For a pop of color, we clipped Winterberry Holly but ended up not using it and we used regular Holly instead.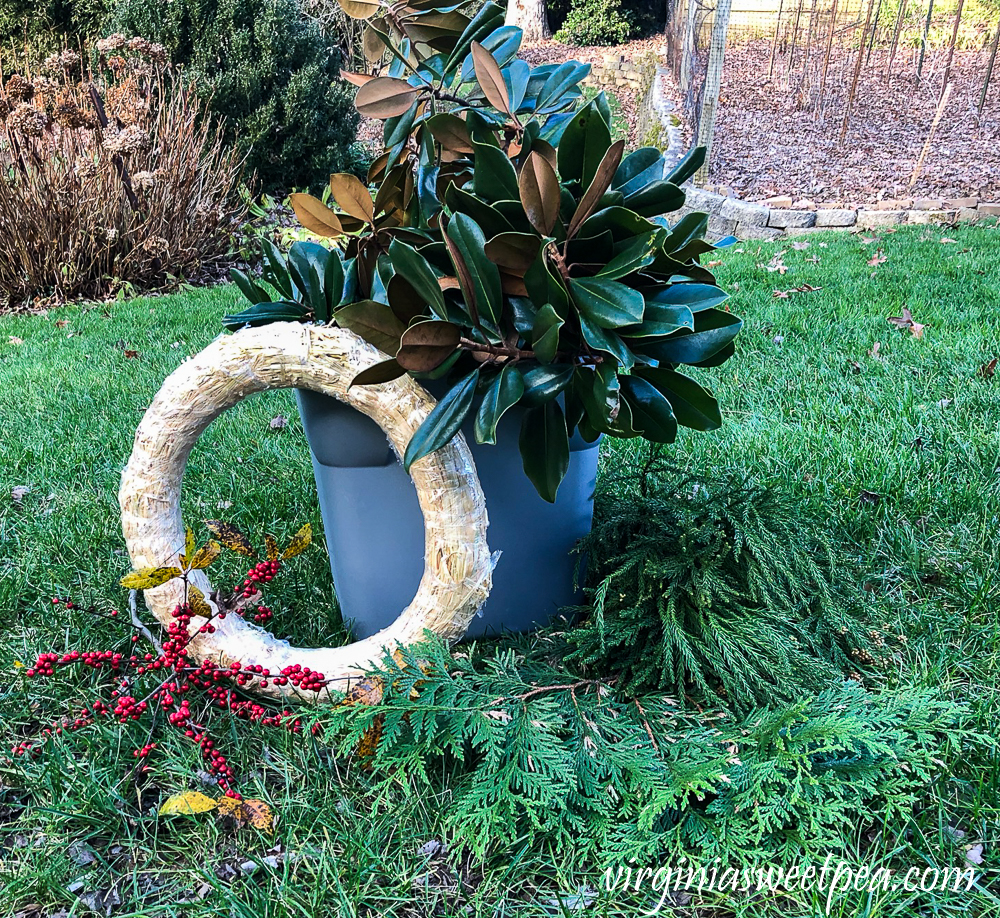 Making the Magnolia Wreath
When Mr. SP purchased our home, it had a huge model railroad in the basement. He left it in place for years and then eventually tore it apart because we needed the work space.
The railroad base included drawers and cabinets and he used all of them to make multiple workbenches in our basement. Mama worked on one workbench that is located in the middle of the room. I love crafting on this workbench!
We spread out her supplies and she got to work. Note that there is wire in the picture because that is what I thought she would use but she preferred to use fern pins instead.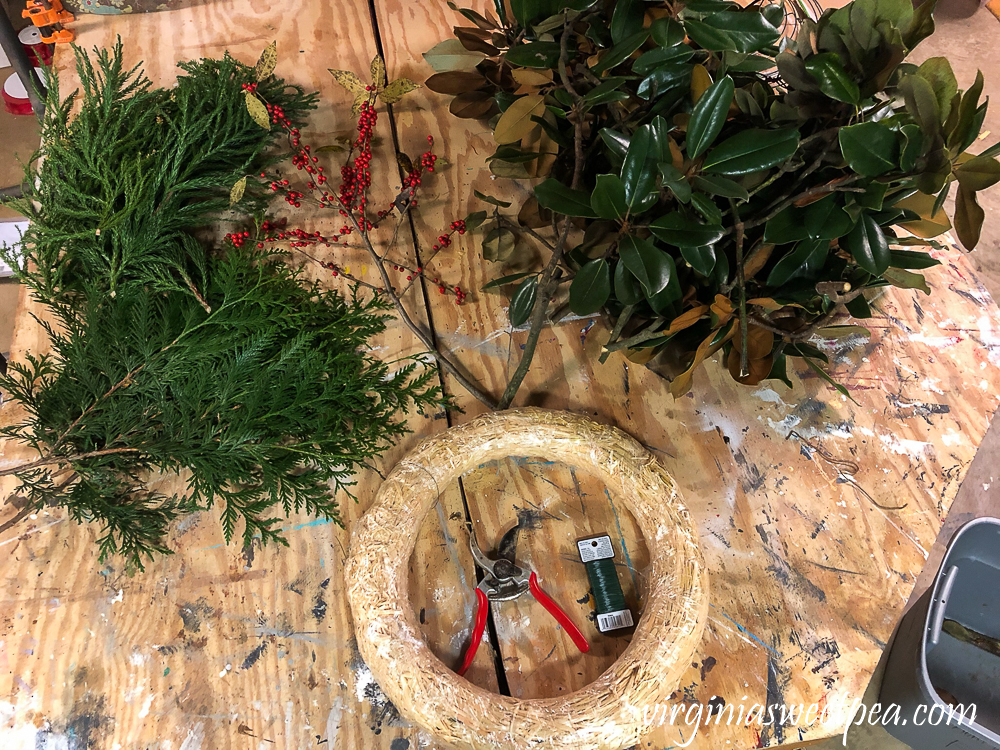 If you don't know what a Fern pin is, it pins greenery to a straw wreath to hold it in place.
Since the wreath form that Mama used had been used before by me, it already had a wreath hanger attached to it. When using a new wreath form, make a hanger using floral wire before adding greenery to the wreath.
Mama started by pinning Magnolia to the outside of the wreath.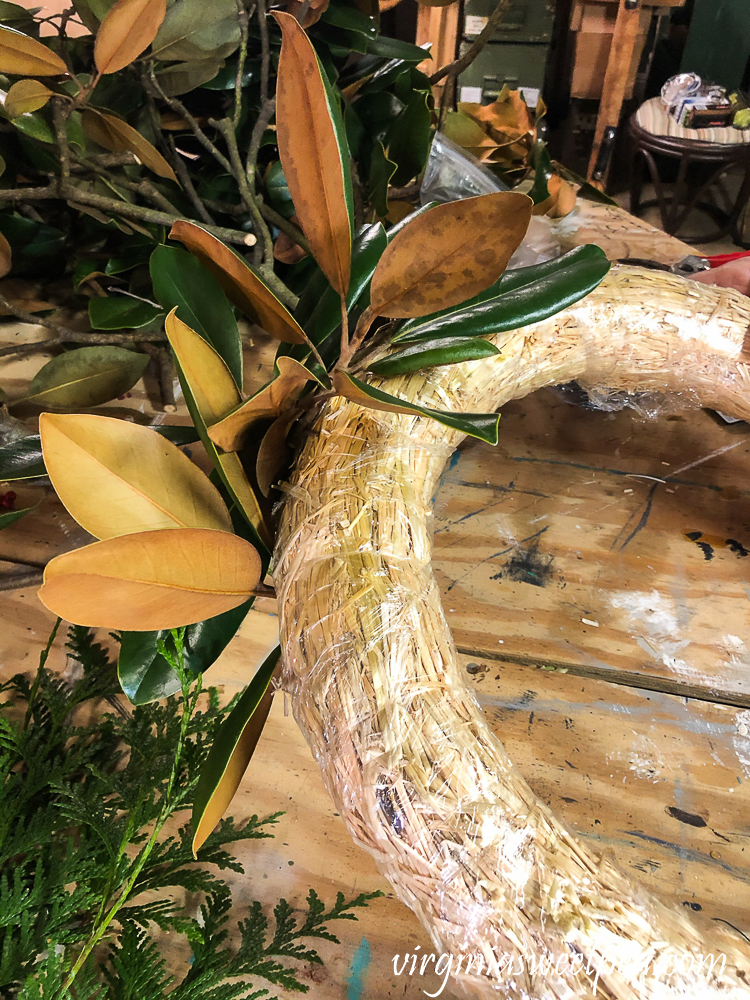 For Mama's method, it is best to clip pieces of Magnolia from the tips of branches.
Here you can see a Fern pin holding a stem of Magnolia in place.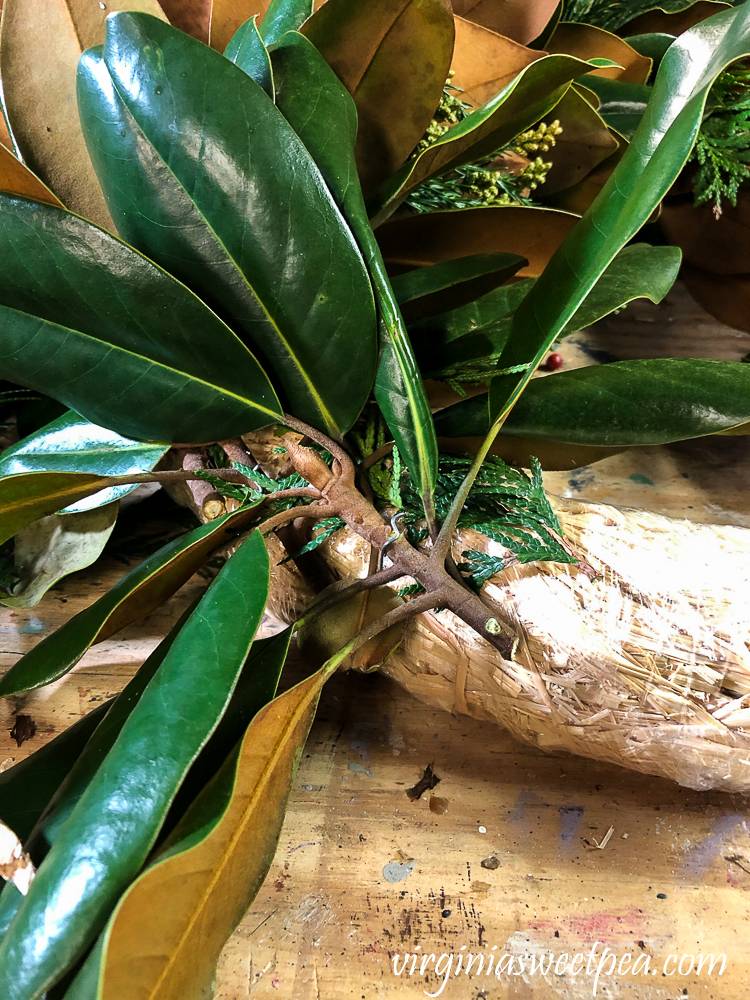 Along with Magnolia, she added pieces of both Arborvitae and Cryptomeria. When we clipped the Cryptomeria, we made sure to clip pieces with the small and pretty cones.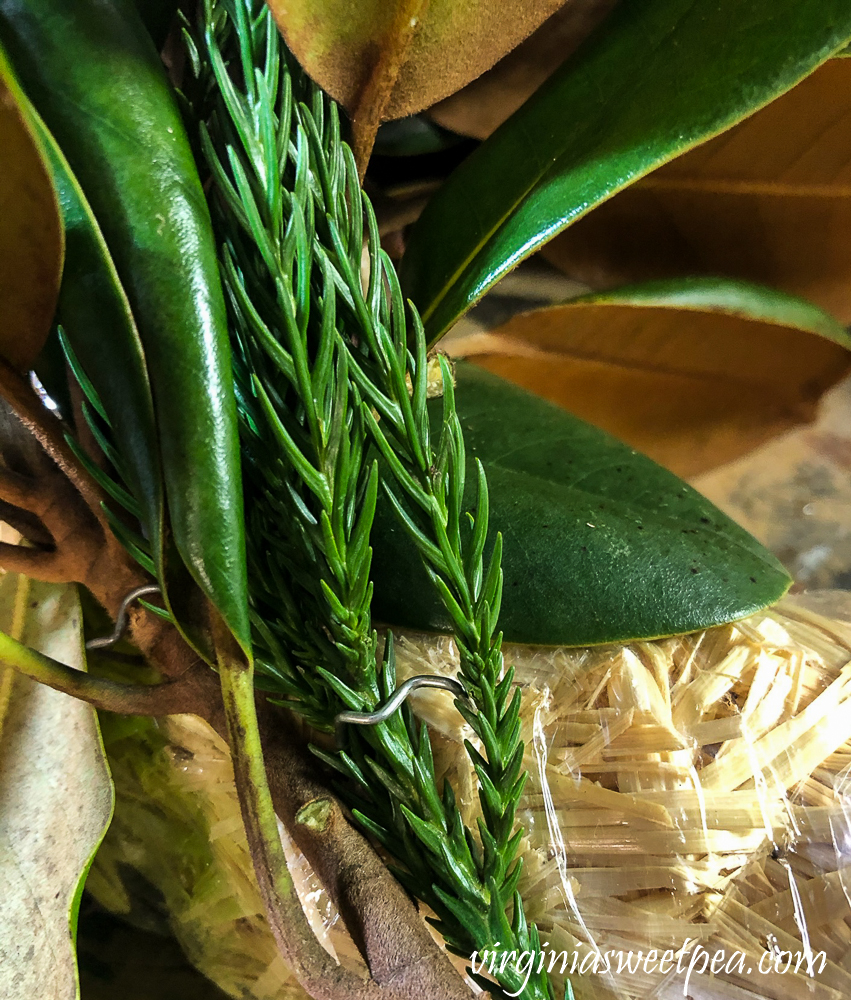 Here is Mama working away on her wreath.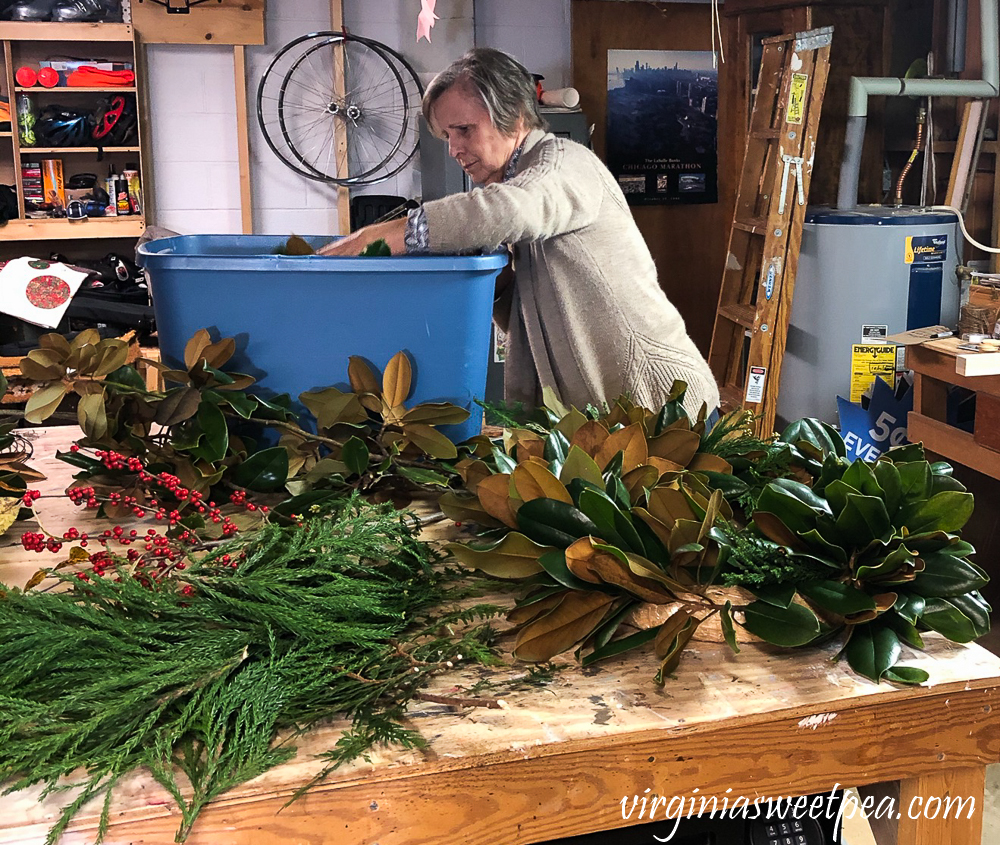 After the wreath was covered in Magnolia and evergreen clippings, we took it outside to see how it looked hanging up. My hose holder made a great temporary wreath holder.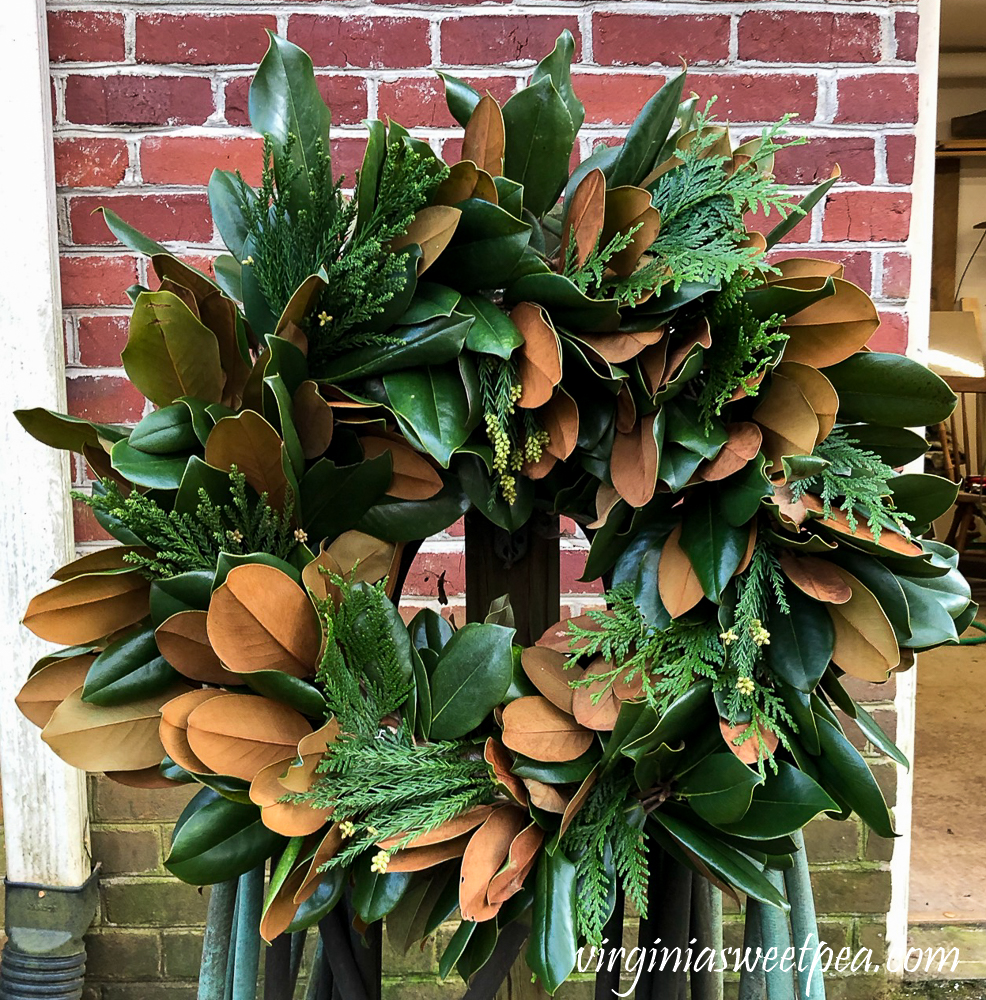 Mama then tried to add sprigs of Winterberry Holly to the wreath but it didn't look right, so we headed out to the yard to cut some regular Holly which worked perfectly.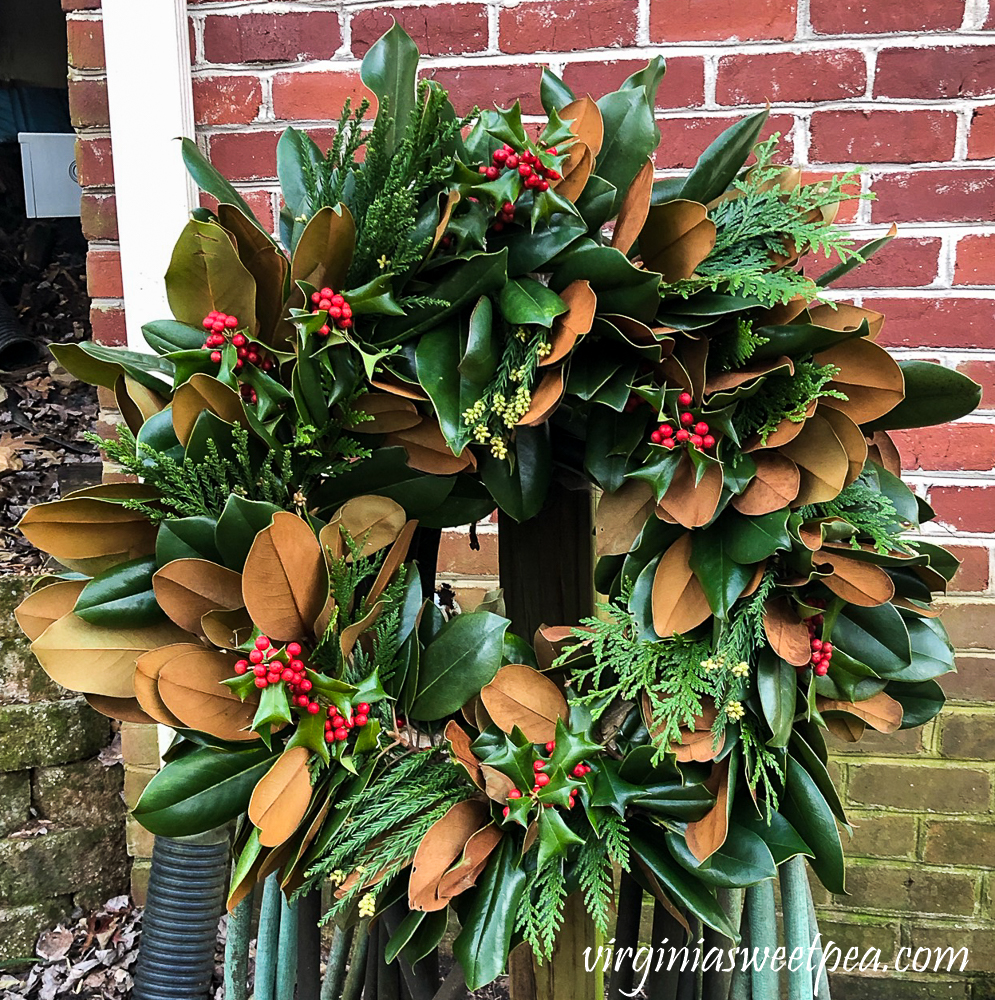 Hang the Magnolia Wreath
We put Mama's wreath on my front door to admire it and I snapped a few pictures of it.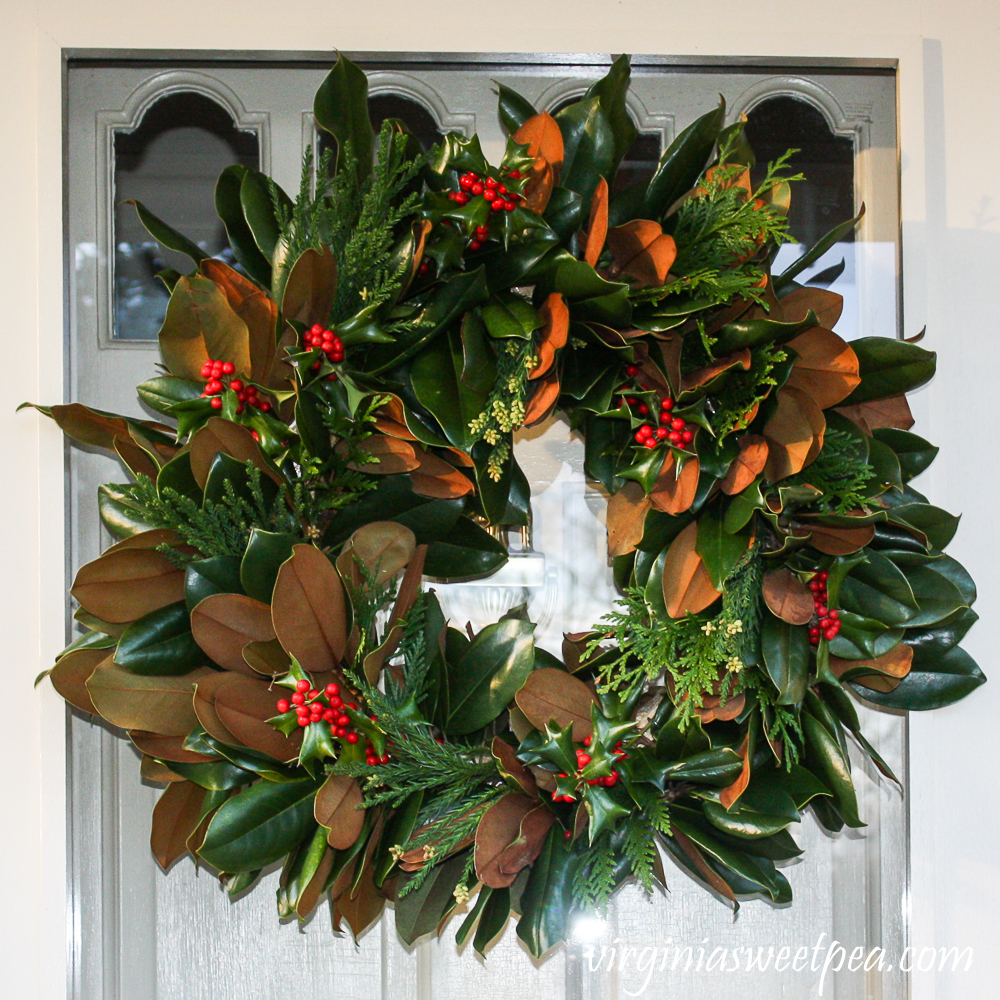 Here Mama is holding her wreath before putting it in her car to take home.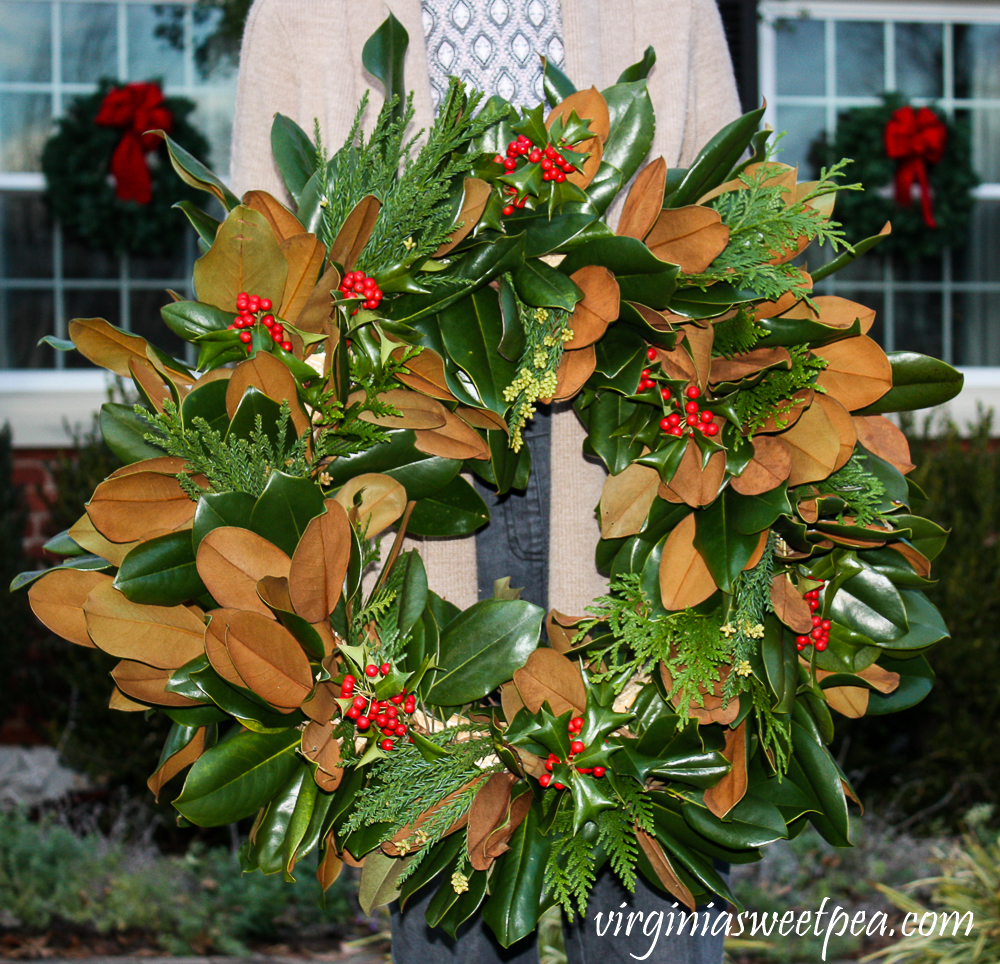 And here it is hanging on the front door of her 1912 home.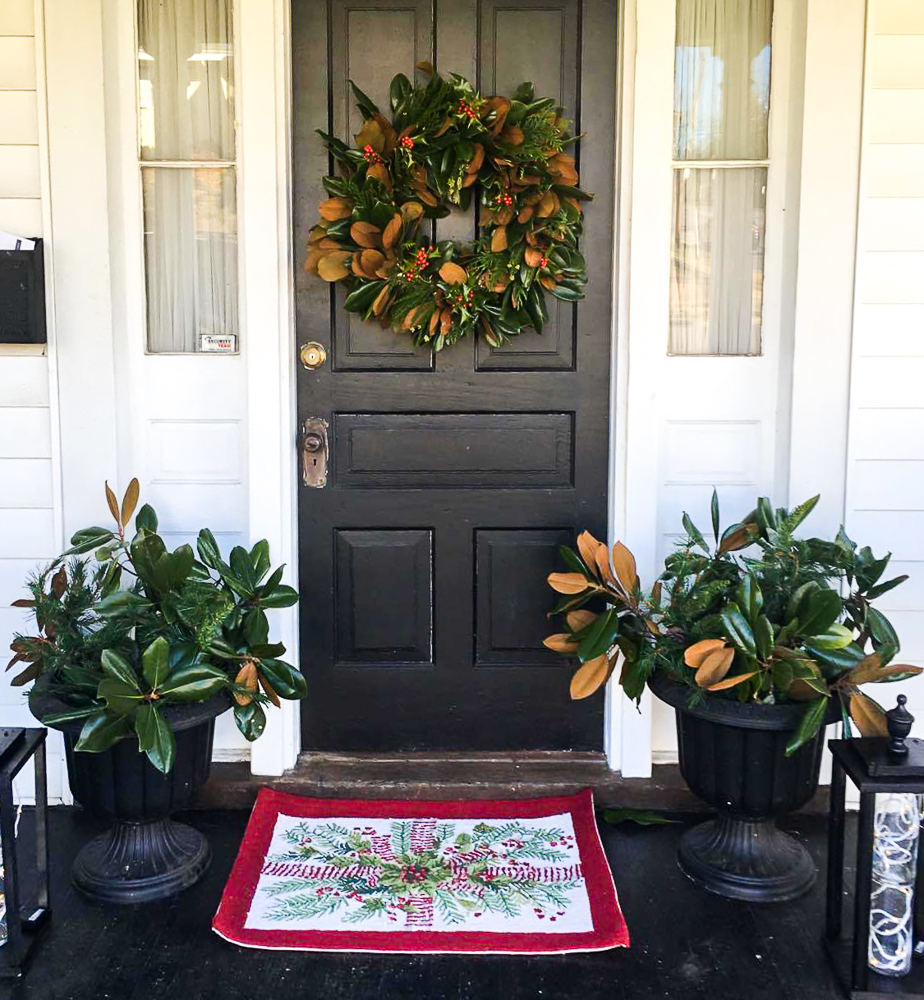 You can see some recent pictures of her Walnut Avenue historic home in this post and these posts chronical the restoration of her home.
Second Method to Make a Magnolia Wreath
Another method to make a Magnolia wreath is to use a wire wreath form. This is the method that I prefer.
Cut end pieces of Magnolia that look pretty. Bypass any that don't have a full set of leaves or those with holes in the leaves.
Pull off the bottom few leaves so that there is an area of exposed stem.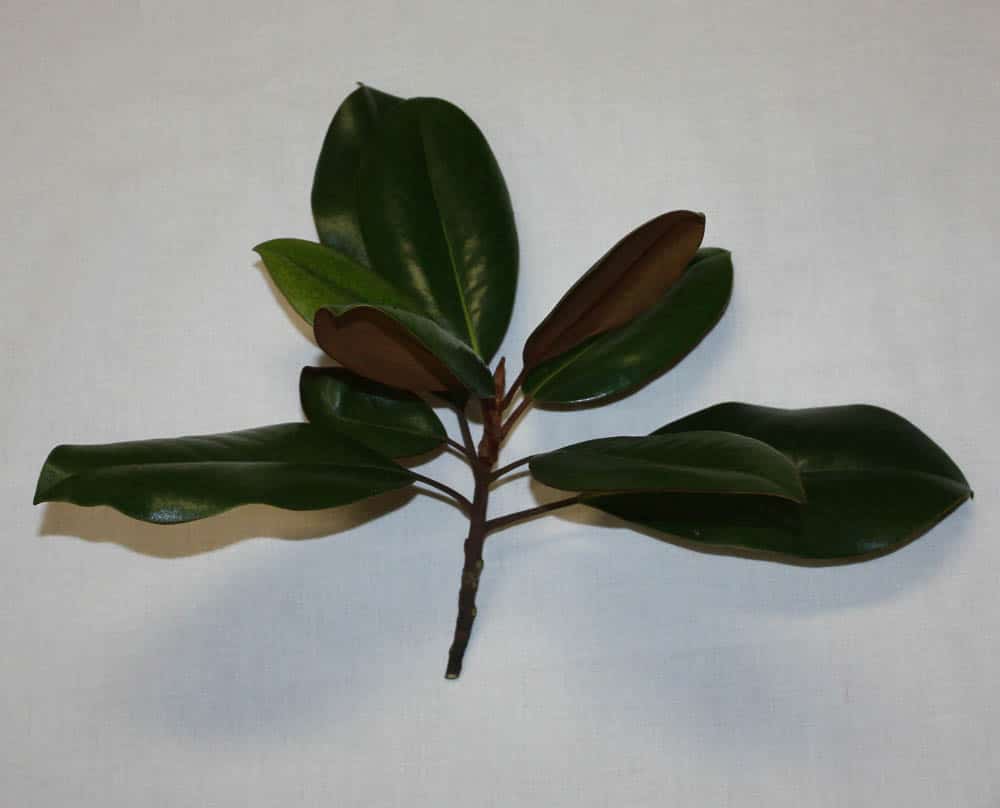 Attach a paddle of floral wire to the wire wreath form. (I prefer the 18″ size.)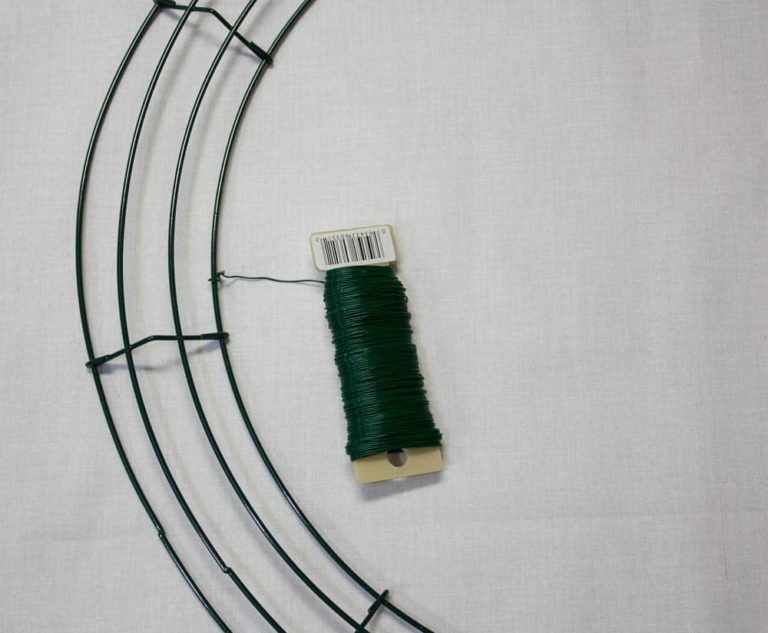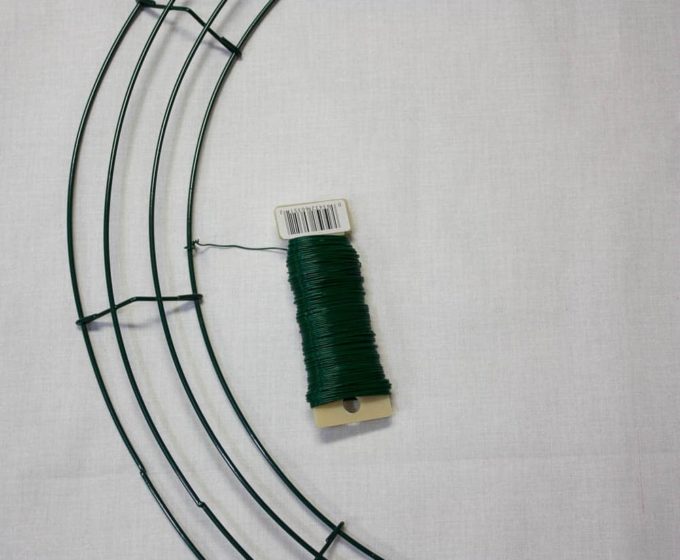 Then wire Magnolia to the form one bunch at a time. Be sure to wrap the wire around the form several times to hold the stem in place. In the picture below, I have added four stems of Magnolia to the wreath form.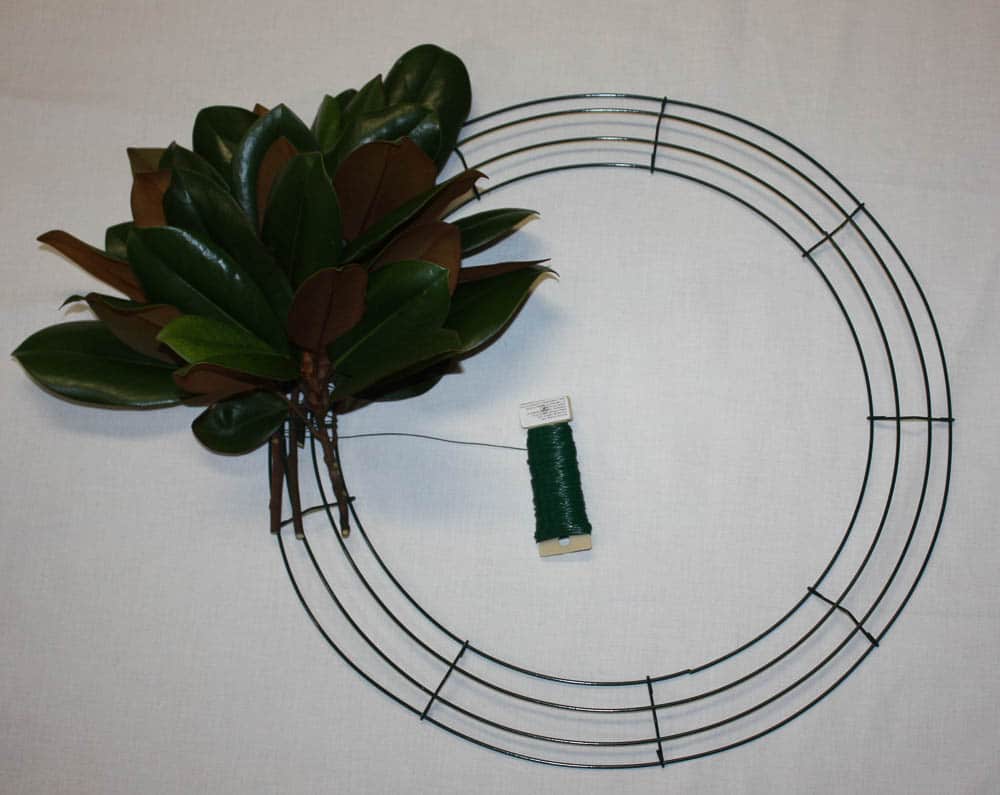 Continue adding Magnolia until the wreath is full.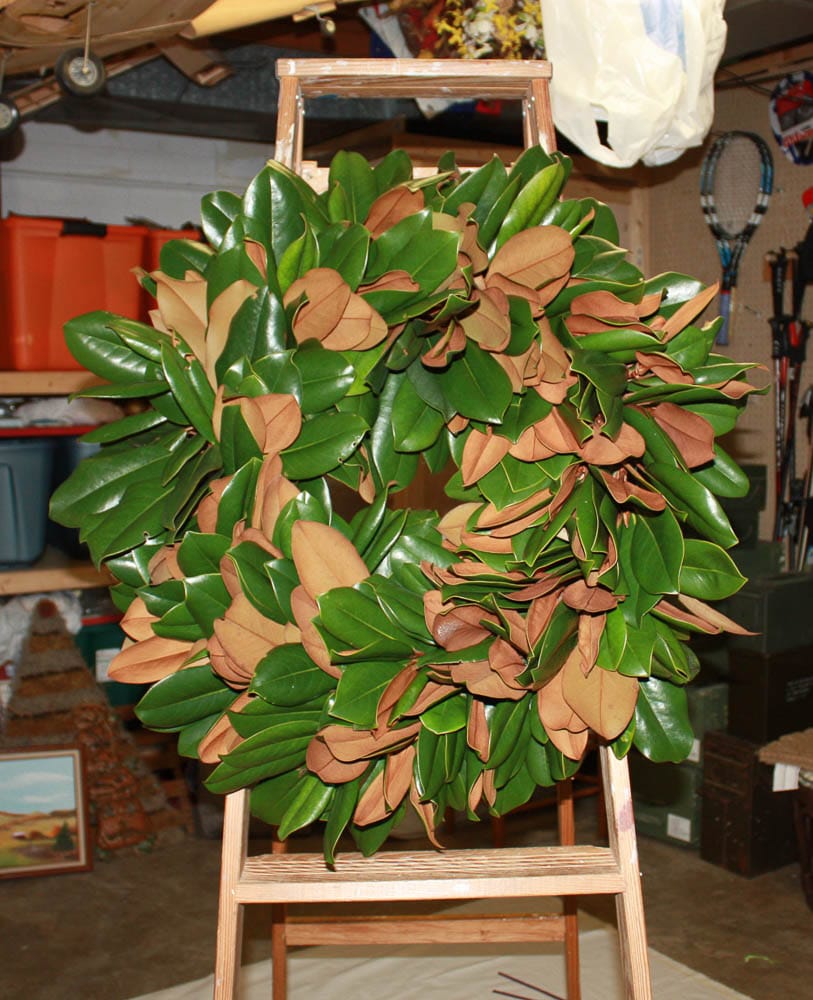 Gosh, I do love a Magnolia wreath! I actually made this Magnolia wreath a few Septembers ago and decorated it for fall.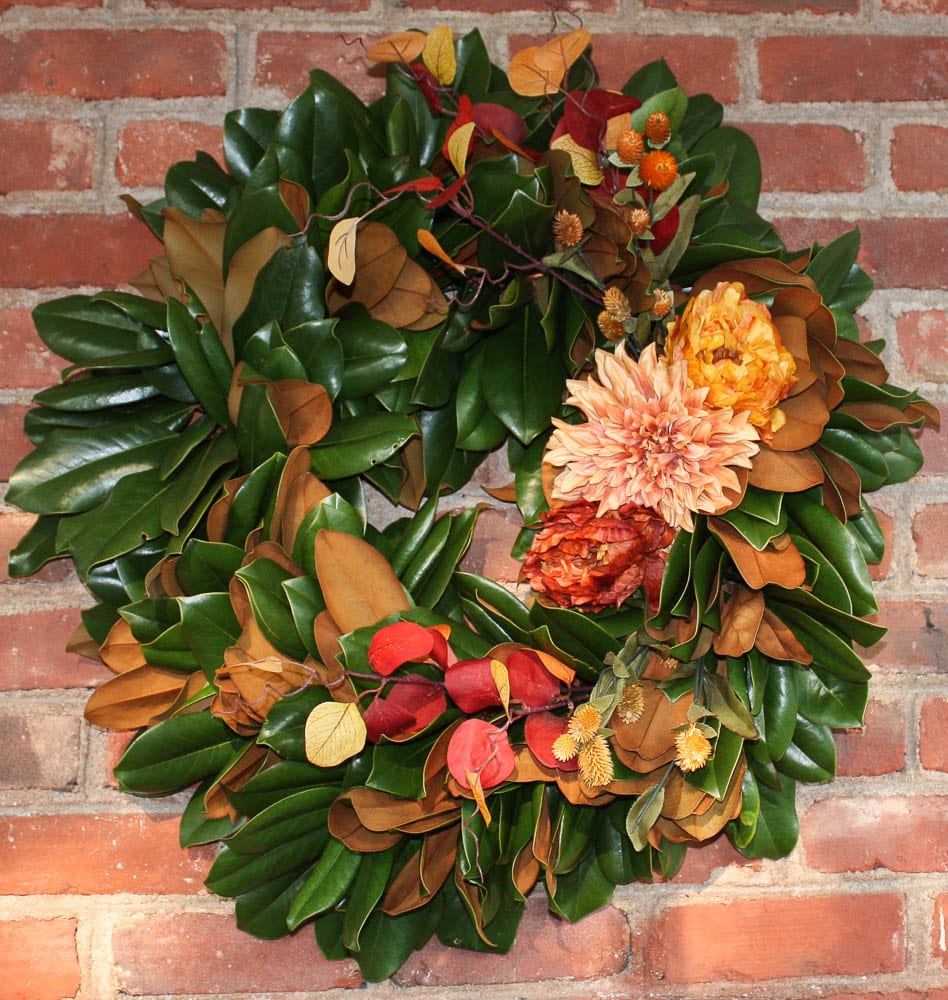 Handmade Magnolia wreaths do dry out but can still be enjoyed. The leaf color fades with age and the leaves become brittle.
Spraying the wreath with this product after making it helps the wreath to last longer.
If you like the look of a Magnolia wreath but don't want to make one, you can always buy a preserved Magnolia wreath.
Christmas Posts to Inspire You
Now it's time to visit my blogging friends who are sharing Christmas ideas. I can't wait to read each of these posts!
Hearth and Vine // Sustain My Craft Habit // My Family Thyme // Dabbling & Decorating
Did You Like This Post? Pin It For Later!