DIY Pumpkin Wreath with Bittersweet
A DIY Pumpkin Wreath with Bittersweet is an easy to make wreath that looks great hanging on a door, wall, or over a fireplace.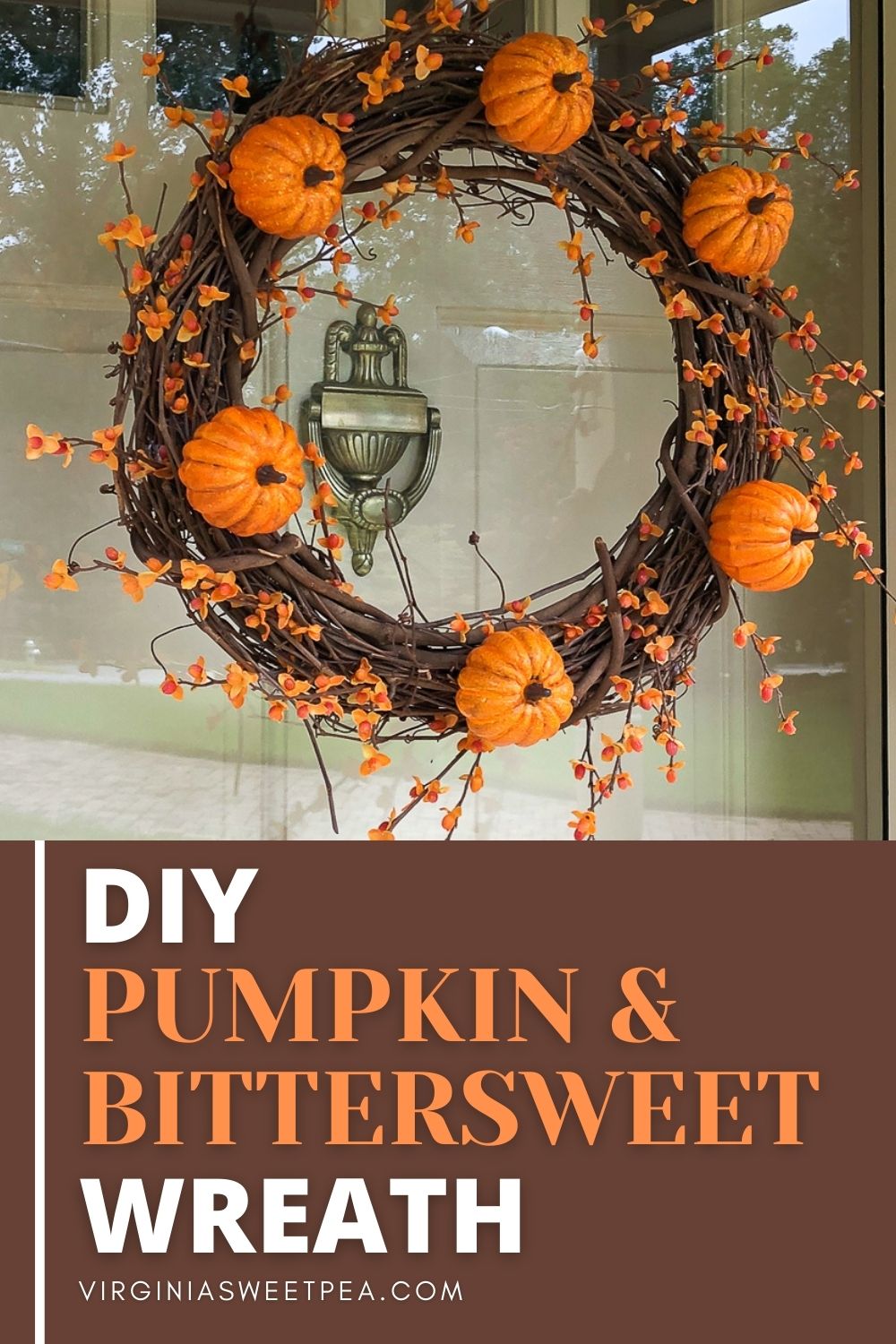 I'm sharing my DIY Pumpkin and Bittersweet Wreath as part of an Autumn Blog Hop hosted by Rachelle of My Hubbard Home.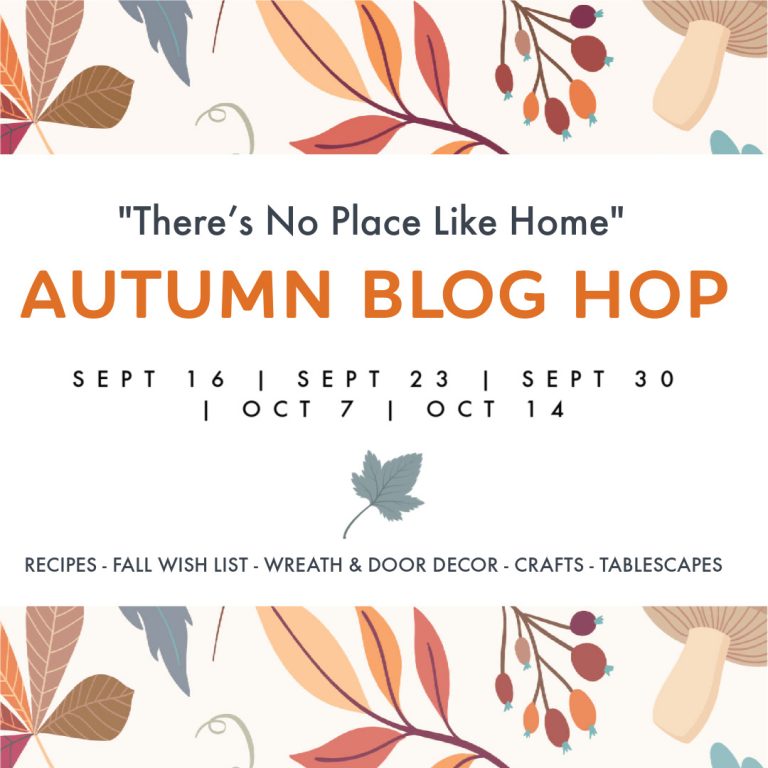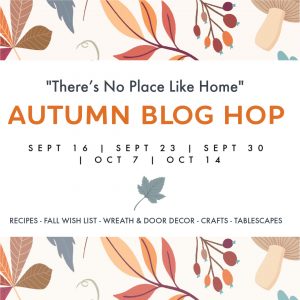 This is a five-week event with a different theme each week. I shared my family favorite soup, Fiesta Chowder, for the recipe day of the tour.
If you arrived here from Mantel and Table, welcome! Barbara lives in a 100 year old Portland home and creates fabulous tablescapes.
DIY Pumpkin Wreath with Bittersweet
I made my first version of this wreath in the late 90s after seeing a similar one hanging over an outdoor fireplace in Southern Living.
After many fall seasons of enjoyment, that wreath's pumpkins and bittersweet faded, and it was taken apart to reuse the grapevine wreath form.
I never forgot that beautiful wreath and this fall I made a similar one that is now on my front door.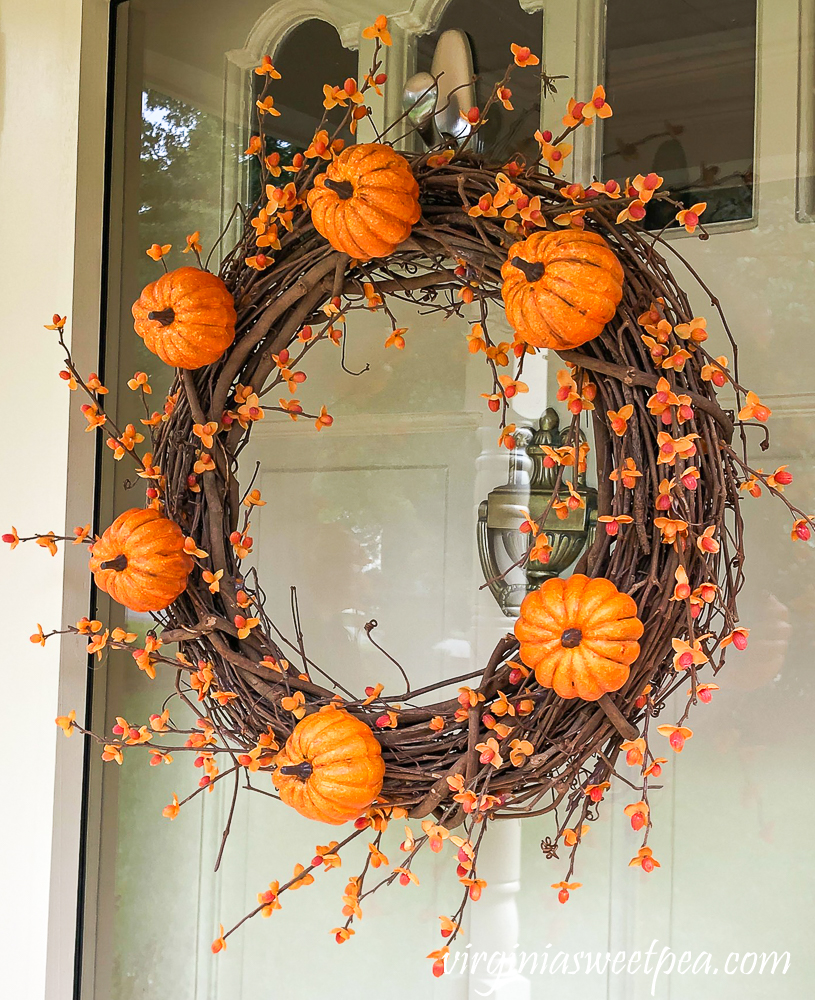 I love real Bittersweet and look forward to clipping it each year in the woods.
The Bittersweet I used on this wreath is faux as real Bittersweet sheds and I have had no success with trying to dry it to use the next year.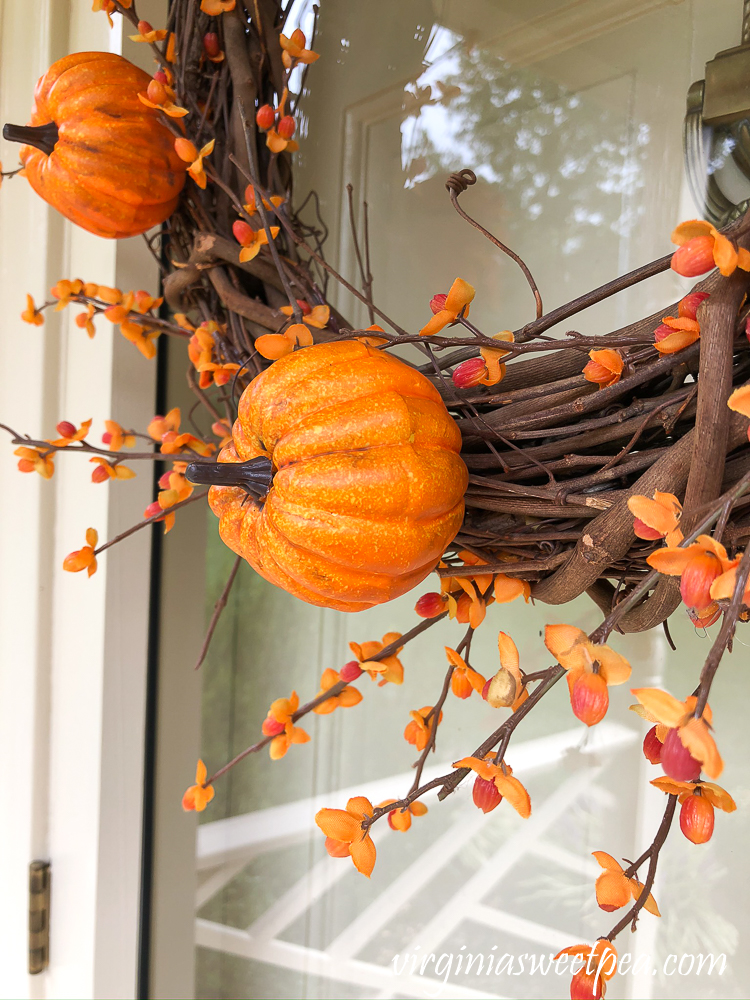 The pumpkins are picks from Hobby Lobby that I aged using this product.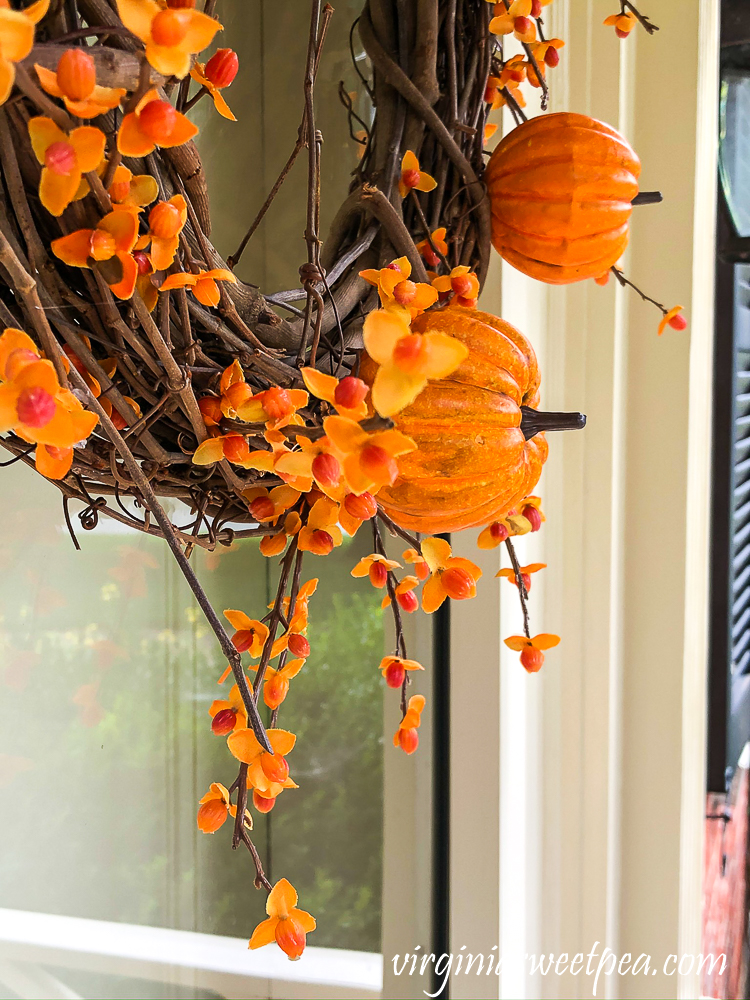 I love how this wreath looks on our front door. Since this picture was taken in early September, I've added pumpkins, gourds, and more mums to my porch.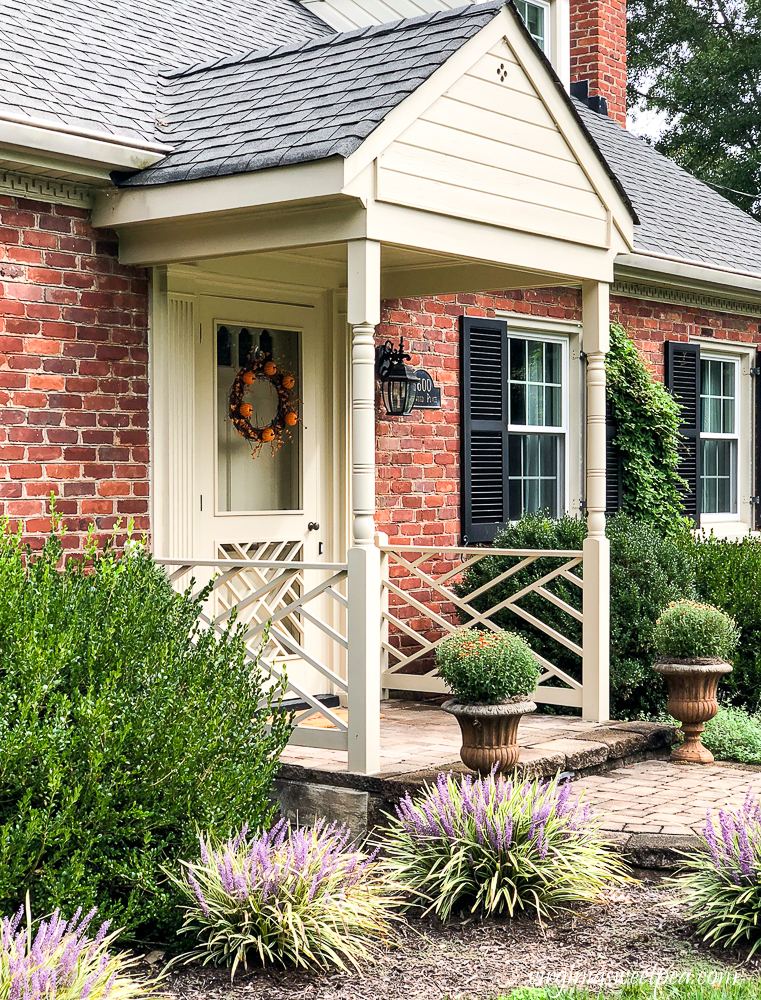 How to Make the Wreath
This wreath was simple to make and only needs a few supplies.
I already had the wreath form and Bittersweet pieces on hand, so all I had to buy to make this was the pumpkin picks.
Supplies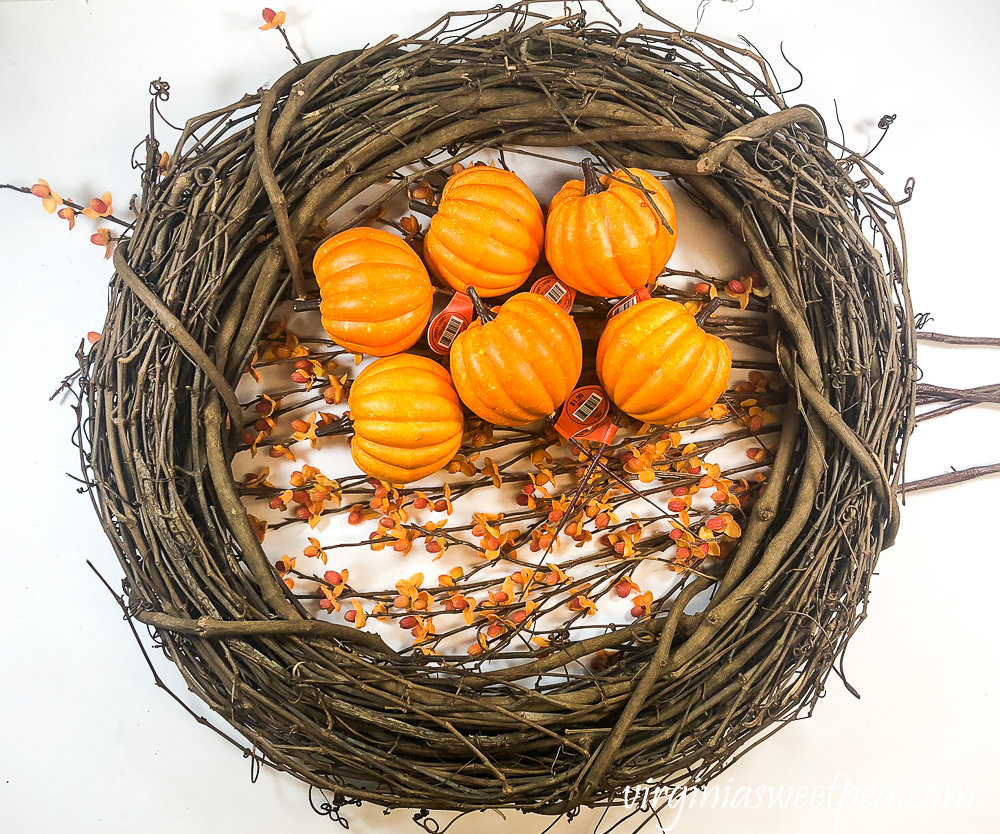 Step One – Decide on the placement of the pumpkins.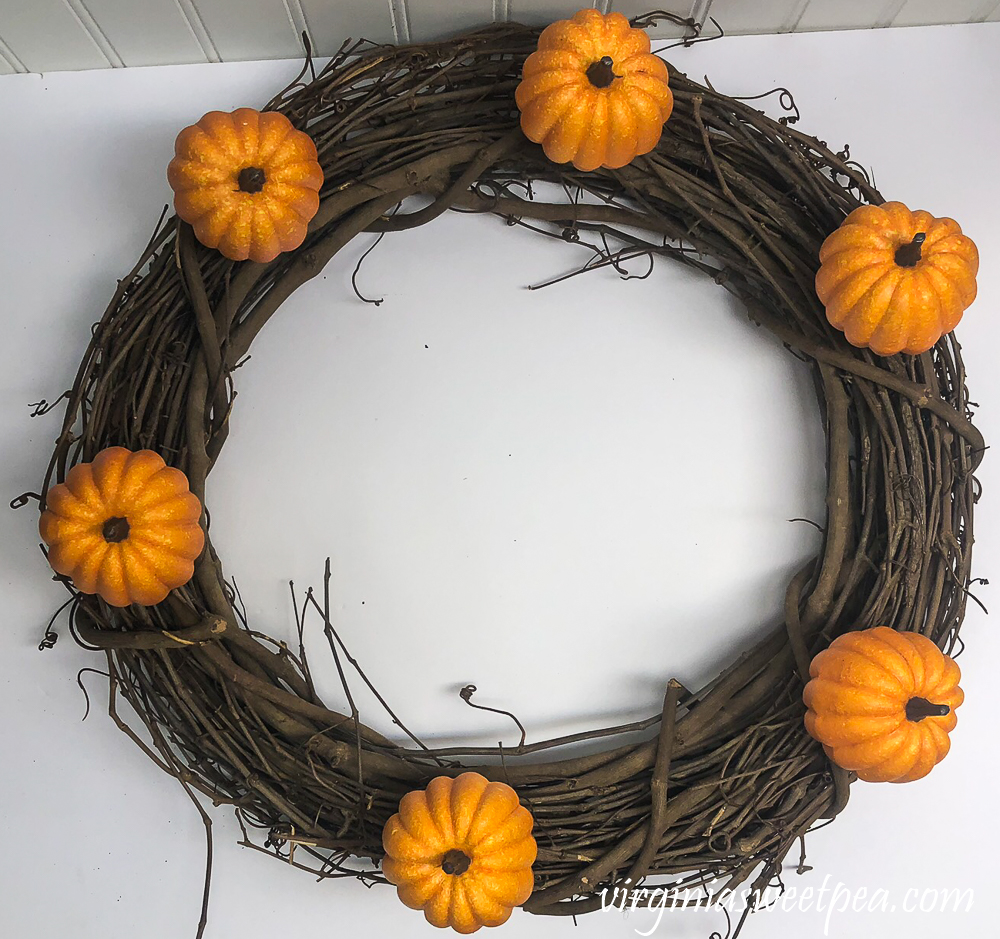 Step Two – To attach the pumpkin pick to the grapevine wreath form, insert the pick through the wreath.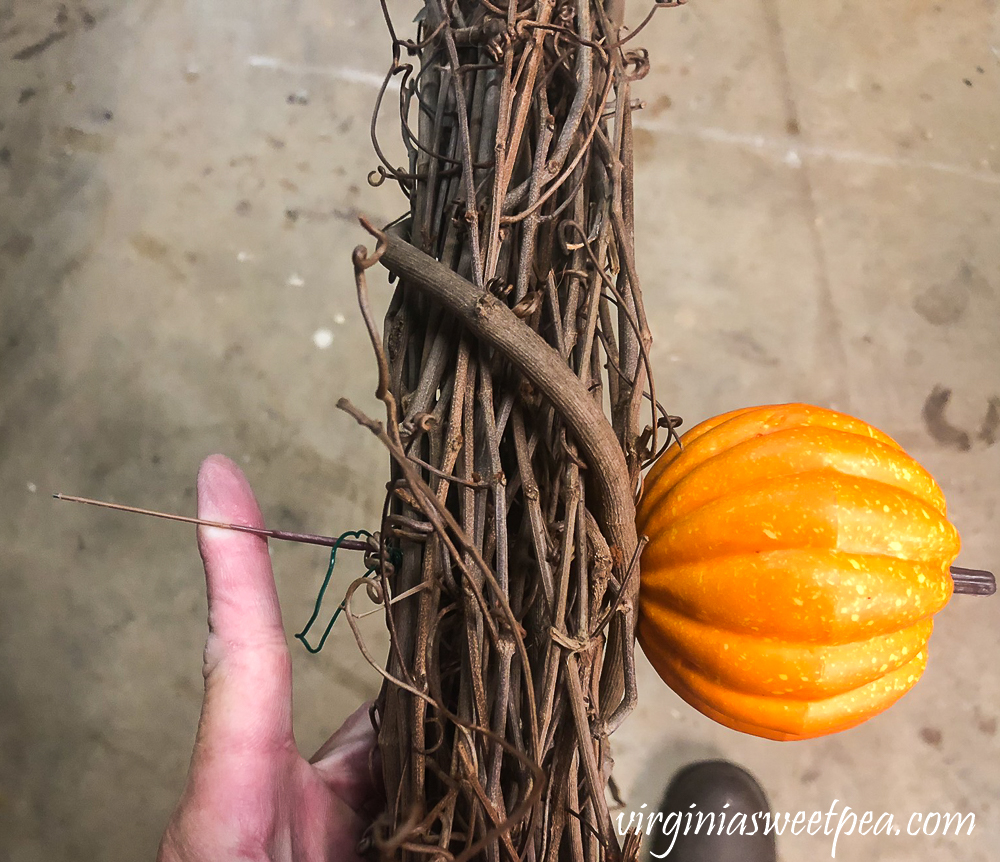 Then twist the pumpkin pick wire around a few grapevine pieces to secure.
If using pumpkins that aren't picks, hot glue them into place.
Note that my wreath already had a wire hanger from a previous use. I never get rid of a grapevine wreath. I undecorate it and save it! You can see where I store my wreaths in this post.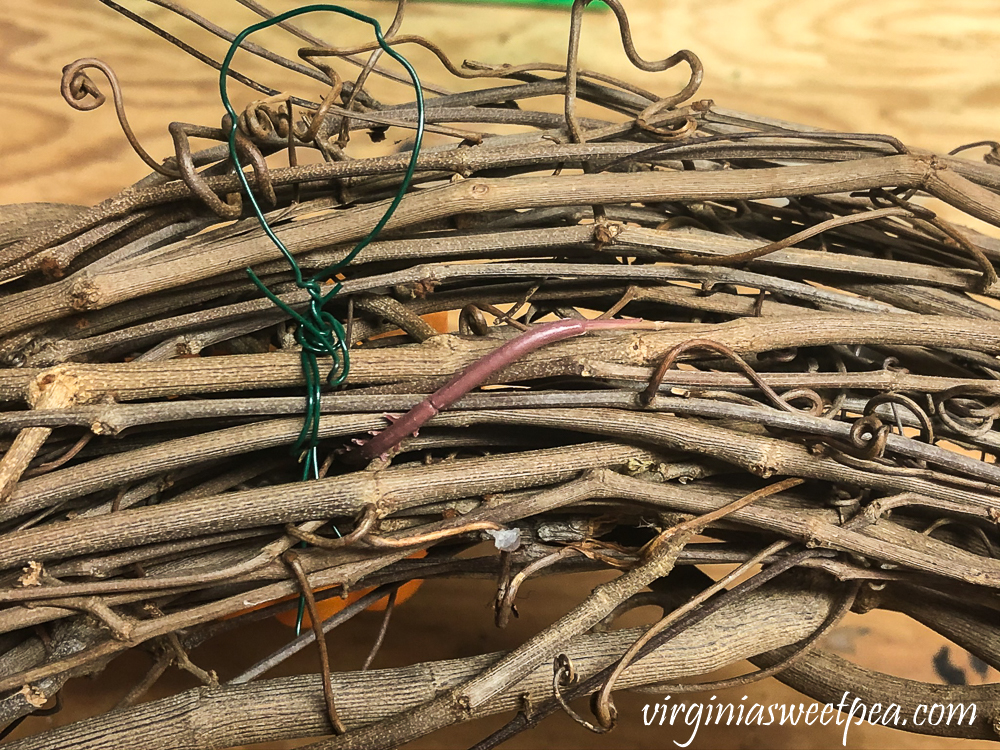 Step Three – After the pumpkins are in place, add in sprigs of Bittersweet. I hot glued them into place to keep the wind from blowing them out of the wreath form.
I started by evenly adding large Bittersweet sprigs around the wreath.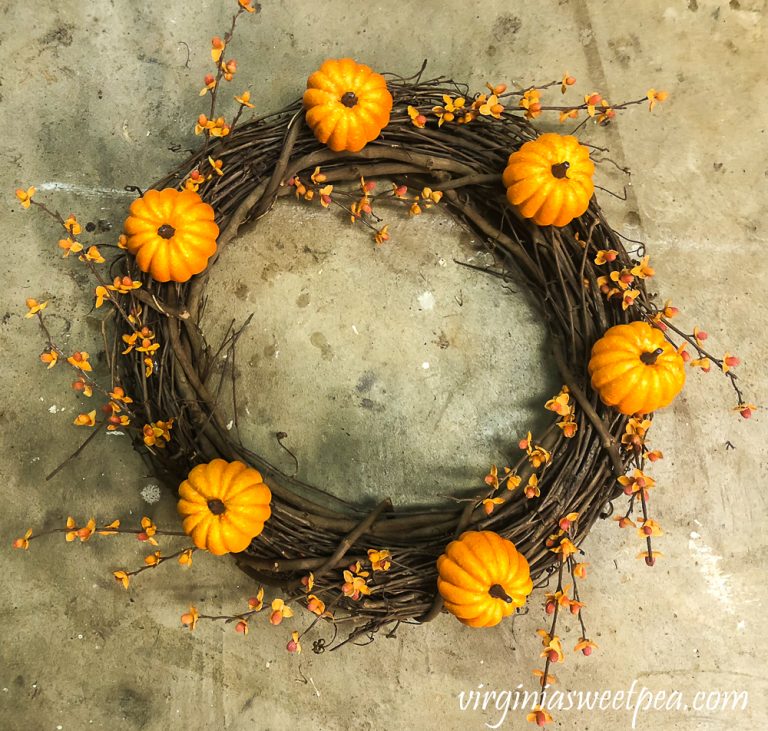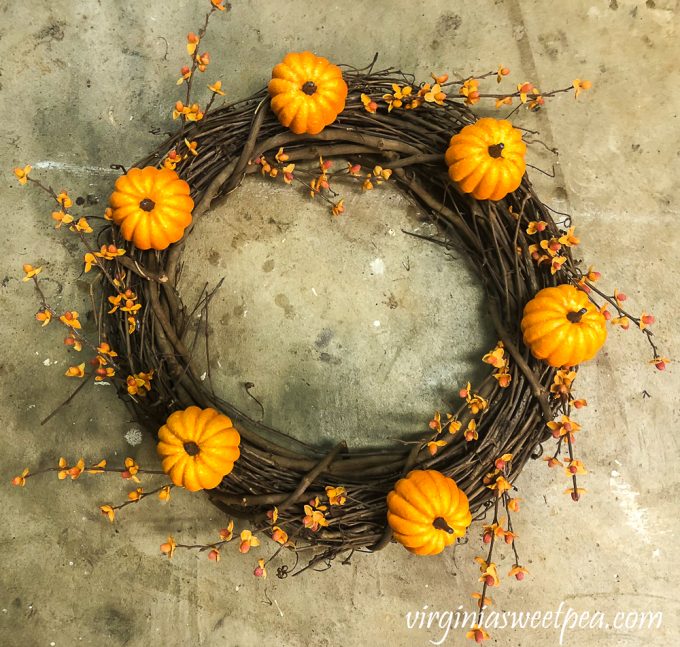 Then I filled in the empty areas with smaller sprigs.
My pumpkins were too orange for my taste, so I aged them by wiping them with Dixie Belle gel stain in Tobacco Road.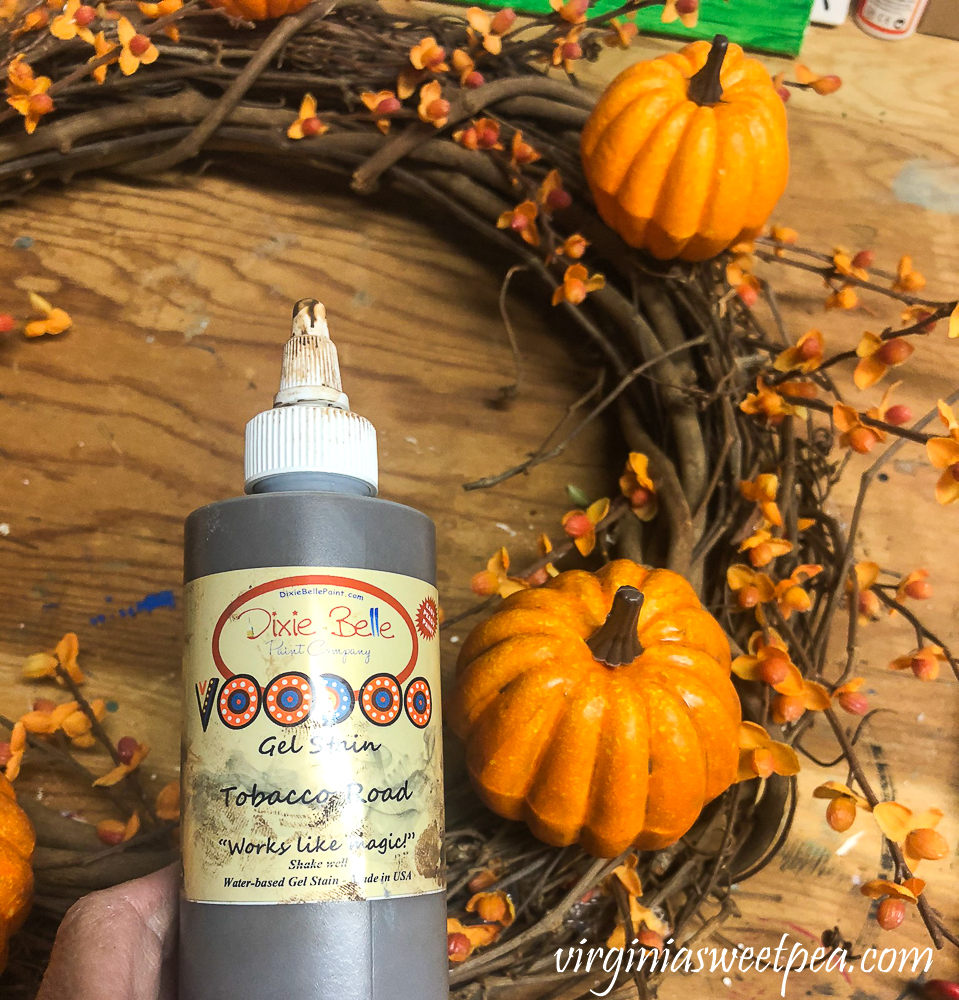 I've used this gel stain for all sorts of projects over the years. A little bit goes a long way.
Wreath on my Door
I love how this wreath looks on my front door.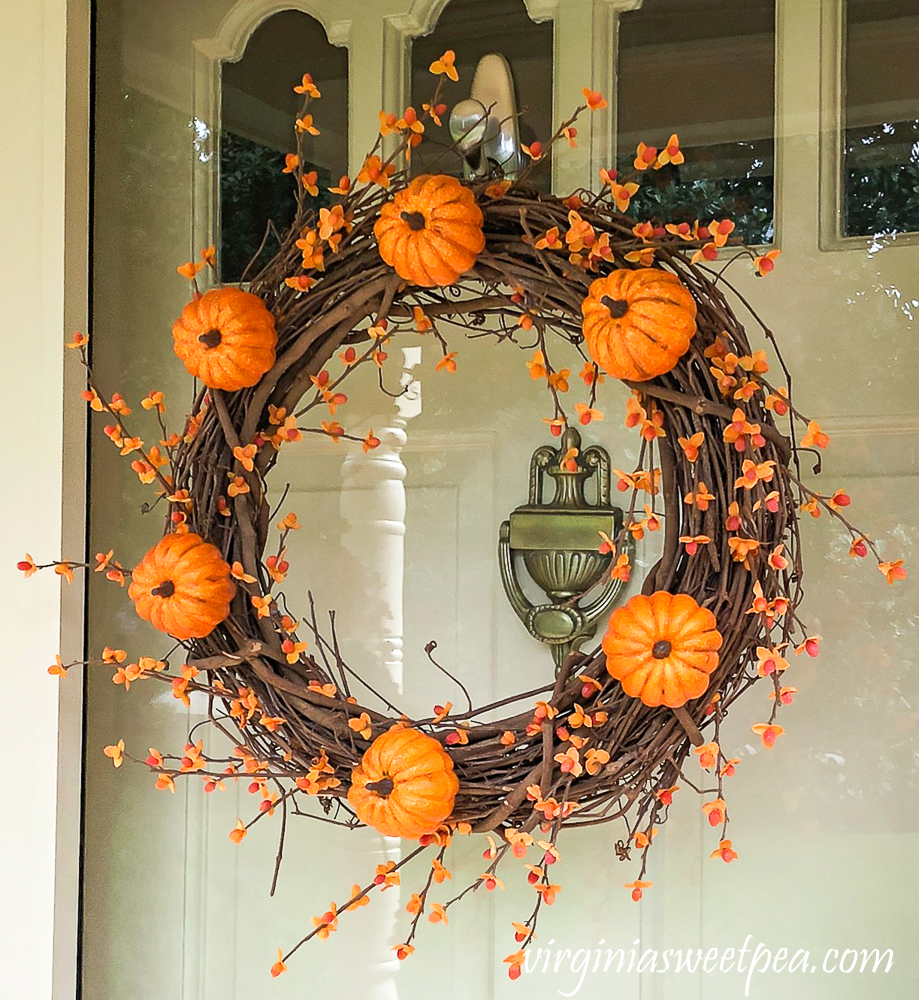 It won't be long before we get our first frost which will stimulate Bittersweet to turn orange.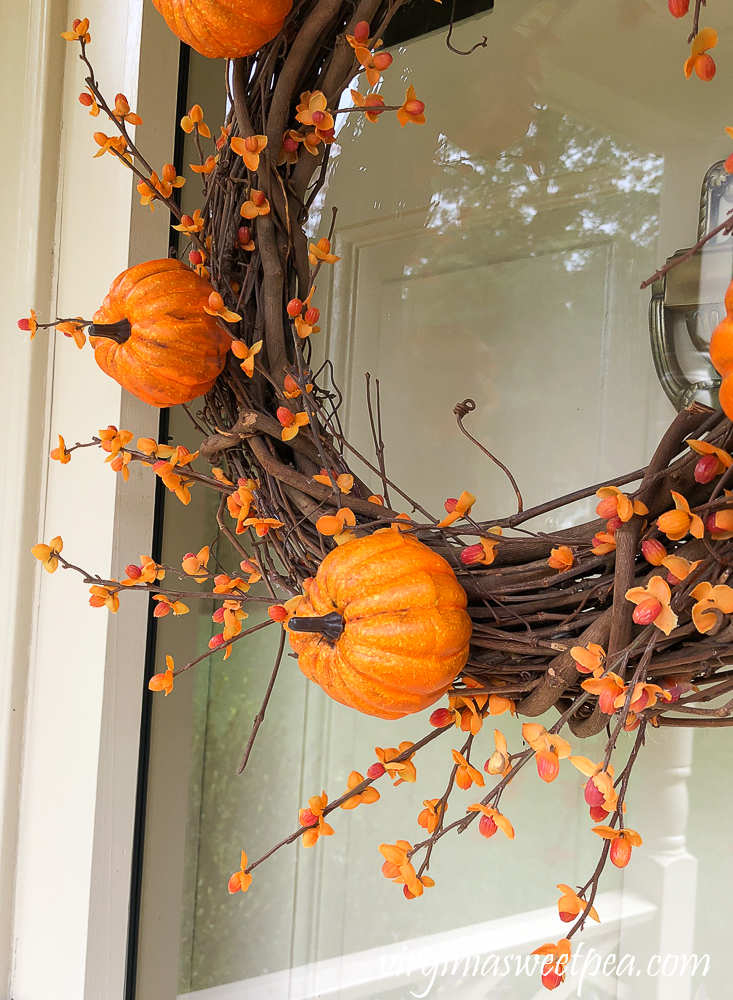 You can see how I use natural bittersweet to decorate my home in late fall in this post.
I Love Making Wreaths. Enjoy these fall wreath ideas!
If you are hopping in order, next up is Debra from My Humble Home and Garden.
More Fall Wreaths to Enjoy
Click on the links below to enjoy the fall wreaths that my friends are sharing today.
If you don't have time to craft a wreath, here are some beautiful ones available to purchase.

For my Amazon shoppers, here are a few more wreaths available to purchase.