Would you ever think to combine pumpkin with pasta? I sure wouldn't, but once I tried it, I was hooked! My Pumpkin Pasta is delicious and a dish that I look forward to making each fall and into winter.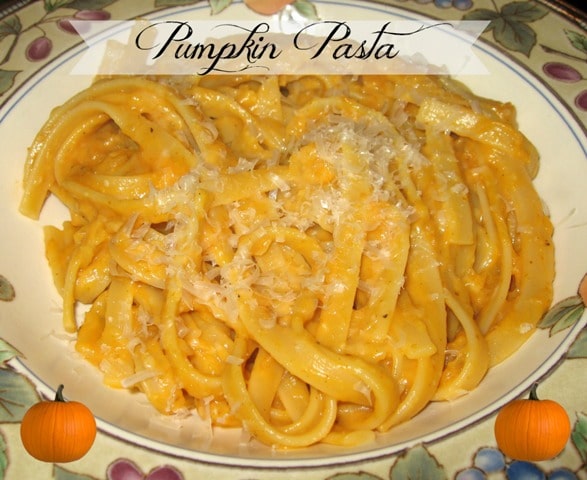 Pumpkin Pasta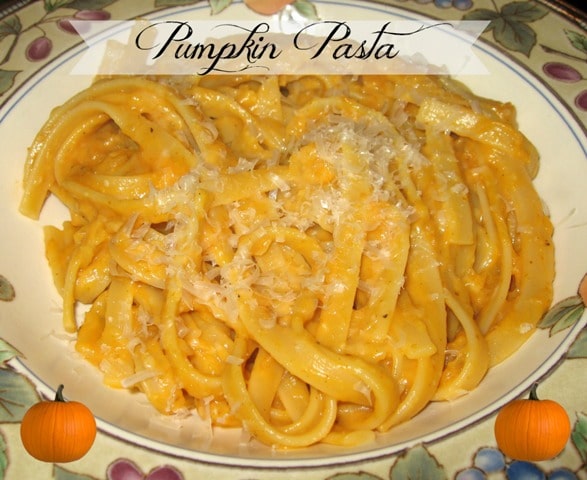 Ingredients
1 pound fettuccini
2 T olive oil
2 cups sliced yellow onion
1/4 cup minced shallots
1 1/2 cups canned pumpkin (I used one can.)
1 (14 oz) can chicken broth
3 tsp chopped fresh thyme (I used dried thyme.)
2 bay leaves
1/2 tsp salt
1/2 tsp pepper
2 cups shredded smoked Gouda, divided
2 cups shredded Parmesan cheese, divided
Garnish: fresh thyme
Instructions
In a large stock pot, bring 4 quarts salted water to a boil over high heat. Add fettuccini, and cook according to package directions, drain well.
In a large nonstick skillet, heat olive oil over medium heat. Add yellow onion and shallot. Cook stirring frequently, for 5 – 7 minutes, or until onion is translucent.
Add pumpkin to pan, stirring to combine. Add chicken broth, thyme, bay leaves, salt, and pepper, stirring to combine. Simmer for 7 – 10 minutes, stirring frequently, or until sauce is thickened. Add 1 1/2 cups Gouda, 1 1/2 cups Parmesan, and pasta , stiffing gently to combine. Remove bay leaves. Top with remaining 1/2 cup Gouda an 1/2 cup Parmesan. Garnish with thyme leaves, if desired.
I stirred only Gouda cheese into the pasta and sauce. We garnished each portion with a little bit of Parmesan.
Making the Pumpkin Pasta
Here is the sauce simmering before I added the cheese and fettuccine.
Ready to Serve
Grate some fresh parmesan over the pumpkin pasta and serve. Doesn't this look like the perfect fall or winter meal?
If you like pumpkin, don't miss my Pumpkin Honey Beer Bread and tastes likes Publix Pumpkin Bars.