Smith Mountain Lake Riprap for Shoreline Protection
Riprap for shoreline protection is a lake house necessity. The riprap on our shoreline was approximately 45 years old and needed replacing.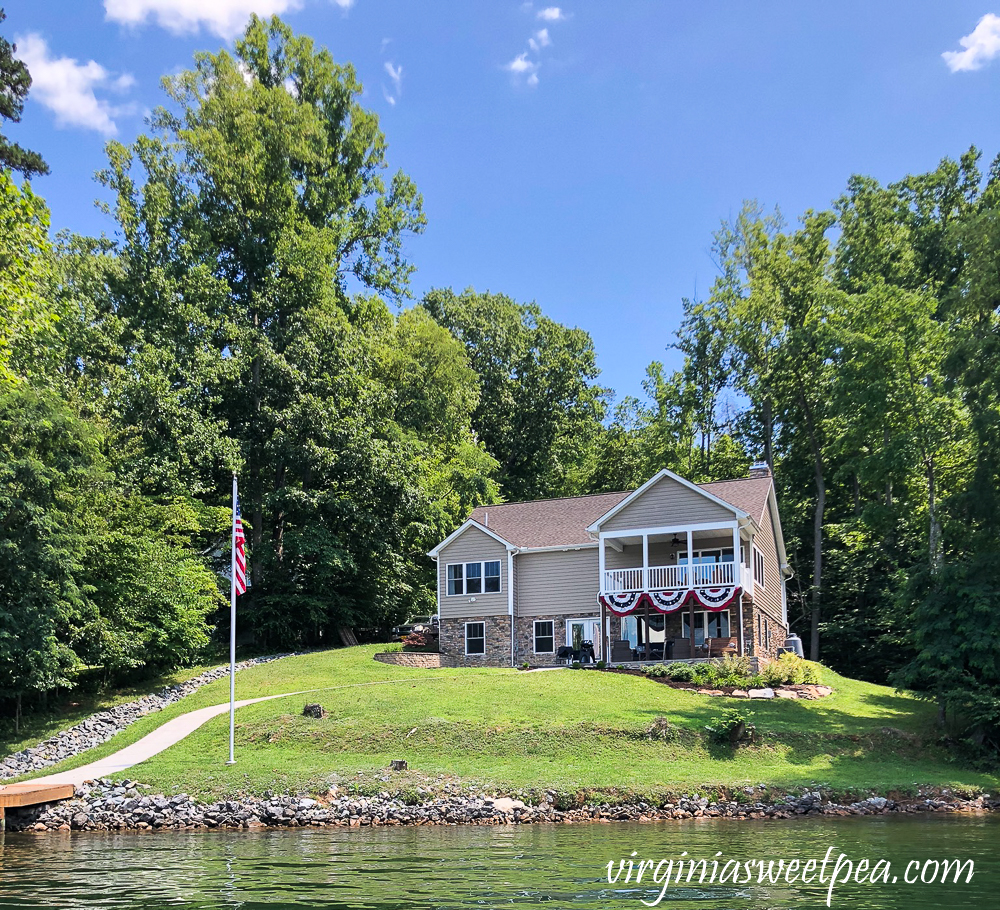 Riprap for Shoreline Protection
Last winter the lake water levels stayed unusually high which made waves reaching the shoreline from boat traffic wash to the top of our riprap and sometimes over the top which caused soil erosion.
Even when we built our house in 2015, the riprap was showing its age. We built the dock when we purchased the land in about 2010.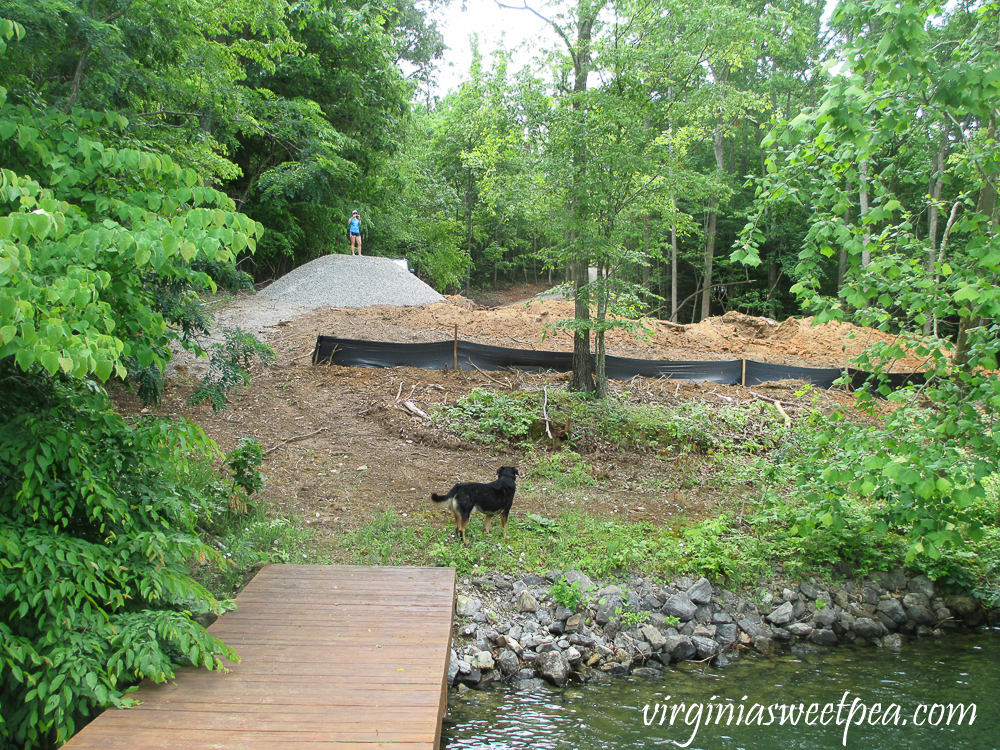 What is Riprap?
Riprap, also known as rip rap, rip-rap, shot rock, rock armor, or rubble, is human-placed rock or other material used to armor shorelines, streambeds, bridge abutments, pilings and other shoreline structures against scour and water, wave, or ice erosion.

Source
Installing New Riprap on our Shoreline
We hired Jessie Arrington of AC Shoreline to do this project for us.
This is his contact information for anyone in the Smith Mountain Lake area of Virginia in need of riprap.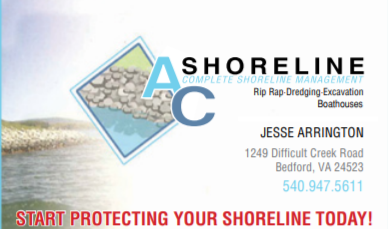 We were very pleased with Jesse's work and would recommend him to anyone in need of riprap. This is not a sponsored post, but an unsolicited recommendation by me for a job well done.
We weren't around when this job was done but our wonderful lake neighbors, Dana and Mike, snapped a few pictures for us.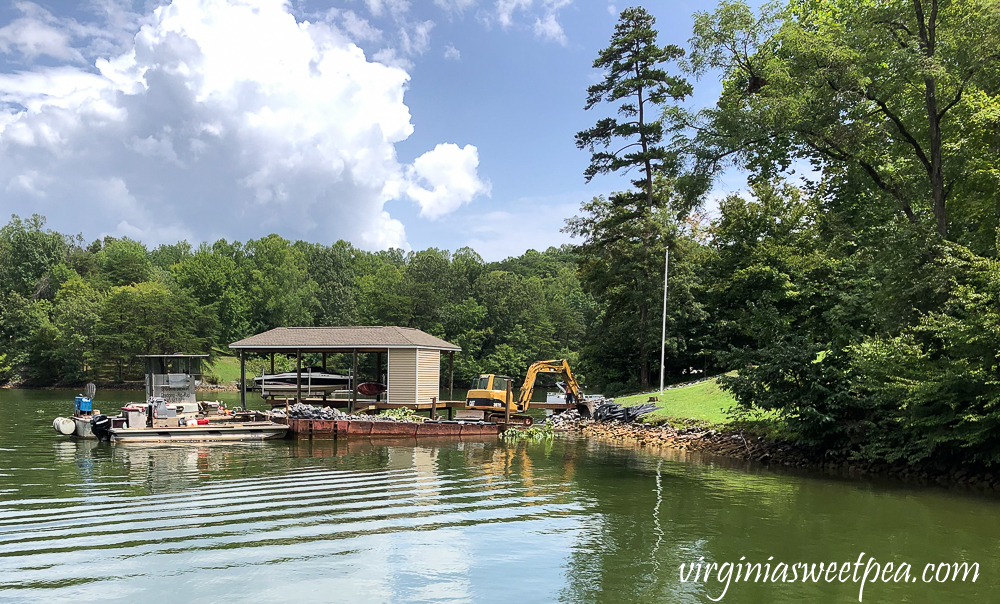 For this project, all equipment and supplies come in by barge which is great because it prevents damage to your yard.
Based on the contour of our land, Mr. SP and I believe that long ago the lake was at a higher level which created the drop in our yard. You also can see that trees grew along this old shoreline. What do you think?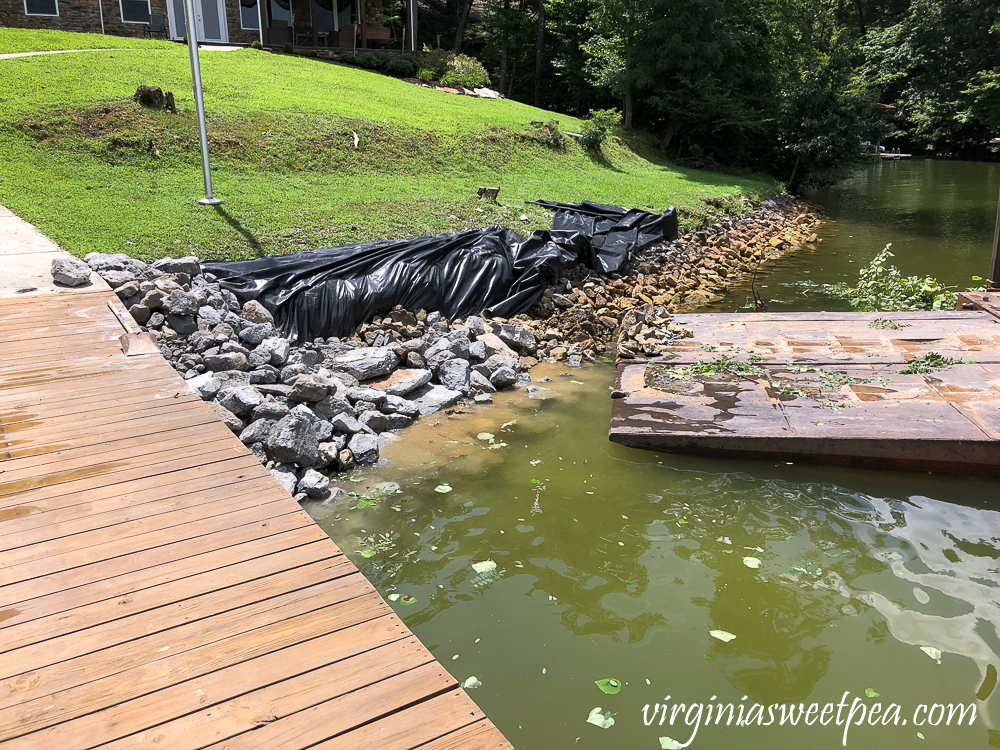 The backhoe was used to scrape our old riprap into the water which formed a base for the addition of the new riprap.
Then the shoreline was lined with heavy-duty plastic and the new riprap was installed.
The End Result
The new riprap makes our shoreline look so much better!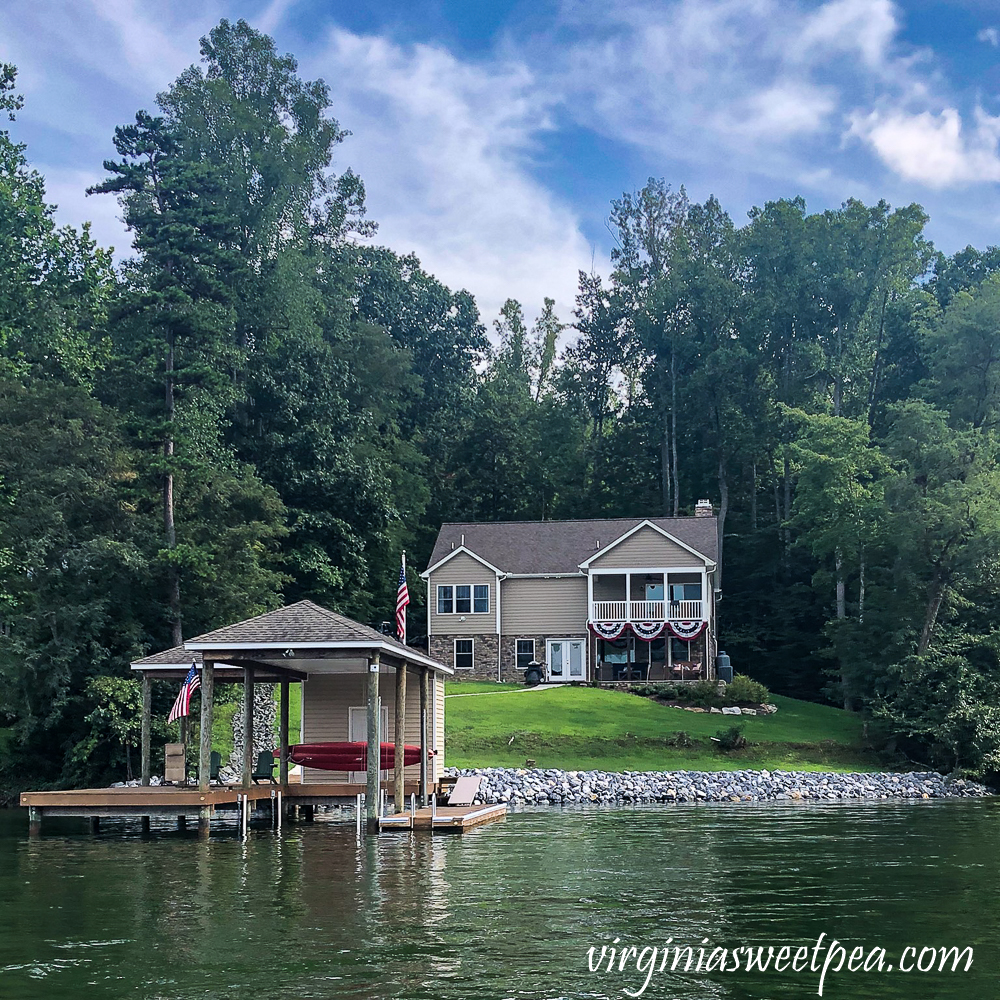 Now we don't have to worry about high water levels causing soil erosion as our new riprap will protect our shoreline.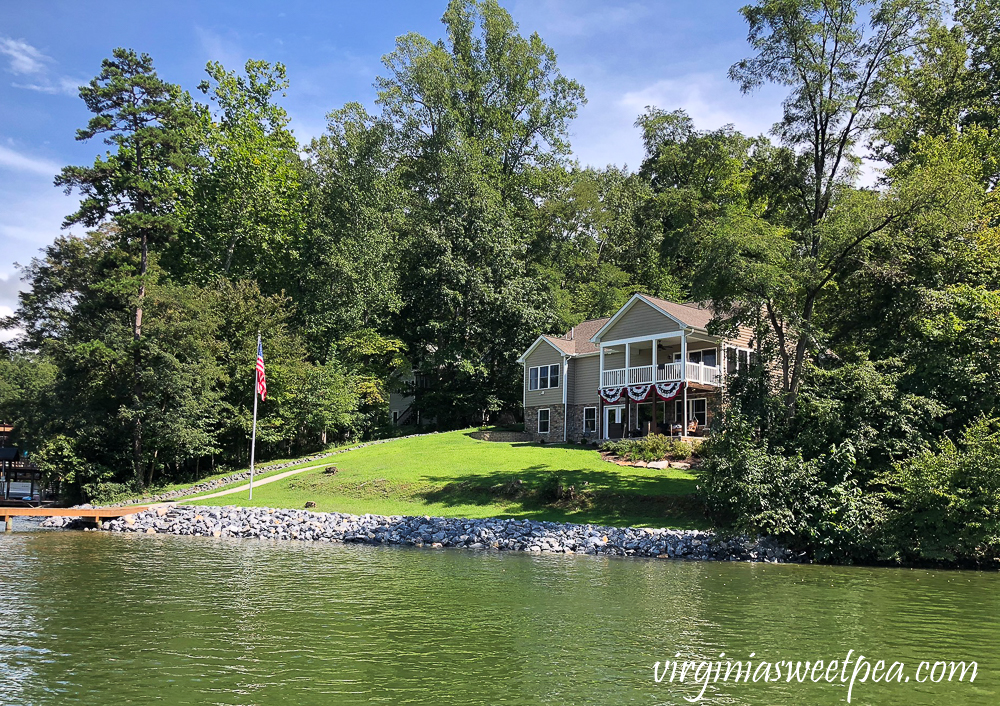 Our shoreline continues to the right of our home where the trees start.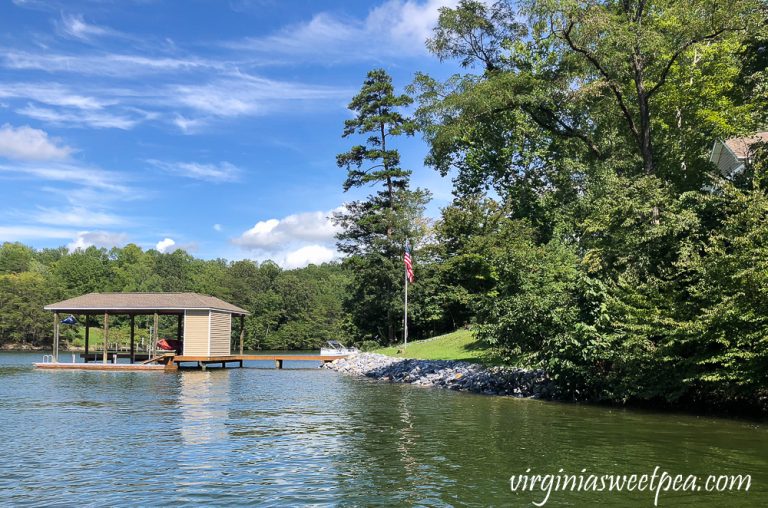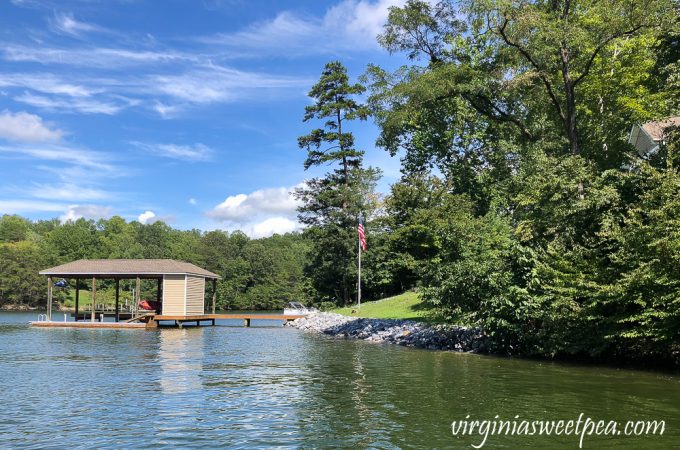 We did not add new riprap to that section because the old riprap there was still doing its job; the trees in that area keep the soil from eroding; and because of the cost to include that section.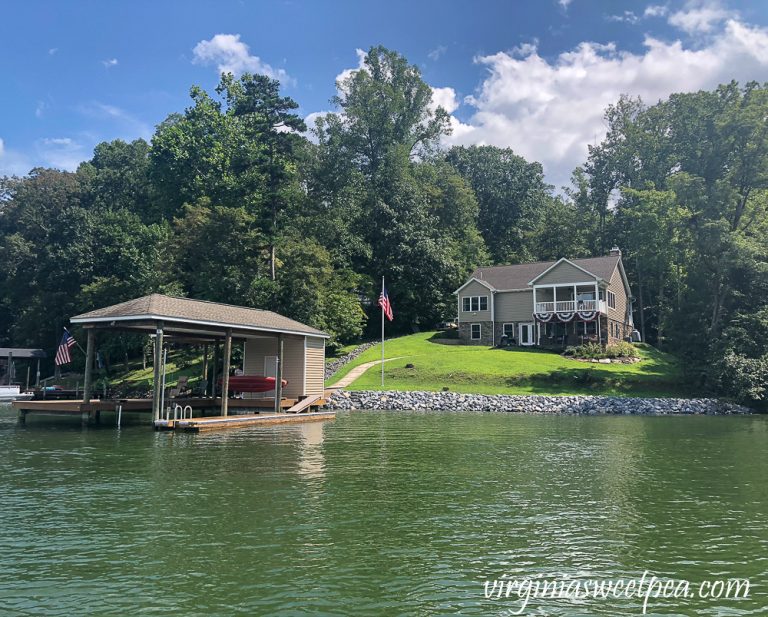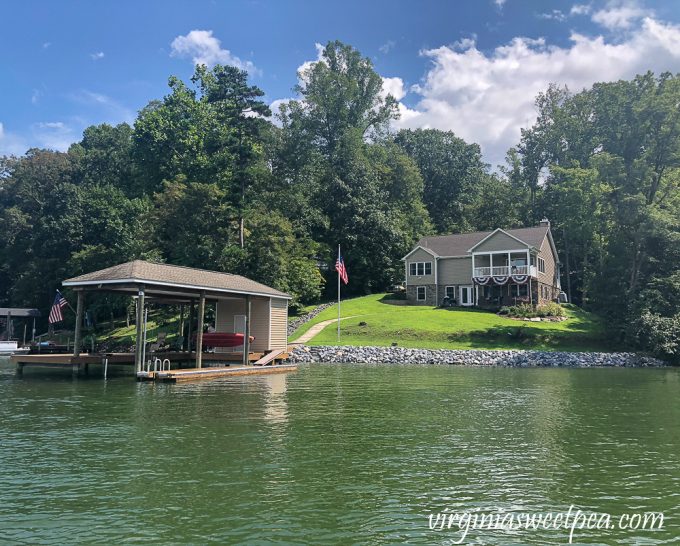 The new riprap definitely improved the lakeside curb appeal of our home.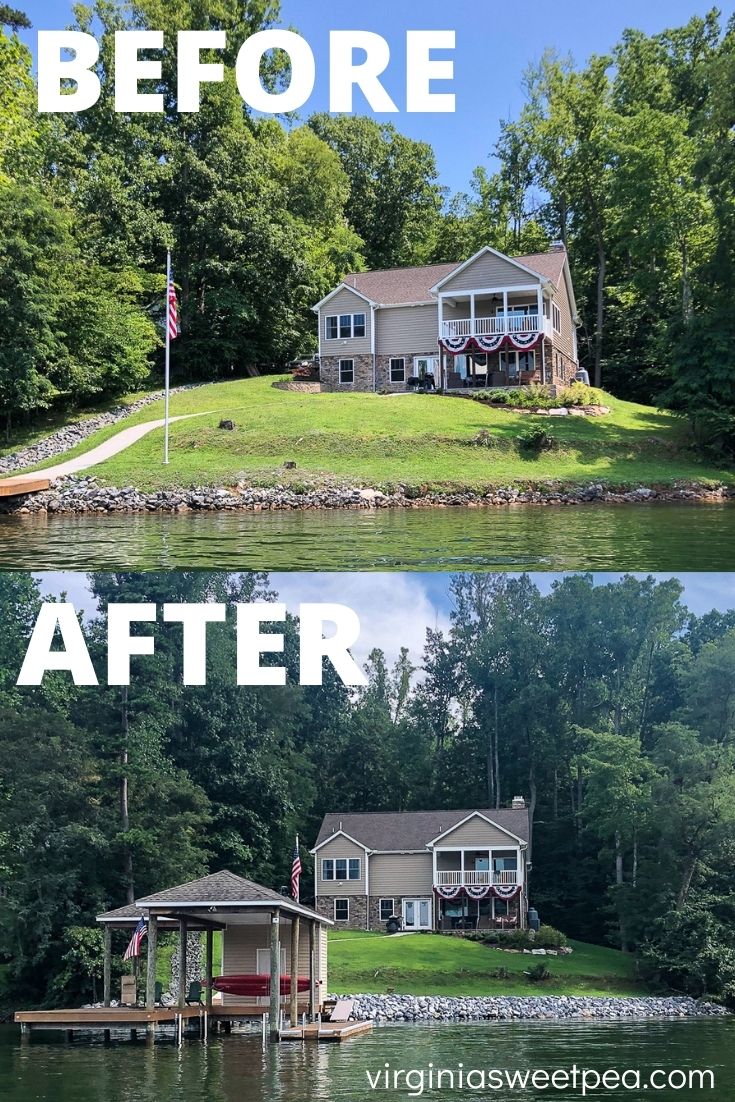 Steps in our Riprap
Not only did Jesse make our shoreline look great, he also incorporated steps into the riprap for Sherman and humans to use. Can you see them?
Since our house is built on the side of a mountain (Smith Mountain Lake), our driveway slopes downhill sharply making it necessary for a riprap drainage ditch from the top of the driveway to the shoreline. See the details of that project in this post.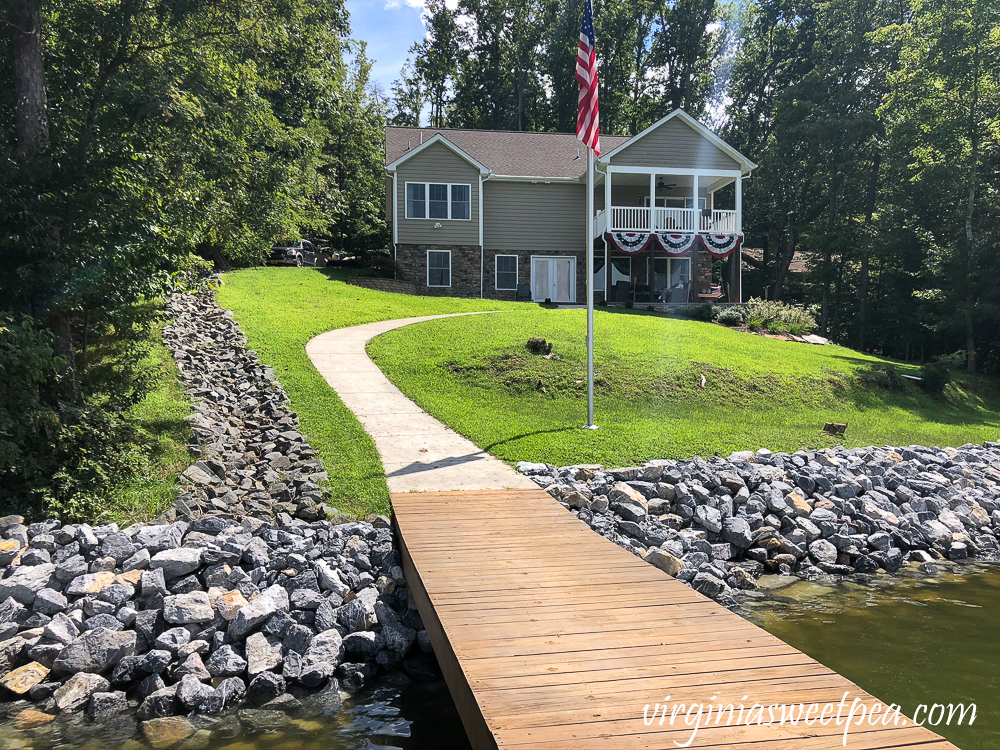 If you couldn't see the steps in the riprap, look below the flagpole.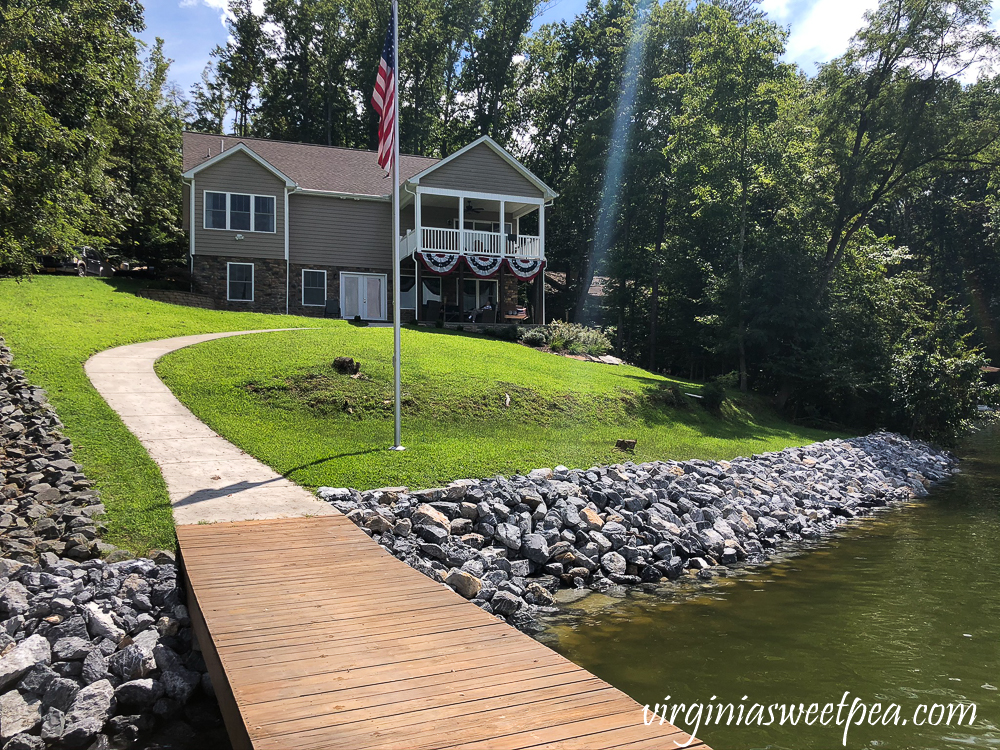 Sherman has a hip and knee problem and in recent years has not jumped off of our dock and swam to shore like he did when he was a youngster. We believe he stopped jumping in because he had difficulty climbing out of the water over the old riprap.
Our sweet Sherman can be a very timid little boy at times, so Mr. SP had to train him to use his new steps.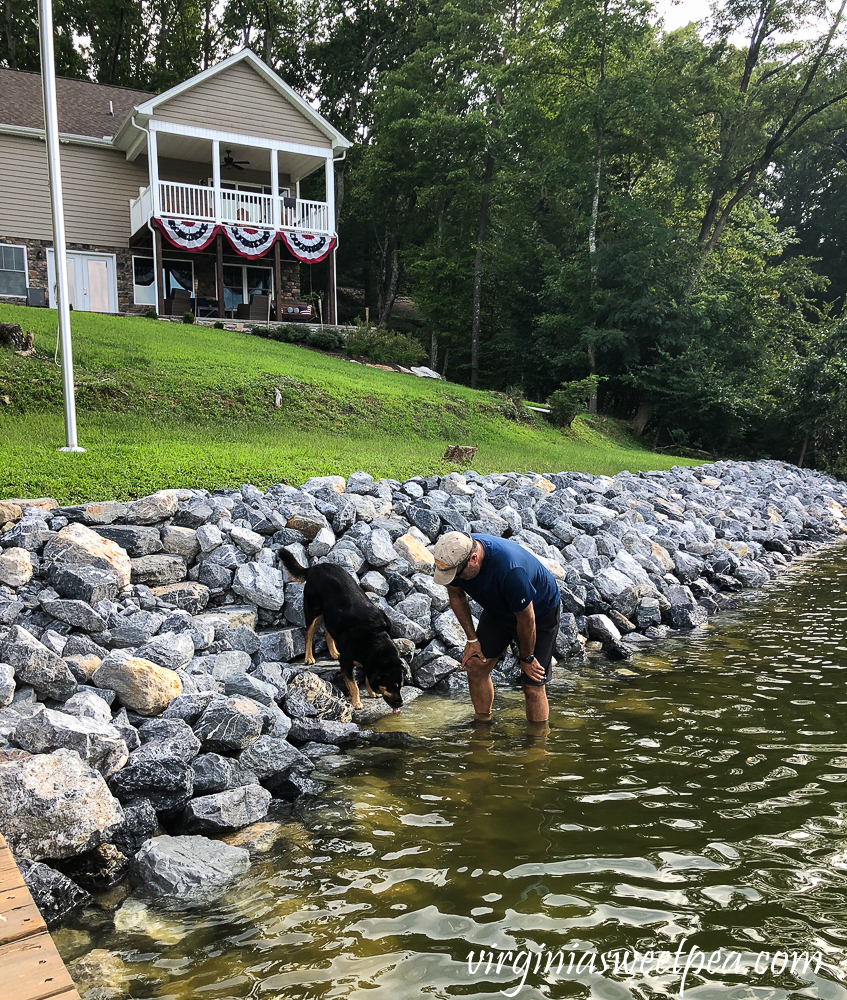 He still hasn't used his steps to swim from our dock to the shoreline but he now frequently uses them to get a drink of water.
Here he is walking down his steps after a long boat ride.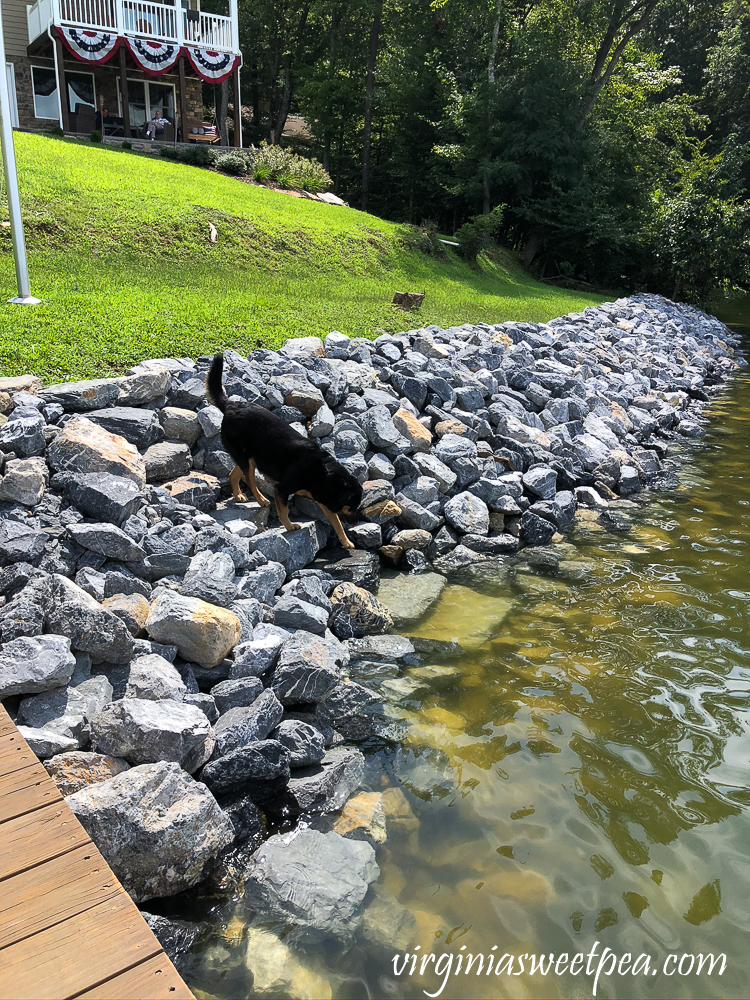 The steps make it so easy for him to get a drink of water.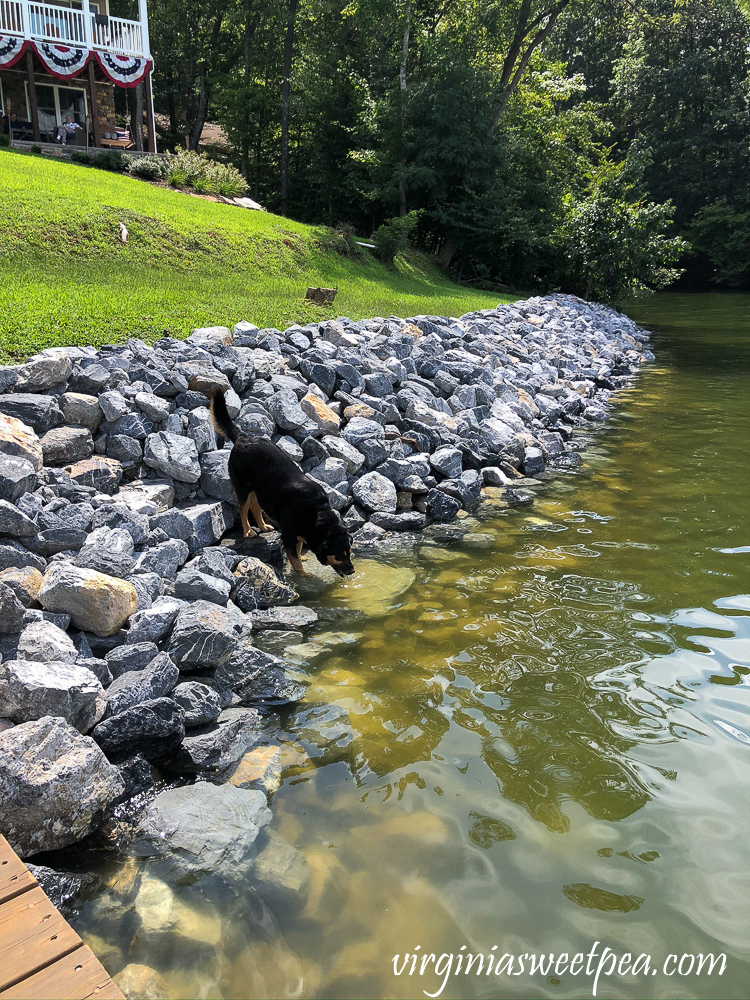 We plan to add sand and gravel to the riprap that is underwater to make it easy for him to either get into or out of the water from his steps. This will also be helpful for humans who may want to use the steps.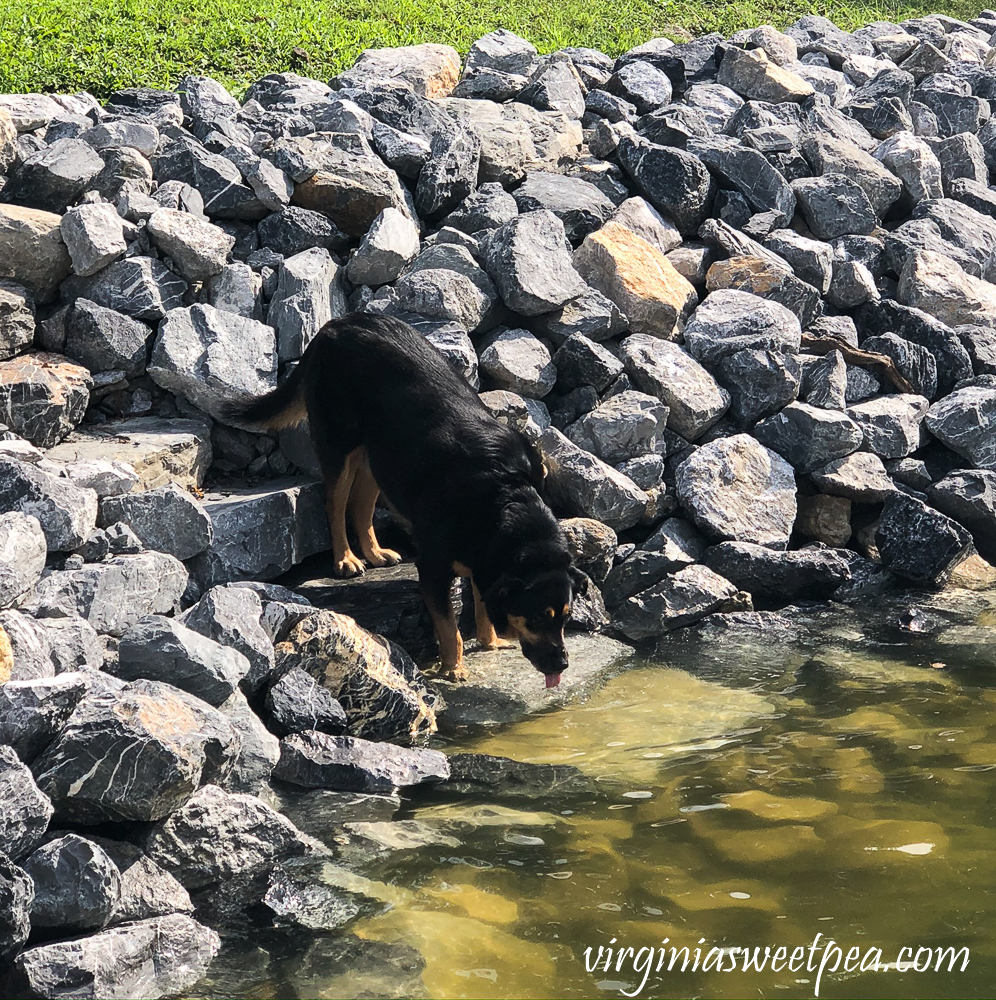 Riprap for shoreline protection was an investment that we were happy to make for our lake home. Now our shoreline is protected for years to come from erosion.