This post and photos may contain Amazon or other affiliate links. As an Amazon Associate I earn from qualifying purchases. If you purchase something through any link, I may receive a small commission at no extra charge to you. All opinions are my own.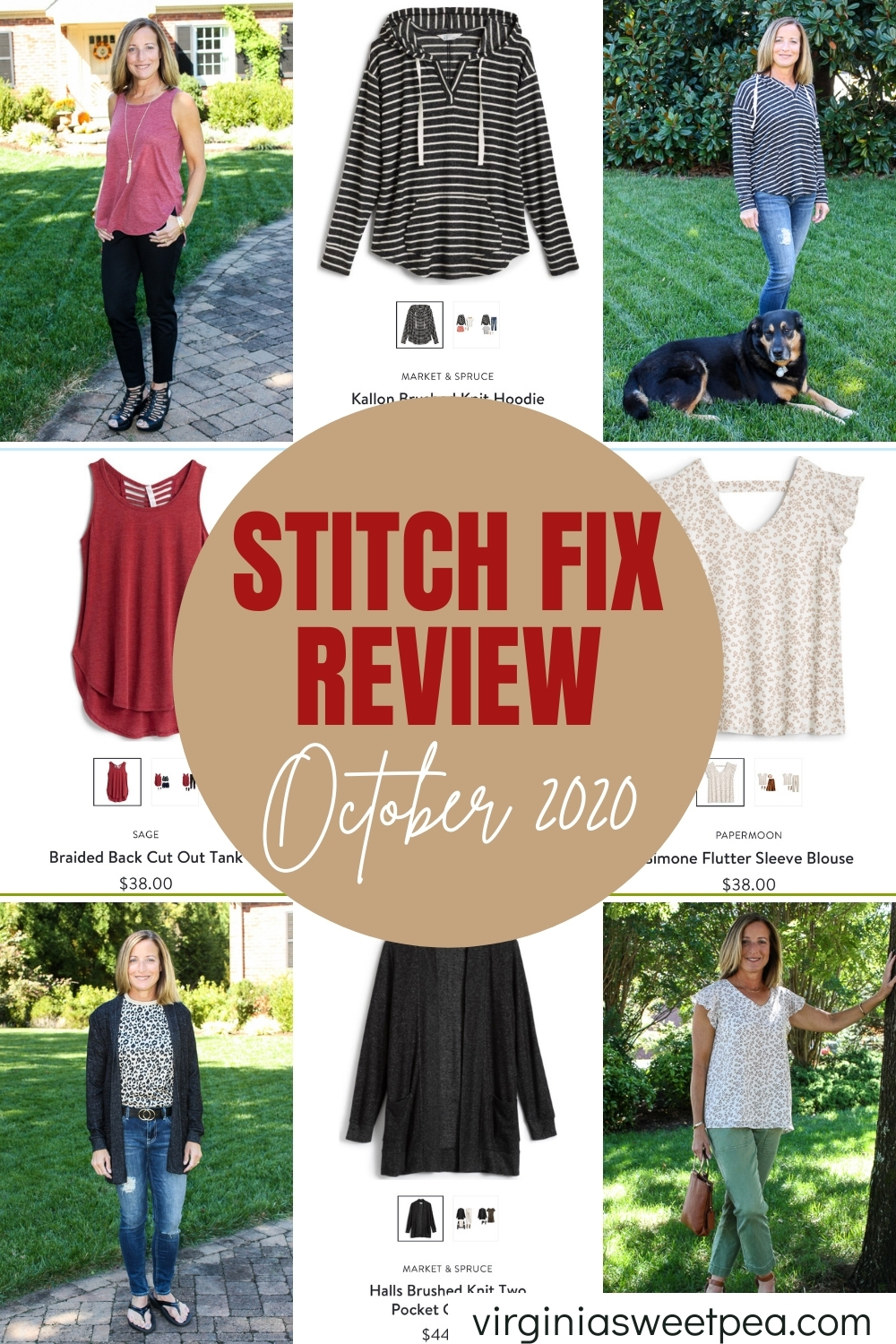 Hello October and hello to a new Stitch Fix Review. This month's box was filled with things to enjoy wearing in fall.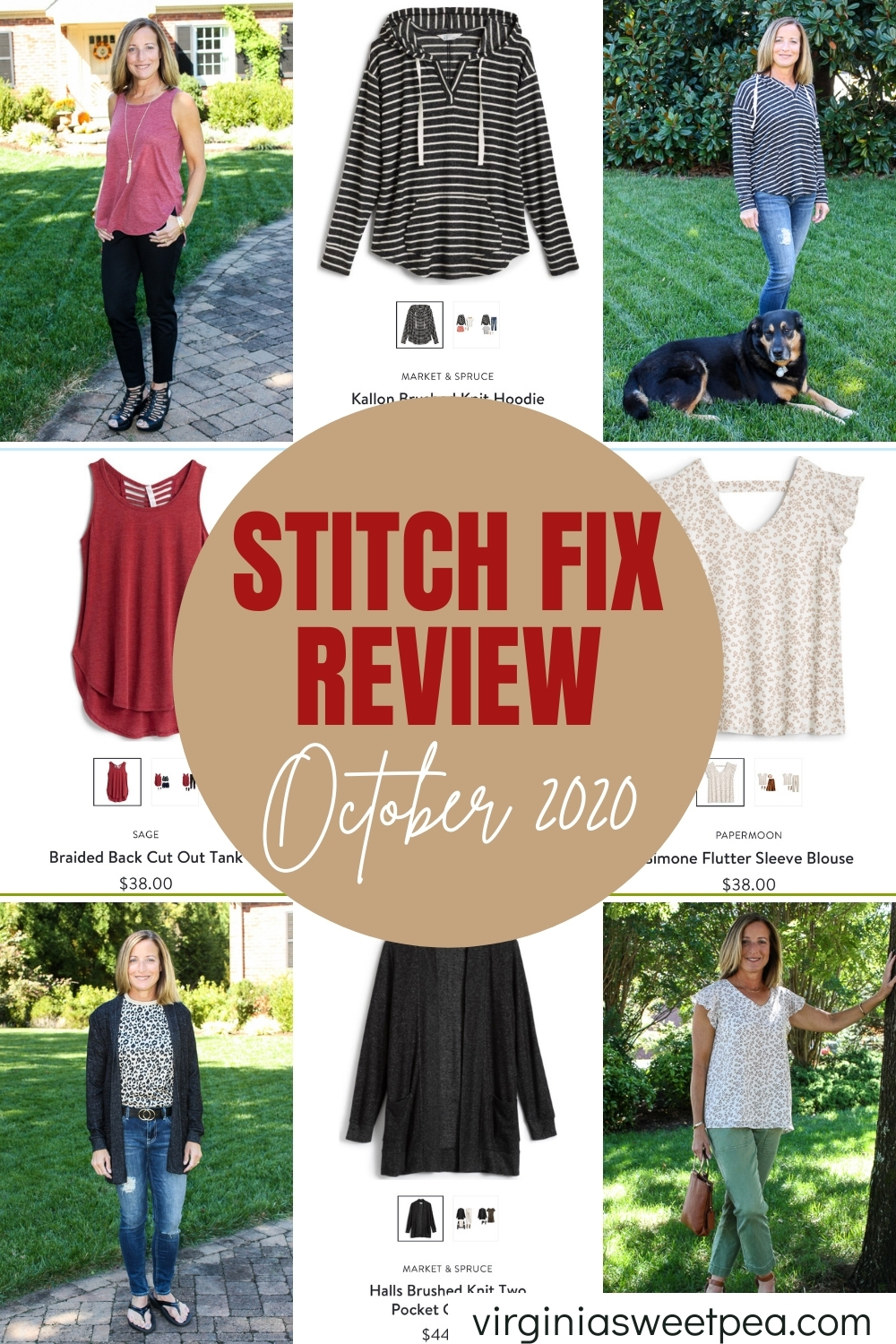 Last month I was so sad to learn that my beloved stylist, Brittany H., was leaving Stitch Fix. But, guess what? In her last few days of work, my request for a box came through and she got to style me one last time.
I was so surprised and happy when I read my sweet note from Brittany and learned that she styled me again this month.
Stitch Fix Review for October
If you are new to Stitch Fix, these details will help you to understand the service. If you want to try Stitch Fix, sign up here to get $25 off your first box.
Stitch Fix Details
Stitch Fix is a personal styling service. When you sign up for Stitch Fix, you fill out a detailed style profile that helps your stylist know your likes and dislikes.
When a Fix arrives, you have three days to try the clothes on and to decide what to keep and what to send back. Stitch Fix includes a postage-paid envelope making returns super easy.
When you sign up for Stitch Fix, you can choose how often a box is delivered. You can pick monthly options or schedule a box when you'd like to receive one. I do not like shopping and love receiving clothing from Stitch Fix. I get clothes that I like without having to do any work other than pinning things that I like to my fashion board on Pinterest. My stylist checks my Pinterest board for inspiration and also reads my note to her each month to see if I have any special requests.
You can find links to all of my Fixes here and also be sure to check out my Stitch Fix Review Board on Pinterest where I pin my favorite looks.
If you love DIY, home decor, crafts, and recipes, you'll want to subscribe to Sweet Pea so that you never miss a post. It's free and the best way to follow along with my blog. You'll also get access to my members-only free printable library.
This Month's Stitch Fix Items
This month I requested items to enjoy wearing on our annual Vermont fall trip. If you've never been to Vermont in the fall, put it on your bucket list.
These are posts that I wrote after two of our trips:
Sage Braided Back Cut Out Tank
This Sage Braided Back Cut Out Tank is just my style. I loved it's cut, color, and super soft fabric.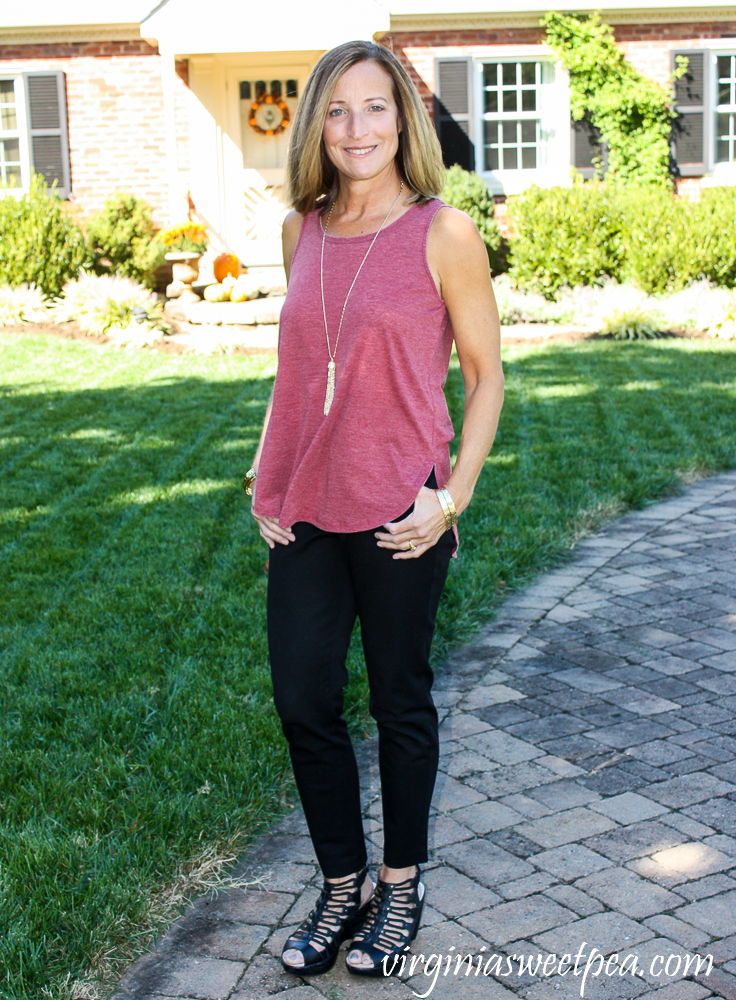 I paired this cute tank with black Old Navy pants, Jambu shoes (mine are old, this version is available now), and jewelry from Rocksbox.
Rocksbox is a jewelry subscription service that sends three pieces of jewelry that you can wear for as long as you like each month. When you send your three pieces back, or buy what you like, a new box is sent. If you'd like a free month of Rocksbox, sign up with this code: PAULABFF54.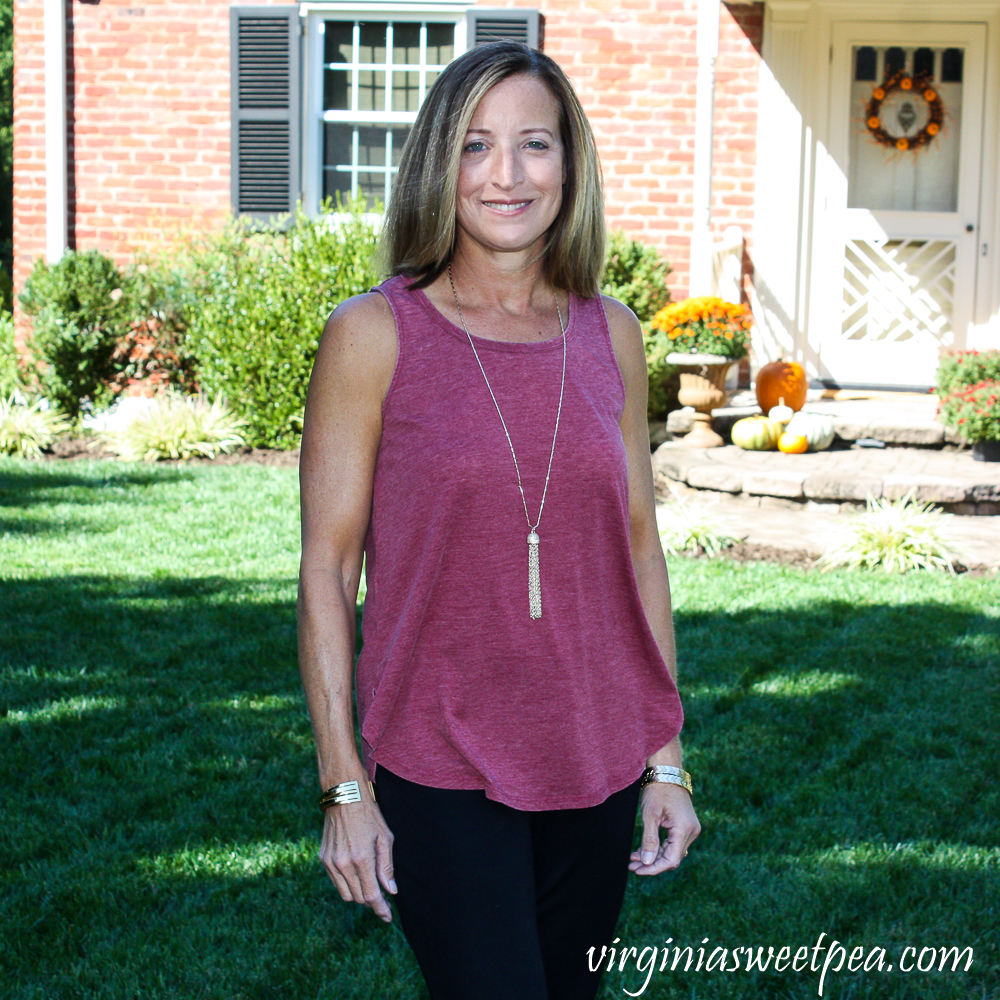 This tank has an adorable braided back cut out detail.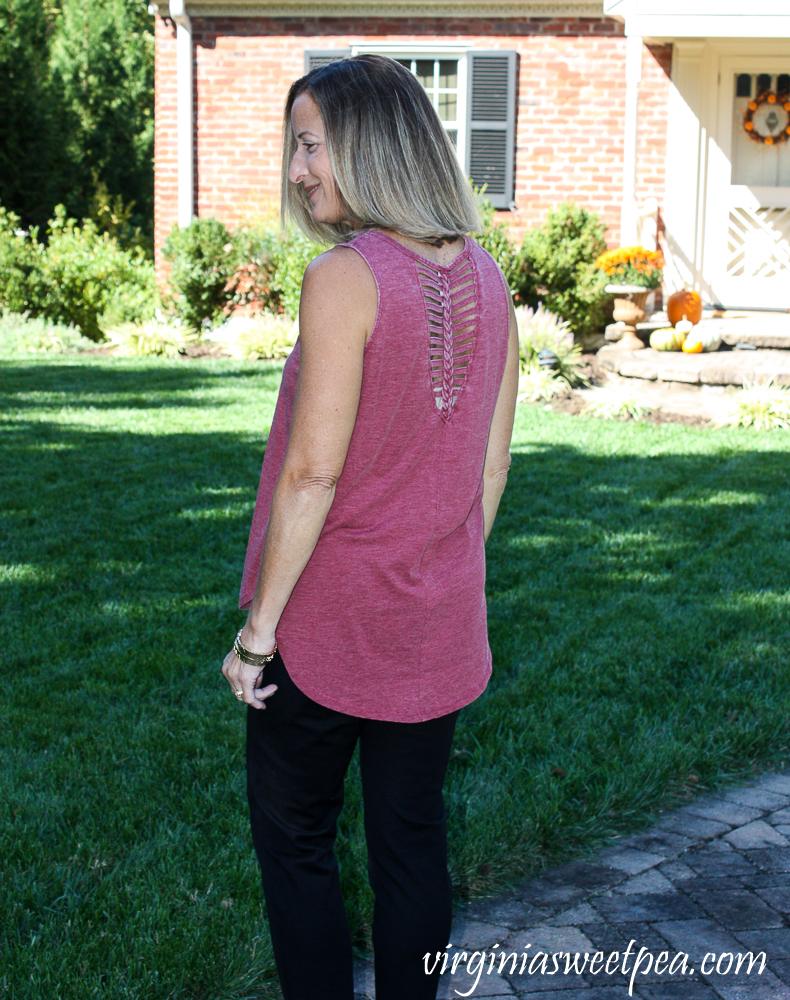 Brittany suggested wearing this tank for a hike on our trip or for a travel day in the car.
I like that this tank can be dressed up but I can also wear it with leggings or capris to the gym.
I couldn't pass up keeping this soft and cute tank.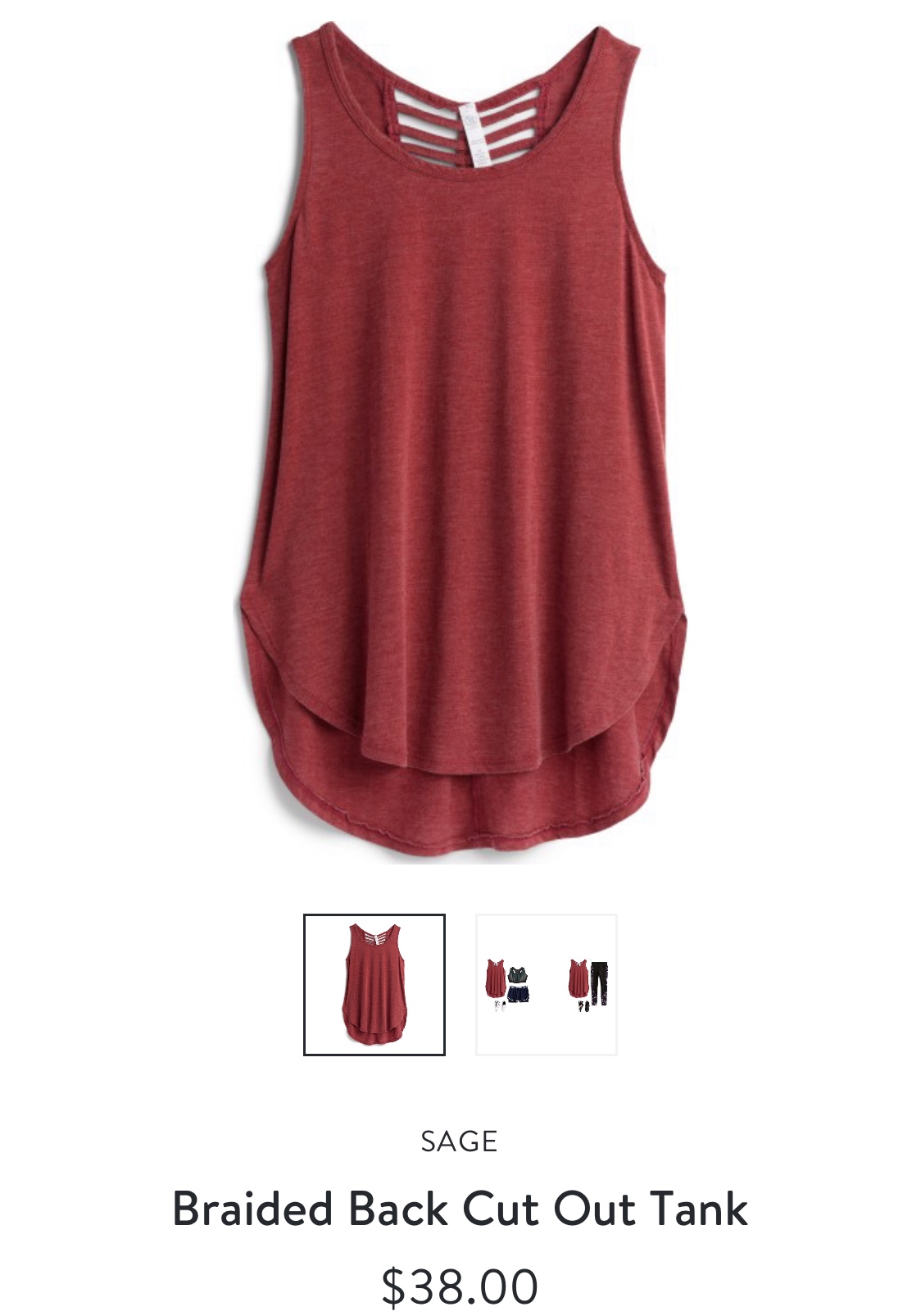 Verdict – Keep
Vigoss Elaine Girlfriend Distressed Jean
A pair of jeans is a necessity for any fall trip. The Vigoss Elaine Girlfriend Distressed Jean that Brittany picked for me fit me perfectly.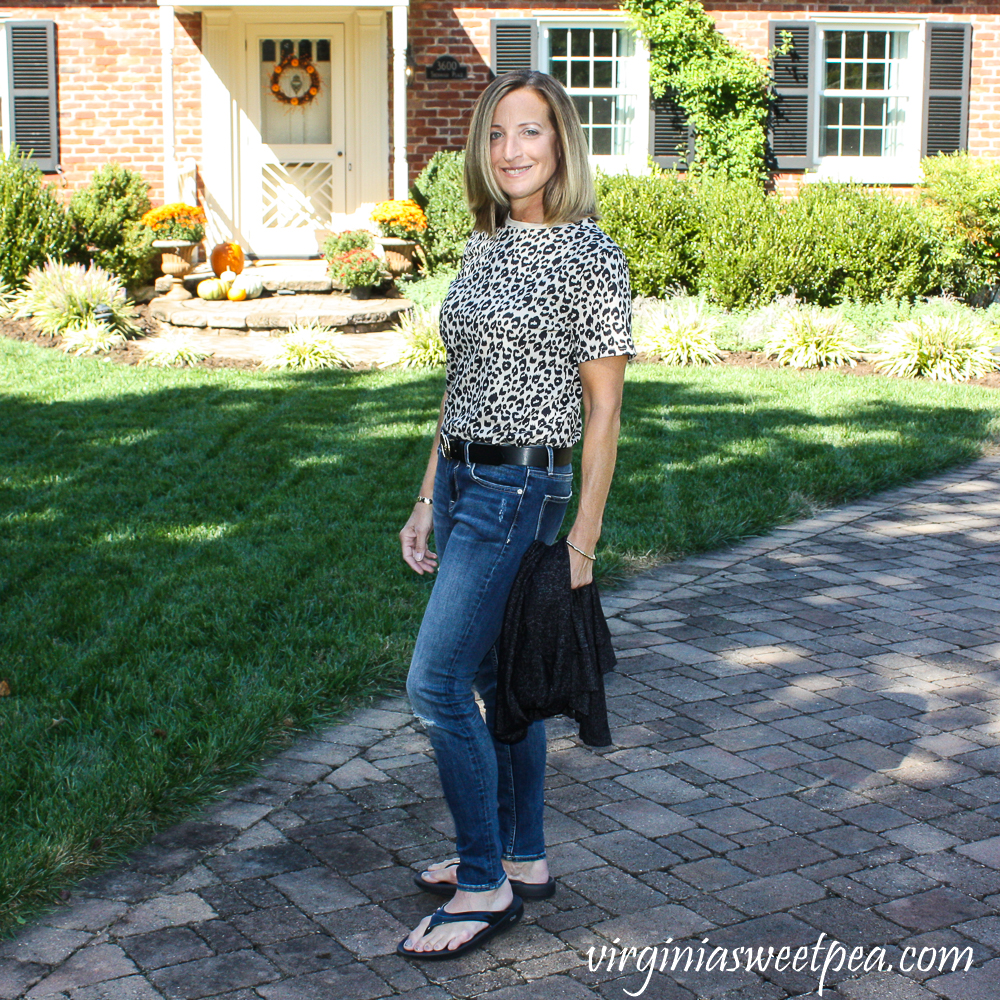 While we were taking pictures for this post, our neighbors dropped by to climb our Magnolia tree and to visit with Sherman. Is this not one of the cutest little boys that you have ever seen?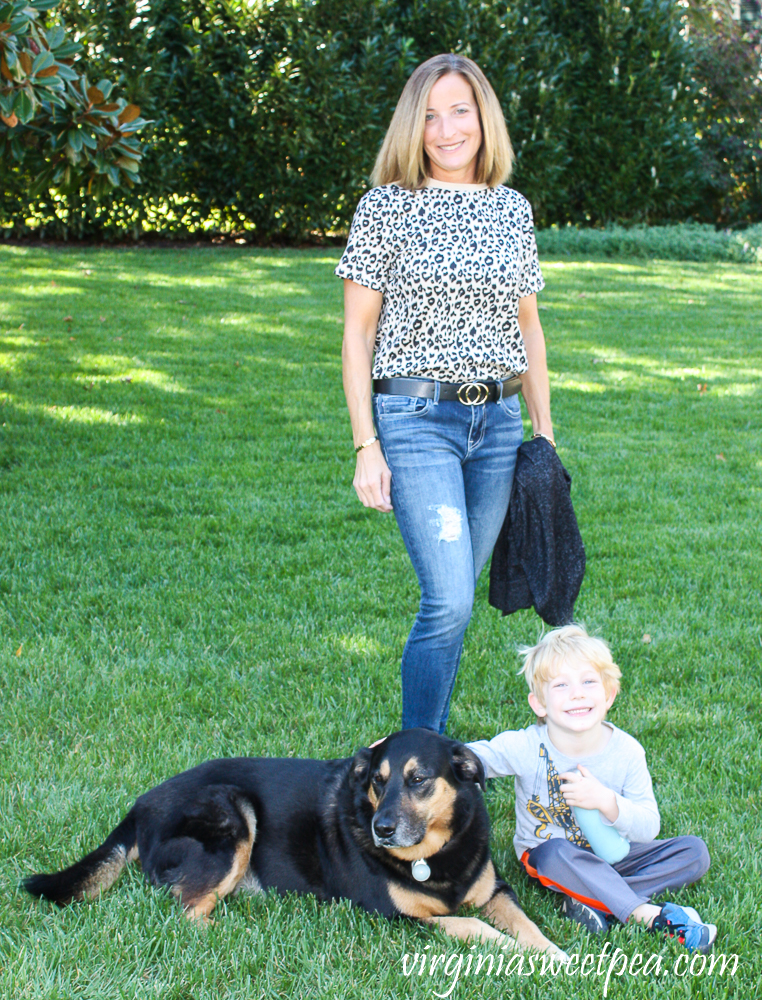 I paired the jeans with a leopard print tee and a belt, both Amazon purchases.
Although I liked these jeans, I didn't keep them because the last pair of jeans that Brittany sent me were high waist and I discovered that a high waist jean is more comfortable than a mid-rise one.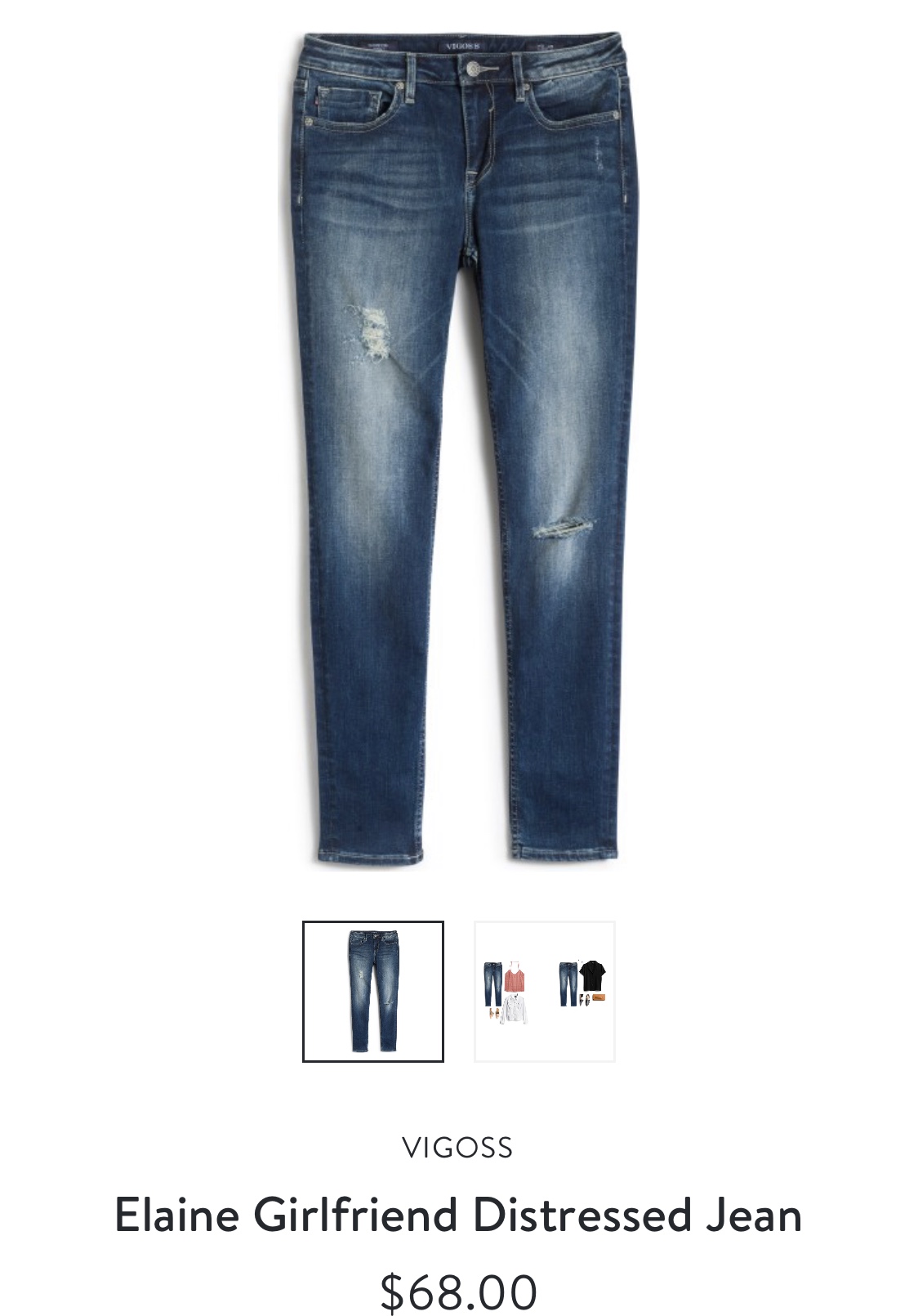 Verdict – Return
Market & Spruce Halls Brushed Knit Two Pocket Cardigan
This Market & Spruce Halls Brushed Knit Two Pocket Cardigan is super soft and a color that I can layer over many blouses in my fall and winter wardrobe.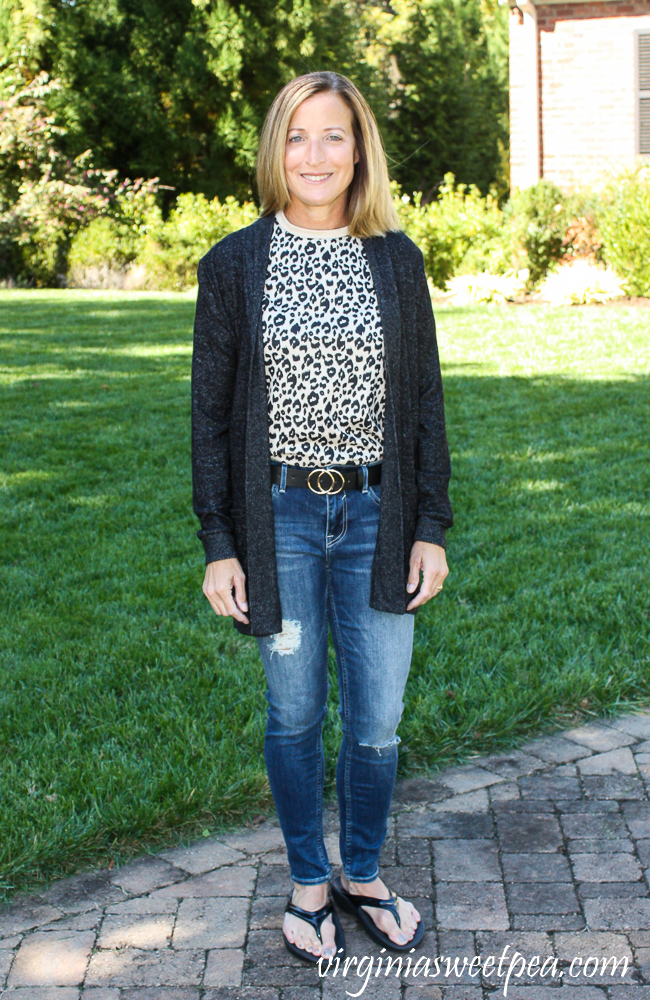 I knew the second that I tried this cardigan on that I was keeping it. Not only can I wear it with casual outfits, I also can layer it over a dress.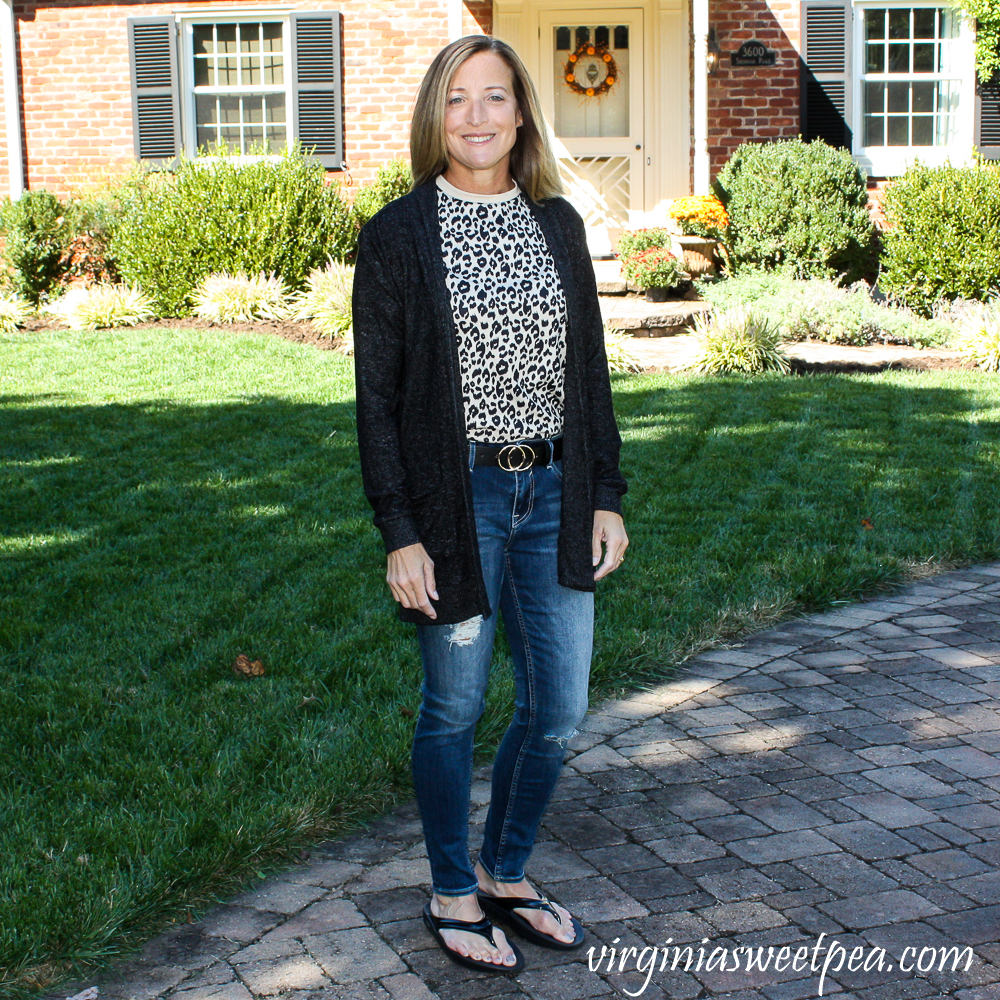 For this month's pictures, we did something different and took most of them in our front yard. Did you notice the fall wreath on my front door? Don't miss seeing it up close.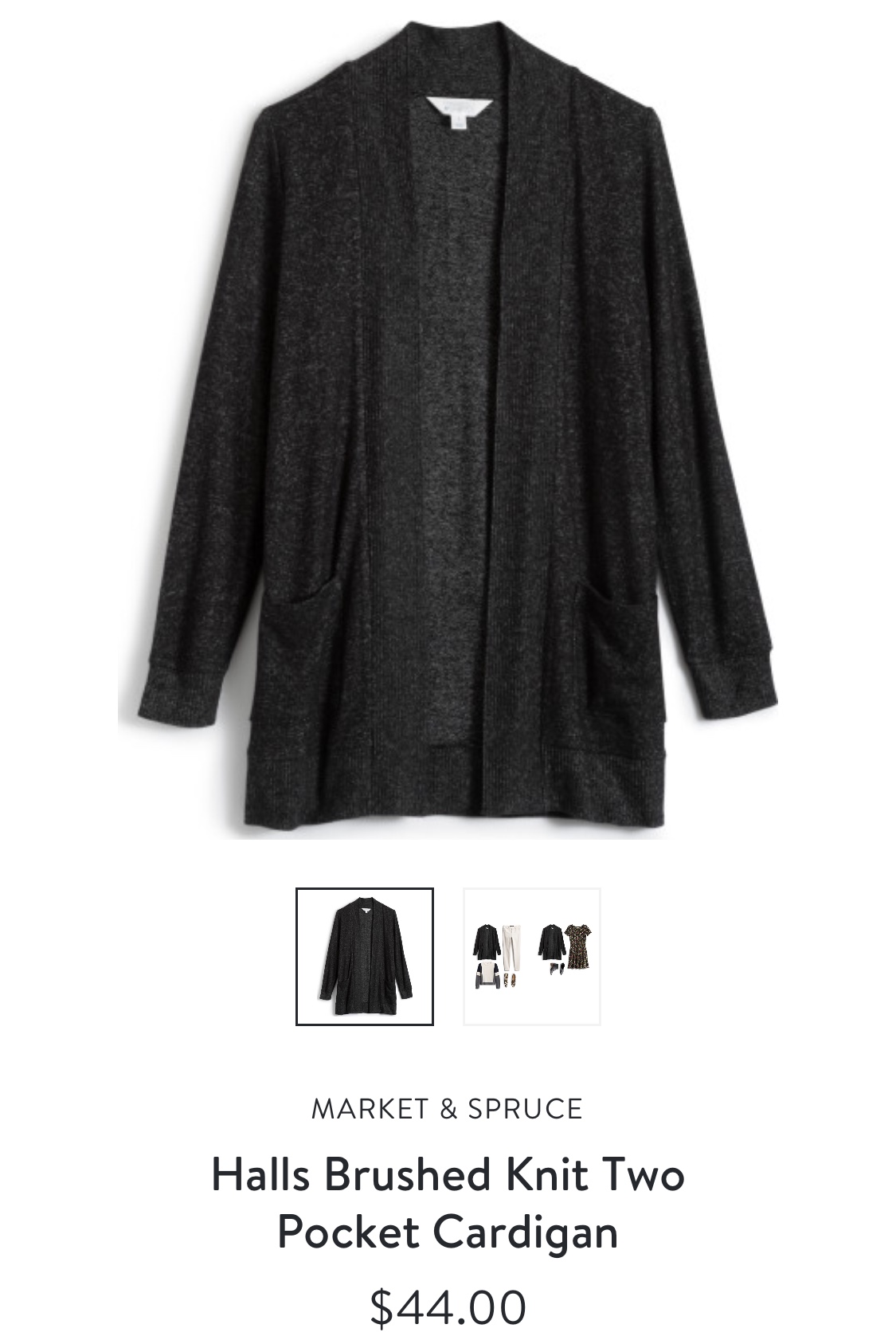 Verdict – Keep
Market & Spruce Kallon Brushed Knit Hoodie
Talk about cozy! The Market & Spruce Kallon Brushed Knitt Hoodie was super soft and very comfortable.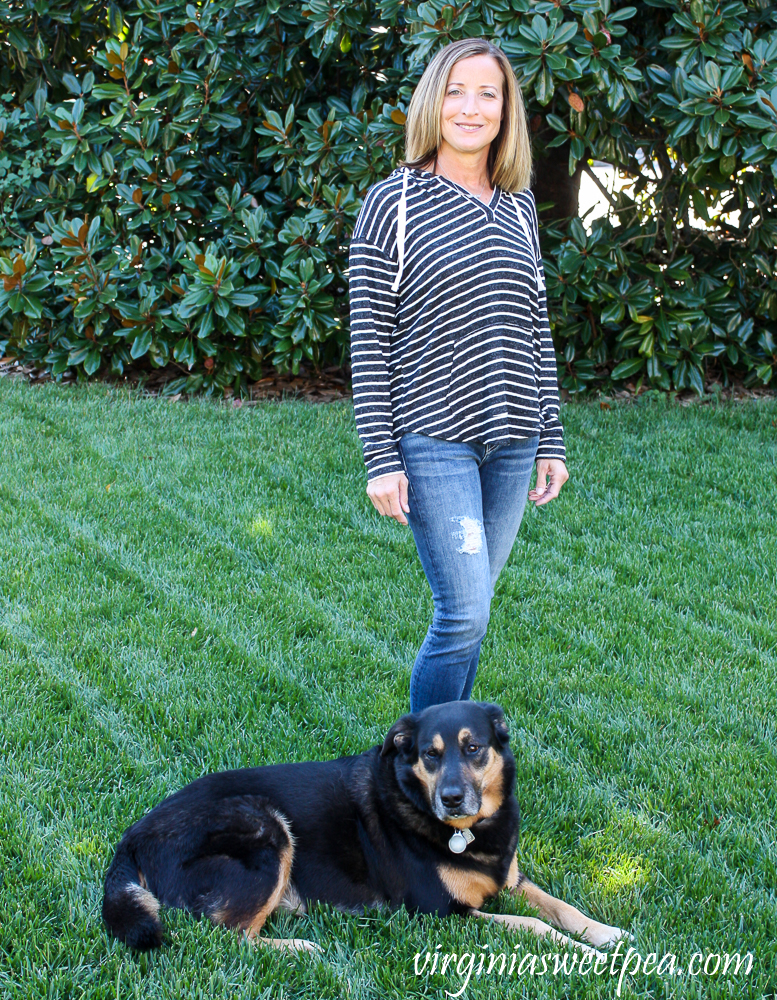 This top is great to wear with jeans or with a skirt for a casual look.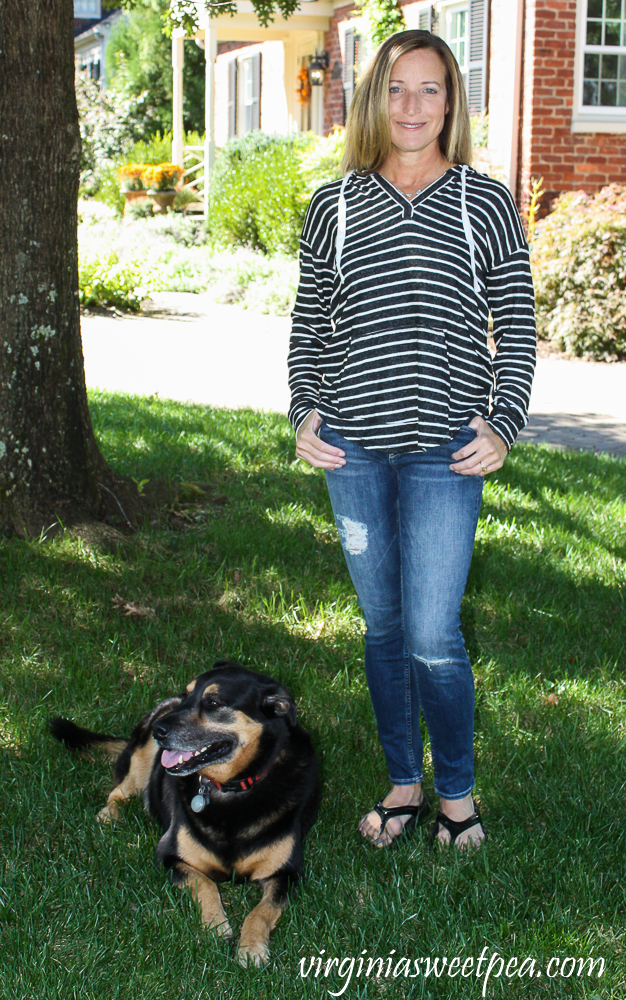 I liked this hoodie but hoods tend to annoy me because they made the back of my hair get knotted.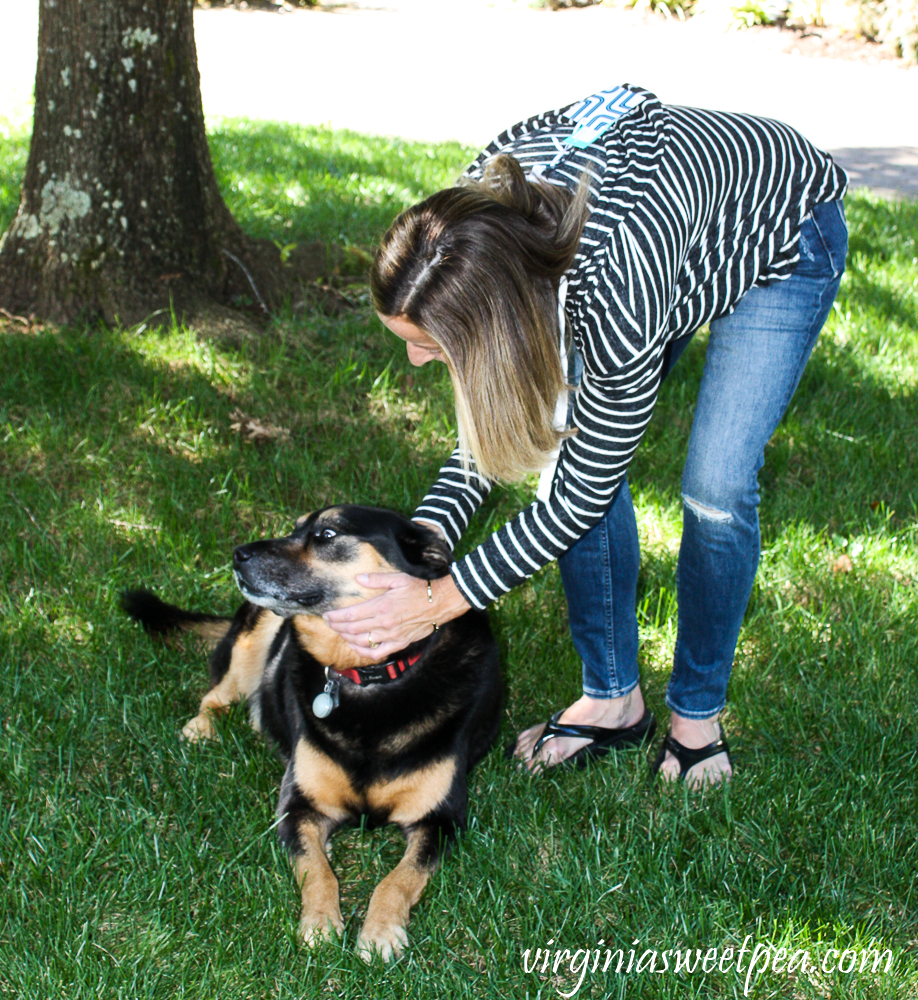 Since I wasn't 100% in love with this hoodie (mostly because of the hood), I decided to return it.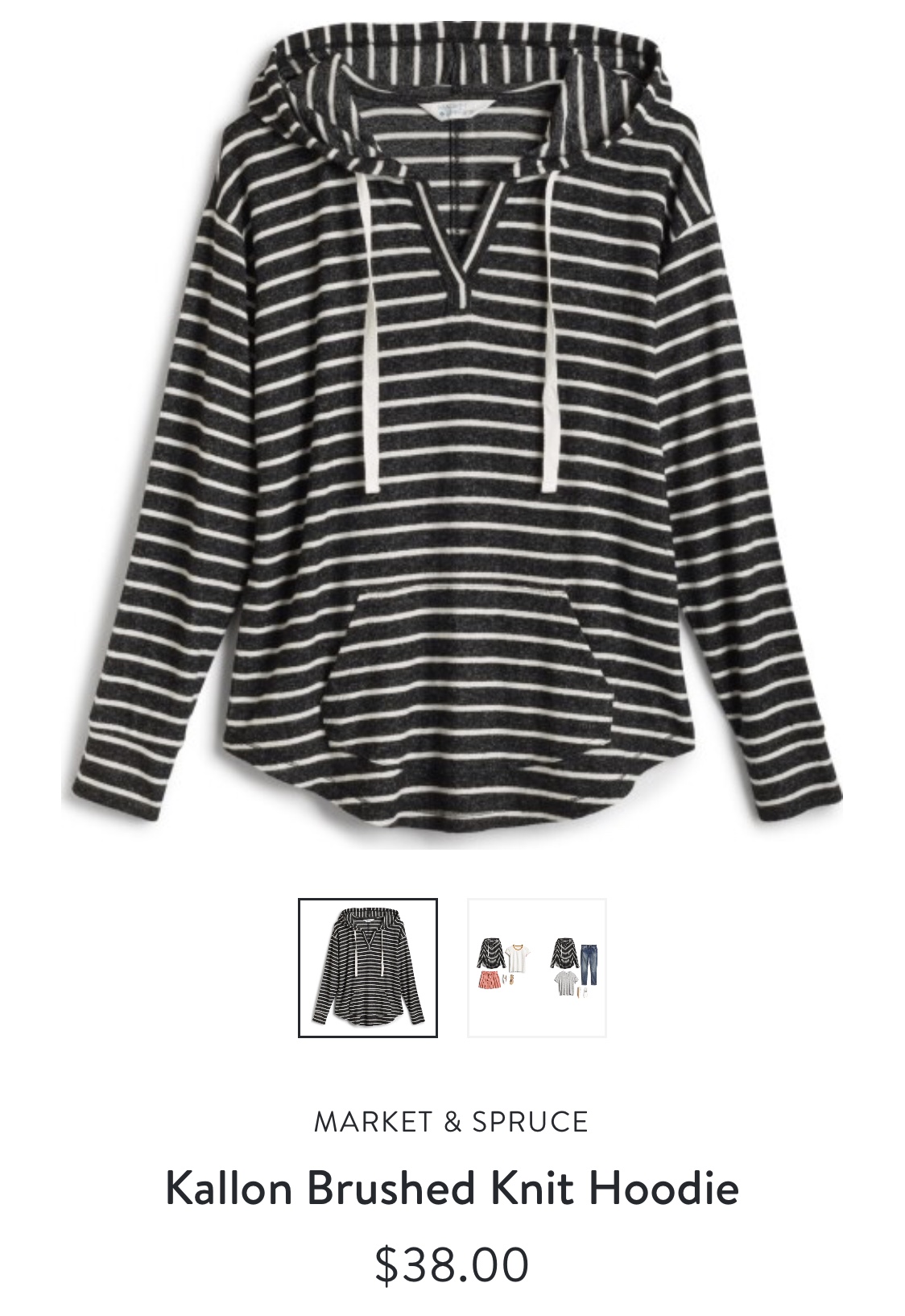 Verdict – Returned
Papermoon Simone Flutter Sleeve Blouse
The final item to share is the Papermoon Simone Flutter Sleeve Blouse.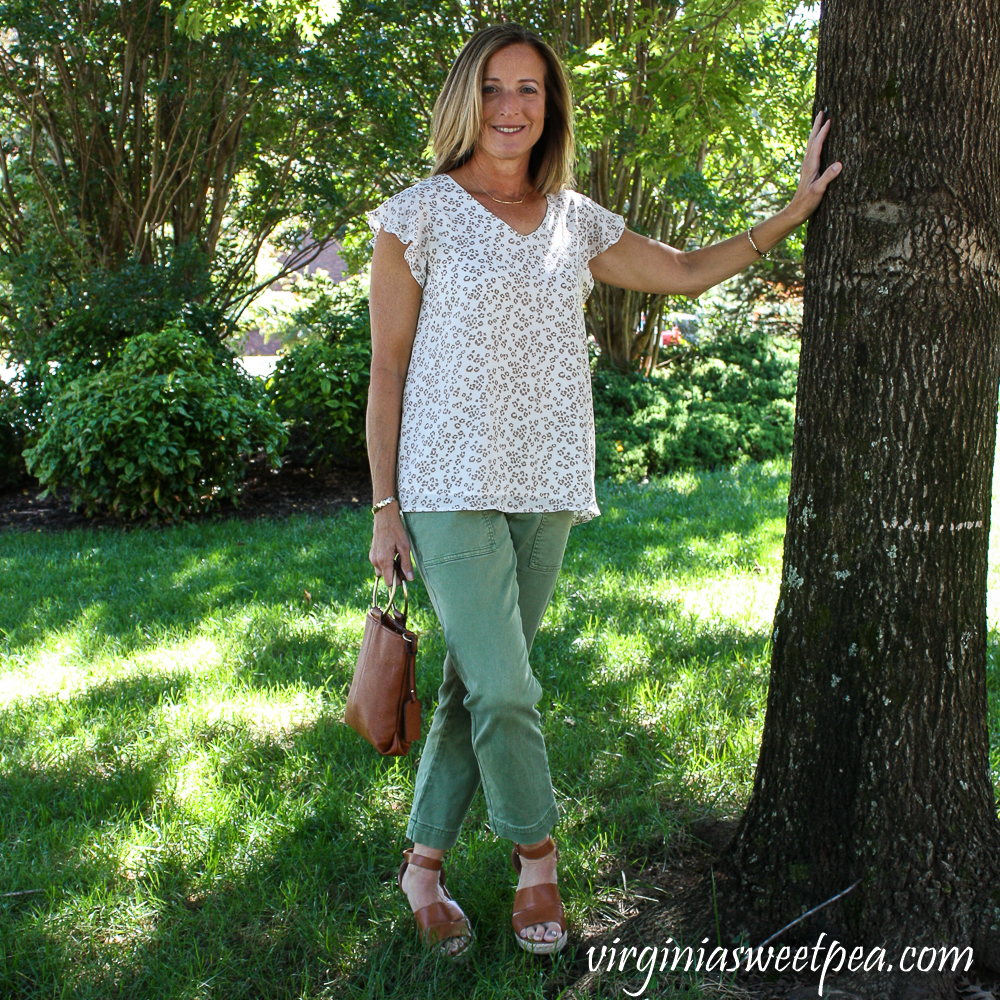 This blouse had the cutest almost leopard like print and adorable flutter sleeves. Unfortunately, it was too big for me.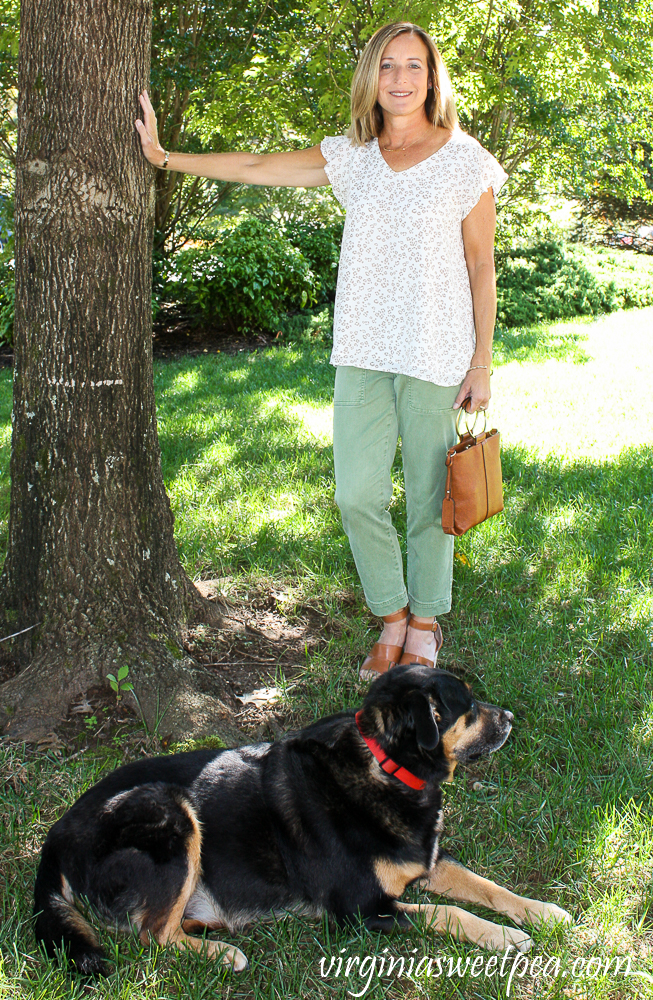 Another detail that I loved about this blouse was the back.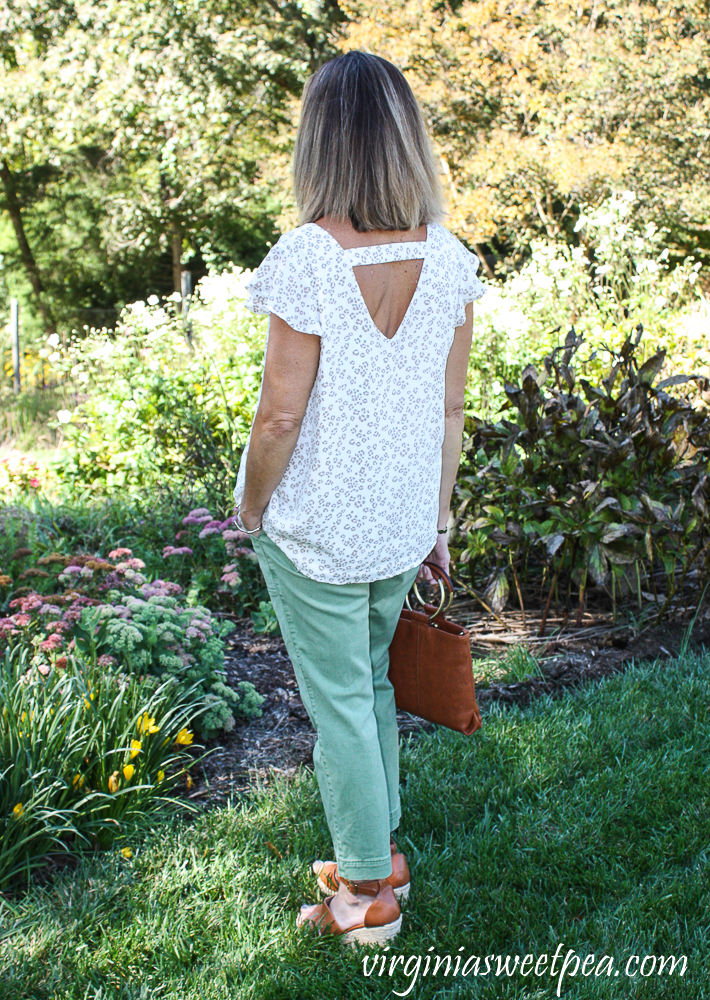 I could have requested a smaller size in this blouse when checking out, but since the window for wearing short sleeves is closing in, I decided to return it.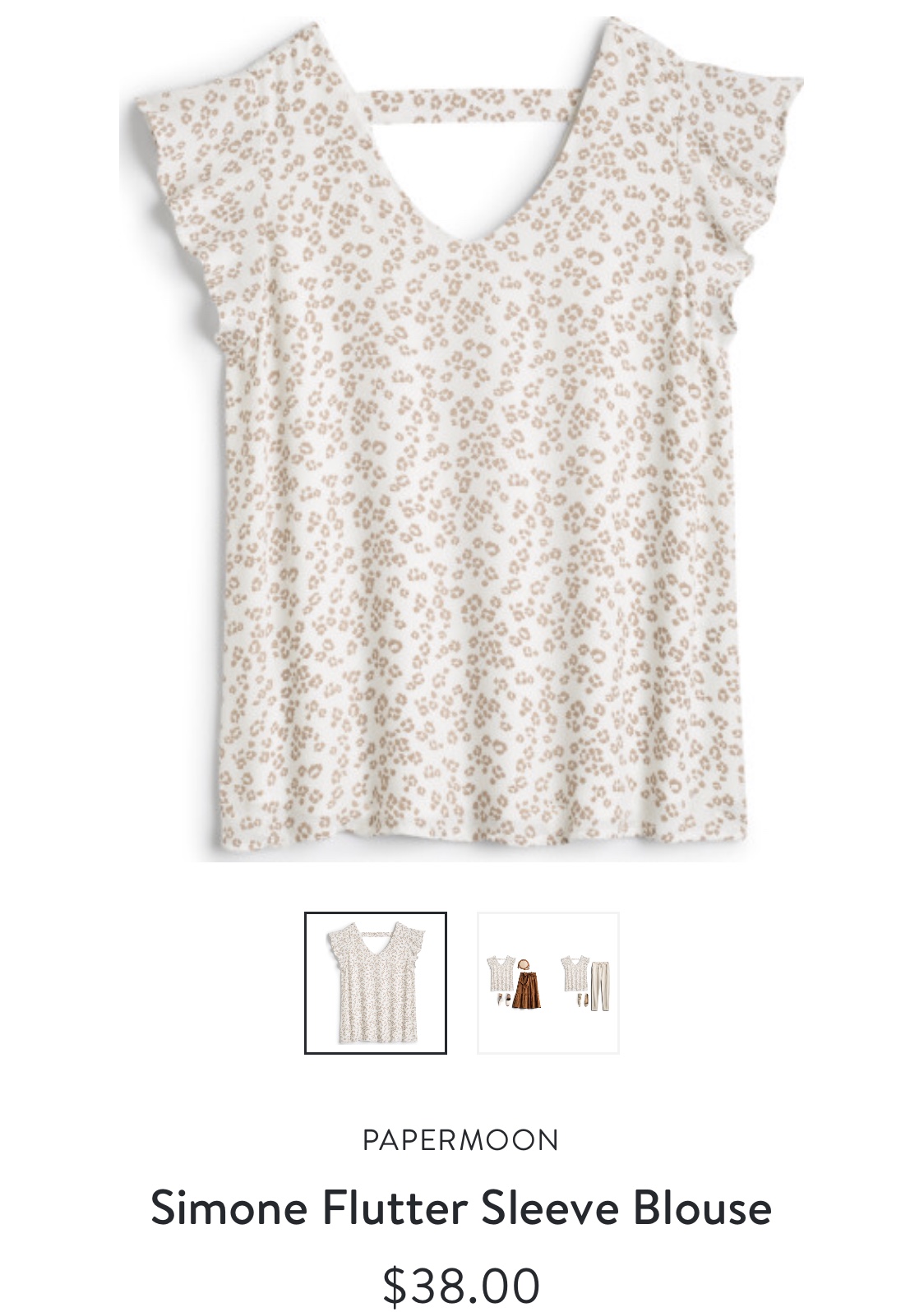 Verdict – Returned
I want to thank Brittany again for being such a wonderful stylist for the past five years. My new stylist has big shoes to fill.
In Summary
Sage Braided Back Cut Out Tank – $38 – Keep
Vigoss Elaine Girlfriend Distressed Jean – $68 – Return
Market & Spruce Halls Brushed Knit Two Pocket Cardigan – $44 – Keep
Market & Spruce Kallon Brushed Knit Hoodie – $38 – Return
Papermoon Simone Flutter Sleeve Blouse – $38 – Return
Try Stitch Fix
I love receiving each Stitch Fix box and really enjoy getting cute clothes without having to shop for them.
If you've been thinking about trying Stitch Fix, I encourage you to do so. If you sign up using my referral link, you'll get $25 off your first box.
That means that your styling fee will be taken care of and you'll have $5 credit toward anything that you want to keep. If you don't like your items, you've lost no money.
Why not try Stitch Fix risk-free?