How to Make a Pierced Wood Candle Holder
Today I'm sharing how to make a wood candle holder that can be used for decor in any season.
Each side of my wood candle holders contains holes of varying sizes to let candlelight shine through.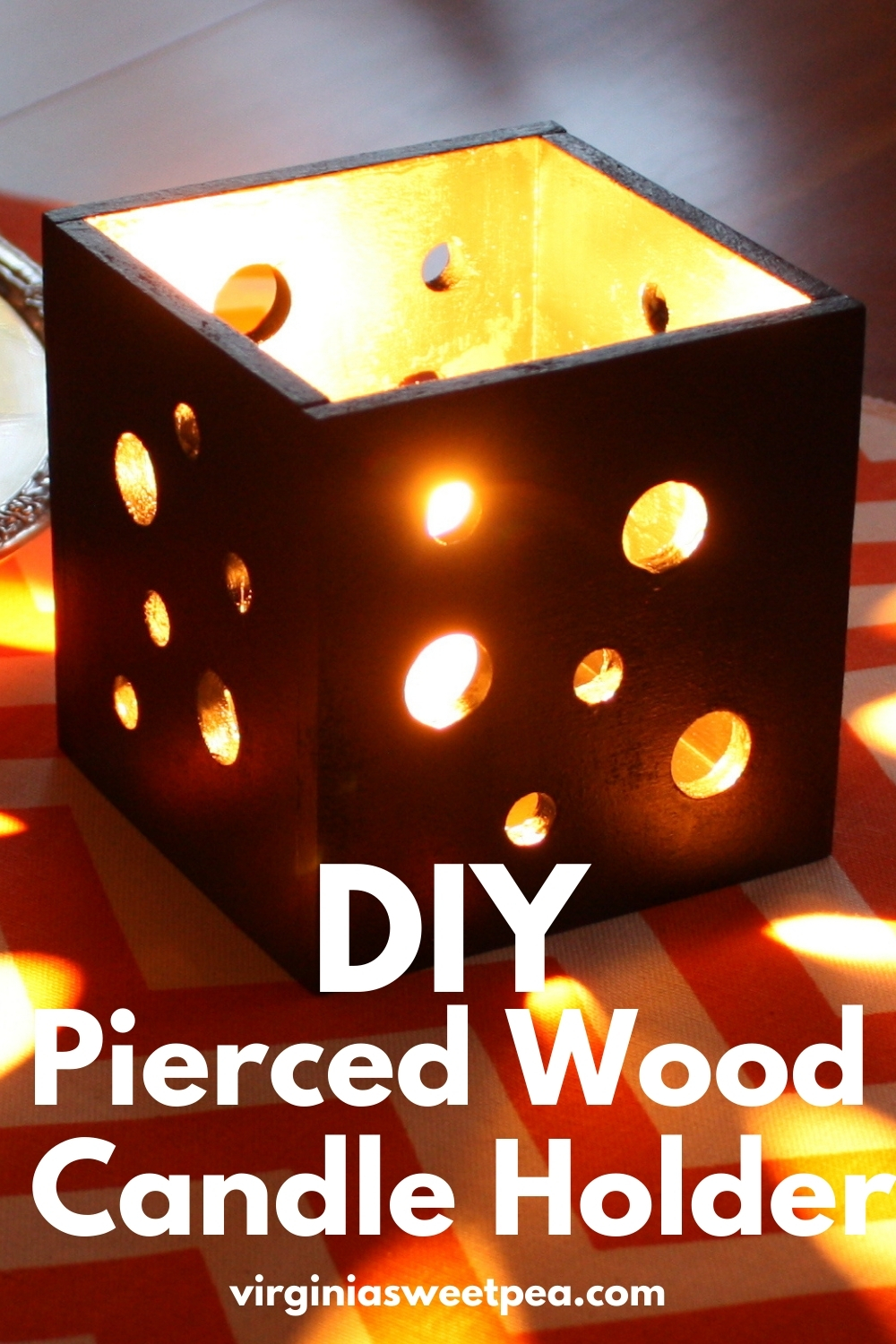 This project was relatively easy and Mr. SP and I made two candle holders in under an hour.
Painting and waxing took extra time, but all-in-all this project was completed fairly quickly.
How to Make a Pierced Wood Candle Holder
This post was first shared back in 2015. I'm sharing an updated version of it today since it's a project perfect for fall or Halloween decor.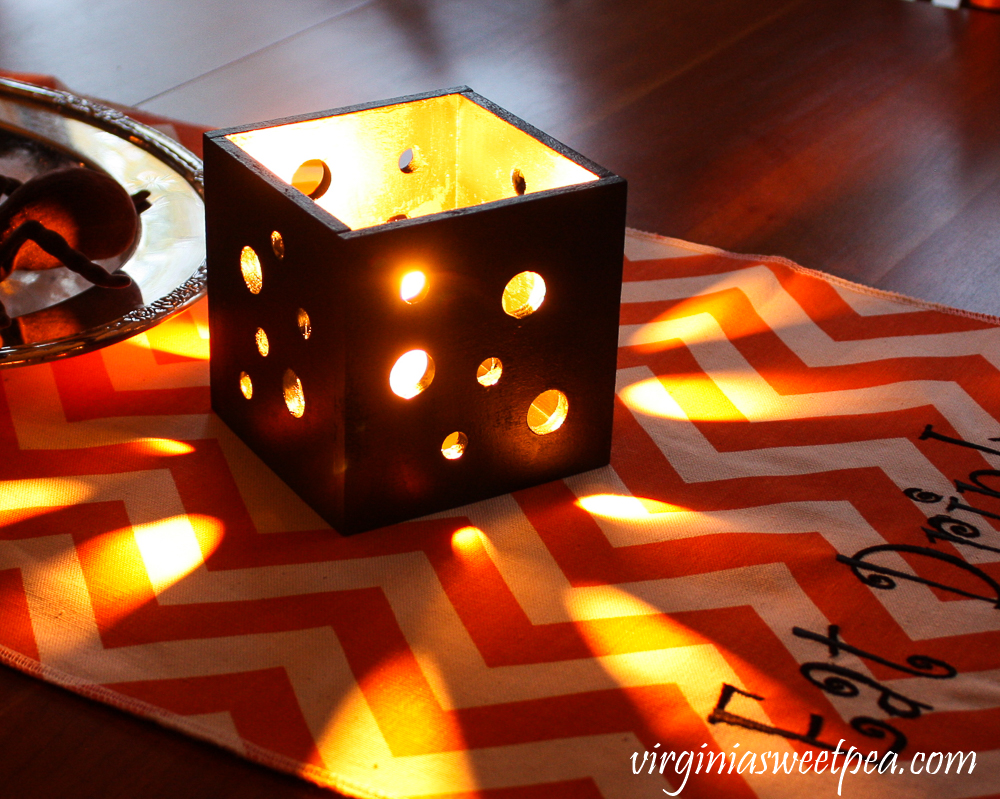 Holes drilled into the sides of the candle holders make pretty patterns of light to enjoy when the candles are lit at night.
It looks like the insides of the holders are painted with gold paint but they aren't, the paint is black with liquid wax applied over the top.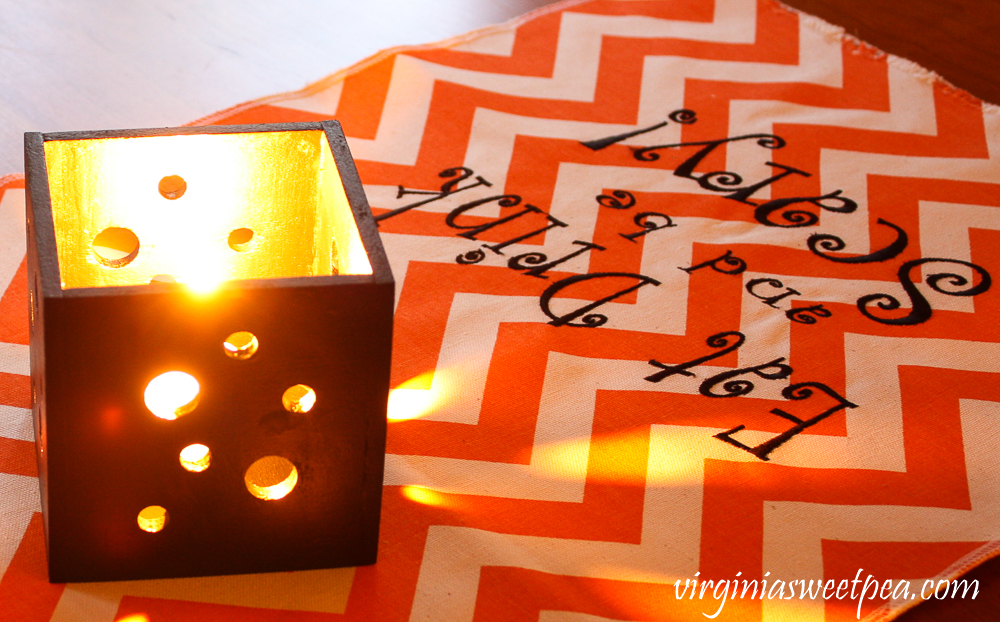 Combined with a orange and white chevron table runner and a semi-scary centerpiece, my candle holders make a great decoration for my kitchen table.
Materials
1/4" x 6" x 4" Poplar Board (I purchased mine at Lowe's)
Wood Glue
Clamps (This is our favorite clamp and you can never have enough of these!)
Table Saw, Compound Miter Saw, Drill Press, Orbital Sander
Paint
Cut the Candle Holder Sides
The first step for this project was to decide on the dimensions.
After experimenting a bit, we decided to make a 4" square box meaning we would need these pieces for each box:
2 – 4" x 4" (Sides of the Box)
2 – 3 1/2" x 4" (Sides of the Box)
1 – 3/ 1/2" x 3 1/2" (Bottom of the Box)
Our poplar board was 6" wide, so we used the table saw to cut the board to a 4" width.
Our basement doesn't have a dust collection system, so we work outside as much as possible.
Mr. SP put wheels on my grandfather's 1950's table saw so that we can roll it outside to use. This antique piece still works just fine and we are thankful to have it but we both eye more modern saws when we shop at Lowe's or Home Depot or when we browse tools online.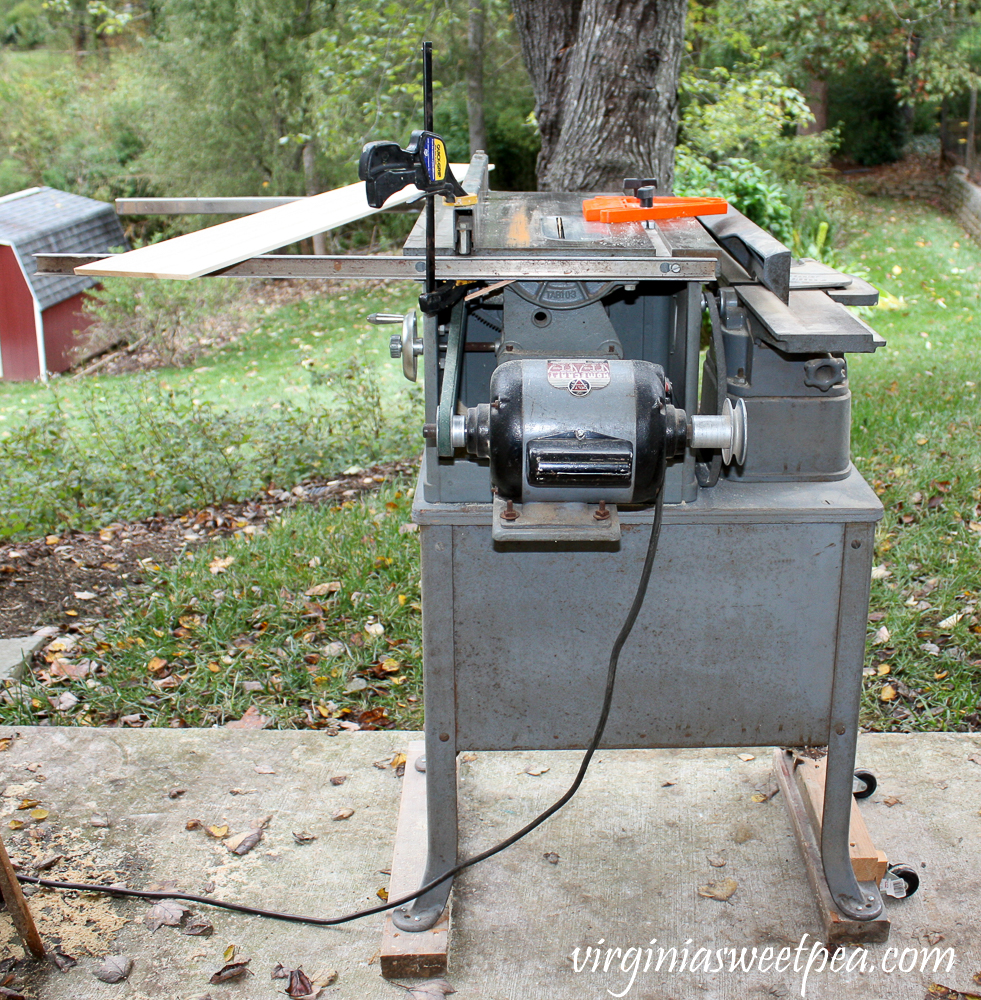 We set the saw up to cut the board 4" wide. A Bench Dog Feather-Loc
stabilizes the board and helps to give a clean cut.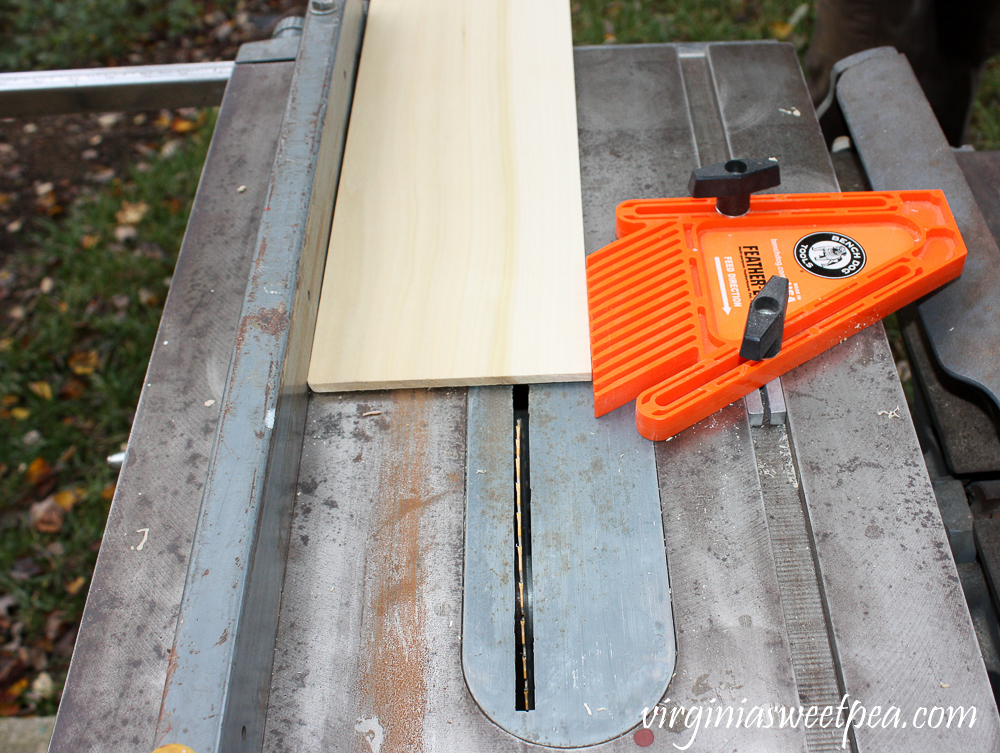 The tightening nut on the end of our table saw's fence is broken so we have to clamp it in place. That's the down side of using a 60+ year old piece of machinery. 🙂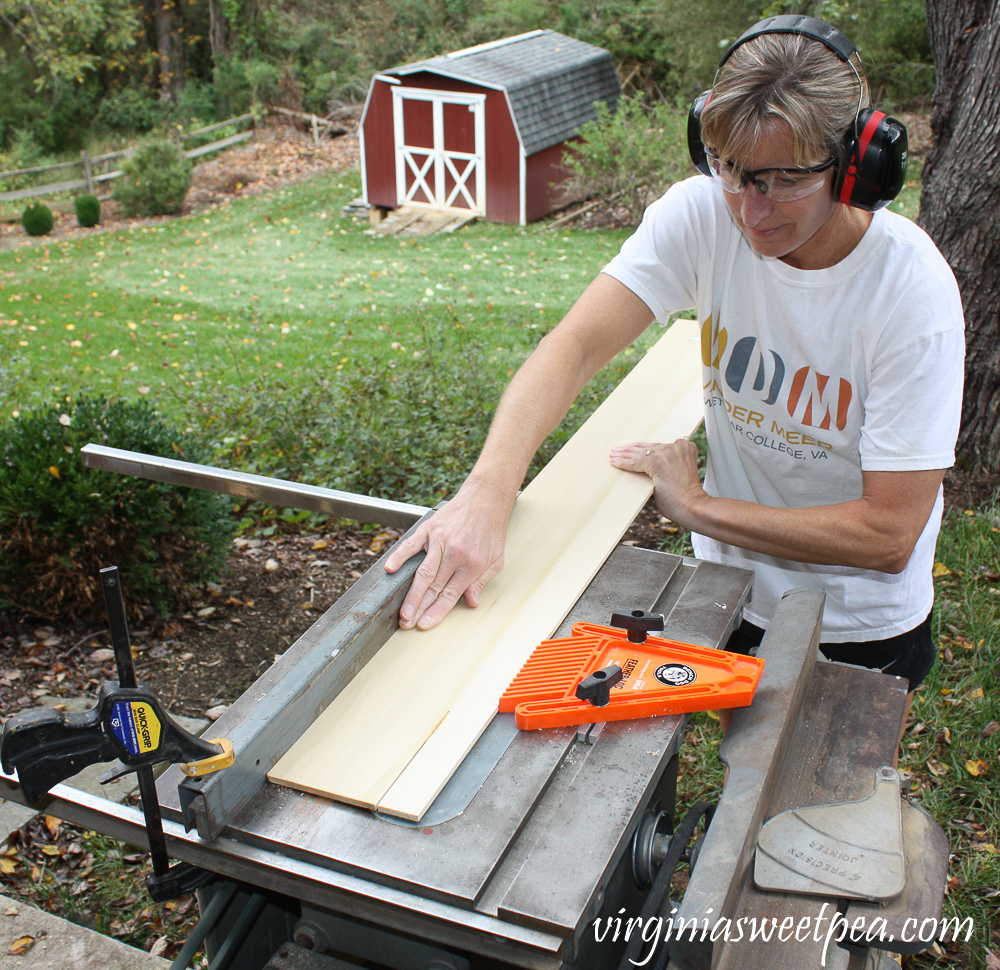 After ripping the board to 4", the next step was to cut the box pieces.
Since two pieces needed to be cut at 4", we clamped a scrap piece of wood 4" from the right side of the saw blade to serve as a stop-block as we cut.
We then moved the stop-block to 3 1/2" for the other two side pieces and the box bottom.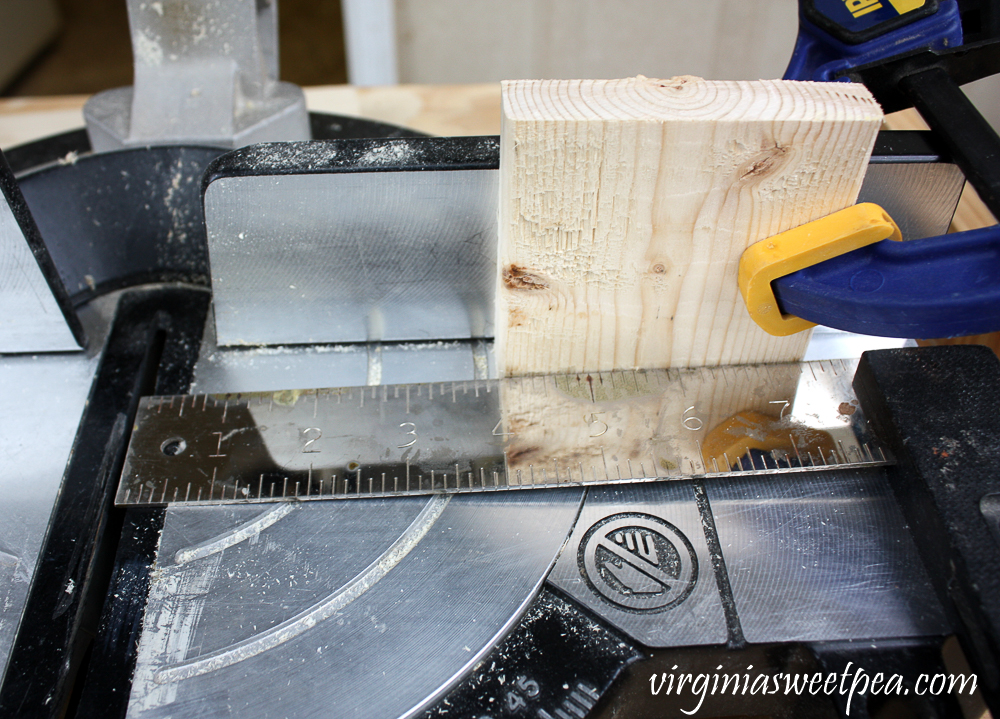 Using a stop-block works like a charm to do accurate cuts.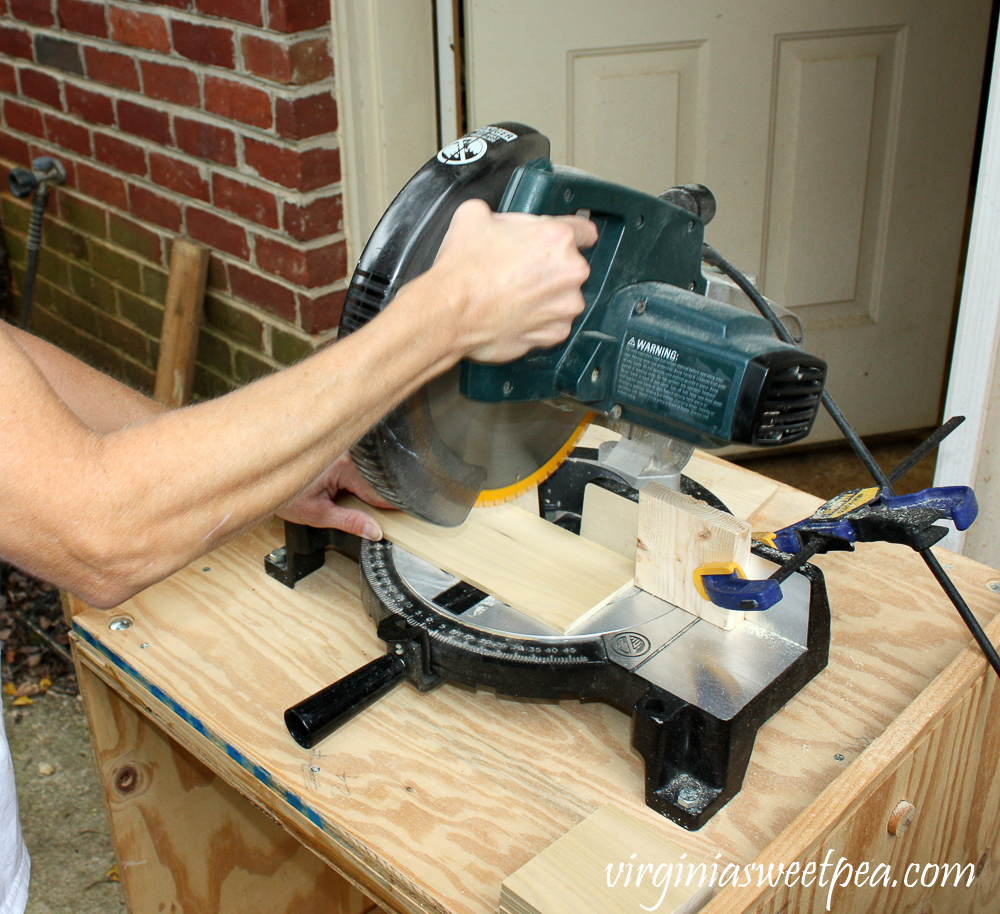 Drill Holes in the Candle Holder Side Pieces
The next step was to drill holes in the box sides using a drill press.
I experimented with our forstner bit set and chose a large and a small bit size.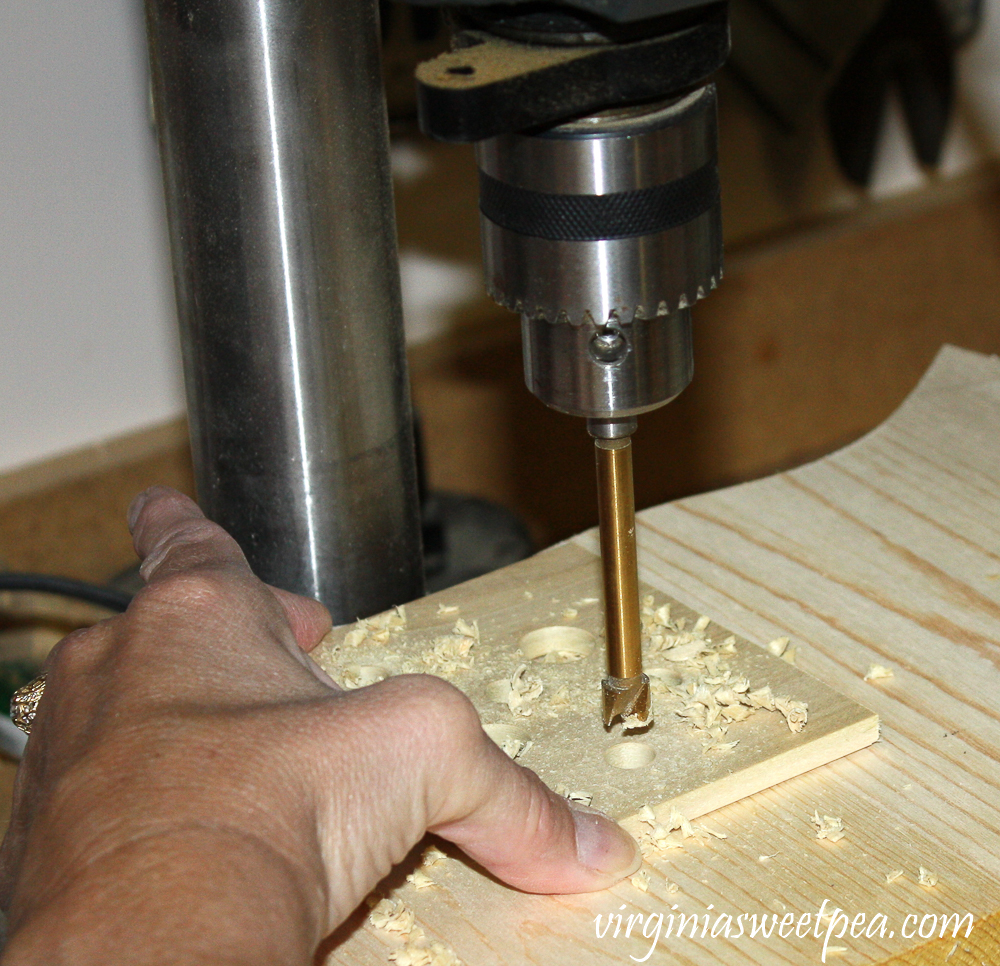 Sand the Pieces
After the holes were drilled, I sanded both sides of all of the pieces.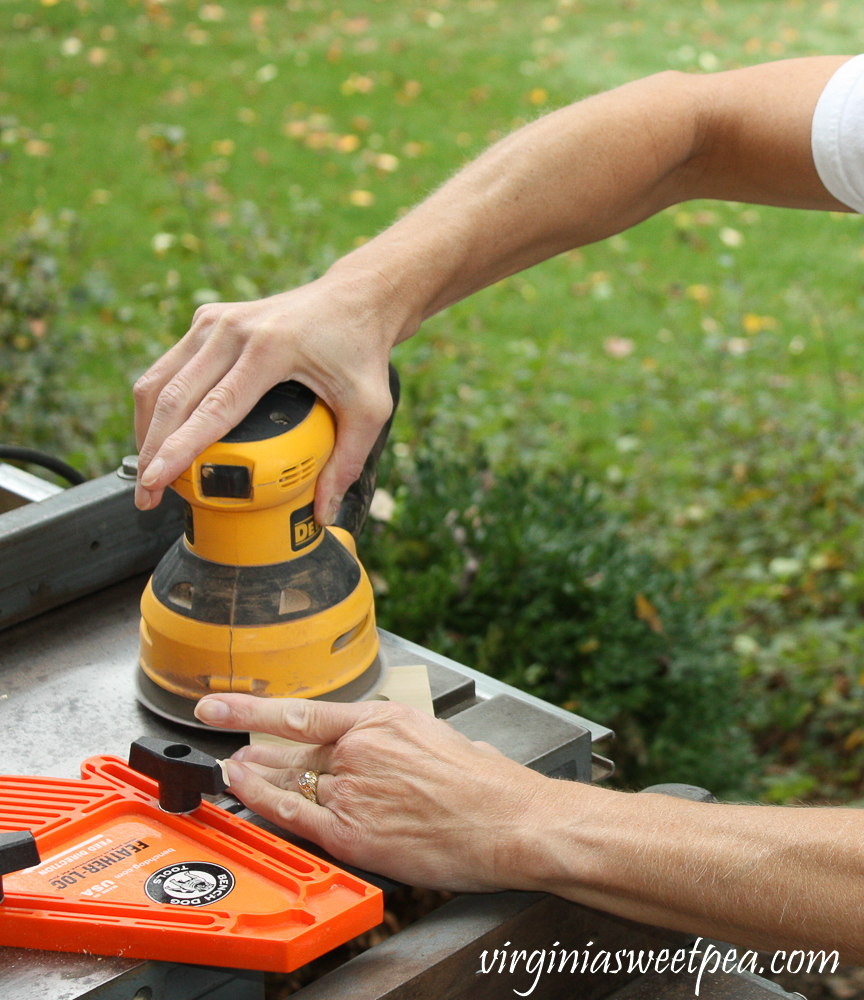 The pieces of our two candle holders are now ready to be assembled.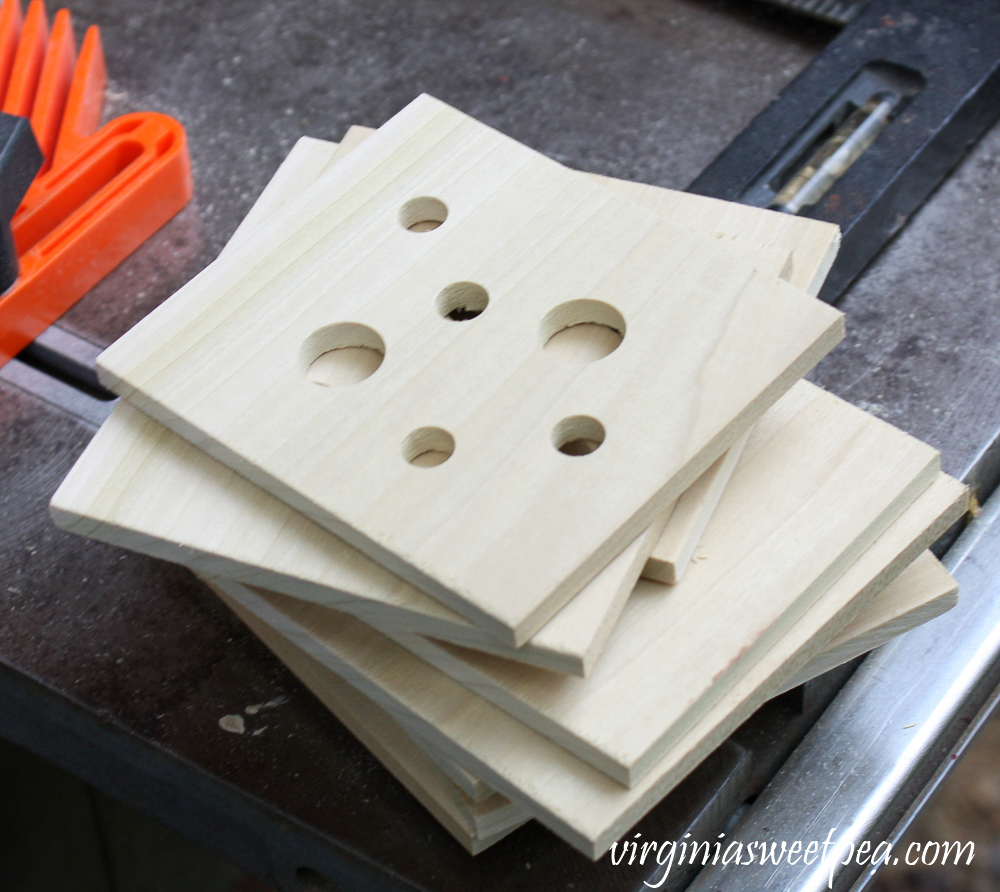 Assemble the Candle Holders
These are the pieces for two boxes. They are on a vintage teacher's desk that I found at Goodwill. See what the desk looks like after I refinished it here and check out another vintage office desk that I restored here.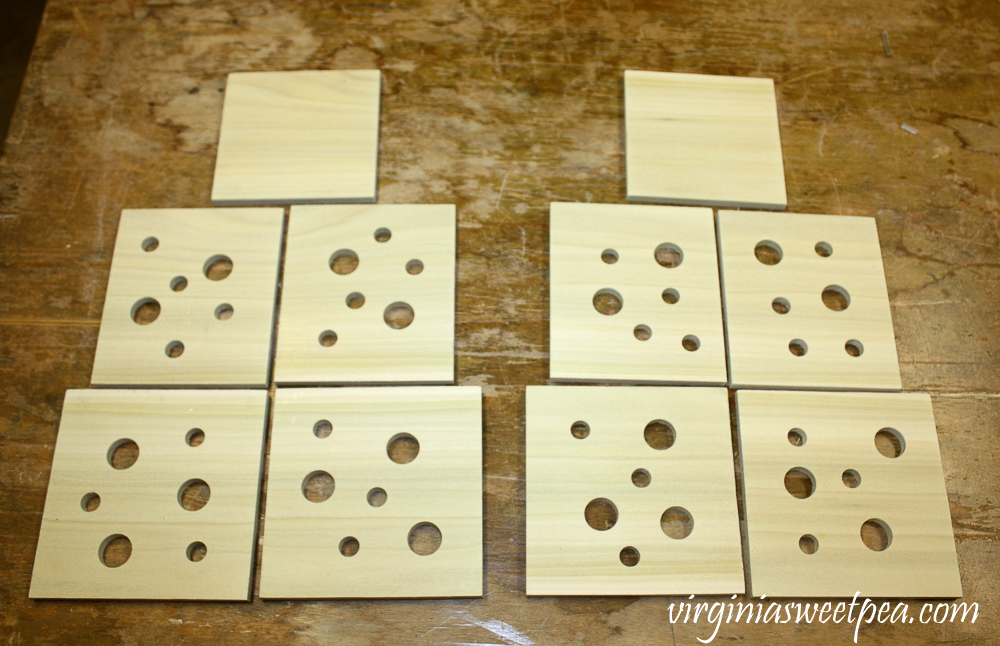 Since the pieces needed to be glued, I put them on scrap wood with scrap paper over it since I knew the glue would ooze out. (In retrospect, the paper over my scrap wood was unnecessary.)
Wood glue was squeezed on all edges and the box was assembled. Have a rag handy to wipe off any glue that oozes out.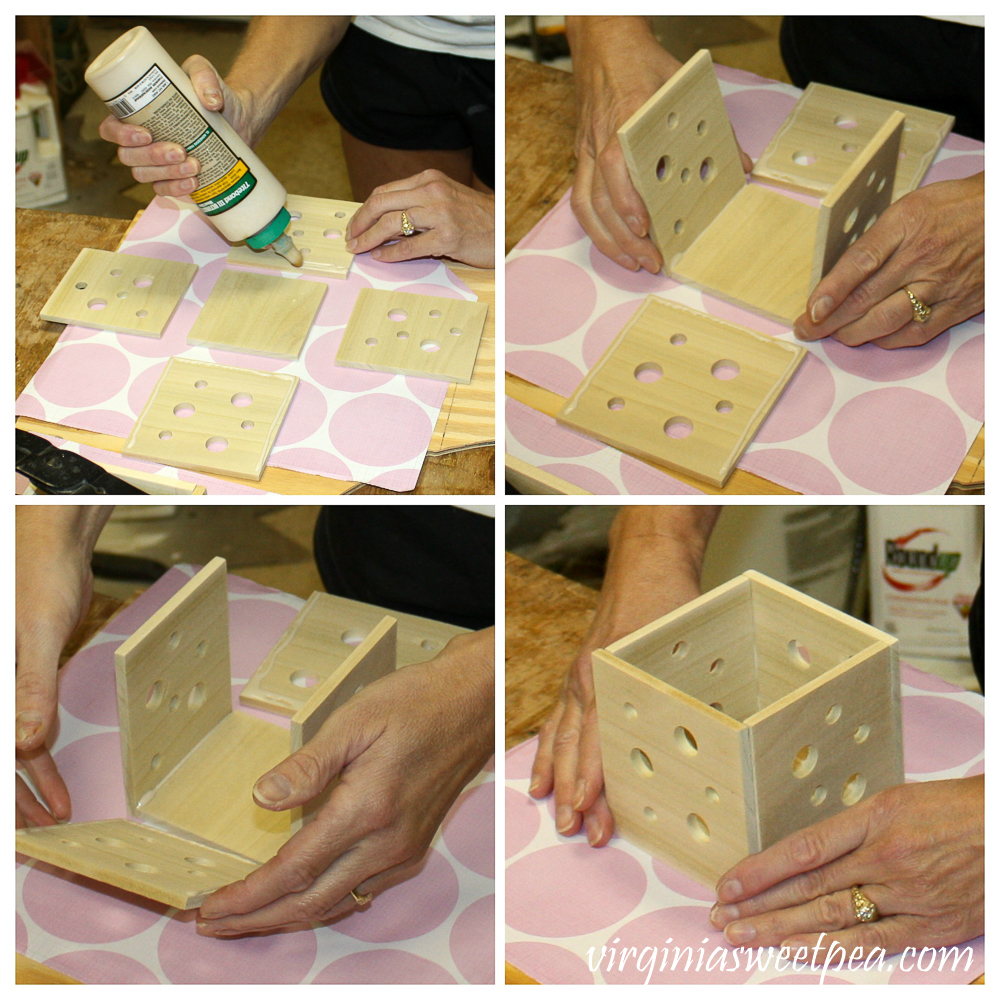 After assembling each box, we clamped them in as many directions as possible to keep them square as they dried. You can never have enough clamps in a workshop!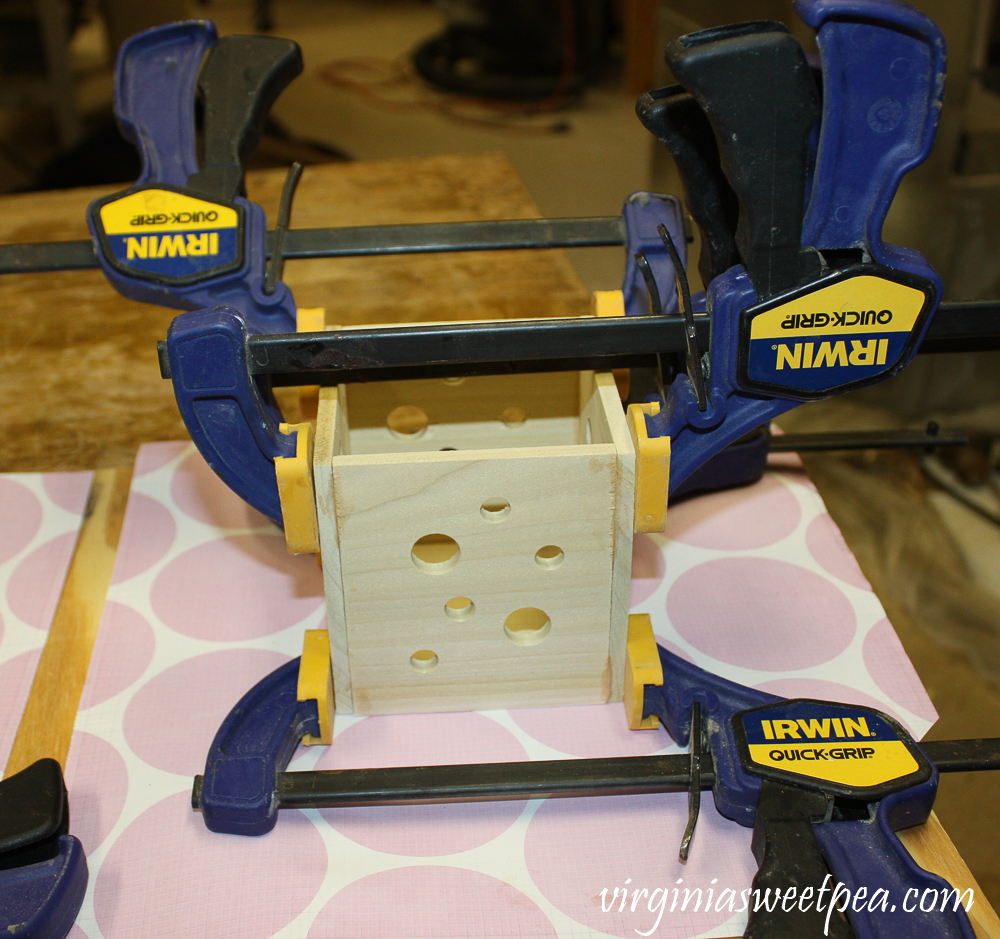 In my excitement to complete this project, I didn't take a picture of my candle holders when the clamps were removed.
Paint or Stain the Boxes
After removing the clamps, I sanded the sides smooth and then painted them with two coats of paint from The Plaster Paint Company in Black Tie.
To add a sheen to the paint, I waxed them with liquid wax also from The Plaster Paint Company.
The inside of the candle holder looks like it is painted gold, but it's painted black with liquid wax over the paint.
Isn't it pretty with a tea candle lit inside?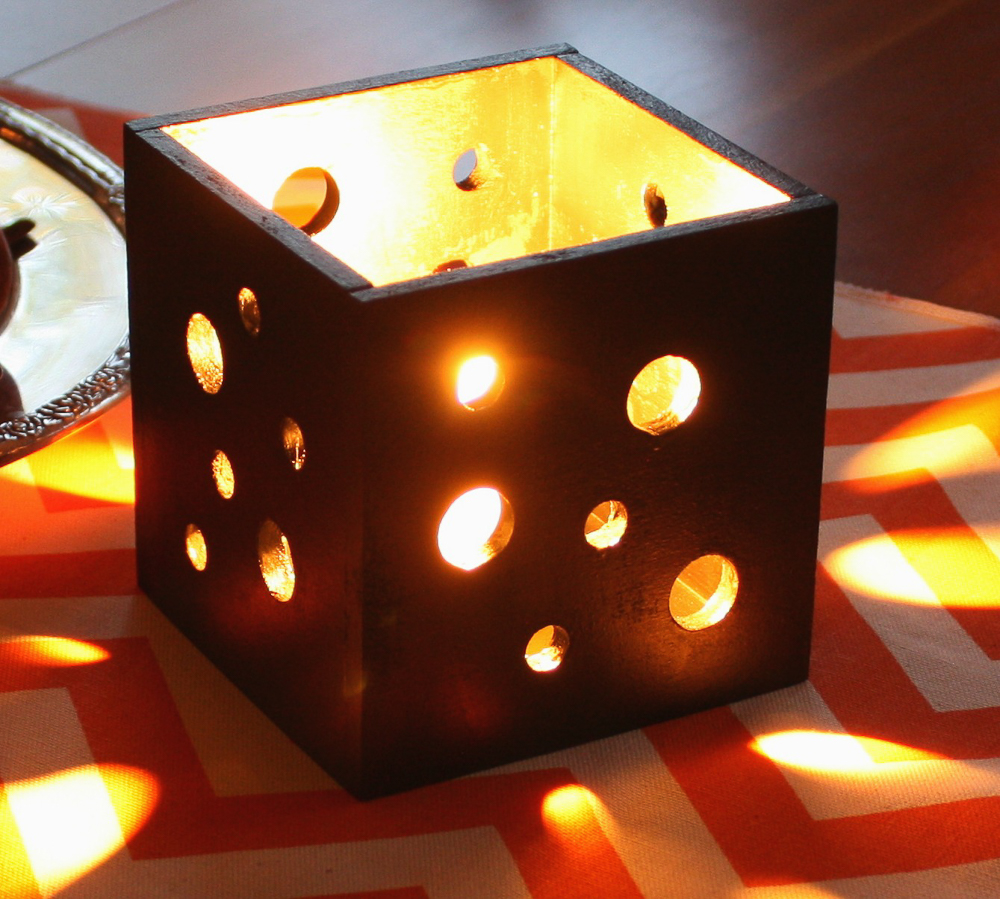 Decorate Using the Candle Holders
My pair of wood candle holders are on my kitchen table being used for Halloween decor.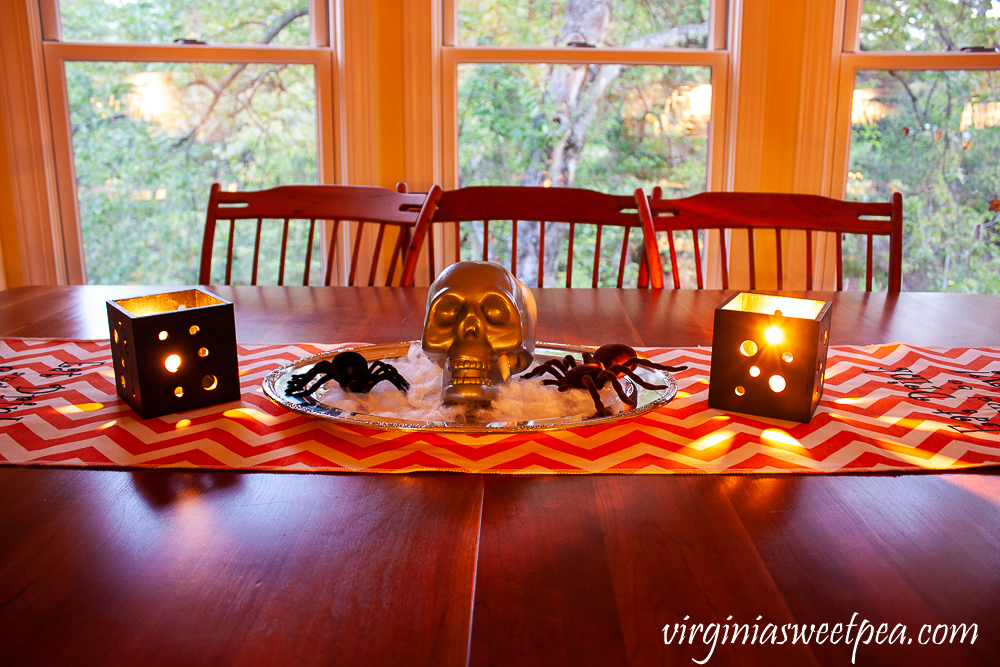 The skull and spiders are from the dollar store. I spray painted the skull a silvery color and glued it to a scrap piece of wood so that it would stand up on its own. The tray is a $2 Goodwill find.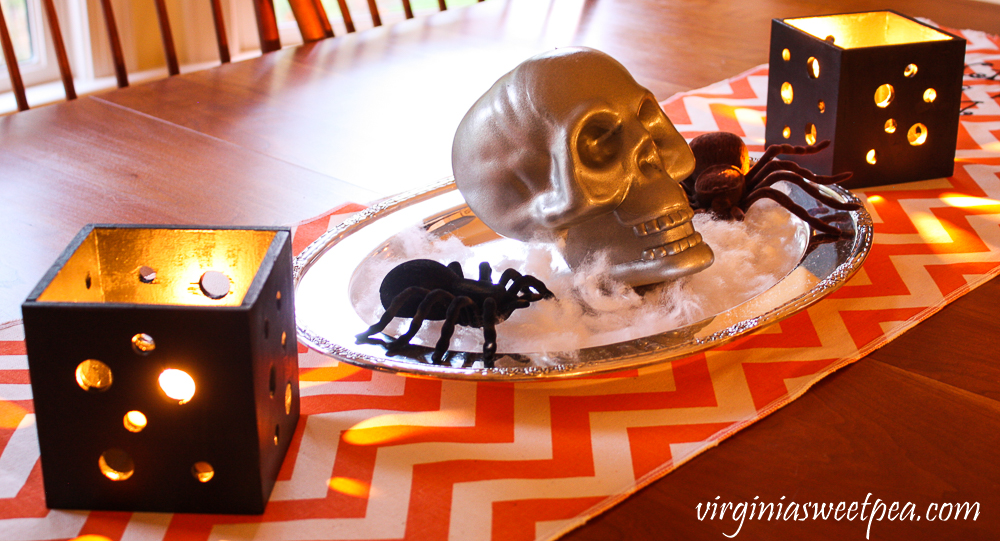 To be honest, I am not crazy about using skulls as Halloween decor because I think it is disrespectful to the dead.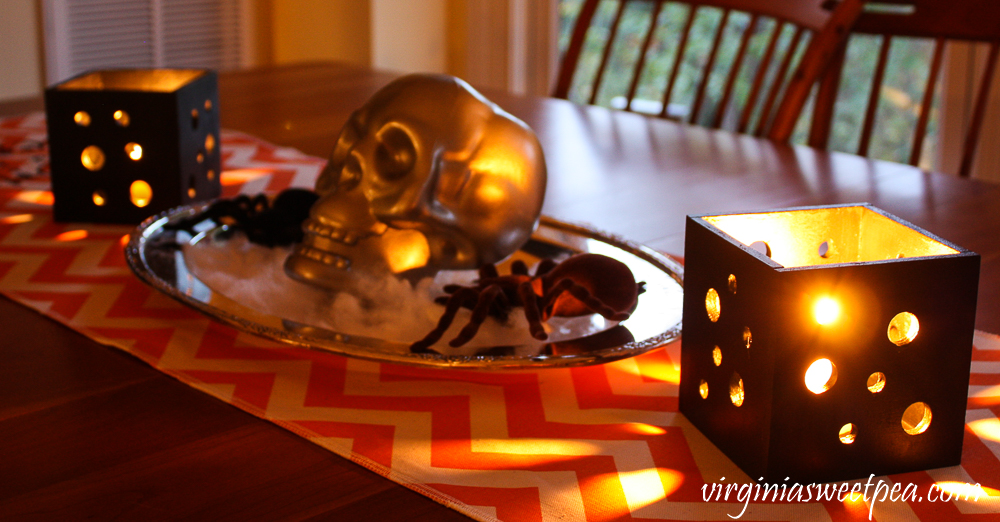 I have no issue with spiders and think I may replace the skull with gourds that I bought last week. I think I'd rather admire gourds through Halloween rather than a skull! 🙂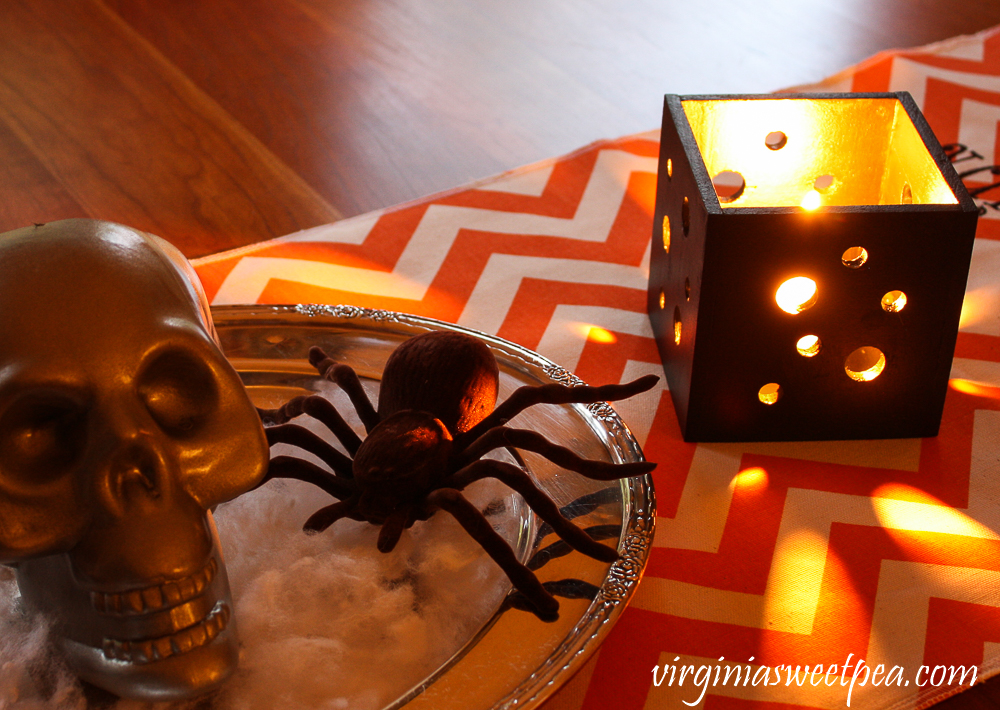 This project was fun to make and I'd like to make a few more with stained rather than painted wood.