This post and photos may contain Amazon or other affiliate links. As an Amazon Associate I earn from qualifying purchases. If you purchase something through any link, I may receive a small commission at no extra charge to you. All opinions are my own.
It's time to share another project created with the help of power tools. This month's theme for our Power Tool Challenge Team is Frightful.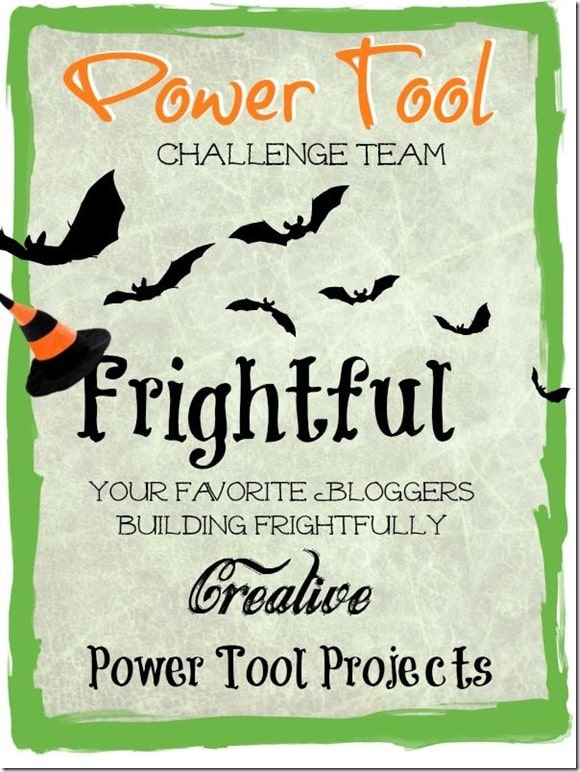 I really enjoy coming up with a project to match each month's theme. For August the theme was jigsaw and I made dog shaped sign for my classroom door. My poor sign has already had to have surgery! A student accidentally knocked the sign off my door breaking my dog's head off. A quick trip to the "hospital" (my work shop) where I performed surgery (with wood glue and a clamp) solved this problem.
For September's Fall challenge, I created a clock that is now hanging in our kitchen.
It's now October and I created Pierced Wood Candle Holders for this frightful challenge.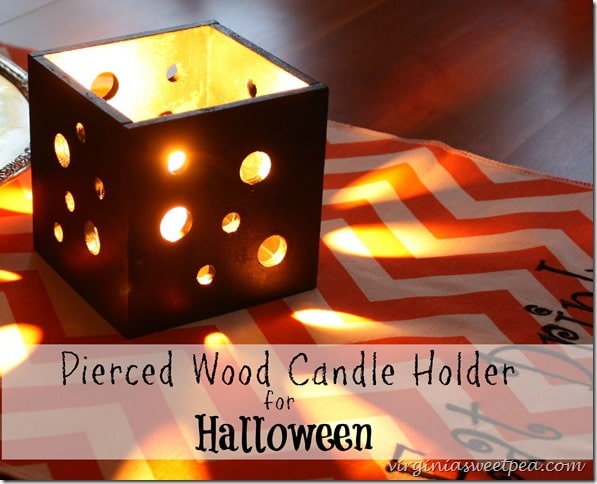 Combined with a orange and white chevron table runner and a semi-scary centerpiece, my candle holders make a great display for my kitchen table.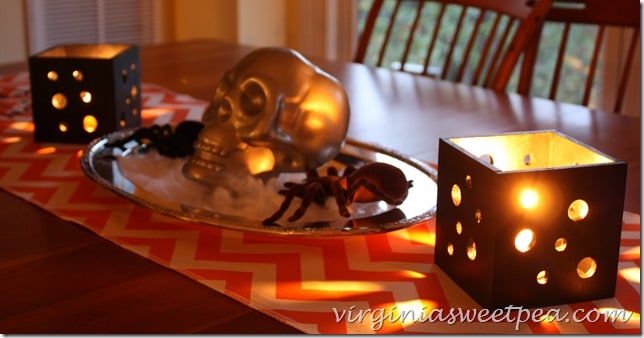 The holes drilled into the sides of the candle holders make pretty patterns of light to enjoy when the candles are lit at night. It looks like the insides of the holders are painted with gold paint but they aren't, the paint is black with liquid wax applied over the top.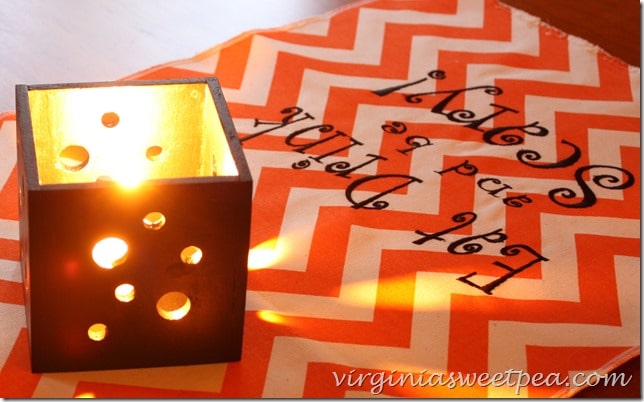 I'm frightfully thrilled with this project! Mr. SP and I made two candle holders in under an hour. Painting and waxing took extra time, but all-in-all this project was completed fairly quickly.
Some of the links below are affiliate links. I only share links to products that I find useful.
Materials Used to Make a Pierced Wood Candle Holder
1/4" x 6" x 4" Poplar Board (I purchased mine at Lowe's)
Forstner Bit Set
Wood Glue
Clamps
(You can never have enough of these!)
Tools: Table Saw, Compound Miter Saw, Drill Press
, Palm Sander
Paint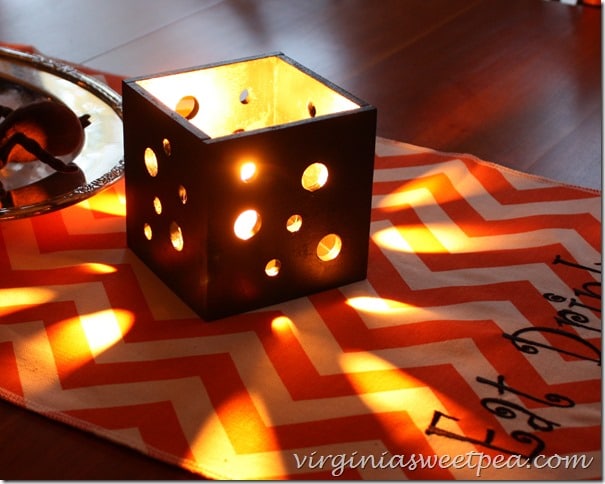 How to Make a Pierced Wood Candle Holder
The first step in making this project was to decide on the dimensions of each candle holder. After experimenting a bit, we decided to make a 4" square box meaning we would need these pieces for each box:
2 – 4" x 4" (Sides of the Box)
2 – 3 1/2" x 4" (Sides of the Box)
1 – 3/ 1/2" x 3 1/2" (Bottom of the Box)
Our poplar board was 6" wide, so we used the table saw to cut the board to a 4" width.
Our basement doesn't have a dust collection system, so we work outside as much as possible. Mr. SP put wheels on my grandfather's 1950's table saw so that we can roll it outside to use. This antique piece still works just fine and we are thankful to have it but we both eye more modern saws when we shop at Lowe's or Home Depot or when we browse tools online.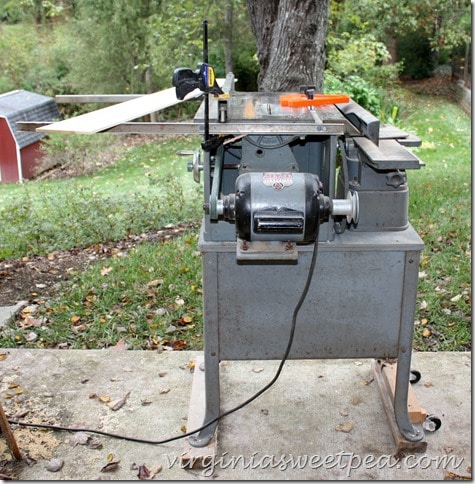 We set the saw up to cut the board 4" wide. A Bench Dog Feather-Loc
stabilizes the board and helps to give a clean cut.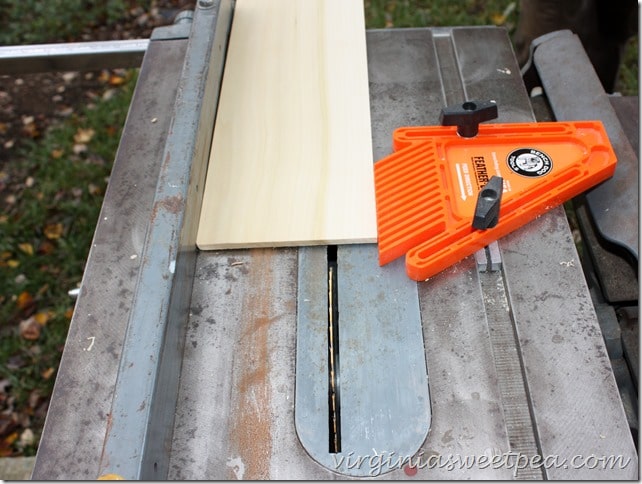 The tightening nut on the end of our table saw's fence is broken so we have to clamp it in place. That's the down side of using a 60+ year old piece of machinery. 🙂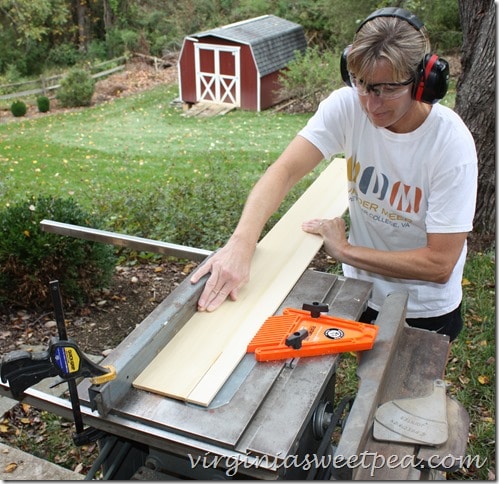 After ripping the board to 4", the next step was to cut the box pieces. Since two pieces needed to be cut at 4", we clamped a scrap piece of wood 4" from the right side of the saw blade to serve as a stop-block as we cut. We then moved the stop-block to 3 1/2" for the other two side pieces and the box bottom.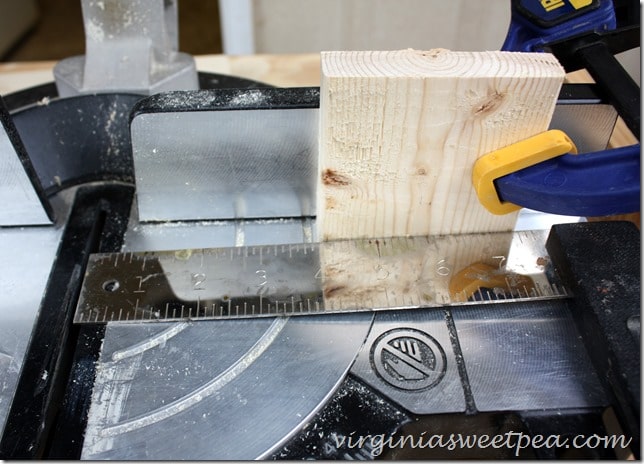 Using a stop-block works like a charm to do accurate cuts.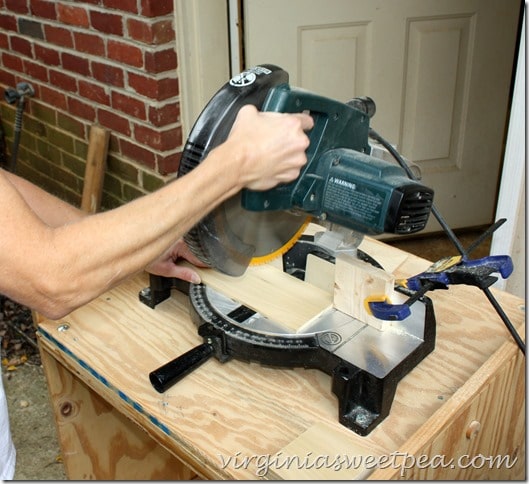 The next step was to drill holes in the box sides with the drill press. I experimented with our forstner bit set and chose two bit sizes.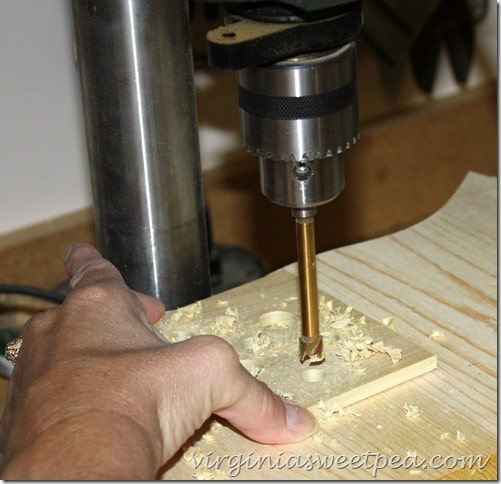 I then went back outside to sand down the pieces.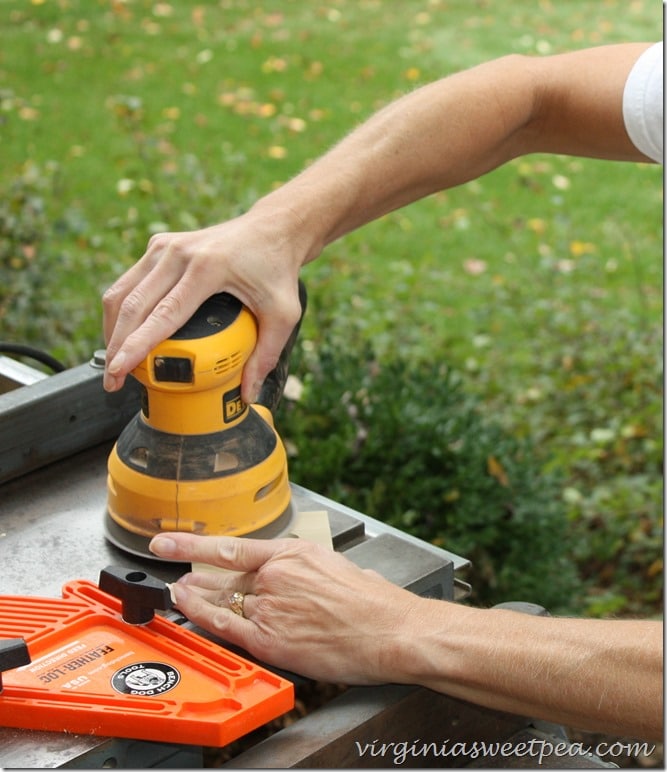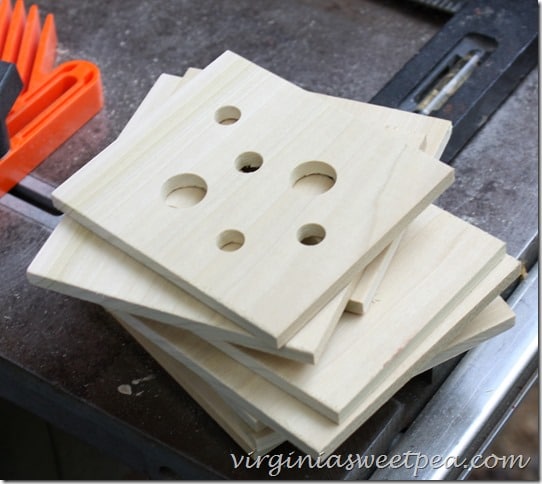 These are the pieces for two boxes. They are on top of a desk that I recently scored at Goodwill for just $25. I'm itching to work on this piece! For now it makes a great work surface. 🙂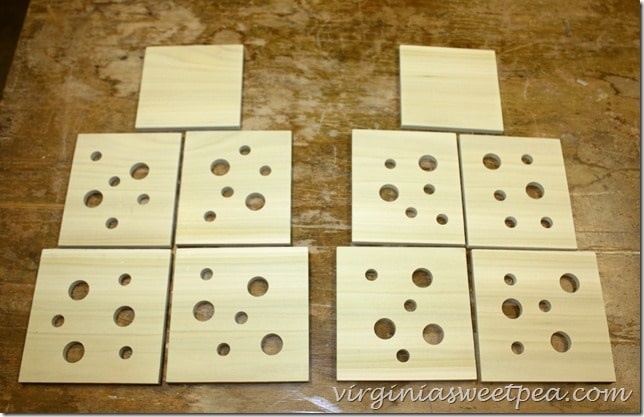 Since the pieces needed to be glued, I put them on scrap wood covered with scrap paper over it since I knew the glue would ooze out. The paper was easy to tear away and sand off after the wood glue was dry.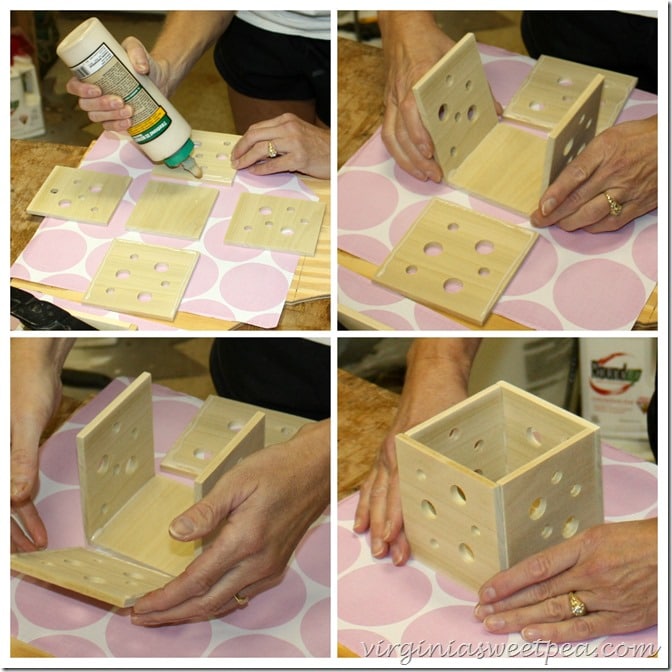 After assembling each box, we clamped them in as many directions as possible to keep them square as they dried.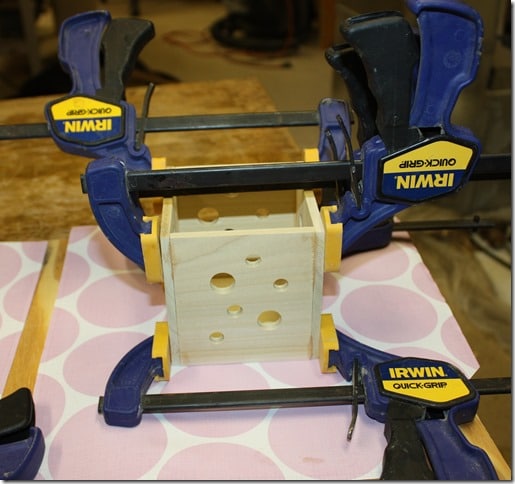 In my excitement to complete this project, I didn't take a picture of my candle holders when the clamps were removed.
After removing the clamps, I sanded the sides smooth and them painted them with two coats of paint from The Plaster Paint Company in Black Tie. To add a sheen to the paint, I waxed them with liquid wax also from The Plaster Paint Company.
The skull and spiders are from the dollar store. I spray painted the skull a silvery color and glued it to a scrap piece of wood so that it would stand up on its own. The tray is a recent $2 Goodwill find.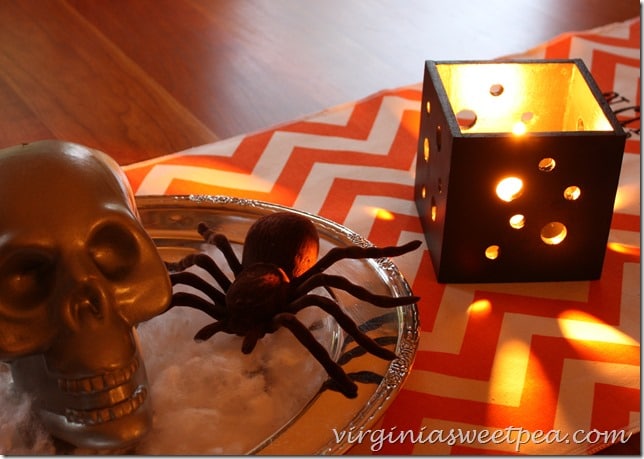 To be honest, I am not crazy about using this skull with the spiders as a centerpiece. I am pretty sure that I'm going to remove the skull and spiders and replace them with gourds that I bought last week. I think I'd rather admire gourds through Halloween rather than a skull! 🙂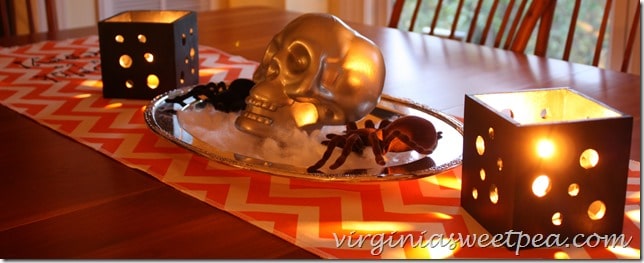 I'd love for you to pin this project for others to discover!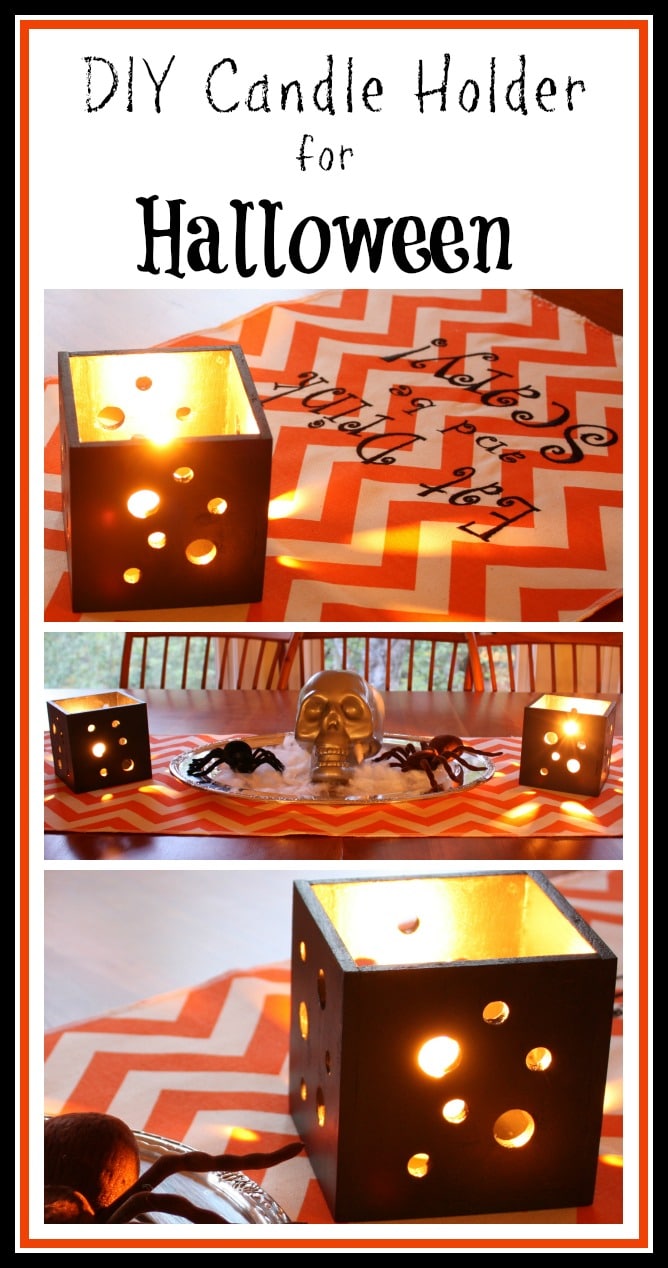 Enjoy the rest of the Frightful themed projects for this month!
Sharing With:
H2O Bungalow, Dwellings-The Heart of Your Home, Refresh Restyle, Between Naps on the Porch, Concord Cottage,Stone Gable, Sand and Sisal, Yesterday on Tuesday, A Stroll Thru Life, Savvy Southern Style, Bless'er House, Common Ground, Houseology, Imparting Grace, From Gardeners 2 Bergers, Patina Paradise, The Everyday Home