This post and photos may contain Amazon or other affiliate links. As an Amazon Associate I earn from qualifying purchases. If you purchase something through any link, I may receive a small commission at no extra charge to you. All opinions are my own.
It's Themed Furniture Makeover Day! This month the theme is storage and organization.
Each month a group of blogging friends challenge each other to make over a piece of furniture with a theme. I love seeing what my friends share each month!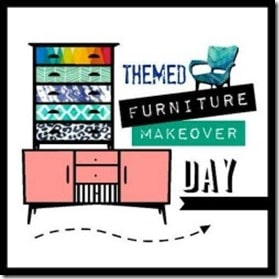 I didn't exactly makeover a piece of furniture this month but my project will soon become a piece of furniture (sort of) for our lake house basement.
I'm sharing what I think is an awesome repurposed project and I think that my friends won't mind at all that it's not a piece of furniture. It definitely goes with this month's storage and organization theme.
Have you heard of a Russian rifle storage crate? No? Me either, until Mr. SP brought one home from a friend's house.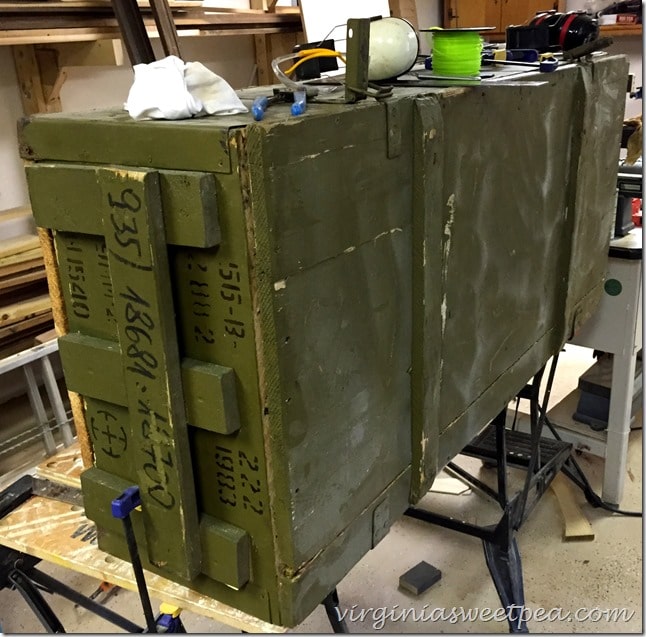 After WWII the Russians refurbished rifles and stored them in these crates. This must have happened over a number of years as our crate is marked 1983. The crates held up to 20 rifles, Mosin-Nagants to be exact. If you want to see a cool video of firearms inside a crate, click here.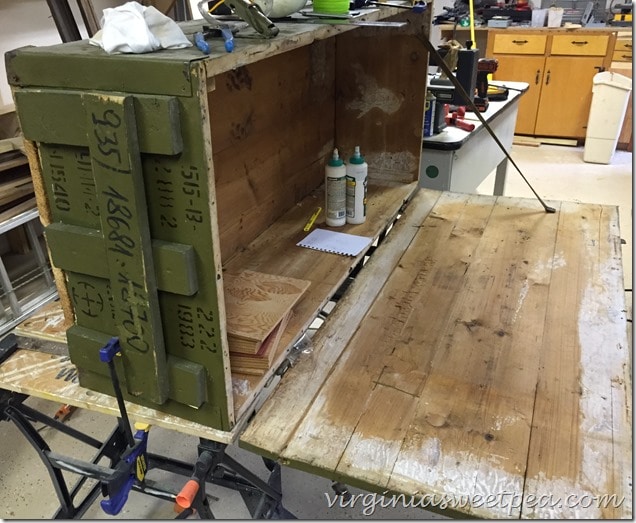 I think that a crate like this would make a unique coffee table for a rustic family room. They must be hard to come by these days as the only one I found for sale was this one for sale on Ebay. Our friend has a few more crates, maybe we can persuade him that he should get rid of another one. We could then make a coffee table for the lake house.
We transformed a Russian rifle storage crate into a DIY work bench!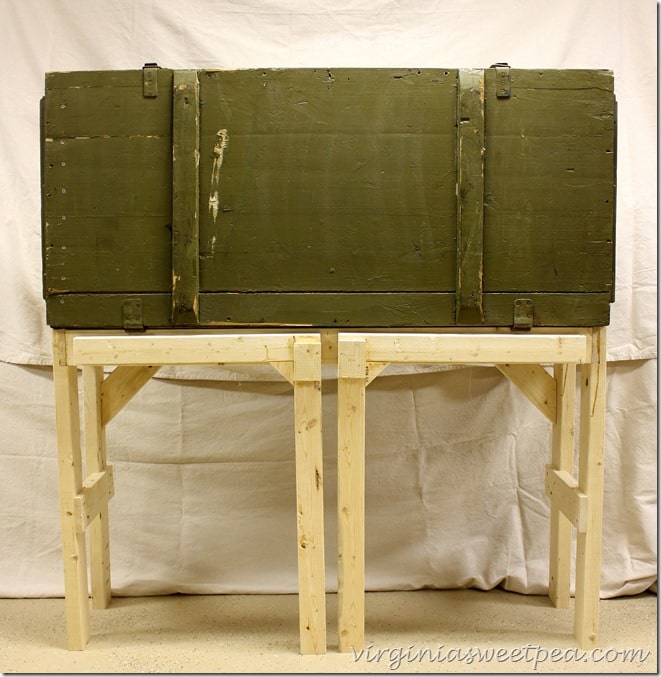 Our Russian Rifle Storage Crate Work Bench will be one of the first things that we move into our lake house basement. We know we'll need tools and a work bench at the lake and this piece should work perfectly. I'm planning to put our DIY Crate Cabinet next to it for additional tool storage.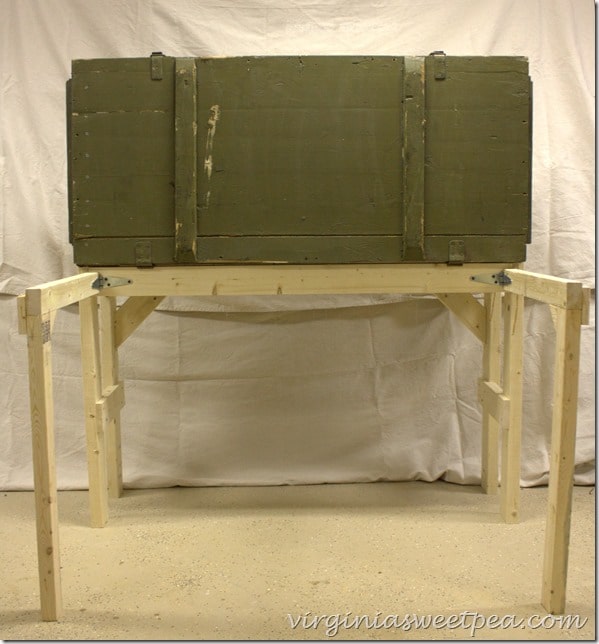 After finishing the inside of the crate, a stand was built for it out of two by fours. The front pieces hinge out to hold the crate's lid which will serve as a work surface.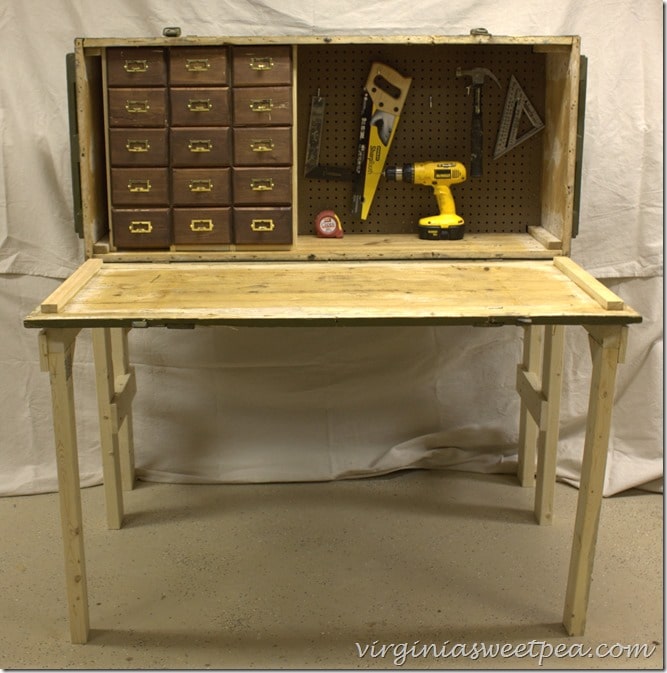 Surprise! When the crate's lid is opened, look at the storage!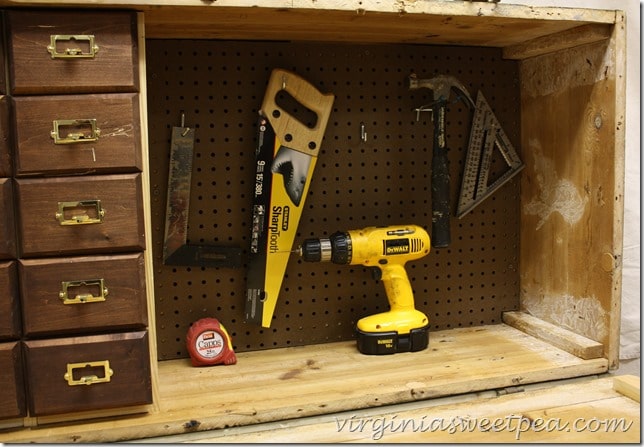 Pegboard will hold a variety of tools. We have duplicates of a lot of tools but will need to buy some new ones to keep at the lake.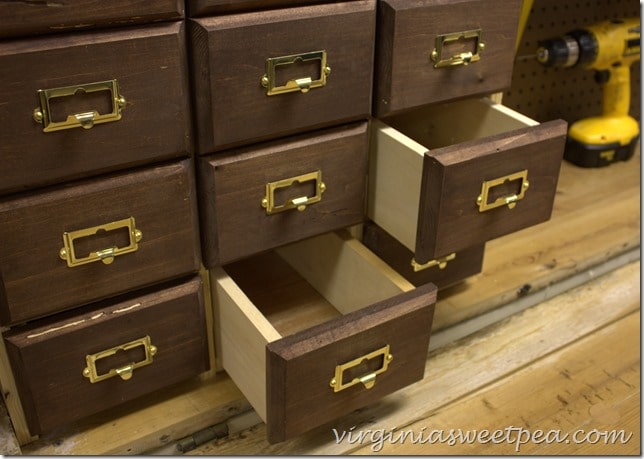 Mr. SP designed and built card catalog style drawers that will provide storage for all sort of hardware that we'll need at the lake. The brass plated cabinet label pulls are from D. Lawless Hardware. The drawers were stained with General Finishes stain in brown mahogany.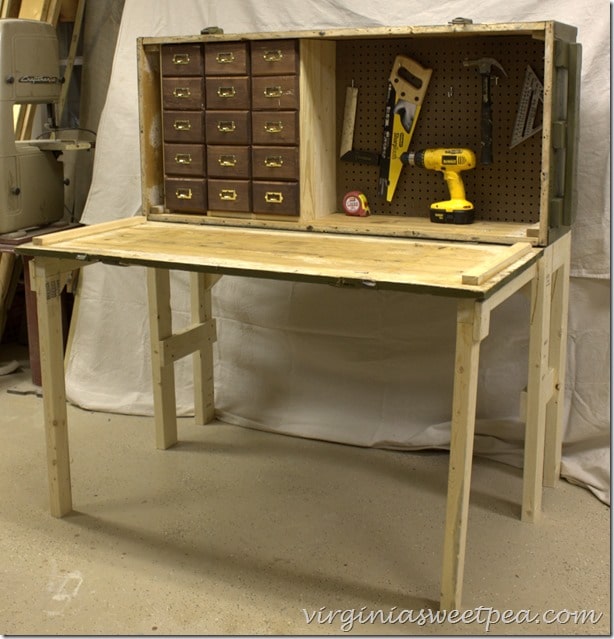 Here is another look at the workbench opened and ready for use.
I usually take pictures outside but it's impossible for me to do so this time of year because by the time I get home from work, there is very little light left. Mr. SP helped me make a drop cloth backdrop so that I could get pictures to share today. We didn't make it quite wide enough as you can see my grandfather's mid-century Craftsman band saw in the background. (Isn't it cool looking? I really think it should be on display somewhere.)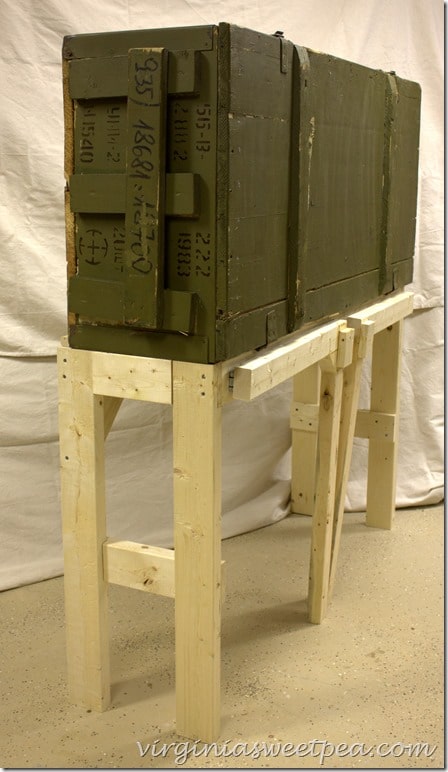 I think our Russian Rifle Storage Crate Work Bench will be a conversation piece when guests see it in our lake house basement. Our friend was happy to get it out of his basement and we are happy to have a new work bench. Win-win!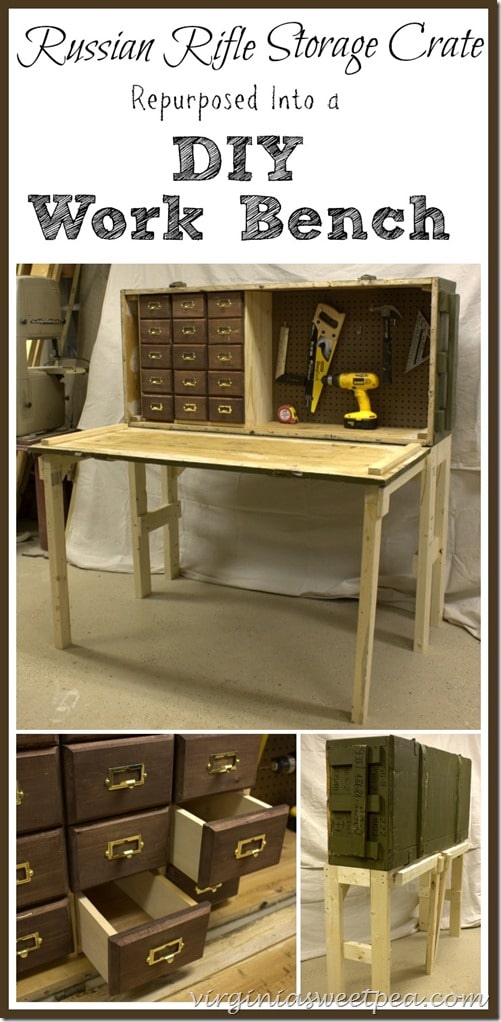 I'm looking forward to seeing this month's storage and organization projects. Scroll through the links below to enjoy them all.


Sharing With:
H2O Bungalow, Dwellings-The Heart of Your Home, Refresh Restyle, Between Naps on the Porch, Concord Cottage,Stone Gable, Sand and Sisal, Yesterday on Tuesday, A Stroll Thru Life, Savvy Southern Style, Bless'er House, Houseology, Imparting Grace, From Gardeners 2 Bergers, Patina Paradise, The Everyday Home