Smith Mountain Lake House Update–Master Bedroom
2017 is rolling on by and I can hardly believe that it is March. Last week I shared the start of a new project at our Smith Mountain Lake House, a patio and walkway to the dock. Work has started on that project and it's going to be fun to see the changes each time we visit the lake.
We've added a few things to the interior of the house that I thought I'd share. I'm not one of those people who are quick to decorate for a few reasons: I'm slow to make a decision and I have a tight budget. All of what I'm showing you today is very budget friendly.
At the beginning of the year when I wrote my January 2017 SML house update, I mentioned that I planned to use two Ikea Rast chests as nightstands in our bedroom. It didn't take long to sand and stain them and they are now in use. This was a thrifty addition to our home that we are really enjoying. The Rasts cost just $34.99 each and I had the stain and polyurethane that I used for the project on hand. The knobs are from our local Habitat ReStore and cost just $1 each.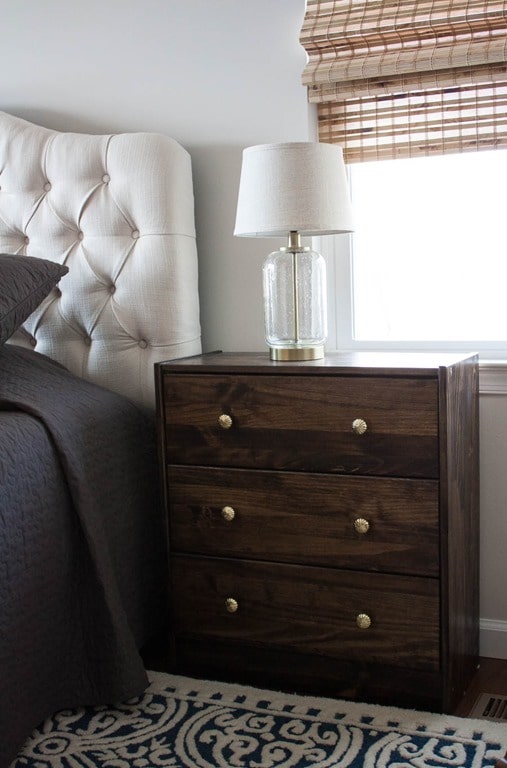 I purchased our tufted headboard last summer from Birchlane and the lamps on the Rast chests are from Target.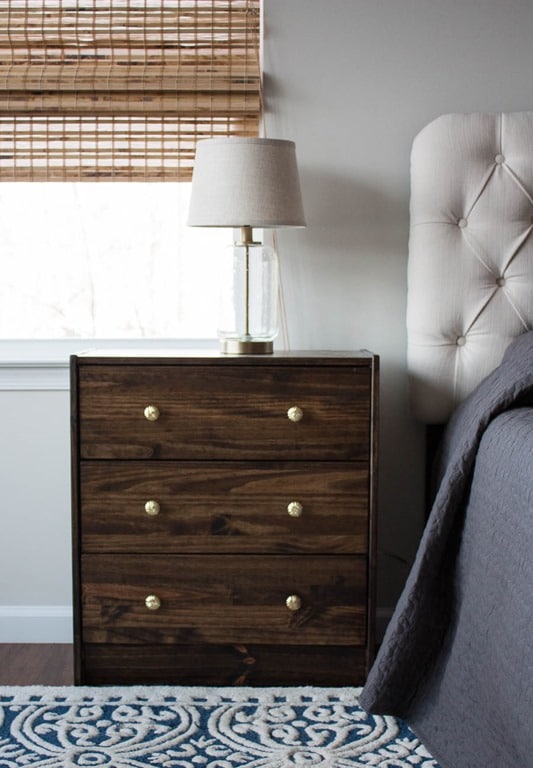 I'm currently debating what to do with the set of windows that overlook the lake. We don't need shades for privacy and I don't want to obstruct the view. Knowing me, it will stay just like this for a long time while I think about what I want to do.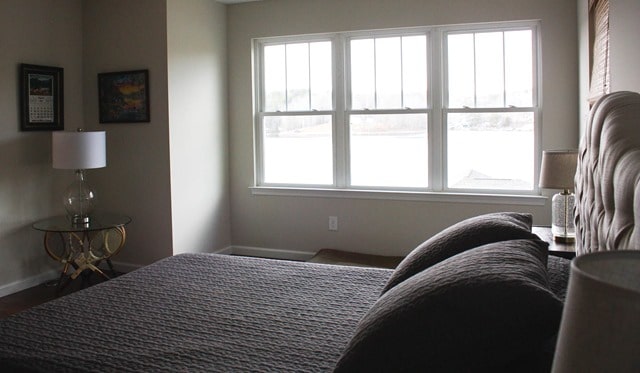 This corner of the bedroom might be a great place for a chair in the future but for now it is home to the tennis racket table that we made last spring. The lamp on top is one that I filled and decorated long ago for a blog contest. I've since emptied it and am using it here.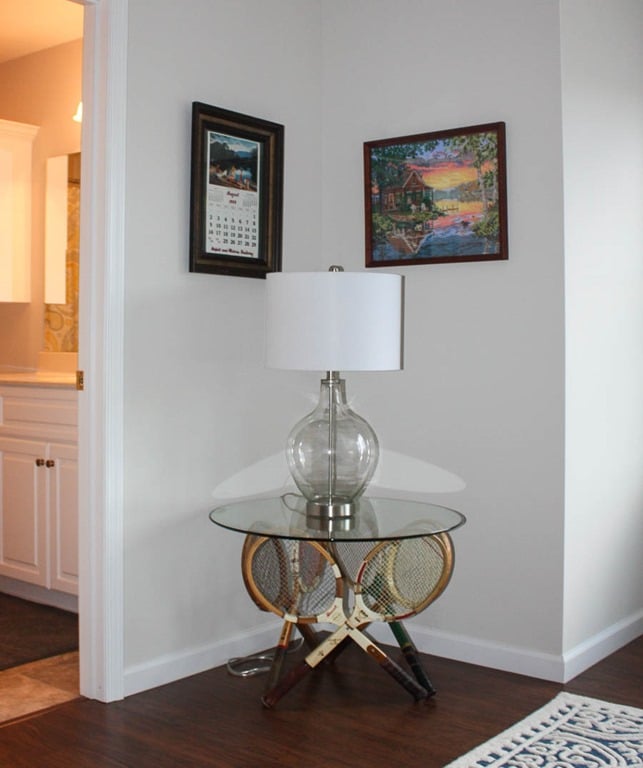 I visited a small antique shop in Vinton, VA after Christmas and found several things that I've added to the lake house. This framed Norfolk and Western calendar page from August 1959 is one.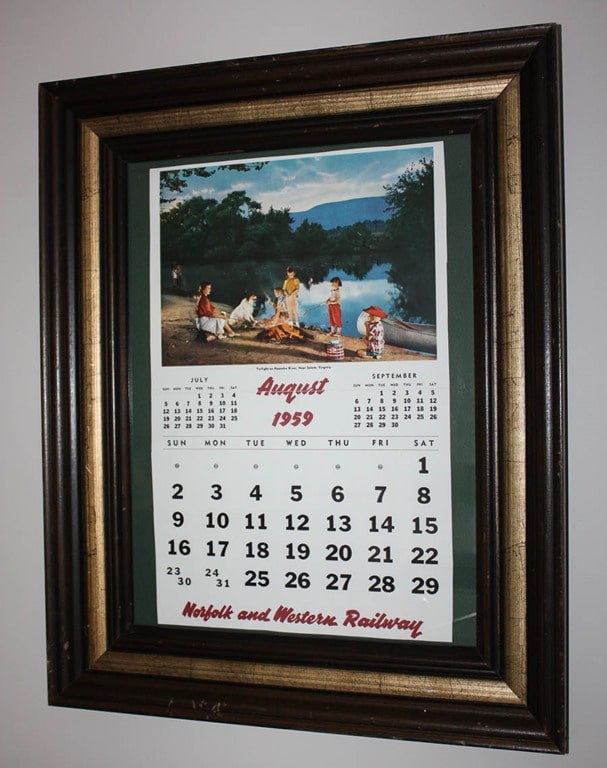 I found this paint-by-number at Goodwill a few summers ago.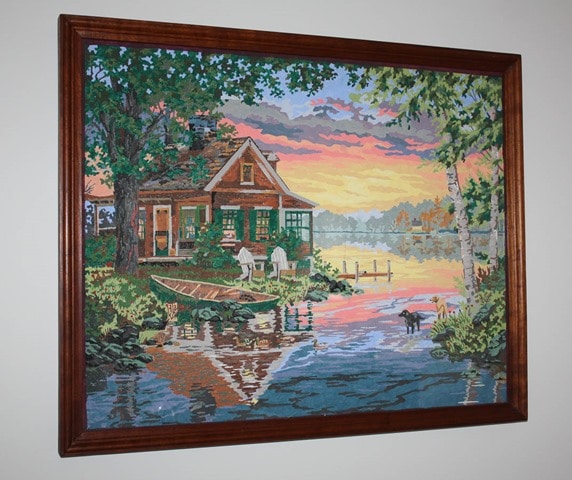 On the other side of the room, we added a mirror that I found at Goodwill and a 1960's lamp that I rehabbed, also a Goodwill find. The dresser is one of my first furniture projects and was found on the curb. I need to add some décor to the top of the dresser but for now I'm enjoying the "less is more" look.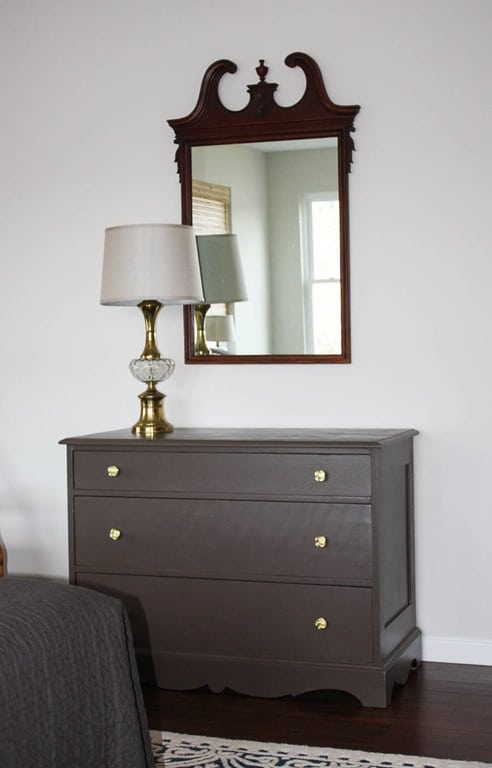 Slowly but surely we are getting the house decorated. It's definitely cozy and a wonderful place to visit.
I have more interior updates to share with you. Next week, I'll update you on what we've added to the living room.