Master Bedroom Decorated for Fall
Today I'm sharing how I decorated our master bedroom for fall.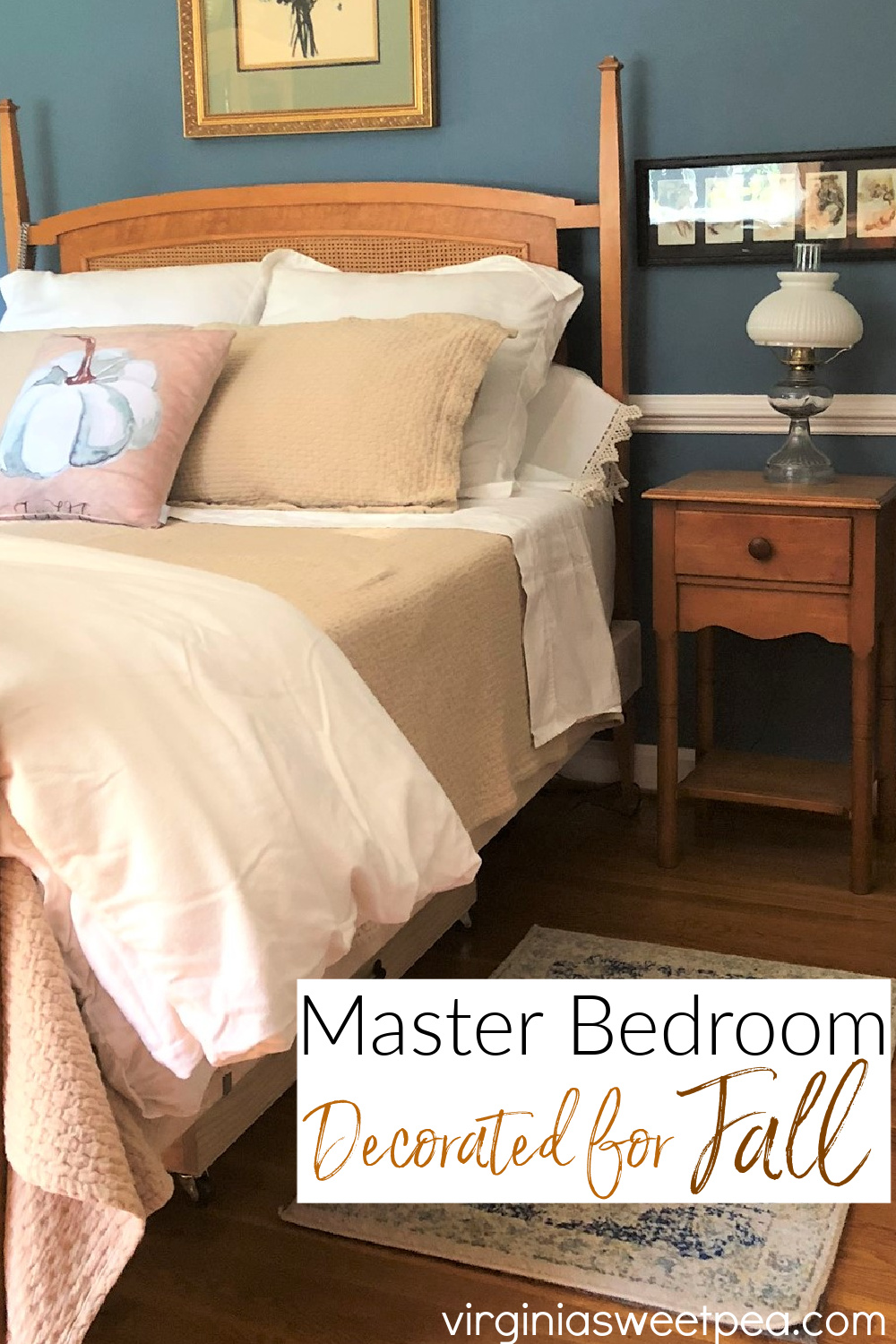 Are you thinking, "Wait a minute, I've never seen her master bedroom?".
If you thought that, you probably haven't seen my master bedroom, because the last time that I shared it on the blog was March 12, 2013.
My blogging friend, Cindy of DIY Beautify, invited me to share my master bedroom decorated for fall along with a group of blogging friends who also are sharing their fall bedrooms. You'll find links to all of the bedrooms shared at the end of this post.
7 1/2 years later, I'm once again sharing my master bedroom with you.
Master Bedroom Decorated for Fall
Welcome to the master bedroom of our 1957 Cape Cod. By modern-day standards, our master is not very large, but it works very well for us.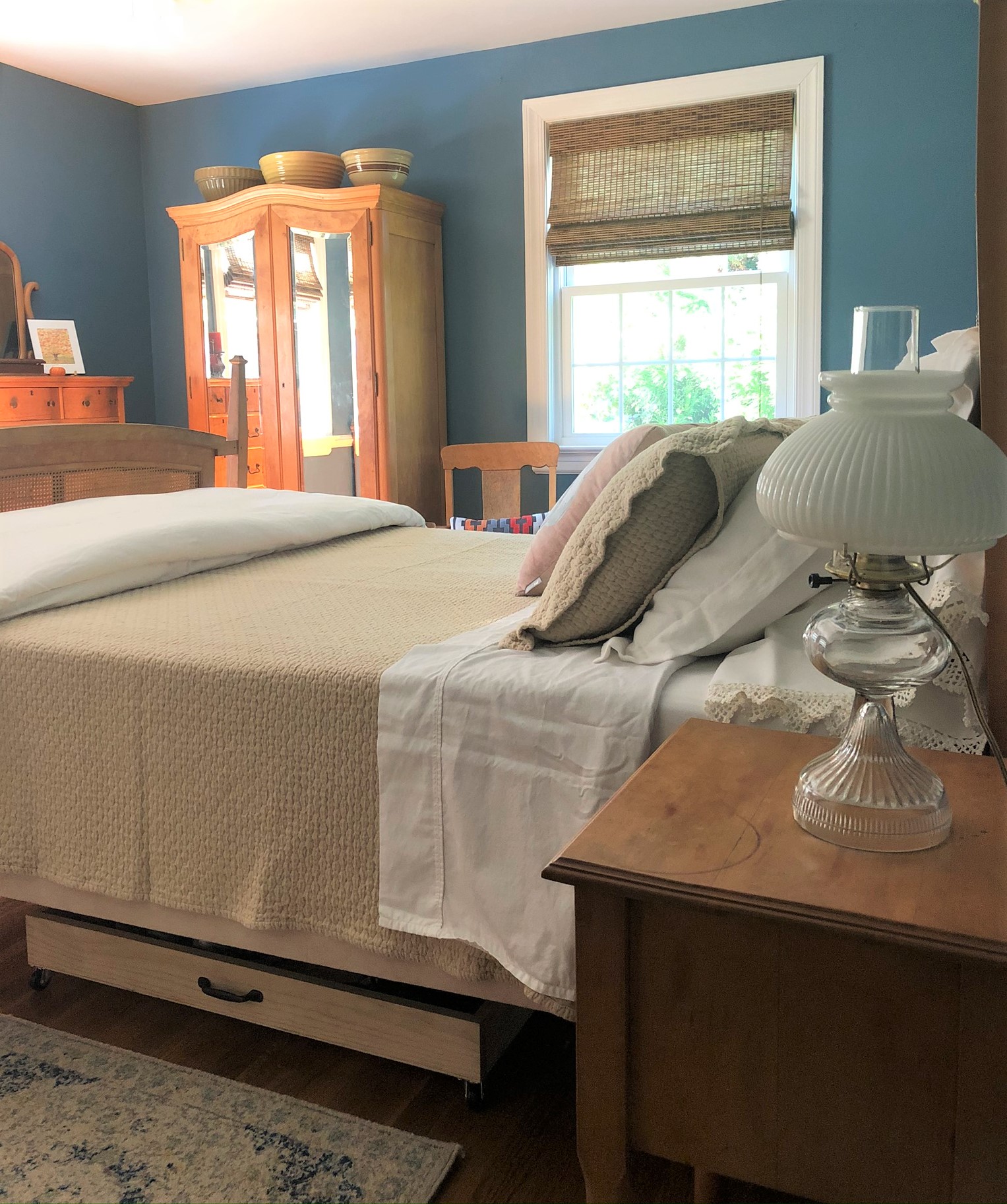 Our Bird's Eye Maple furniture was purchased by my great-great-aunt in the 1920s in Norfolk, VA. If you took a trip back in time to see what my bedroom looked like in 2013, you saw a picture of Aunt Fanny.
I have a very vague memory of this bedroom furniture in Aunt Fanny's home in Vinton when I was a tiny child. After she died, most of the furniture went to my childhood home and my grandmother kept a dresser.
The bed and armoire were used in my brother's room. If you look carefully at the footboard, you can see a mark on the left side where he threw his sweaty clothes over it.
The cedar chest was my high school graduation present from my parents. 1980s girls will remember those Lane cedar chest ads in magazines. I didn't get a Lane but did get a cedar chest from an antique shop.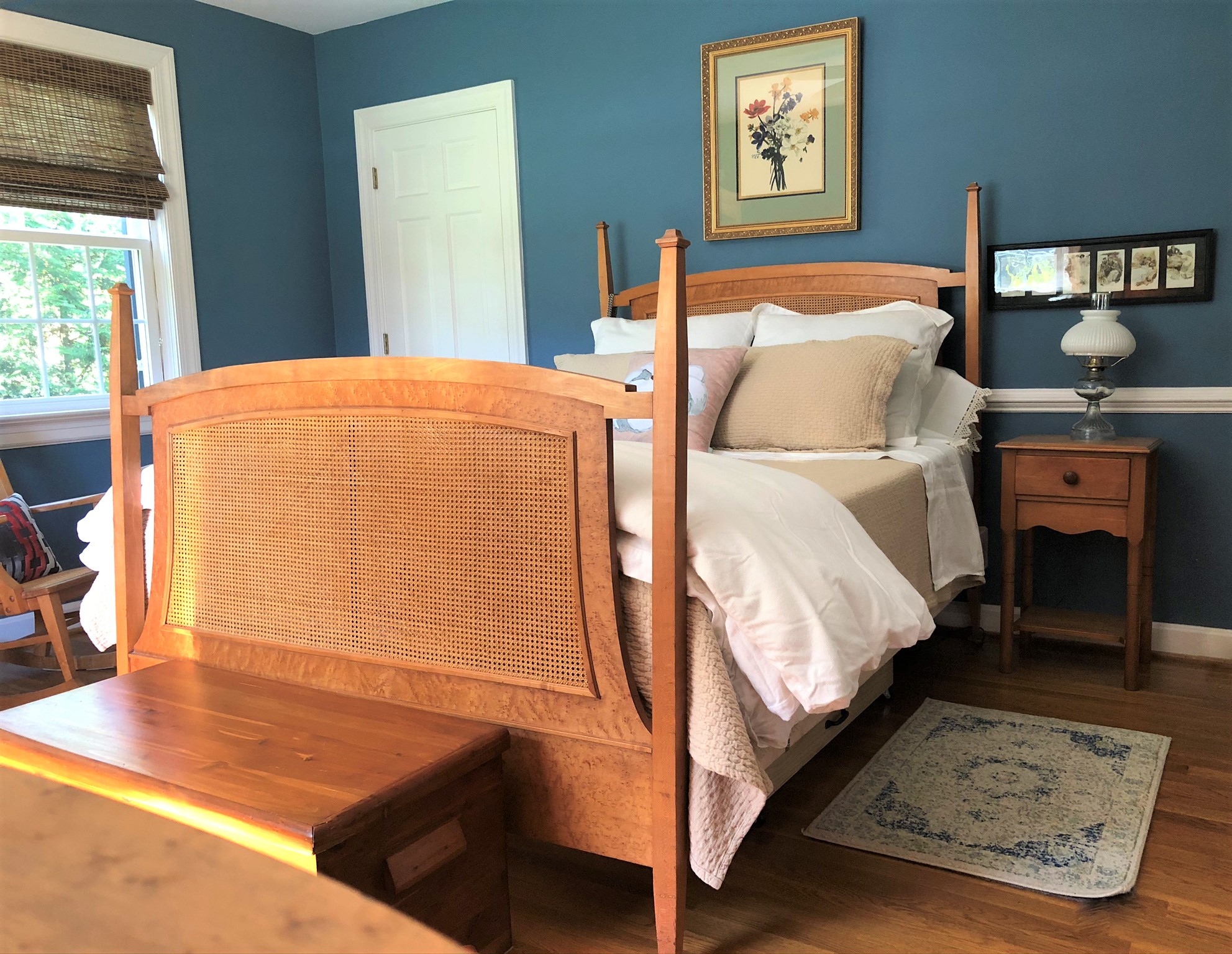 For fall, I switched our pink floral coverlet and matching shams over to a taupe set. For cold nights, our super fluffy and warm duvet is folded at the end of the bed, ready to be enjoyed.
The drawer peeping out from under the bed is where I keep my shoes. It rolls out and is super handy. Our 1957 home has tiny closets, so my DIY Underbed Storage Drawer is a necessity.
I used to have bad allergies and we never purchased an area rug for this room because I wanted to be able to keep it vacuumed and mopped. The crazy thing is once I was diagnosed with lung cancer and started treatment, I no longer have allergy problems.
The blue distressed Persian area rugs on either side of the bed need to be replaced with a large area rug. When I do this, I'll order the same rug in a much larger size.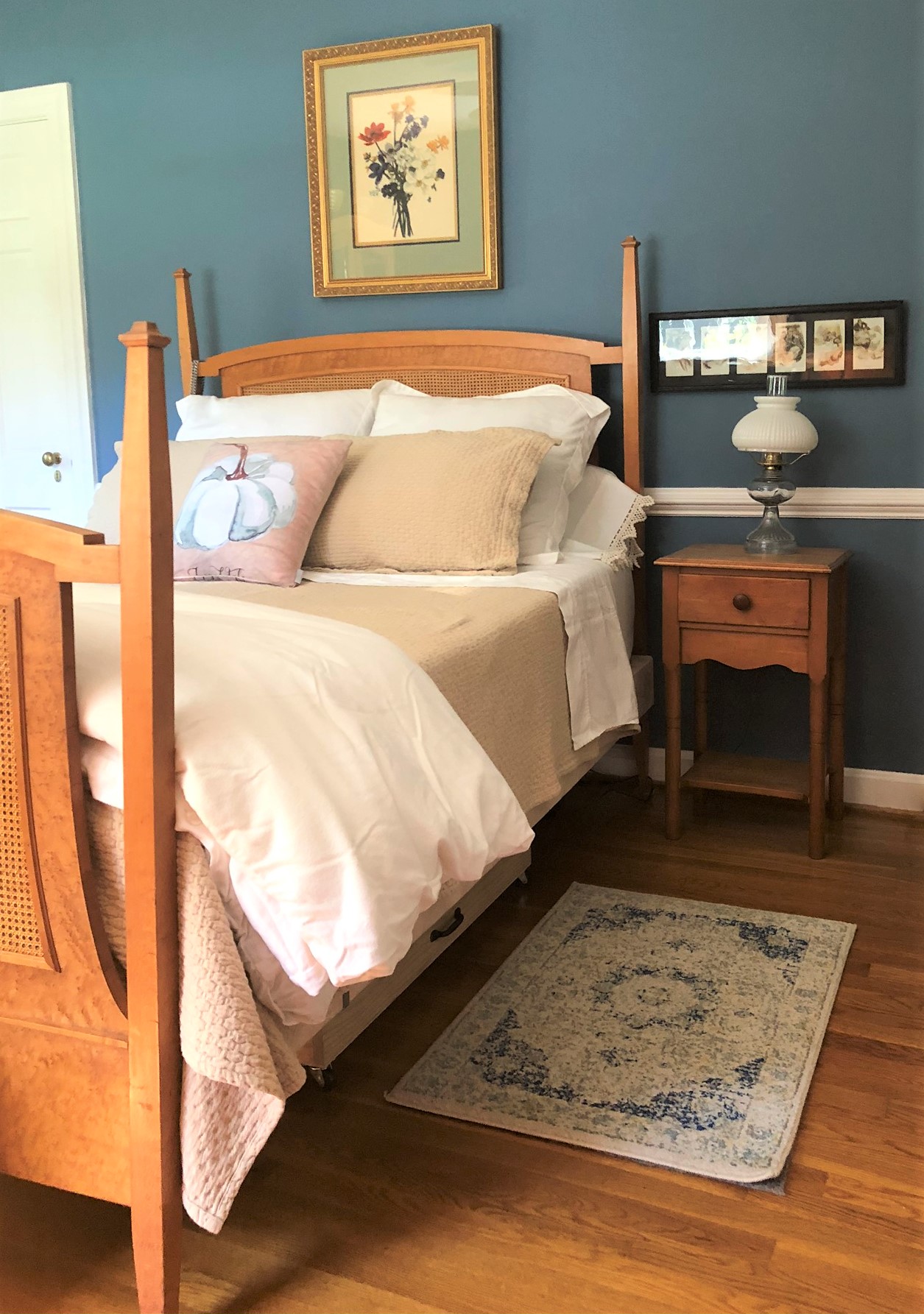 I added a touch of fall to the bed with this pretty pillow from Emory Valley Mercantile.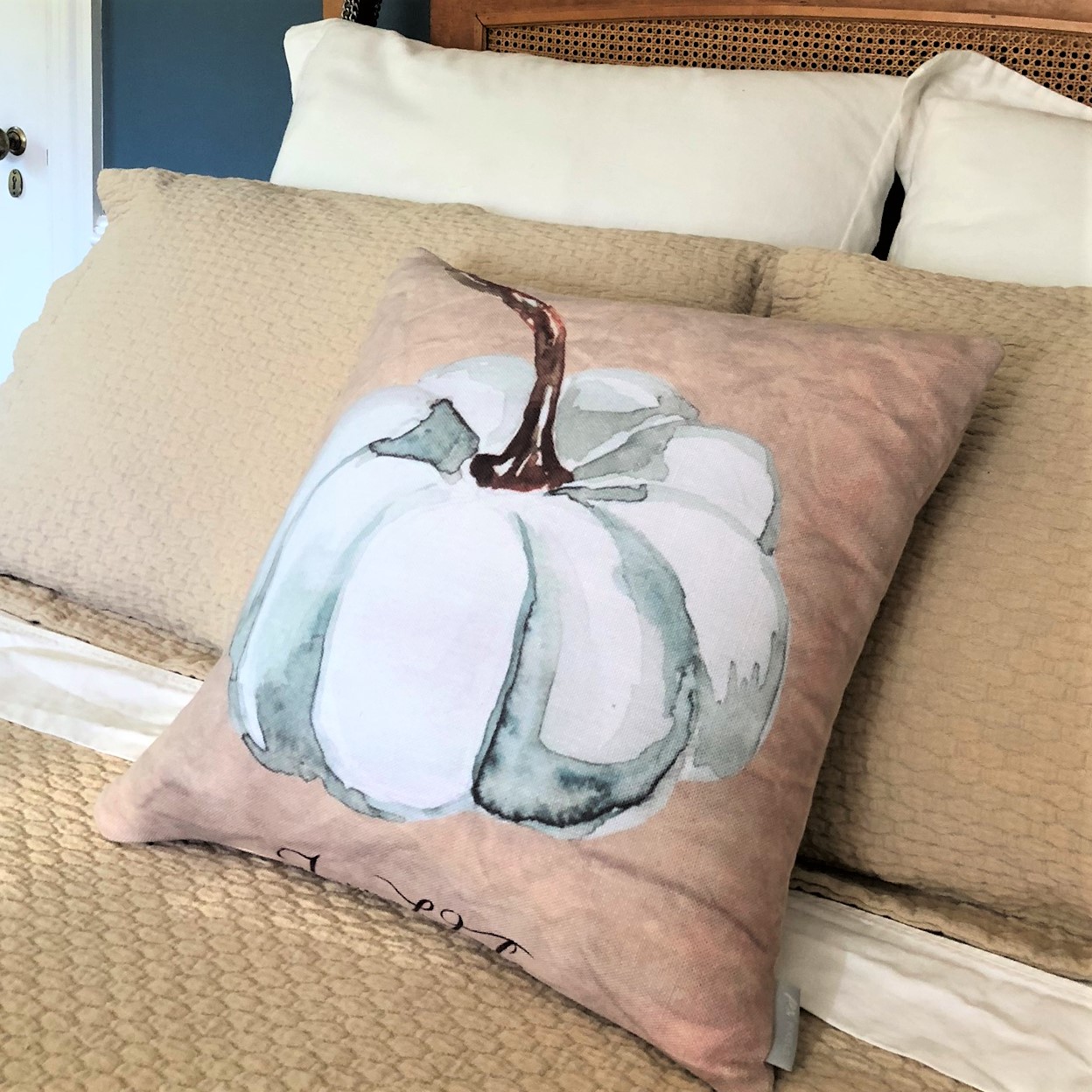 The floral print over my bed was in my grandmother's attic. When we had to move my grandmother to a retirement home, my aunt let me have it. I had it framed and its been in this spot every since.
If you spotted the chain hanging from the bed, don't get any crazy ideas. That's Max's dog collar, my husband's beloved German Shepherd. Max died when he was visiting us and his collar has been hanging in this spot ever since.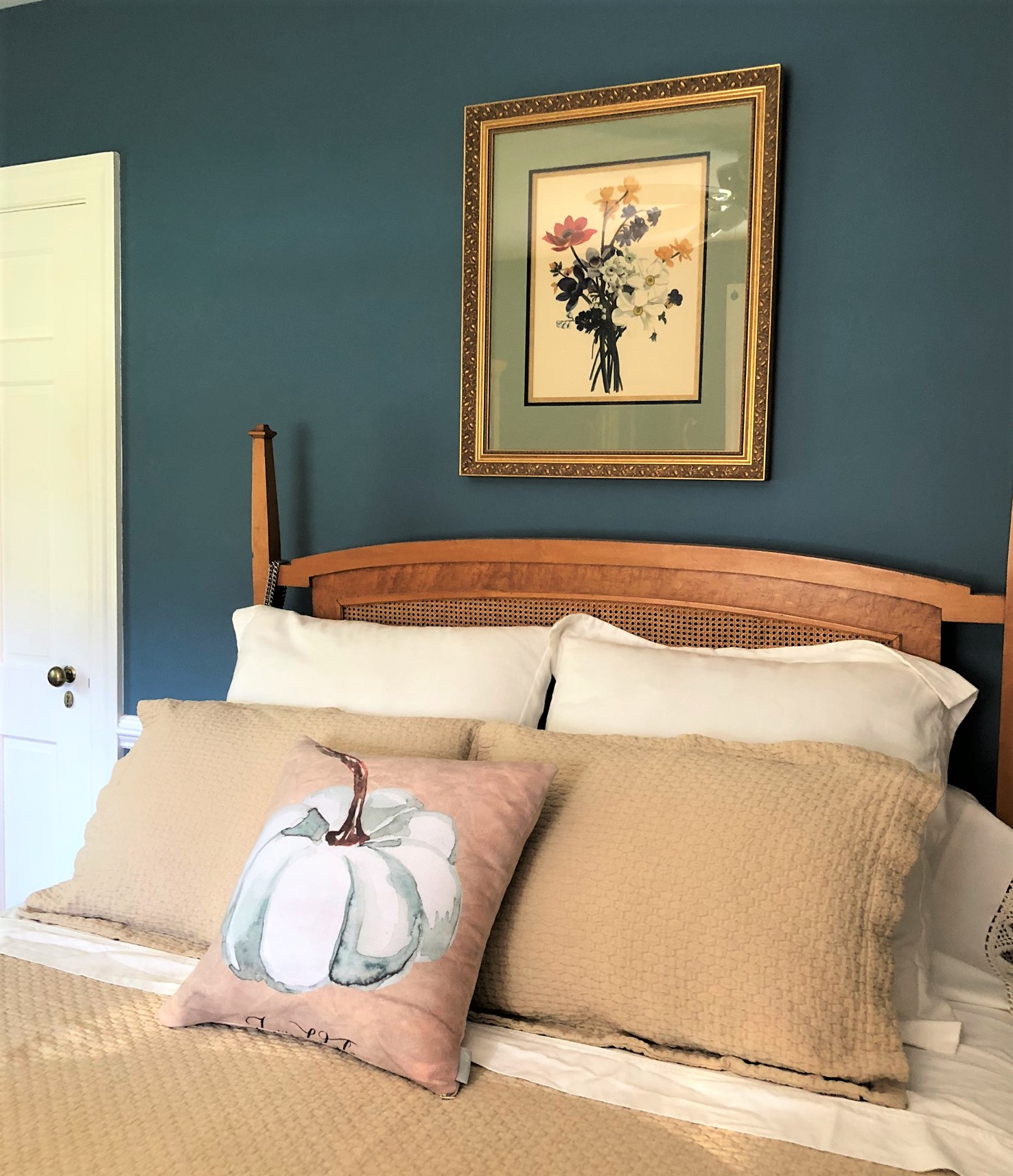 The bedside table is maple and was made by my grandfather for my dad when he was a boy. It was in my room growing up and now in this home.
Mama and I love old lamps. She gave me the oil lamp on my bedside table. I started thinking about lamps and realized that there are no new lamps in my house. Zero. The only newish one is in our living room and I found it in a dumpster and restored it.
The framed postcards above the lamp are a set of "The Stages of Love" art by Harrison Fisher.
The stages include:
The Trousseau
The Wedding
The First Evening in Their Own Home
Their New Love
I'm pretty sure that these belonged to Aunt Fanny, then my grandmother, and now me.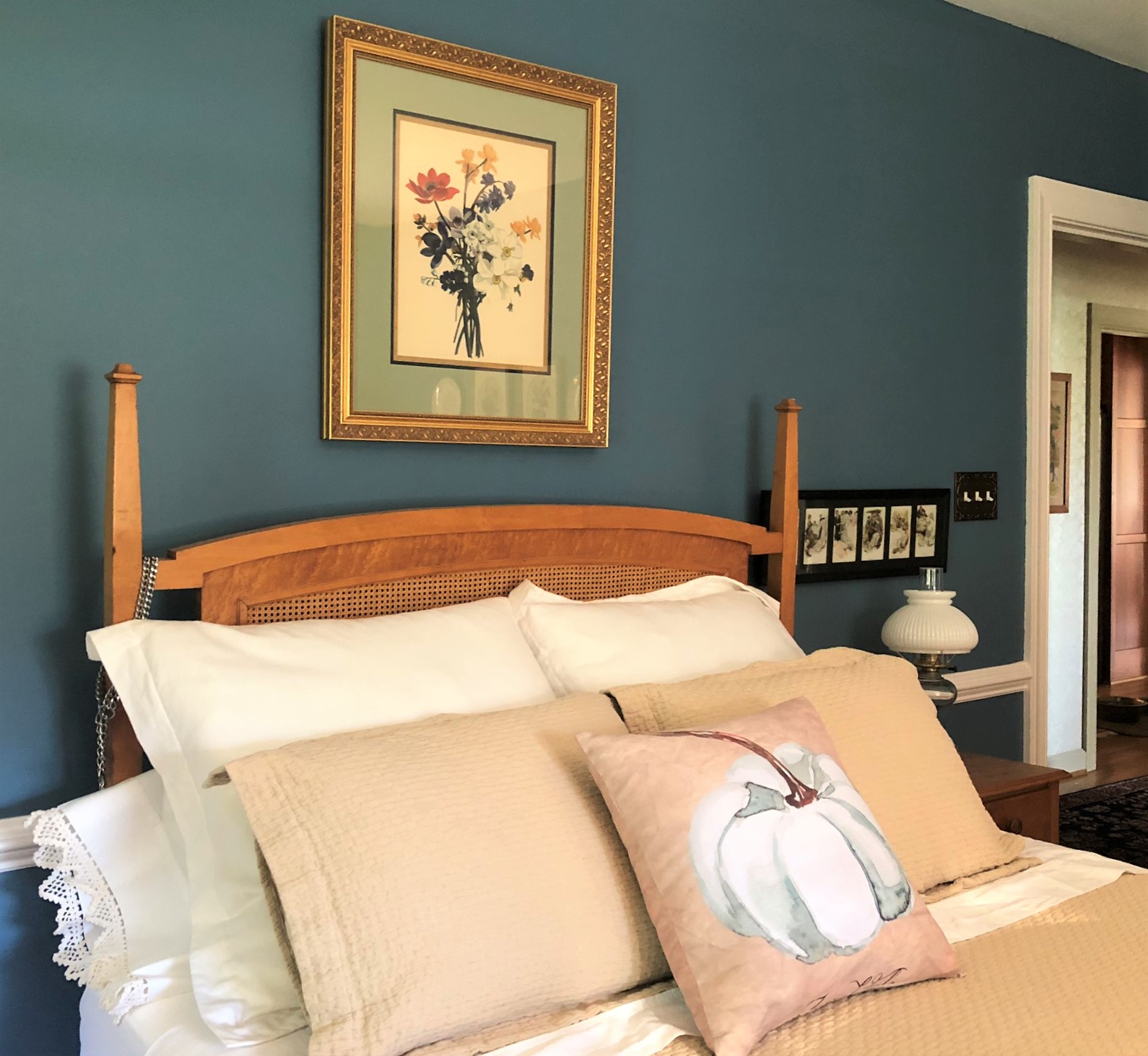 Our Dresser and Chest of Drawers
I use the dresser on the left, and Mr. SP uses the dresser on the right.
The dresser on the left was in my grandmother's home until she had to move into a retirement home. It was filled with towels, all new, a few from her wedding.
My grandfather and I shared the same initials, PEA, and the towels were monogrammed with those initials. I used those fancy 1930s towels at the gym for years. Too bad granny didn't use and enjoy them during her marriage!
Many of you already know this, but my blog is called Sweet PEA because PEA was my monogram for many years.
The chest of drawers on the right was in my room growing up and now is used by Mr. SP.
The two floral prints belonged to my grandmother and she gave them to me when I was in college. I had them reframed and they hung over my bed in my college apartments, my single girl apartment, and now in this home.
They are flanked with calendar plates from our birth years, 1969 and 1963. We are both Monday babies!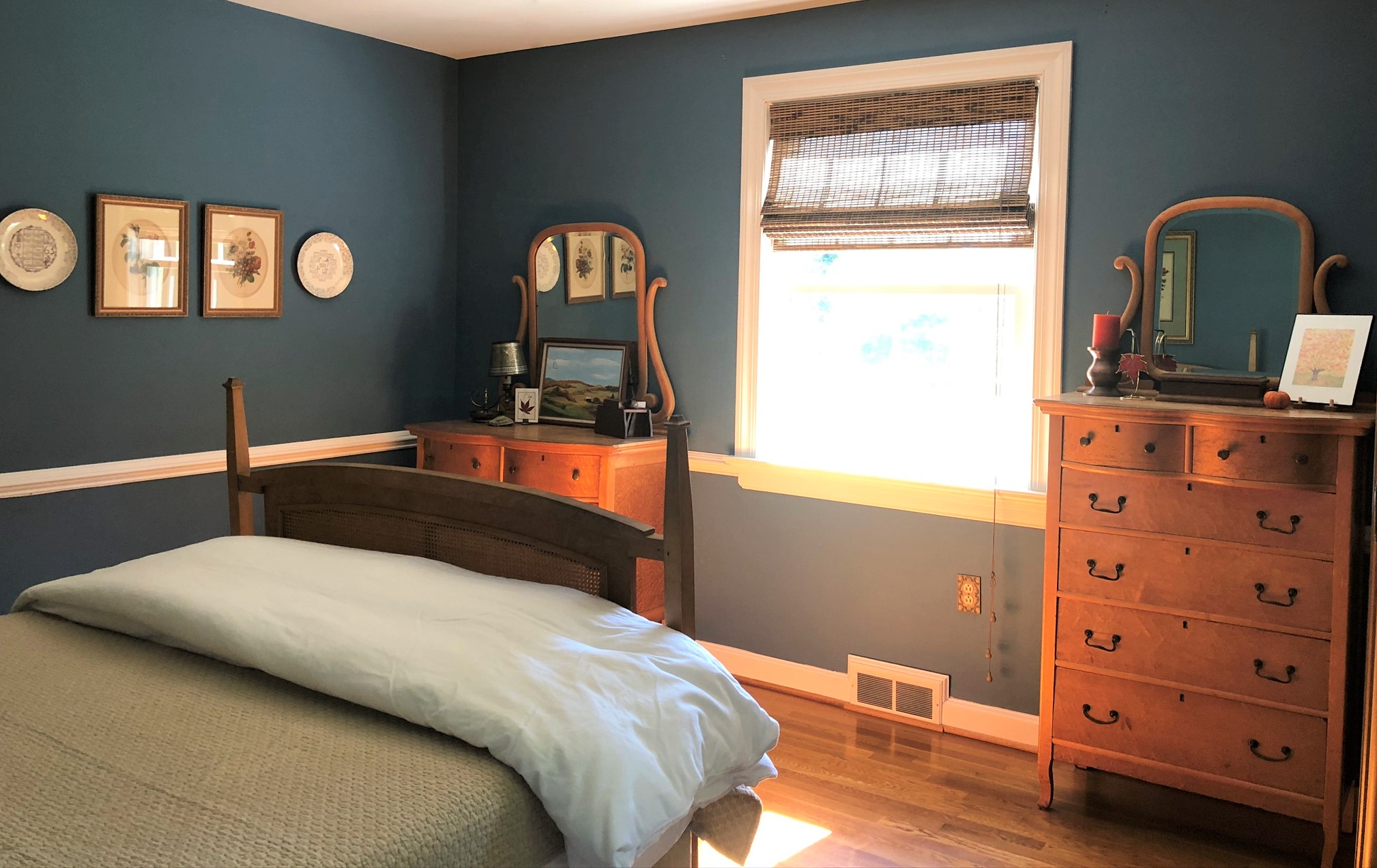 Mr. SP is an April 8, 1963 baby. It's a shame that calendar plates like this 1963 one are no longer produced. They were popular for a long time!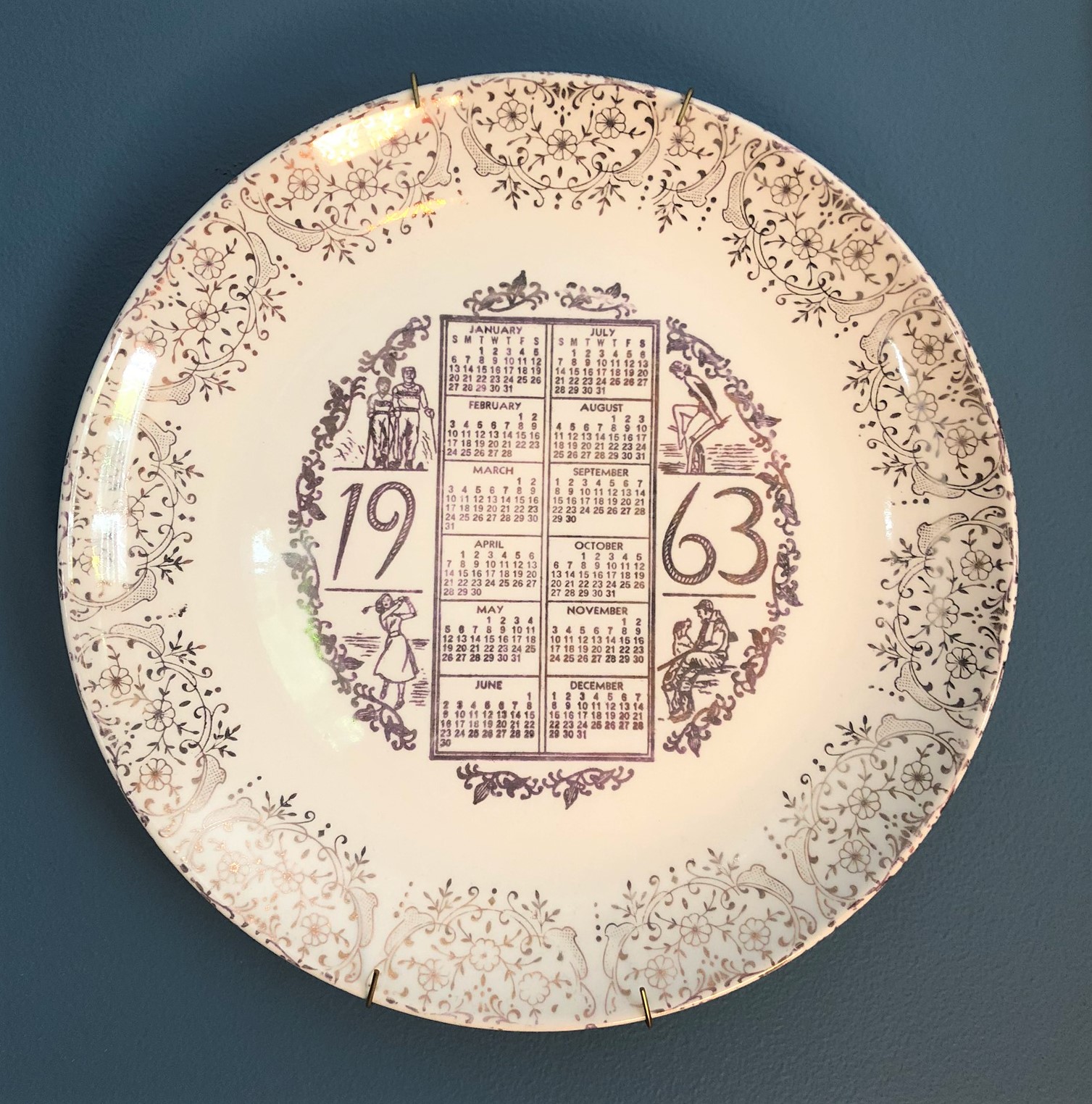 I'm a May 26, 1969 baby. I love the graphics on my 1969 calendar plate.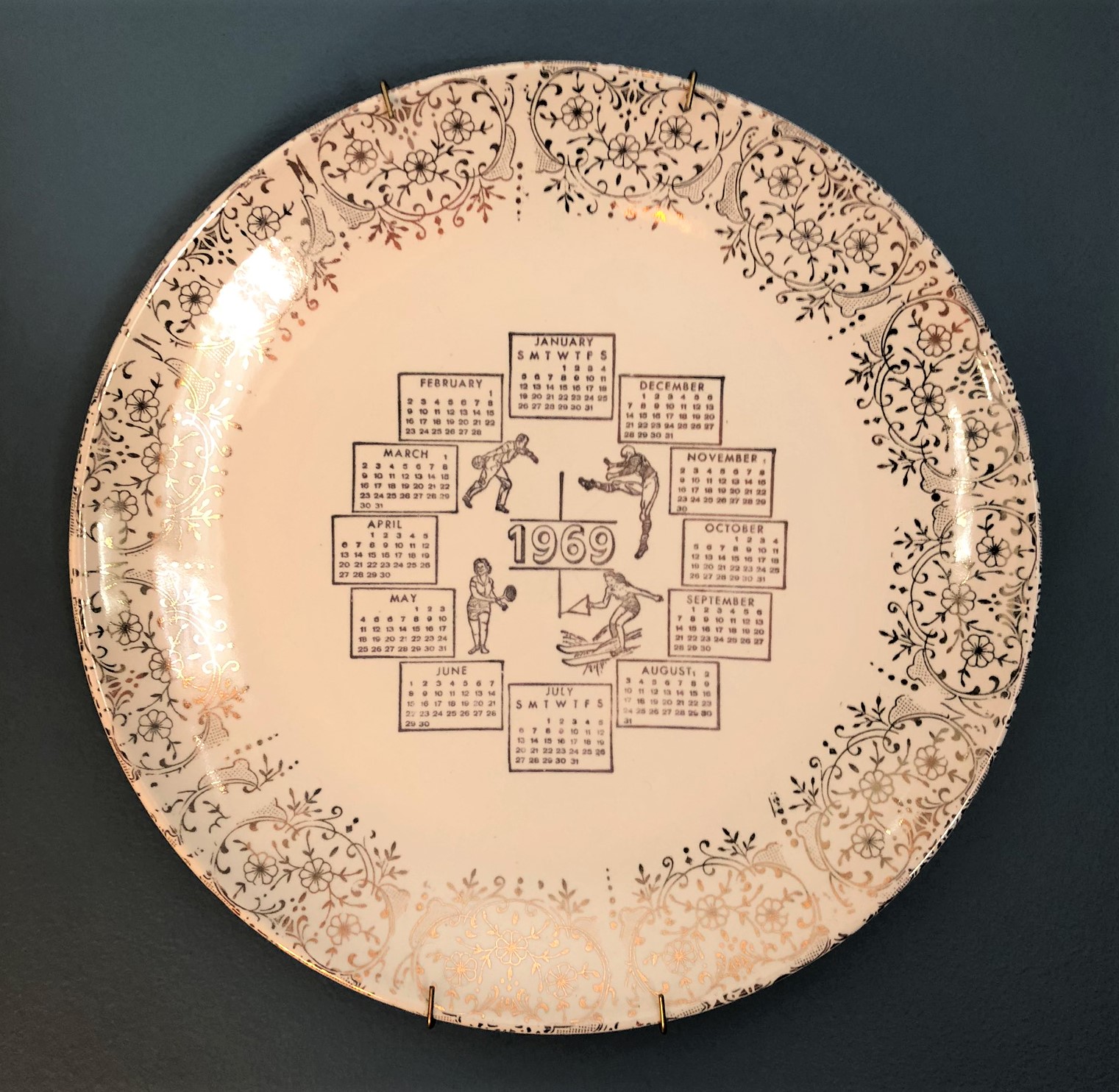 This armoire was in my brother's room growing up. I would stand in front of it practicing my cheers and jumps almost every night.
The bowls on top belonged to my grandmother and also to my friend Elsie's mom.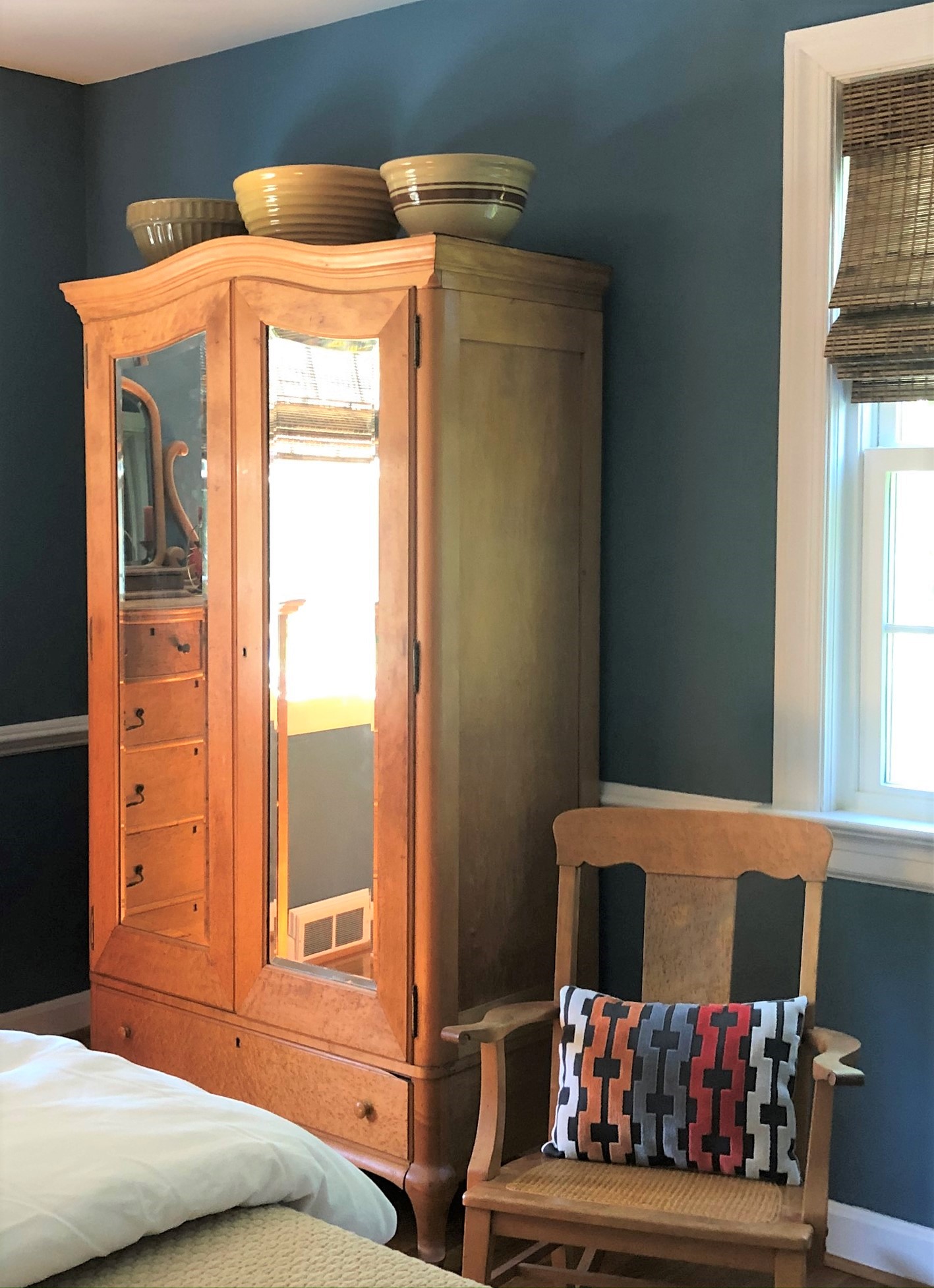 The pretty rocking chair that matches the set doesn't get much sitting time. It's usually used covered with Mr. SP's clothes.
I made the fall pillow using a fabric sample from a local workroom that is no longer in business.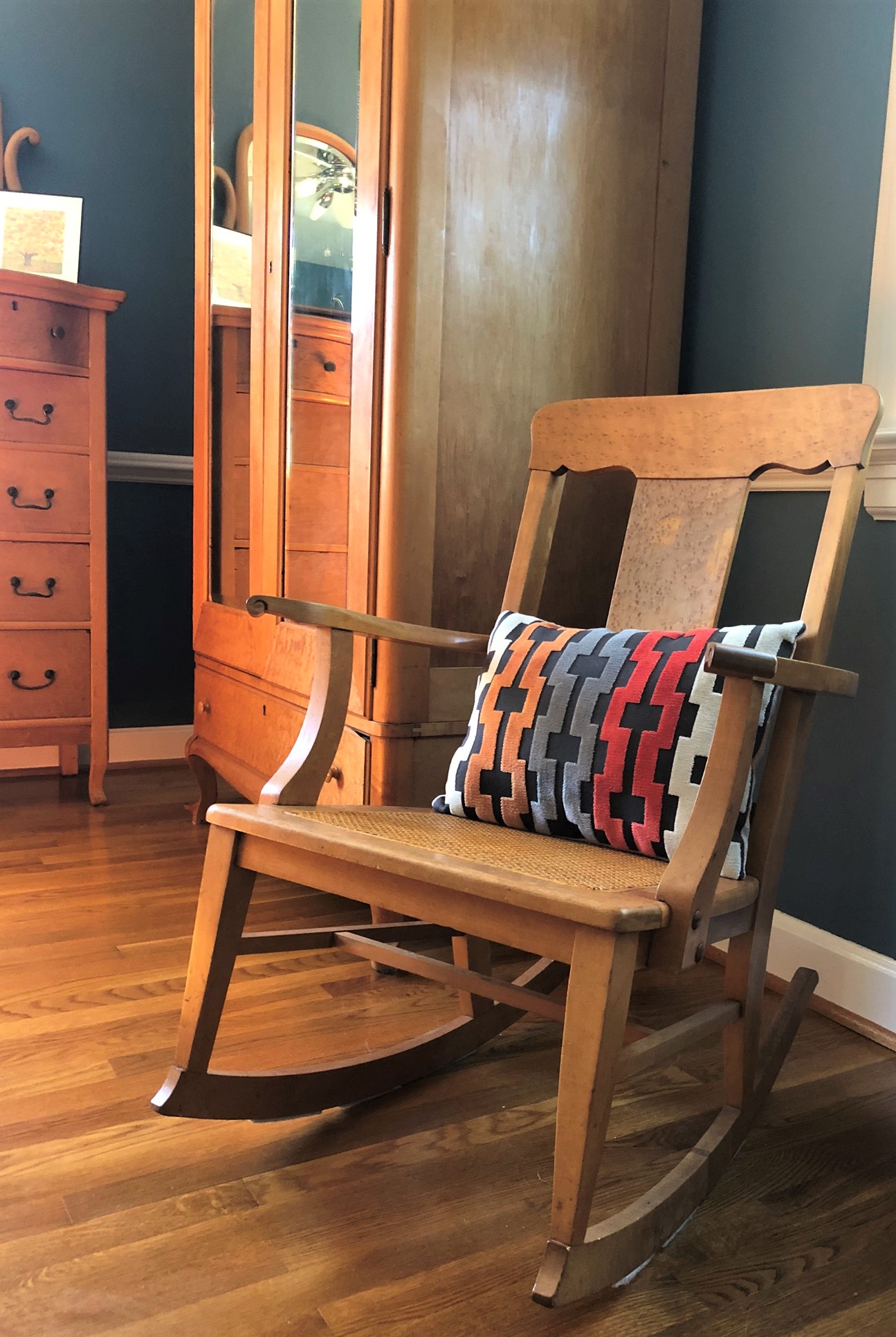 Touches of Fall on My Dresser
This is supposed to be a fall tour and I've yet to show you a lot of fall decor. I've been having too much fun talking about my family things that I treasure.
To decorate my dresser for fall, I took a trip to the basement for treasures to use. I started with a painting that I bought in Vermont a long time ago at an estate shop for $5. It's torn but that doesn't bother me at all.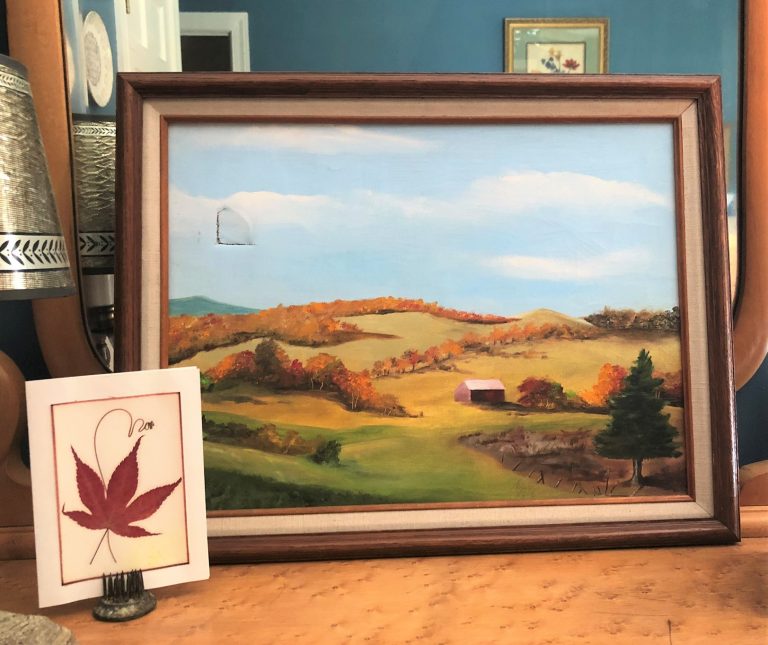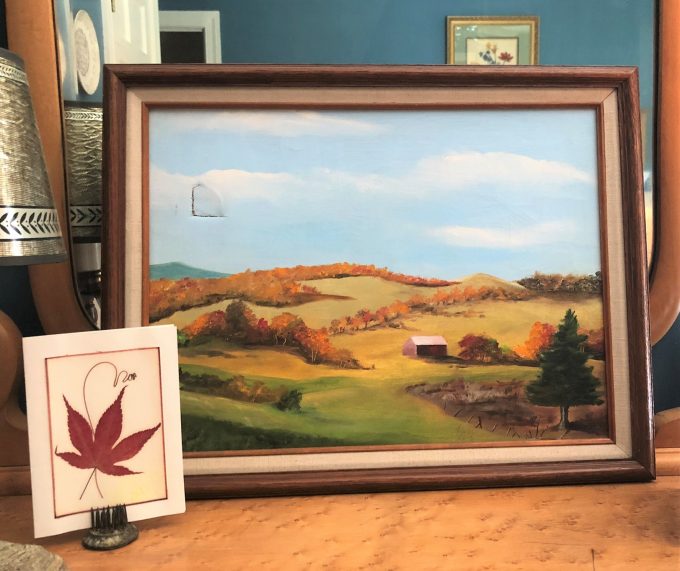 To the left of the painting, I used my dad's lamp that he used when he was a student at Virginia Tech, 1958 – 1962. Don't miss all of my other Virginia Tech treasures!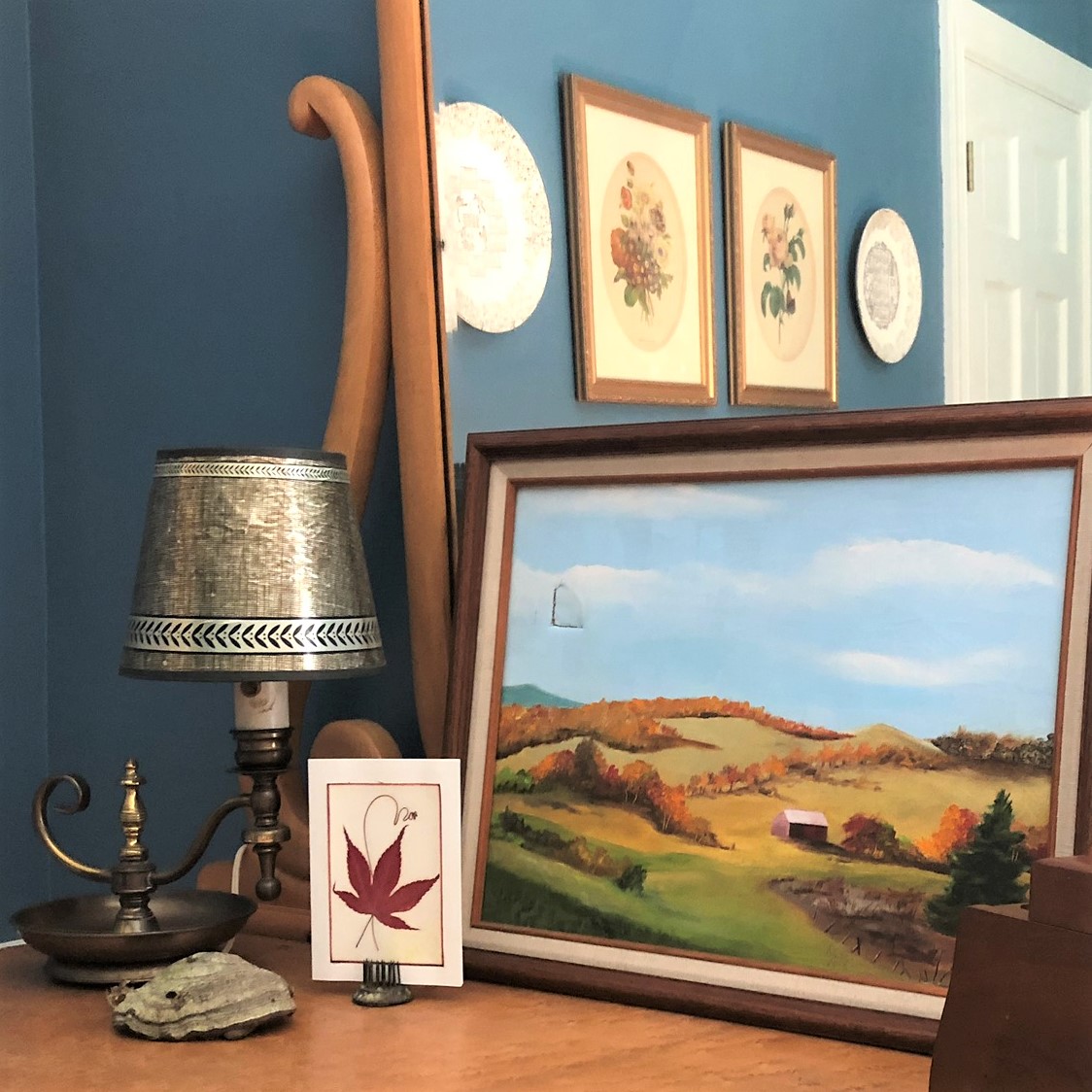 Granny made the pressed leaf card when she was living in her retirement home. I display it every year somewhere in my home.
I pried the shelf fungus off of a fallen log in the woods on our recent Vermont vacation. This former science teacher has a thing for fungus.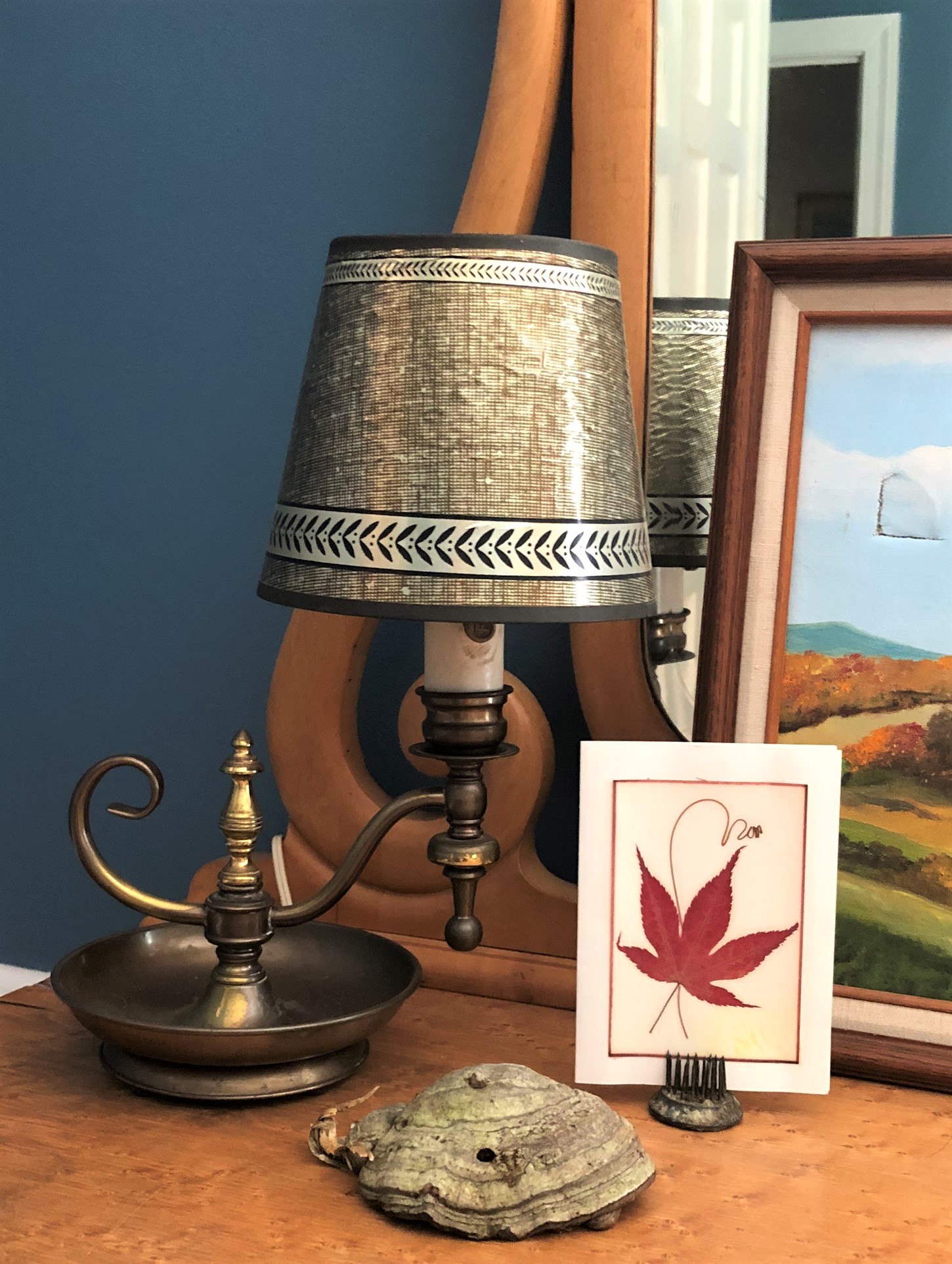 I didn't get a close-up picture of it, but to the right of the painting is my maternal grandfather's pipe and tobacco box. It even is displaying one of his pipes. The grandkids would bring him boxes of tobacco as a gift on Sundays when we visited.
Mr. SP's Chest of Drawer Fall Decor
I love it that Mr. SP notices and appreciates my seasonal decor.
I had a difficult time photographing our bedroom because of the strong south light and because I really need to invest in a wide-angle lens for my camera.
His chest of drawers is decorated with a yummy scented fall candle in a copper candle holder, a preserved Maple leaf ornament from Vermont, my jewelry box (he has an identical one), and some fall art from Vermont.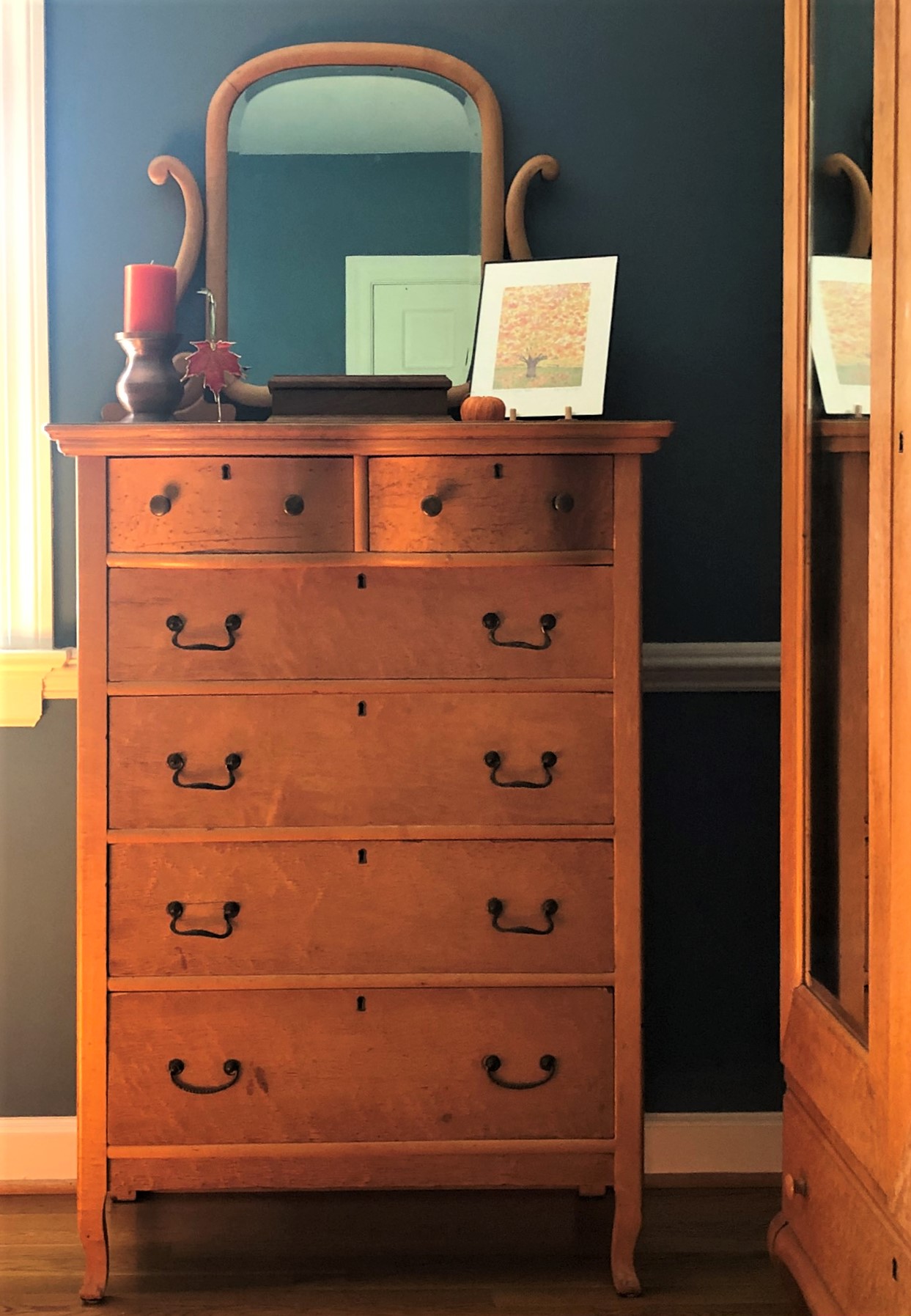 We just returned from a fall vacation in Vermont where I purchased this Shanley Triggs Art. I've had the little raffia pumpkin for about 25 years.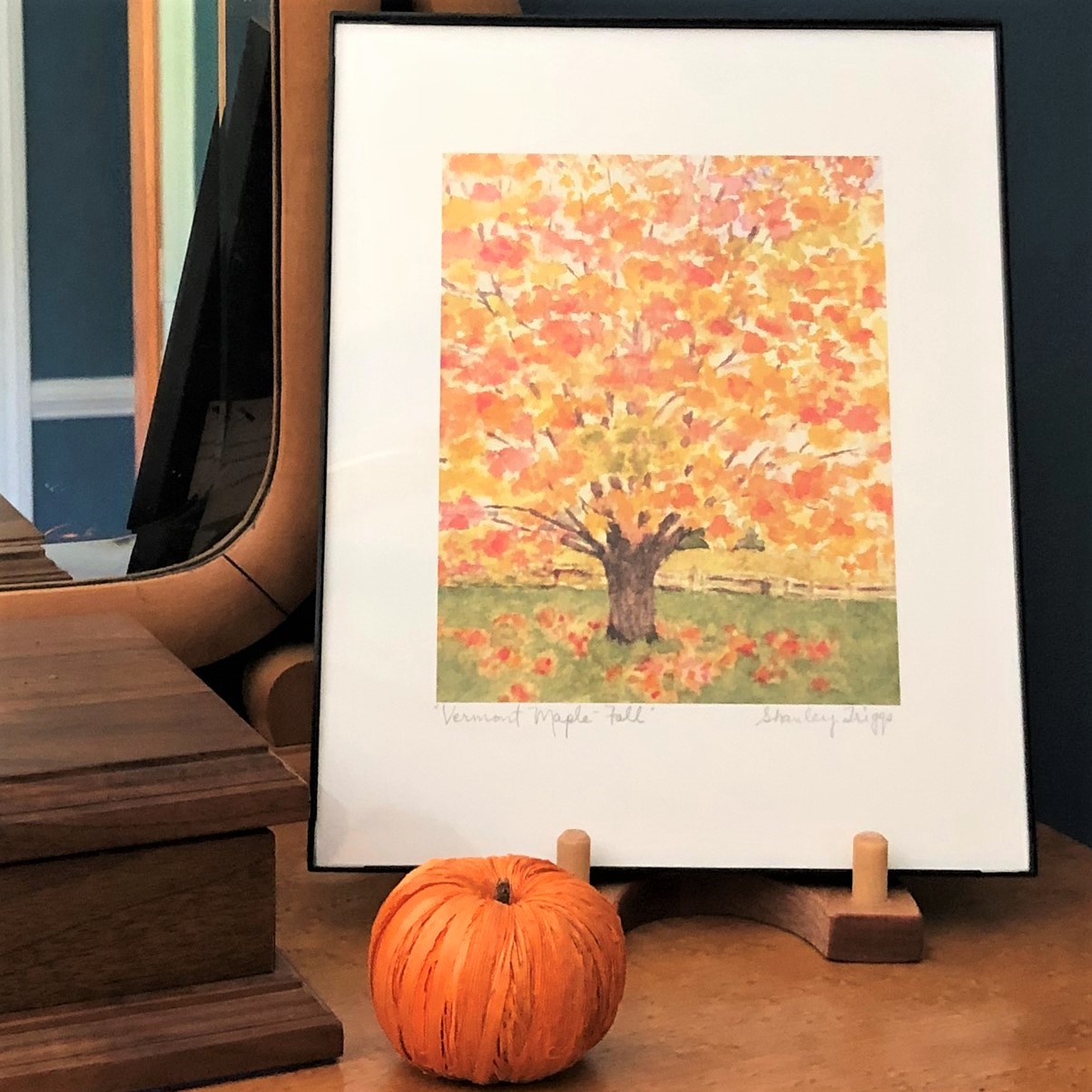 If you like this art, you'll LOVE the covered bridge art also by Shanley Triggs that Mr. SP purchased for me last year. I used the covered bridge art in this year's living room decor.
Vacations in Vermont
If you've every thought about a fall vacation in Vermont, I encourage you to go for it. This year was our fourth fall Vermont vacation and we enjoyed it so much. It's like being in a real life Hallmark movie!
The Pot Calling the Kettle Black
Earlier I mentioned that my grandmother saved towels from her wedding and never used them. (Don't miss seeing some of her 1938 wedding shower gifts that I still use and enjoy.)
Well, I'm kind of the pot calling the kettle black because see these beautiful pillowcases trimmed in handmade crochet?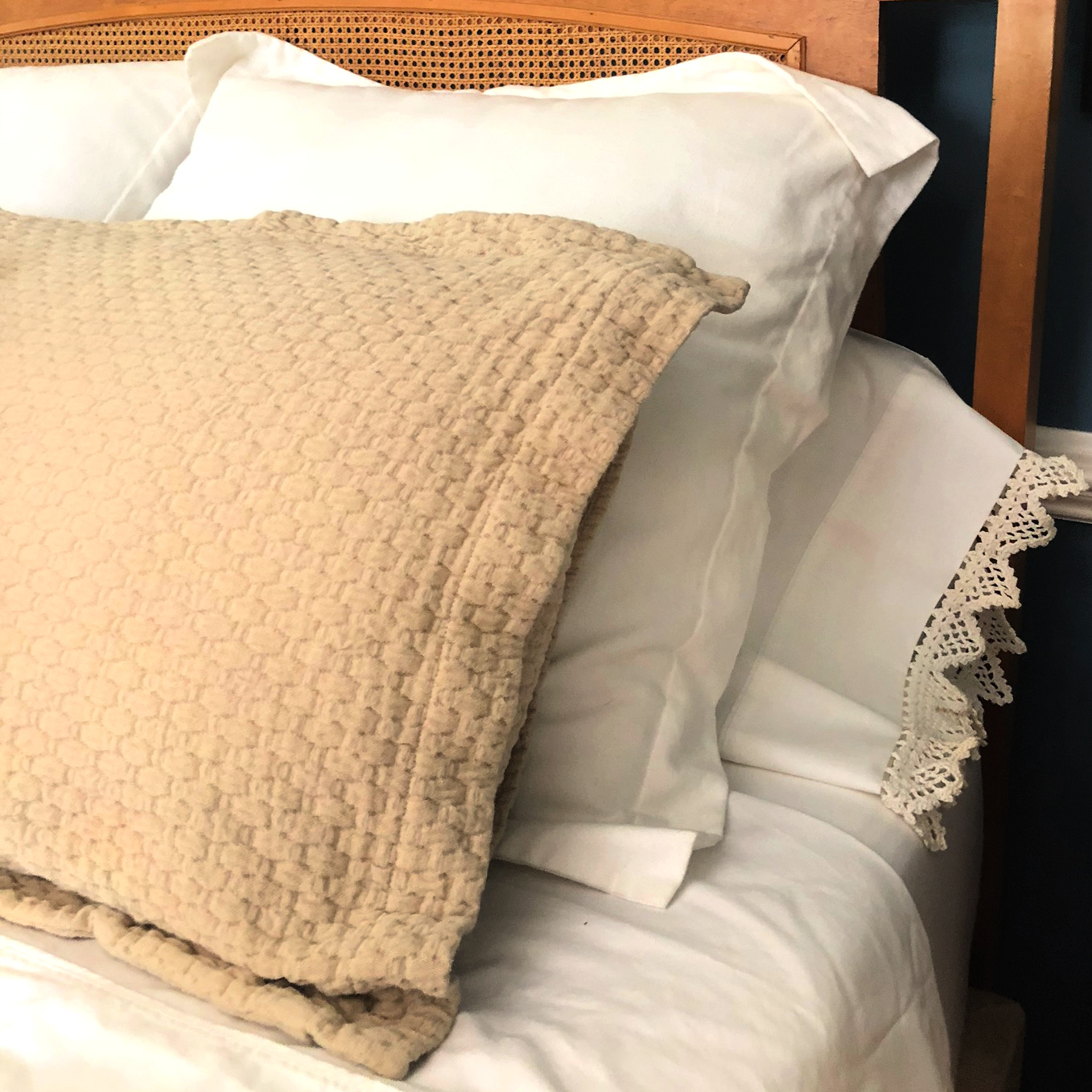 My teacher friend's mother lovingly crocheted this trim and sewed it to two pillow cases especially for her daughter, my teacher friend, to give me as a 1994 wedding present.
Guess who just put them on her pillows for the first time? I guess the apple didn't fall too far from the tree.
I so much enjoyed showing you around our master bedroom and telling you the stories behind this room's decor.
Room Sources
More Fall Bedroom Ideas
Now it's time to visit my friends who are also sharing how they've decorated their bedrooms for fall. Click on the links below to visit each participating blogger.