Stitch Fix Review – May 2019 – Fix #69 – My 50th Birthday Fix!
This month my Stitch Fix box is dedicated to my upcoming 50th birthday on May 26th . It's ironic that I was born in 1969 and this is my 69th Fix. I asked my stylist to send fun items to share with you for this month's BIG birthday!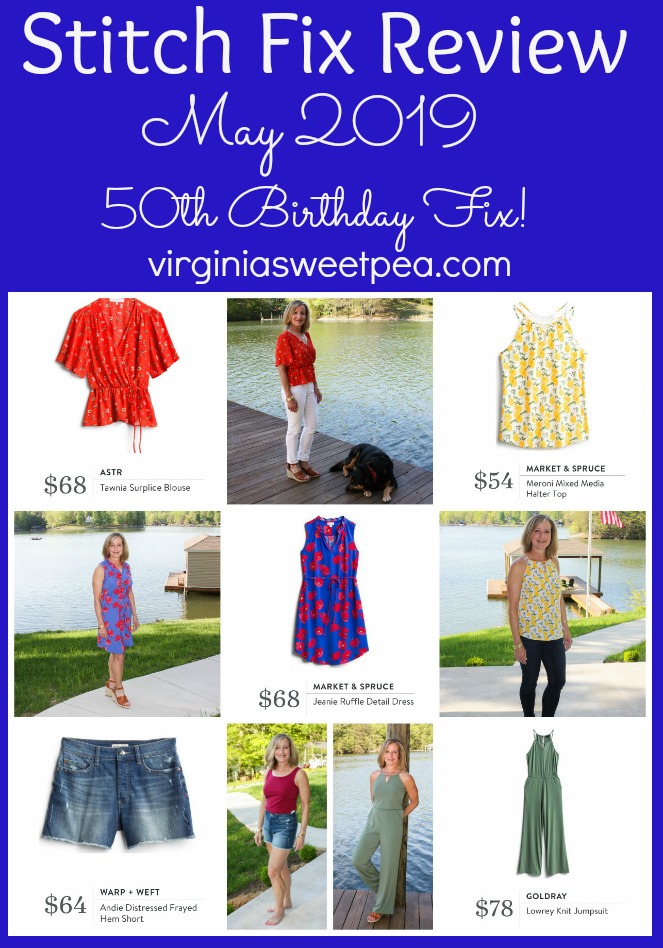 I am a Stitch Fix affiliate and if you make a purchase, I make a small commission. My love for Stitch Fix is genuine and all opinions are truthful and my own.
May 2019 Stitch Fix Review
If you are new to Stitch Fix, these details will help you to understand the service. Feel free to email me with any questions you might have about Stitch Fix. I can also send you a link to use that will give you $25 off your first box.
Stitch Fix Details
Stitch Fix is a personal styling service. When you sign up for Stitch Fix, you fill out a detailed style profile that helps your stylist know your likes and dislikes. Since I've received 69

Stitch Fix

shipments, my stylist knows my likes and dislikes very well and I almost always like every item in my Fix, a good problem to have!
When a Fix arrives, you have three days to try the clothes on and to decide what to keep and what to send back. Stitch Fix includes a postage paid envelope making returns super easy.
When you sign up for

Stitch Fix

, you can choose how often a box is delivered. You can pick a monthly options or schedule a box when you'd like to receive one.I do not like shopping and love receiving clothing from Stitch Fix. I get clothes that I like without having to do any work other than pinning things that I like to my fashion board on Pinterest. My stylist, Brittany H., checks my Pinterest board for inspiration and also reads my note to her each month to see if I have any special requests.
You can find links to all of my Fixes here and also be sure to check out my Stitch Fix Review Board on Pinterest where I pin my favorite looks.
This Month's Stitch Fix Items
I was really excited when I received an email that this month's Fix had shipped. Using the Stitch Fix app, you can see what is coming in your box and when I saw the preview pictures for this Fix, I couldn't wait for the box to arrive so that I could try each item on.
Market & Spruce Jeanie Ruffle Detail Dress
I love Stitch Fix dresses and I had a feeling that I would like this one. Not only do I like the cut of this dress, I also like its floral pattern.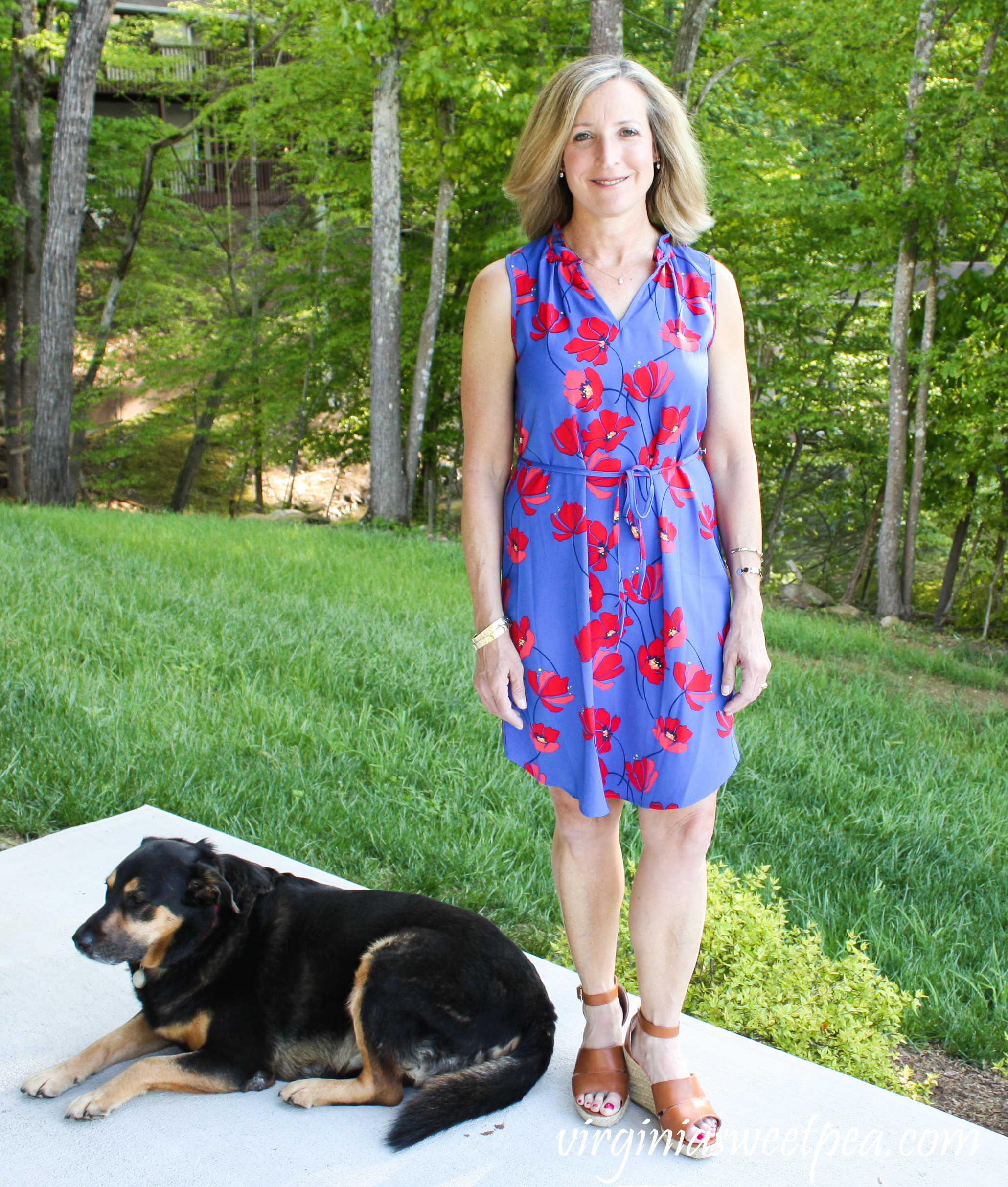 I paired this dress with shoes from Walmart that are a knockoff of a popular Sam Edelman style. You can't beat Walmart's $19.99 price with free shipping to the store!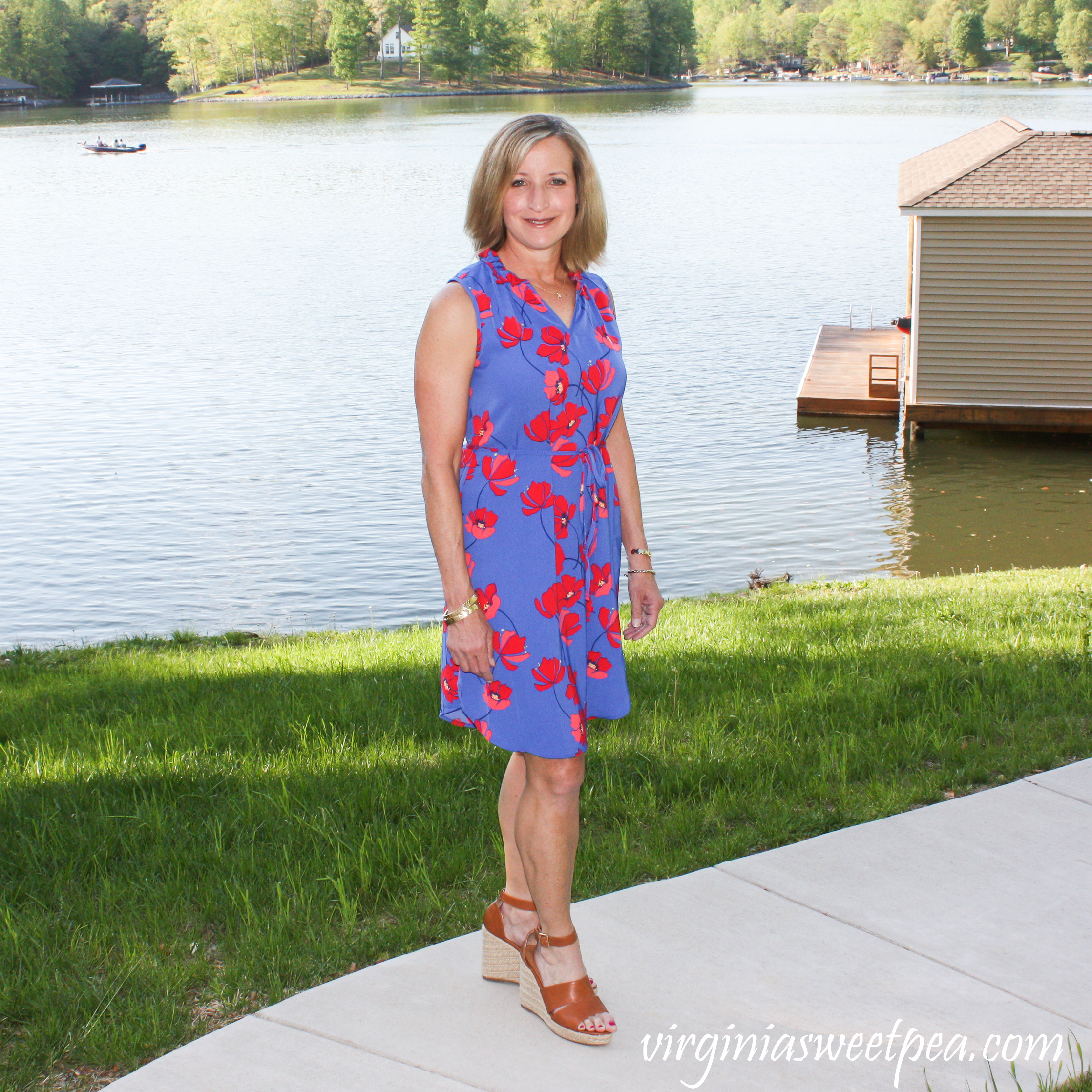 I really liked the ruffle detail around the neckline of this dress and its tie waist.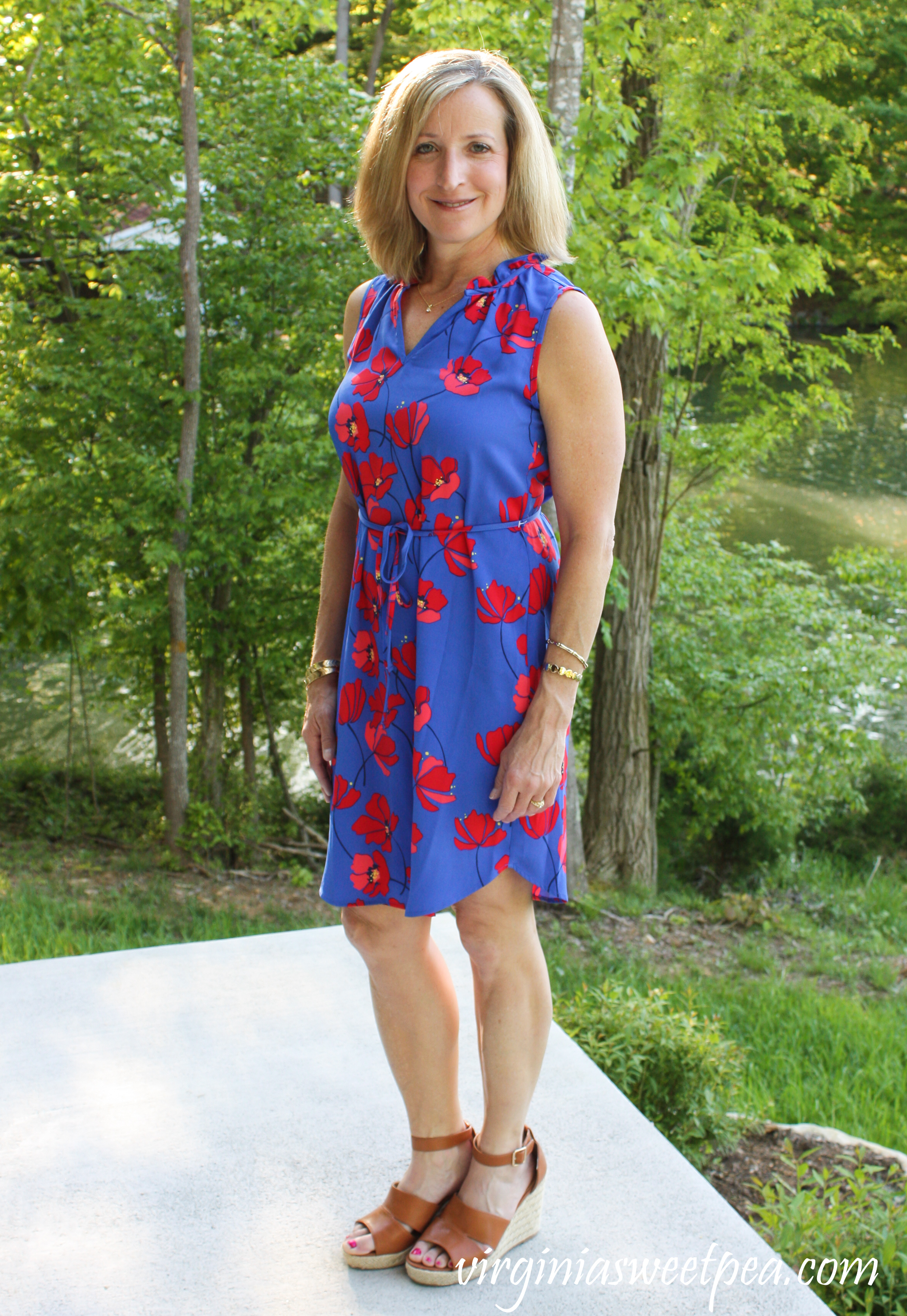 Last month I tried something fun and shared what was coming in my SF box in my Instastories and asked my friends on Instagram their opinion on each item. People seemed to enjoy voting and I enjoyed seeing the results. If you don't already follow me on Instagram, I would love it if started.
I really liked this dress but in the end I decided that I didn't like it enough to invest $68 in it.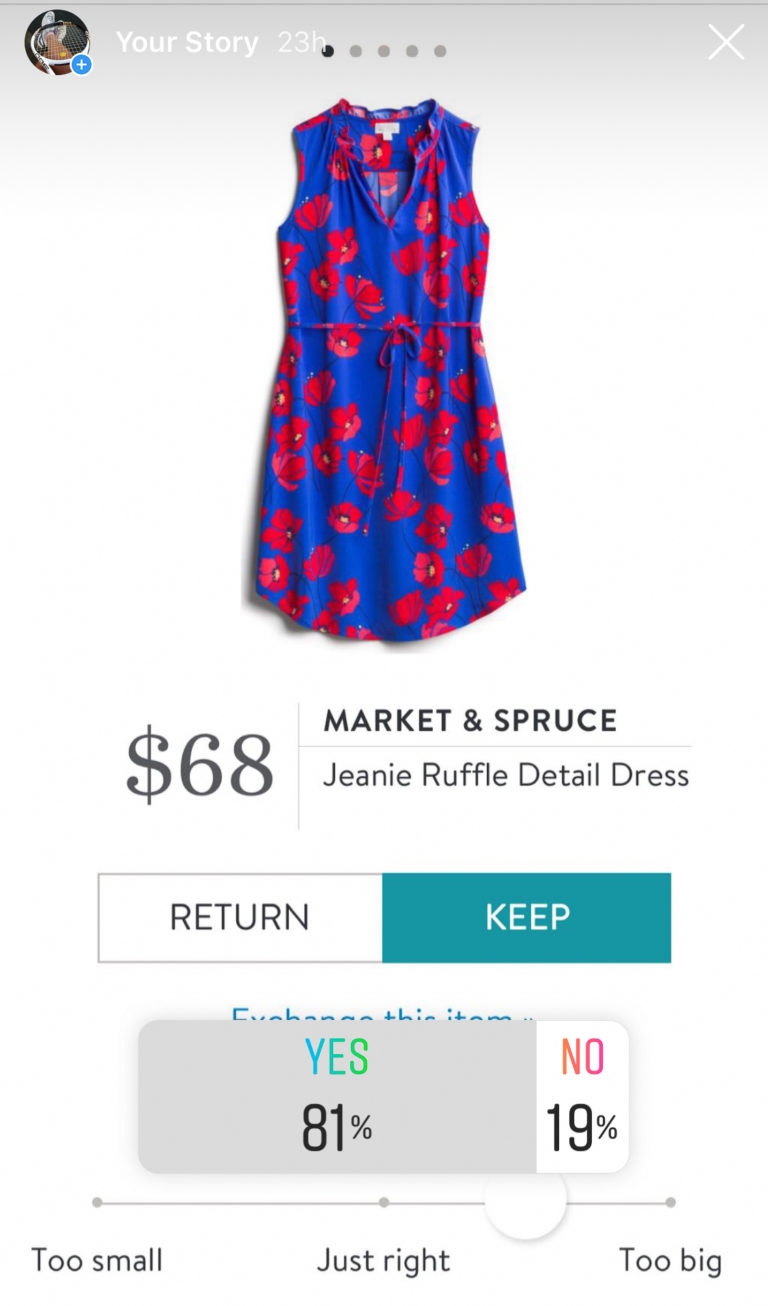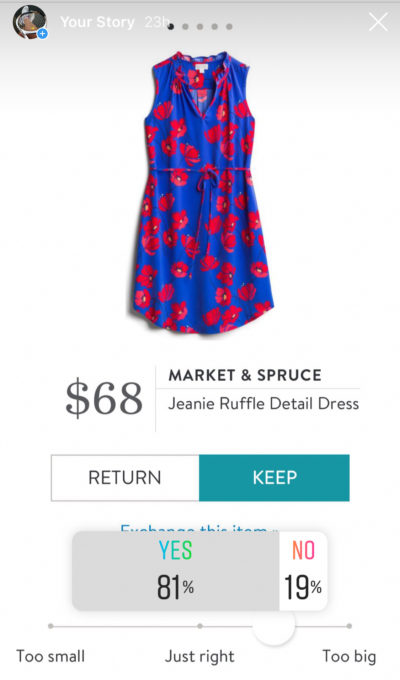 Market & Spruce Meroni Mixed Media Halter Top
The style of this top is exactly what I like to wear in the summer. I like sleeveless tops with lightweight fabric.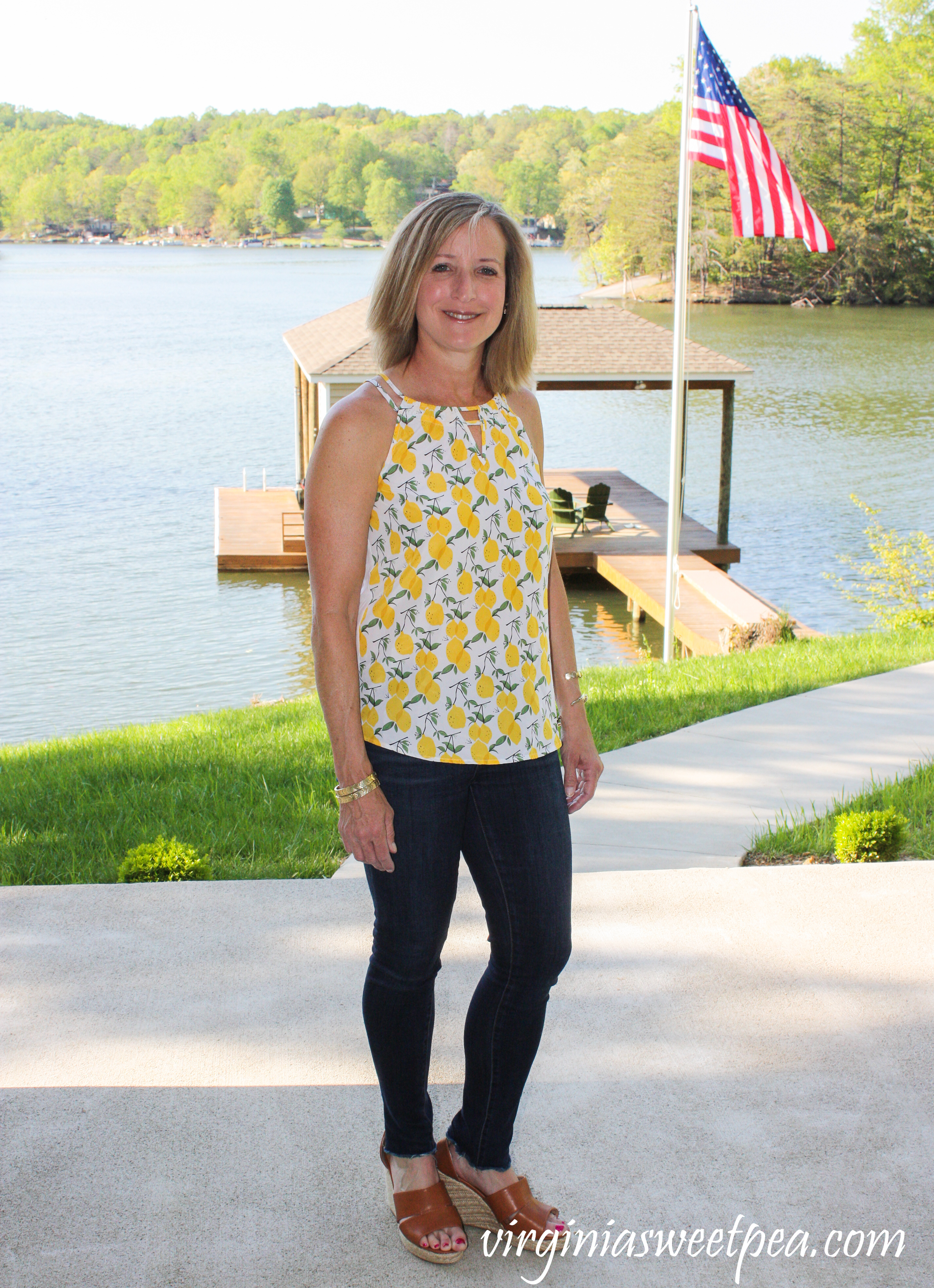 I love this top's double string neckline and it's adorable lemon print.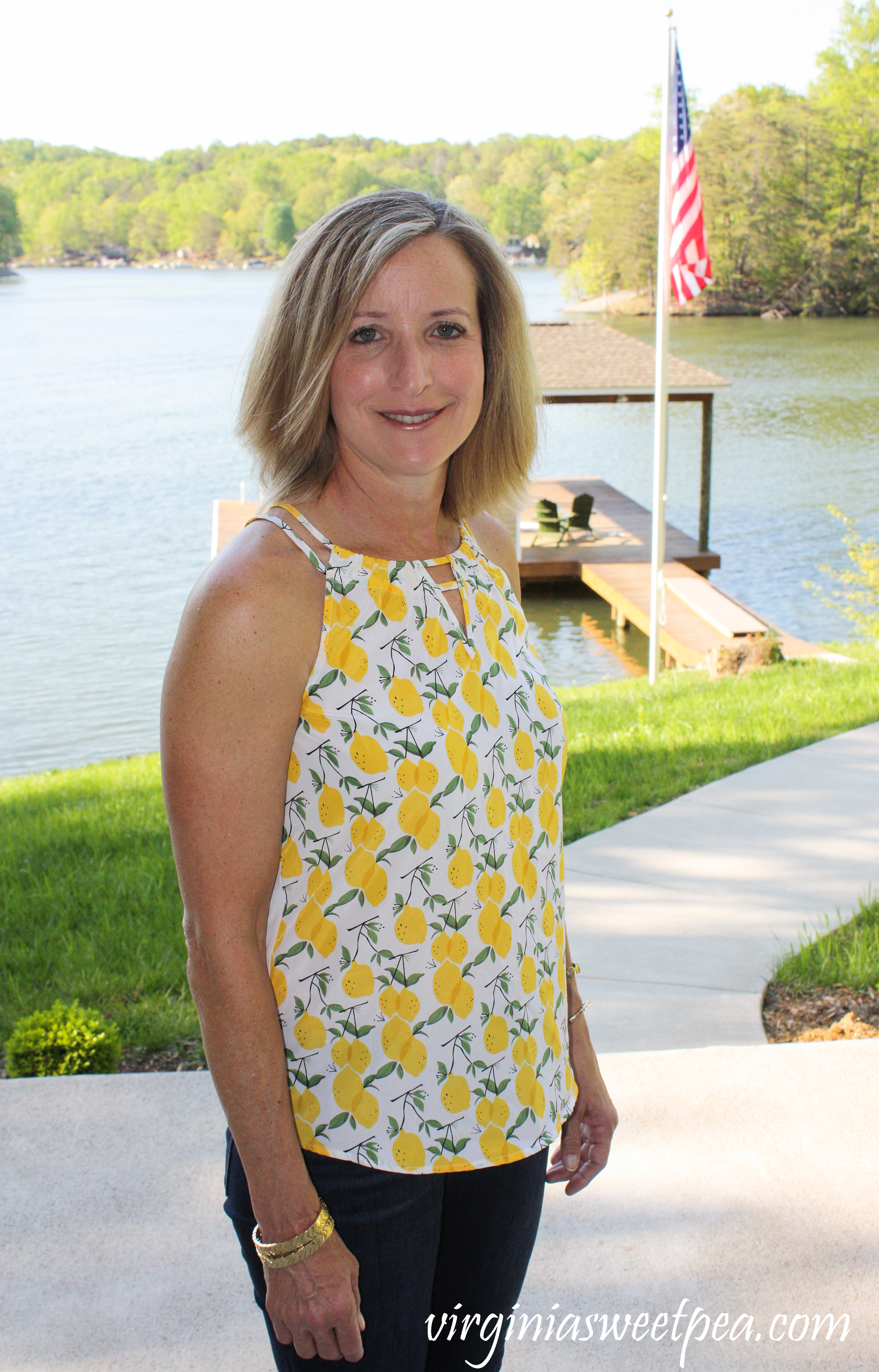 It's called a mixed media top because it's made of two different fabrics. I wasn't crazy about the white back and would have preferred that the lemon print be on both the front and the back. I paired this top with Sam Edelman jeans from my November Fix.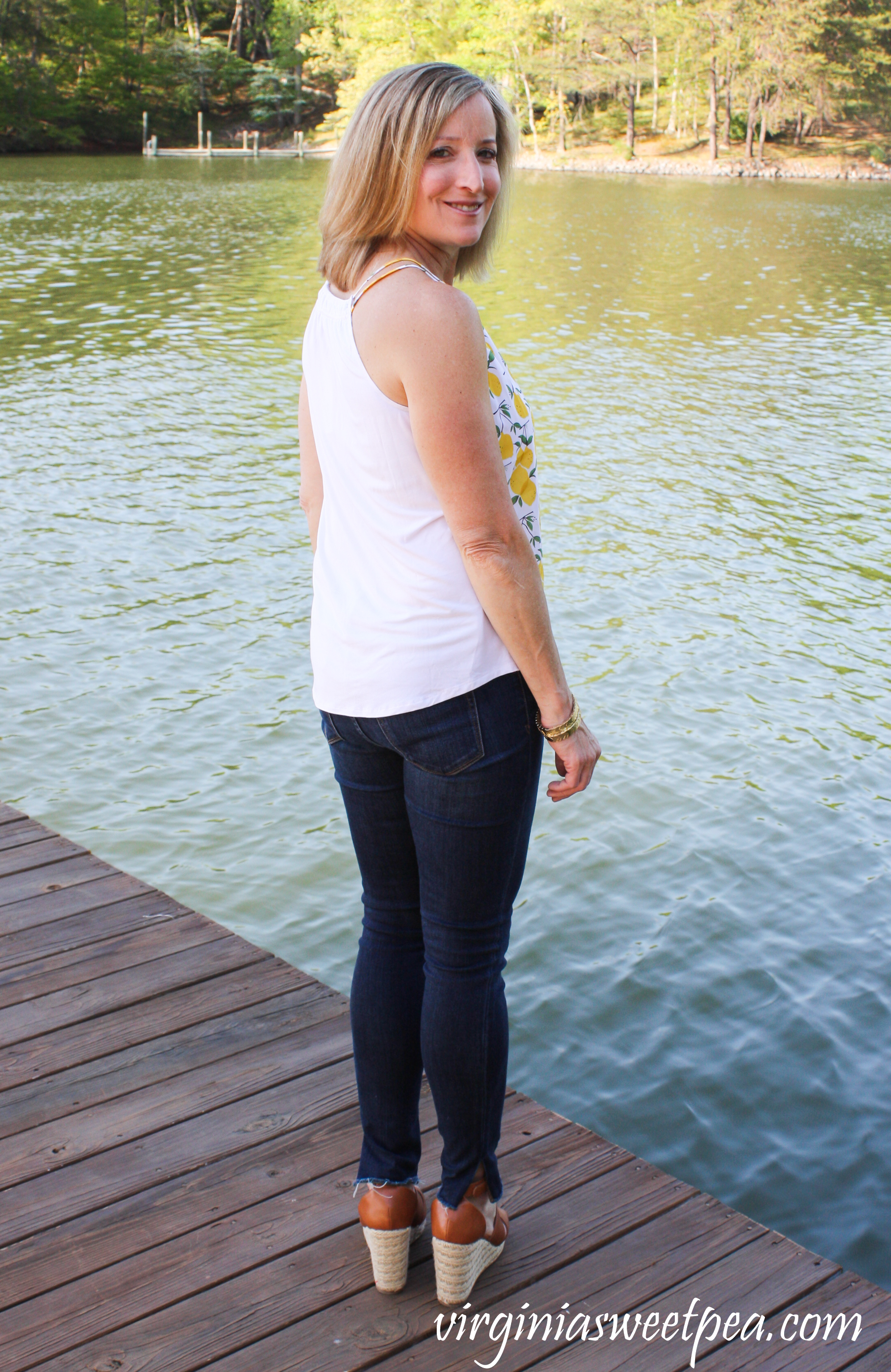 This top got the thumbs-up on Instagram. I really liked it and it fit me perfectly, but I didn't keep it because I didn't want to spend $54 on it.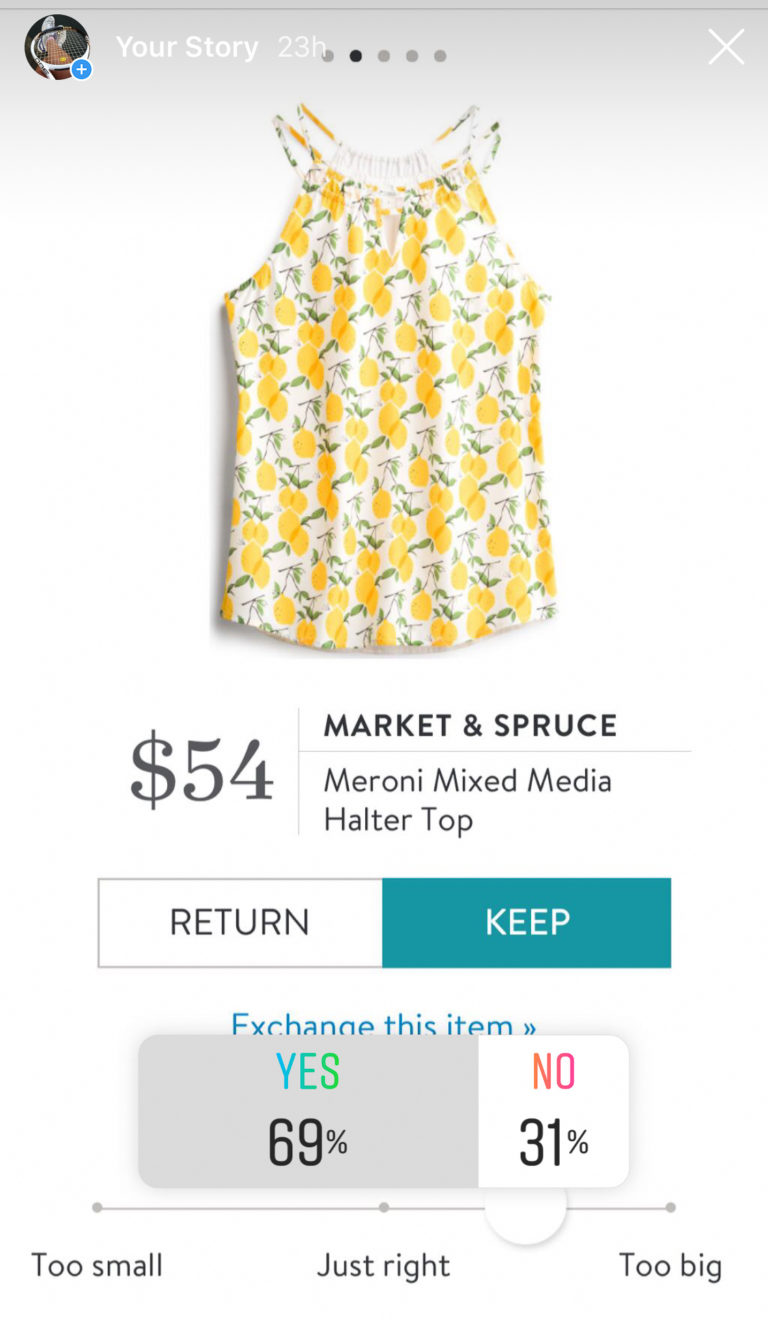 ASTR Tawnia Surplice Blouse
Red is my favorite color and a wrap dress is my favorite style, so I knew that I would like this wrap style blouse.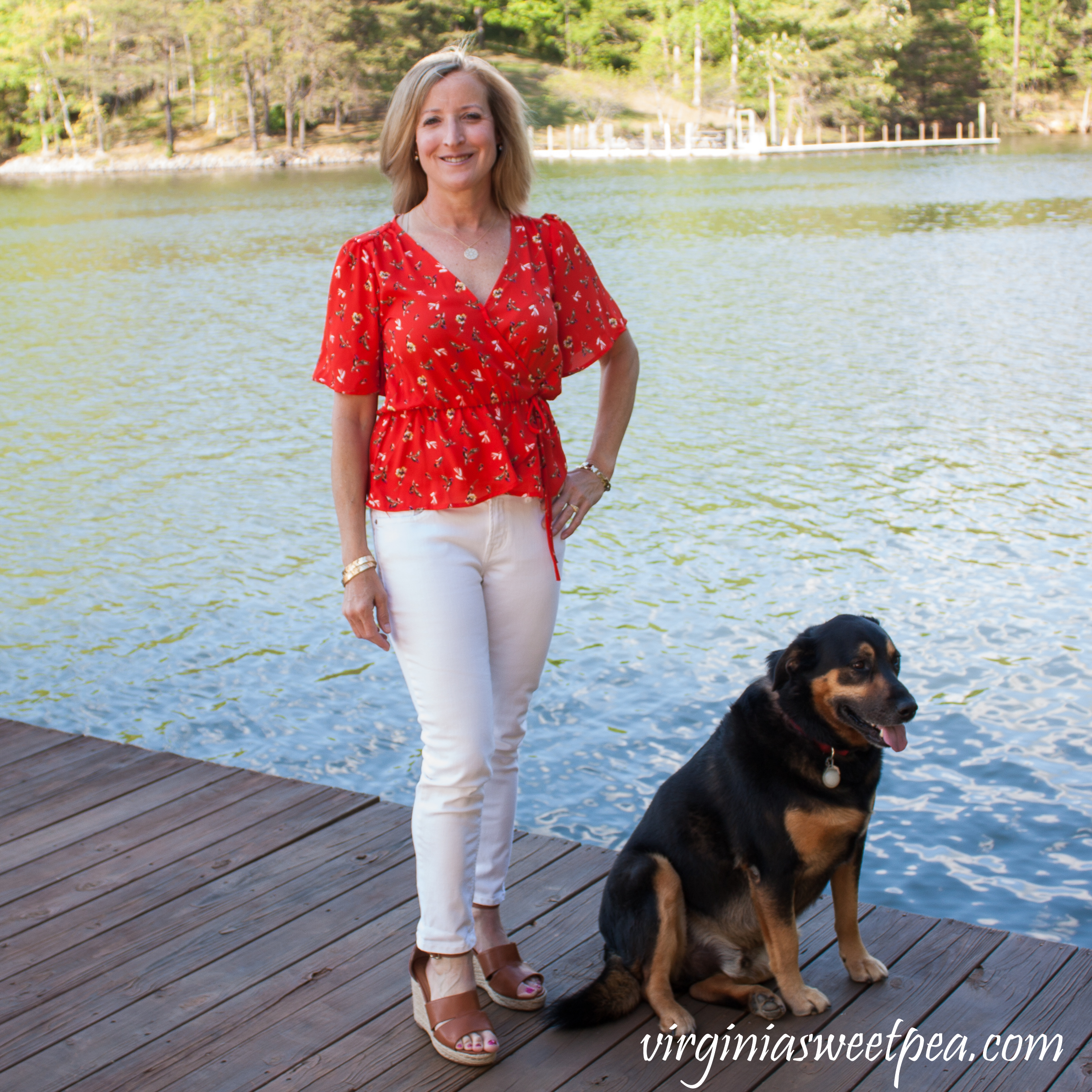 I paired this top with white jeans and my new favorite Walmart shoes.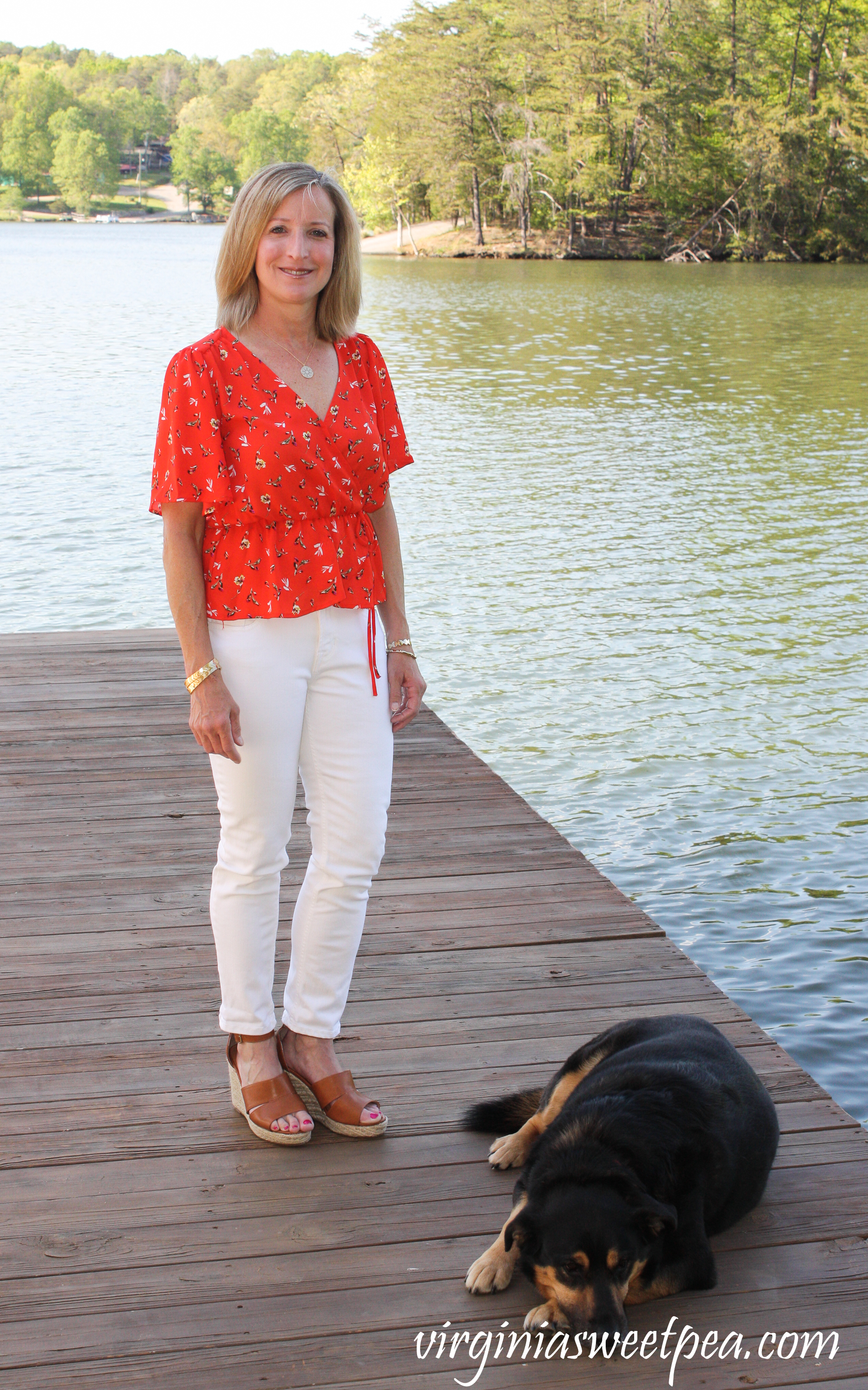 All of the jewelry that I'm wearing in this post is from Rocksbox. Rocksbox is a jewelry subscription service that sends three pieces of jewelry that you can wear for as long as you like each month. When you send your three pieces back, or buy what you like, a new box is sent. If you'd like a free month of Rocksbox, sign up with this code: PAULABFF54. I rejoined Rocksbox a year ago in January and I love their service. I've received the cutest jewelry and have purchased quite a few items.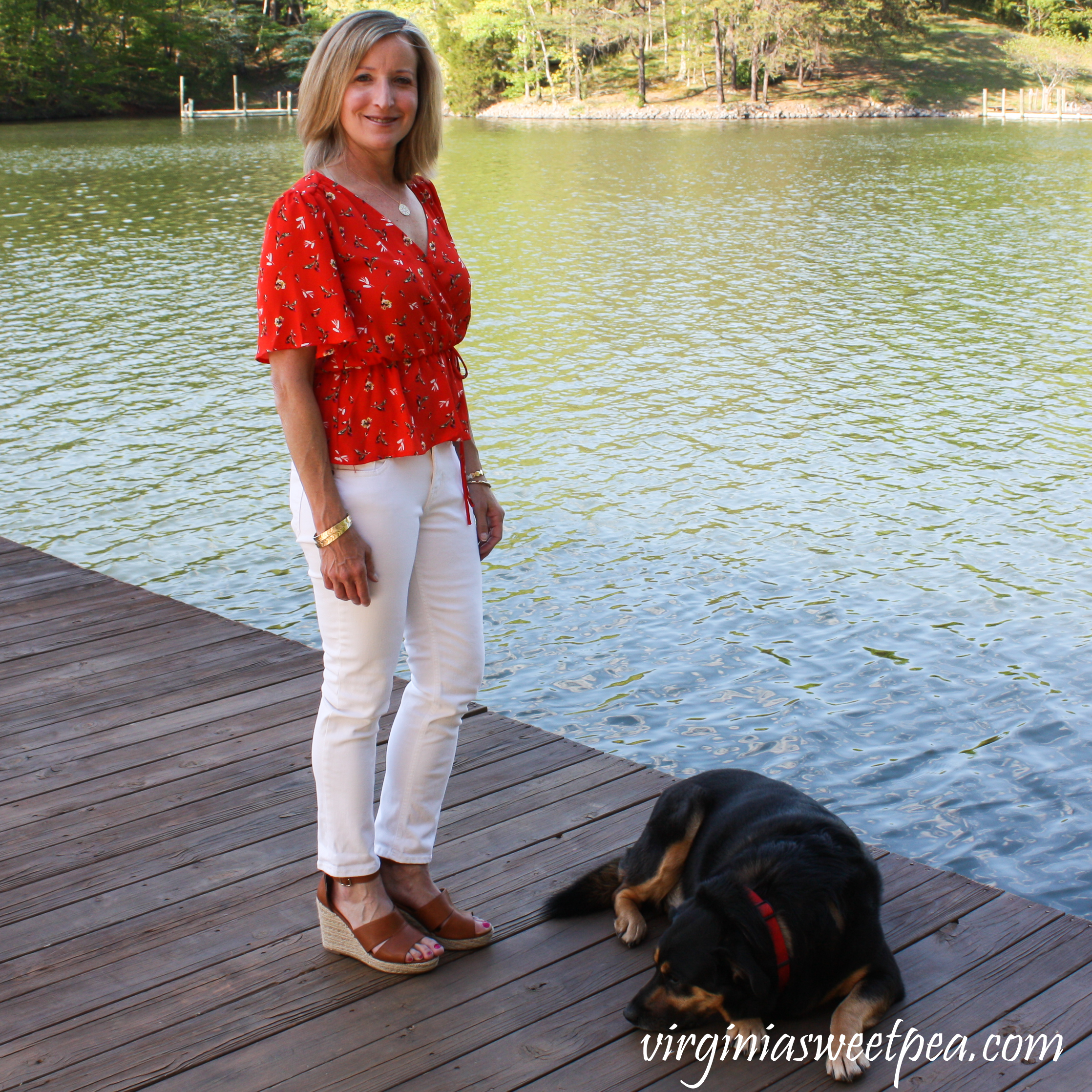 I liked this top, but the elastic waist kept riding up which I found a bit annoying.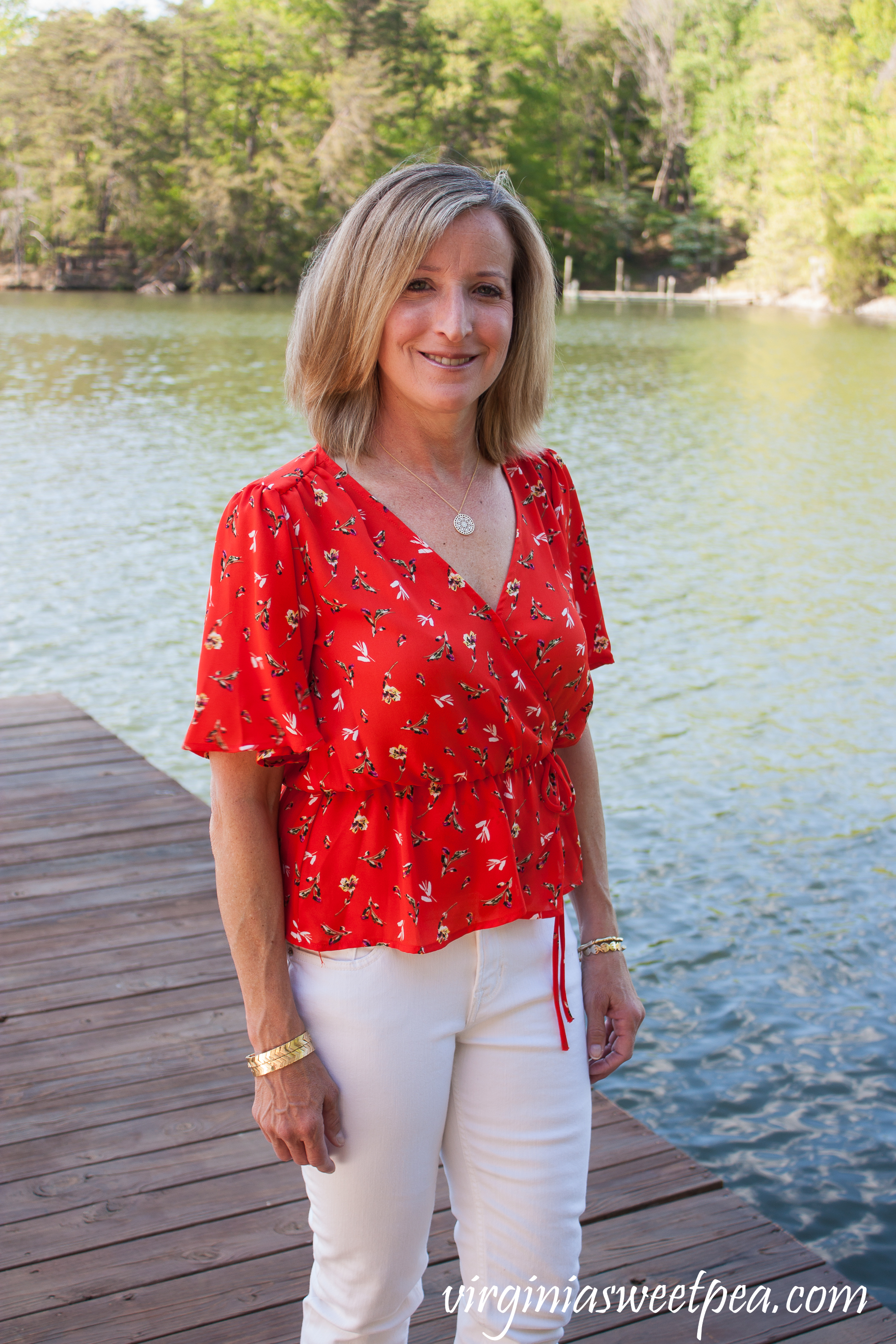 My friends on Instagram were almost split in their opinion of this top. I did like it, but if I spend $68 on a blouse, it has to be 100% comfortable.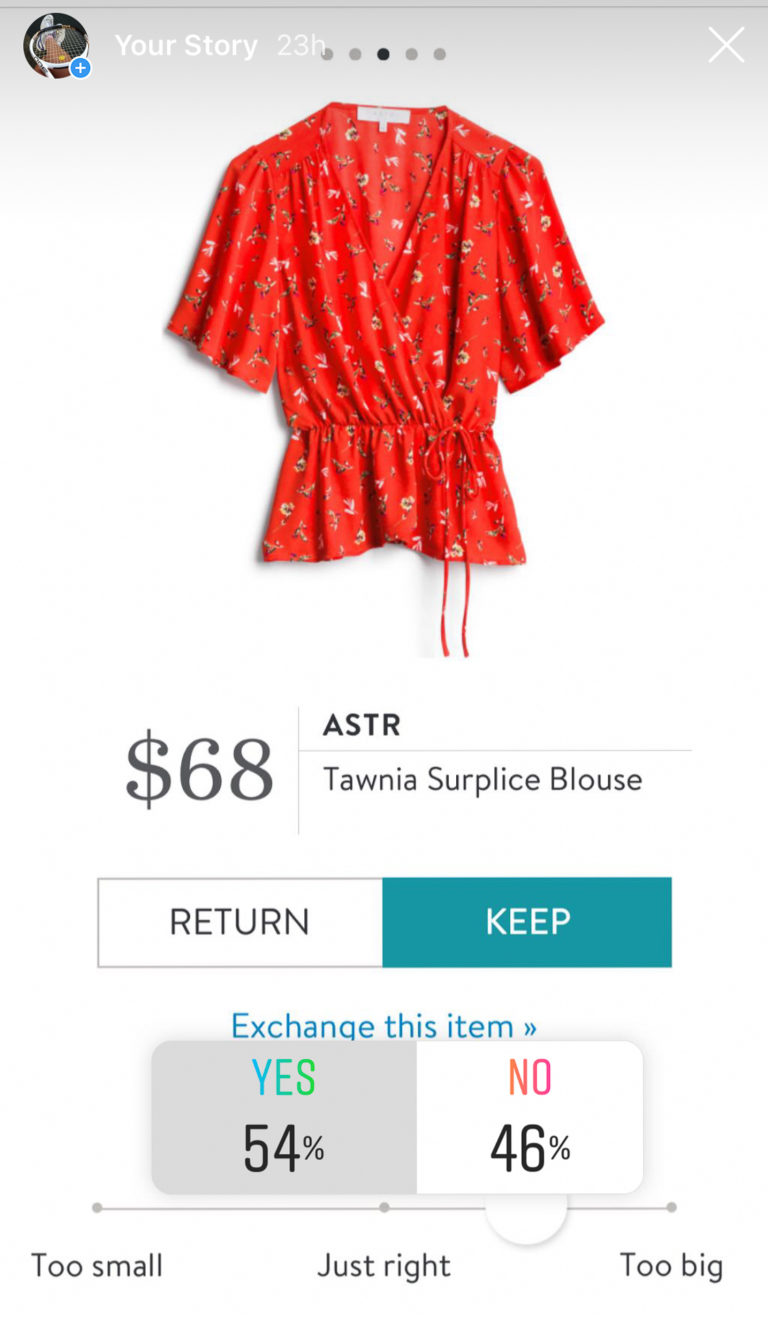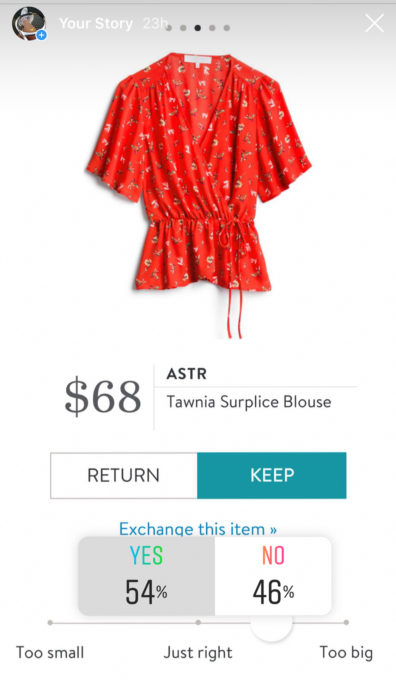 Goldray Lowrey Knit Jumpsuit
If I was thirty years younger and had the body of my 19 year old niece, I'd want to rock a jumpsuit every weekend.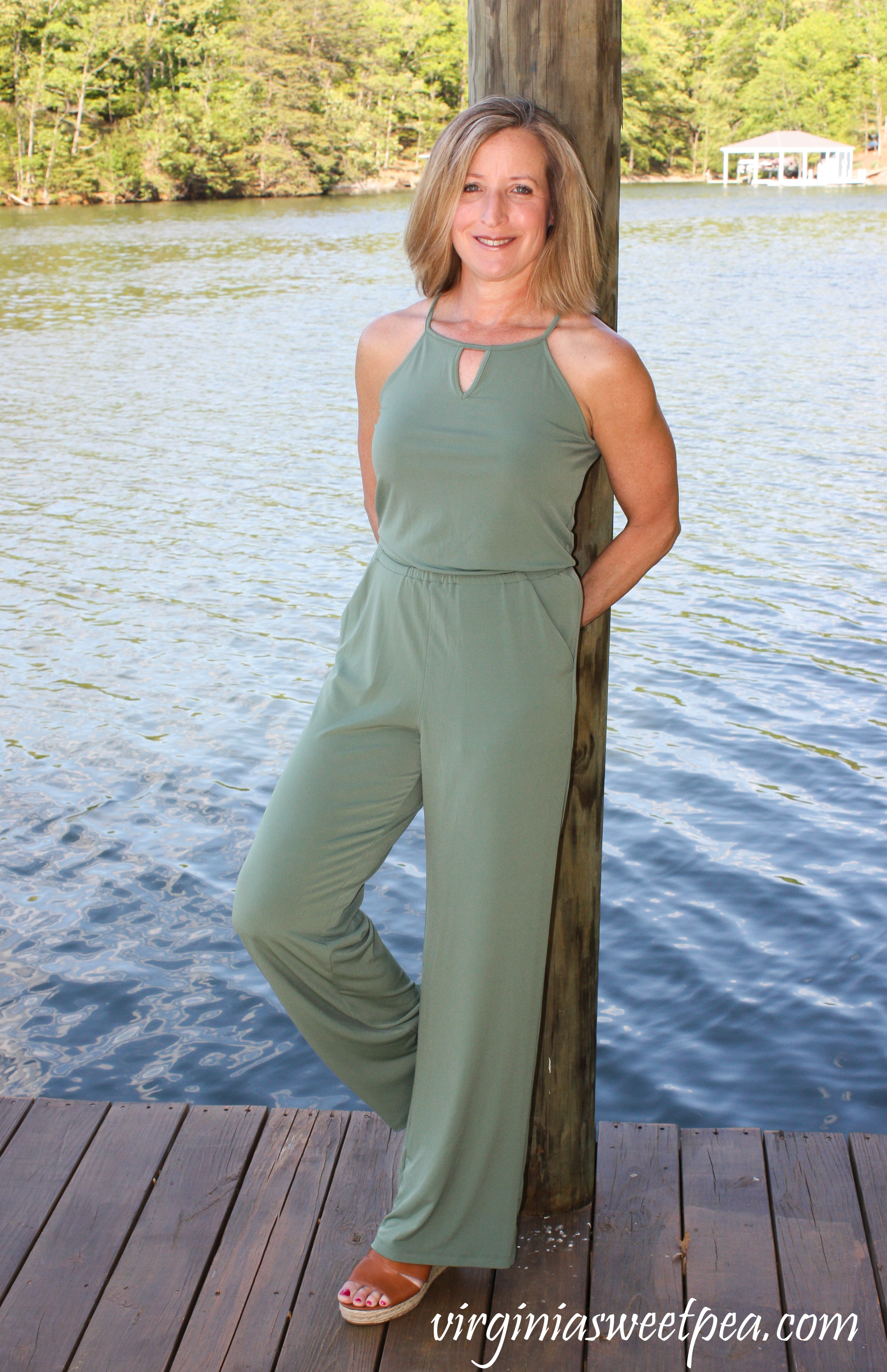 This knit jumpsuit was super comfortable, very stylish, and it got bonus points for having pockets. I loved trying this on and if I had somewhere to wear it, I might have considered buying it.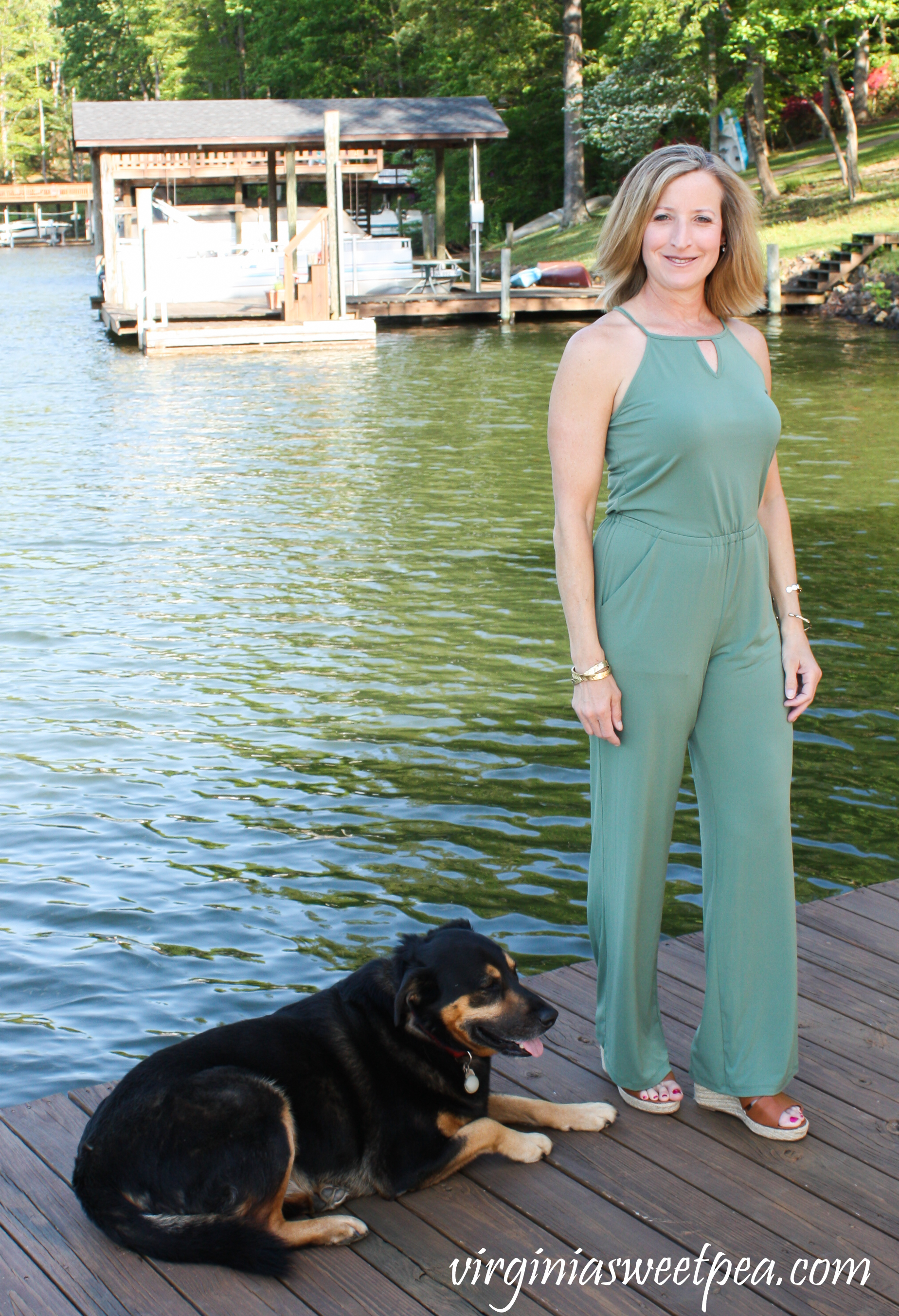 Here's a peek at the back of the jumpsuit. Sherman was a good helper this month and posed for several pictures. At this point in the day he had already been on one boat ride and was hoping for a second.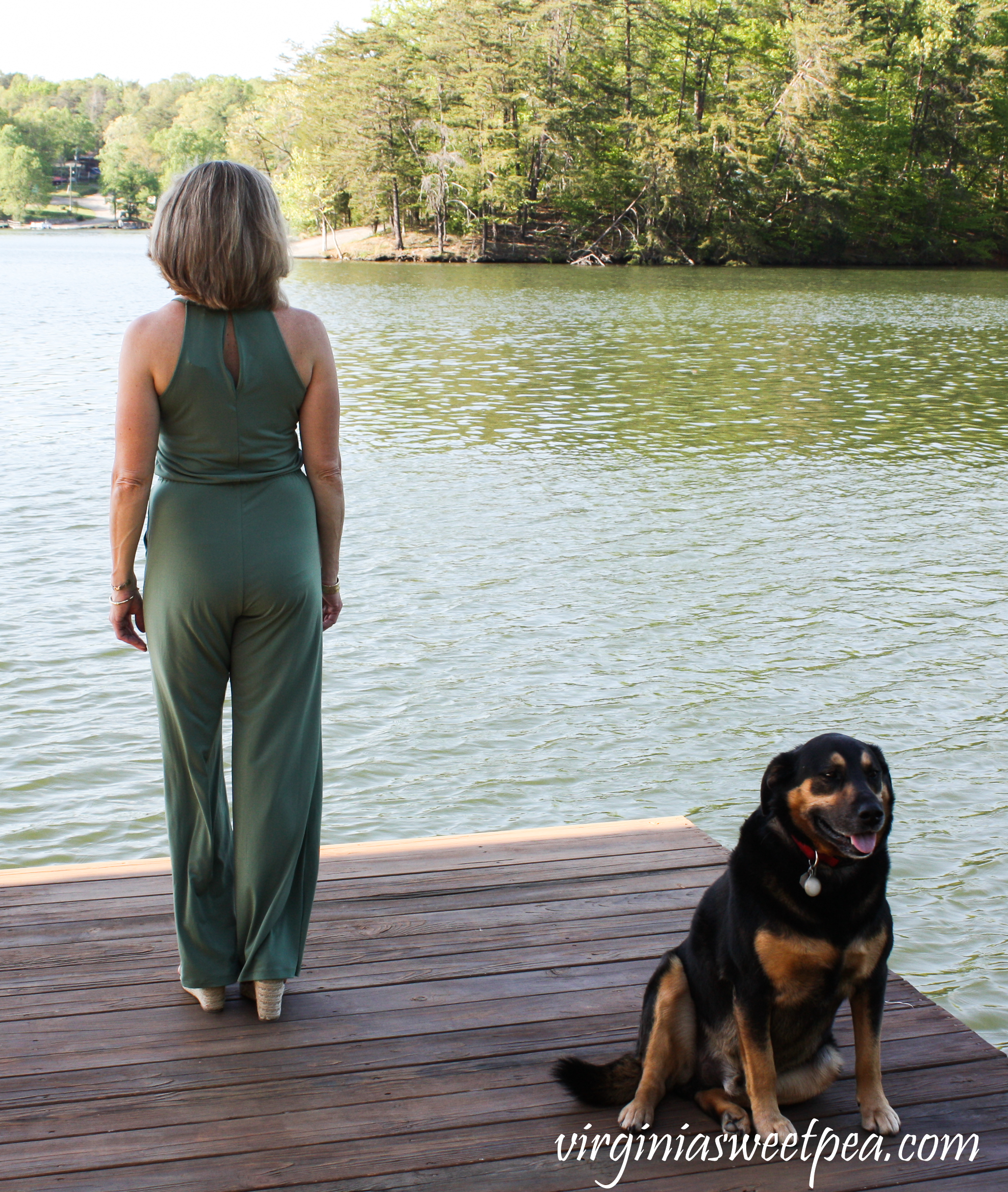 My Instagram friends were also almost evenly split in their opinion of this jumpsuit. It was super fun to try this on, but I didn't keep it.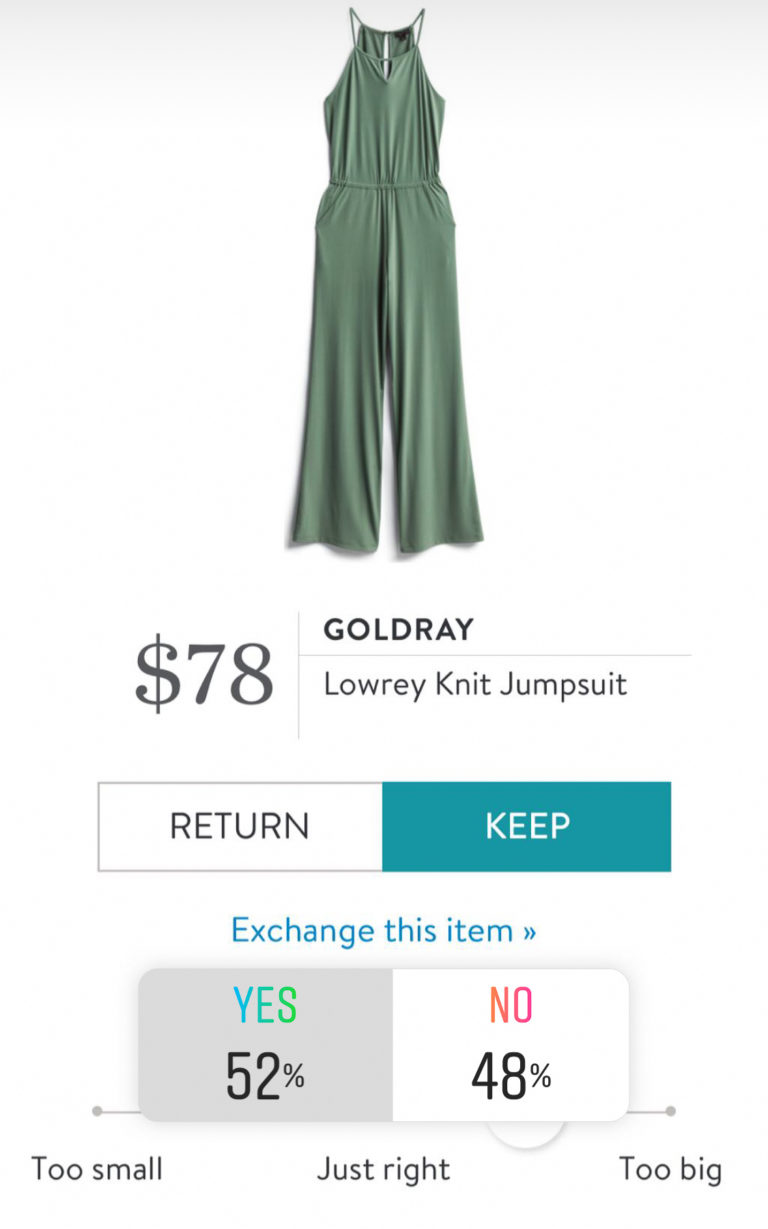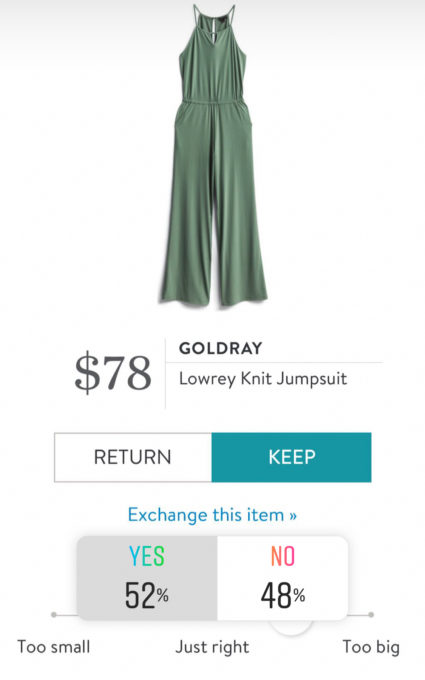 Warp + Weft Andie Distressed Frayed Hem Short
I have been wanting a pair of jean shorts from Stitch Fix for a long time and my stylist finally was able to snag a pair for me to try. They have a higher rise, button fly, distressing, and a frayed hem.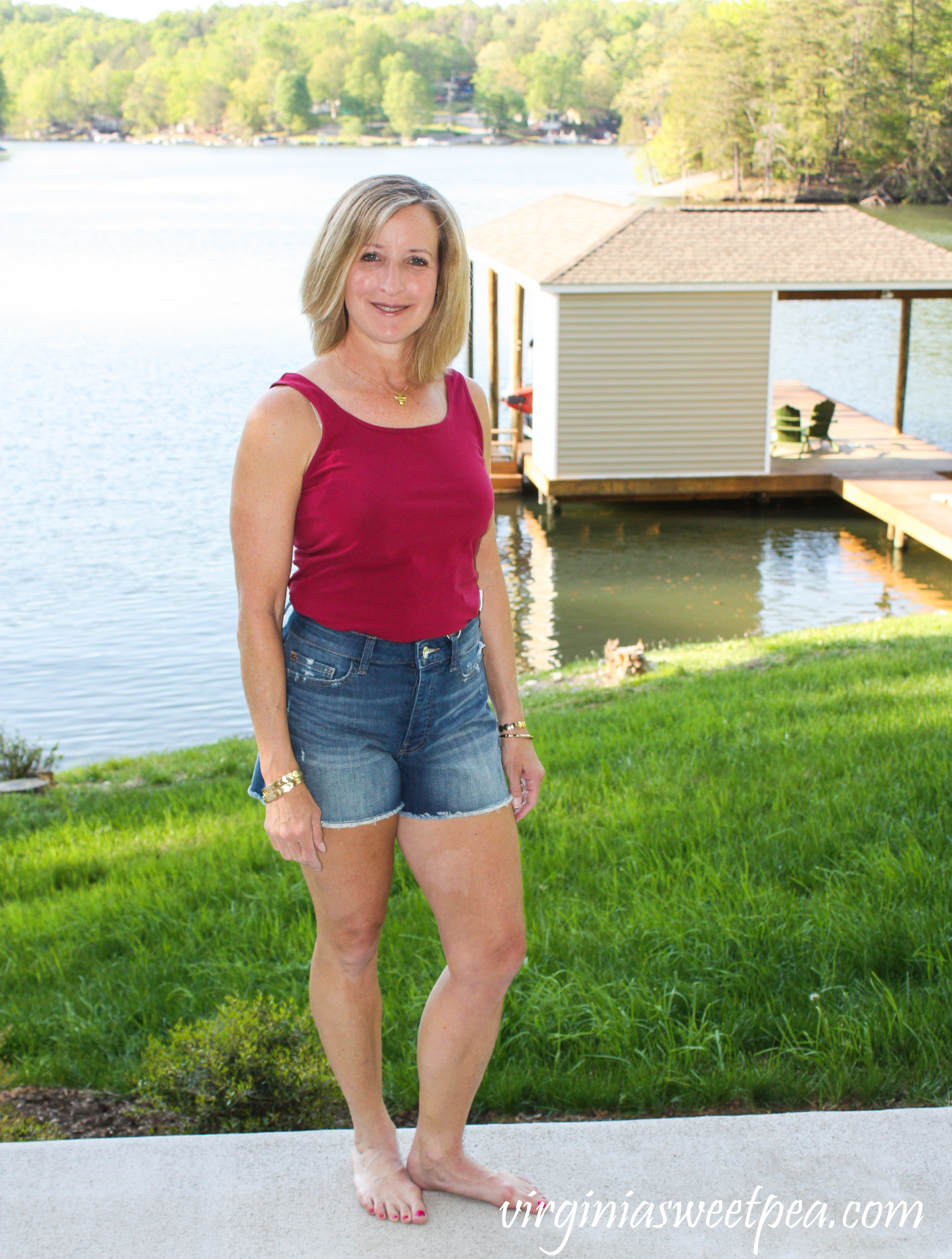 After seeing the preview picture of these shorts, I was pretty sure that I wouldn't like them but I was wrong. I'm not used to shorts with a higher waist and wider legs and I was sure that they would not flatter me. Boy was I surprised when I put them on and liked them.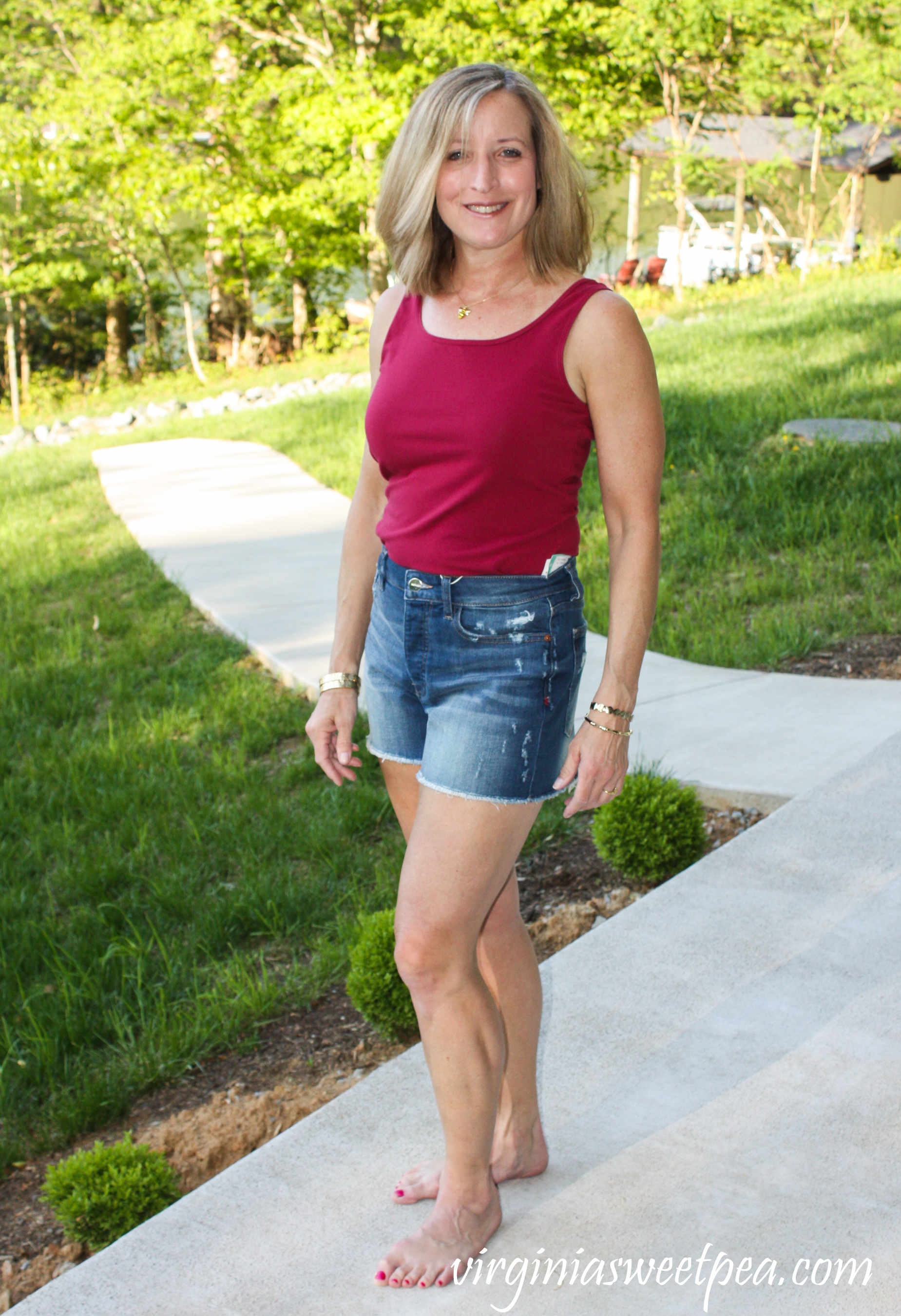 These shorts have some stretch which adds to the comfort factor.
The Kate Spade Honeybee necklace that I'm wearing is one of my favorite purchases from Rocksbox.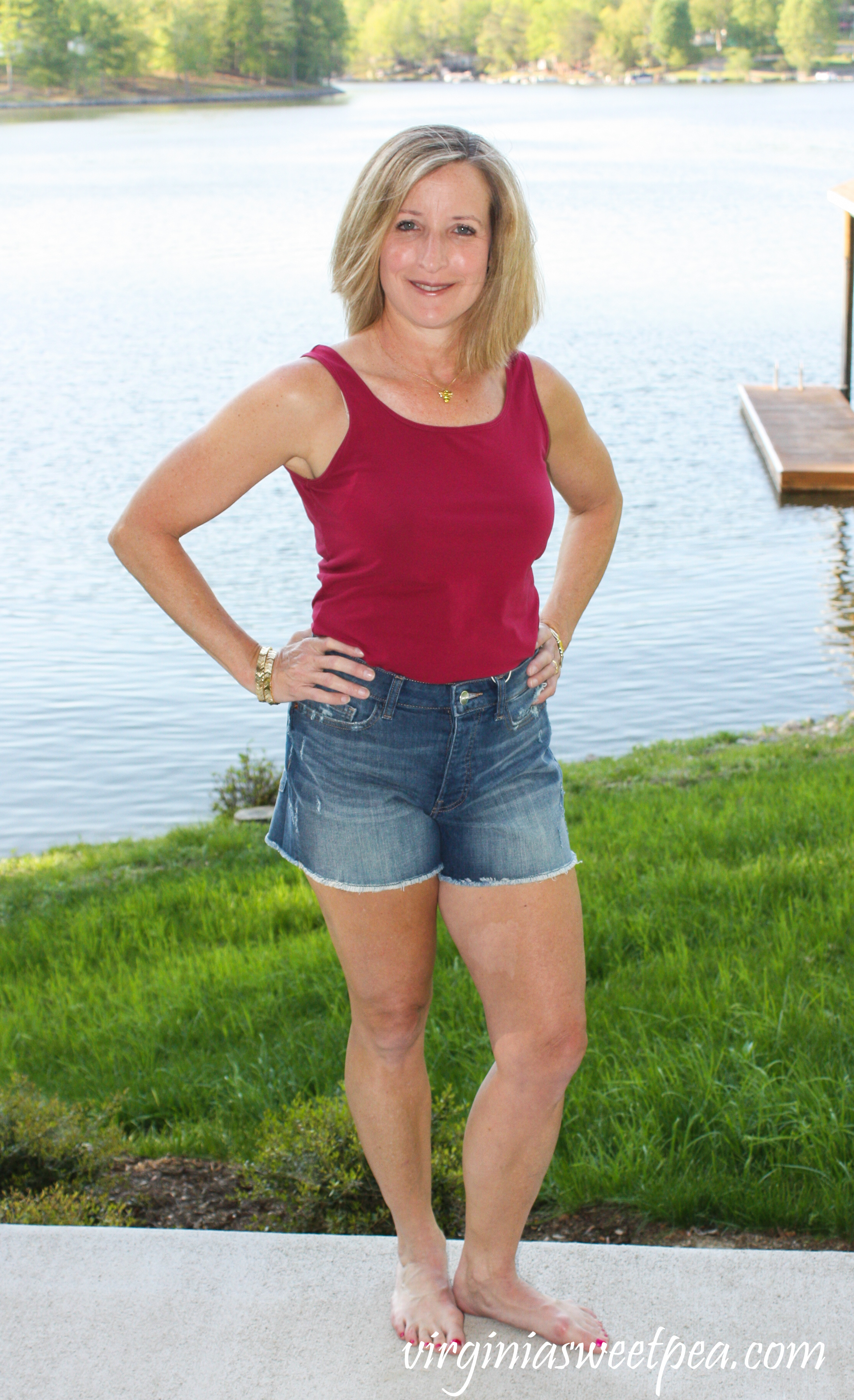 I was afraid that since I thought of these as "mom jeans" style shorts that they would make my rear look big, but I don't think that they do.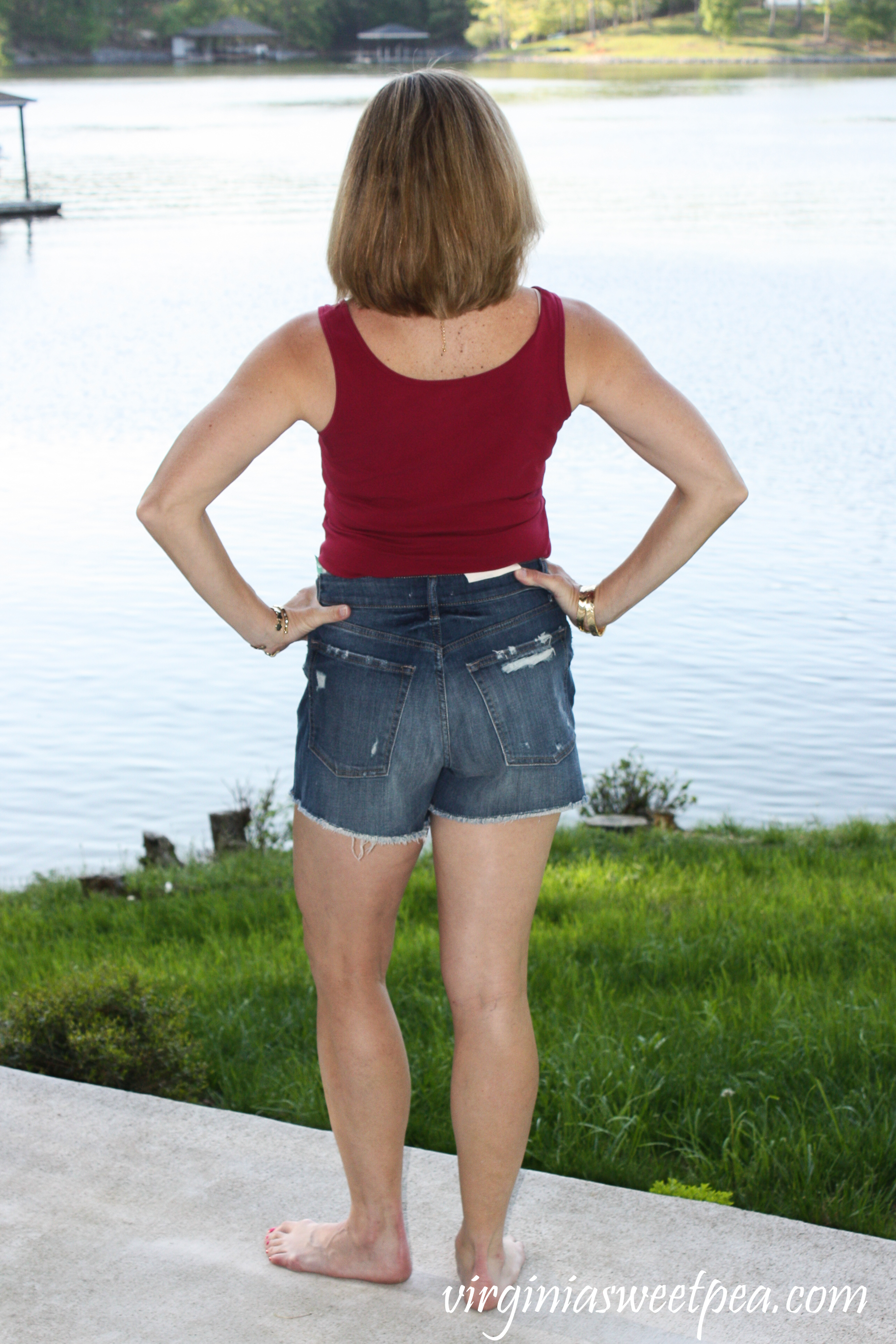 These shorts are definitely comfortable. The wide leg opening took a bit for me to get used to. Every time I bent over in these, I felt like I was exposing more than I intended to expose to the world.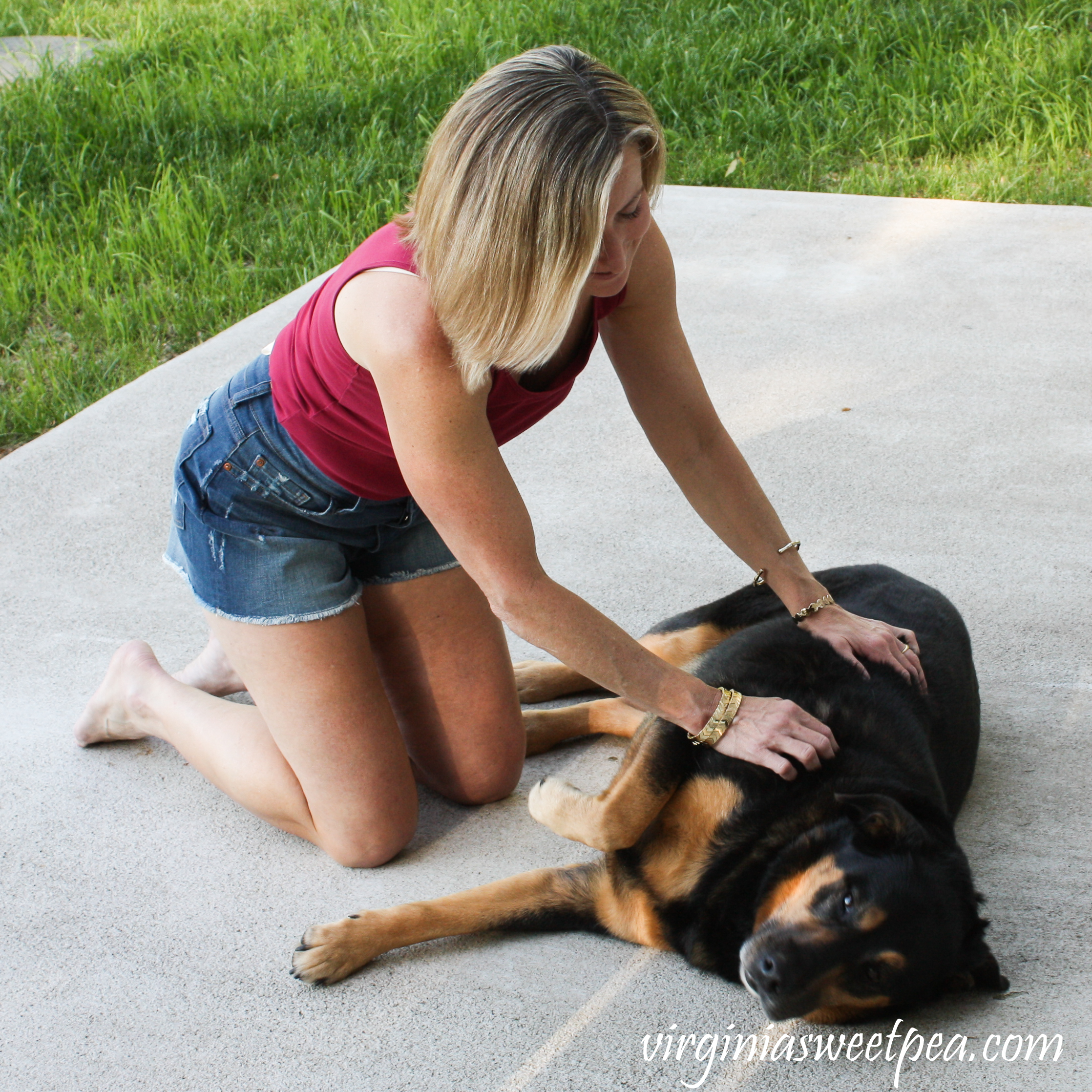 I have always loved jean shorts and even though I really want a pair, I don't think that these are the pair that I want to purchase.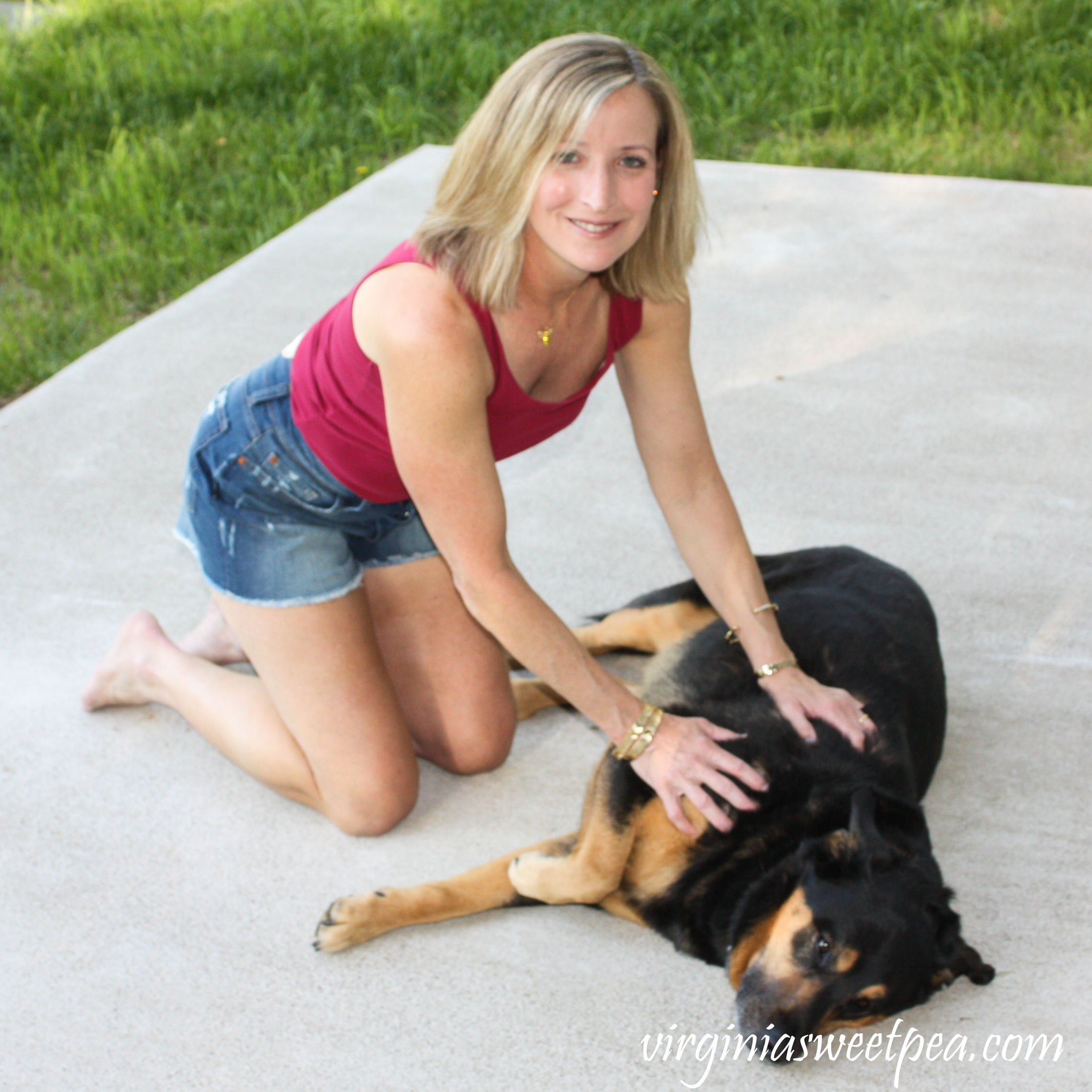 I agree with my Instagram friends on these shorts and even though they were fun to try on, I don't think that they are the shorts for me.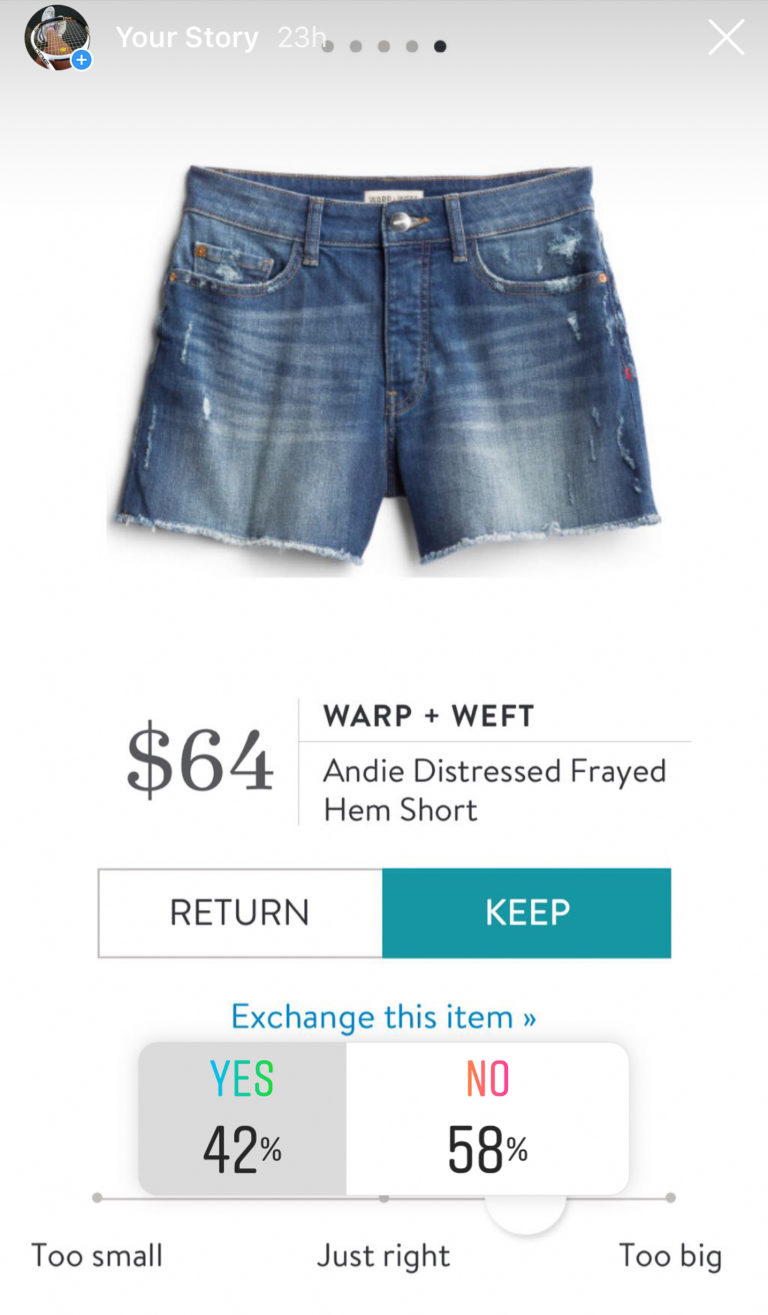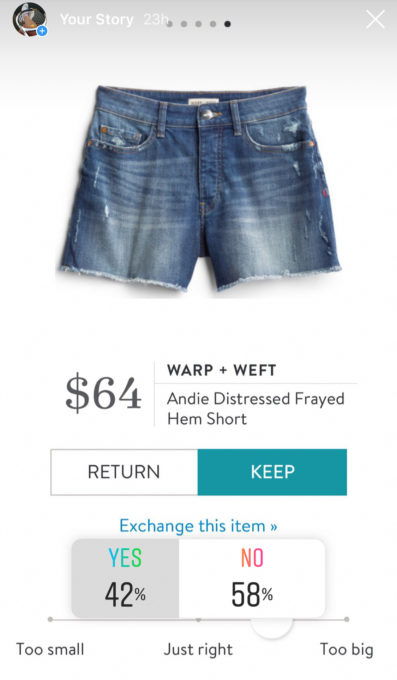 I ended up not keeping anything from this Fix but I was very tempted by several of the pieces that I received. My budget is tight right now due to some upcoming trips in June, so I didn't buy anything, even though I liked several of the pieces.
Try Stitch Fix!
If you've been thinking about trying Stitch Fix but haven't, I encourage you to give it a try. Don't forget that Stitch Fix also offers services for both men and children and they offer maternity and also plus-sizes.
I love receiving my box each month and have so much fun trying on all of the styles sent to me.
Give a Stitch Fix Gift Card
A Stitch Fix gift card is a gift that any man or woman would like to receive. I know I'm thrilled when I receive one! Consider a Stitch Fix gift card for someone that you know likes Stitch Fix or has been meaning to try it.
I love receiving a Stitch Fix gift card and hope that a few will be headed my way on May 26th when I turn 50!