Stitch Fix Athleisure Review–August 2018-Fix #60
The beginning of the month means it's time for a Stitch Fix review. Since I was not in need of any more summer clothing, I asked my stylist, Brittany H., for a selection of athleisure attire. Brittany did a great job of picking out athleisure apparel that was not only stylish, but also supremely comfortable. If you're not sure what I mean by athleisure, I think of it as athletic wear that you can wear for a workout or in your leisure time.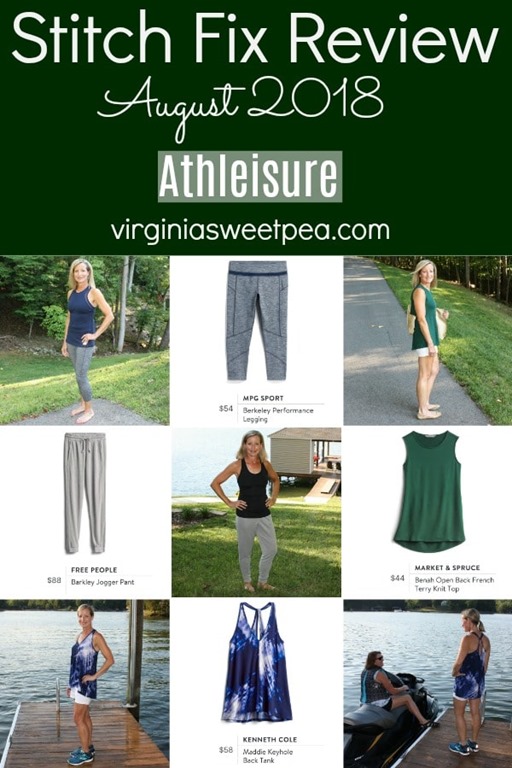 I am a Stitch Fix affiliate and if you make a purchase, I make a small commission. My love for Stitch Fix is genuine and all opinions are truthful and my own.
August 2018 Stitch Fix Review
If you are new to Stitch Fix, these details will help you to understand the service.
Stitch Fix Details
Stitch Fix is a personal styling service. When you sign up for Stitch Fix, you fill out a detailed style profile that helps your stylist know your likes and dislikes. Since I've received 58 Stitch Fix shipments, my stylist knows my likes and dislikes very well and I almost always like every item in my Fix, a good problem to have!
When a Fix arrives, you have three days to try the clothes on and to decide what to keep and what to send back. Stitch Fix includes a postage paid envelope making returns super easy.
When you sign up for Stitch Fix, you can choose how often a box is delivered. You can pick a monthly options or schedule a box when you'd like to receive one.
I do not like shopping and love receiving clothing from Stitch Fix. I get clothes that I like without having to do any work other than pinning things that I like to my fashion board on Pinterest. My stylist, Brittany H., checks my Pinterest board for inspiration and also reads my note to her each month to see if I have any special requests.
You can find links to all of my Fixes here and also be sure to check out my Stitch Fix Review Board on Pinterest where I pin my favorite looks.
For more Stitch Fix looks, be sure to check out my other Stitch Fix reviews. And if you haven't tried Stitch Fix, what are you waiting for? It's so much fun to received a box of five items picked just you.
This Month's Stitch Fix Items
My Stitch Fix box usually contains dressy clothes and it was fun this month to receive items that I can wear while working out or when I'm relaxing at home. Now that I'm no longer teaching, athleisure is the style I tend to wear all of the time.
Market and Spruce Benah Open Back French Terry Knit Top
This top is a gorgeous forest green color and the material is super soft. I found it extremely comfortable and I loved that it could be worn to the gym or could easily be dressed up for a night on the town.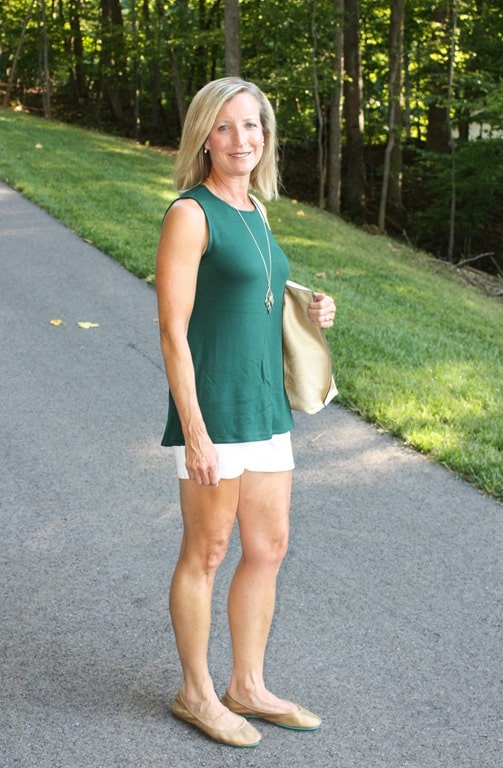 Not only is this top pretty from the front, it also has an interesting open back.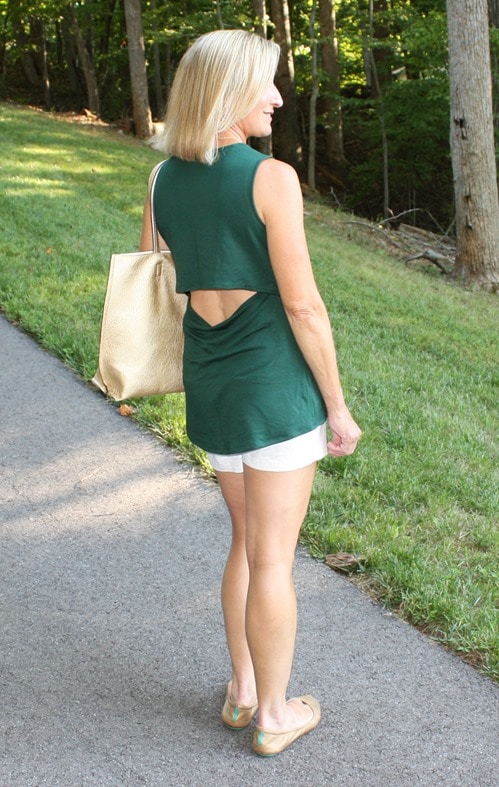 I paired this top with white shorts, gold Tieks, and a gold Stitch Fix tote bag.
My necklace was purchased from my July Rocksbox shipment. Rocksbox is a jewelry subscription service that sends three pieces of jewelry that you can wear for as long as you like each month. When you send your three pieces back, or buy what you like, a new box is sent. If you'd like a free month of Rocksbox, sign up with this code: PAULABFF54. I rejoined Rocksbox in January and am LOVING their service. I've received the cutest jewelry and have purchased quite a few items.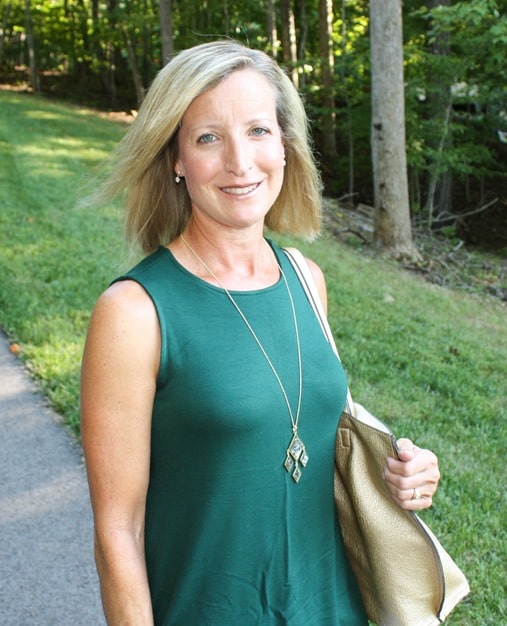 I had a hard time deciding if I should keep this top or send it back. My budget this month allowed for only one item to be purchased, so regretfully I sent it back.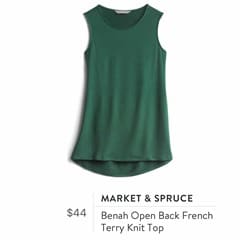 41 Hawthorn Karlotta Hooded Doman Knit Top
I loved this top the second I pulled it out of the box. The material is extremely soft and when I put it on, it was so comfortable that I didn't want to take it off.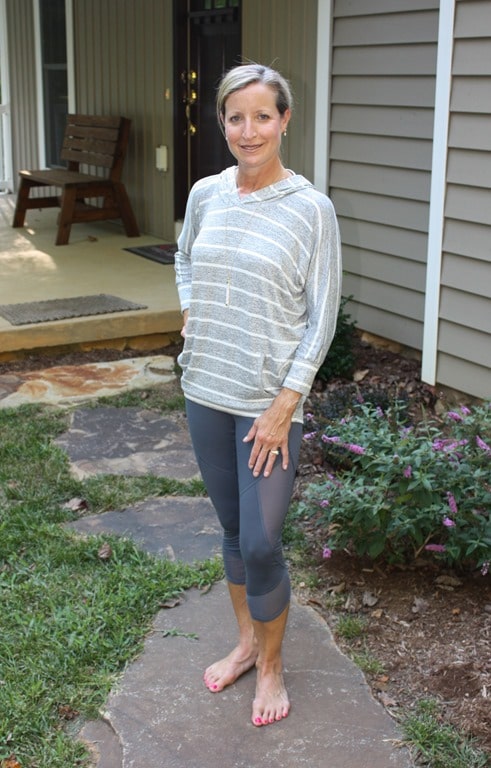 The top has a fun striped pattern and it has pockets. Hurray for pockets! I love walking with my hands in my pockets and I know I'll wear this top on many walks with my dog this fall. It's also hooded which will be nice on a walk when it starts getting cold. Another feature that I like about this top is that it covers the rear.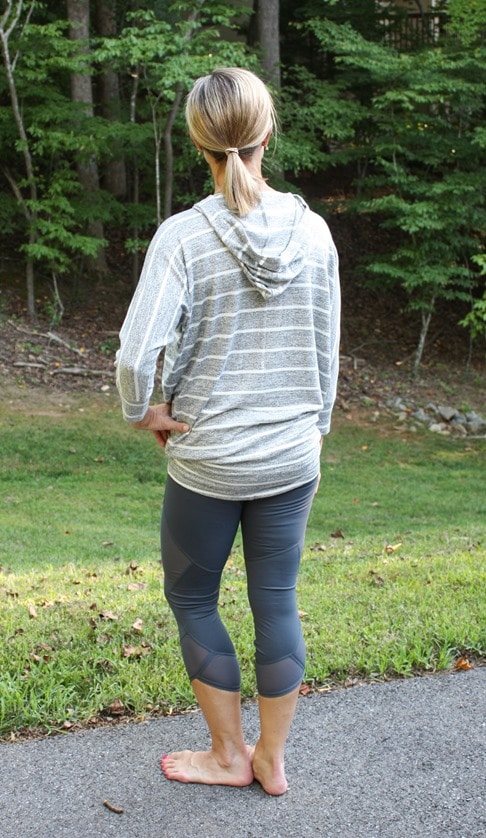 We have a fall trip planned to leaf peep in Vermont and this outfit will be perfect to wear on the long car ride. My stone pendant necklace is a Rocksboxhttps://www.talkable.com/x/1f0Smx purchase that I love. Every time I wear it I get compliments on it. This month's Rocksbox contains three pairs of earrings and I'm excited for them to arrive.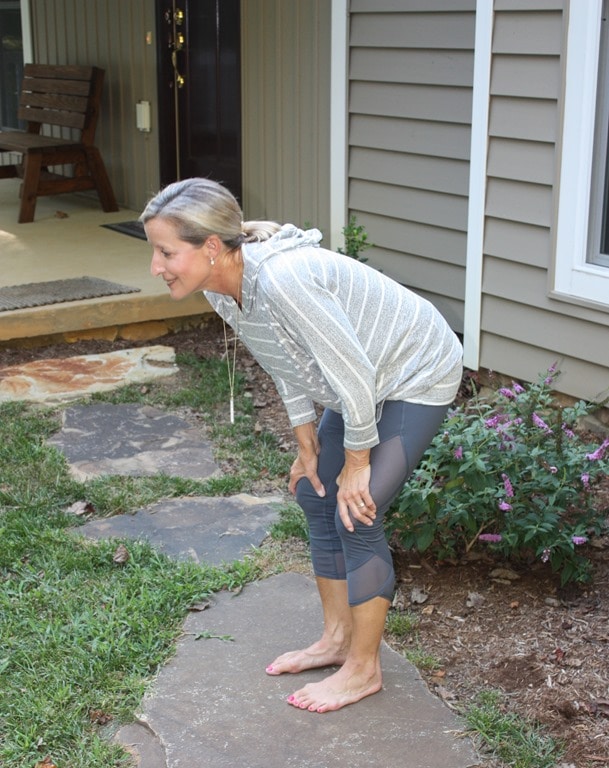 I kept this shirt and I'll be wearing it non-stop as soon as the temperatures drop.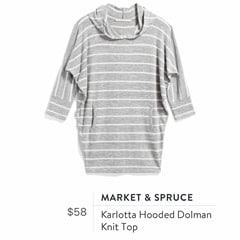 MPG Sport Berkeley Performance Legging
These leggings are of great quality. The fabric is thick, but not too thick, and very supportive. I also liked their navy blue color and pretty but subtle pattern.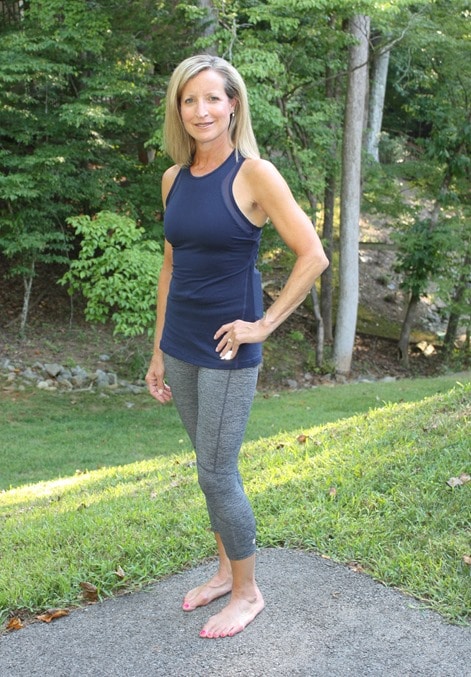 I paired these leggings with a blue New Balance top that my husband gave me for Christmas. I love this top's back! I've been doing a lot of meditation and yoga lately that have really helped with my ongoing anxiety over my health. Just for kicks, I did a little bit of yoga while Sherman observed.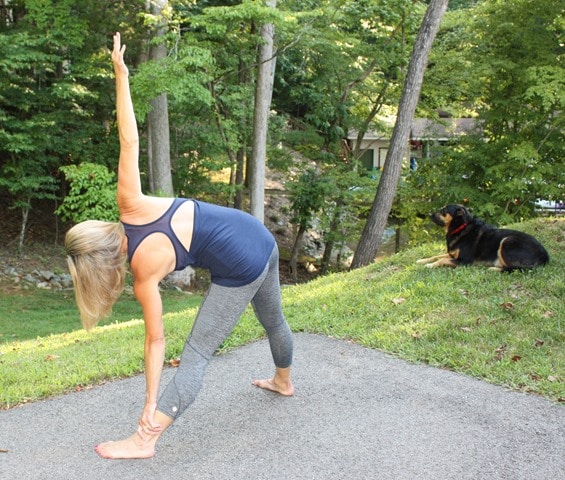 Leggings are a great staple for one's wardrobe. They are great for walks, runs, yoga, the gym, and they are the perfect athleisure wear. To me leggings are the replacement to the yoga pants that I used to wear.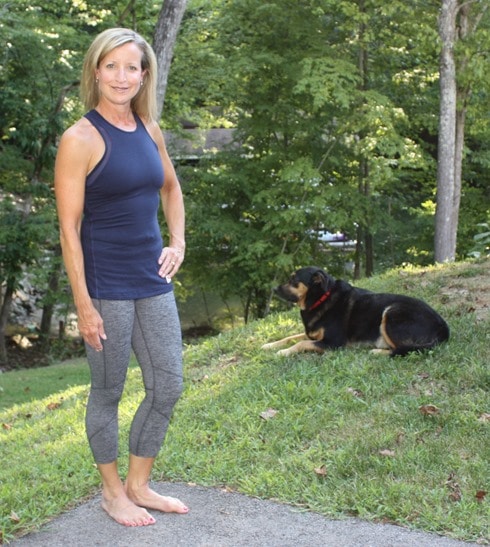 I loved these leggings but they were a bit too snug and a size larger was not available. I've already asked Brittany to send these in a larger size if they become available.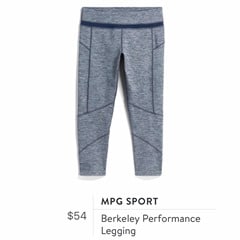 Kenneth Cole Maddie Keyhole Back Tank
This flowing top was so pretty and so soft. I paired it with shorts but it also would look great with leggings. It's the type of top that you could easily dress up by pairing it with jeans, pants, or a skirt.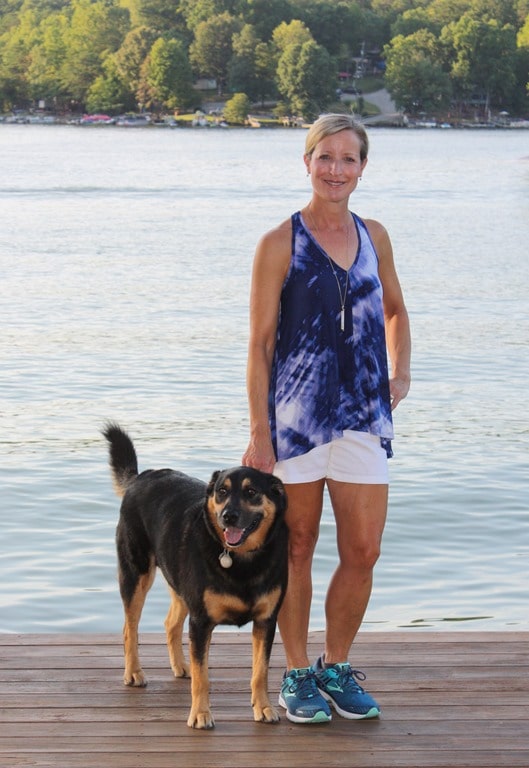 This top has a pretty and interesting twist back.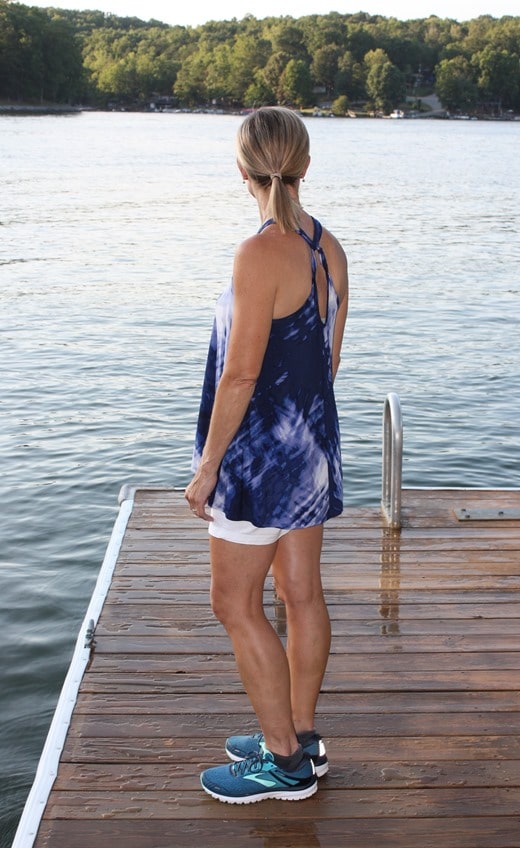 While we were taking pictures of this top, our friends arrived for a visit.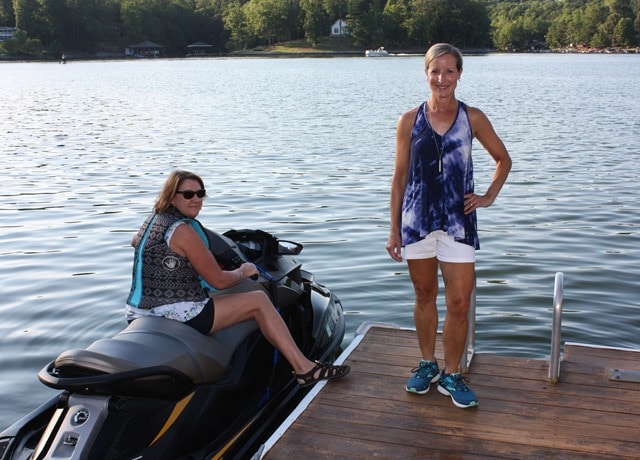 While I loved how this top looked and felt, I didn't like that my bra showed due to the slightly low back.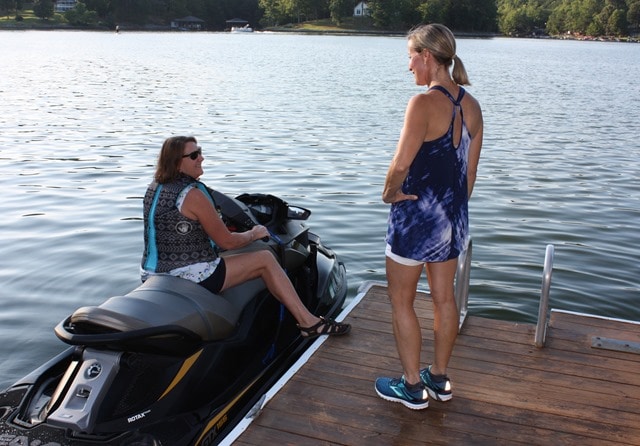 My shoes are new and I really like them. I've always worn Brooks Ariel and recently switched to Brooks Adrenaline.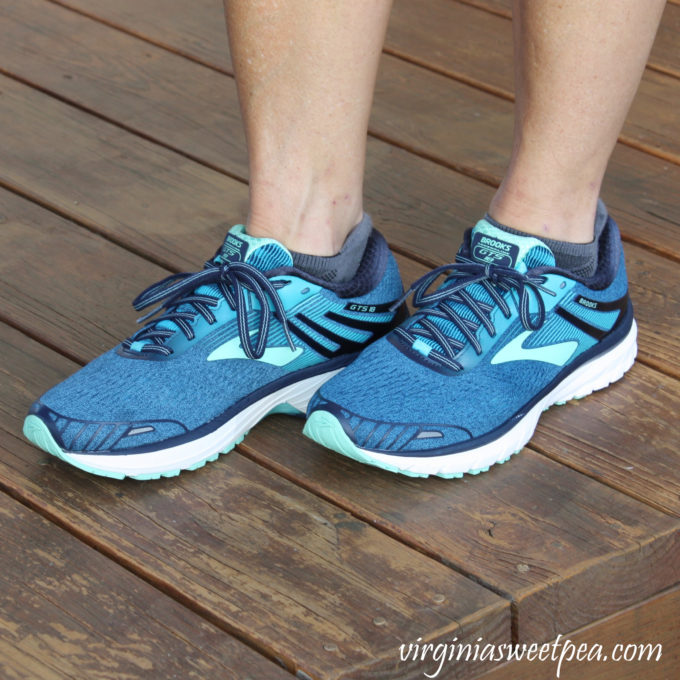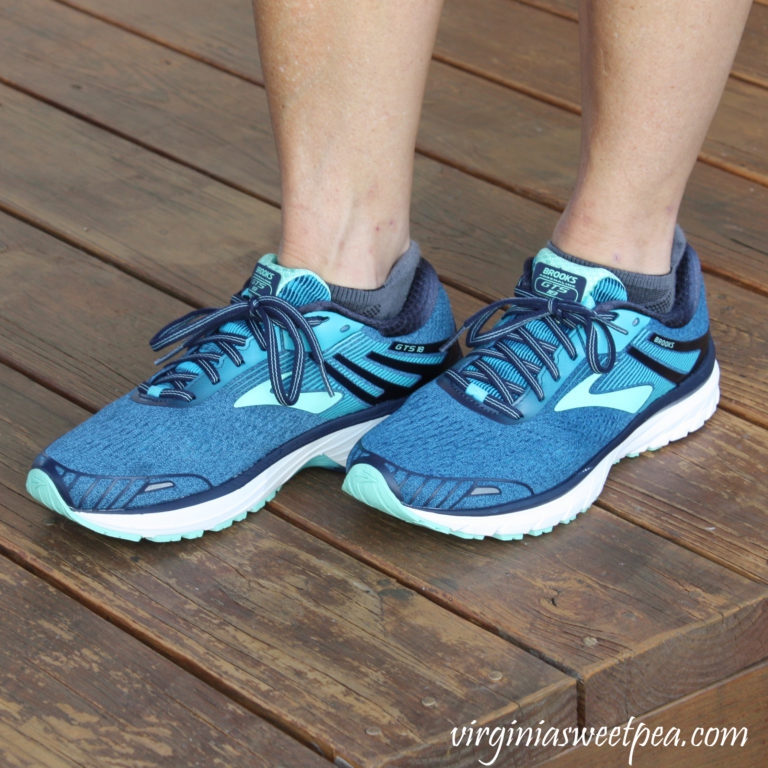 I was tempted to keep this but since I could only keep one item this month, I chose the Karlotta Hooded Dolman over this top.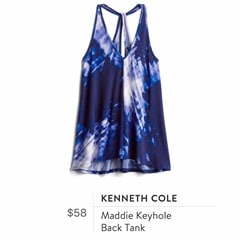 Free People Barkley Jogger Pant
I have heard great things about Free People clothing and these joggers lived up to the high expectations that I had for them based on their brand. I honestly don't like jogger style pants but I have to make an exception for this pair because they were so dang soft and comfortable. If I had purchased these, I would want to wear them 24/7 all winter.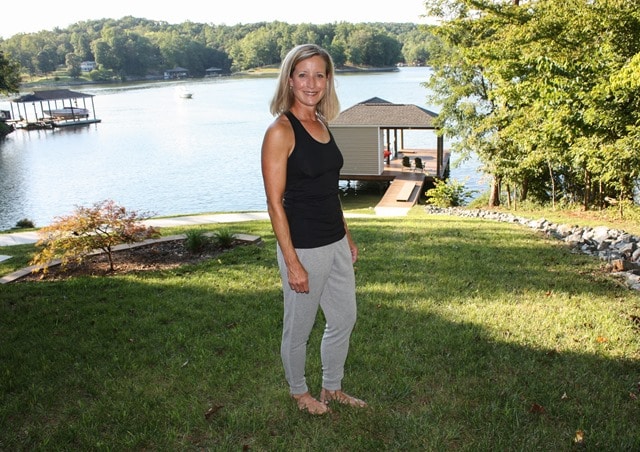 These pants also have the added benefit of pockets. I love pockets!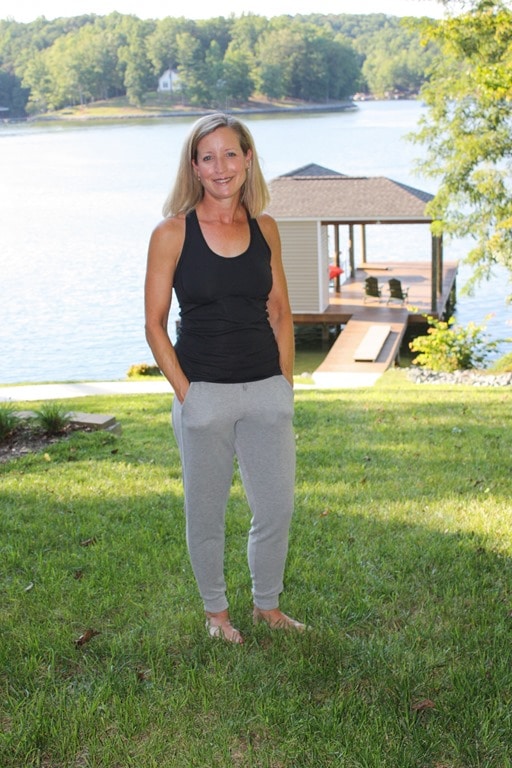 The waist has a draw string.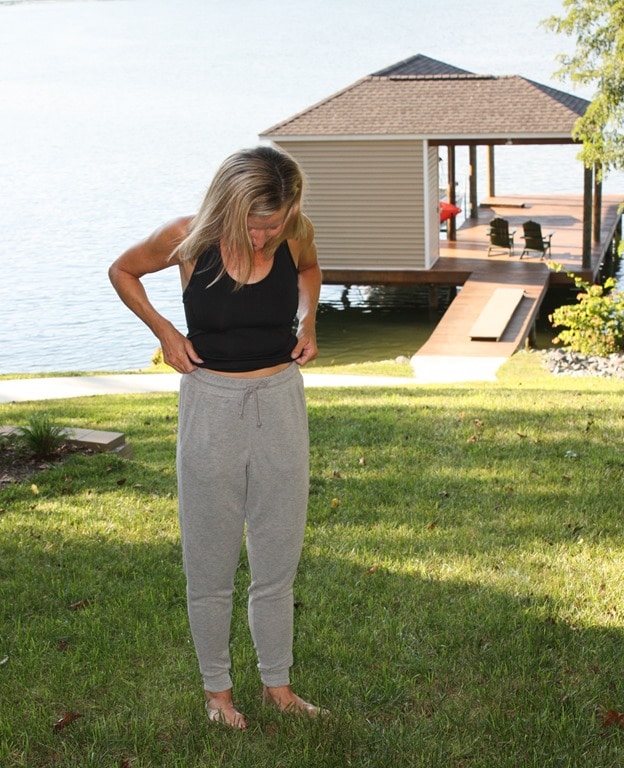 Since I'm not a fan of joggers, I didn't keep this pair, but to tell you the truth, if they'd been less expensive, I would have kept them.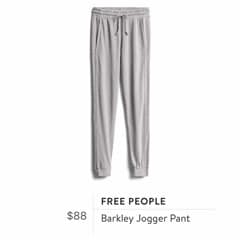 It was so much fun to try a Stitch Fix athleisure Fix. Once it cools down, you'll definitely see me wearing the 41 Hawthorne Karlotta Hooded Dolman that I purchased from this Fix.
Try Stitch Fix
If you've been thinking about trying Stitch Fix but haven't, I encourage you to give it a try. I love receiving my box each month and have so much fun trying on all of the styles sent to me. Stitch Fix also offers gift cards, so if you need to give a special lady or gentleman a gift, consider a gift card for a Stitch Fix purchase.
New – Stitch Fix for Kids!
Stitch Fix now offers a new service just for kids! Stitch Fix now offers clothing for boys and girls sizes 2T to 14. You'll get 8 – 10 items of clothing and your child's stylist will include a personalized note just for them.

Budget Friendly Pricing – Prices start at just $10 per item.
One of a Kind Styles – Your kid won't look like every other kid on the playground.
Convenience – No trips shopping! The box comes and your child tries the clothes on at home.
Free Shipping – Shipping is free both ways. Use the prepaid envelope to return items that you or your child don't want.