DIY Gold Trimmed Painted Wooden Tray
A painted wooden tray is a project that has been on my list of things to do for a few months. I finally painted this tray and love the end result.
Now I have a painted tray that I can use for decor in any season!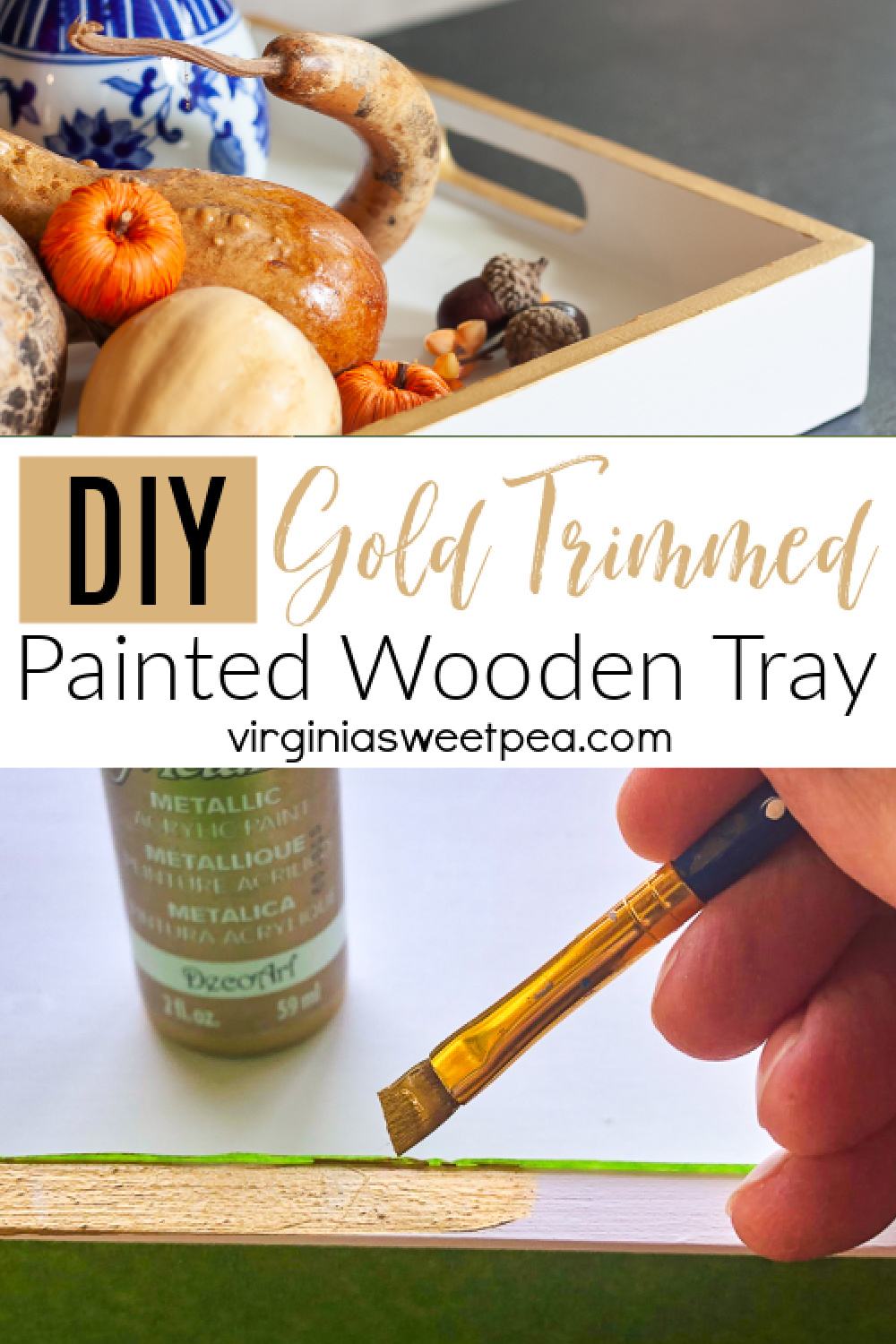 I'm sharing my DIY Gold trimmed Painted Tray for this month's Thrifty Style Team project hosted by Julie of Redhead Can Decorate.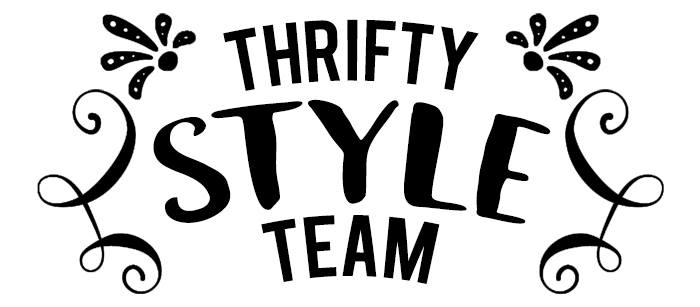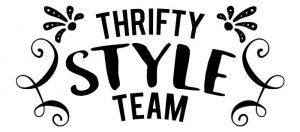 You'll find links to all of the projects shared this month at the end of this post.
How to Paint a Wood Tray
This project started with a $7.49 unfinished wood tray from Target.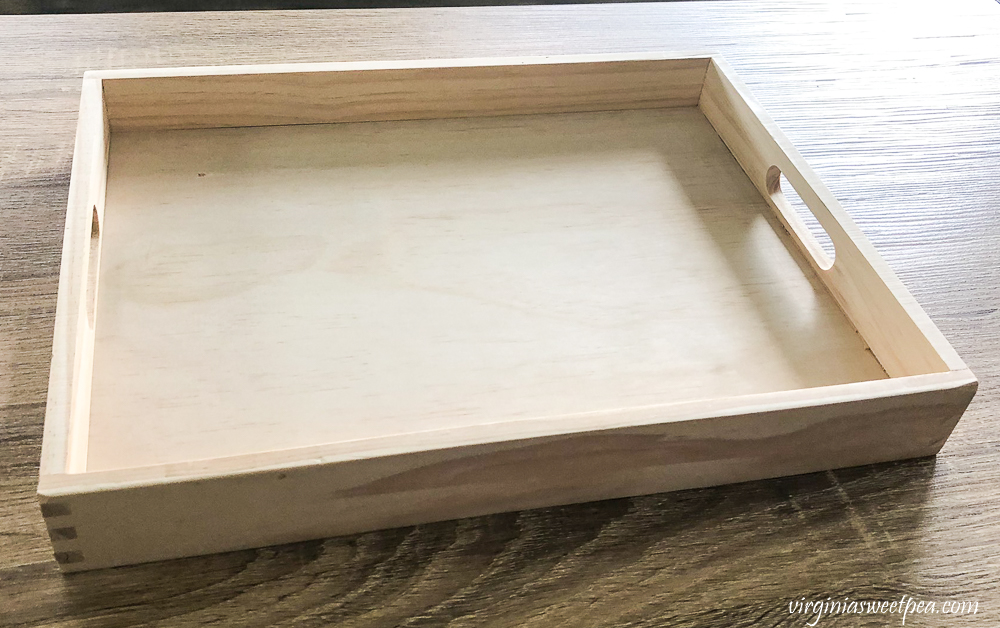 You can't beat the price of this tray. It's sturdy and perfect to use in so many spots in a home. If I were to do this project again, I would choose this tray from Amazon because I like its handle detail better.
I plan to use mine for seasonal decor but its 16″ x 12″ x 2″ size makes it handy to use in many areas of the home. It would be great for:
Corraling beauty items on a bathroom counter
Organizing kitchen essentials on a kitchen counter
On a desk to organize containers of pens & pencils
Kids or teens would love to paint a tray as a craft project. They could have fun painting it to reflect their personality!
Supplies to Paint a Tray
Painting a wood tray is an easy project, it just takes a bit of time since it requires multiple layers of paint and each layer needs proper drying time.
Prime the Tray
When painting a wood tray with raw wood, be sure to prime the wood before painting. This will prevent darker sections of the wood from showing through the paint.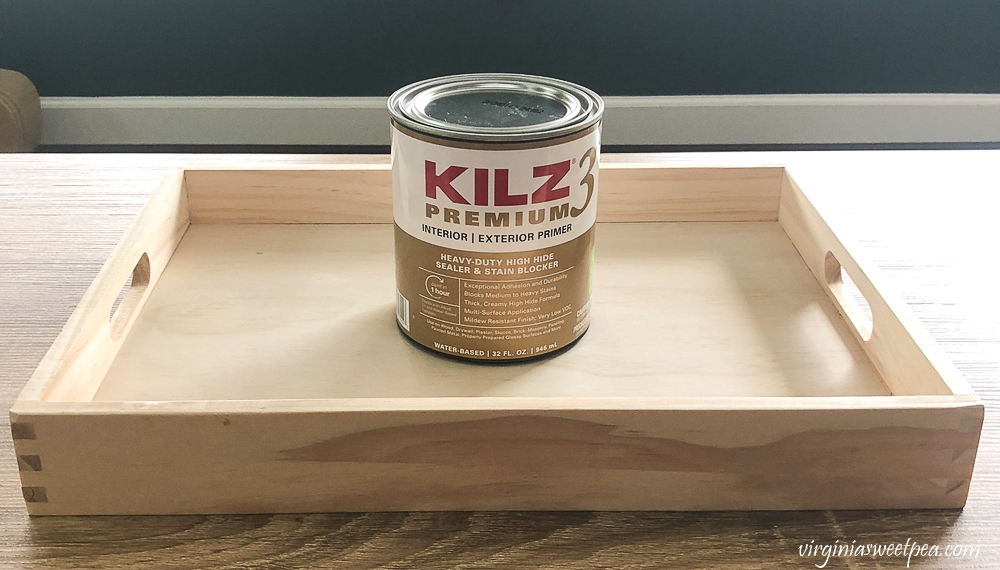 Caulk the Tray
After the tray was primed, I noticed gaps in the wood. To close these gaps, I used caulk.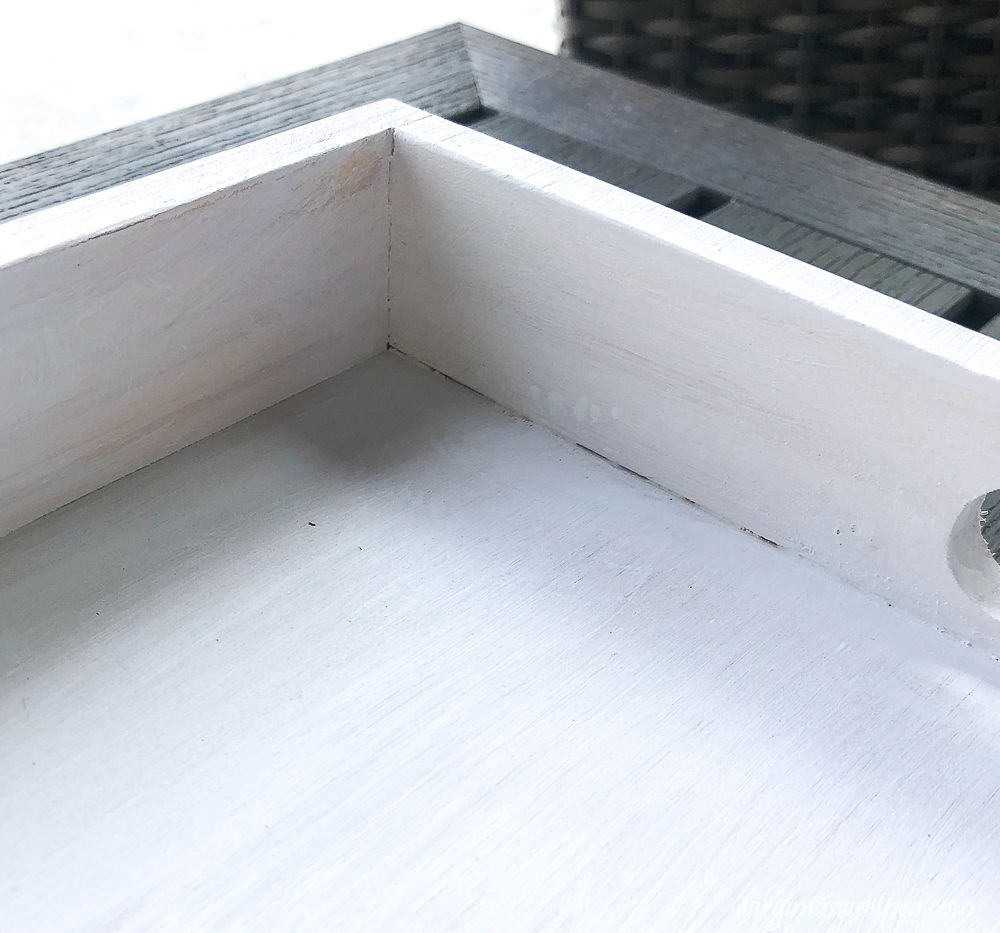 I used caulk leftover from installing the window trim and baseboards in our lake house family room since it was already loaded in our caulk gun.
The bowl of water was used to dip my finger in for smoothing out the bead of caulk.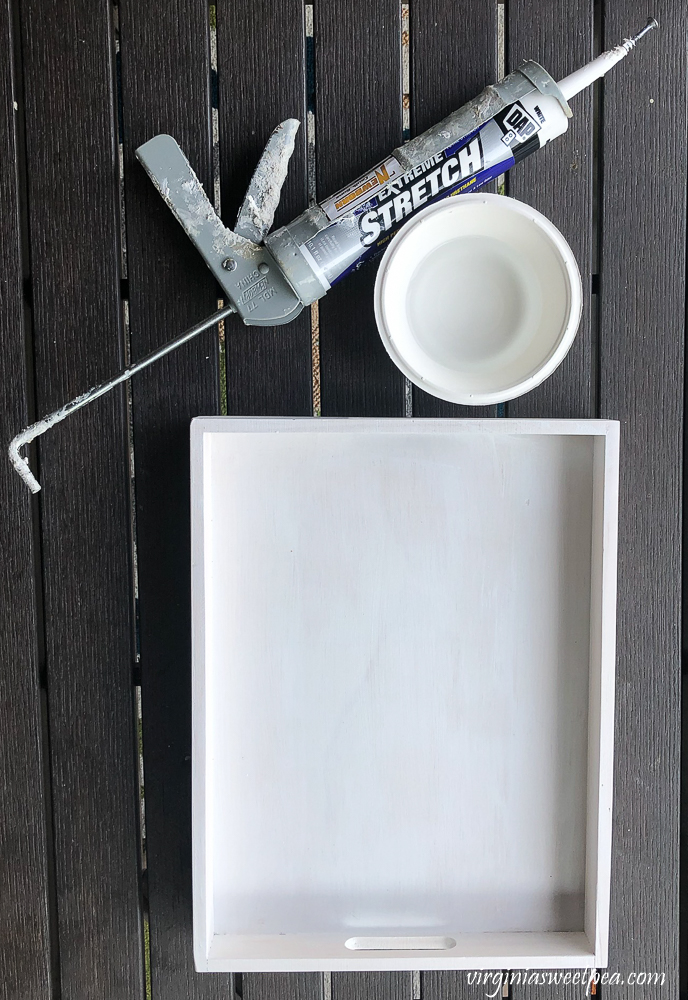 After caulking all of the seams where the wood pieces fit together are smooth with no gap.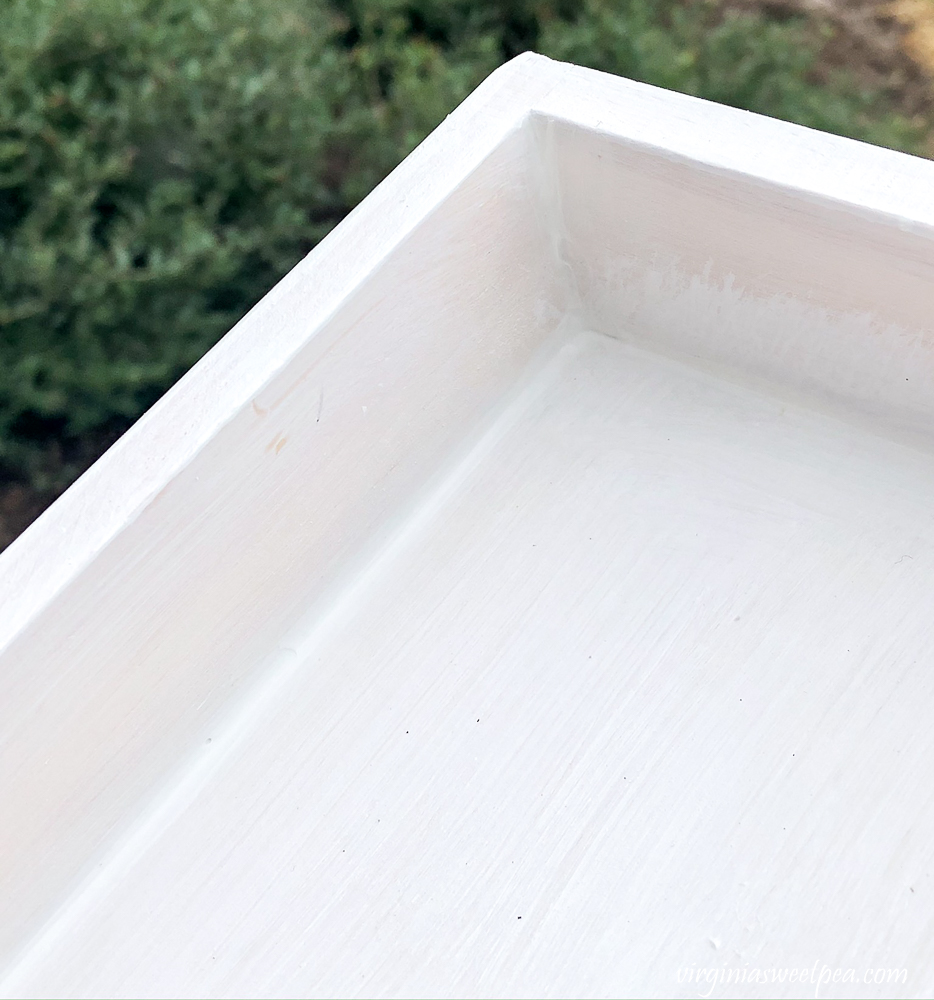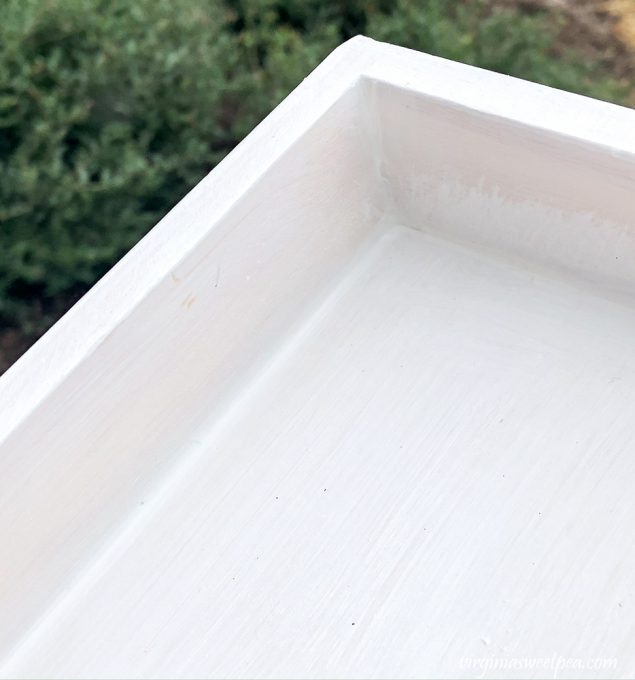 Paint the Tray
After the tray was primed and caulked, I painted it with this paint in Smoky White.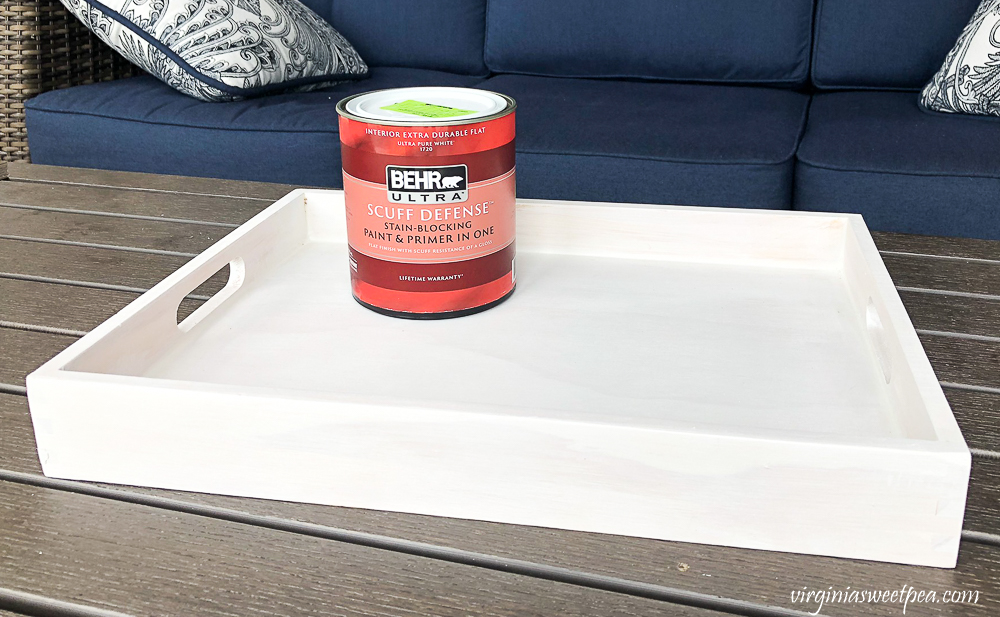 After two coats the tray looked like this. It looks great all white but I gave it some pizzazz with gold metallic paint.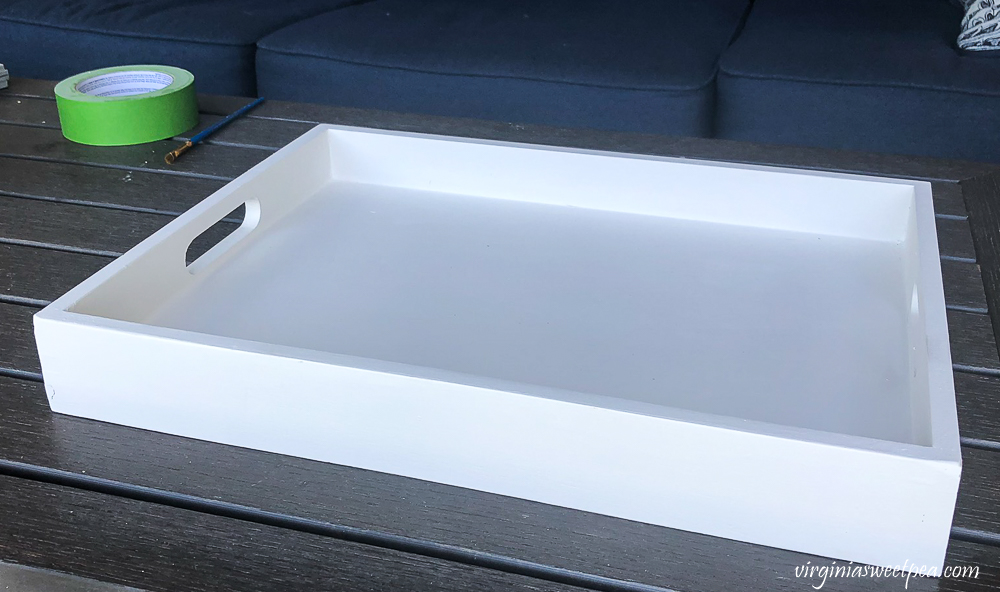 Tape the Tray
My plan was to paint the edges and handle of the tray with gold metallic paint. The next step was to tape the tray with Frog Tape.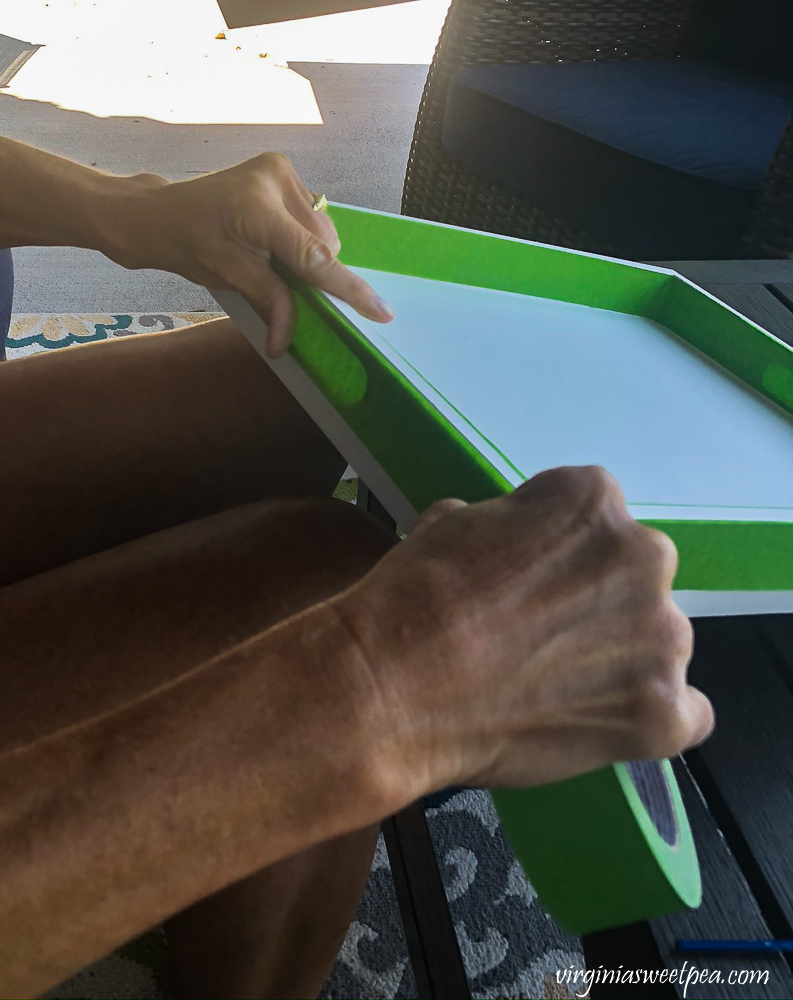 Then I used an X-Acto knife to cut the tape away from the handles.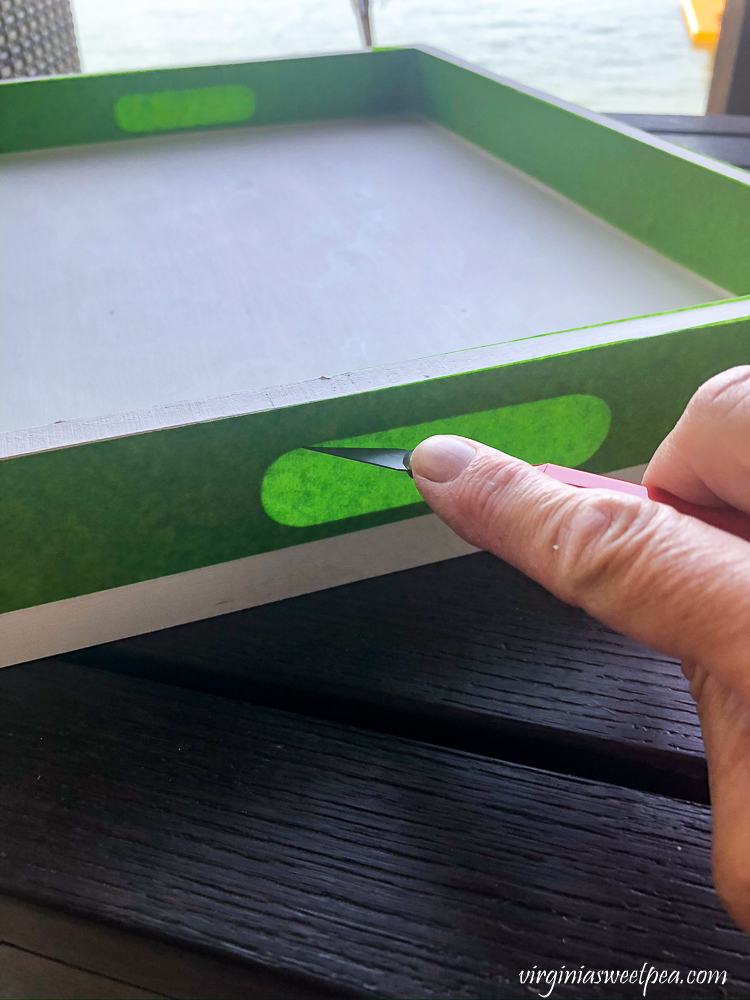 Crafting with a view was a nice way to spend a summer afternoon! See more of our lake house patio and its view in this post. Don't miss touring my lake house!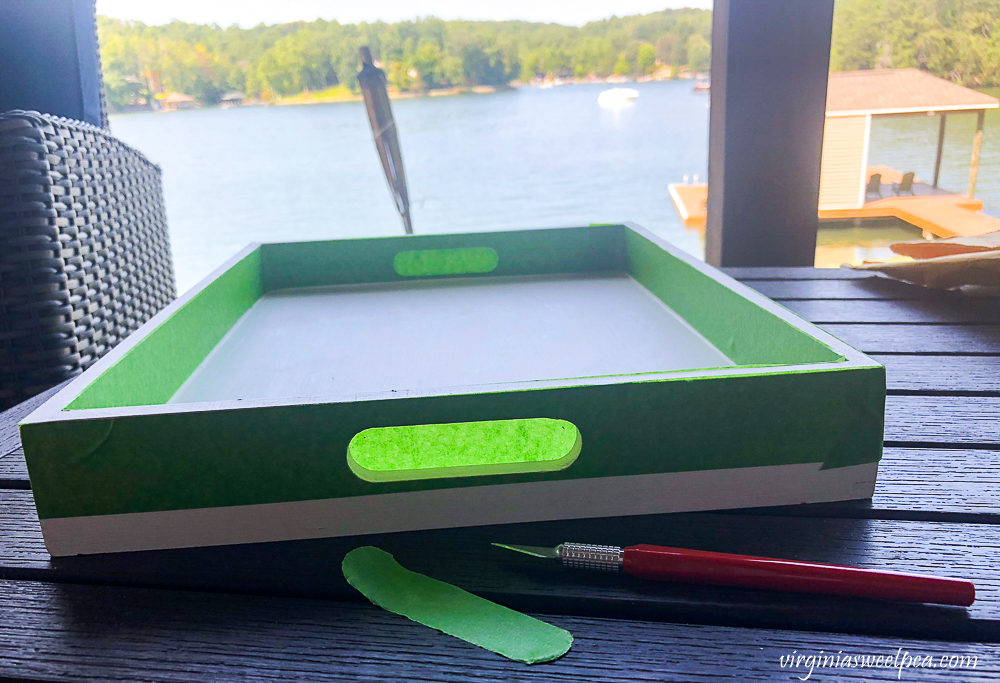 Now the tray is taped up and ready for its gold trim.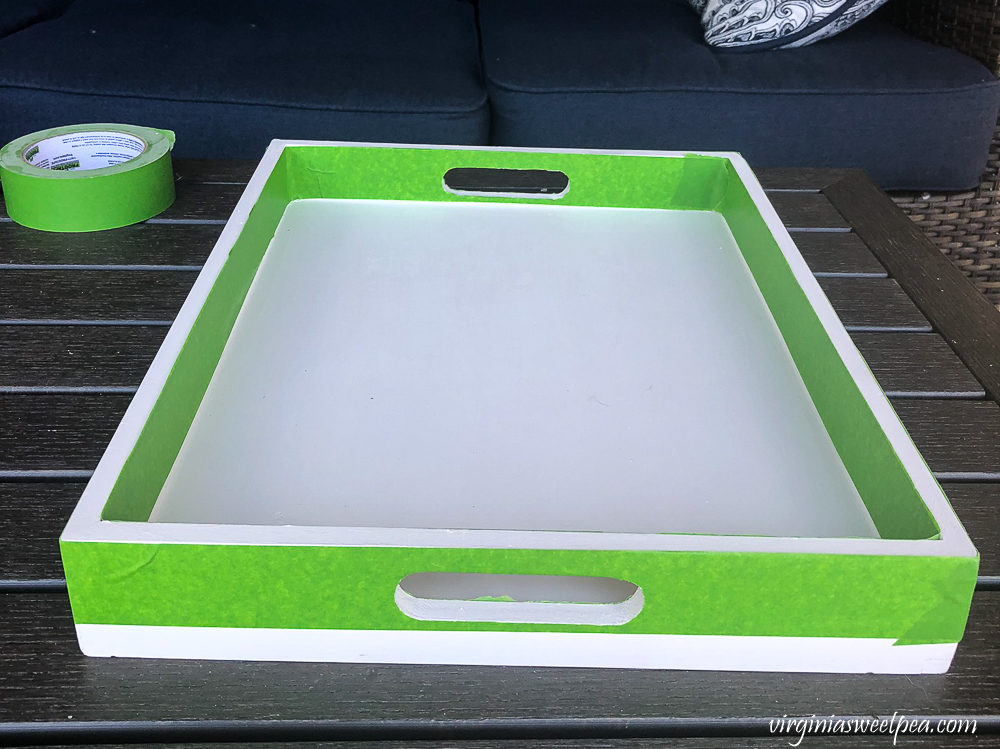 Add Metallic Gold Paint
A small craft paintbrush was used to add three coats of DecoArt Glorious Gold metallic paint.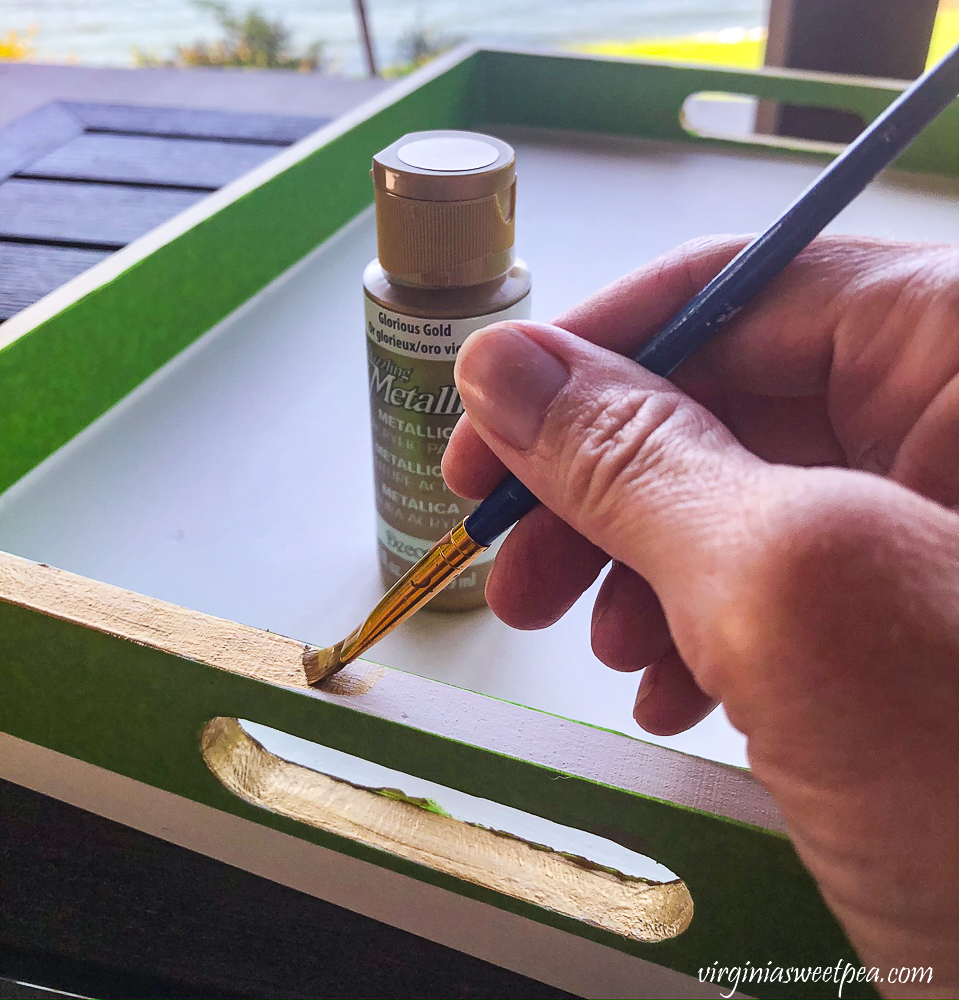 Remove the Frog Tape
In all the painting that I've done over the years, I've had the best success with Frog Tape. I always pick it over the blue kind.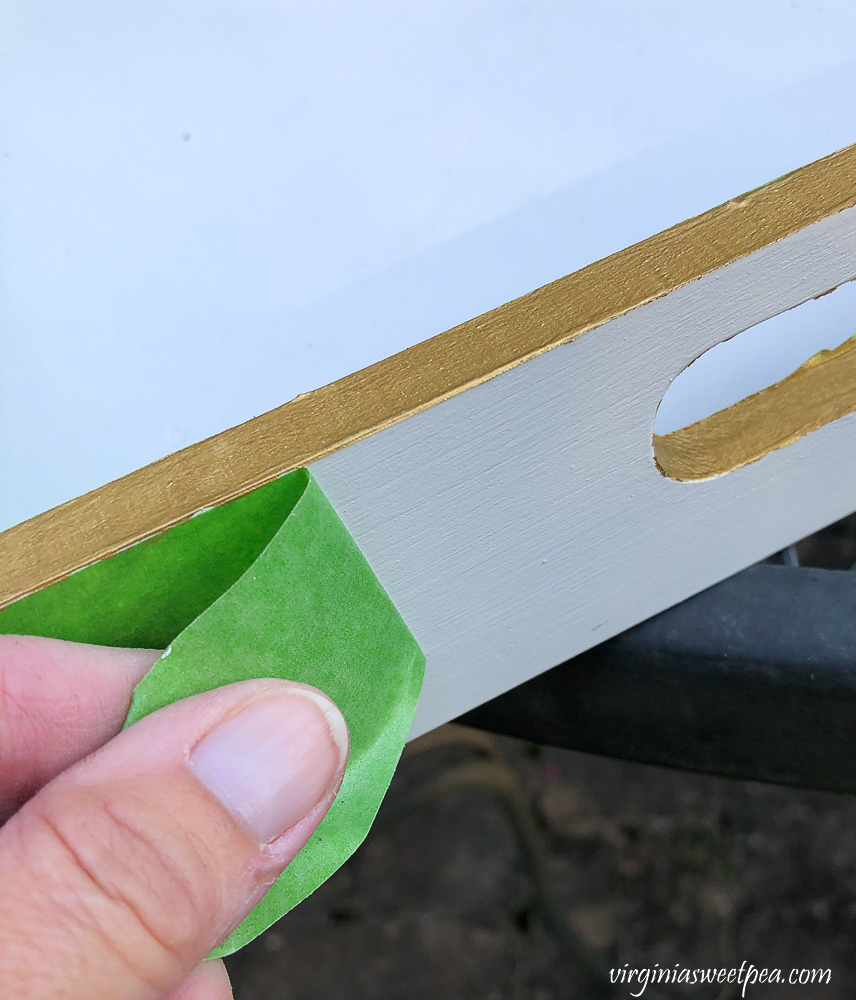 This painted wooden tray looks much better with the addition of the gold paint.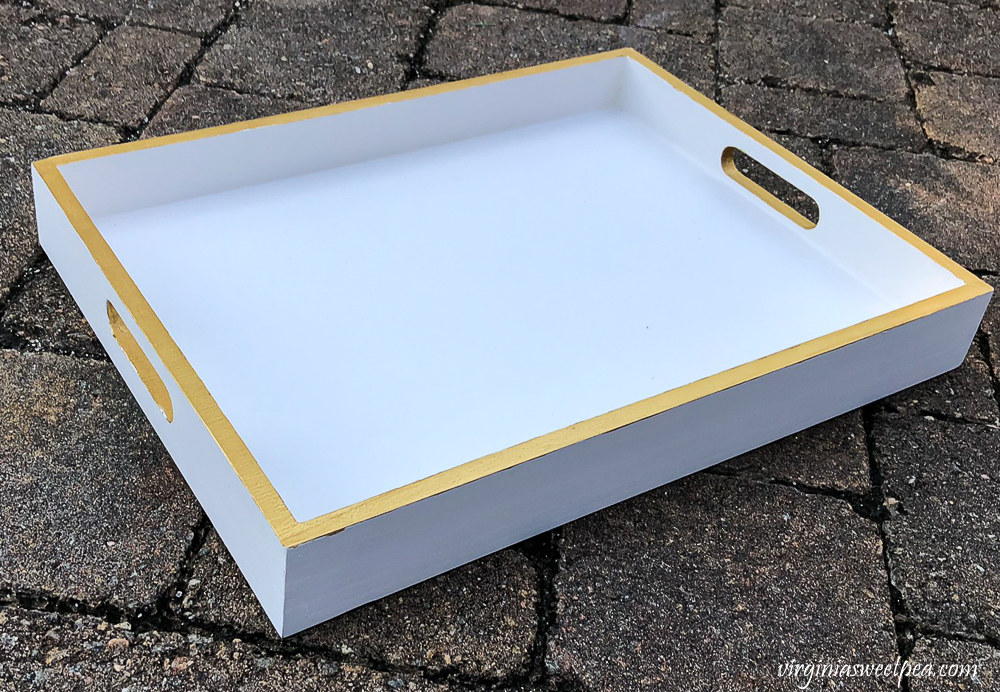 Painted Wooden Tray Styled for Fall
One the painting was complete, it was time for the fun part, using the tray for fall decor. See more of this room's fall decor in this post.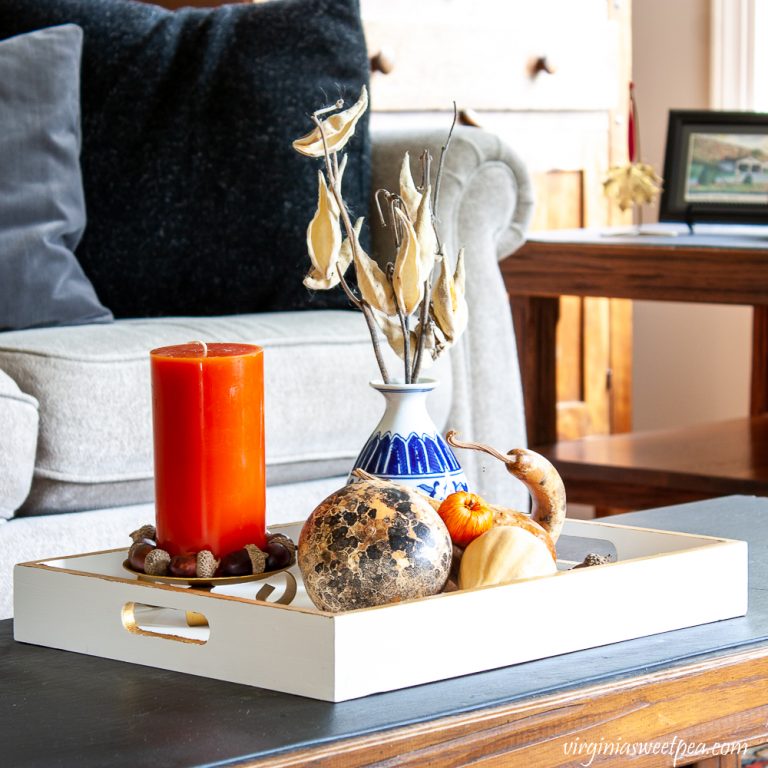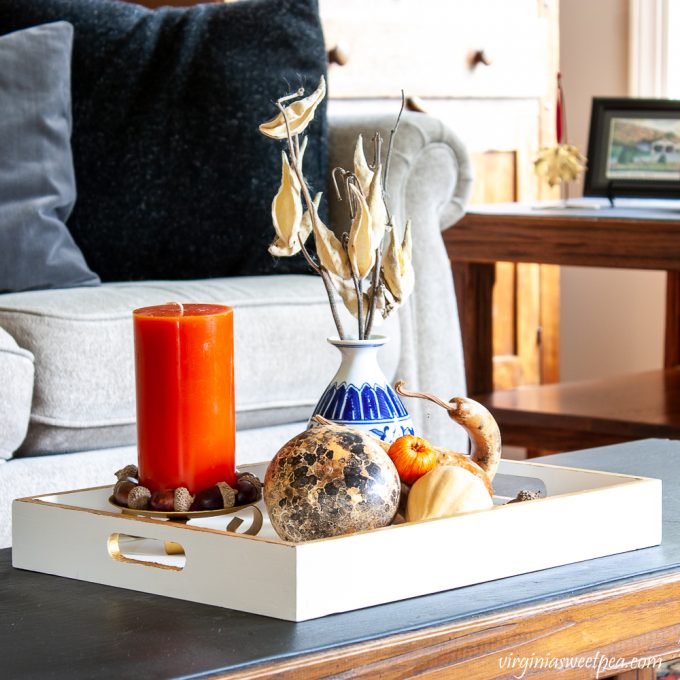 This painted wooden tray is the perfect size to use to decorate my coffee table for fall.
I love how the gold trim adds color and interest to this previously plain wood tray.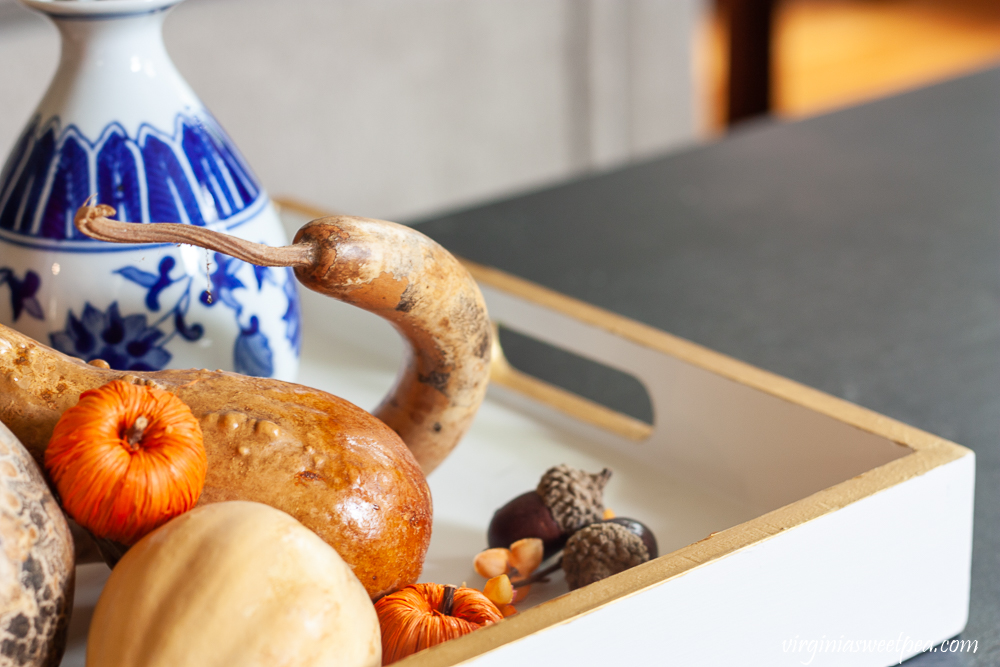 My coffee table, end table, and lamps are all part of a set of furniture that my mom and dad purchased when they got married in 1968. Mama still has the matching sofa, recliner, and side chair! Don't miss my dad's 1960s stereo!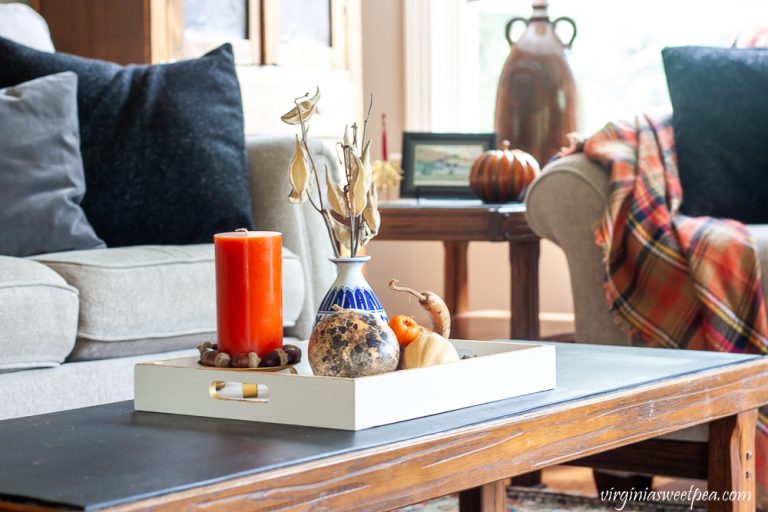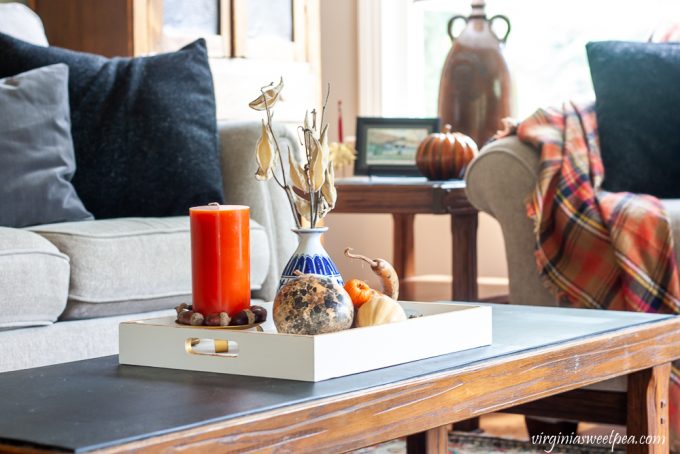 I followed the rule of three when decorating my tray for fall. The candle, chinoiserie vase, and group of gourds are the three items.
It is recommended when decorating to always use an odd number when displaying items.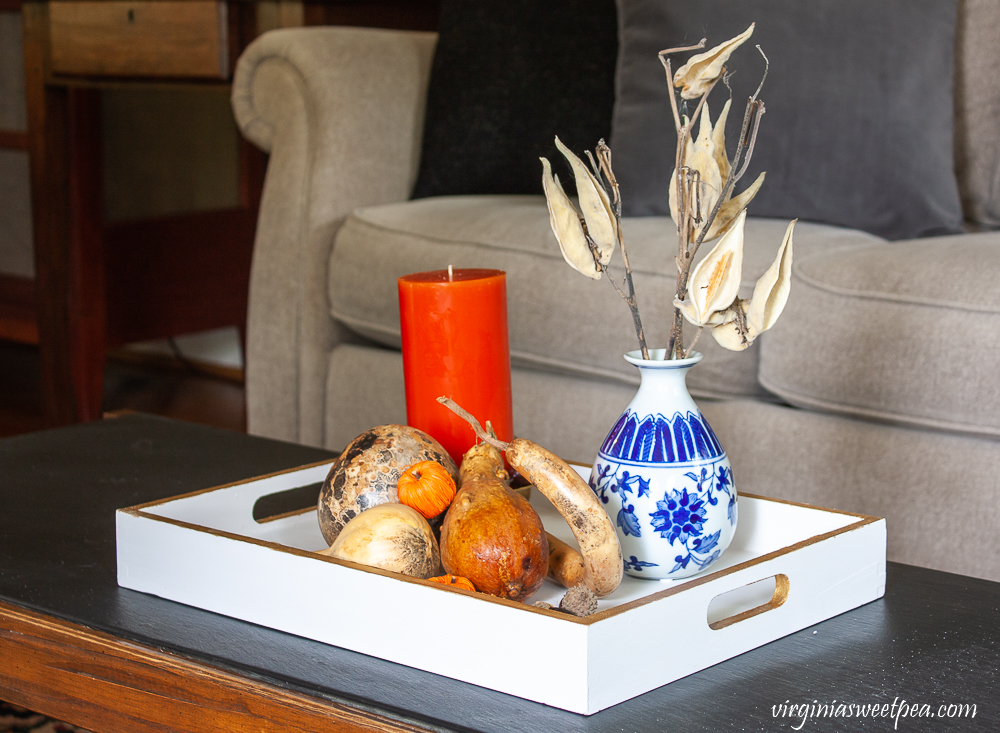 Last fall when we were on vacation in Vermont, I picked the pods from plants growing beside a pond. They traveled back to Virginia, dried over the past year, and now are being enjoyed in my fall decor.
The vase was a gift from my teaching friend and former occasional tennis partner, Becky.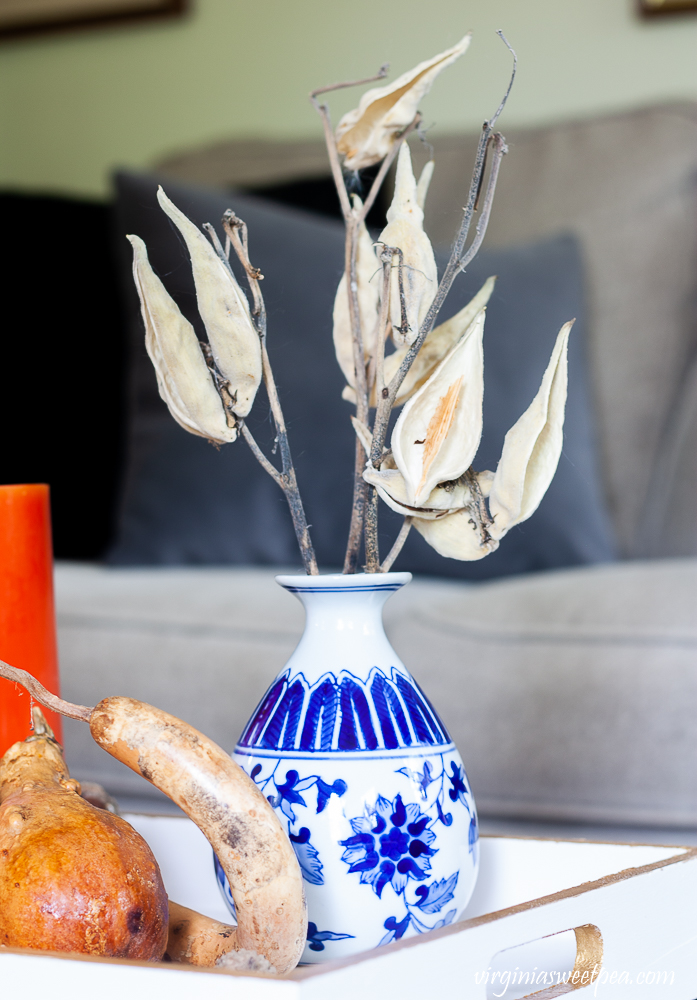 The candle is from Hobby Lobby and smells great. To add interest to it, I surrounded it with faux acorns.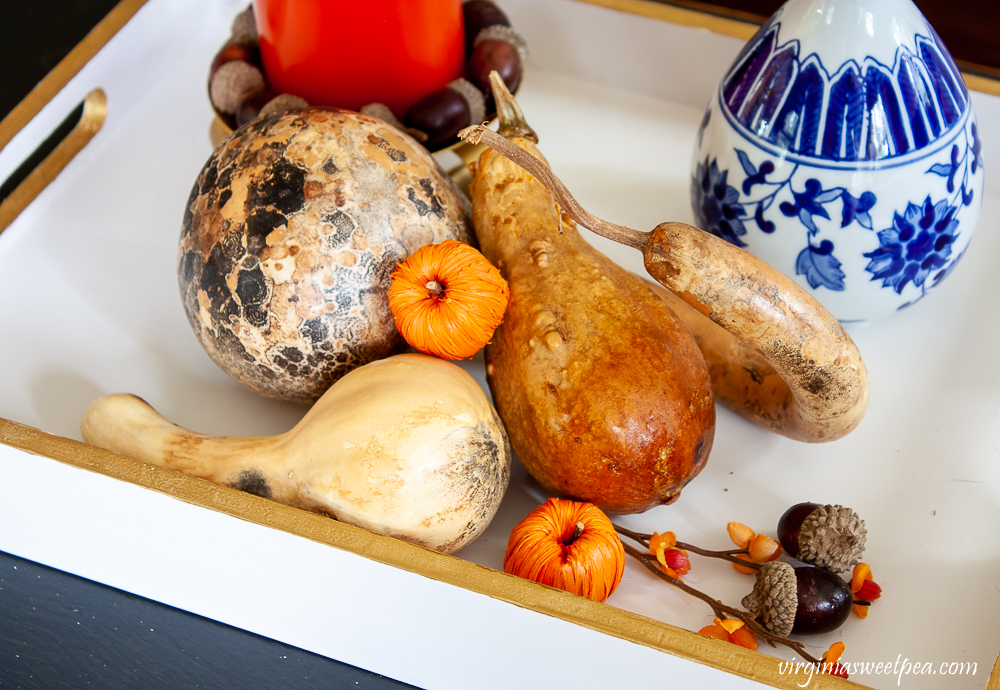 Every year I buy so many gourds, I can't help myself. I use this hack to make them shine, then when fall is over, I dry them. I've been drying gourds for years and now have a huge tote filled with them that I use for fall decor.
The largest gourd in this display was grown by my dad and he died in 1997, so you can see that a dried gourd is something that you can enjoy for years to come. See more of my dad's dried gourds that my mom is still using in this post!
These unfinished wood trays would be perfect to use for this project

These Stained Trays Would Be a Great Addition to any Home

More Thrifty Project to Enjoy
Now it's time to enjoy the projects that the rest of the Thrifty Style Team is sharing today. Click on the links below to see each project.