Patriotic Vignette with Vintage
I love to decorate my home patriotically for summer. This year's patriotic decor started in my living room with a Patriotic Vignette with Vintage.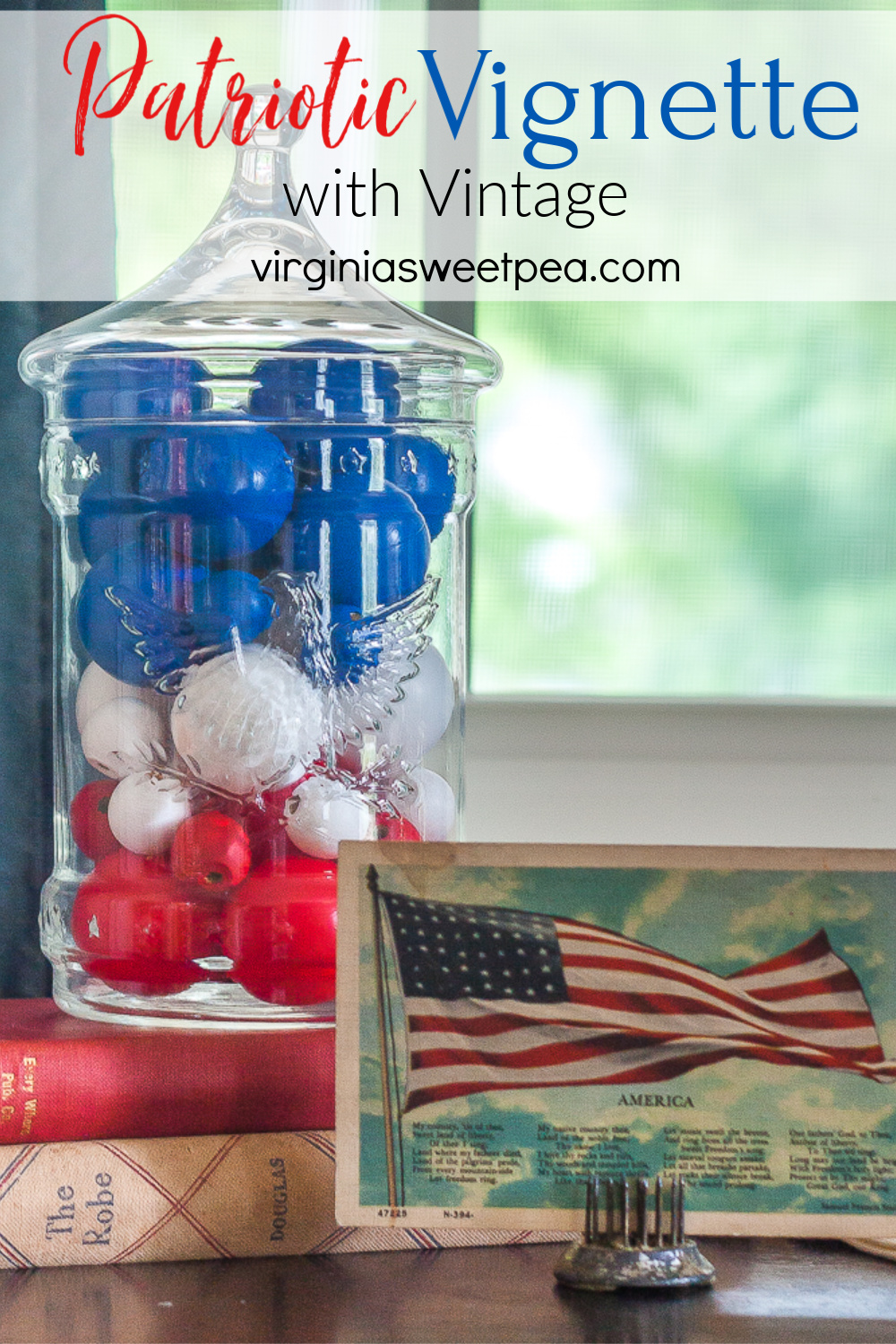 This vignette is located on a music stand to the left of our fireplace which is also decorated patriotically.
I'll soon share that decor with you but today I'm focusing on one vignette and I'm also sharing how I made red, white, and blue filler for my 1976 eagle jar.
Patriotic Vignette with Vintage
When I started to decorate my living room for summer patriotically, I shopped my house for vintage items in red, white, and blue.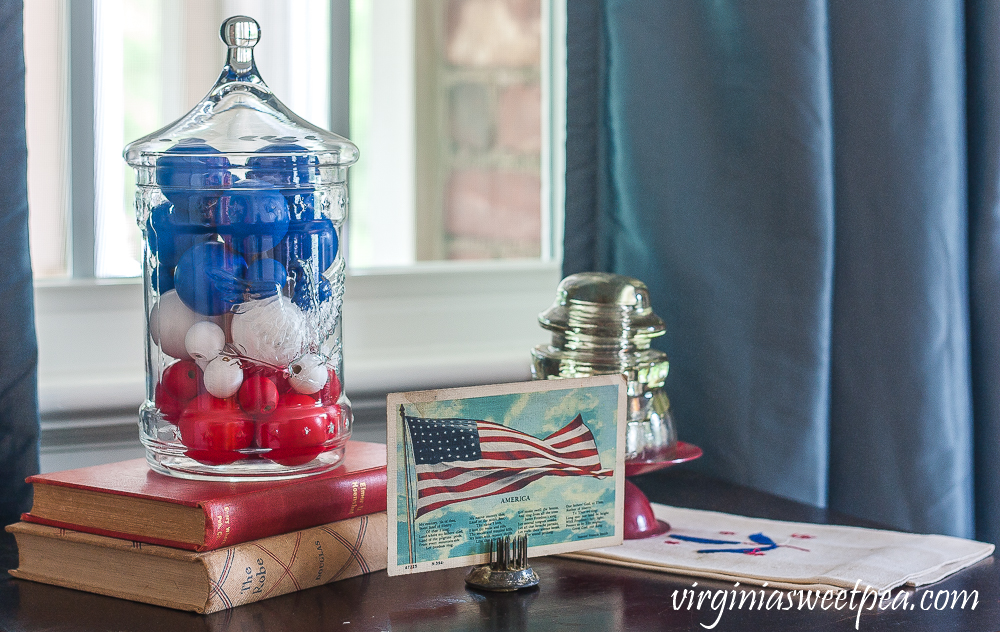 Everything you see here is vintage with the exception of the red, white, and blue jar filler. I'll explain how I made that in a moment.
Vignette Details
I really enjoy using my mostly inherited vintage items for seasonal decor.
American Flag Postcard
An unused American flag postcard that my grandmother saved was perfect to use for this patriotic vignette.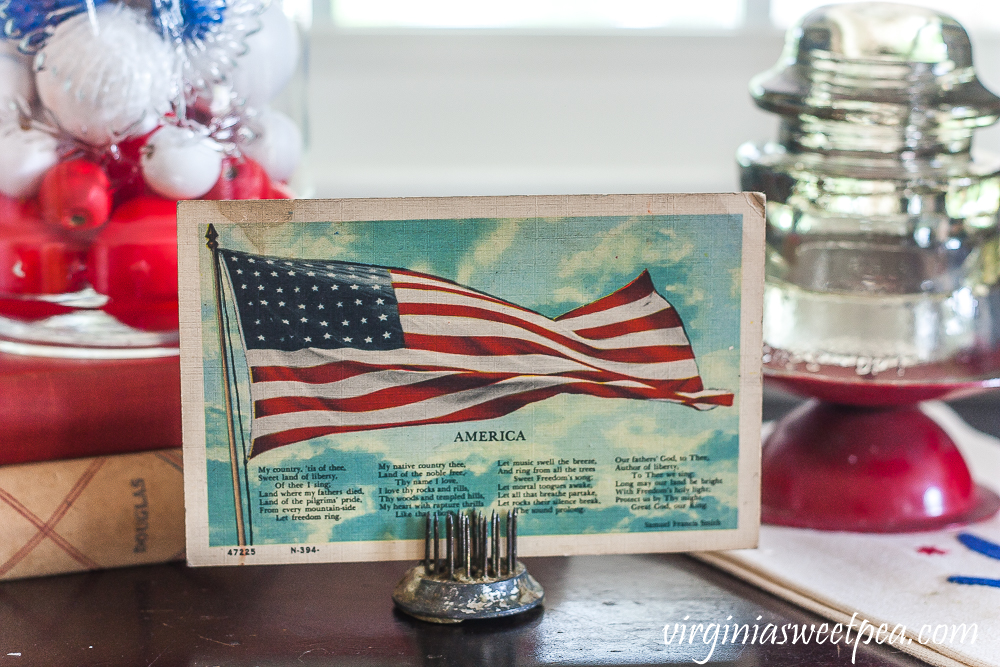 My grandmother collected postcards and her collection ranged in date from the early 1900s to the early 2000s.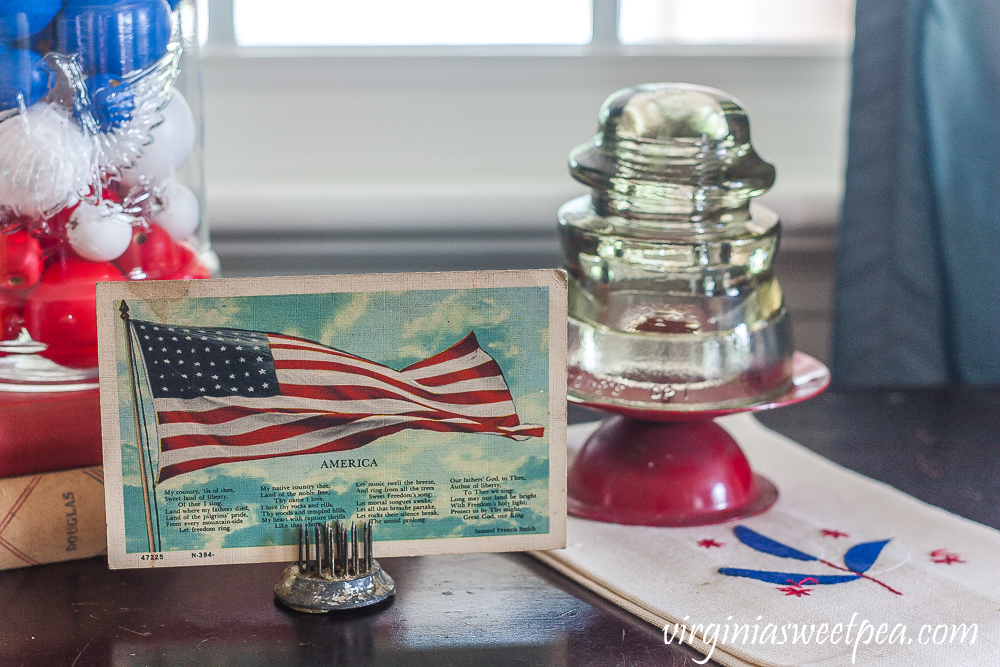 This postcard was in a box with other postcards dated from the 1950s and 60s, so my guess is that it dates to the same time period.
Vintage Insulator, Candle Holder, and Towel
To the right of the postcard, I placed a glass insulator that my mom gave me on top of a red candle holder that I found in someone's trash pile.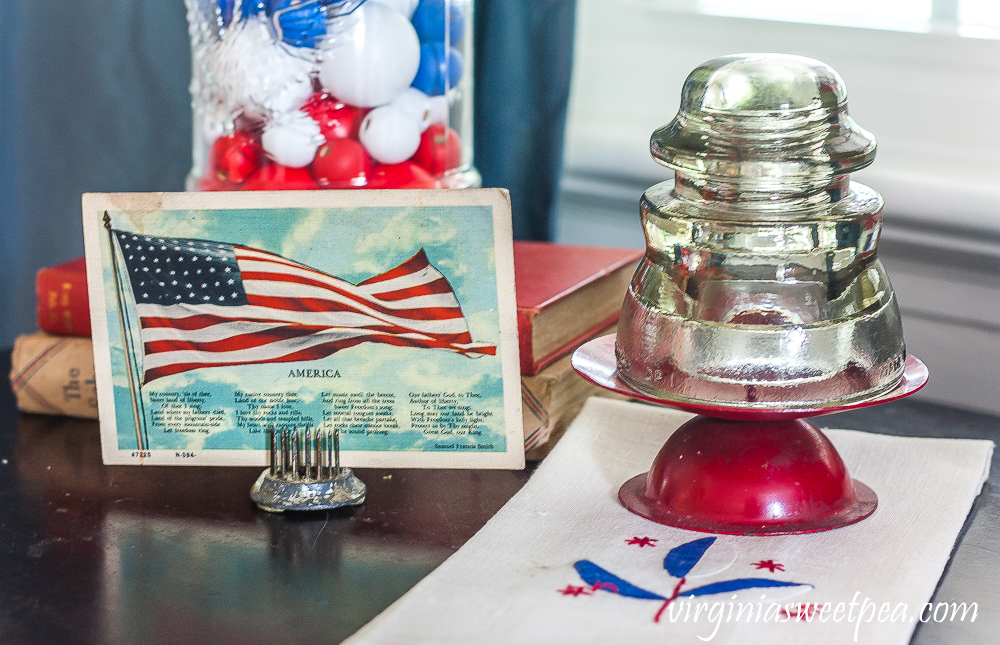 The towel under the insulator and candleholder belonged to my grandmother.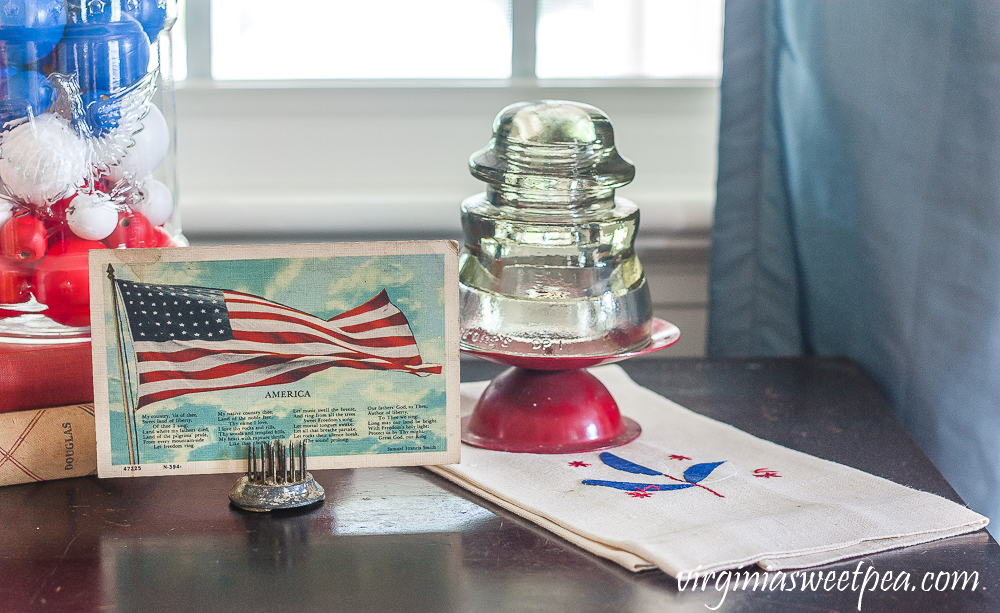 I don't know if she made it or if it was made by one of the aunts that raised her.
1976 Eagle Jar
If you were around during the bicentennial, then you remember that eagles were on all sorts of things.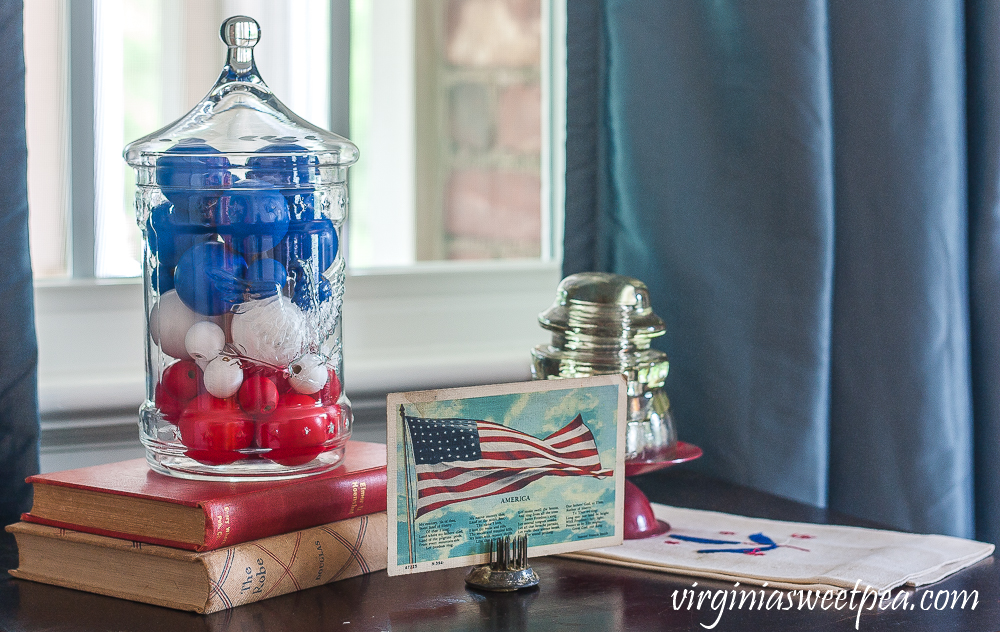 I found this glass jar with an eagle at a yard sale a few years ago. The elderly woman hosting the yard sale was selling things that belonged to her aunt and this was one treasure that I bought that day.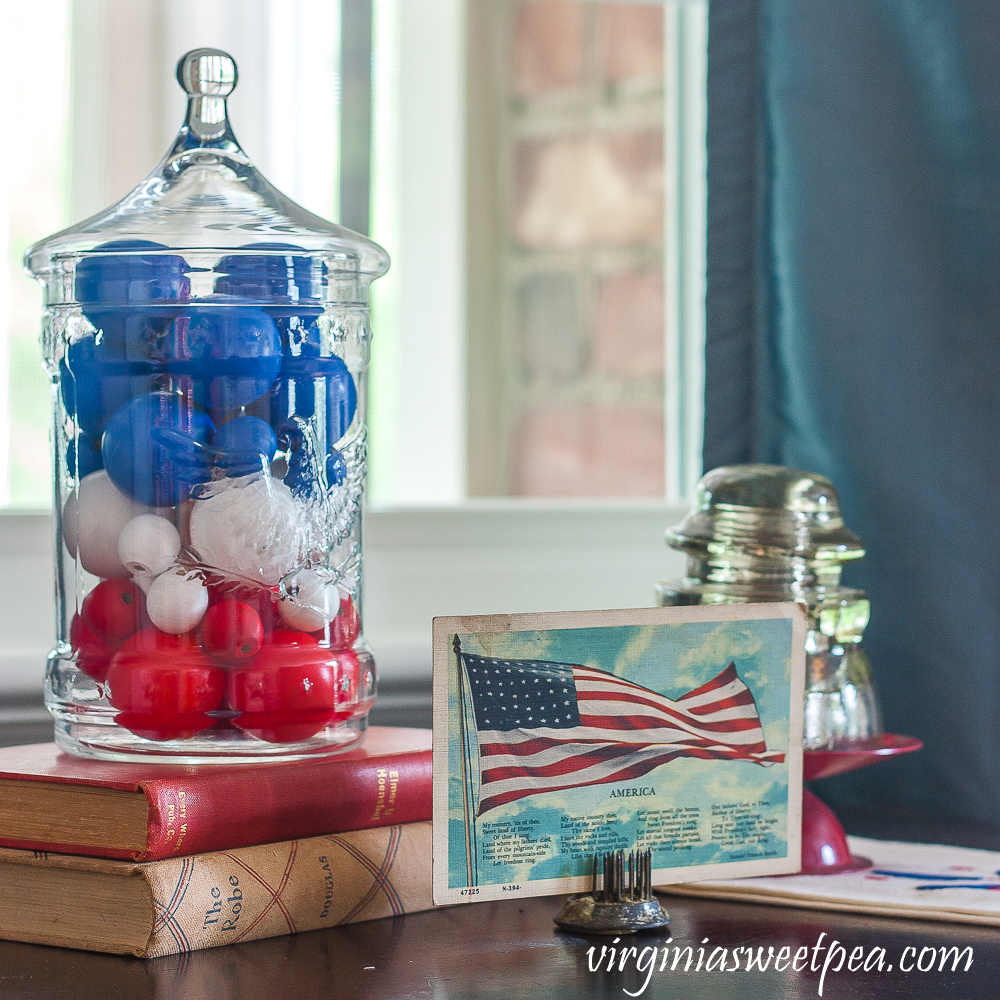 I elevated the jar with two vintage books.
1912 edition of The Crimson Trail by Elmer u. Hoenshel
1943 edition of The Robe by Lloyd C. Douglas
My mom gave me both books.
If you like vintage books, check out these ideas for using vintage books when decorating.
DIY Patriotic Filler
After I assembled the patriotic vignette, I realized that the eagle jar needed some color.
I wanted to use red, white, and blue but stores weren't open at that point for shoppin, so I made my own.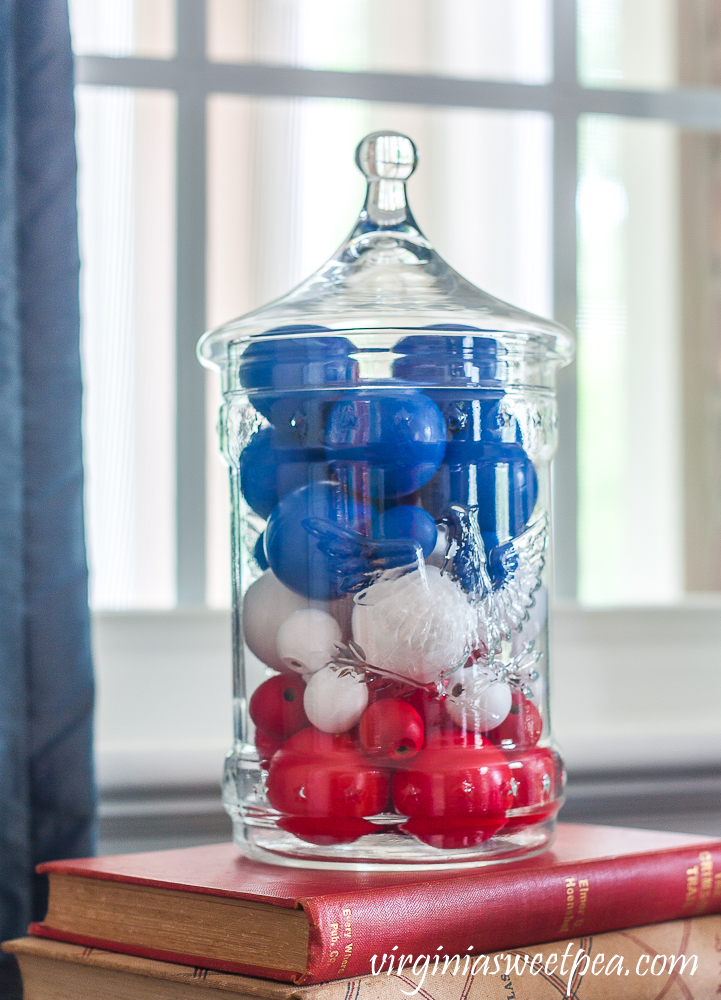 Can you tell what I used?
I raided my craft cabinet to see what I could find that was paintable and would fit inside the jar.
I found some wood beads leftover from making clothespin Santa ornaments with my students and ping-pong balls leftover from making a lemon head wreath.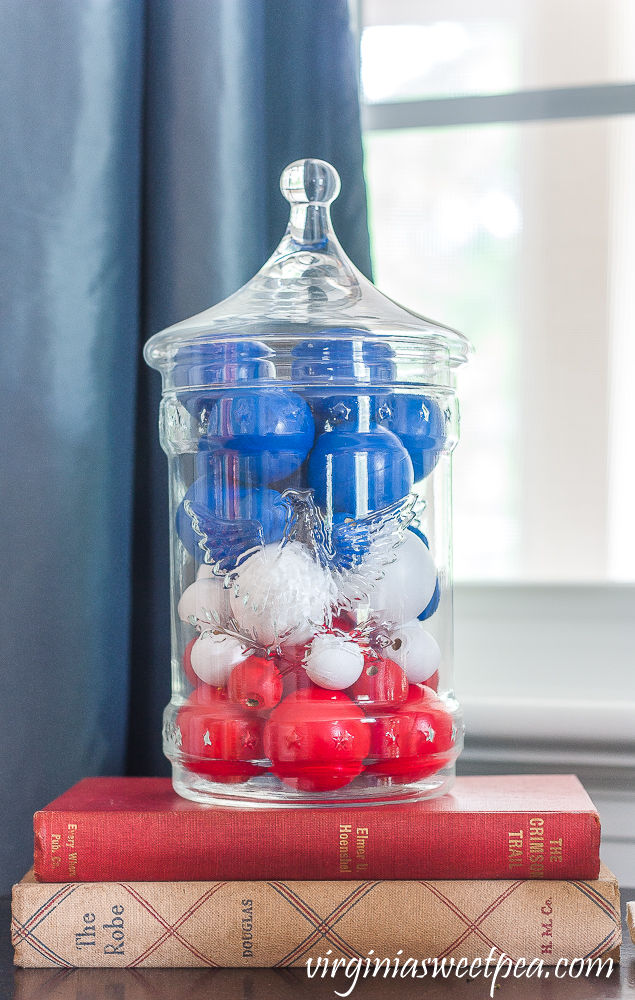 How to Make Red, White, and Blue Filler
This is the simplest DIY ever!
I started with these beads and ping-pong balls.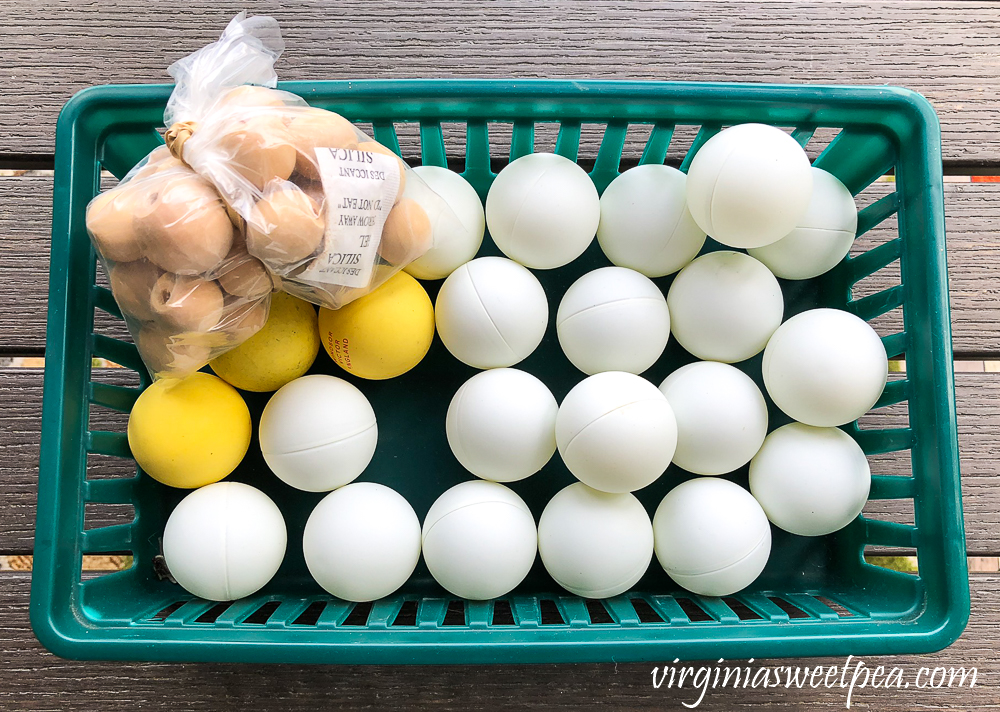 I then found some red, white, and blue craft paint and gave each bead and ball three coats.
Wallpaper was being installed in our lake house stairway as I worked. Working with a lake view is quite pleasurable.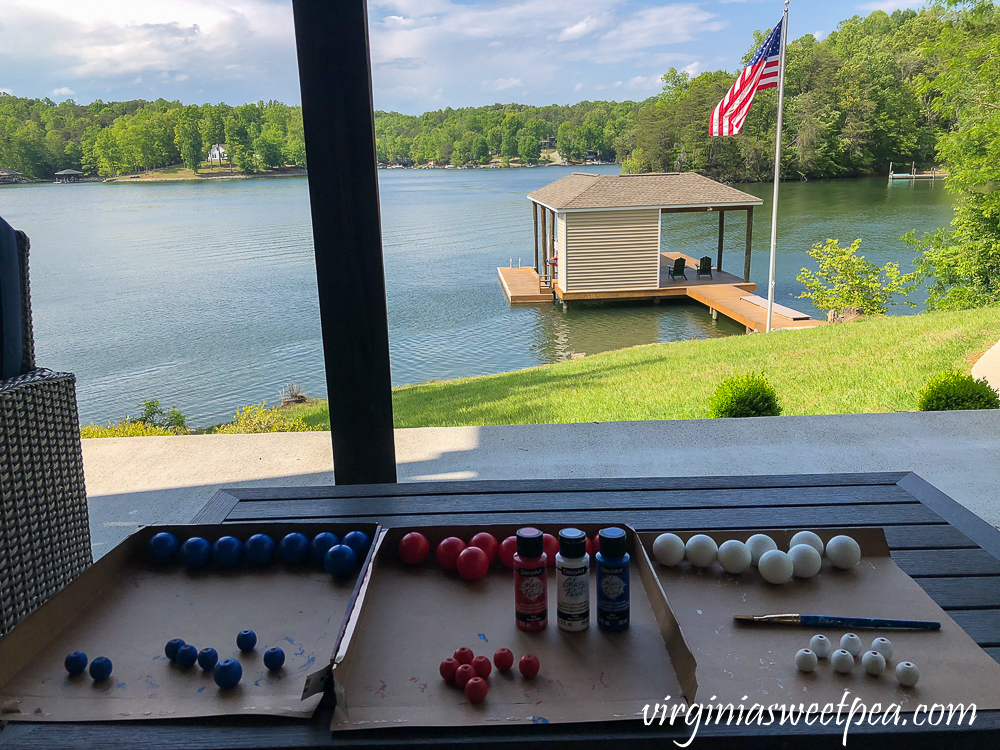 I haven't yet shared the wallpaper but will do so soon. It made the biggest difference in making our family room look complete.
If you would like patriotic bowl or jar filler but don't want to make it, here are a few I found at reasonable prices on Amazon.
Final Look
I love this vignette and plan to leave it in place until after July 4th.
It was already enjoyed for Memorial Day and it's also perfect for celebrating D Day on June 6 and Flag Day on June 14.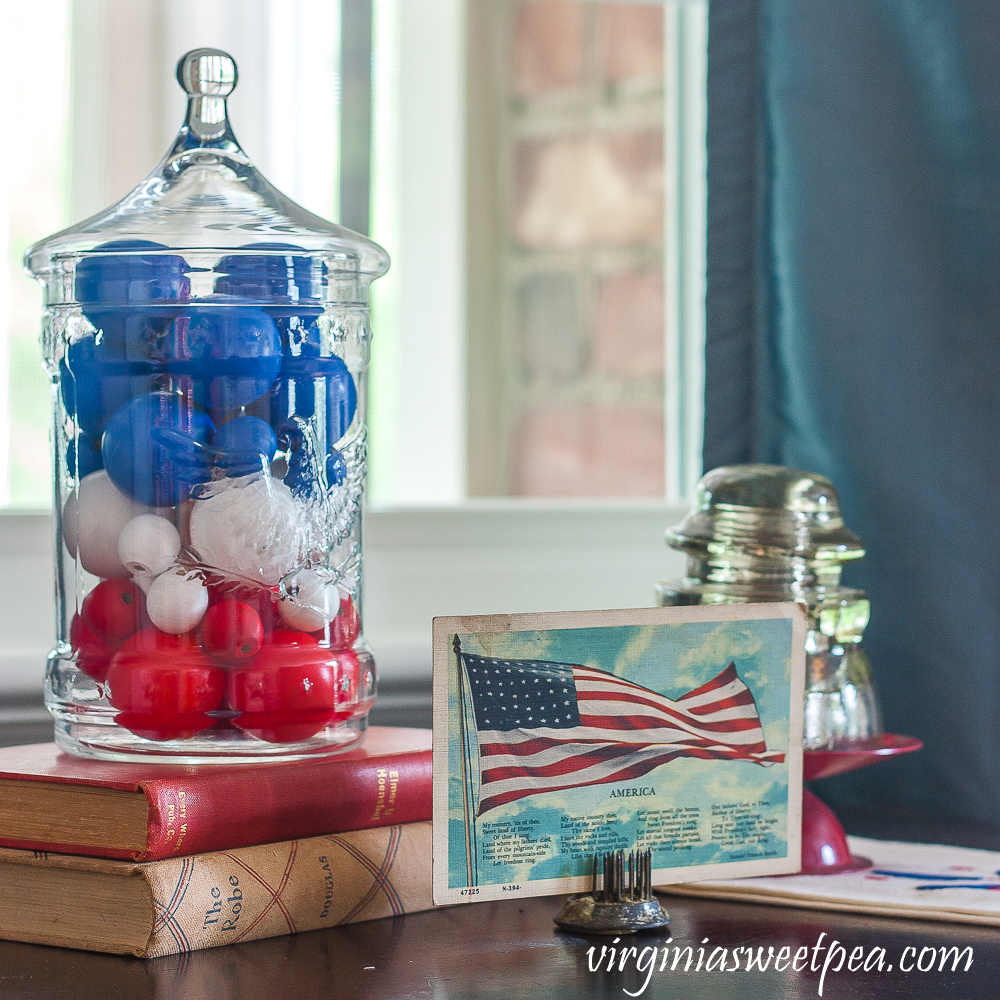 I'll be back soon to share my patriotic mantel and more patriotic vignettes in my living room.