Halloween Home Tour – Part Two
Welcome to part two of my Halloween home tour. If you missed part one, you can see it here.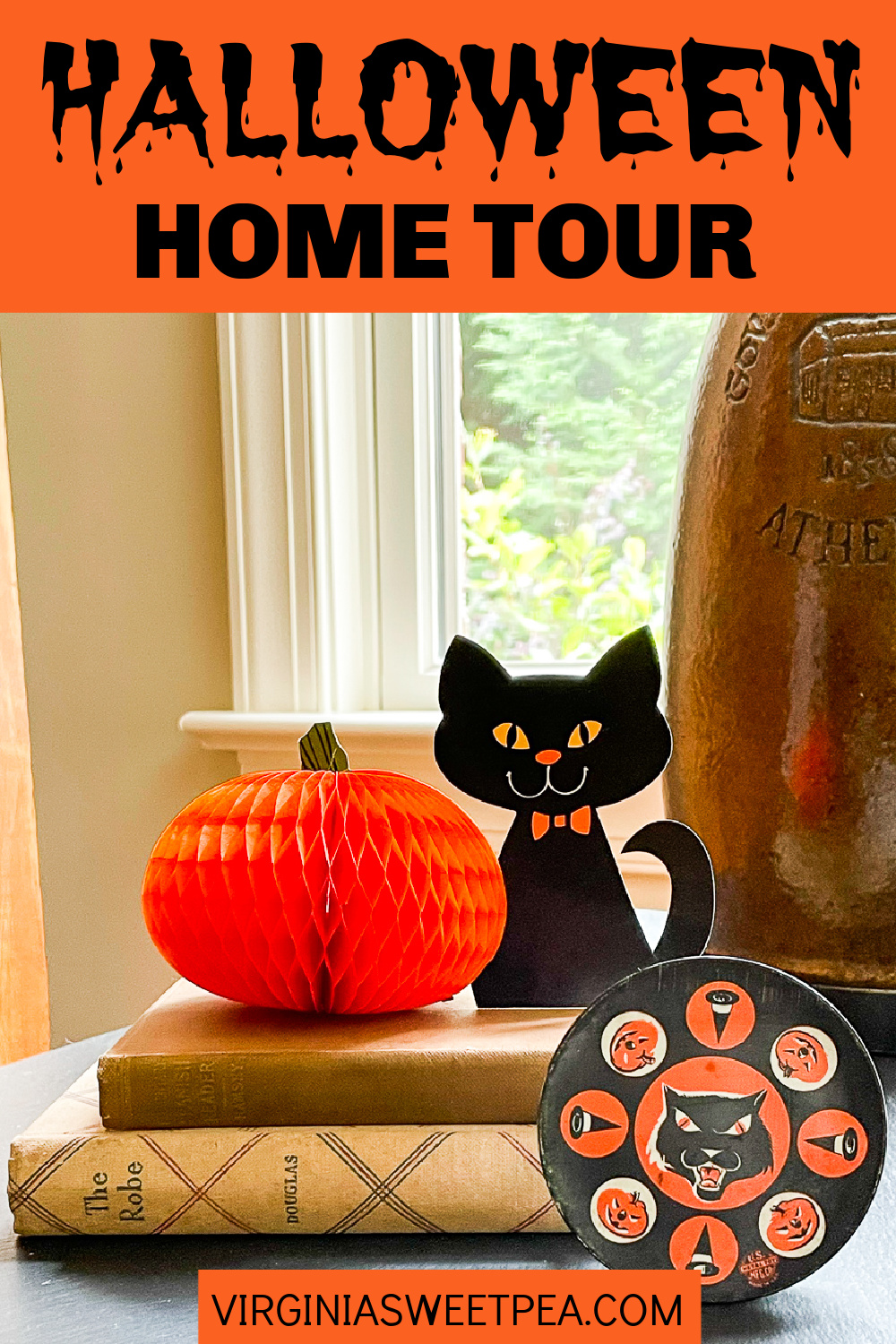 Halloween Home Tour
Today I am sharing the vintage Halloween decor in our family room and breakfast room.
Family Room Halloween Decorations
Welcome to our family room. We eat and relax every night in this room along with our dog, Sherman.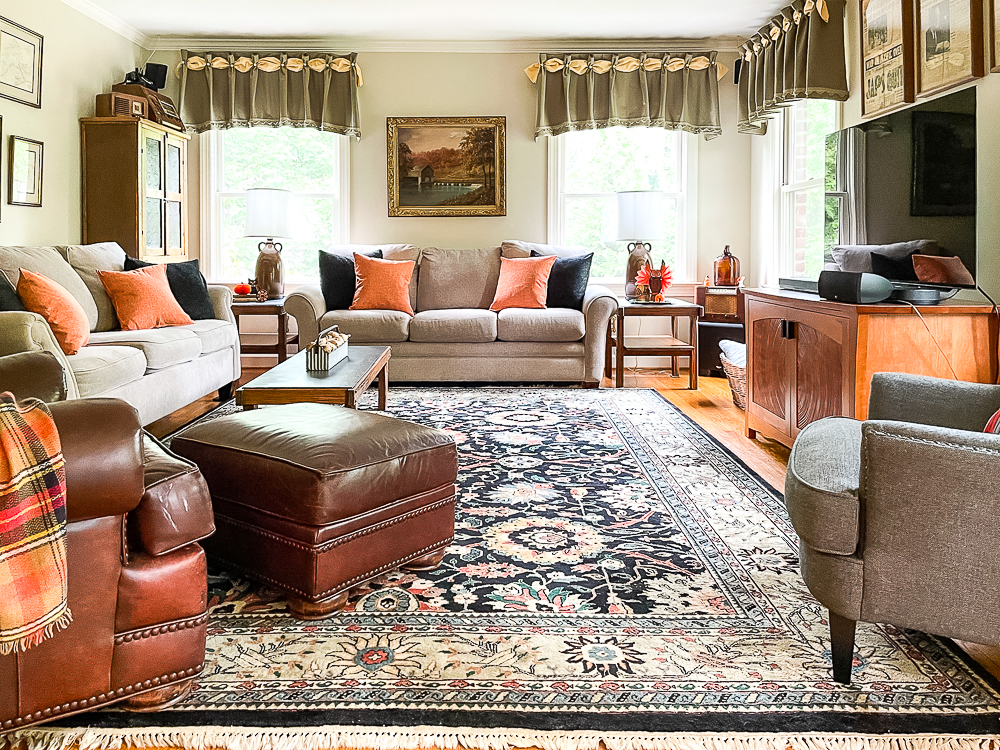 We'll start with the end tables.
The cat was part of a Hallmark "Fraidy Cat" centerpiece that I shared here. I used to use this at school and my kids loved it.
The toy was left in our basement by the previous owner of our home.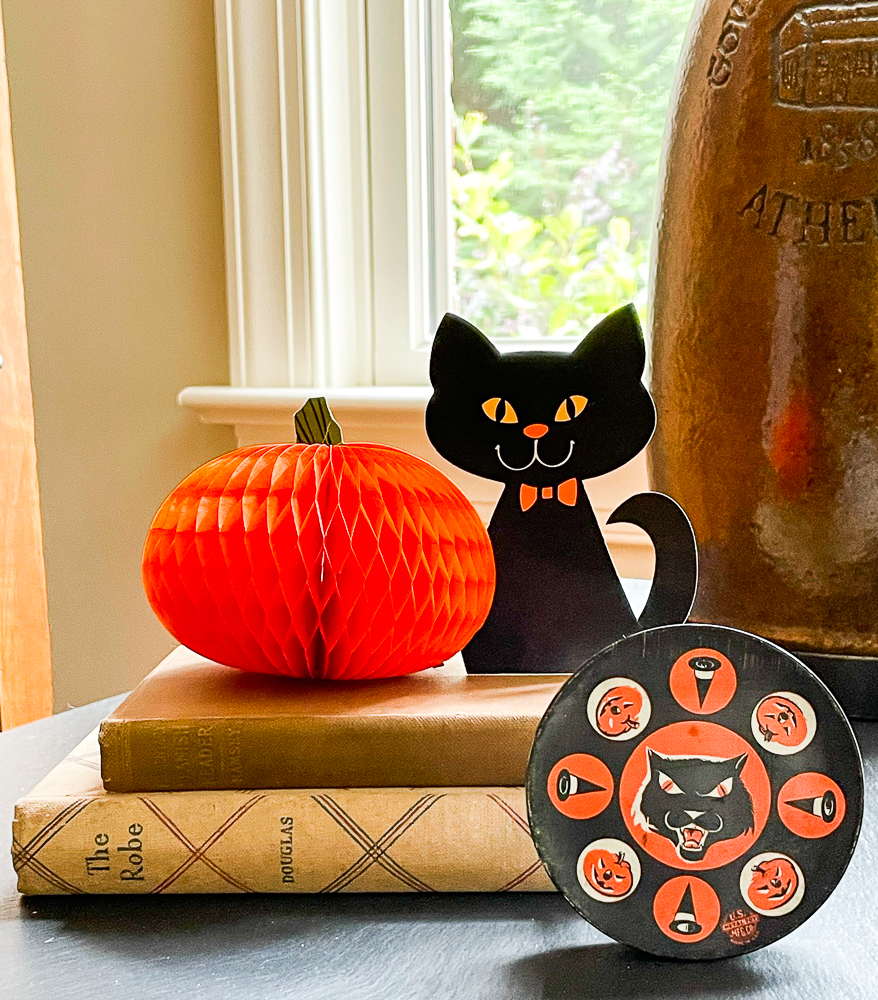 The other end table is decorated with an owl that was my grandmother's, a vintage Halloween card that my mom gave me, and a candle from The Vermont Country Store.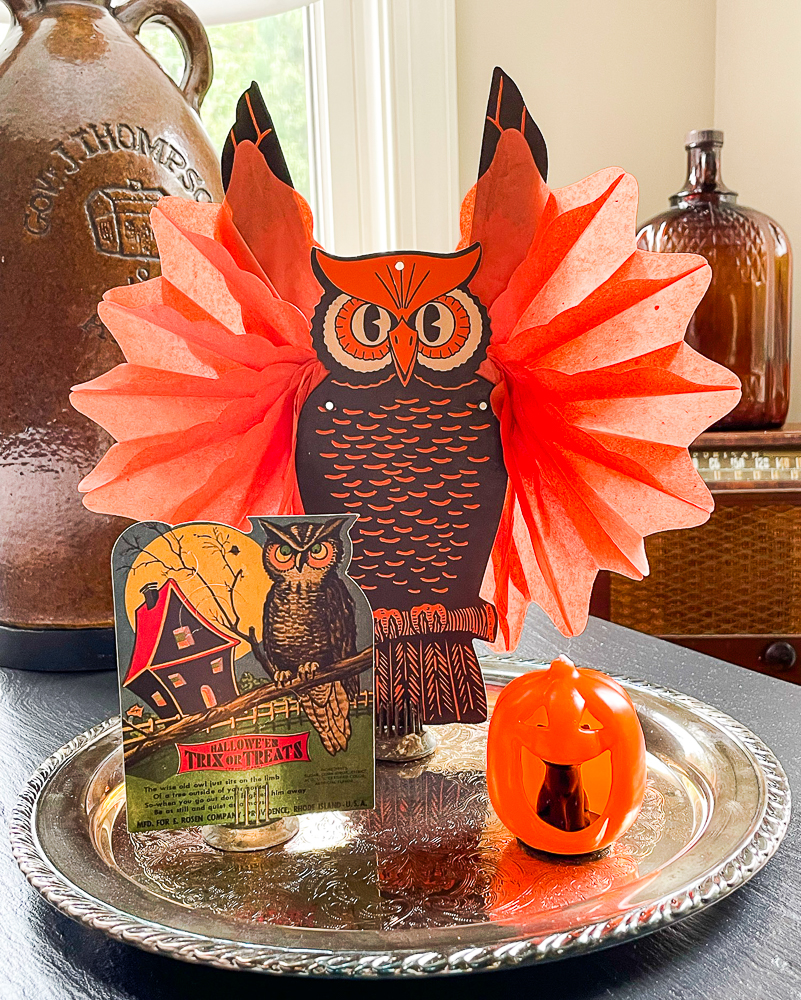 A sweet cat is inside the pumpkin.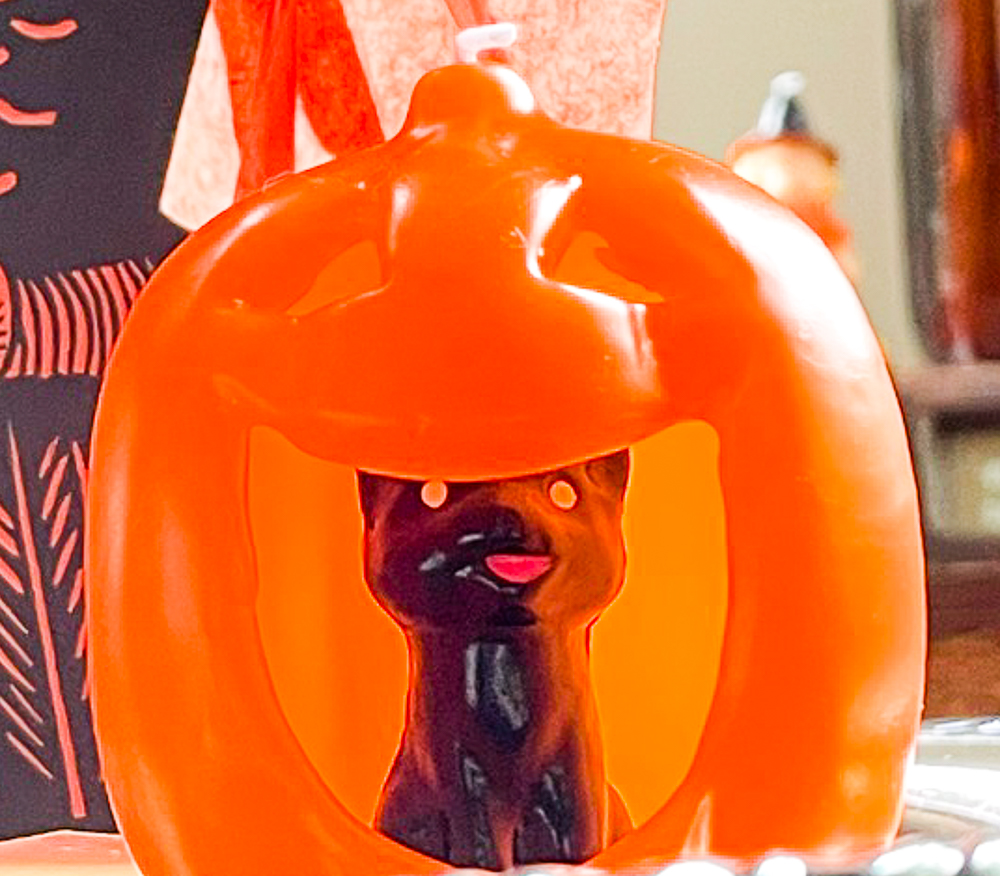 Displayed on a vintage radio are a vintage jug and two more Vermont Country Store candles. I purchased these when we were in Vermont last fall.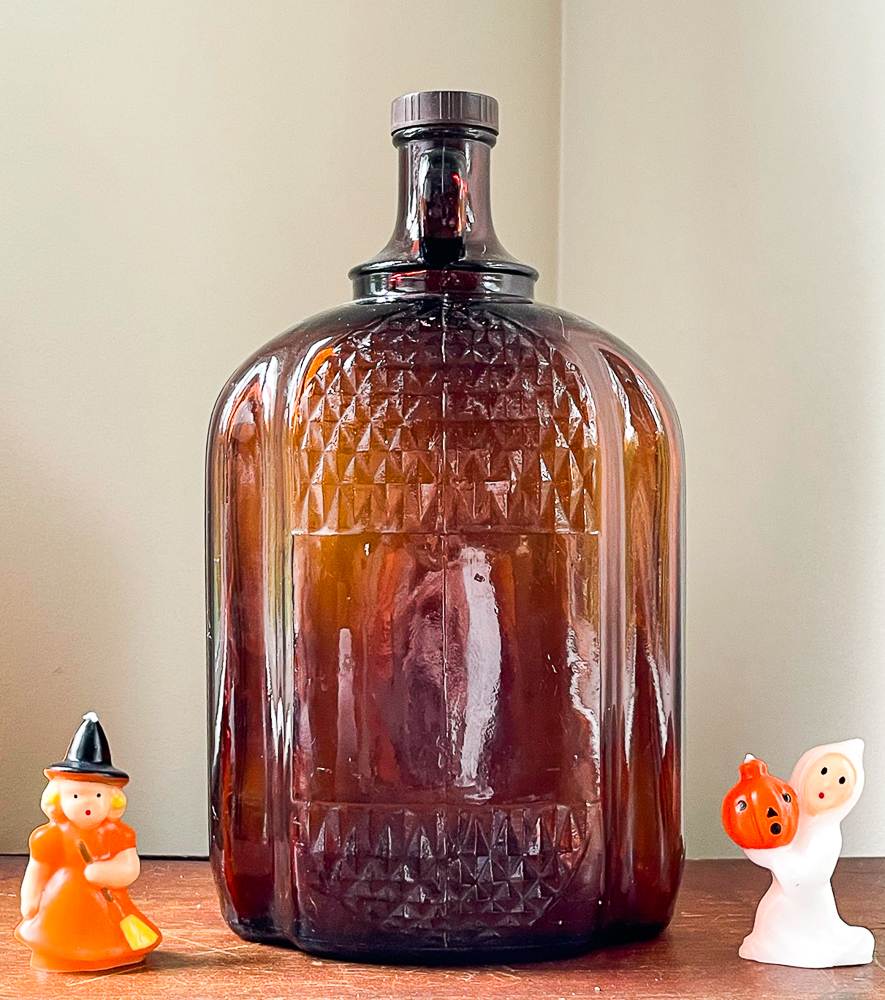 Sherman likes to relax in the leather chair. The pillow is from Walmart and the plaid blanket scarf was purchased here. The scarf is only $7.55 right now!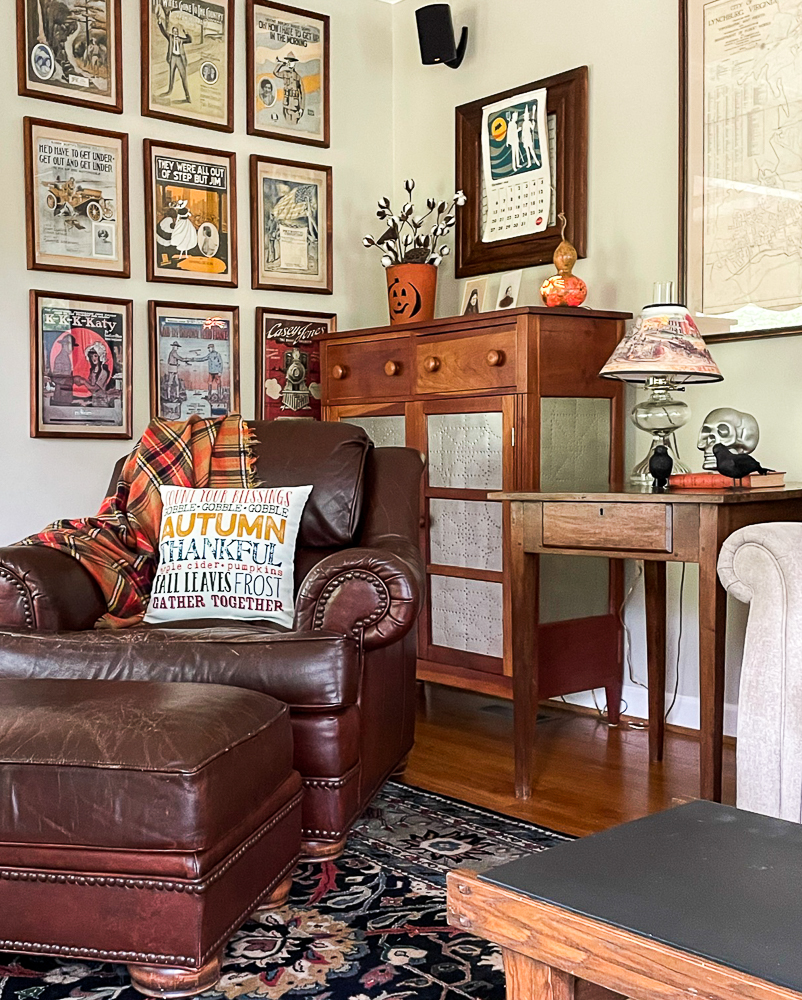 The pie safe is decorated with a Coca Cola calendar, a jack-o-lantern sap bucket, antique photographs, and cat gourd lamp that I made a long time ago.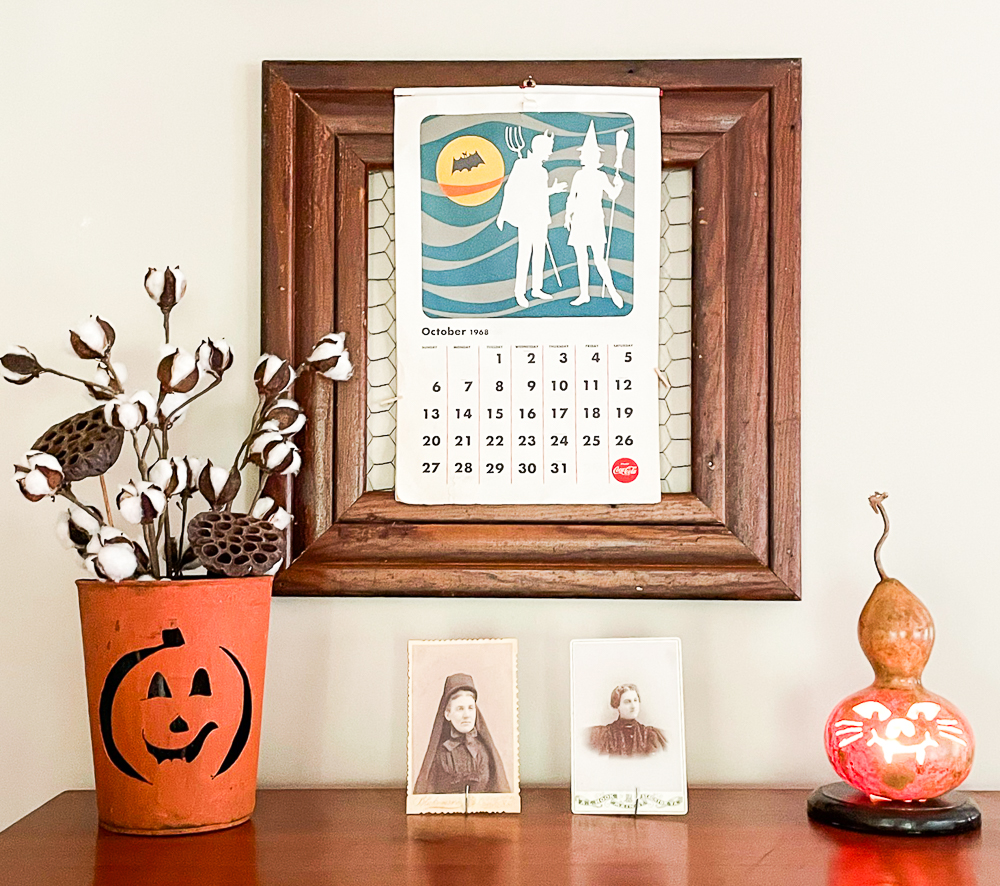 I asked Mama to find some spooky pictures to display and she found these.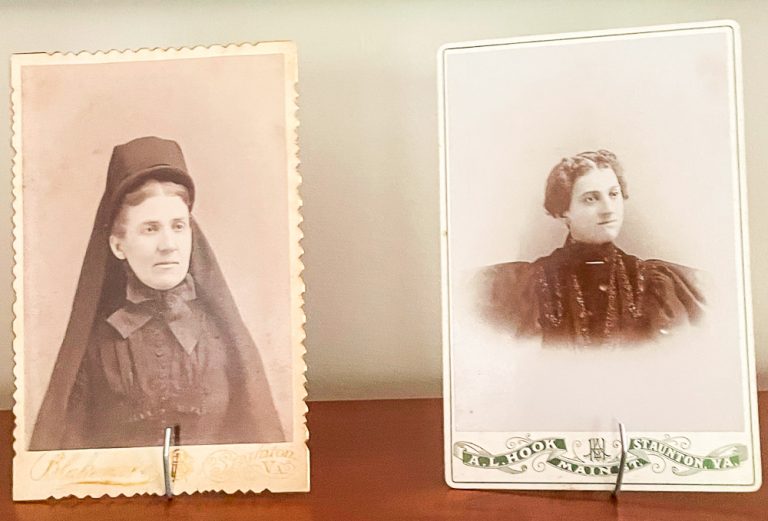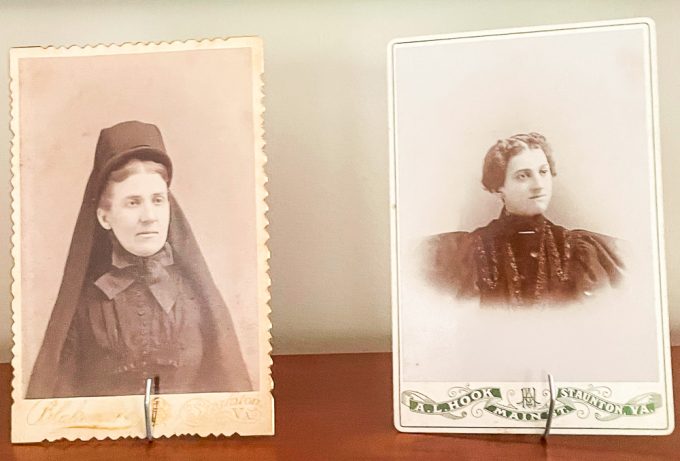 On our honeymoon, I saw a cat gourd lamp in Vermont. Mr. SP helped me to make my own using a gourd that my dad grew and dried.

This table is decorated with a pieced paper lampshade, a creepy skull, and two crows.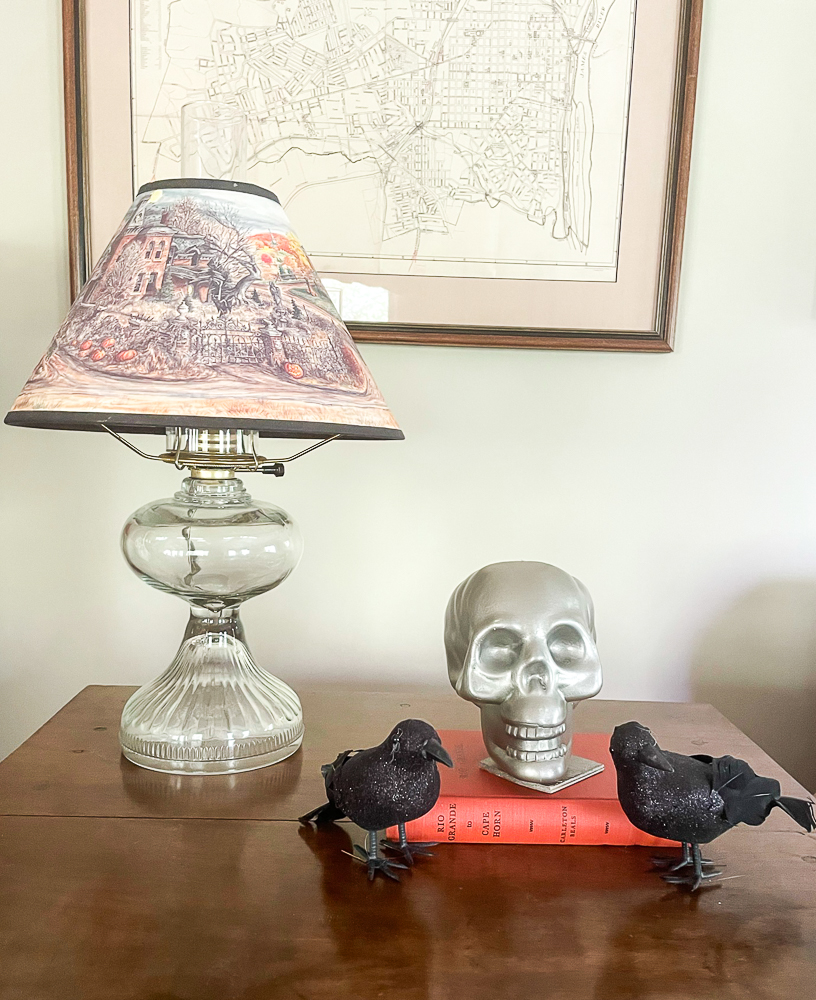 This lamp looks so pretty when it is lit at night.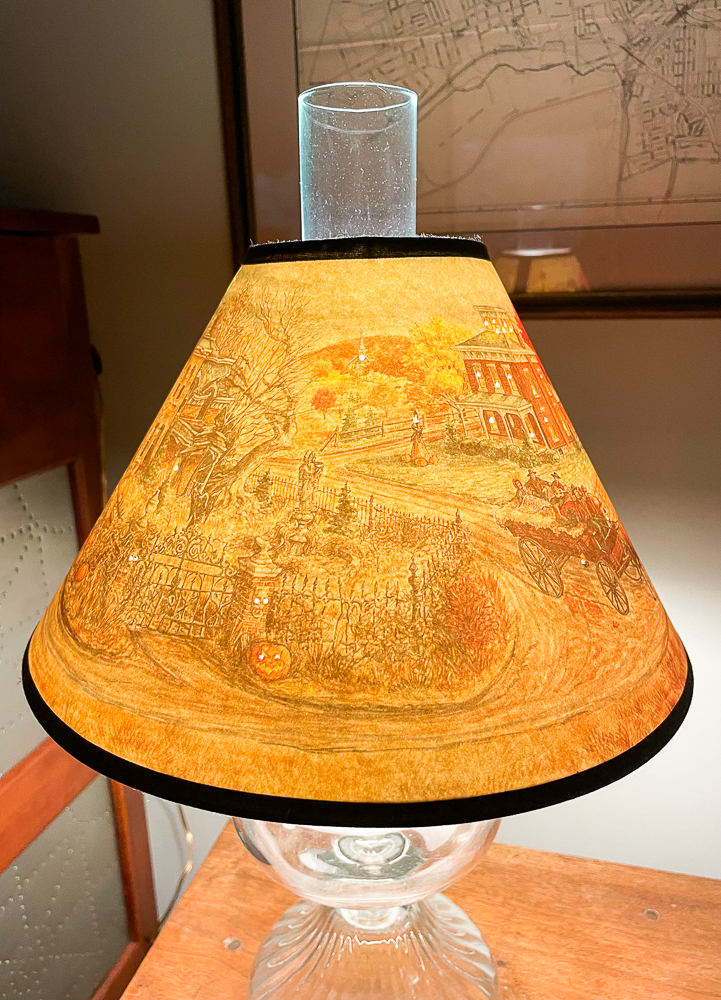 I removed a few of my Virginia Tech collectibles from this corner to make room for a Halloween display.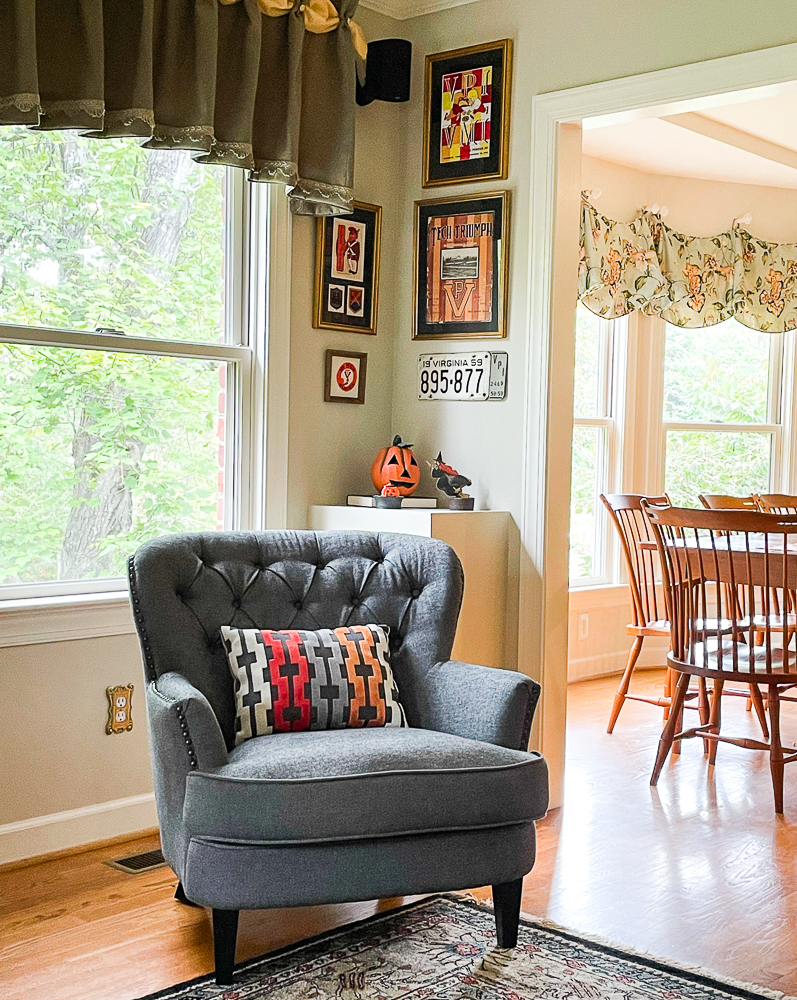 The witch was my grandmother's and the Halloween clicker is from my childhood.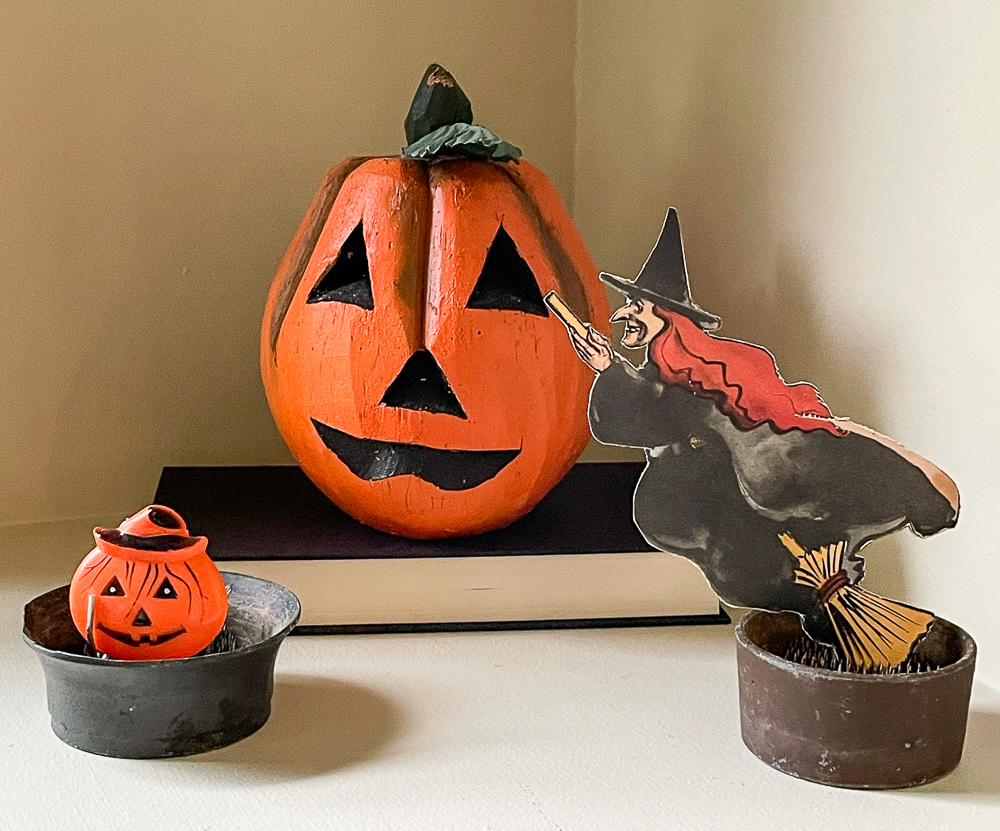 Halloween in the Breakfast Room
The table is decorated with a Halloween runner, my grandmother's jack-o-lantern perched on a wood slice that my former student cut for me for this tablescape, and two pierced wood candle holders that Mr. SP helped me make.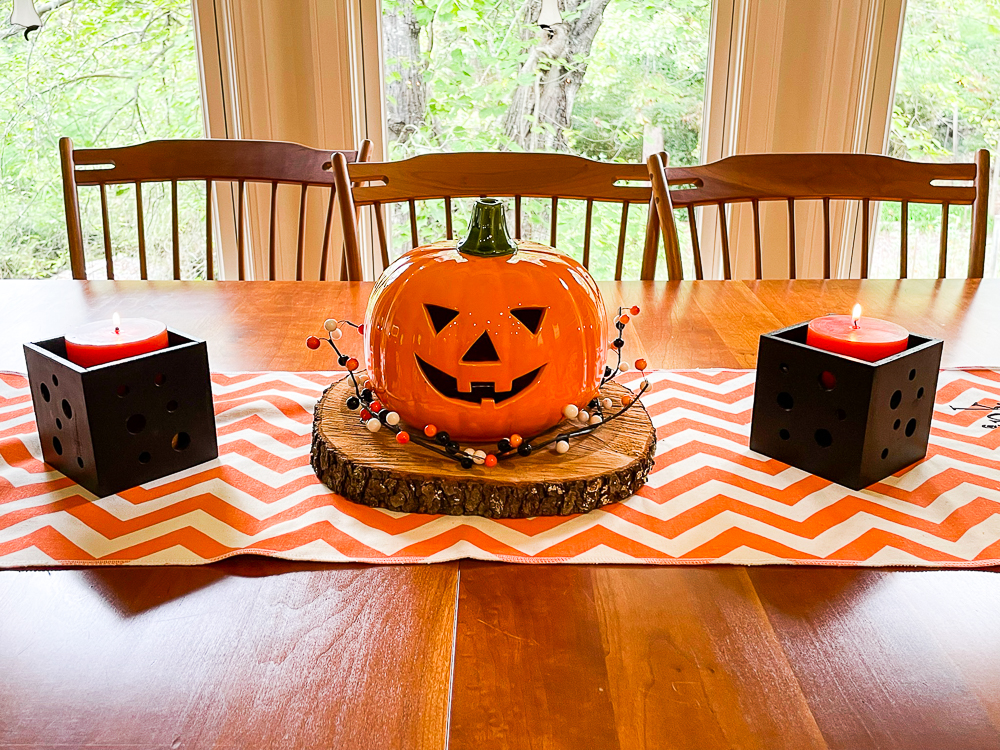 I have fond memories of seeing this jack-o-lantern on Granny's table when I visited her when I was a student at Virginia Tech.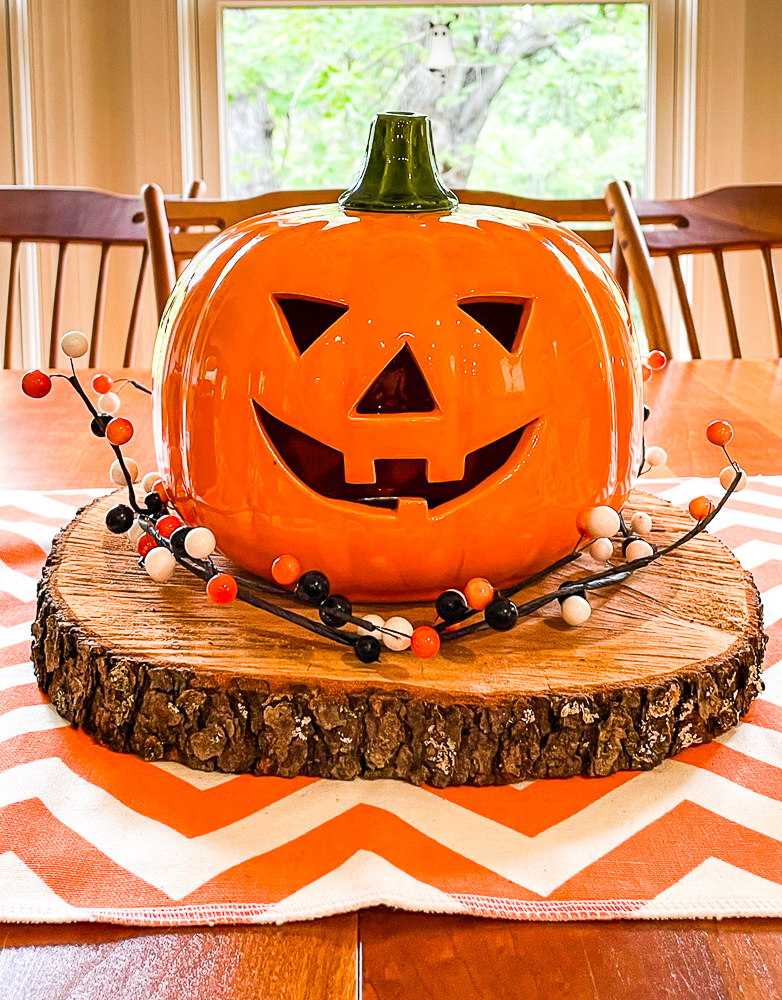 I love this runner and am sad that the store where I purchased it is no longer in business. I used to find the best things there.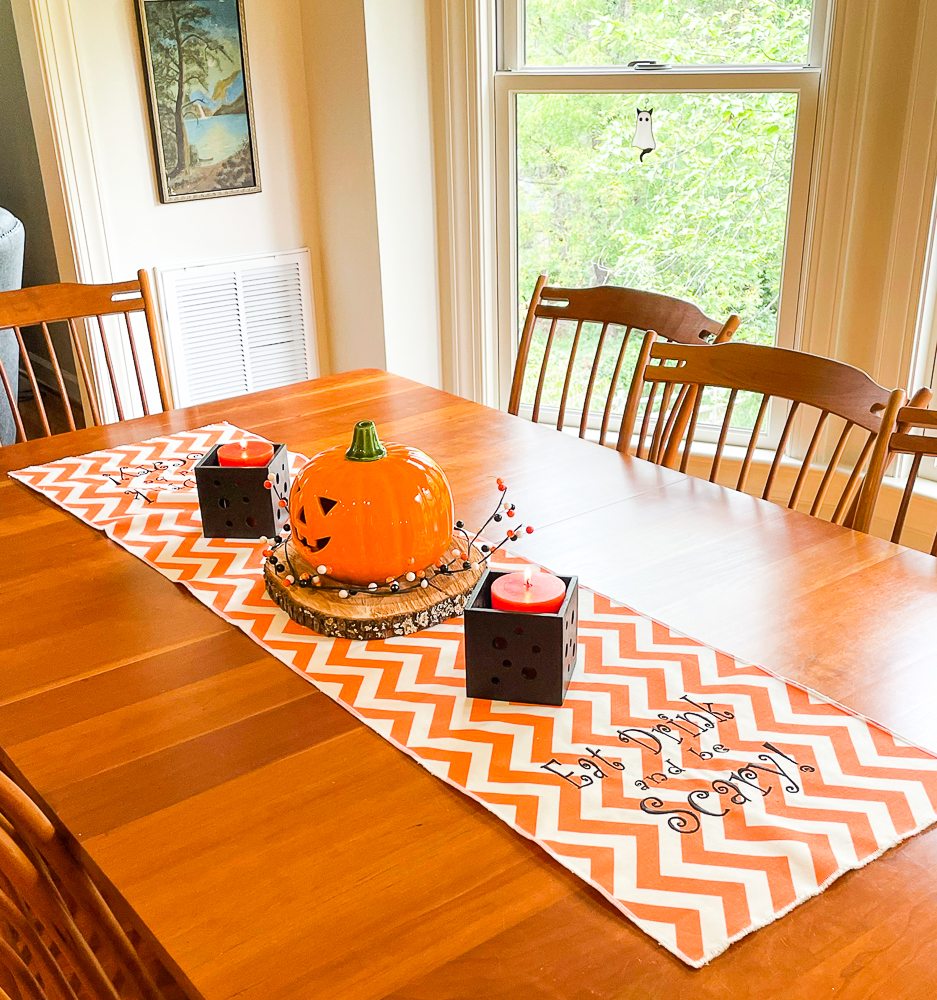 I hope you enjoyed part two of my Halloween home tour.
Pin it!