Vintage Virginia Tech Memorabilia
It's been a while since I shared a Vintage Monday post. Today's Vintage Monday is about Vintage Virginia Tech Memorabilia.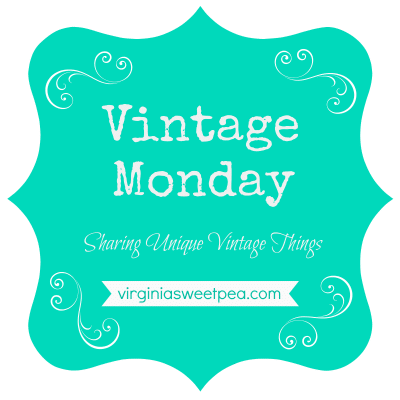 I am a Hokie, as was my dad, aunt and uncle. I'm not a die-hard sports fan like my dad was, or my aunt and uncle still are, but I can't help but cheer for my Hokies, even if I'm not particularly interested in watching a game.
Since my dad was a huge Hokie fan, he had some Virginia Tech memorabilia that my mom passed along to me after he died.
Football season is almost here and I thought it would be fun to make a Vintage Virginia Tech display in my family room using my dad's vintage Hokie memorabilia.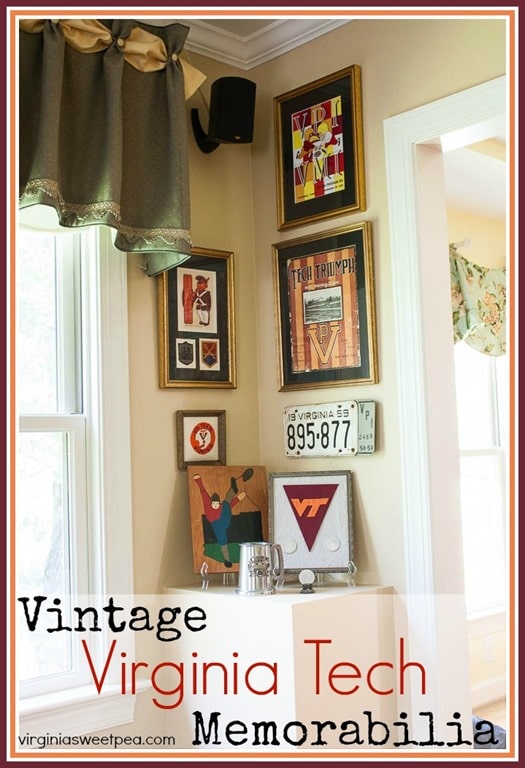 When we added an addition to our home to create a larger kitchen, we gained a family room in the process. The HVAC ducts had to be hidden and our contractor's solution was to create a corner shelf. I didn't mind this at all, in fact I like that it gives me a display area.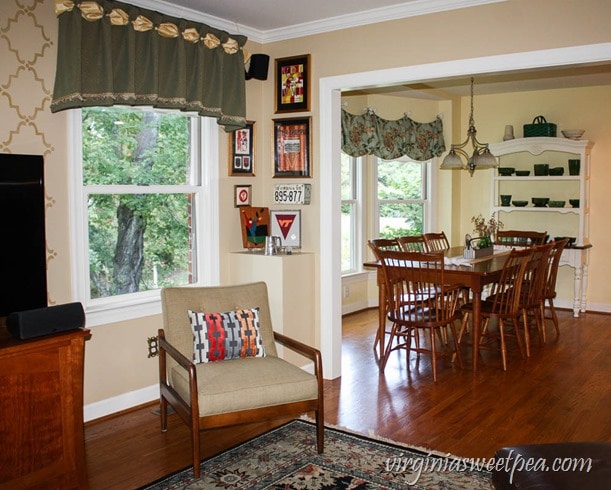 Vintage Virginia Tech Memorabilia
On the shelf I've displayed a football puzzle that belonged to my dad that dates to the early 1940's. Beside it is a VT pendant that I made to use on a Vintage Inspired Football Themed Mantel that I did a few years ago. The "coins" are printed with Virginia Tech's foot ball schedules for 1973 and 1974. The mug used to hold pens and pencils on my dad's desk.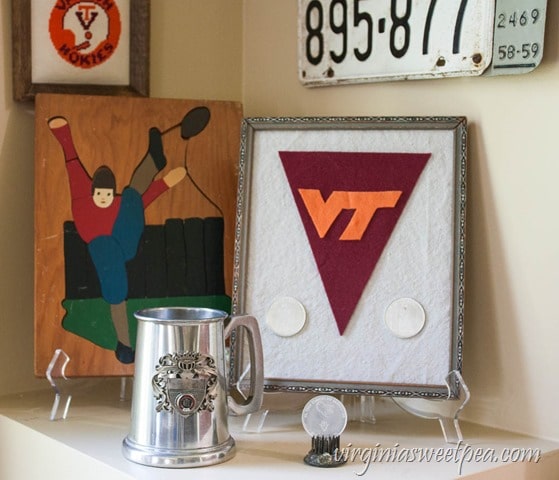 Football Schedules
I don't know what the Virginia Tech Student Aid Association was, but perhaps my dad donated to it and received these football schedule "coins" in exchange for his donation.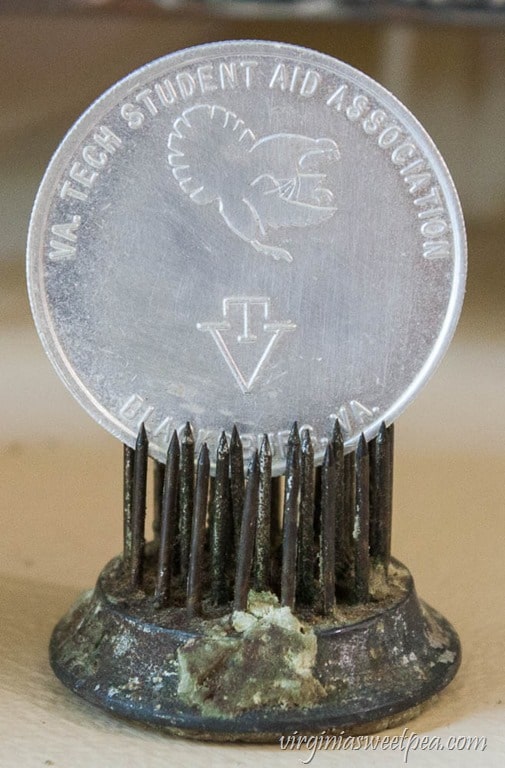 This is the 1973 football schedule.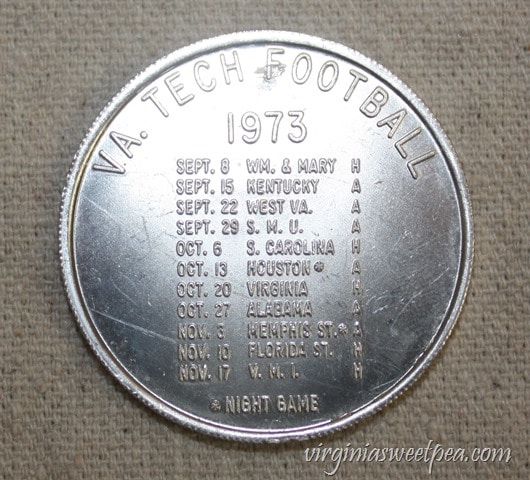 And here we have the 1974 football schedule.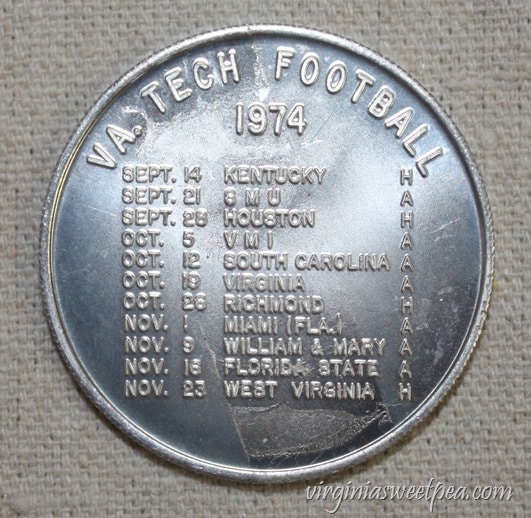 License Plate
My dad graduated from Virginia Tech, called VPI back then, in 1962, so this license plate could have been his or it could have been my grandfather's. I don't know if he had a car when he was in college.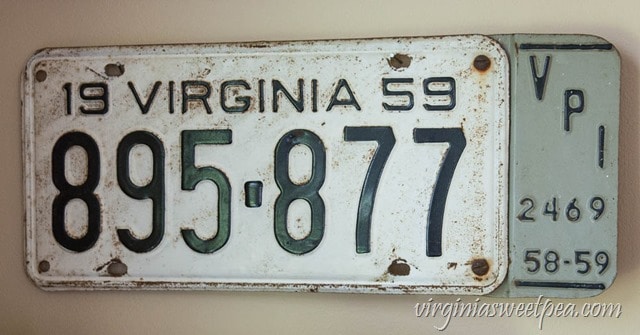 Cross Stitch
My grandmother made this cross stitch for my dad back in the 1980's when cross stitch was popular. It ended up in my classroom and I found it stuffed in a drawer when I cleaned out my room a few weeks ago. (After 26 years in the classroom, I decided to stop teaching to focus on my health.)
Granny's cross stitch makes a great addition to my Virginia Tech corner.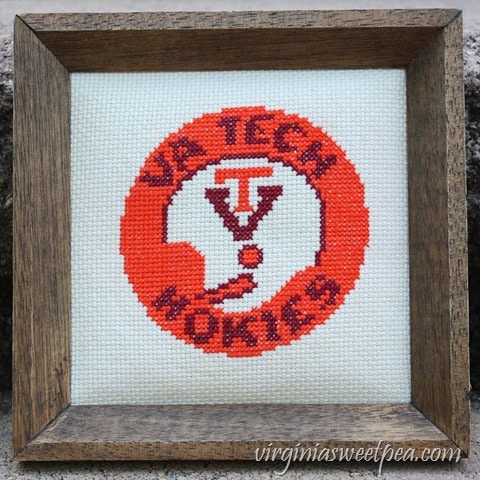 My house is dark and honestly very difficult to photograph. The glass on the frames cast a glare no matter what time of day I tried to take pictures.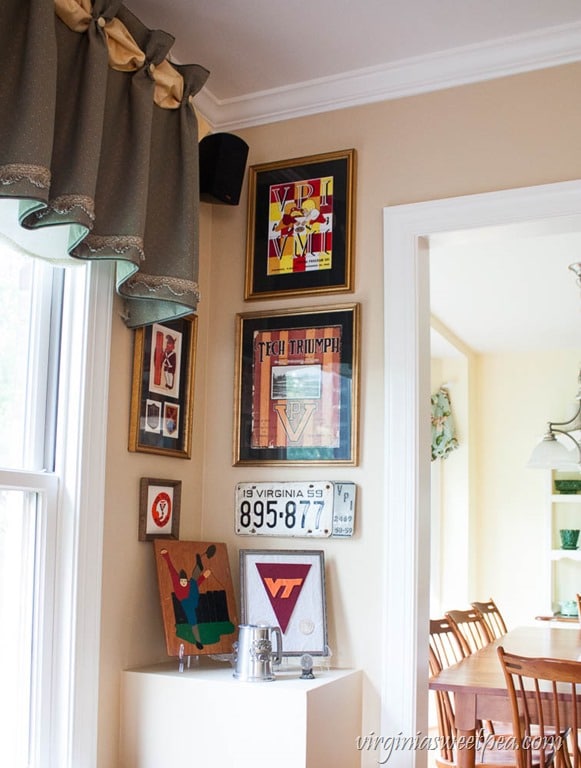 VPI "Tech Triumph" Sheet Music
This Tech Triumph sheet is most likely from the 1920's. The song was first performed on Saturday, November 1, 1919, before the football game between VPI and Washington and Lee, so 1920's would be a good guess for when a cousin of my grandmother acquired this music to play for her family on the piano.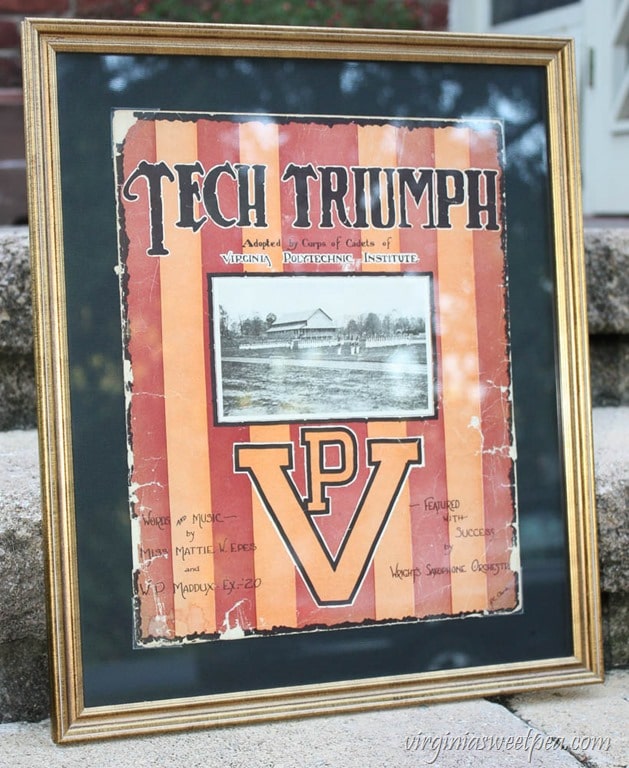 VPI vs VMI Football Program
I don't remember if my grandmother, aunt, or mother passed this VPI vs VMI football program along to me, but I do remember thinking that it would look great framed and I think I was right.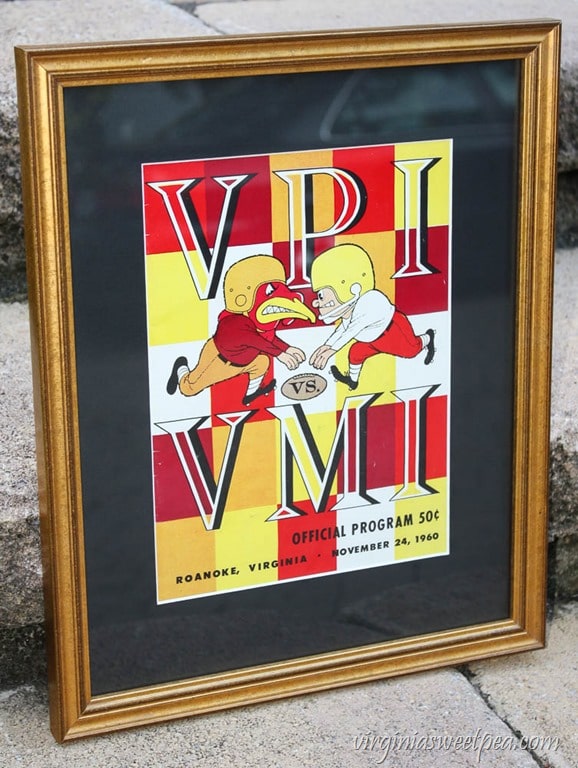 Corp of Cadets
My dad was in the Virginia Tech Corp of Cadets and my mom gave me these things. I knew I wouldn't enjoy them if they weren't framed.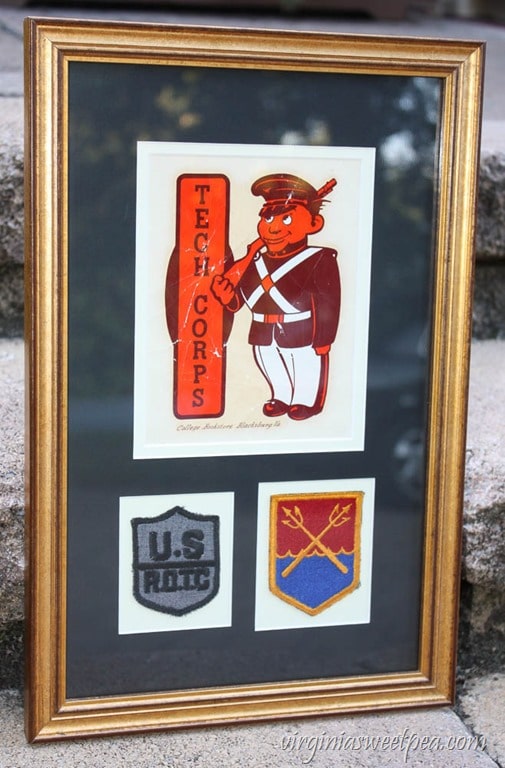 Granny's Travel Case
My grandmother loved sports and played basketball for her school, William Byrd High School. This travel case is what she used to carry her uniform to games. Isn't it cute how she decorated it with stickers from colleges. I'm including it since it has a cool VPI sticker.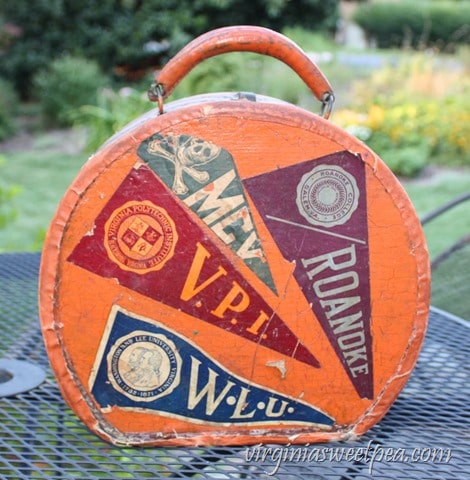 This is the back side of the travel case.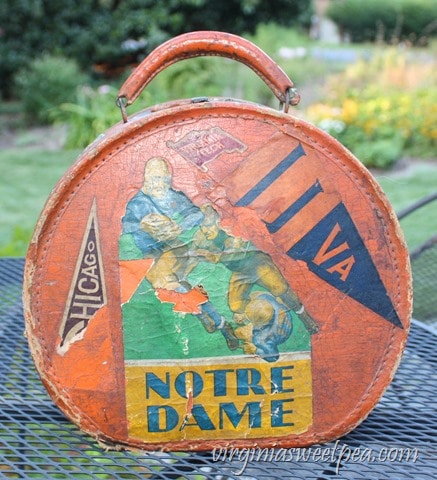 Here you can see the vintage stickers on the side of the travel case.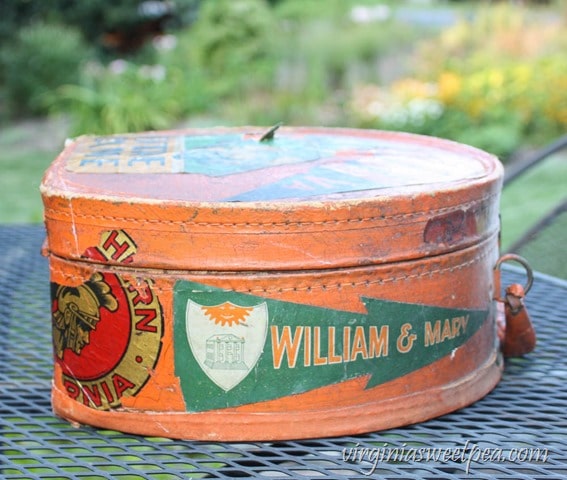 This is the other side. The sticker that is torn says, "Vinton". The rest of the sticker is in the travel case.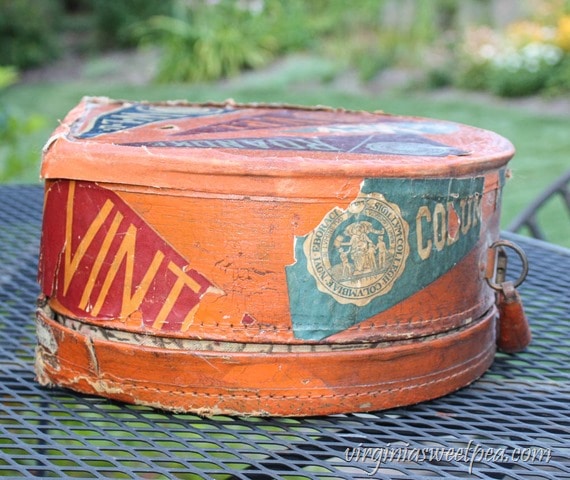 I hope you enjoyed today's Vintage Monday post featuring Vintage Virginia Tech Memorabilia. If you use Pinterest, I would love it if you would pin this post for others to discover.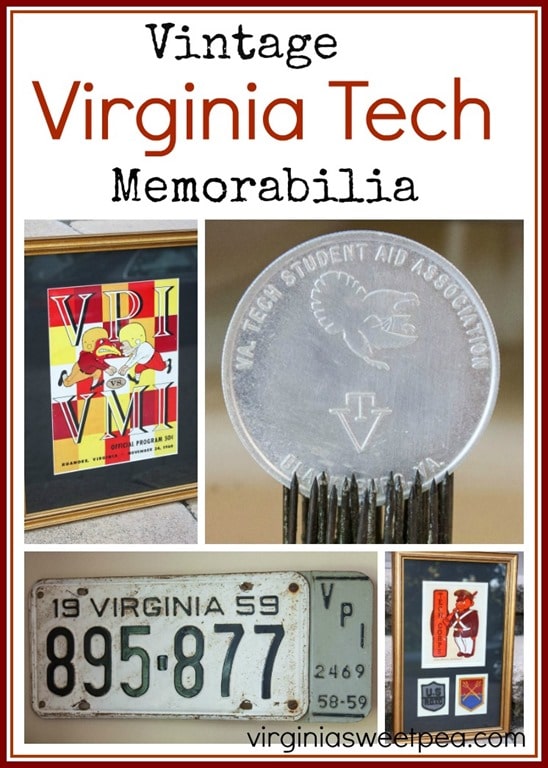 One More Thing!
If you enjoyed this post then you may be interested in the Vintage Football Mantel that I created a few years ago. The game was my dad's and the football helmet and football player were my grandfather's.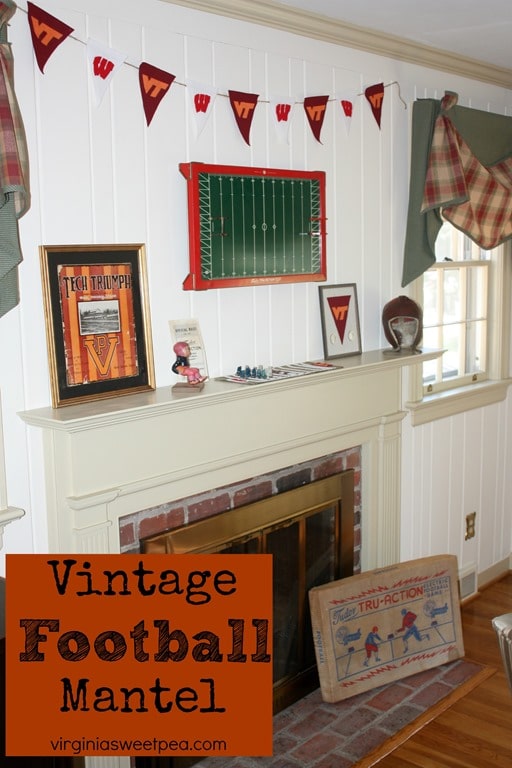 I'll be back on Wednesday to share how I cleaned the Virginia Tech cross stitch that I shared today. The years had not been kind to it and it was in dire need of cleaning. I was pleasantly surprised at how easy it was!