Vintage Lake House – Thrift the Look!
Have you ever seen a picture in a magazine or book and wanted to copy the look? Most of us can't afford to buy everything that we like in an inspiration picture, but there's a way to get around that pesky money issue, by shopping thrift stores. Today I'm sharing how to shop thrift stores to get a Vintage Lake House look.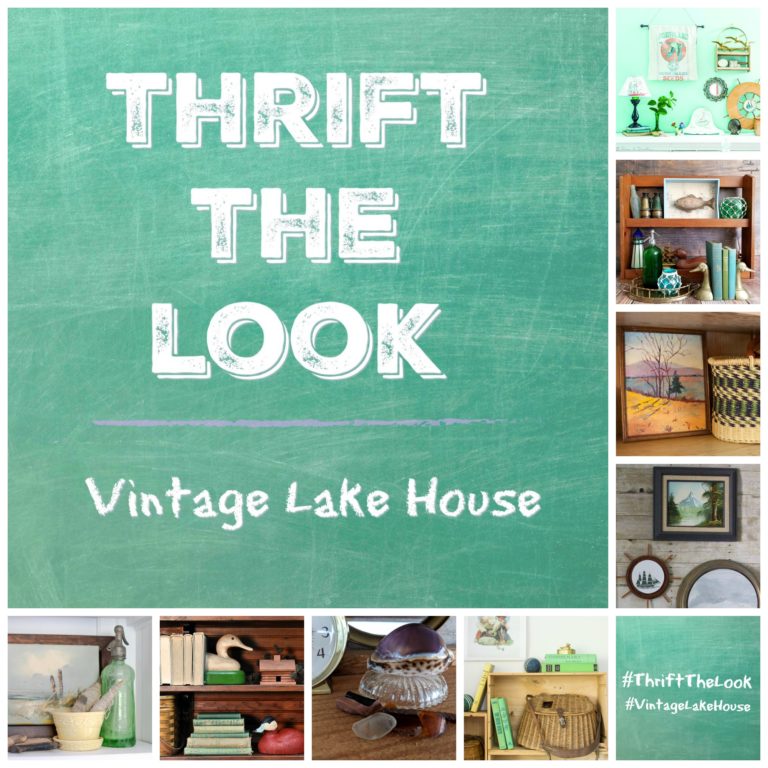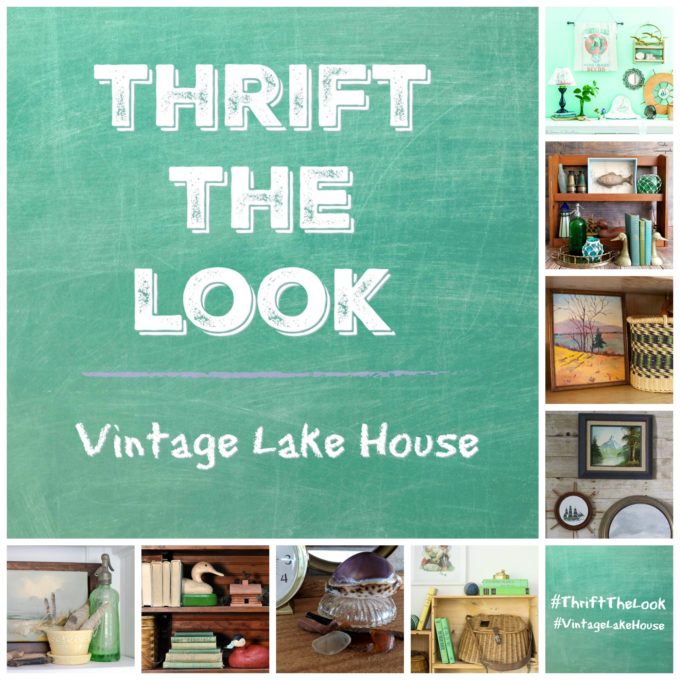 This "Thrift the Look" challenge is the brainchild of Sarah from Sadie Seasongoods who is a master at finding thrift shop items and transforming them into lovely home decor. Sarah challenged a group of us who belong to the Creative Vintage Darlings Facebook group to replicate the look of an inspiration picture with items found at thrift shops. She found this beautiful image from Country Living Magazine that is the inspiration for this challenge.
By the way, if you love vintage, please join our Creative Vintage Darlings group!
Our inspiration photo is from a 1900's Boothbay Harbour home in Maine. In the Country Living article, the homeowner says she filled all the "funky little nooks and shelves" with an assortment of nautical knickknacks. Being a lover of vintage, I poured over this photo taking in all of the fun vintage items that she used to decorate these shelves.
Now for the challenge: Is it possible to get this look without breaking the bank? Let's see what I came up with, and then you can enjoy the looks that my Creative Vintage Darlings friends created.
How to Thrift a Vintage Lake House Look
I had so much fun popping into thrift stores in my town and the surrounding areas to see what I could find for this challenge.
After I gathered as much as I could find to replicate the Vintage Lake House look, I asked my good friend if I could use her bookshelves for pictures. We had fun arranging items on her shelves in the spirit of the inspiration picture.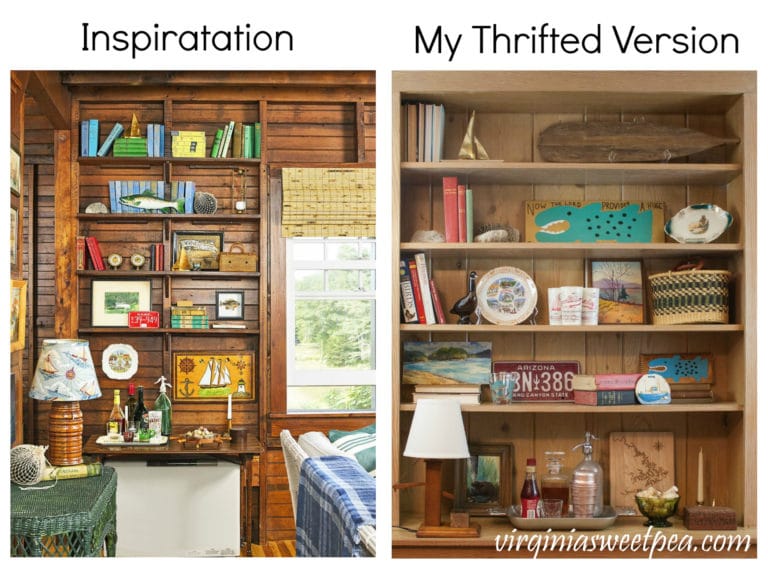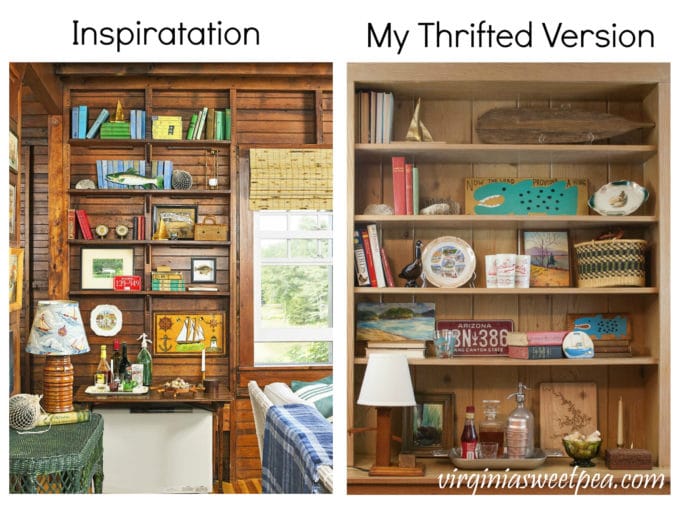 What I found at Thrift Shops
I saved the inspiration picture on my phone and referred to it as I browsed at local thrift shops. I found quite a few similar items that I could use for the Vintage Lake House look.
These items were spotted at my local Goodwill and at a consignment shop. I was thrilled to find a brass ship exactly like the one in the photo. The fish photo frame would look great with a family photo.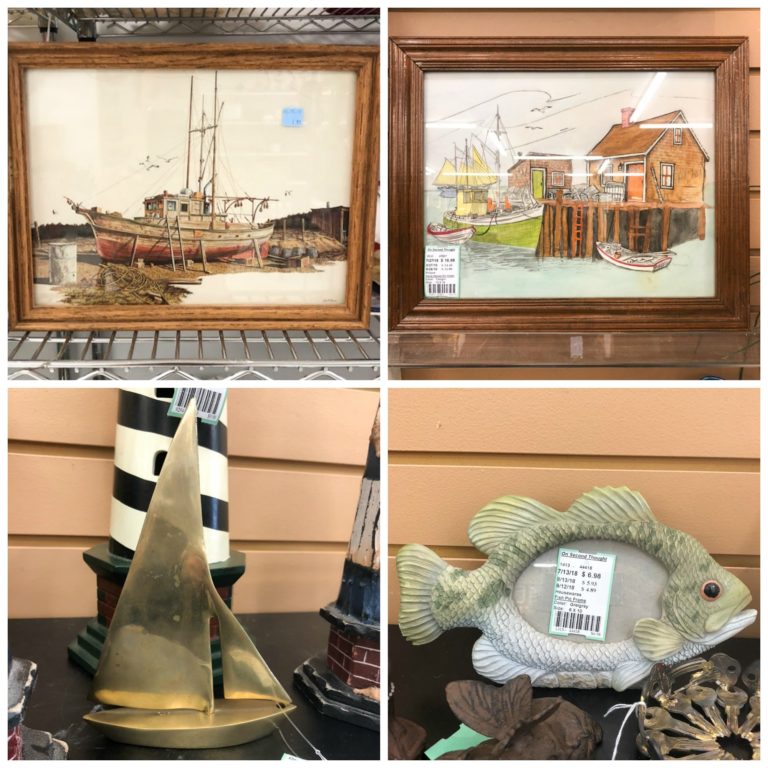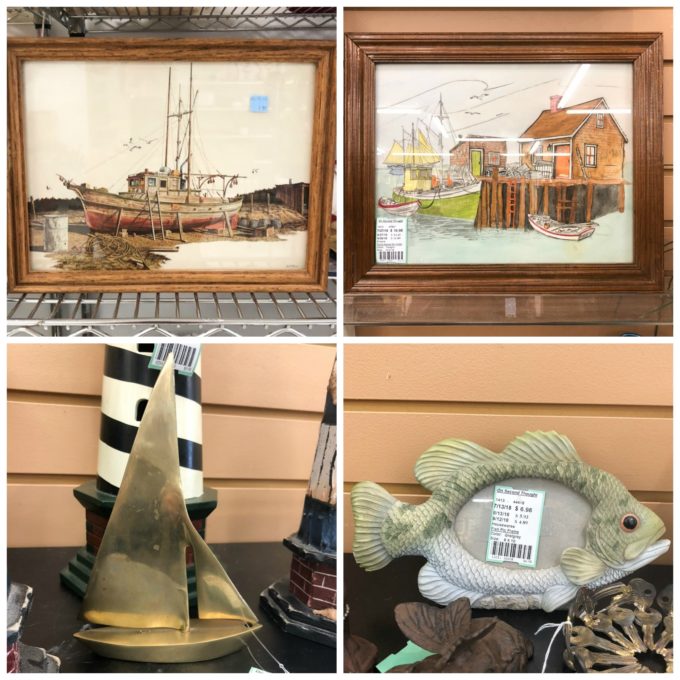 The inspiration photo uses many nautical items since the home is located on the coast in Maine. The inspiration photo doesn't use lighthouses, but I think a group of them on shelves would make a pretty display. The inspiration photo uses coral and a basket and I found both.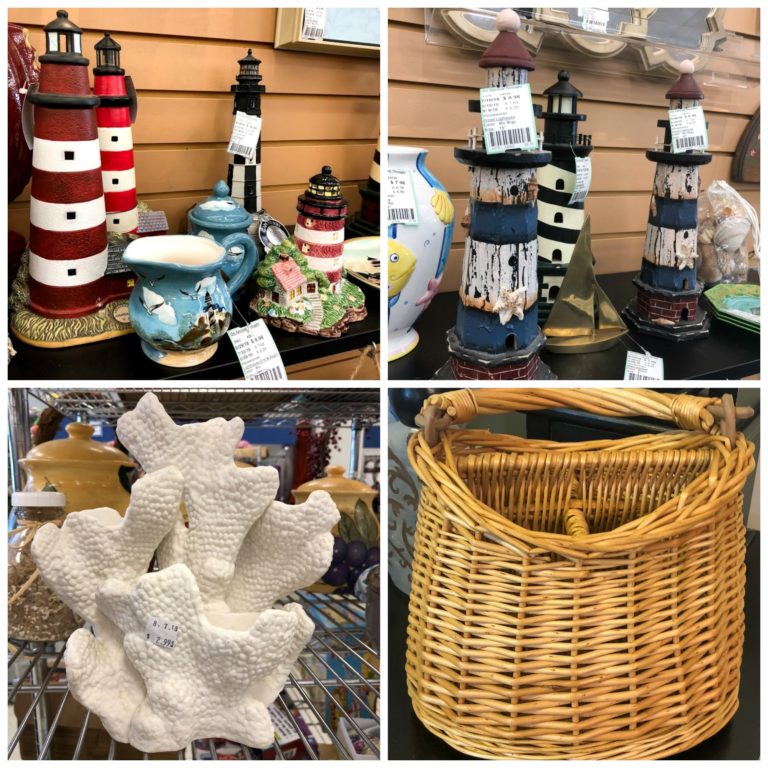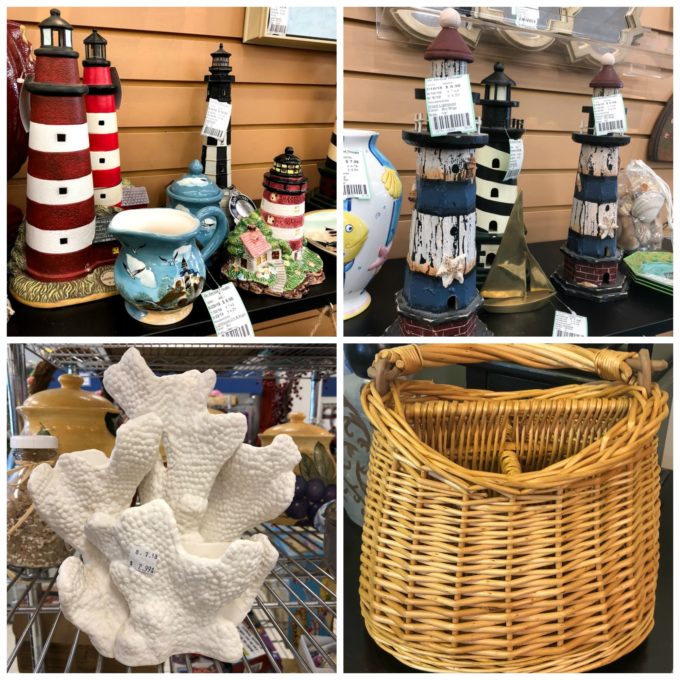 The inspiration photo uses a wooden box, brass candle holder, and what looks to be a ship's wheel filled with shells. The wooden box that I found at Goodwill has a beautiful lake picture on the top and pretty carving, perfect for a vintage lake house look. Brass candlesticks are easily found at Goodwill, as are vases. The yellow color of this vase caught my eye as it coordinates with the yellow ship art in the inspiration photo. I never found a ship's wheel while shopping, but I did find a gold plate that I could substitute.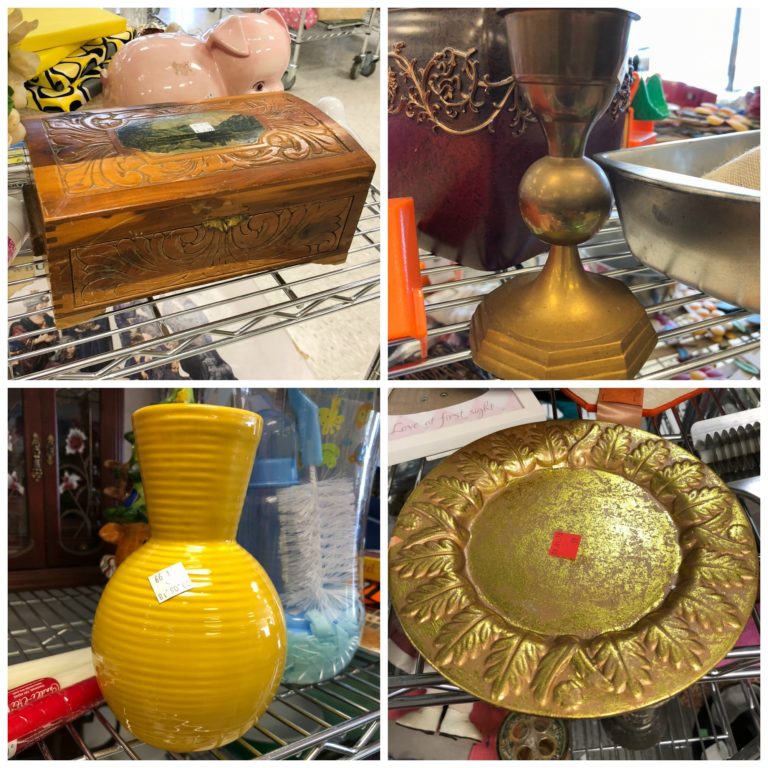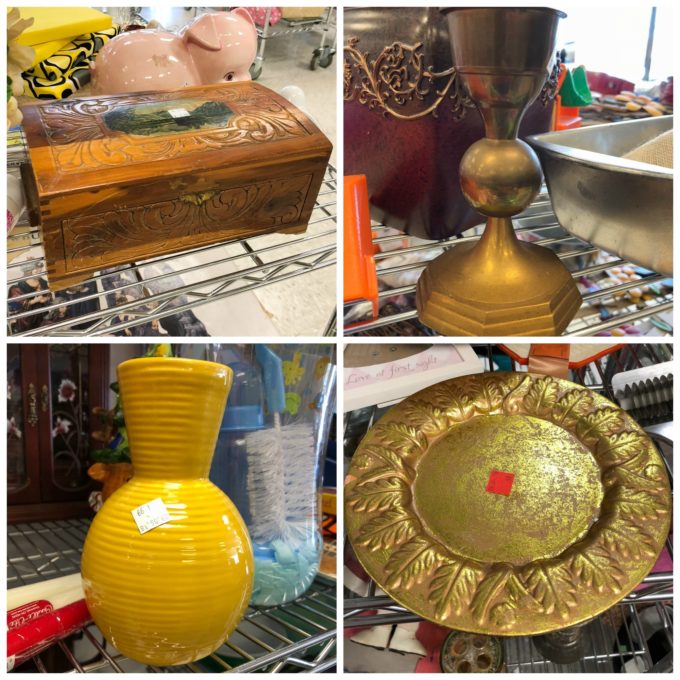 The inspiration picture doesn't use birds but when I think of a lake or beach location, I can't help but think about birds. My local lake is overrun with Geese, so when I spotted this Avon cologne Goose, I had to have it. I spotted the pretty teapot at Goodwill and could see it used on my shelves. The inspiration photo has a unique wooden lamp. Goodwill is a great place to find lamps. Most of the lamps that I find need to be rewired for safety and need a new shade.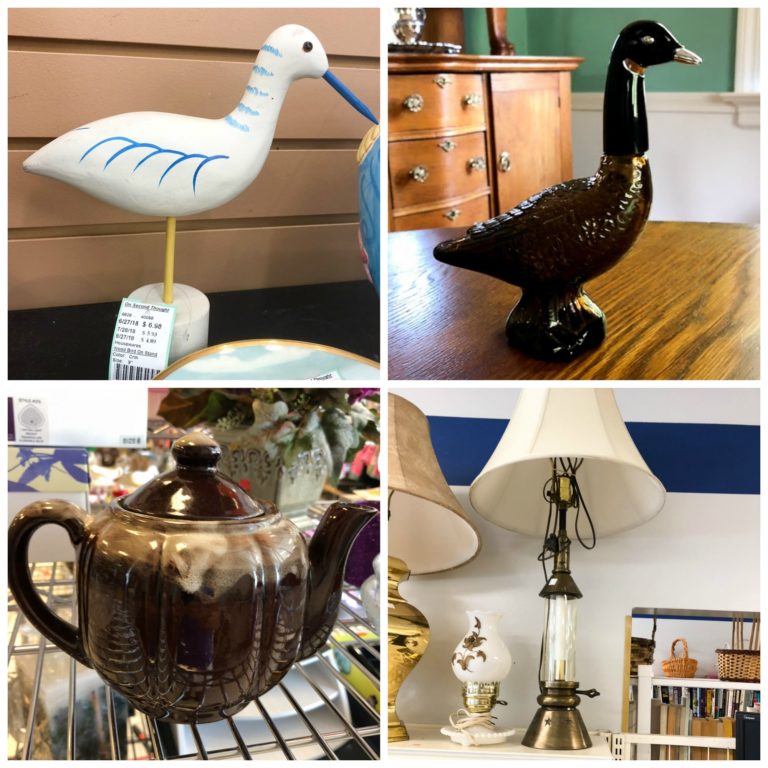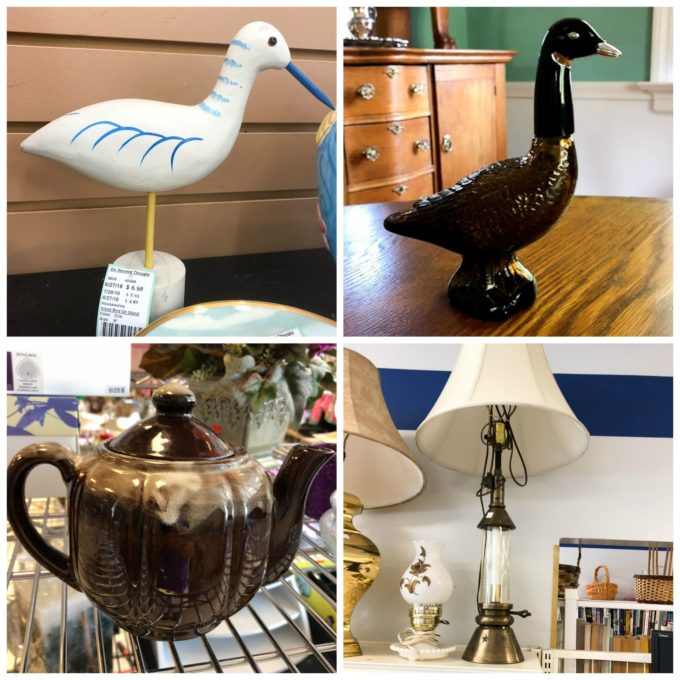 Now that I've shown you that you can find similar items at the thrift store to achieve a particular look, let's talk about what I used to create my version of this look.
Details about the Vintage Decor that I used for this Look
Almost everything displayed on these shelves is vintage with the exception of a few of the books that I borrowed from Suzanne's shelf, the Smith Mountain Lake map and the fish paintings. Let's talk about what I used and where I found what I used to create this look.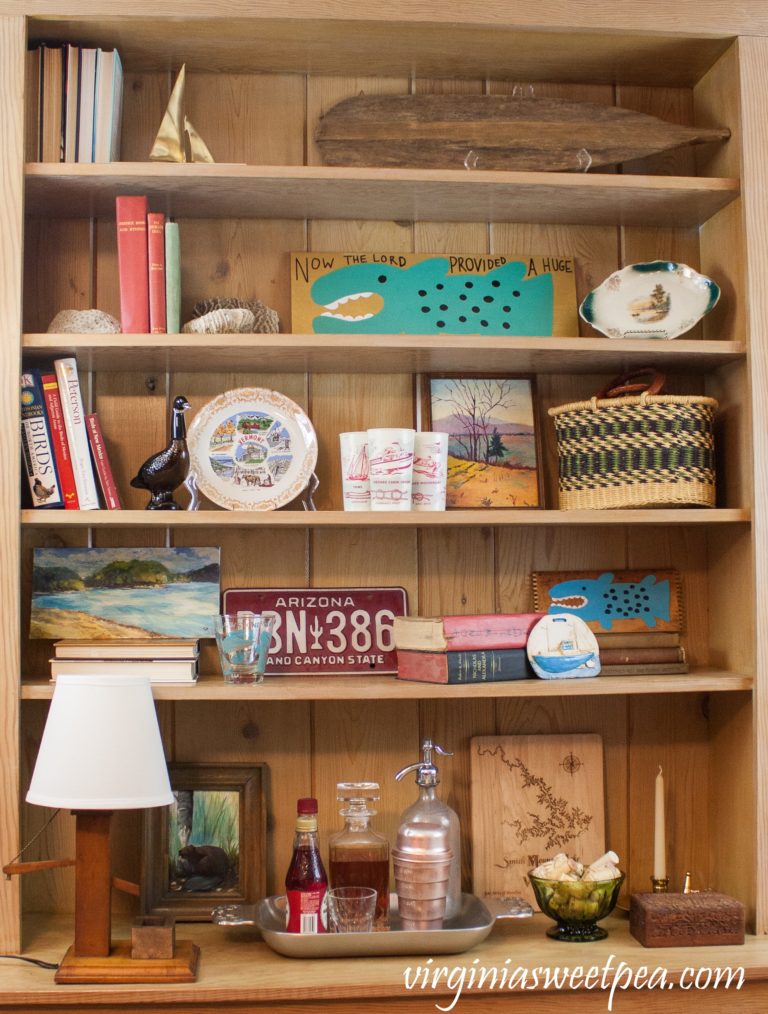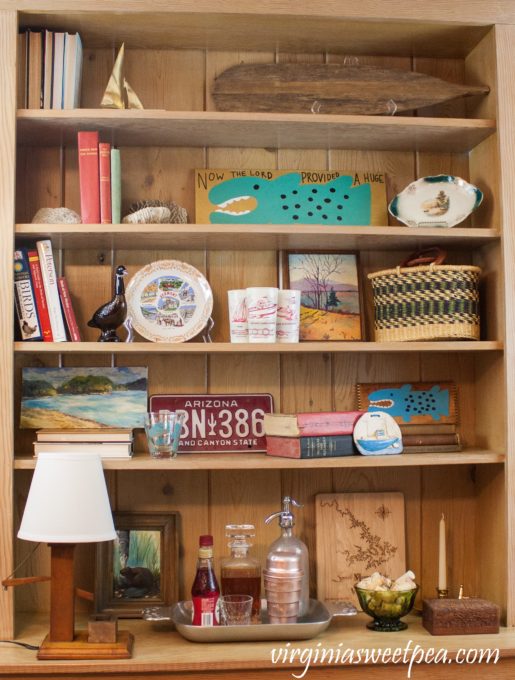 Suzanne, my good friend who kindly let me use her shelves and some of her decor, provided this beautiful tray filled with a vintage decanter, seltzer bottle, and cocktail shaker. Suzanne used to work at a local estate store and these items were purchased there.
The beaver painting to the left of the tray was one of my mom's yard sale finds. I not only had Suzanne helping me with this challenge, I also enlisted the help of my mom. The well lamp was made by my dad in the 1950's and it still works. Mama dug it out of her basement for me to use for this challenge. After I rewire it, I'll find a place for it in my home.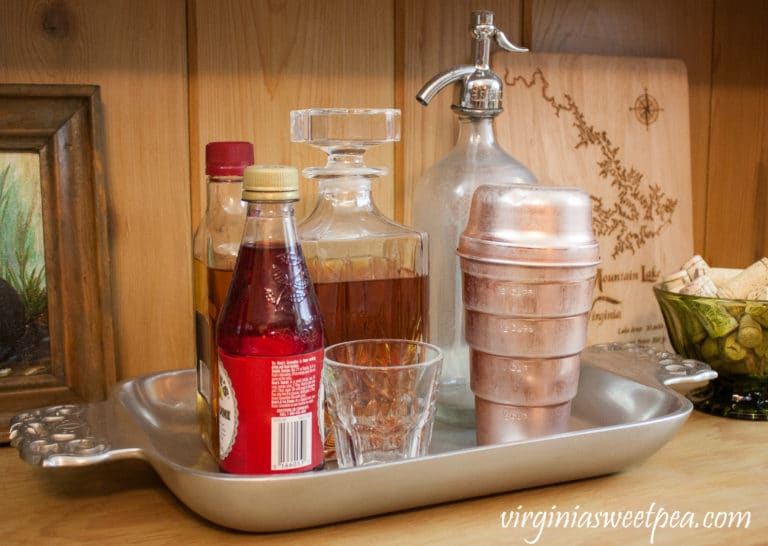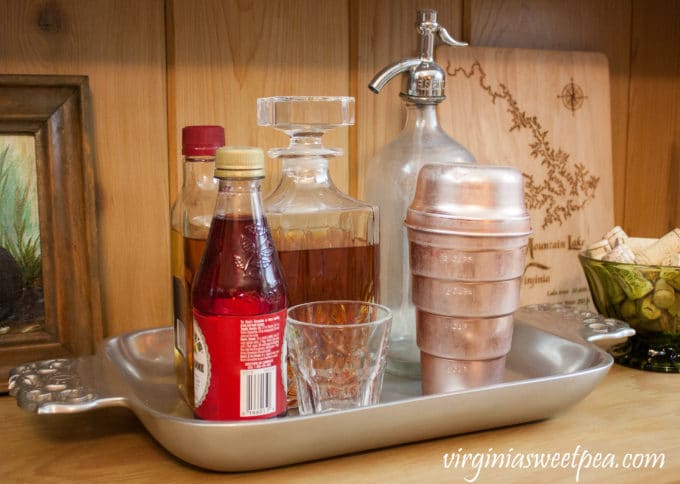 The green bowl and carved box are Goodwill finds. The brass candle holder was a wedding present and the Smith Mountain Lake map was a recent gift from a good friend.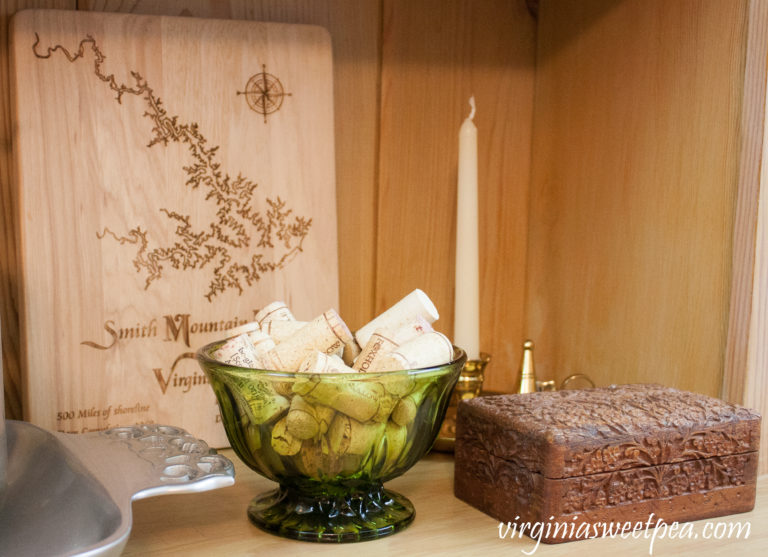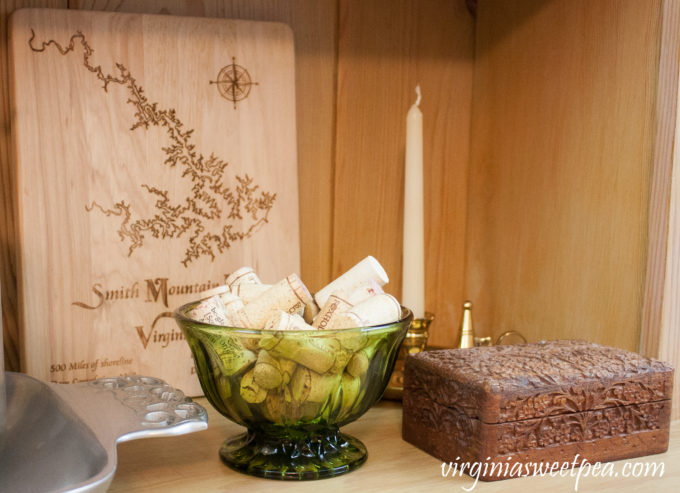 Suzanne is a master of Goodwill shopping. The lake painting and highball glass are her contributions. The Arizona license plate isn't thrifted, but we couldn't resist using it since the license plate in the inspiration photo is red.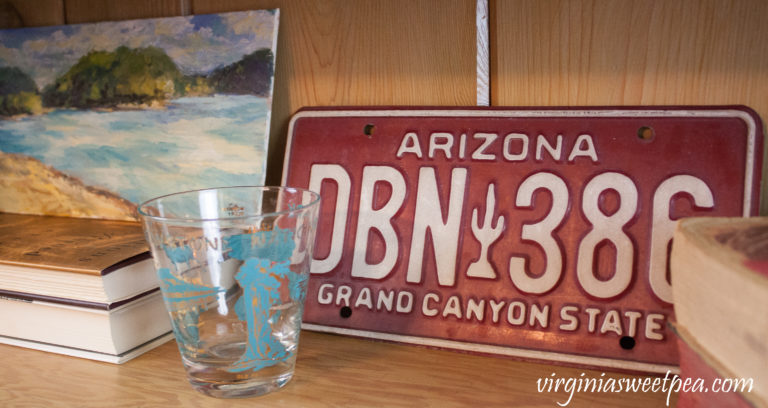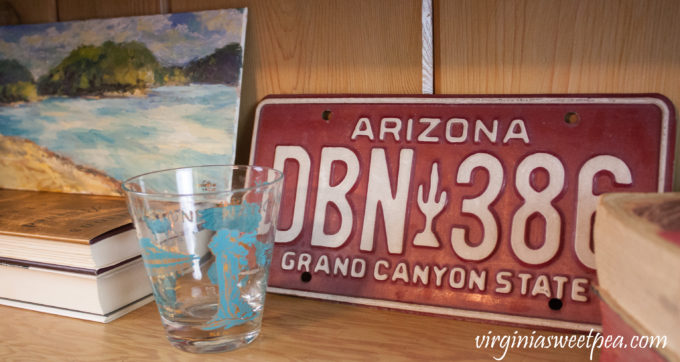 Suzanne painted the fish on a piece of a salvaged box. The ship ornament was found at a resale shop and the books are vintage ones from my collection.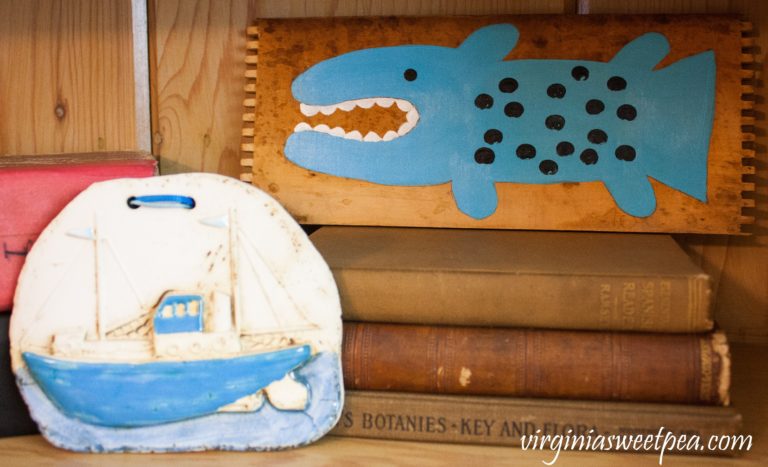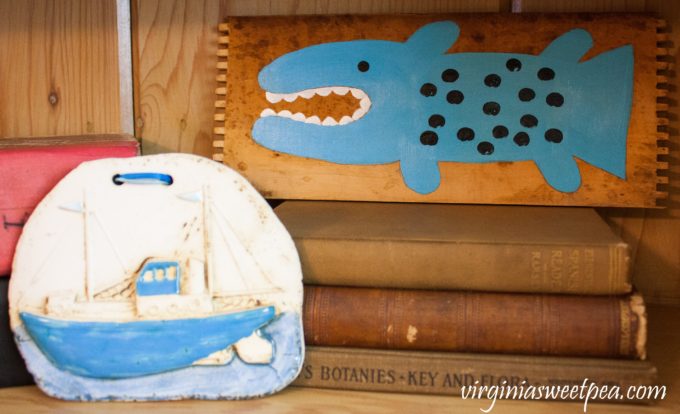 When I spotted this goose Avon cologne bottle, it automatically went in my shopping basket for this challenge. The inspiration photo shows some sort of state plate, so I grabbed one off of my living room wall to use with the goose.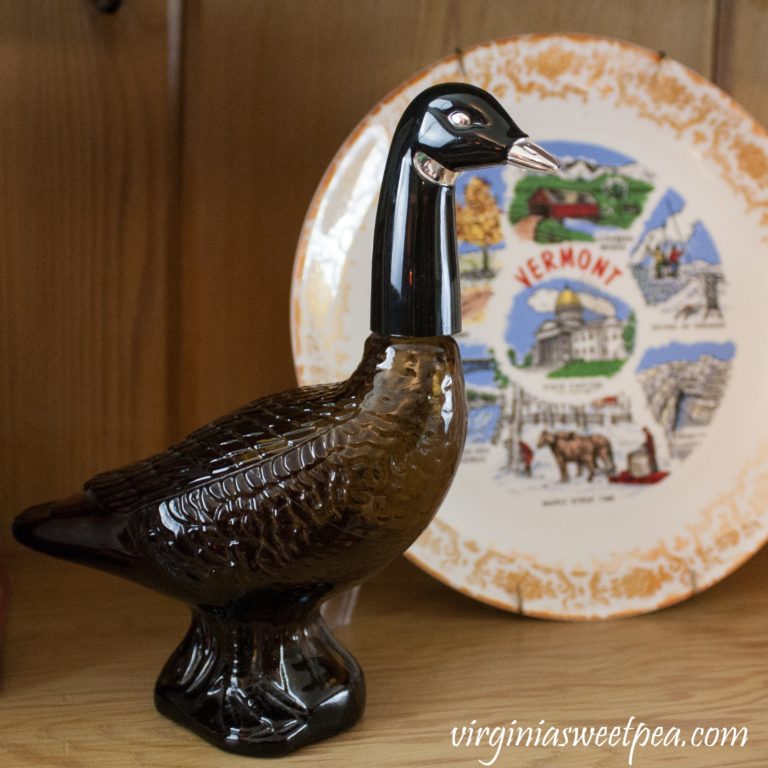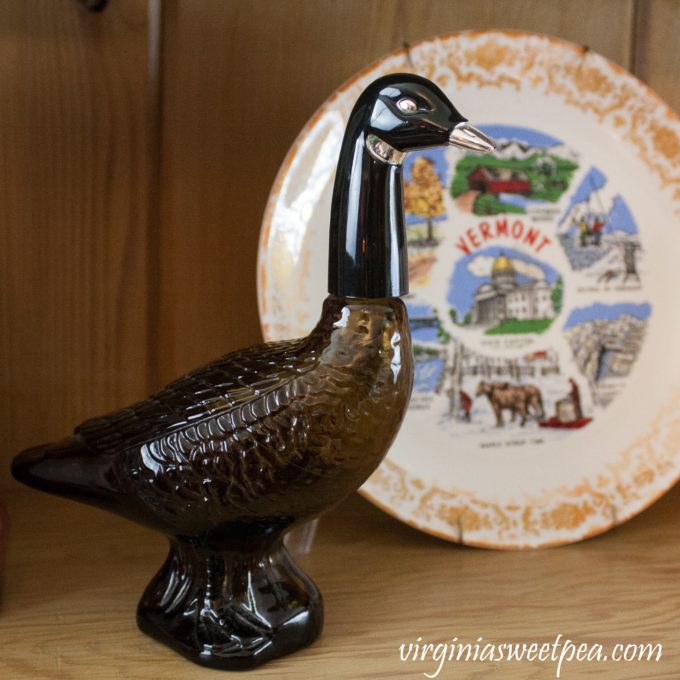 Aren't these cups darling? Another friend picked them up for me when she spotted them at a local vintage shop.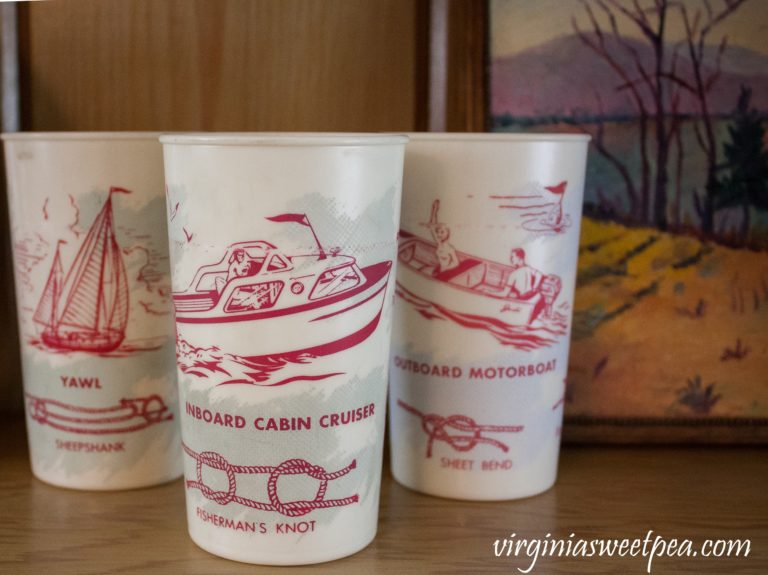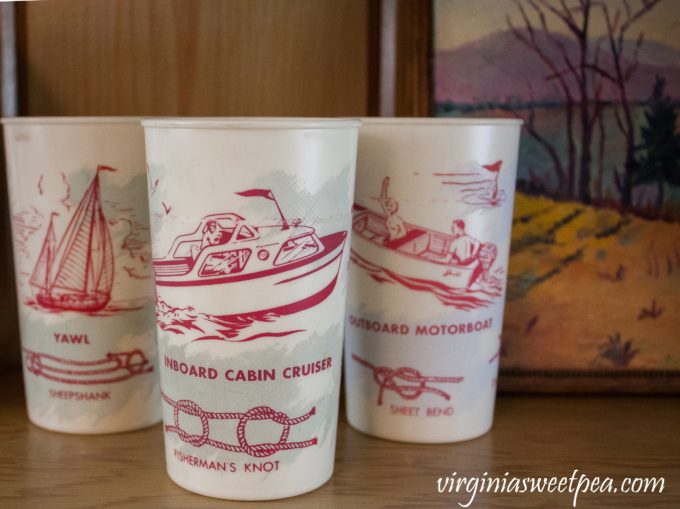 Suzanne found the painting at a local estate shop and the basket with handles at Goodwill.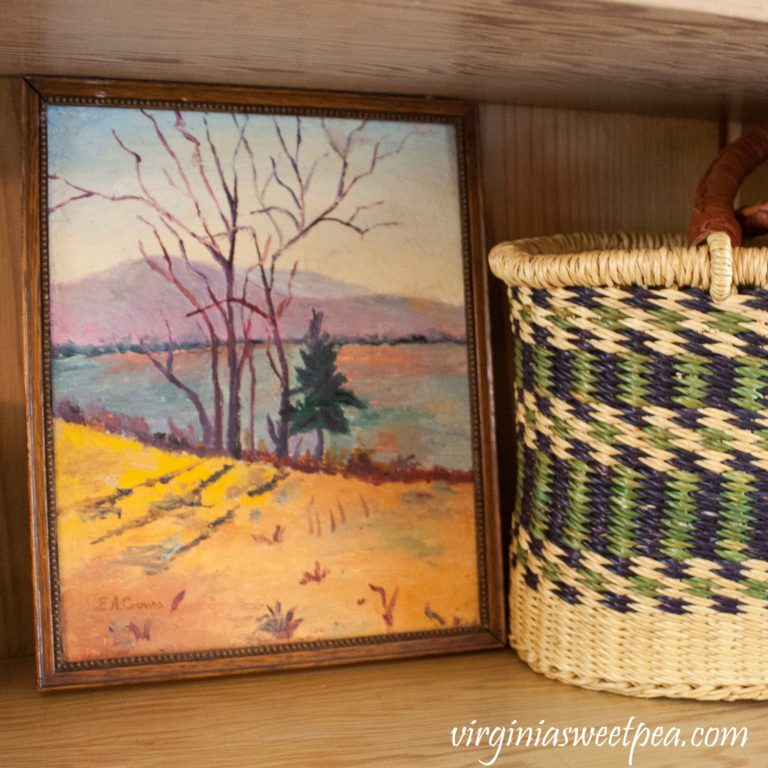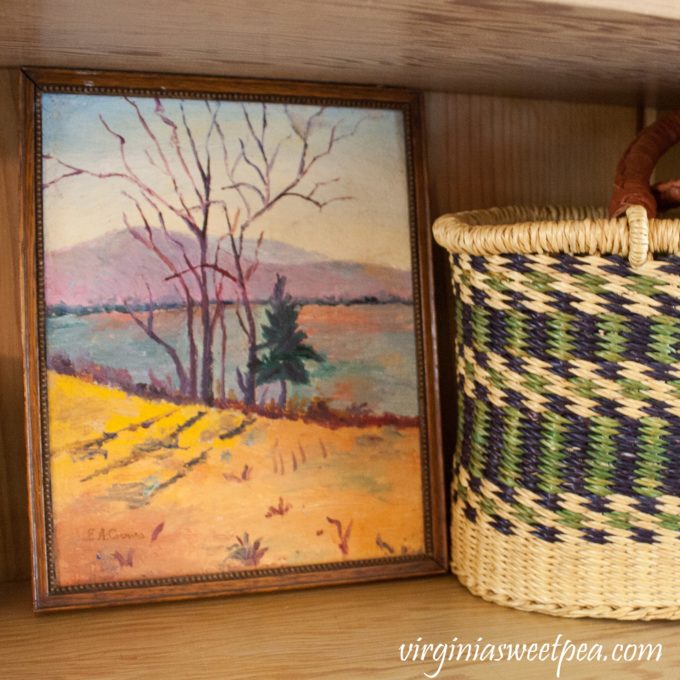 Mama provided these books. The hymnal has my dad's name on the cover and the two novels are a hundred years old. The coral came from my grandmother's next door neighbor who said it was dug up on her family farm in West Virginia.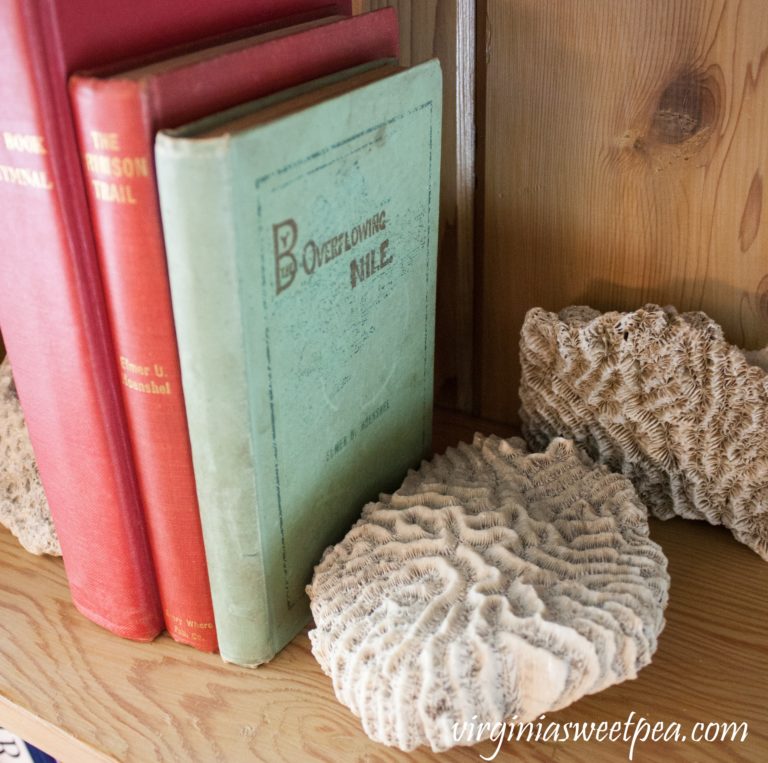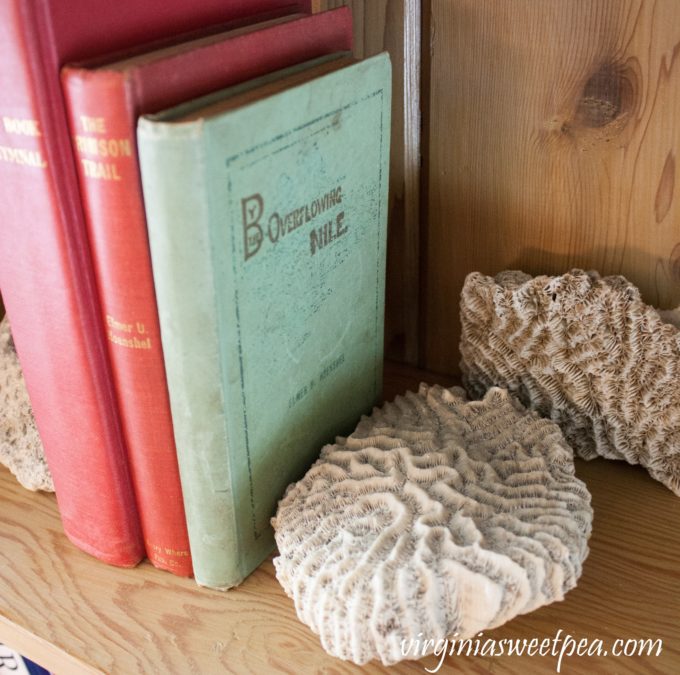 This little plate was found at a shop in Appomattox, VA.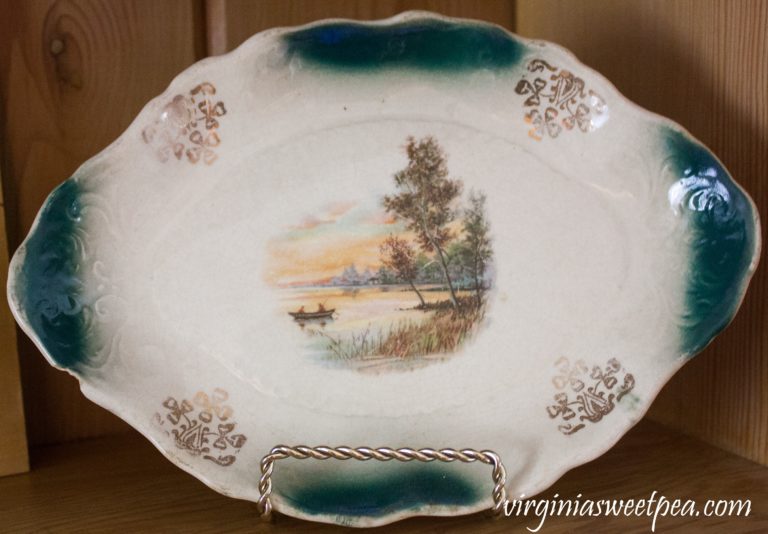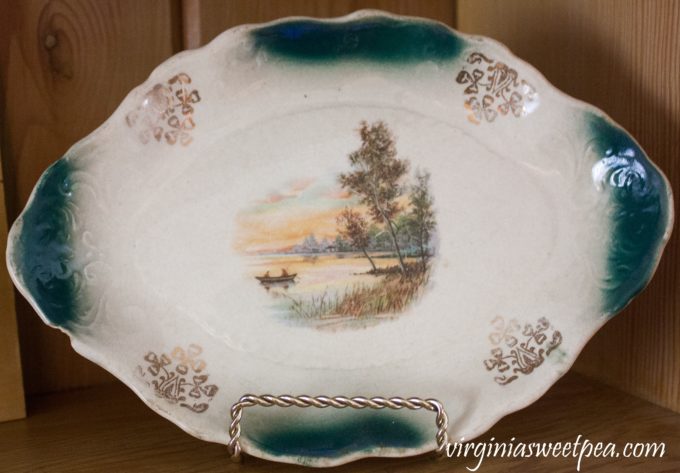 The ship was a big score at Goodwill and it appears to be exactly like the one in the inspiration picture. I also scored a smaller one.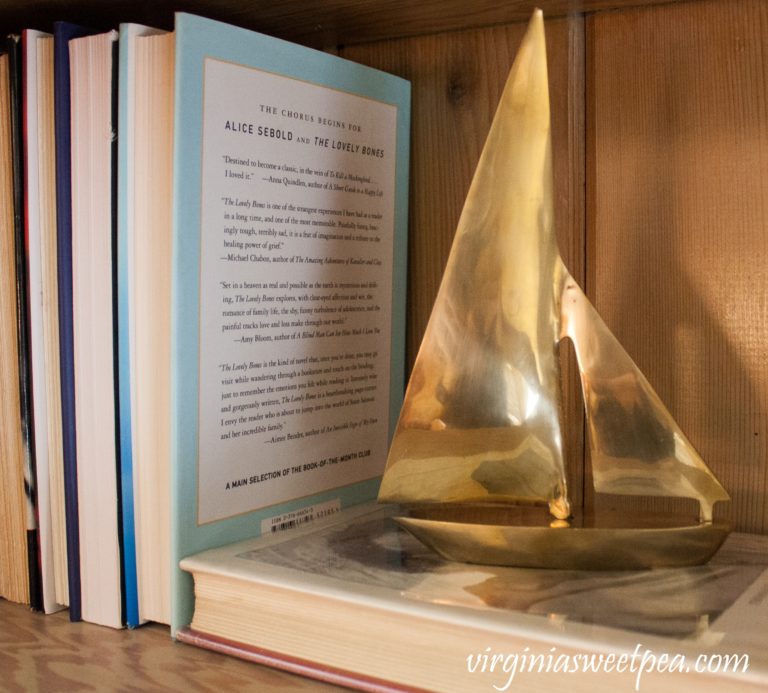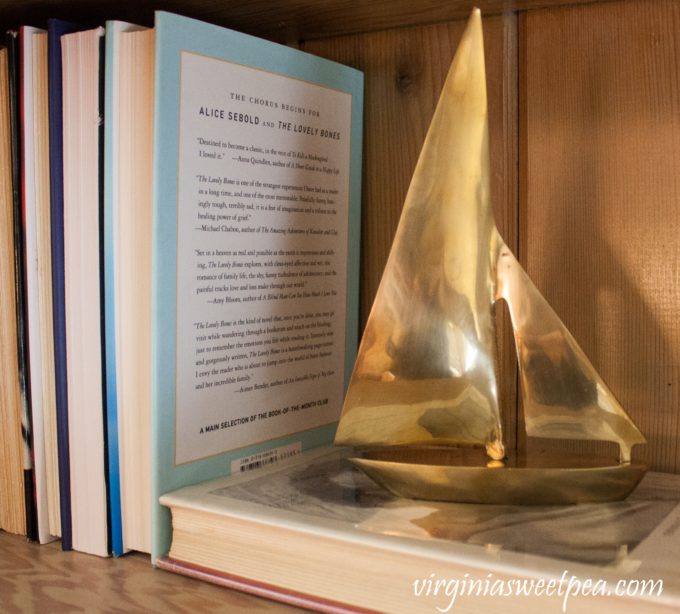 It was so much fun to shop local thrift shops to create my version of the inspiration picture. Our group had so much fun doing this challenge that we are already planning another one for after Christmas.
More Vintage Lake House Decor from the Thrift Store Posts to Enjoy
I can't wait to see what my friends found at the thrift store to use for this challenge. You can visit each participant by clicking on the links below.


HomeToHeather.com | Sadie Seasongoods | Virginia Sweet Pea | Postcards from the Ridge


Itsy Bits and Pieces | Audrey Would | Lora B. Create & Ponder | Vinyet Etc.
I would love it if you would pin this post!