This post and photos may contain Amazon or other affiliate links. As an Amazon Associate I earn from qualifying purchases. If you purchase something through any link, I may receive a small commission at no extra charge to you. All opinions are my own.
A few weekends ago we took a trip to the Laurel Highlands area of Southwest Pennsylvania to visit Fallingwater, a home designed by Frank Lloyd Wright for the Kaufman family, owners of Kaufman's Department Store in Pittsburg.
Fallingwater is located between the villages of Mill Run and Ohiopyle. If you are an outdoor lover, this is a place that you would love to visit. The area offers kayaking, rafting, and miles of hiking. Fresh snow was on the ground when we visited and the temperature was in the lower 20's. I'd love to visit in a different season to enjoy more of Fallingwater's grounds.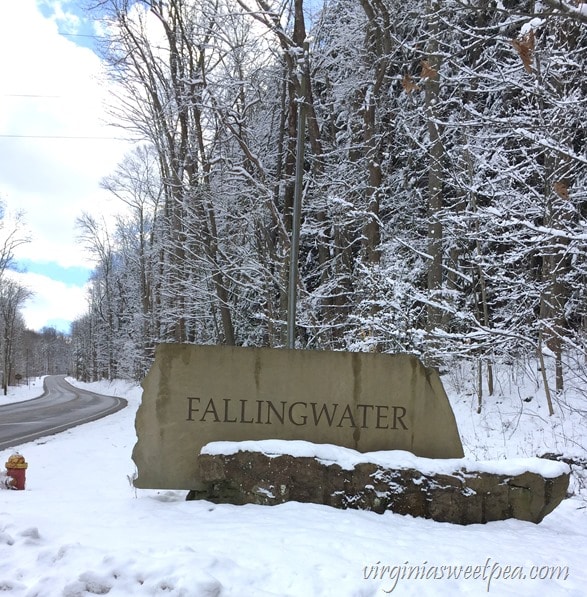 Even on a cold winter day, there were quite a few visitors at Fallingwater. We purchased our tickets ahead of time and even with visiting early in the season, many of the time slots were already full when I planned our trip.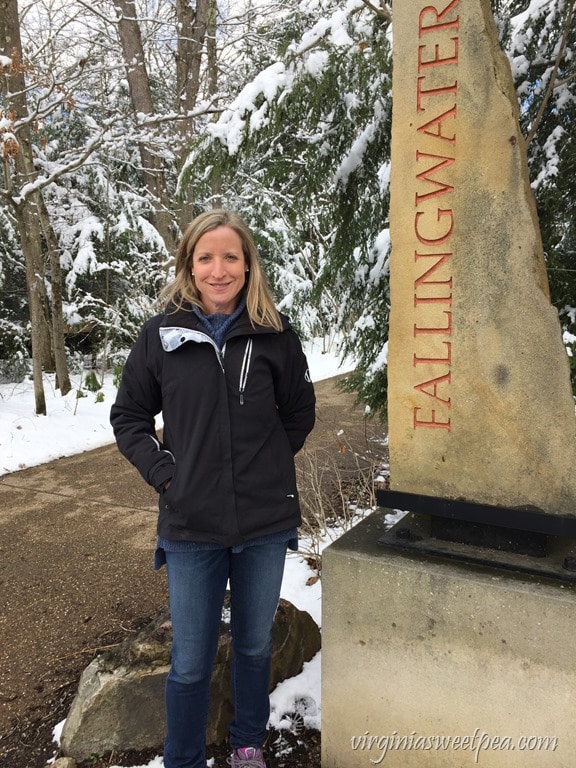 In true Frank Lloyd Wright style, the visitor's center blends in and looks in harmony with nature.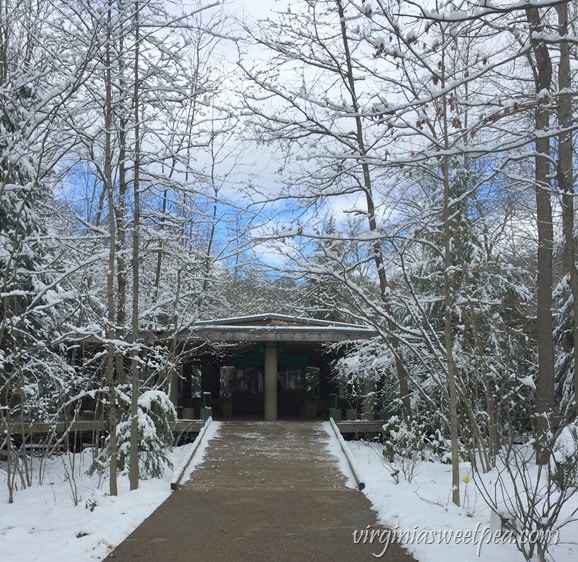 The visitor's center has a ticket booth in the center with "spokes" like those of a bicycle wheel protruding from the center. While you wait for your tour to start you can visit the museum store, eat a snack in the snack area, or use the restroom. I was surprised that there wasn't a traditional learning area with exhibits that offered information on Fallingwater.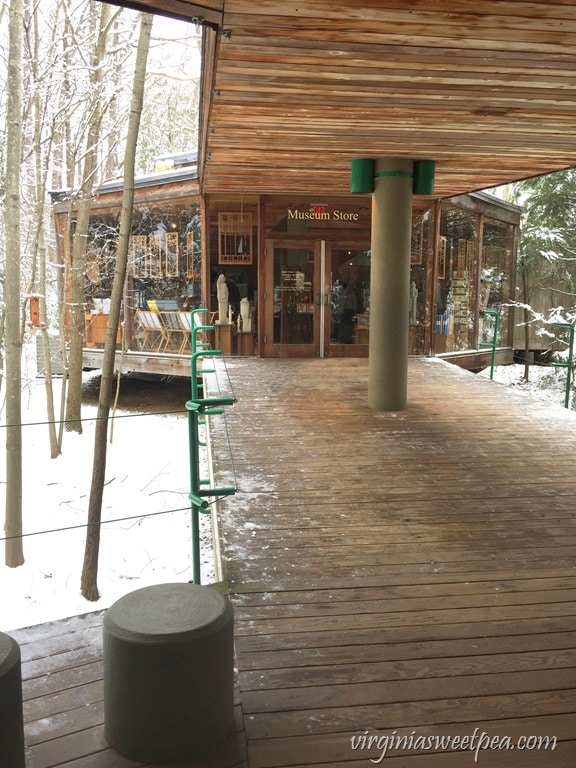 The start of the tour requires a short hike to the home.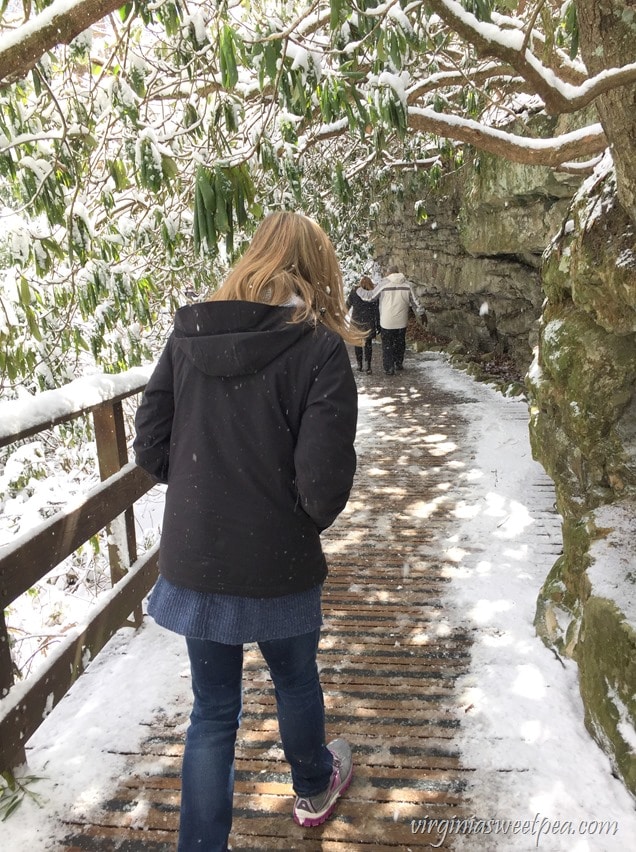 Fallingwater was built between 1936 and 1939. It seems super modern to me now and I can't imagine what people in the 1930's thought of its design.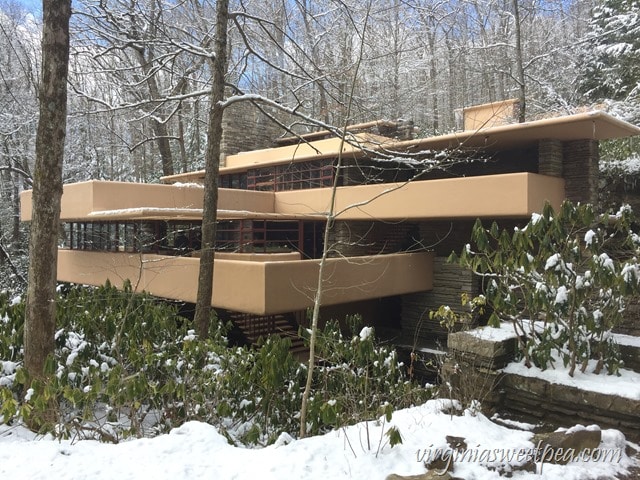 No interior photography was allowed on the tour, so I'll only share exterior photos. If you want to see what the interior looks like, a quick Internet search will show you.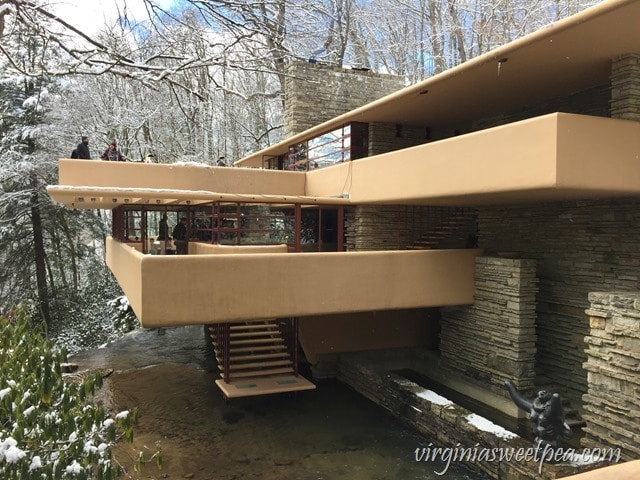 The main living area is behind the glass that you see on the level with the stairs that lead down to the creek. It's design is mid-century even though it was built years before mid-century became popular. Even today the interior looks modern and comfortable.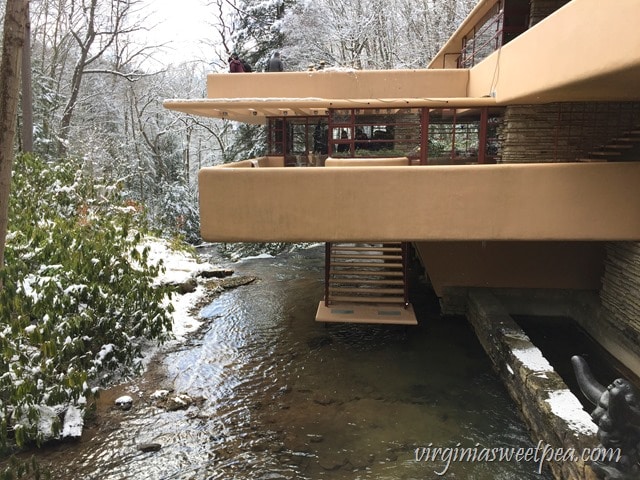 This area is high on the hill behind the main house where a guest house and the servant's quarters are located. Our tour guide told us that the servant's quarters were as nice as the rest of the house. That area is now used as offices.
Frank Lloyd Wright invented carports believing that a garage would allow too much space for extra stuff. Garage owners, do you agree?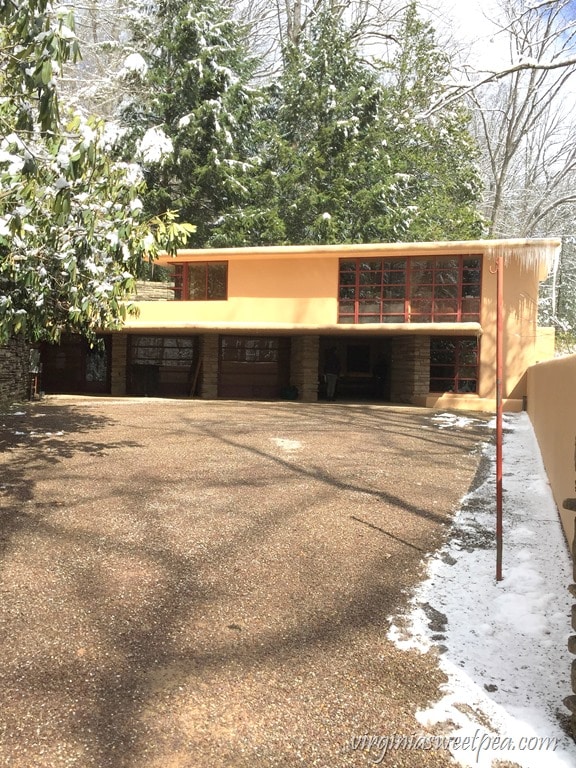 Our tour ended at the carports and we then were invited to walk back to the main house to take exterior pictures. Can you imagine enjoying one of the many balconies in warm weather?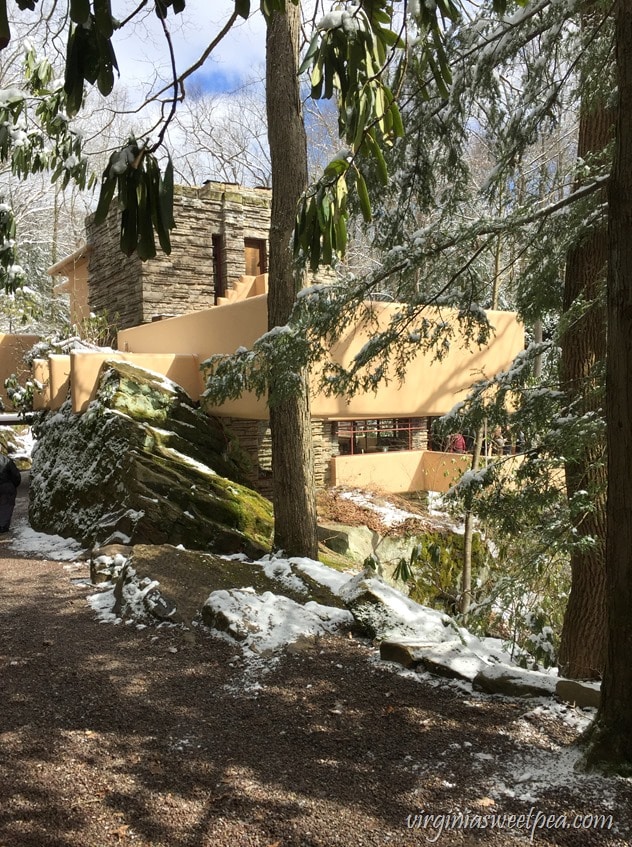 Isn't it amazing how the home was built around the boulders?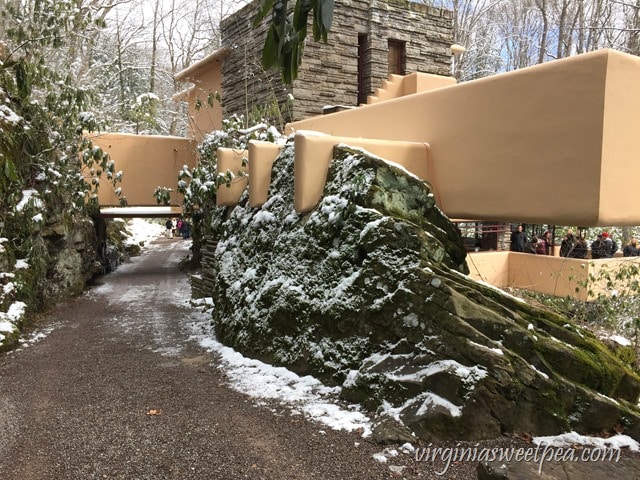 The upper left corner of the picture below shows where the guest house, servant's quarters, and carports are located.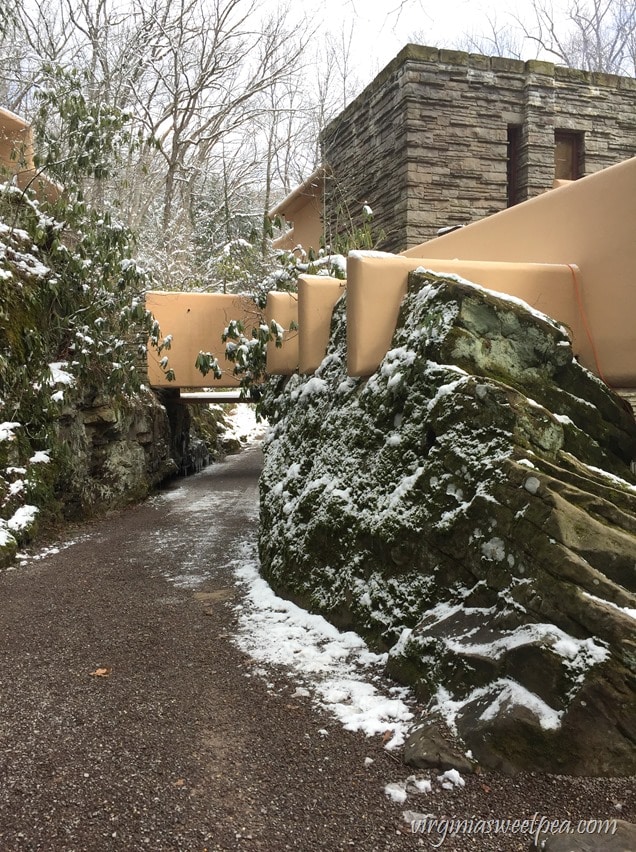 This is the famous view of Fallingwater. Can you imagine living over a waterfall?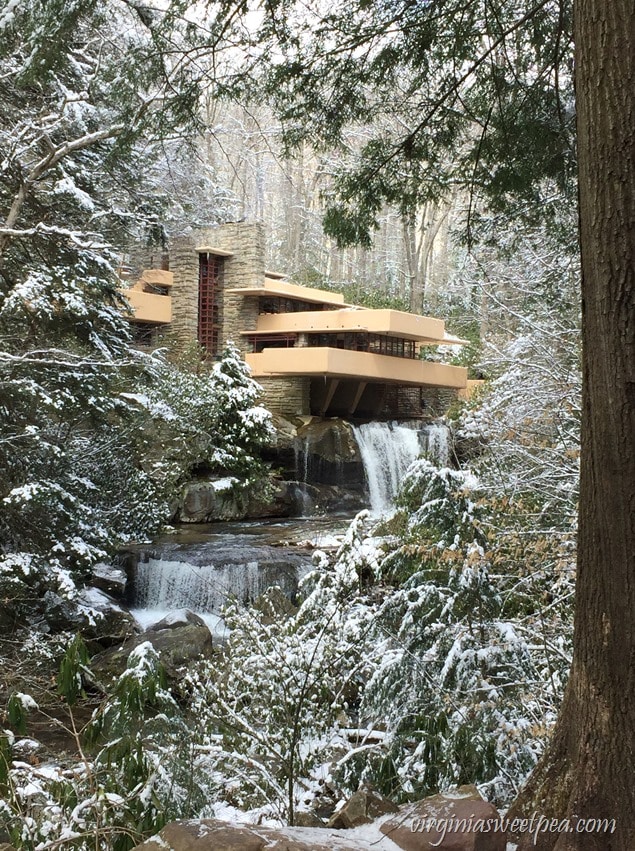 Be sure to come back Moday when I share a second Frank Lloyd Wright designed home, Kentuck Knob, in the same area of Pennsylvania.
If you like Frank Lloyd Wright, don't miss my post on some of his architecture and also his home and office in Oak Park, Illinois.