Vintage Monday–Farmhouse Style
Our neighbors are in the process of moving and have been kind enough to share some of their no longer needed vintage things with me. I love vintage and am more than happy to give their things a home. What they gave to me is what I'd call farmhouse style.
I started Vintage Monday last year thinking that it would be a fun way to share some of my vintage things with you. You can see all of my Vintage Monday posts here.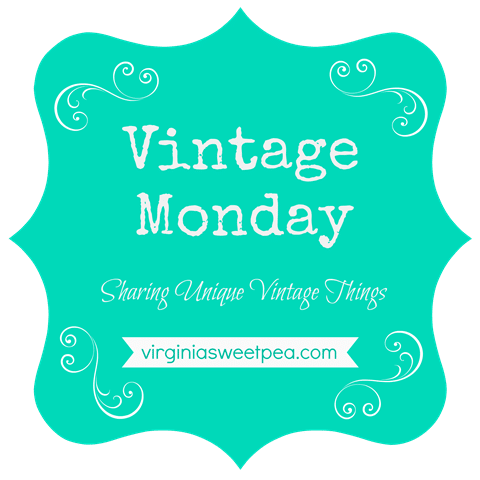 Farmhouse style is hot right now and all of my newly acquired vintage things are what I think of when I think of a farmhouse. A real farmhouse, not today's "Everything in my house is white or gray" farmhouse style.
Milk Can
I was tickled pink to get this old milk can from my neighbor's family farm in Northeast Iowa.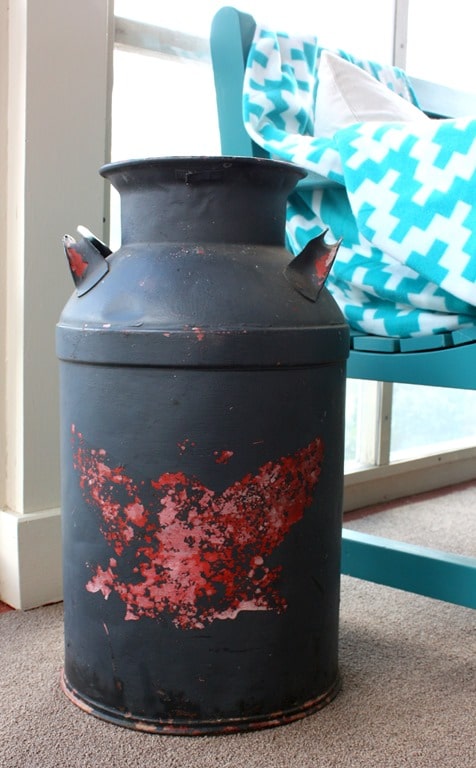 In the 1970's a lot of people painted these black and applied an eagle to the can. I can remember two milk cans with eagles on them that were on our front porch for years when I was growing up. Mama later stored our milk cans in her barn and they were stolen. (Grrr…) My neighbor's milk can had a similar treatment, you can see the outline of the eagle.
Our milk cans looked something like this one. A common use for milk cans is as an umbrella holder.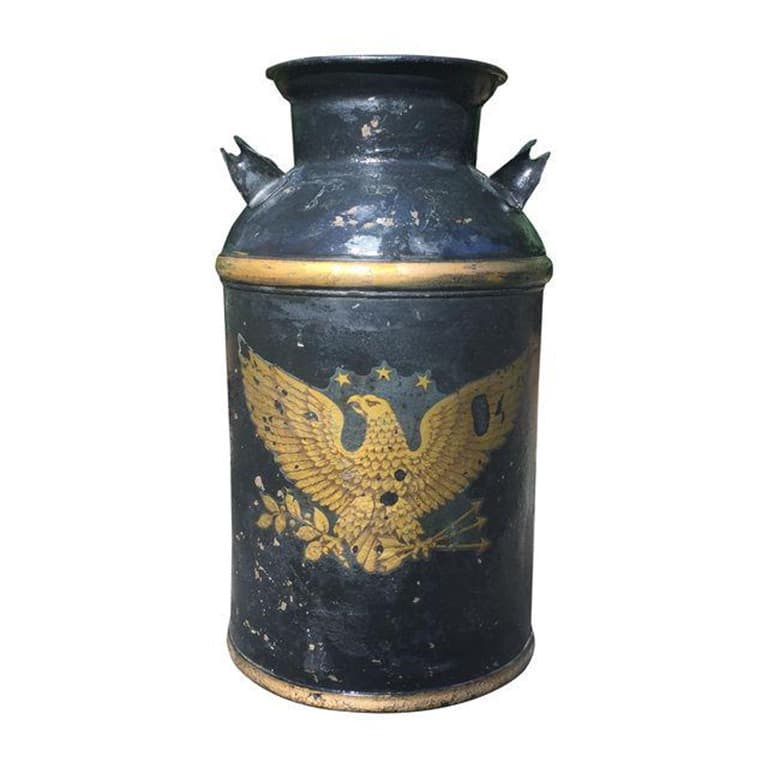 Oil or Gas Can
The next vintage item could be either a gas or an oil can. The interior of this can is lined with glass and the top held a very old cork that fell apart when I pulled it out. You can see the corkscrew that was in the cork next to the can.
When I did some research, all of the gas and oil can that I found had spouts and this one doesn't, so I'm not sure of its original use.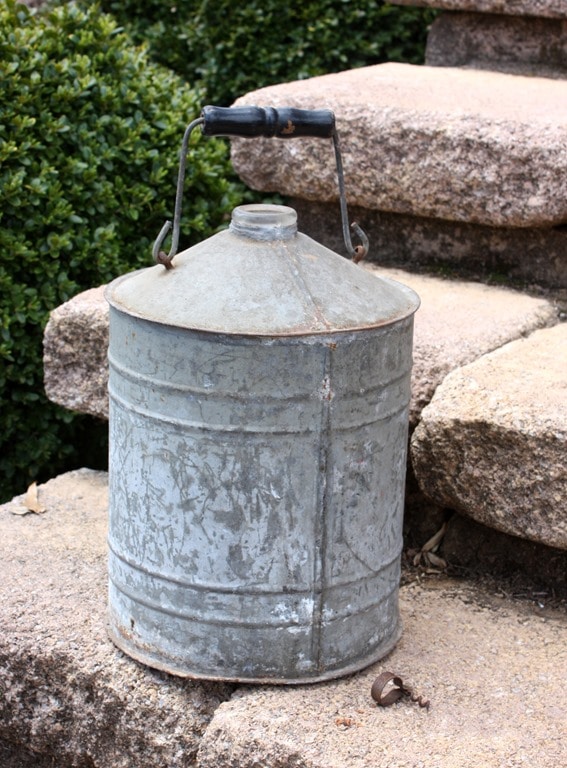 Try as I might, I can't make out what the letters spell on this old corkscrew.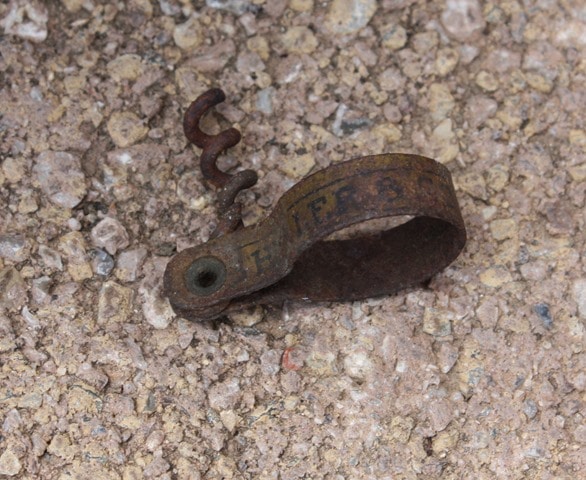 The opposite side of the corkscrew most definitely says Chicago.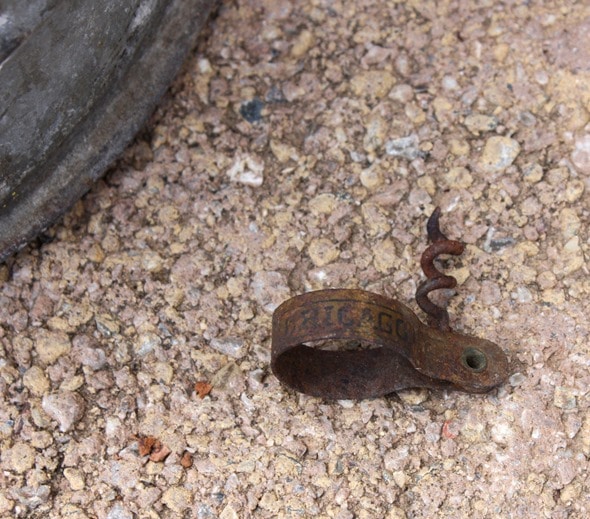 Watering Can
When my neighbor brought over this old watering can, I nearly jumped up and down with delight. It's going to be perfect to use as décor for spring and summer!
This can belonged to another neighbor who moved a few streets down a few years ago. I don't know it's age or its story. I do know who it belonged to and intend to find out what she remembers about it. I have a feeling it belonged to my old neighbor's mother.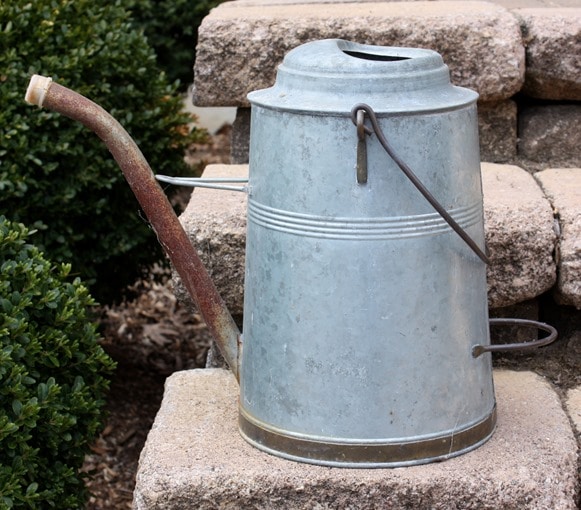 I was happy to receive these things and then my neighbor knocked on my door and offered more vintage goodies.
Rolling Pins
These rolling pins all appear to be handmade. I want to figure out a way to hang them on a wall in my kitchen.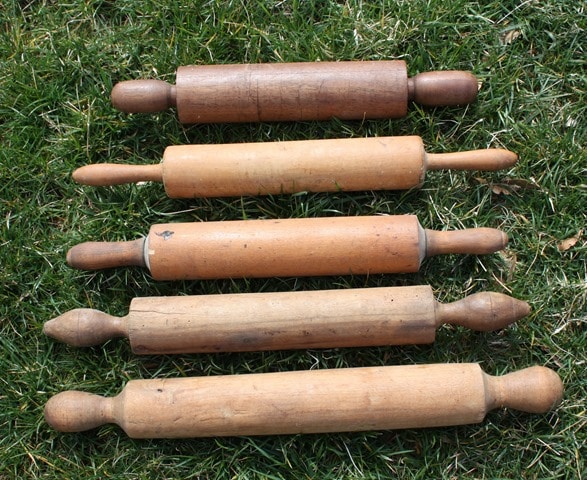 I'm not sure if the Springerle rolling pin on top is vintage but the bottom two rolling pins definitely are. I already had a small collection of rolling pins and now I have a large one!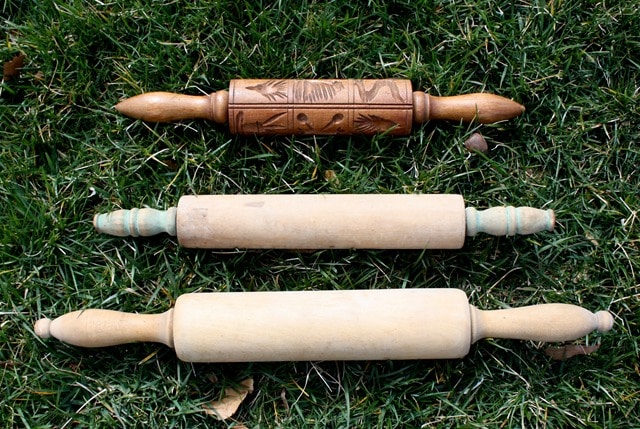 Graters and Shredders
Next up, we have a collection of graters. I'm picturing using the two on top along with another that I have that was my grandmother's as a centerpiece. I'm going to put tea lights in the graters and I think that they will look pretty at night.
I can't figure out how the wooden grater works. It somehow stands up at an angle, I just can't get it set up correctly.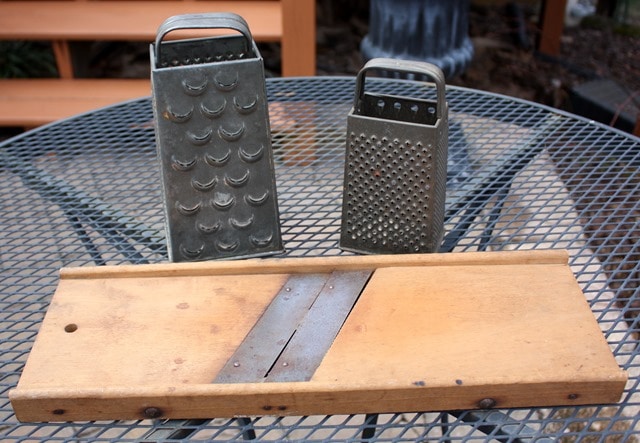 More graters..The one on the left is my favorite because of its patina.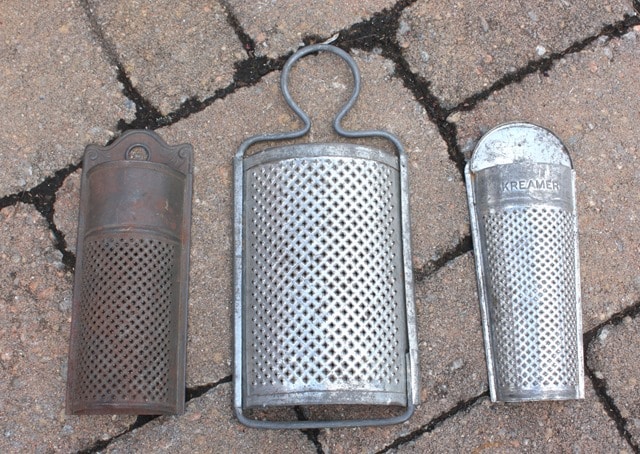 On to the shredders! Think of the cheese and cabbage that these shredders probably sliced.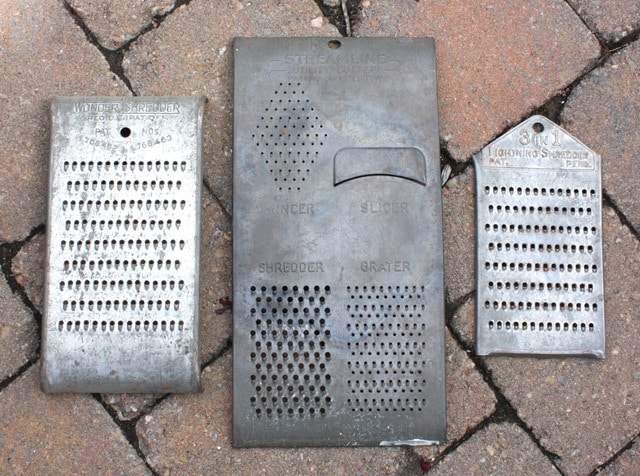 The Wonder Shredder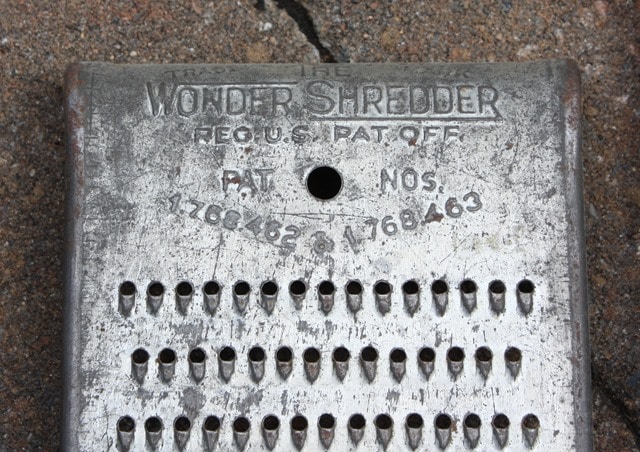 Streamline Utility Cutter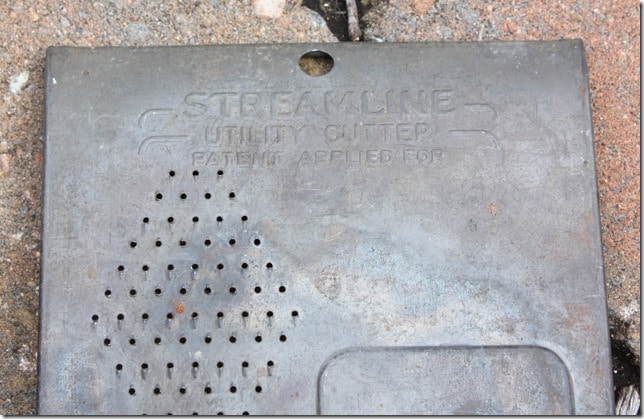 3 in 1 Lightning Shredder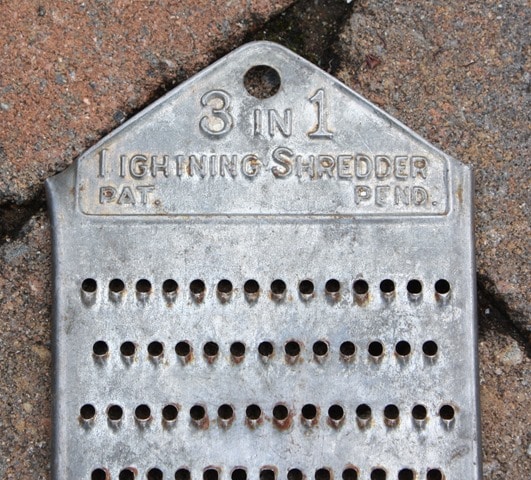 And there's more! The two on the left are super heavy duty.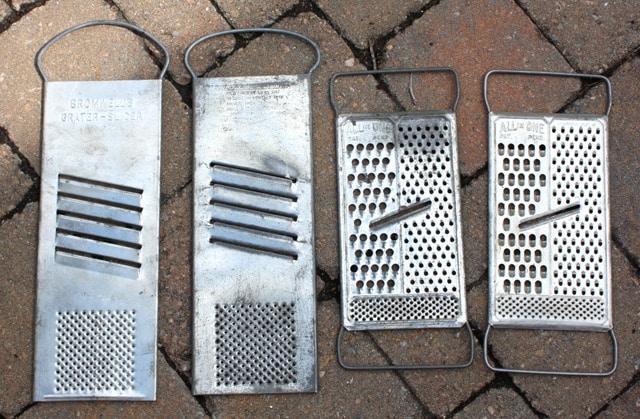 The two on the left are slaw cutters. Aren't we lucky that when we make slaw now we pull out our food processors or we buy cabbage already sliced?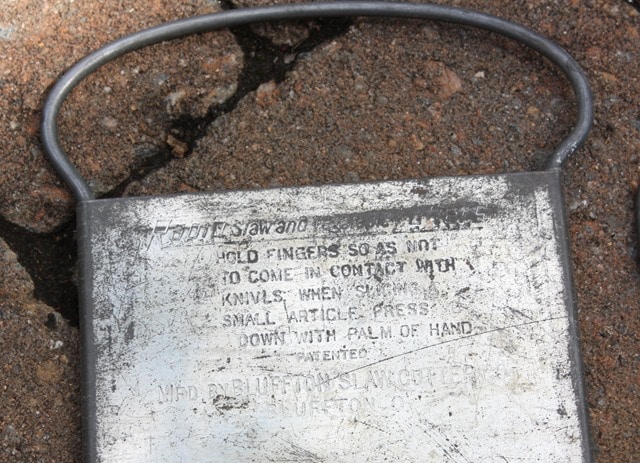 I would love it if you would pin this for other vintage lovers to discover!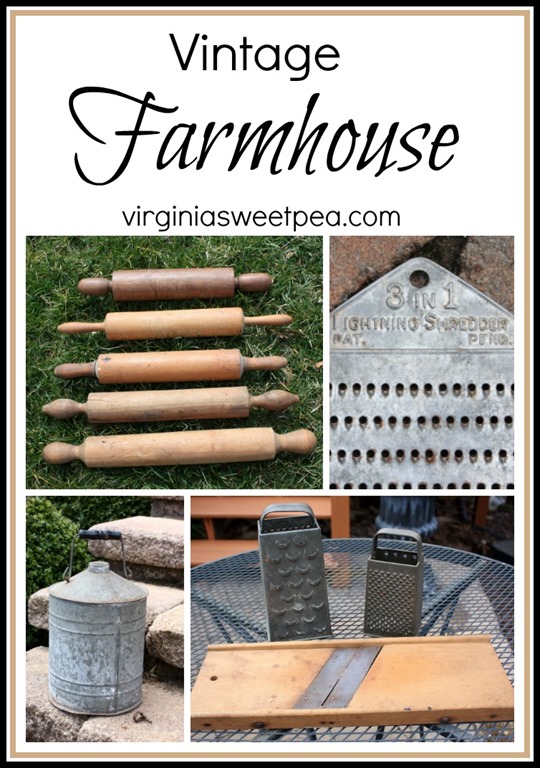 If you have ideas for using or displaying any of these things, I'd love to hear them.
Thanks for joining me for Vintage Monday. My basement is full of vintage and who knows what I'll share next!